The unique destination wedding invitation ideas on this page make me feel like a kid in a candy store! I love, love, love creative, out-of-the box ideas, so I'm always on the prowl for details that fall outside of the norm.
Below is a collection of my favorite finds to help inspire and get your creative juices going.
Jump to Each Section on this Page
Make sure you also check out our page on destination wedding save the dates. And if you're tying the knot by the ocean, head over to the section on beach theme wedding invitations for some cool ideas.
Unique Destination Wedding Invitation Ideas
While a traditional invitation usually consists of a very basic square white card with black font (or another color if you want to be really adventurous), destination weddings afford you the opportunity to break with tradition and play with fun shapes, colors, textures and even some creative destination wedding invitation wording!
Put Your Wedding on the Cover of a Magazine
I was blown away when I stumbled onto this idea at Wedzines.com. These are like a destination wedding welcome letter, invitation, travel guide, and keepsake all in one!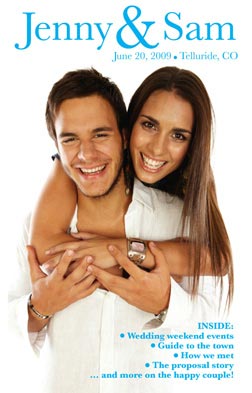 You can have so much fun with this! Just think of all the info you can put in this very unique destination wedding invitation.
Most people have never been to a destination wedding and I guarantee that they'll have tons of questions. These professionally produced magazines will eliminate all the guesswork for your guests and fill them with anticipation for the trip.
You can include info like things to do around town, itinerary for the week, dress code, travel info, hotel pictures, your engagement story –or anything else you want!
The very best part? You'll get a team of professional editors and designers to build it all for you! But if you're good with words and inclined to write the articles yourself, they'll let you do that part and they'll take care of the rest.
Travelogue Sketchbook
I discovered this awesome website, TreeSpaceStudio.com, where you can order totally custom, hand crafted designs they liken to "commissioning a special piece of art" to announce your special day!
One of the many works of art I found while browsing their website is this hand illustrated vintage travel and airplane route map, designed to reflect the couple's journey towards marriage – how perfect is that for a destination wedding invitation?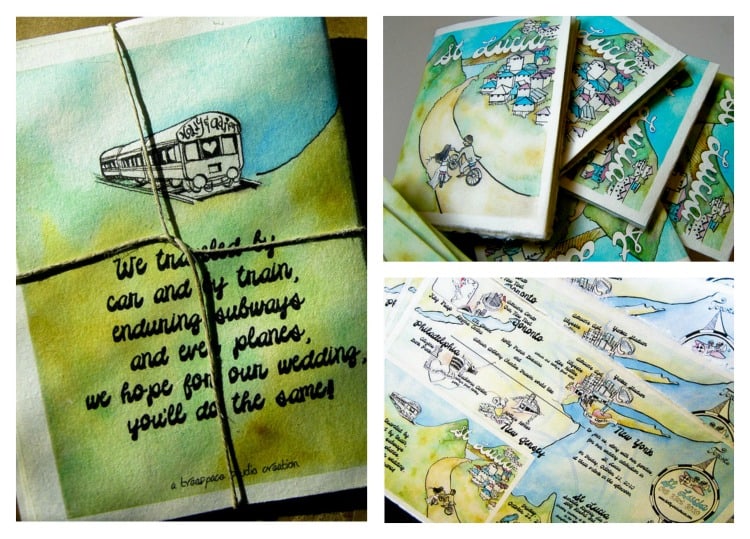 I love this idea because it's such a unique, out-of-the-box and fun way to announce your big day! Best of all? They use only environmentally friendly materials.
Tree Ring Wheel Destination Wedding Invitation
This Tree Ring Wheel by Burning House Design, is a pretty effin' cool destination wedding invitation. I fell in love as soon as I saw it!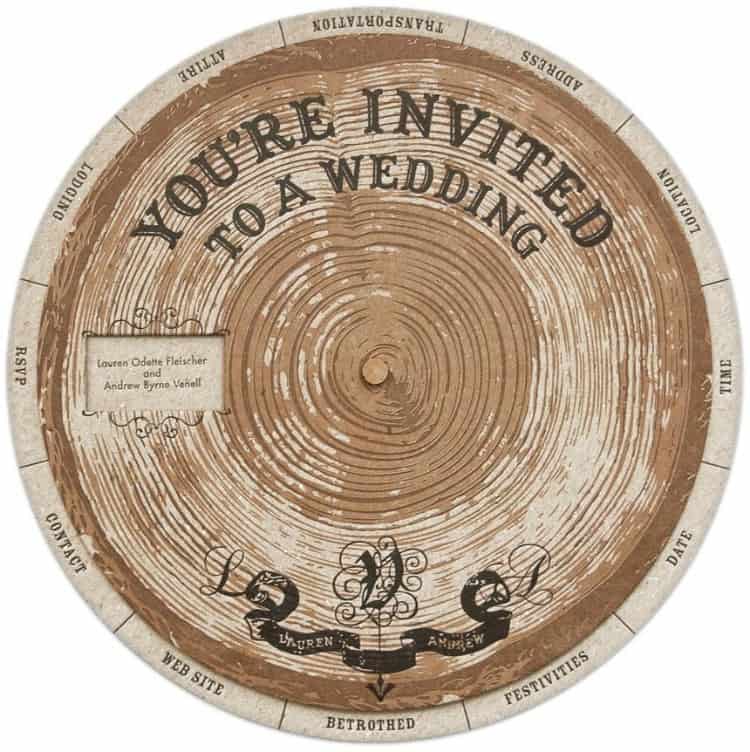 We all know that with destination weddings, there's a lot of info to pass along to guests. What's awesome about this idea is that you can include all those details without overwhelming your guests.
It'll actually be fun for them to turn the spinning wheel to reveal whatever info the arrow's pointing to…lodging, attire, transportation, date, time, location, etc… There's room for it all!
Boarding Pass Destination Wedding Invitation
Next up, is an idea that's near and dear to my heart because my very own destination wedding invitation was a set of boarding passes. These are bound to put everyone in a traveling spirit — and that's exactly the effect you're going for, right?
This is also a great option if you want to maintain some of the traditional feel of invitations while pushing the envelope just a bit. The only aspect that needs to be non-traditional is the shape – but the design, layout, fonts, and colors can be as classic/traditional or fun/modern as you want them to be! The entire set can be held together in a boarding pass holder reminiscent of those you used to get from the airlines! Saying that these will be a huge hit, is an understatement.
Tip
Send each guest a set of multi-boarding pass cards. One card can be the formal invitation, while the others can have info like travel, pre-wedding events, etc..
Message in a Bottle
This one pretty much speaks for itself. Wouldn't you love to receive this invitation in the mail? I know I would!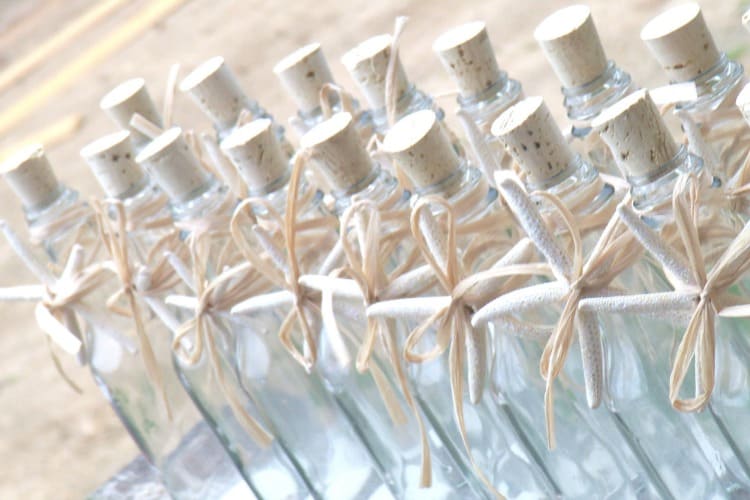 Invitation In a Bottle also makes an awesome message in a bottle with intricate details that makes them look elegant and way more expensive than they really are. The corked clear bottle is filled with real sand, mini starfish, seashells and a scroll that doubles as the invitation.
Not only is this a cool invitation, it'll make for a really artistic keepsake too!
Passport Destination Wedding Invitation
This is another super fun option, especially for an international destination wedding. This is especially practical because it gives you plenty of pages to communicate every tidbit of info your guests will need like an itinerary, map, travel details and more!
To really have fun with these, add an engagement picture of the bride & groom to make these more closely resemble a real passport!
I once received a passport invitation in the mail and it was so unexpected and unique that I think I booked my trip the next day! There's a good chance that if you send these out, they'll have a similar effect on your guests.
Shop My Favorite Destination Wedding Invitations



Below is a collection of some unique travel and beach themed invitations sold by my affiliates. I spent hours researching and compiled my favorites to save you the trouble of having to weed through a bunch of unrelated invites. I think these are awesome because the layout, shapes, images and fonts are simply perfect for a destination wedding, but the high quality card stock gives them a high end look that makes them seem way pricier than they are.
I'm all for chic, fun and modern details and I think all of these destination wedding invitations are just fab! A lot of them come in different colors and with a matching suite (response cards, thank you cards, menu, etc).
More Invitation Ideas
Featured:

A Beautiful & Affordable Destination Wedding Venue on the Beach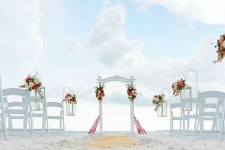 I'm always on the hunt for the best destination wedding venues out there. And if what you're looking for, is an affordable destination wedding within your reach and on the beach, then allow me to introduce you to the #2 resort in the whole Sunshine State (voted by Condé Nast). With a variety of indoor and outdoor venues, this awesome resort has everything you could possibly need for a flawless destination wedding… Read the full blog post.

Editor/Founder
at
Destination Wedding Details
Cynthia is the founder and editor of Destination Wedding Details.She has over 15 years experience in the Marketing and Event industry and launched Destination Wedding Details in 2010, shortly after planning her own destination wedding. Cynthia uses her experience and genuine passion, to inspire brides who are planning their dream wedding away from home.