If you've been on this site long enough, you know how I feel about customizable destination wedding invitations and save-the-dates. They're a pretty big deal. When you invite guests to your destination wedding, you are asking them to make a significant commitment of their time and money. Your destination wedding invitation is your very first opportunity to blow them away and motivate them to book that flight! It's the first impression they will have of what's to come, so you need to make it count.
I'm constantly on the hunt for the very best destination wedding invitations out there, so I was really excited when I came across Basic Invite. And please, don't let the name fool you. These invitations are anything but basic. I was impressed the minute I landed on their site but the deeper I dug, the more I loved what they have to offer. I went through the entire process of customizing and ordering some samples so that I could tell ya'll if these are really worth your time. So what's the verdict? I'm not really into keeping you in suspense so I'll tell you right off the bat that these invitations are pretty awesome.
So what makes them so special? Basic Invites offers all the same bells and whistles that you find on other big name wedding invitation sites, and so much more! As I went through the process of creating my save-the-date and invitation samples, I discovered some pretty awesome features that sets them apart from the competition.
Disclosure: We earn a small commission for purchases made through links in this post, at no additional cost to you. It's one of the ways we keep this site running.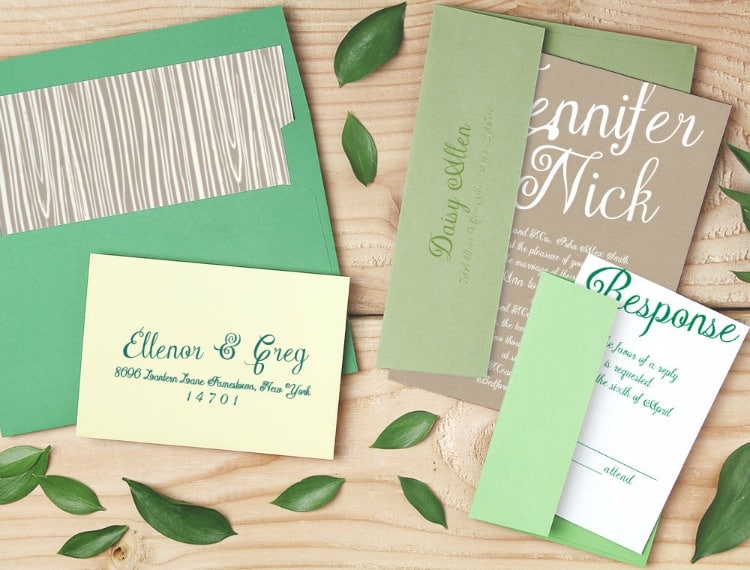 What Sets Basic Invite Apart
(Almost) Unlimited Color Customization
Basic Invite is one of the few websites that allows you almost unlimited color options on every detail of your invitation- free of charge. Once you select a design, you can change each element on the card to over 160 different color options! Your card can look exactly how you want it down to the tiniest detail. I'm talking about the text, the background, the designs on the card – you can customize everything to match your wedding's exact color scheme.
And the best part is that you can instantly preview your masterpiece and change it until it's just right.
I've never seen another website that offers so much customization of such premium quality invitations. Most other sites just let you choose from a few different pre-set color options. So you might fall in love with an invitation design but then you're stuck because it doesn't match your wedding colors – or maybe you like the background color but you want a different color for the text. Basic Invite solves this problem.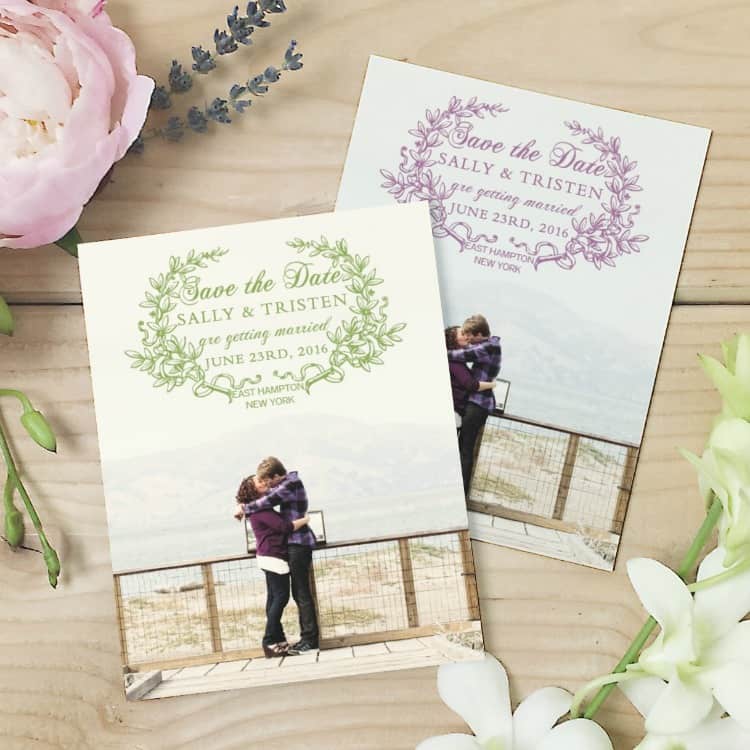 Custom Samples
You have the ability to order a printed sample of your actual invitation so you can see exactly how it will print, as well as the paper quality before you have to place an order (and pay for) for 500 invitations. This is a pretty awesome feature if you ask me.
Over 40 Different Envelope Colors
Basic Invite is just as colorful with their envelopes as they are with their invitations. You get to choose from over 40 different envelope colors, so that your invitation can stand out even before it is opened.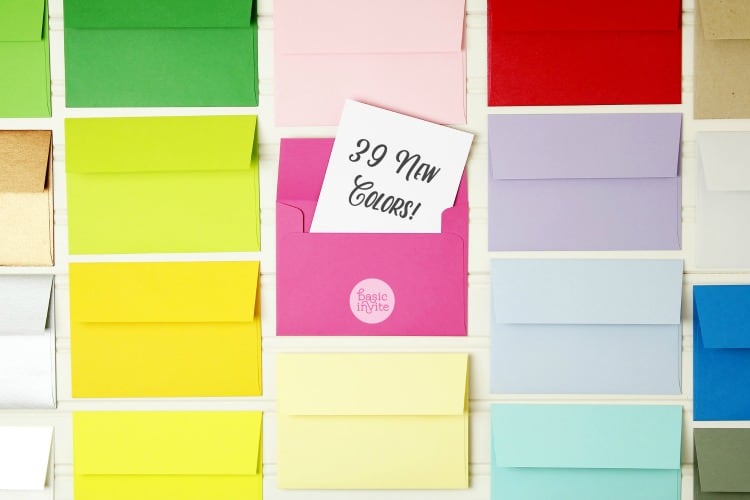 Peel & Seal Envelopes
You might not know this yet, but having to lick 200-500 envelopes is no fun. It downright sucks. All of Basic Invite's envelopes are peel and seal, so you can quickly and securely seal them without having to lick a thing.
My Experience with Basic Invite's Customizable Destination Wedding Invitations
I had a ton of fun customizing my invitation samples on their site. I received my samples just a few days later and I was really impressed. The colors were stunning! They looked great on the website but looked even better once printed. And the paper quality is fantastic! I ordered an invitation in each of their different paper options – Premium semi-gloss, premium double thick cardstock, premium shimmer cardstock, and premium matte cardstock. They were all super high quality and feel a lot more expensive that they really are.
My favorite was the boarding pass invitation pictured below. I ordered it in the premium shimmer cardstock with rounded corners. My picture does not do it justice – it looks stunning in person! The cardstock has a soft metallic glow that gives it just the right touch of luxury without being over the top. This is a pretty cool invite for a destination wedding. And like I said earlier, I customized the colors and fonts to make it my own. It was tons of fun!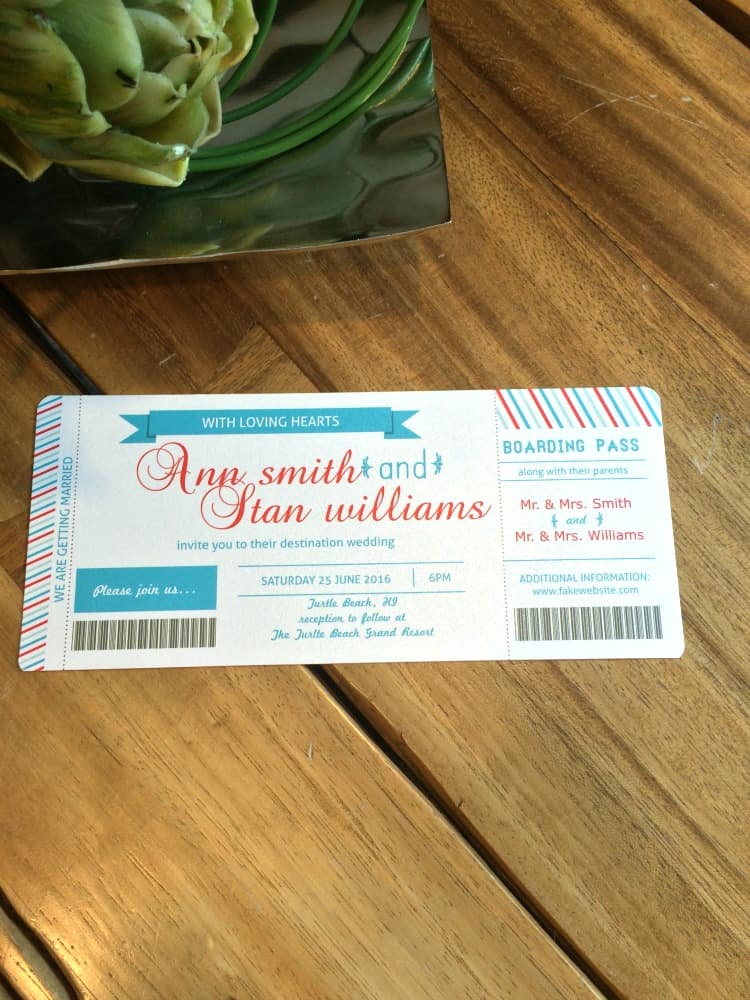 The only thing that's "basic" about Basic Invite is their "Love It Guarantee". In short, they guarantee that you'll love your invitation, or they'll make it right until you do. I had a great experience with them and based on the reviews on their site, so have a lot of other couples.
Related Posts