Thailand, also known as 'The Land of Smiles', holds many promises. White sand beaches, incredibly diverse cuisine, lush nature, abundant wildlife, and extremely hospitable people are just a few of those promises.
It's no secret that Thailand is one of the most-loved tourist destinations in South East Asia… but we're here to talk about destination weddings in Thailand. I recently visited Thailand to scope out the country and report back to you. I spent a week exploring Thailand courtesy of Centara Grand Resorts & Hotels. They hosted me in Phuket, Hua Hin, and Pattaya– and I can't wait to share everything I saw and experienced. Thailand is THE most amazing wedding destination… a big claim, I know, but I'm prepared to back it up!
Disclosure: Thanks to Centara Hotels & Resorts, who paid for the author's trip in exchange for an honest review. All opinions are the author's own and do not necessarily reflect the views of any organization or company.
Why Thailand is an ideal Wedding Destination
Top-Notch Hospitality
Before I tell you all about the locations I visited, I want to mention the people and the culture. You can find beautiful beaches all over the world, but the hospitality you'll find in Thailand is unrivaled. I have traveled to dozens of countries, yet I have never experienced this level of hospitality anywhere else.
It's no wonder Thailand is nicknamed "The Land of Smiles" – every face in Thailand wears a sweet, warm, and welcoming smile. You're greeted with a melodic "Sawasdeekhaaaaaaaa" (the word officially only has one 'a' at the end, but they add a very melodic "aaaaa" to the end of every sentence). Their language truly sounds like music… and to add to that, they bow with every greeting. You'll just have to visit Thailand yourself to see what I mean!
Scenic Locations
If you've taken a look at Thailand on a map, you may have noticed how large this country is. Its elongated shape also gives it hundreds of miles of coastline and beautiful white sand beaches – perfect for a destination wedding!
Amazing Food
Thai food is so rich, diverse, and colorful – it's like no other! I can assure you, you will love it! Plus, no matter where you are, there's ALWAYS a fresh and refreshing coconut nearby! The food is so unique… just look at this tea time platter!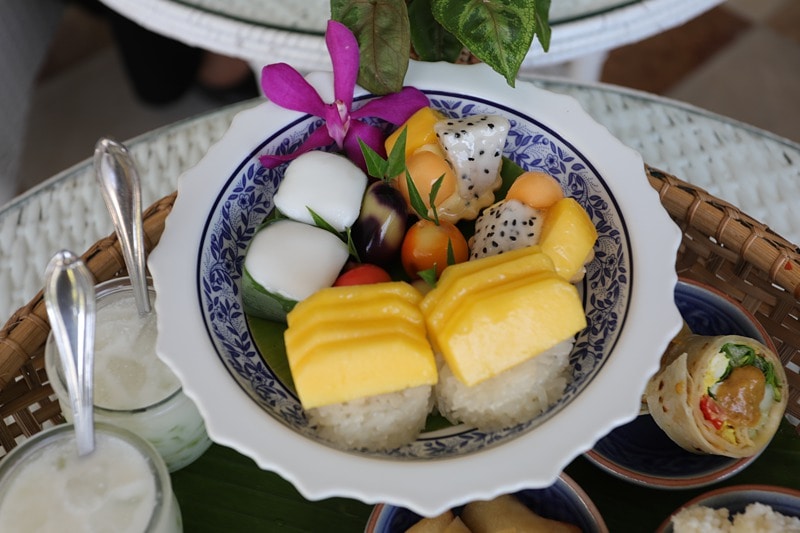 Aside from that, try the pad thai and sticky mango rice, and thank me later. 😉
The only problem? Deciding what location to select! Luckily, I was able to explore three of the best destinations in Thailand: Phuket, Hua Hin, and Pattaya, courtesy of The Grand Centara Resorts.
Although equally beautiful, each of these destinations is unique in what it was to offer, as well as the type of person that it's right for.
Thailand Destination Wedding Resorts
If you've decided to tie the knot in Thailand, you'll need to choose a resort. I loved them all, but they are all quite different and may be best suited for different types of people. Below is a short recap of each resort with a link to read full articles I wrote about each of their destination wedding options. But first, here's a little video to give you just a small taste of what the Centara Grand Resorts have to offer.
Centara Grand Phuket
Perfect for: parties who prefer family time at the resort, as well as those who like to venture out to party.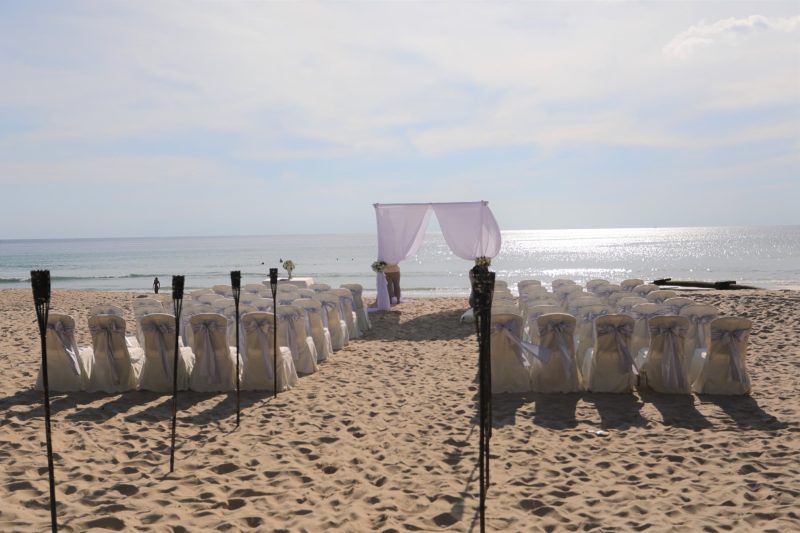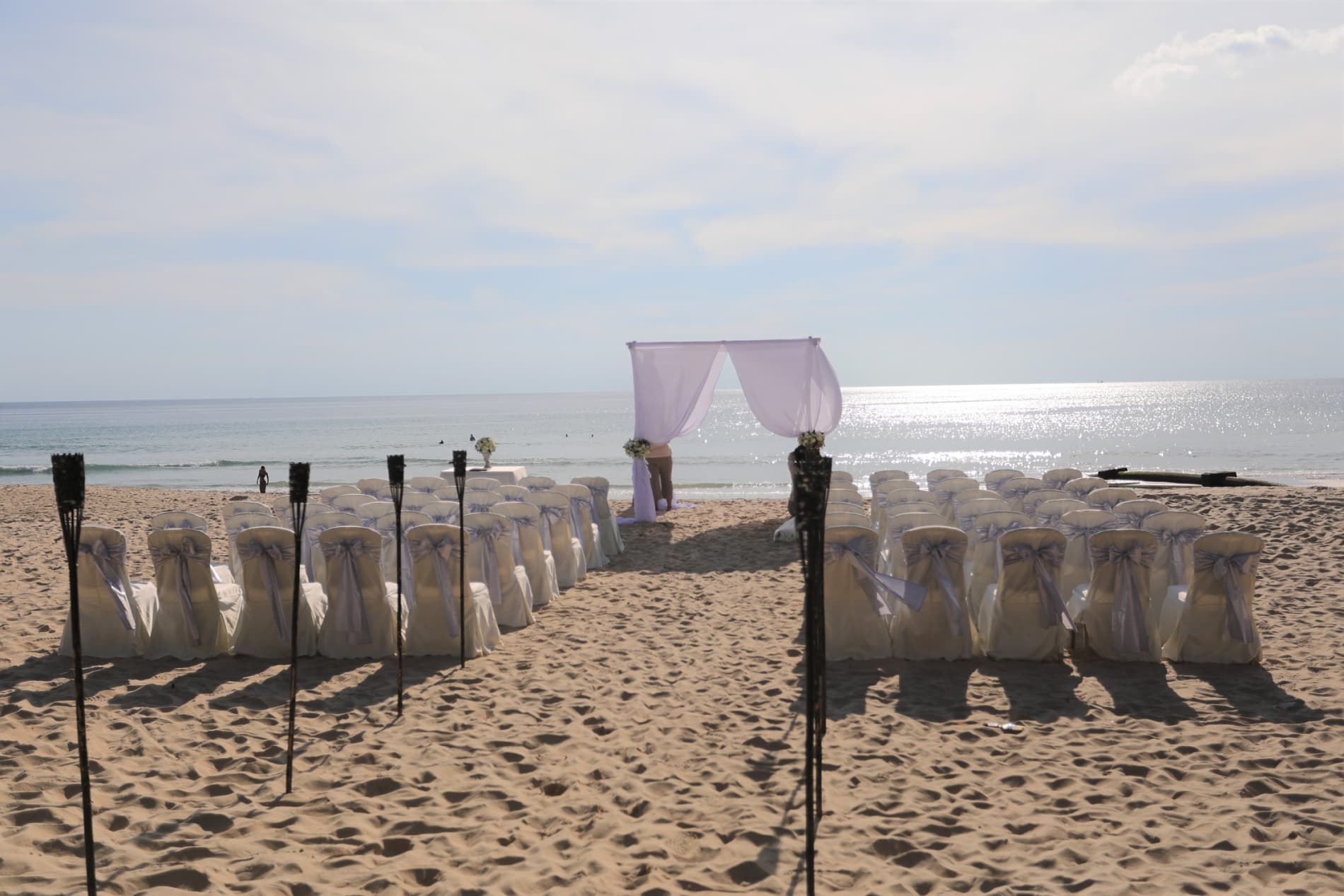 This resort is more family-oriented. As a twenty-something-year-old, I certainly enjoyed my stay but felt a little out of place among all of the families. The rooms are all gorgeous, peaceful, and quiet, but most guests I saw at the pool were there with children. If this is what you're looking for, it's perfect! They have a lazy river, beautiful beach, kids game room and lots of activities to keep the little ones entertained.
The resort is only a 20-minute shuttle ride away from Patong and all of its nightlife… which I heard is a great place for a bachelor/bachelorette party.
Read my full article on Destination Weddings at Centara Grand Phuket to get the full recap and see more photos.
Centara Grand Hua Hin
Perfect for: Couples who prefer a good glass of wine or cocktail and a sunset over a crazy night out at the bar.
This was my favorite resort. The staff here went above and beyond, plus an extra mile. It's peaceful, it's quiet, it's relaxed… it's much more of a boutique hotel than a large resort. Compared to the others, it's much smaller, but they have quite a few different outdoor wedding ceremony spaces. This resort is also family-friendly, but one side is reserved for adults only. If you're looking for quiet, relaxation, restoration, and relaxation, this is the place for you. I struggle to find words for how amazing this resort is.
The resort is also very conveniently located just a 5 minute walk away from one of the famous night markets, where you can try typical Thai dishes.
Read my full article on Destination Weddings at Centara Grand Hua Hin
Centara Grand Pattaya
Perfect for: The large group of fun-loving people with or without children.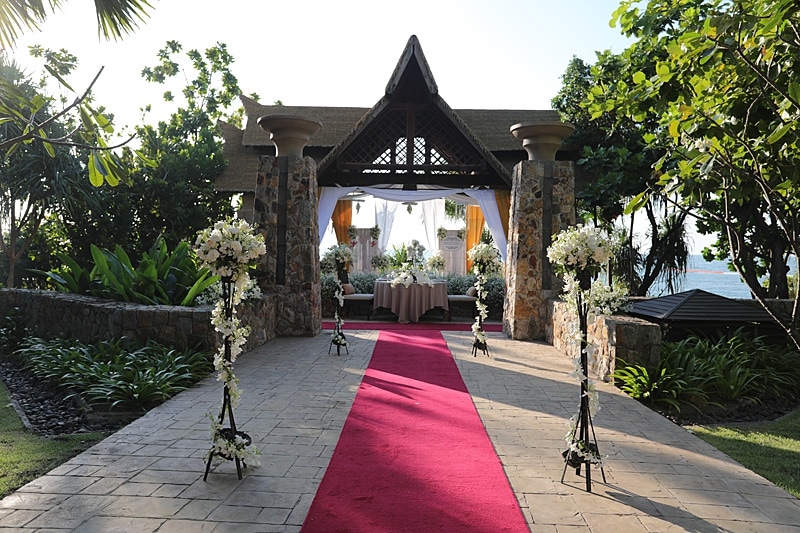 The Centara Grand Resort in Pattaya is incredibly fun – for all ages. It caters to adults and children alike, but you can easily keep to a more adult vibe if you'd prefer. Compared to the resort in Phuket, it has more activities for children and, given that it's a much larger resort, it does a better job of sectioning the adult and kid areas. The resort also has nightlife and malls nearby.
While I did not spend any time exploring the surrounding areas, I was told that they have a fantastic mall nearby with all the name brands, they have beautiful beaches, and adult nightlife for those looking for a crazy night out. I was also told that the Nong Nooch Tropical Botanical Gardens are among the best things to do near Pattaya.
Read my full article on Destination Weddings at Centara Grand Pattaya
Thailand Destination Wedding Details
I did ask a few important questions about planning a Destination Wedding in Thailand and here's what I learned:
The best time to visit Thailand is November & December
Same-sex weddings in Thailand are welcome, but may not be legally recognized
The Grand Centara resort staff takes care of all of the wedding details and arrangements
You're welcome to bring in other vendors if you would prefer
The Grand Centara resort will make arrangements for a minister to marry you
You must have a witness at your ceremony
Resort wedding packages are available and customizable
If you would like, you can do a traditional Thai ceremony
Thai ceremonies can only be done in the morning, as this is when the Monks are available
I had the pleasure of visiting all three of the Centara Grand Resorts in Thailand and I enjoyed my time at all of them. Thailand, in general, is a beautiful country with a beautiful culture, amazing views, beautiful beaches, and delicious food. As a wedding destination, it's a great option because a wedding will cost you a fraction of what it would cost in a Western country. I can imagine that the distance, travel time and flight prices might be holding you back… so here's what I think. Expense-wise, you may end up breaking even and spending the same, or less when you add everything up. Hotels rooms, treatments, activities, ceremonies, and receptions will all cost you less. It may be a challenge to get your friends and family to travel that far, so I do suggest planning in advance.