Mention the phrase Aruba Weddings and a vision of a sun-kissed, turquoise blue ocean and powder white sand comes to mind. But there are so many more reasons why this gorgeous island has become a top choice for destination weddings. In this post, I'll tell you about the many advantages of Aruba weddings. And yes, some disadvantages too because I want you to be informed before deciding on a location.
Advantages of Aruba Weddings
Perfect weather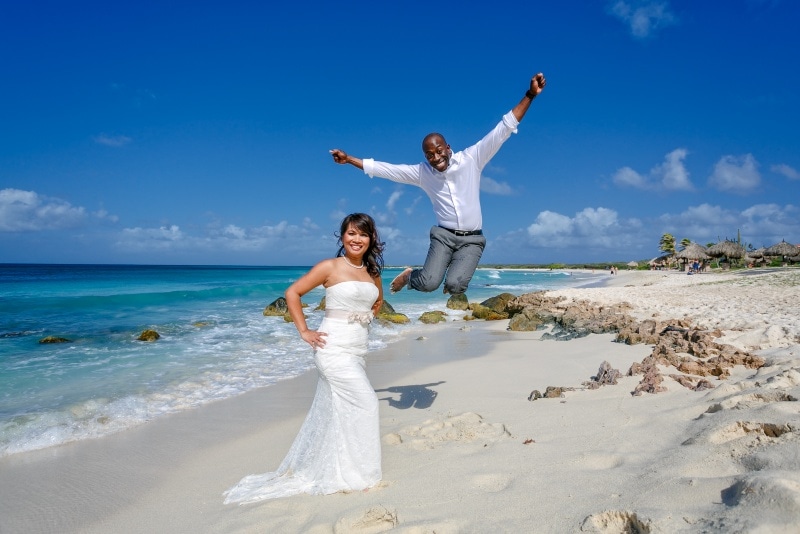 Okay, there's no such thing as perfect, but when it comes to Caribbean weather, this is as close as you're going to get. With temperatures consistently in the 80's year-round, a cool wind, and less than 22 inches of rain each year – it's no wonder Aruba Weddings are so popular. With all the planning that goes into making your destination wedding perfect, the last thing you want to worry about is the weather.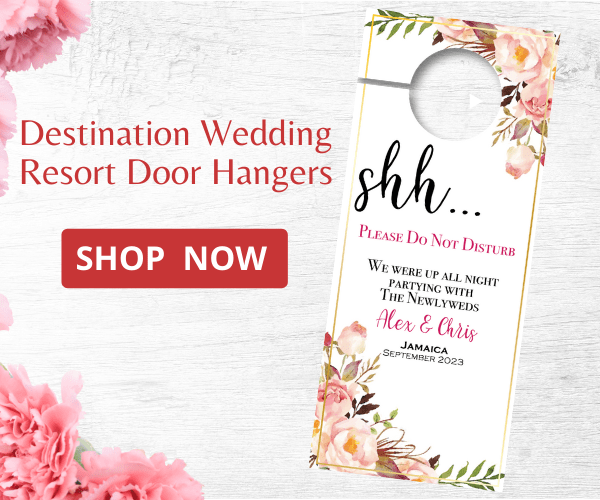 This Island is located outside of the hurricane zone, so you can tie the knot any time of year without the worry of tropical storms ruining your big day.
Great Venues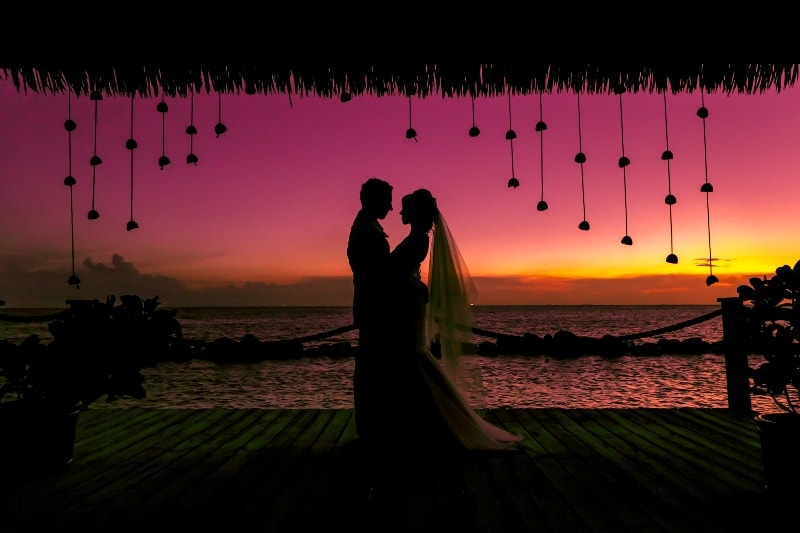 In Aruba, weddings are a common occurrence so they have many venues to accommodate different styles and personalities. You can celebrate on a hilltop restaurant with stunning sunset views or on a white sand beach with crystal clear water. There's a nice variety of resorts with in-house wedding coordinators that can help bring your vision to life.
Want to see real Aruba weddings, find vendors, and the most popular wedding venues in Aruba? Check out our guide to Aruba destination weddings here.
Activities
Aruba weddings are also popular for the country's intimate island feel. Because of the small size and the number of taxis in every popular area, you can easily explore the country without even renting a car. Your young guests will be happy to know that there is an exciting nightlife and fun bus tours that will take them bar-hopping all over the island. And most importantly– you and your new spouse will find plenty of romantic activities to enjoy before and after your wedding.
Top-Notch Hospitality
Arubans are some of the friendliest people I've ever met! They take great pride in ensuring that tourists are taken care of. You have enough to worry about when planning a destination wedding. Having friendly hospitable people catering to your needs goes a long way in relieving some of the stress.
Disadvantages of Aruba Weddings
With so many pros, you knew there had to be a catch right? Well, the biggest con is the cost of destination weddings in Aruba. Because the island is so beautiful, friendly, and has great year-round weather, the cost of travel, accommodations, and even food tends to be more expensive than other Caribbean islands.
If you're on a budget, your best bet is to choose a simple and secluded spot off the beaten track, in lieu of a luxury resort with all the bells and whistles.
Get 21 Tips to help you save money on your destination wedding
Check out this gorgeous real Aruba Wedding that we published here on DWD and read some great tips advice from the bride.
Marriage Requirements for Aruba Weddings
All legal ceremonies must take place in the Civil Town House in the late morning or early afternoon on Wednesdays-Fridays. Saturdays are also available at an additional $150 surcharge. First, you must fax the documents listed below for review. Then you'll need to mail them via courier at least one month prior to getting married in Aruba.
Copies of bride/groom's birth certificates with apostille (state certification)
Passport or valid state picture I.D. for both Bride & Groom.
Certificate of no impediment for bride and groom (also known as single status report or negative statement of marriage). This certificate can be obtained at the Bureau of Vital Statistics located in the Department of Health.
If you are divorced, you'll need a copy of the 1st and last page of the divorce decree(s)
If the bride or groom is a widow(er) submit a copy of the death certificate.
2 witnesses over the age of 18 with passports or valid state picture I.D. If you don't have witnesses, they can be provided for you by a wedding planner at an additional cost.
If you'd like to have a religious ceremony, there are additional requirements. For a list of required documents based on your religion, visit the Aruba Tourism website.
DISCLAIMER: The above information is meant as a guide to help give you a general idea of Aruba marriage requirements. Although we make every effort to ensure that the content is both current and accurate, errors can occur. Plus, given the changing nature of laws, rules, and regulations, there may be omissions, or inaccuracies in the information contained in this content as time passes. We are not responsible for any inaccurate or omitted information or for the results obtained from the use of this information. You should always confirm all marriage requirements, timing, and costs with the Aruba Tourism board and/or your local wedding coordinator.
Related Posts
Check out our Aruba Destination Wedding Guide to see real weddings, vendors, and other tips to help plan your wedding in Aruba.