Lisa & Rief have been together for 10 years. So when it came time to finally tie the knot, they wanted a destination wedding where they could get their closest friends and family together and out of their comfort zone to celebrate their love. They originally planned to rent a villa in St Martin, but just months before the wedding, Hurricane Maria struck –and along with the island, they lost everything.
The couple had to quickly regroup, and planned a second destination wedding in Aruba, without ever having visited! And as you're about to see, every detail turned out to be absolutely perfect! Their ceremony venue at the Hyatt Regency was surrounded with towering palm trees and foliage, so they kept the decor crisp and clean with white flowers and big green leaves for the centerpieces, bouquet, and arch. Lisa looked stunning in a royal length veil inspired by Grace Kelly. And her groom looked dapper in a custom-made suit.
But even more than all the pretty details, what I love about this story is how this couple remained so positive throughout their wedding planning trials and tribulations. After planning not one but two destination weddings in less than a year, Lisa gained a wealth of experience. And I am so thrilled that she is here today to share her personal experience. Make sure you check out my interview with Lisa at the end of this post, where she shares some invaluable destination wedding planning advice!
A huge shout out goes to Pixit Photography for capturing this beautiful wedding.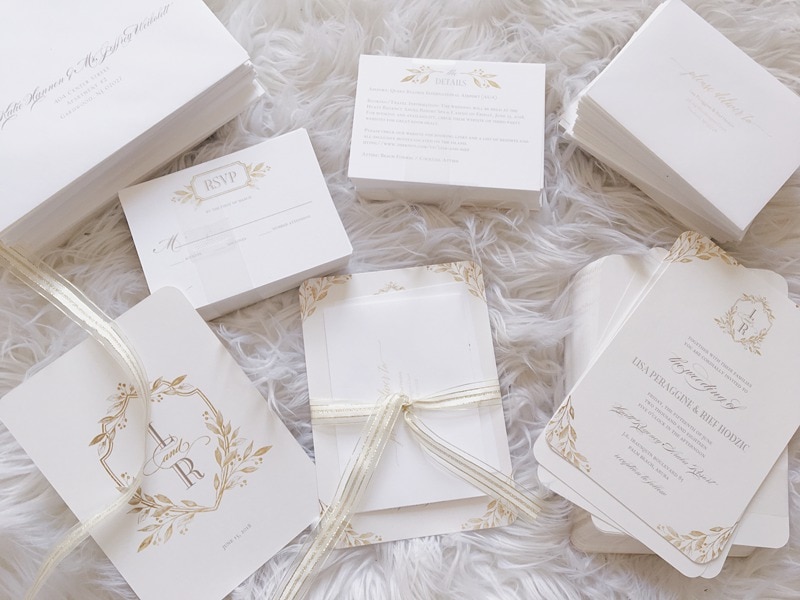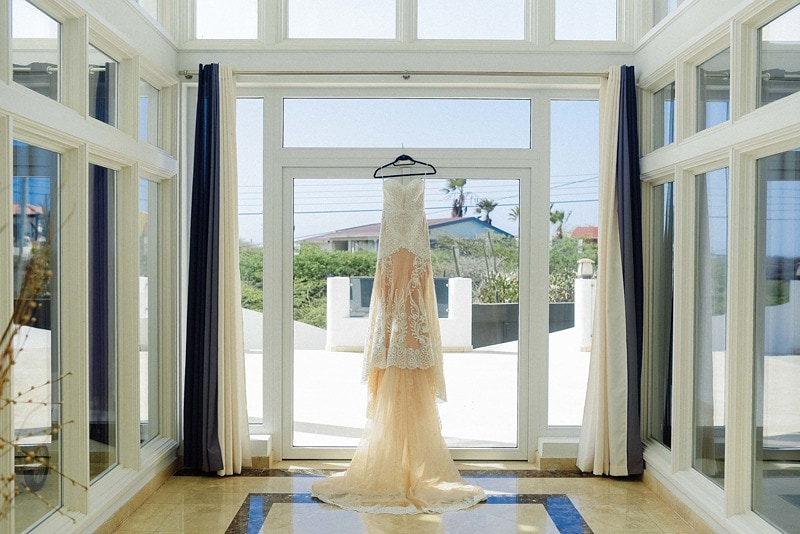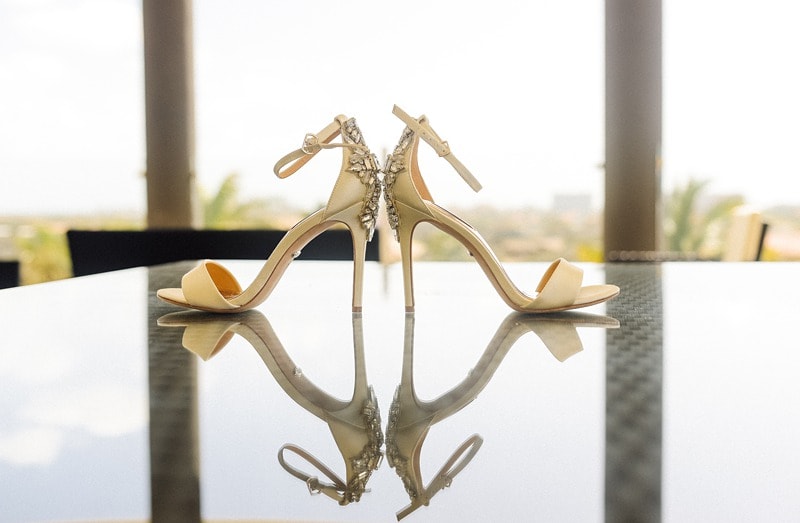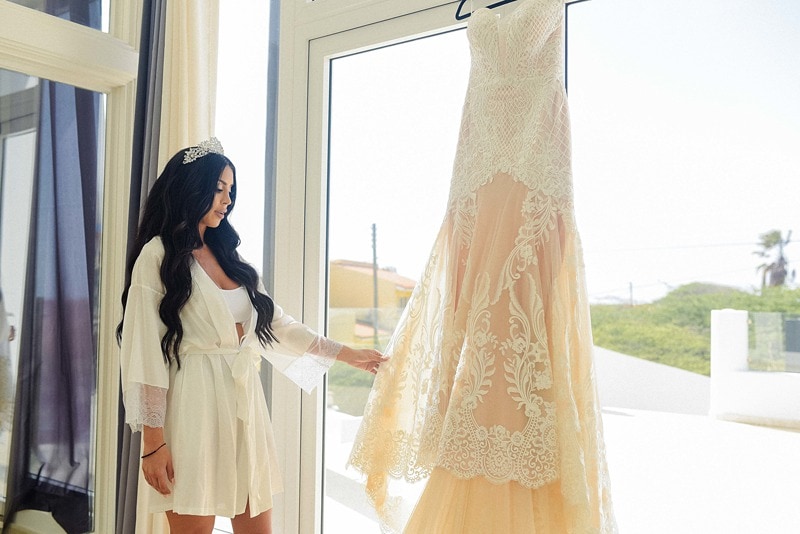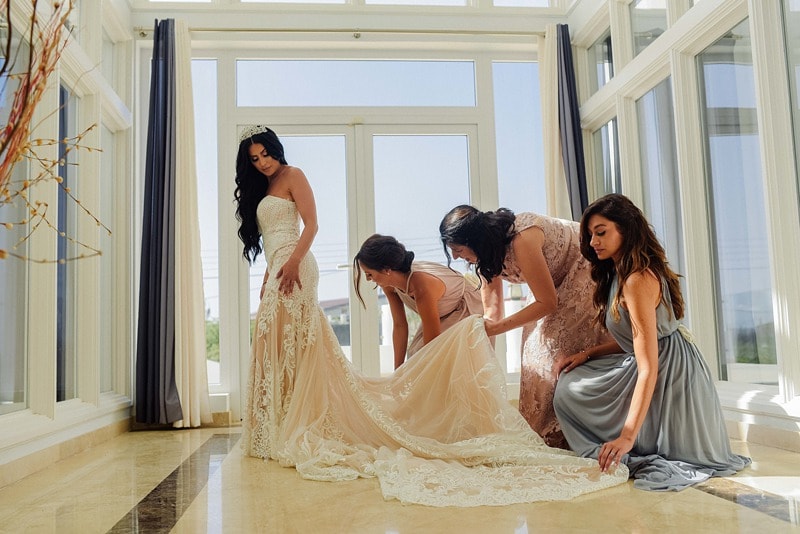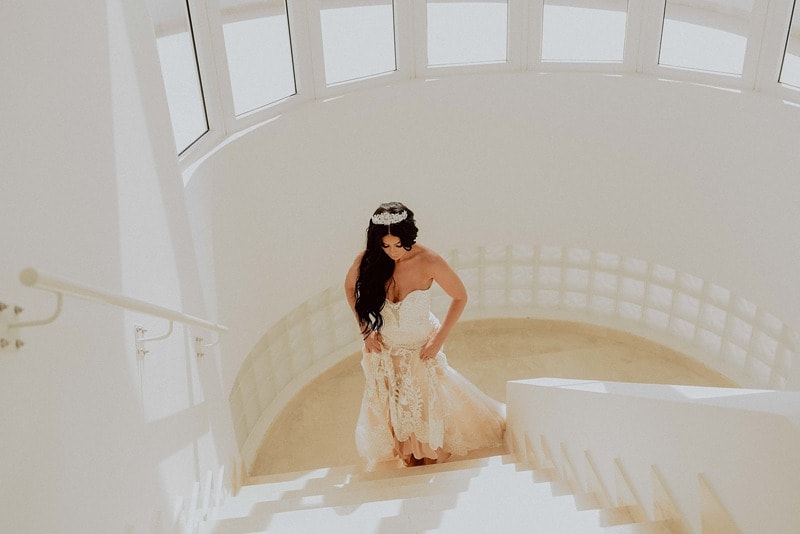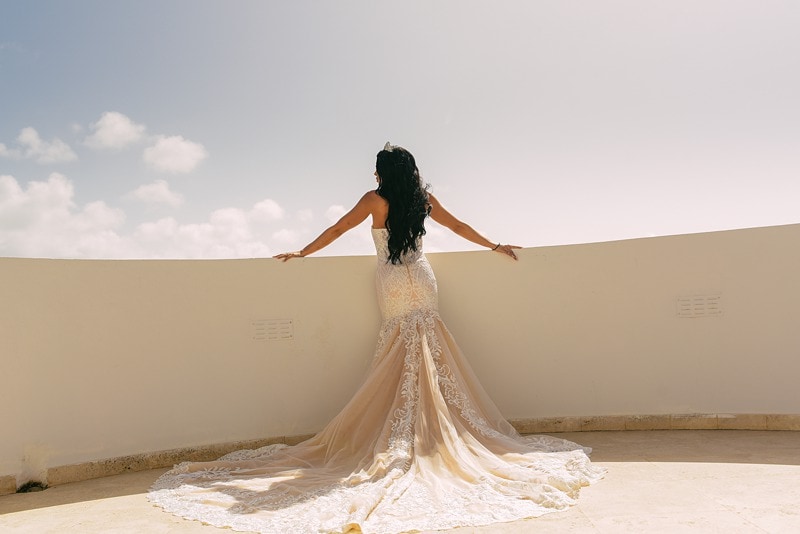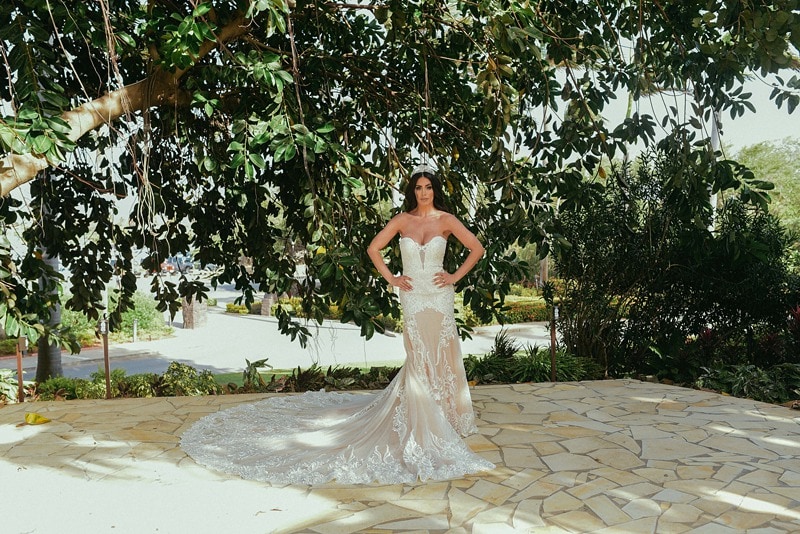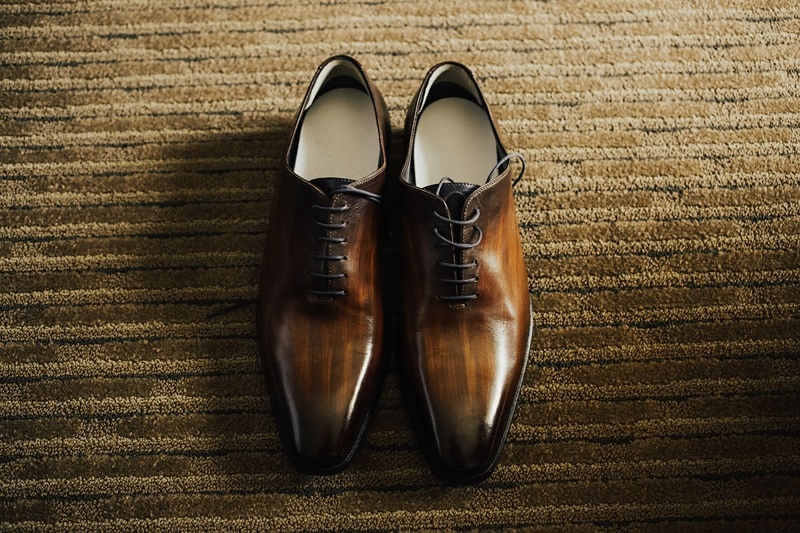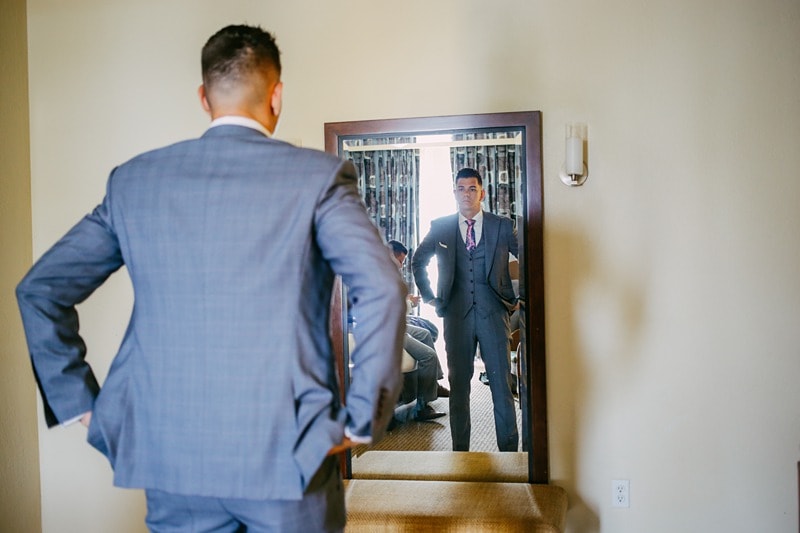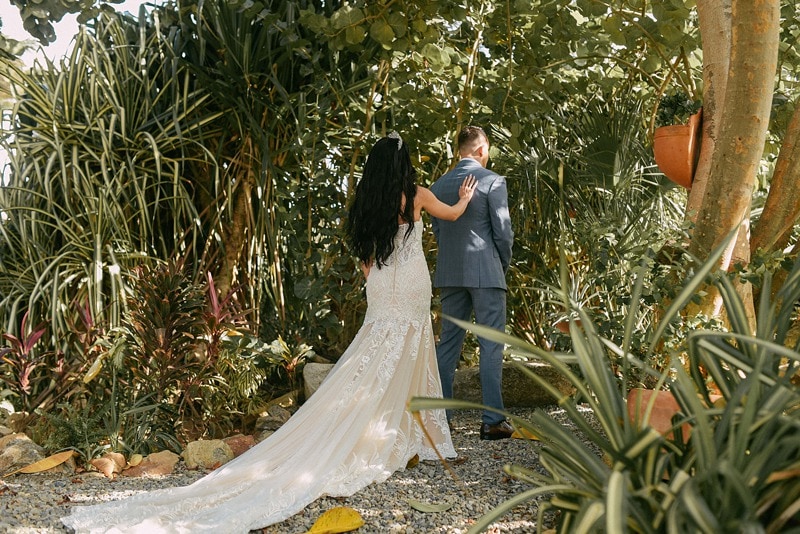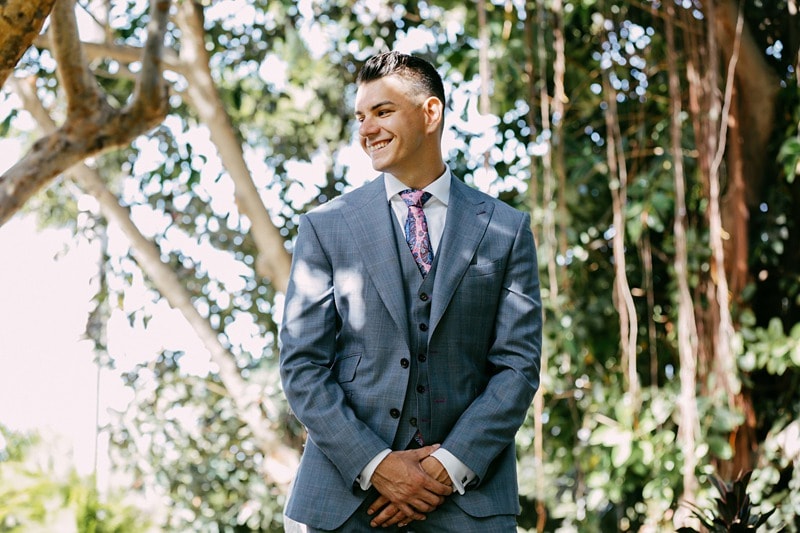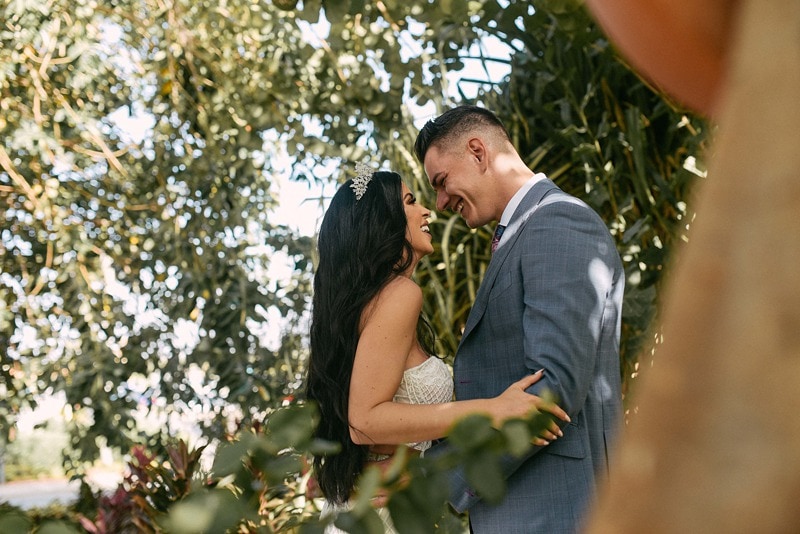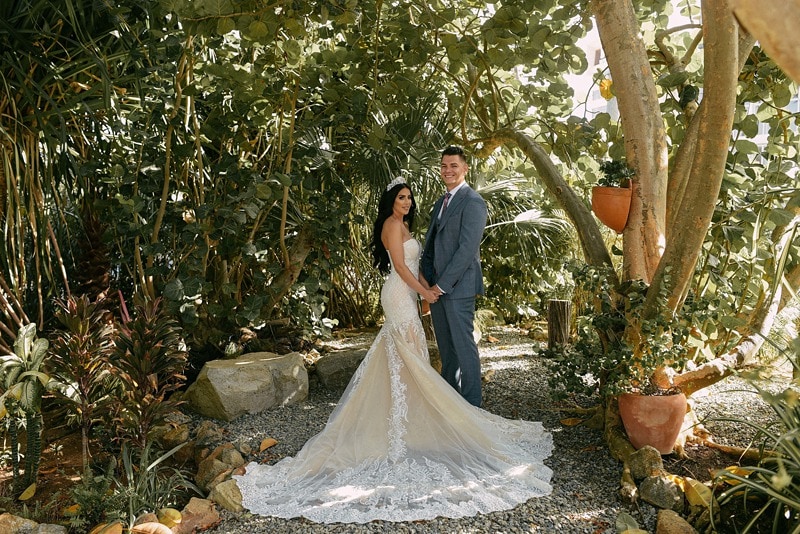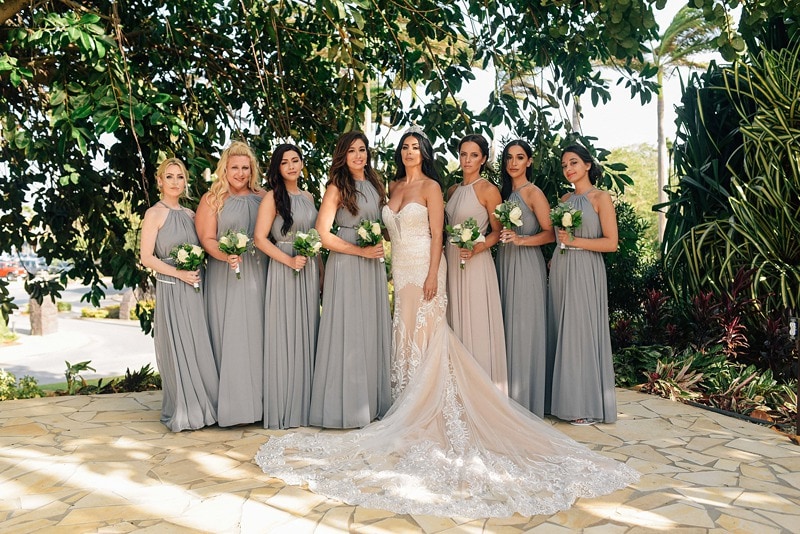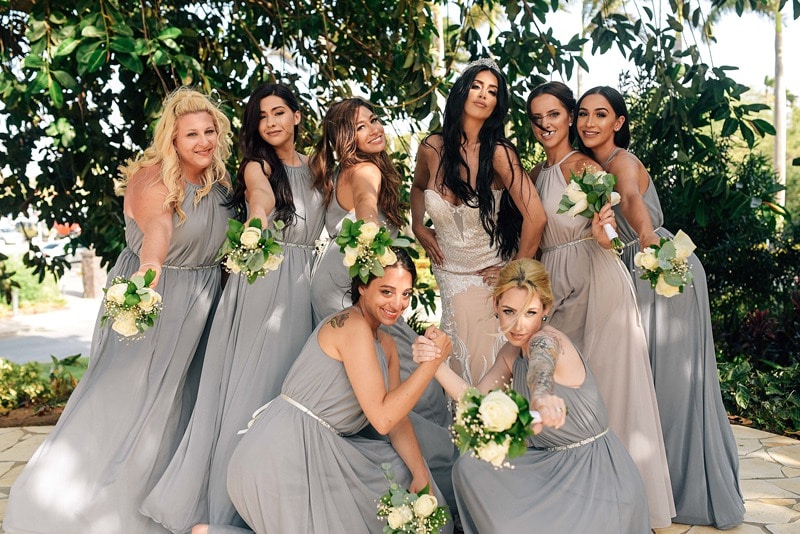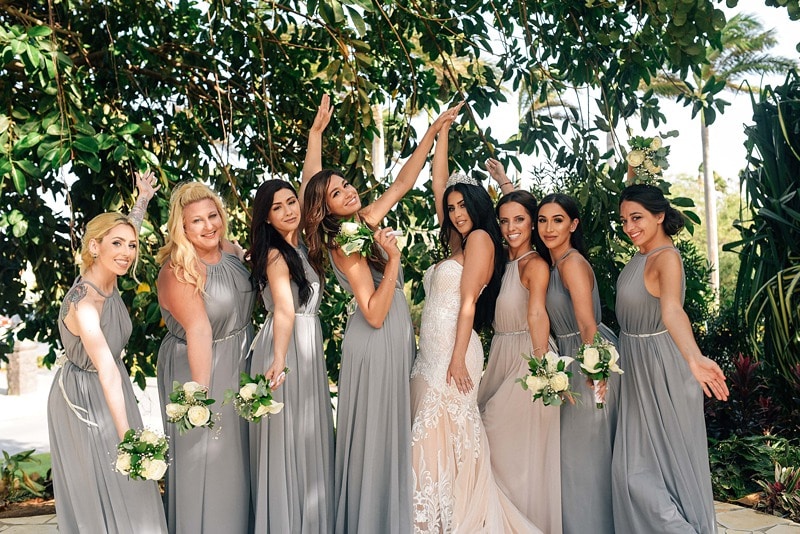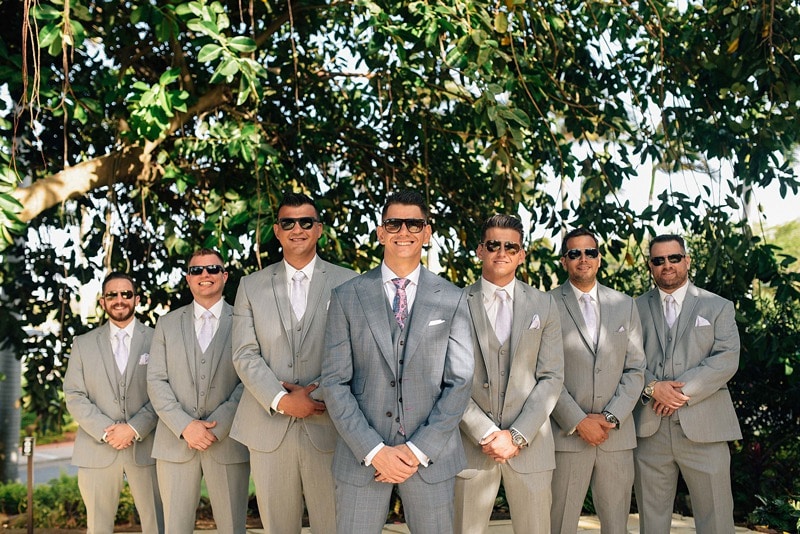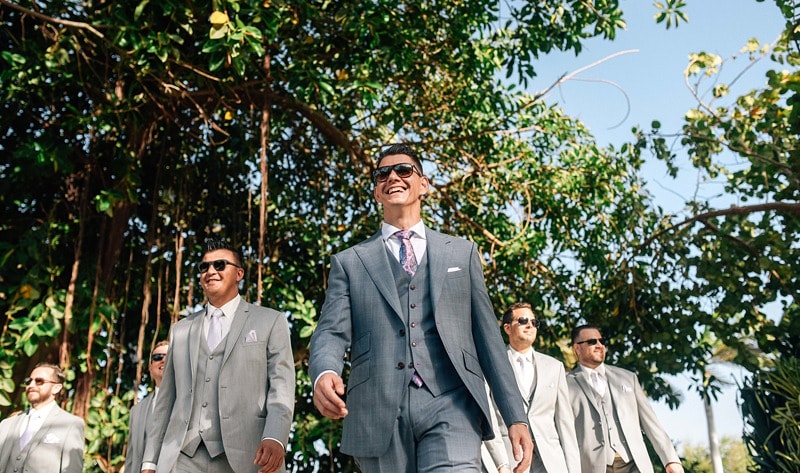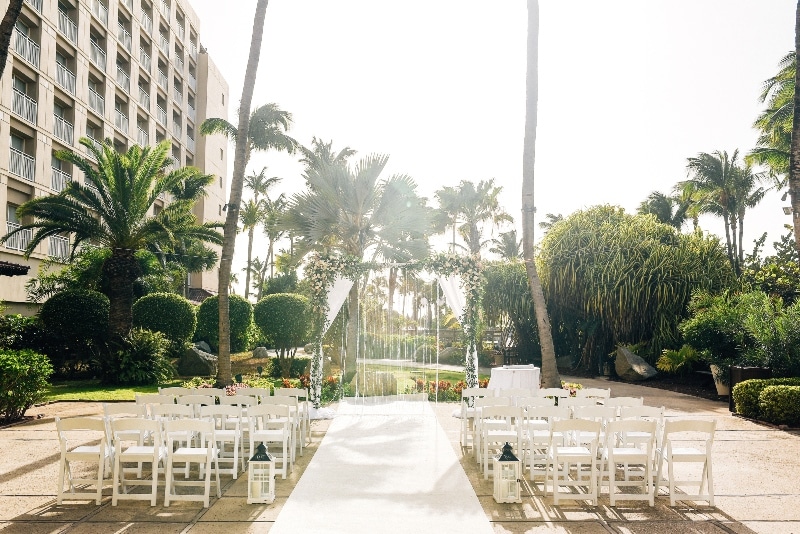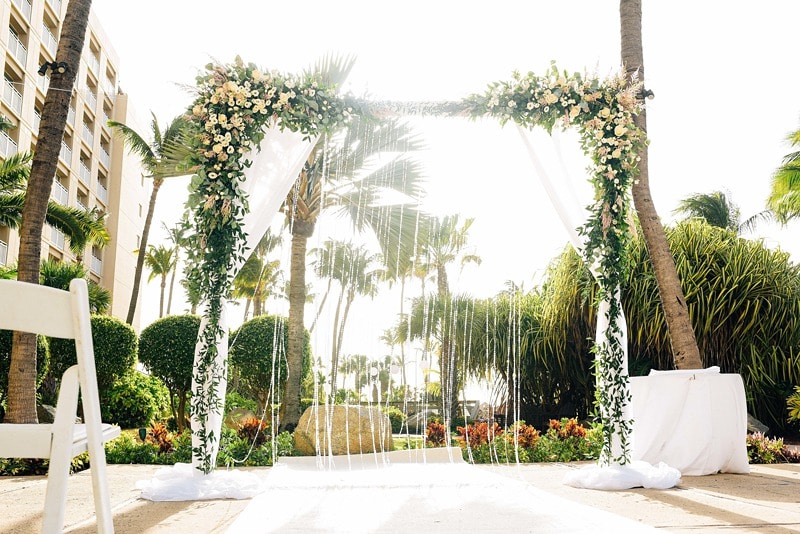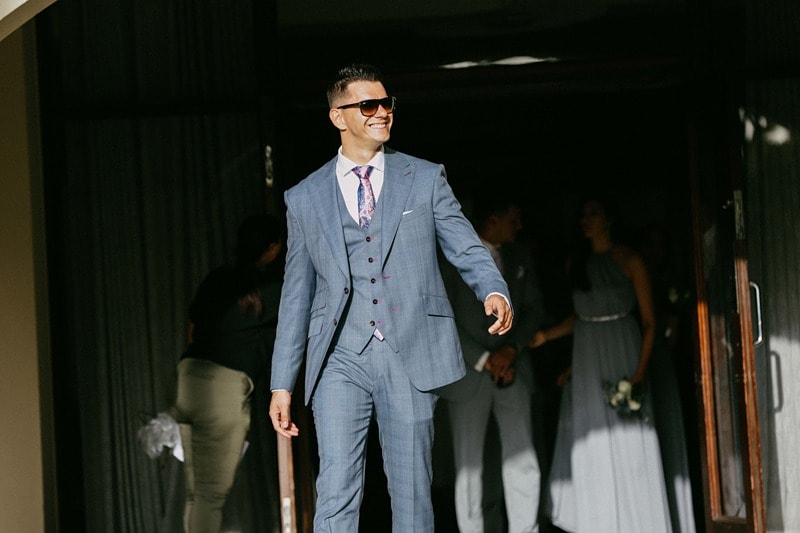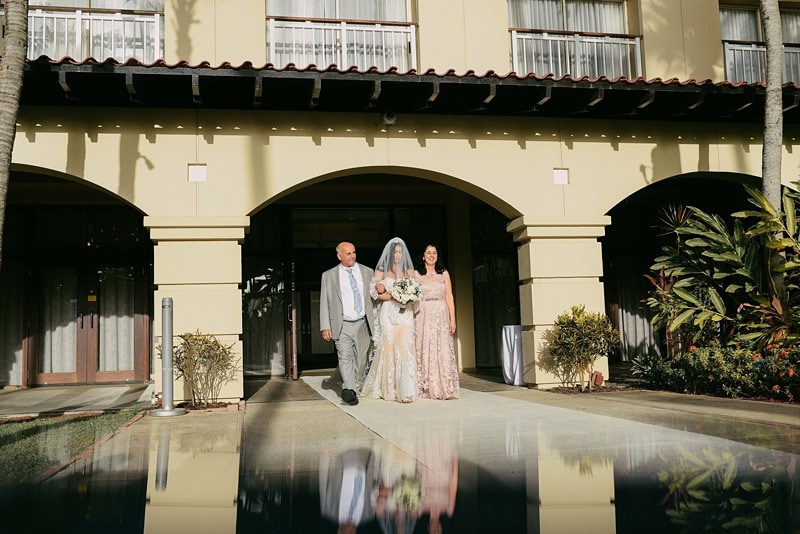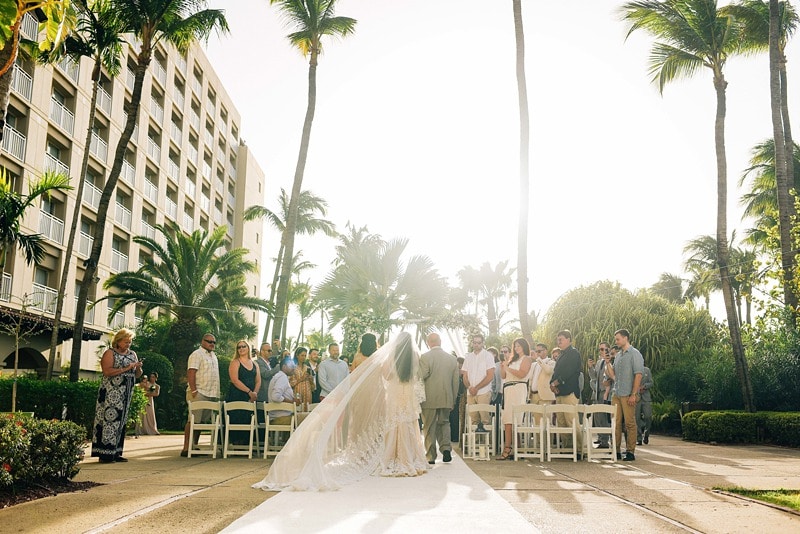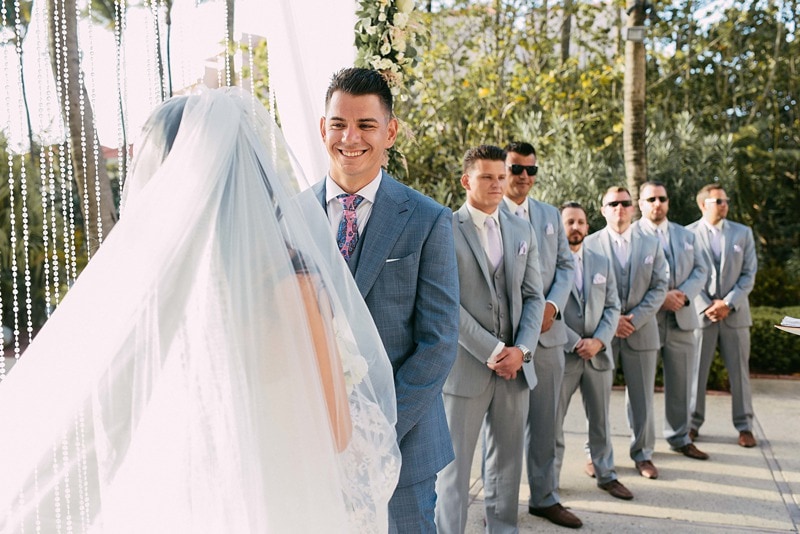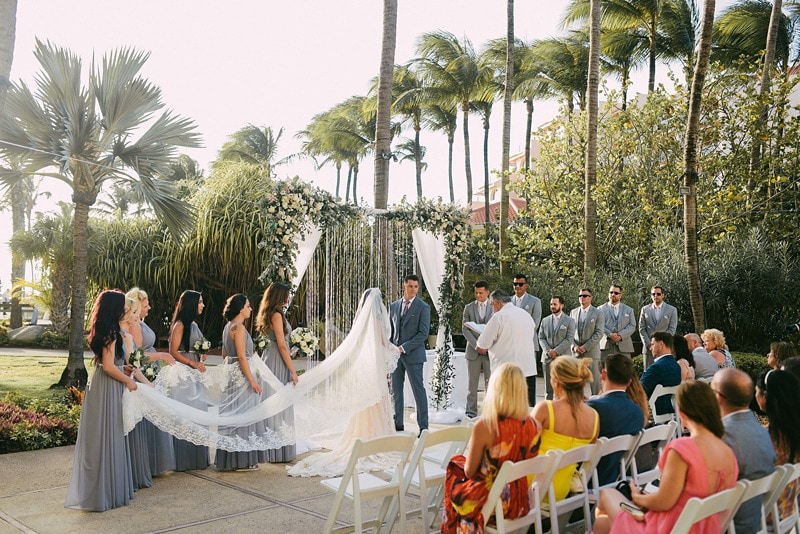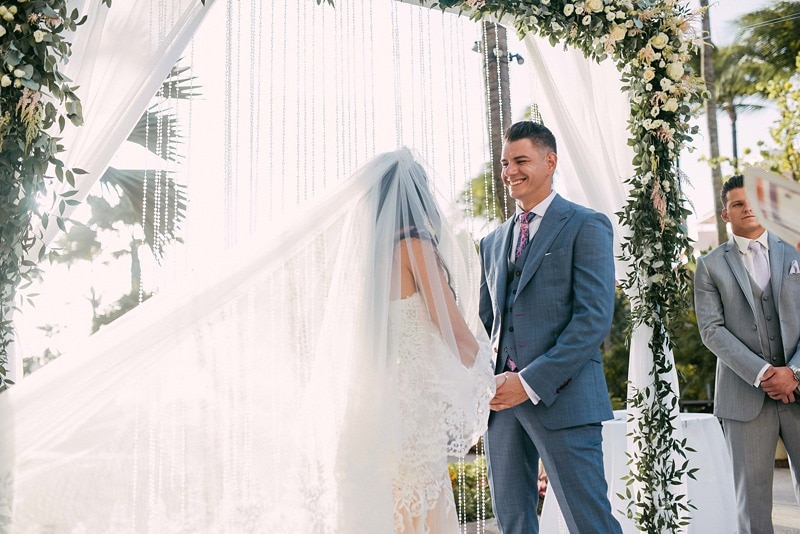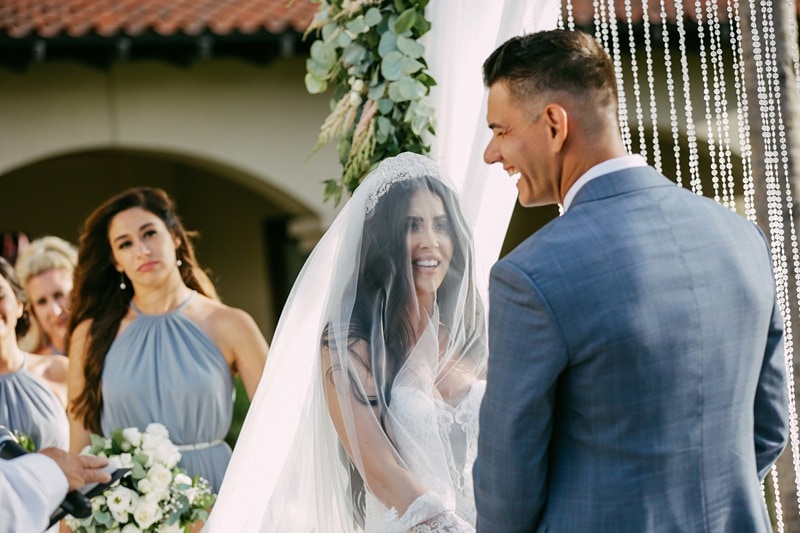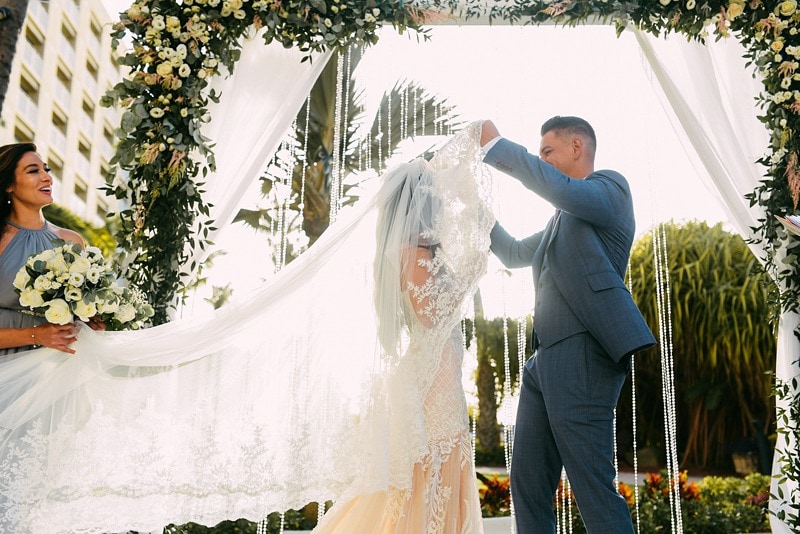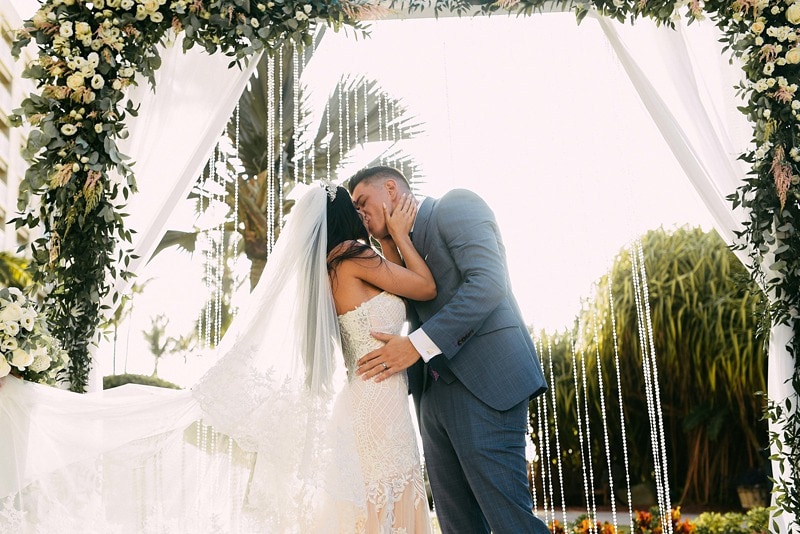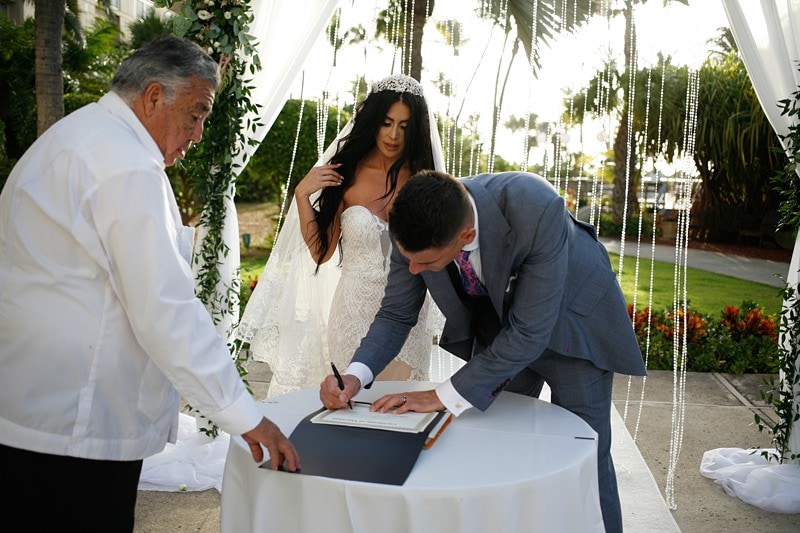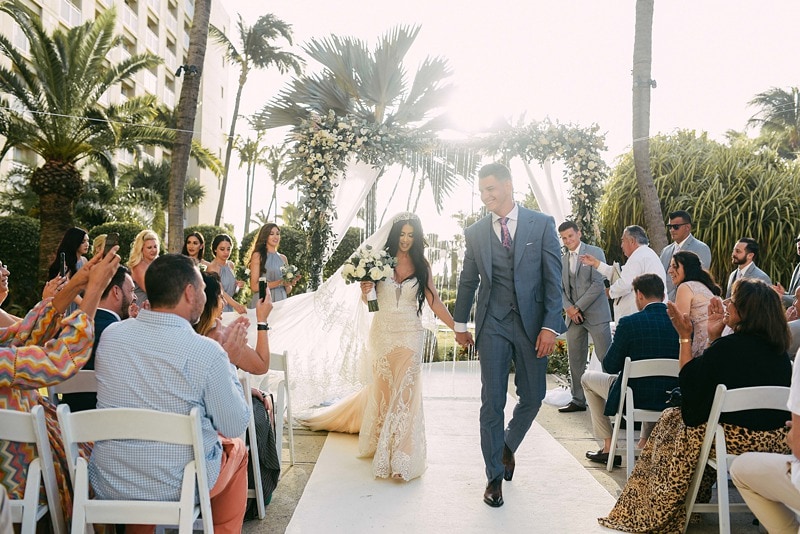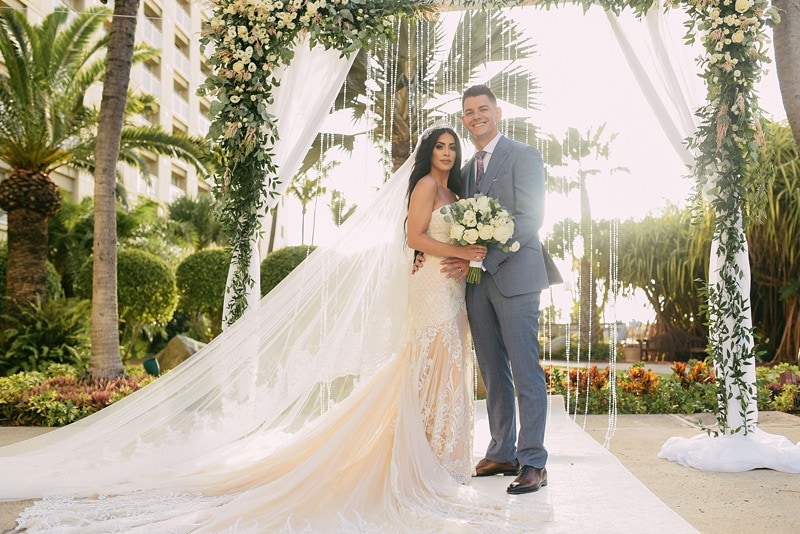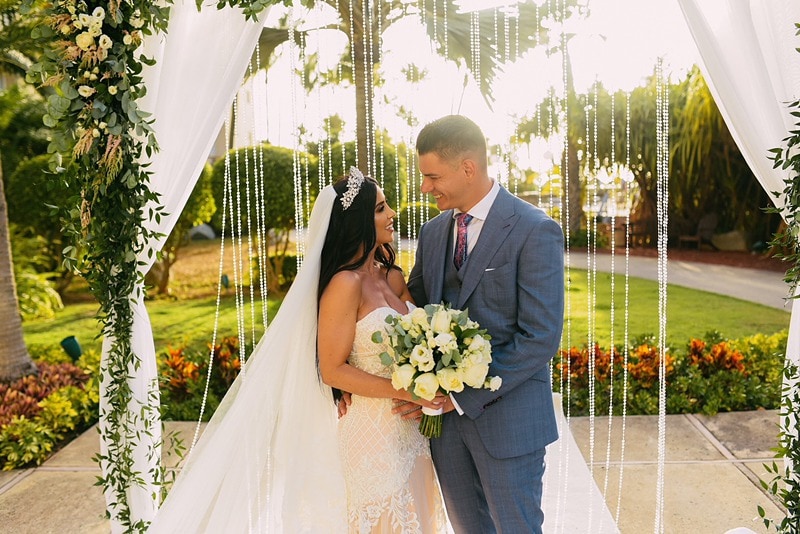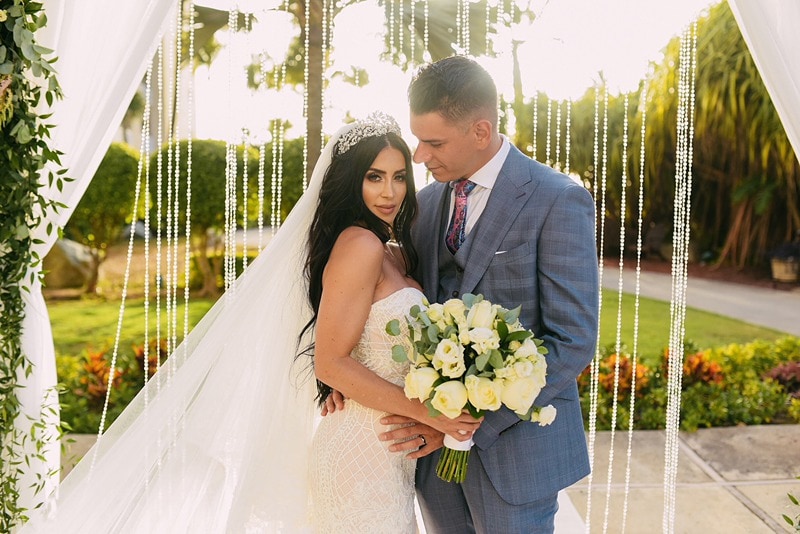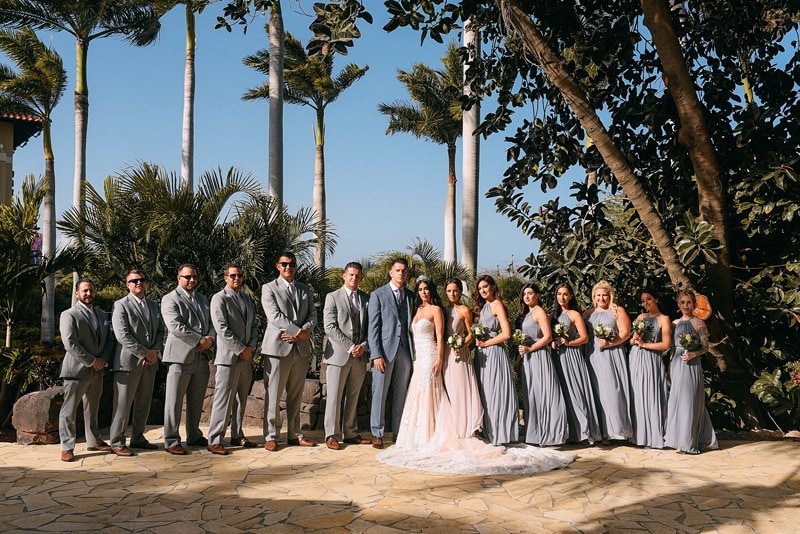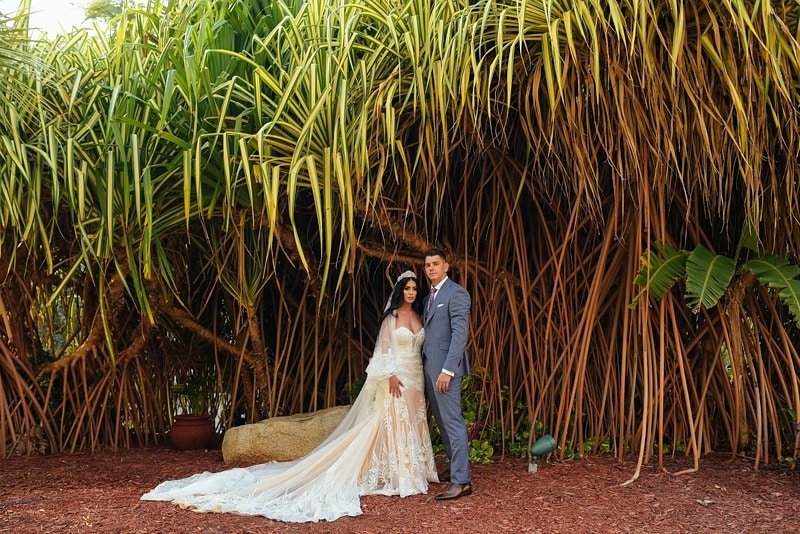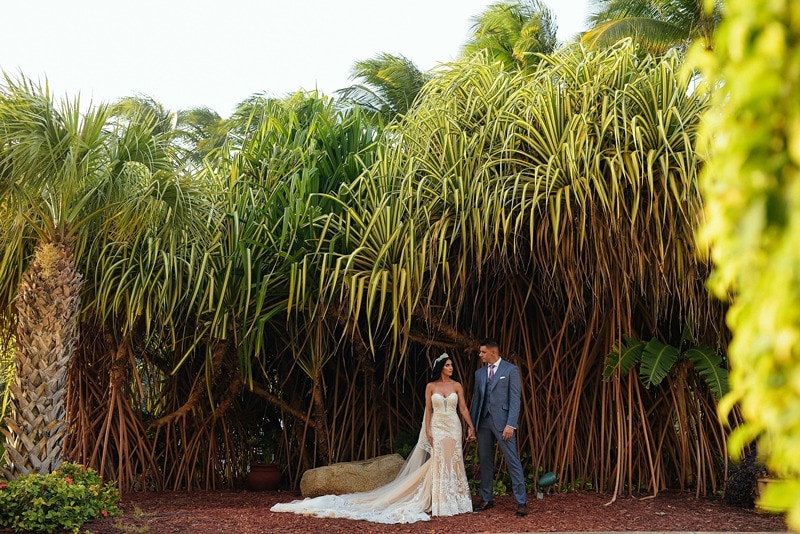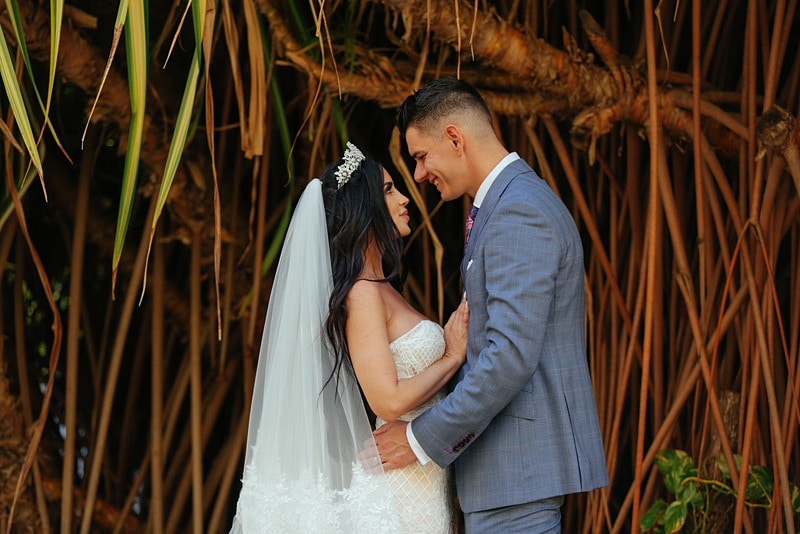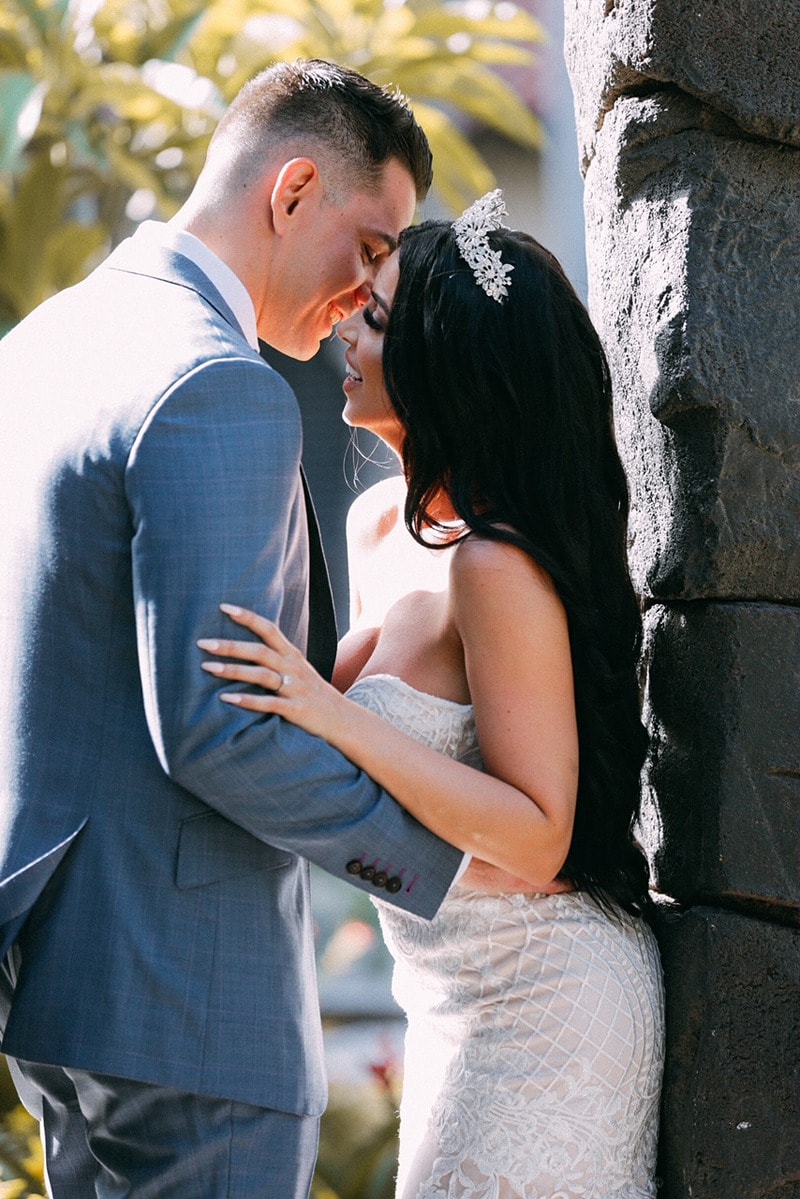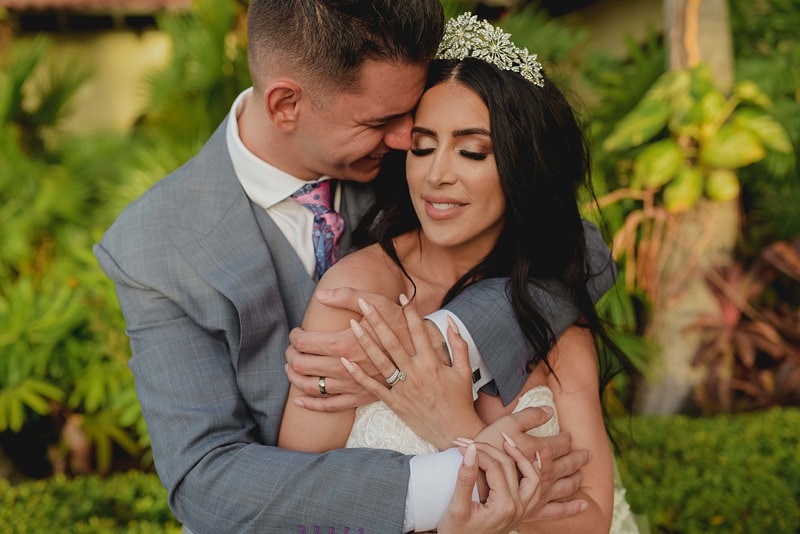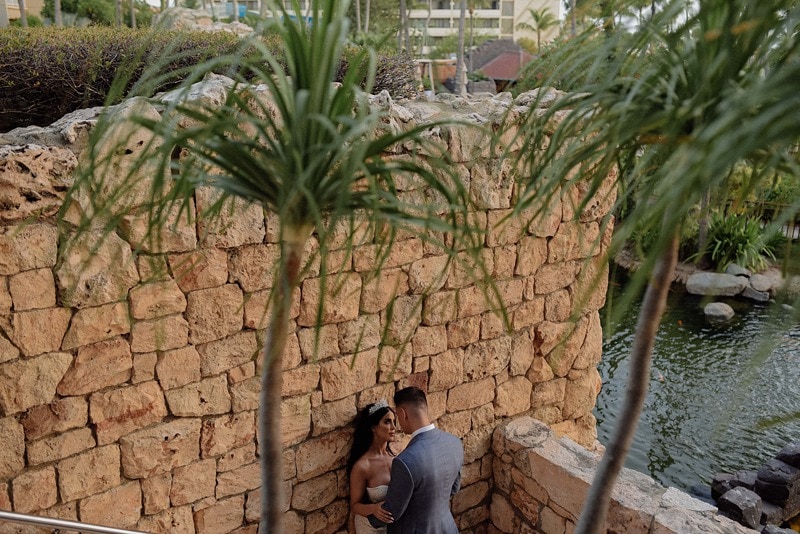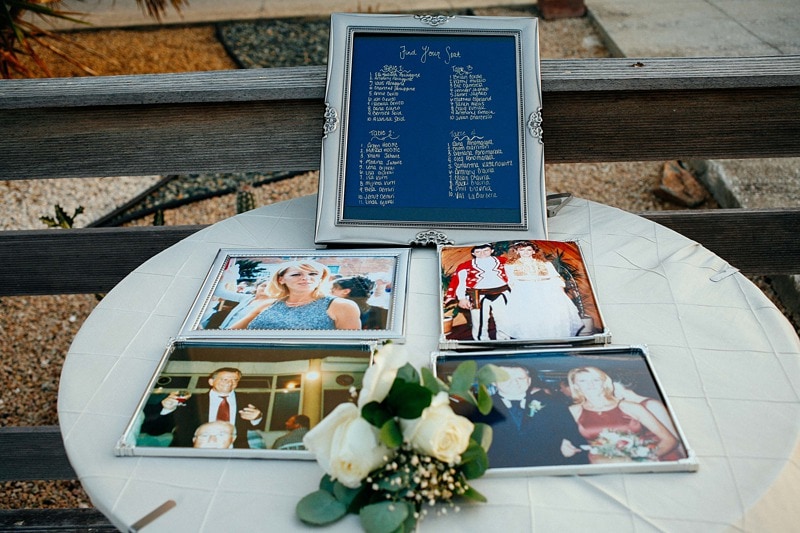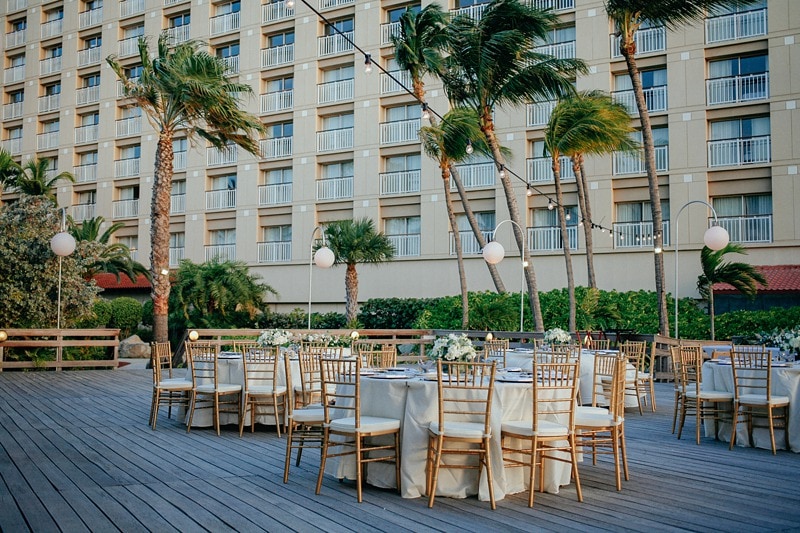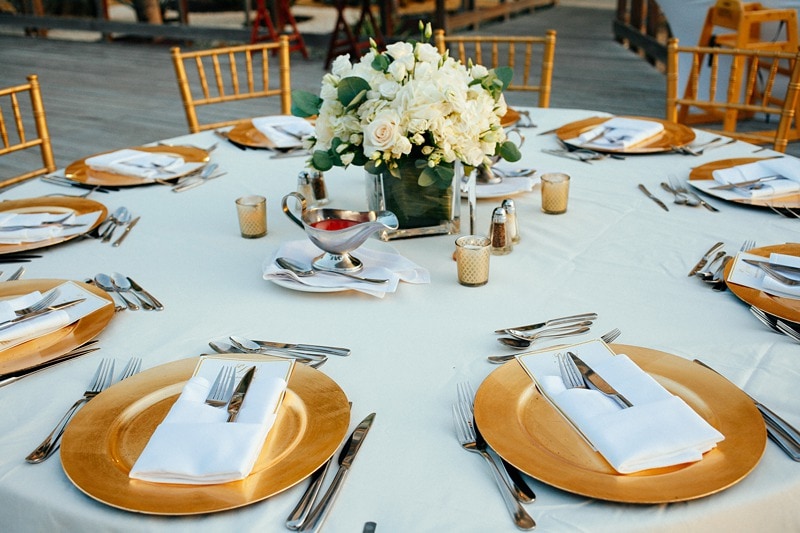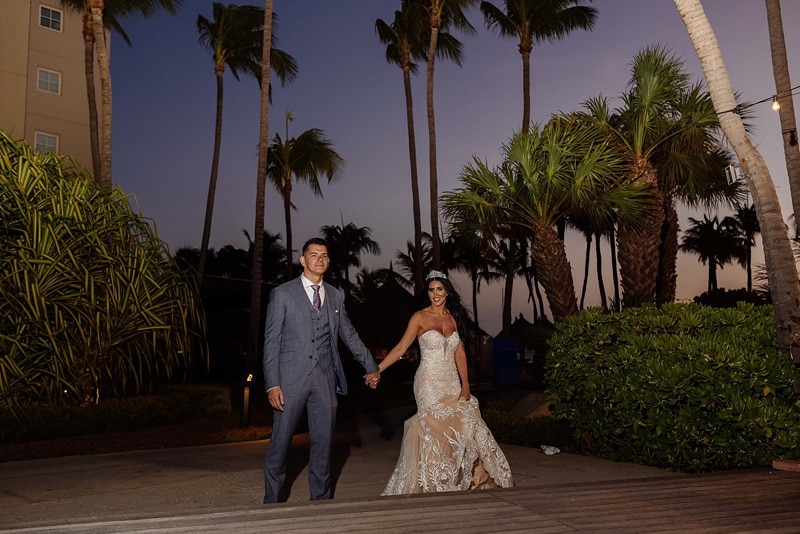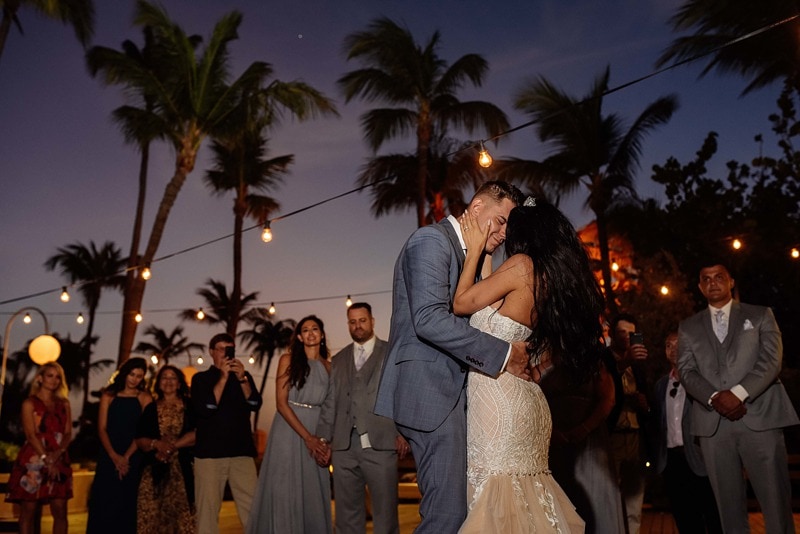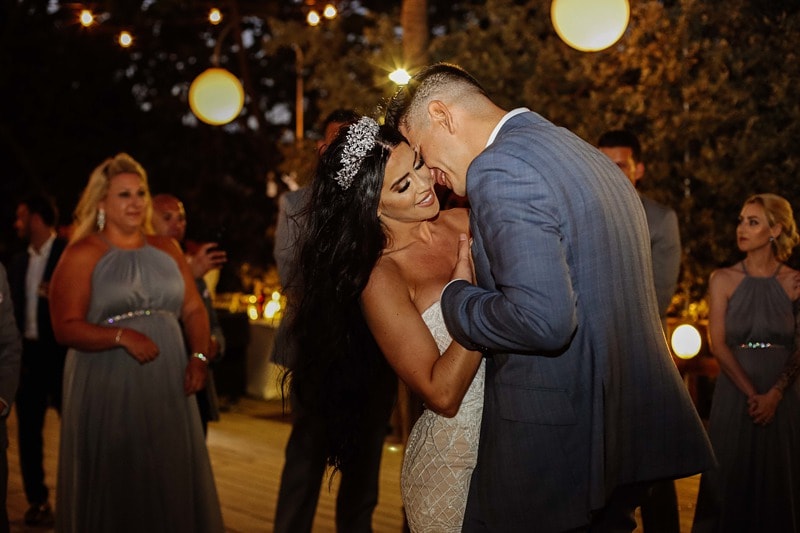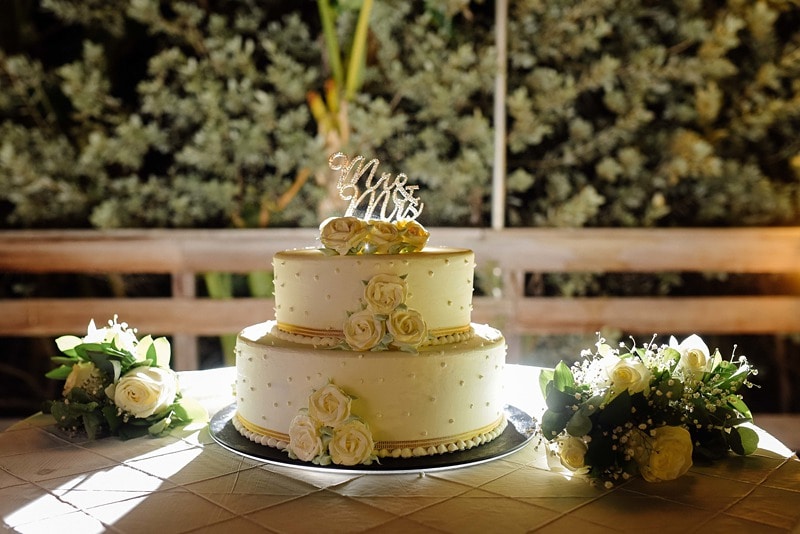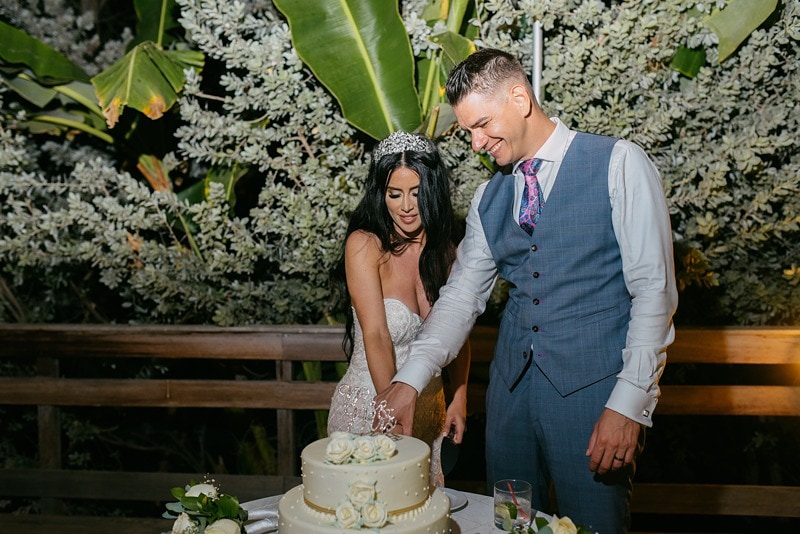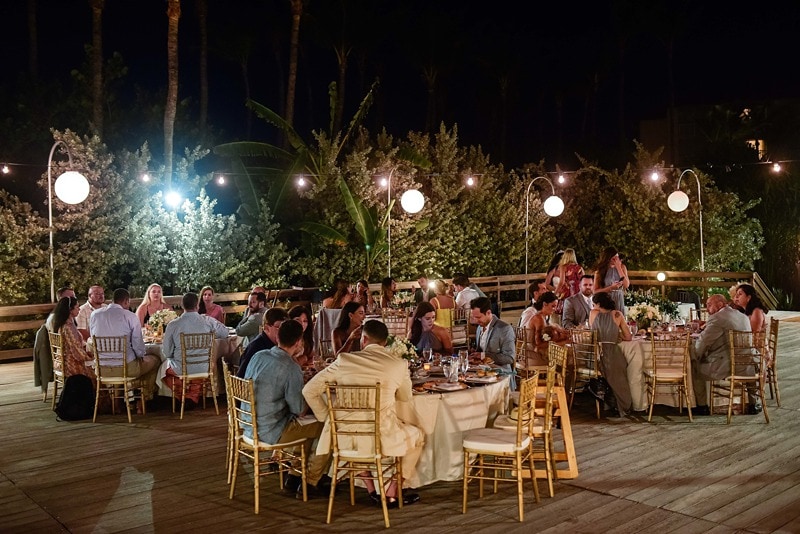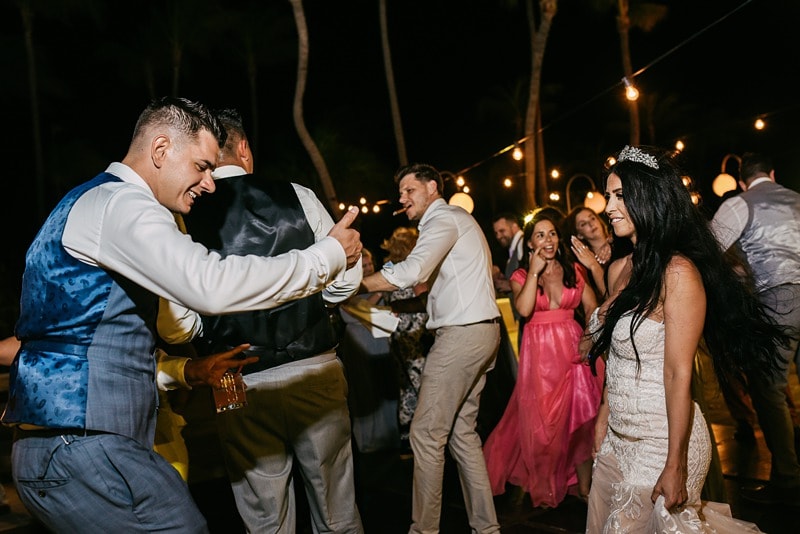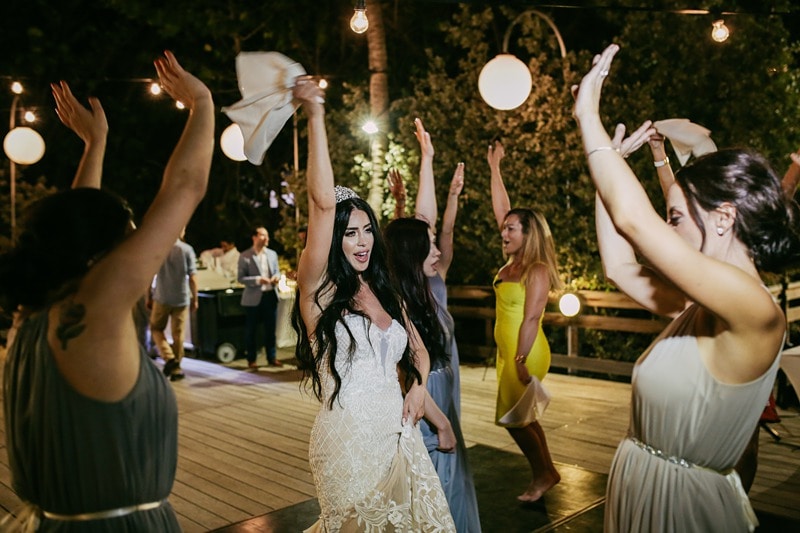 Destination Wedding Q&A with the Bride:
Why did you choose to have a destination wedding in Aruba?
Originally we planned to get married in Saint Martin. But months before the wedding, the hurricane hit and along with the island we lost everything. We used our down payment as a donation back to those who assisted us in Saint Martin, but lost all other expenses (non-refundable invitations, etc).

In a mad rush, we began planning a second wedding in hopes of getting invites out & allow enough time for people to reschedule their travel plans. Without ever visiting the island, we decided on Aruba through word of mouth. We literally booked the venue without ever once visiting. It was a little nerve wracking but we were so excited to get married it didn't matter to us. We booked a trip and went down to Aruba to plan our wedding and were completely blown away and so happy with our decision. The island and the people of Aruba are so beautiful and kind. The vibe was great and we were once again excited for our wedding.
Tell us about your venue
We decided on the Hyatt Regency because they had non-beach wedding ceremony options. I wanted to wear heels and didn't want the older guests removing and putting back on their shoes (minor but important to me). Another great thing about the venue is that they worked closely with a vendor that offered a unique "lounge" style setup for the cocktail hour. All white lush furniture, carpets, tables, cigars and string lights for our guests to hang out and watch the sunset over the beach! I loved this!

Before even picking a destination we made a very small lists of MUST HAVES. When I contacted all the venues, and researched different islands, it made it very easy to narrow our list. Contacting and researching can be overwhelming so creating a list of must-haves really helps.
How many people attended your destination wedding?
45
What were your sources of inspiration when choosing your colors, flowers, cake, etc..?
My husband's mother passed before we wed and it was very important to incorporate her into my wedding. We used to talk about wedding plans over coffee (before we were even engaged!) and she always envisioned white linen, oversized big bloomed white flowers, white centerpieces – simple and classic. It was important for me to go with her vision!

Also – my second round of invites (for the second wedding I planned lol), I did on a budget. I ordered them from shutterfly using a coupon code! I defenitely recommend them.
What was your favorite wedding detail and why?
There were a few. The Albanian music/dancing! My husband is from Albania, so we incorporated a lot of their traditions when planning the wedding (especially the music/dancing). This was awesome – even those who didn't know the dance got up and joined!

I loved my royal-length veil, it gave the drama I wanted when walking down the isle. It was custom made with a front blusher. Grace Kelly was a big inspiration in this decision.

I loved my husbands shoes and suit. I was with him when he sat down with the designer Stephen Seo, and it was so cool that they included me in the process. We picked fabrics and colors, all the way down to the shoes! We worked with his suit designer to create a unique suit and shoes with very unique detailing. His suit and shoes were custom made with his parent's initials on them (outer soles of the shoes). This was so special and unique for him as both his parents passed before the wedding. It was something that made my husband and I so happy. Stephen Seo even drove to our house to personally drop everything off and wish us well on our upcoming wedding. Loved this whole process!

I asked my husband this question, he said his favorite detail was marrying the love of his life (swoooon)!
Was there any tradition that you skipped?
Instead of having my dad lift the over-the-face blusher, my now husband lifted it when our officiant said "you may now kiss the bride". This was a little non-traditional and more of an old-school European way of doing things. My husband LOVED it. He said it was his favorite part of the ceremony!

My husband and I are SO close with both my parents – and we felt it was so important to include my mom in the ceremony! I walked down with them on either side.

We did without MOH/Best Man speeches. Instead, my husband did a short speech thanking everyone for flying down to Aruba and spending such a special week with us.
What was the most unique thing to happen on your wedding day?
My husband and the wedding party walked out to seven-nation-army by the white stripes! This was definetely unique and quirky.

We did do the first look even though we originally wanted to opt out. But our amazing photographers set a perfect, secluded, private location for us to do this and went to great lengths in orchestrating this so that we wouldn't get a glimpse of each other before. We kept this moment very private – no groomsman, bridesmaids or anyone. Just my husband and I. This was a very emotional moment for us. We both cried LOL! I will never forget this moment and the love I felt and saw in my husband's eyes.

Seeing my mom cry before I walked down the aisle and during. She is my rock, and my role model, she is so kind and loving. My mom was so happy to be a part of the ceremony and seeing her cry happy tears was so memorable (and she never cries!) She told me after that it was such an honor to walk with my Dad and I.
What was your favorite part of having a destination wedding?
EVERYTHING! Having the week with our friends and family was my favorite part. We loved that we got to spend the entire week relaxing, partying and enjoying everyone's company! We always envisioned a small intimate wedding and it is exactly what we got. It felt like a dream.
What was the biggest challenge in planning your destination wedding?
Not being there to oversee or revisit the venue and understanding "island time" (it's a thing). Because I was unfamiliar with the venue and only saw it briefly after we booked the wedding, I had to keep referencing pictures I took or tried searching full view photos on google to make sure that my decor, layout, etc would work with the ceremony/reception site.

I would recommend going in with a plan around the same time you book your destination venue. I changed my mind a lot from the first wedding I planned in Saint Martin because I now had access to different options with florals and design. This became problematic and stressful when planning because I had to confirm it was doable. For example, can they import it, will customs approve it, is it an available option, etc. Don't save these questions or requests to last minute or you may miss out on a detail/decor-item you really had your heart set on.

Being located in NY/NJ, I was not accustomed to seeing this with friend's weddings and did not factor in response times. My husband and I were still doing last minute changes/approvals the week of our wedding.

Trusting the wedding pamphlets the hotel provides because the costs of things are so different than what is included in the pamphlet. There are so many additional hidden fees and extras that have to be paid for (i.e. table cloth rentals, multiple setup fees at the ceremony, cocktail hour and reception, taxes, fees, etc)
What's your destination wedding advice for other couples planning now?
READ, READ, READ! I would check into Destination Wedding Details to get advice about beach hair (wind factor was major here), invitation etiquette, checklists, etc. A lot of brides will give their advice but planning a destination wedding is a whole other ball game! Provide enough time for your guests to make travel accommodations. And include travel information on the invites – airport details, directions, excursions, wedding attire (i.e. beach casual, cocktail, etc because a lot of people ask).

A lot of guests use this week as a vacation as well, so be mindful of that and provide them with recommendations (i.e. restaurant, pharmacies, supermarkets, excursion information, happy hour information, beach details – like where you can go to rent a hut for the day while having drinks served to you!).

We did plan a pre- and post- wedding gathering – but we really wanted to give our guests freedom to do what they wanted and enjoy their week! Know the weather! We knew Aruba was super windy by the water, so we took that into account when planning. We didn't want anything blowing away, or the arch fabric blowing in our faces– that's why we went with beads.

If possible, keep a spreadsheet of the day guests are arriving and where they are staying. This made it super easy to make sure we greeted everyone and were able to drop off welcome bags before they arrived!

Arrive at least a day before your guests! This will allow you to settle in, unpack, drop off welcome bags, and if needed, go to the venue for last minute meeting with vendors – without taking time away from seeing your guests!

Remember – you have to look into the legality of getting married in another country. We did a symbolic wedding and then got legally married at the courthouse with my parents. Some islands require blood work, others require in person application x amount of days prior to the wedding, etc.

Also understand their customs. For example, Aruba double taxes everything and this added up quick! It became a huge expense. And because everything is shipped from other countries, customs may deny shipments or charge a lot. When choosing our vendors we spoke with all of them about this and asked that they include all extra chargers in their estimated budgets so I could be mindful when budgeting. The plus side to this is that all flowers are shipped into Aruba because it is a desert, so I had complete freedom when deciding!

DONT STRESS THE SMALL STUFF! While planning it took me a while to understand "island time" – very slow responses (which can make someone nervous). Communicate early and have a good idea of what you want before booking a venue so you can get your questions/planning done early. We were still planning/finalizing the week of our wedding!

You can't please everyone (and no one expects you to). On one of the 7-days I got so burned out. I was trying to accommodate everyone… Needless to say, I burned myself out BAD. But everyone understands you are doing your best and doesn't expect you to be everywhere at once. I didn't understand this though, and was not in the moment with the people I was with. I got very overwhelmed for no reason at all.

Pre purchase baggage claim (JUST IN CASE). When we booked our airline tickets, I pre-purchased baggage claim (2 bags for the each of us, 4 bags total). We used the extra luggage to pack the welcome bags, gifts, our seating chart, pictures to be on display during the reception, our bride/groom champagne glasses, etc! It was much easier than trying to find this stuff on the island and/or shipping it to Aruba. The hotel did kindly offer us to ship ANYTHING directly to them and they would store it.
Is there anything else you would like to share with us?
Thank you for having such an amazing platform for Destination brides! I know I was a very frequent visitor of your blog while planning BOTH my destination weddings. And while destination planning is super stressful it was nice to have a place I could go to for advice (i.e. etiquette on invitations, save-the-dates, destination wedding tips, checklists and more). There are a lot of wedding websites/blogs but they never include destination weddings, and destination weddings are so different and unique to plan. It was comforting to see REAL brides and REAL weddings on your Instagram and using their weddings as inspiration when picking my dress, flowers, decor.
Vendors:
Photography:  Pixit Photography
Venue:  Hyatt Regency Aruba
Bridal Gown:  Castle Couture and Zatsarina Fashion
Groom's Attire: Stephen Seo
Bridesmaids Attire:  David's Bridal
Favors/Welcome Bags:  Coolie King via Etsy
Bridal Shoes:  Badgley Mischka