When my best friend and her husband (AKA my best friend in-law) returned from their honeymoon in Positano last fall… I was SHOOK over the pics they took there. So, I COMPLETELY understand how today's featured couple, Caitlin and Josh, were sold on this destination as the perfect place to elope. The coastline is completely bonkers – from the peaceful beaches to dramatic bluffs and historic architecture that envelops it all – Positano is classic Italy at its finest.
Rudy and Marta Photography surely had a fun day at work shooting this elopement wedding. Positano is a photographer's dream with the array of textures, colors, views and abundant sunlight. I love that Caitlin and Josh kept it classic but casual, wearing custom printed Toms with their light, beachy wedding attire – perfect for running through town, snapping all kinds of romantic candids.
What I love in particular about this wedding, is that Caitlin and Josh really nailed the whole "best of both worlds" thing. They chose to elope, inviting none of their family and friends to Italy for the "big day." BUT, they were sure to throw one hell of a party back home on a different beach in Florida among everyone they loved. Couples oftentimes let their wants, needs and dreams of the perfect wedding fall to the wayside while catering to everyone else's idea of what the wedding should look like – so I admire these two for making it truly their own, while still finding a way to include family and friends later on.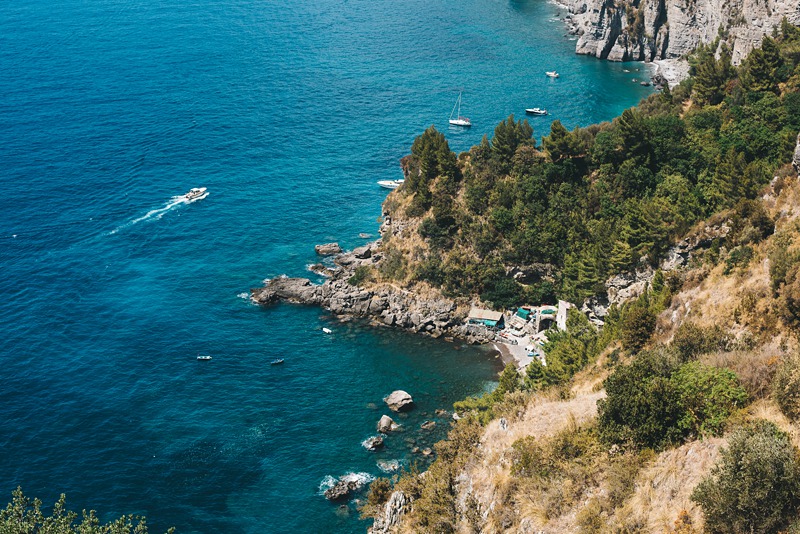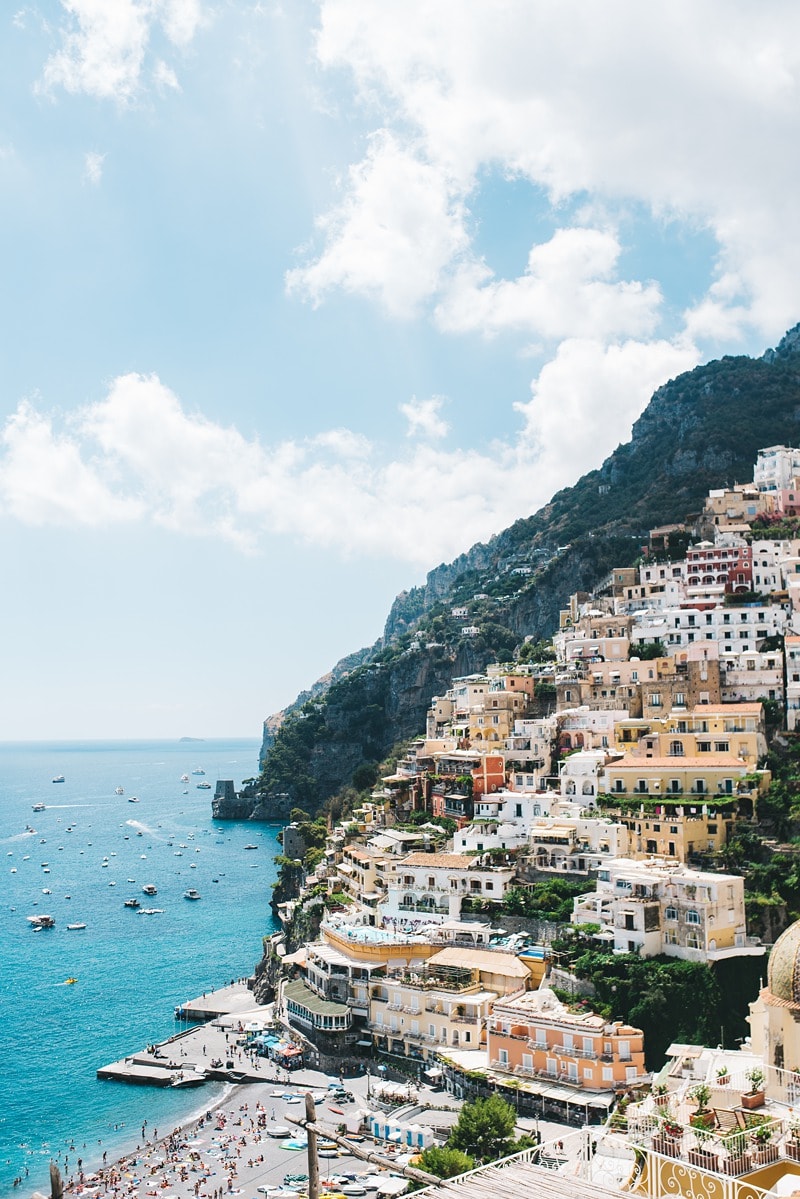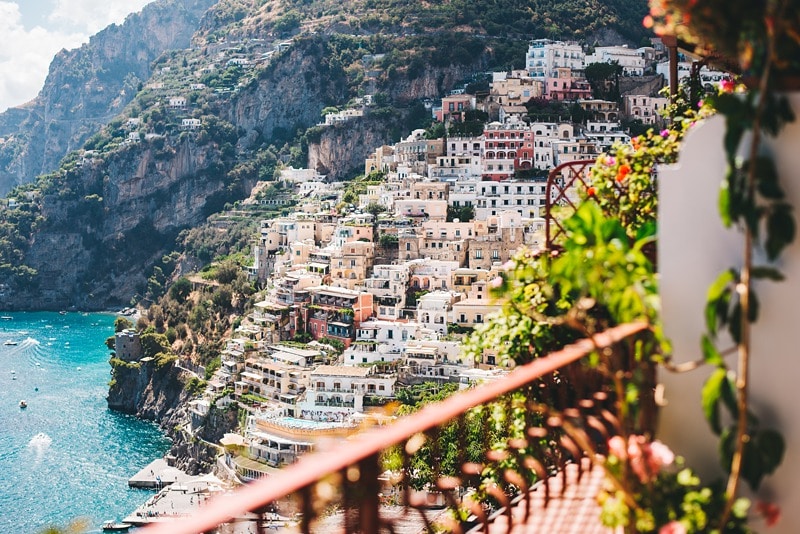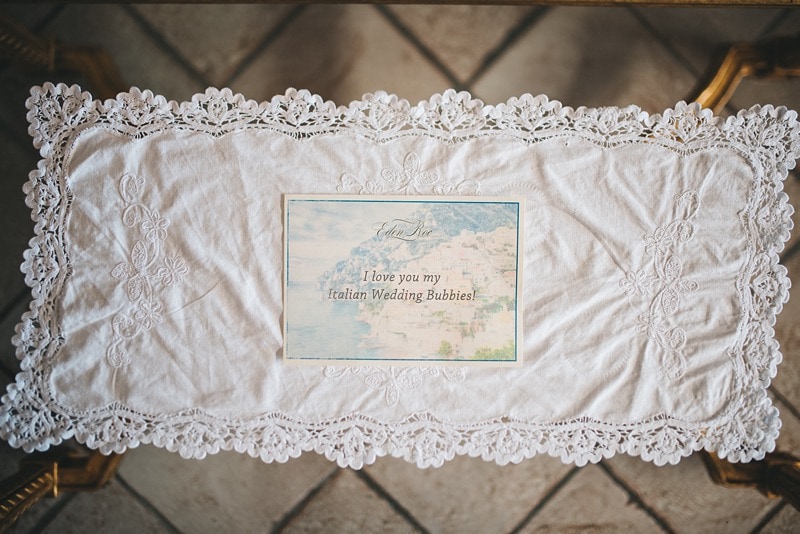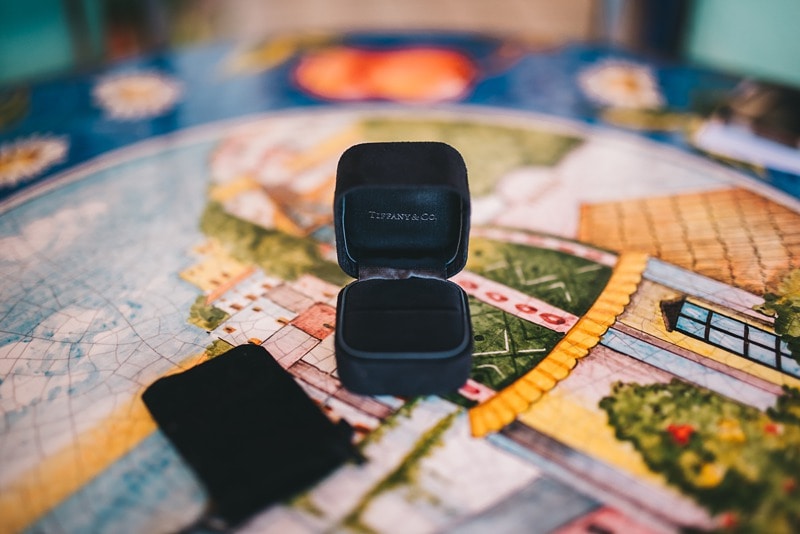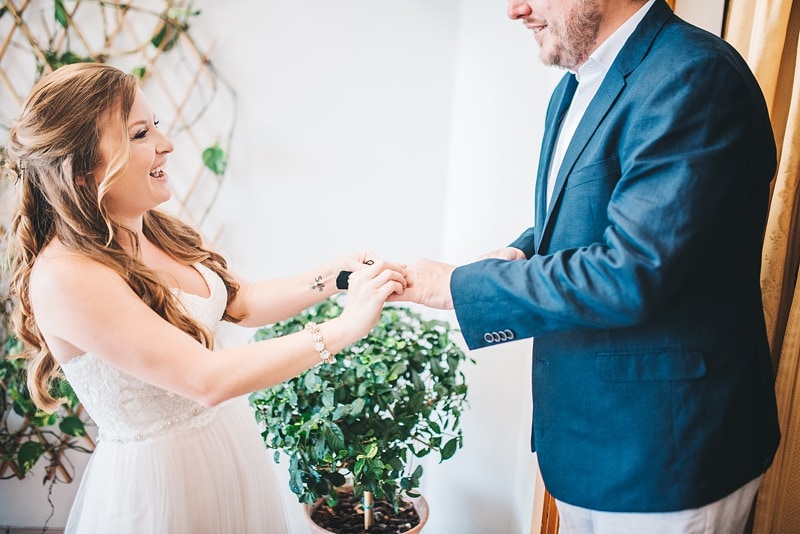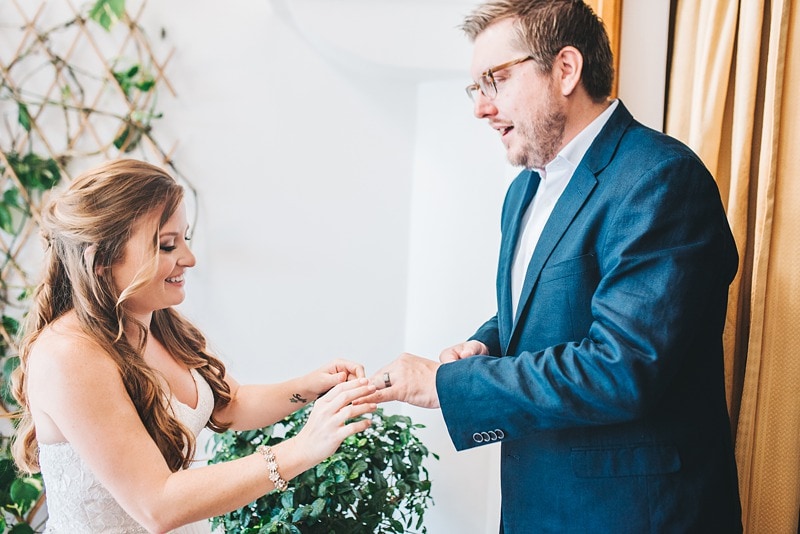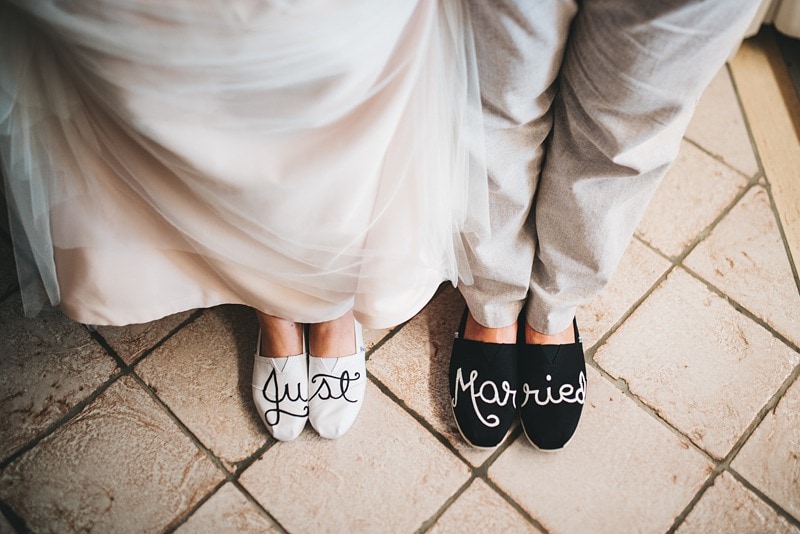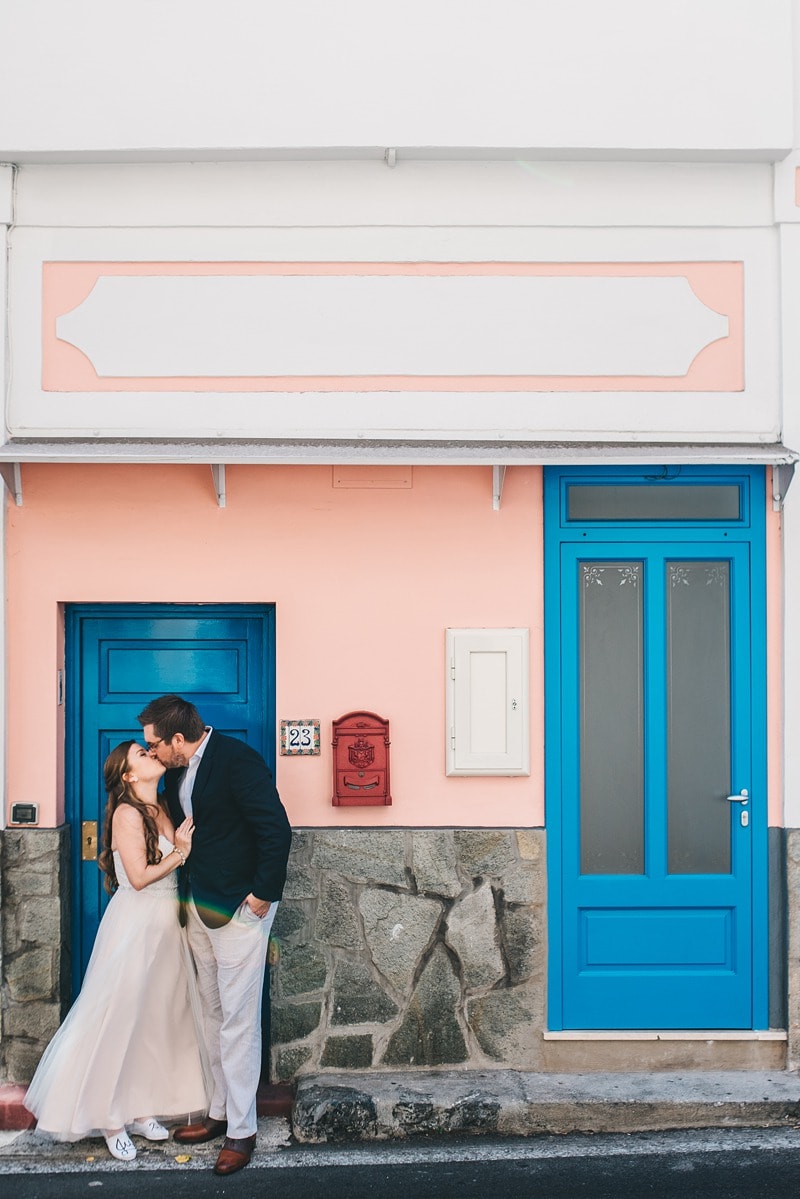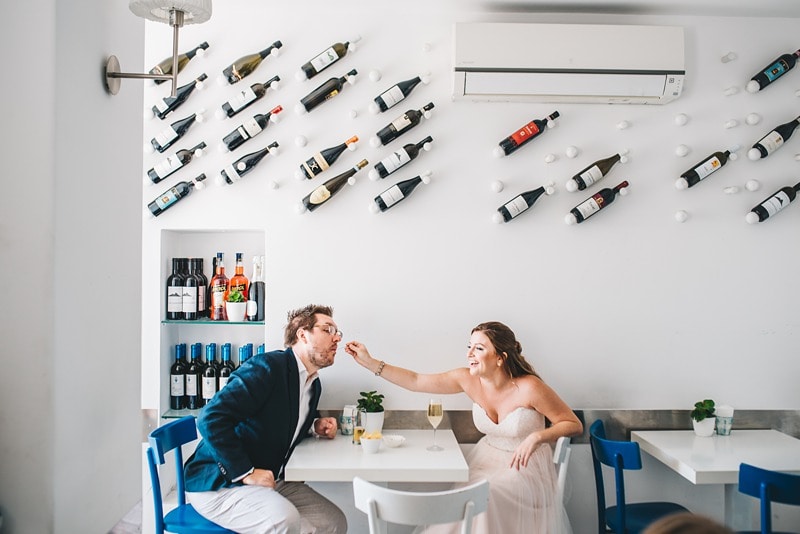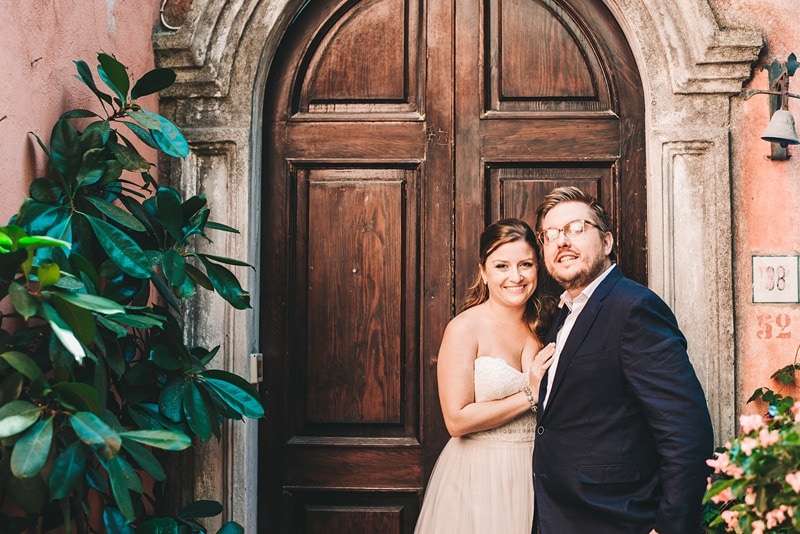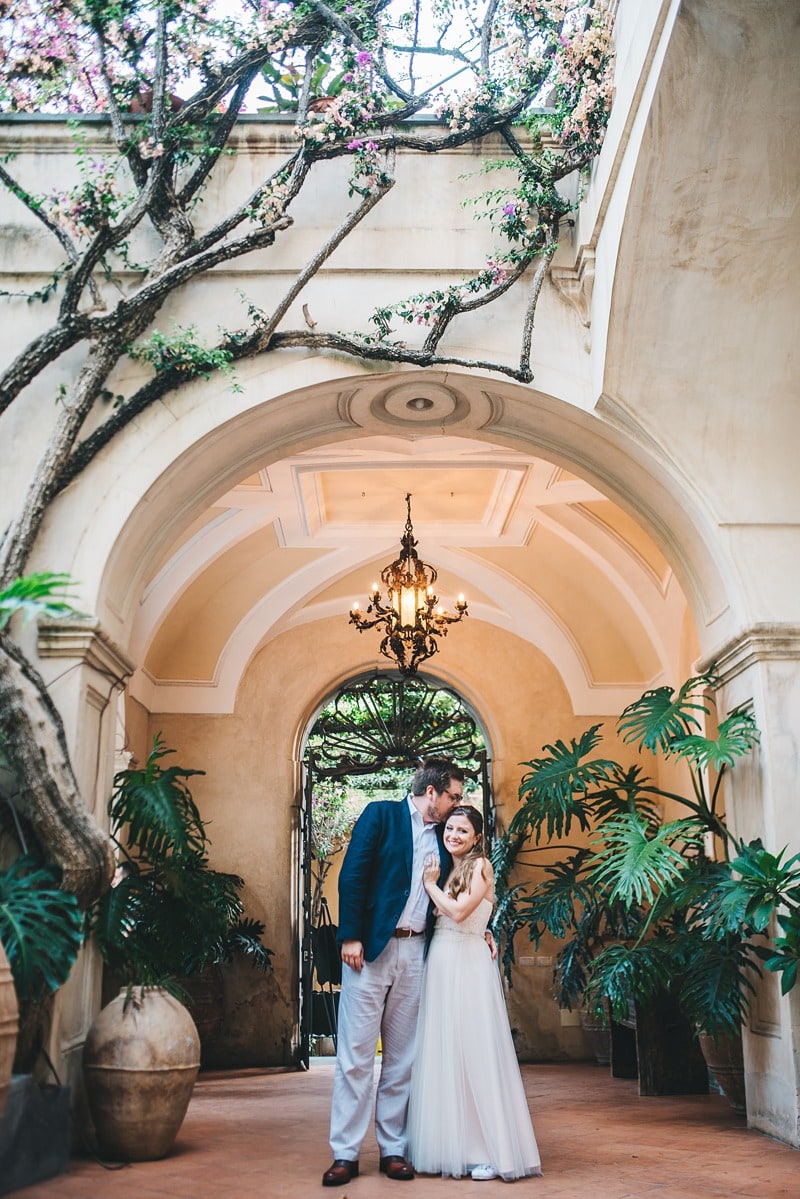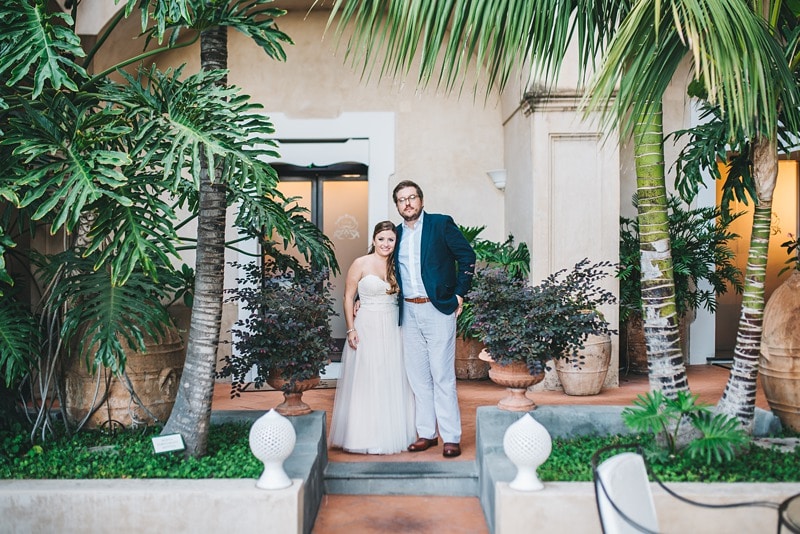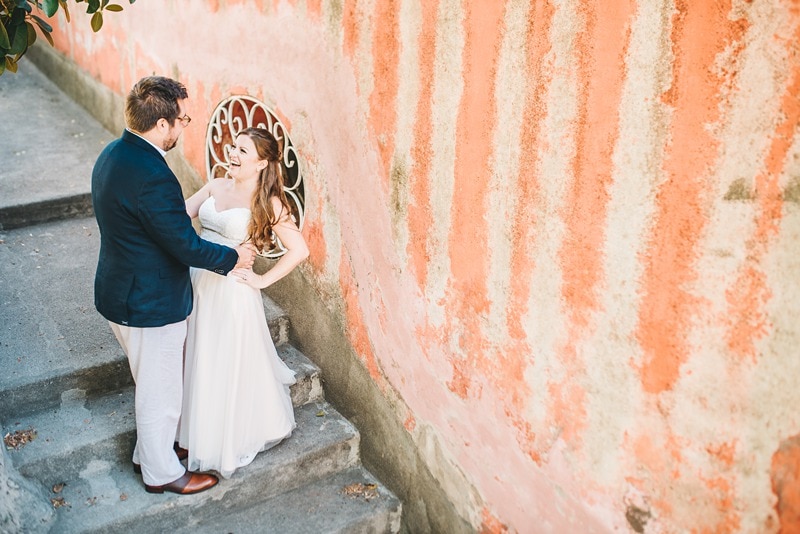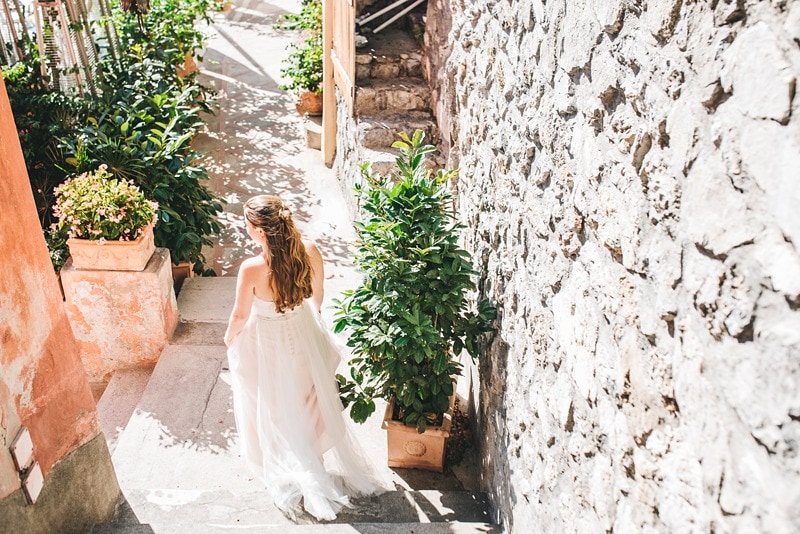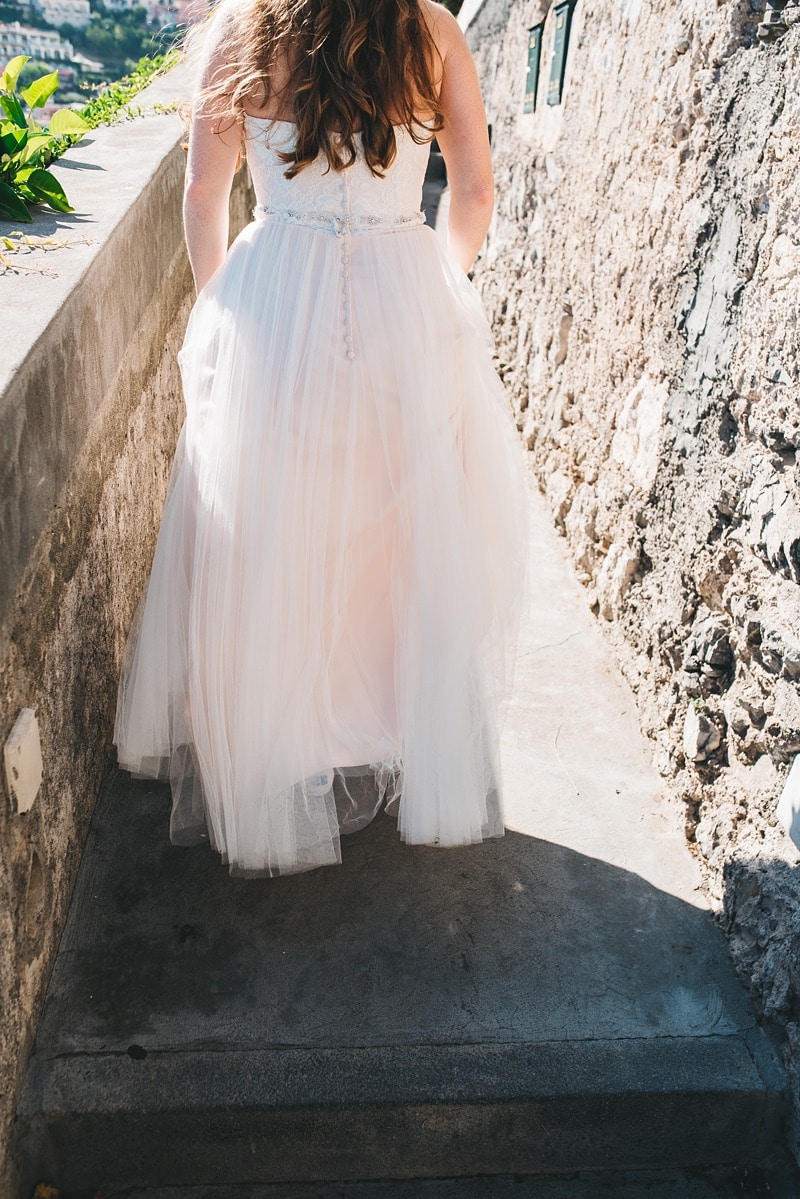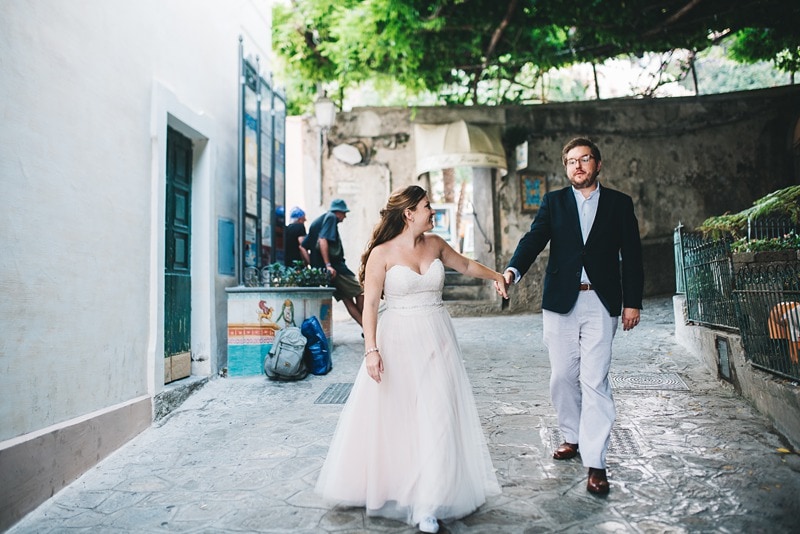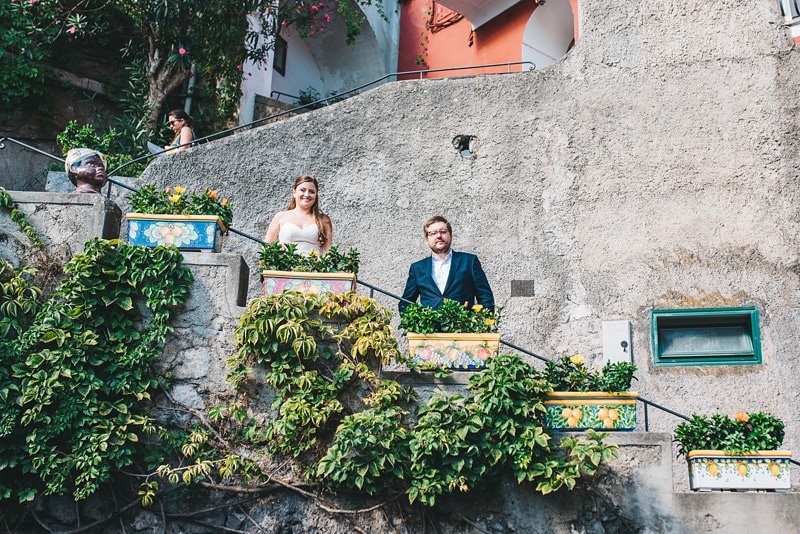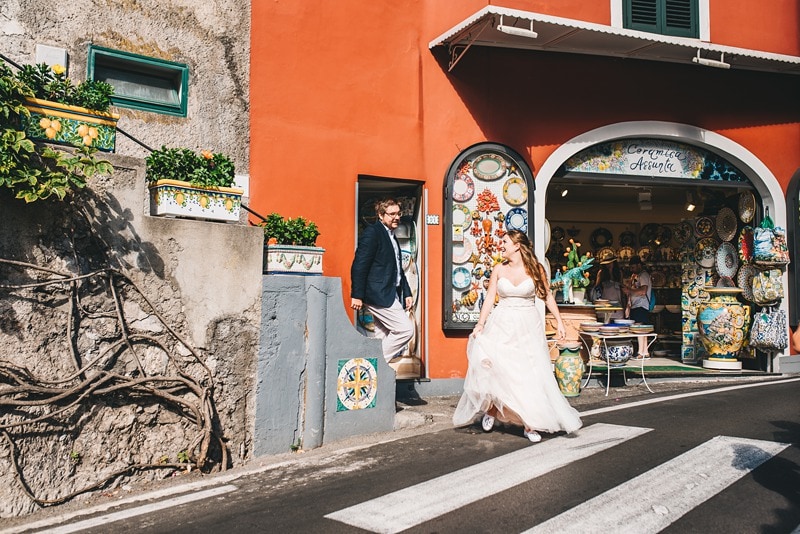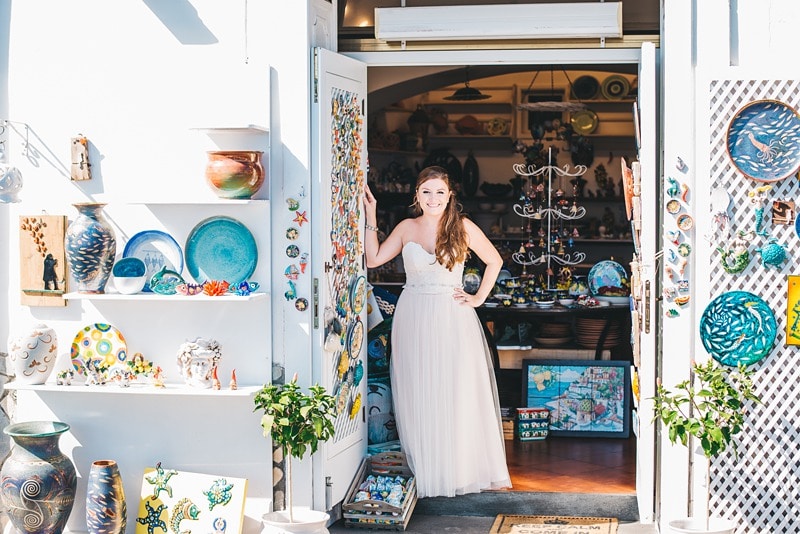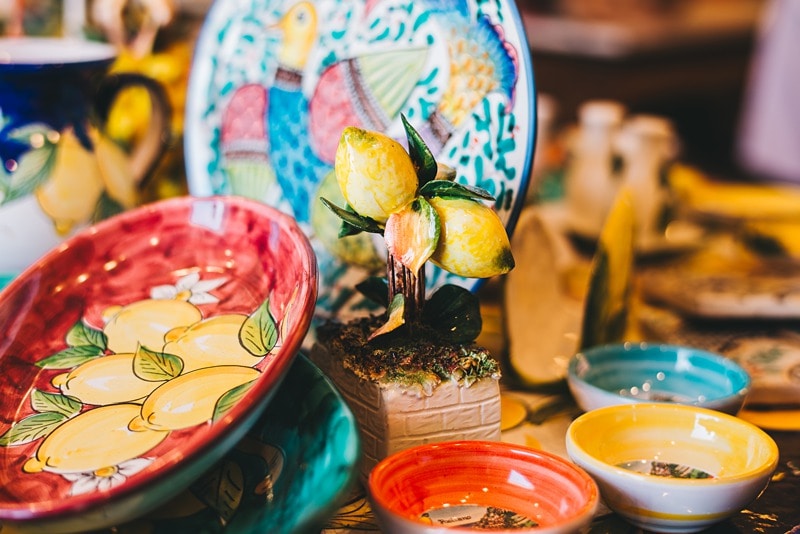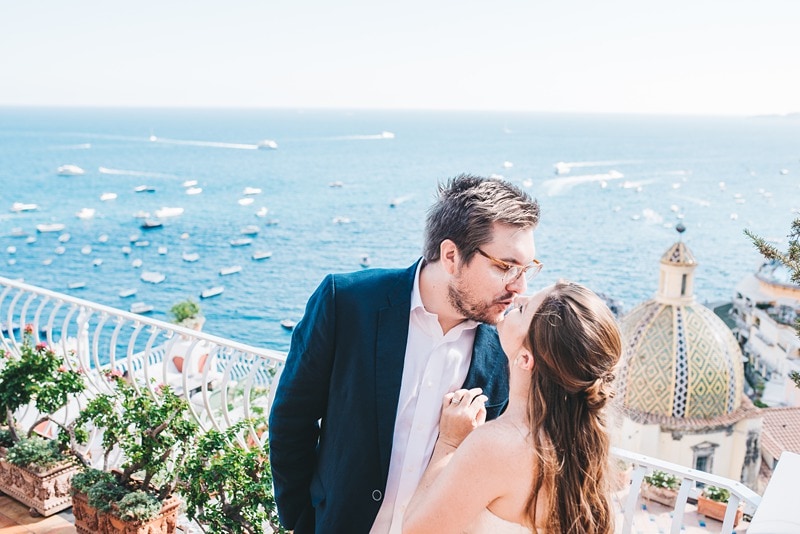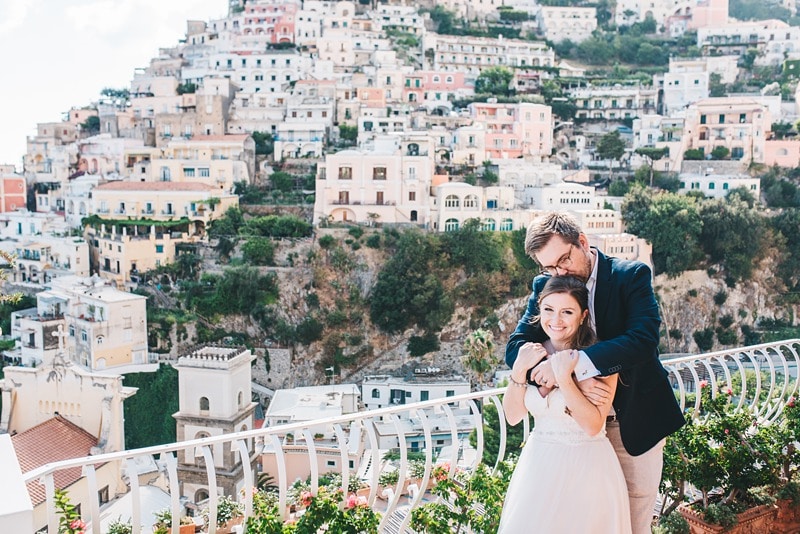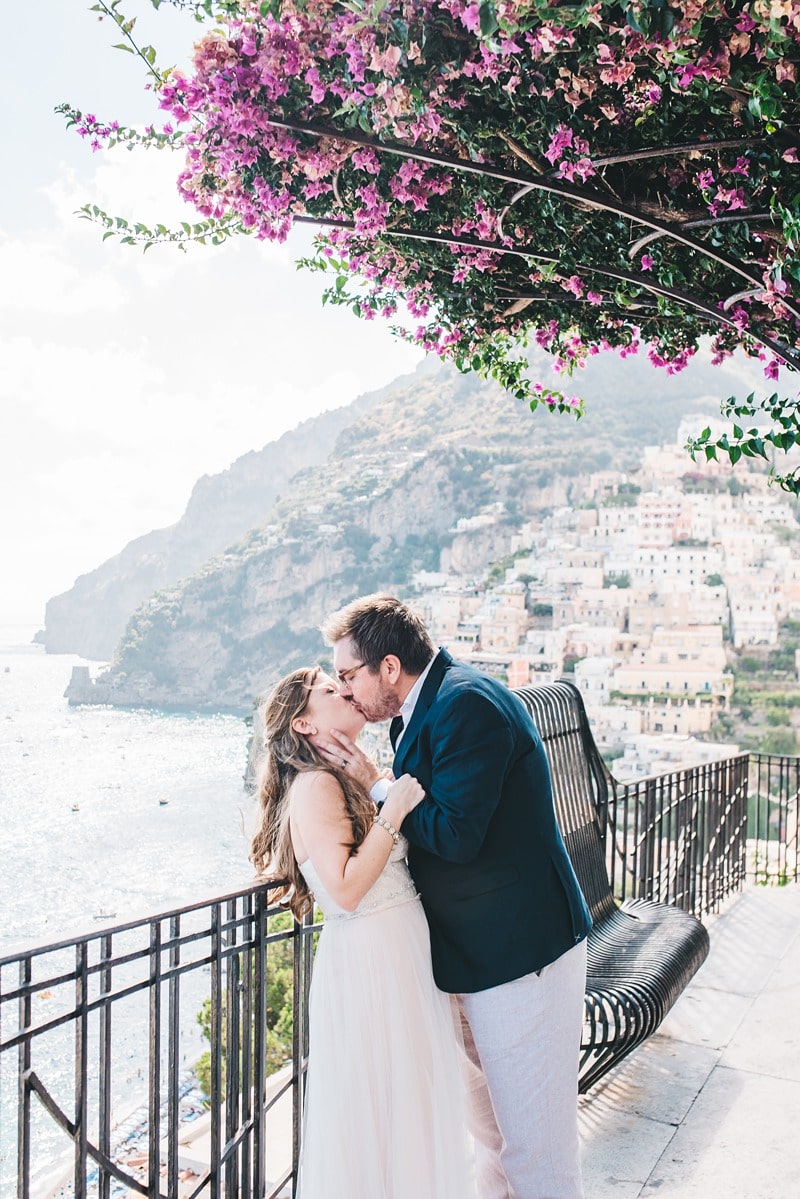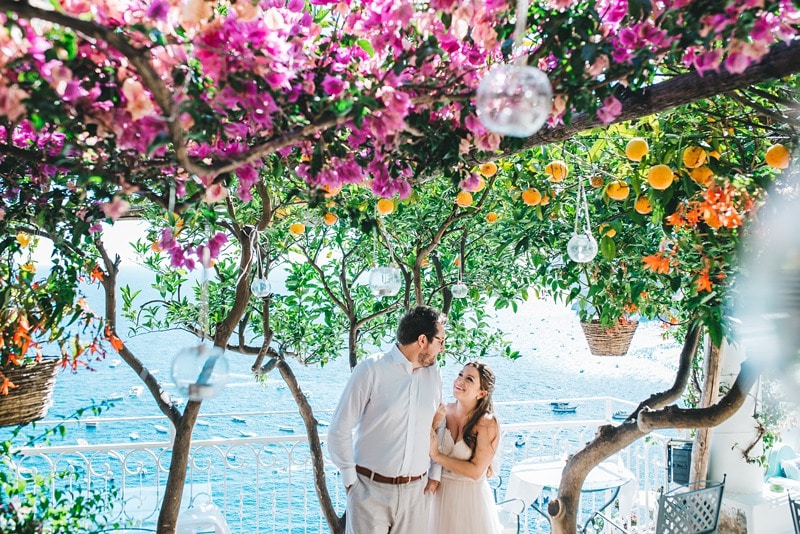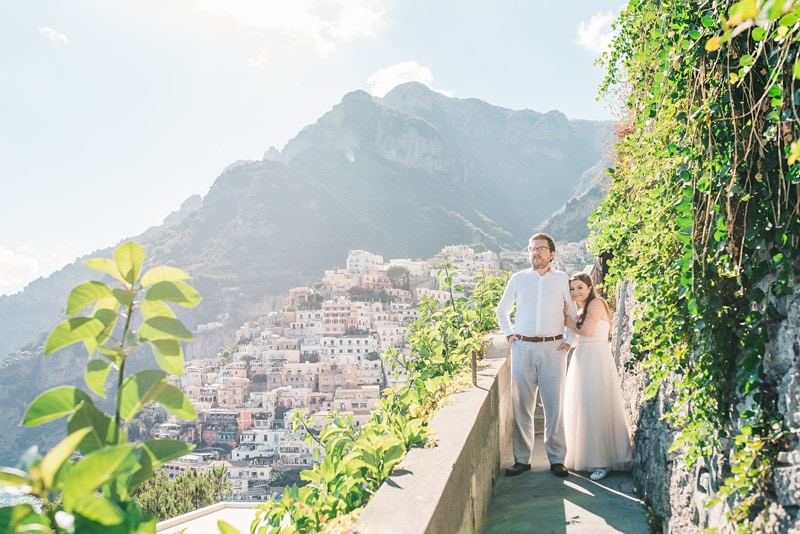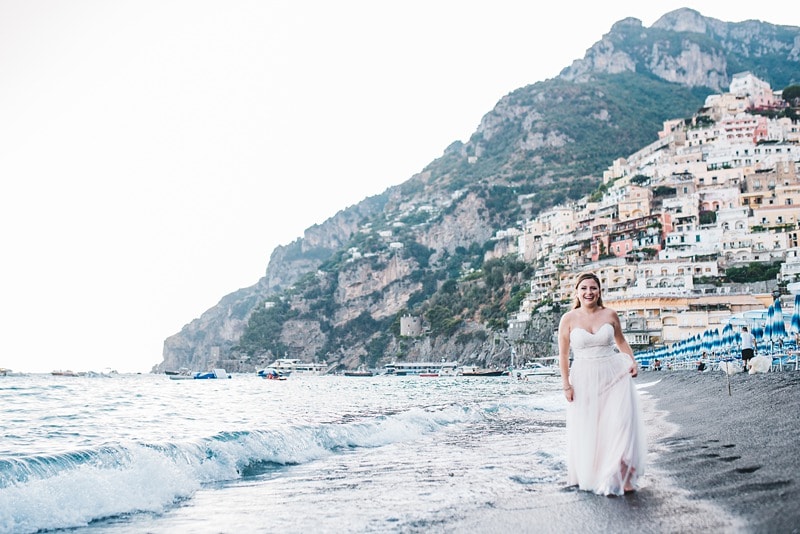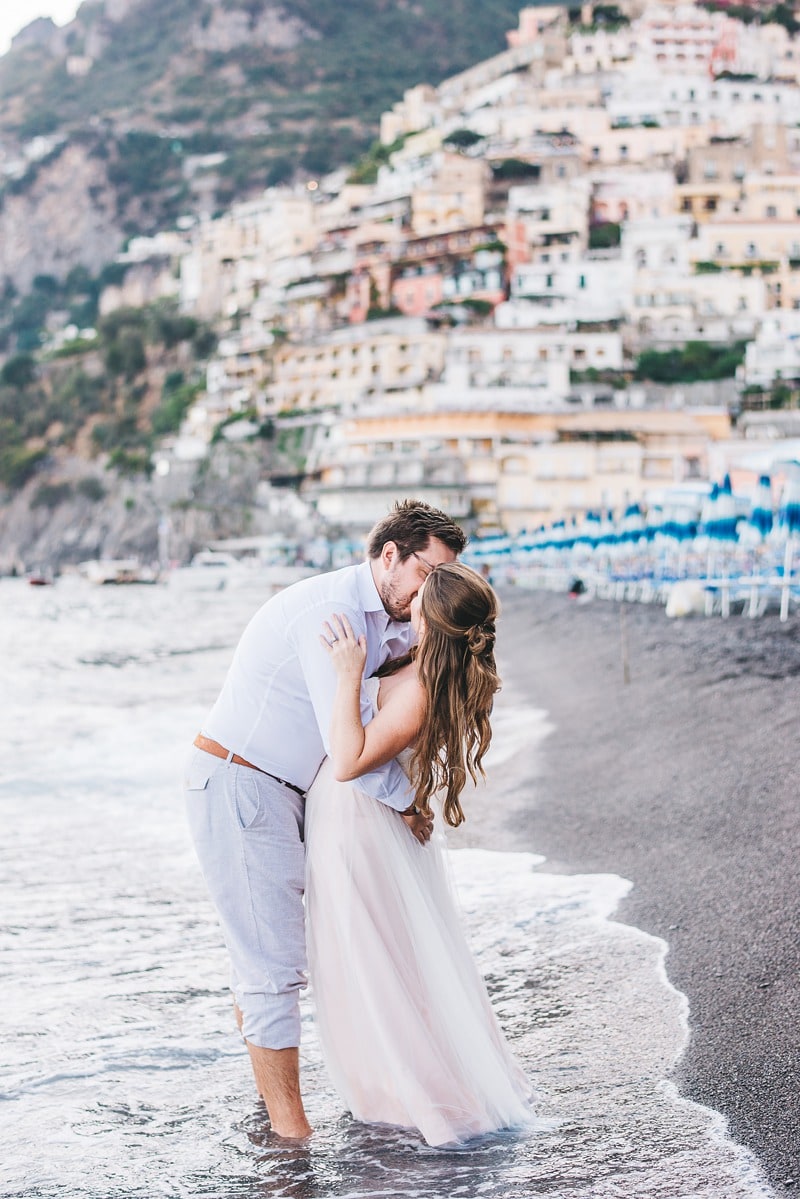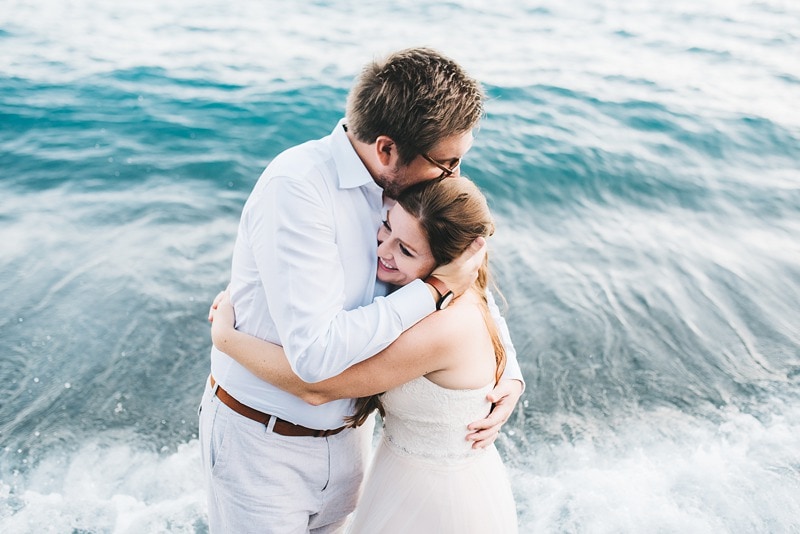 Q&A with the Bride
What is your proposal story?
I always joked that I would be upset if I wasn't engaged by the time I was 30. Josh woke me up 20 minutes before the exact time I was born on my 30th birthday and proposed while I was still in bed.
Tell us a little a bit about your vision for your elopement wedding in Positano
We both grew up in Florida so having a beach-like background was important. However we didn't want the conventional Florida beach wedding. We started looking at more exotic beach locations and completely fell in love with the pictures we saw of Positano, Italy. Once we found the perfect location we knew we wanted classic romance with a casual feel to match the vibe of the upscale beach town.
Tell us about your attire choices.
Since we were doing a slightly unconventional wedding I wanted a dress with a bit of whismy to it while still maintaining that "princess" feel every woman wants on her wedding day! My dress was classic in style but the blush pink color showed a bit of my personality and made it more unique. Since we were going to be walking around on the cobble stone streets of Positano and up and down the MANY flights of stairs in the area I knew heels were out of the question.

My husband and I both love Toms shoes so a friend of mine customized them for us. For my husband's look we didn't want a classic black tux because we felt it would look too formal with the beach setting. We liked the idea of a khaki-colored suit but worried a khaki blazer on khaki pants might lose itself in our pictures. We opted for the navy jacket to make him stand out a bit more and for a nice contrast against my pale dress. It was also EXTREMELY hot so the linen pants and linen suit definitely helped him not sweat to death!
What was the most important to the two of you while planning?
The most important thing to us was making sure the day stayed about the TWO of us. We wanted our focus to be on each other, not on our families or friends or any of the million details that go along with a wedding. Eloping and not inviting anyone was the best decision we made. We were able to still have a reception back home to celebrate with everyone but just having the two of us in Italy made the day even more romantic. Skipping a traditional ceremony was always part of our plan and became the best part of the whole experience for us.
What were your favorite parts of your wedding day?
Our favorite part of the day was exploring the amazing town of Positano together as husband and wife for the first time. Having our photographers there to capture the day was so special. Walking down the tiny streets and having the locals yell "congrats" in Italian is probably my favorite memory. At one point we ended up in the outside courtyard of a hotel that had the most amazing view and beautiful orange trees everywhere. The pictures we took there were some of our favorites and we found the place completely by accident! Stumbling upon breathtaking backdrop after breathtaking backdrop is a memory I know we both cherish.
What did you do for flowers and cake?
I didn't have any flowers because I knew the local flora would be enough! It certainly did not disappoint. Positano is covered in amazing foliage so there's no need to buy your own! Since we eloped we didn't have a wedding cake but we did enjoy amazing dessert at the restaurant we at that night, La Sponda!
Did you have any DIY, handmade, or personal details?
The Toms shoes that my good friend customized for us were so great. We had so much fun taking pictures of them and they kept us comfy as we walked around all day!
Do you have any advice for couples who want an elopement wedding in Positano?
Do what YOU want to do, not what you think your family wants to do. Your wedding is about you and your partner. In the end, the risk of hurting someone's feelings is NOT worth you having regrets about your wedding!
What was the best part of having a destination wedding?
The best part was us getting to experience a new place together for the first time as husband and wife. The pictures we got from our wedding were spectacular and there's no way we would have gotten that in Orlando!
What was the biggest challenge of planning your destination wedding?
Traveling abroad is always a bit challenging and with the added pressure of a wedding it can be rough, but we wouldn't change our experience for the world!
Vendors:
Photography: Rudy & Marta Photography
Ceremony Venue: Eden Roc Positano
Wedding Dress: Justin Alexander and Stella York
Bridal Salon: Casa di Bella Bridal Boutique
At-Home Reception Venue: The Alfond Inn and Orlando Science Center
Floral: Orlando Flower Market
Stationery: Minted
Desserts: yogurtland
Hair: Tracie Cervero
Makeup: Tracie Cervero
Catering: Swine & Sons
Groom's Attire: Calvin Klein
Bride's Shoes: Badgley Mischka
Shoes: TOMS