Sponsored by Pink Shell Resort.

There's a good chance that once you start planning your destination wedding, you'll feel overwhelmed by the millions of venue options out there. And you do know that's where I come in, right? I'm always on the hunt for the best destination wedding venues out there. And if what you're looking for, is an affordable destination wedding within your reach and on the beach, then allow me to introduce you to the Pink Shell Beach Resort and Marina.
Voted as the #2 resort in the whole Sunshine State by Condé Nast, Pink Shell has everything you could possibly need for a flawless destination wedding. Not only does it boast some of the most ridiculously breath-taking beach views on the gulf coast, but it is easily one of the most affordable, convenient and family-friendly venues. I have a WHOLE LOT to say about the Pink Shell Resort… but don't just take my word for it! Be sure to check out the over 100 reviews from real couples who've tied the knot there.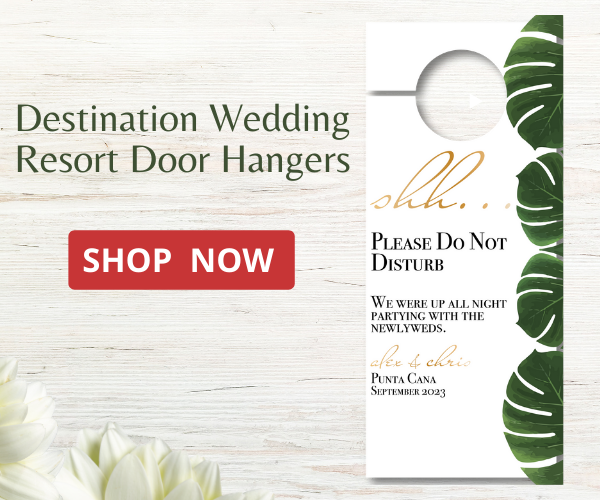 7 Reasons Why Pink Shell Resort is a Great Beach Destination Wedding Location:
1. It's a Wise Wedding Destination
They say the older you are, the wiser you are… and snowbirds have certainly got the right idea going south for the winter – specifically to Ft. Myers, Florida. While you may not be ready to spend a whole season in Ft. Myers, you can't deny that it's a phenomenal location for a destination wedding! I mean, it's not like you can bring grandma to some wild, "spring break" type destination anyway… so this location will be perfect for wowing guests of all ages!
Not only does it have some of the best beaches in the country, Ft. Myers feels like a quaint, relaxing bubble, and has some resorts that are to die for– among them, the Pink Shell Beach Resort and Marina. Did you know this resort was named Wedding Wire Couple's Choice Award Winner 2017? If not, then you probably weren't aware of the rest of their impressive list of accolades:
Voted Best Resort and Hotel of Fort Myers Beach by Fort Myers Beach Observer
2014 The Knot: Best of Weddings
One Of The 17 Best Resorts in Florida 2015 – by Traveluto
WeddingWire Couples Choice Awards
2017 TripAdvisor Certificate of Excellence
TripAdvisor Hall of Fame Award
Voted "Top 25 Best Places to Tie Up in North America" by the Editors and Readers of Power and Motoryacht Magazine
Voted "2014 Best Transient Marina – Runner Up" by the Readers of Marina Life Magazine
2. Perfect Accommodations From Party time to Nap-time
Not only are there a variety of event spaces to choose from, but everyone on your guest list can choose between one and two-bedroom condo-style suites and villas. Whether they're looking to get some privacy or bunk-up, there's an affordable option for everyone! You and your wedding guests will be greeted with luxury living quarters so your crew can make themselves at home all week long. Each suite comes equipped with in-room kitchenettes, a washer/dryer combo, and um… hello, two breakfasts each day, two drinks, two in-suite bottles of Voss water, a beach bag, and daily beach lounge chair and umbrella rental! Your wedding invitation basically hands this group of blessed individuals a vacation on a silver platter – what kind of loser would RSVP "no" to this?
The best part is that The Pink Shell is expansive, that no matter which villa you book, you're guaranteed a beach view. If you thought just the bride/groom were guaranteed such luxury – think again! With Pink Shell, you ask for the beach… you're gonna get the beach.
3. Hassle-Free Wedding Planning
Being hassled on your wedding day probably wasn't a part of the plan, and the staff at Pink Shell knows it! They have a reputation for extreme attention to detail, and sheer expertise that will quite possibly make you feel like your wedding is the only wedding in the history of weddings. From helping you decide on which venue to go with, to menu options, flowers, décor and even post-wedding activities… they'll take care of you. Let me break it down for you – this is what they can offer when helping you plan your perfect destination wedding:
Variety
Destination weddings don't allow for a great amount of wiggle room when it comes to the guest list – and maybe that was your intent all along! "Sorry, the resort only allows so many guests… you cannot bring your friend's cousin's new boyfriend." If you keep your circle small and know what you want – then Pink Shell is the venue for you. You can be choosy and host a great wedding with ONLY those that matter most. With different packages and venues designed to accommodate small groups of up to 40, to larger weddings with a maximum of 150 guests, you'll be appropriately accommodated without the fear of those pesky wedding crashers who somehow always appear at your average hometown wedding.
No matter you and your boo's style, the size of your party, or the size of your budget, Pink Shell will hook you up. Low-key? You got it! Extravagant, elaborate, over-the-top, and downright EXTRA? You got it, too! Here are the venue choices you'll have so that you can tailor your big day to your taste:
Beach Venues
If beach wedding means literally BEACH wedding to you – sand in your toes, salty breeze on your skin, sun on your face… then their beach venues allow you to really go for it. You'll have the option to set right up on the shore with your guests for an unforgettable ceremony.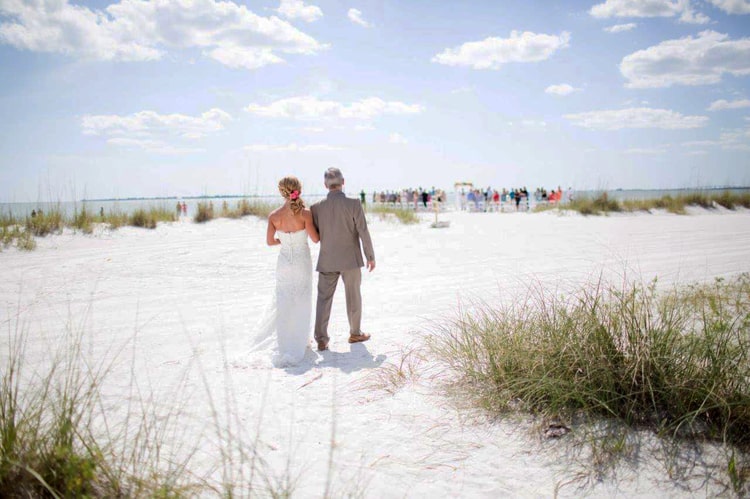 Tropical Decks
If you close your eyes and picture the perfect beach wedding… what do you see, hear, smell, feel, and taste? The OCEAN – duh. Well, as lovely as the beach is… it's not always conducive to a white wedding. If your dress has a long train, or those shoes you picked out don't work on the sand – no worries! These decks overlook the gorgeous skyline and crashing waves – perfect for a non-beach, beach wedding!
Butterfly Garden
Umm, what? How often does a beachside resort come with a gorgeous, picturesque butterfly sanctuary ON SITE? Whether you believe in the good-luck omen or not, having a butterfly land on your nose as you say "I do," is a once in a lifetime opportunity you might want to consider.
Ballrooms
Not all beach weddings need to be outside! I mean, it's your wedding day – no need to risk the frizz that comes along with the beautiful Florida weather. Plus, if you're looking for some Beauty and the Beast type of elegance, the ballroom could be your fantasy come true. This is especially great for the bigger guest-counts, up to 150 people, the ballrooms will allow you and your party to properly express yourselves… and by that, I mean DANCE.
No matter which venue you choose, you're bound to have a private, intimate, awe-inspiring, beautiful, fun, romantic… (tell me when to stop)… luxurious, and unique ceremony and reception.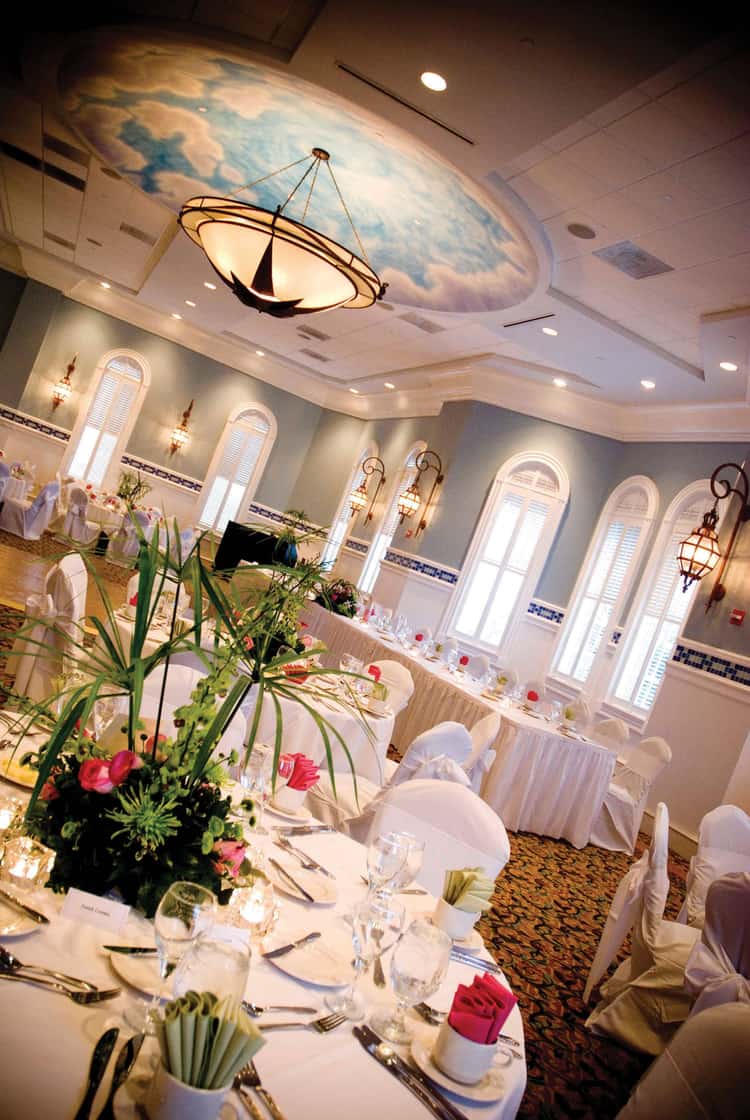 Flexibility to Customize Your Wedding
You did NOT come this far to settle for some predictable, basic wedding. Destination weddings are inherently different, but Pink Shell allows you to take it a step further and customize where you see fit. There's absolutely nothing scarier than putting the most important (and most expensive) day of your life into someone else's hands. But guess what? They've seen it ALL, and have worked with every couple – every budget, every style, every nit-picky need and desire… and they're still enthusiastically waiting to make your dream day a reality! They specialize in customized wedding ceremonies, receptions, dinners, brunches… and even showers! The whole shebang, kit, and caboodle.
Planning Made Easy – with Professionals!
Those enthusiastic planners I mentioned? Well, they've put together a cool set of packages for you to choose from. Let's take a peek at your choices here.
Intimate Packages
This package is perfect for you if you are envisioning a teeny, private ceremony with less than 45 guests. With your own personalized consultant, vendor list, and a variety of arches, chairs, and greenery, you'll have a handful of choices to fit your style. Between the variety of White Sands, Banyan, and Captiva packages – you're sure to find the mini wedding package of your dreams. Some offer complimentary champagne toasts, photography, food choices, and more. So be sure to click through to browse the subtle differences between each and design your wedding, YOUR way.
Grand Packages
If you have a bigger guest list of up to 150 guests, you'll get some premium upgrades like open bars, hors d'oeuvres, plated meals, and more… So, if an elaborate beachside soiree was more of what you had imagined, browse these choices to find your best fit! They have the Honeysuckle, Iris, Bird of Paradise, Hibiscus, Magnolia, and Orange Blossom. Don't they sound gorgeous?
Unfortunately, a huge worry of most destination wedding couples is the "what if it rains" thing. But fortunately, Pink Shell has your back! With each wedding package, comes an alternate inclement weather plan B.
And of course, there are completely customizable menu options, too!
4. Oodles of Amenities
Ahh… the Spa
Not having access to a full-service spa on your wedding day should be illegal. There's no better way to ease the stress of wedding planning, get you looking your best or bond with your bridesmaids than a day of pampering. Pink Shell has a full-service spa called Aquagene Spa which will allow you to drift away into an alternate universe (slight exaggeration). But seriously, they have premium head-to-toe services you can indulge in… in a private hut on the beach… all week long!
Top Marina
Have some boat people on your guest list? This pet-friendly, Gulf adjacent marina is perfect for those of you with a boat up to 100 feet looking to tie up on one of America's top 25 Marinas.
Fitness, fitness, fitness
For MONTHS you've probably been busting your hump to get your "wedding body" on point, but hey, you're on vacation! If that's your excuse to overindulge, don't worry – you can burn it off the next day with Pink Shell's first-class fitness facilities. Nothing like a beach-front view from your treadmill to keep you pushing that extra mile, right?
A Trio of Restaurants – on site!
Okay, I'm aware that we JUST discussed the gym… but you need to fuel yourself with some good food, too. Pink Shell offers an amazing variety of local seafood, farm-to-table meals, treats, and snacks to satisfy every mood at every moment of your stay.
Grocery Service
Taking advantage of the grocery service provided at Pink Shell may seem a bit over-the-top, but you'll be glad you did! It's a really cool perk for your guests, especially those with kids. You and your crew have invested enough time, energy, and money into making this destination wedding happen… so when you settle in and have a fridge full of your favorite drinks and snacks, you'll be immediately at ease and ready to focus on the PARTY. And hey, it's your big week so go ahead and provide a grocery list, no questions asked (so very "Diva on Tour" of you), but hey, they offered!
5. Activities for a Complete Experience
Destination weddings usually double as vacation or even a honeymoon, so you and your guests should make the most of your stay by learning something new while you soak up the sun: At Pink Shell, you can sail, paddleboard, parasail, kayak, float on a pontoon and more. You thought I was done? Go on WaveRunner tours for sightseeing dolphins and manatees, or loaf by the pool while the kids play in the splash area.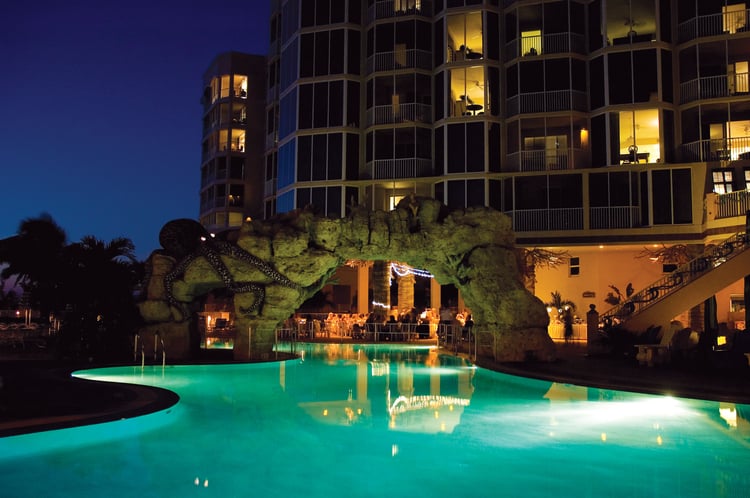 6. You Can Bring the Family Along!
Your destination wedding has a pretty exclusive list, but I'm sure it's as diverse as can be! With everyone from little Timmy to your great-grandma in attendance, it can pose an interesting challenge. They say you can't please everybody – but Pink Shell Resort and Marina sure comes eerily close! Make sure you check their events calendar for activities everyone in the family can enjoy. From Nature walks, to kid-friendly fishing lessons, to sandcastle contests, hula hoop contests, crafting sessions, bingo, and more… it almost becomes impossible to be bored.
7. Last, But Certainly Not Least… Pink Shell is an Affordable Destination Wedding Venue
You thought I'd be slick and not mention how much all this is gonna cost you? Well, you're in luck – because with the variety of venues and vendors to choose from, activities to explore, of course, there's a way to meet every budget! You can request a no-obligation proposal right through their website to get a better idea of what your ideal destination wedding package will cost you – and you can customize from there! With so many a la carte options to add, take away or tweak to fit your desires, I'm pretty sure you can create the wedding of your dreams, your way, and within your budget at Pink Shell Resort & Marina.
Check out this Pink Shell Resort real destination wedding we published right here on this site and read the bride's experience in her own words.
Disclosure: This post was sponsored and authored by Pink Shell Resort. The opinions expressed are the author's own and do not necessarily reflect the views of any company, agency, or organization. See
Disclaimer
.