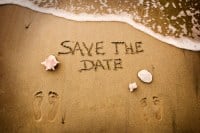 A destination wedding save the date is one of those details that takes on a new level of importance, precisely because you're tying the knot away from home. They'll give your guests a heads up so they can plan their trip, take time off work, save money, arrange babysitting and so on and so forth. But aside from all that, they play an important role in setting the tone for what's to come and creating excitement among your guests.
It's the first impression and will either open the door or close it. It's that important, so don't mess it up.
~Nicholas Sparks
Your destination wedding save the date is the very first impression your guest will have of the celebration you're planning. This is your opportunity to wow them so don't mess it up! This page has some unique ideas to help inspire you!
Jump to Each Section on this Page
Unique Destination Wedding Save the Date Ideas
Movie poster destination wedding save the date
How cool and unique is this? I know I'd be impressed if someone sent me this save the date for a destination wedding. Not only would I save the date, I'd never forget it!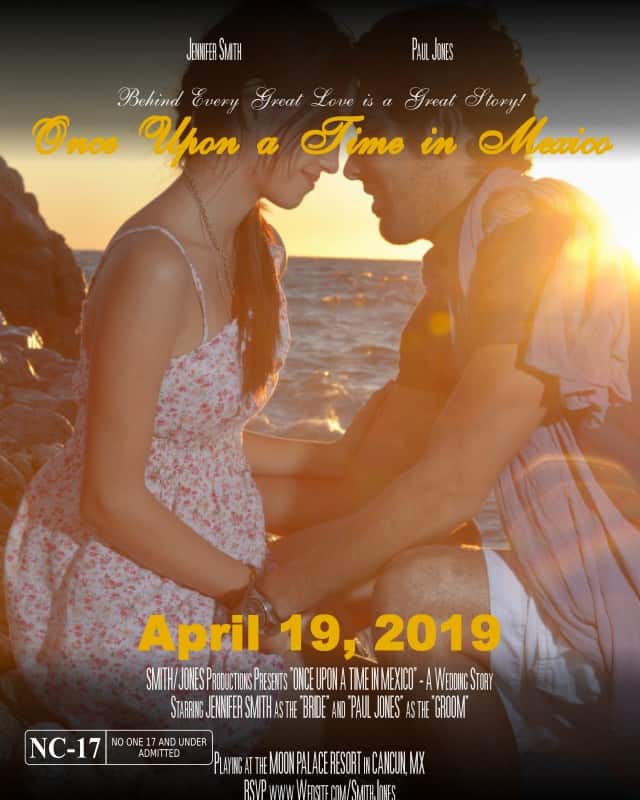 To recreate this concept, all you'll need is a dash of creativity and an engagement photo or a pic from that nice little digital camera of yours. I used http://bighugelabs.com/poster.php to create the example above and it was really easy, free, and a lot of fun!
I just uploaded a random picture (an engagement photo would be perfect), stole the tagline "behind every great love is a great story" from one of my favorite movies, The Notebook. And used the movie title "Once Upon a Time in Mexico" which is perfect for a destination wedding in Mexico. Then I had a little fun with the "credits" at the bottom. This is where you can put details like location, RSVP date, website URL and more. Just have fun with it!
That's all there is to it! Just upload the pic, type your wording, choose your font colors, and voila! You''re now the star of your own feature film!
Paper plane Destination Wedding Save the date
Remember the paper planes you used to make when you were a kid and bored in class? Who knew that one day they'd be the inspiration for your destination wedding save the date?! Not only will this idea inspire your guests to book their flights, it will stir some childhood nostalgia in the process. I promise you they're really easy to make too. For a fancier look, print them on metallic, shimmery card stock paper and use nice fonts to match your color palette. Here's a FREE template and instructions to get you started…
Boarding Pass Destination Wedding Save the Date
Chances are, your guests will be on board with your destination wedding when they receive this cool save the date! When I tied the knot, I created a set of multi-boarding passes as my destination wedding invitations, but the concept can easily be adapted to a destination wedding save-the-date. Since there's less information to communicate, you just need to mail out one boarding pass card with the date and location.
Tip
For an extra touch of creativity and practicality, mount your boarding passes on magnets so your guests can stick it on their fridge door as a constant reminder to book that flight!
Luggage tag destination wedding save the date
This is another travel themed and budget friendly idea that will send your guest packing. I love it so much that I created a FREE template so you can do-it-yourself. Just customize it with your own background image, fonts and colors. Then just print and mail!
Postcard destination wedding save the date
The idea of postcards is not necessarily a novel concept, but they're a totally appropriate save the date for destination weddings. Skip the more traditional image of the engaged couple, and add a photo of the exotic location where you'll be tying the knot instead. They're really easy to make – just use a vintage image of your location, a gorgeous beach picture, or even a map. Zazzle has some great and affordable options – just click on the image below to see tons of postcard save the date options. A simple, but perfect save the date for destination weddings.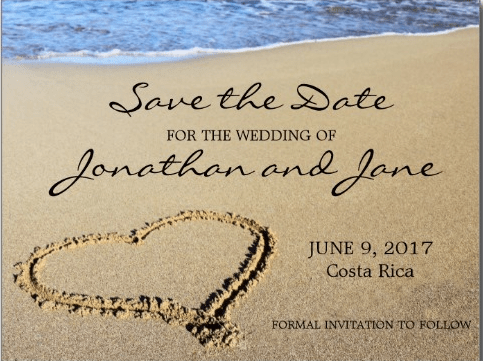 Sand/seashell/raffia destination wedding save the date
It's so interesting when brides go beyond standard stationary and add some texture and beach theme elements to their wedding invitations or save the dates. As I went on the hunt for something unique to share with you, I found From the Heart Invitations, who makes awesome hand made cards with real seashell, faux sand and raffia.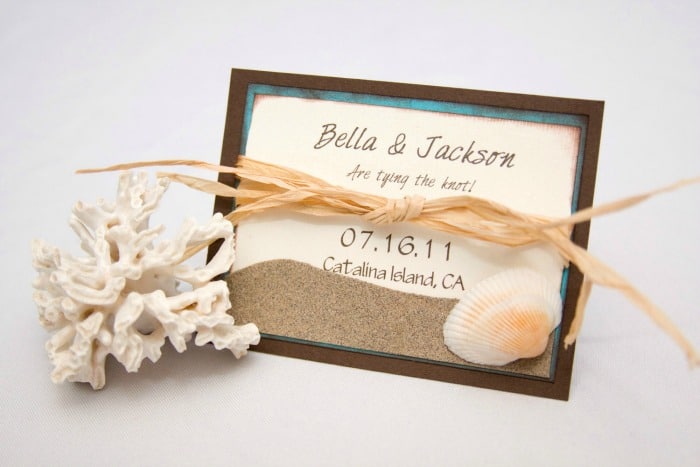 Destination Wedding Save The Date Guide
I know what you're thinking…
"Cool, I found the perfect stationary, but what's next?" Ah, good question. Here are some answers to your most common questions.
When should they be mailed?
It's never too early to send out your save the date. Destination weddings require a lot of planning, so you should mail them out as soon as you lock in the date with your venue. 9-12 months is ideal. That will give your guests plenty of advanced notice to plan their trip, request vacation time from work and save some dough. More on when to mail your save-the-dates
What info should we include on the cards?
You can include as little or as much information as you want. Traditionally save-the-date cards simply contained the couple's names, the wedding date and location. But since guests need time to coordinate travel and plan, a destination wedding save the date calls for a few more details. You can still keep the card short and simple, but make sure you include a link to your destination wedding website where they can get additional info such as itinerary, travel details, accommodations, etc.
More: A review of the best travel and beach themed websites, PLUS a list of all the info you should include
Do we have to print and mail a destination wedding save the date, or can we just send an email?
The choice is yours but it can't hurt to send both. If your goal is to have a good turnout at your celebration, you need to cover all your bases. Some people may receive a card in the mail, throw it to the side and forget all about it. But if they get an email with a link to your site, they might be more inclined to click through to view the details since they're already online. On the other hand, if you only send an email you'll be alienating the technically-challenged (i.e. grandparents or those without a computer), so it's always a good idea to also send it via snail mail as a backup.
If someone received a save the date and notified me they are unable to attend, do I still need to send them a formal invitation?
It would still be nice and some consider it common courtesy to send them an invite. And who knows, they might get your super fabulous destination wedding invite and change their mind at the eleventh hour. Stranger things have happened!
Do you have a question I didn't answer here? See more Etiquette Q&A's or ask your own question
Shop our Favorites


Below is a collection of some more of my favorite destination wedding save the date cards, sold by Wedding Paper Divas. I really love these cards because they're printed on premium, high quality cardstock so they look and feel luxurious without the big price tag. Check them out!

Sweet Starfish – $0.79
from: Shutterfly, Inc.

Save the date magnets, Tropical Tape
from: Tiny Prints, Inc.

Beach Bungalow
from: Tiny Prints, Inc.

Romance Air
from: Tiny Prints, Inc.

Charming Compass
from: Tiny Prints, Inc.


Destination Paradise
from: Tiny Prints, Inc.

Shoreline Chic
from: Tiny Prints, Inc.

Passionate Passport – $1.64
from: Shutterfly, Inc.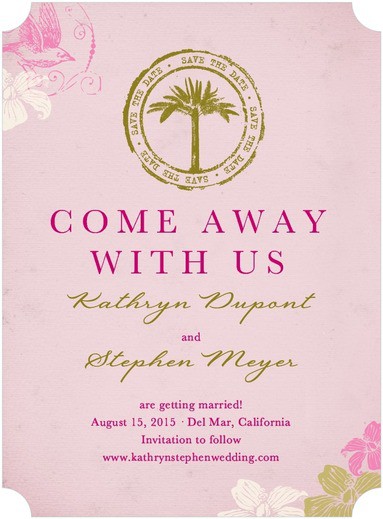 Passport to Paradise Flat Card Save The Dates – $1.24
Tropical Sojourn – $1.59
from: Shutterfly, Inc.
Tied Forever – $3.34
from: Shutterfly, Inc.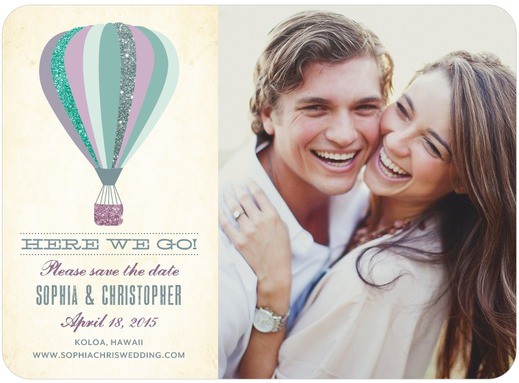 Here We Go Destination Wedding Save the Date – $1.29

Pack Your Bags – $1.64
from: Shutterfly, Inc.

Hitched Abroad – $1.64
from: Shutterfly, Inc.



Divine Dispatch – $0.79
from: Shutterfly, Inc.

Love's Compass
from: Tiny Prints, Inc.


Mailed Montage – $1.64
from: Shutterfly, Inc.

Air Mail – $1.29
from: Shutterfly, Inc.

Grand Getaway – $0.79
from: Shutterfly, Inc.

Ticket to Bliss – $0.79
from: Shutterfly, Inc.


Seaside Wonder
from: Tiny Prints, Inc.
Related Articles
Featured:

A Beautiful & Affordable Destination Wedding Venue on the Beach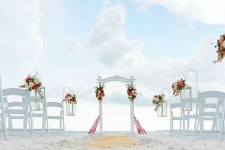 I'm always on the hunt for the best destination wedding venues out there. And if what you're looking for, is an affordable destination wedding within your reach and on the beach, then allow me to introduce you to the #2 resort in the whole Sunshine State (voted by Condé Nast). With a variety of indoor and outdoor venues, this awesome resort has everything you could possibly need for a flawless destination wedding… Read the full blog post.

Editor/Founder
at
Destination Wedding Details
Cynthia is the founder and editor of Destination Wedding Details.She has over 15 years experience in the Marketing and Event industry and launched Destination Wedding Details in 2010, shortly after planning her own destination wedding. Cynthia uses her experience and genuine passion, to inspire brides who are planning their dream wedding away from home.