Finding the perfect destination wedding invitation wording can prove to be a real challenge. For someone planning a very formal, traditional, hometown celebration, it makes sense to use the ol' tried & true invitation wording, "Mr & Mrs Jones request the honour of your presence as their daughter Judy Jones joins Thomas Smith in marriage 'blah blah blah'…"
But a destination wedding is anything but traditional and the thought of that very stuffy wording might just give you the heebie-jeebies!
The ideal destination wedding invitation wording will excite your guests and inspire them to book that flight! What you say, and how you say it will also reflect the romance, fun or uniqueness of your celebration while setting the tone for the level of formality –or lack thereof. So in this post, I'm sharing some tips and examples of invitation wording that accomplish all of the above!
Jump to Each Section:
Destination Wedding Invitation Wording Etiquette Tips
I like to think of destination wedding invitation wording sort of like a travel brochure…Maybe it's because I spent over 10 years in the event marketing industry that I approached my very own destination wedding invitations just like a promotional tool. The goal of marketing is to motivate your prospects into taking the next step! And when you think about it, isn't that also the goal of your destination wedding invitation? You want to motivate your guests to take the next step and book that flight!
Keeping with that mindset, I developed some tips to keep in mind as you develop your destination wedding invitation wording.
First & Foremost, K.I.S.S.
Keep it simple & special. The last thing you want is to confuse your guests or overwhelm them with way too much invitation wording. I vote for a few words that (a) excite your guests about the location with mentions of the ocean, sea, sun, sunsets, or travel and (b) inspires them to make the trip by emphasizing why their presence is so important to you.
It sounds harder than it is, just check out some examples of invitation wording below to see what I mean. The key is to keep it short. We live in a busy world and people want to quickly skim through text, get the point, and be told what to do – which brings me to my next point…
Provide a Clear Call to Action
Don't just write some really cutesy wording and leave them hanging wondering what to do next! Tell them what to do. For example, tell them to call your travel agent or RSVP via your destination wedding website.
How to Address the Issue of "No Kids" or "Adults-only" in Your Destination Wedding Wording
It's common for destination weddings to take place at adults-only all inclusive resorts. So how do you tell parents that their sweet little bundle of joy is not invited to travel to your wedding? This is never easy and can be a really sensitive topic. And you have to approach it as such.
Most etiquette experts will tell you that simply addressing the invitation envelope to "Mr & Mrs Smith" should imply that little Johnny Jr. is not invited. But what if that's too subtle for some people? You can always drop another hint with the wording used to communicate the name of the resort. For example: "We've secured a discounted group rate at the all-Inclusive adults-only resort, Sandals." Then make sure you enlist the help of parents and the bridal party to spread the word verbally.
Destination wedding wording to indicate you want no gifts
I hear this question over & over again "Our guests are already spending so much money on our destination wedding. What's the best invitation wording to let them know that we''re not expecting money or gifts?"
It's a common sentiment and I went through this exact dilemma when I was tying the knot. How can you ask loved ones to spend thousands of dollars on a trip and give you a gift? I was horrified at the thought. Not to mention that my fiancé and I had already been living together and had everything we needed. So, what's a gal to do?
Avoid printing "no gifts" on the invitation. It's considered tacky and in poor taste. Instead, you can carefully word the invitation with a gracious sentence such as: "Your presence is the only gift we wish to receive." Sounds nice, huh? Not only do you get the message across that you don't want gifts, without having to come out and say it, but you also flatter them in the process. After all, who doesn't want to feel like their mere presence is a gift?
Destination Invitation Wording Examples
Destination Wedding Invitation Wording Example 1
~ Turquoise Sea~
The sunlight touches the turquoise sea
Like a million diamonds, all for free
You touch our lives in that very way
So please join us
Samantha Thompson and Jim Jones
for our special day
In Dominican Republic
On
February 14, 2020
Destination Wedding Invitation Wording Example 2
~ Turquoise Sea 2~
Sunlight showers the turquoise sea
just as you shower us with your
unconditional love
Please join us
Johanna Mas & Ahmad Dixon
for our special day
In San Juan, Puerto Rico
On January 2, 2022
Destination Wedding Invitation Wording Example 3
~Turquoise Sea 3~
The sunlight enriches the turquoise sea
just as you brighten our lives
So please join us for our special day
as we,
Lisa Smith
and
Jonathan Jones
Join our lives in marriage
in
Aruba
On March 12, 2020
Destination Wedding Invitation Wording Example 4
Oceans Jewels
The oceans jewels are beautiful shells
Please share with us, the sounds, the smells…
as we
Danielle Brown & Danny Cramer
join or lives in marriage
in
Negril, Jamaica
On May 5, 2021
Destination Wedding Invitation Wording Example 5
Ocean Shells
The ocean jewels are beautiful shells
Come share with us the sounds, the smells
as we
Alison Thomson
and
David Moore
exchange our vows in our dream destination of
Cancun, Mexico
On April 2, 2020
Destination Wedding Invitation Wording Example 6
Precious Pearl
Like a precious pearl our love is nurtured and grows
Please join us as we share our vows
With the sand between our toes
in
Cabo San Lucas, Mexico
for the wonderful destination wedding
of
Catherine Michaels and Paul Johnson
June 5, 2020
Precious Pearl -Version 2
Just as the oyster nurtures its precious pearl
our love will grow day by day
Please be the honored guests of
Jennifer Rios & Tony Lopez
in
Dominican Republic
As we celebrate this precious union in marriage
Precious Pearl -Version 3
Like the oyster's pearl
you are so precious to us
This is why we
Rachel Rosenberg & Jason Shapiro
would love you to join us
for our wedding
in Anguilla
Destination Wedding Invitation Wording Example 7
Beach Themed
As we share our dreams with the deep blue sea
We hope you will share with us as we
Nicole Jones
and
Bryan Thomas
exchange our wedding bands
in our dream location
Of
Riviera Maya, Mexico
Destination Wedding Invitation Wording Example 8
Sun's Embrace
Our wedding will take place
In the sun's warm embrace
at our special place
of
Playa Del Carmen, Mexico
we
Trisha Hudson
and
Brad Rose
Would love you to join us
Destination Wedding Invitation Wording Example 9
Celebration of Love
Because you have shared in our lives
Angela Pinero and Jose Ruiz
invite you to share in a celebration of love
As we exchange our vows
On April 23, 2019
In Cancun, Mexico
See Alternative Invitation Wording Samples
---
Sponsored Links
---
Related Articles
Featured:

A Beautiful & Affordable Destination Wedding Venue on the Beach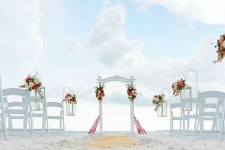 I'm always on the hunt for the best destination wedding venues out there. And if what you're looking for, is an affordable destination wedding within your reach and on the beach, then allow me to introduce you to the #2 resort in the whole Sunshine State (voted by Condé Nast). With a variety of indoor and outdoor venues, this awesome resort has everything you could possibly need for a flawless destination wedding… Read the full blog post.

Editor/Founder
at
Destination Wedding Details
Cynthia is the founder and editor of Destination Wedding Details.She has over 15 years experience in the Marketing and Event industry and launched Destination Wedding Details in 2010, shortly after planning her own destination wedding. Cynthia uses her experience and genuine passion, to inspire brides who are planning their dream wedding away from home.