When you're planning a destination wedding you have an infinite amount of choices for your venue. That's the good part. The bad part? You have an infinite amount of venue choices. The truth is, it can be a little overwhelming at first. That's why I wanted to share a few destination wedding venue ideas to get you started. Will you tie the knot at a big all-inclusive resort or an intimate boutique hotel? Or how about ditching a resort wedding altogether and having your ceremony/reception in an independent venue? There are pros/cons to each and it really boils down to your personality and budget.
Option 1: All Inclusive Destination Wedding Package
Big, all-inclusive resorts are the default option for many couples planning a destination wedding. A lot of couples I talk to love the idea of fuss-free wedding planning where an in-house coordinator handles everything for you, and all you have to do is show up and say your vows.
And who can blame them? When these places say all-inclusive, they mean it. Their rate usually includes room, food, drinks, tips, taxes, a basic ceremony, and sometimes even a small reception with a limited number of guests.
Most big all-inclusive resorts (especially those in the Caribbean) come with pre-designed wedding packages, so all you have to do is choose the one fit for your style and budget. For example, The HardRock lets you choose from nine stunning wedding themes, each designed by Celebrity Event Designer Colin Cowell. This is a huge draw if you're the type who gets overwhelmed by choices and details.
Most of these all-inclusive resorts usually have an impressive selection of venues for your ceremony/reception – you can choose between getting married on the beach, a gazebo, pool-side or even in one of their restaurants. You can read our post with a more in-depth overview of the pros and cons of all-inclusive weddings.
And make sure you check out our complete guide to FREE all-inclusive destination wedding packages.
Option 2: Non-Inclusive Resort Wedding
Although all-inclusive resorts are really popular for destination weddings, they're not cut out for everyone – myself included.
For my Cancun wedding, I chose to book a block of rooms for my guests at a non-inclusive – and here are just a few reasons…
If you're a foodie who wants to go outside of the resort and try different restaurants and entertainment venues, then you're probably better off not staying at an all-inclusive. I personally think it's pointless to pay the all-inclusive fee if you want to venture outside of the resort to eat and drink.
Most non-inclusives also give you more options when it comes to outside vendors, decorations, and personalization in general. So if you're a little more high maintenance – like moi:) – then you'll find you have a lot more options in a smaller resort that isn't all-inclusive.
Option 3: Destination Wedding Outside of a Resort
Another option is to have your wedding in a venue outside of a resort. This is becoming increasingly popular because it offers you more privacy and more varied options.
When you get married at a private venue you'll also be sure that you're getting personalized attention. You won't be sharing your wedding day with other brides like some of the conveyor belt resort weddings. There are lot of options like restaurants, yachts, or even a venue specifically dedicated to weddings like Ocean Weddings in Riviera Maya.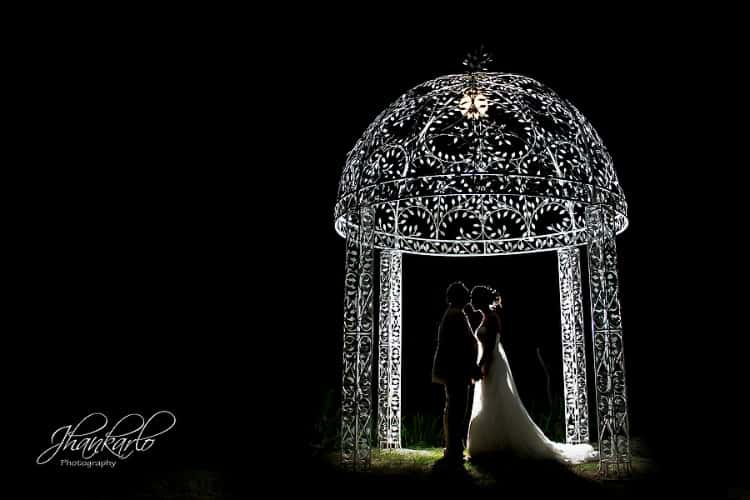 You can see this post of a real wedding I featured in a private restaurant to get an idea of how gorgeous these can actually turn out – Beach Themed Dominican Wedding.
Option 4: Villa Wedding
Villas are popular, but they're not widely available everywhere. Villas are really popular in certain parts of Mexico and they're huge in places like Costa Rica.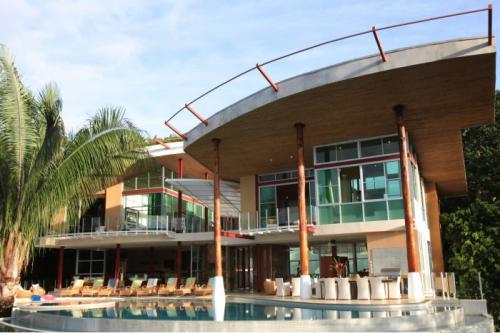 Image Courtesy of: Villas Costa Rica
Villas are pretty awesome and I think if I ever have a vow renewal, this is what I'll choose for lodging. I really love how intimate a villa can be when you have a very small and tight-knit group of family and friends. Instead of being spread out in a massive resort, you'll get to spend some quality time in an intimate environment. It's pretty awesome because you'll get complete privacy without sacrificing style.
I love the idea of having a more authentic experience than the sterile environment of a massive hotel chain. It also makes a lot of financial sense because a villa will usually be less pricey for each guest, than booking a room separately.
If you really want to completely customize your wedding, you can literally start from scratch and decorate it any way you can dream up. But on the downside, unless you're a super-star event planner and have local contacts, you'll probably need to hire an independent local wedding planner to help you. You can find destination wedding planners in our vendor directory.
So there you have my overview of the different venue options for your destination wedding. There is no "right venue". There's only the right venue for you, based on your preferences and budget. I hope this guide was helpful to you.
Featured Post