Do you want your beach wedding arch decoration to look amazing? Of course you do!
Your wedding arch decoration is a focal point of your ceremony. It's where you'll exchange vows, your first kiss, and where you'll stand while everyone looks on. Although your ceremony will probably be very short, it will also be the most photographed part of your big day. It's your opportunity to shine!
When you're choosing your decoration, you should think of colors that will photograph well, and of course complement the rest of your color scheme/overall style. That being said, remember that when you have the ocean as your backdrop, you don't have to do much.
You want it to be striking and eye catching without overdoing it. If you add too many flowers, fabric, balloons, lights and everything else you can think of, you'll take away from the beauty that nature so generously provided. Your goal should be to enhance the natural beauty of your setting.
Here are some ideas to get your creative juices flowing.
Fabric Beach Wedding Arch Decoration Ideas
I have to admit, I'm a little biased towards arches covered in fabric. I absolutely love the look of light fabric blowing in the wind with the ocean as its backdrop.
Your wedding arch decoration will look modern and chic with just a simple white and flowy fabric like organza, tulle or chiffon.
But if you want to add a splash of color, just combine the white fabric with another color and maybe accent it with a few flowers. Turquoise blue is always a favorite for a beach ceremony but any other color will work just as nicely.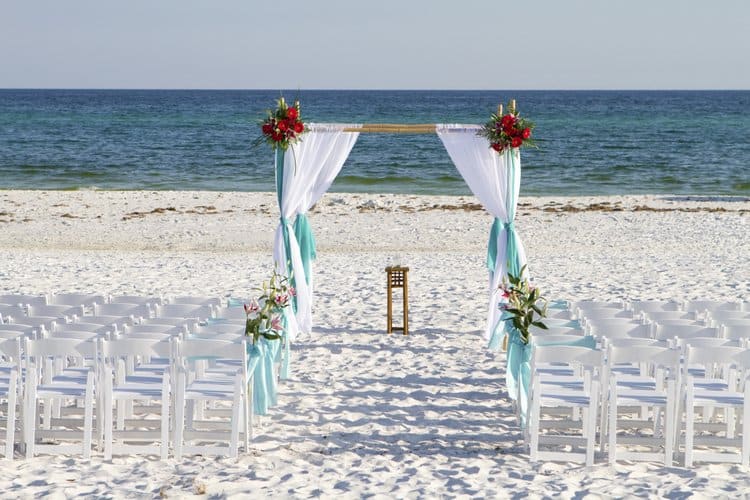 I love the bold colors of orange and fuchsia in a beach arch decoration because they conjure thoughts of a beautiful tropical sunset. Here are a couple of ideas that incorporate those colors in a stunning yet classy way.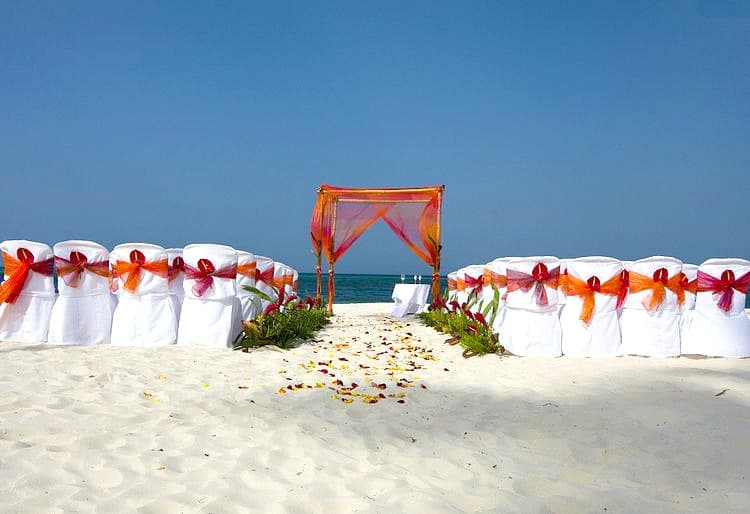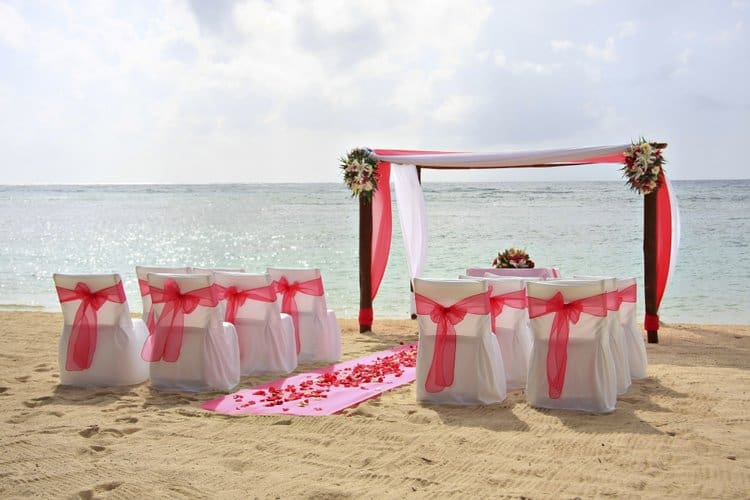 If you're getting married away, you might have a hard time finding colorful fabric without breaking the bank. So another more affordable way to bring in a pop of color is with flowers.
You can cover your arch with some bright, tropical blooms or combine some white fabric with two cascading bouquet of flowers on each corner.
Unique Beach Wedding Arch Decoration Ideas
Some of the most unique and absolutely breathtaking beach wedding arch decoration ideas I've seen, are made of palm tree fronds accented with bright tropical flowers. If you're going for the wow factor, this will not disappoint!
Or how about this stunning eco chic beach wedding arch made out of driftwood! This is simply a piece of art and I absolutely love it.
White Beach Wedding Arch Decoration Ideas
Some brides prefer the very crisp look of white fabric and flowers for their wedding arch decoration. And while white décor might look plain and blah in a traditional setting, that's far from the truth in an oceanfront ceremony.
White flowers and fabric will add a touch of elegance and will look great framed by the deep blue ocean water and sky.
Beach Wedding Archway Decorated Only with Flowers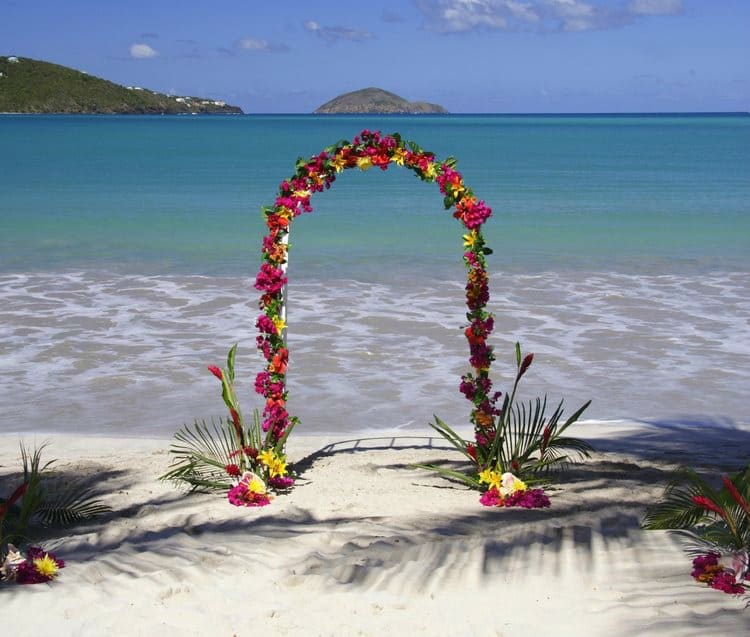 Beach Wedding Arch Ideas & Tips
If you're tying the knot on the beach, make sure that your arch is firmly anchored in the sand to prevent the wind from blowing it away.
Keep in mind that many resort packages will include a wedding arch, but not decorations. If you want flowers or drapery, you'll have to pay anywhere from $300-600 depending on the location or how elaborate you want it to be.
If the decoration is included in your package, you might find that it is very basic and simple. But don't assume that you're stuck with the few standard options the venue coordinator presents to you as part of the package. If you have a little extra money in your budget, you might be able to get something more customized that matches your style and taste. Just send them pictures of what you like and ask if they can replicate it. Most of the time they'll be able to work with you if you're willing to pay an additional fee. For a more budget friendly option, buy your own decorations online and have a handy friend or family member set it up.
If you're getting married outdoors, pictures will be taken from both sides so make sure you decorate the back and front.
If you're getting married at home, you can purchase a plain metal arch at any major craft or home store like Michaels, Lowes or Home Depot. Then work with your florist for the decoration. If you don't want to spend a ton of money on something you'll only use once, or if you want something more elaborate, you can always rent one.
Featured:

Unique Poolside Bachelorette Party Inspiration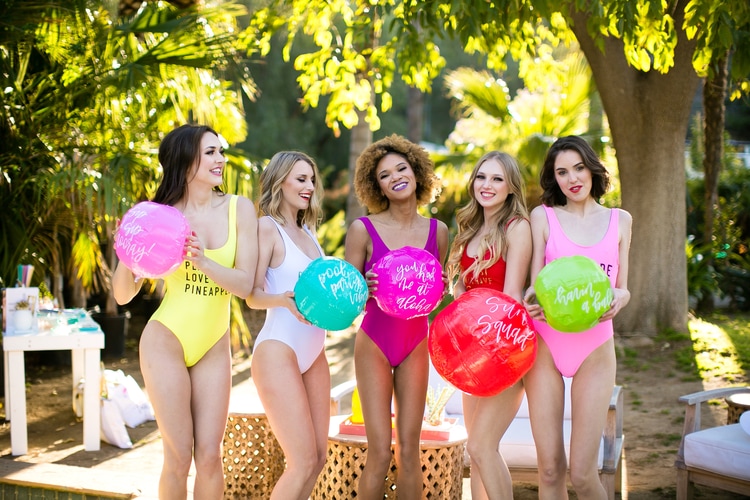 This unique tropical poolside bachelorette party is #GOALS! The décor was tropical, colorful and fun – bringing a cheery vibe that set the tone for a flawless and relaxed day. There were tons of personalized details –from sunscreen and chapstick, to soda and champagne, sun hats and fans, magazines, personalized tumblers, and even a wet bikini bag to hold their suit while they slipped into some adorable "Bride's Beaches" cover-ups. Of course, what's a good party without some fun games? Tons of fun ideas in this post. Read more
Featured:

New Orleans Destination Weddings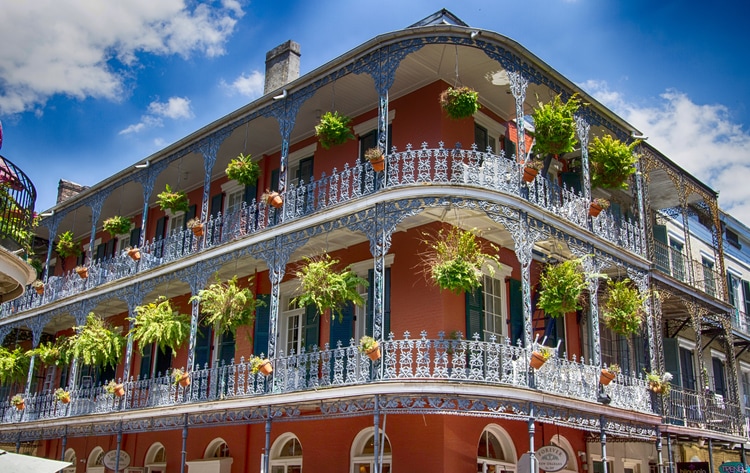 Here at Destination Wedding Details, we've seen it all: weddings at the beach, in the mountains, in the desert, and in pretty much every country. ALL beautiful, mind you… but through our years of observing what exactly makes for a GREAT wedding, we've surmised this: it must be FUN for you and your guests. So, ask yourself this: what city is more fun than New Orleans? Read our full post to discover when, where and how to get married in NOLA.
Cynthia is the founder and editor of Destination Wedding Details.She has over 15 years experience in the Marketing and Event industry and launched Destination Wedding Details in 2010, shortly after planning her own destination wedding. Cynthia uses her experience and genuine passion, to inspire brides who are planning their dream wedding away from home.