Cancun Wedding Packages
Are you searching for a guide to Cancun wedding packages? Well, search no more.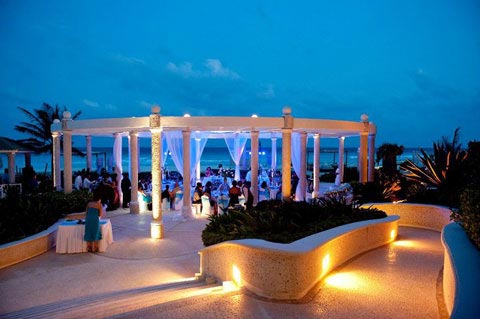 Cancun destination weddings are hot-hot-hot!  And I'm a big fan because that''s where I happened to tie the knot myself.  I did a TON of research to find the perfect venue for my ceremony, reception, and rehearsal dinner, not to mention a great location for all my guests to stay during their trip. I even made a few trips to Cancun to scout locations and found tons of awesome Cancun wedding packages.
And this guide is the result of all my research.
Here you''ll find a nice mix of big all-inclusive resorts and small boutique hotels fit for all budgets. I hope you find it helpful!
And if you want to see a review and pictures of the resorts (yes plural), where I had my different celebrations then click here. You''ll find Cancun marriage requirements on that page too so make sure you check it out.
Jump to each section
Cancun Wedding Packages: Resorts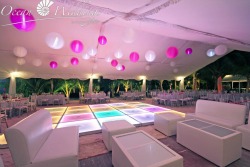 Featured Venue: Ocean Weddings
This private venue has multiple ocean front venues including a gazebo, thatched palapa and valid catholic chapel – all with sweeping ocean views. Their certified planners can help you plan a celebration of two or two hundred.  And best of all, you can bring outside vendors without having to pay any fees.
---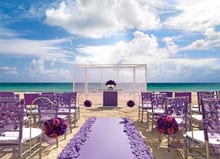 Palace Resorts



(800) 635-1836
Palace has teamed up with celebrity event planner Colin Cowie to create nine different package themes that are all stunning, and all include the basics (cake, champagne, etc).  If you're looking for flexible Cancun wedding packages, you'll be happy to know that this resort has close to a hundred optional services that can be purchased at an additional price, including photography and a webcast for those who can't make it to the big day.


Palace Cancun
---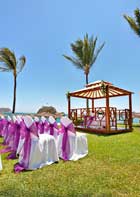 Barcelo Huatel Beach Hotel


Barcelo coordinators, will guide you throughout the entire planning process. In order to ensure that your stay is comfortable, you can request bathrobes and slippers and a king-sized bed in your hotel room. Other benefits of tying the knot at Barcelo include rose petals scattered on your bed, a champagne breakfast-in-bed the first day of your honeymoon, and more.  Live music can be provided during your ceremony, and late-check out for newlyweds is available.


Barcelo Weddings
---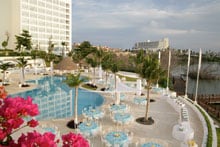 Le Blanc Spa Resort



(877) 848-4933
leblancweddings@leblancsparesort.com
Le Blanc Cancun wedding packages vary depending on the one you choose, but each of the four sets is quite unique and extensive.  Le Blanc can host weddings big and eleborate or small and intimate. Even the most basic packages include the services of a professional coordinator to walk you through the details right up to the moment that you say "I do," and all of the packages include a special romantic dinner for two during your stay. White wine is served at every ceremony.


Le Blanc Cancun Wedding packages
---
---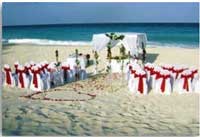 Bel Air Collection Resort & Spa


+52 (998) 193-1770
Weddings are known to be stressful even if you're tying the knot in Cancun. Wedding packages at this property come with a seventy-minute complimentary couple's massage on your big day, so that you''ll be able to relax before your ceremony. Your suite is also guaranteed to have an ocean view – — just one of the little perks of being the honorary bride and groom! Just keep in mind that there's a fee of $7 per person (not including the banquet cost) for any ceremony guests who are not staying at the resort.


Bel Air Cancun
---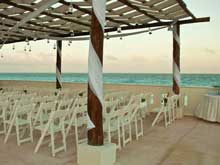 Casa Turquesa



+52 (998) 193-2260
Let''s say you''re looking for a simple ceremony, with just your close family friends. Or, alternatively, you''d like an elaborate ceremony and reception with up to two-hundred guests.  Either way, both of these options are possible at Casa Turquesa in Cancun. Wedding packages at this hotel, come with unique customizations to ensure that from the moment you arrive, you can have it your way. All brides and grooms receive complete VIP status at the Casa Turquesa hotel. You can even choose at what time you would like your room to be cleaned, how's that for VIP treatment?


Casa Turquesa
---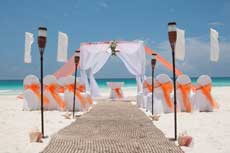 Crown Paradise Club


All-Inclusive
+52 (998) 848-9000 ext 7200
weddingcoordinator@crownparadise.com
This property offers three Cancun wedding packages for you to choose from, each with dozens of different special features. The maximum number of guests included in the largest of these packages is fourteen, so this would probably be a good place for a smaller ceremony. In the spirit of Cancun, wedding packages can include a mariachi band who will play ten songs live during your reception.


Crown Paradise
---
Sponsored Links
---
Excellence Resorts



(866) 540-2585
email: Rivieracancun@exelence-resorts.com
Here you can choose to get married right on the beach or in a special gazebo overlooking the ocean. The resort''s Spa offers two specialized bridal treatments, along with several spa options for couples.  No matter which of the packages you choose for your ceremony and reception (there are two available), you will receive a free honeymoon, compliments of the resort.


Excellence Wedding Packages
---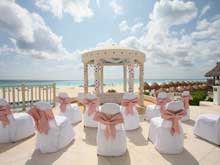 Golden Parnassus Resort & Spa



All-Inclusive
+52 (998) 287-1400
info@parnassusresorts.com
While there are bronze, silver, gold, and platinum Cancun wedding packages at the Golden Parnassus, all three packages can accommodate up to ten guests for your wedding. They have a special Yacht Package, so you can exchange your vows or celebrate your reception on-board a luxury yacht on the Caribbean. You can be entertained by a mariachi band, and enjoy a priority dinner reservation in the restaurant of your choice. All decorations will be taken care of by the resort.


Golden Parnassus
---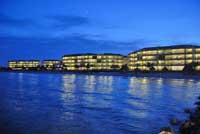 El Cid Resorts


(866) 796-5571
wedding.cancun@elcid.com
Choose from several different pre-planned menus for your reception dinner, after exchanging vows on one of three locations (including the beach). The basic El Cid Cancun wedding packages includes a cake, bouquet, and more. And if you reserve a minimum of five rooms for three or four nights you'll get a free wedding. There are other packages that you can choose from as well with more extensive features.


El Cid Wedding Packages
---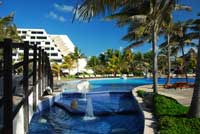 Oasis Hotels and Resorts



(770) 662-1815
weddings@oasishotels.com
If you want a fuss free celebration, start with Oasis' complimentary Cancun wedding packages or choose one of their upgraded collections. You have the option of a Catholic or traditional Mayan ceremony (for the Catholic ceremony, arrangements will be made with a local church). You also choose from hundreds of a la carte services, which include everything from an extra person for cake to live music performed by a harpist. Your entire ceremony can be recorded on video at an additional price.


Oasis Cancun Weddings
---
I hope you find what you're looking for in one of these awesome Cancun wedding packages! Make sure you go back to the top of the page and click on each link to find more awesome locations.
Related Pages
Are you a vendor who wants to be listed in this guide?