I was recently invited to Sarasota along with a group of wedding planners and designers, to experience an incredible 3-day wedding showcase. Florida is a popular wedding destination for obvious reasons, but I guess I was sleeping on Sarasota! It was never really on my radar, and boy was I missing out! I'm so glad I got a chance to visit and experience everything this gorgeous city has to offer –and now I get to report back to all of you about how quaint and pristine this place really is.
Disclosure: Thanks to Laura Detwiler Events, who paid for my trip in exchange for an honest review of my experience. All opinions are the author's own.

I spent two nights at The Ritz Carlton, Sarasota – a gorgeous, sprawling property with a variety of different venues to meet each destination wedding couple's needs. You've got your outdoor lawns overlooking the bay, the opulent ballrooms, and even some truly romantic private areas on the beach. I love The Ritz Carlton because although the brand is world-renowned for its luxury, there is absolutely nothing stuffy about this place. The staff was so incredibly warm, accommodating, and laid back… we all just felt like friends and family being treated to a great visit.
A special shoutout goes out to Laura Detwiler Events, who planned this entire event. I spend a lot of time around wedding planners and I have met many talented ones over the years but I've never met a planner who is just as talented as she is kind, warm, and easy-going. Laura has the calming presence that I would have wanted in charge of my wedding planning…and just wait until you see the incredible job she did planning and organizing this event. Cat Pennenga was on-hand to capture all the photos you'll see in this post.
Welcome Reception
Laura and The Ritz Carlton, Sarasota staff had planned an outdoor welcome reception in The Healing Garden, but Mother Nature greeted us with a torrential downpour as soon as we set foot outside. But the ever-prepared resort staff quickly moved us indoors where we continued on with our decadent feast. The food was not only incredibly delicious but had some of the most unique presentations I've ever seen. On the menu was: ceviche inside a coconut shell… Whiskey infused Oysters… and piña colada made with homemade ice cream and topped with sparkling cherries and pineapple chunks. Oh, and of course, creme brûlée inside an orange rind. I don't care WHERE I am in the resort – indoors, outdoors, whatever – just give me this meal again. As the weather cleared, we ended the night together at the lawn which overlooks the bay and has absolutely breathtaking sunset views. We all talked about how it'd be the perfect spot for literally any wedding event – a rehearsal dinner, cocktail party, ceremony, or even the reception.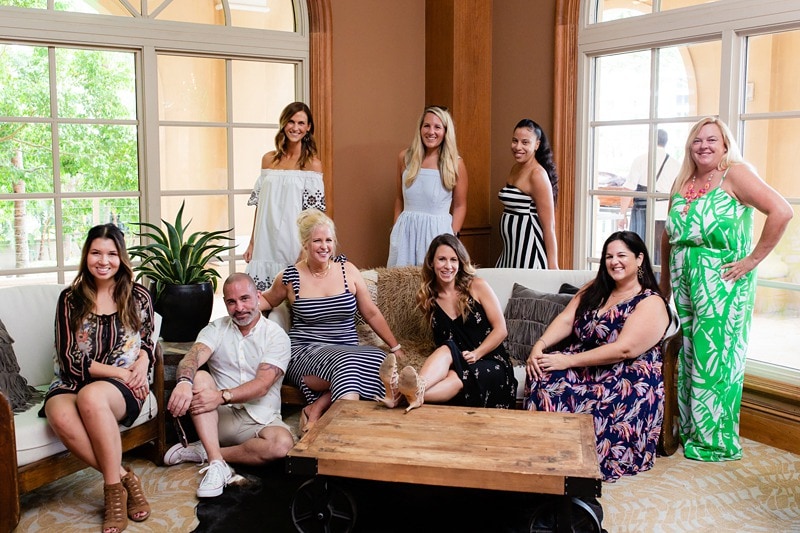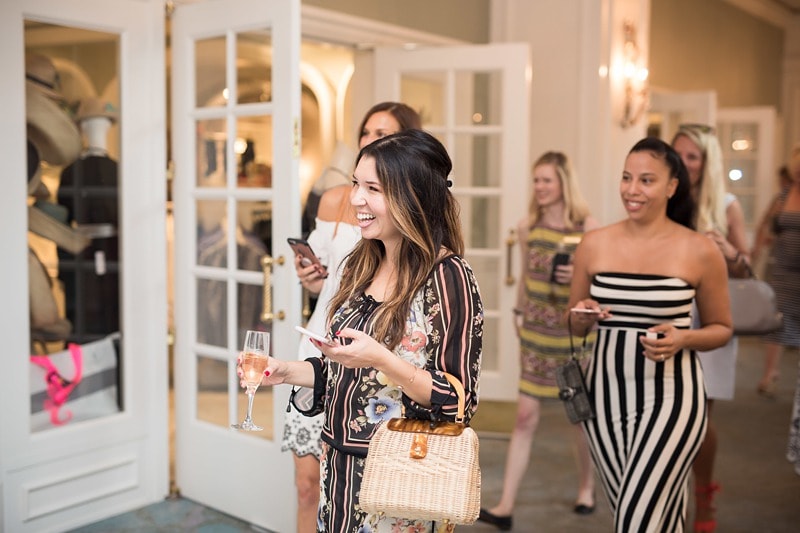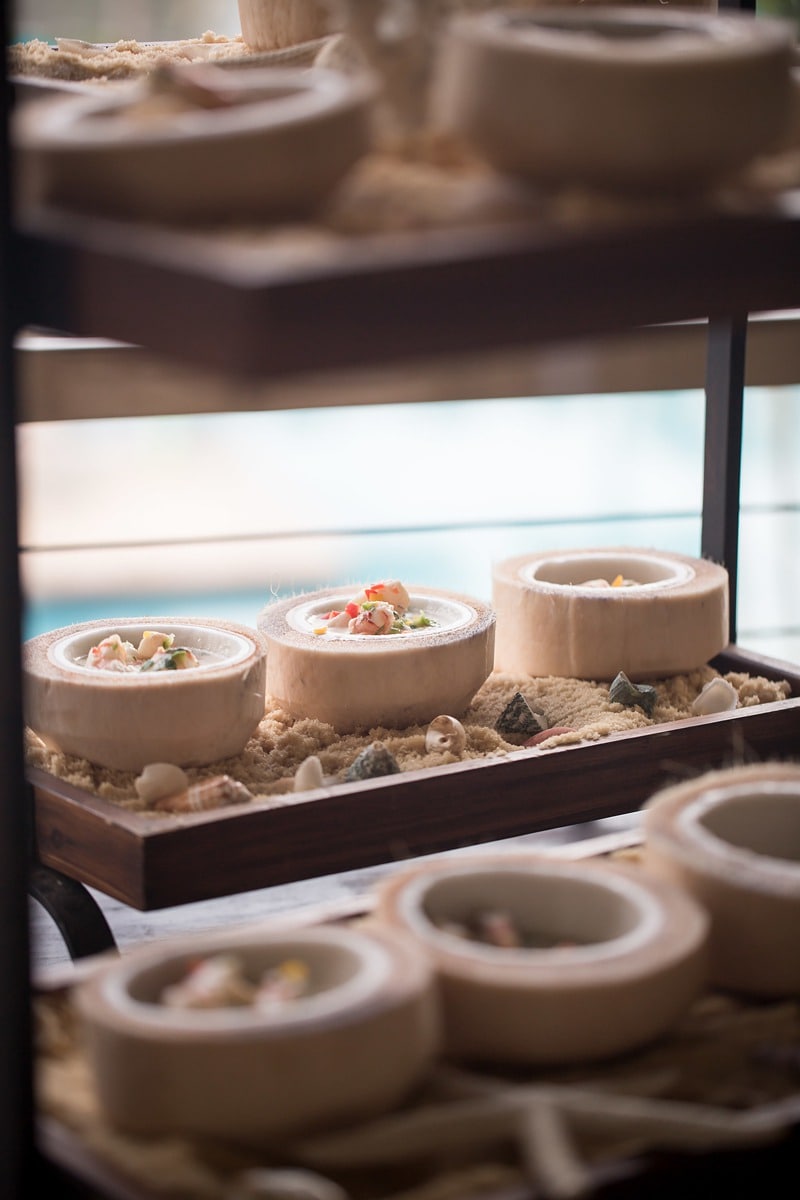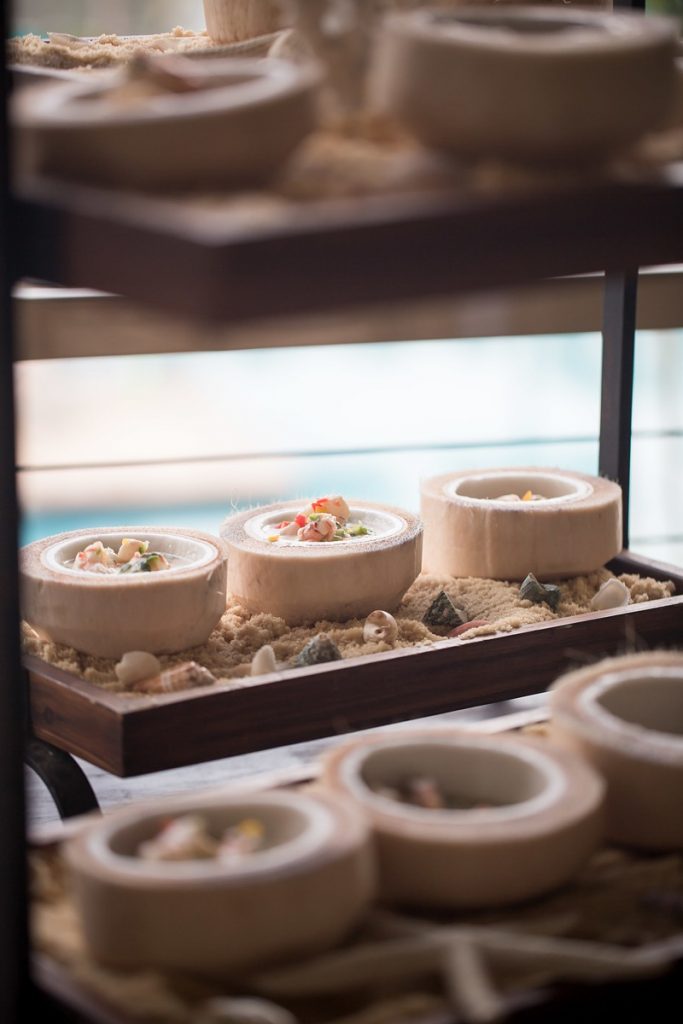 Breakfast at Bayview
Even for breakfast, this place shows up and shows out! Who wouldn't want to enjoy breakfast with a gorgeous view of the bay, swaying palm trees and a firepit as their backdrop?! This would be a great place for a welcome breakfast for your guests. Although this space is already naturally beautiful, Laura Detwiler Events enlisted the help of some really talented suppliers to jazz up the venue even more. I'm all about the details and I absolutely loved the stunning centerpieces by Tailored Twig and the unique linen and chargers from BBJ Linen.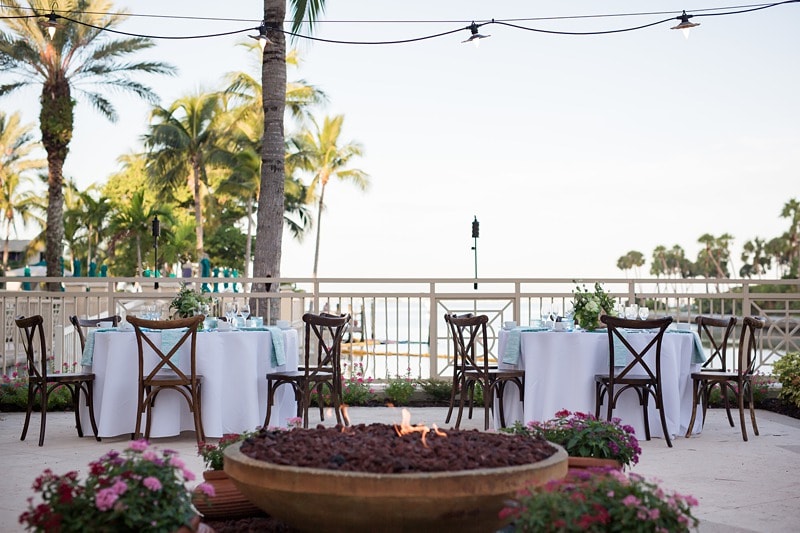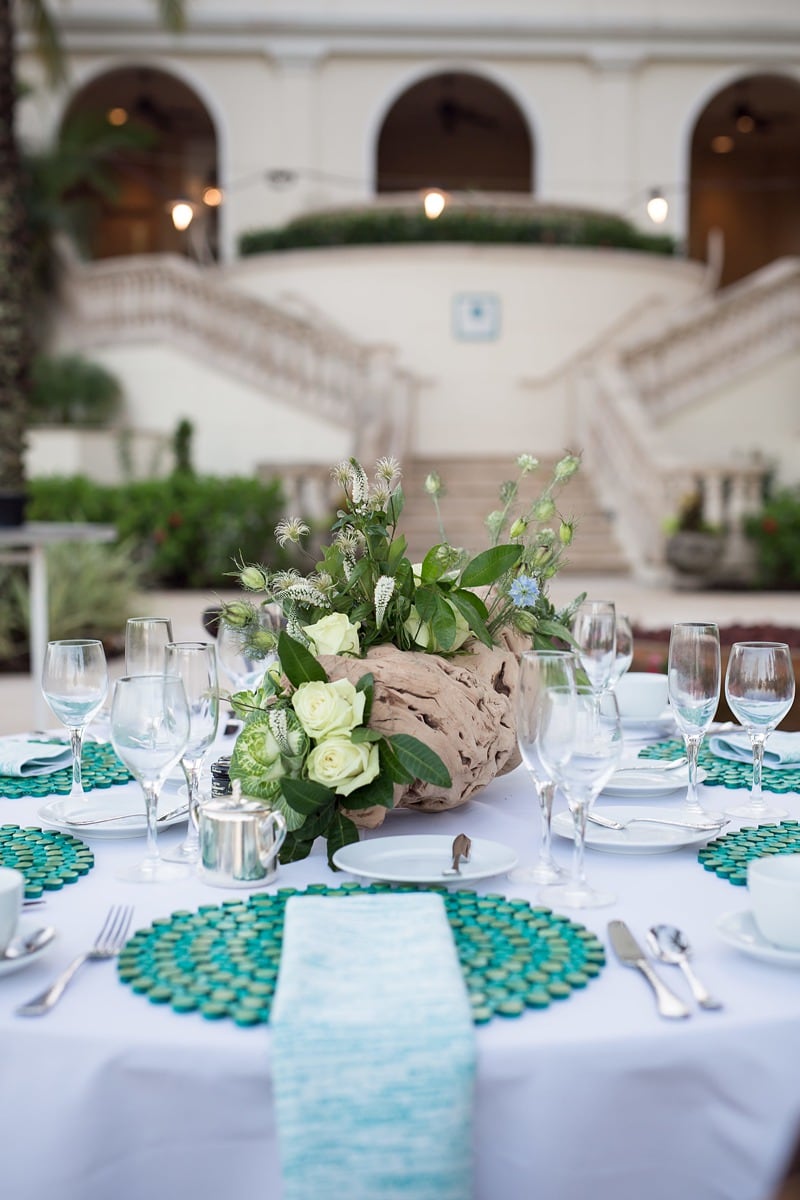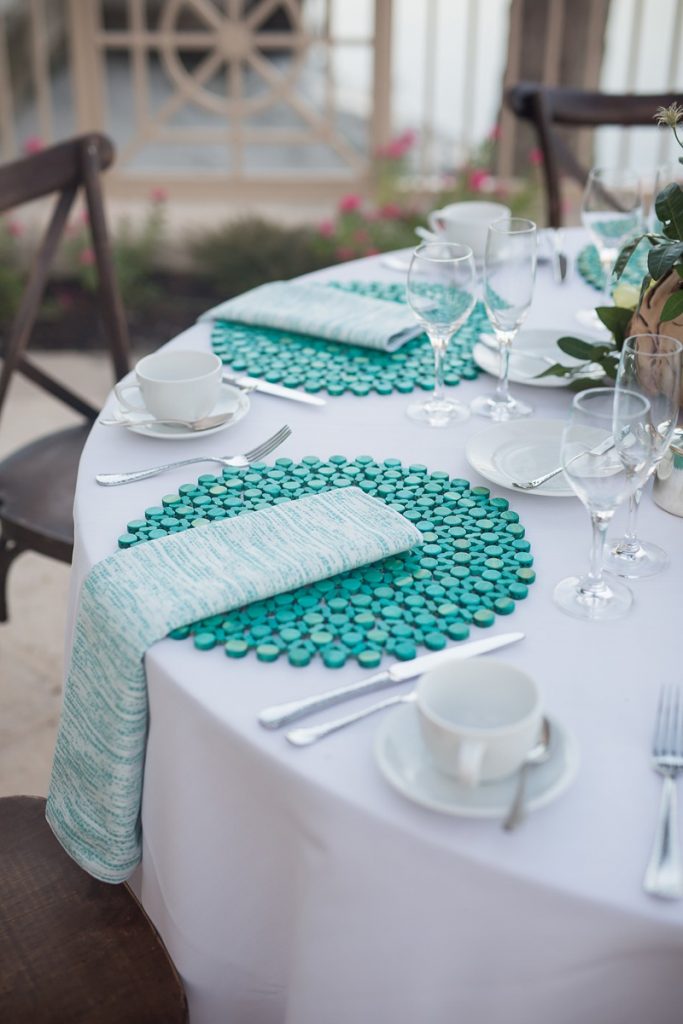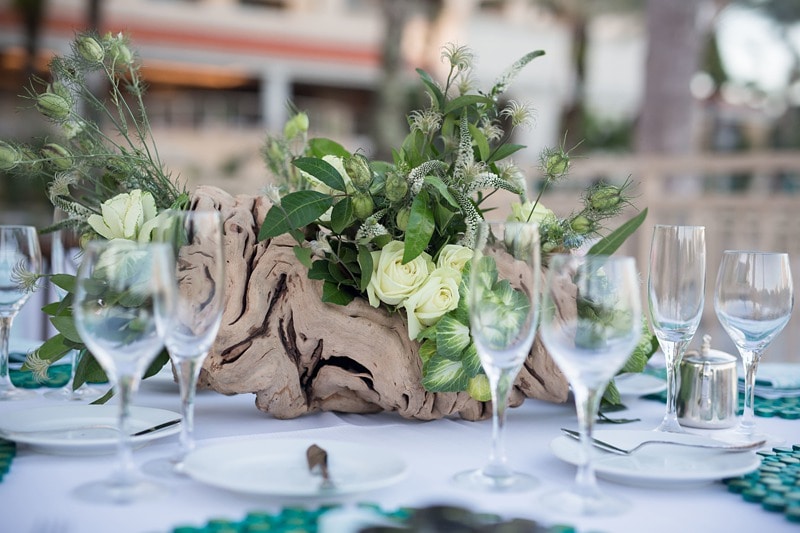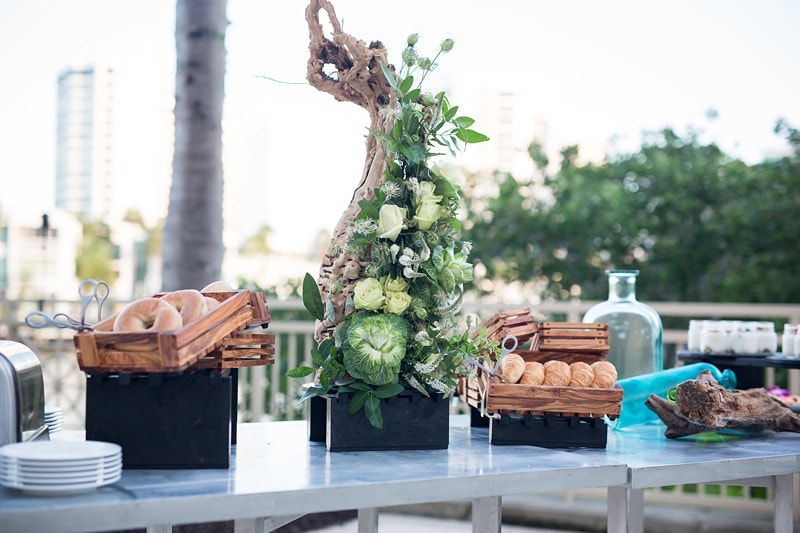 Ritz Carlton, Sarasota Wedding Ballroom
Once we were stuffed with a delicious breakfast, we took a tour of the resort to see their ballrooms. If you've read some of my other posts, you might know that I don't personally love ballrooms — I'm more of an outdoor wedding person. But even I have to admit that I was blown away by the ballrooms at The Ritz Carlton, Sarasota. The light fixtures, which resemble diamond infinity bands, were particularly stunning.

Cocktails & Dinner at The Ritz Carlton, Sarasota Beach Club
During our last evening together, we were treated to cocktails and dinner at The Ritz Carlton, Sarasota Beach Club which is conveniently located 15 minutes from the resort. With many resorts, you're handcuffed to just the one location… but The Ritz Carlton, Sarasota offers an opportunity to go "off-site" and experience a different beach and view to share with your closest friends and family. Laura again outdid herself. She created the absolute perfect indoor/outdoor beach wedding vibe for us to enjoy as a group – it was incredibly laid back, comfortable and romantic. The tasteful and beachy decor blew us all away.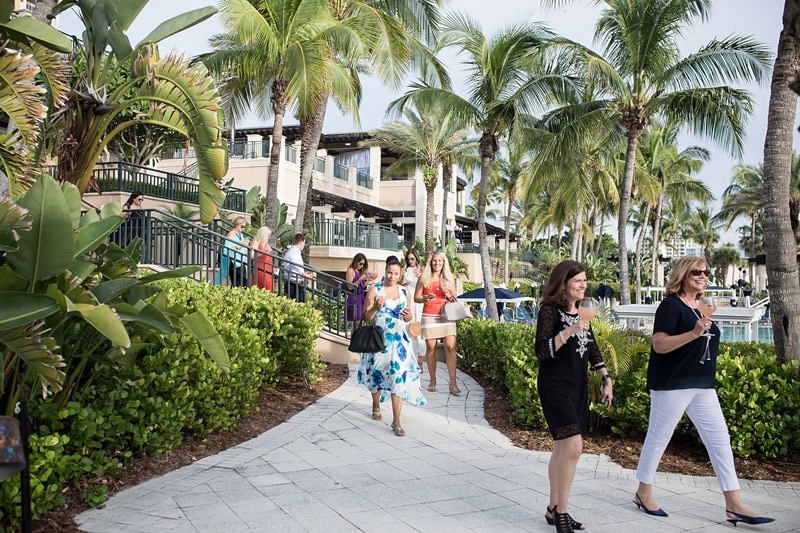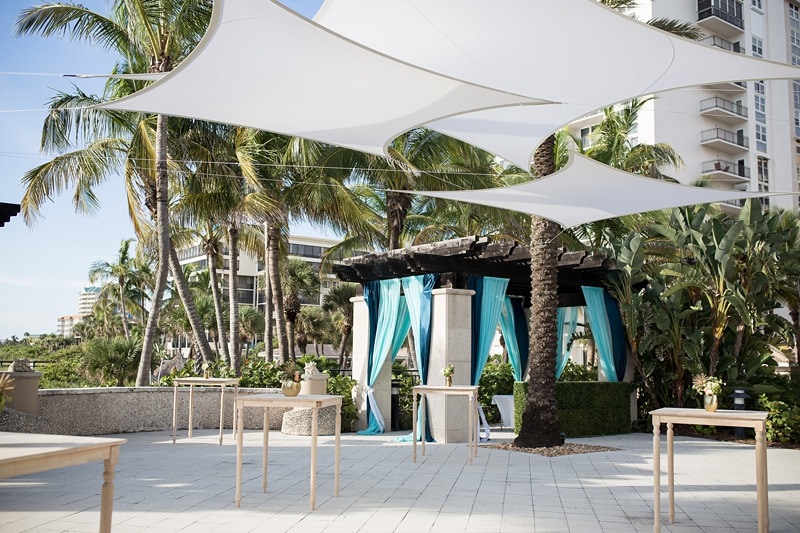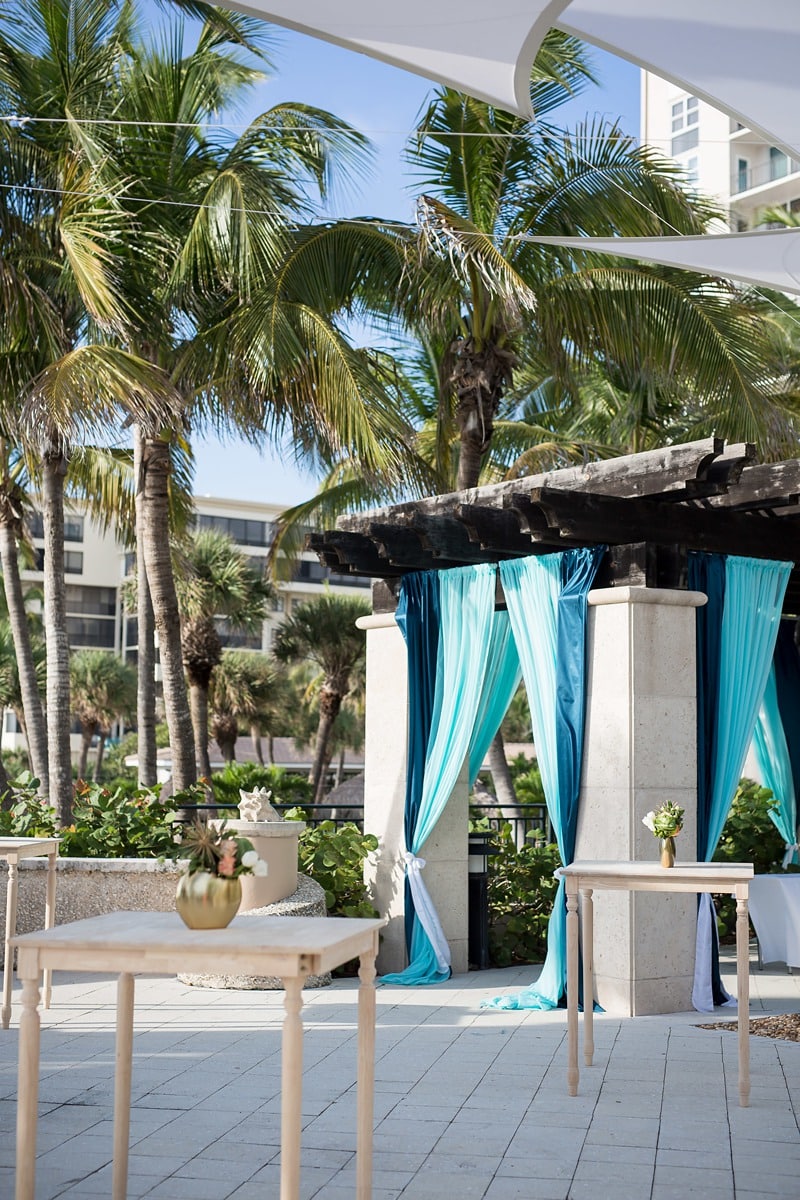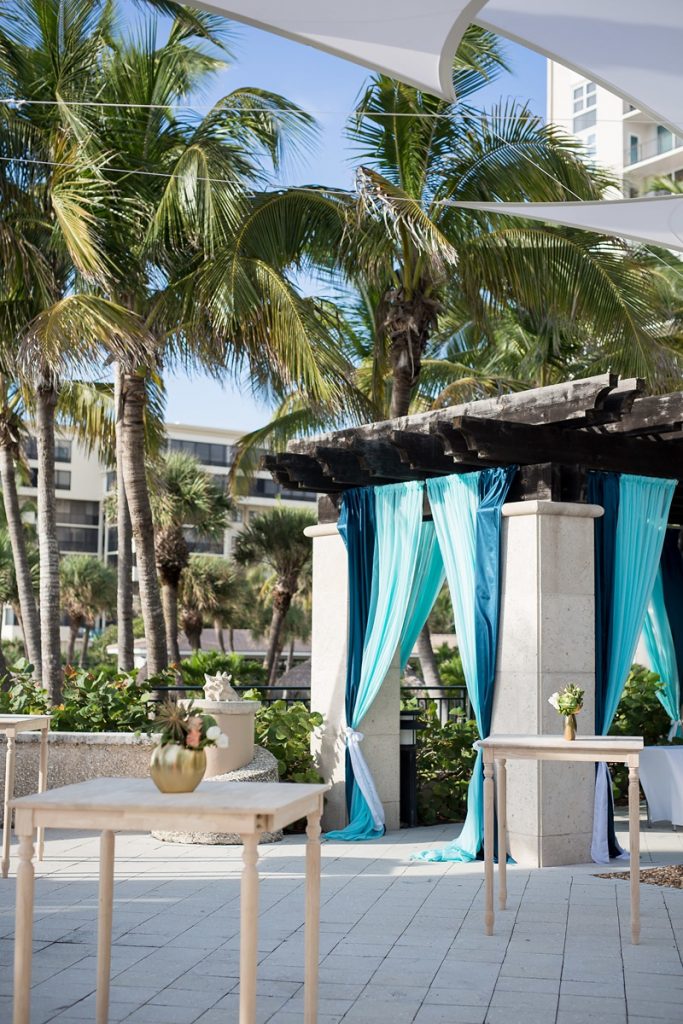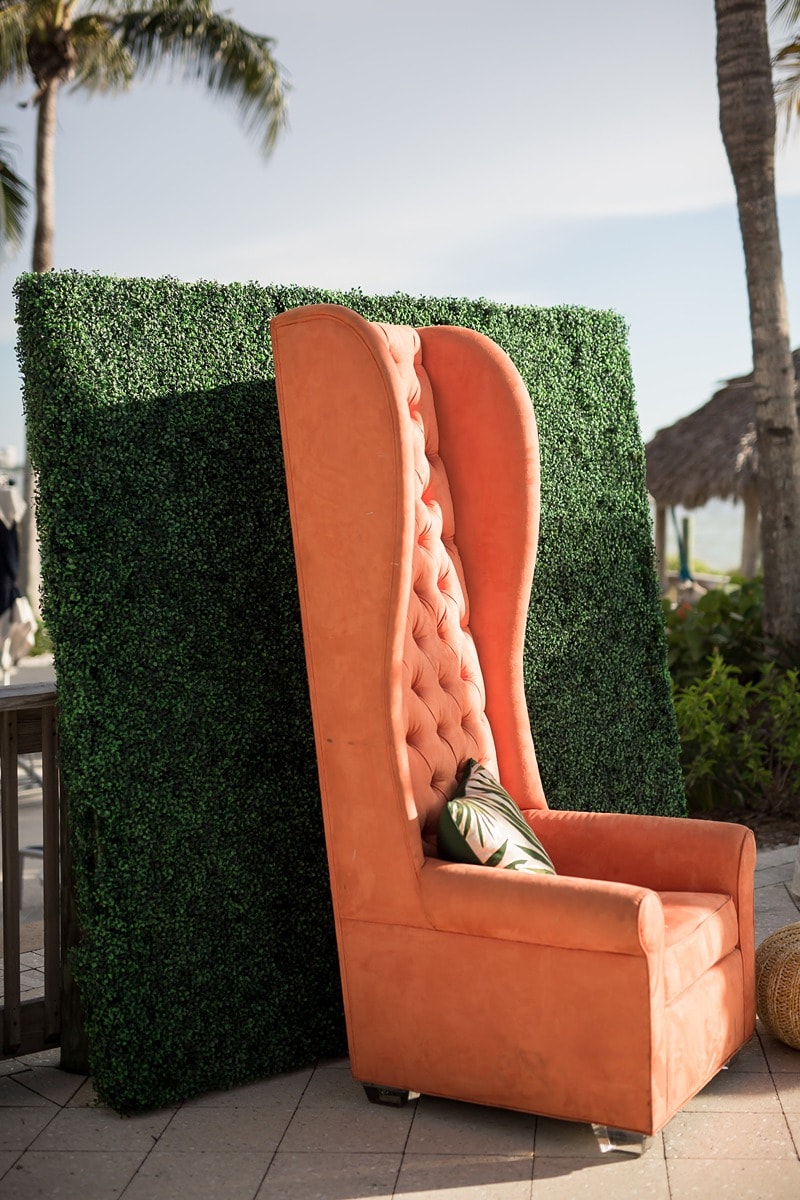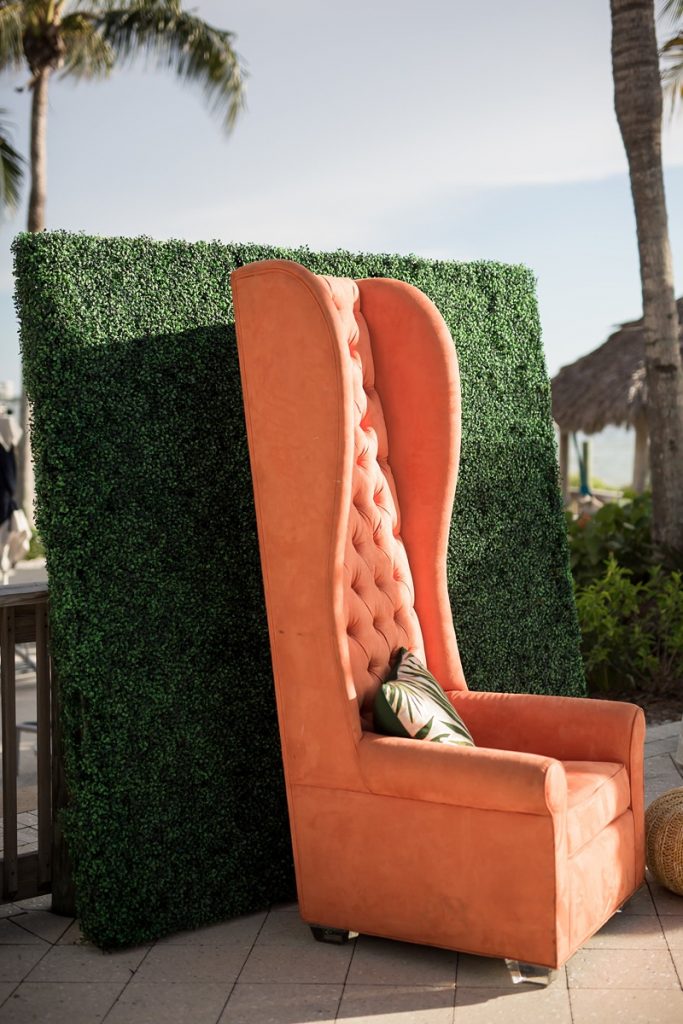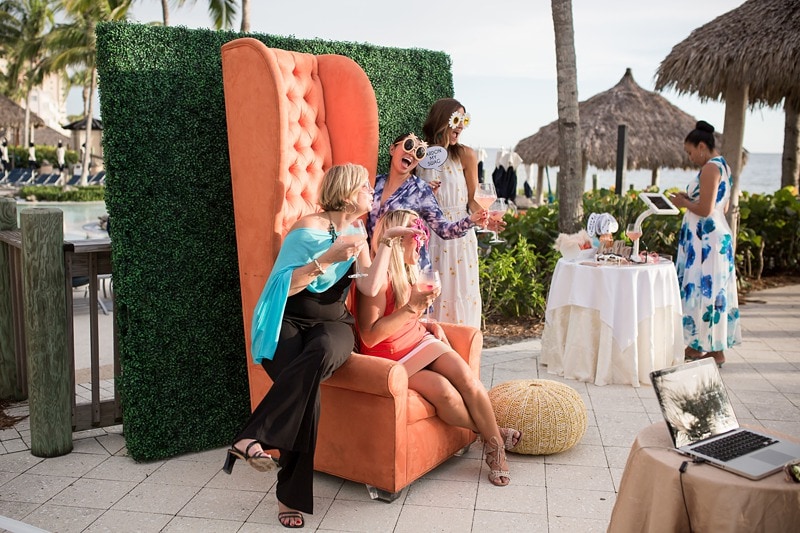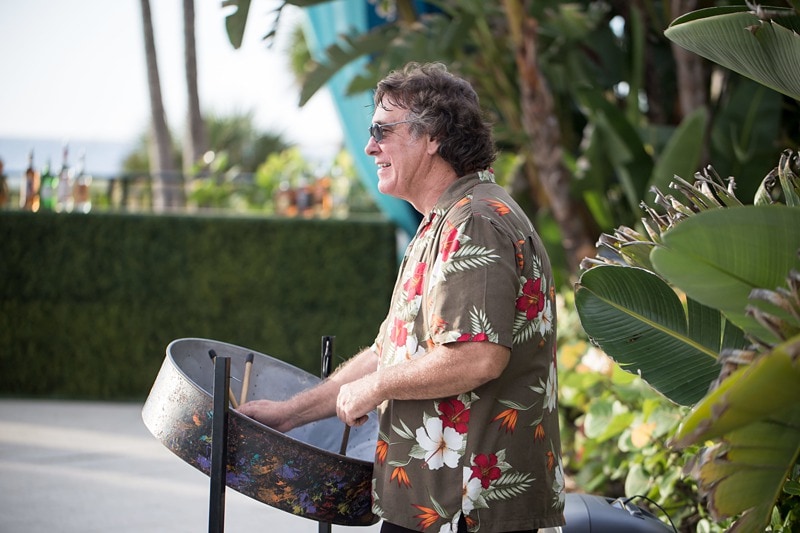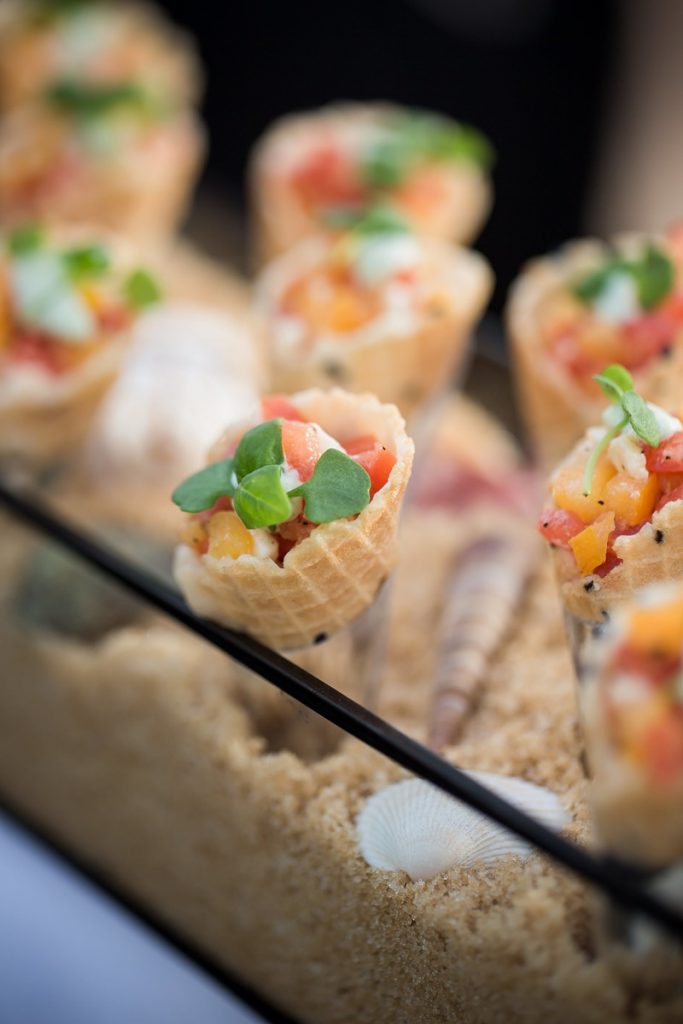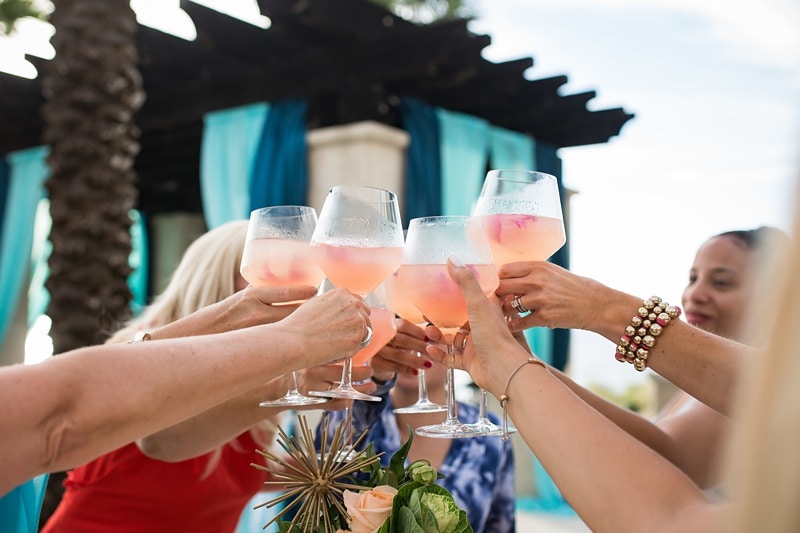 After cocktails, we headed indoors to see this tablescape. This entire setup was so out of this world that words just cannot do it justice so I'm going to let you just admire the photos from a few different angles.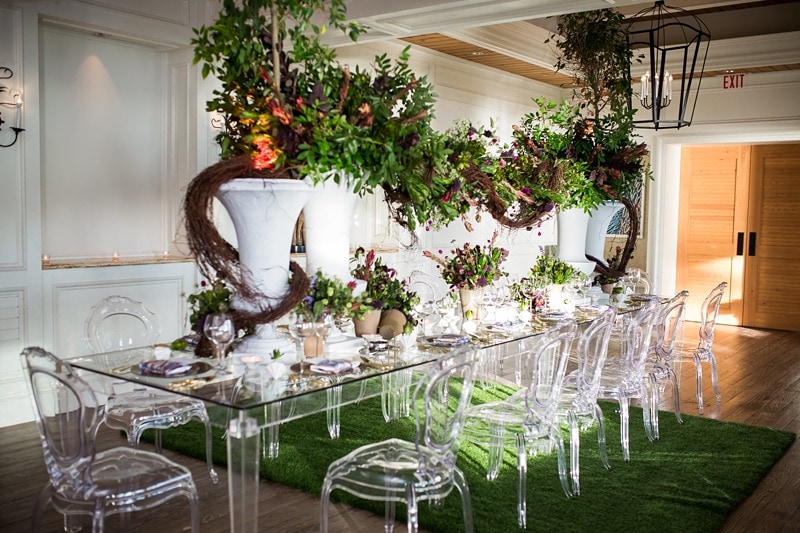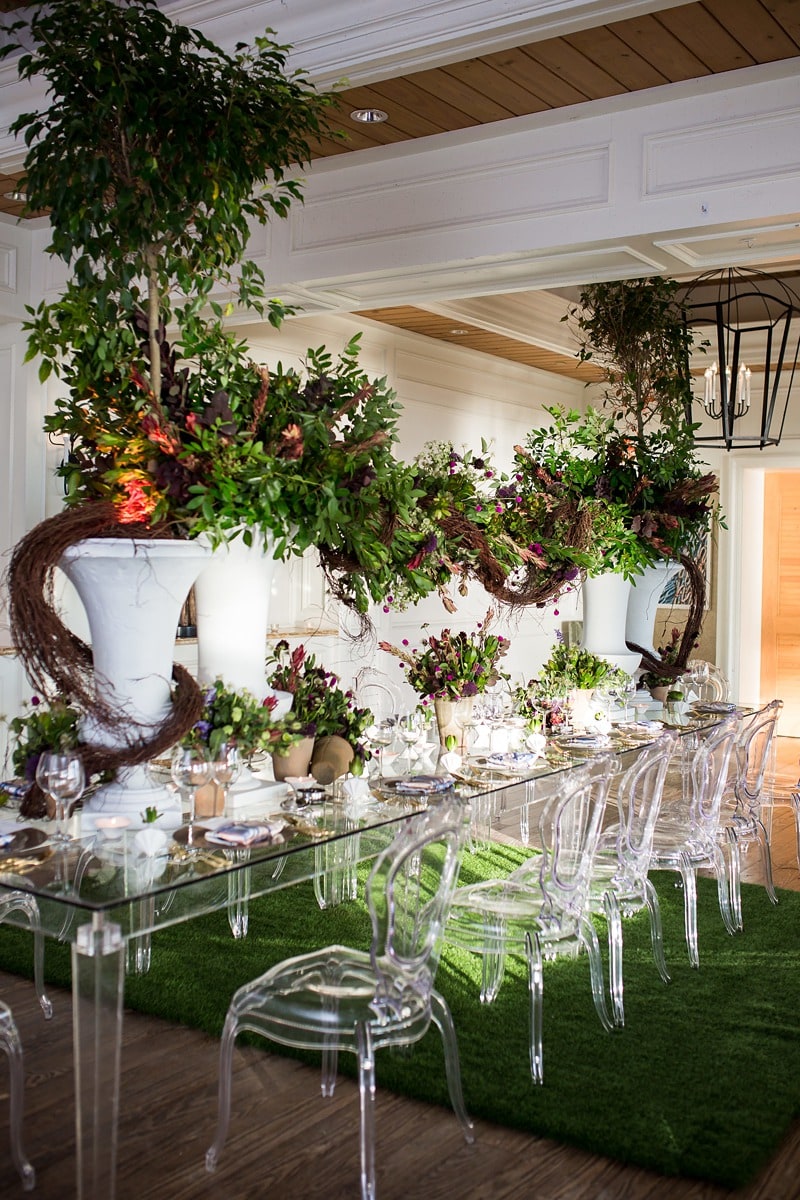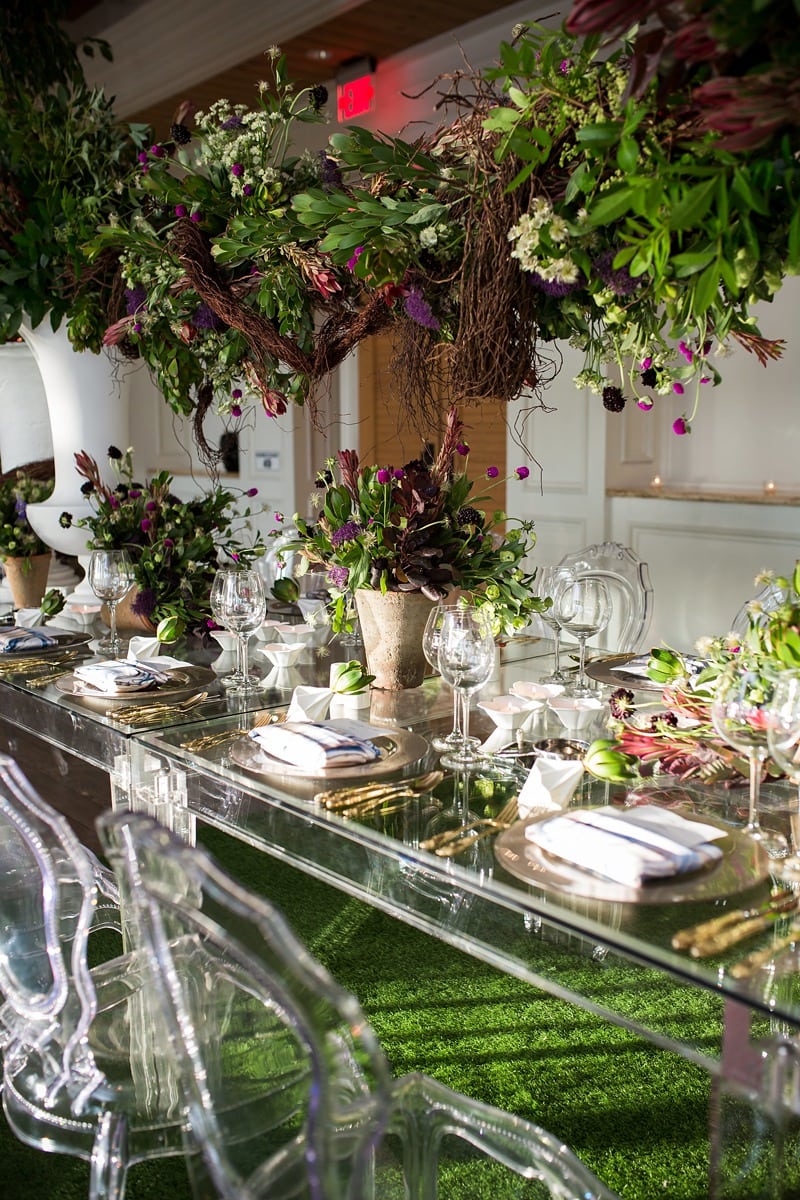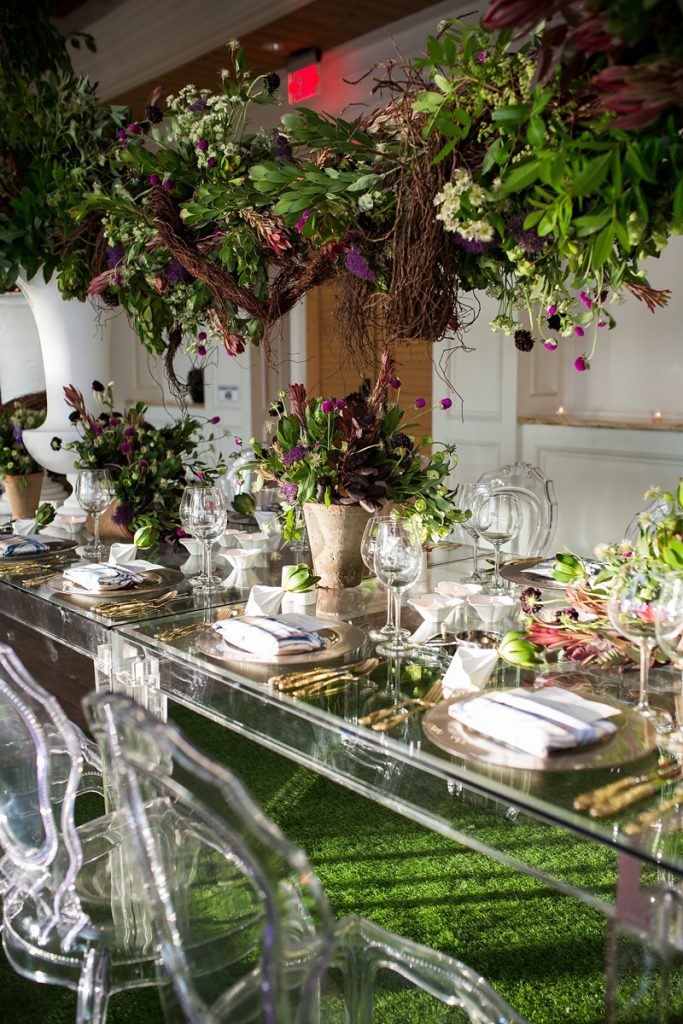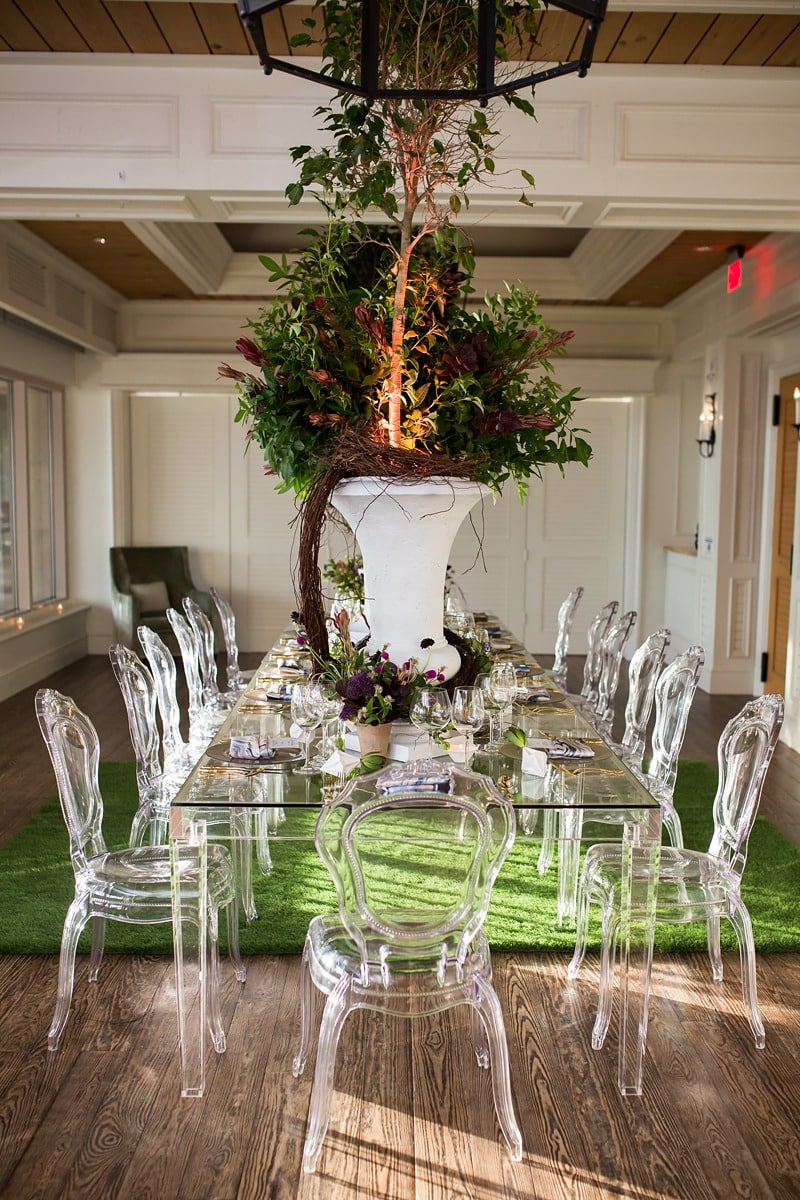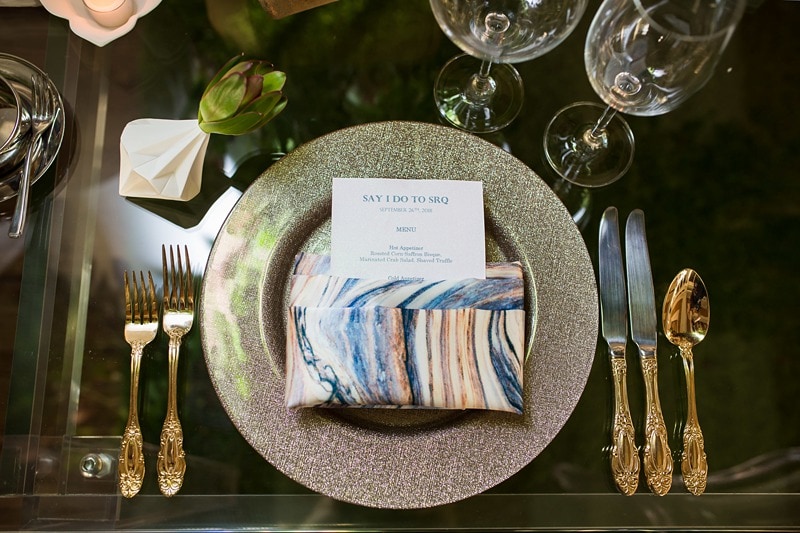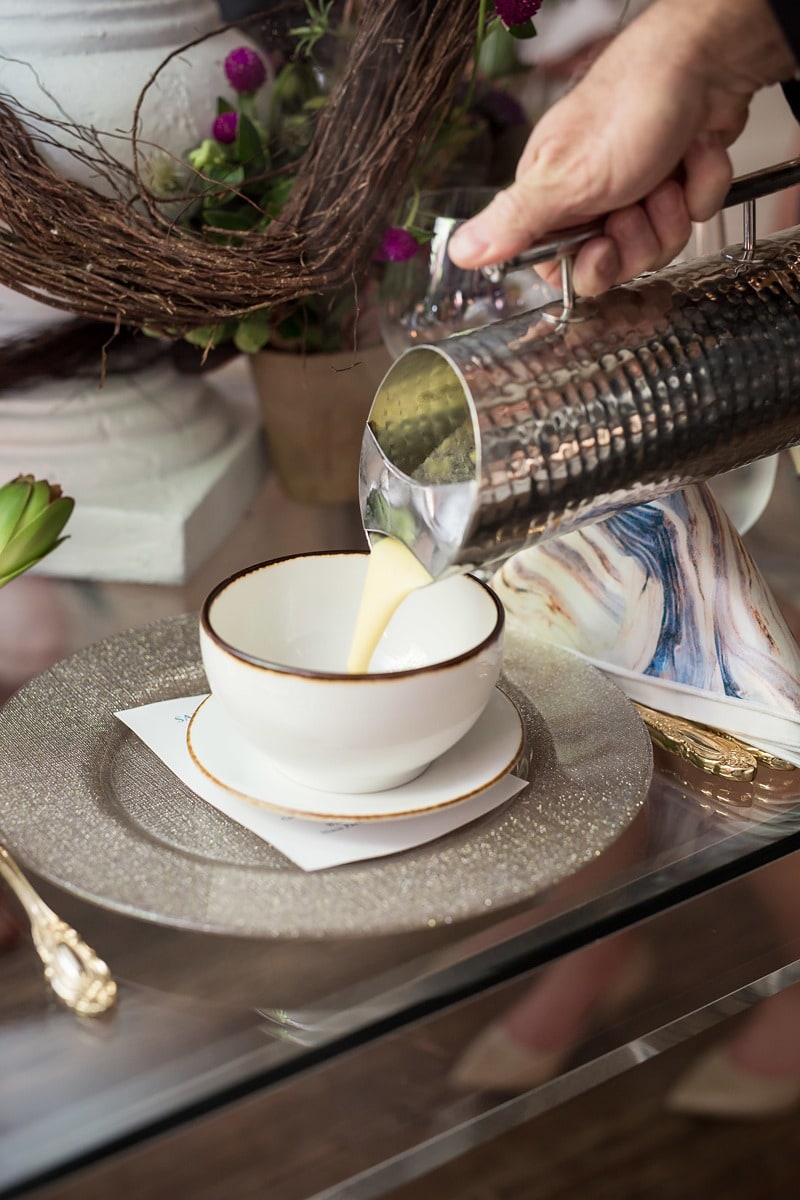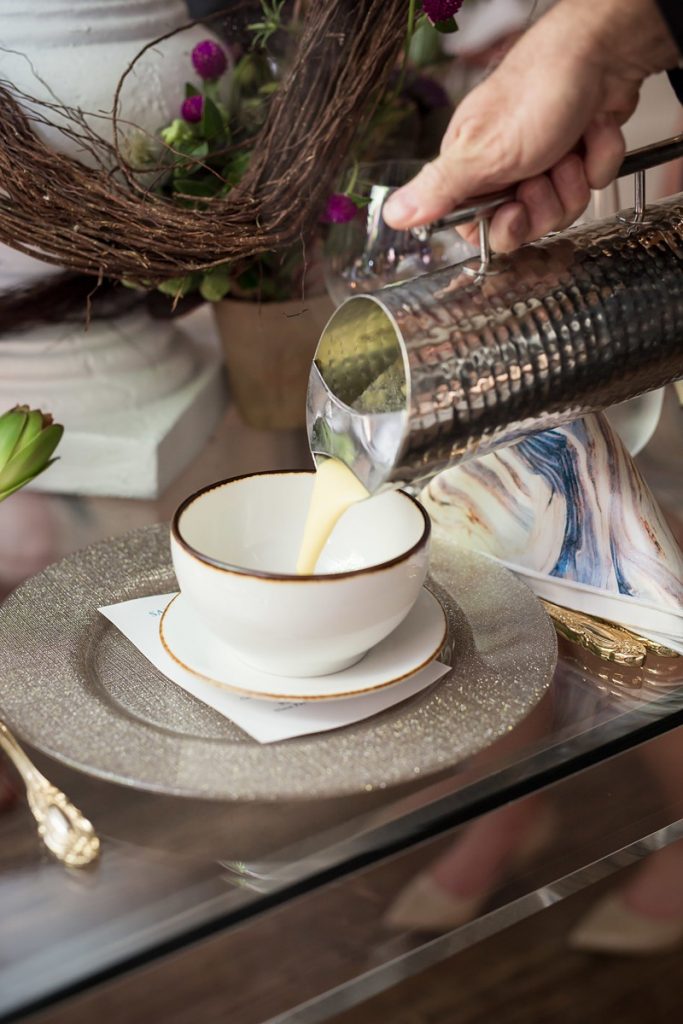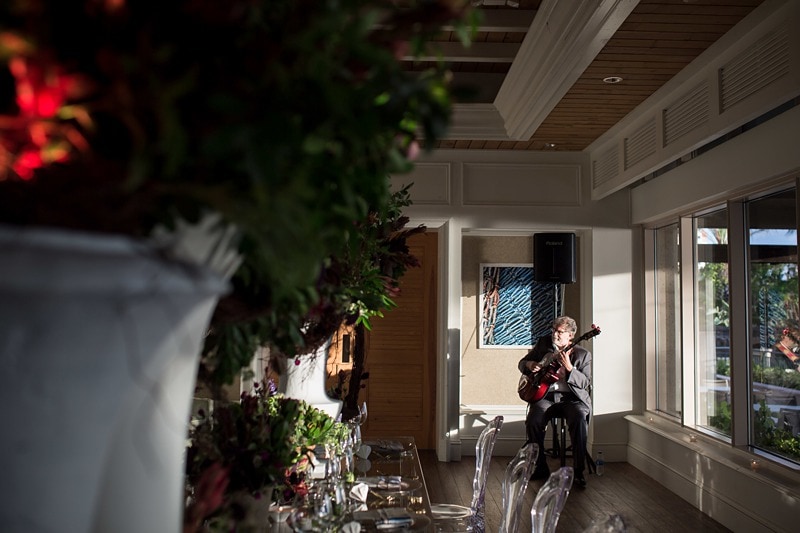 To end the night, we headed back outdoors and enjoyed some dessert with that same amazing food presentation we enjoyed during our entire stay. The chef even made honey caviar right on the spot to go on top of the white chocolate mousse. Yeah, I know. It was ridiculous and delicious.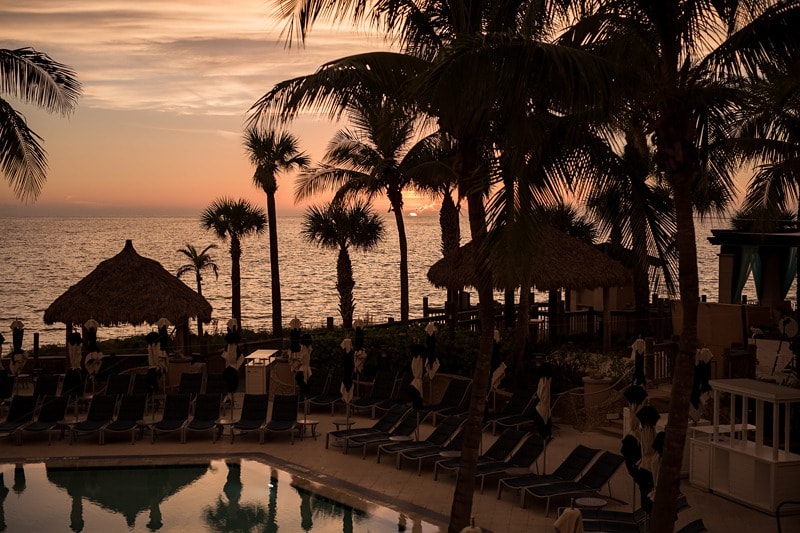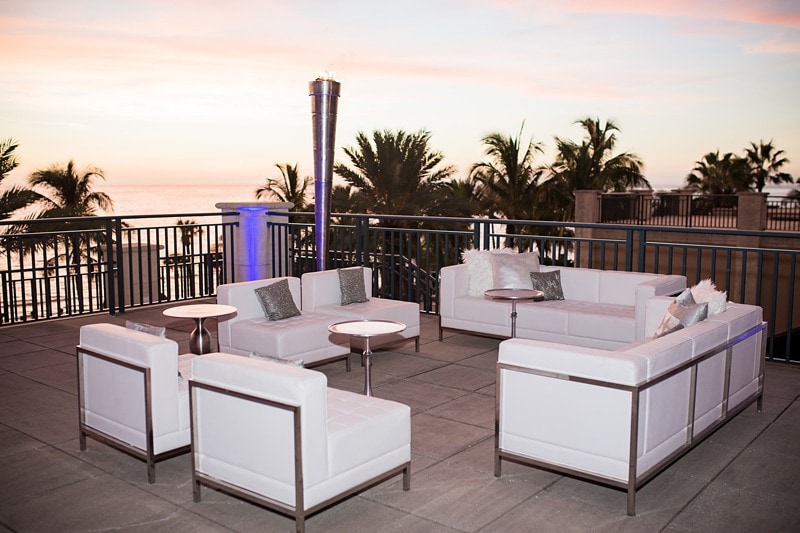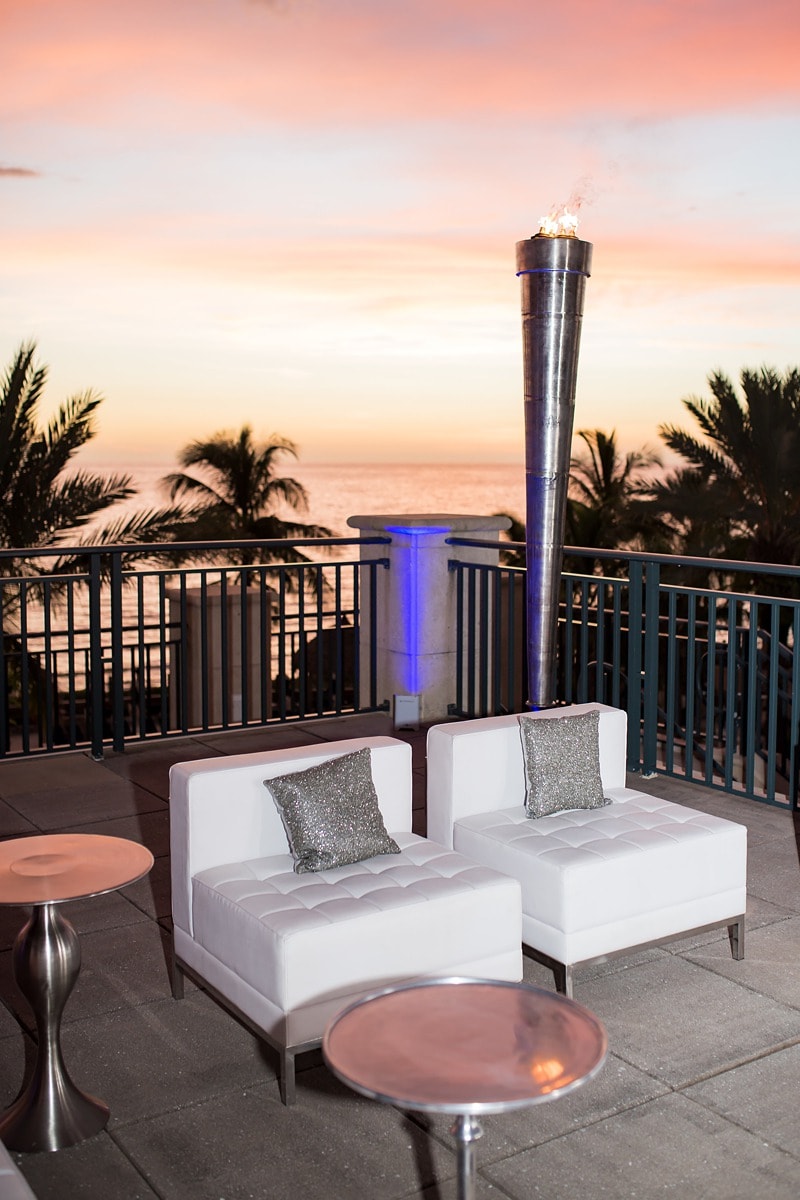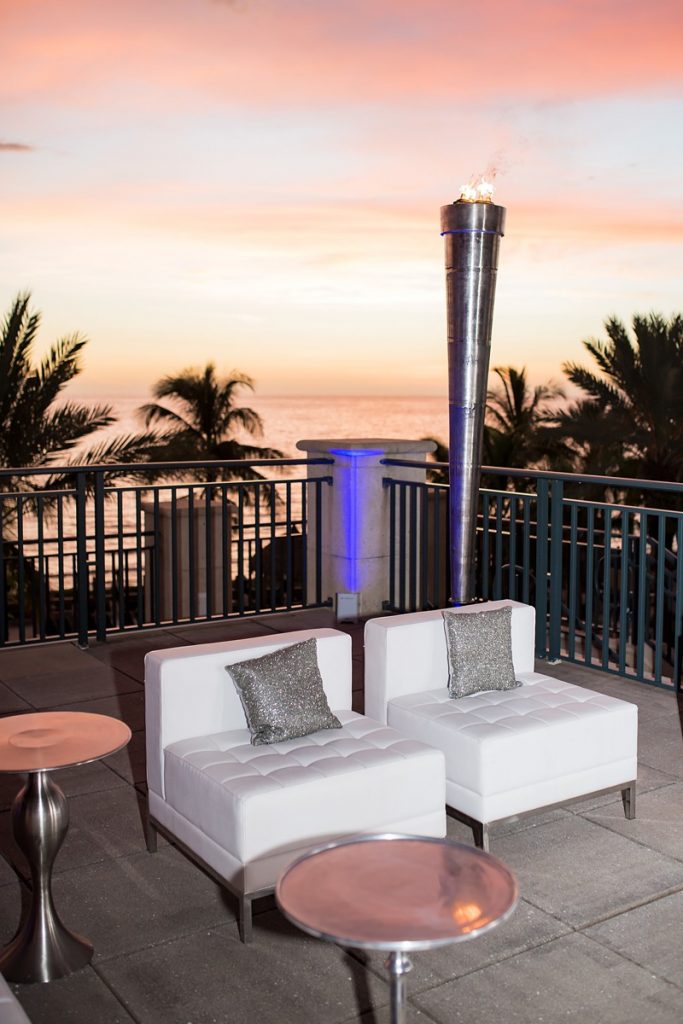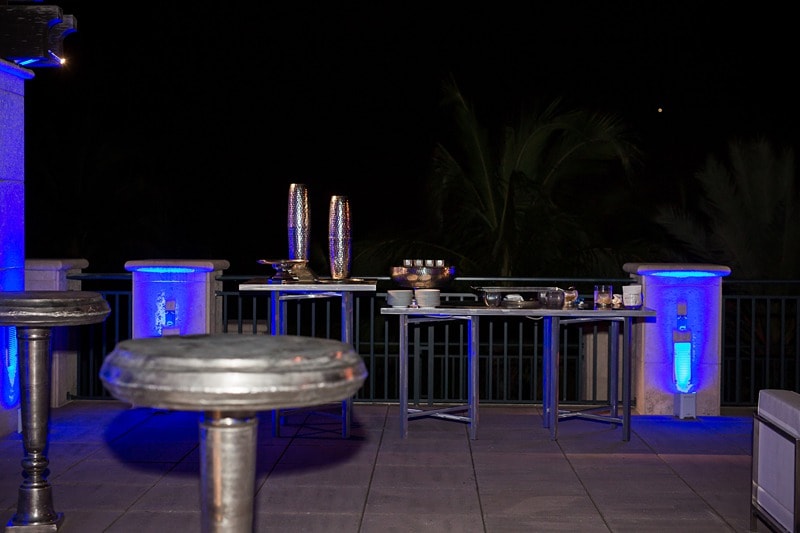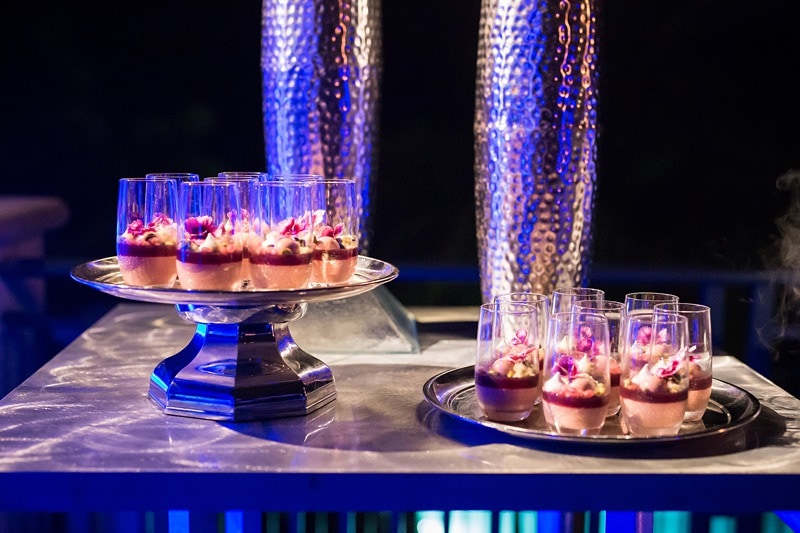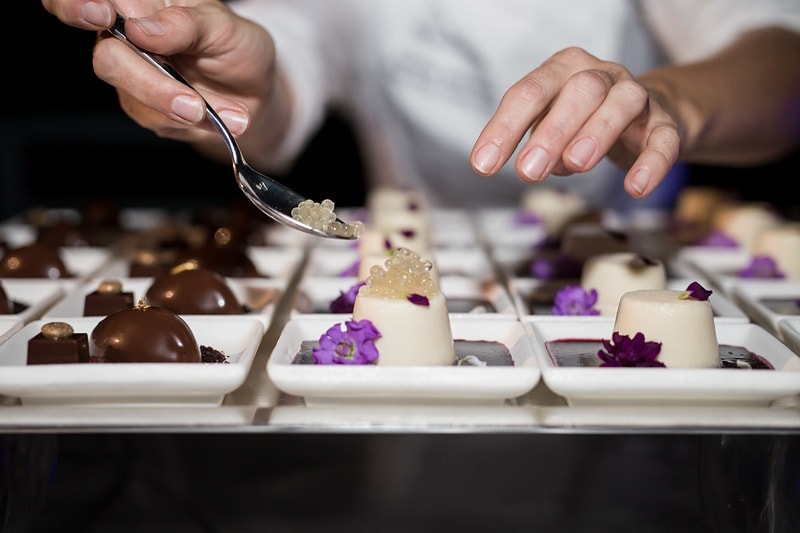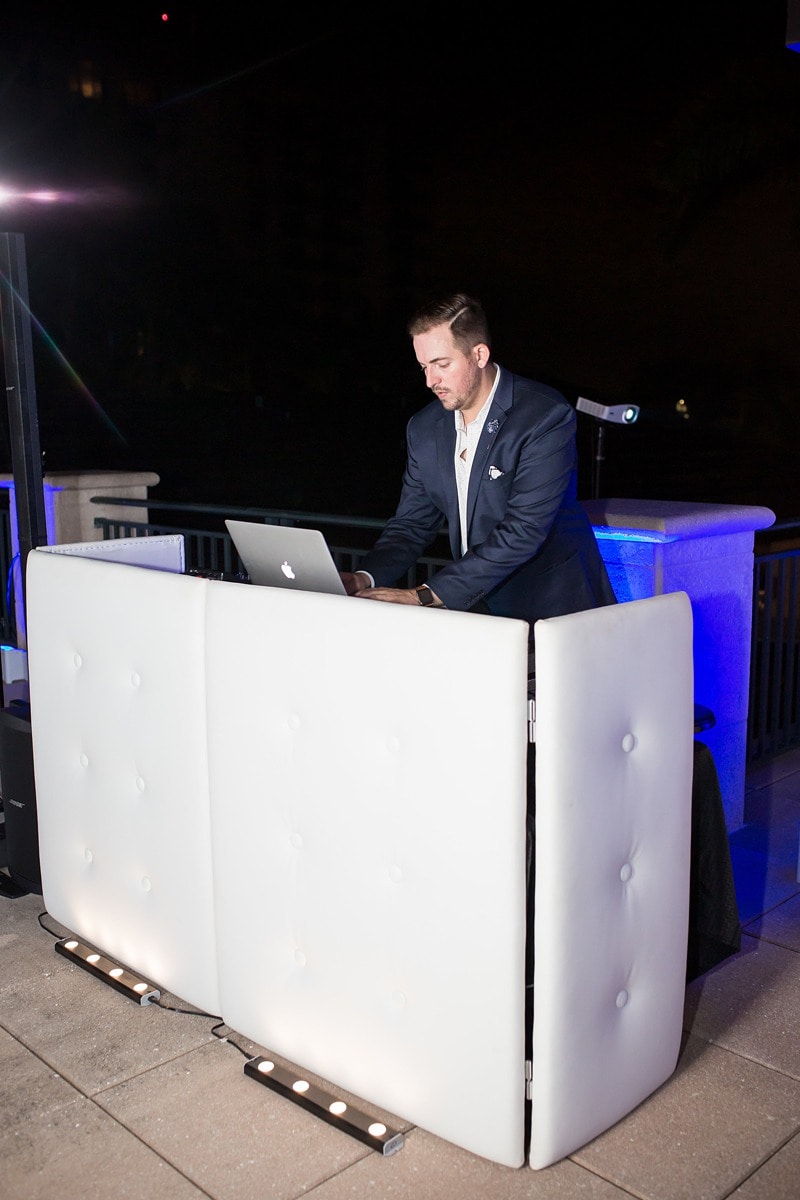 After dessert, we were surprised by a fire dancer performance. So fun! I had fire dancers at MY wedding in Mexico a few years ago, and I can attest to what a truly magical and memorable experience this is for wedding guests.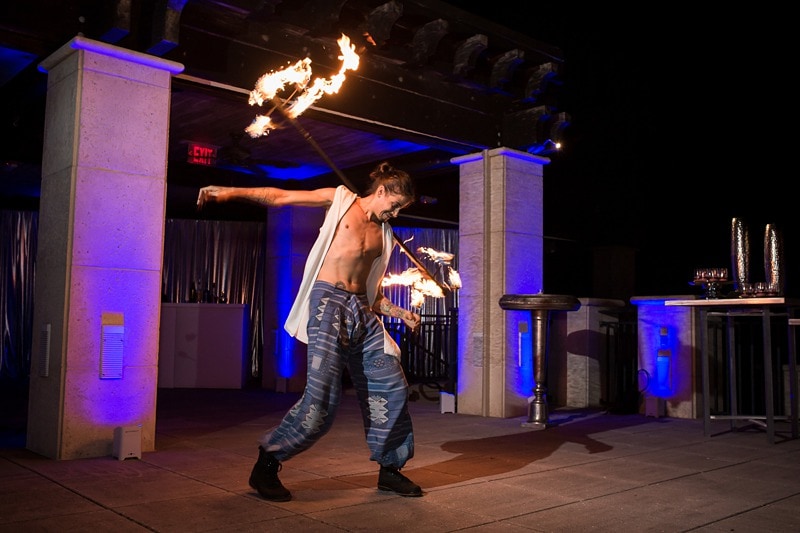 Tour of Sarasota
I only spent two nights in Sarasota, but I still had a chance to explore the world outside the resort. We went to The Ringling – Florida's State Art Museum. That's the former estate/mansion of John Ringling of the Ringling Bros. and Barnum & Bailey Circus… and it's as wild as you can imagine. The Ringling is another option you can explore if you want a truly unique and over the top wedding venue. We also got to explore St Armands Circle, a sophisticated outdoor dining and shopping area with a great combination of European flair, mid-century modern architecture, and the turquoise waters of the Gulf of Mexico. This is a great area to explore during your stay in Sarasota.
Like I said earlier, Sarasota wasn't always top of mind when I thought of Florida wedding venues but it is truly a hidden gem. A huge thanks to The Ritz Carlton, Sarasota, and Laura Detwiler Events for hosting me!
Vendors:
Photographer: Cat Pennenga
Planner: Laura Detwiler Events
Venue: Ritz Carlton, Sarasota
Florals: Tailored Twig
Decor and Equipment Rental: So Staged
Linen & Chargers: BBJ Linen
Guitarist: Marc Mannino
Photo Booth: The Fancy Booth
DJ: DJ Cory Barron
Lighting: Affairs in the Air