Tara and Tyler treated their friends and family to a gorgeous destination wedding in Miramar Beach to celebrate their love. They fully embraced the casual seaside vibe – Tara wore my favorite beach bride accessory, the footless sandal. Everyone looked so happy and relaxed – and I thought it was a really cool idea to request that each attendee wear neutral colors – it looks like everyone is a member of the bridal party!
There were so many adorable little details that brought this wedding to the next level: everything from the DIY signs Tara's father made, to the Barbie and Ken dolls made to look like them, and even the unique "guest book" globe. I especially loved how they re-purposed their amazing engagement photos by having them printed on the fans they handed out to cool off their guests! Every detail was thoughtful and fun… hats off to Tara and Tyler for what looked like an amazing and memorable celebration! And a special shoutout goes out to Hannah Marilyn Photo for doing such a great job capturing every single one of these unique details!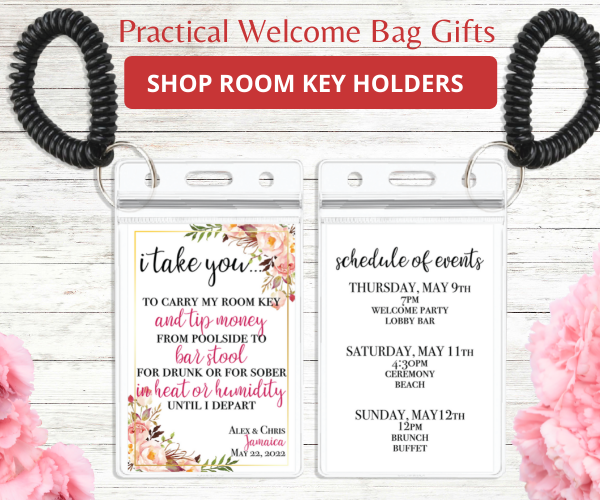 Disclosure: We get a commission for purchases made through some of the links in this post, at no additional cost to you. It's just one of the ways we keep this site running. See Disclaimer.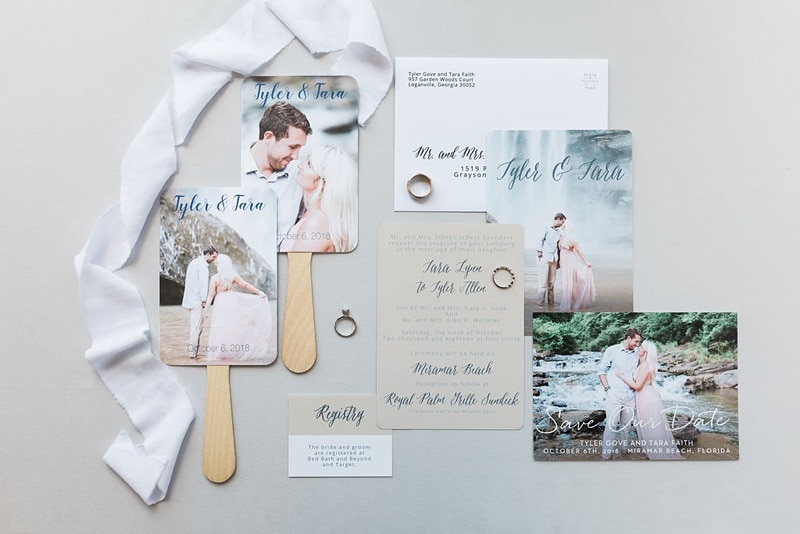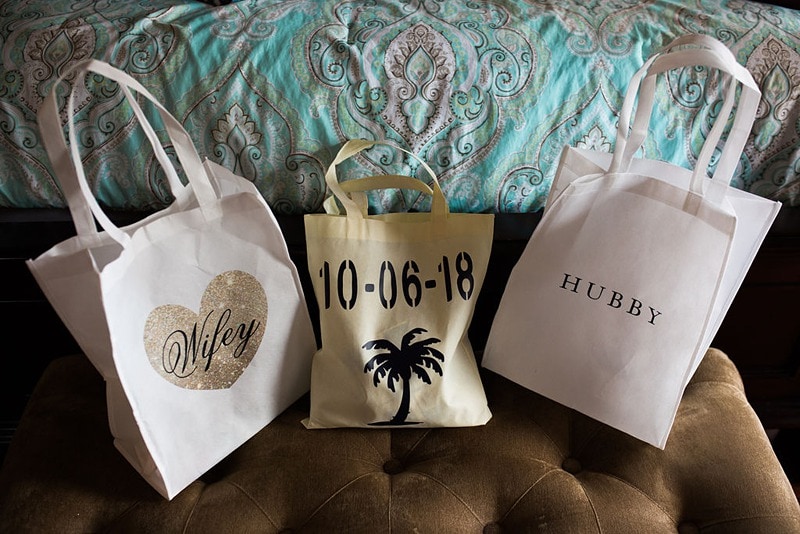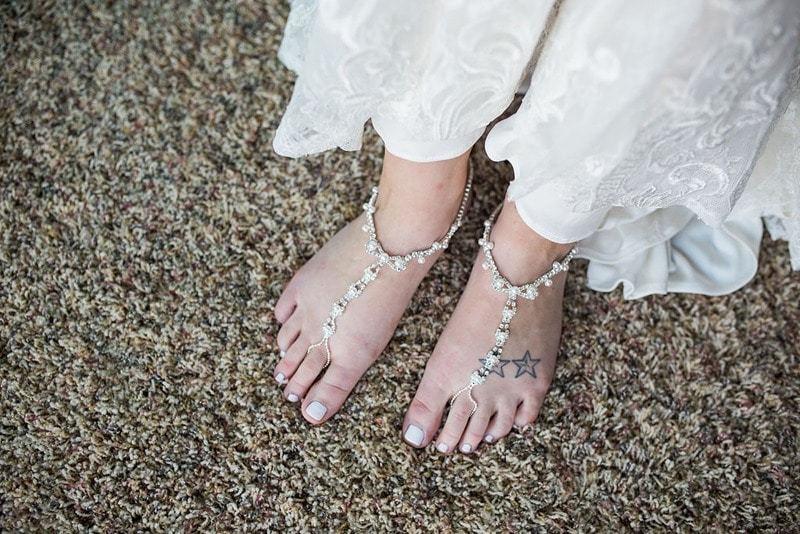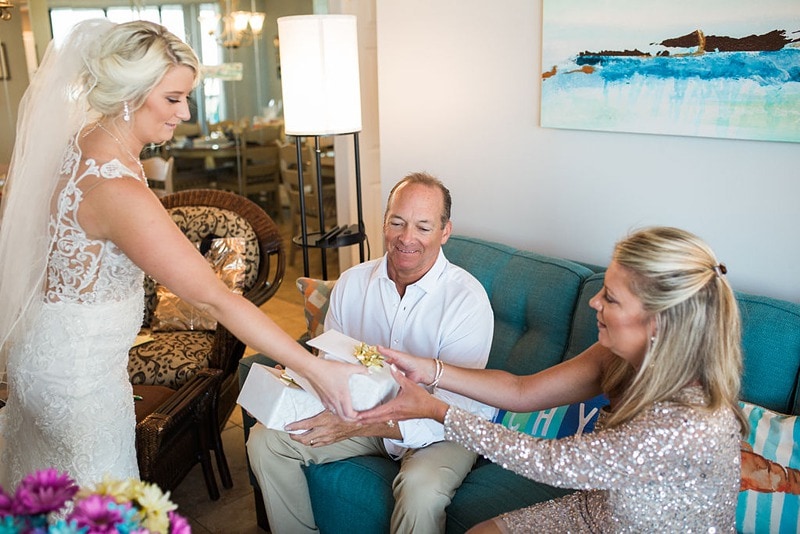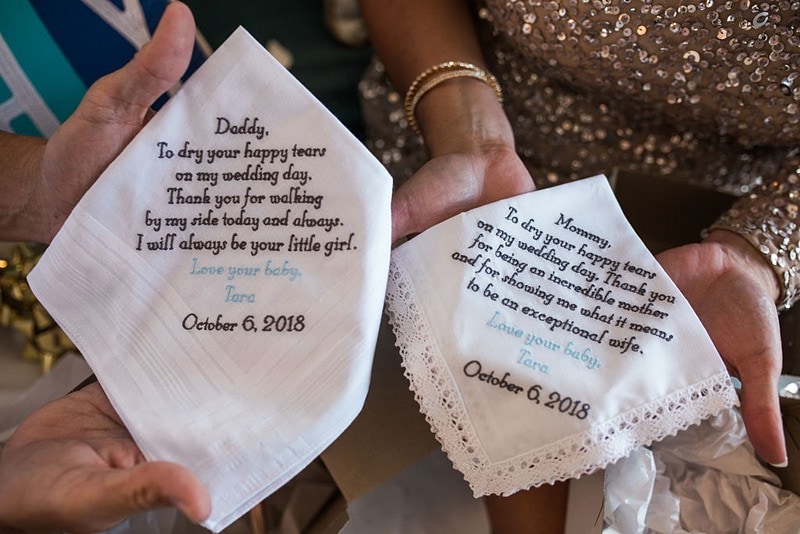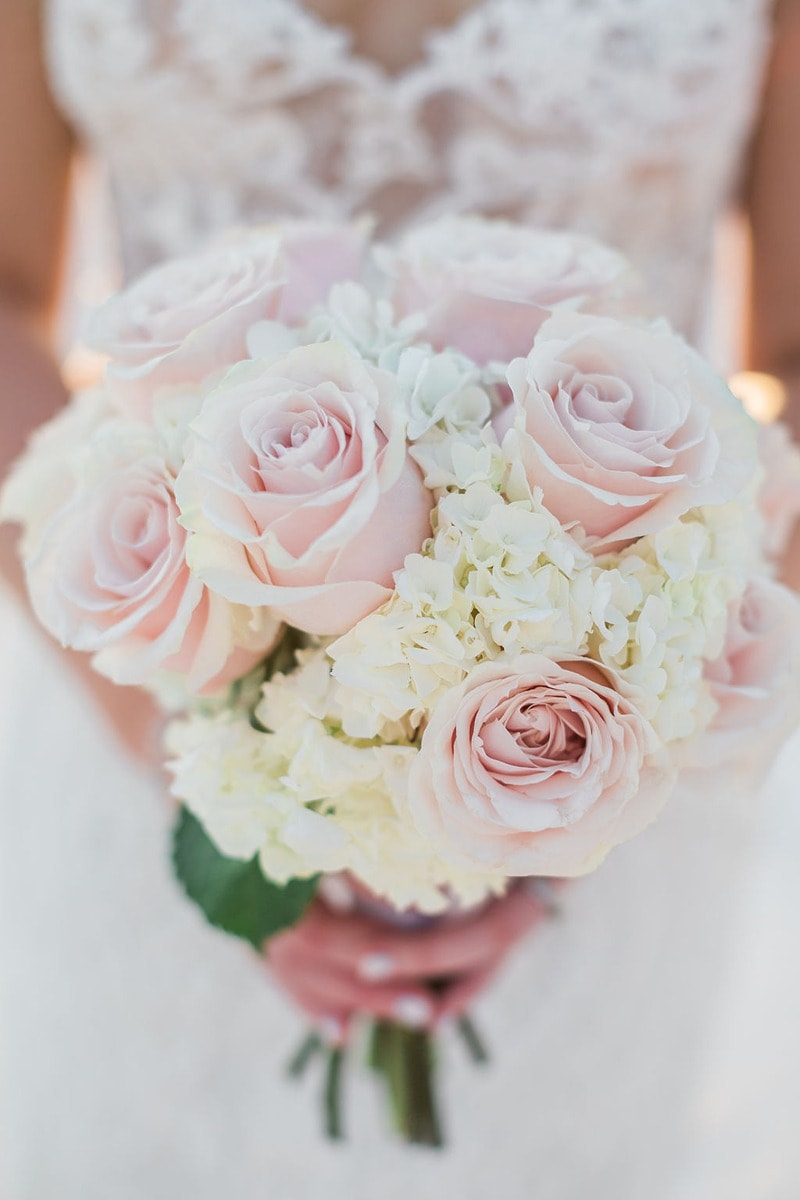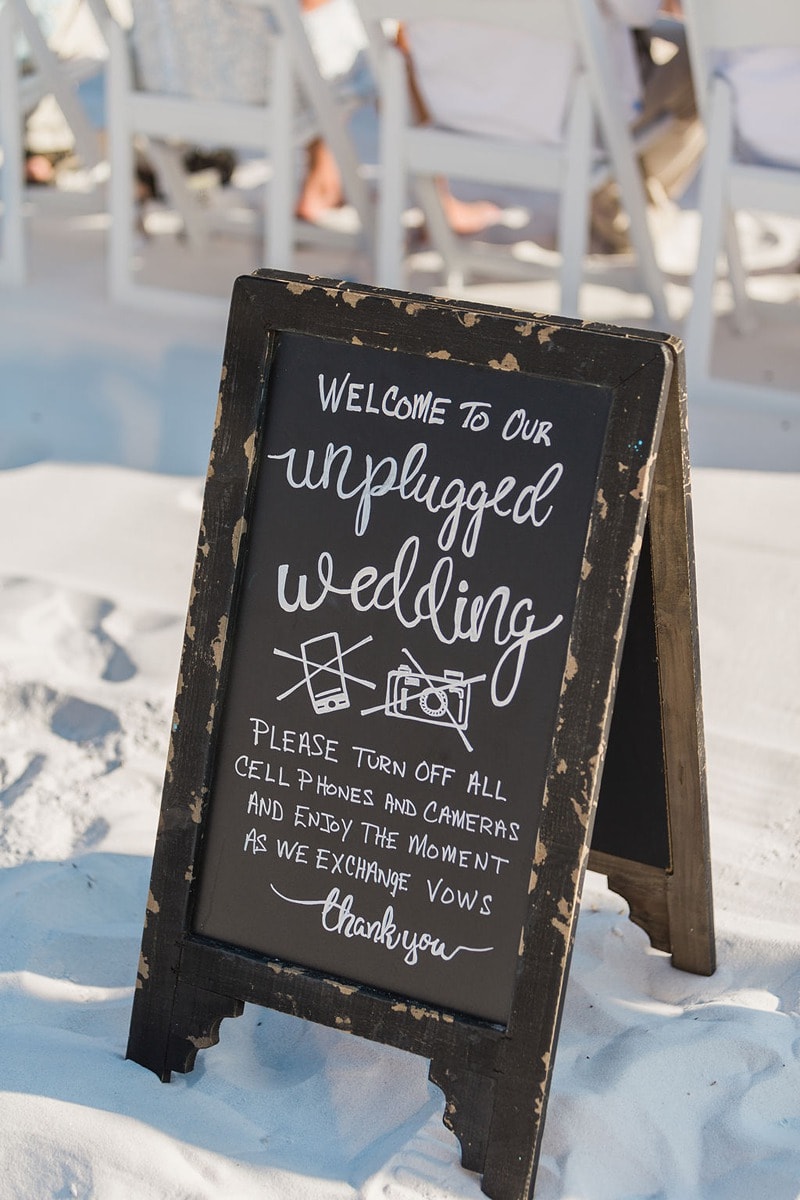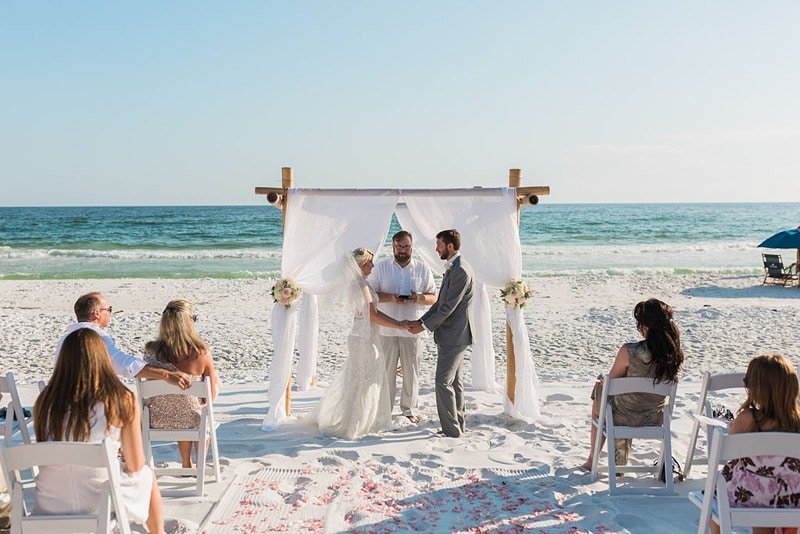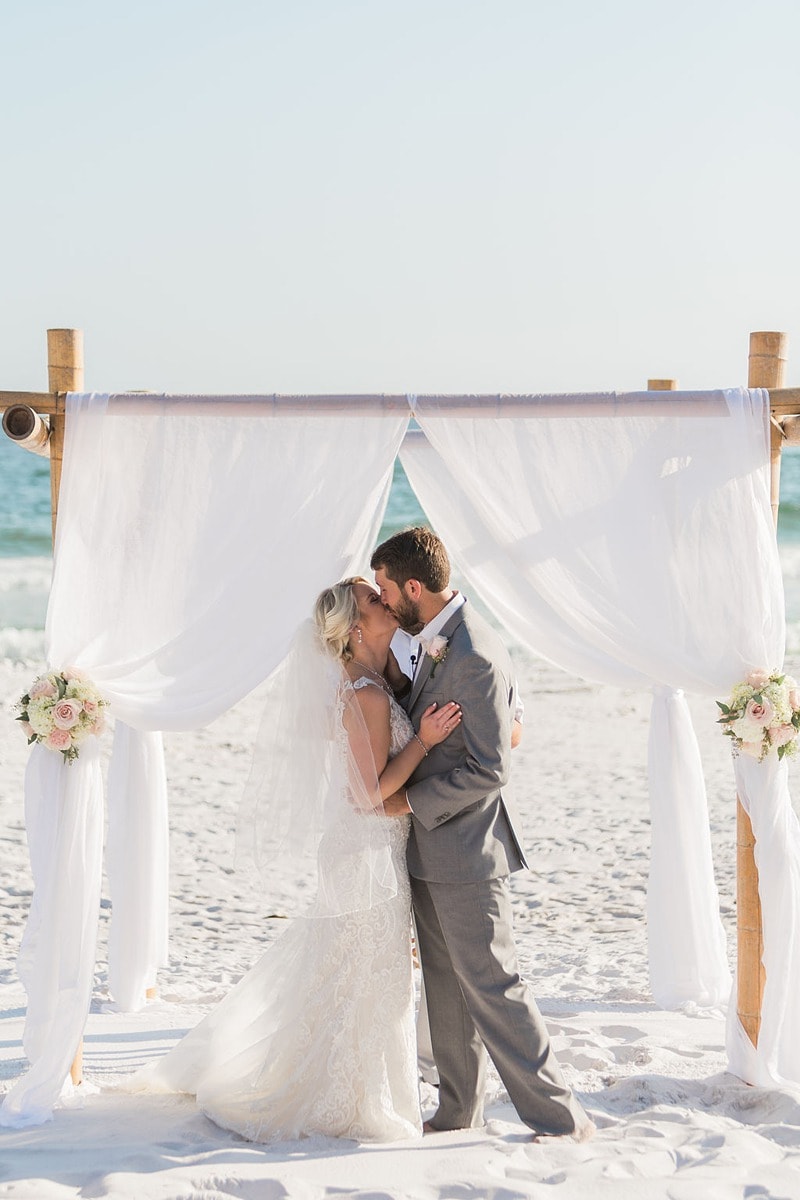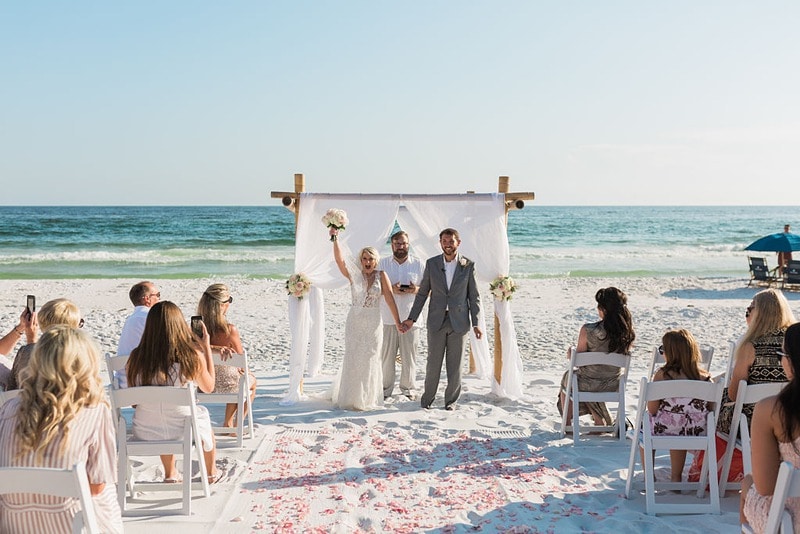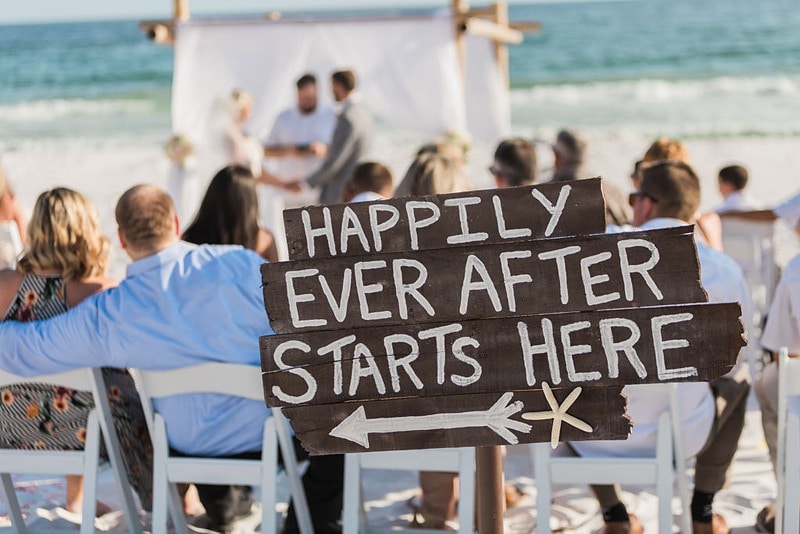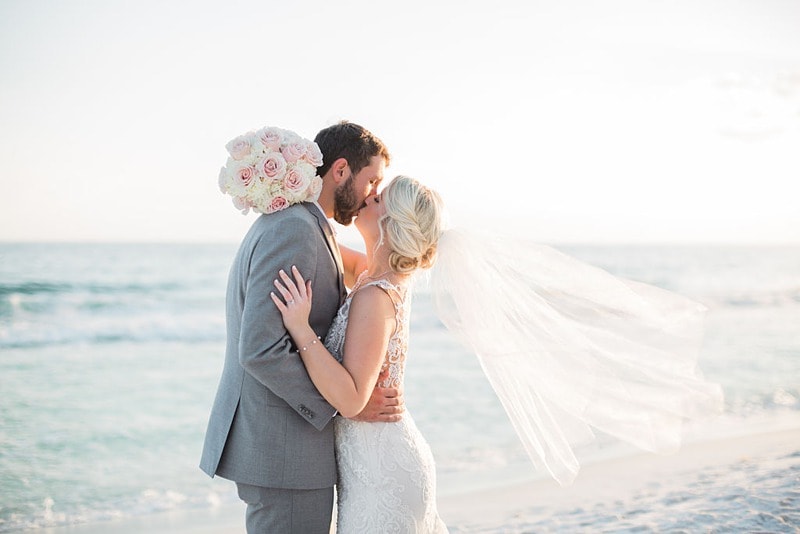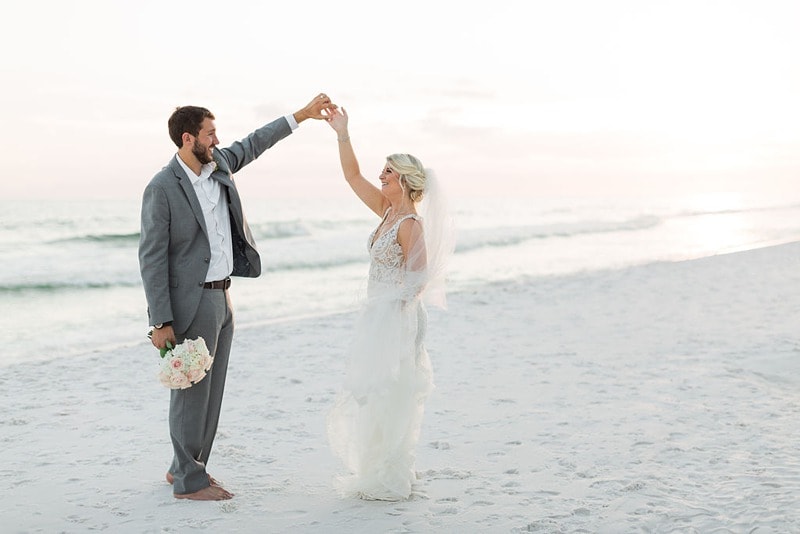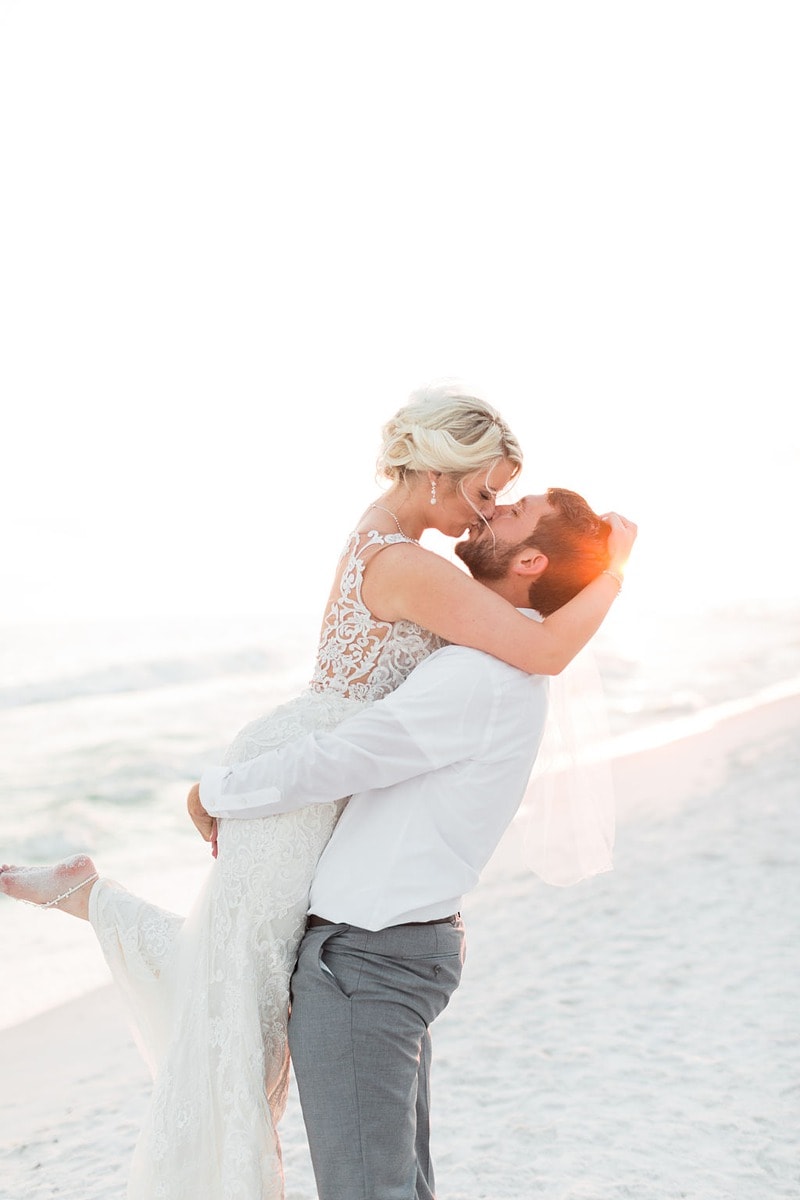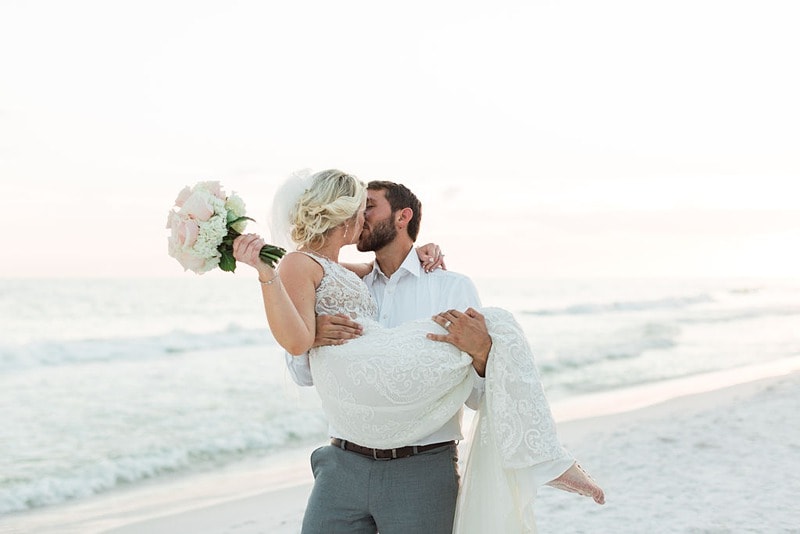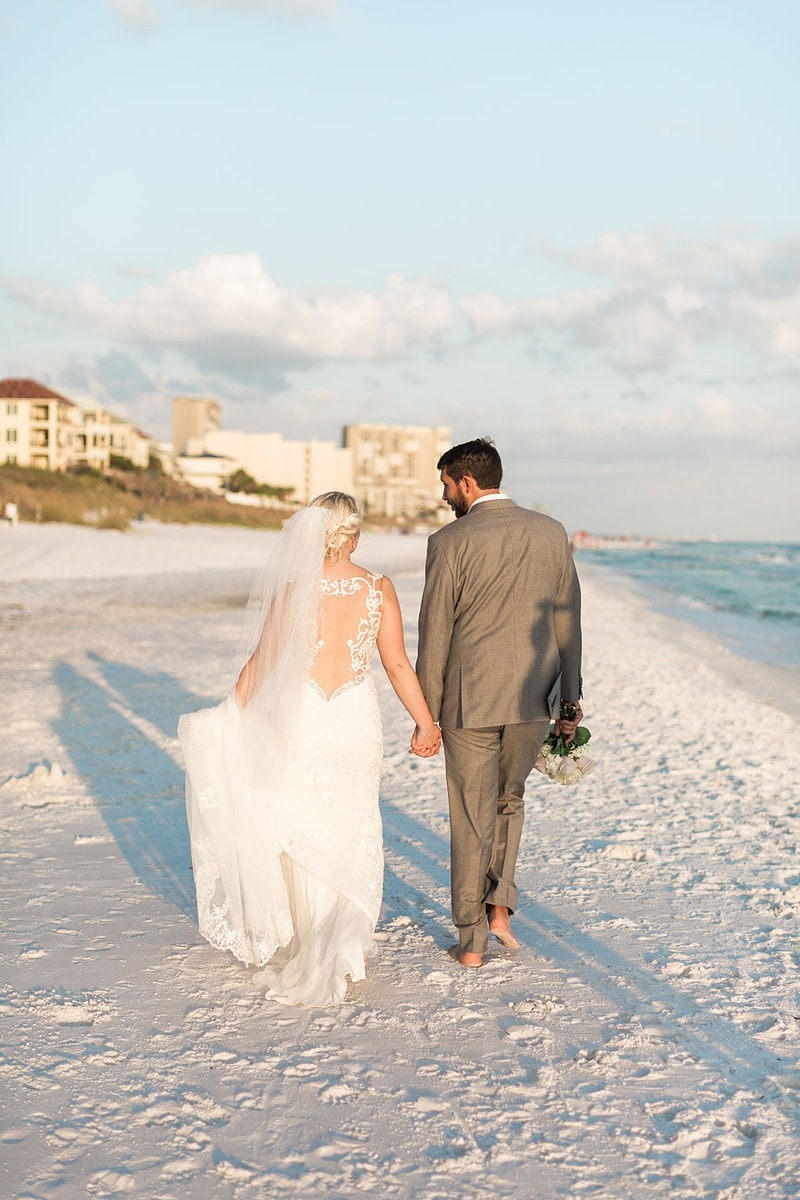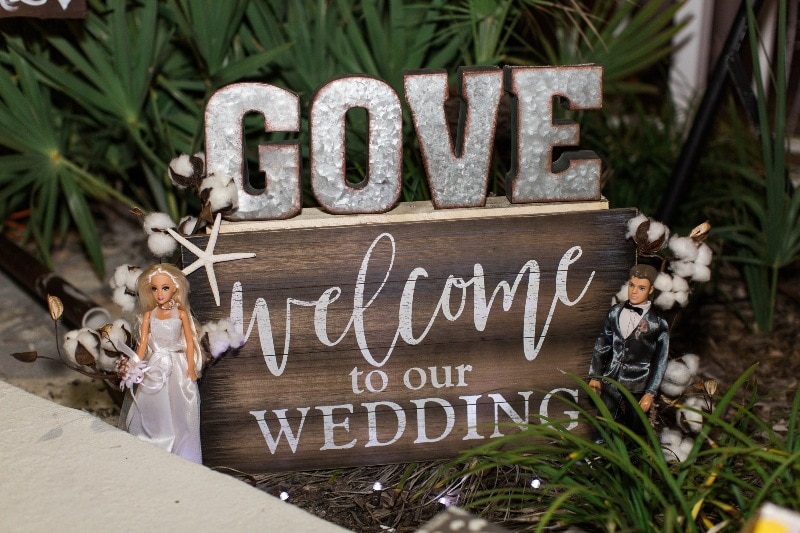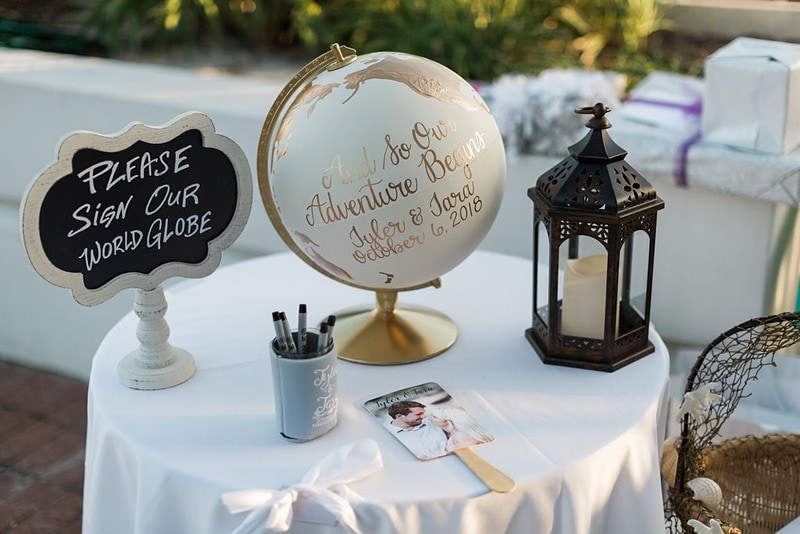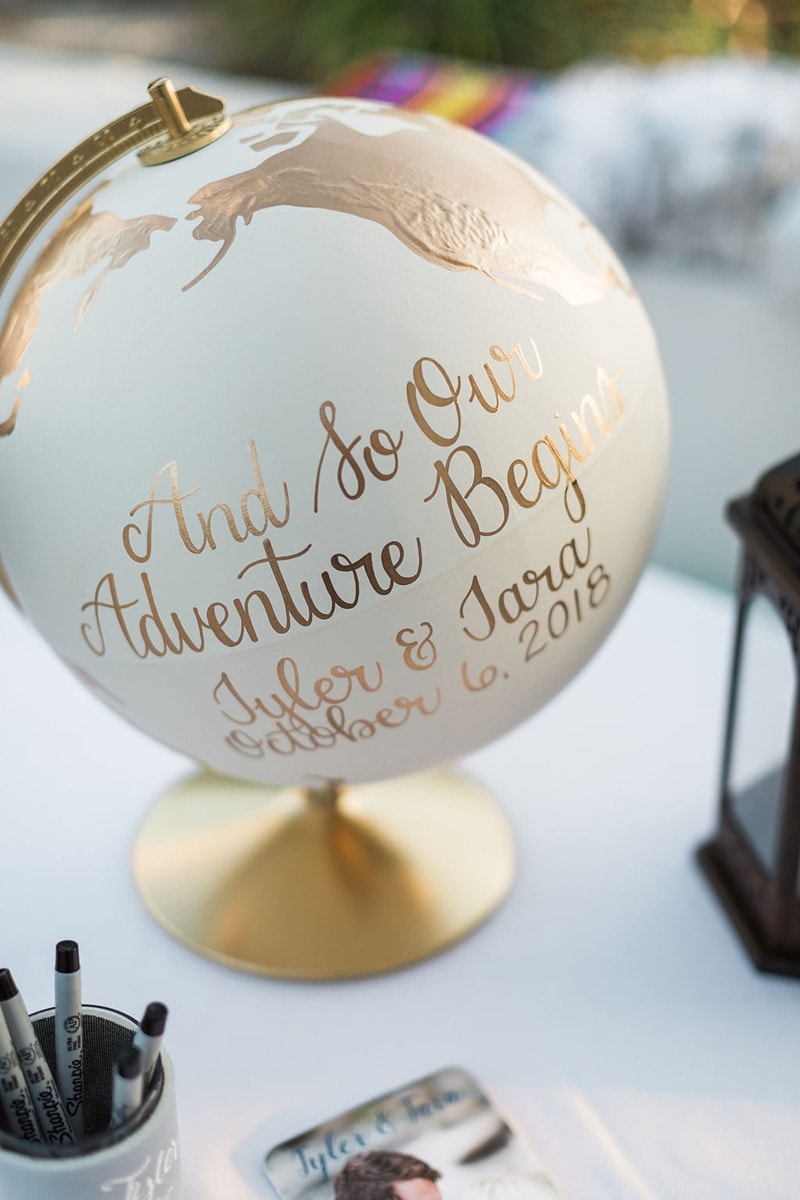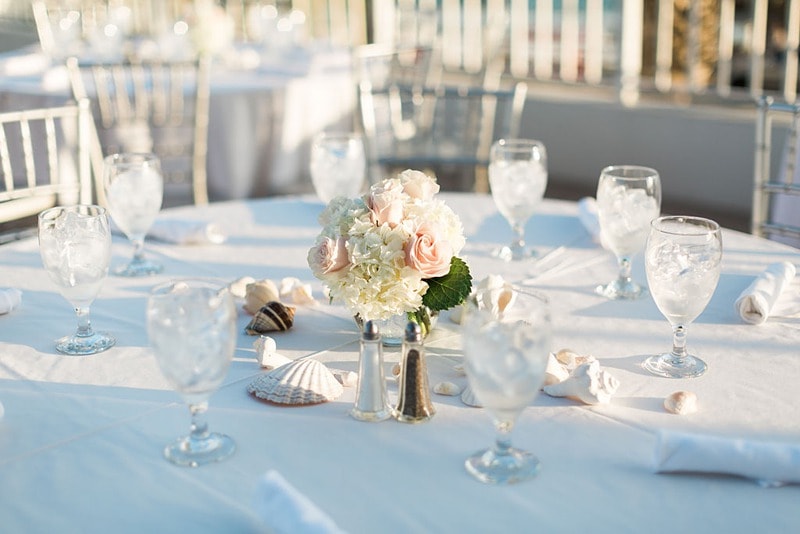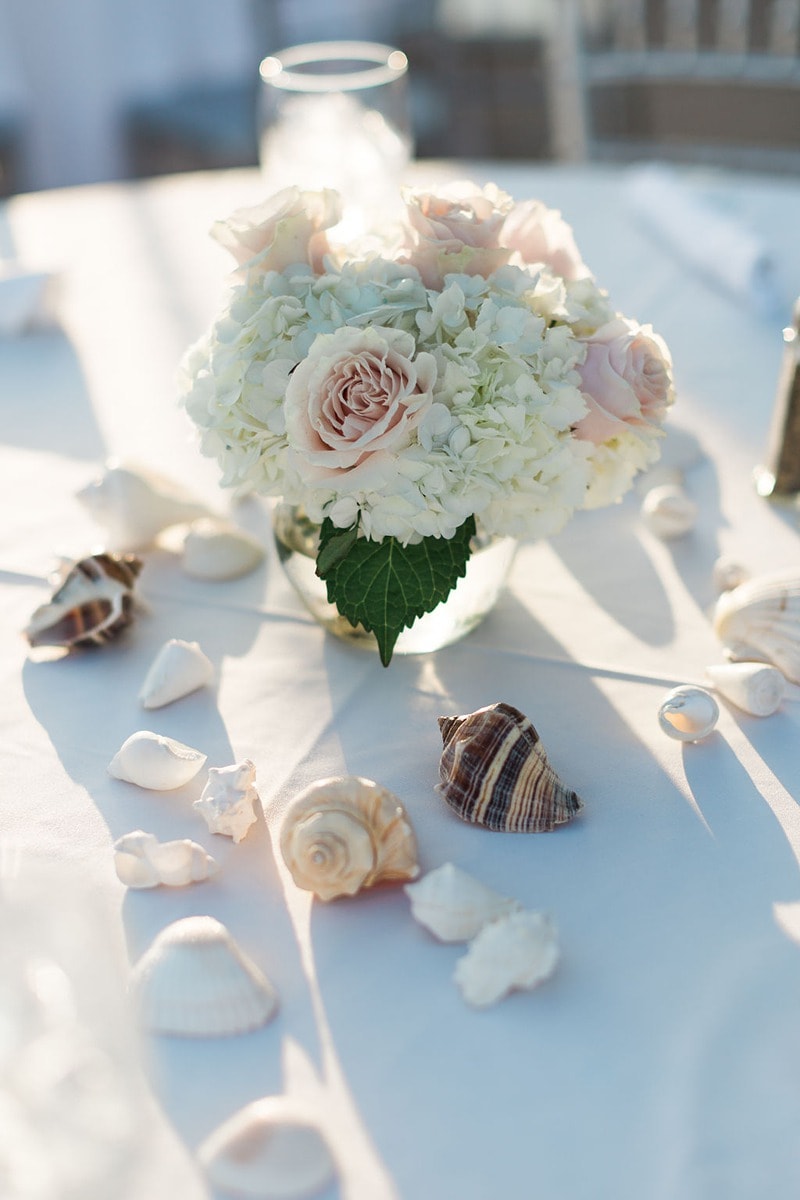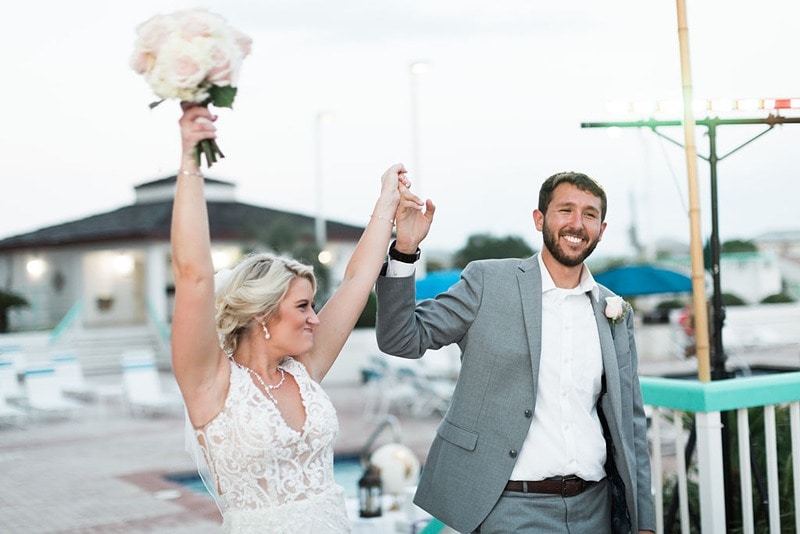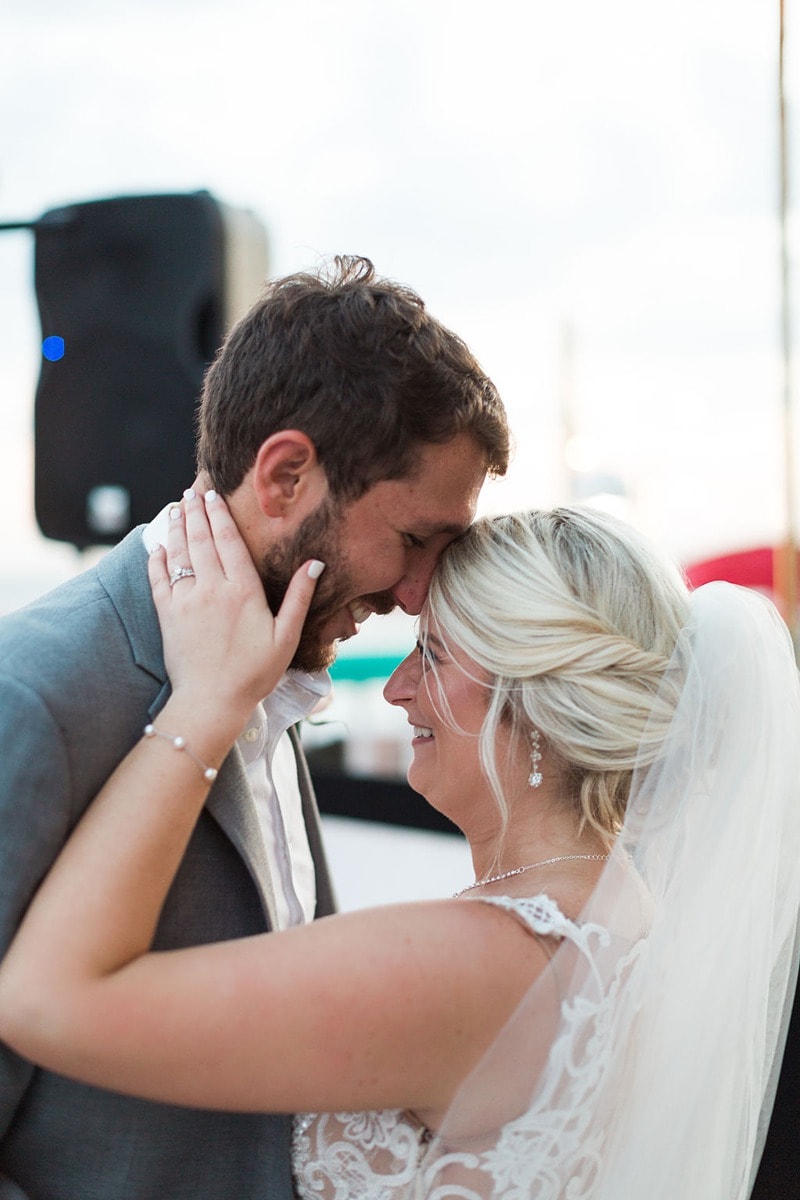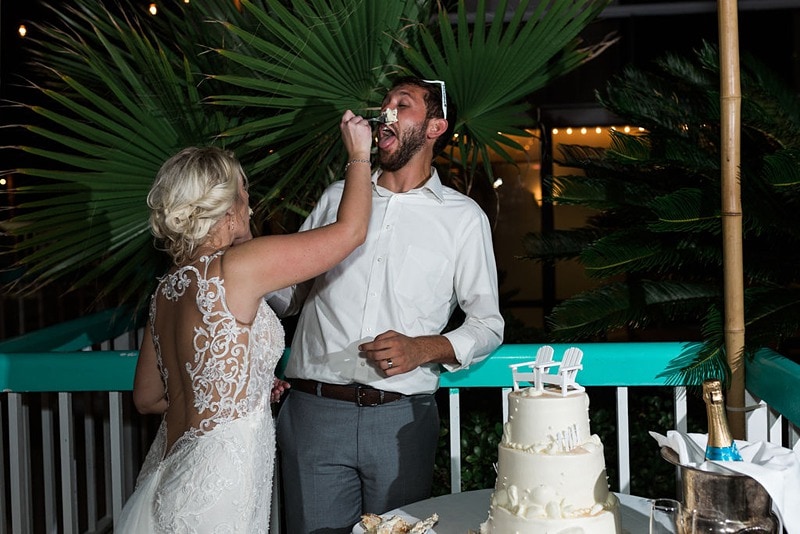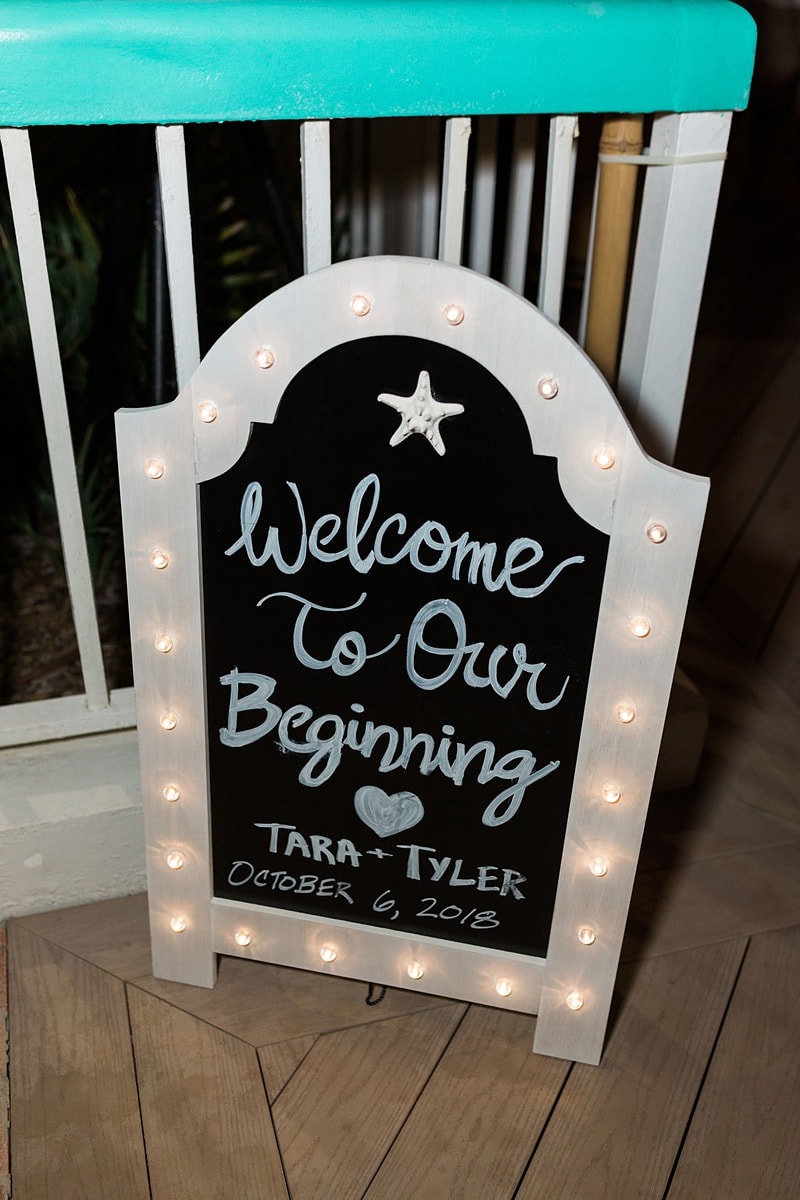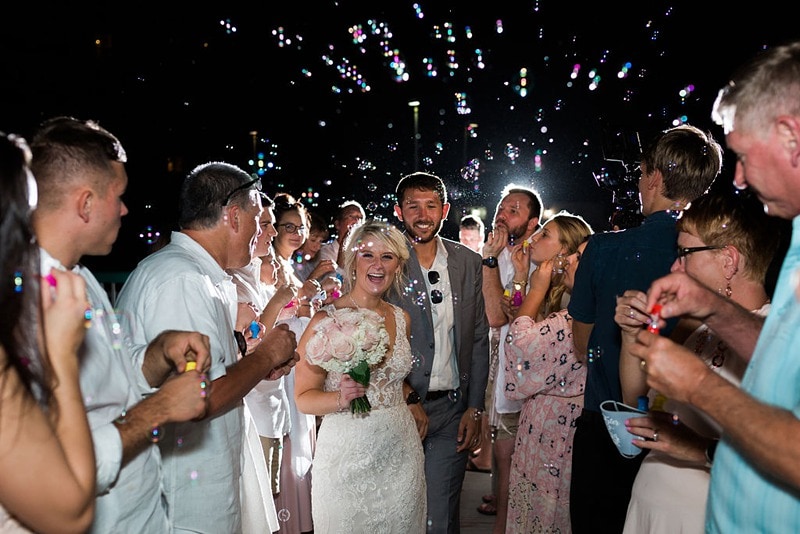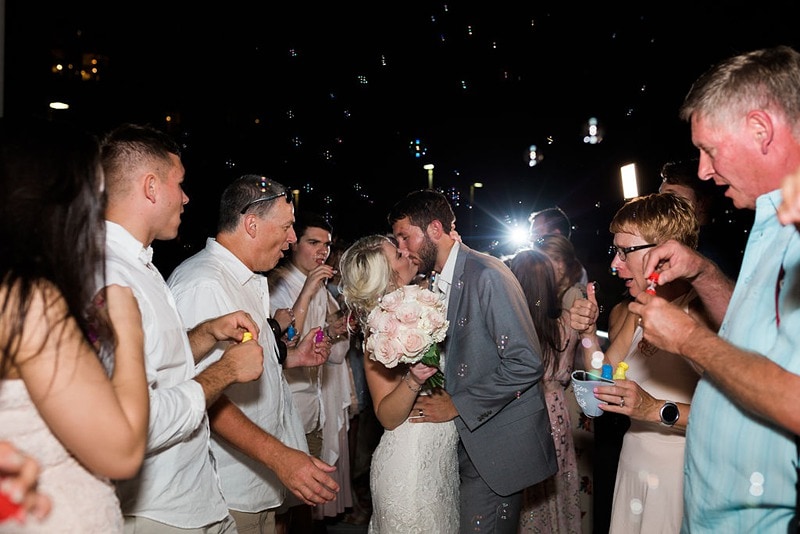 The Bride Tells us about her Destination Wedding in Miramar Beach
How did you meet?
With me being a hairstylist and Tyler being a pilot, the typical dating life can be sort of a pain in the butt. So we were both told about Tinder through friends, and it somehow seemed to ACTUALLY work for us!
What is your proposal story?
With Tyler being a pilot, it wasn't out of the ordinary for us to go on casual flights every now and then. This flight, little did I know, was about to be the best flight of my life! We were flying over to dinner, and at the airport, he had our family and closest friends out on the runway holding signs asking me to marry him. I, of course, said yes!
Tell us a little a bit about your wedding (your vision, color, style, and location choices).
In the beginning, all the two of us knew was that we wanted to get married on the beach somewhere. Once we found Miramar Beach, everything just started to click! We decided to keep the beach theme flowing with seashells and pink and white flowers on the tables and cute beach chairs as the cake toppers. My dad made a bunch of signs that we were able to bring from the beach to the ceremony, and we had everyone sign a globe as our guest book. We really had fun with all of the smaller details.
Tell us about your attire.
We wanted everyone to feel included in our wedding, so we asked everyone to wear neutral colors like blush, champagne, and I even allowed the infamous white! Most guys wore khaki pants and white button-ups while the girls wore fun sundresses.
What was the most important to the two of you while planning?
Keeping our wedding true to the two of us was the most important thing to us while planning our wedding. We wanted to make sure that everyone had an amazing time, but we were also more concerned about not stressing out during the entire planning process. Like most girls, my favorite way to destress is to shop, and I had an absolute blast splurging on all of our guest for wedding! We made goodie bags for everyone and all sorts of little knick-knacks for the ceremony and reception.
What were your favorite parts of the day?
My favorite part of the day was walking up to the ceremony and seeing how beautiful everything was! We had pretty much planned everything online and through e-mail, so finally seeing everything come together was like a dream come true!
Tell us about your wedding flowers.
I decided to keep it simple and with our color scheme and chose light pink roses with white hydrangeas.
Tell us about your wedding cake.
Being out of state, we weren't able to do a cake tasting, so we were freaking out about how it would taste, but it was absolutely amazing! The bottom layer was a vanilla cake with a raspberry filling, and the second layer was a chocolate cake with a caramel filling. It had white chocolate shells and starfish with a graham cracker crumble to make it look like sand. Instead of the traditional bride and groom cake toppers, we decided to go with two little beach chairs.
Please describe any DIY, handmade, or personal details.
My dad made all of our signs for our wedding, and they all turned out so much better than I ever could have imagined! He even made one sign that had our new married name with a Barbie and Ken doll on it that looked like us. It was absolutely precious. Since we got married on the beach, we knew it would get a little toasty, so we made some fans with our engagement pictures on them and even had some sunglasses made with our wedding hashtag on the side! For our reception, we had these really cute koozies made that everyone received when they went up to get a drink. Our sign-in globe was a huge hit as well!
Do you have any advice for couples planning their weddings now?
Planning a wedding can be really stressful, so you have to remember to relax and enjoy the process. you will have so many people in your ear telling you what they think would be perfect for your wedding, and you have to remember that it s YOUR wedding. You will always hear that everything goes by so fast when planning a wedding, and that is probably the truest statement out there, so do everything you can to have fun while planning it.
What were the best parts and the most challenging parts of having a destination wedding?
Tyler and I were so incredibly lucky to find a wedding coordinator that knew the ins and outs of their locations. They knew all of their vendors which made it so easy for us to plan everything! All we really had to do was show up and they had everything set up for us perfectly! With that being said, it's extremely hard being a control freak and not knowing what everything is going to look like or how everything is going to go until the day of. You have all of these questions in your head like, "how big is my bouquet going to be," or, "I hope our cake flavors work well together because we didn't do a tasting." Fortunately enough though, everything fell right into place!
Disclosure: This post contains some affiliate links and if you make a purchase I may receive a small commission which helps me maintain this site. Click here to read more.
Vendors:
Photography: Hannah Marilyn Photography
Ceremony Venue: Miramar Beach
Reception Venue: Royal Palm Grille & Surfside Resort
Globe Guestbook: Etsy
Event Planning: Island Sand Beach Weddings
Stationery: Basic Invite
Videography: Compass Films
Entertainment: Emerald Coast Entertainment
Wedding Dress: David's Bridal
Engagement Ring: Shane Co