Most of the advice I share on this blog is about wedding planning… but what about married life? It's equally if not more important to plan for how you will settle in after the honeymoon phase wears off! And one thing that will really impact your relationship is the quality of sleep you get. That's why I'm really excited to share that Tomorrow Sleep sent me one of their hybrid mattresses as a gift in exchange for sharing my honest experience (and an exclusive discount code – more on that below).
Disclosure: Thanks to Tomorrow Sleep for providing a free mattress in exchange for an honest review.The opinions expressed in this post are the author's own and are not necessarily the views of any company, agency, or organization. . See Disclaimer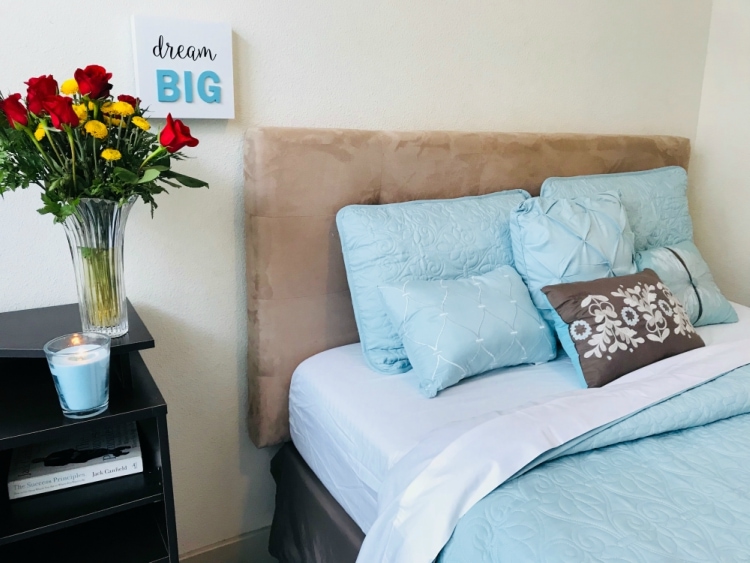 I was a bit skeptical at first, but let me tell you, this mattress is quite possibly the best thing that's happened to my marriage. "Really Cynthia, a mattress?" – YES. Here's why:
Undisturbed Sleep
When the folks at Tomorrow Sleep reached out to me, one of the first things they told me is that this mattress has no motion transfer. Say what?! This was all I needed to hear and I was sold! What a game-changer! My husband is a big guy, standing at 6'3" and with our old mattress… every time he got up, got in, tossed, turned, or breathed… I was being rocked around. Sleepless nights = a cranky me in the morning… and that's fun for no one. The first night spent in this Tomorrow Sleep bed was A-MA-ZING. I didn't wake up ONCE – and I know that man moved around like his usual self, but I didn't feel it! We've all seen mattresses promoted as having no motion transfer, but this is the real deal people. Implementing the time-tested knowledge and research of Serta Simmons Bedding, Tomorrow Sleep's hybrid mattress design has individually wrapped coils that flex and bend on their own without affecting the next one. Long story short: any coil that moves beneath you won't move the coils beneath the person next to you. It has been two months since we received this mattress, and each night I remain undisturbed is better than the last.
It keeps you cool
I live in Texas and it gets devilishly hot here – even with central A/C, the struggle is real my friends. Body heat + Texas heat = sweaty sleepers. Sweaty sleepers are the worst, and whoever designed Tomorrow Sleep's bed knows it! They integrated a ventilated rail system that controls the temperature. There's even a phase-changing gel material in the top foam layers that actually helps pull heat from your body, and doesn't trap it under you. And it really works! Texas gets HOT, did I mention that? I haven't been uncomfortable or hot ONCE since switching to this mattress – even when it was 100 degrees outside. But don't get it twisted, this isn't like sleeping on an icebox – because even in wintertime, where Texas somehow finds itself at 18 degrees, the mattress adjusts and keeps you comfortable.
It's SO comfortable
Aside from the comfort I get in knowing I'll get a great night's sleep, this mattress has gone to the extreme on the comfy scale. I don't know if it's the fact that I don't feel my hubby rolling around anymore, or that the mattress keeps me at a steady temperature, maybe it's the fusion of memory foam and "smart" springs, but this mattress is just downright the best I have EVER slept on. And yes, I have a LOT to compare it to! You guys know I travel a lot and have stayed at some of the world's best destination wedding resorts (I make these difficult sacrifices for you!), and the bed in my room right now… puts every hotel bed to shame.
What's really great about the Tomorrow Sleep mattress is that it comes in a variety of firmness options. I chose the medium-soft mattress – and here's what it's done for me: I used to wake up with back pain, which I previously blamed on the two big boys I birthed… and I had somewhat resigned to the fact that I might live with this pain forever. After just a few nights on this mattress, my back felt SO much better. I can't believe I put up with it for so long because the back pain is completely gone now and I feel like a whole new woman. As my hubby always says, "happy wife, happy life," and he's so right! Hence, crediting the mattress as being the best thing to happen to my marriage.
It fits any Foundation
After reading about my many sleeping issues, you're probably wondering why I didn't replace my old mattress sooner. Well, the thing is that I didn't really want to go out and buy a mattress AND a whole new bed frame. Who has time for all that?! Luckily, you can put this mattress on a flat platform, a slated base, adjustable base, box spring, or even right there on the floor. All I did was pop it out of the box it was delivered in (more on that in a minute), and plopped it right on my old box spring – it fit like a glove and has been a blessing ever since.
Your mattress comes in a BOX
Mattresses are huge, heavy, and generally an enormous hassle to buy, transport, and maneuver into your bedroom. Even the thought of going into a store and dealing with a salesman's attempt to sell me the wrong thing was enough to make me put it off… for years. Tomorrow took ALL of that pain and stress away. They shipped the Tomorrow mattress and it was at my house 3 days later! Believe it or not, it comes compressed, rolled up, and vacuum-sealed– in a box! It was such a trip unpacking it… you just take it out of the box, unroll it and within 10 minutes it is fully set up. Oh – and that speedy shipping is free.
At your wedding, I bet you received a TON of marriage advice – but I've got one you probably haven't heard yet… GET A NEW MATTRESS. Getting a good night's sleep is totally one of those things that you don't realize is impacting you so heavily… 'til you get that first GREAT night's sleep. And no, the irony of being able to buy a new bed online while lying in the bed that's about to be replaced is not lost on me. Online shopping is the best. Happy sleeping!