Some couples who dream of a destination wedding with a view have to choose between the beach or the mountains… but not Stephanie and Alejandro! They chose to bring their closest friends and family to experience the unmatched beauty of Oahu. And let me tell you, these photos of their Kualoa Ranch wedding are slaying me with FOMO. From the rolling fog over the mountains to the wild horses, lush forest and flowers, and of course the sparkling ocean… my soul is crying out for a trip ASAP.
I'm absolutely loving the natural, bohemian vibe Stephanie and Alejandro went for with the local flowers, simple greenery, and natural wood accents. These two consider Oahu as somewhat of a second home to them, so it's wonderful to see just how comfortable and "at home" they looked during the most special event of their lives.
Shoutout to Rachel Robertson Photography for capturing these beautiful details!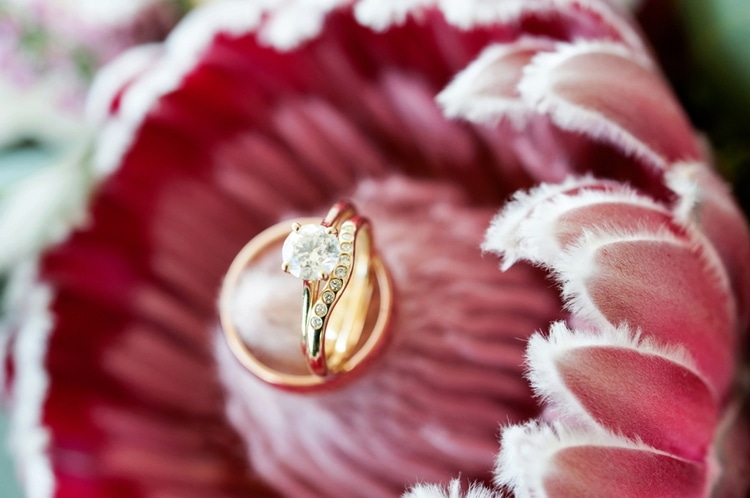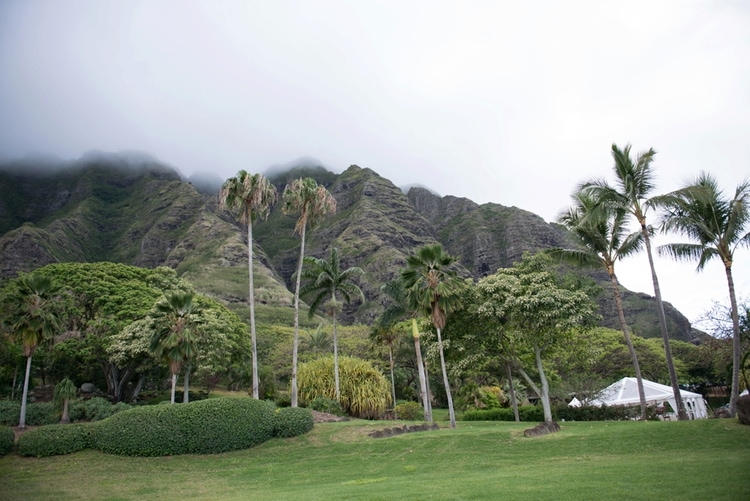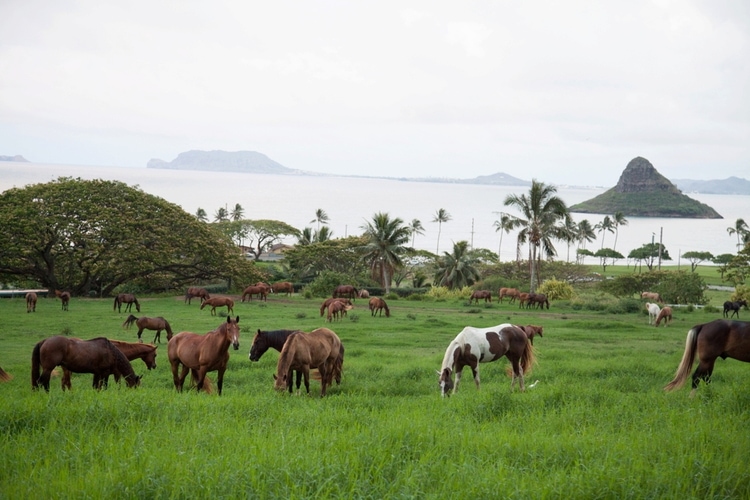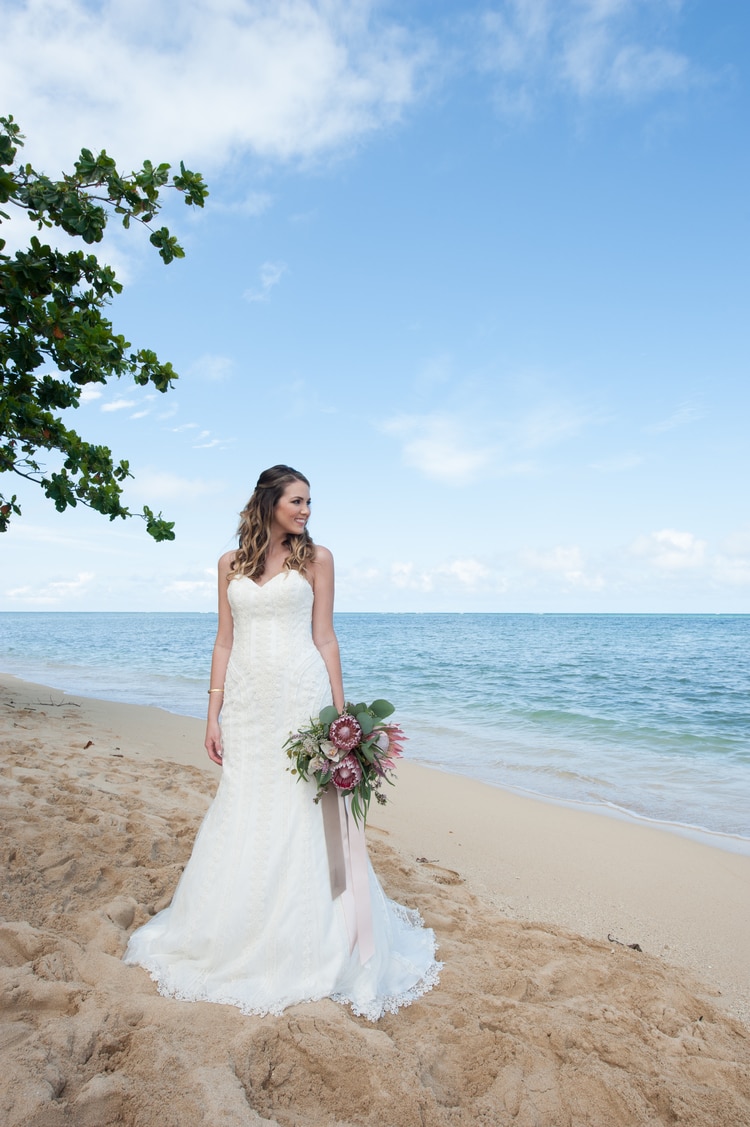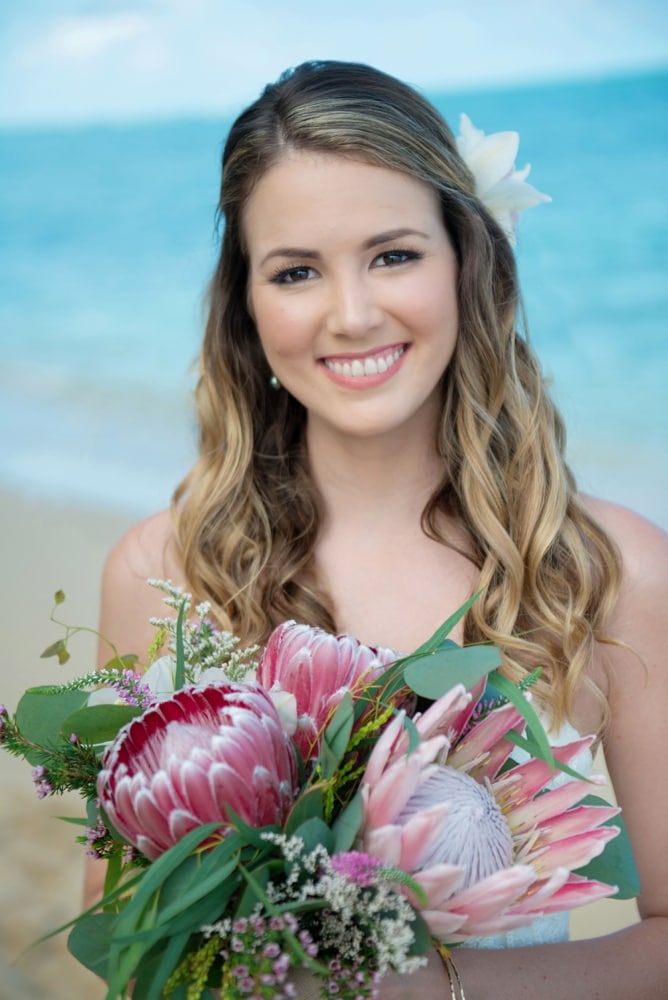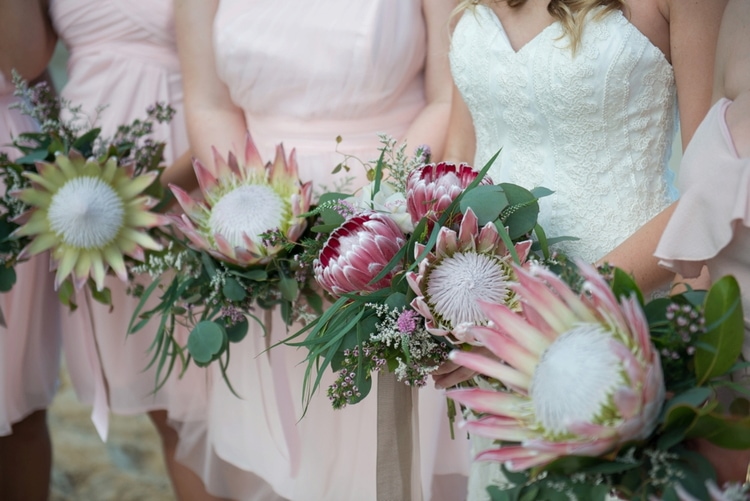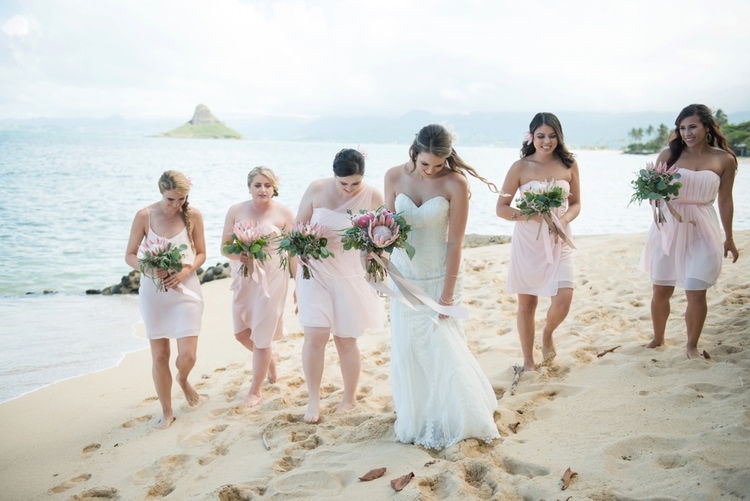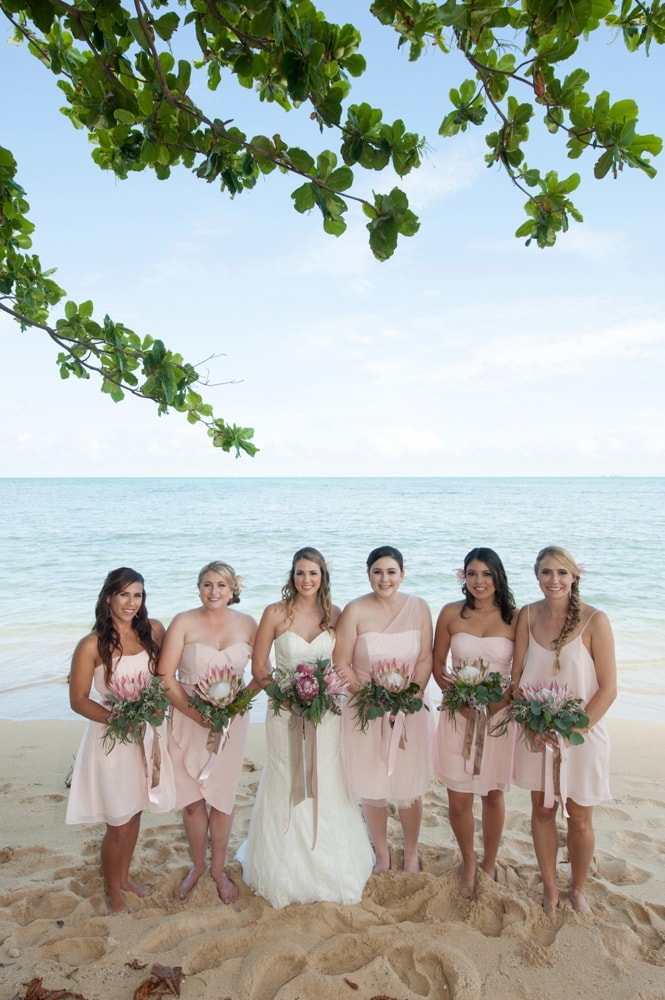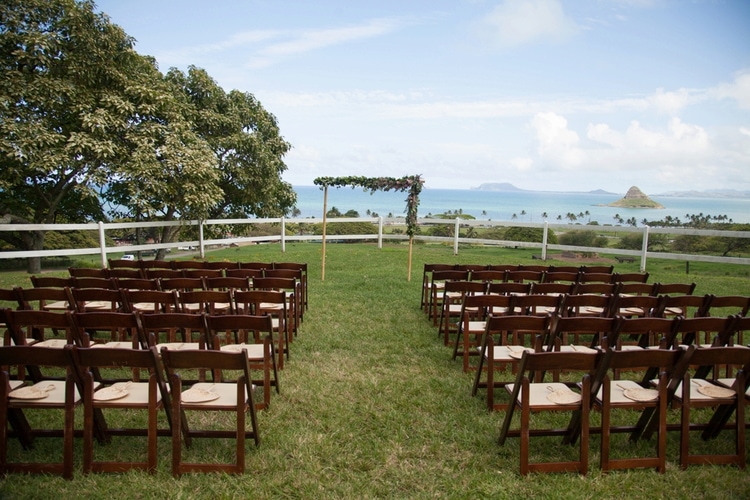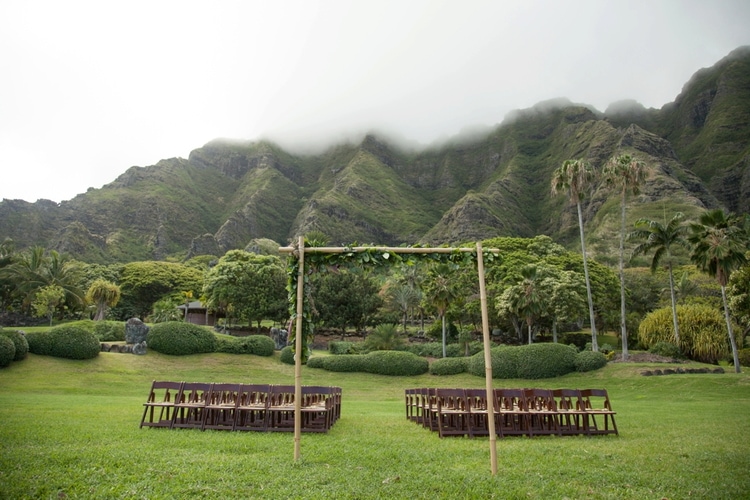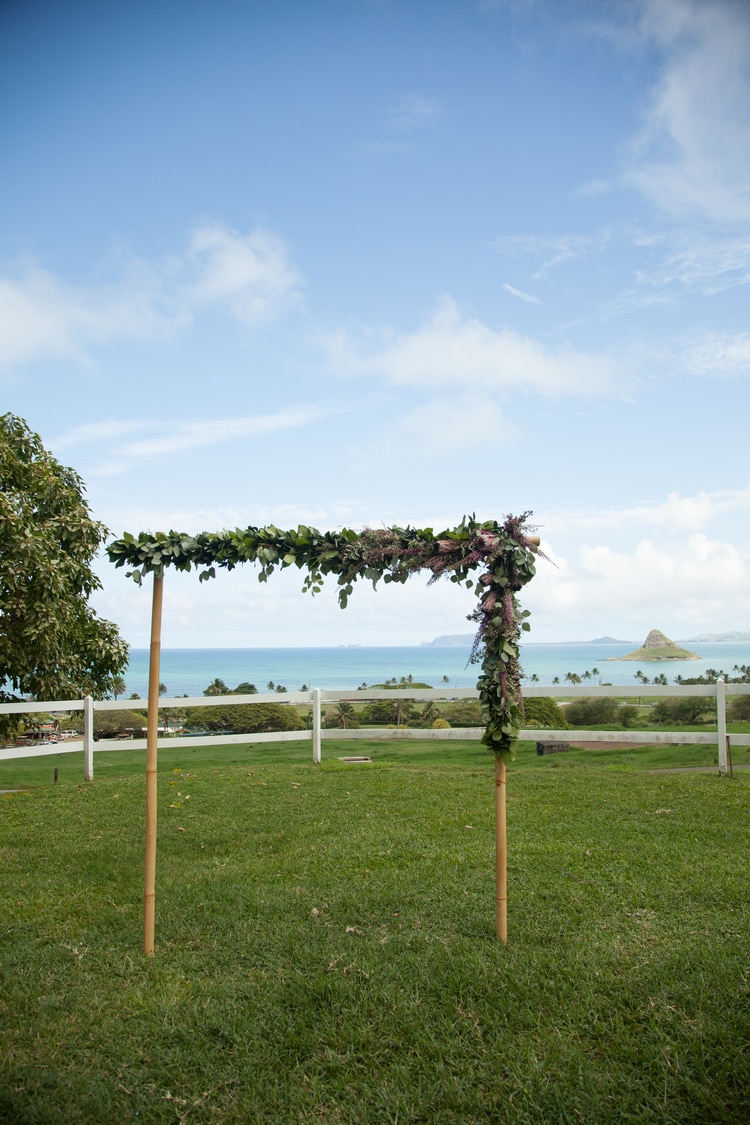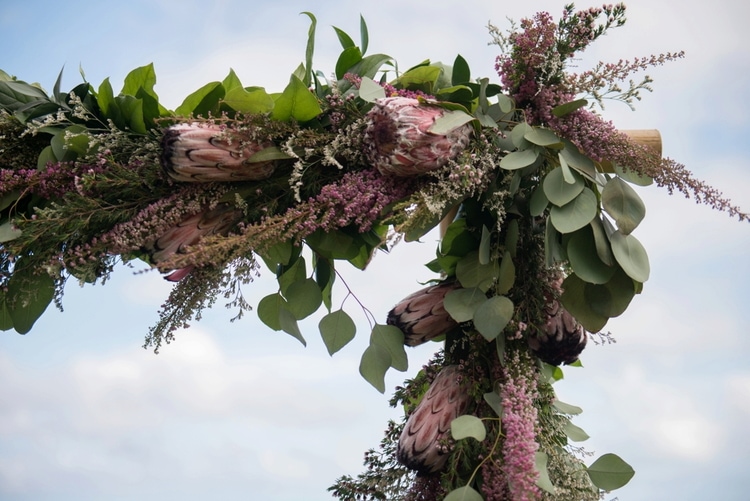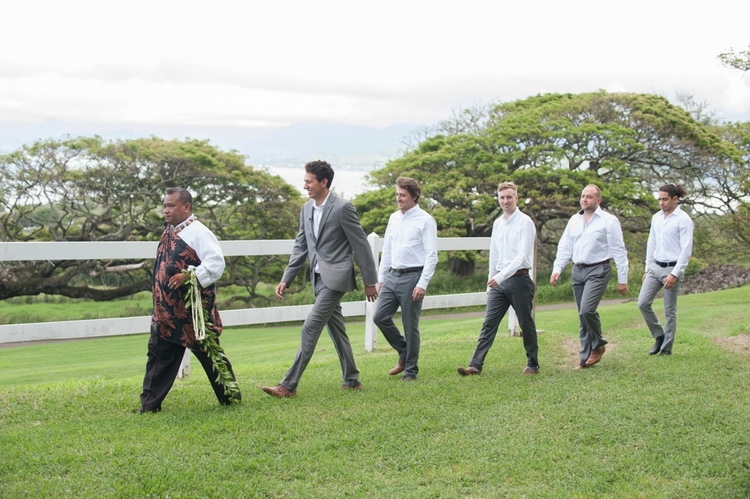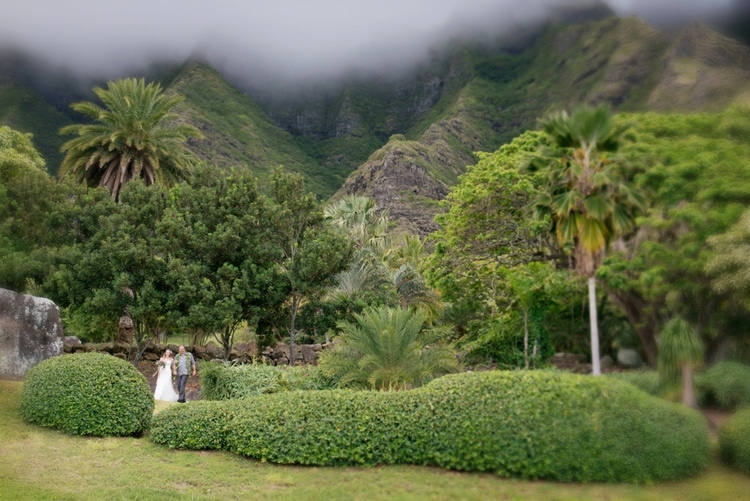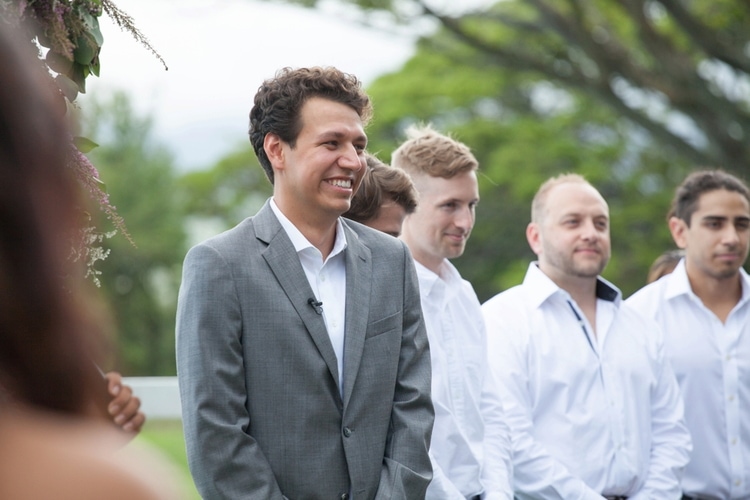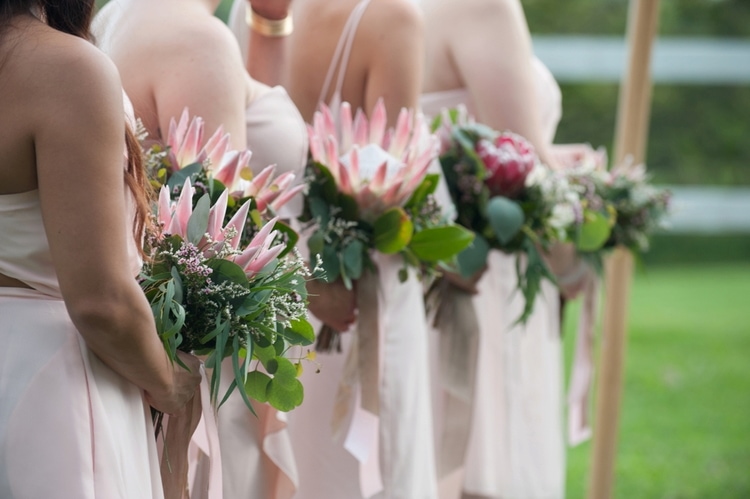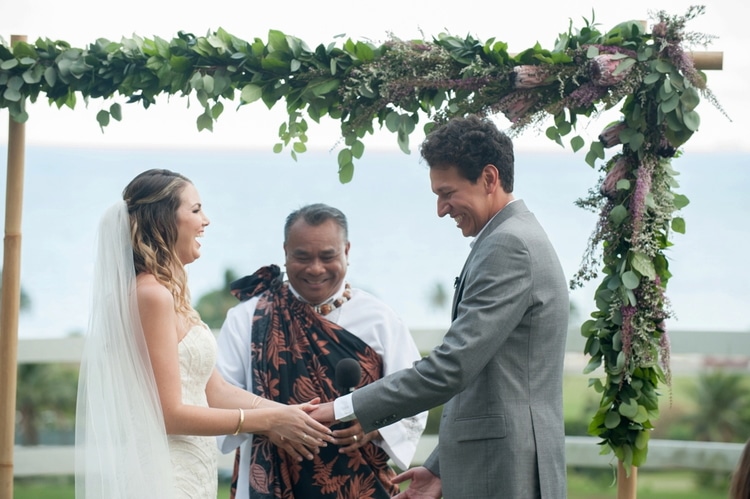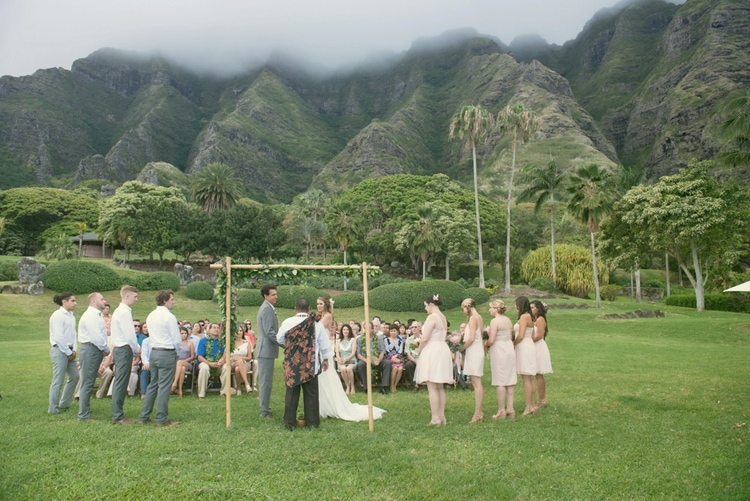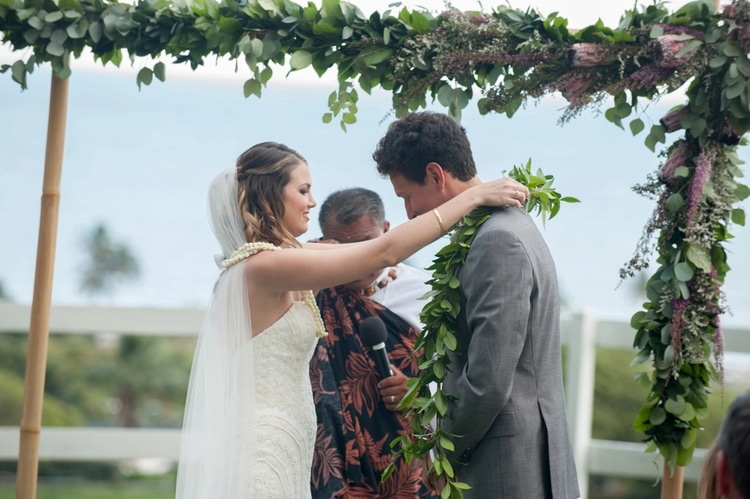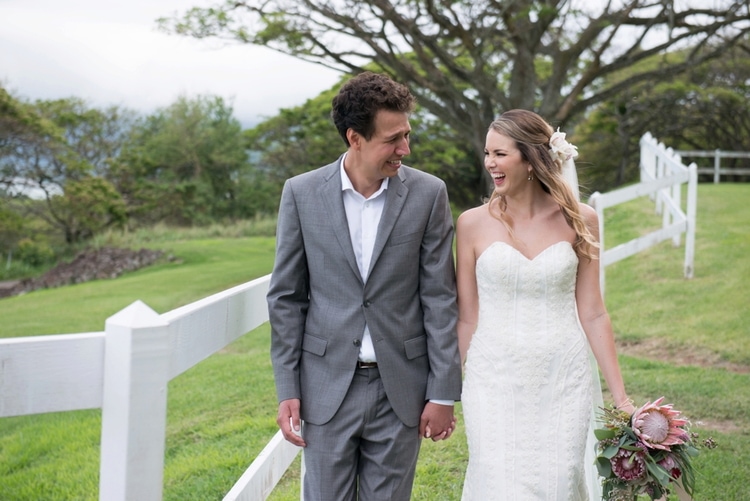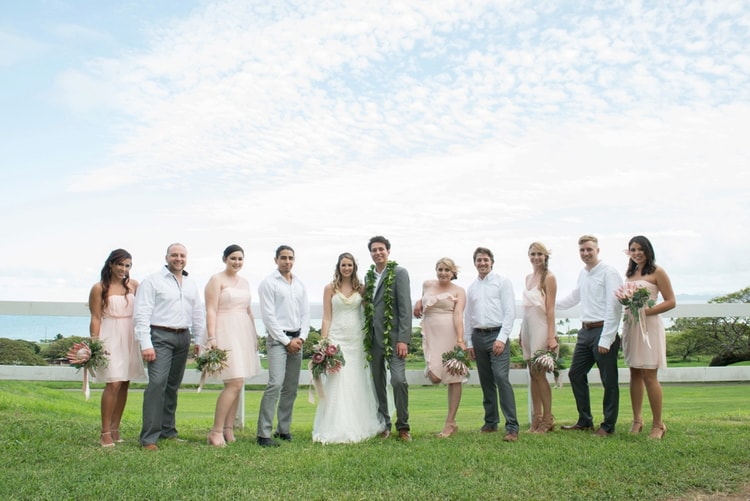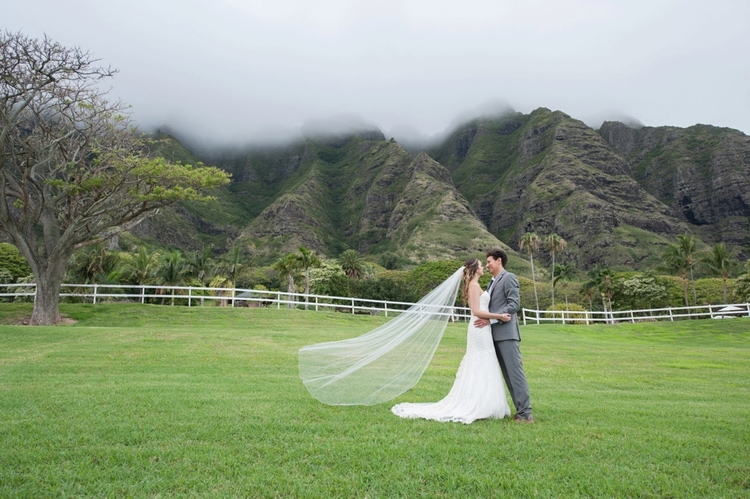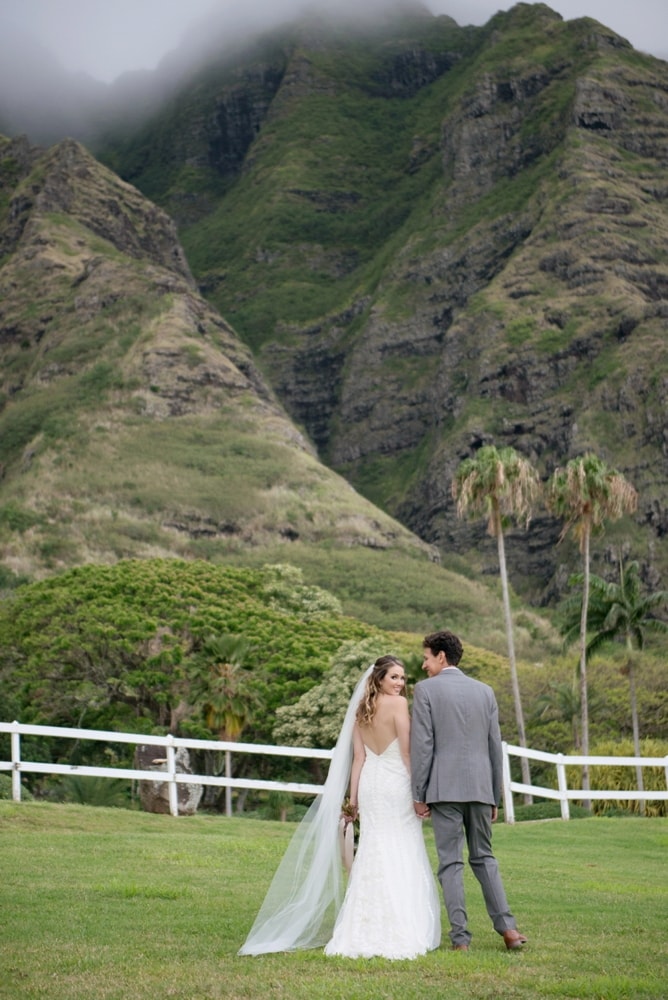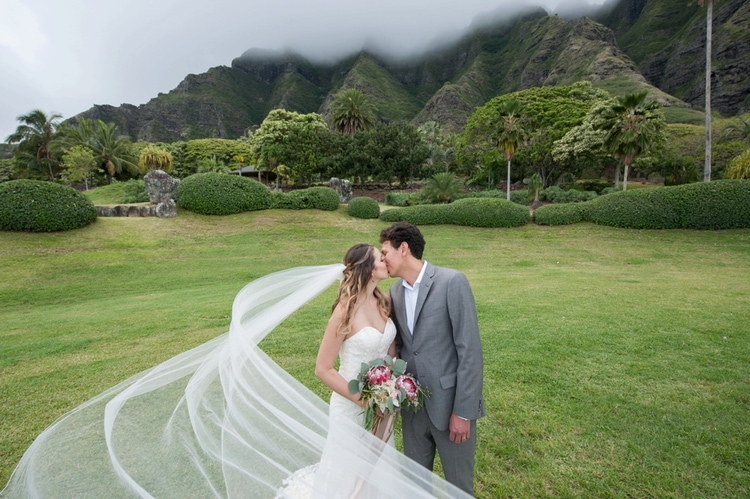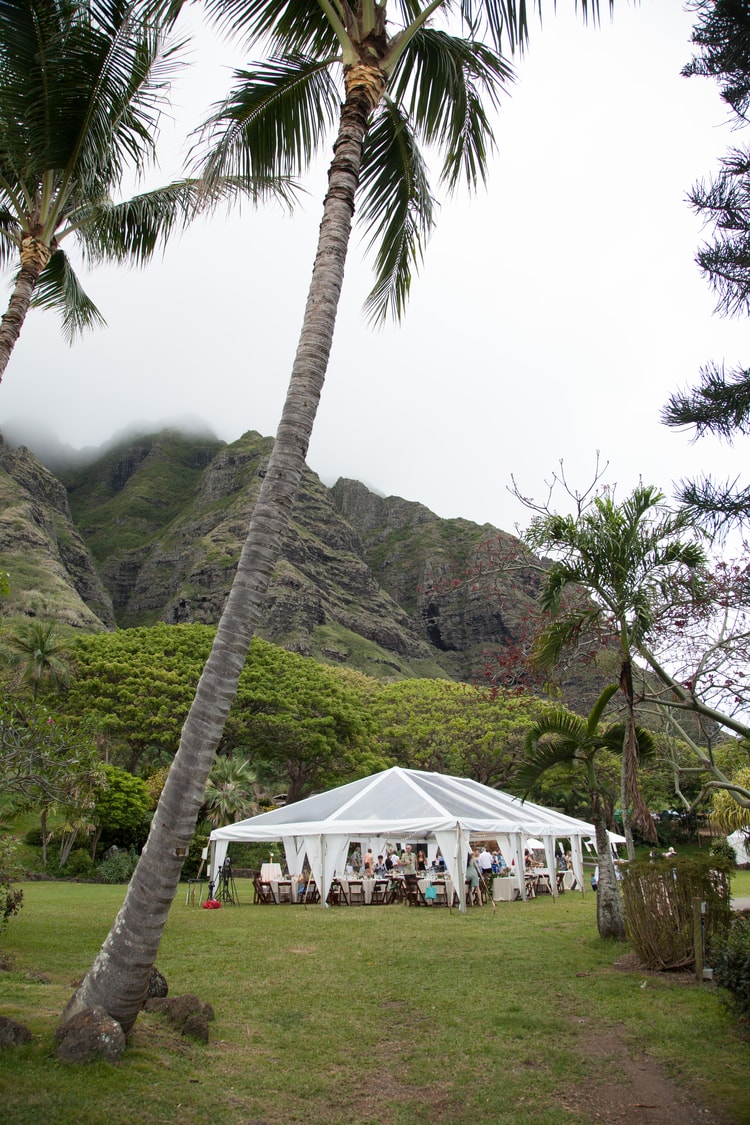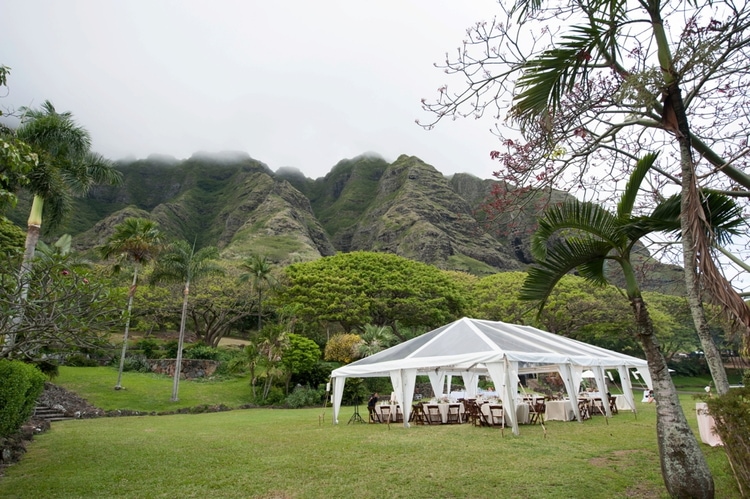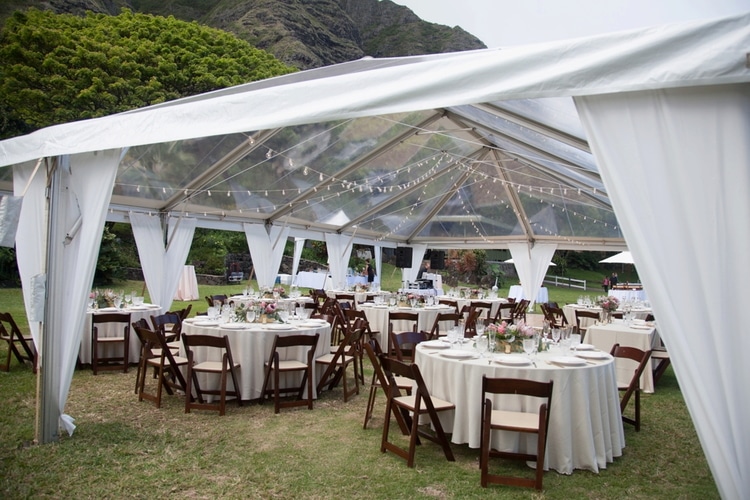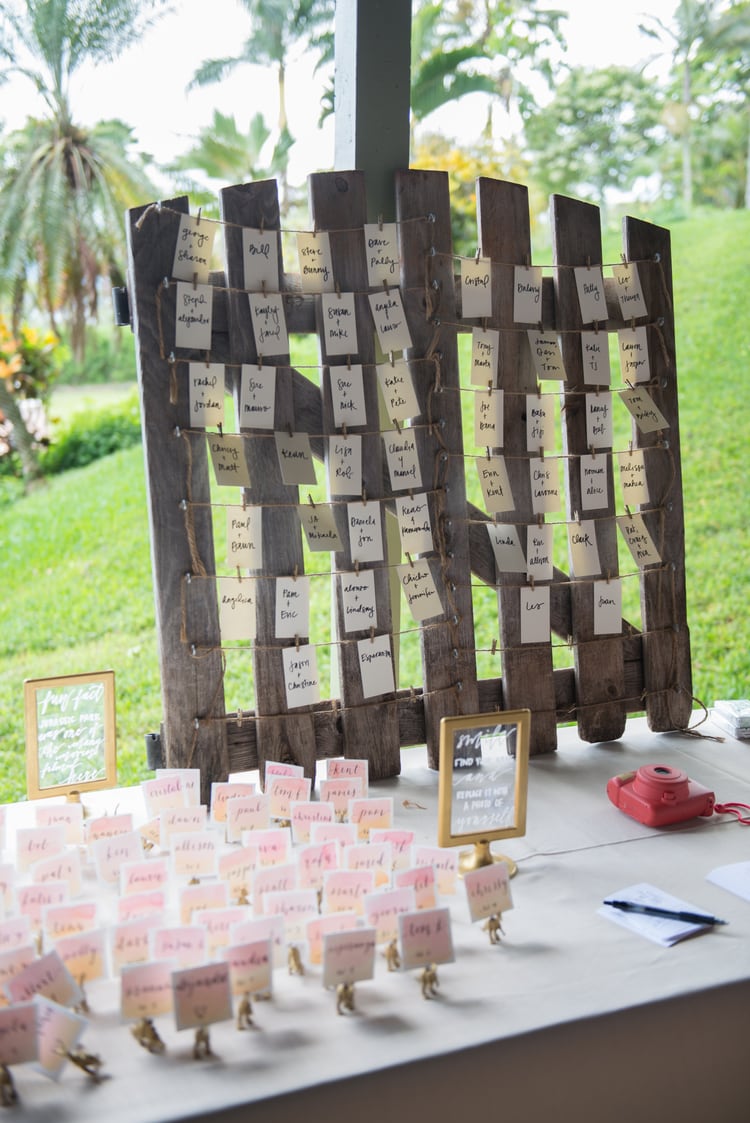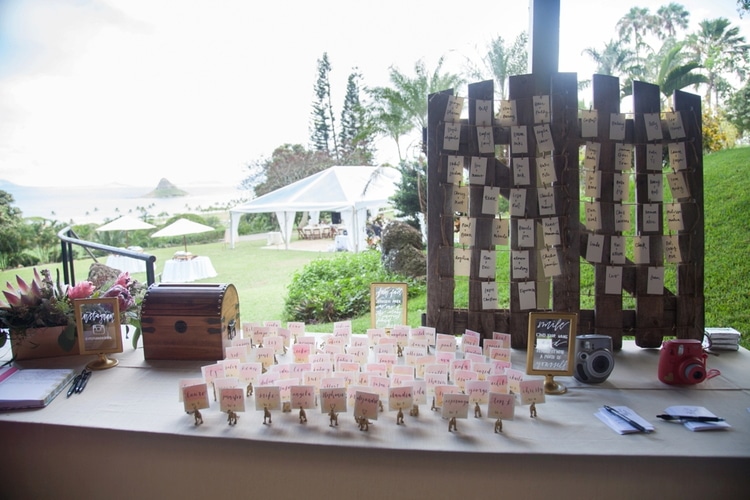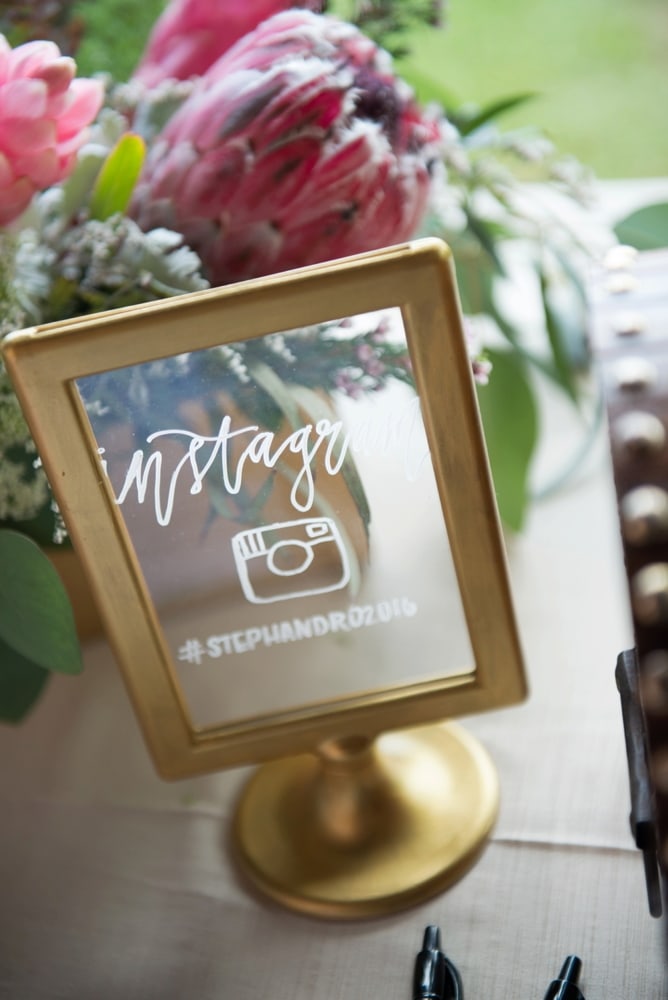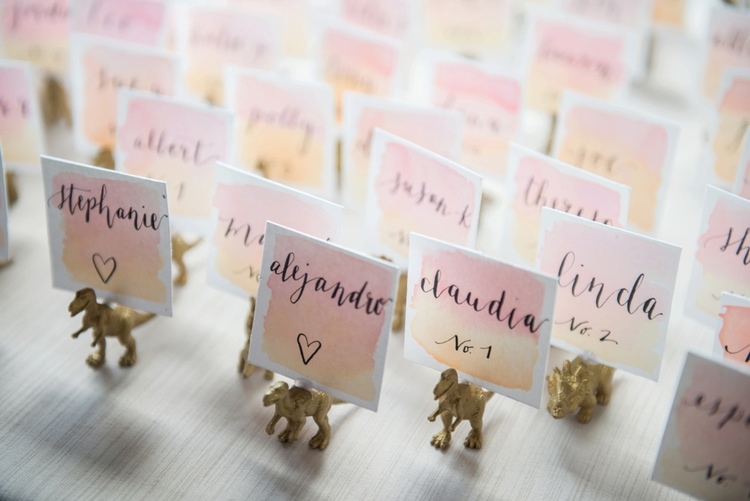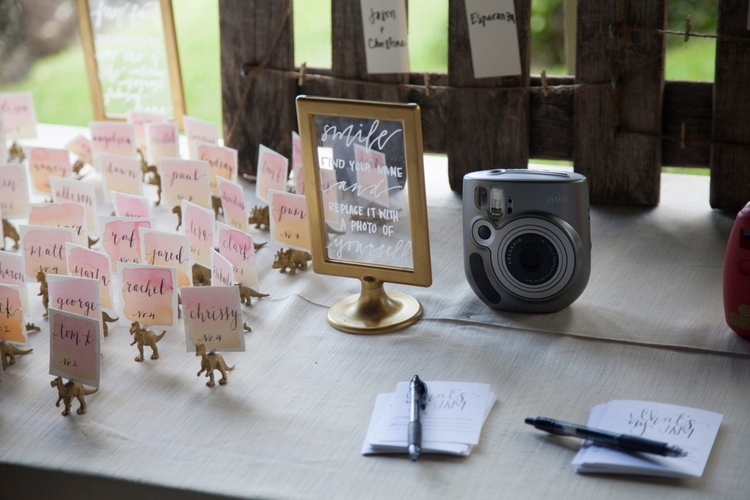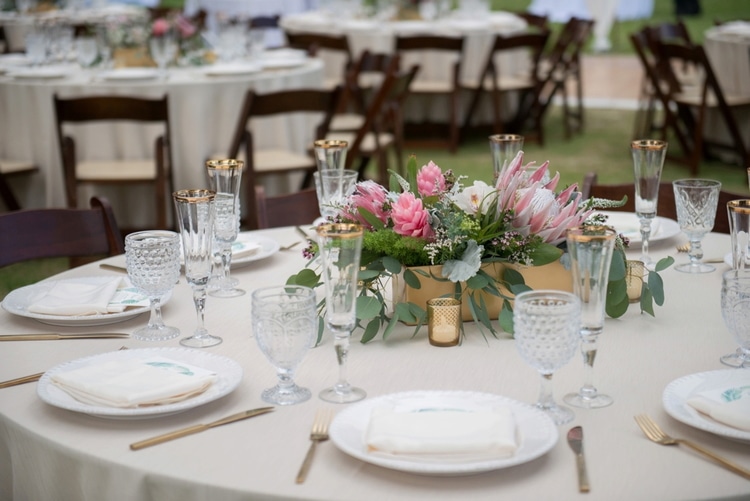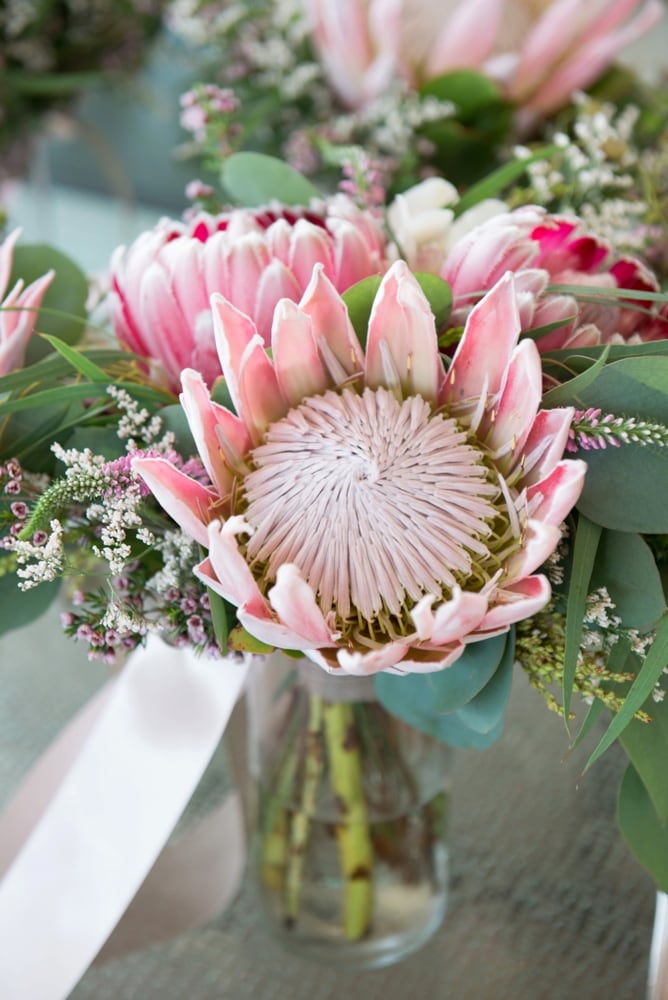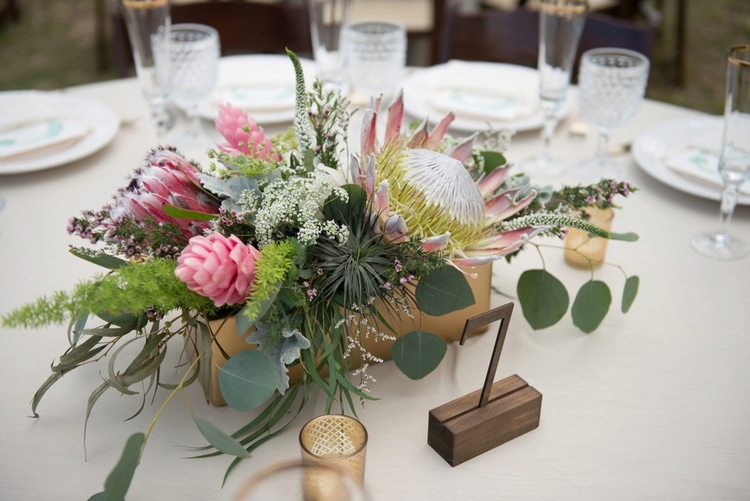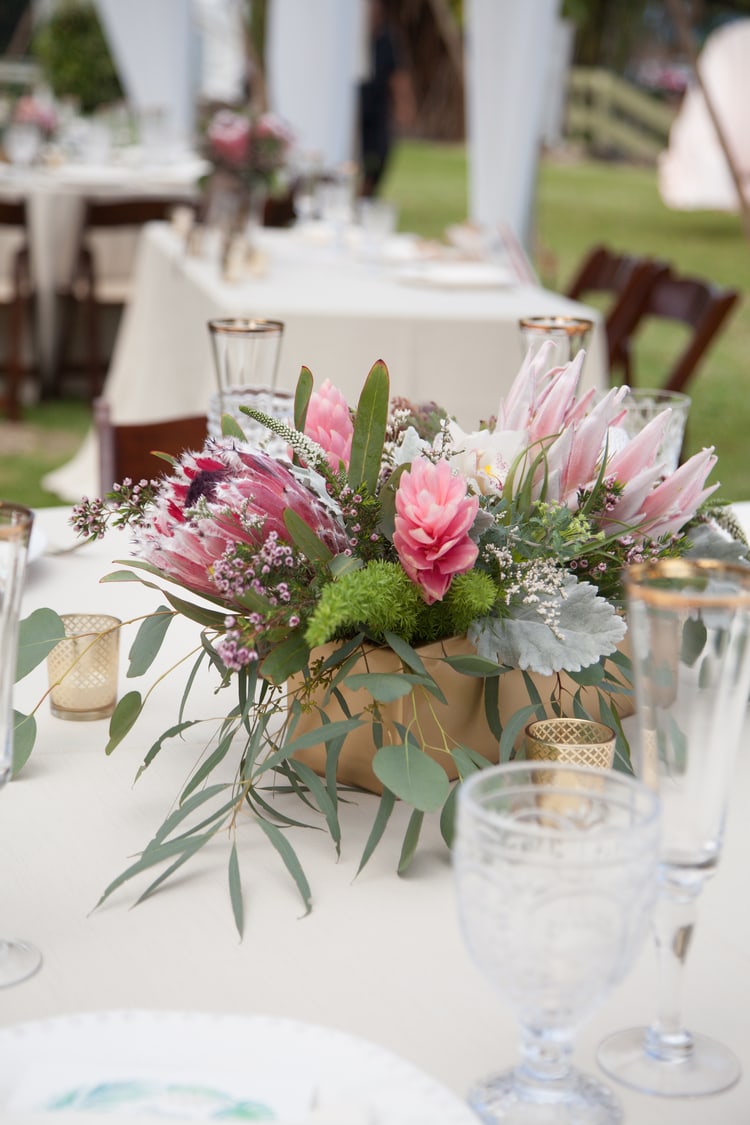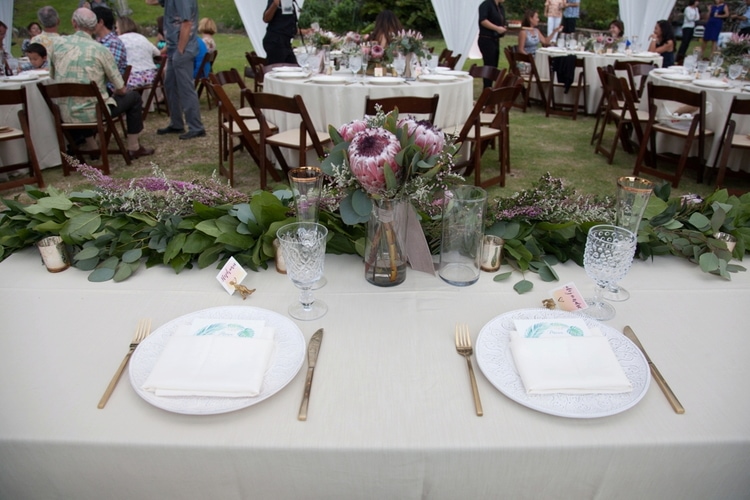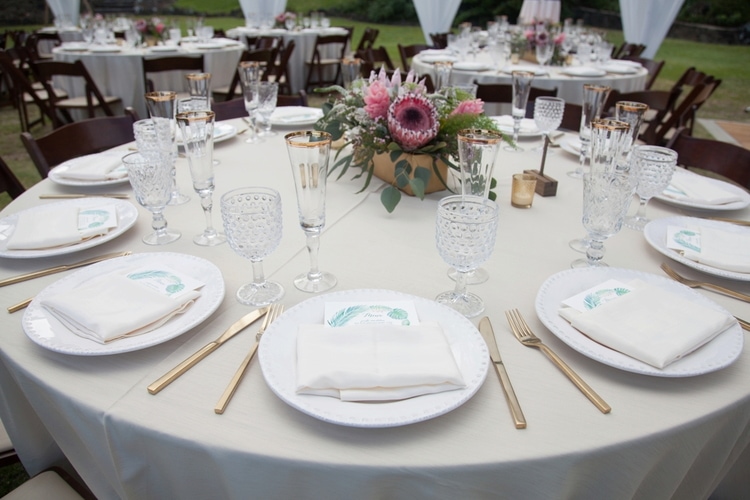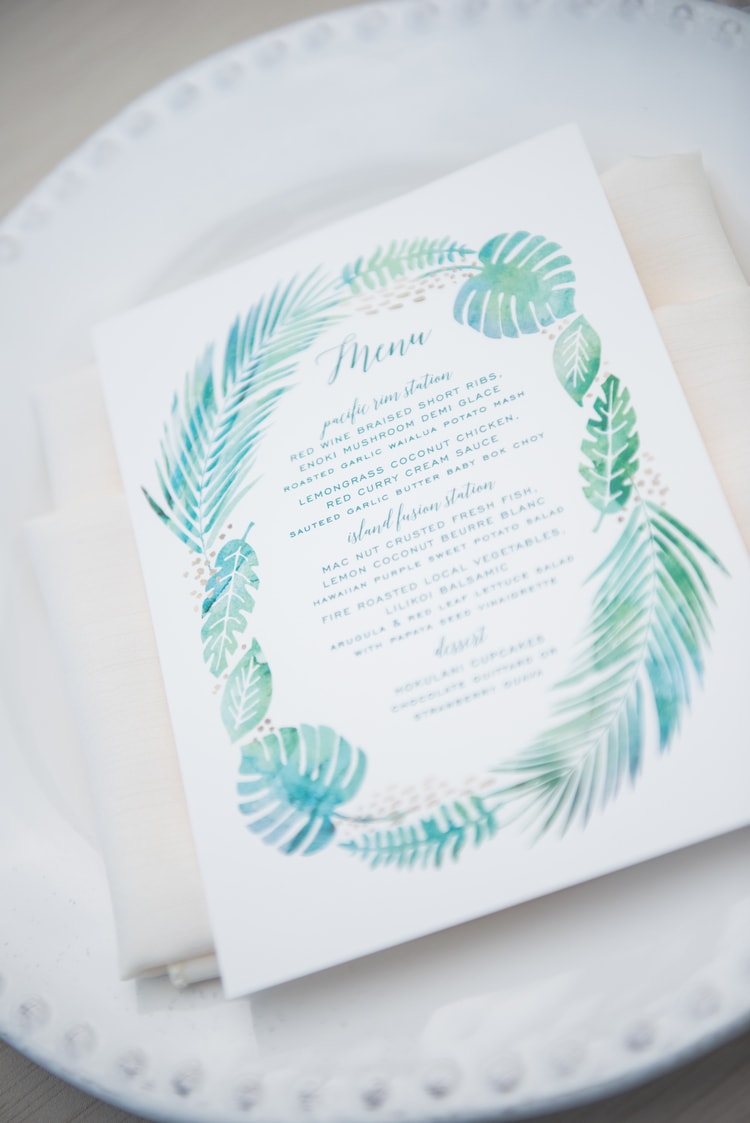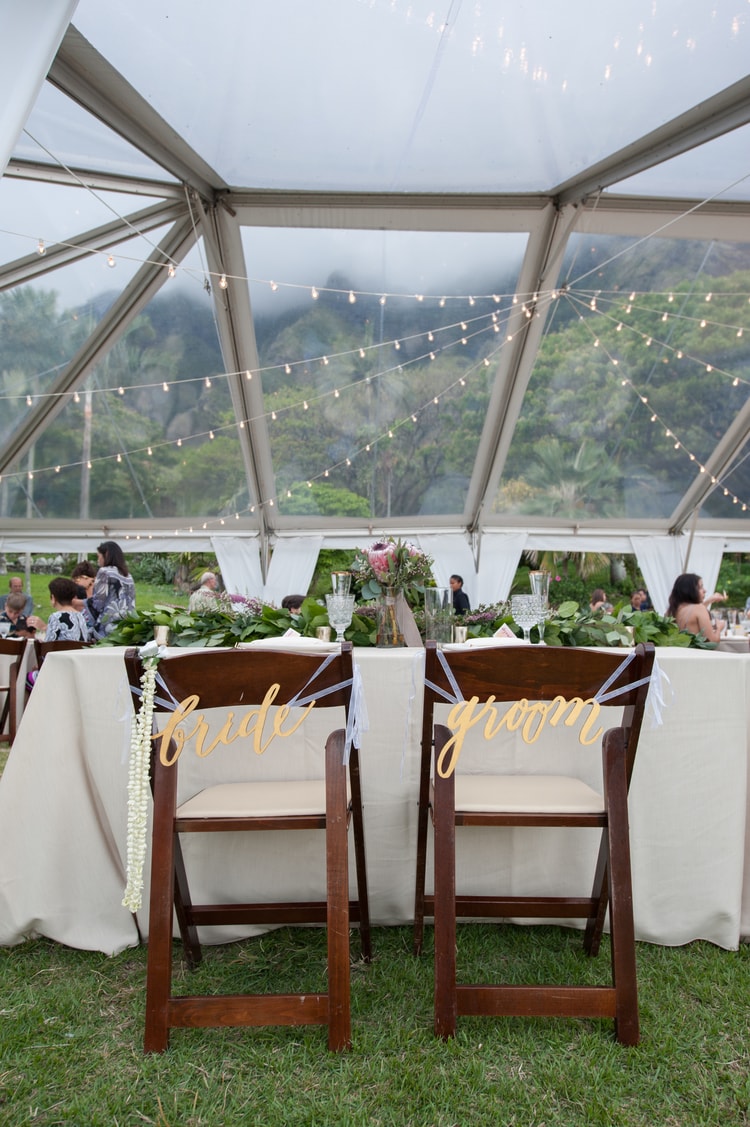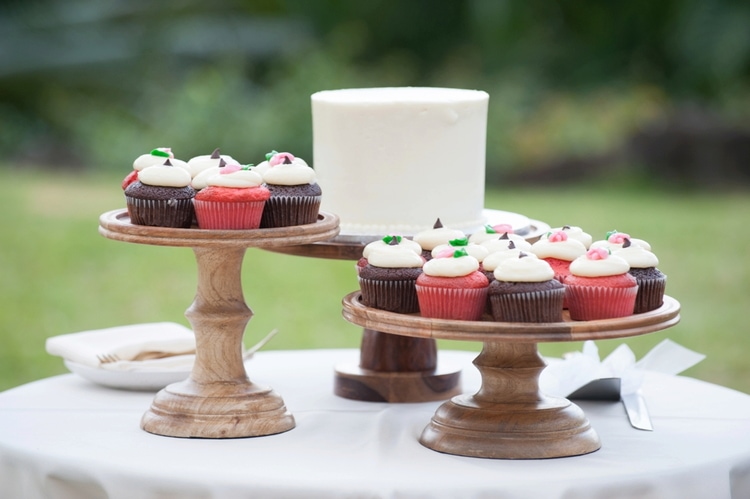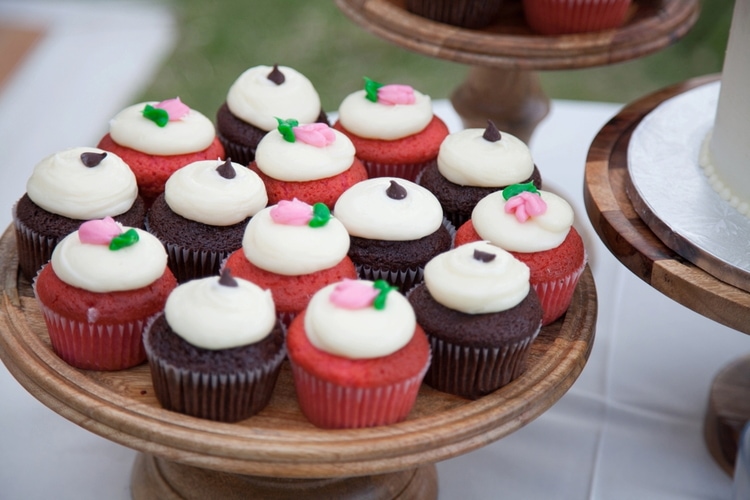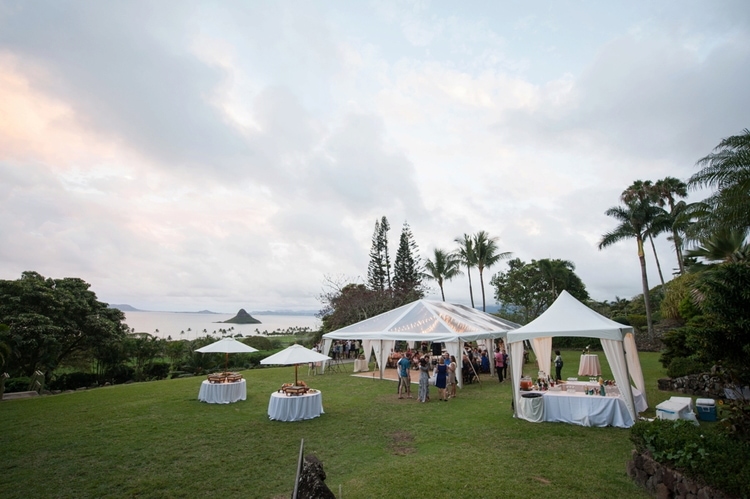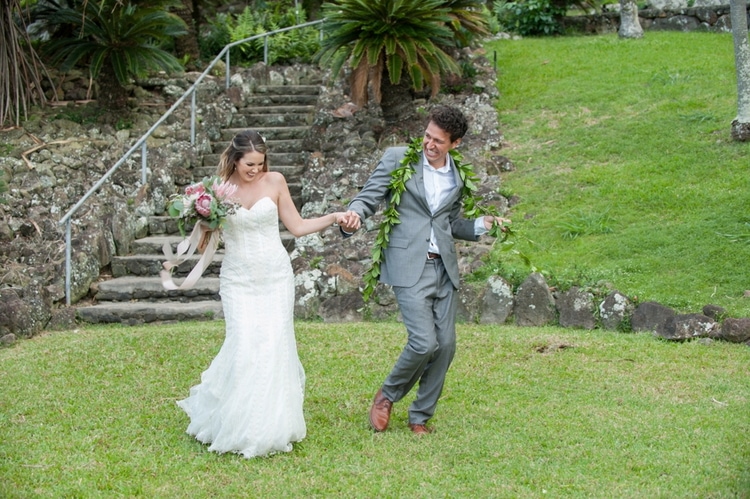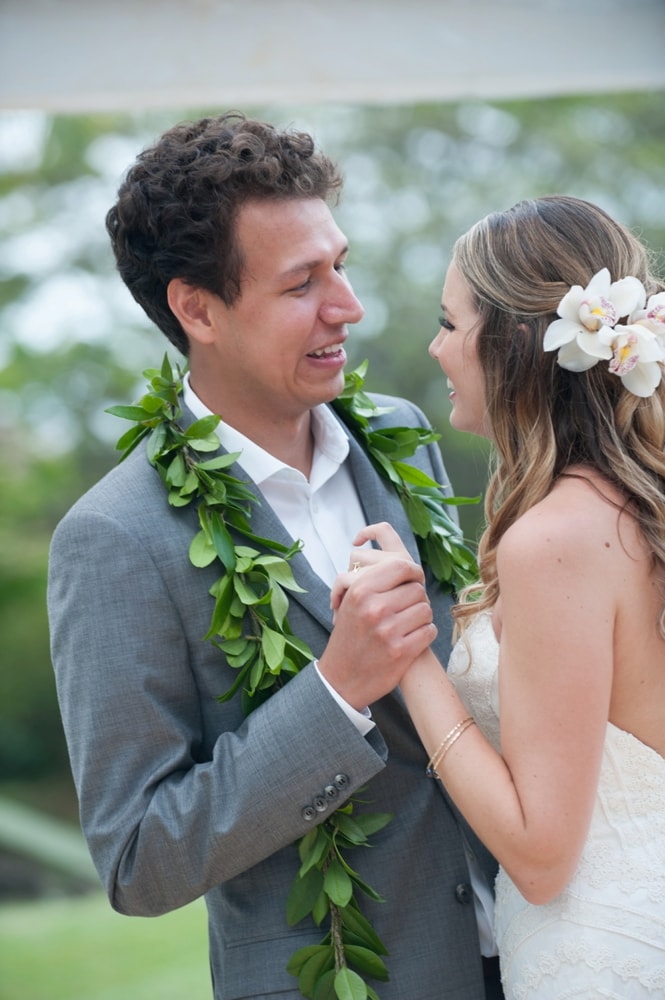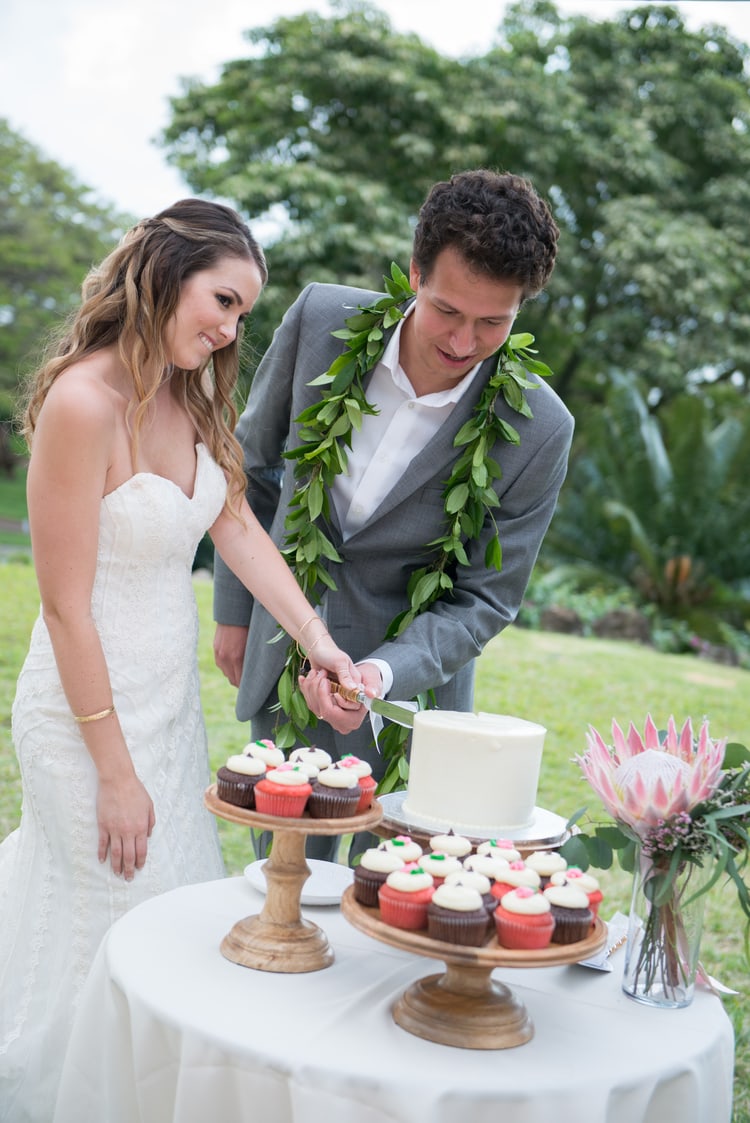 Q&A with the Bride
How did you two meet?
Alejandro and I met a few times

throughout college through mutual friends, but we didn't start dating until our junior year

in 2010. I always recognized him because he was tall and had long curly hair that was

turning blonde from spending so much time surfing. Although we lived near each other

on campus sophomore year and I consistently hung out with his friends, we weren't

ever really at the same place at the same time. After I returned from 5 months of study

abroad in Sydney, Aus my friends and I went over to his house a couple blocks down

from ours at the beach. He immediately greeted me with a huge hug (even though we

barely knew each other) and I knew then that he was different.
Tell us about the proposal!
Alejandro and I were on Oahu to visit

my family and we had made plans to go to our favorite restaurant to celebrate our five-

year anniversary. Dinner was amazing as usual and although I was a little suspicious

because he had

not finished his entree, I certainly didn't think he was going to propose

in the middle of the restaurant. So as you can imagine I was completely oblivious when

Alejandro started to propose over dessert (I was so interested in eating my peanut

butter chocolate cake that he LITERALLY had to ask me to put down my spoon). He

came over to the side of the table and quietly proposed. After I said yes and Alejandro

resumed his seat, we were so excited we couldn't even eat our dessert. As we giddily

stared at each

other the manager came by with champagne and said, "Did I just see a

proposal?" We were both so surprised. It was the perfect ending.
Why did you choose to have a Kualoa Ranch Wedding?
Honestly, I kind of always knew

that I would get married at Kualoa Ranch. It is tucked away on the east side of Oahu in

between quiet country communities. I grew up going to the ranch as a kid and there is

really no other place like it on Oahu. Our ceremony and reception took place on a vast

lawn almost encircled by strikingly majestic mountains on one side and on the other a

sprawling view of the turquoise green ocean. There is a reason why so many movies

are filmed there!
What made you decide to have a Kualoa Ranch wedding instead of a traditional wedding?
Although we currently live in

San Diego, I was born and raised on Oahu and Alejandro and I spent a few years living

there together after college. When we got engaged, it was really a no brainer! We knew

that our guests would love Oahu and we were really eager to share the true Hawaii with

our friends and family. It just made sense.
Did you have any special events prior to or after the ceremony?
We had a lot of out of town guests both from the mainland US and

internationally so in lieu of a rehearsal dinner we wanted to have a welcome party for t

hose that traveled to be with us! It was also important to us to have our friends and

family get together and meet each other before the wedding so Alejandro's family

hosted a beautiful dinner at Duke's in Waikiki. Duke's has an amazing private patio that

sits right on the beach so with the iconic sparkling waters of Waikiki as our backdrop,

we ate drank and laughed under the stars. It was truly magical!
Tell us about your bridal shower!
My sister who was my Maid of Honor, planned a gorgeous surprise

bridal shower for me at the Moana Surfrider hotel in Waikiki. The Moana Surfrider is one

of the oldest and most beautiful hotels on Oahu and it is my favorite place in Waikiki.

The architecture evokes old Hawaii with a wraparound veranda that opens to a large

banyan tree courtyard and the ocean. Sitting on the veranda with thirty of my closest

family and friends sipping pikake infused tea and eating delicious lilikoi cakes was the

best bridal shower I could have ever asked for!
What was the theme of your Kualoa Ranch wedding?
We wanted our

theme to be a reflection of ourselves which is laid back and kind of bohemian while

really showcasing the beauty of Hawaii and our surroundings. I wanted the floral

decorations to include flowers that you could find in Hawaii so we went with king

proteas, pink ginger, tillandsia air plants, silver eucalyptus and white orchids. I had the

most incredible bouquet of proteas and my bridesmaids each held a singular king

protea. We chose to have cupcakes for our guests from our favorite bakery Hokulani

Cupcakes: chocolate guittard with cream cheese frosting and strawberry-guava with

cream cheese frosting. The music was a mix of hip-hop, indie rock and old-school 70s

disco (my mom danced so hard she couldn't feel her toes for 3 days after.) We of

course played "Alejandro" by Lady

Gaga.
Tell us about the color palette of your Kualoa Ranch wedding.
We chose soft colors

that would complement our beautiful surroundings: green, blush and gold. Our florals

were a mix of green and blush in gold vases. We added other touches of gold with the

votives, gold utensils, and gold rimmed champagne glasses.
Did you do any special gifts or favors?
We decided to make our own escort cards which our guests took

home with them. I took a calligraphy class a few months before the wedding and hand

wrote all of the escort cards and signs. We painted each of the escort cards with blush

and light peach water colors and attached them to toy dinosaurs that we had sprayed

gold. Why dinosaurs? The Jurassic Park series was famously filmed at Kualoa Ranch,

so we wanted to add in a fun little homage to our venue. We also had a Polaroid station

where guests could replace their name cards with a picture of themselves. That was

really special because we wanted to remember how much fun our guests had at the

wedding. We ended up with almost 100 Polaroid pictures of the wedding!
Vendors