Stacey and Aaron have experienced so many adventures together. Exploring 35 countries is unheard of for any average person's lifetime, but these two have done that, and more – making it their business to be citizens of the world together. That's how I know they really knew what they were doing when they chose an Iceland for their destination wedding. I'm telling you… browsing through Stacey and Aaron's photos was surreal. The purity of the landscape is unmatched! There are few couples as lucky as Stacey and Aaron, who eloped in a land as hauntingly beautiful as Iceland. Not only do they appear to be the only souls for miles… but I truly get what Stacey meant when she said, "In a way it brought warmth to me, even though it was absolutely freezing." Hell, I felt it just looking at the pictures!
The most touching detail is that, despite keeping this an extremely intimate affair, they still found ways to incorporate their loved ones. And my favorite detail was the bride/groom rubber ducks they incorporated into the ceremony to honor a friend who passed away. Also, as far as little details go, I can't NOT mention that bouquet. Of course, it was anything but the norm – Stacey ordered a handmade lace and burlap flowers set in deer antlers. Just gorgeous. Ann from Your Adventure Photography took on double duty as wedding planner and photographer, capturing some of the most stunning and scenic destination wedding shots we've ever seen. Enjoy!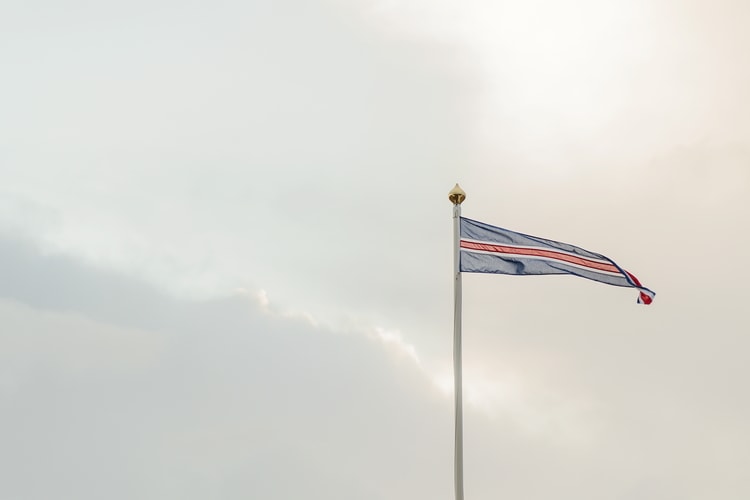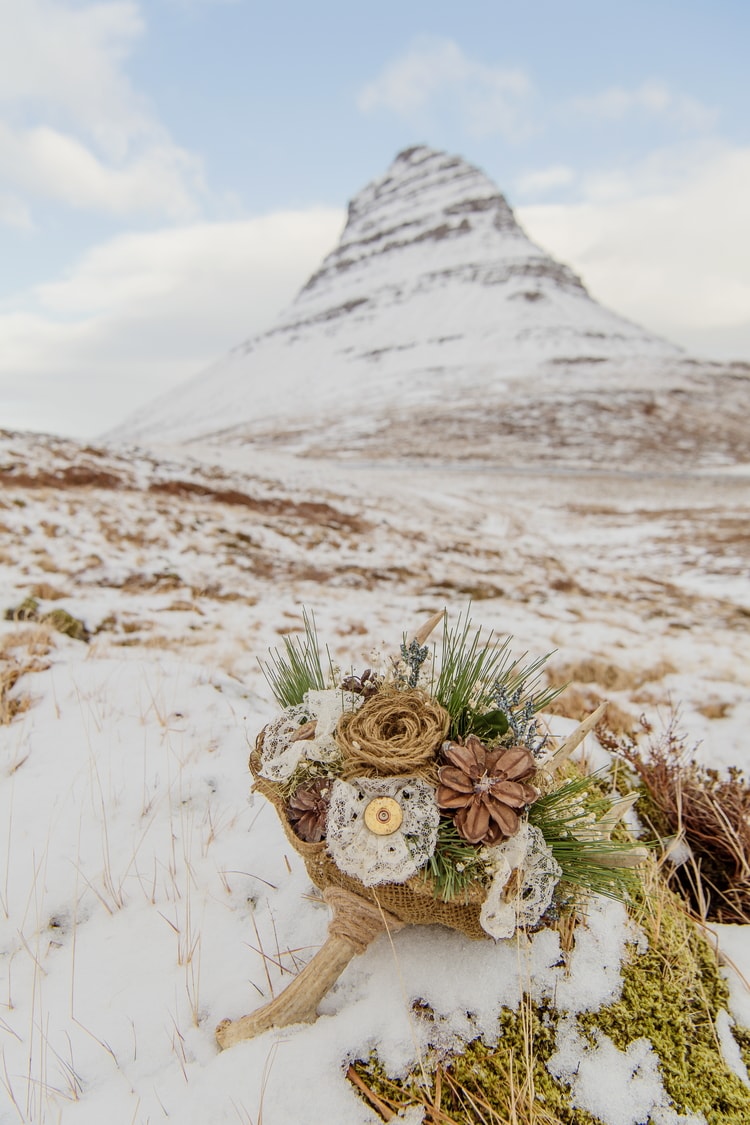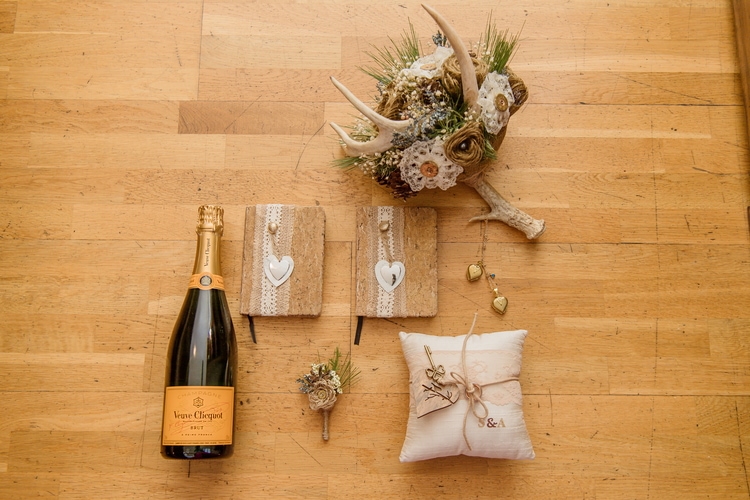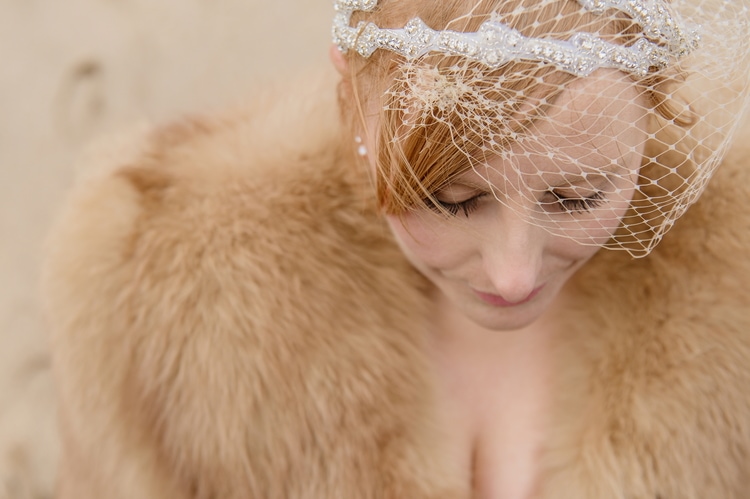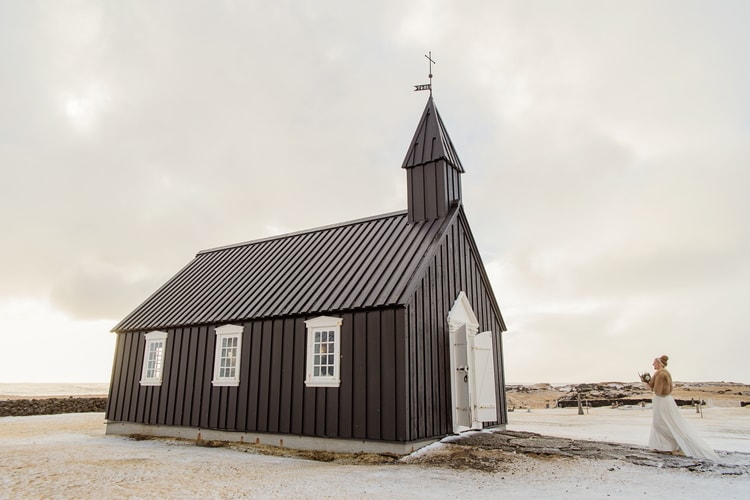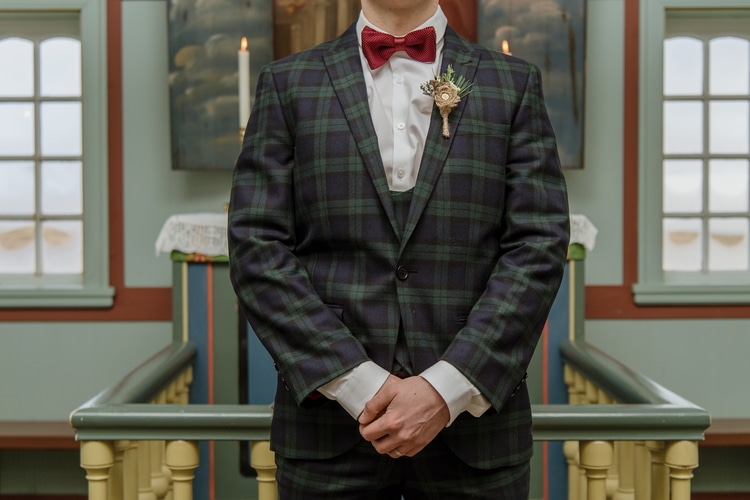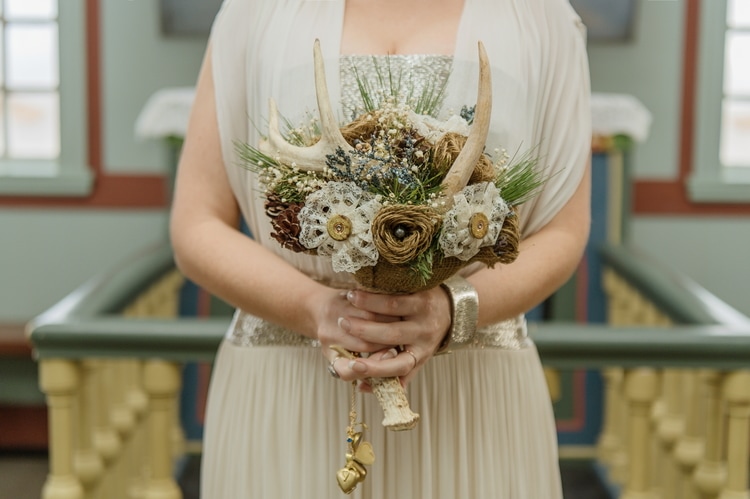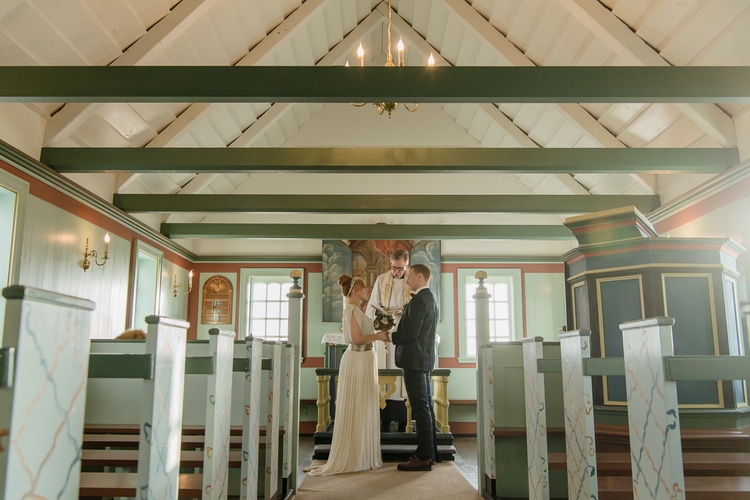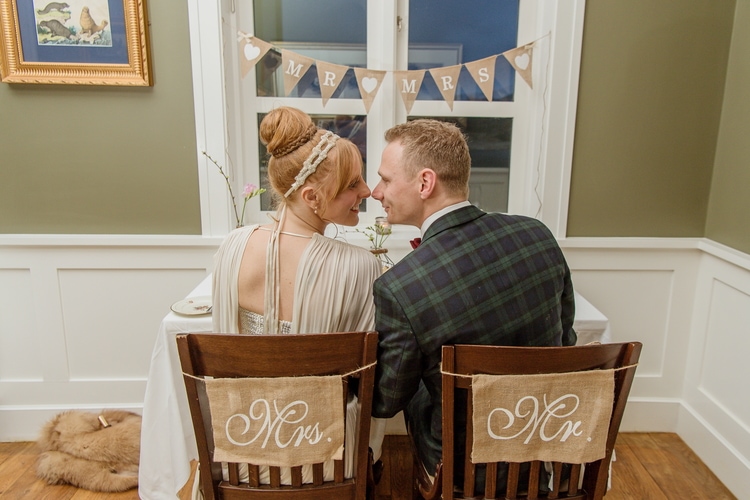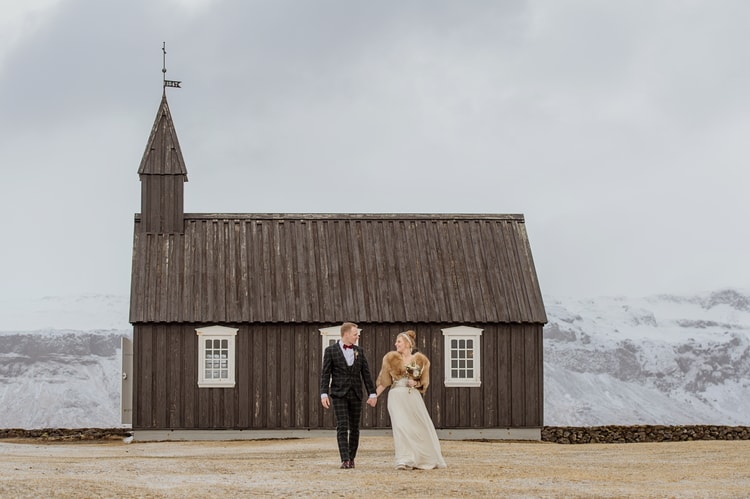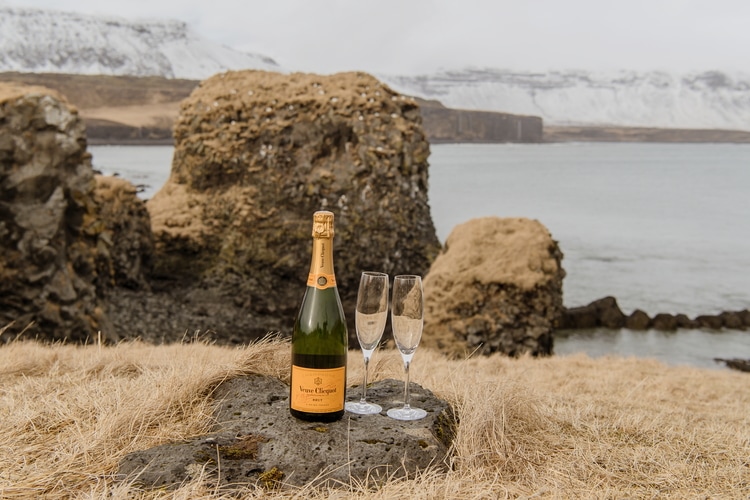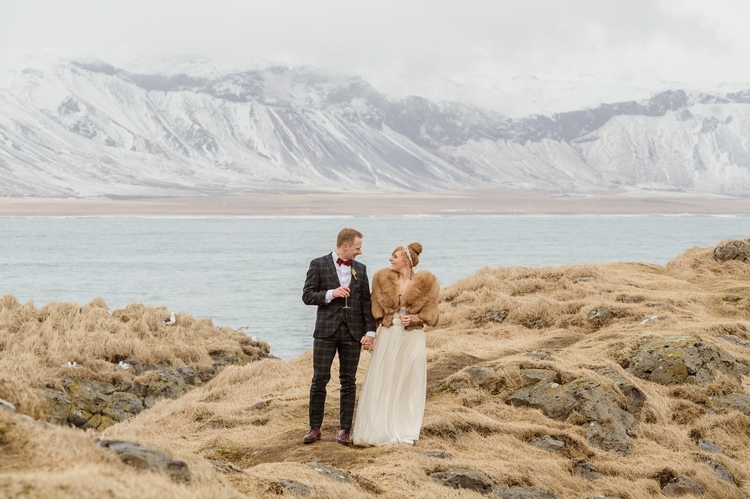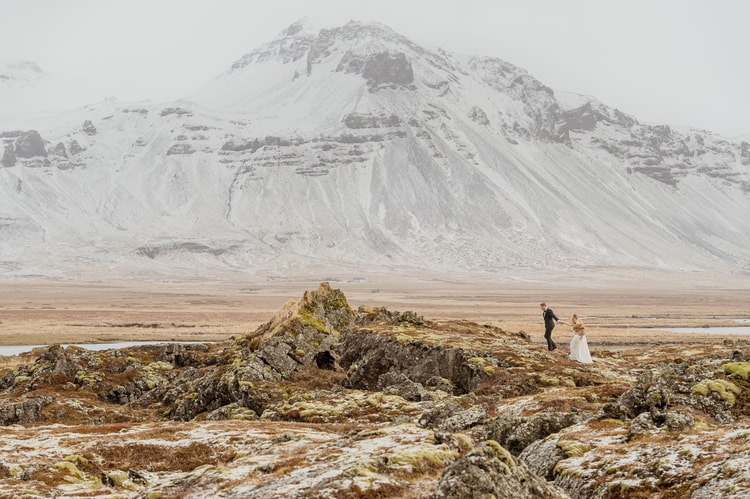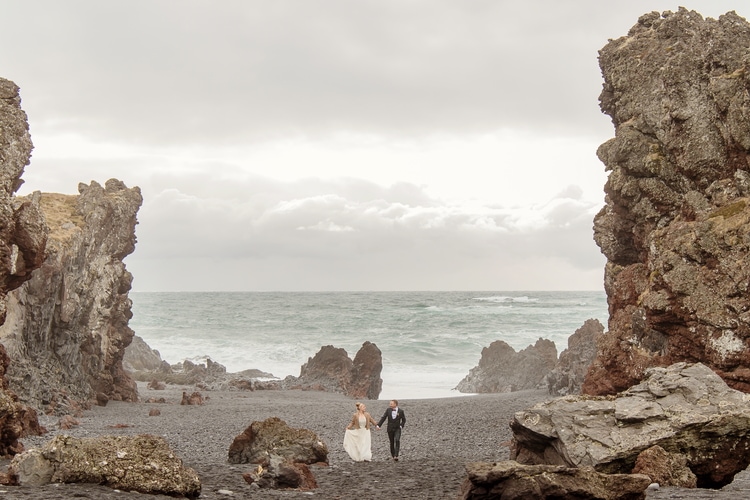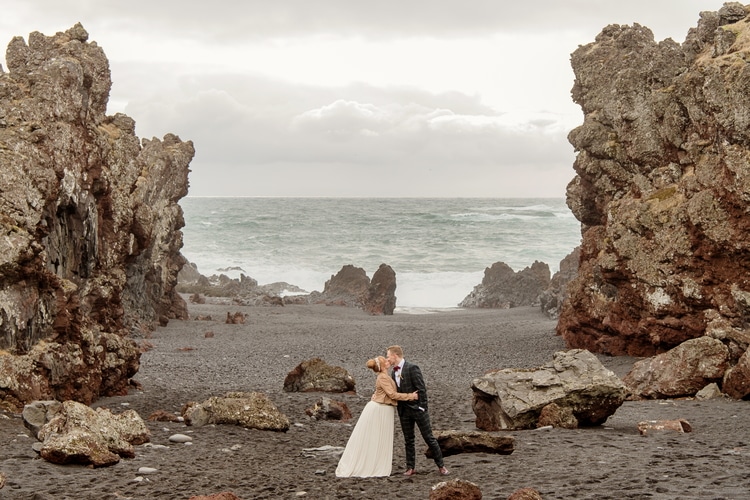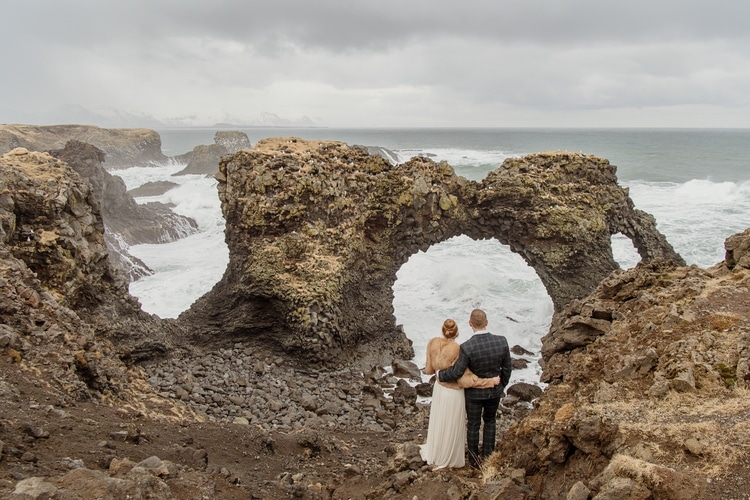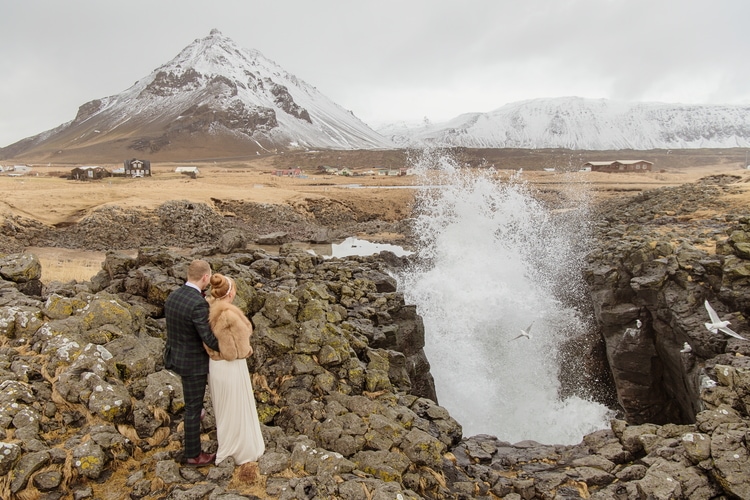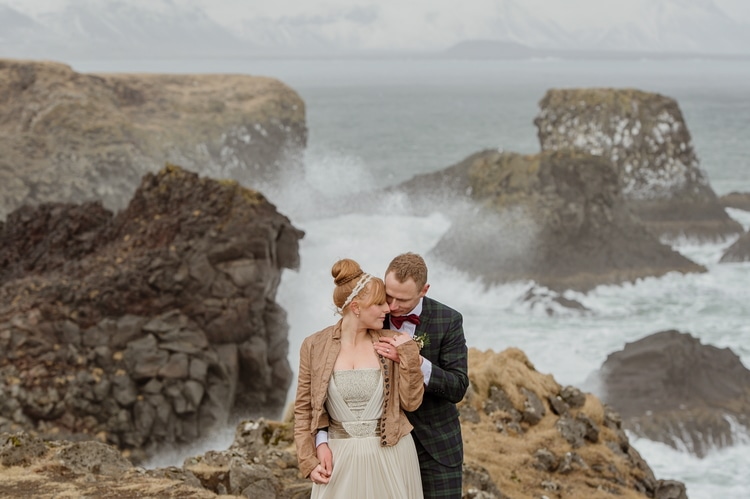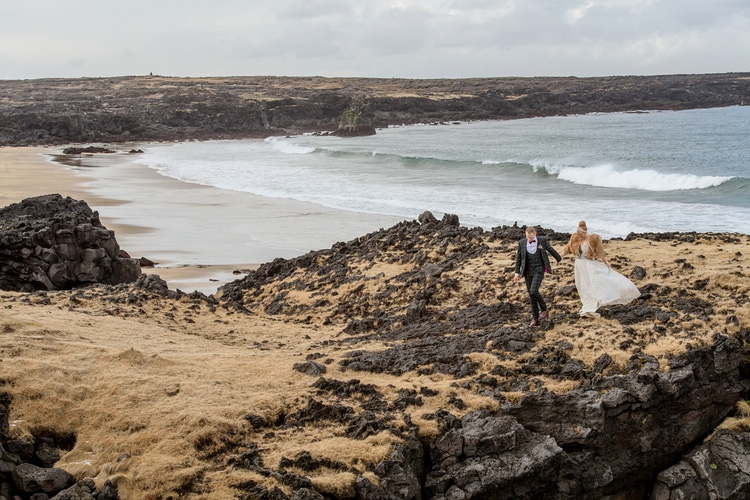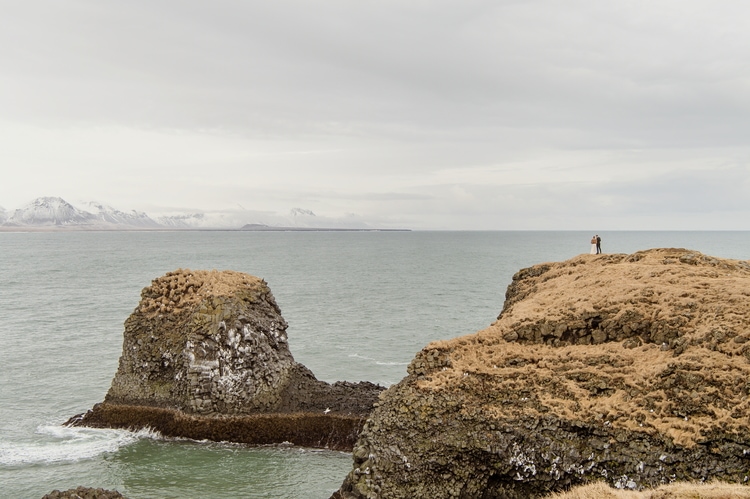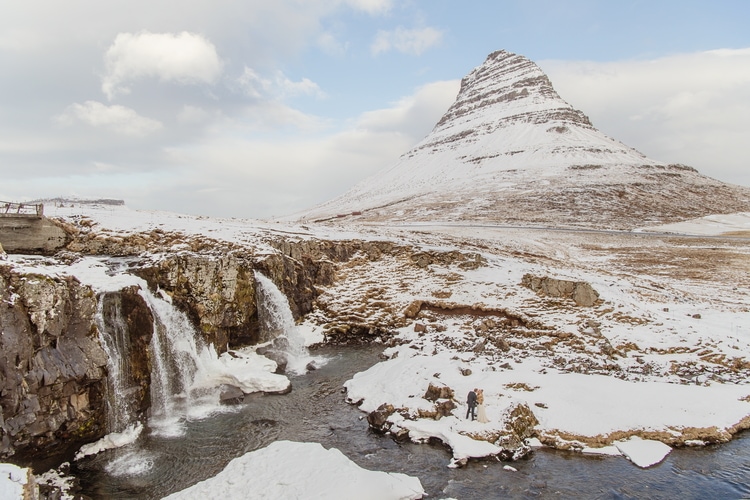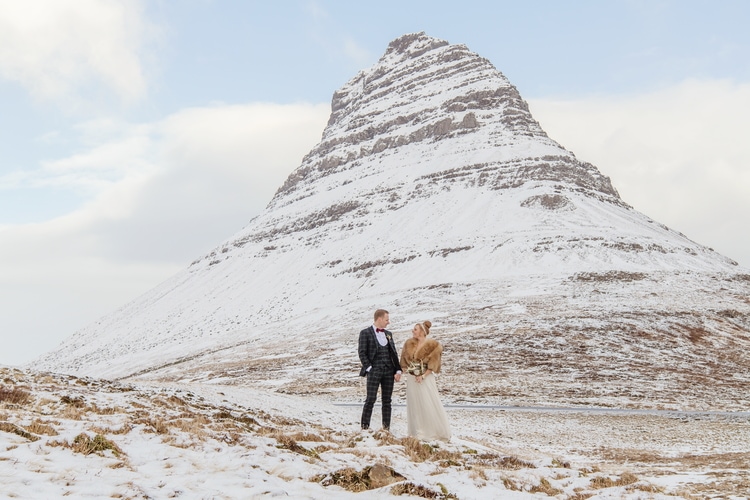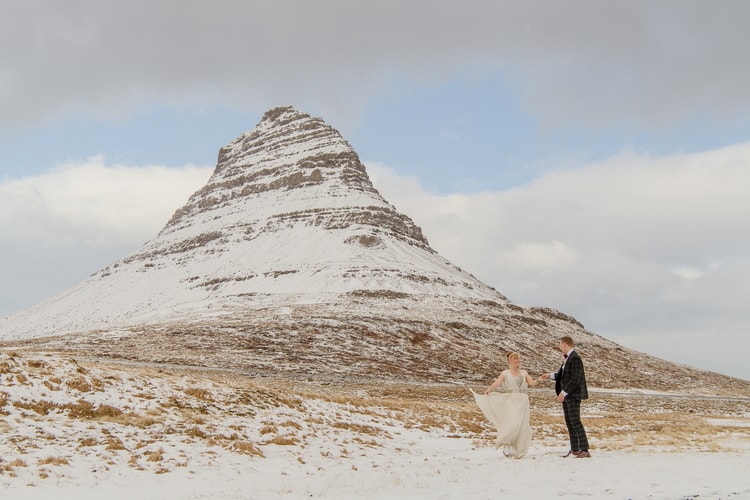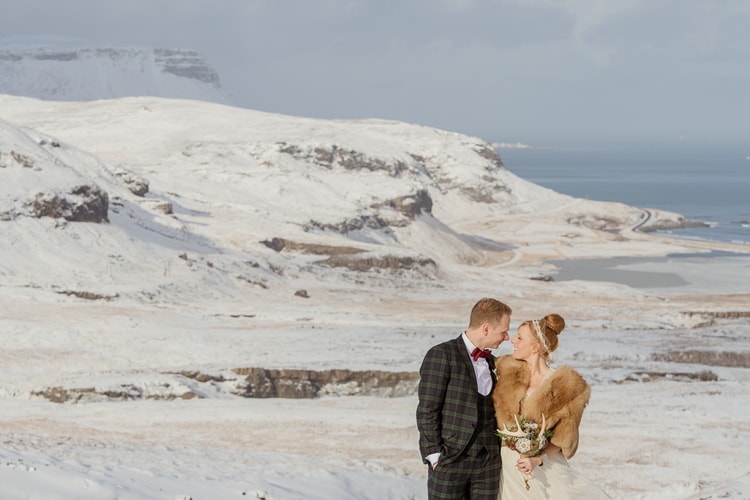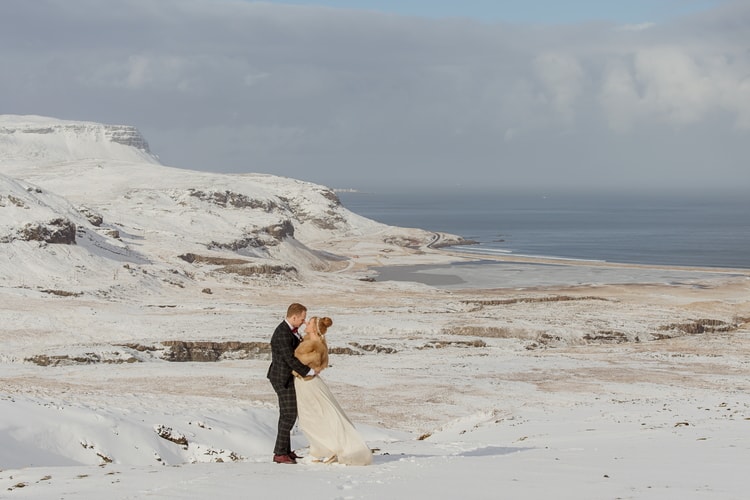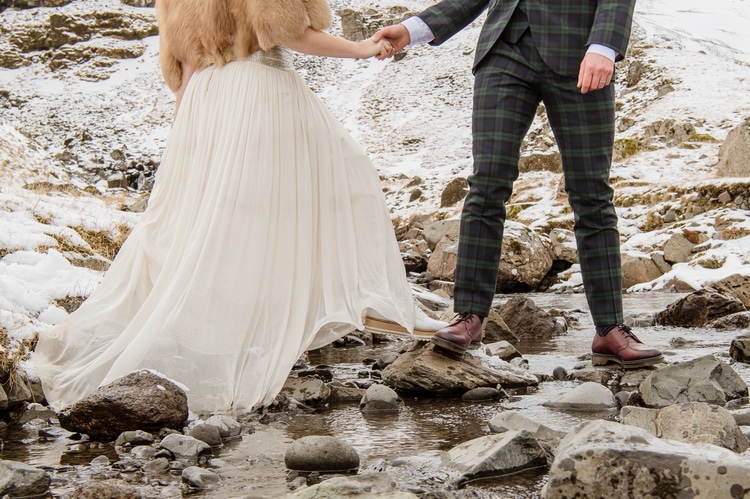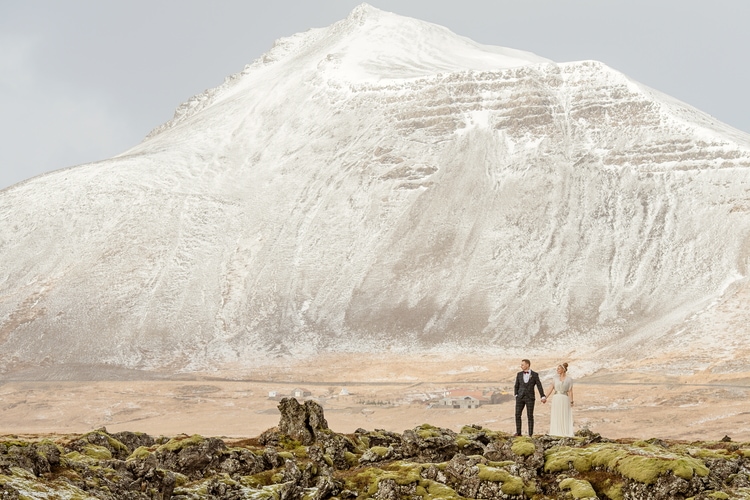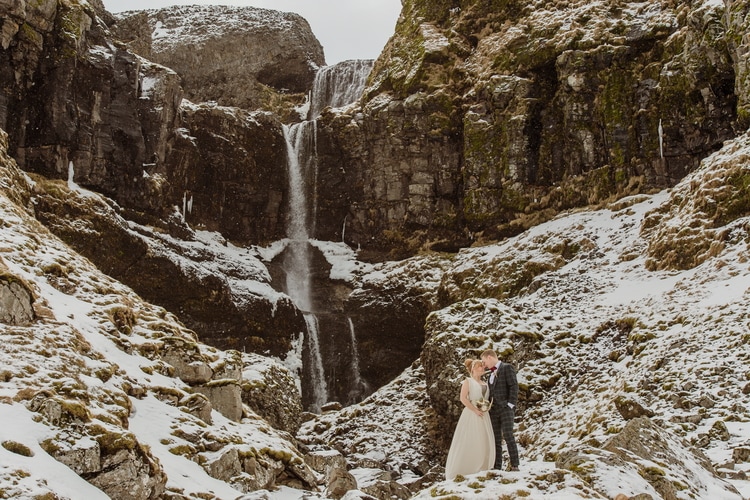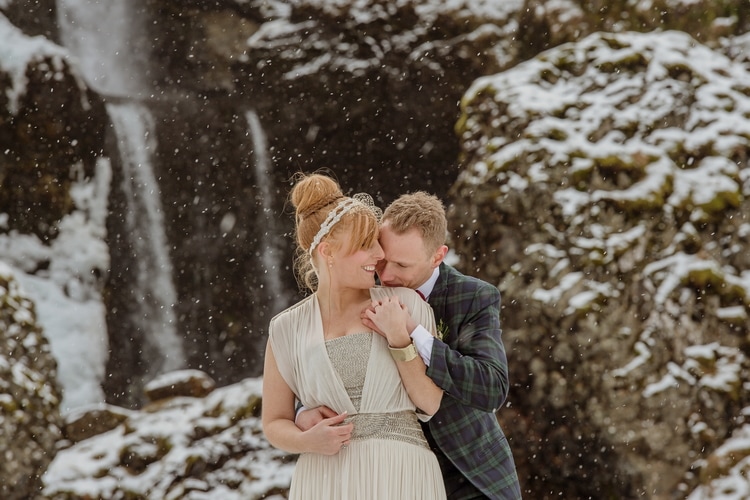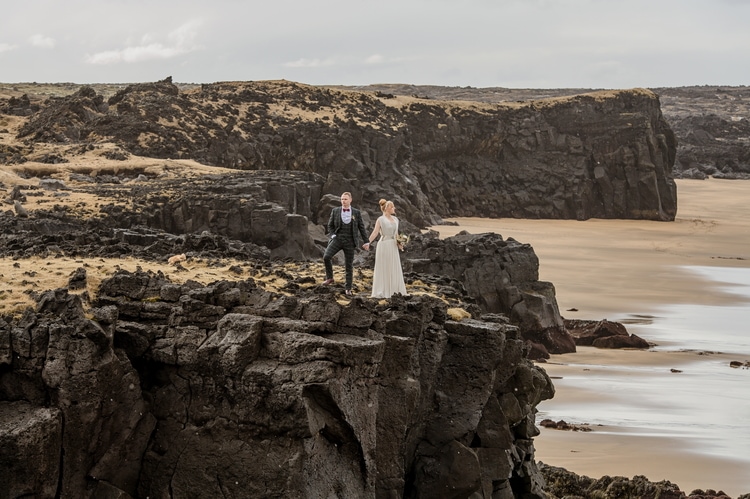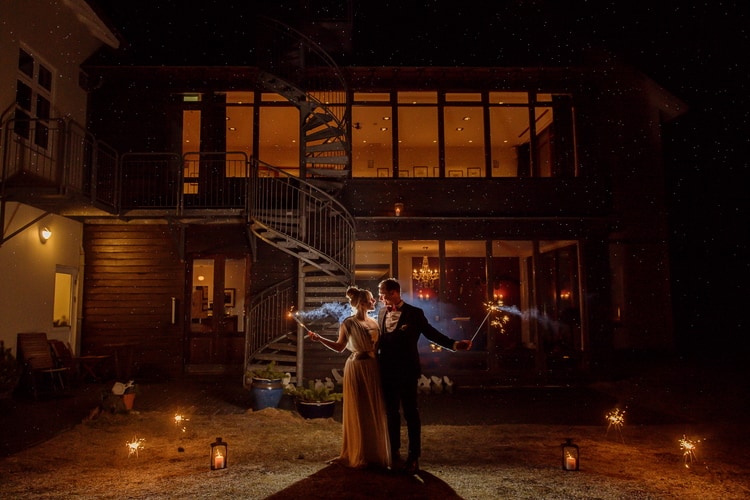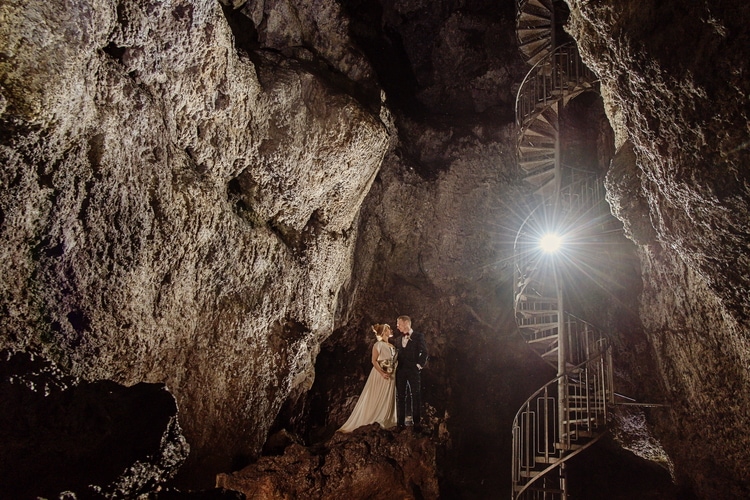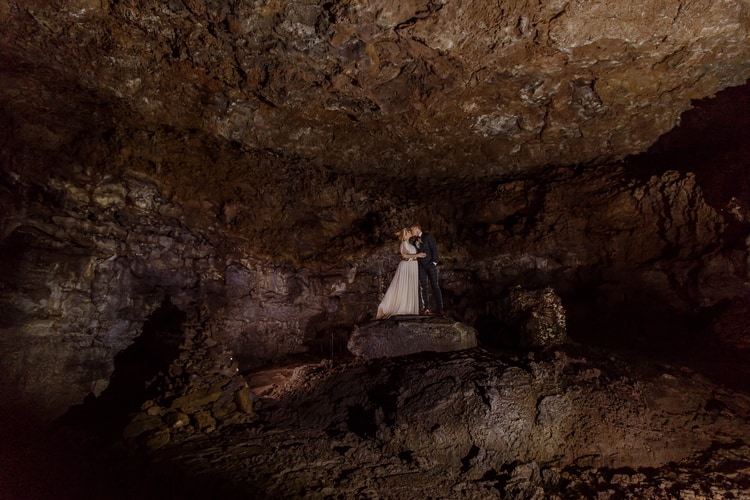 Q&A with the Bride
Why did you choose to have an Iceland destination wedding?
We first visited Iceland back in 2013 and fell instantly in love with its magic. We have travelled all over the world: South America, Central America, Asia, Africa and of course all over the Europe but nowhere inspired us more than the dramatic scenery in Iceland. In a way it brought warmth to me (even though it was absolutely freezing).

I am from Scotland so the dramatic mountains and greenery instantly made me feel like I was home in the Bonnie land. The seed was planted and we knew then we would be back. After Aaron finally popped the question on a holiday in South Africa the wedding chat began. 'Where on earth would we have our big day?'. We had been to so many cool places. But honestly the one that stood out was Iceland. Being the adventurous type, we didn't just want to return to a place we had been before. So we did our research and found the secluded little black church and thought that's it, that's where we are going to get married.
How many people attended your Iceland destination wedding?
No guests just us and Ann and the pastor (who was the best).
What were your sources of inspiration?
We looked through hundreds of photos of the church in different weather back drops. The one that kept catching our eye was the yellow/orange grass of spring, moody skies, snow covered mountains against the dramatic black church. It was a beautiful array of colours that would sit perfectly with the bride's red hair and white dress.

We then contacted Ann (photographer) who had some beautiful photos of the church and Iceland. We got chatting, sent her a photo of the ideal colours and asked her 'What time of year is this?' She replied "it's Iceland. It could be anytime of the year. Every day is different and unpredictable but that's the magic of Iceland". We absolutely knew what she meant and decided on the month of March with an open mind that we could face any weather conditions. We knew that in March it was slightly warmer and the snow was melting on the ground, the sun was (generally) brighter and the chance of our colourful landscape was greater. And we were so right. Our wedding day was perfect.

Due to the mounting costs that weddings come with we couldn't justify the costs of flowers in Iceland, so we looked for alternative bouquets and button holes that would fit in nicely with our wedding. We found these amazing hand made lace and burlap flowers set in deer antlers on Etsy. They were perfect on the day and last forever.
Was there something special or unique that you incorporated into your Iceland destination wedding?
We had a bride and groom rubber duck with us on the day. This was to incorporate one of our best friends, Emma, who passed away from cancer nearly 10 years ago. When she passed away she left us with some rubber ducks. We became obsessed. The collection grew to now 250 strong and we of course couldn't leave them out of the big day. 🙂 They had a great time.
What was your favorite wedding detail?
It was lovely getting up in the morning together in the warmth of the Budir hotel, building butterflies of excitement as we both looked out the window to see just what wedding weather Iceland had in store for us. Then followed a beautiful calm wedding breakfast where we chatted for an hour before getting ready. Aaron even helped me with my hair and make-up. Staying with a little tradition we decided to arrive at the church sportily, so Aaron finished getting ready, Ann drove him to the church and then returned to help me with my dress.

I will never forget the feeling I got when I walked in the church door seeing my groom for the first time. It was a feeling of joy, excitement and pride all at the same time. Aaron said: "When I first saw Stacey for the first time my heart melted as I saw how gorgeous she looked. I then may have shed a tear or two". Stacey: "He cried like a baby. It was the most adorable thing I had ever seen".

We were so thankful that Ann made this moment so special for us. We didn't think we would have such a moment as it was only the two of us. But Ann went out of her way to ensure it was like any other wedding day, and kept the reveal of the bride right up until the last minute. We were greeted at the altar by pastor Egill who was so kind and friendly and made us feel at ease. He wrote the best service for us and we cannot thank him enough for making our married moment so special and heartwarming. We will honestly never forget the effort than Ann and Pastor Egill went to to give us such a special and unforgettable day.
Was there any tradition that you skipped or incorporated into your Iceland destination wedding?
Aaron's suit. Everyone was expecting him to wear a kilt as he was marrying a Scottish lass. But we wanted to break tradition yet still have the heritage feel, so we went for a tartan suit and bow tie, which was much more practical in the end as it kept the groom warmer than he would have been with a kilt and no jocks on. It ended up looking fantastically quirky and added a splash of colour to the burnt tones the bride was wearing.
What was the most memorable moment of your wedding?
We managed to cram in so much adventure in the day including lava fields, black volcanic beaches, exploring Snaefellsnes Peninsula, hiking to secret waterfalls, crossing rivers. But the coolest thing was definitely being the first couple ever to enter Vatnshellir Cave on our wedding day, which is an 8,000 year old lava cave where we followed the path of the lava flow, about 200 meters into the cave and 35 meters below the surface to see amazing colors and lava formations.
What was your favorite part of having an Iceland destination wedding?
The excitement of exploring somewhere new on the biggest and best day of our lives. Also we absolutely loved the secret destinations that Ann had planned for us on the day.
What was the biggest challenge in planning your Iceland destination wedding?
We actually didn't tell anyone. It was a secret, so yes keeping it quiet was the biggest challenge. We also had an Alice in Wonderland themed wedding in London a month later where we broke the news that we actually had tied the knot privately one month earlier. But our guests weren't too surprised because they know we don't do anything by half.
What's your advice to other couples planning a destination wedding?
Go with your heart. If a destination wedding is what you feel is right for you as a couple then do it. Don't worry about what everyone else thinks. You will be surprised who actually supports the choice. And lastly pick a destination that is special and means something to you both.
How was your experience with your photographer?
Ann is not only a fantastic photographer but also an amazing wedding planner and daring adventurer. She will have you doing things on your wedding day that you didn't think possible. She went above and beyond to ensure we covered all of the (long list) of cool places and photos on the day. Although the day was jam packed, we had enough time to ourselves to reflect on how amazing a day we were having. She also ensured we were comfy and happy at all times. We would highly recommend her and her awesome photography skills.
Vendors
Photographer: Your Adventure Wedding
Accommodations: Hotel Budir
Wedding Planner: Iceland Wedding Planner
Bride's Dress: The Marilyn gown by Catherine Deane
Leather jacket: All Saints
Fur Jacket: Vintage from Spitalfield Market in London
Headband: David's Bridal
Bride's Shoes: Dune
Deer Antler Bouquet & Button Hole: Etsy
Groom's Suit: Noose & Monkey
Groom's Shoes: Dr. Martens