When Marleisa and Anthony visited Puerto Rico for the first time in 2017, they immediately felt at home and fell deeply in love with the island. 10 years to the day after they began dating, they got the opportunity to share their love of Puerto Rico with an intimate group of friends and family who traveled to the stunning Hacienda Siesta Alegre to witness the couple share their vows.
Surrounded by mountains and rainforest, they let the natural beauty of the country and the hacienda shine, incorporating lots of greenery into their florals and a simple yet show-stopping bouquet of garden roses and peonies for Marleisa. This elopement is full of magic and beauty and you'll absolutely love every one of these photos from Esteban Daniel Photography!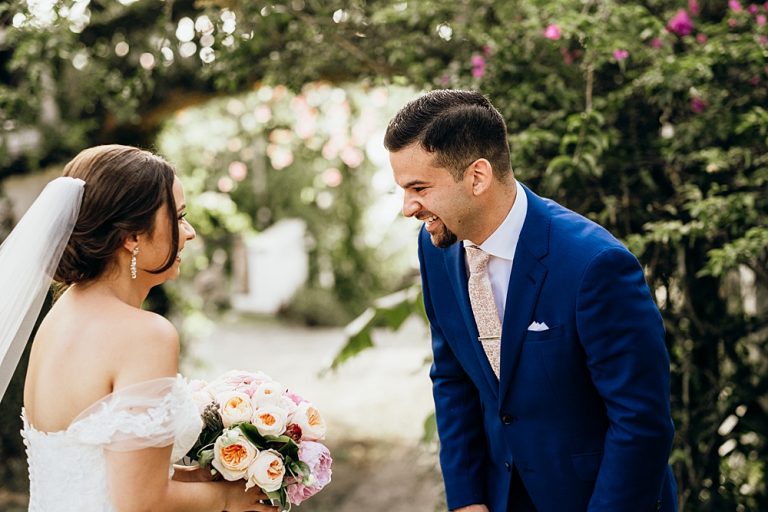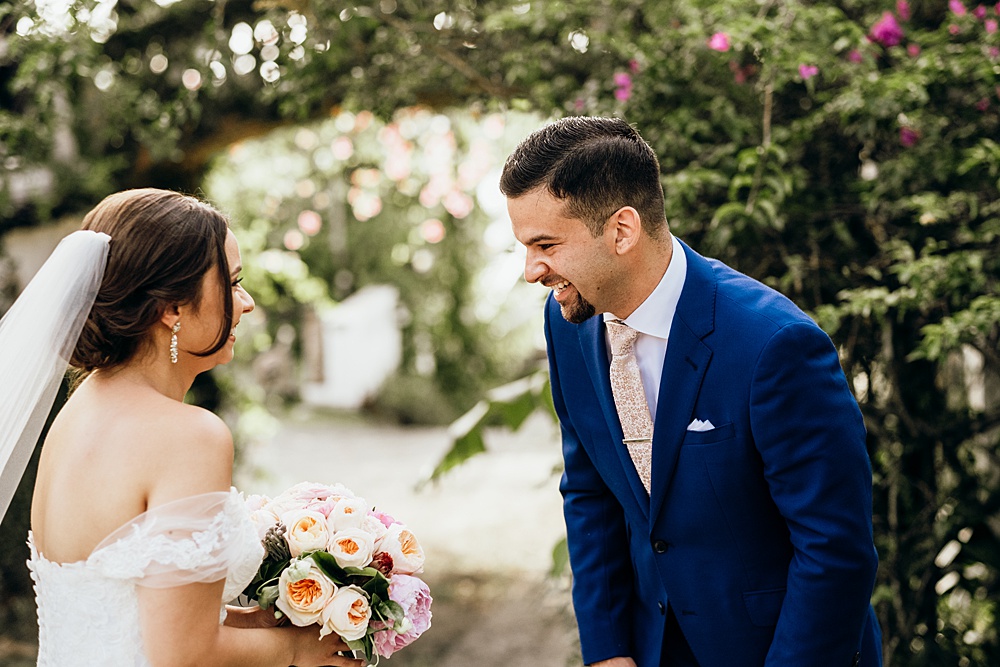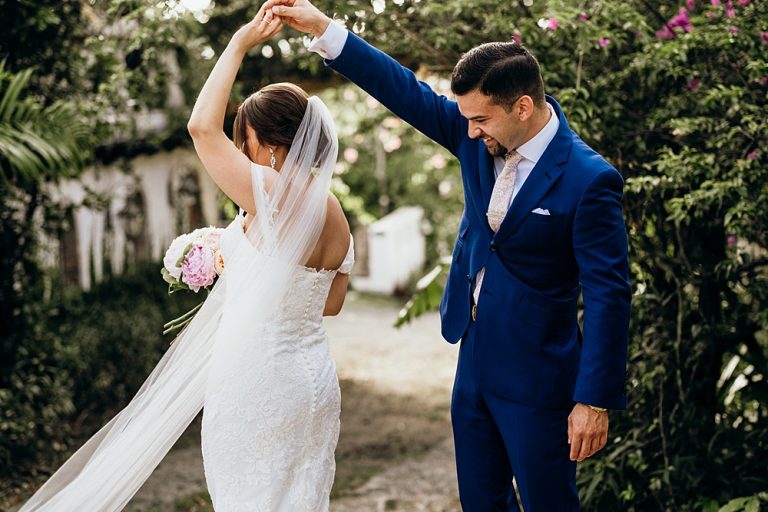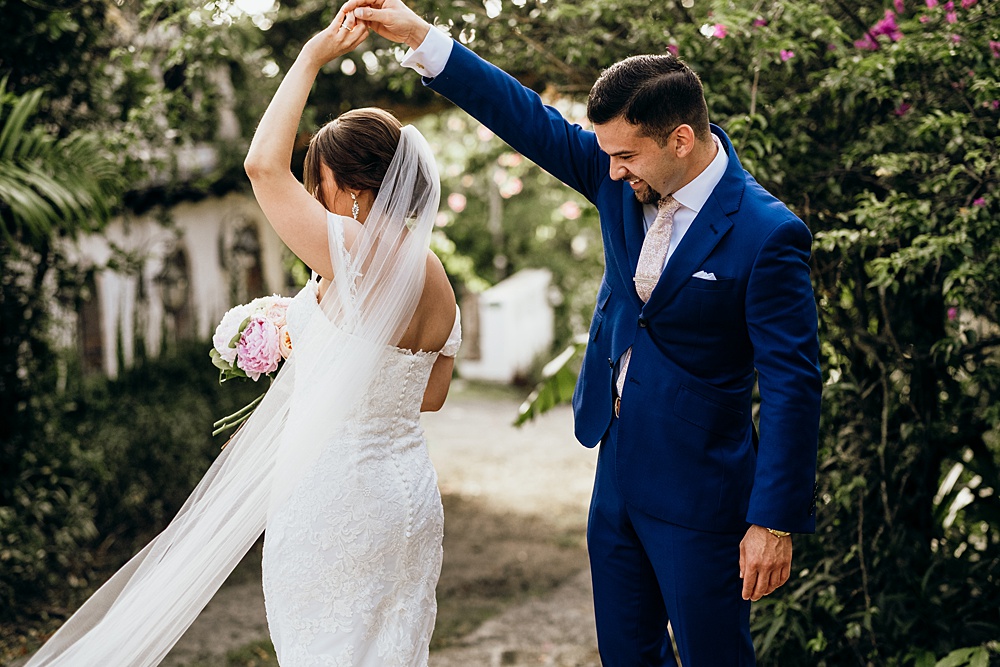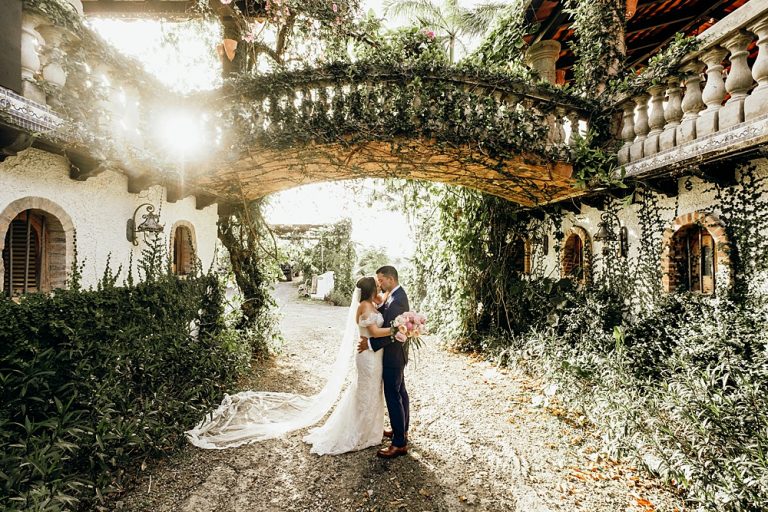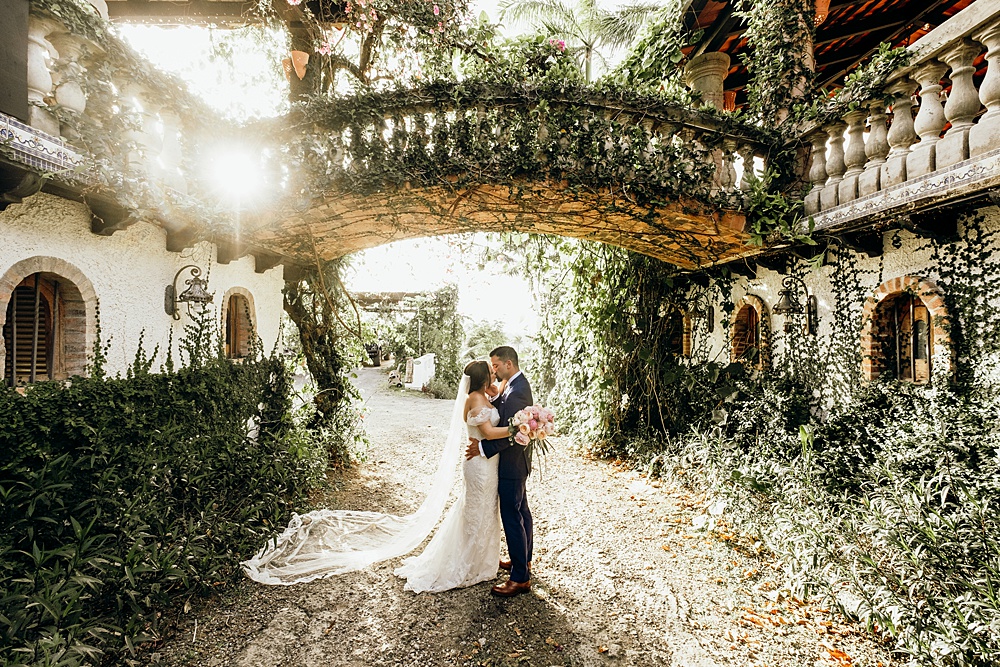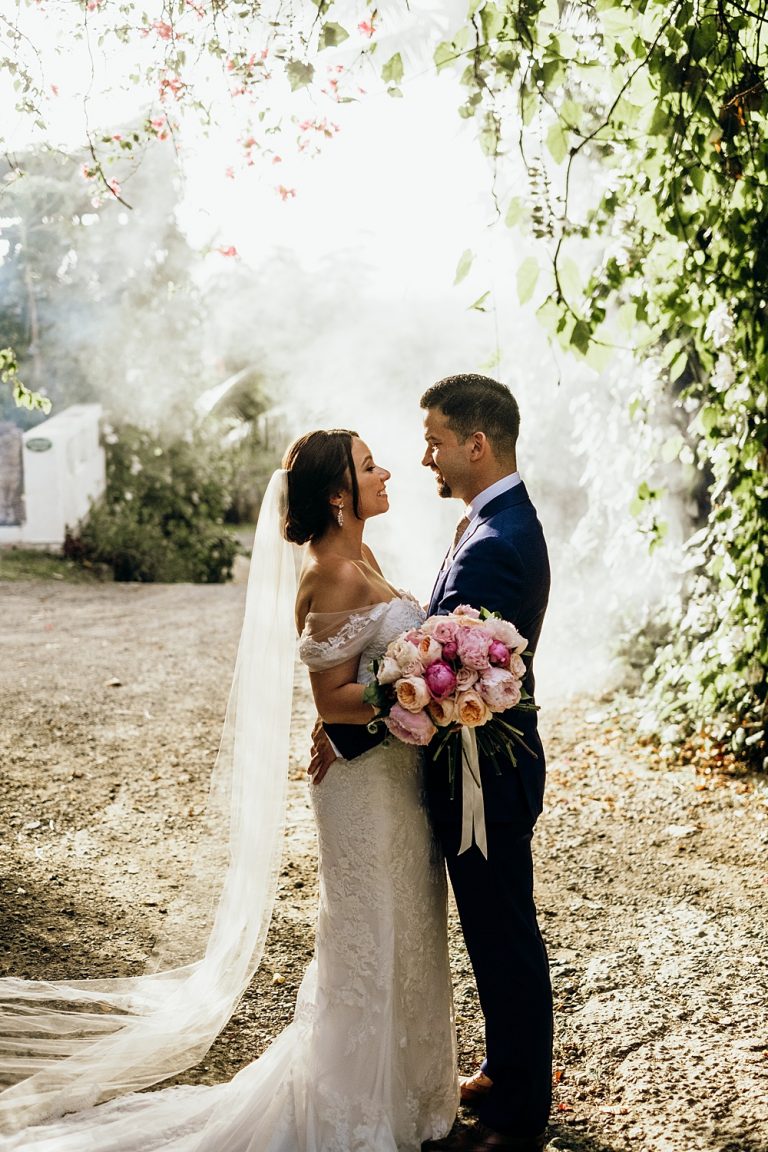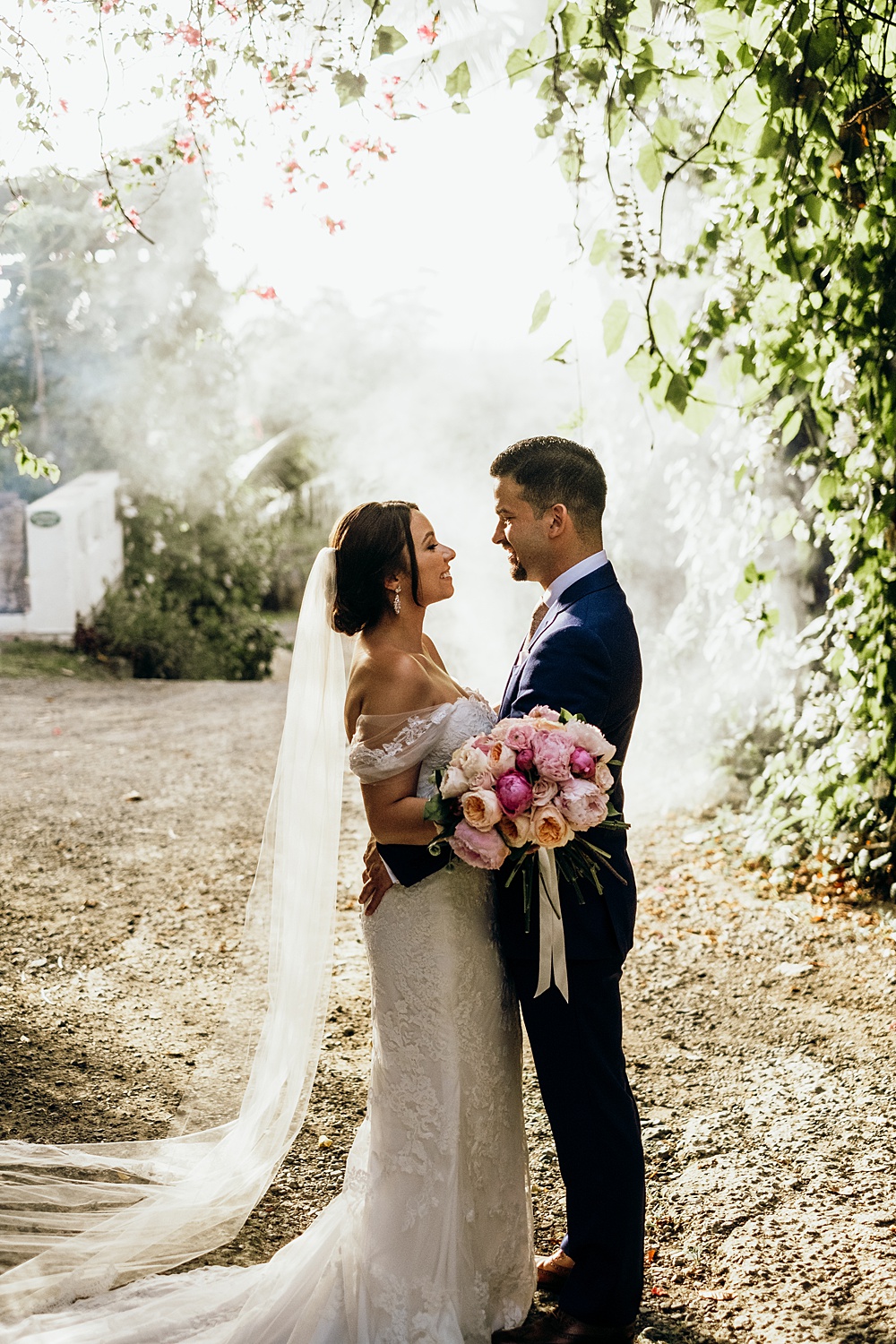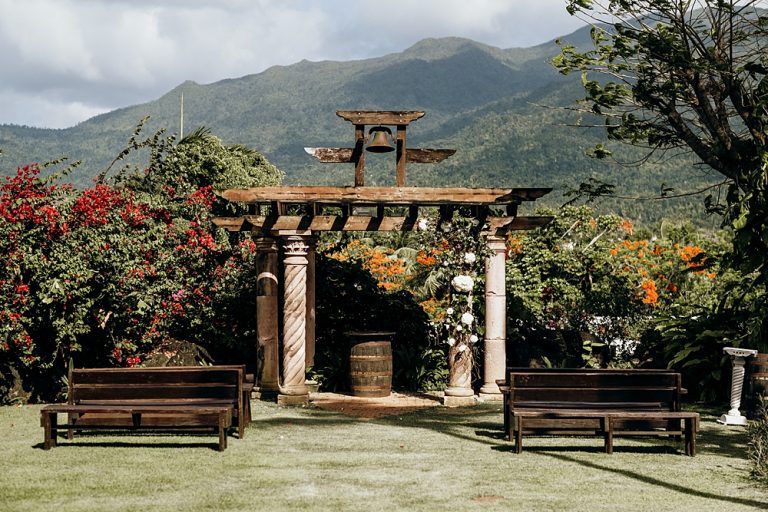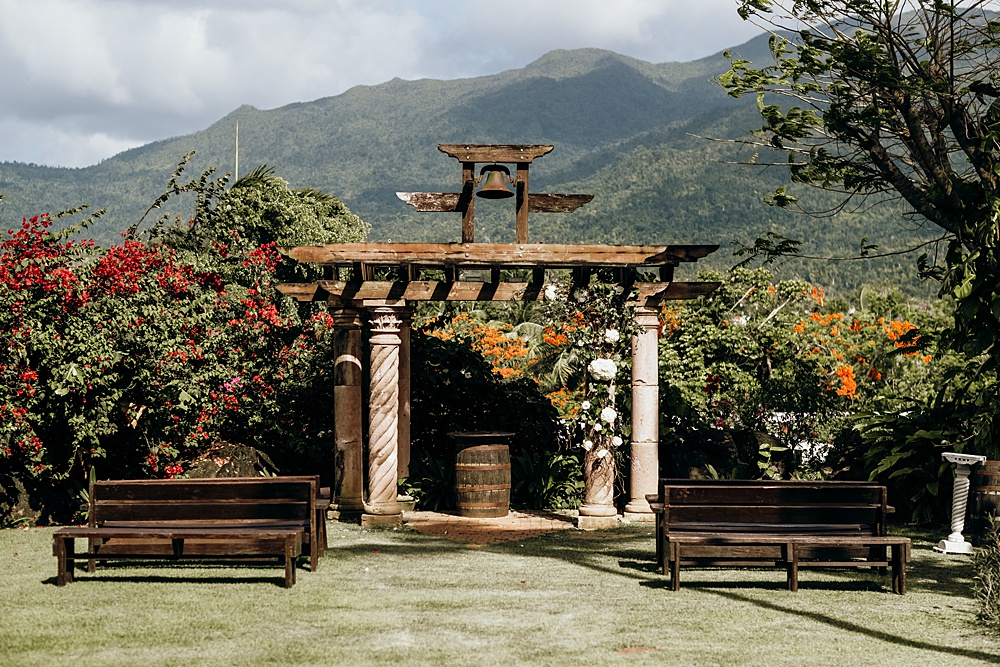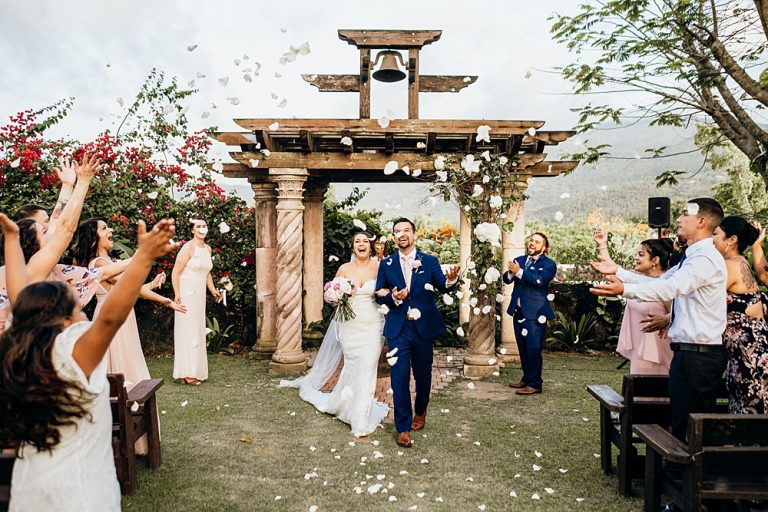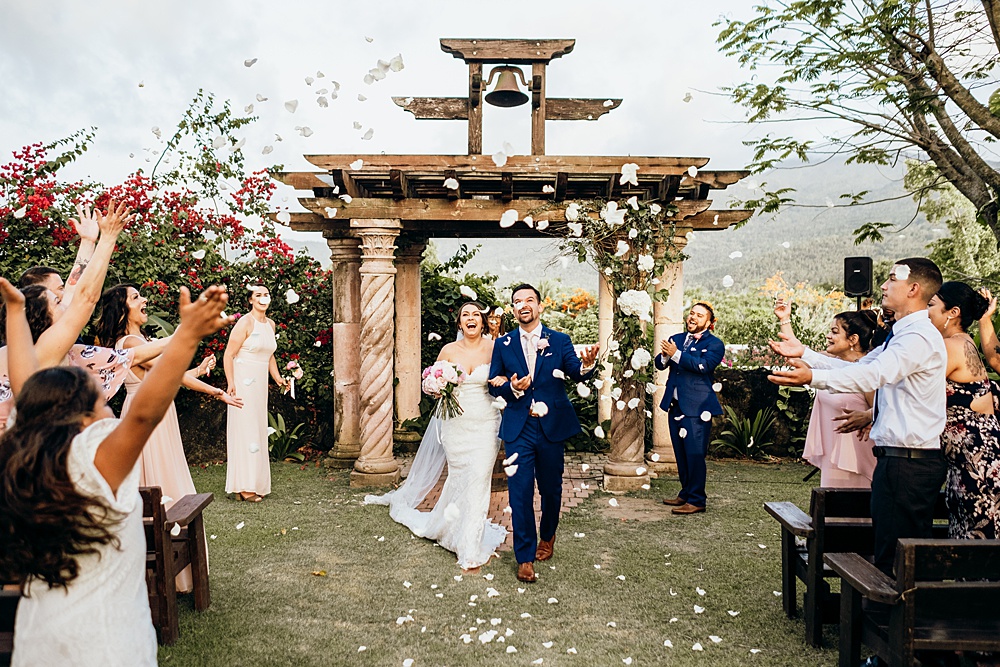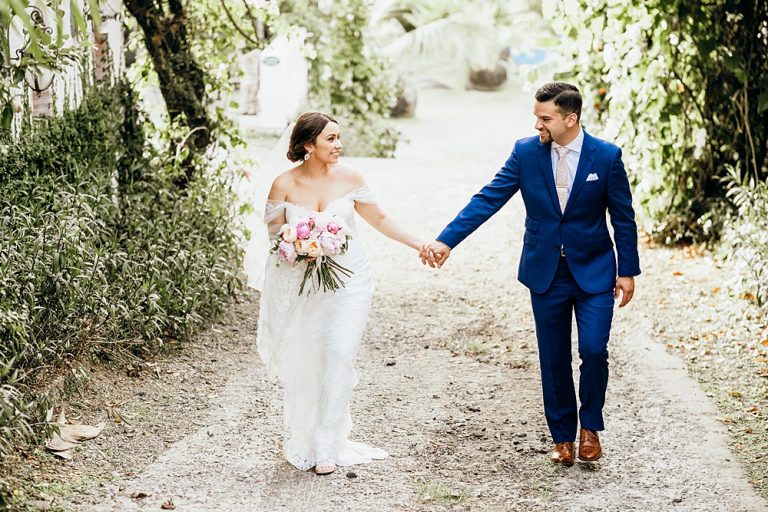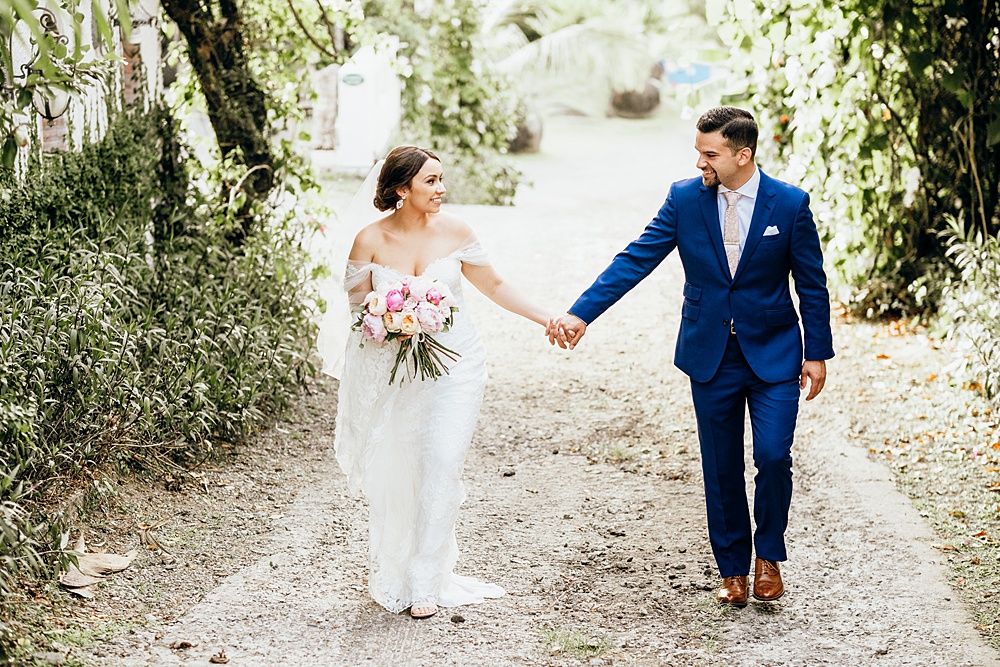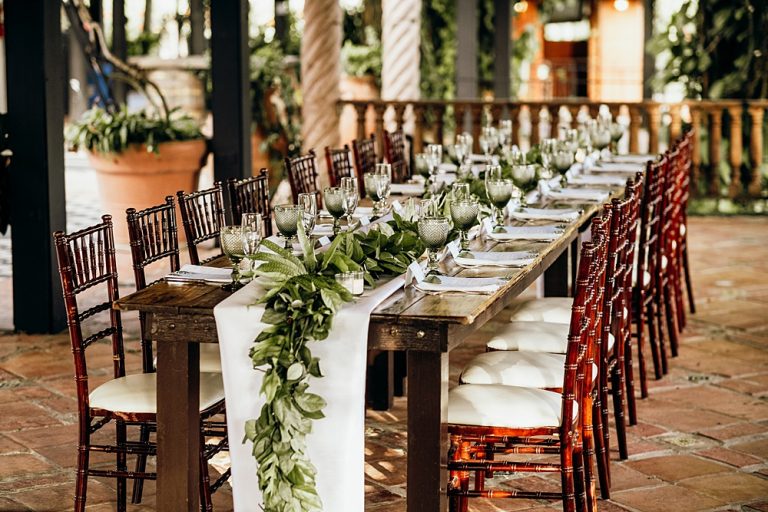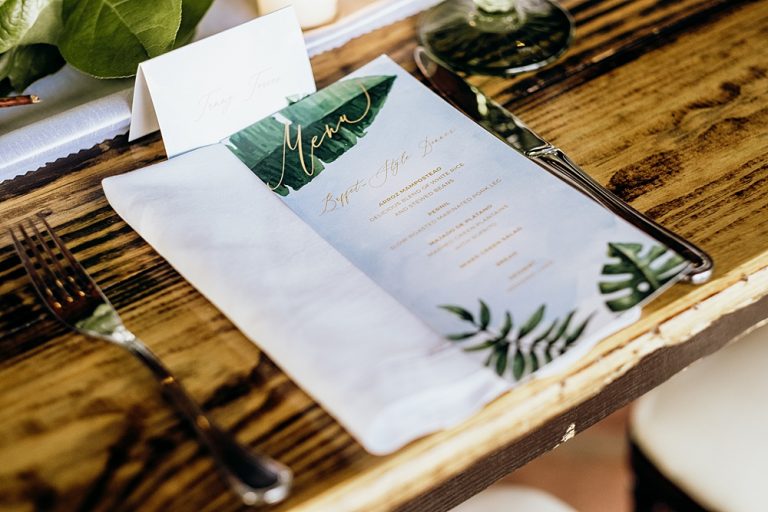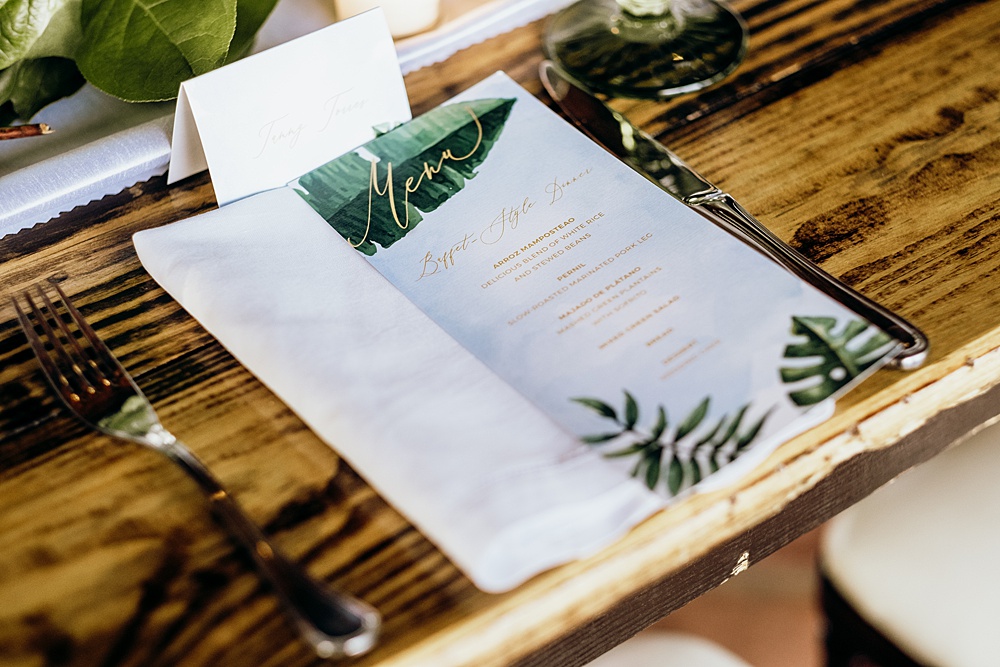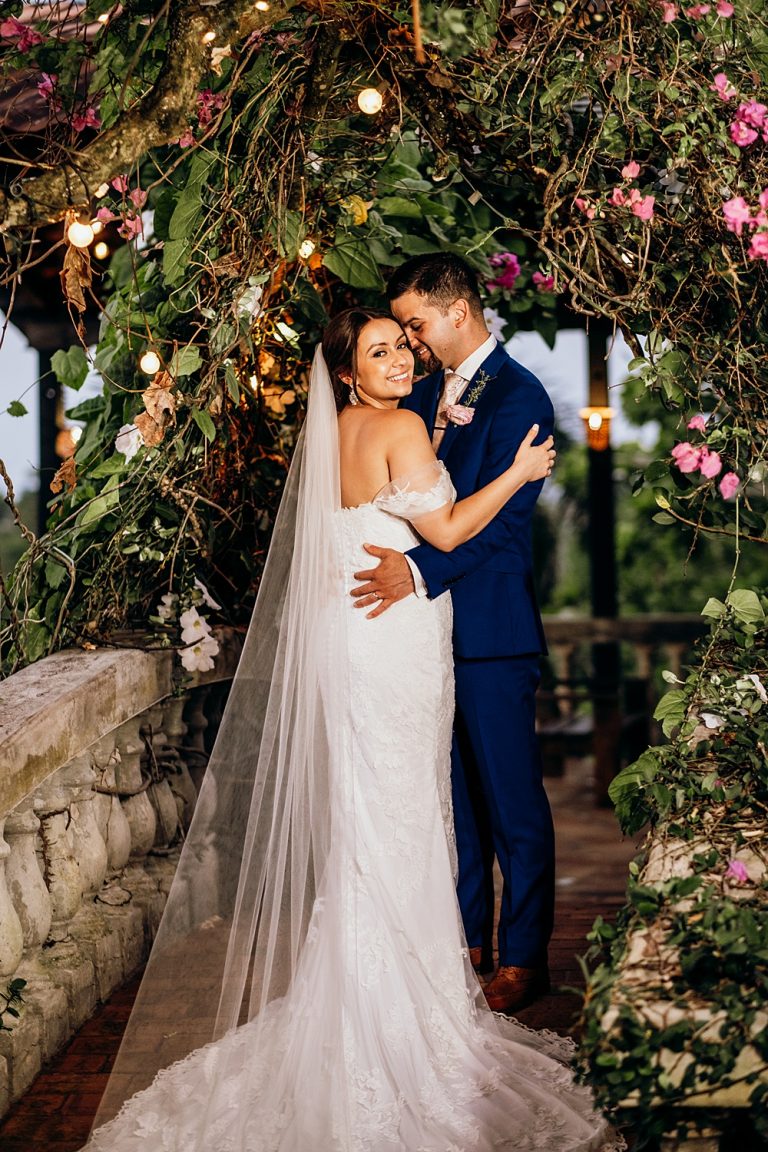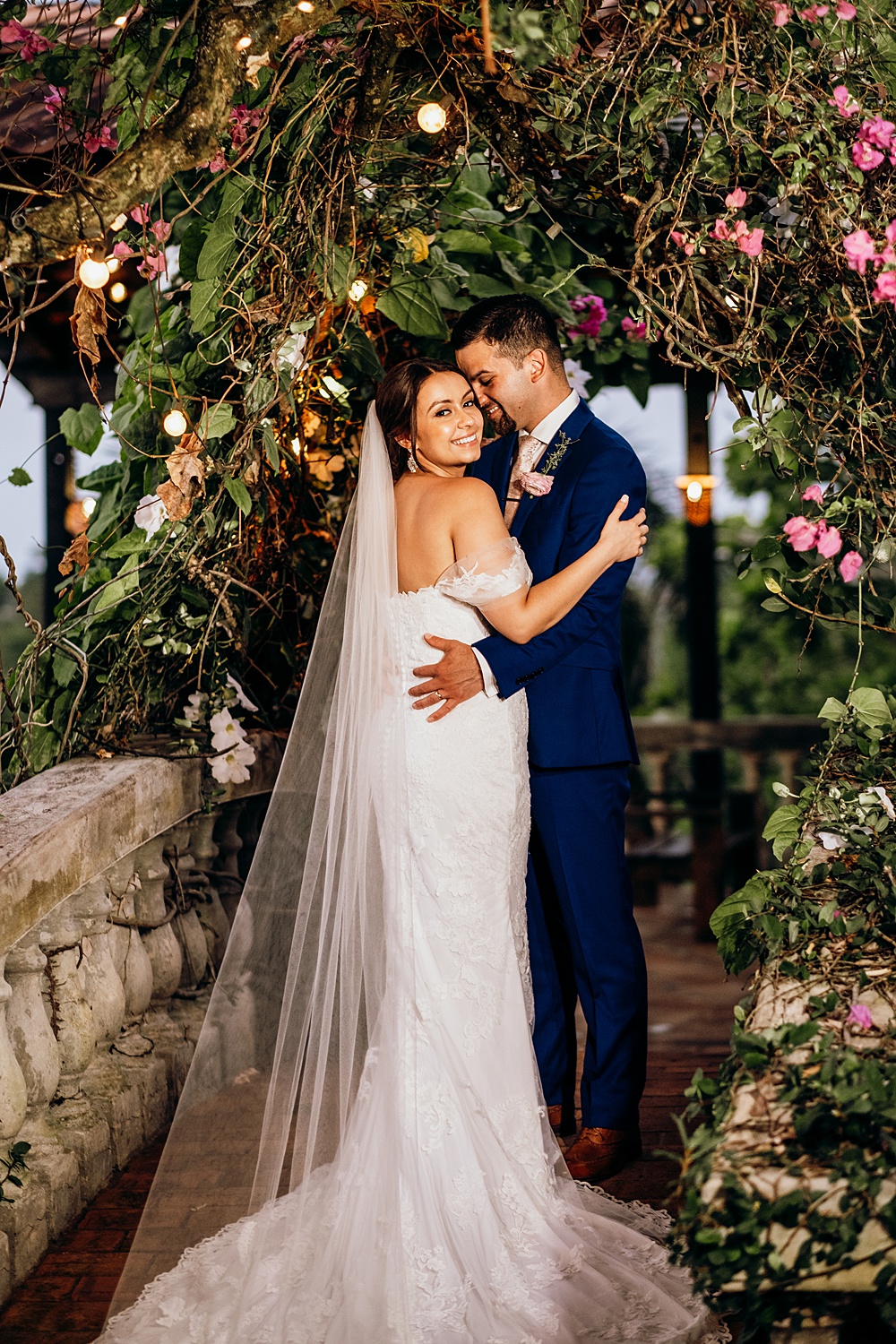 Q&A with the Bride and Groom
How did they meet?
Marleisa and Anthony met when they were just teenagers and have been smitten with each other ever since! They were introduced by a mutual friend on a cool spring morning in 2009. Marleisa and her friend went to hang out at Tony's house to pass the time before they could go home after staying out late at a party (sorry Mom & Dad!).

Tony can still remember how beautiful he thought Marleisa was and how much they had in common. Marleisa still remembers how handsome she thought Tony was and that she left with butterflies in her stomach. Not long after, the two began dating on July 1, 2009 and they have spent each day since loving each other through all of the blessings and challenges this life can bring.
What is the proposal story?
On December 13, 2015, Tony surprised Marleisa by proposing in their home surrounded by loved ones. Tony had planned for the couple to host a football game party and Marleisa had no idea Tony was actually planning to propose. During halftime, Tony asked Marleisa to look for a new ornament on their Christmas tree and when she turned around, Tony was on one knee and opened the ornament in Marleisa's hand to reveal a beautiful engagement ring! She of course said yes!
What was most important to the two of you while planning?
The most important thing to us while planning was to keep our connection and love for each other at the forefront of every decision we made. We originally started with a 50 person wedding and after realizing some friends and family would not be able to travel for our wedding, we decided to scale things back and plan something more intimate with only our closest family members.

For us the most important part was the ceremony and capturing the day for us to always remember. We chose to splurge on photography and videography so that we would have beautiful photos and a video to last a lifetime. We also chose to have a wedding planner to alleviate any stress in planning a destination wedding and Liliana was amazing.
Was there anything that you chose to splurge on or skip?
We skipped a formal reception and held an intimate ceremony and dinner instead with a total of 14 guests. Both of us still wanted to have a first dance as husband and wife and keep the tradition of cutting our wedding cake together. We couldn't be more happy with our small, and intimate wedding.
What were your favorite parts of the day?
Our favorite part of the day would have to be the ceremony because our officiant really moved us with how personal and beautiful her words were to us. We completed a survey about one another and our life together for the officiant prior to the ceremony. And we were amazed at how well she captured our love into her words and our vows to one another.

A funny memory from the day that still makes us laugh would be cutting our wedding cake. We went to cut the top tier of the cake and the knife just wouldn't budge. Everyone was puzzled as to why we couldn't manage to cut through the cake and then we all remembered that the top layer was a faux tier! We all had a great laugh and then enjoyed a slice of the most delicious cake we've ever had.

Our first day as husband and wife, we enjoyed the last slice of our wedding cake on the balcony of our beautiful apartment rental in old San Juan and couldn't stop giggling about the cake cutting at our wedding. There's some really funny photos we cherish that highlight this memory.
What's your advice to couples planning their destination weddings now?
We loved our intimate wedding and feel that the most important part of a wedding is the vows you make to one another and ultimately, building a loving marriage. Always remember your love for one another and that the wedding is your day, so do what makes you both happy! Try not to focus on the opinions of others and put each other first.

Carve out time in the day to connect with each other privately, whether you do a first look or plan time later in the day. You'll be grateful you took time to slow down and take the day in together because it really does fly by! Specifically for couples with a wedding set to take place during COVID, remember there will always be an opportunity to have a larger reception or celebration of your marriage down the line. I would encourage everyone to start their lives together now with a small ceremony just you two and postpone the reception. Then you get to have two celebrations!
What was the best part of having a destination wedding?
The best part of having a destination wedding was being able to share our love of Puerto Rico with our friends and family and celebrating together for multiple days! We loved sightseeing with family and friends and sharing in new experiences together. We also enjoyed starting our honeymoon after the wedding and already being in our honeymoon destination!
What was the biggest challenge when planning your destination wedding?
The biggest challenge in planning a destination wedding was not being able to plan some details in person such as being able to sample cake, food, etc, but that is where a great wedding planner is key! We did take a trip to our destination to tour our venue and interview and hire our photographer and wedding planner. Everything else was planned from afar based on recommendations from our wedding planner and our own research. This can be a bit challenging for brides like me who like to have control and are perfectionists. But ultimately it was for the best for me to be more removed so that I wouldn't stress about minor details and trust in our amazing wedding planner.
Vendors
Photography: Esteban Daniel Photography
Ceremony & Reception Venue: Hacienda Siesta Alegre
Event Planning: Handcrafted Weds
Floral: STEM Events
Stationery: Liliweds
Videography: Zura Films
Wedding Cake: Gabriel Díaz Cake Designer
Hair & Makeup: Caridad Vidro
Catering: Lolas Catering
Officiant: Ministros be Boda PR
Wedding Dress: Miss Ruby Boutique
Groom's Attire: Men's Wearhouse
Bride's Shoes: Target
Submitted via: Matchology