When deciding on doing a destination wedding, hometown sweethearts Jennifer and David hoped to create not only a dream wedding, but dream vacation for their closest friends and family – and they did just that! Fort Myers was a favorite vacation spot for Jennifer growing up, so it was a no-brainer that they chose the gorgeous white sand beaches at Pink Shell to say, "I do."
Every detail from the attire to the flowers, décor and of course, the gorgeous setting, came together perfectly – you'd never know they planned this gorgeous wedding in only 5 months! Their priority was in choosing a great location, having good food, good fun… and as Jennifer put it, "the open bar never hurts." This allowed for them to focus on what really matters when creating a memorable wedding –and I love how personal and intimate they made this event; David's sister officiated the wedding, and Jennifer's dad, a retired singer, performed with the band at the reception. How fun!
Shoutout to Jamie Lee Photography for these gorgeous photos!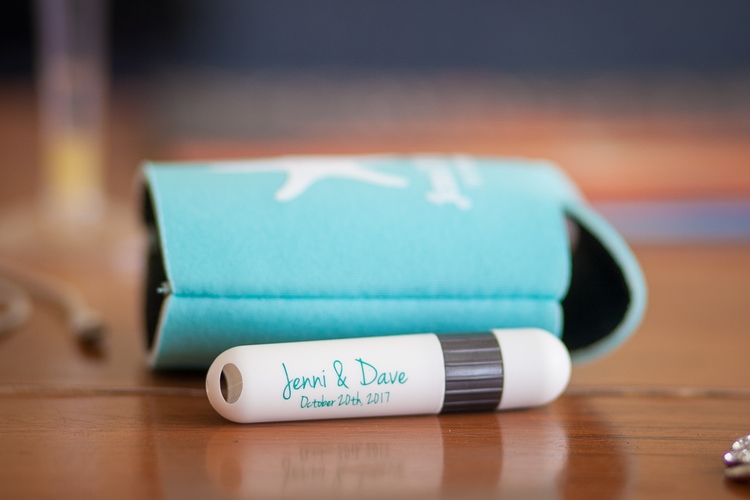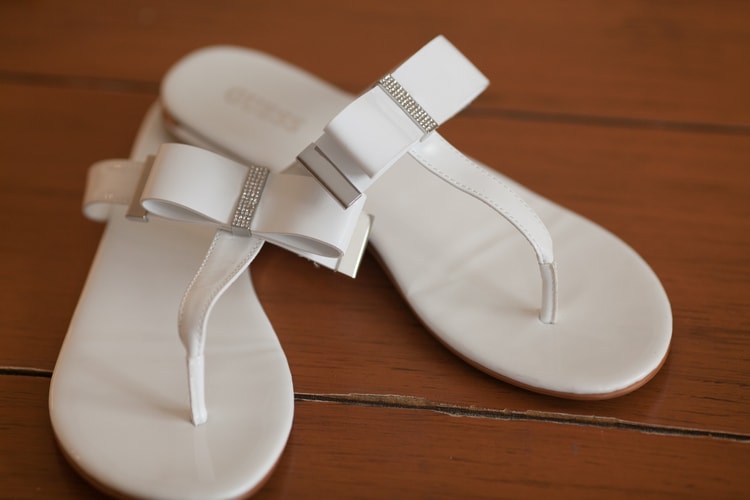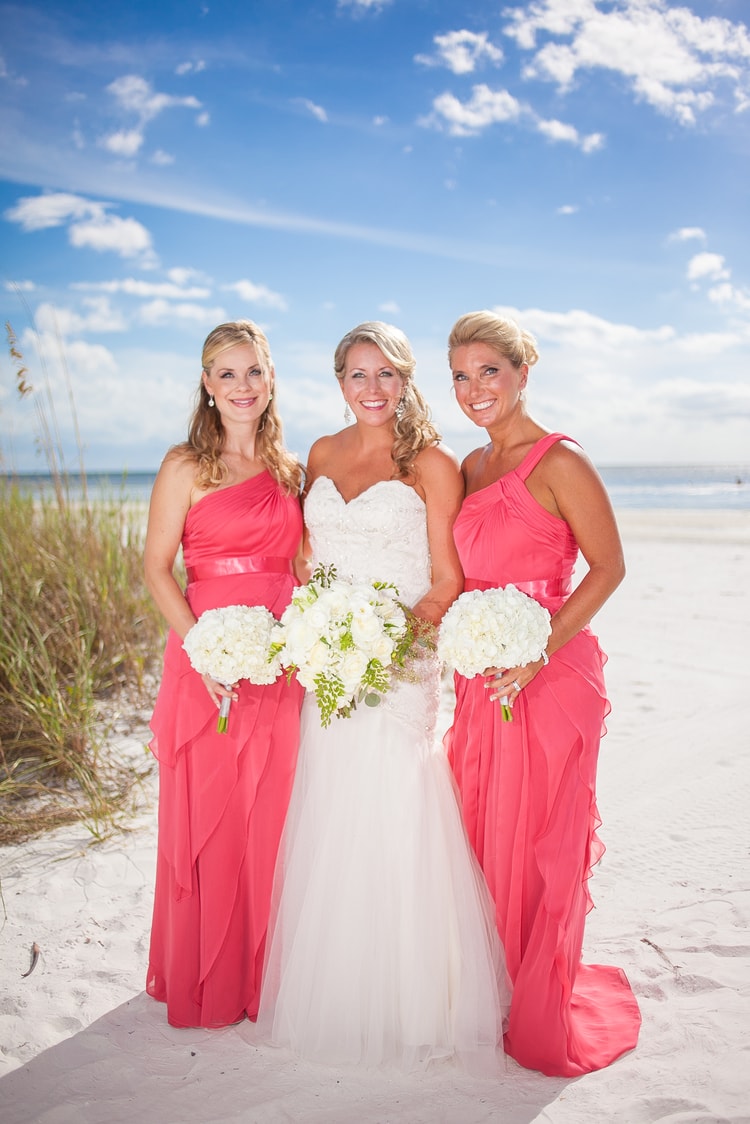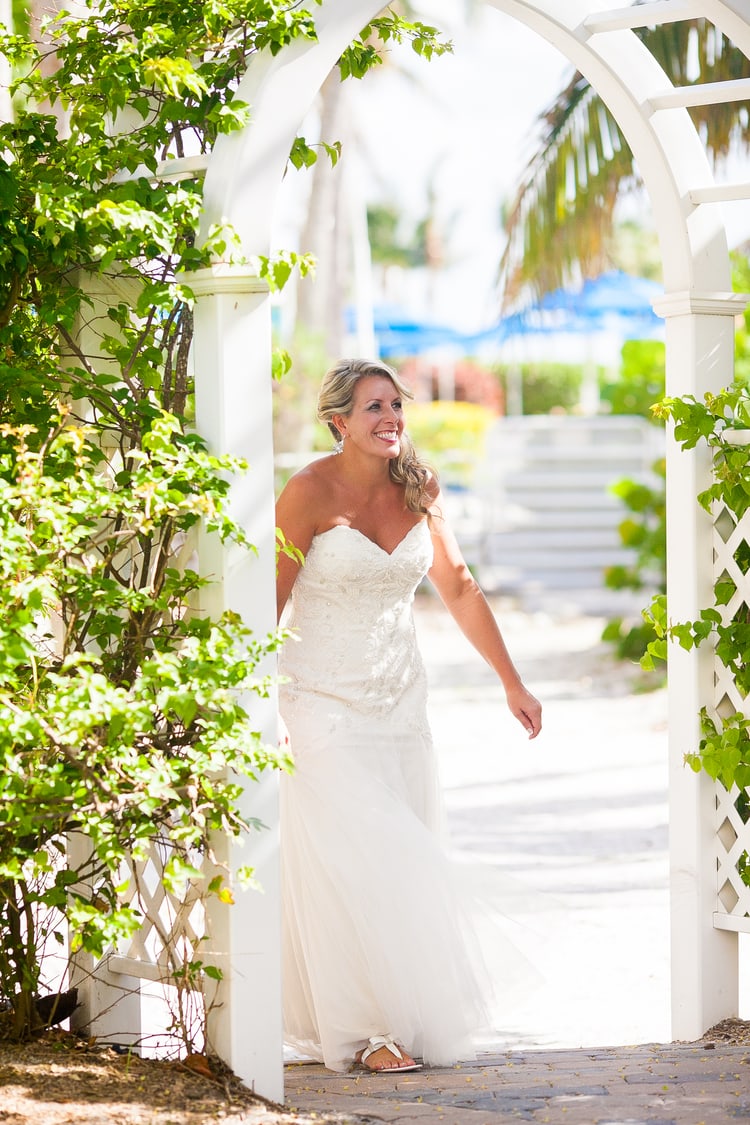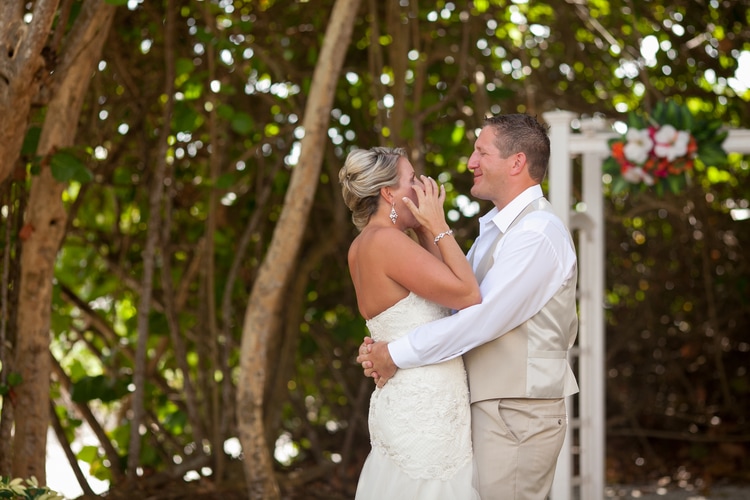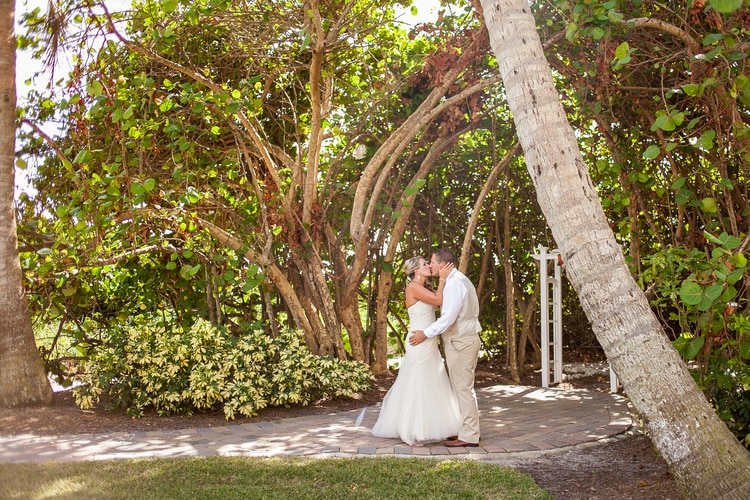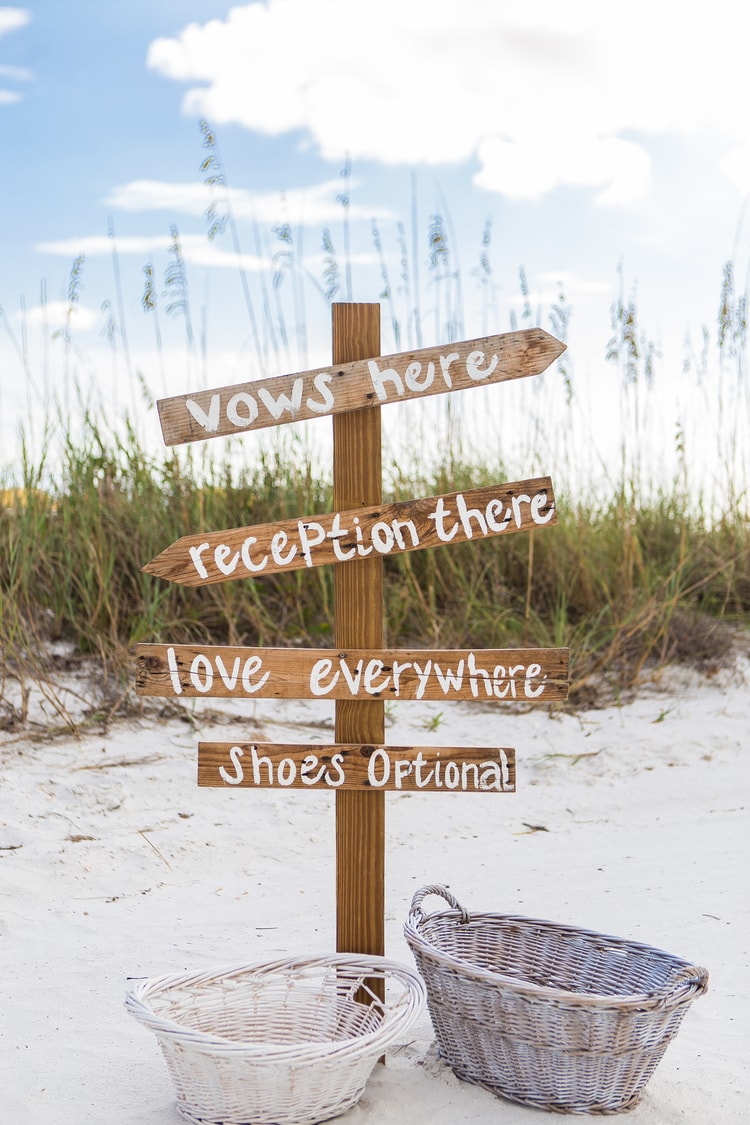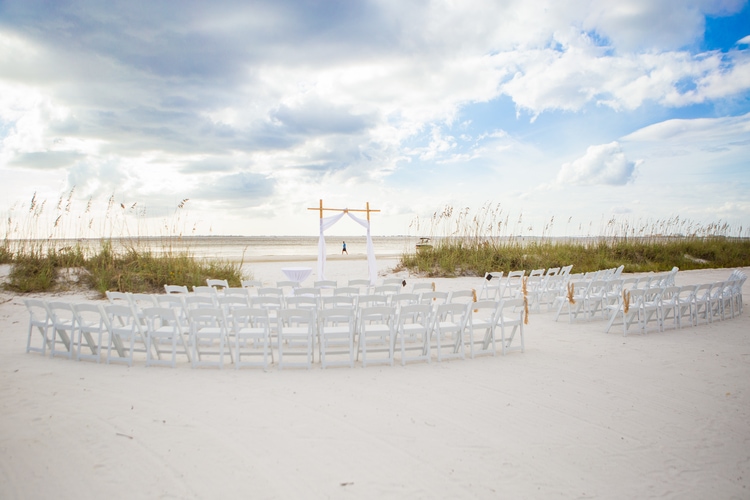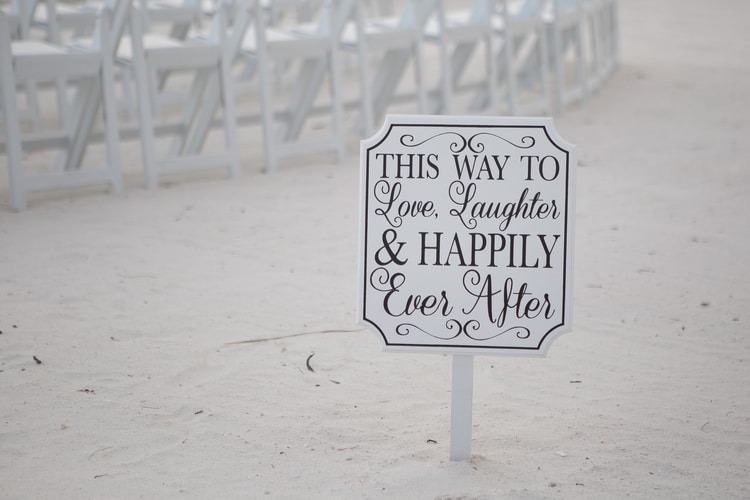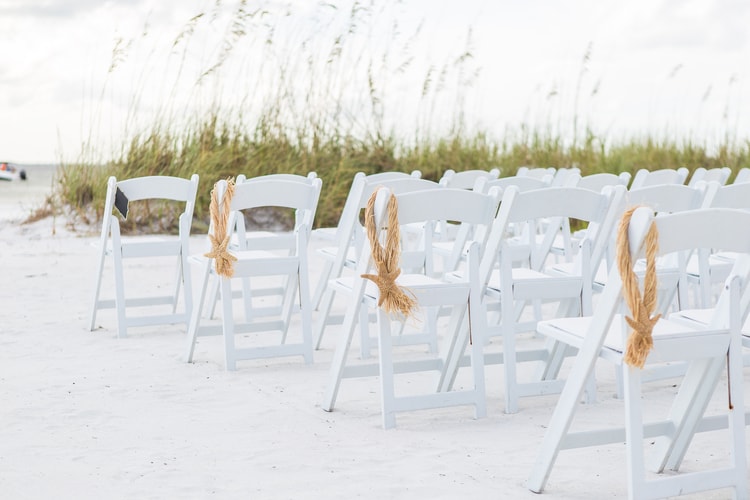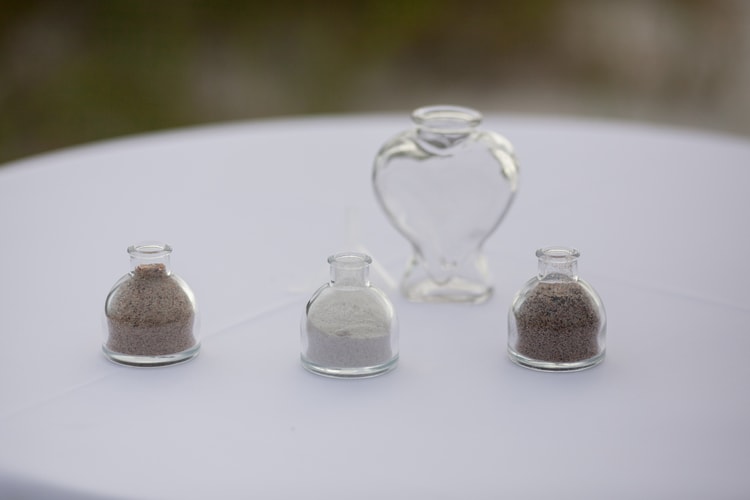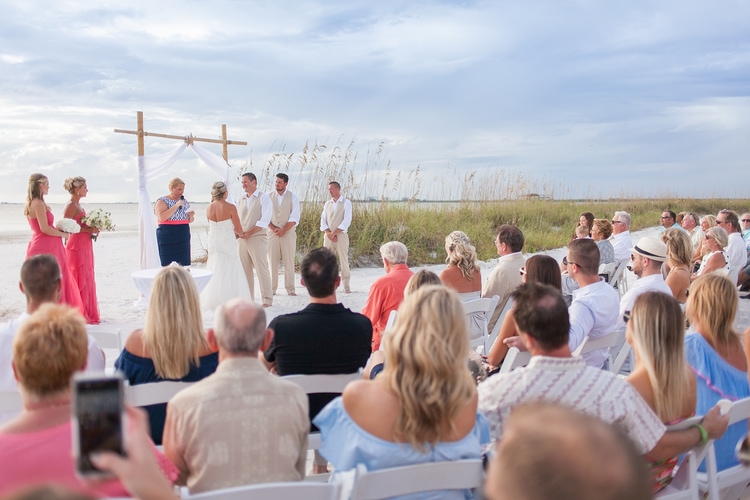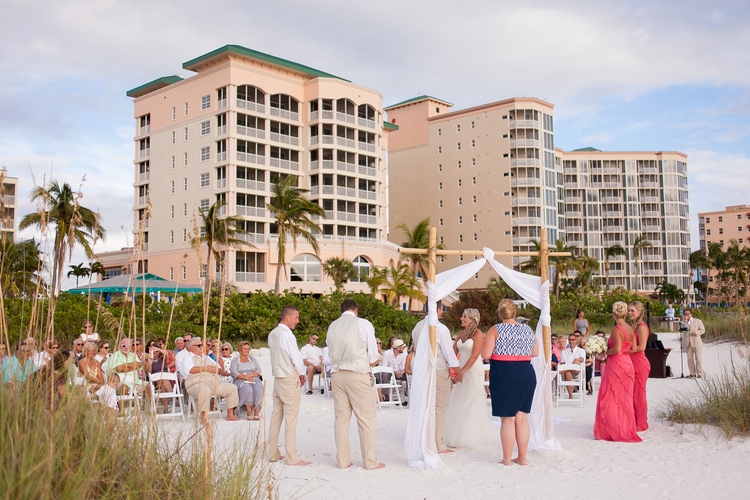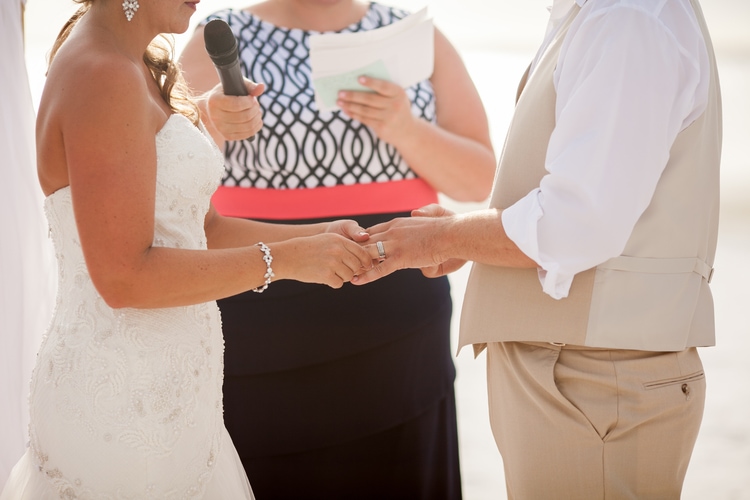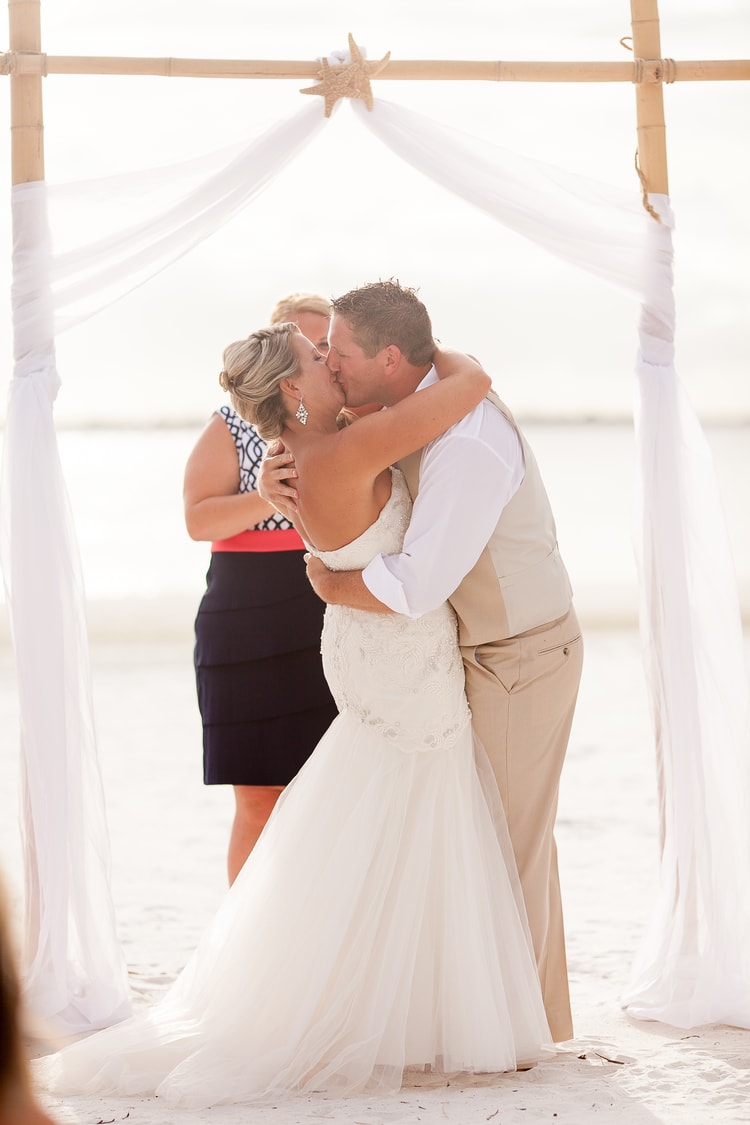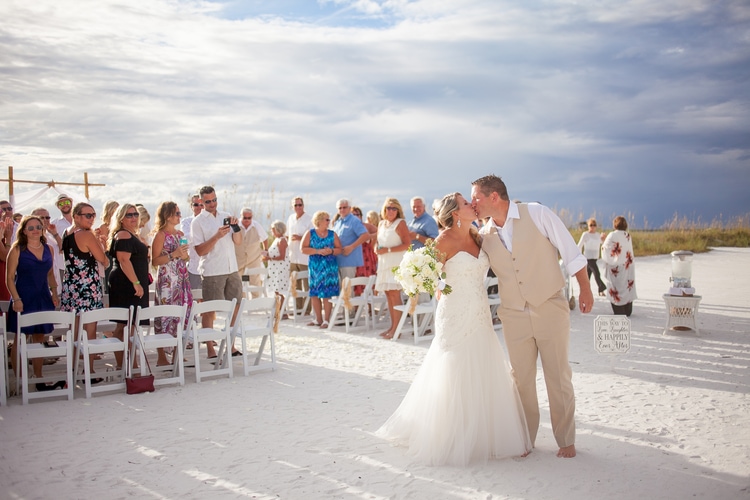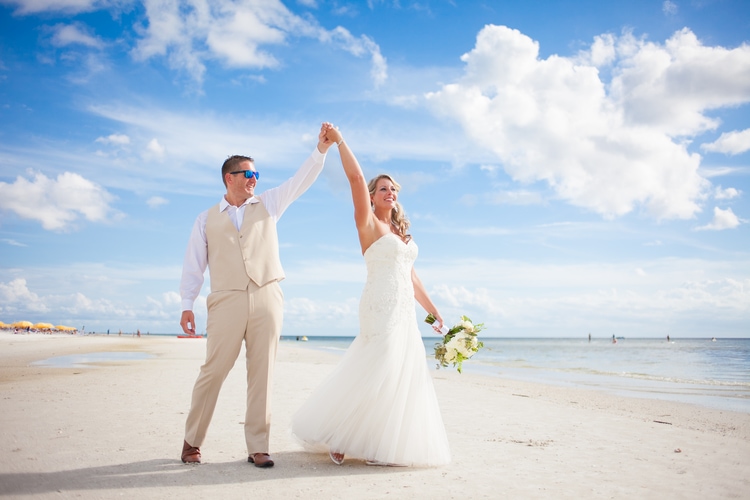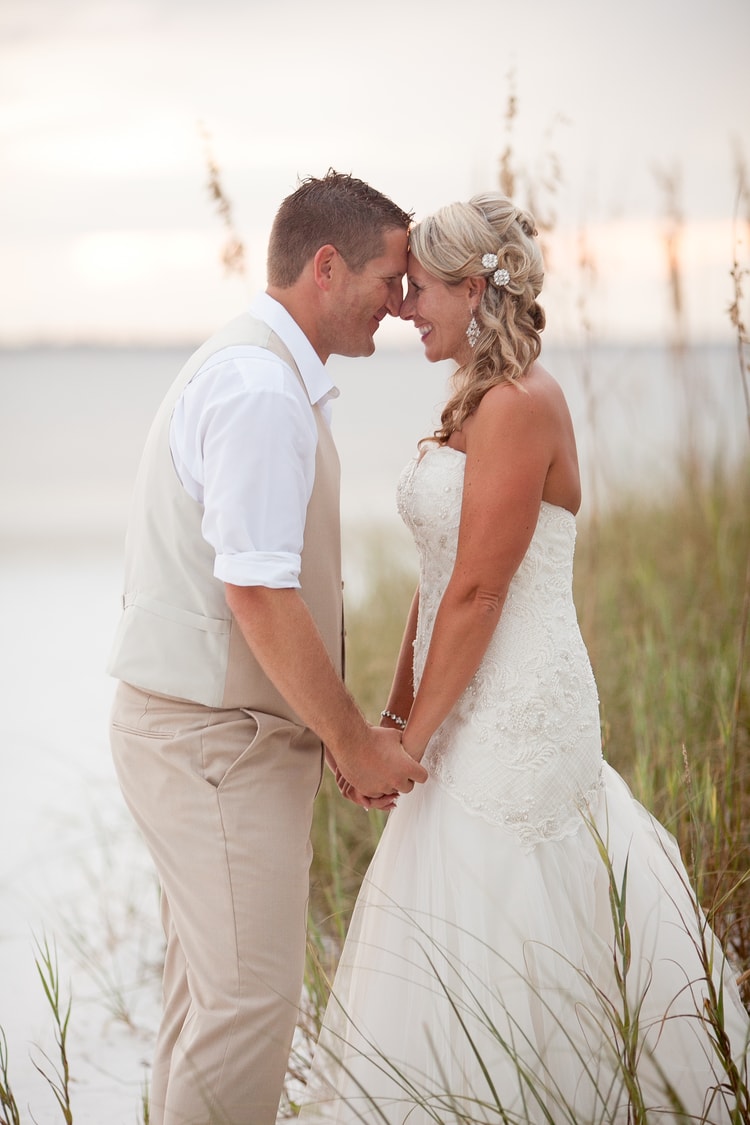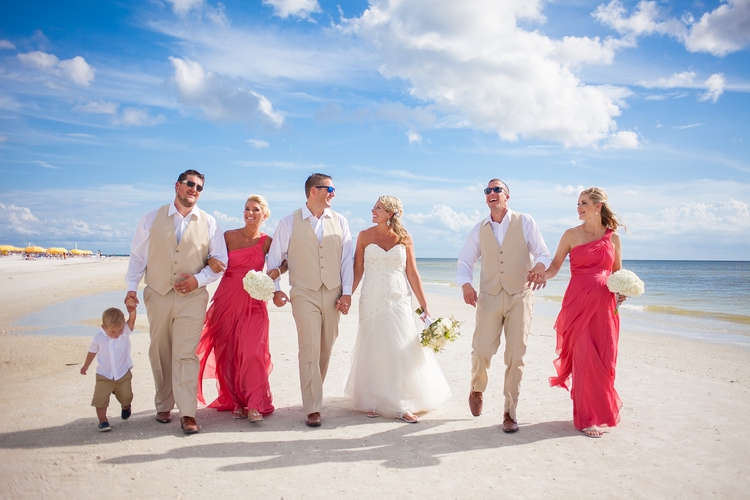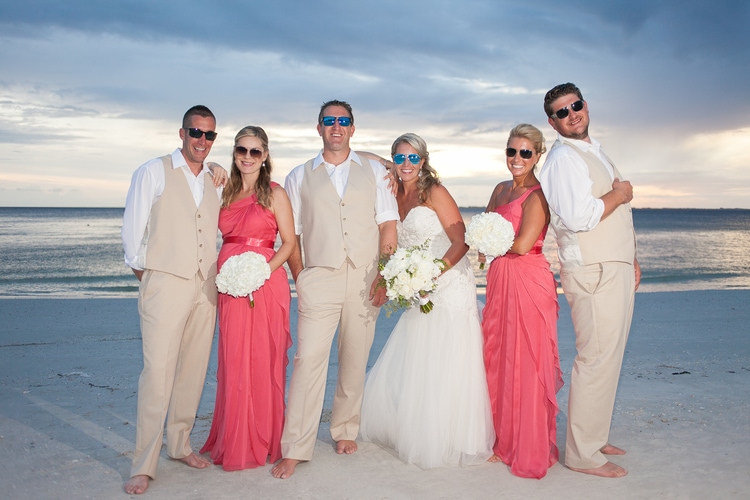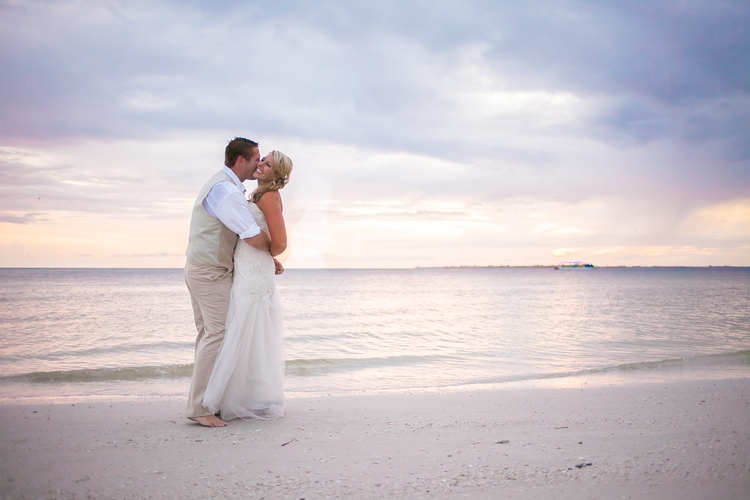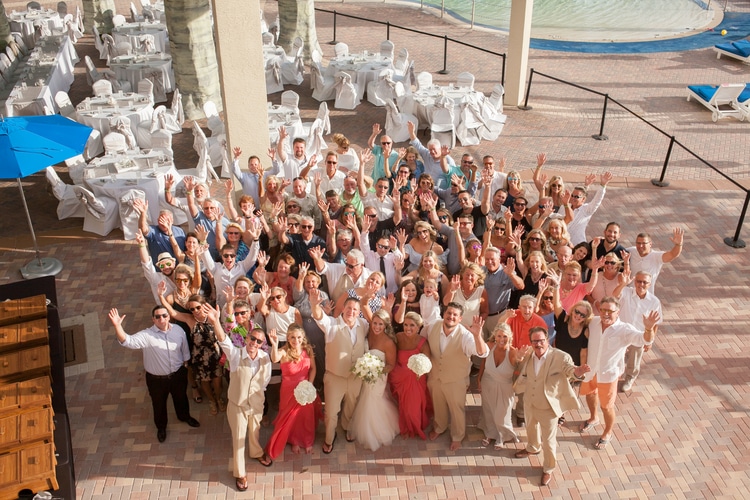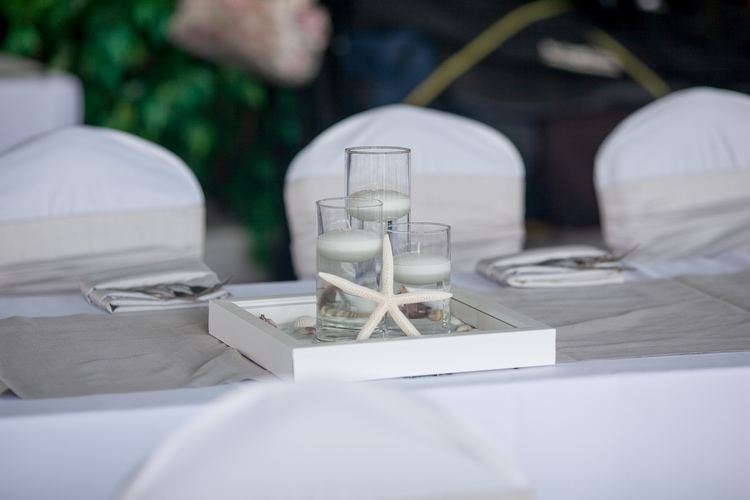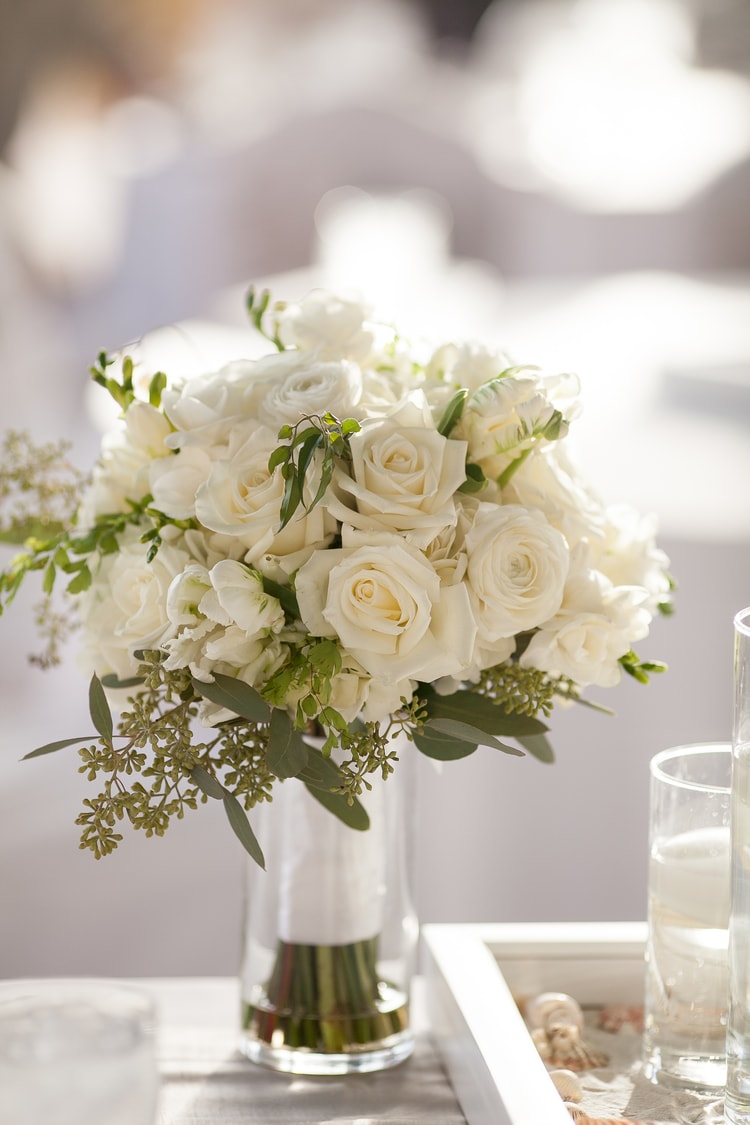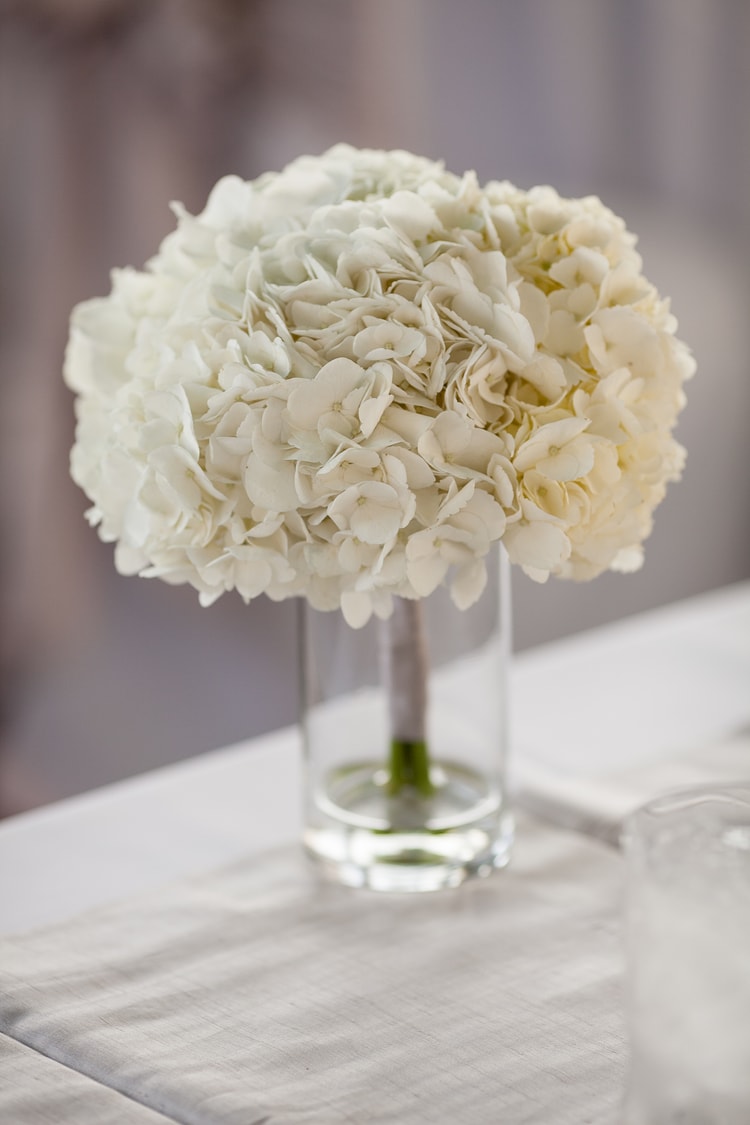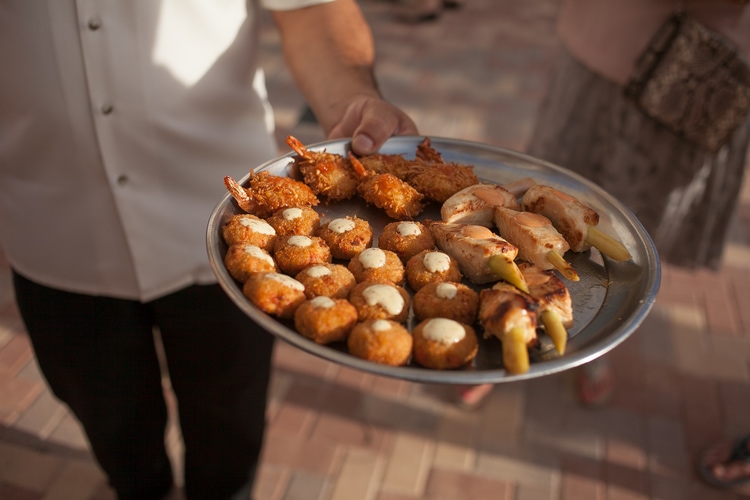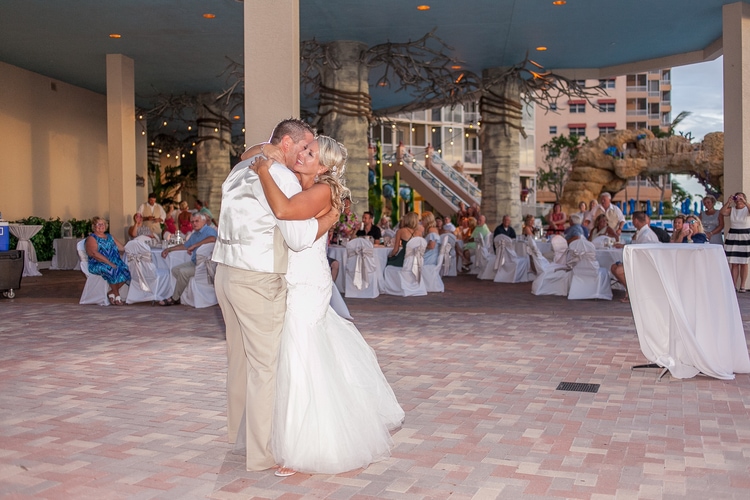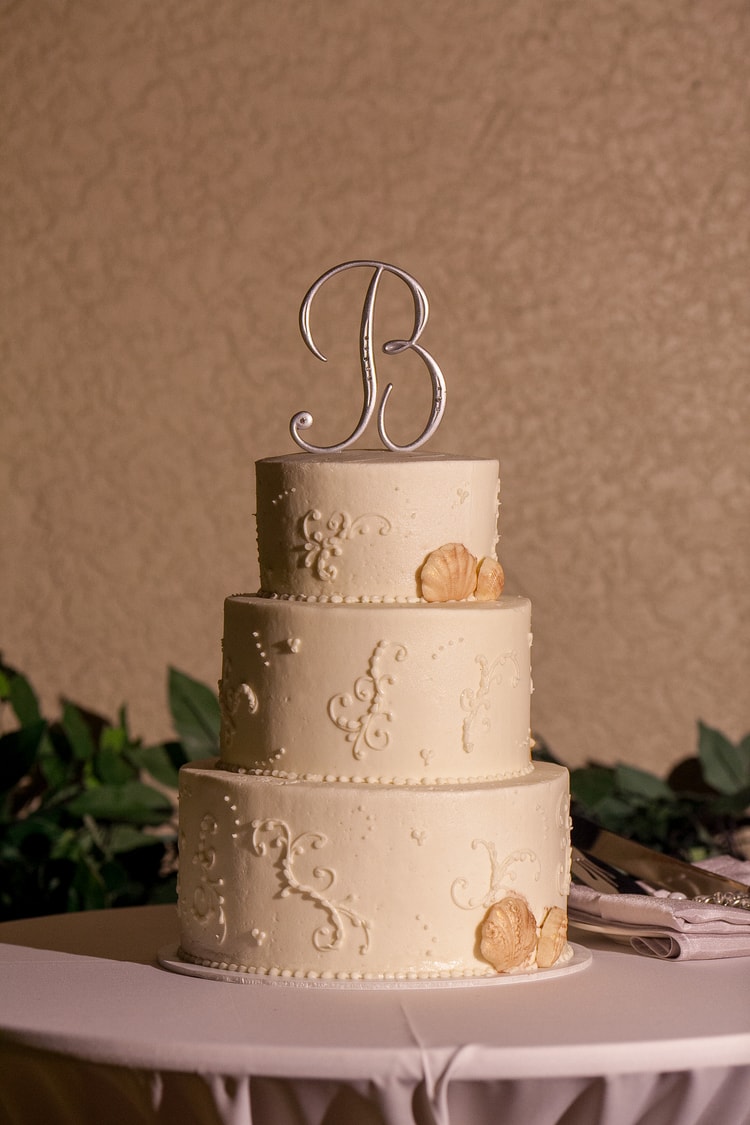 Real Destination Wedding Q&A with the Bride:
How did you meet?
Dave and I are both from the same hometown It wasn't until later in life after being out in the dating world that we came together and started dating.
What is your proposal story?
Dave proposed on my surprise 40th birthday party with our families. We went to a Wisconsin restaurant called Vino in the Valley. Both of our families pulled up to our house in a limo bus for the ride there. I was totally thrown off because I just thought it was to celebrate my birthday that was in a few weeks. When we got there he asked me to take a walk around the facility. It is surrounded by beautiful trees and rolling hills. As we went around the back, Dave dropped to one knee and asked me to be his wife. It was the best because our whole family was inside waiting and knew he was proposing. I wanted nothing more than to share the news. We celebrated all together with wine, champagne, dinner, and dancing. The perfect surprise.
Tell us a little a bit about your beautiful Pink Shell Resort Wedding:
I worked part time in the wedding banquet industry for 16 years at a golf course in Minnesota. When planning my own wedding, I wanted something different. I didn't want to be caught up with little details. My goal was to have my closest friends and family together for more than a few hours. I grew up visiting Fort Myers Beach. I love the white beaches and the ocean. It became our wedding destination. I'm so lucky my now husband wanted the same things. It was so awesome. The Pink Shell resort wedding packages are great. I was able to build the destination wedding I wanted with all the details included. It was simple but classy. We had shells and sand with candles for the tables, white linens with silver chair bows and table runners, a singer that was amazing to keep the crowd moving, and the ceremony on the beach. The reception had to be outdoors for us. We were poolside and loved every minute of the romantic night.
Tell us about your destination wedding choices:
I wore a sweatheart neckline dress with beading on the top. It was simple enough for the beach, but elegant enough to be a wedding gown. The guys wore tan suits with vests and no ties for the day. We wanted that "beachy vibe". They also wore flip flops as did the bridesmaids. The bridesmaids wore dresses from Macy's. We pulled off planning our wedding in five months. So ordering from a bridal shop was out for me. I wanted them to buy off the rack and I let them pick the style they liked. Originally, I was going to do a blush pink, but fell in love with the bright coral. I love how the dresses pop in photos.
What was the most important to the two of you while planning your destination wedding? Was there anything that you chose to splurge on or skip?
We wanted the whole experience to be fun, enjoyable, and memorable. I didn't want to stress about anything. I truly just was super organized and got everything booked right away and it was smooth sailing. All of my vendors were pros and knew exactly what to do with minimal chatting from me. I seriously did almost everything over email. I talked to my musician, cake lady, florist, photograher and wedding planner on the phone once. We knew what we wanted and made decisions, not sweating the small stuff. I knew if I needed to chat more they were there. They all have done this so many times….they know what to do!!!
What were your favorite parts of the wedding day?
I loved every minute. I can clearly remember getting ready and looking down to the pool and seeing our friends and family having fun in the pool. Getting ready, we had girls in one room and guys in the other. We had our own make-up and hair stylists come right to the hotel. The guys….well….they just have some beers?!! Lucky!! Then I so clearly remember walking to our first look. The Pink Shell Resort had an amazing place that was so private and beautiful. It's called The Butterfly Garden. What a special moment! We chose to do our pictures before the wedding ceremony, so we could be with our guest as much as possible. It was a beautiful warm sunny day so we took pictures at the garden and the beach. The ceremony was right on the beach. The archway allowed for our guests to stare at us and the beautiful ocean.

Dave's sister was our officiant which made the ceremony super emotional and personal. She had asked us questions separately via email so it was all a surprise about what the other had replied. Our reception; more beauty and FUN!! Wendy Renee was awesome!! The perfect elegance we wanted for the ceremony and first dance. Then it transformed into an awesome party for the night. The best is that she really included my dad. He is a retired singer and it was so great that we could all dance to him singing some of his favorites too. I honestly didn't have to deal with anything. I have seen so many brides deal with issues throughout the night, and I am sure a couple things happened, but my planner, Shannon Pool just let me enjoy my night and dealt with everything.
Tell us about your wedding flowers.
I found a picture online and sent it to Libby's Florist through email. They did an awesome job of sending me estimates online and showing me what they could do. It was super easy to deal with them online which I appreciated being that I was not planning from Florida.
Tell us about your wedding cake.
Lady Cakes was DELICIOUS!! We picked her award winning pretzel caramel flavor. Who doesn't love that combo? I didn't even get to taste it prior to the big day, but knew by the name, and that it won awards, that we couldn't go wrong. They were also super easy to deal with and are used to destination wedding clients. I picked a combination of her extensive cakes from her website and on Facebook. Again, I knew from the reviews, pictures, and recommendations that I needed to trust her. I don't even bake….haha!!!
What did you do for favors?
Being a destination wedding, we had welcome bags for all of our guests who stayed at The Pink Shell Resort. The bags were actually already provided by the hotel. We just added some flare. We added some personalized can koozies, some sunscreen, and a welcome note! It was a personal touch to thank our guests for traveling so far to attend our wedding.
Please describe any DIY, handmade, or personal details.
Our most personal details were the writing of our vows. I didn't want to get caught up in all the materialistic pieces that you could go crazy buying. People just want a nice place, good food, great music, and the open bar never hurts. That is what we wanted. After everyone spent so much money to attend our wedding, we wanted a fun night for everyone to remember!
Did you include any family heirlooms or special traditions?
I had my dad sing a song at our ceremony and Dave's sister officiated. Family is really important to us, and we wanted them a part of the day.
Do you have any advice for couples planning their destination weddings now?
Really think about what you want your overall wedding to be like. What are your must haves? What do you want to remember. No matter what, it is expensive, so make sure you are doing what is really meaningful; you don't have to do everything.
What was the best part of having a destination wedding?
I would tell people over and over and over to do a destination wedding. We loved that we got to spend more than one day with our closest friends and family. The actual day you are getting ready and doing photos for so long, that you don't get a lot of quality time with your guests. I have always heard this from friends and it is 100% true. A destination wedding gave us days and nights with everyone who was at the Pink Shell Resort. It was awesome. We seriously had so much fun in the pool and around town at restaurants and bars. It was seriously our dream come true wedding.
Vendors:
Photography: Jamie Lee Photography
Ceremony & Reception Venue: Pink Shell Beach Resort & Marina
Floral: Libby's Flowers
Wedding Cake: LADY CAKES
Hair & Makeup: Diana Nieves
Wedding Dress: Bridal Accents Couture
Bridesmaid Dresses: Macy's