After an epic proposal in Capri (read more about it in the bride's words below!), Rita and George knew almost right away that they wanted to travel from their home in LA to Cancun to tie the knot. It was an amazing event, full of luxe glamour and jaw-dropping details like Rita's stunning custom form-fitting peekaboo gown, the amazing ceremony arch made of lush pampas grass, white hydrangea, and blush-colored roses, the spectacular reception florals, and even fireworks on the dance floor! There are way too many unbelievable details to list, thankfully Gareth Davies Wedding Photography captured so many amazing photos from their big day, so make sure to check out all the stunning details below!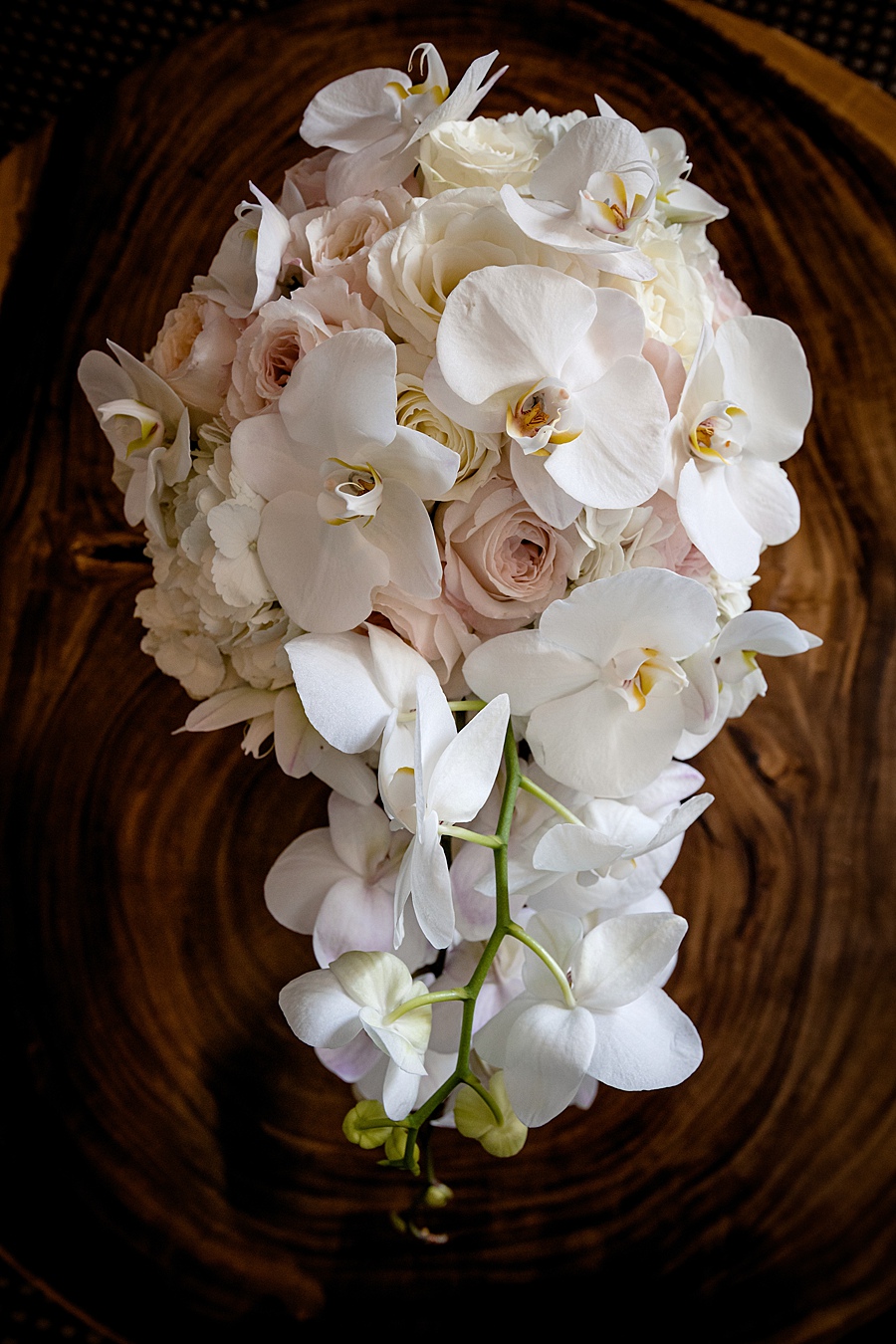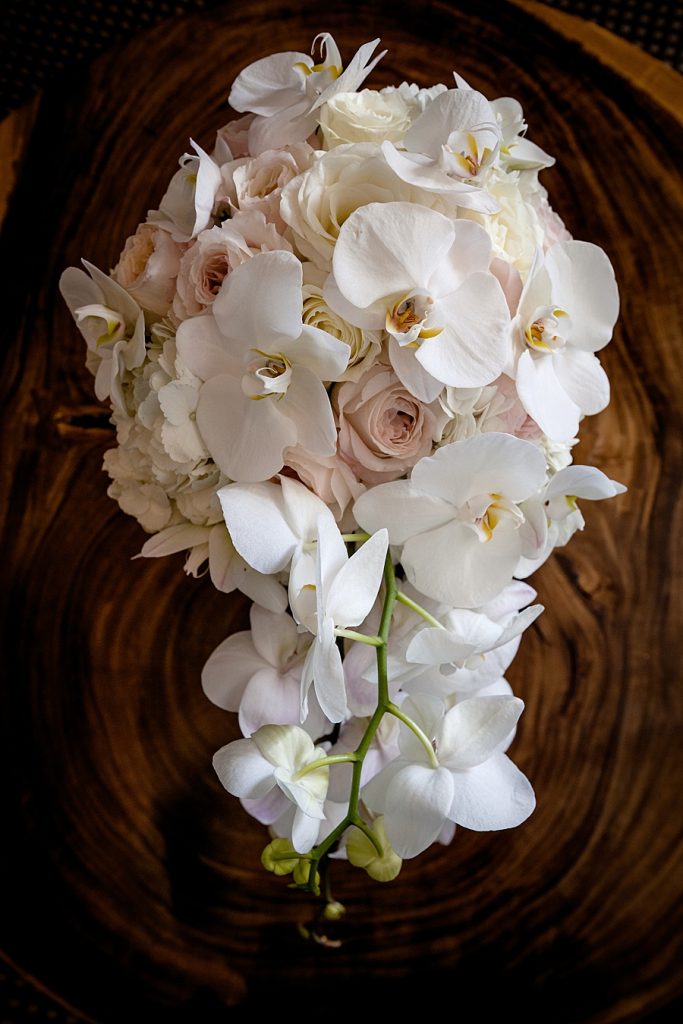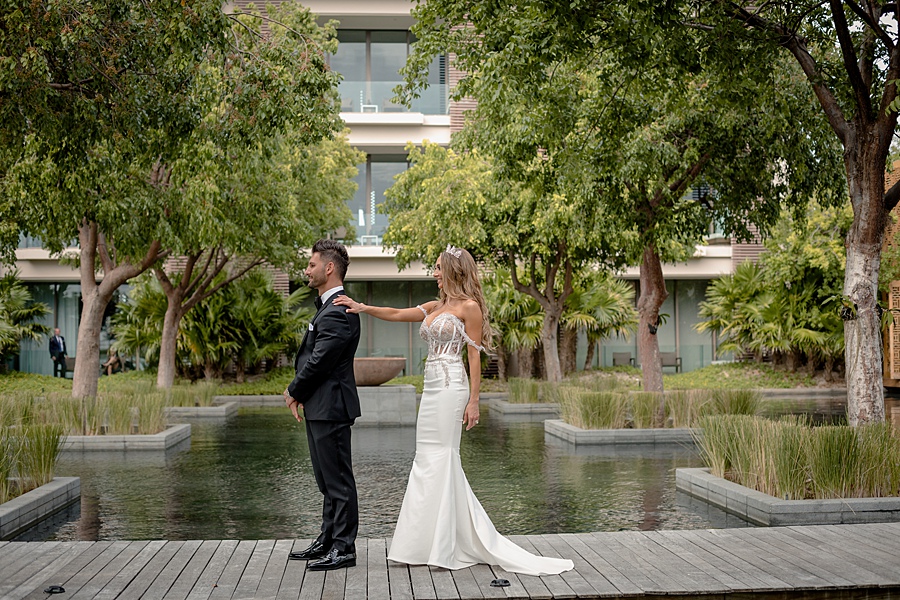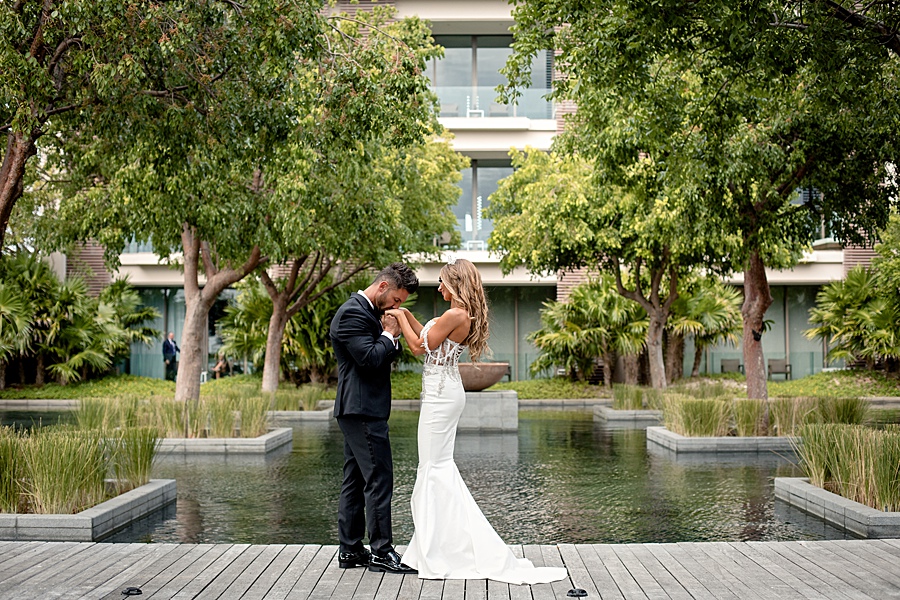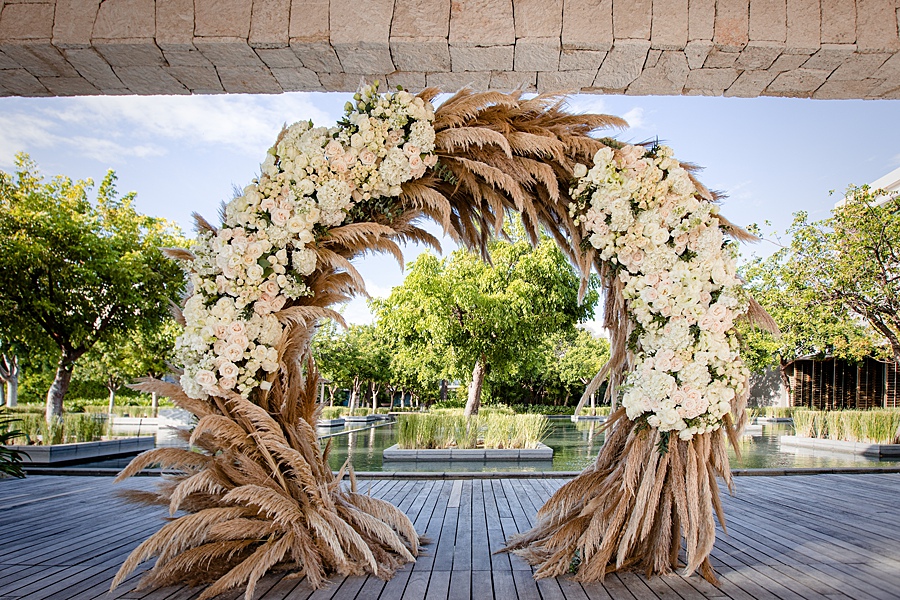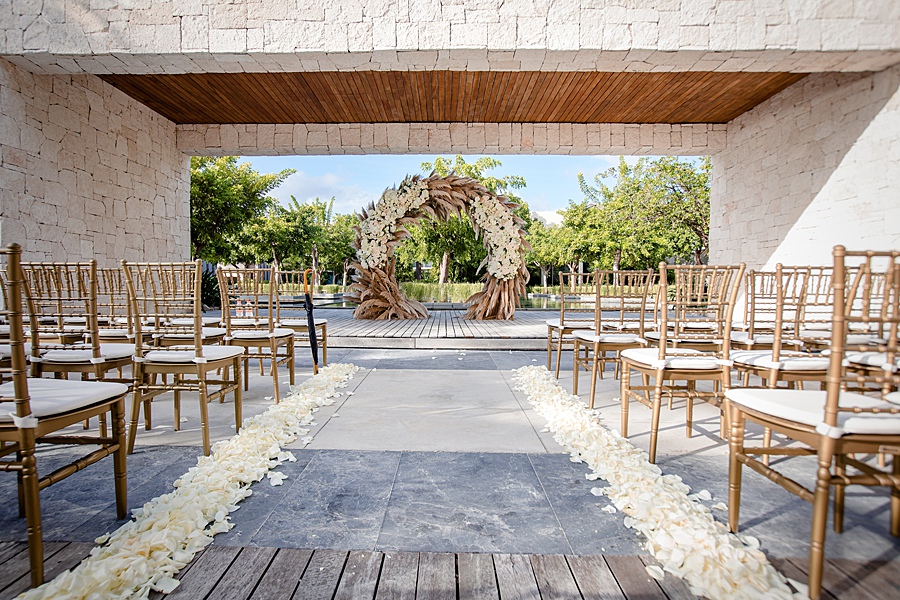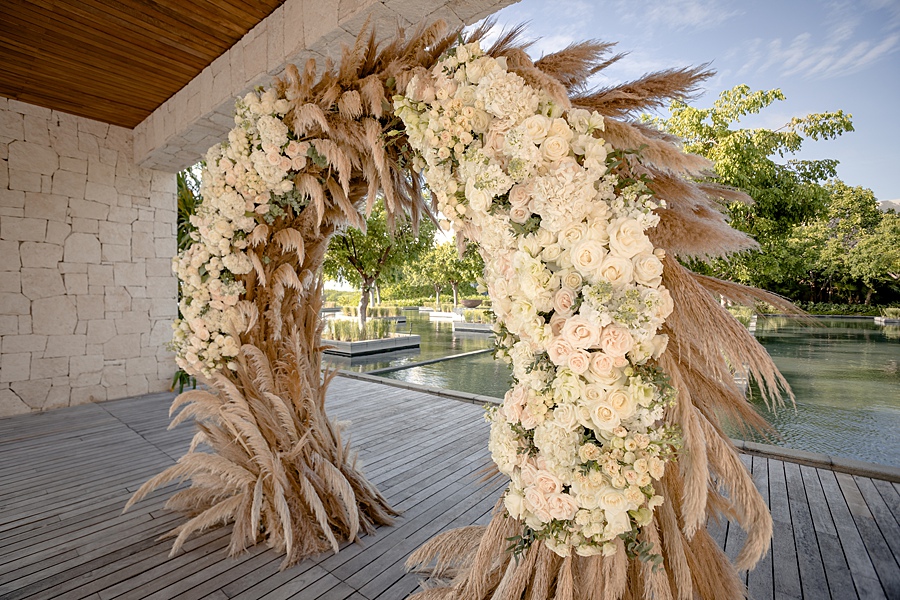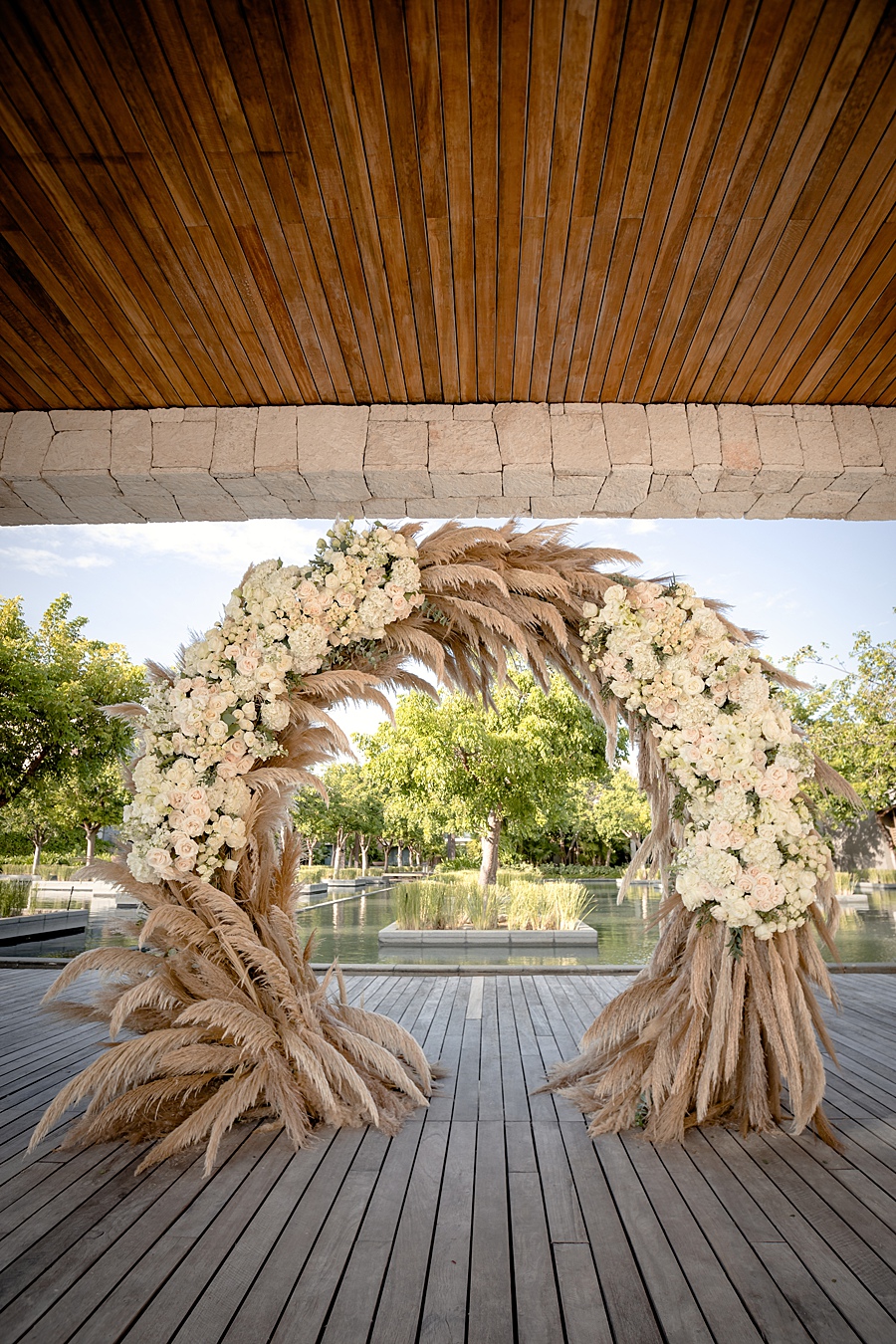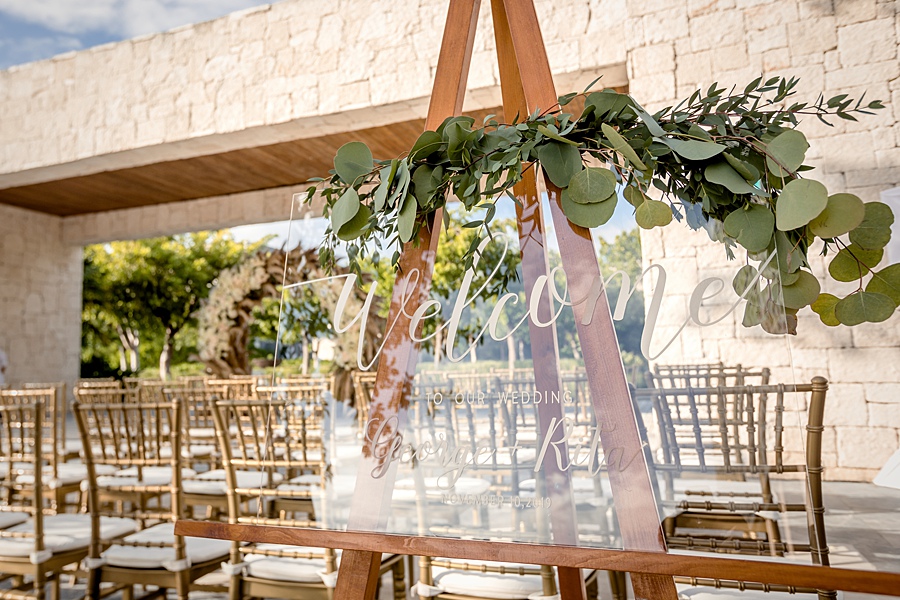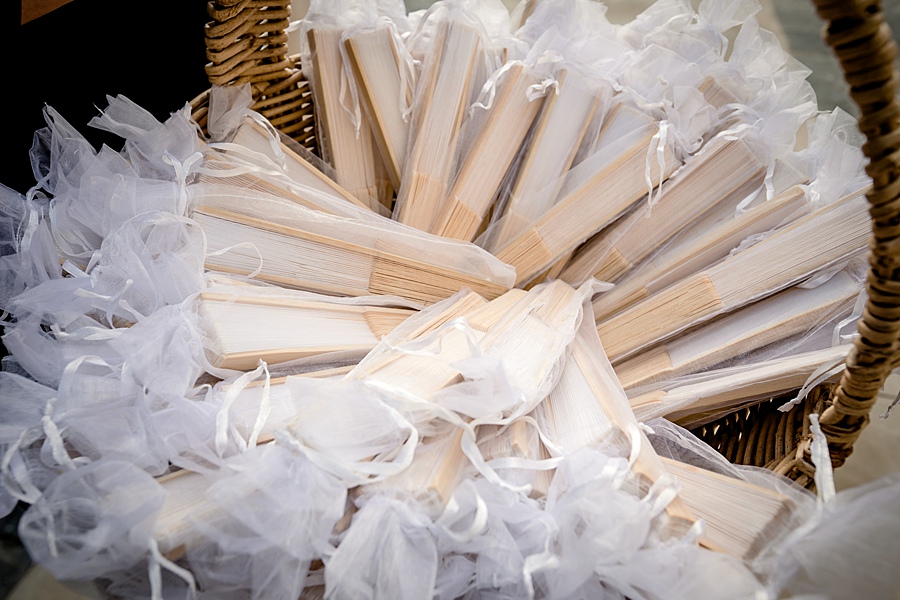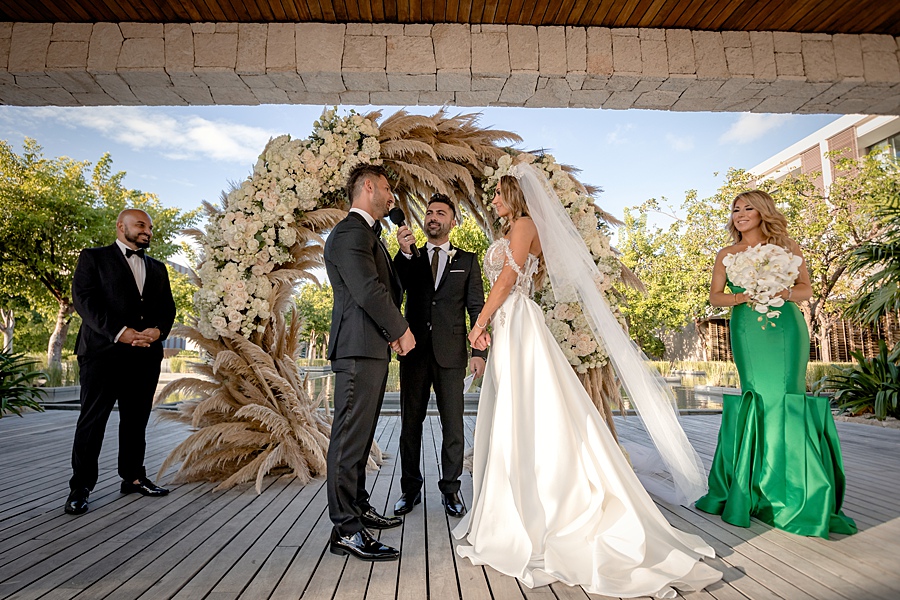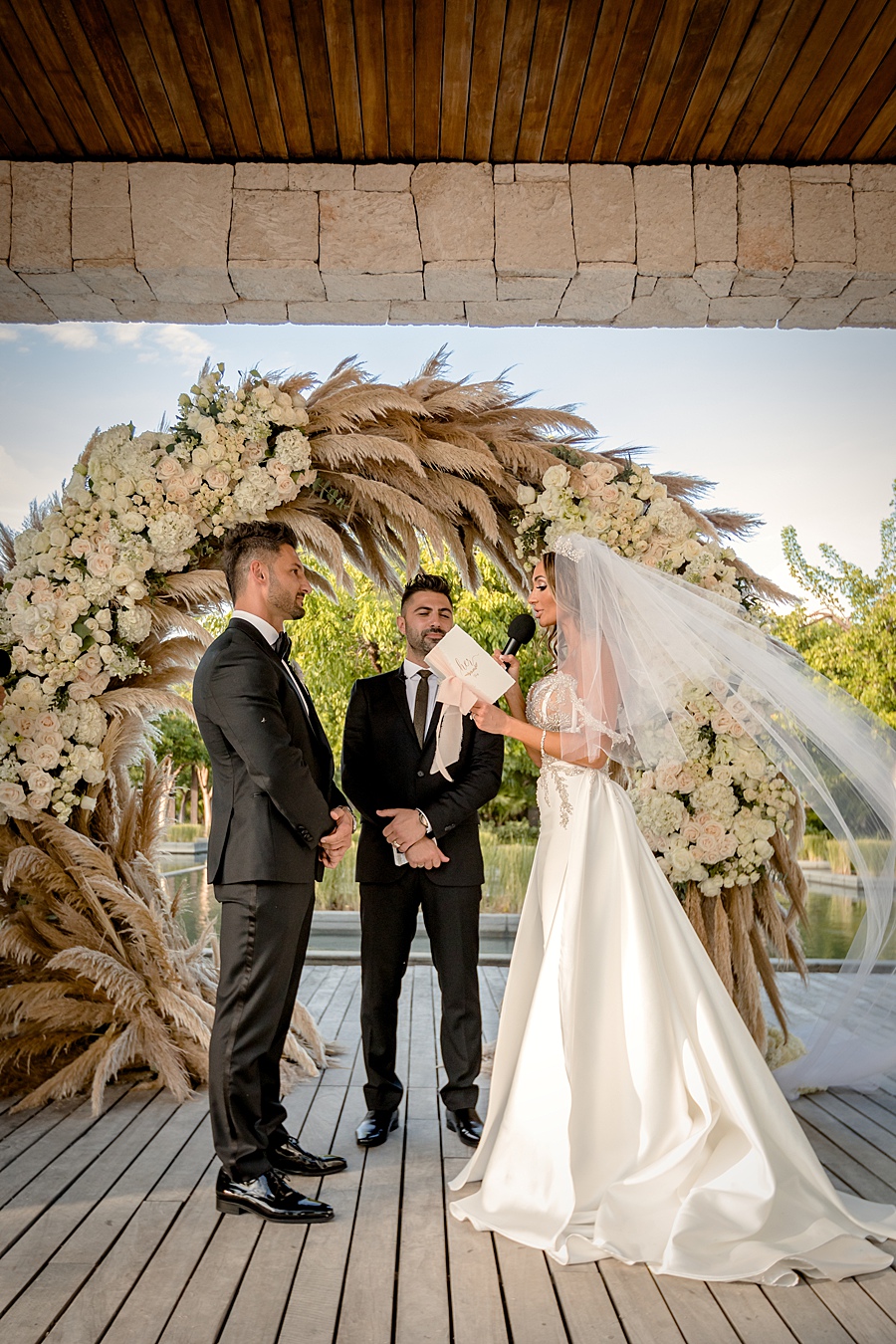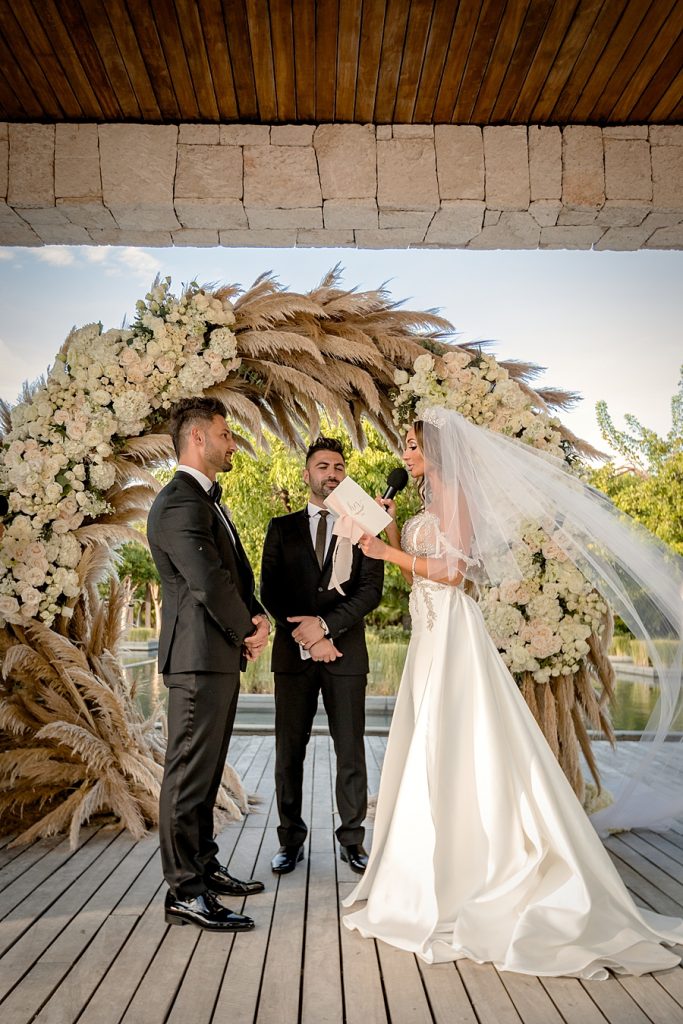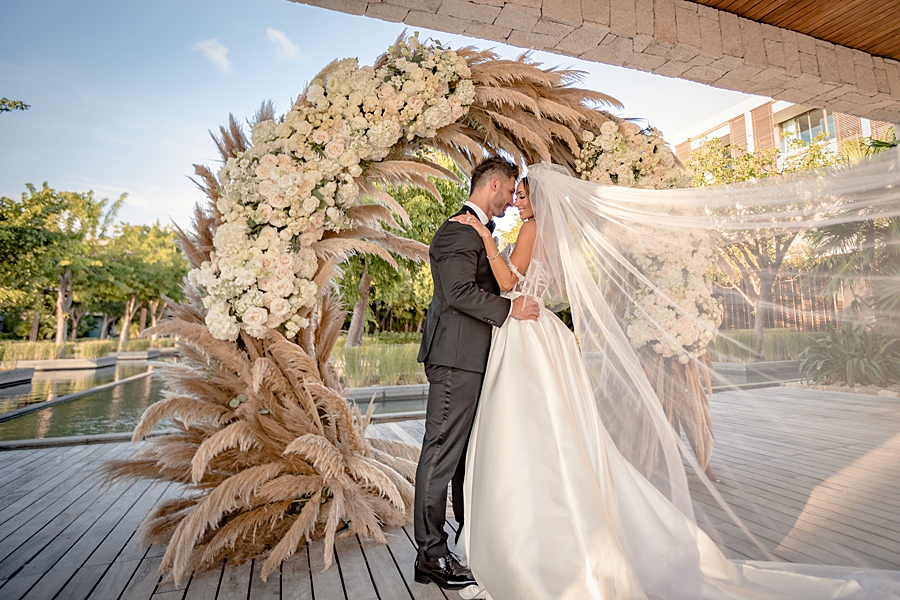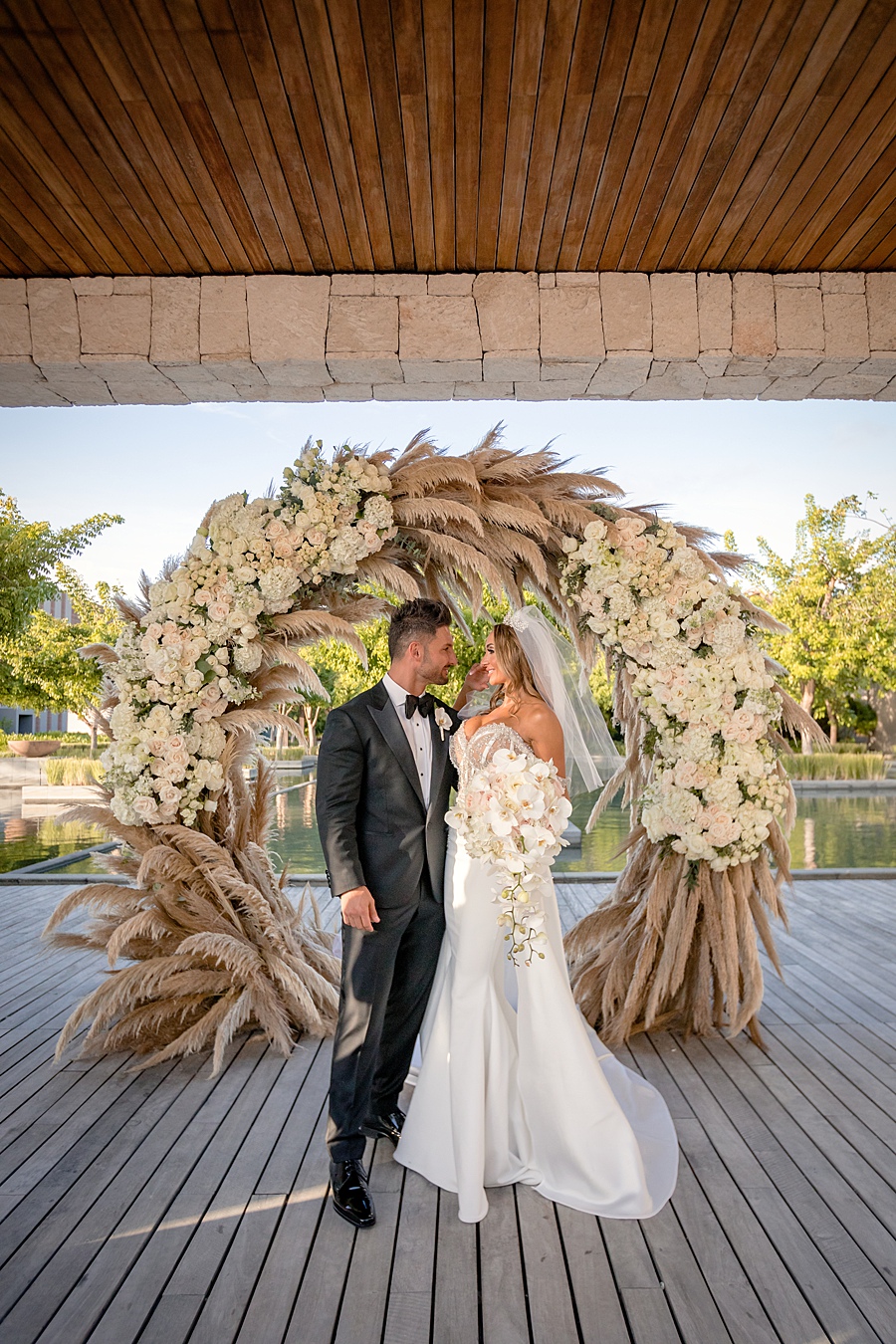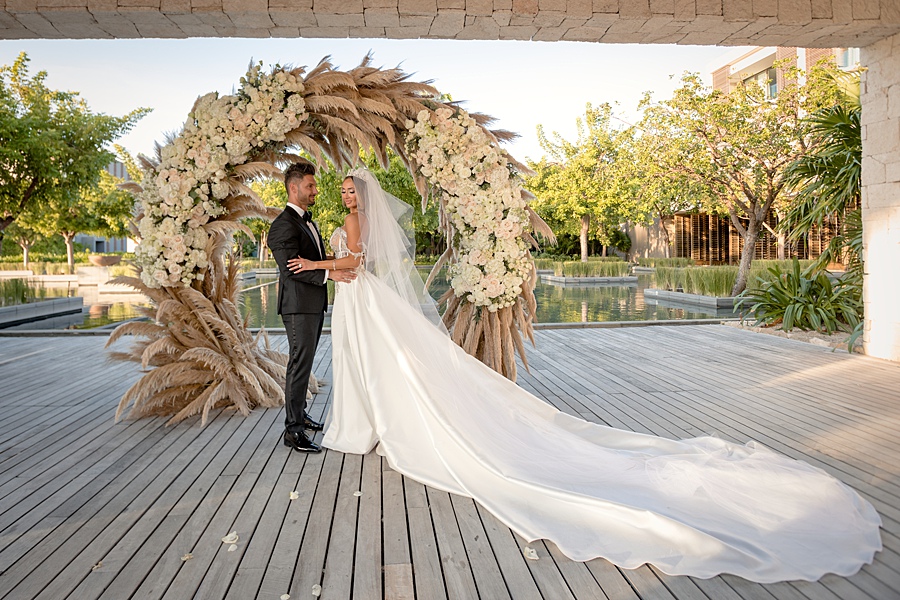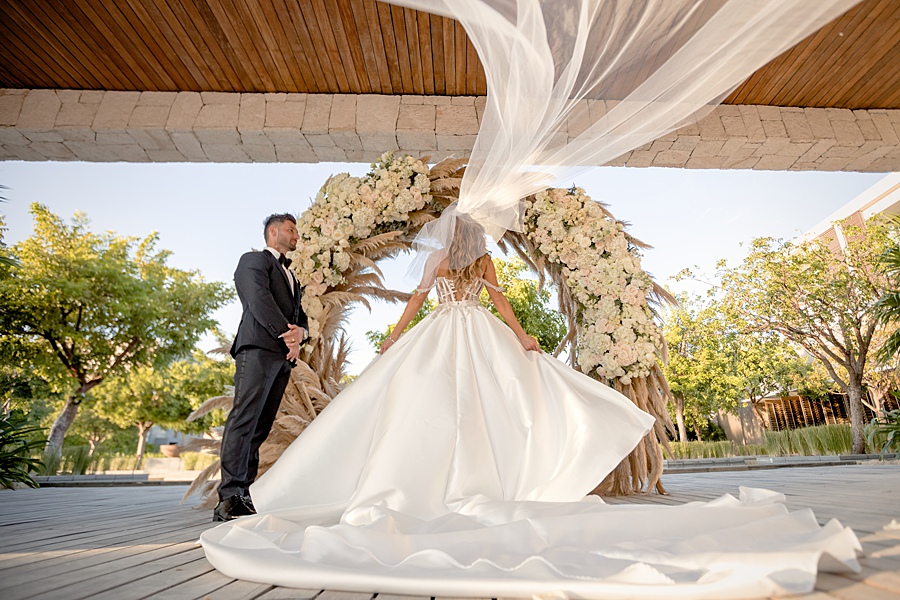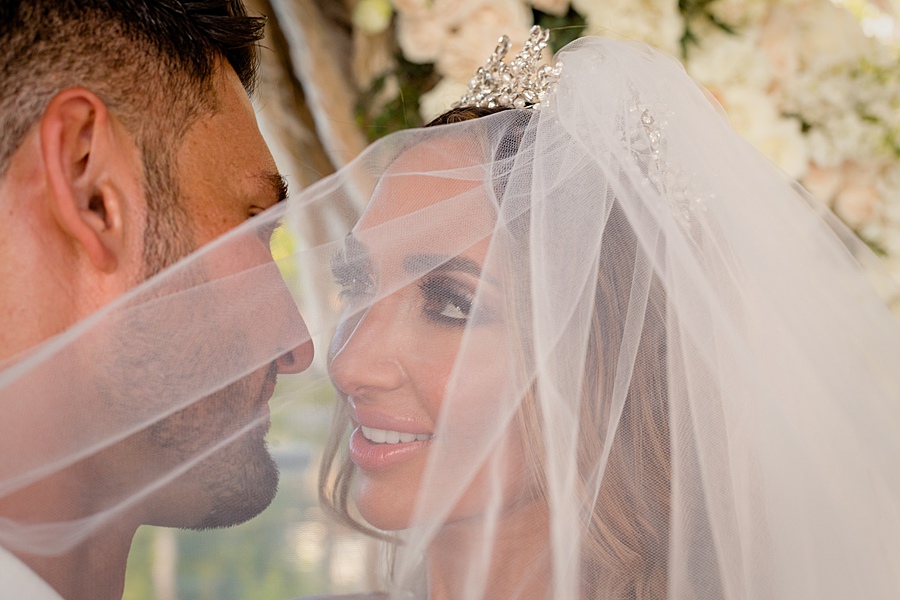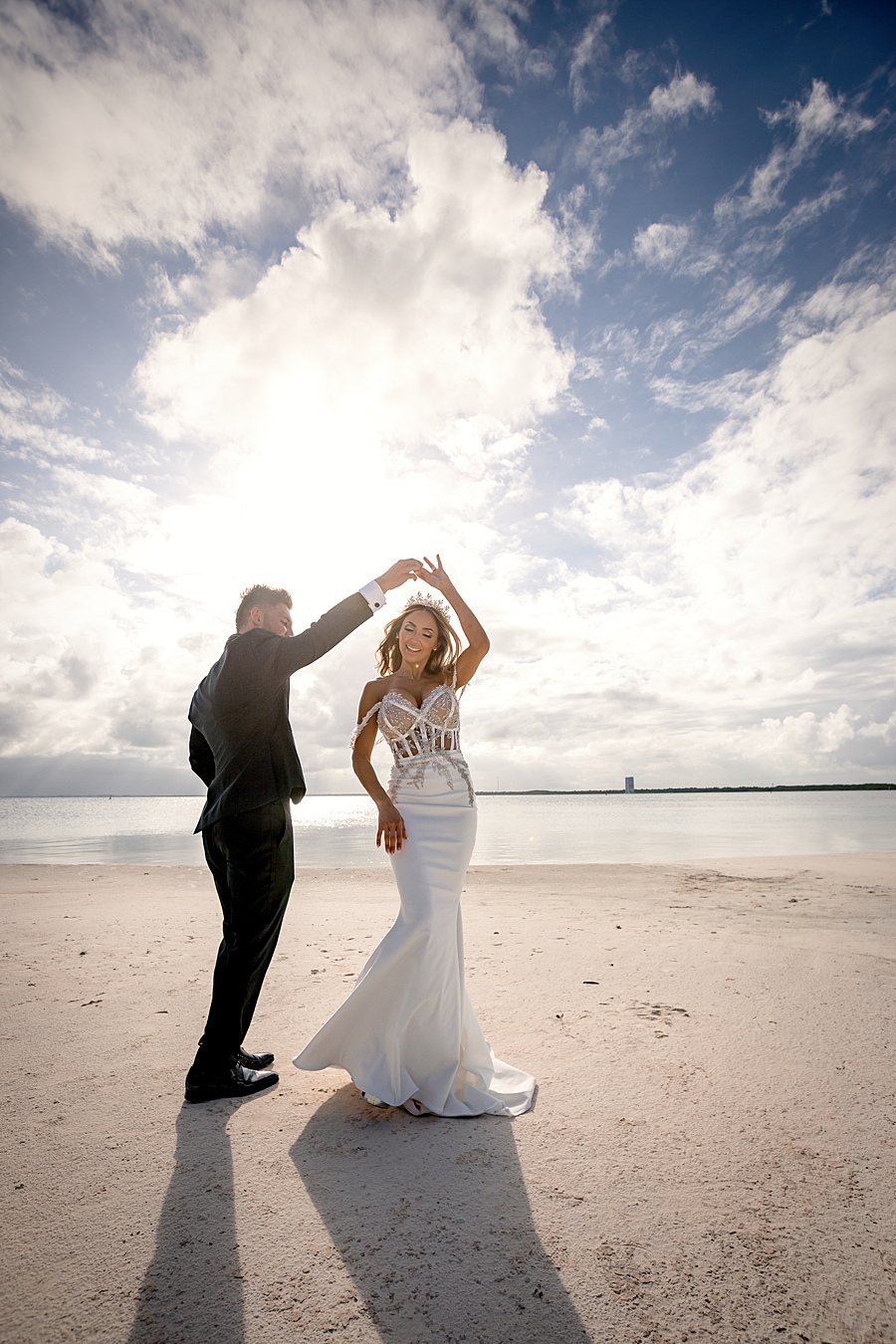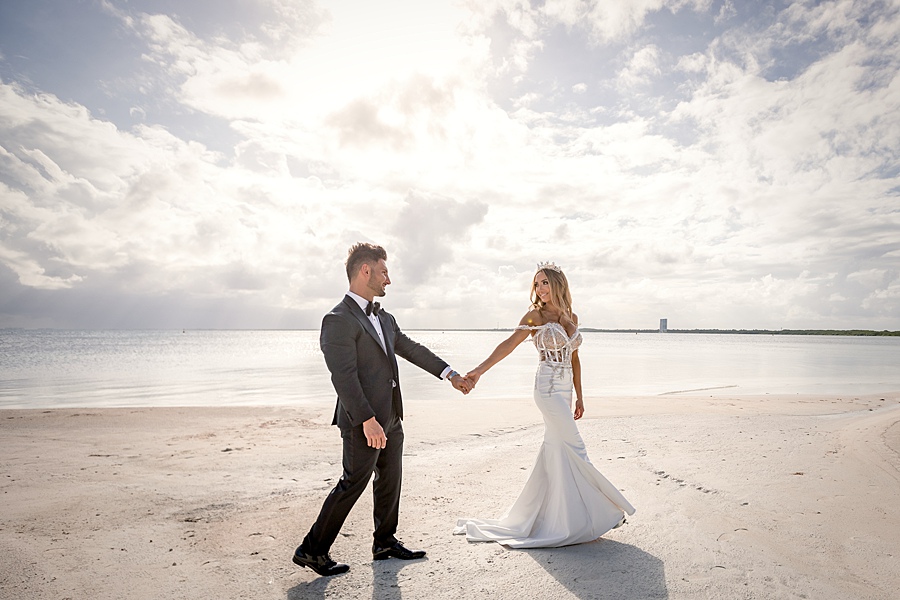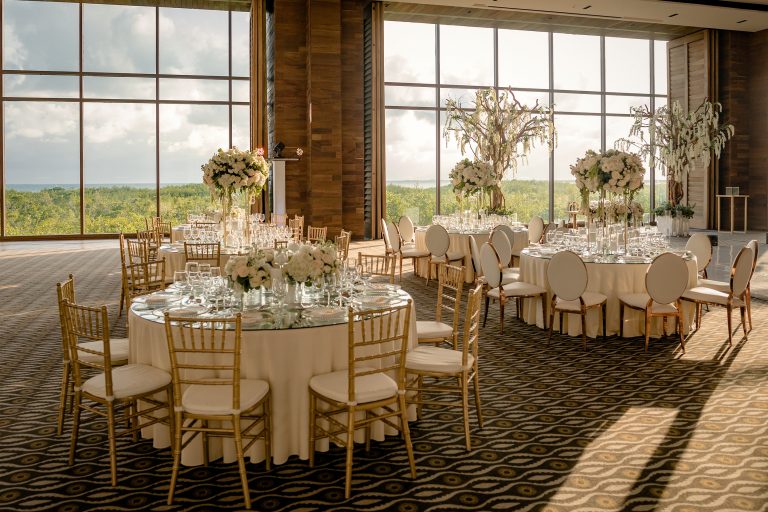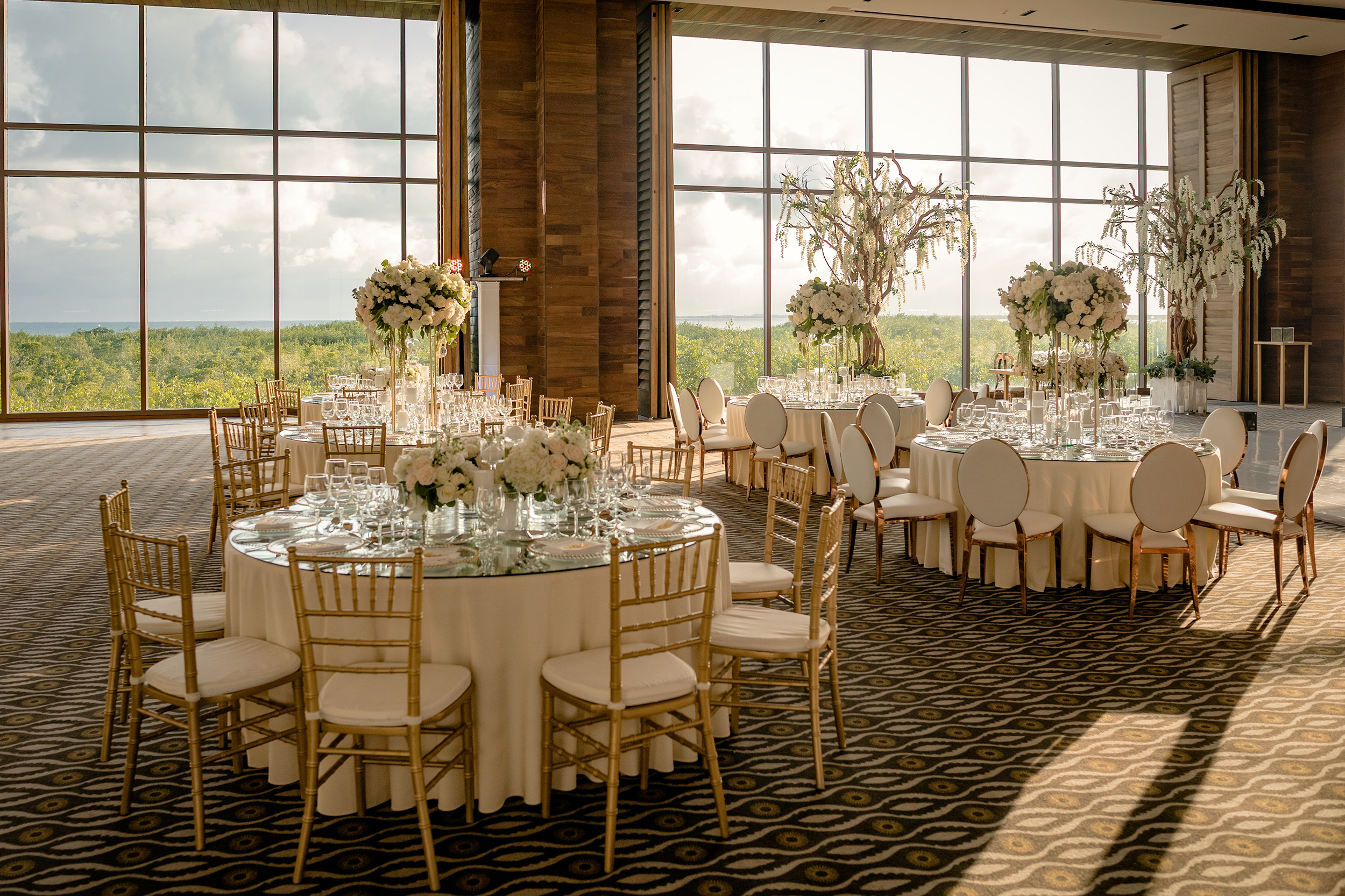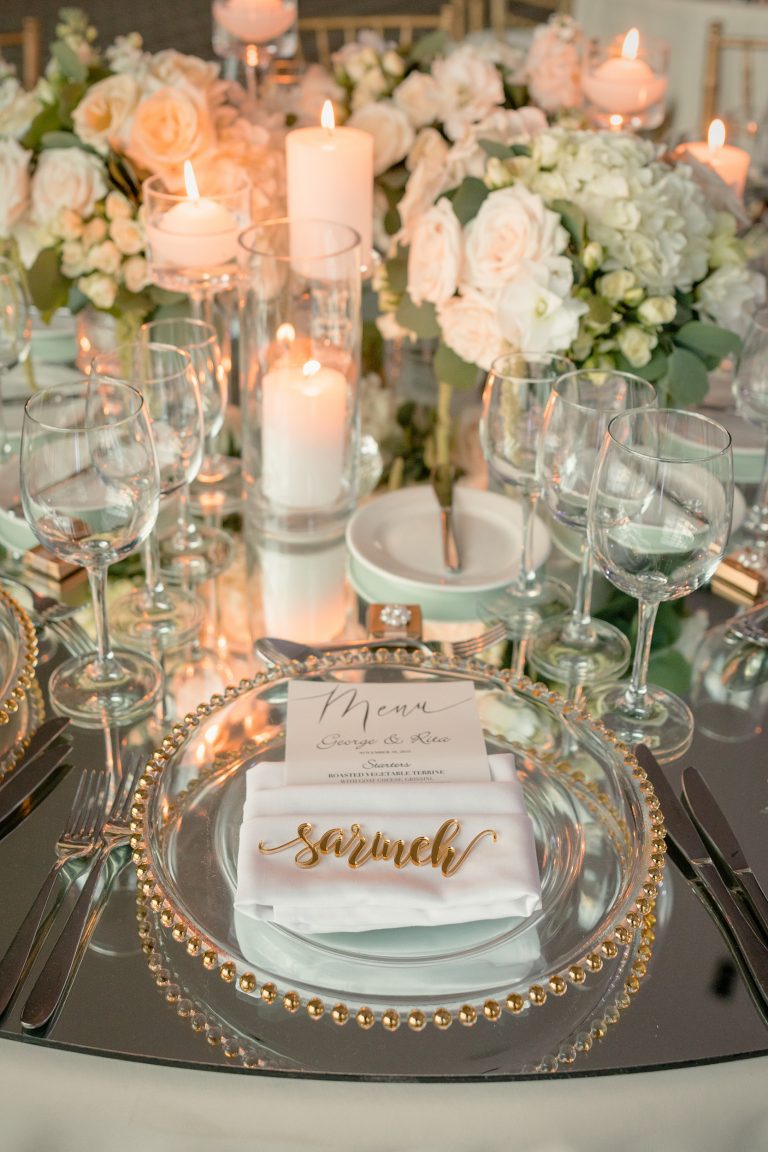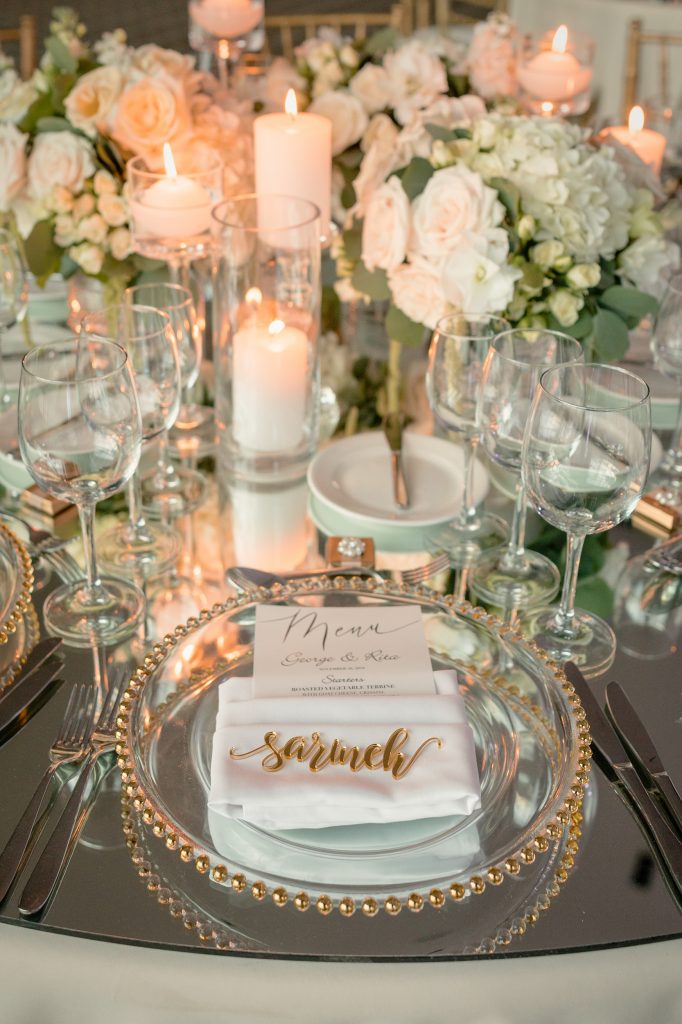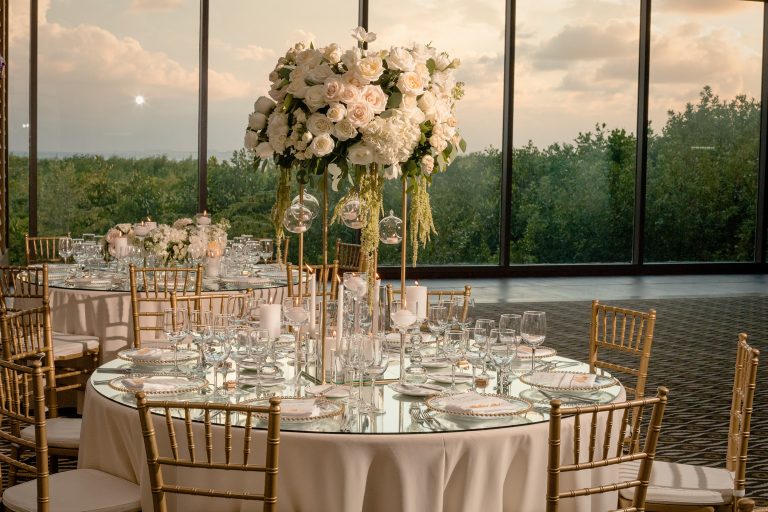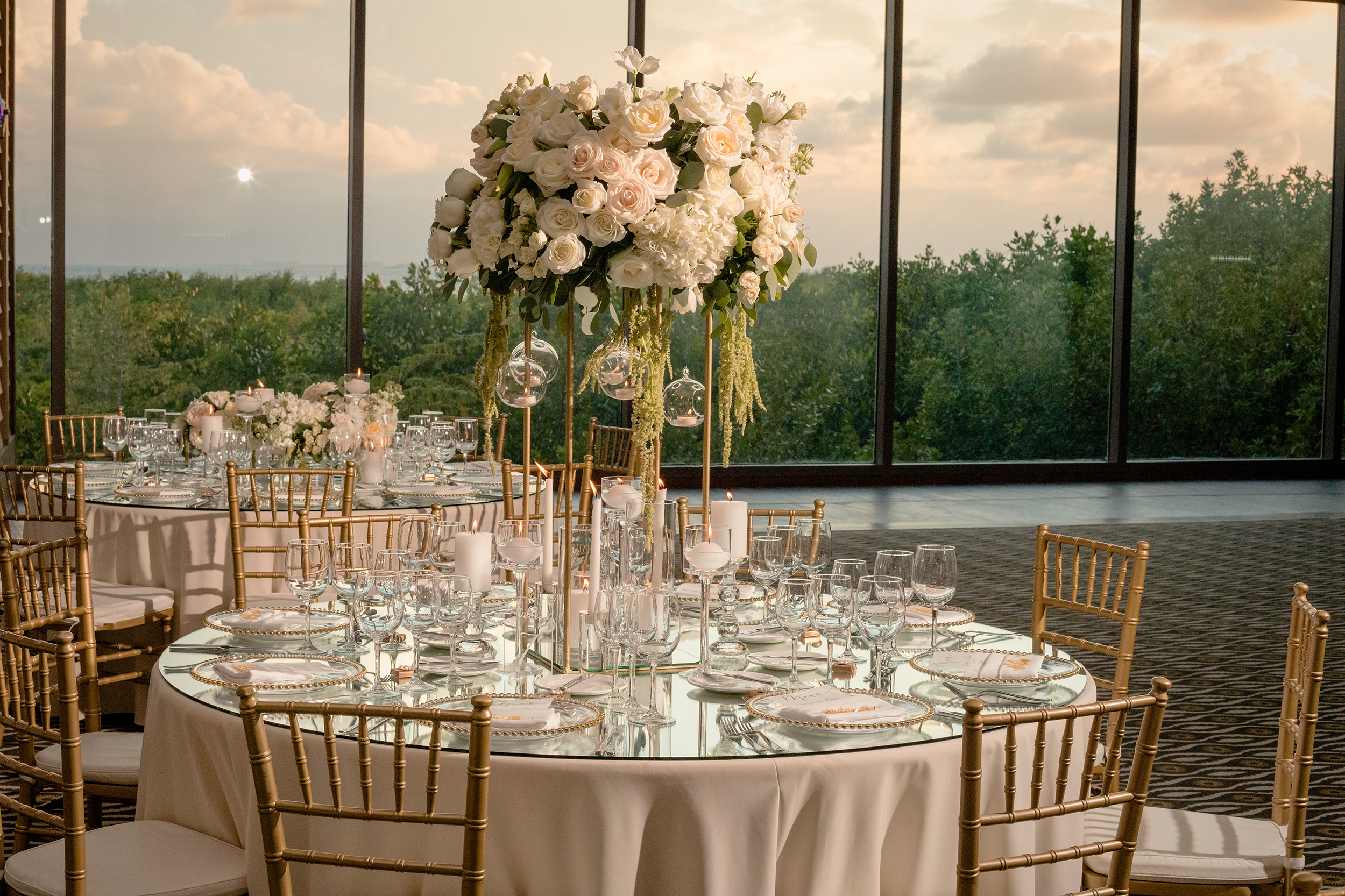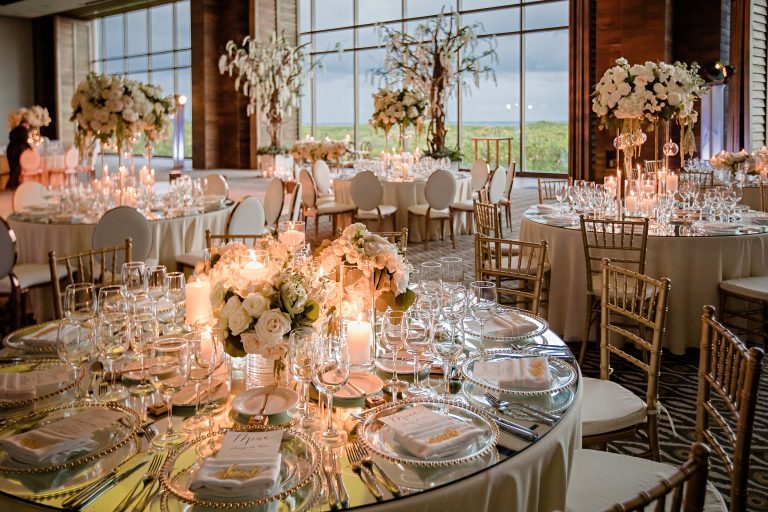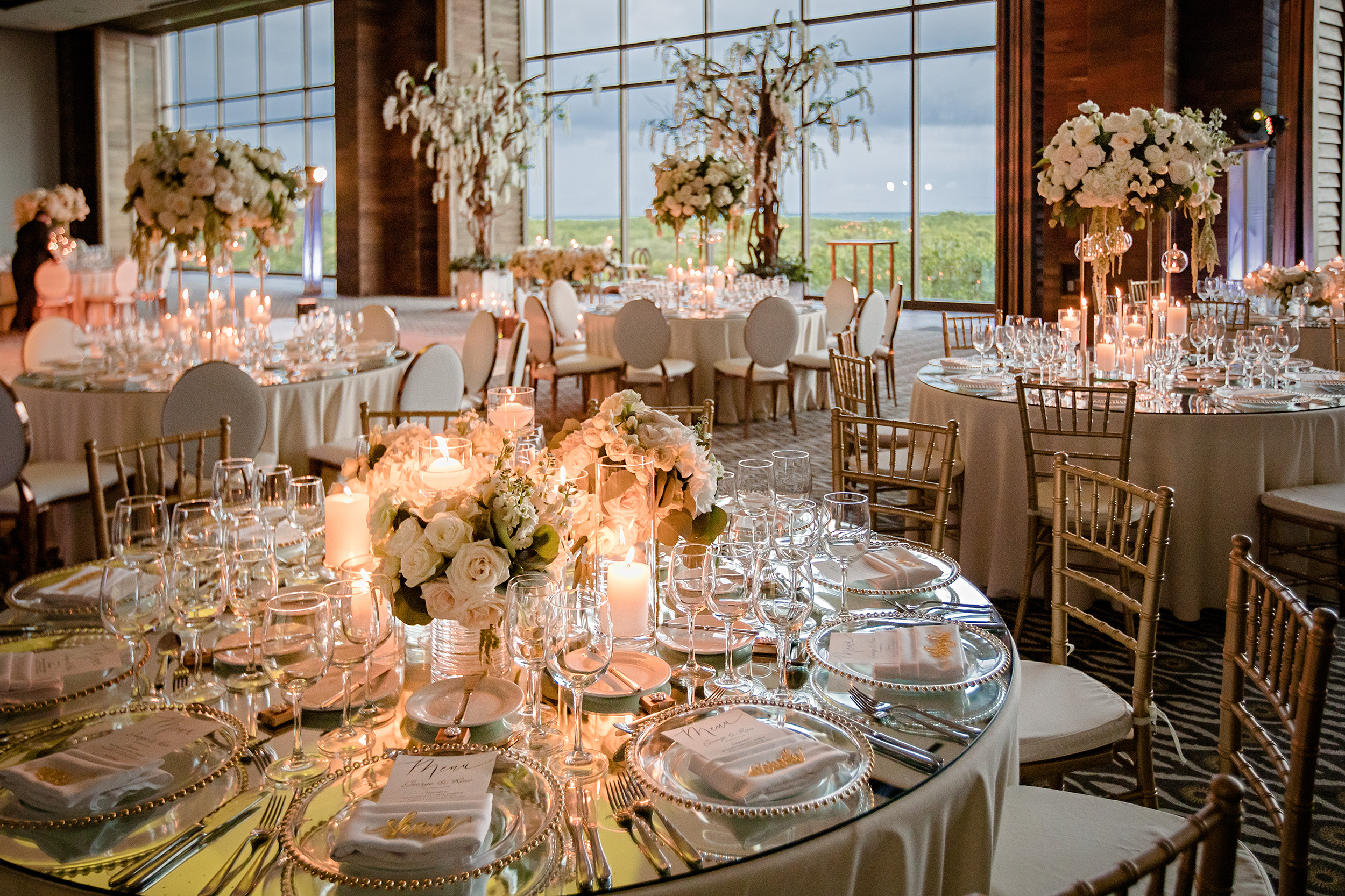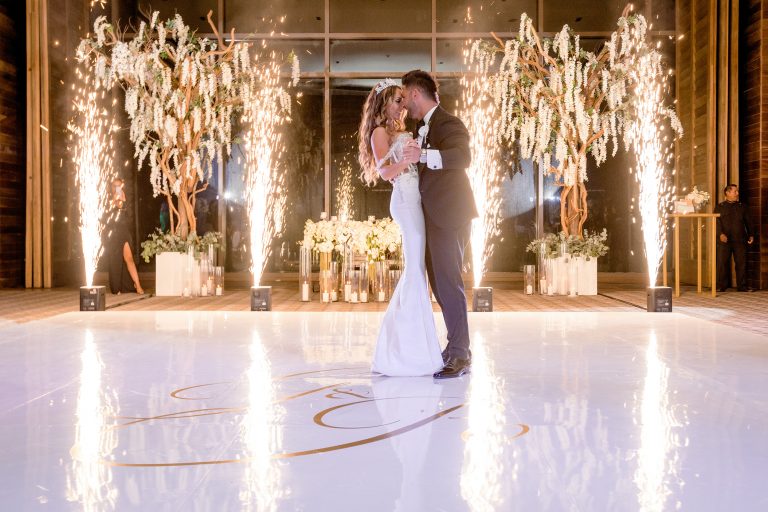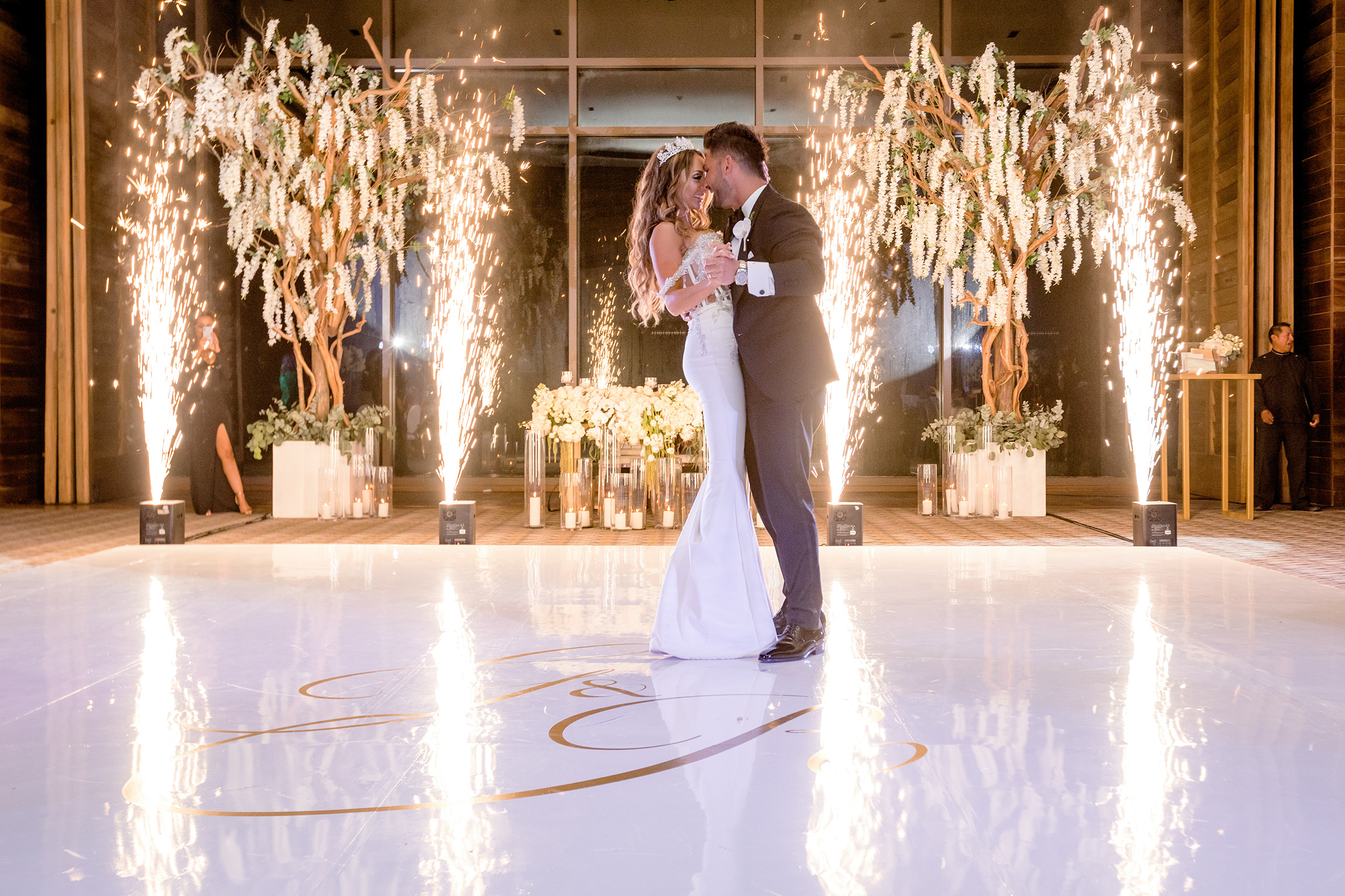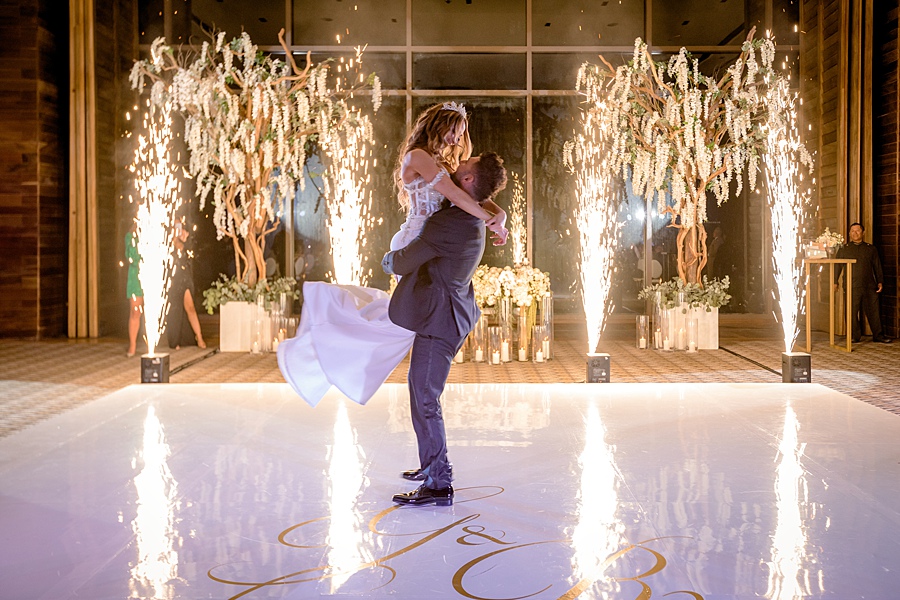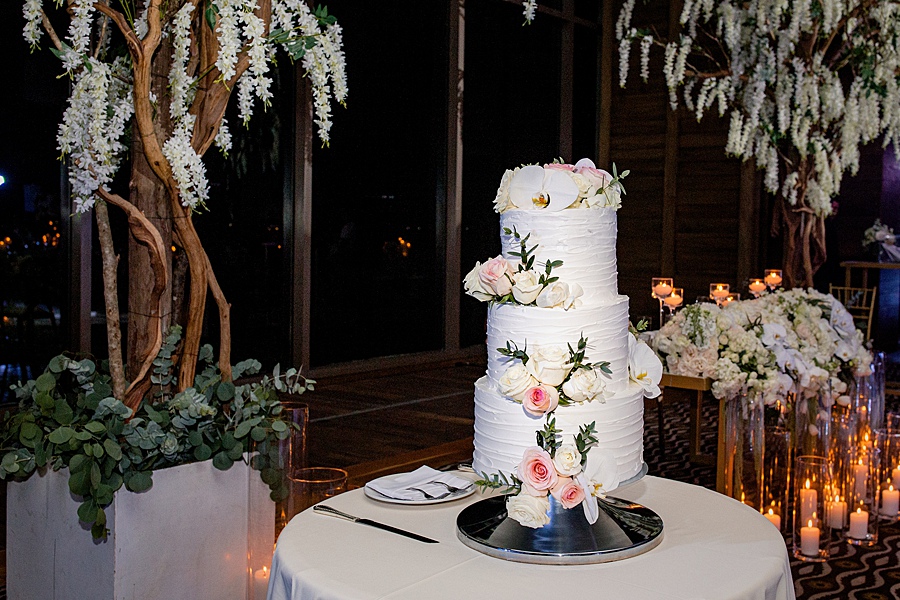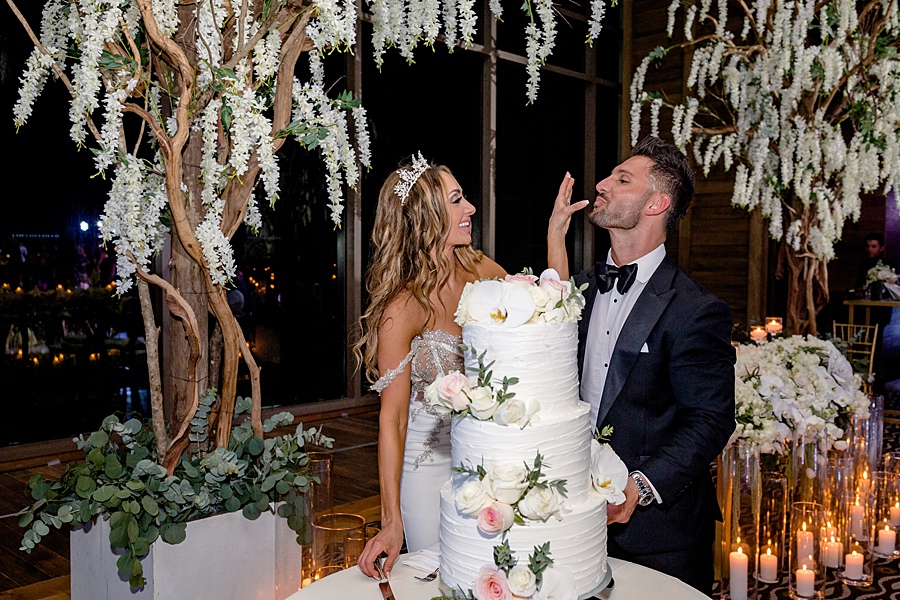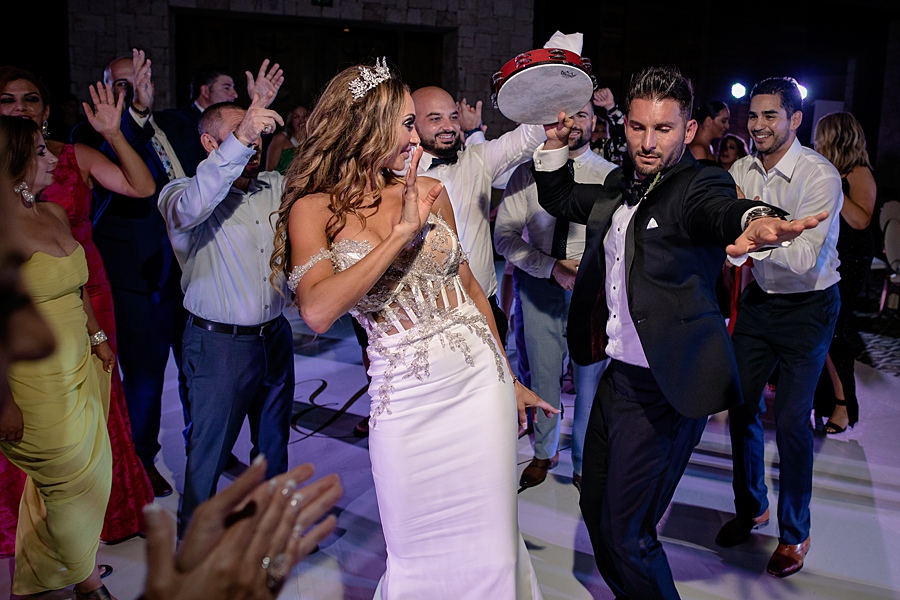 Q&A with the Bride and Groom
How did you meet?
We met through a mutual friend, Memorial Day weekend in Las Vegas. My husband says, he knew I was 'the one', the moment he met me.
What is your proposal story?
It was the most magical and romantic day of our lives. We were on a three week holiday traveling through Italy & Greece. After roaming around from city to city, we arrived in a private boat to the magical island of Capri. We had a driver who drove us around the entire island and dropped us off at the highest point, which happened to be our hotel, Ceasar Augustus. Upon arrival, George and I both agreed we felt like we were in heaven. It was by far the most beautiful hotel we had ever seen.

During the day we relaxed and popped champagne and spent all of the afternoon in our infinity pool. When it was time for dinner, our butler escorted us on a beautiful walk to our dinner location. The walk to dinner felt like we were walking on clouds. As we arrived, a beautiful guitarist was singing and playing beautiful melodies on her guitar, rose petals everywhere, the sun was setting, a light breeze was blowing, my dress was flowing. I started crying out of pure joy and disbelief. As I turned around to tell George how beautiful everything was, he was on his knee and asking me to marry him. The guitarist played for us all night. She sang and we danced under the stars. A private photographer George hired, took photos of us the entire night. Champagne didn't stop flowing, followed by a 5-course meal. It was magical.
Was there anything that you chose to splurge on or skip?
Fireworks. Who knew how expensive a one-minute firework show would be?! Let's just say…it was worth every penny!
What were your favorite parts of the day?
The father-daughter dance (I cried with my father the entire dance) and mother and son dance…they were both very special. During the reception we decided to step away from the dance floor to take a moment by ourselves. We wanted to take it all in. We went back to our sweetheart table and sat there holding each other and looking around. We watched our family and friends and took that moment to cherish the moment. We wanted to live in that moment and we thanked God for everything we were experiencing in that moment. It was beautiful. I recommend every couple who gets married to do the same. Step away from everything, hold each other, and just look around and appreciate the moment.
What was the best part of having a destination wedding?
The best part about having a destination wedding is being away in paradise with your closest family members and friends. Just imagine, everyone is happy when they travel. Everyone is carefree just having the best time, drinking, dancing, laughing, swimming, tanning. All of your worries disappear. So picture being in paradise for three days, away from home, no worries no nothing, celebrating a wedding, celebrating LOVE, in paradise where tequila shots are for breakfast, the beach is your backyard, the sun is shining, you're laughing, eating, dancing, celebrating, fireworks, music, spa, beach. Now that's what you call a wedding! Till today we have friends that tell us our wedding has changed their lives. Some friends say we saved their marriage, some say they felt the love all over again. New friendships were made, new memories were created, and those memories will last a lifetime.
Vendors
Photography: Gareth Davies Wedding Photography
Videography: Amor Amor Wedding
Ceremony & Reception Venue: NIZUC Resort & Spa
Event Planning: Mango Weddings
Floral: Vanessa Jaimes Floral Design
Stationery & Rentals: Canteiro Weddings
Makeup: Diana Biglari
DJ: DJ Hye Fx Entertainment
Wedding Dress & Veil: Ryan & Walter
Groom's Attire: Tom Ford
Bride's Shoes: Stuart Weitzman
Headpiece: Karoza Bridal Inc.
Submitted via: Matchology