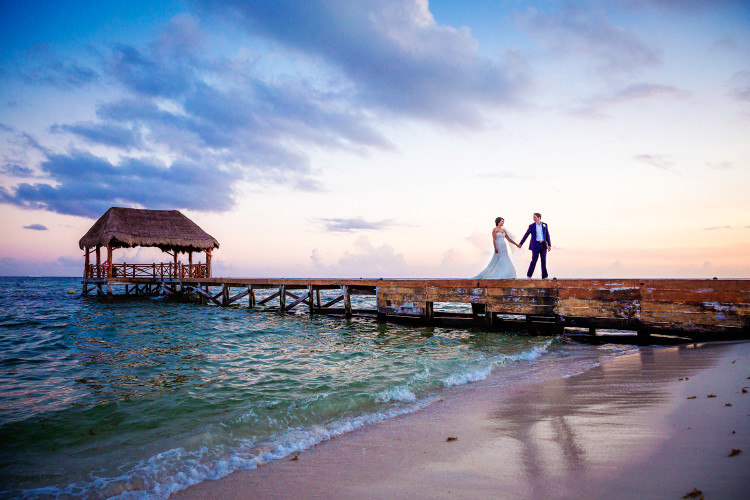 Thinking of getting married in the Riviera Maya? If you haven't been here before, you might have a few questions. We, M&J Photography (Michael & Jennifer), have lived and worked here for more than five years. Michael has been visiting the area since 1993. We're here to let you know that there is a reason this might be the #1 place in the world for a destination wedding.
The Riviera Maya (Cancun, Isla Mujeres, Puerto Morelos, Playa del Carmen, Cozumel, Puerto Aventuras, Akumal and Tulum) is one of the most popular spots in the world for destination weddings for a reason. We have world-class beaches and restaurants, a variety of man-made and historic attractions, diverse cultural sites, beautiful weather, a modern international airport and the Caribbean Sea.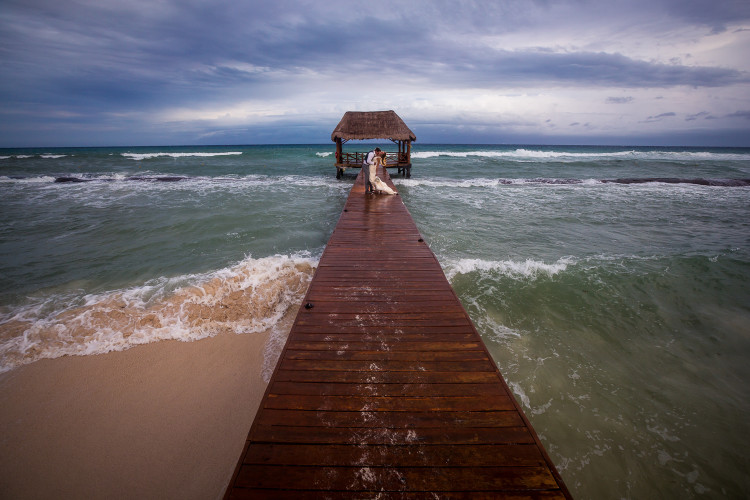 In addition, this area is one of the safest in Mexico. For the past couple of years, the entire state has had lower crime rates than Wichita, Kansas.
But, with more than 100 hotels and resorts spread along the 80 miles of coastline, with six distinct communities and two islands, where do you start?
Best Resorts for Getting Married in the Riviera Maya
Personally, we think you should spend a week visiting some towns and resorts and discover the place that fits your style, instead of relying on a travel agent who just might give you advice based on which place gives the best commissions.
First, we should emphasize that there are two distinct styles of vacation destinations here. One is medium to large all-inclusive (AI) resorts. Then there is everyone else, which means non-inclusive.
All-Inclusive Resorts
The All-inclusive resorts have unlimited food and drink, lots of activities, multiple restaurants, nice facilities, big swimming pools and access to the beach. Tons of things to like. Many couples think so, as evidenced by the hundreds of weddings along the coast every week.
However, if you decide to get married at an AI, chances are you will be a number, you will have your wedding (perhaps one of three that day) witnessed by lots of strangers in skimpy swimwear, and you might be ignored by the wedding planner once you have signed the contract.
Most importantly, you should be aware that most resorts have contracts with vendors (one photography company, one florist, etc) and take a cut of their fee or mark it up. If you don't want to use their vendor, then they charge you an extra fee. Do you really want the guy or gal who is doing the pool snapshots to photograph your wedding??
One AI resort company actually charges $800 USD for photographers to come on the premises and photograph your wedding. We know, because we have worked with couples who have paid it!
It's your choice, but don't be surprised by the "add-ons" for your destination wedding. Think of as buying a car: ask lots of questions. Take a "test drive" (visit several resorts), if possible.
Your travel agent may neglect to tell you about these fees when they are suggesting resorts for you to book. It may have something to do with the fact that the AI resorts that charge the highest outside vendor fees are also known to be very generous with the commissions that they pay to travel agents.
Non-Inclusive Resorts
There are smaller boutique hotels and even a few of the medium size AI resorts that will only book one wedding per day. The boutique hotels willingly work with independent wedding planners, DJs, photographers and make-up artists. There are very talented people in the Riviera Maya and it's not hard to put together a list of great service providers. With a little bit of research, you might discover that a wedding at a large, all-inclusive resort is not much differently priced than one held at a smaller, more intimate location.
When to Get Married on the Rivera Maya
People don't think we have seasons here, maybe because the leaves don't change. How wrong they are! While we have a sub-tropical climate, we do have distinct seasons.
Normally, December through April is the dry season with milder temperatures (70-80 during the day – maybe into the low 60s at night). But, we've noticed that March can be windy. The temperatures start to warm up in April and May.
June and July will be hot (high 80s – low 90s) and can be dry or wet. August through October will also be in the high 80s to low 90s, very humid and likely wet. Prices may be lower during this time of year, but you also stand the chance of torrential rains, high humidity and very warm days. We usually have nice cooling breezes that come off the ocean. This is true for almost any time of year, but in the summer the breezes tend to soften or disappear entirely and you will be faced with warm beach. Dress lightly and stay hydrated.
October 2013 set the record for the most rain in one month in the Riviera Maya, but we photographed one wedding that had four straight days of sunny weather in the middle of the month. So, you never know.
Officially, hurricane season is July – November. You might find discounted prices, but make sure your resort will have a sheltered space for you if there is rain on your wedding day. If they have scheduled three or even four weddings, someone is going to get wet. But, don't worry, we'll be prepared.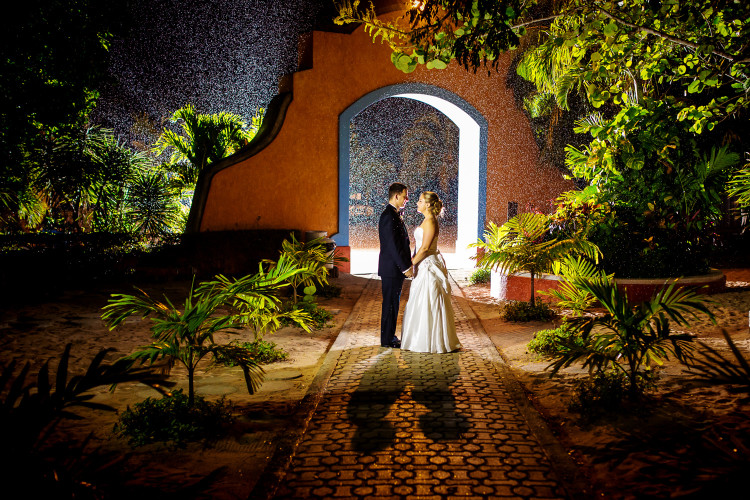 Regardless of when you choose to have your destination wedding in the Riviera Maya, we suggest that you time your ceremony to end around 45 minutes before sunset. Your guests will be more comfortable and we'll have better light for your photos.
Where to Get Married in the Riviera Maya?
Isla Mujeres
A lovely little island with a beautiful beach, some nice hotels, a very cool downtown pedestrian street lined with good restaurants, and off-shore there is decent diving. We love visiting and working here. The vibe is definitely small town and laid back – think Mexico 1970s. Isla is probably not the best choice for the late-night party and clubbing group. Primarily because there are no late night clubs or discos. There a few AI resorts, with our favorite being Privilege Aluxes.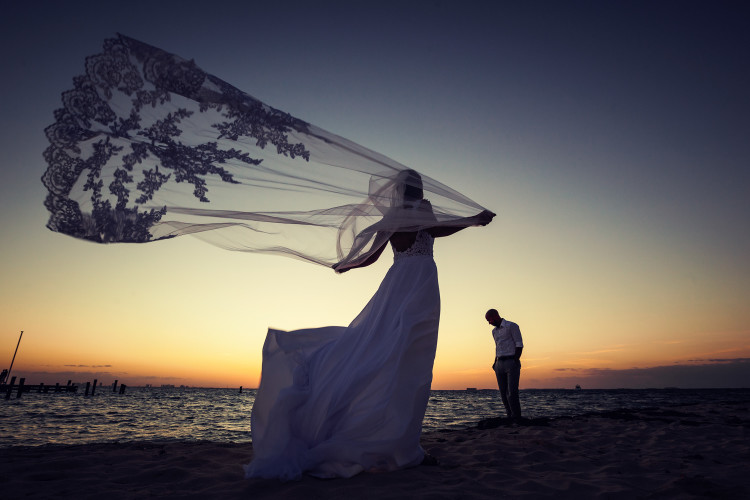 Cancun
The hotel zone is a massive strip of land with a lagoon to the west and the Caribbean to the east. It features exclusive hotels, all-inclusive resorts and one of the nicest strips of white sand in the world. There is so much beach, that weddings here surprisingly tend to be more private than beach weddings in Playa. Our experience has been that the beaches tend to be more sparsely populated when late afternoon weddings take place. For a non-AI experience you've got the Ritz-Carlton and JW Marriott. Cancun is the opposite of Isla Mujeres.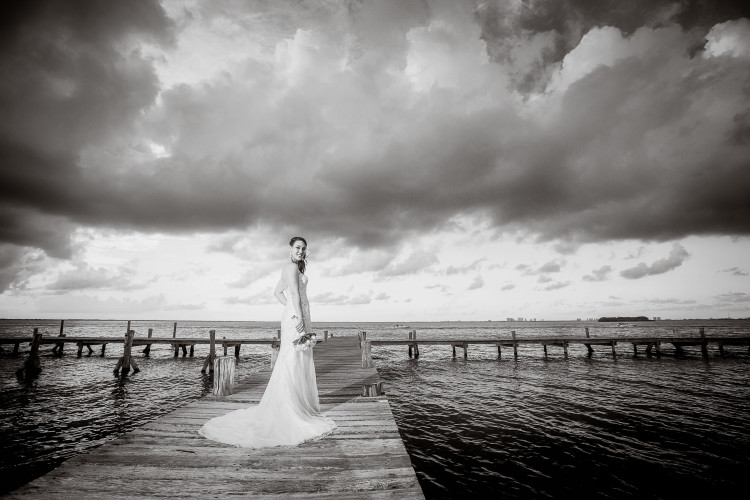 Cancun to Playa del Carmen
This strip includes Puerto Morelos, a former fishing village, which is becoming a little more sophisticated with some good places to eat. The town has mostly small hotels and condos, but a nice beach and a coral reef is not too far offshore. Making your way south are lots of AI resorts, including some of the better run places: Azul Sensatori, Now Sapphire, Mayakoba and Grand Velas. However, the beaches in this stretch sometimes suffer from excessive seaweed and seagrass. Check them out before you book if the beach life is important.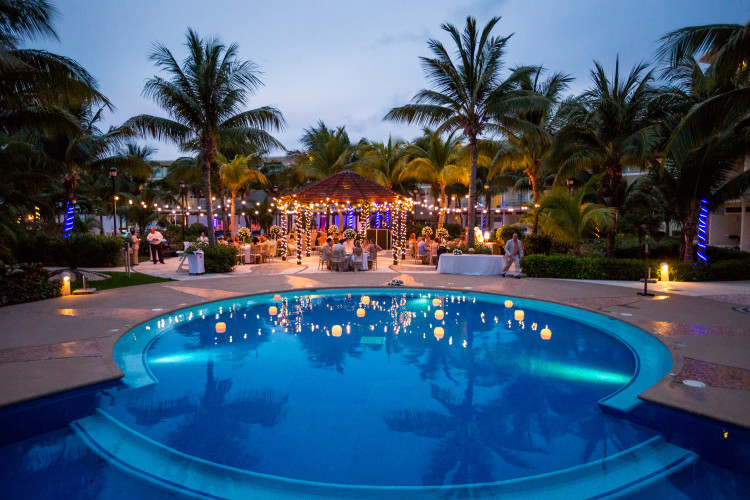 Playa del Carmen
Playa del Carmen is hip, international, sophisticated, and has something for everyone. Boutique hotels, A-Is, gelato, Argentine Parrillas, french bakeries, all-night discos, a nice beach and an hourly ferry to Cozumel. We like Le Reve, a small boutique hotel just north of town. 20 years ago Playa was a small beach town, but today the concentration of hotels and beach clubs in centro means that beach weddings in central Playa can be a spectator event.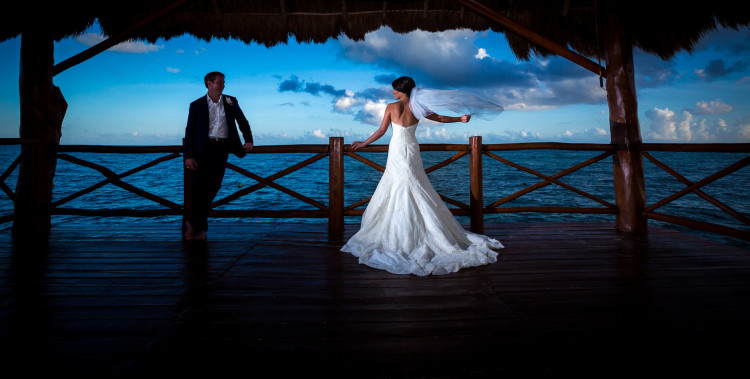 Cozumel
This is our island home. It is has some of the best coral reefs in the world, one of the longest unspoiled beaches in Mexico and the nicest people you can imagine. There are several good beach clubs, hotels and A-Is on the island. Like Isla Mujeres and unlike the mainland, the island has a west coast for cool sunset pictures. Check out Hotel B Cozumel, Occidental Grande and Nachi Cocom Beach Club as possible venues.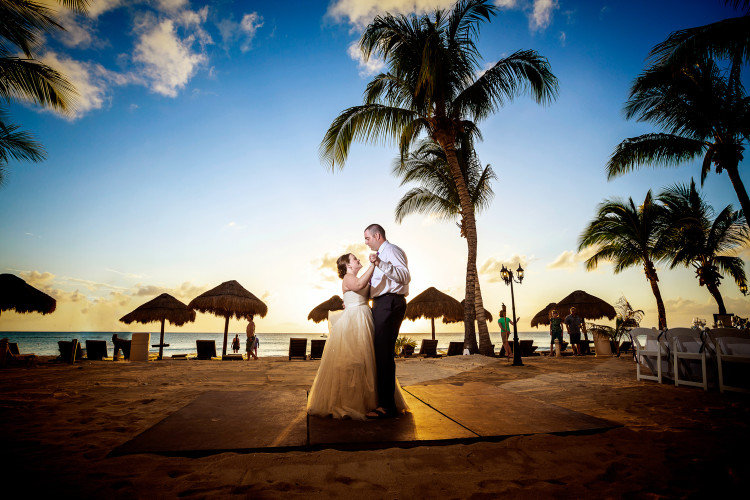 Playa to Akumal
One of our favorite stretches of the Riviera Maya has a couple of all-inclusives, features several world class cenotes along the highway, and has two very special boutique hotels. The very posh Esencia Resort is a former private property that now has very upscale villas and cabañas. On the same bay a little south is Al Cielo, a boutique hotel that blends Caribbean charm with Italian style.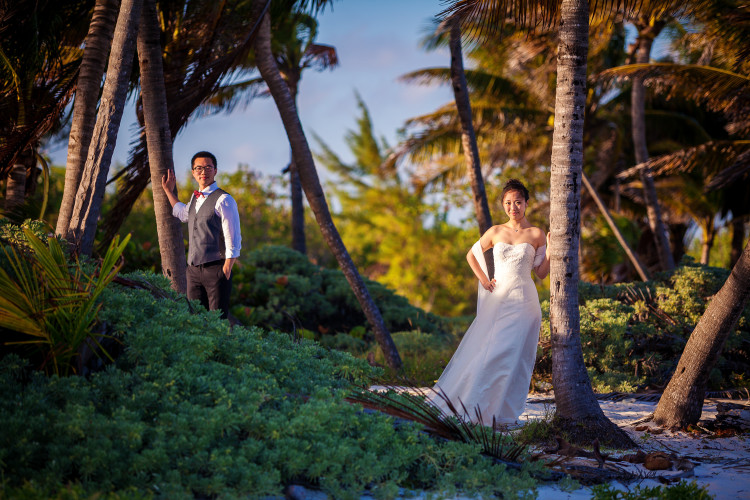 Akumal
Quite possibly one of the hidden gems on the Riviera Maya (if it's possible for anything to be hidden on this coast). This small community is dominated by private beach villas and condos, and a couple of small hotels. There is a nice bay for swimming and snorkeling, a nearby lagoon that is pristine, and small restaurants and bars.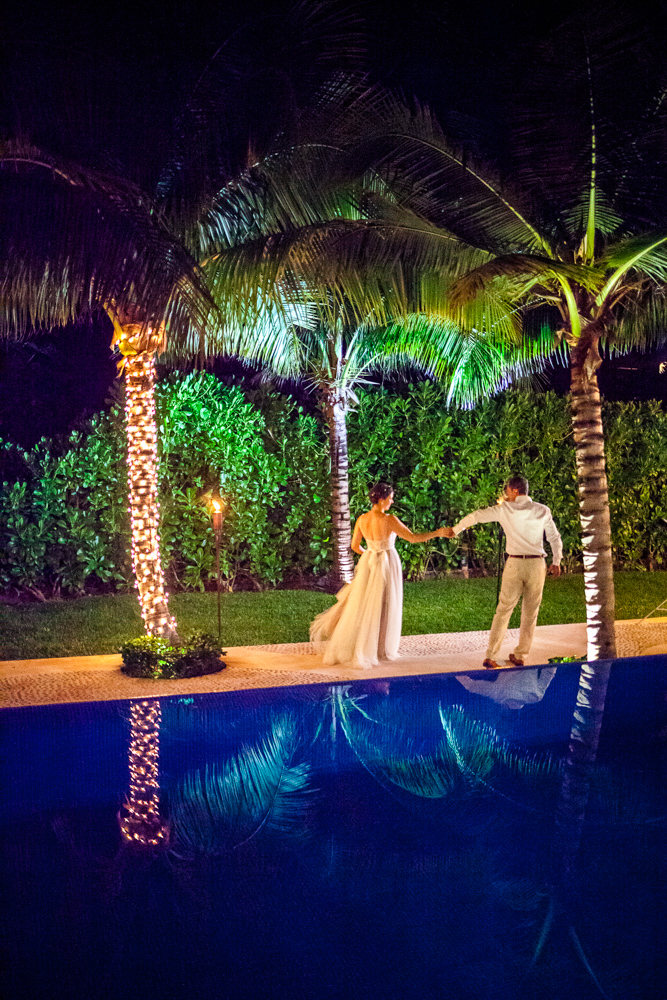 Puerto Aventuras
Mostly for the yachting crowd, due to the large man-made marina, there are a few AI resorts with a nice beach area.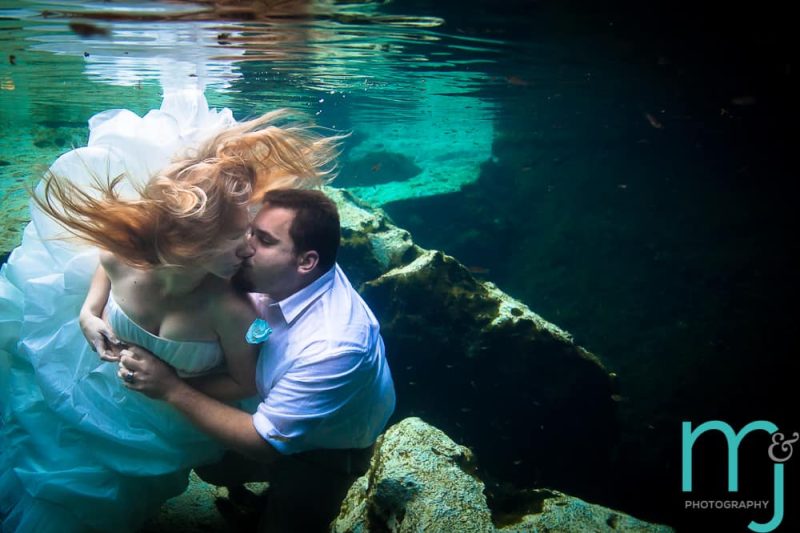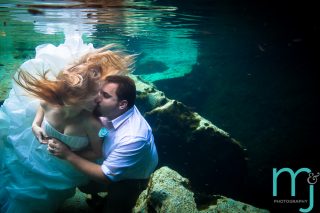 Tulum
Small, intimate, new-age, super-hip, eco-lodge, and great beaches are all superlatives that apply to Tulum. There is a Dreams Resort to the north of the Mayan ruins, but the coast south of the ruins is dotted with small, boutique hotels of varying sizes and price ranges – almost all off the grid. Ana y Jose Charming Hotel is one of the best locations with a great beach club separate from the hotel. Both are great places for a destination wedding. Las Ranitas and Be Hotel are both worth a look.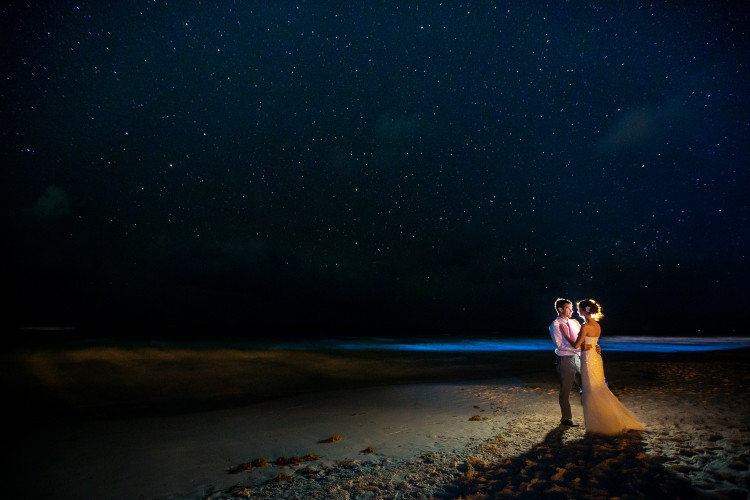 We hope our advice will be helpful while you are trying to decide if getting married in the Riviera Maya is right for you.