When Satomi & Tetsushi got engaged, they didn't have a set wedding vision. They just knew they wanted an intercultural wedding with both American traditions, and Buddhist ceremony traditions that paid homage to their Japanese culture. They also knew that it had to be in a winery. Not just because they love wine but also because their first date was in a winery. So they rounded up family from all over world for a stunning destination wedding in Falkner Winery in Temecula, California.
The color palette is one of the things that stood out about these photos captured by Randi Michelle Photography. Not only did the color look striking against the breathtaking views, but it was also very meaningful to the bride, who shared with us why she chose it:
"We chose lavender (wisteria) for our color, to visualize the image of our wedding: elegance and gentleness, and intercultural. I did not have any "dream wedding" ideas so it took time to come up with everything from zero, but this one was somehow an easy choice and I knew what I wanted. Looking back, maybe I had this memory of my friend's house with gorgeously blooming wisteria under the blue sky, or the memory of a breathtaking shower of jacaranda near our house. It might be about my great grandmother who told me that purple has been a symbol of nobleness in Japan, also respected and loved by many women, including herself, for over a thousand years. Or, it might be about lavender itself that healed me when we were in a long distance relationship in Europe and America."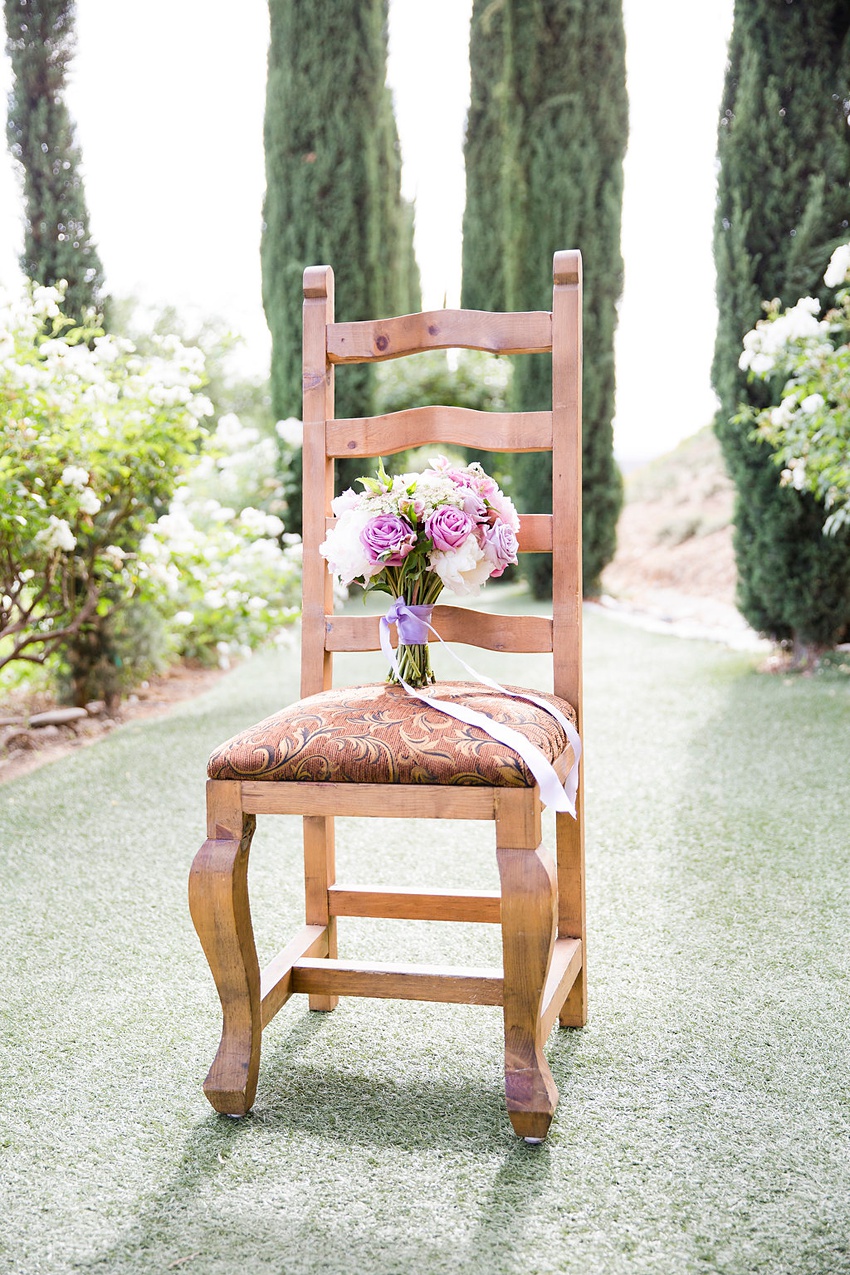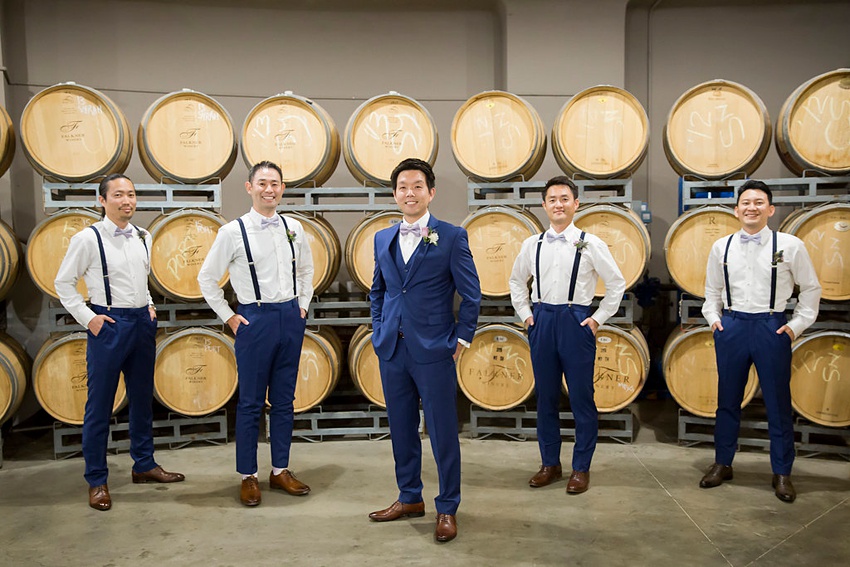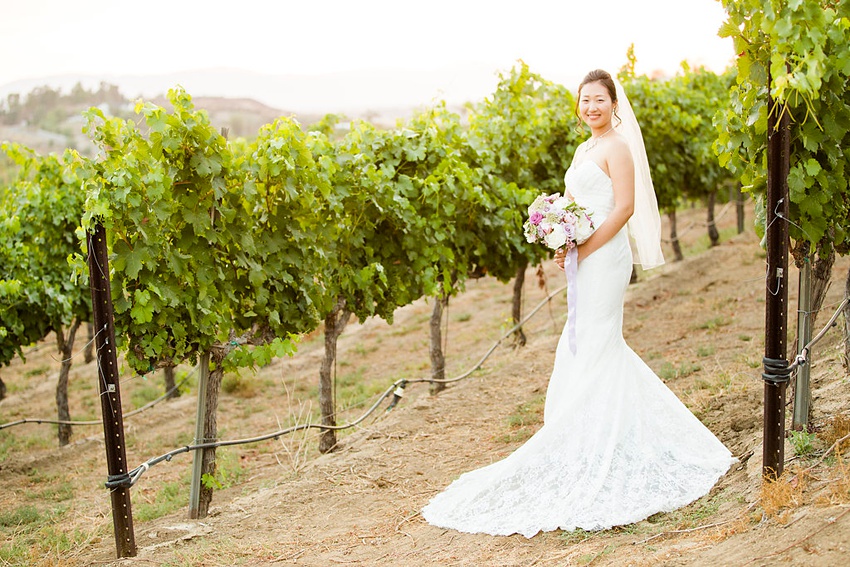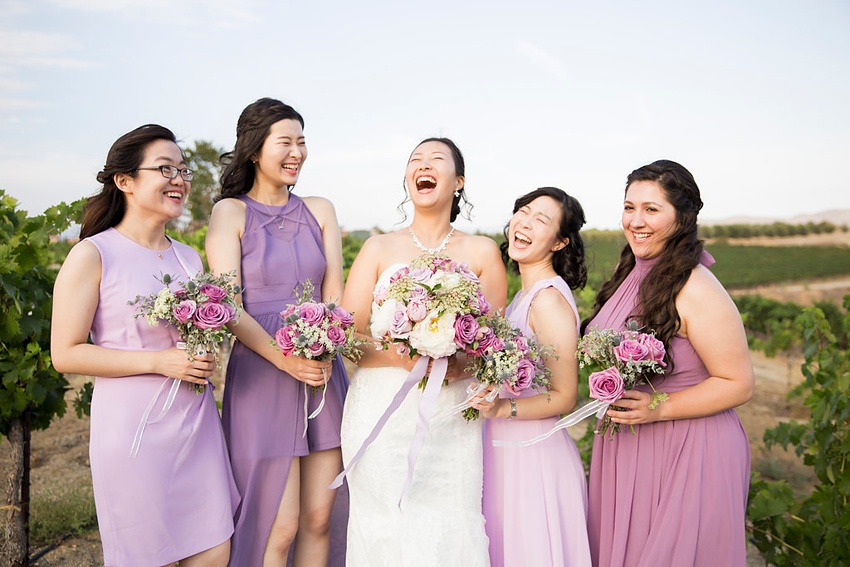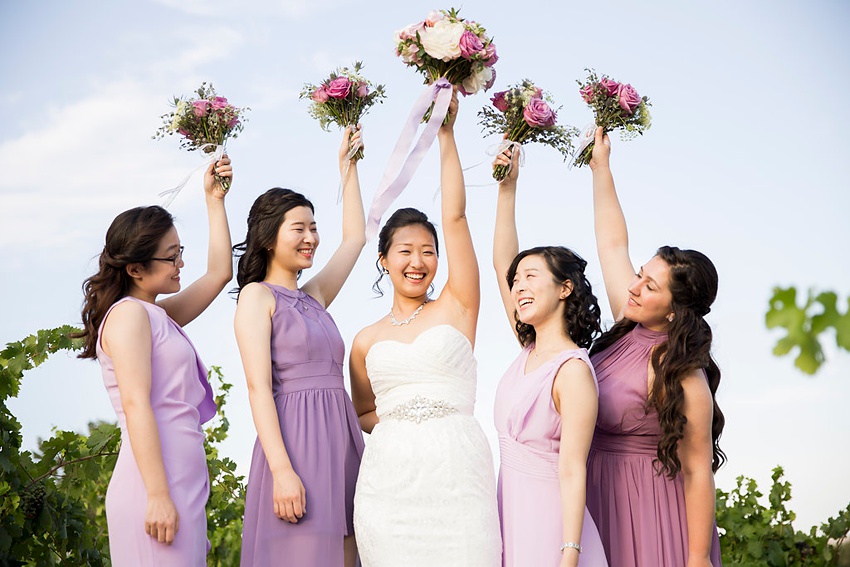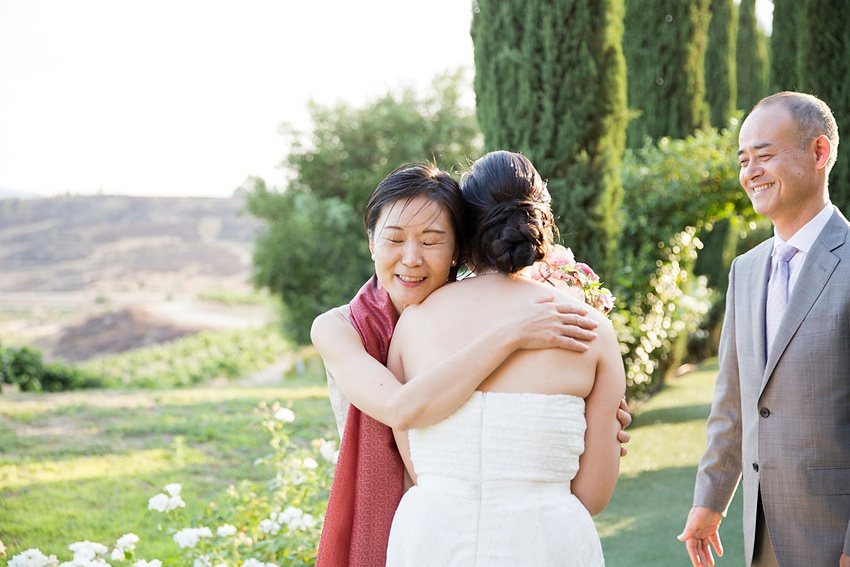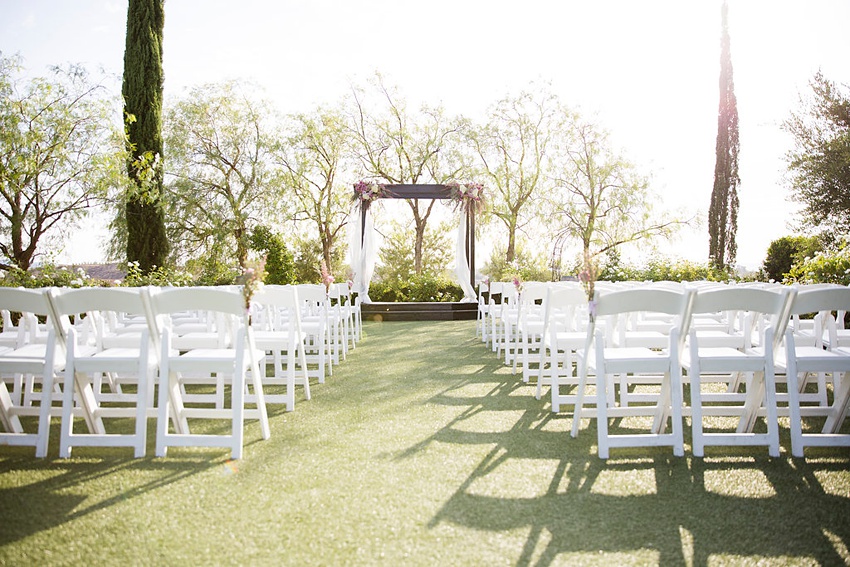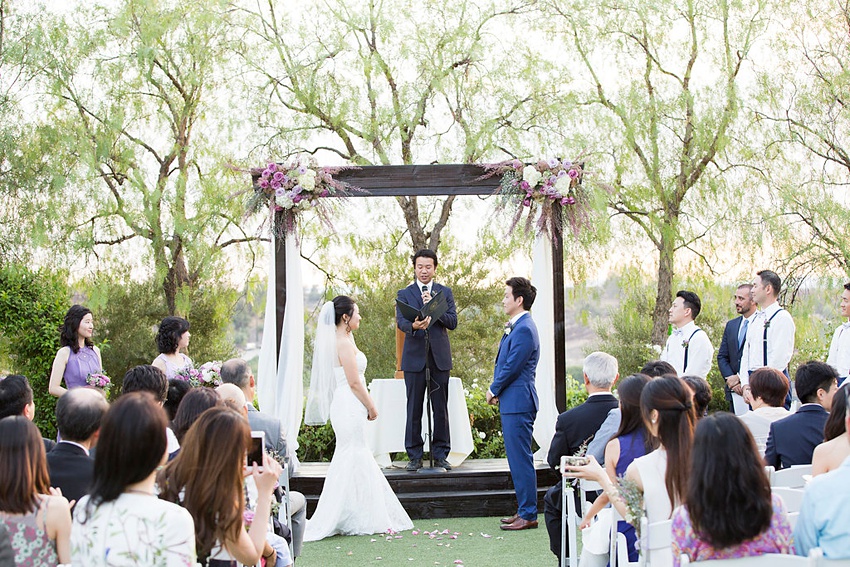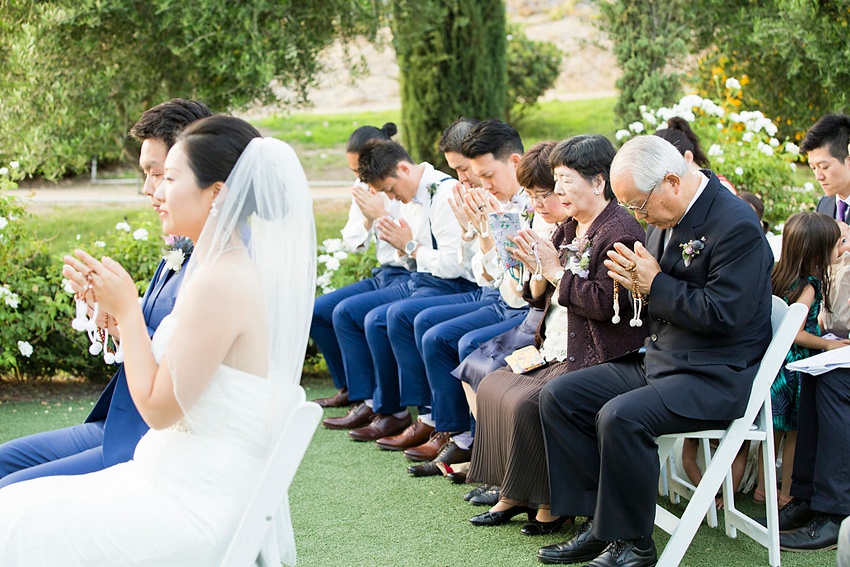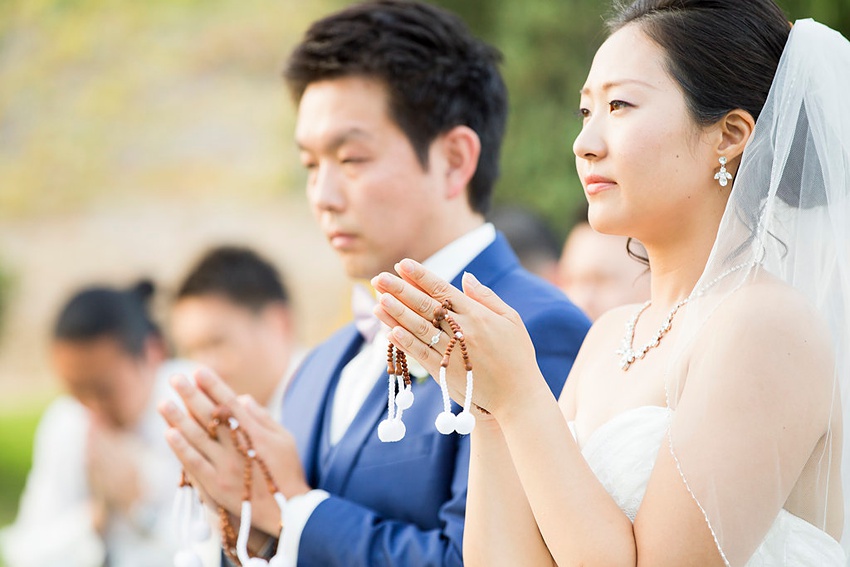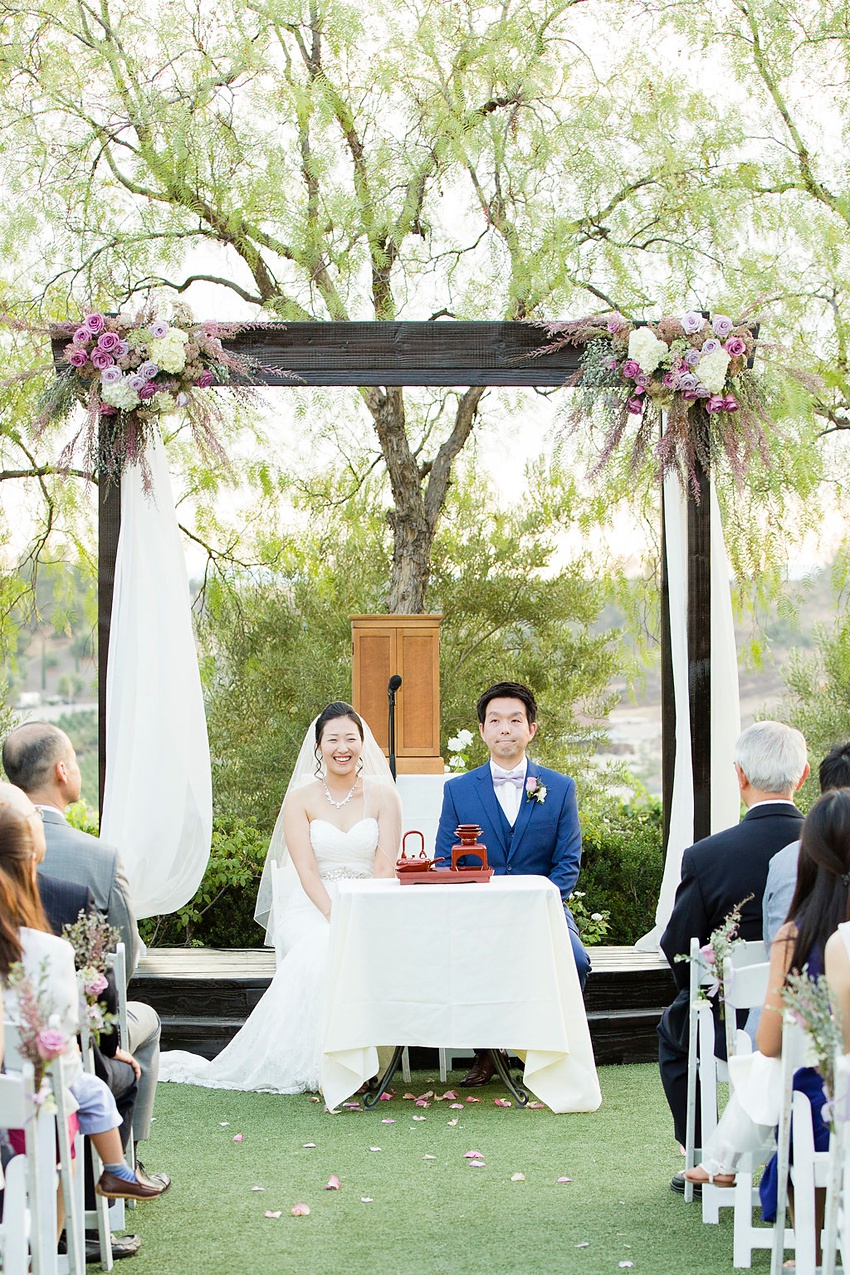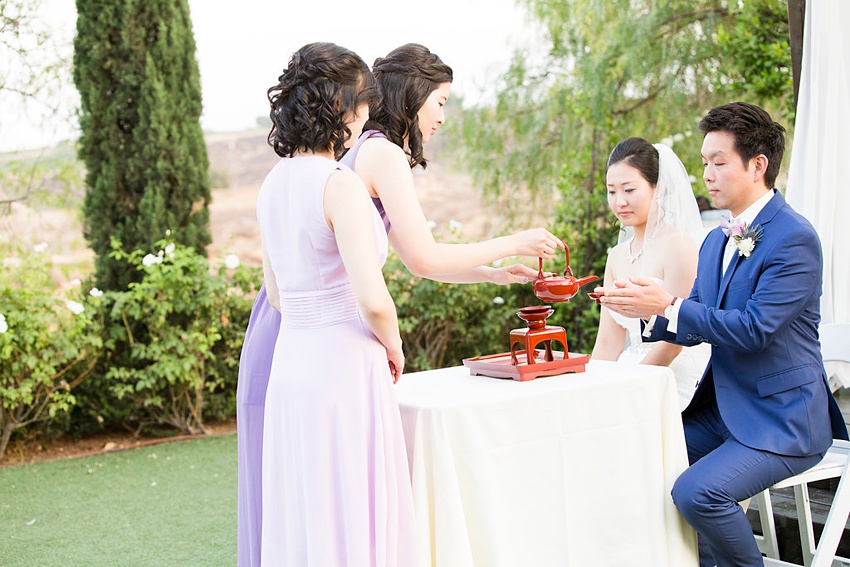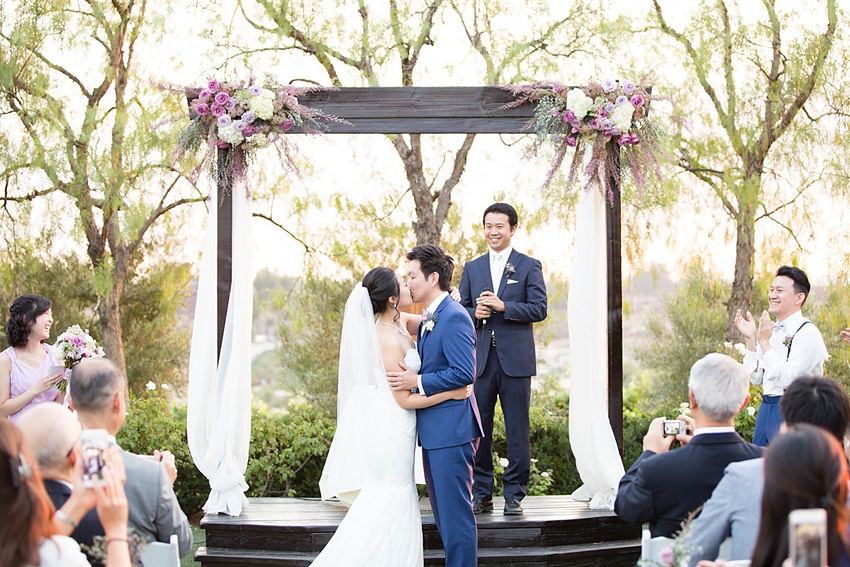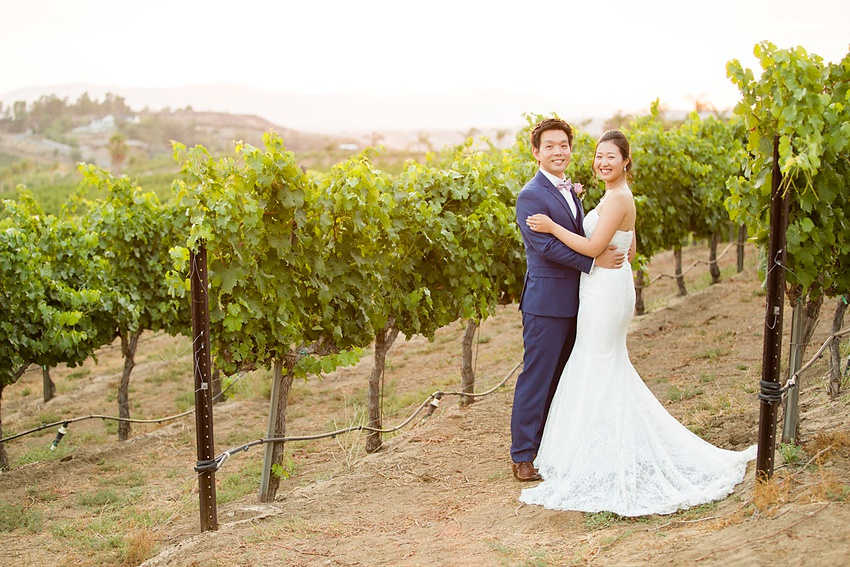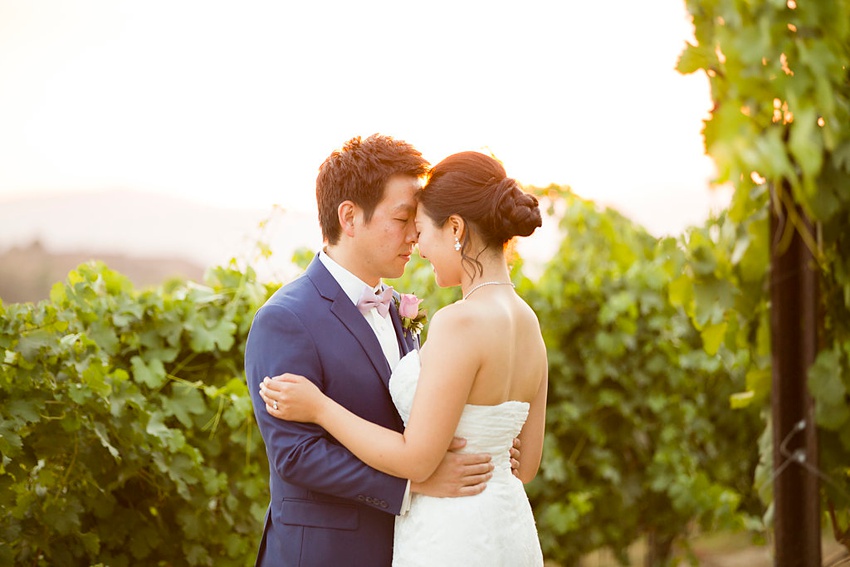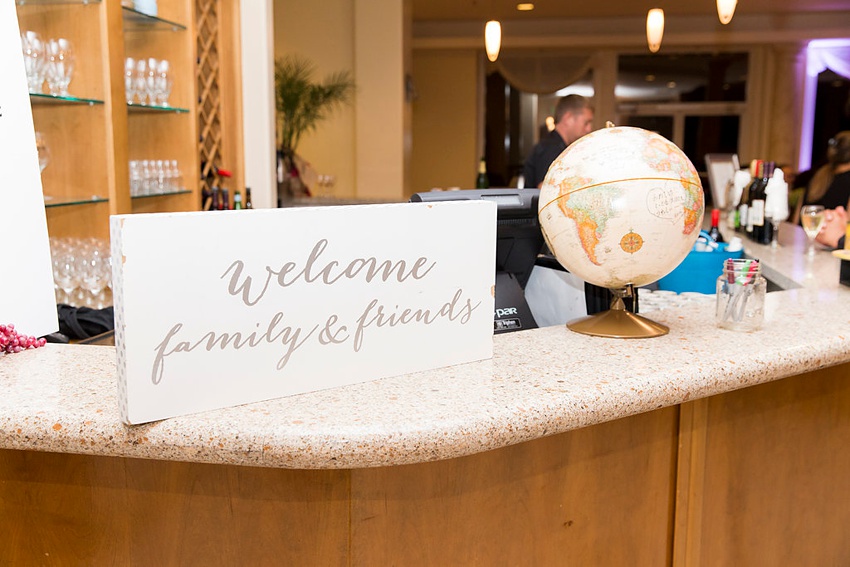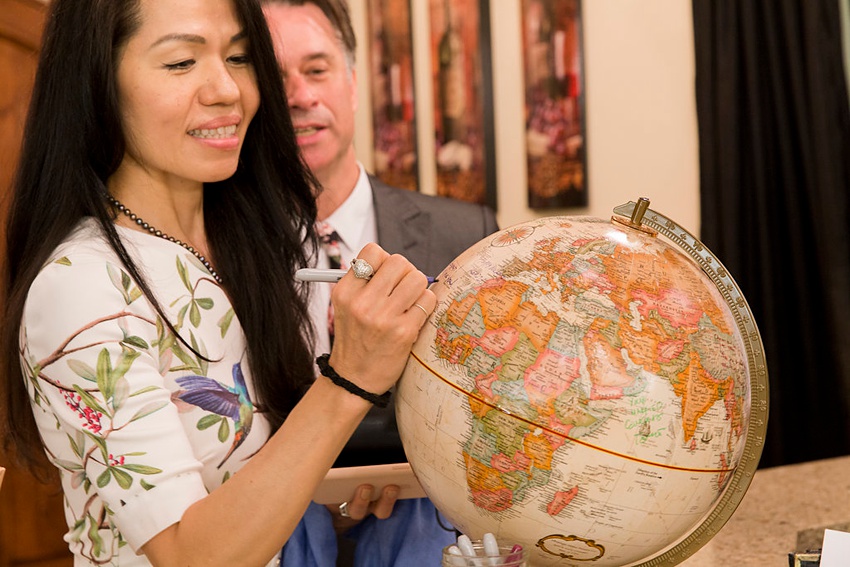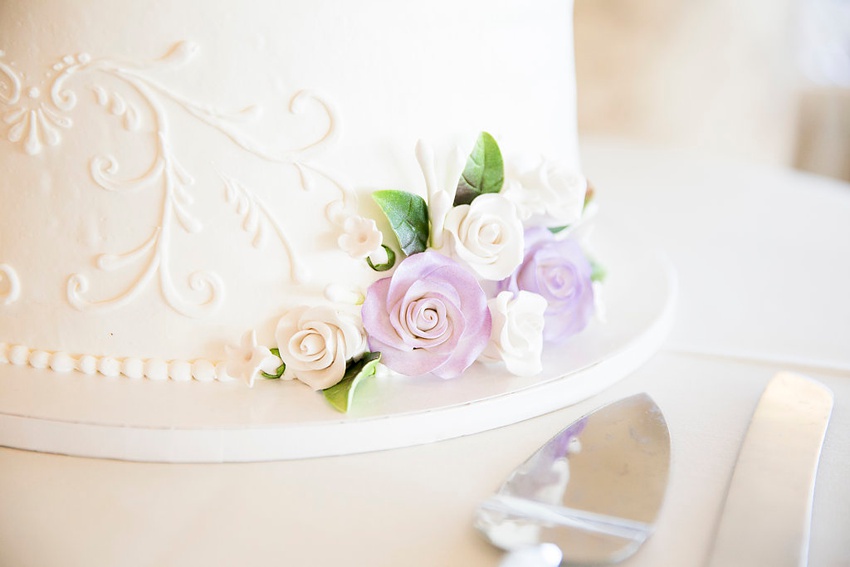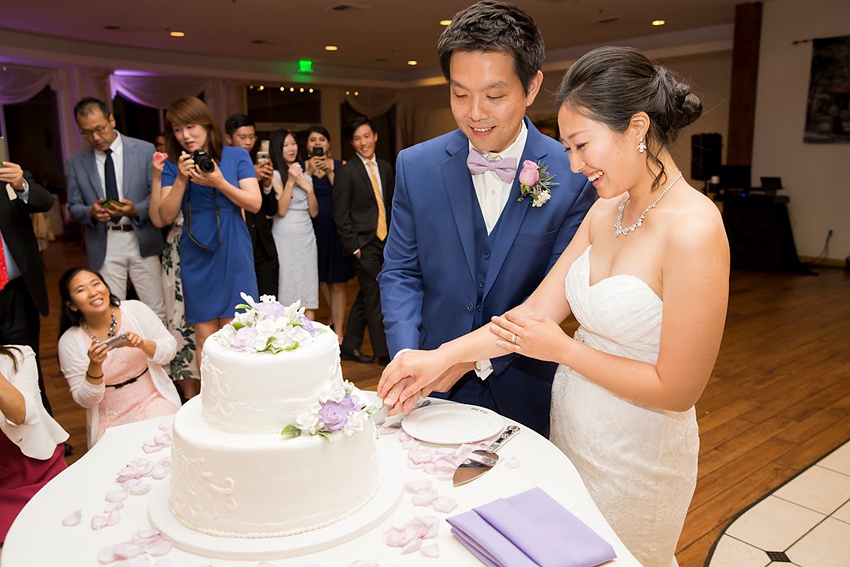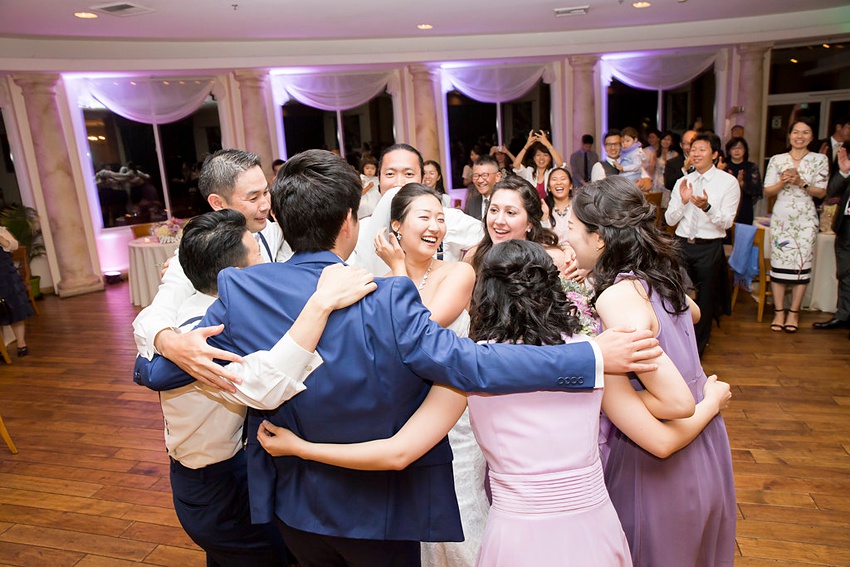 About this Destination Wedding in the Bride's Words
How did you meet?
We are a Japanese couple and met through friends in the Bay Area, at an (unofficial) campus tour! Tetsushi had lived in the US for over half of his life and I just moved from Tokyo to California 6 months ago to pursue my study at that time. I was asking him about his career in academia, but it didn't take long to have a hidden crush/admiration for him. He later told me that it was the first day we met when he felt something special for me.
While we had a lot of differences, we also knew that we share a lot in our culture, philosophy, and dreams. We started dating after a month. There were many things to consider, but looking for a serious commitment, we were fine with what we would face. We lived three-hours away and occasionally in separate countries. We had an age difference. But we always figured our way to make commitments to each other, knowing that we would get married at some point.
What is your proposal story?
After my commencement from graduate school, we decided to celebrate with some wine at our favorite winery. On our way, I called my family in Japan (who could not join the day) to thank them for their support of my dreams in America. When I hung up, I found we were not at the winery but at "cliffs". That had been where we went out alone for the first time (before officially dating). It's where we had talked about our past and dreams over wine & cheese. That's where I fell in love with him and with the most beautiful sunset in the Pacific Ocean. We parked the car, walked (climbed) over the rocks as we adventurously did a few years ago on our first date. But this time I was wearing a dress with heels and he was wearing a suit.
When we reached the furthest, I was taking a deep breath from the ocean and embracing the years I spent in California. It was just us, and I could only hear the wind and waves. Then I heard Tetsushi call my name. When I looked back and said "Hun?", he slowly bent on one knee, and it happened.
Tell us a little a bit about your destination wedding vision
We got legally married at a city hall in San Francisco but without our family in attendance. We always wished we had our families witness the moment, in California where our journey began with our old and new friends. When we set the date to a year later, it was our hope to invite family and friends who are spread all over the world. The wedding we dreamt of was intercultural: a Japanese and Buddhist style ceremony, but also in an American way. We wanted to inherit the way our parents have done. But at the same time, we wanted the open air with sun-rays and a relaxing space filled with the joy we love about California.
As for location, we wanted to have it at a winery. Among many choices, Temecula was the one in Southern California with spectacular views, at a reasonable distance from LA or San Diego where our overseas guests could also enjoy extra activities. We did a lot of research and were very picky. But we immediately fell in love with the Falkner Winery as our perfect venue.
Tell us about your attire choices.
Growing up in Japan, I did not like my silhouette, had few times wore a dress and knew nothing about gowns. When I started my search for a simple and elegant dress, sophisticated yet gentle, I immediately liked the mermaid style. Though I could not picture myself in it and was afraid to do so, my wedding gown was perfect for what I wanted for. Wearing a mermaid dress meant I had to overcome my complex and to have confidence in myself, loving who I am. Tetsushi wanted to match our wedding style– summer, California, and winery. The cobalt blue suit well harmonized with his personality and emphasized the brightness with the lavender bow tie, to match the theme color for our wedding.
What was most important to the two of you while planning?
We did not have specific visions for our wedding except the location: a winery. Our first date was about wine. We spent a lot of dates in Napa, Sonoma, Carmel and even in Italy. The atmosphere of the wineries– the joy and the open space was the perfect combination for our dream wedding. Our guest list was not long but was widespread to all over the States and beyond Europe to Asia-Pacific. We had a budget constraint but wanted to make it the best for our guests, especially transportation and accommodation management. Some of them traveled thousands of miles with kids. Some, including our family, do not speak English. We wanted to be inclusive and make them feel comfortable. Finding a good balance in this intercultural wedding was a good challenge for us.
What were your favorite parts of the day?
The ceremony: It was summer, but it was cloudy and very windy before the wedding and we were worried. However, by the time the ceremony began, the strong wind had stopped. We started a prayer, and when we concluded with a bell. A fresh summer breeze mystically blew in silence. It was mystic, and I was filled with happiness and appreciation for this day. The ceremony continued under hazy clouds gently covering the sky, which is usually burning our skin with California sunray. That day they calmly carried the rays of light. There were mountains to the west. At the time of the kiss, a magnificent sunset was shining on us all even brighter. It reminded of us our favorite poem: "Just as the deep red of the setting sun holds the promise of a beautiful tomorrow, a life well lived conveys the gift of hope to future generations".
Reception: We had a lot of help from our friends organizing the wedding, especially from good friends of Tetsushi from college and grad school. Their deep bond is more of a family rather than friends, and it created such warmth in the place. The reception was a mix of Japanese and American styles and we had a DJ, which we would never have in Japan! Some were dancing and singing, some were taking pictures with us, catching up over good wine. It was a free and joyful moment. For me, I had never seen my parents enjoying so much or imagined myself dancing with them! When the last song came, everyone took hand in hand and made one huge circle, surrounding the two of us in the center. It was heartwarming, and we were filled with joy and gratitude.
What did you do for wedding favors?
Because we wanted something special for favors, we decided to pick them out when we traveled to France before the wedding. We visited Provence to pick up the "Provence lavender" sachets and Marseille for genuine Marseille soaps. Then we wrote a message to each guest and put everything in a small bag of linen and hemp.
Do you have any advice for couples planning their weddings now?
If you are like me who had no dream wedding book or are new to your place and yet want to make a special day, do not hesitate to ask for help. Talk with your partner about your priorities. Choose your best three options to ask your fiance for the opinion, rather than asking general questions. I never imagined that I would cry in planning, (and I did) but have one person you can talk to.
What was the best part of having a destination wedding?
Because it was a destination wedding, we could never feel more appreciative of our guests and friends who really wanted to join us to celebrate and spent time together. It was about us but more than us, and we had the most enriching time together in the secluded countryside.
What was the biggest challenge when planning your destination wedding?
Arranging transportation for outside guests, and catering if you have a specific place to order. In our case, some guests could carpool but if not, the transportation to the venue was limited especially when they have different flight schedules. Nevertheless, it made us feel even more grateful as we got to know how much effort our friends put to make their time to attend our wedding!
Vendors
Photography: Randi Michelle Photography | Ceremony Venue: Falkner Winery | Floral: Willa's Wreaths | Hair: Thomas Edward Salon & Dry Bar | Wedding Cake: KING'S HAWAIIAN | DJ: Classic Cuts | Favors: Folis de Provence | Wedding Dress: Simply Bridal | Groom's Attire: Friar Tux | Bride's Shoes: minelli | Groom's Shoes: ALDO