If you just started researching the different destination wedding packages offered by most popular resorts, you might be feeling a little overwhelmed. I've heard from so many couples who requested wedding packages from a resort, only to feel confused or disappointed because the packages didn't match their vision or they just don't understand how it all works. In this post, I'm going to break it all down to give you a basic idea of how destination wedding packages usually work. Most resort packages fall into one of two buckets – standard packages and customized packages. That means that you can plan the wedding of your dreams regardless of your budget, style, or personality.
Destination Wedding Packages vs Customized Wedding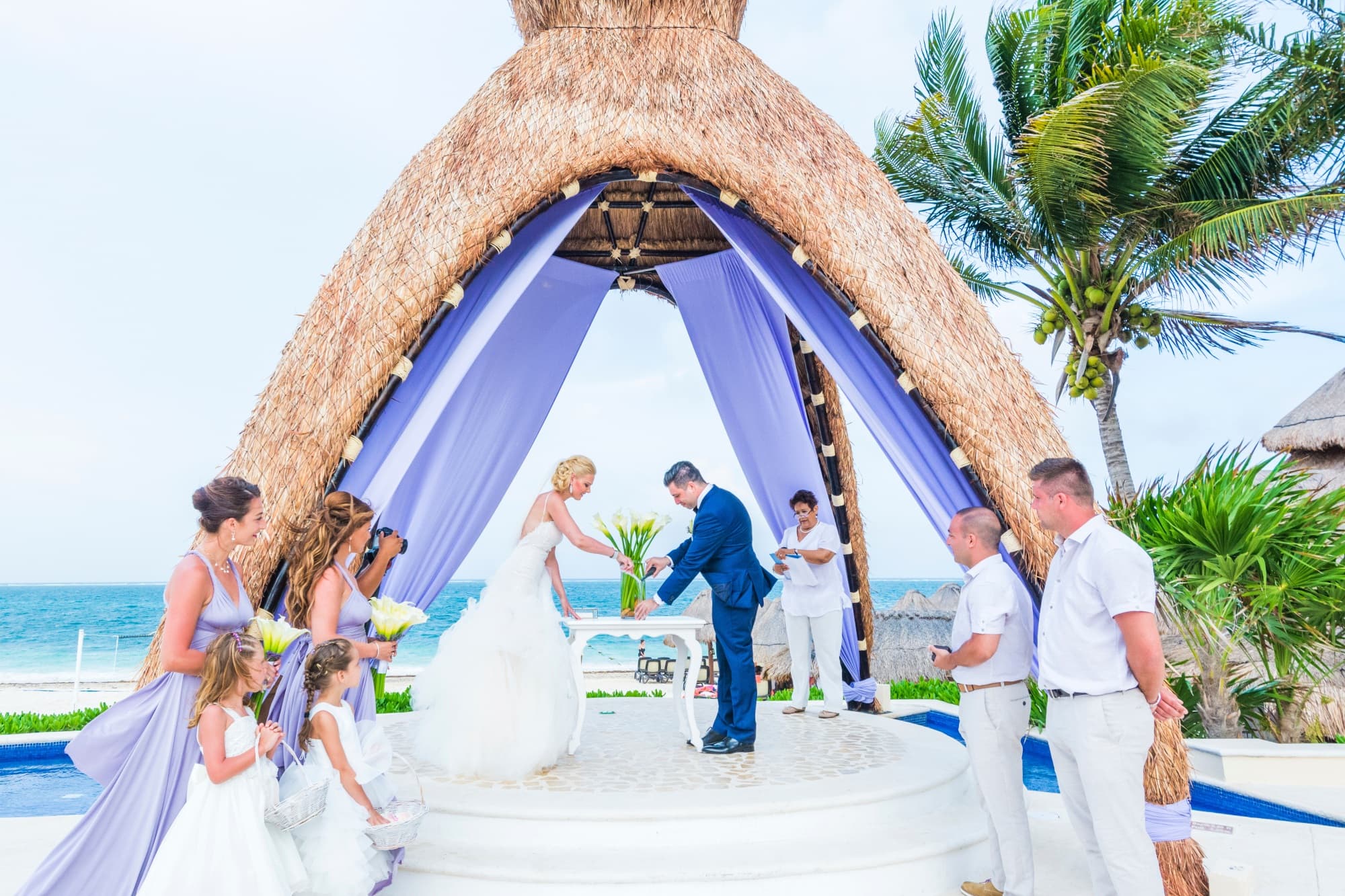 Standard Destination Wedding Packages
Are you the type of person that gets overwhelmed with details? If you just want a nice, simple wedding that's all planned out for you, then you are probably better off with a standard destination wedding package. Big all-inclusive resorts usually have a few different options with different themes and color schemes. For the most part, they'll come with an on-site planner, and basics like the cake, ceremony officiant, decorations, flowers and dinner for a small number of guests. You can add extras for an additional cost. Some resorts will even have free wedding packages if you book a certain number of rooms, although those packages are usually pretty basic and come with a lot of restrictions. You can read the truth about free destination weddings here.
Customized Destination Wedding
Now, if you're like I was, and want to micromanage every single detail, a wedding in a box just won't cut it! In that case, you can either start with the resort's package and just add/take away from it. Or you can give the resort planner your vision and they will completely customize your ceremony and reception. This is usually the most costly option.
Non-all-inclusive resorts will probably give you the most flexibility to completely customize your destination wedding. They don't have as many weddings as all-inclusive resorts so the attention is more personalized. But keep in mind that this option is not for everyone. Customized destination wedding packages are the best option f you want something really unique, have your own ideas and don't mind the extra work. And don't underestimate how hard it will be to plan every detail of a wedding from a distance. It's not for the faint of heart. If you do decide to completely customize your wedding, it's important that you feel really comfortable with your resort's coordinator or hire a local wedding planner who can handle the details on your behalf.
Posts Related to this One
Destination Wedding Site Visits
All Inclusive Destination Weddings