Janice and Joe had a gorgeous, sun-drenched Siesta Key destination wedding on one of their favorite beaches outside of Sarasota.
The best part of any beach wedding is how easy, breezy and relaxed everyone from the bride and groom to each guest seems to be. Nothing takes the weight of saying "I do" off your shoulders like the sound of the waves, some sun, and a warm breeze. So I was glad to see the majority of the decor and flair go into their beautiful altar. Because when you're blessed with a beautiful sunny day, and an unforgettable backdrop of the sea, you really don't need much but some flowers to dress up the occasion!
And as far as the attire – this whole group nailed it. Joe wore a traditional Filipino Barong that was customized in linen for the beach, and the bridesmaids wore a variety of teals and turquoises to mirror the dazzling blue ocean. And if you've been reading our posts for a while you know how I feel about footless sandals… I'll say it one more time for the cheap seats in the back: I love footless sandals! Janice and her girls are undoubtedly feeling ultra beachy, cute and trendy.
So yes, the wedding looked beautiful – but it was also a day filled with amazing, meaningful memories. I love that Janice and Joe invited their guests to participate in a shell toss. Each guest made a wish and tossed their shell into the ocean. What a beautiful, positivity-laden moment for Janice, Joe and the people they love most. Thanks to Juliana Montane Photography for sharing this beautiful day with us.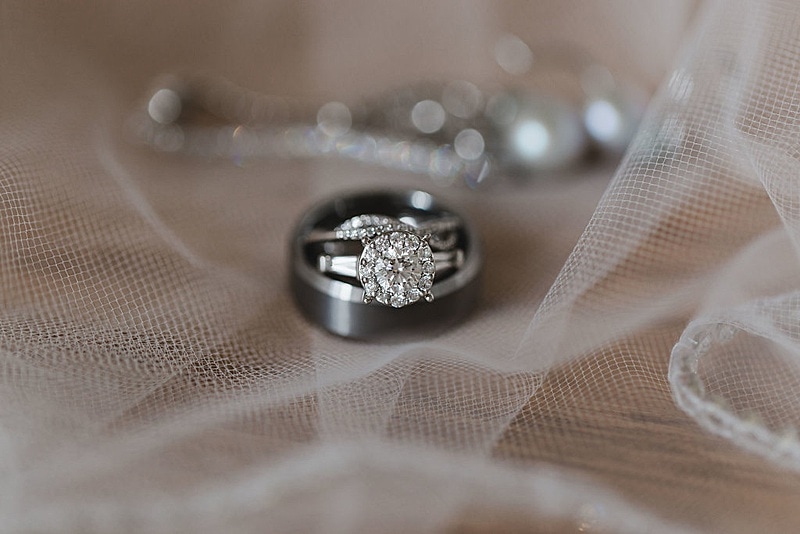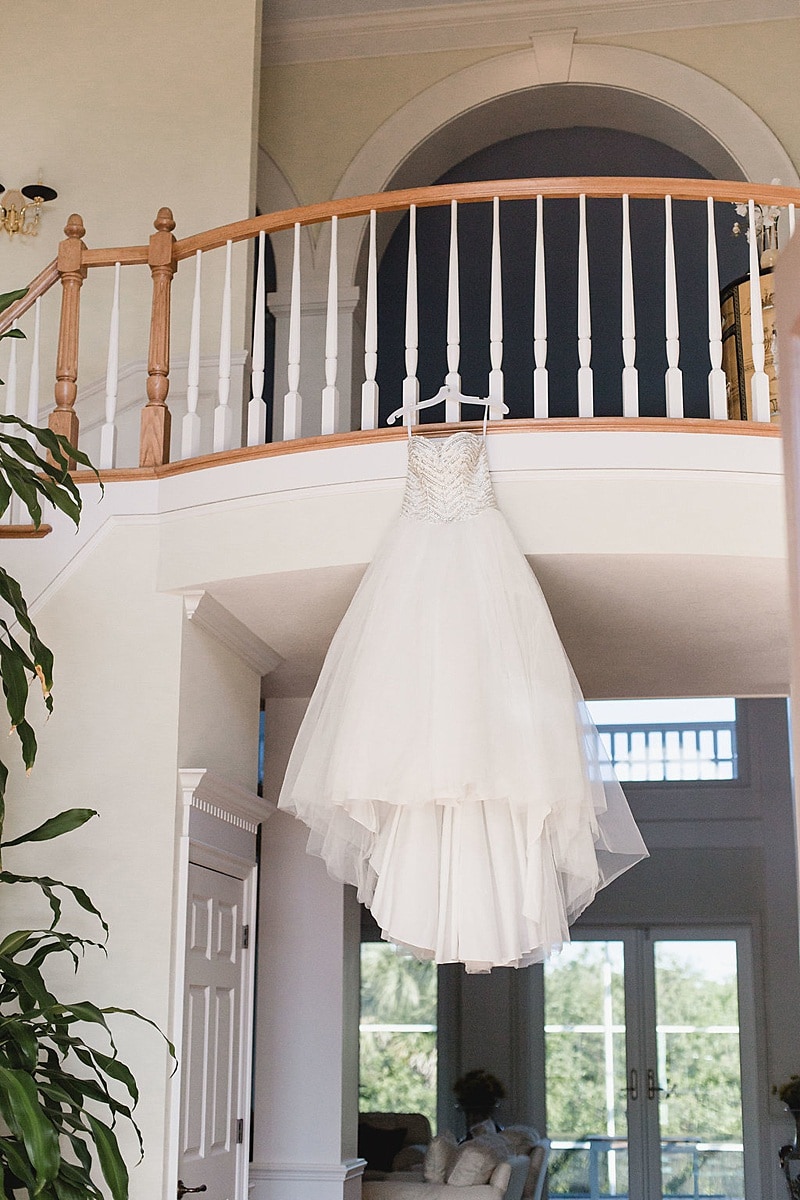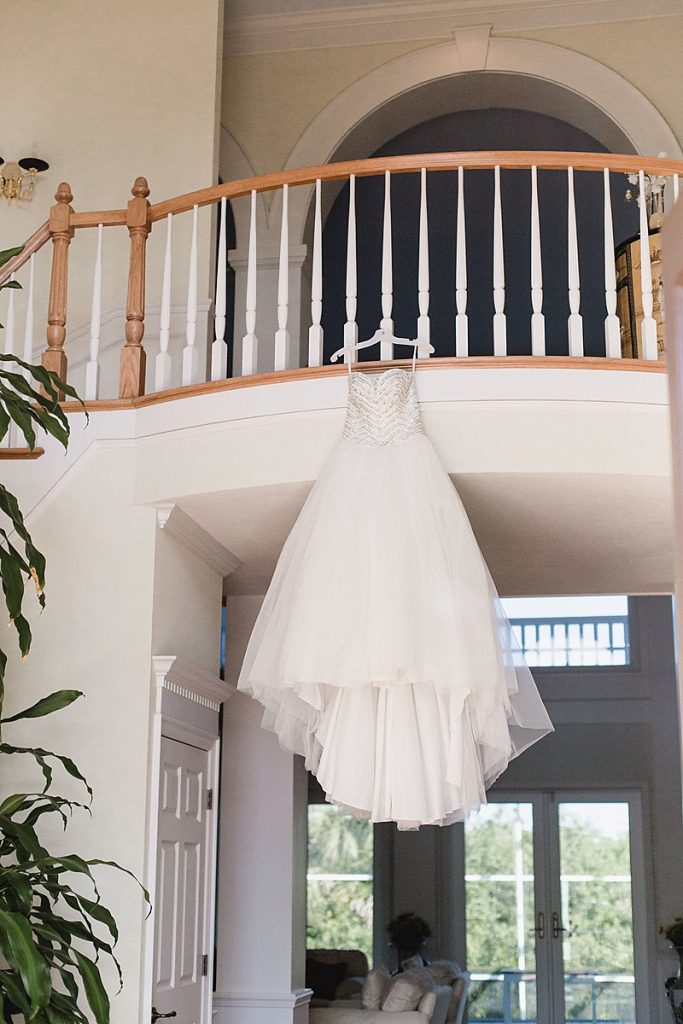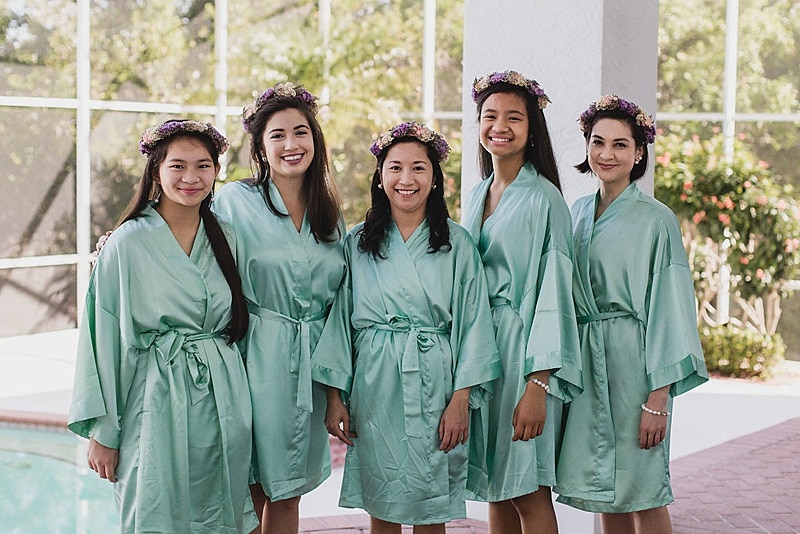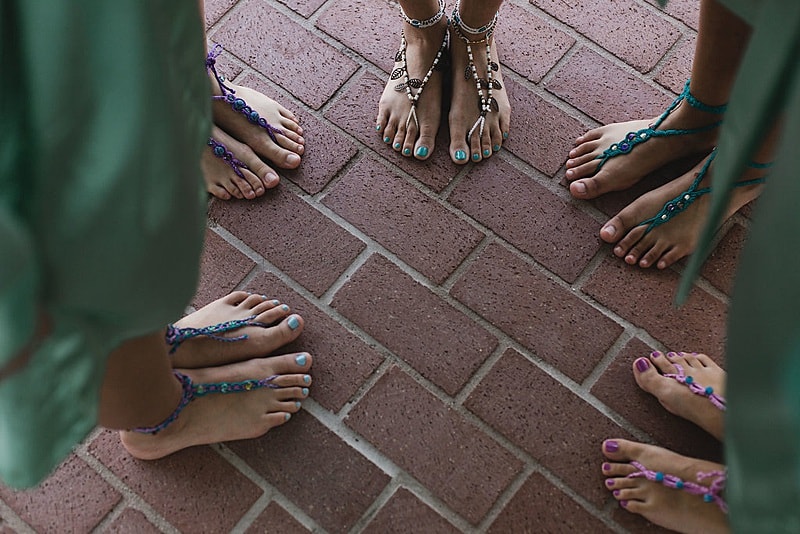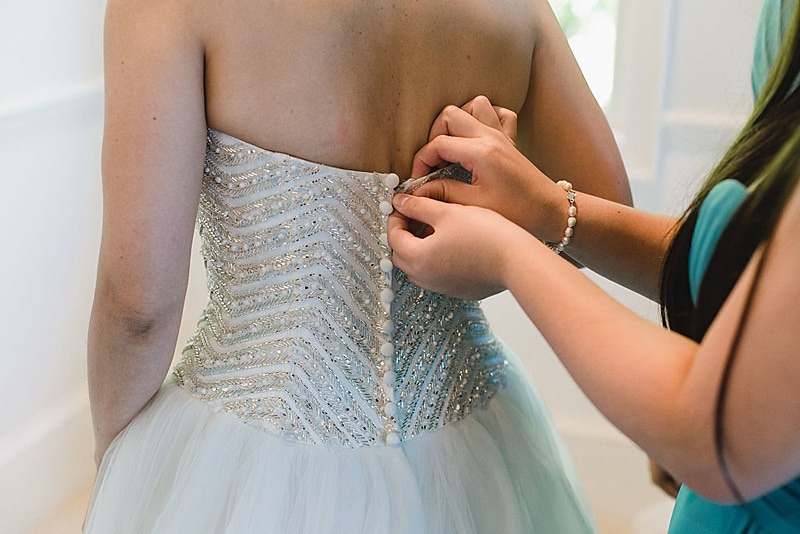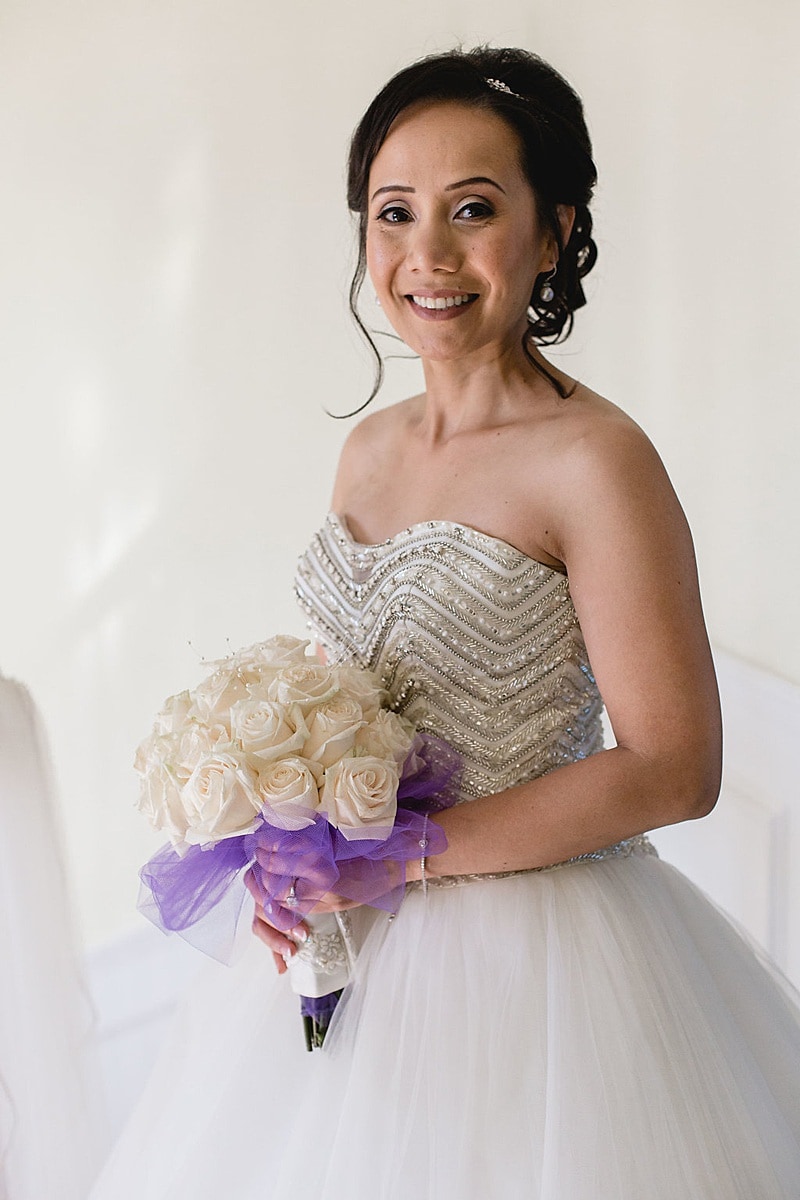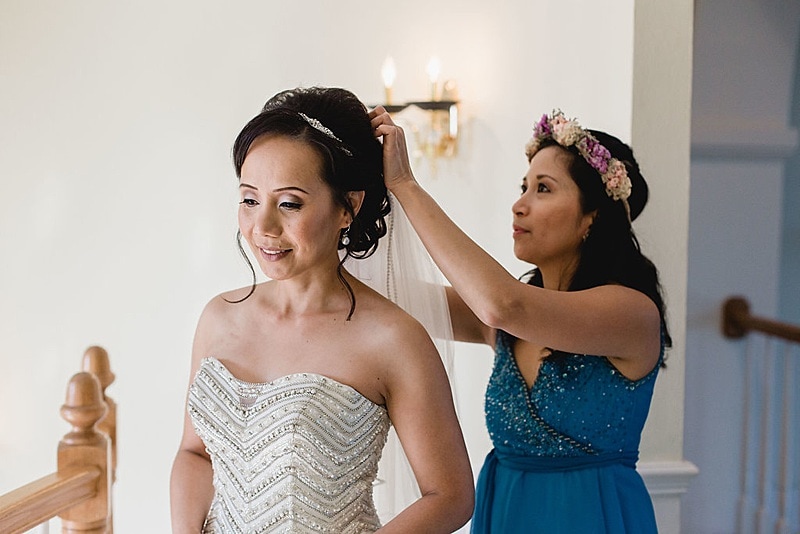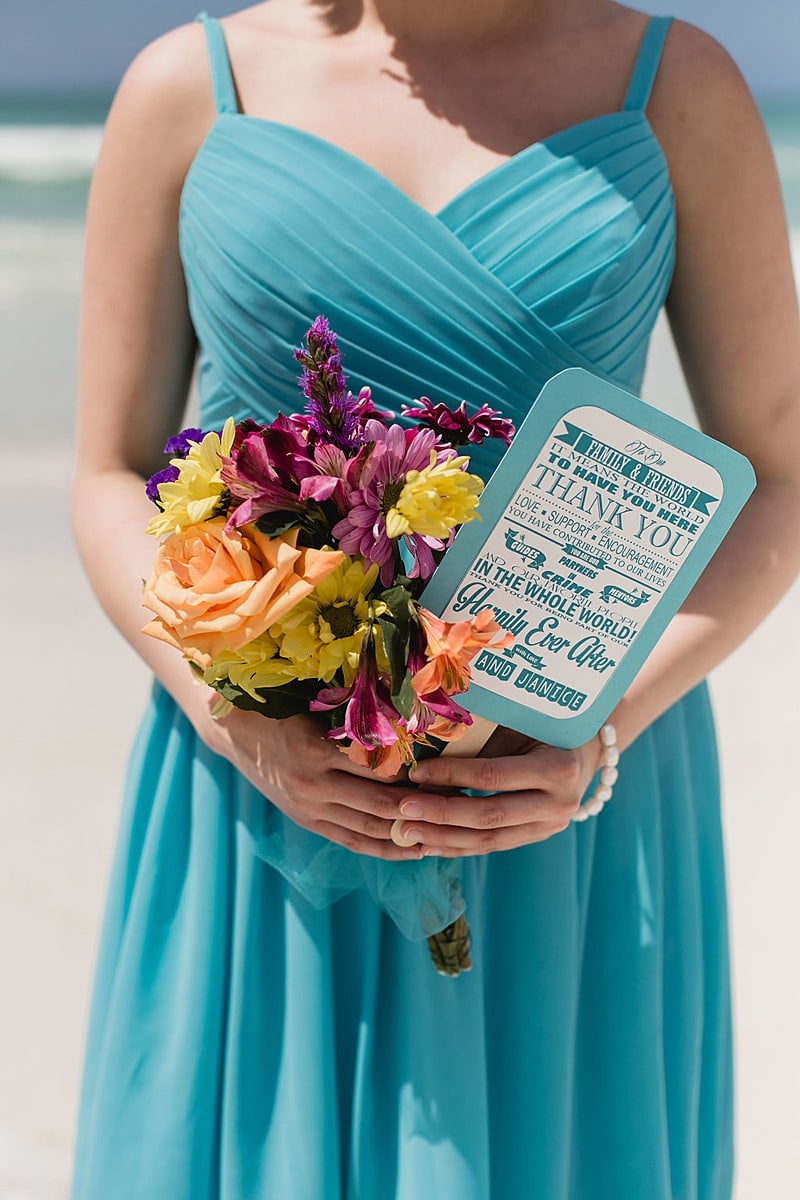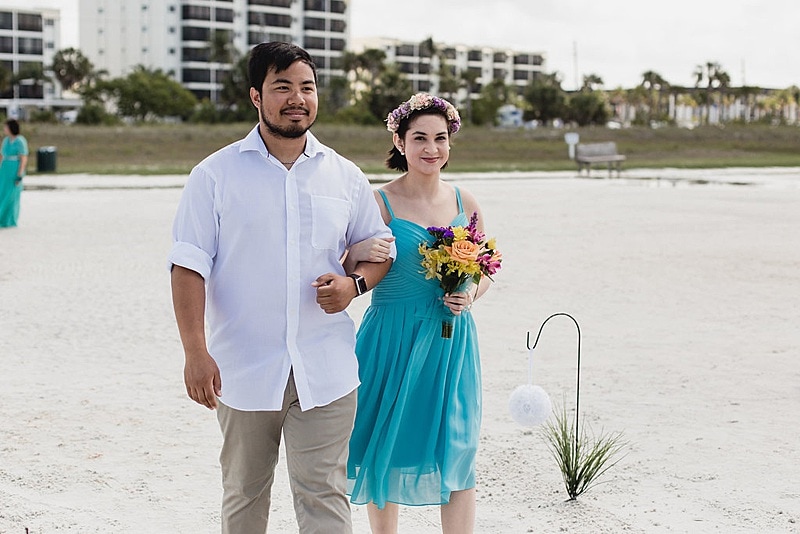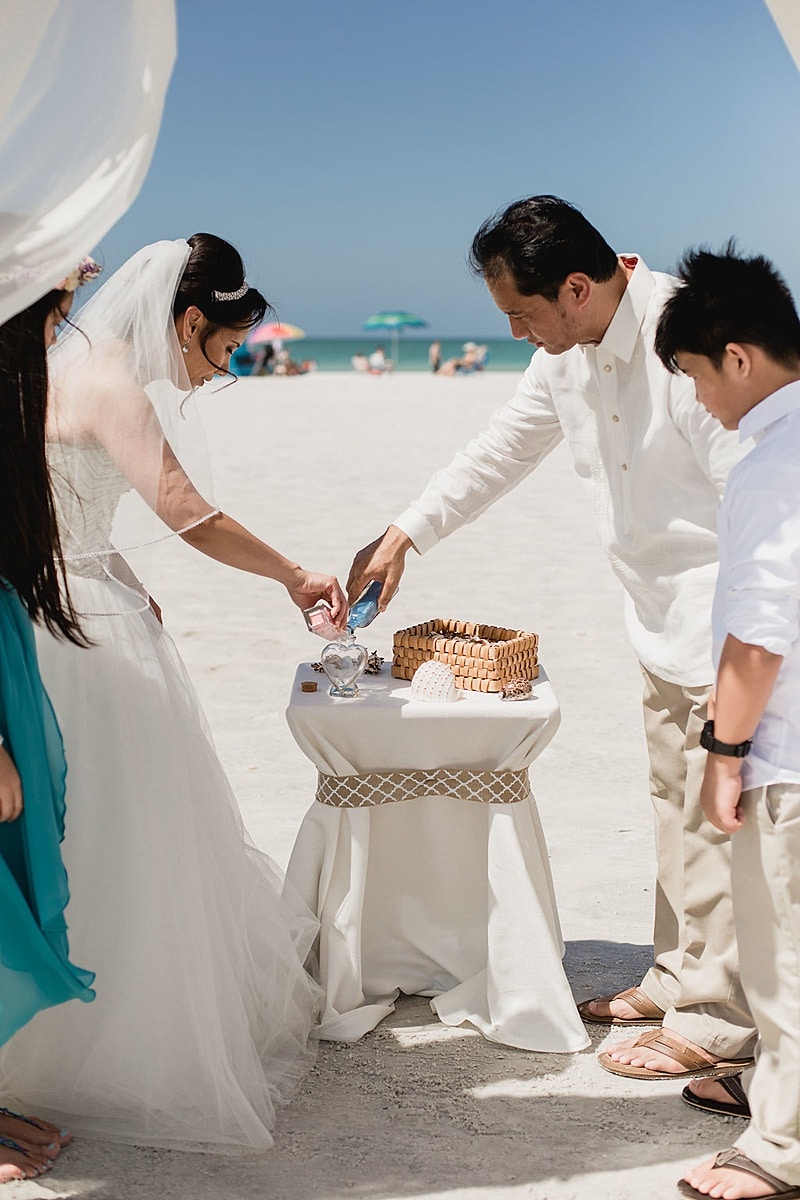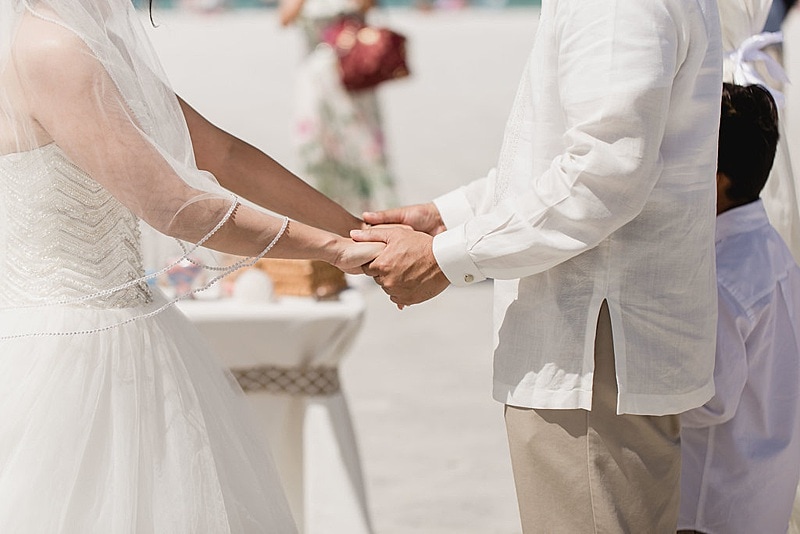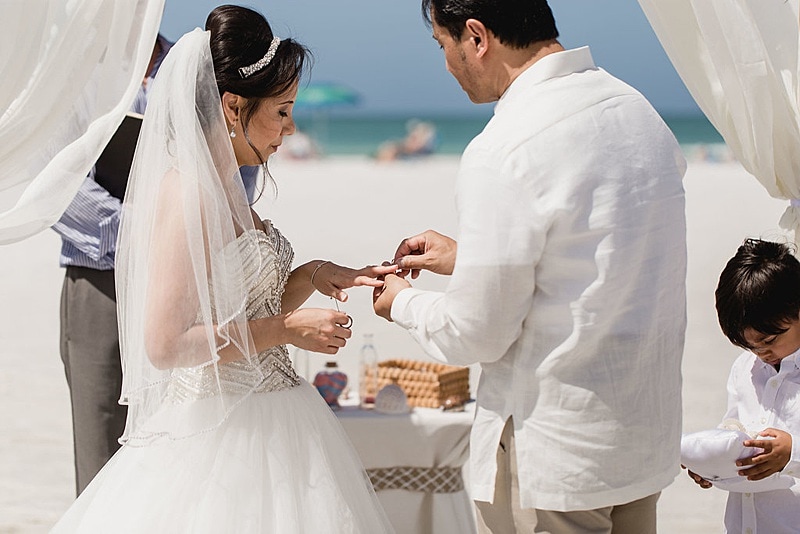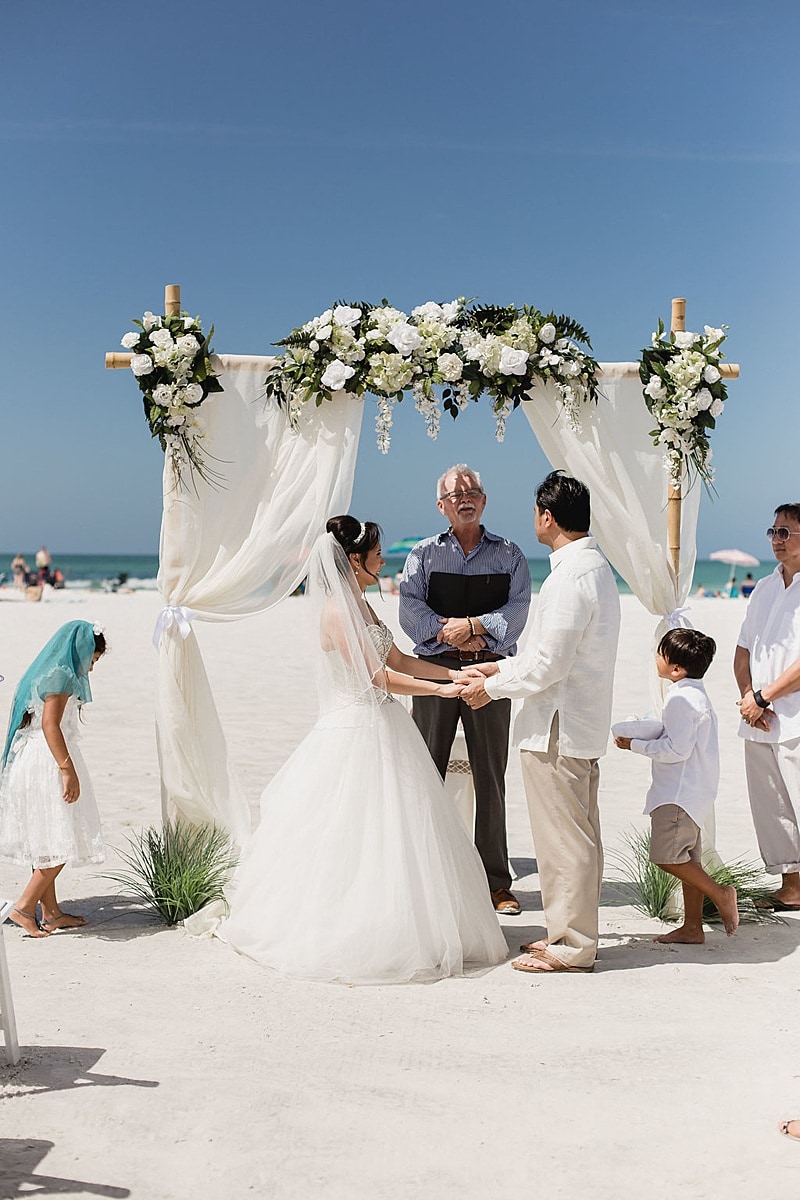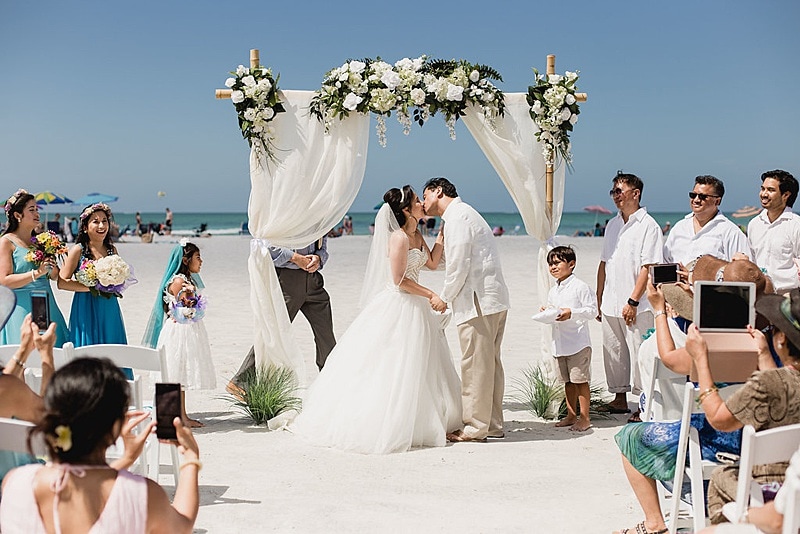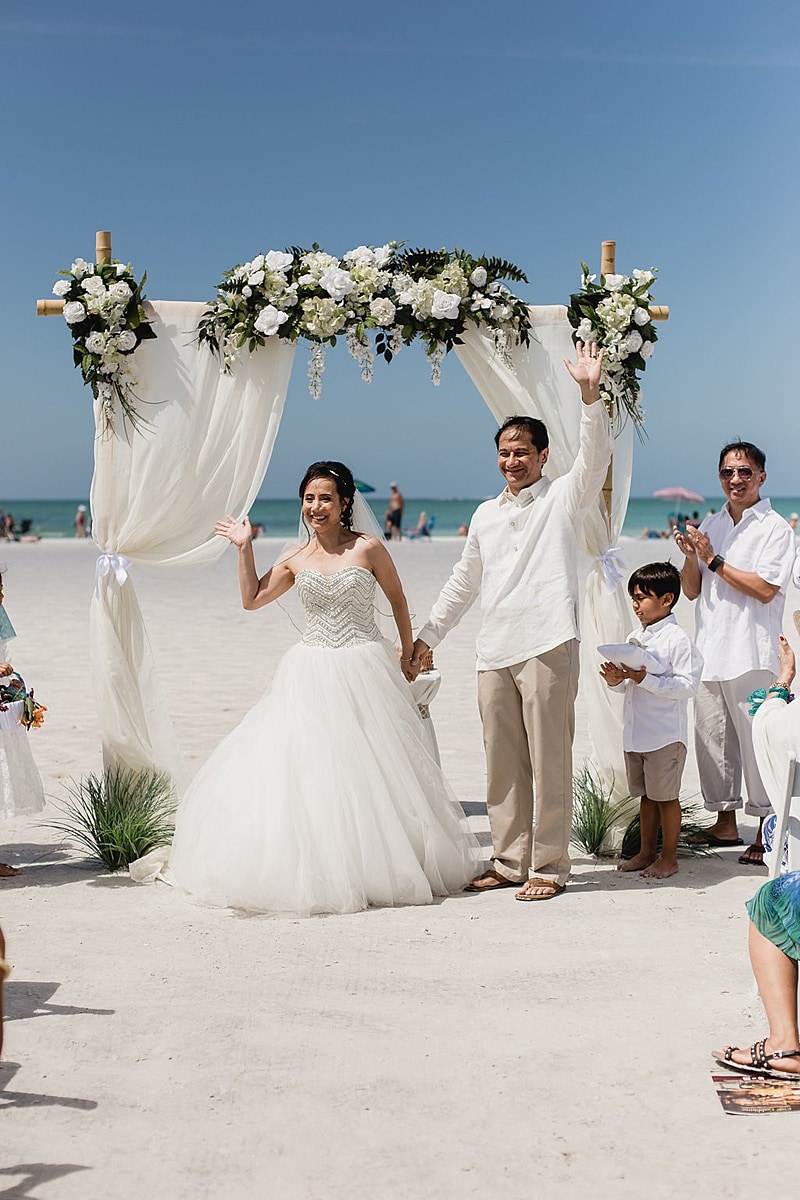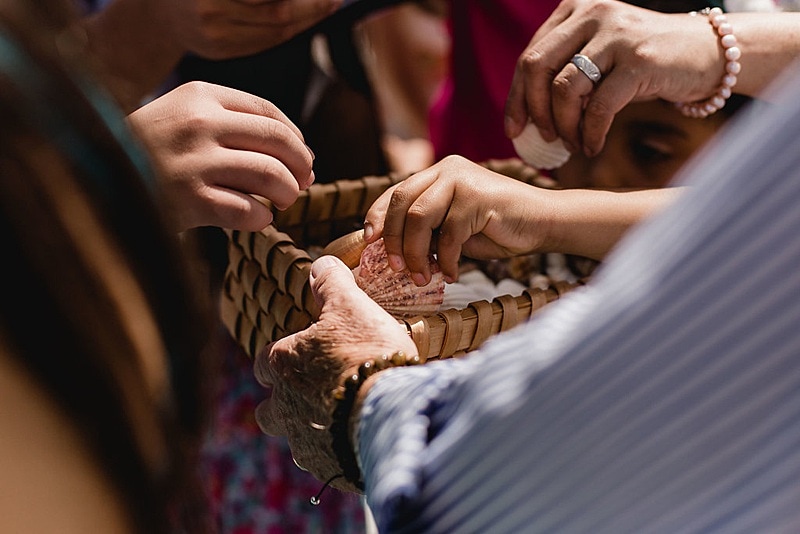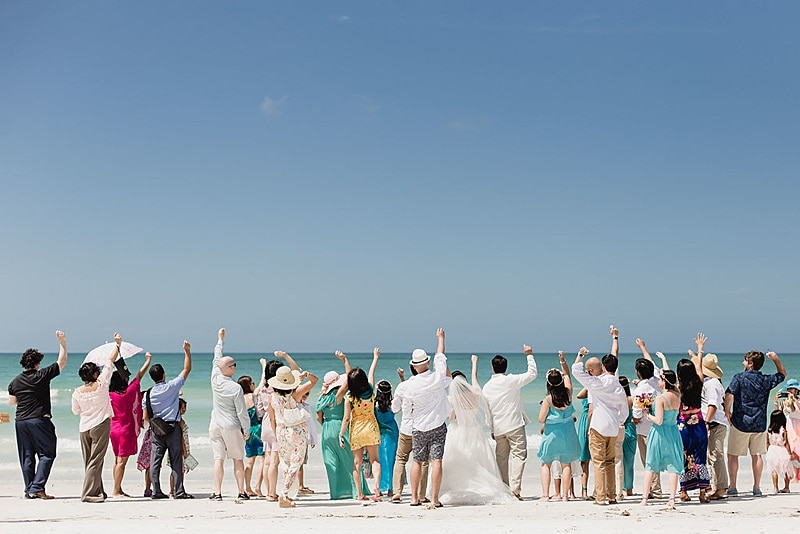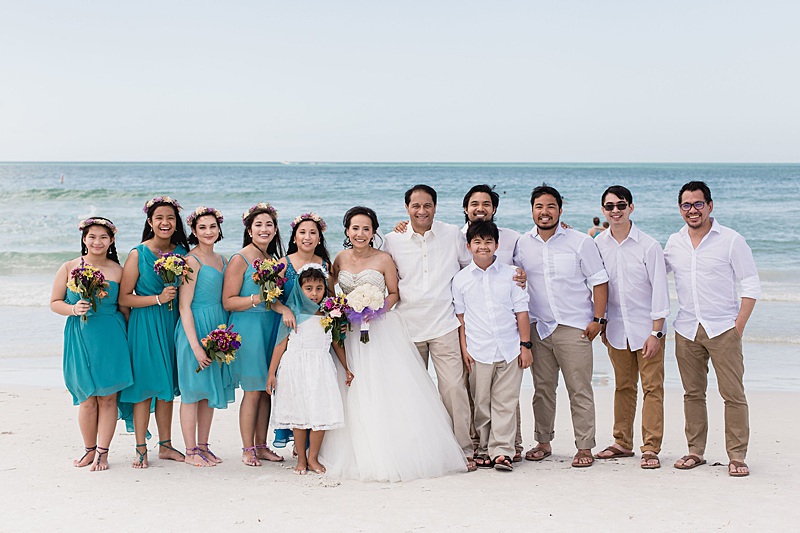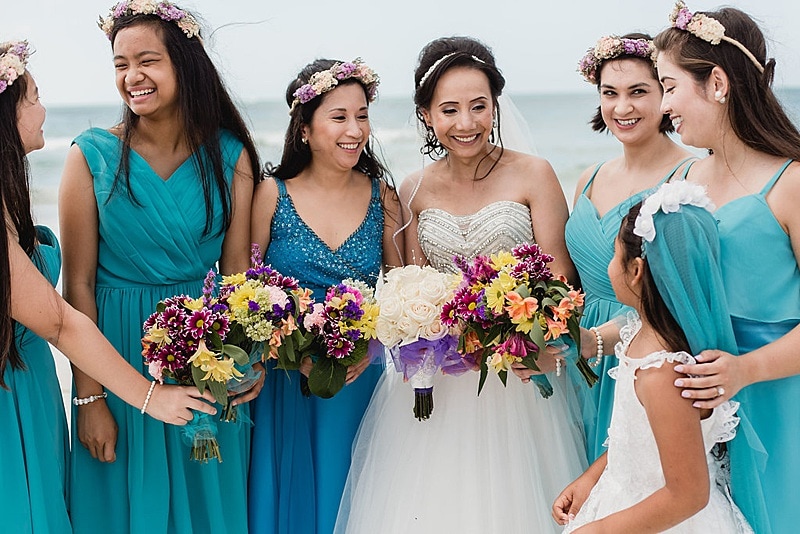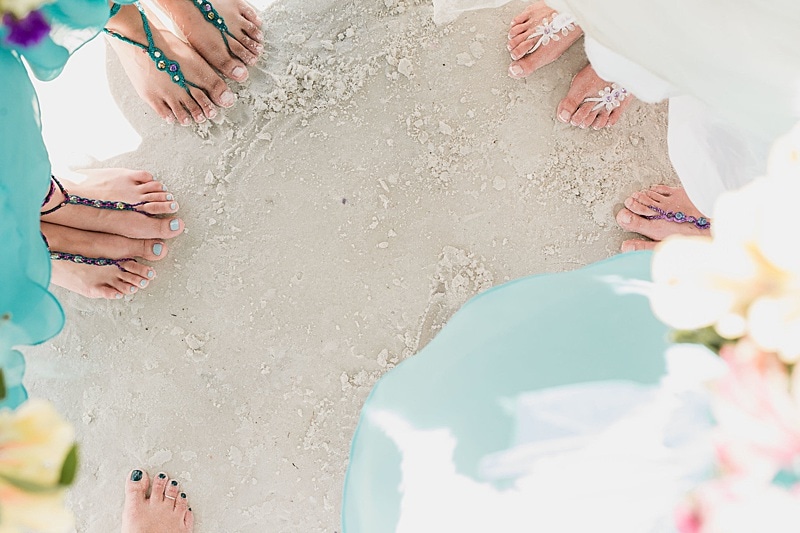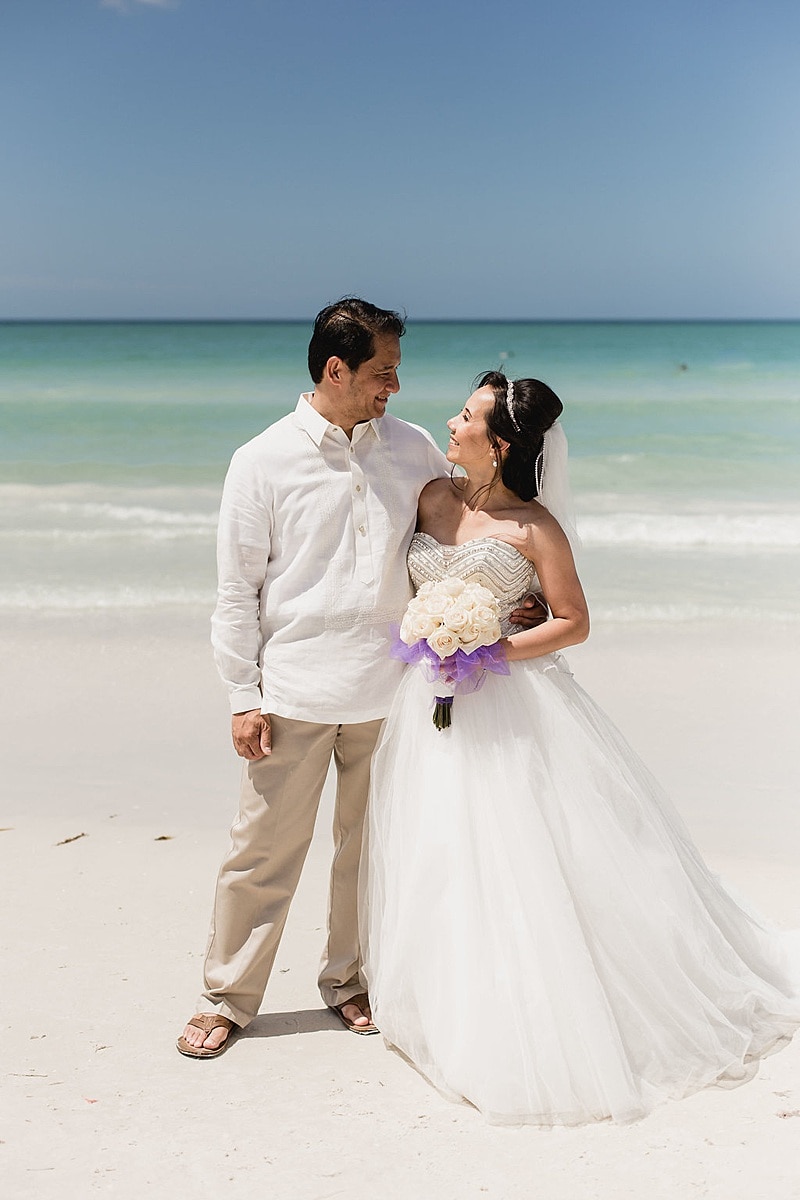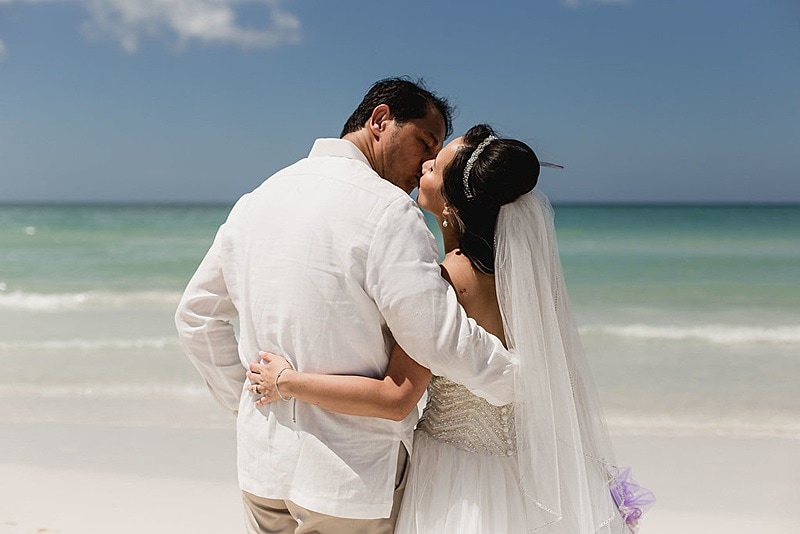 Q&A with the Bride
How did you meet?
I really wanted to learn tennis; but after taking an adult beginner lesson, I found out that nobody really wants to play with a beginner. So I signed up on a tennis social meetup website. Knowing the danger of the internet, I did not use my real name. Instead I used a phrase in my own dialect. Joe emailed me attempting to interpret the meaning of the phrase I used. We emailed back and forth for a couple of weeks and finally decided to meet on my birthday! He taught me how to play tennis once. That was 5 years ago. He has not given me a lesson ever since.
What is your proposal story?
We were in his kitchen one night talking about our day at work. It's mostly me talking as he very seldom talks about his day. I told him I was really sad from an incident earlier. After listening to me, he said "I'm sorry about your day but let me get something from my office that I hope will make you happy". I read messages from my cellphone while waiting then when I turned around as he was coming, he kneeled with the ring in his outstretched arms! I never thought I would become emotional but I actually did. After a few minutes though I punched him lovingly and told him he should have done it when I was dressed up a little bit and to have at least one person there to take the picture. I did love the fact that he wanted to cheer me up – and he was successful.
Tell us about your attire choices.
To carry our tradition, I wanted Joe to wear a classic Filipino attire called Barong. It usually comes in very nice fabrics that look very formal. But we wanted a casual feel for the wedding, so we decided on one made of linen. For the males in the wedding party, I just told them to wear khakis and a white long sleeved shirt. It turned out there are several shades of khakis and none of them had the same one. I am crafty, so I made their boutonnieres to have a personal touch but we forgot to bring them to the ceremony. My gown was not my first choice. I had ordered a gown prior but the consultant ordered one that was 2-3 sizes too big which could not be altered correctly. We were short of time so we went to David's Bridal to find one that's off the rack. They said there was only one dress my size. I tried it but it did not look good on me. In my mind, I was ready to leave empty-handed. Then another consultant said she found another dress. When I saw myself in the mirror wearing it, I just knew that it was something Joe would find me beautiful in. As for the bridesmaids, I wanted them to wear their own style. I love teal, and it looked nice with the beach as a backdrop.
What were your favorite parts of the day?
It's hard to choose a favorite, as we had so much fun. The weather is one. It had been pouring rain days before our wedding and the forecast for our wedding was about 80% rain. So we decided, since all our guests were already in town, to move the ceremony to the morning instead of the afternoon. My favorite was that during the wedding, we had a very beautiful day with a very blue cloudless sky. I liked the sand ceremony because Joe's 2 children were included in it. The dancing during the reception was crazy.
Do you have any advice for couples planning their destination weddings in Siesta Key Beach now?
If it's an outdoor wedding, have an indoor plan B.
What was the best part of having a destination wedding?
We are frequently in Sarasota and I fell in love with Siesta Key from the very first time Joe brought me there. To be married at my favorite beach was the best part. We were able to tag on an 8-day cruise to the Bahamas and US virgin islands right after the cruise as well. With 35 friends and family members!
What was the biggest challenge of planning your destination wedding?
Coordinating vendors from another state and different time zone was a little bit of a challenge. I would have loved to include more personalized and DIY projects but was limited by time and luggage restrictions. I did manage to have the sugar flowers I made showcased on the cake and made paper flowers photo backdrop with the help of friends and family.
Vendors
Photography: Juliana Montane Photography | Ceremony Venue: Siesta Key Beach | Hair & Makeup: Ana Molinari salon | Wedding Planning: sarasota wedding ideas | Reception Venue: Mattisons | Wedding Dress: David's Bridal | Submitted via: Matchology