Royal wedding who? Sanita and Vahid showed up and showed out with their unbelievably dreamy castle wedding that was plucked right out of a fairy tale.
You know the wedding you've been dreaming about since you were a little girl? These two brought it to life in such a wonderful mash-up of elegant traditions and modern fun. First of all, Hatley Castle truly speaks for itself. Photographer Ross Kyker undoubtedly had a ball finding the best shots of this venue, its breathtaking design, and lush gardens.
With a setting that drops your jaw like this, you don't need much by way of décor. Sanita and Vahid's ceremony was simple and classic, and they walked down the aisle to the elegant sounds of a string quartet. Sure, it rained during their ceremony… but they say that's good luck!
They then whisked their 50 guests away to a dinner party at Zambri's, an authentic Italian restaurant in downtown Victoria. This is where the gorgeous soft blush and gold accents Sanita is so fond of really sang. The table sets, floral arrangements and over-the-top 7 tier cake were perfectly coordinated. Not only was the food the best meal they've ever had… but Elvis showed up to the party! How fun is that? Sanita surprised everyone, including Vahid, with an Elvis impersonator to entertain the crowd. What a beautiful, unforgettable night. Best of luck to this beautiful couple!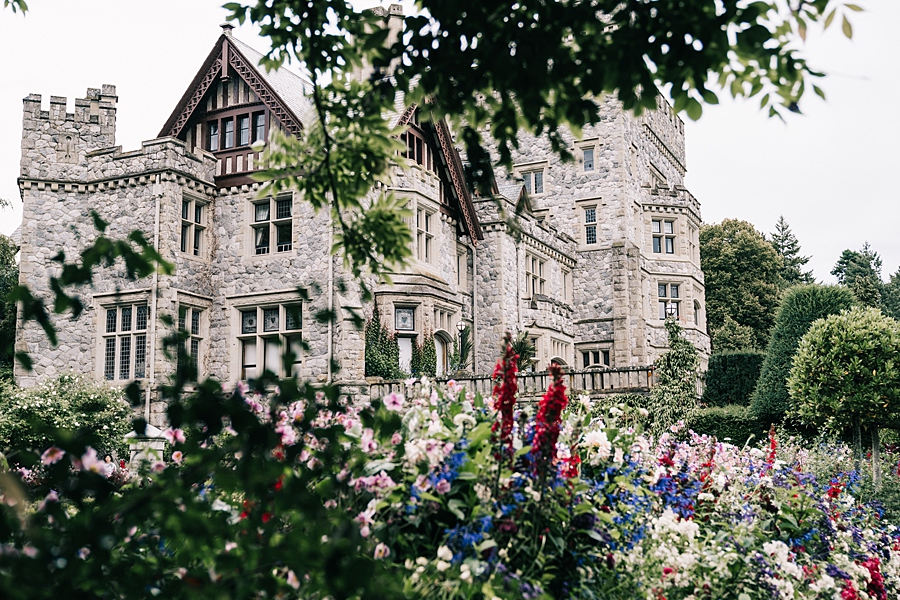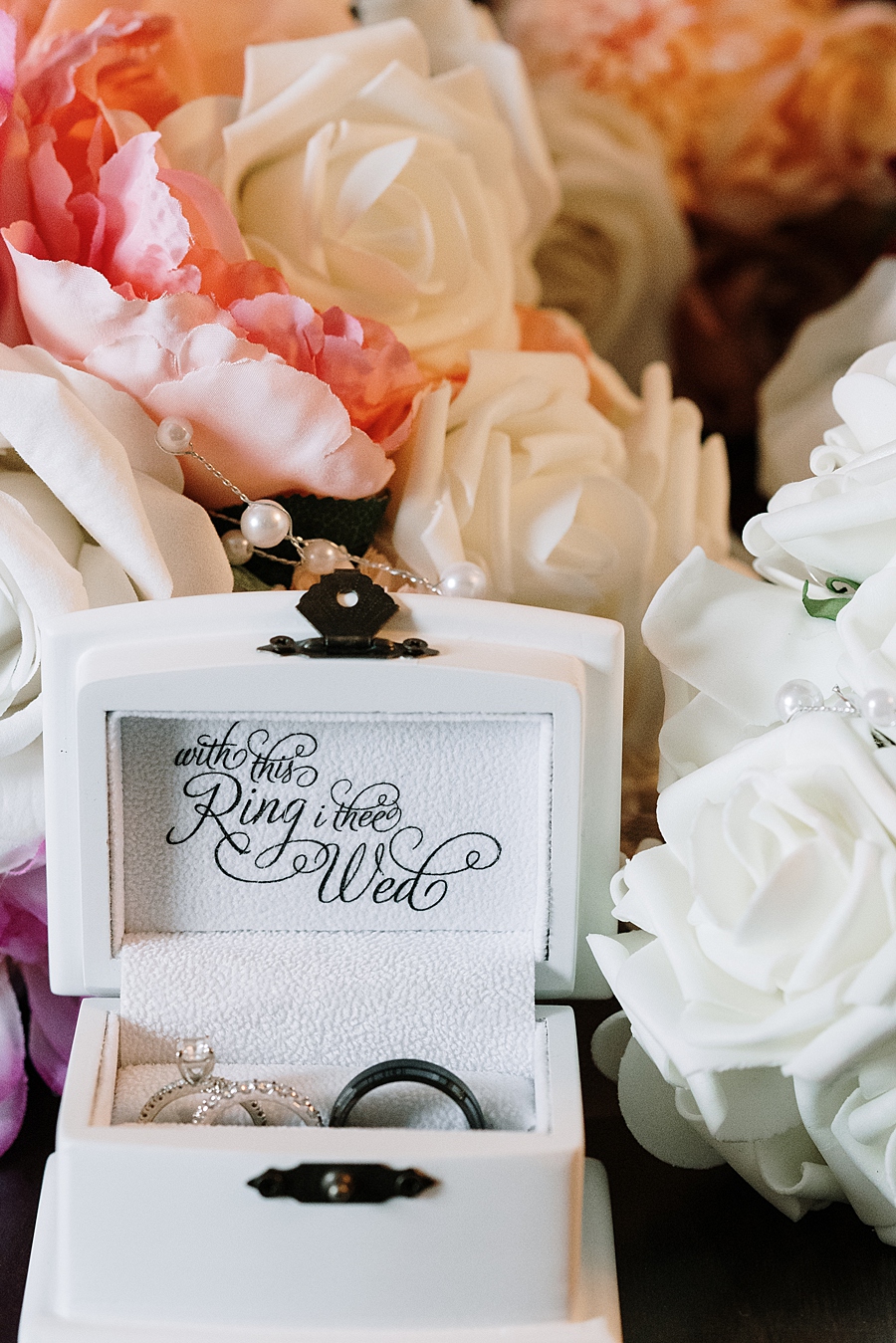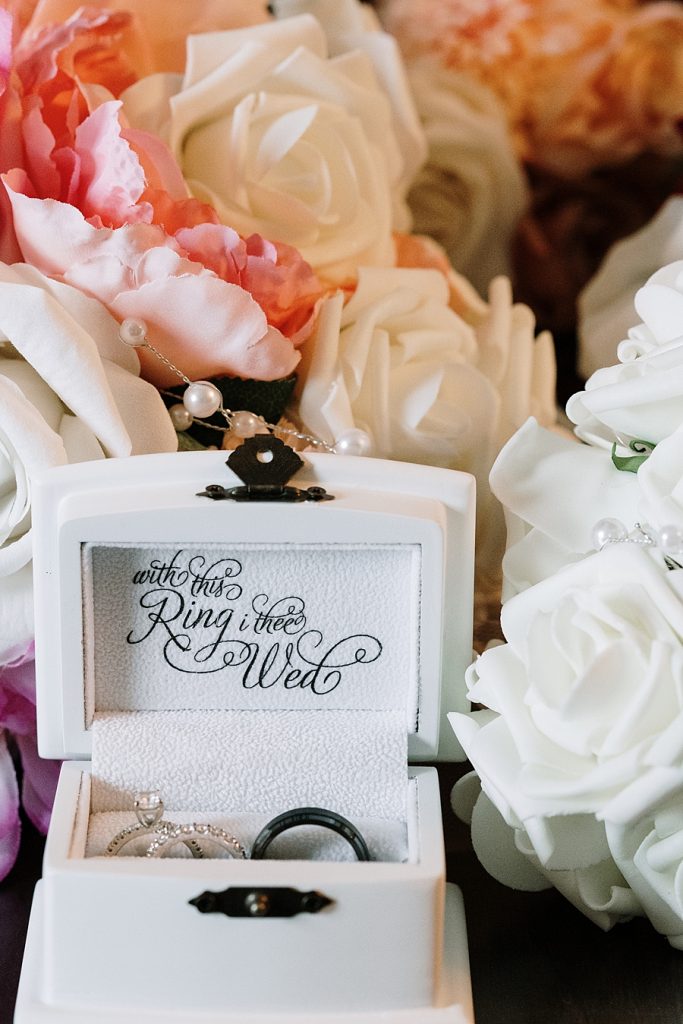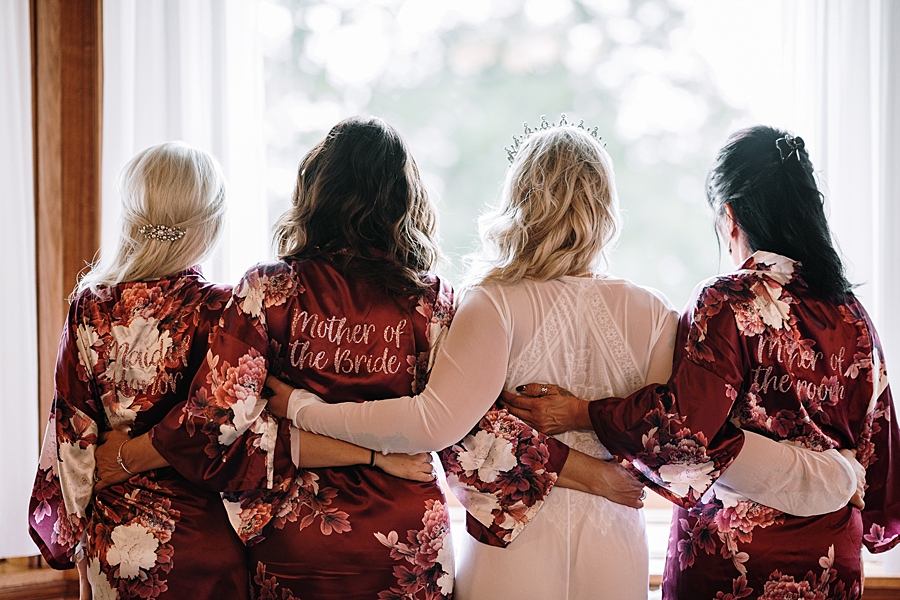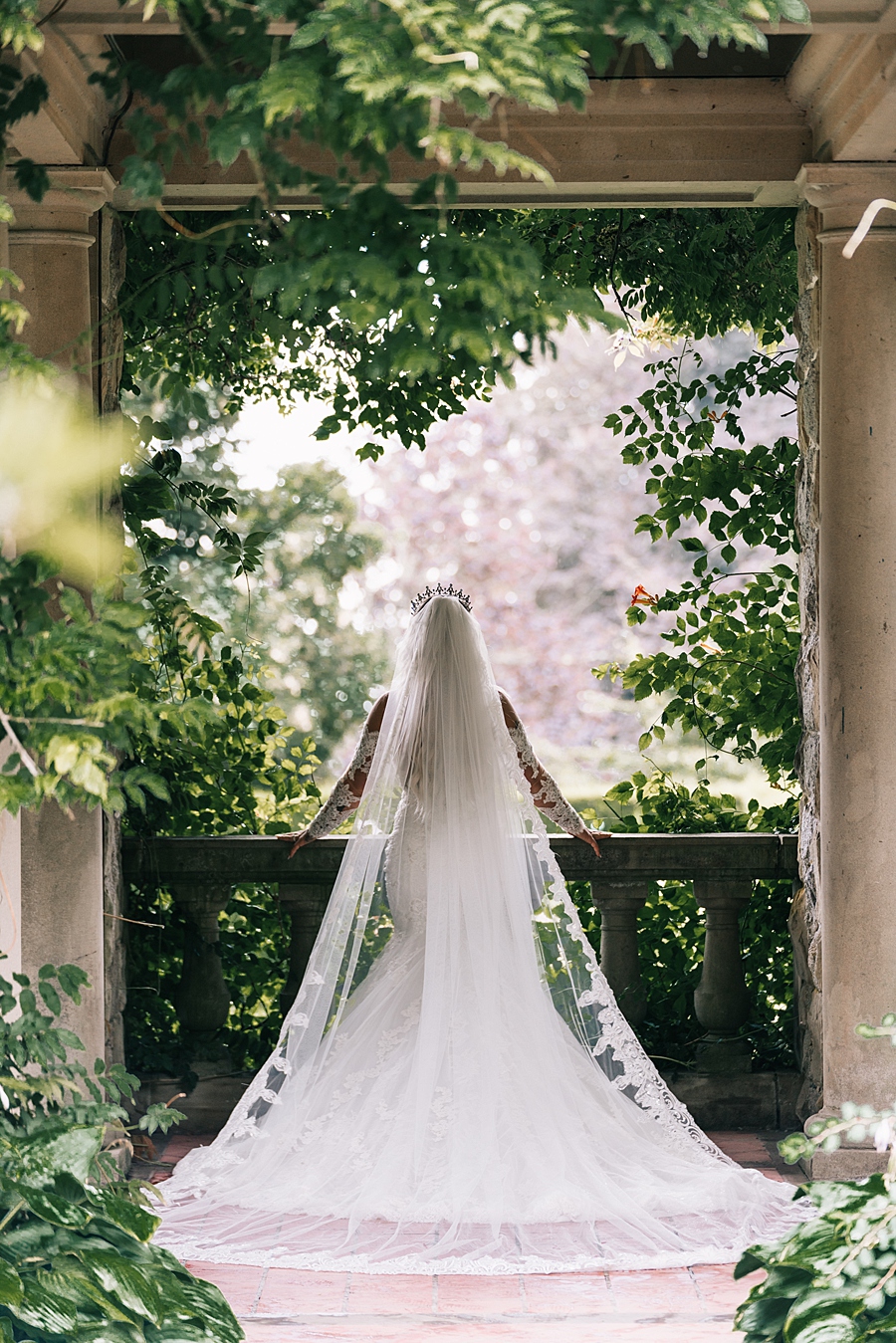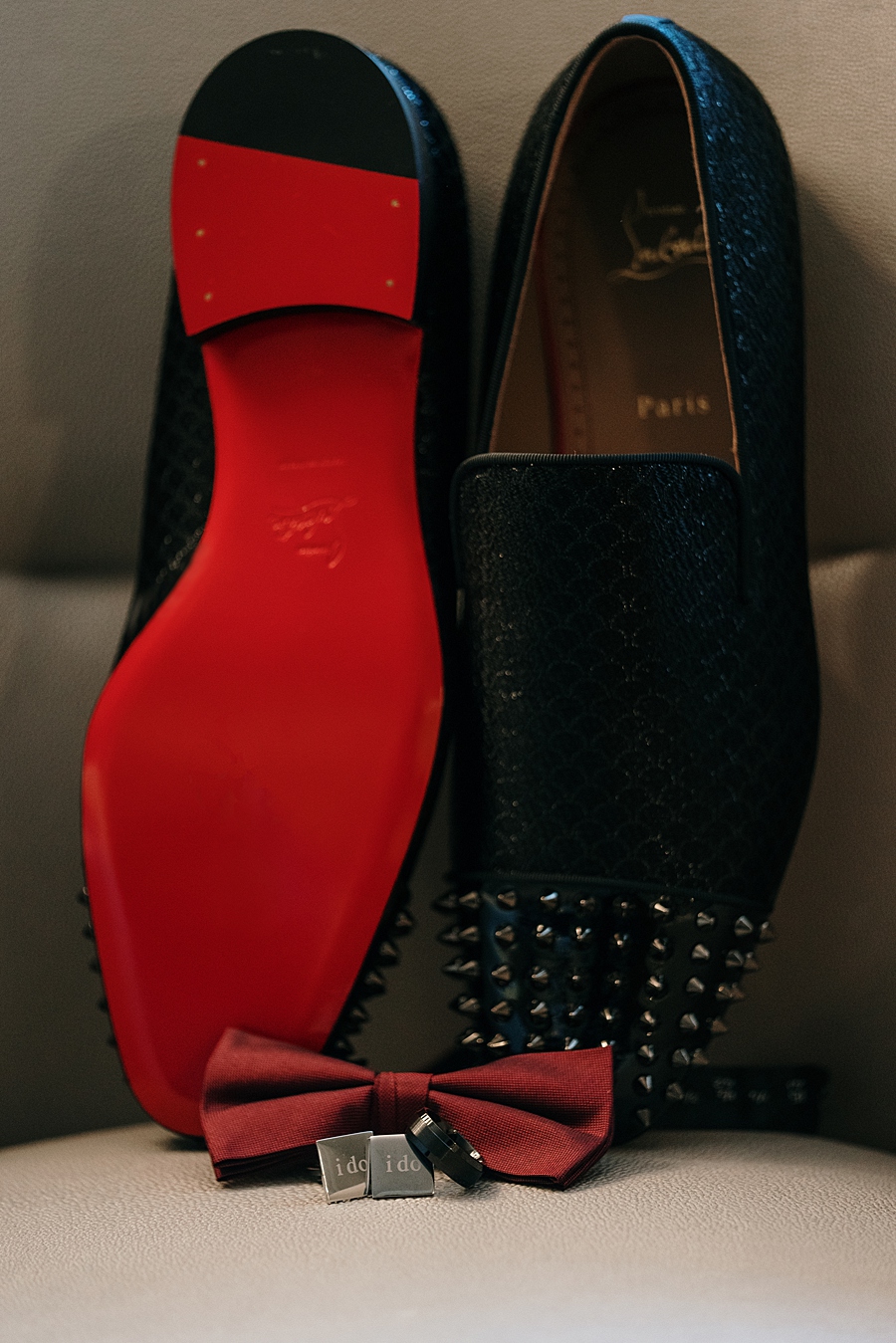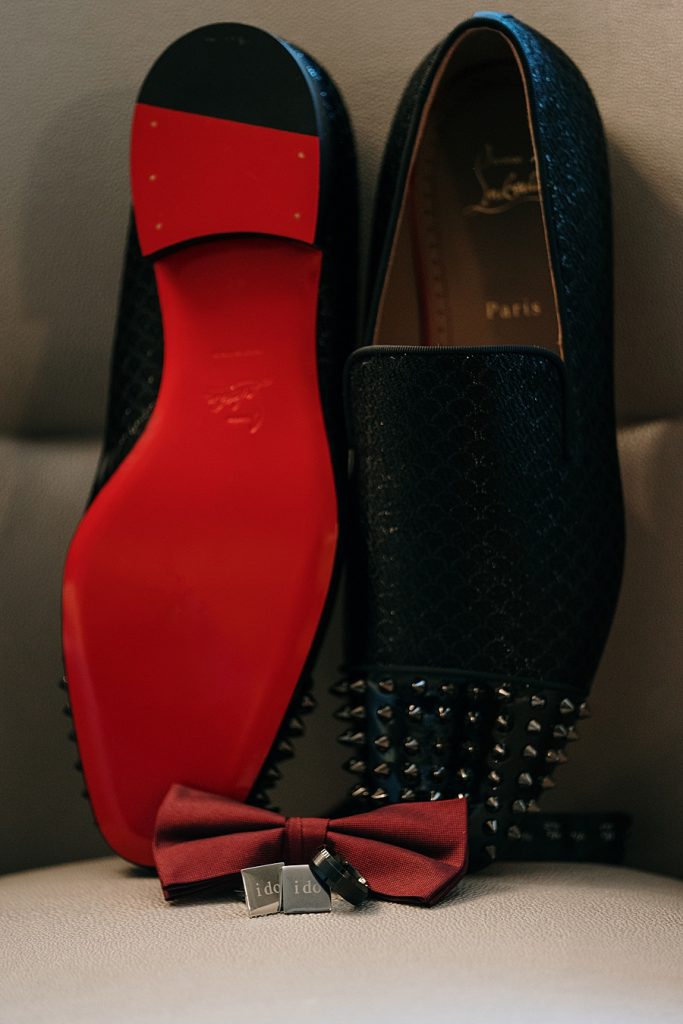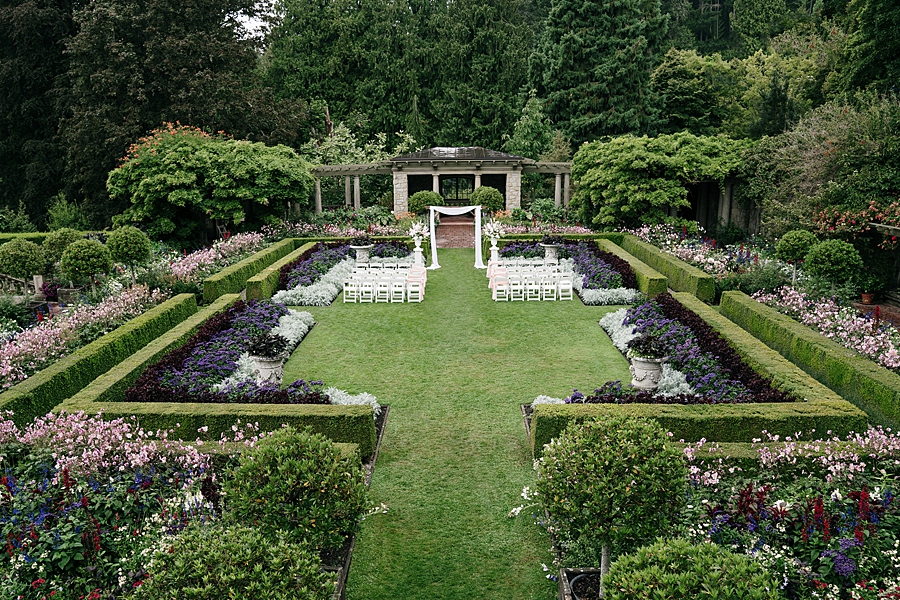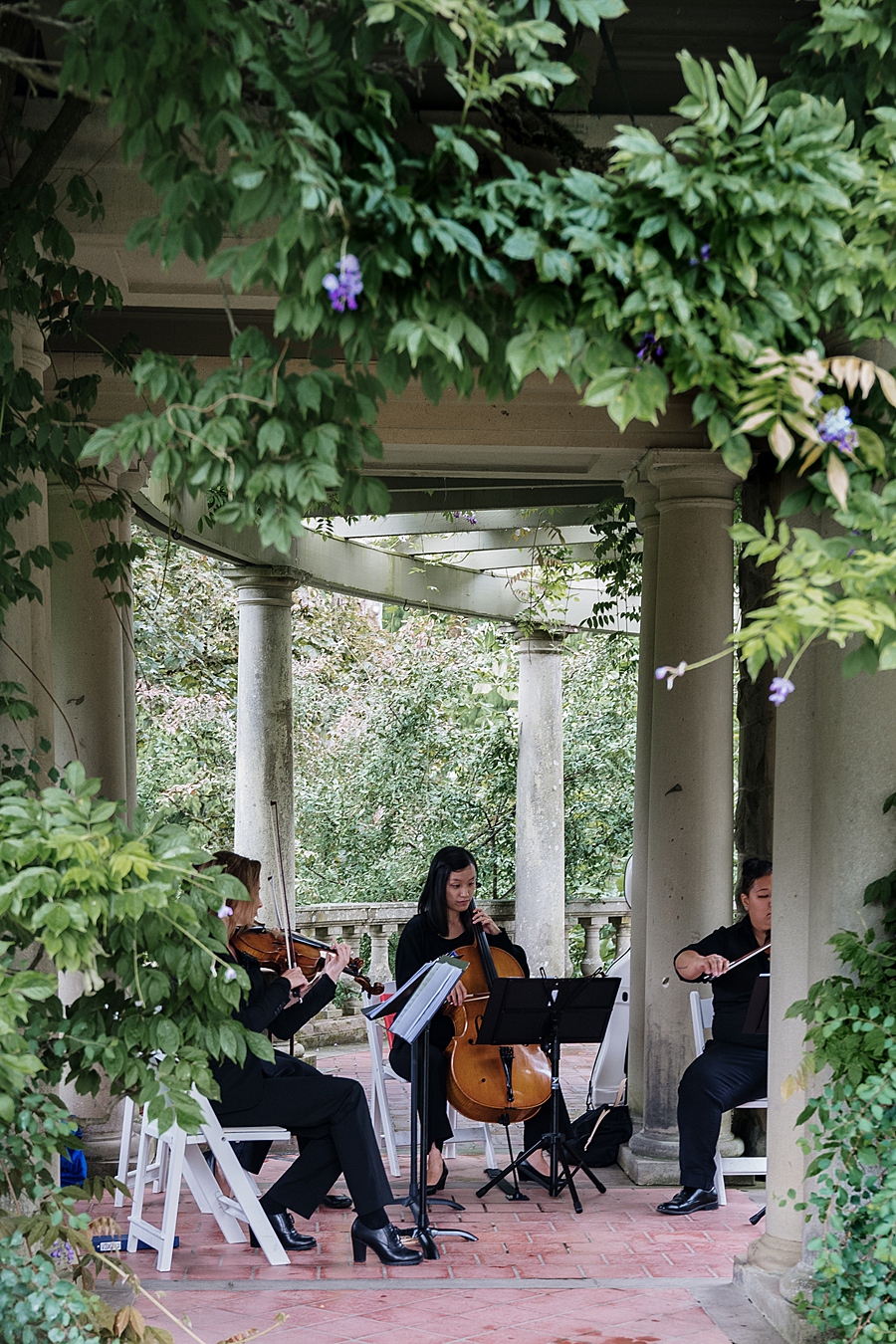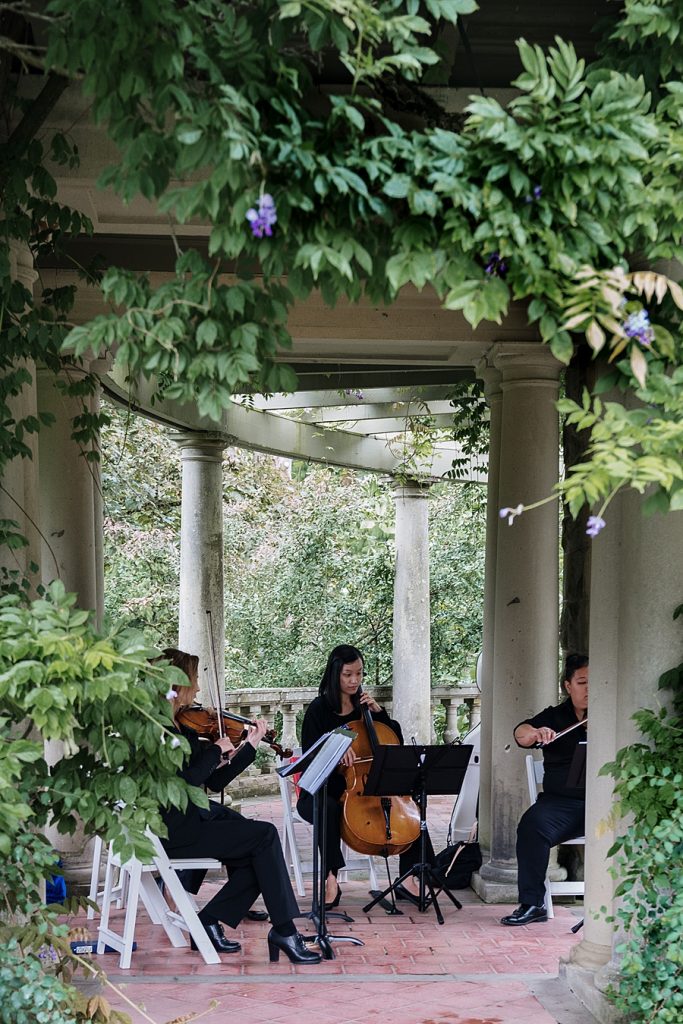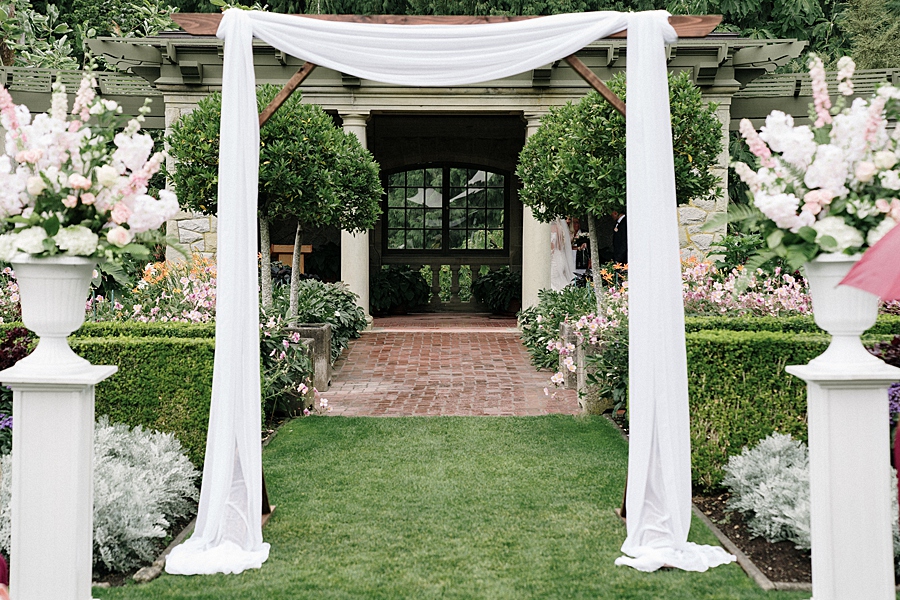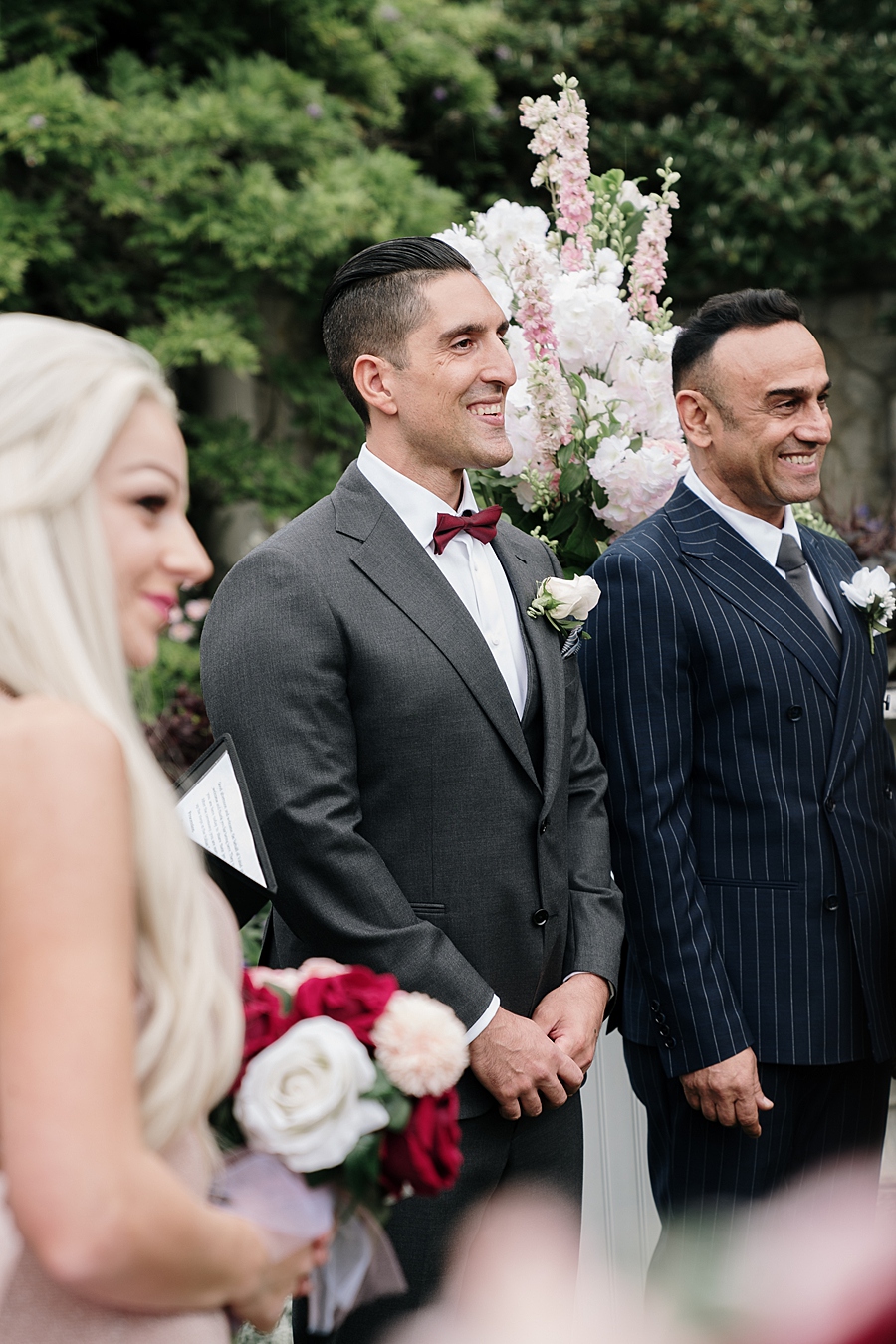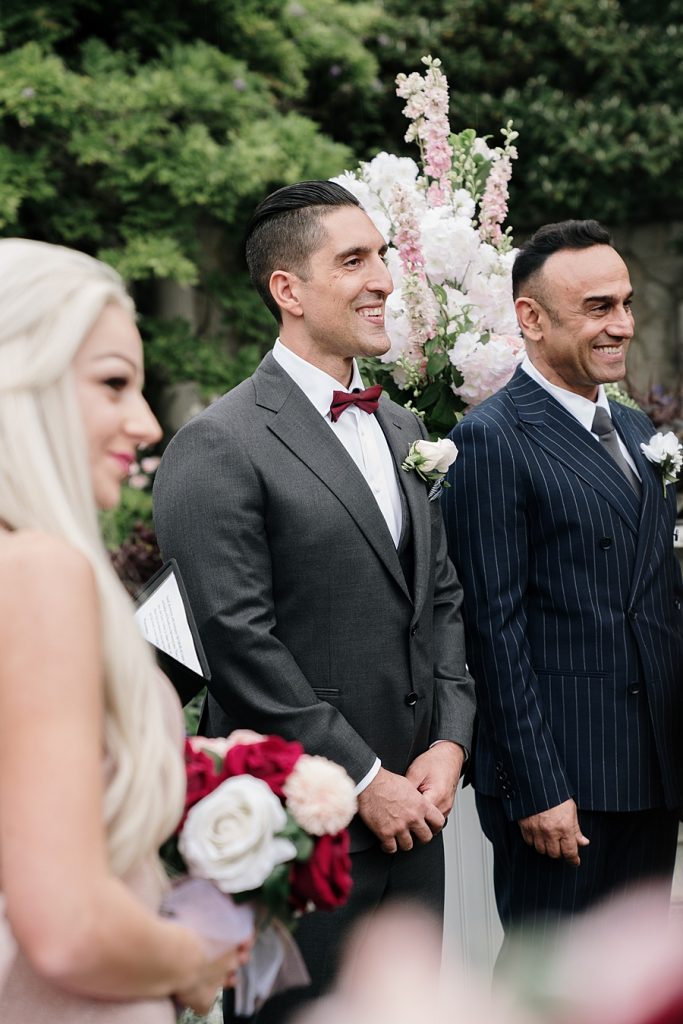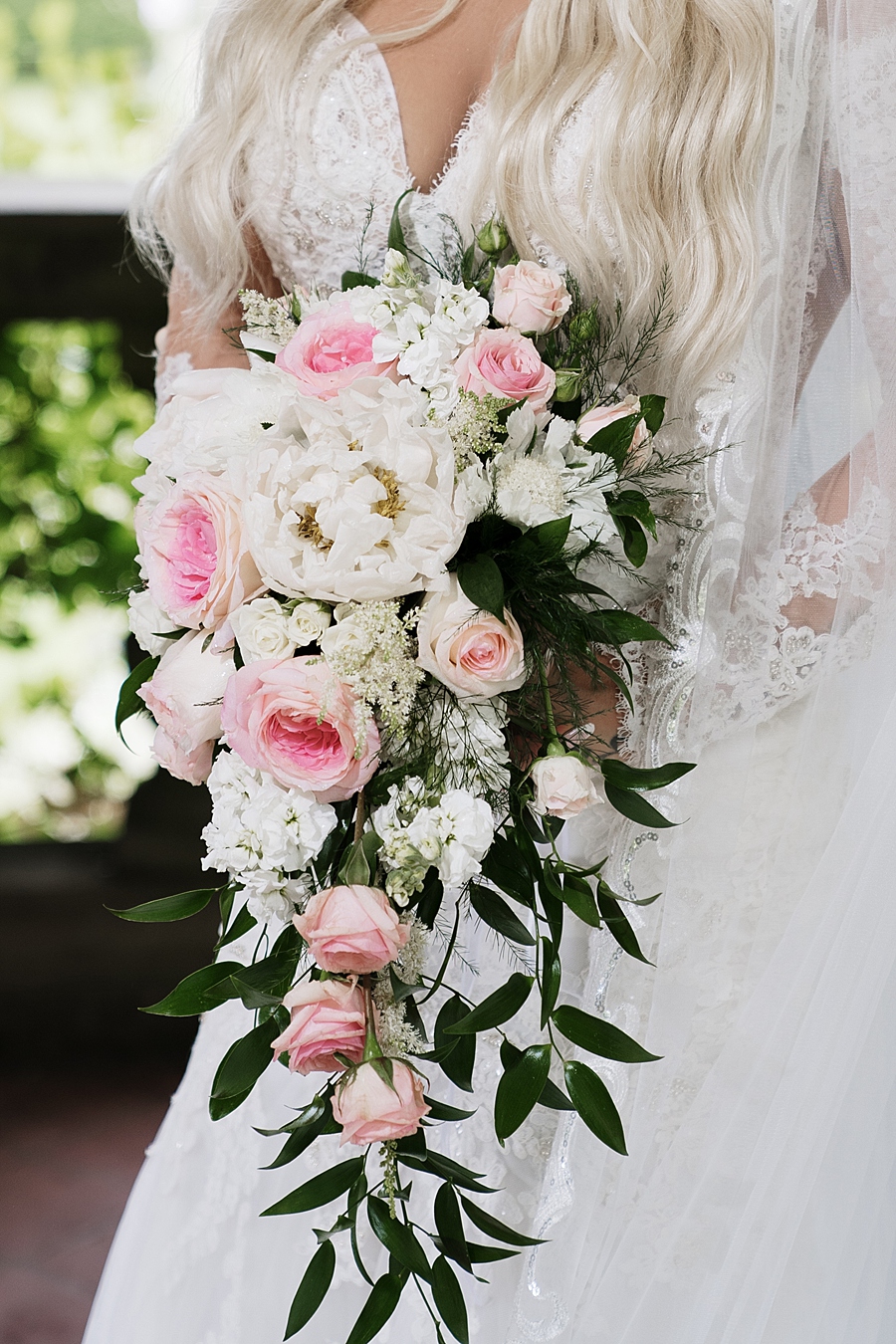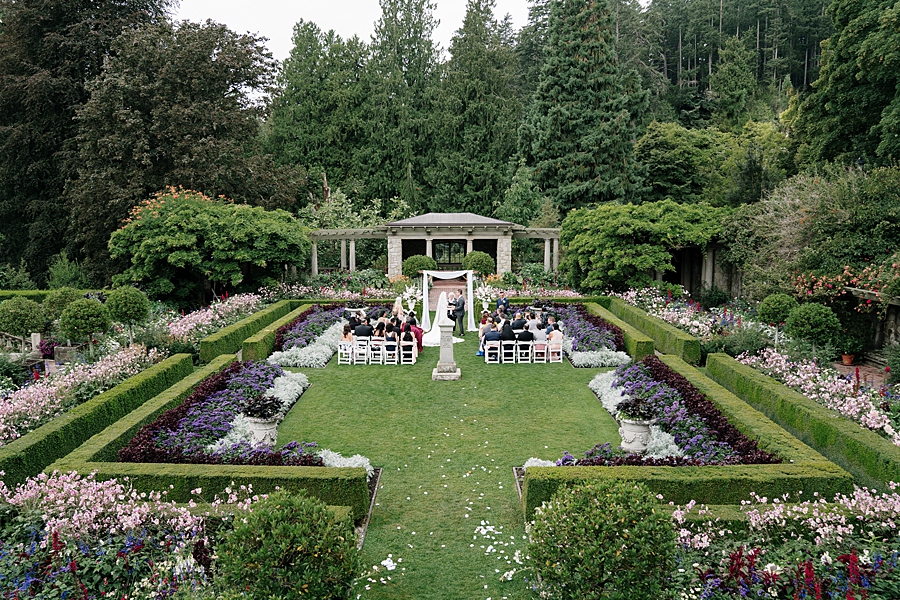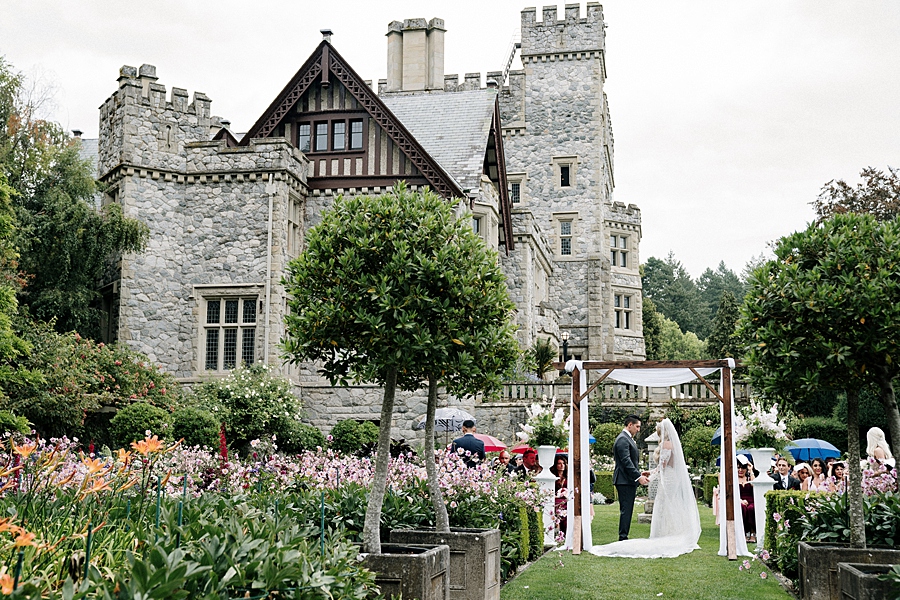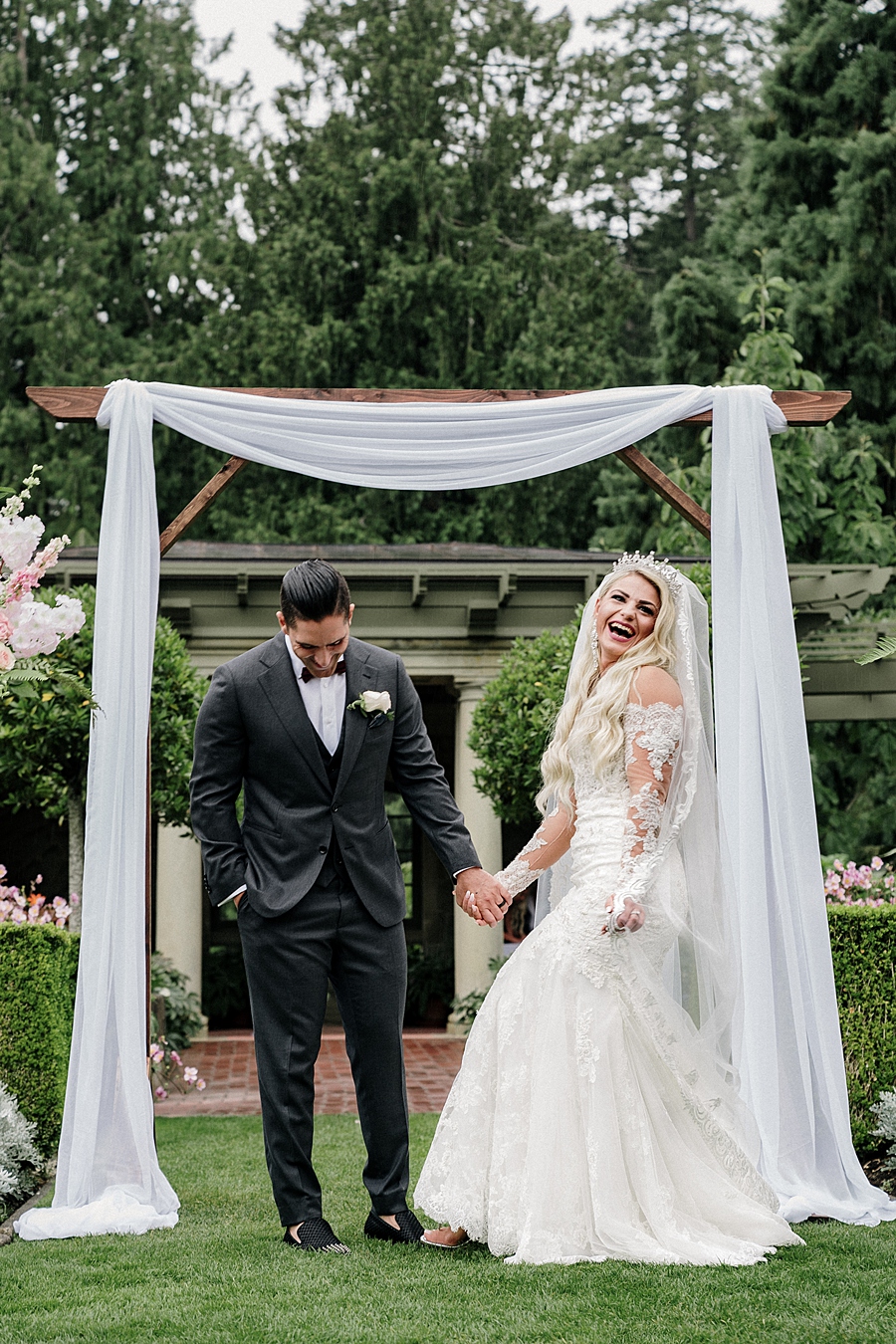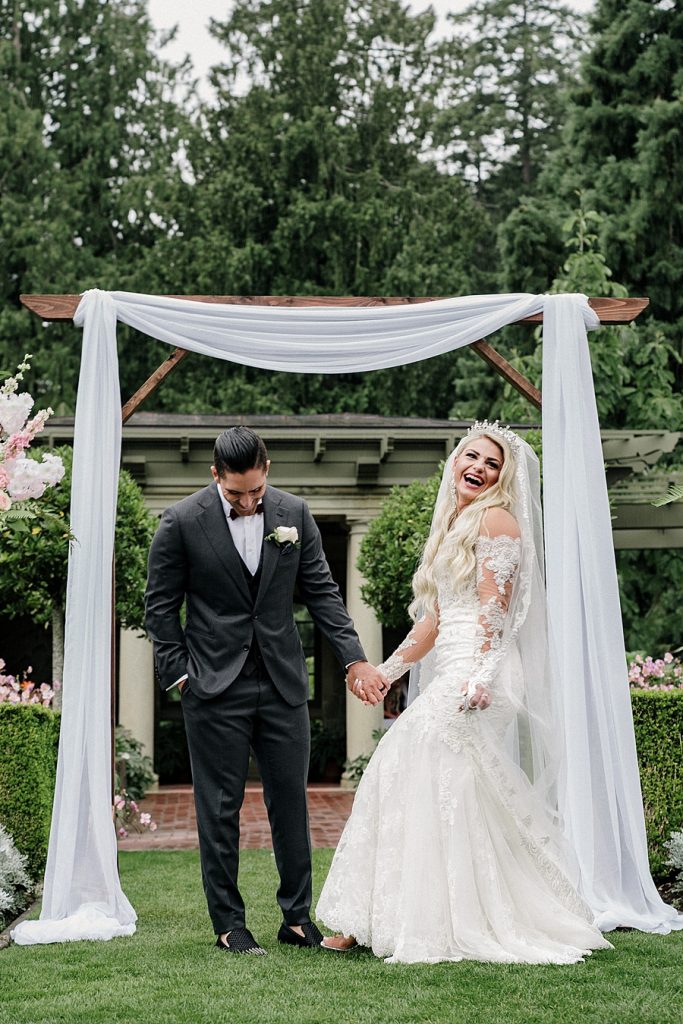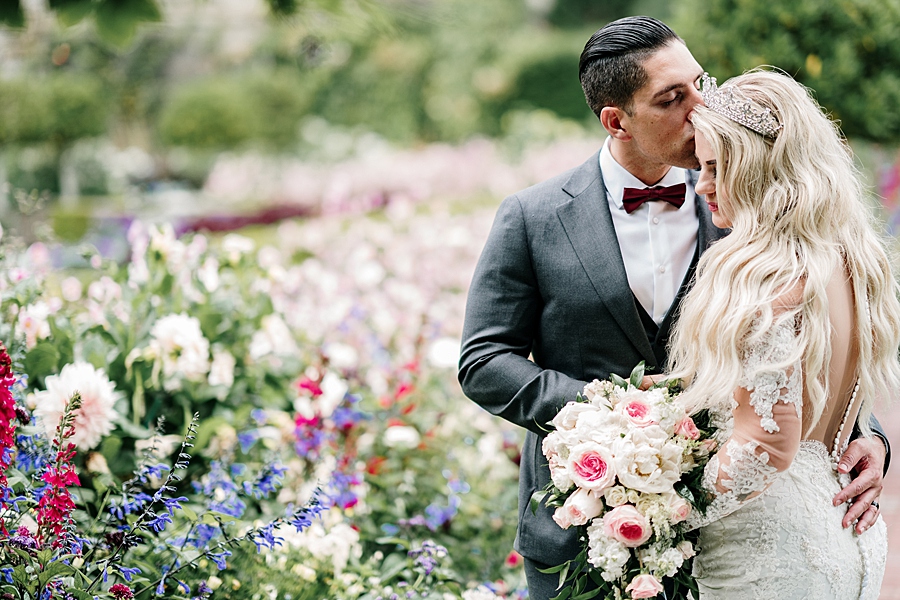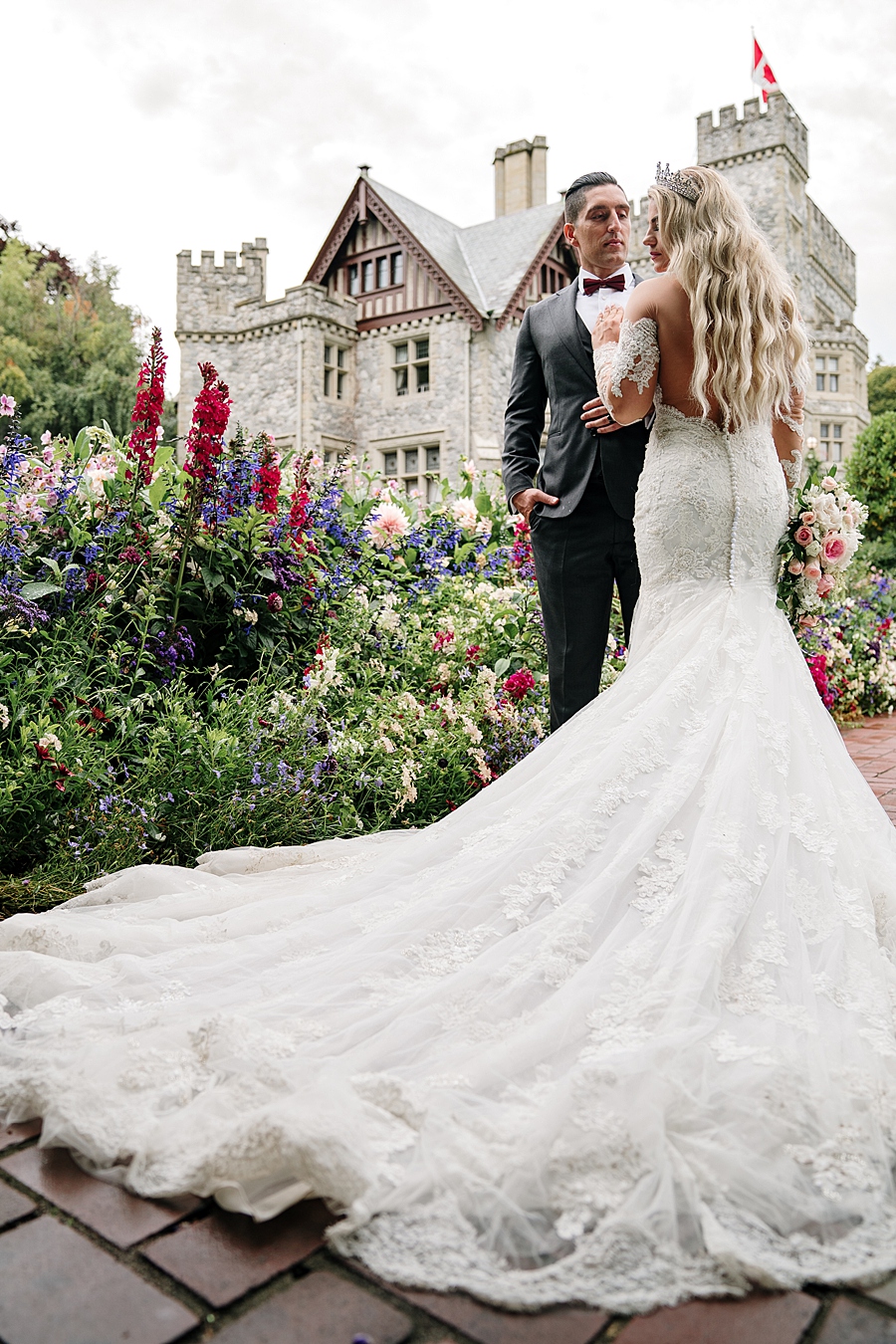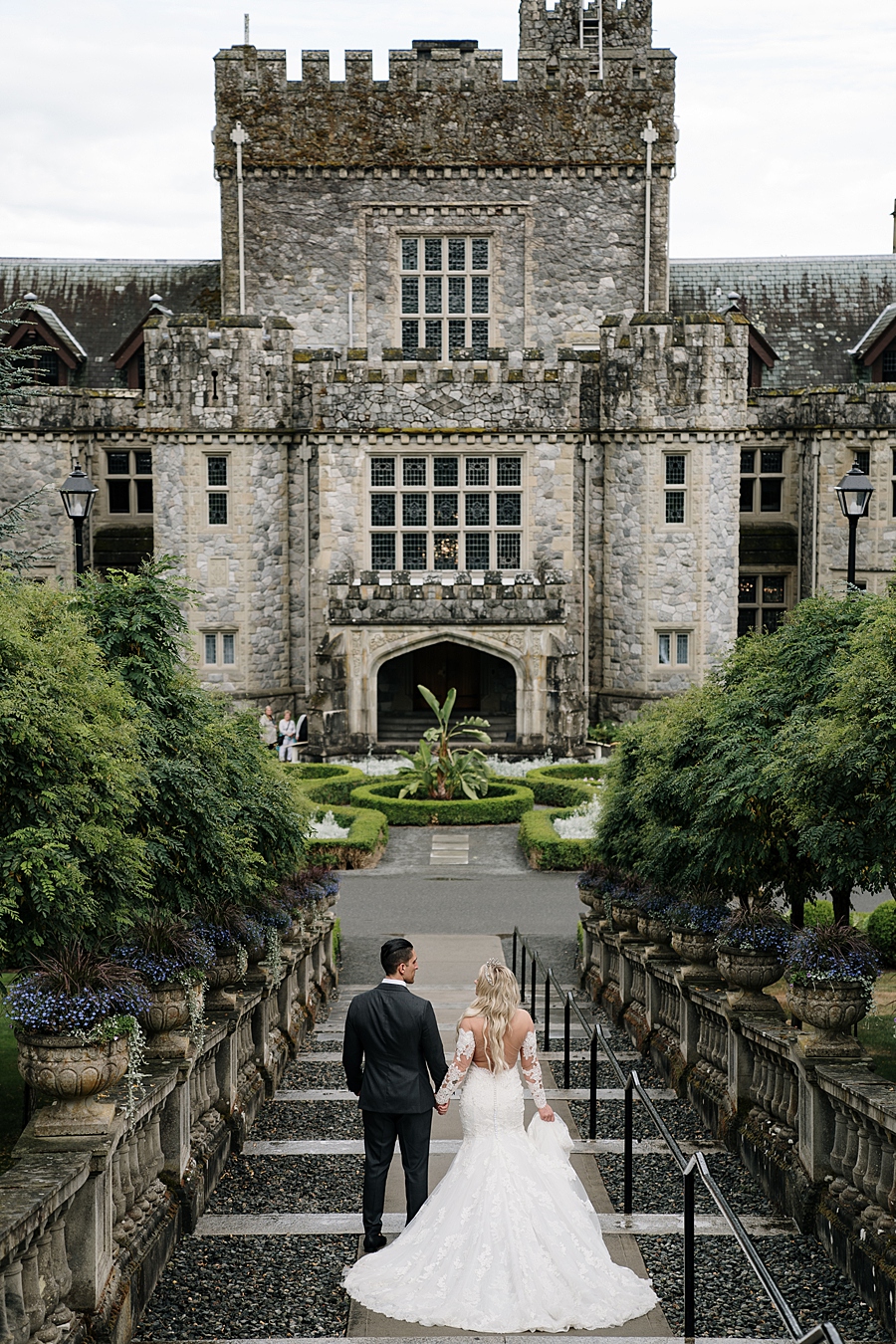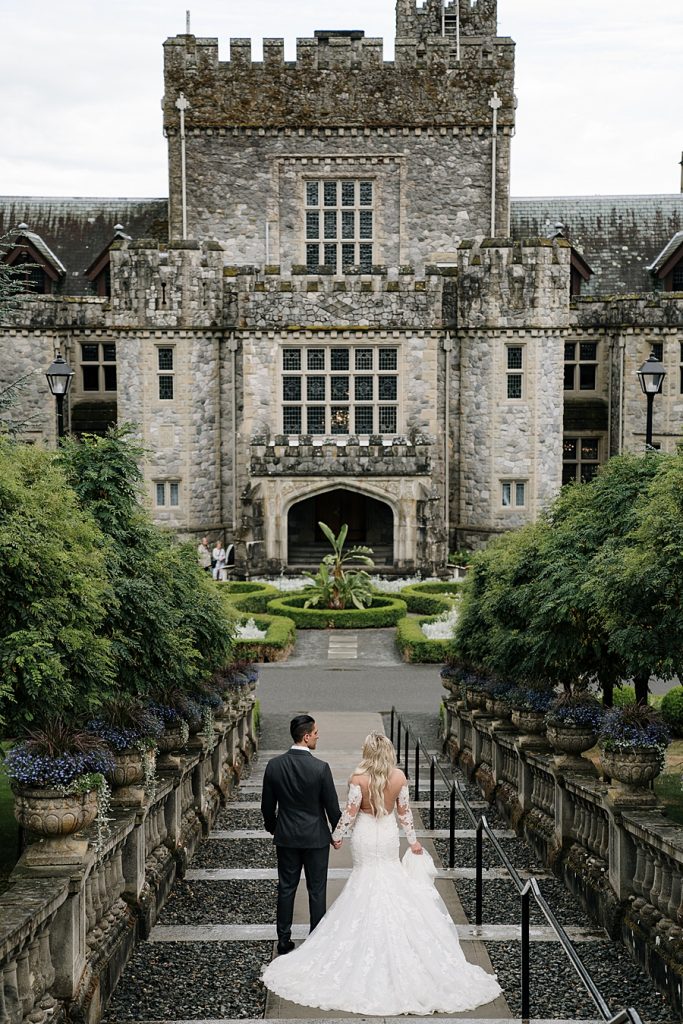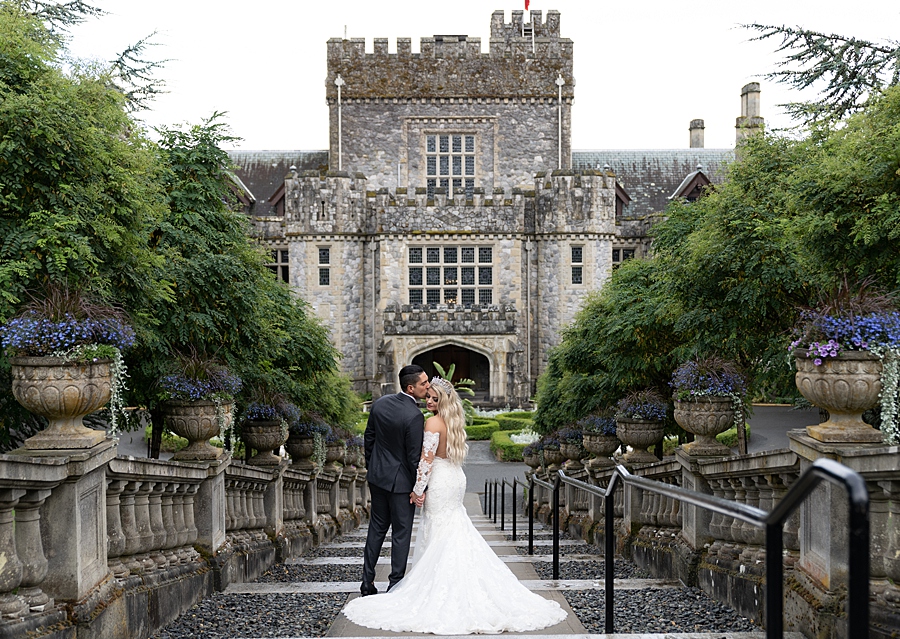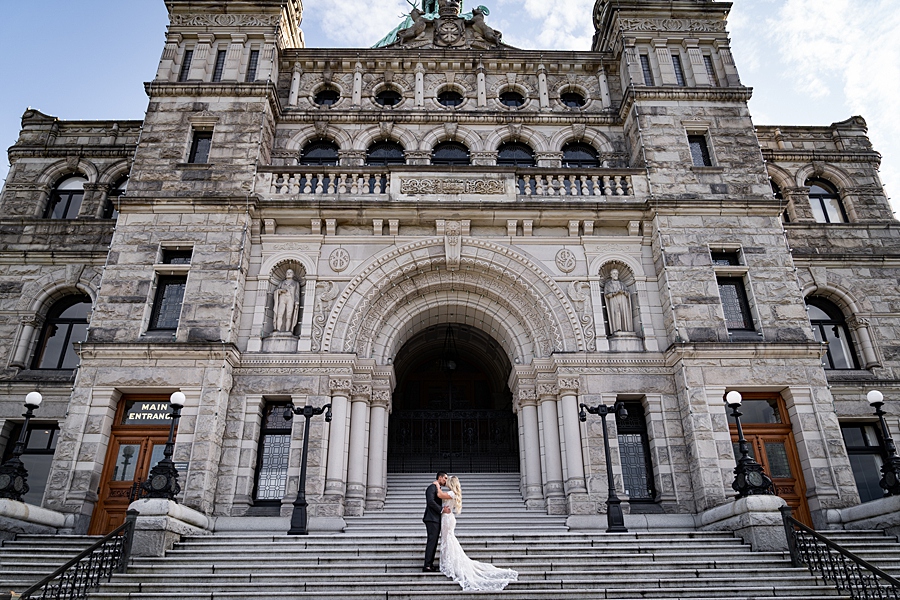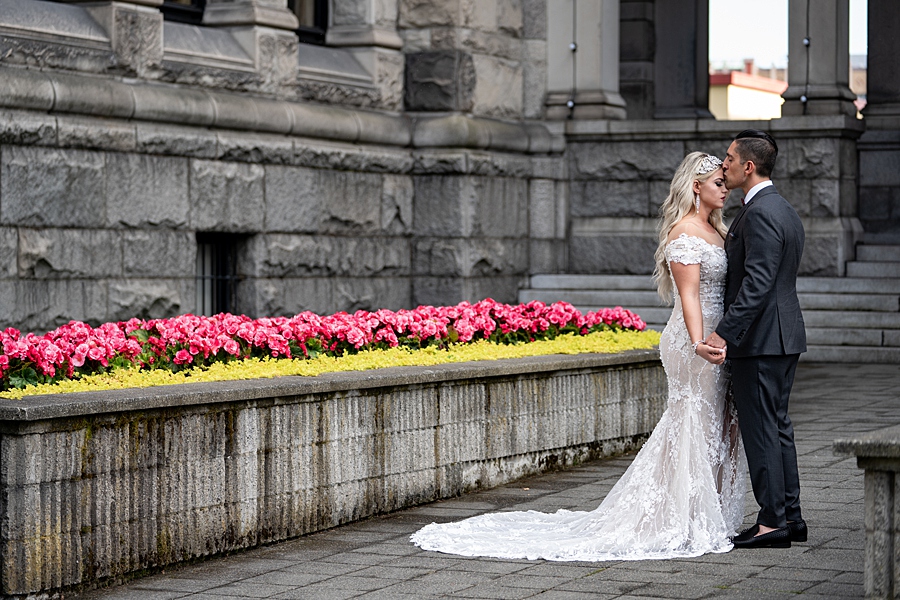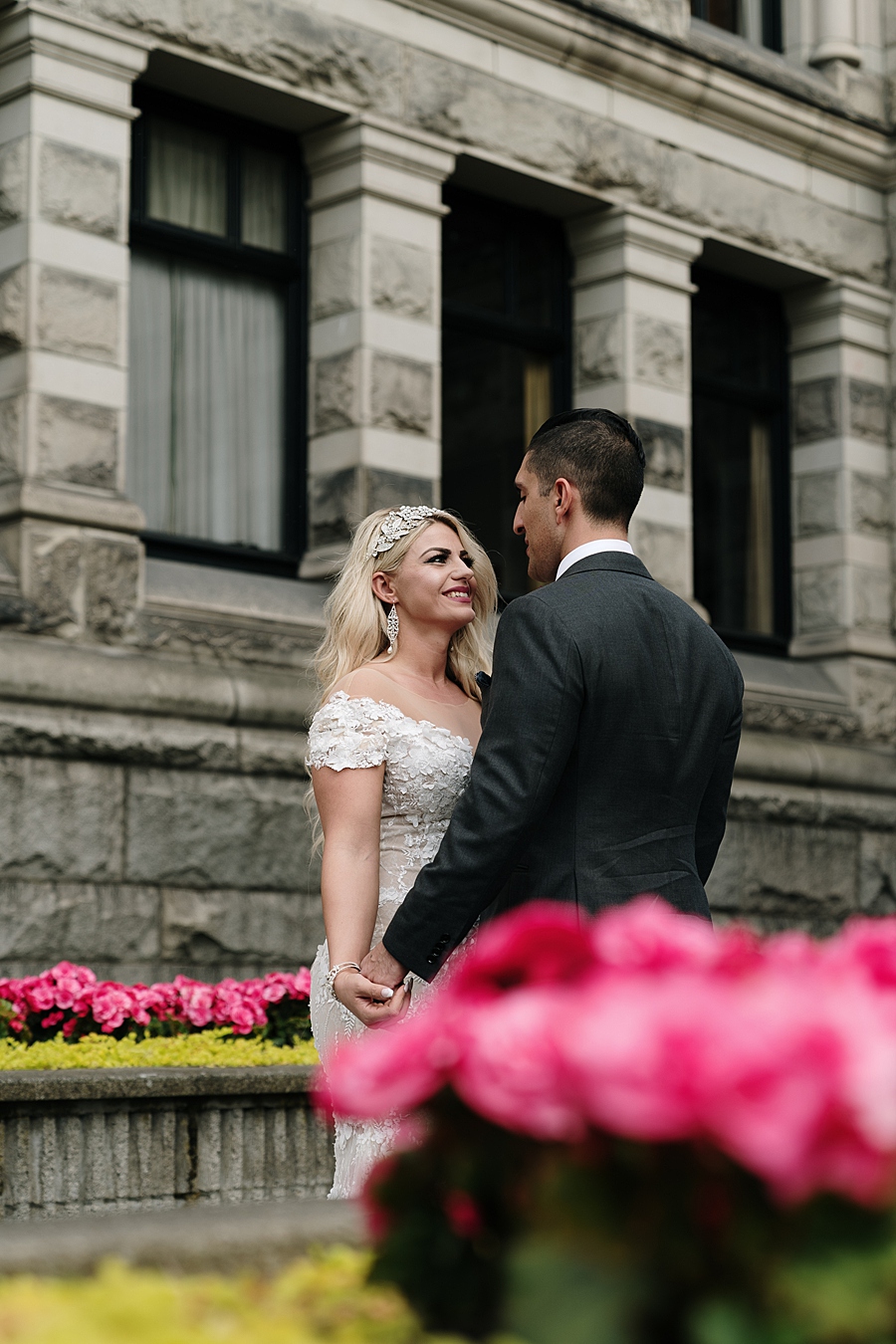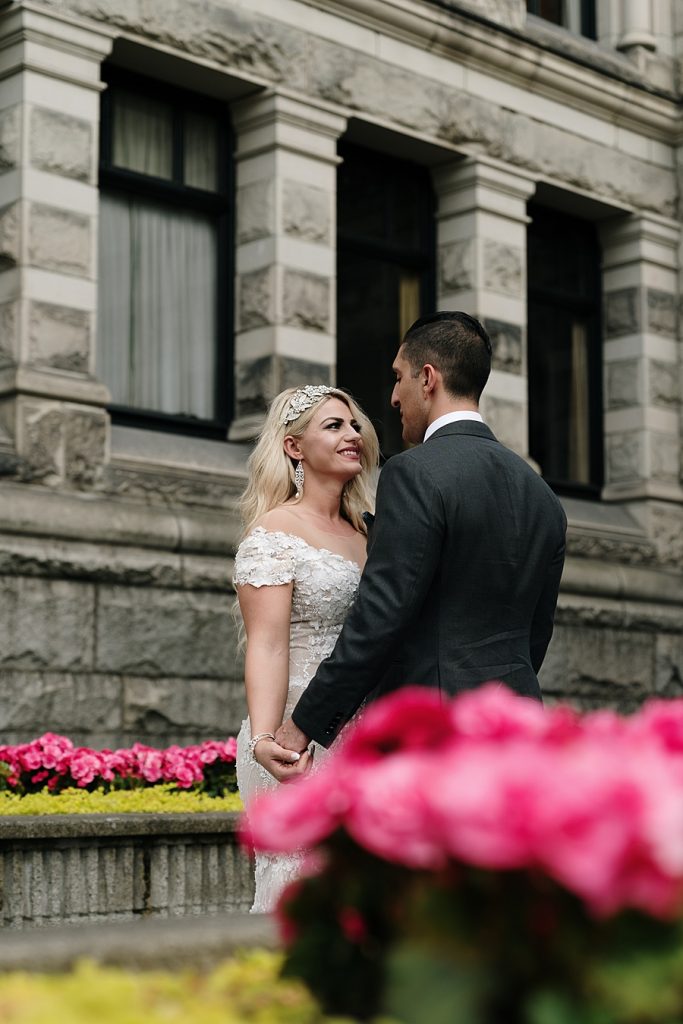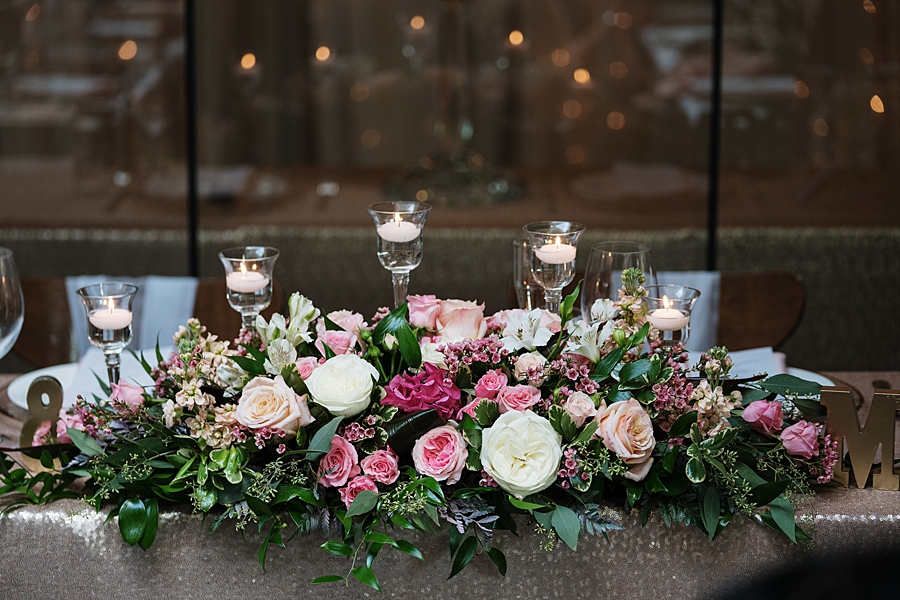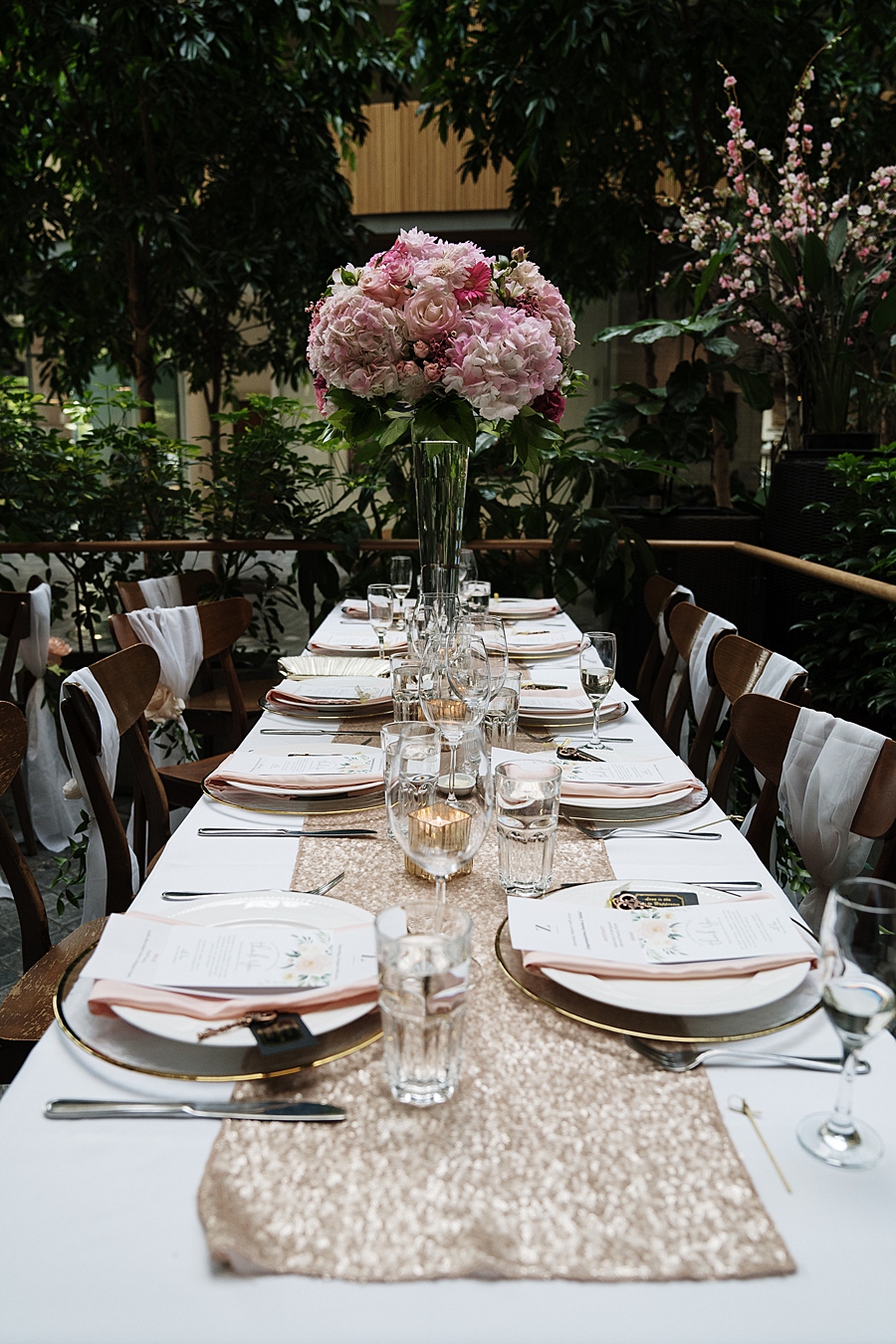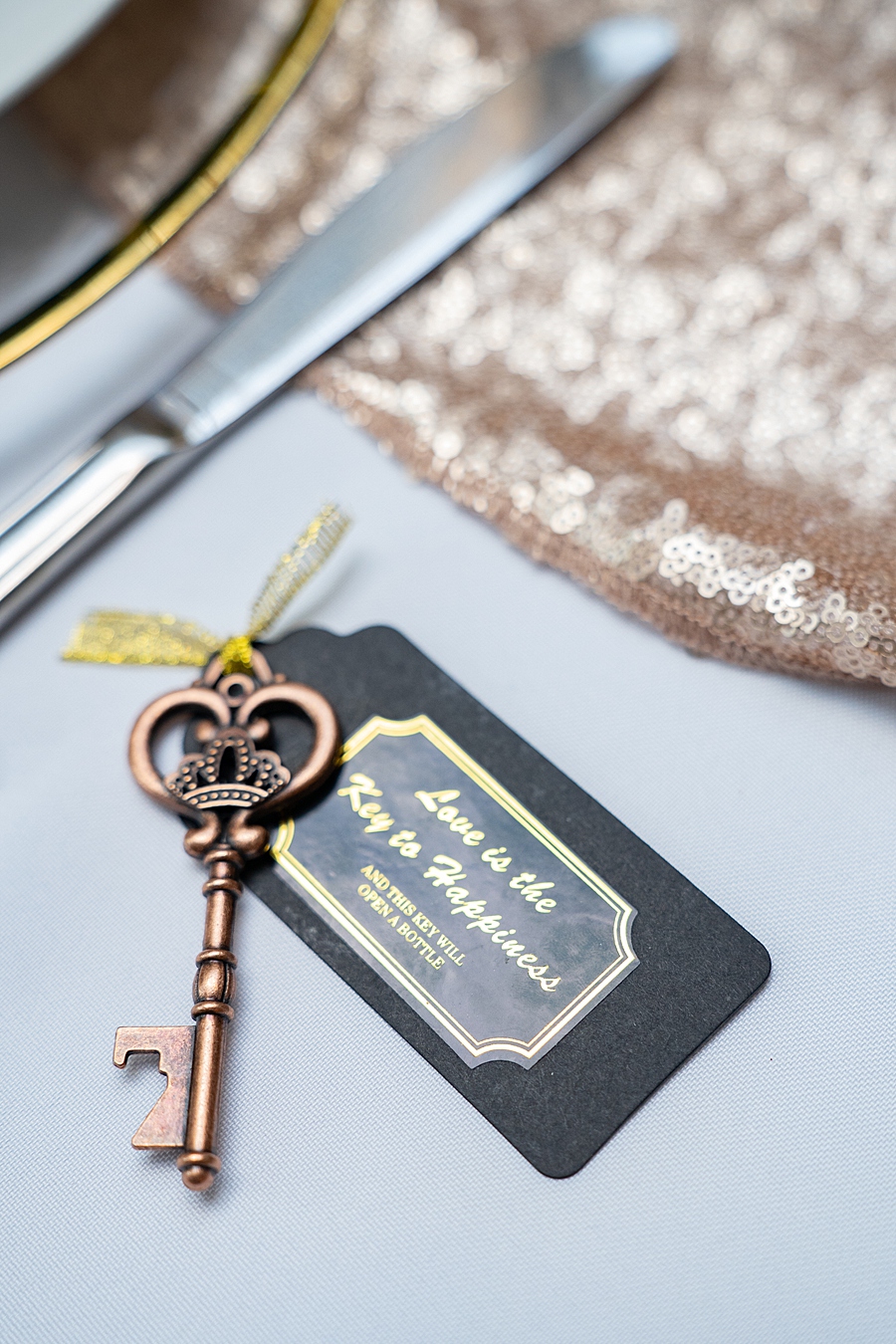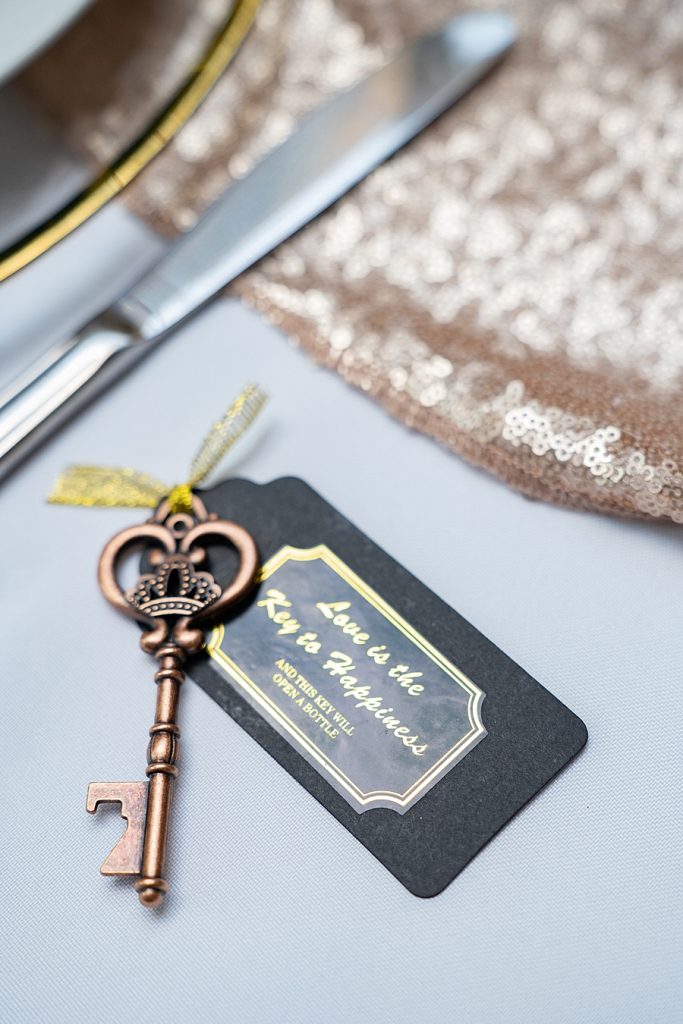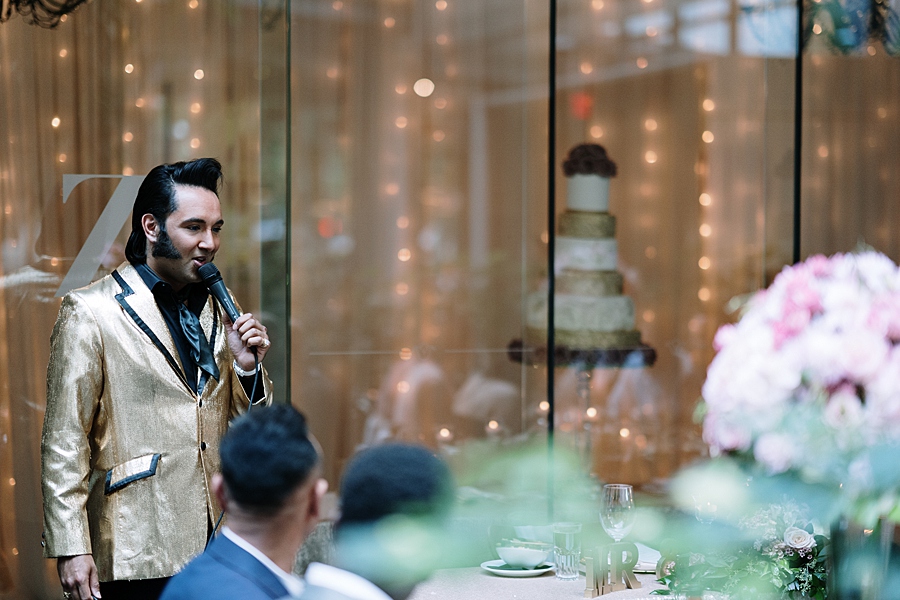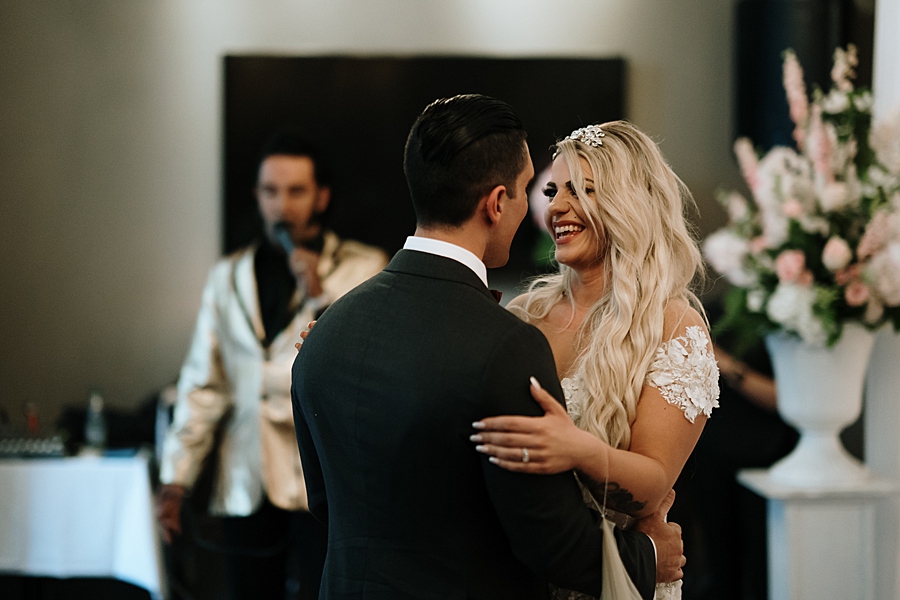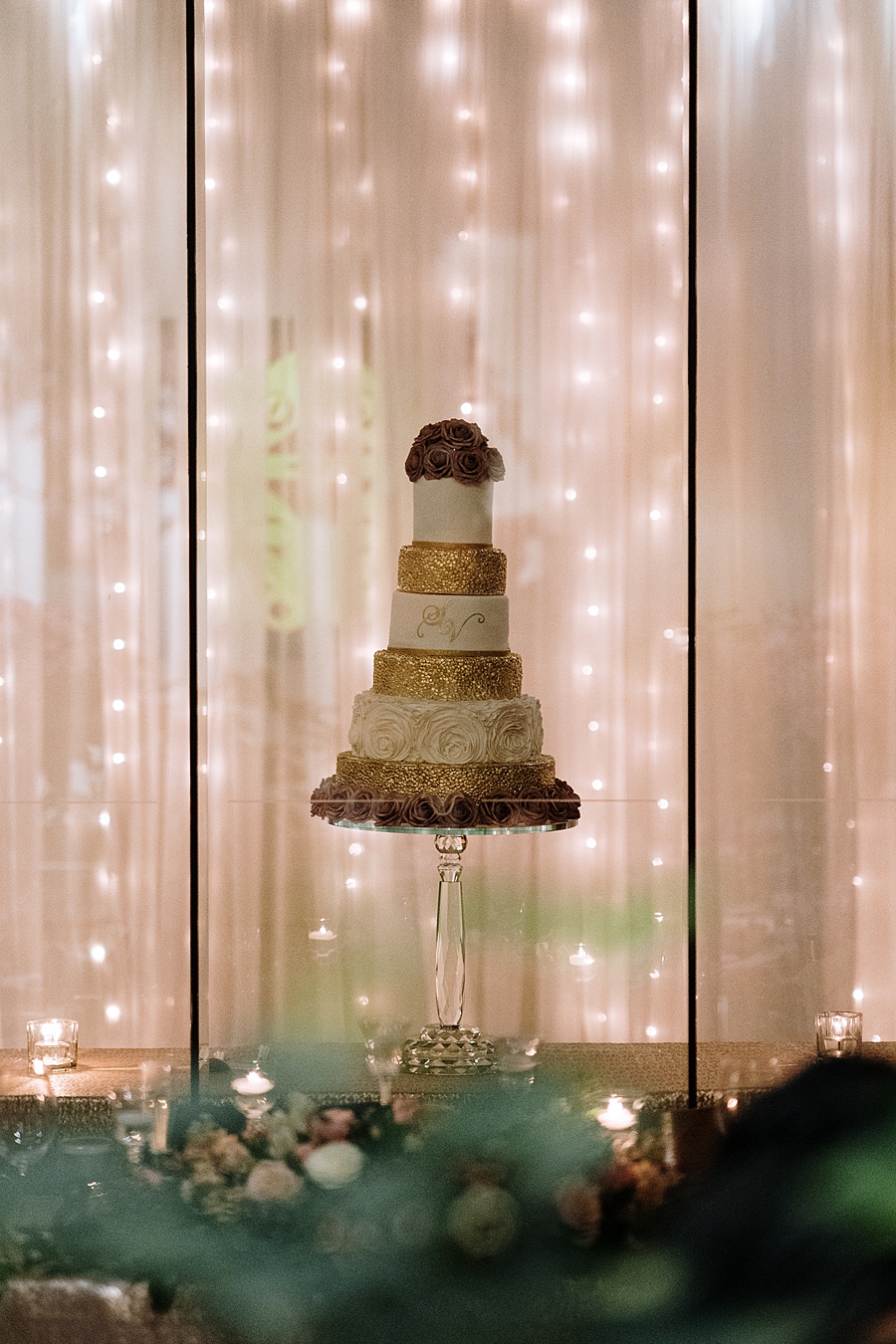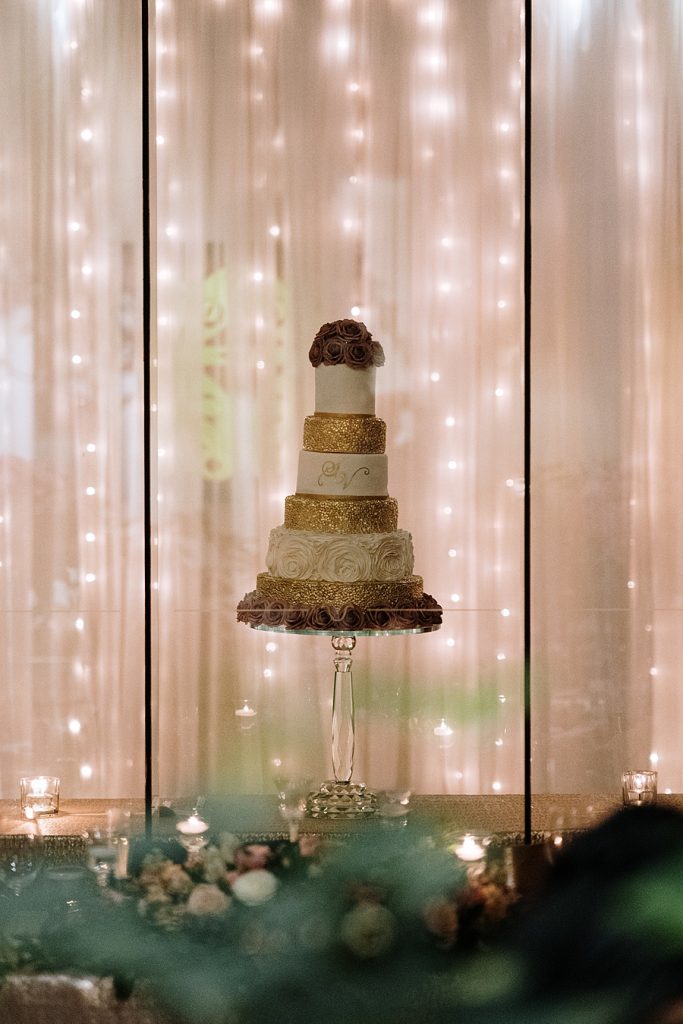 Q&A with the Bride
Why did you choose to have a destination wedding in a Castle?
When I envisioned my dream wedding it would be that of any little girl, a castle surrounded by beautiful greenery in the middle of summer where I could feel like a princess.
How many people attended your destination wedding?
50
What was your wedding theme?
Our wedding theme was very classic for the ceremony and modern for our reception. During the ceremony, I walked down the aisle in with my cathedral veil while our string quartet was playing. We chose the most classic approach due to the timeless beauty of our venue. We were inspired by the vintage beauty and history of Victoria, British Columbia and we wanted our ceremony to be a classic timepiece.
What were your sources of inspiration when choosing your colors, flowers, cake, etc..?
Choosing our flowers, cake and colors was easy! I really love blush, rose gold, and white. This reminded me of an elegant fairy tale. I wanted our cake to be the artistic piece of our reception and that it was! We have a cake that had seven layers that incorporated a simple monogram and blush roses. I wanted our colors to represent glitter, elegance, and bliss! In order to build upon that, my goal was to turn my attention to the small details that would make a big difference. Our tables were dressed in rose gold runners and tall vases that smelled beautifully!
Was there something unique that you incorporated into your wedding?
We incorporated everything that a fairy tale castle wedding would have. Including our formal gated invitations and the string quartet. In addition, for our reception, we brought history back to life with an Elvis impersonator! There was only one way to do our first dance song and that was with Elvis himself.
What was your favorite wedding detail?
My favorite wedding detail was our decor at Zambri's, an authentic Italian restaurant in downtown Victoria. We created a modern reception that had some of the best food we have ever tasted! This was extremely important to us when choosing the right place to have our reception. The detail that topped the atmosphere was the large table vases, our party favors, and of course the cake that stood tall!
Was there any tradition that you skipped or a tradition that you put a "destination wedding" spin on?
Due to the size of our wedding, we didn't have a bridal party. I simply didn't want to stress over having bridesmaids. I wanted my immediate family (my mom, sister, mother-in-law and sister-in-law) to feel comfortable and beautiful yet be the center of attention. I chose the colors of their dresses and they were the ones to walk down the aisle before me.
What was the craziest thing to happen on your wedding day?
The craziest part of our wedding was my makeup artist canceling on me the day before and it raining during our ceremony! What's even crazier is that out of the four days it did not rain once with the exception of the one hour during our ceremony. At the time I felt a little upset but I quickly had to enjoy the present moment and look past all the things that went wrong. The quirkiest part was me surprising everyone, including the groom with our own Elvis Presley!
What was your favorite part of having a destination wedding?
My favorite part about having a destination wedding was the excitement leading up to it, the travel, the new atmosphere and our incredible venue! Having a destination wedding allowed us to take pictures in unusual places and truly enjoy what the world has to offer in such a historic place. This will also allow us to always go back and visit the place it all started. It also allowed our friends and family to have a weekend away.
What was the biggest challenge in planning your destination wedding?
The biggest challenge was working with vendors simply via email and phone! There was SO MUCH miscommunication! It is extremely hard to get people on the same page about your vision. Therefore, I truly recommend providing even the slightest detail on how you want things.
What's your advice to other couples planning a destination wedding?
My biggest advice to other couples planning a destination wedding is to provide as much detail in their planning. As I mentioned pictures don't often do things justice. Let vendors know how you want things such as the height of your cake or the type of flowers/decor. Many times pictures can be deceiving and things can be altered. In addition, make sure that the staff of your venue is there the night before.

Make sure that there is someone you can talk to in person the day before or better yet, hire an event planner the day of so you can enjoy your morning with family and friends.

One more thing, consider doing your reception at a local restaurant. We made the best decision by choosing an award-winning restaurant over a ballroom. The food was amazing and the atmosphere was perfect!
Tell us more about your reception venue
Our reception at Zambris was an absolute dream! The staff was so attentive and the food was out of this world. I can definitely say it was one of the best meals we ever had and we were so happy our friends and family got the chance to enjoy it. The management and staff was so accommodating which made my day after my crazy rainy morning! We can't thank them enough for making it such a wonderful experience.
Vendors:
Photographer: Ross Kyker Photography
Ceremony Venue: Hatley Castle
Reception Venue: Zambris Italian Restaurant
Bridal Gown: Pronovias
Groom's Attire: Indochino
Bride & Groom's Shoes: Louboutin
Florist: Jennings Florist
Cake/Baker: Ooh La La Cupcakes
Music: Blue Octopus String Quartet
Decor: Designer Weddings Decor