After a serendipitous discovery of the Santa Margarita Ranch, this couple knew they'd stumbled upon the perfect venue to create what would be one the most gorgeous wine country weddings we've ever shared.
Jayna and Daniel's taste is classic, and you see it in every detail. From the groom's vintage Gucci tux to the perfect mesh of rustic and modern decor, they created the dreamiest occasion to celebrate their love. Like with most destination weddings, they quickly realized that you just can't plan for everything.
A little rain hardly threw them for a loop, but it was when they tried to capture their newlywed portraits that they ran into trouble (scroll down to see more of the story in the bride's own words). I will say though, that the pictures Jennifer Lourie captured of Jayna wearing a hoodie over her beautiful Allure gown as Daniel carries her over his shoulder safe from mud are my favorite. It just tells the story of a couple who isn't afraid to roll with the punches, and they're able to laugh off some of life's obstacles and figure it out as a team.
All was well in the end, and as you can see they were able to spend the night laughing, dancing, and enjoying some divine cake. That's all you really need, right?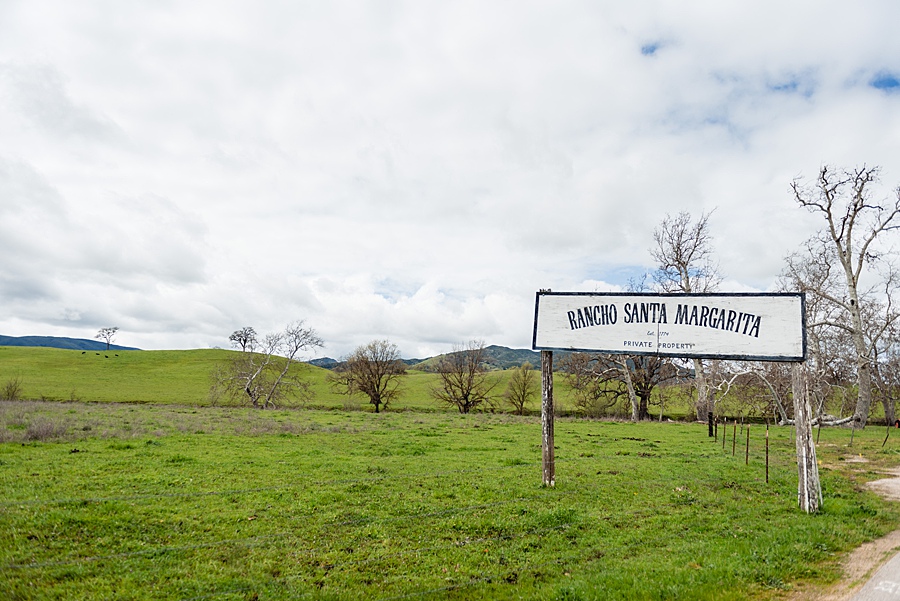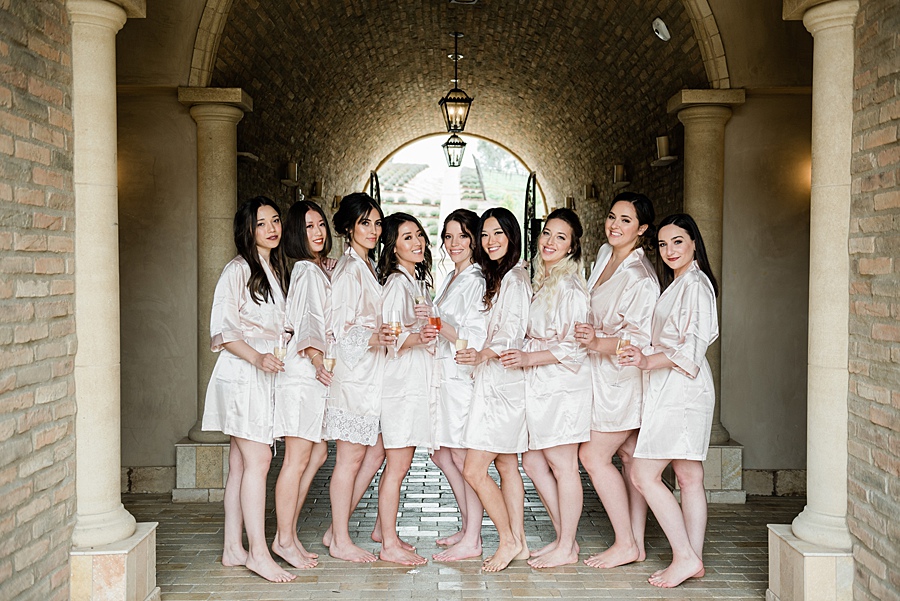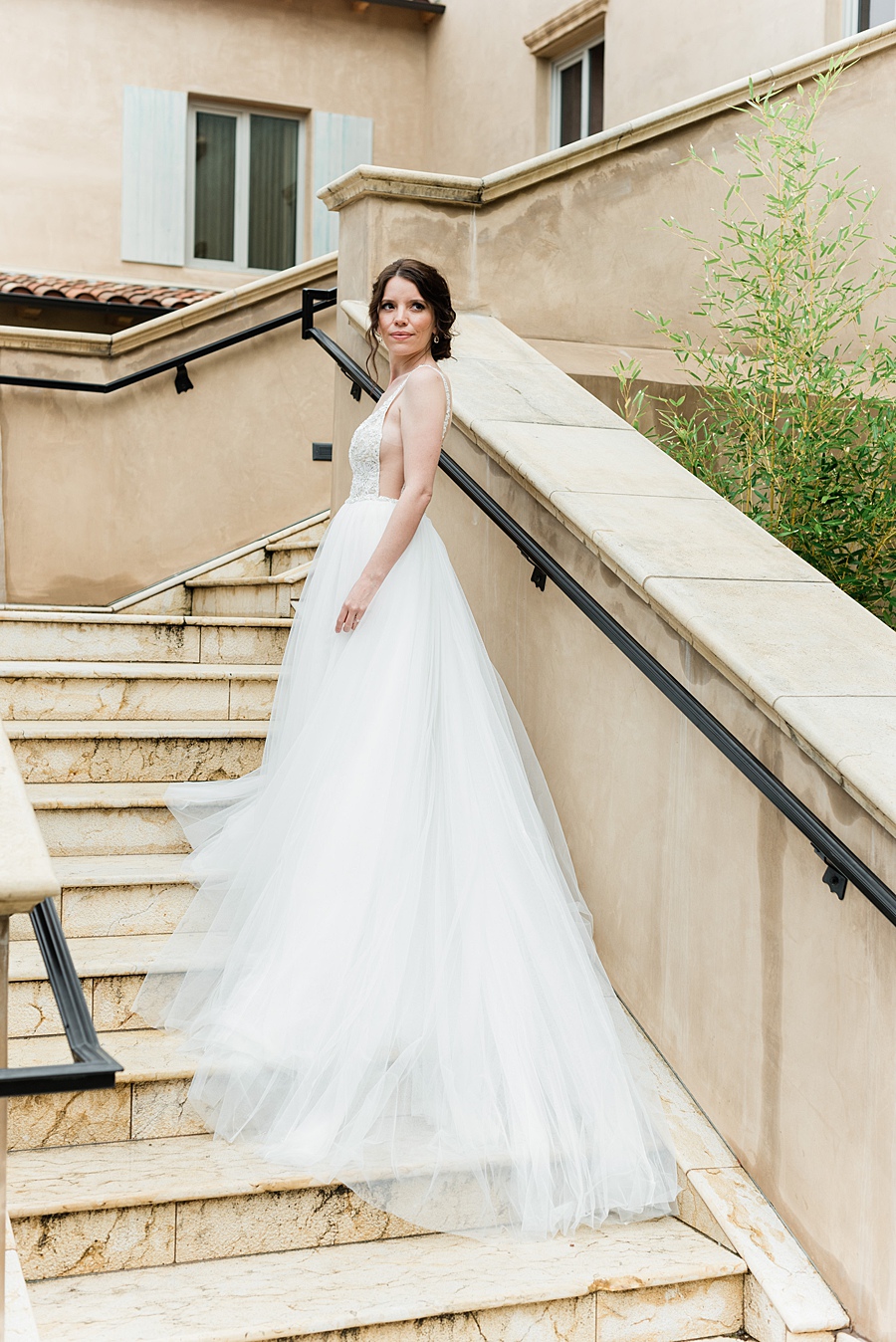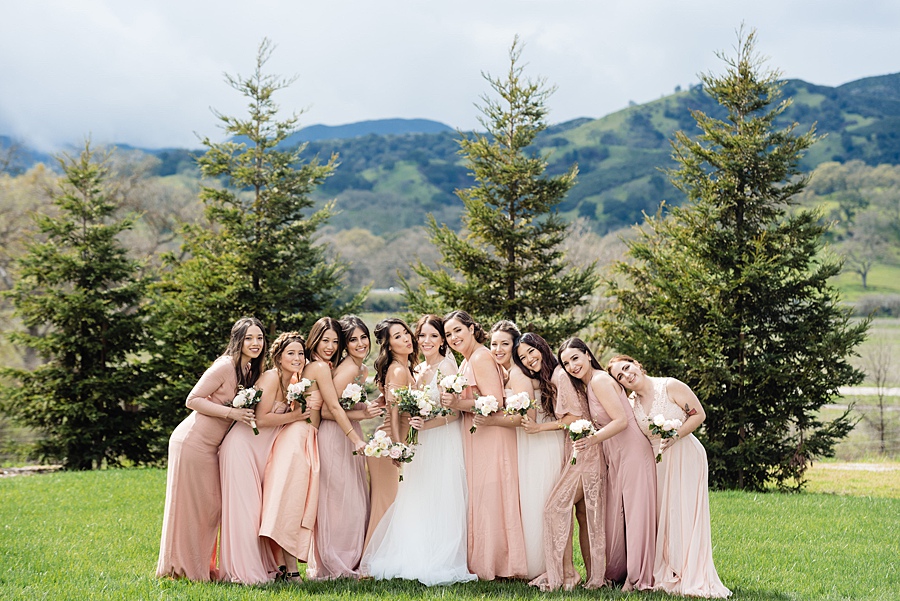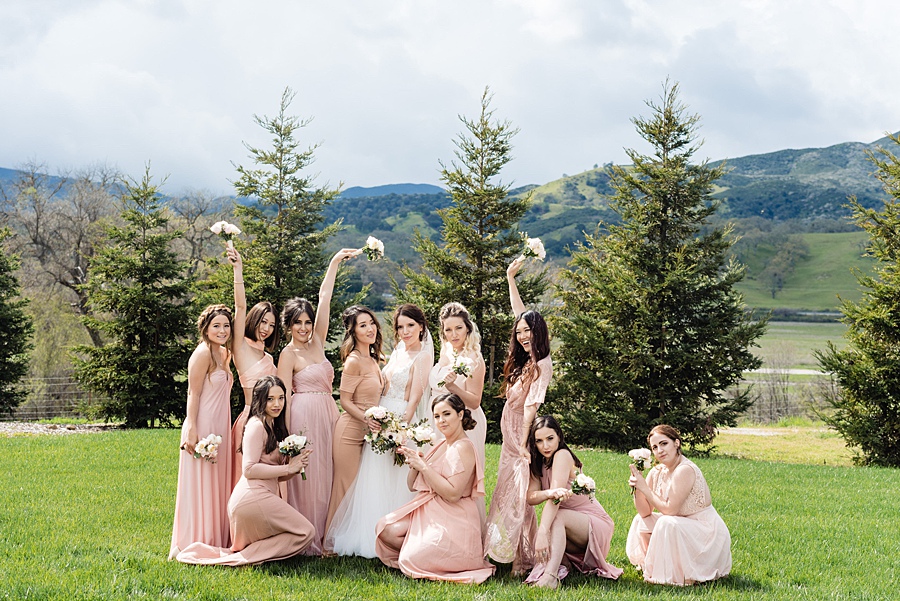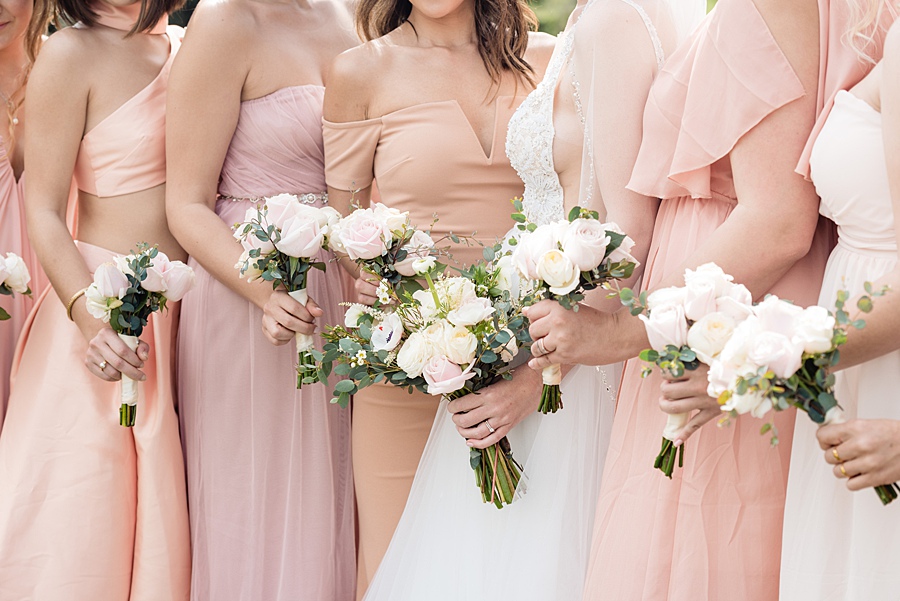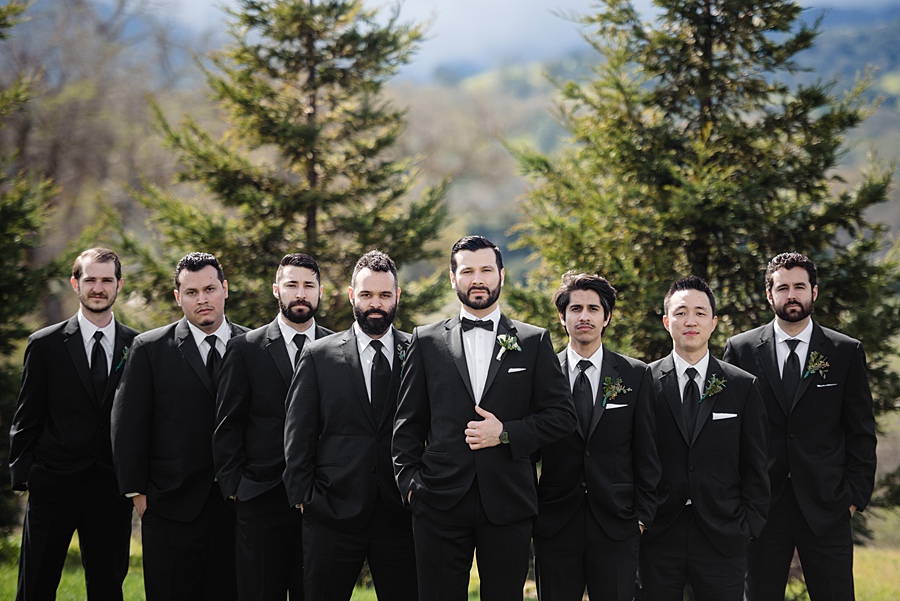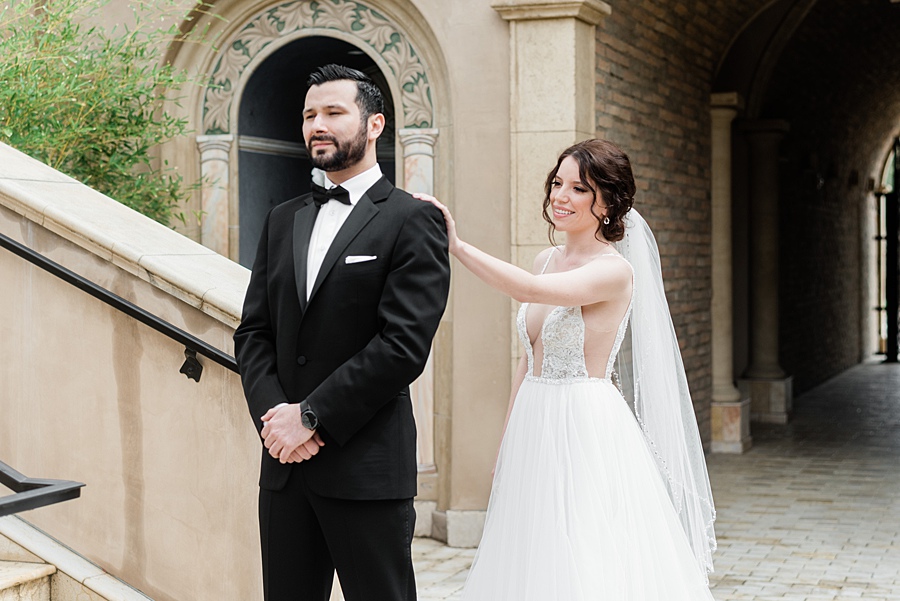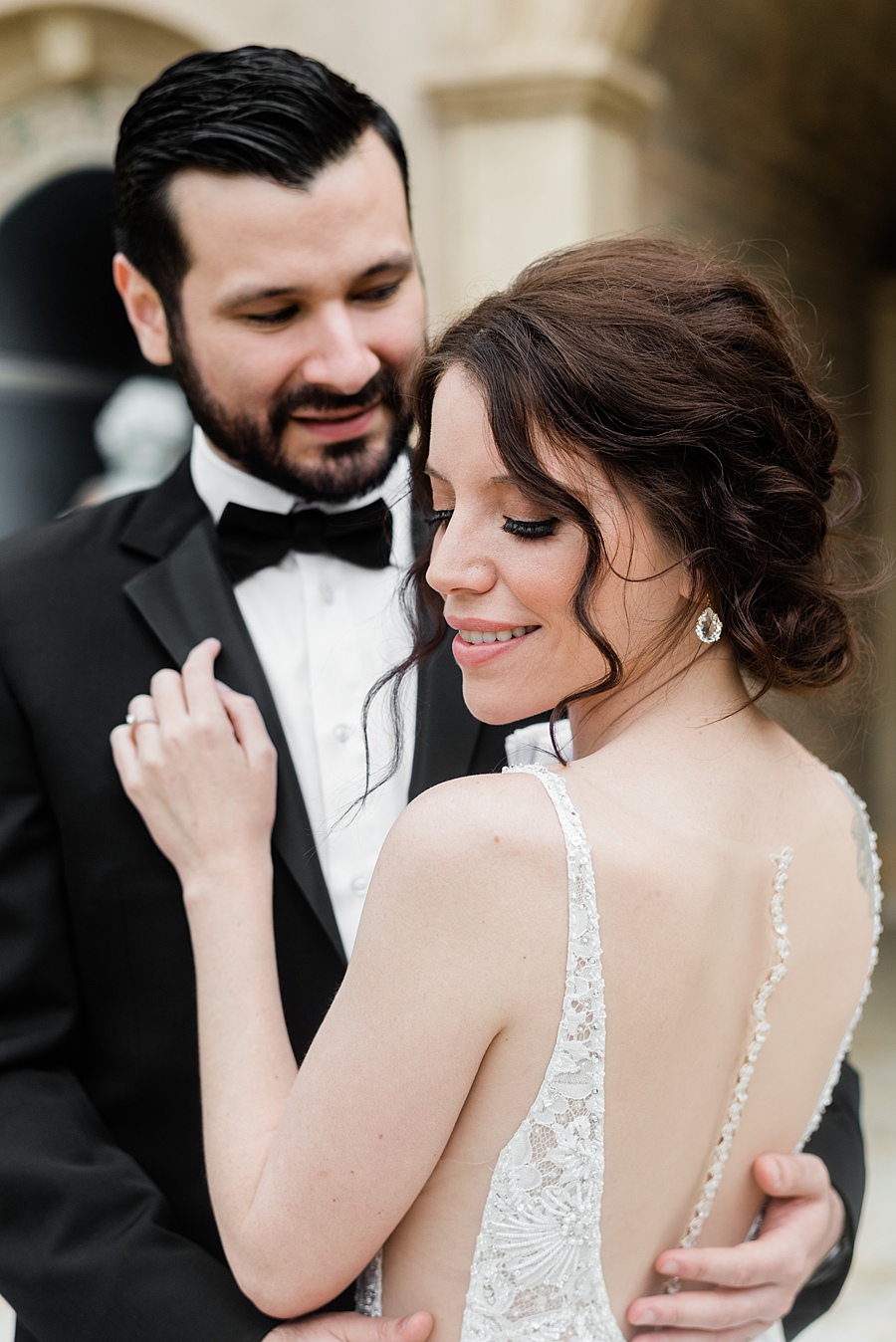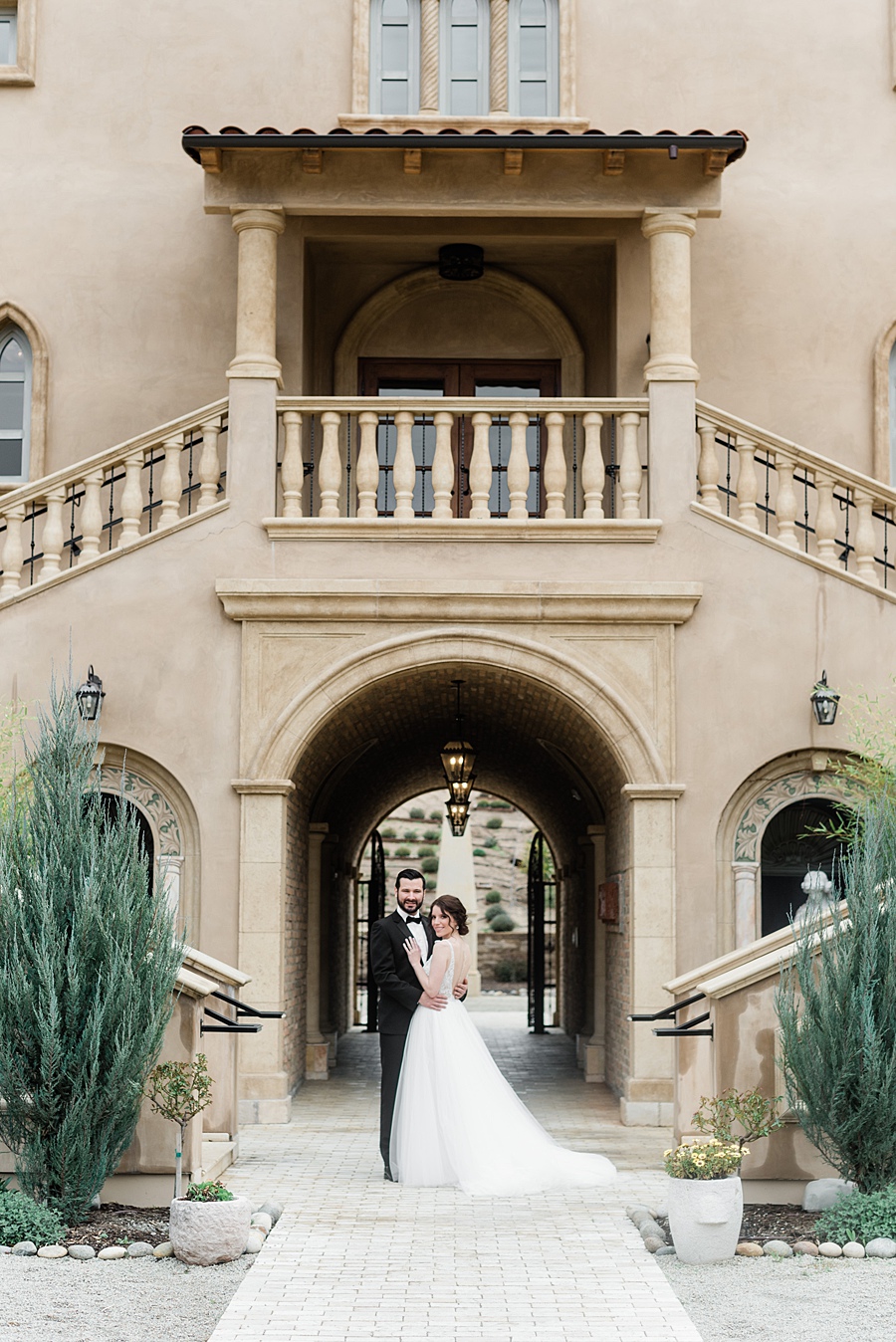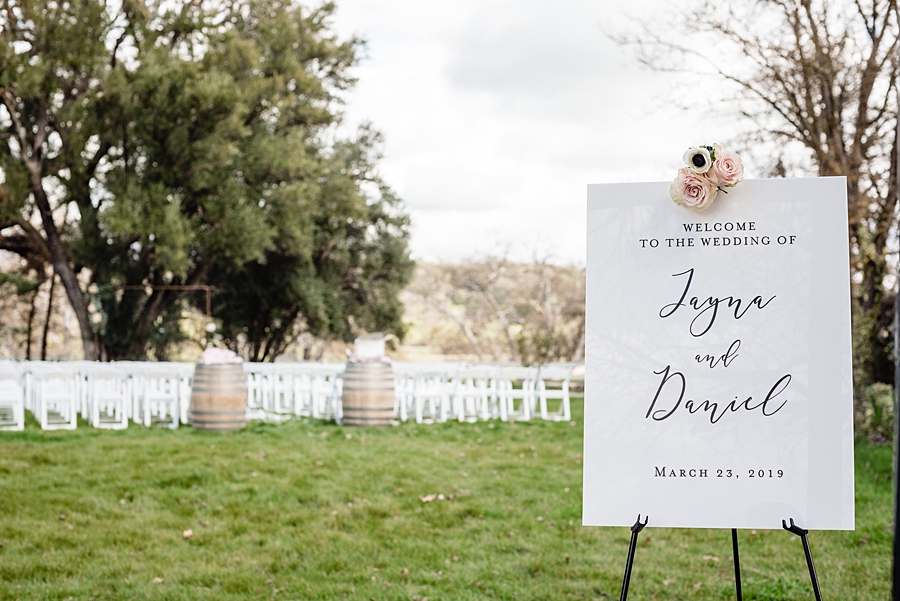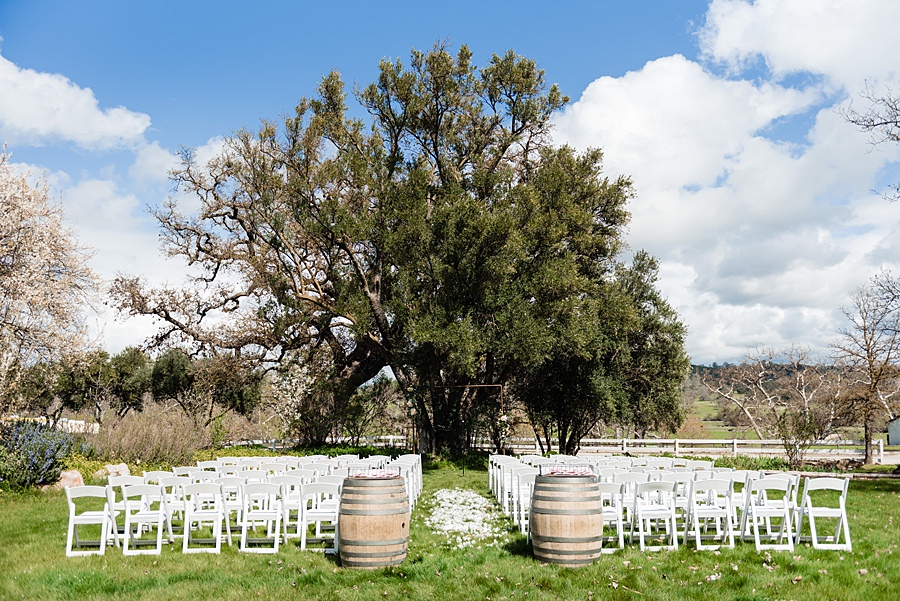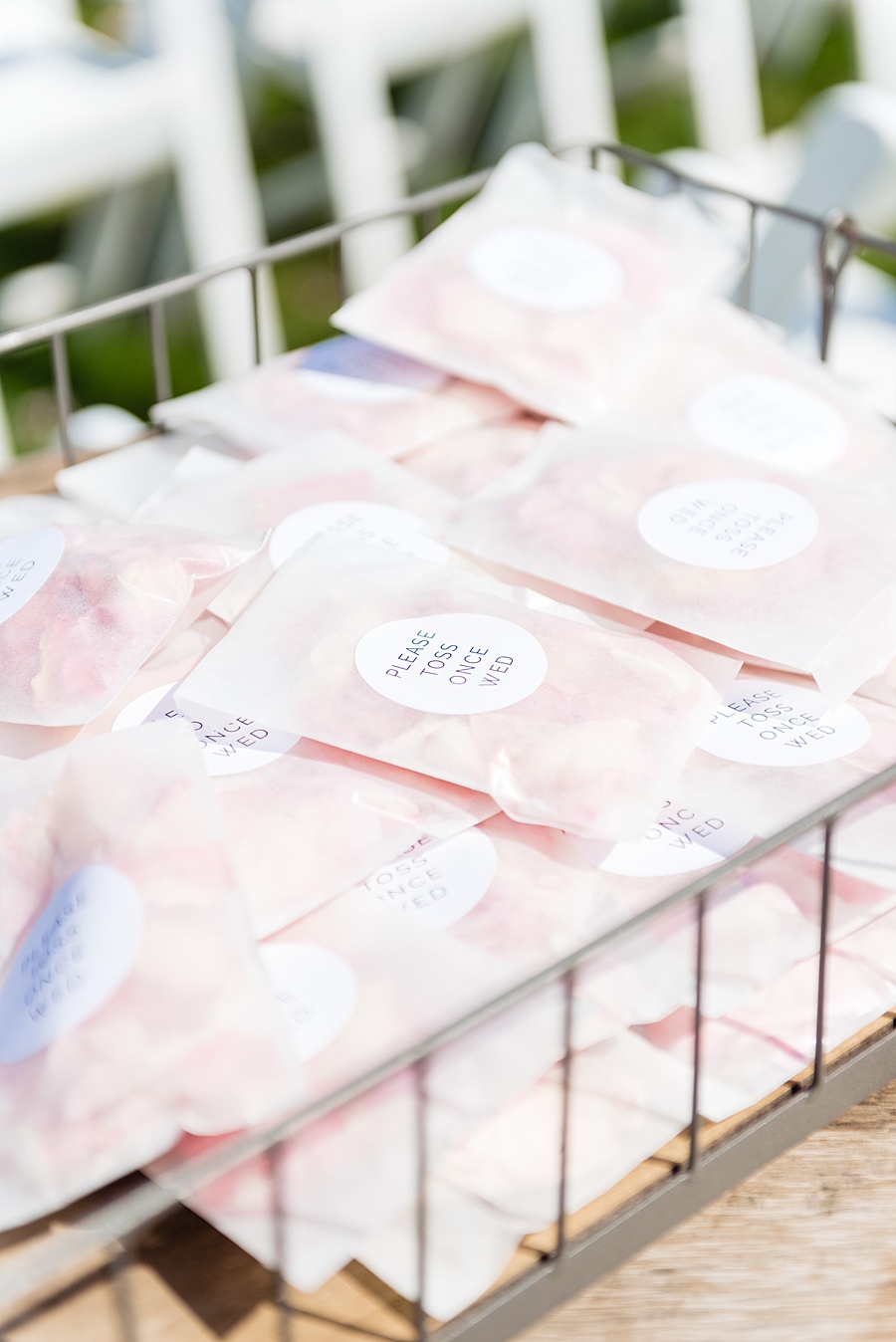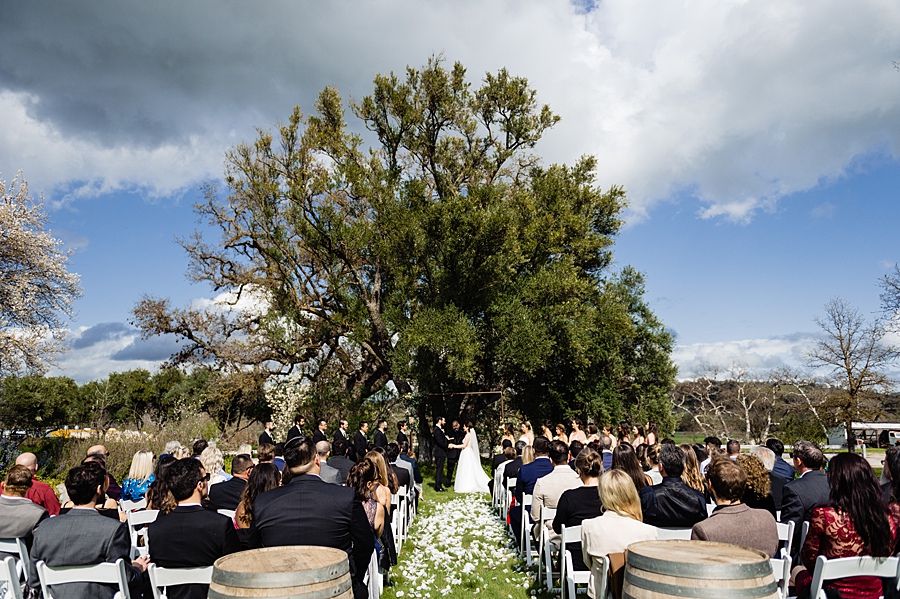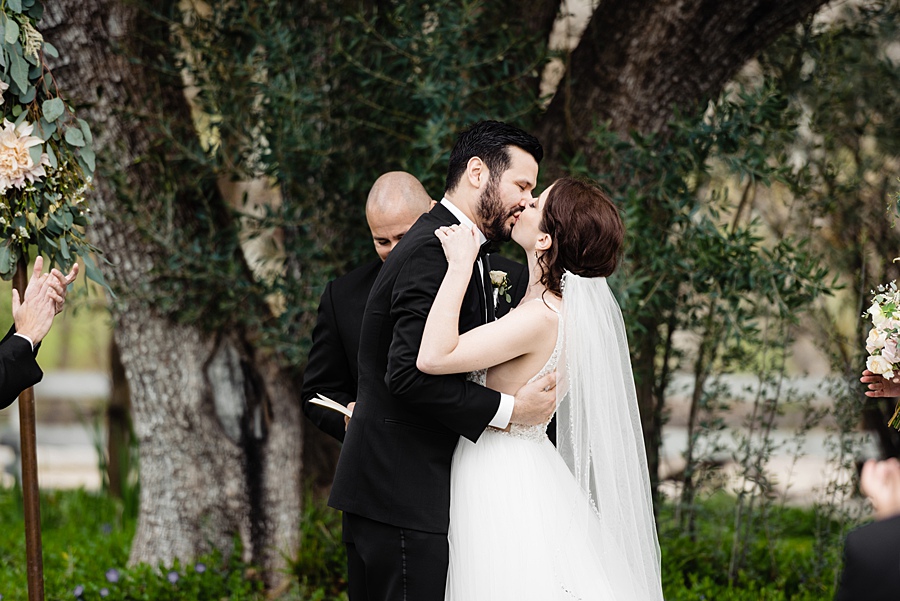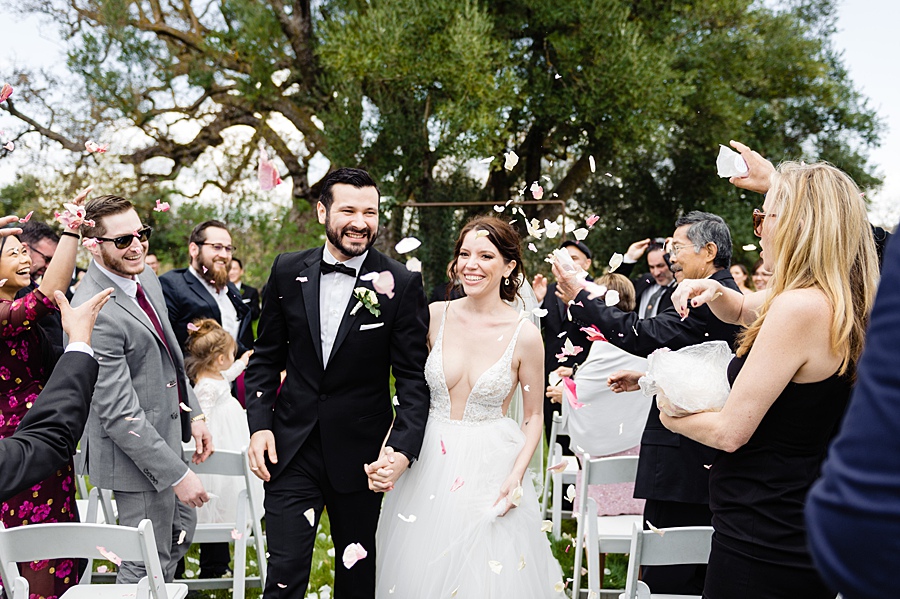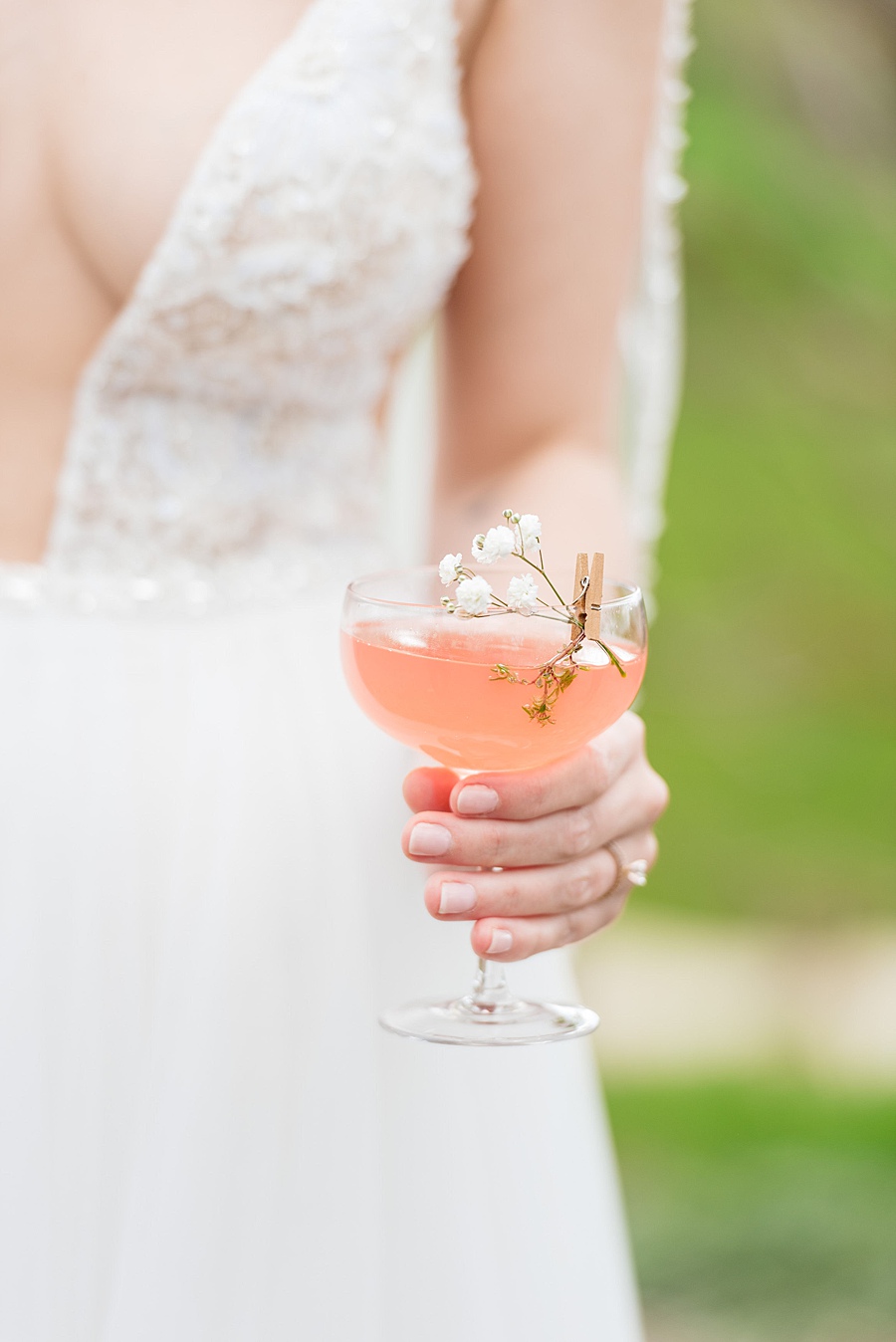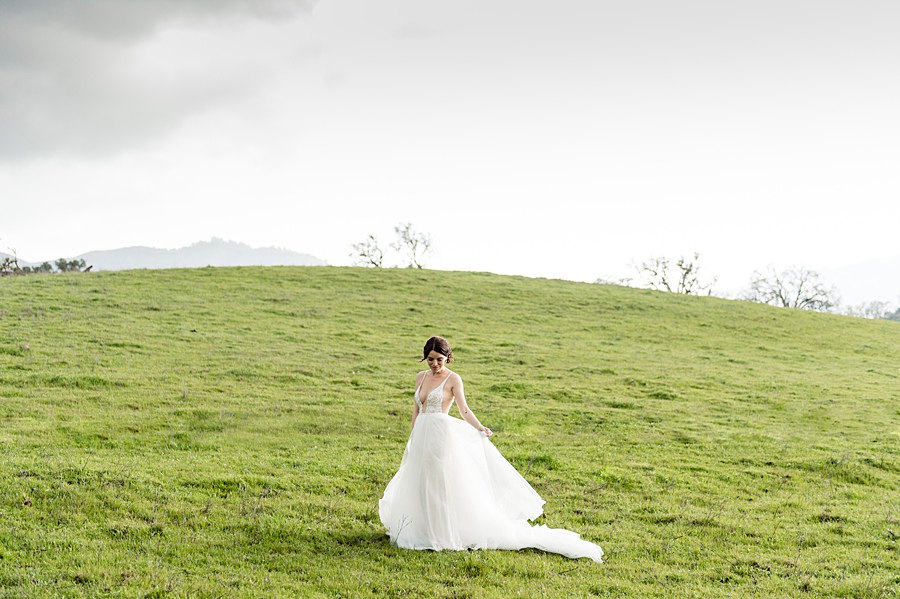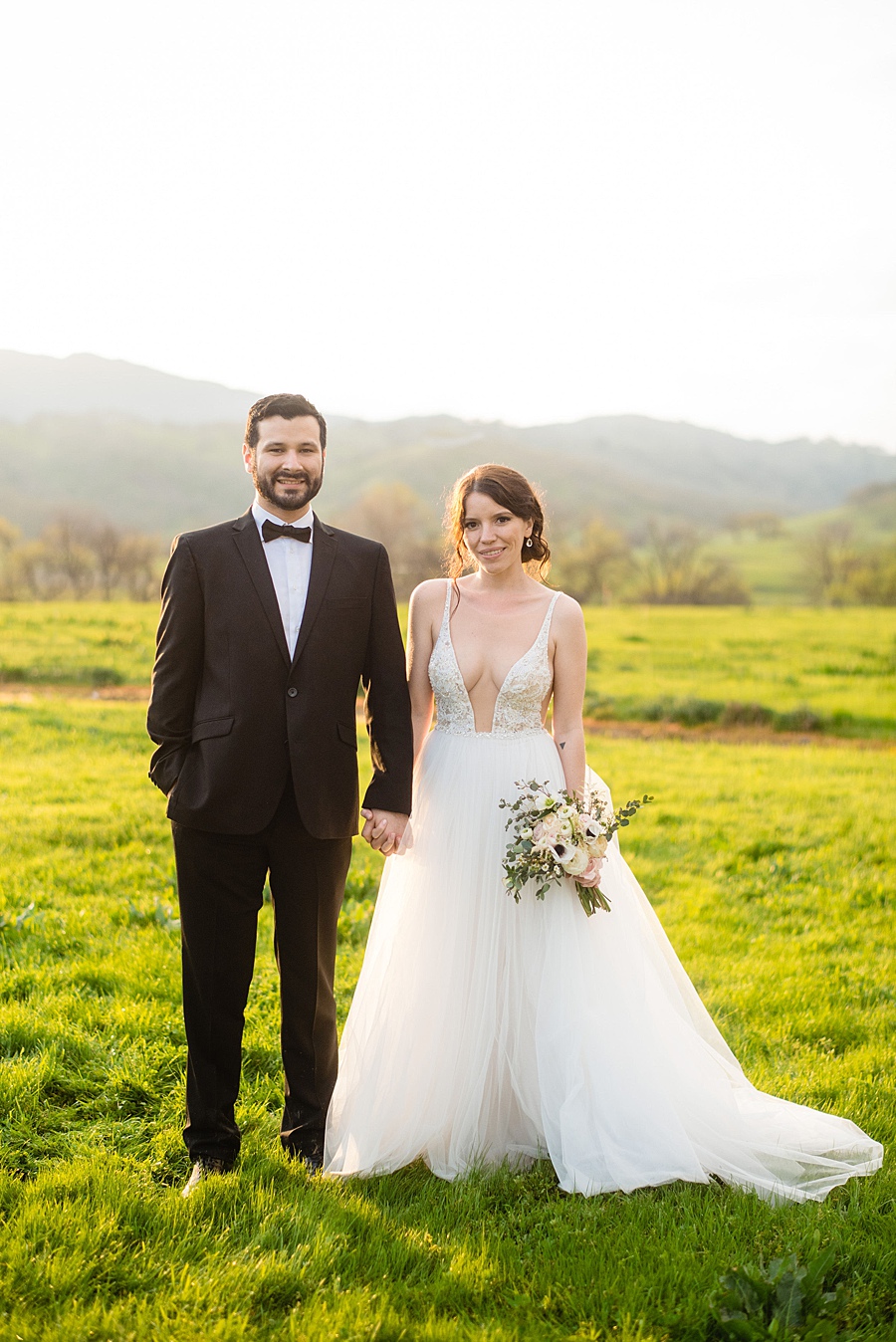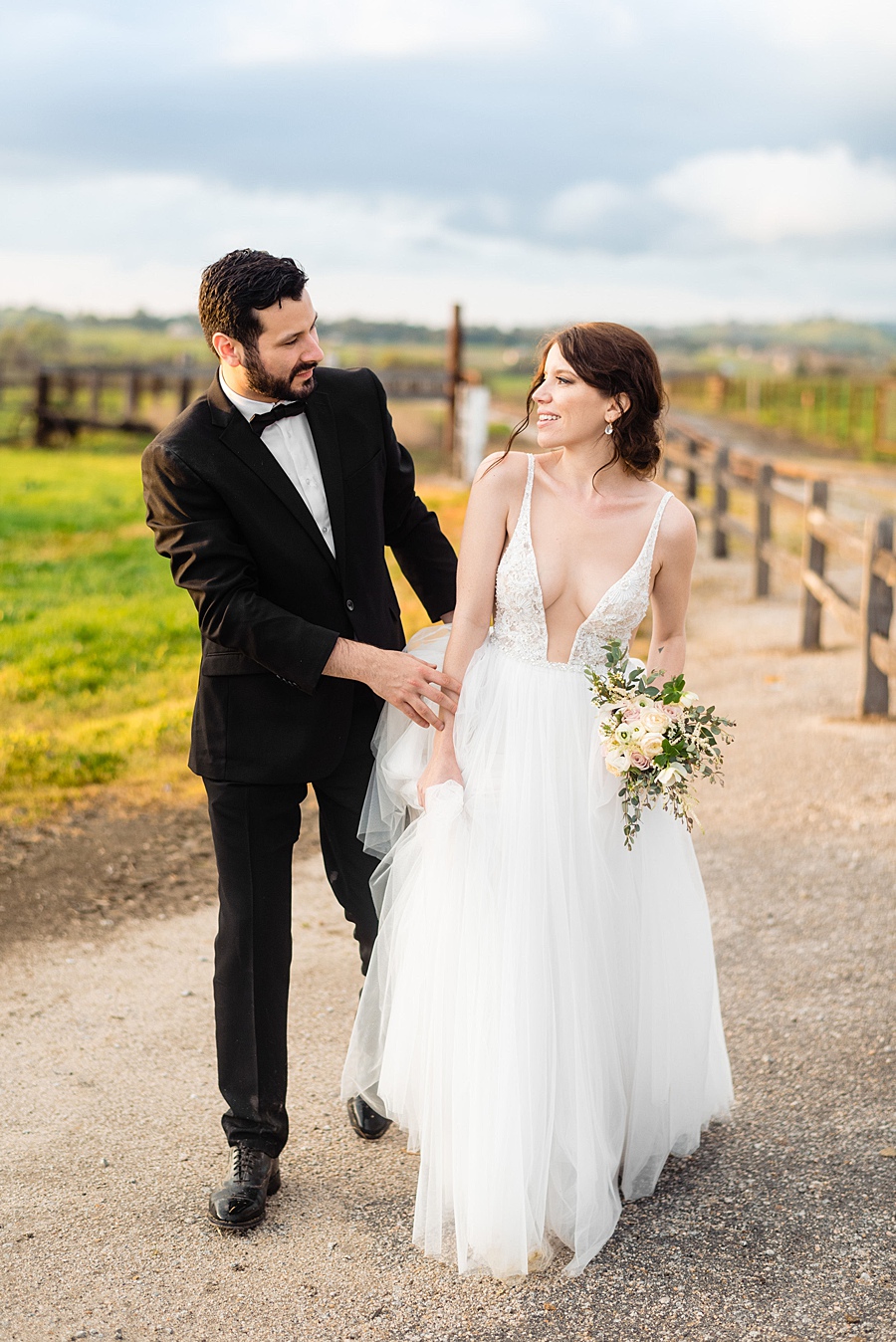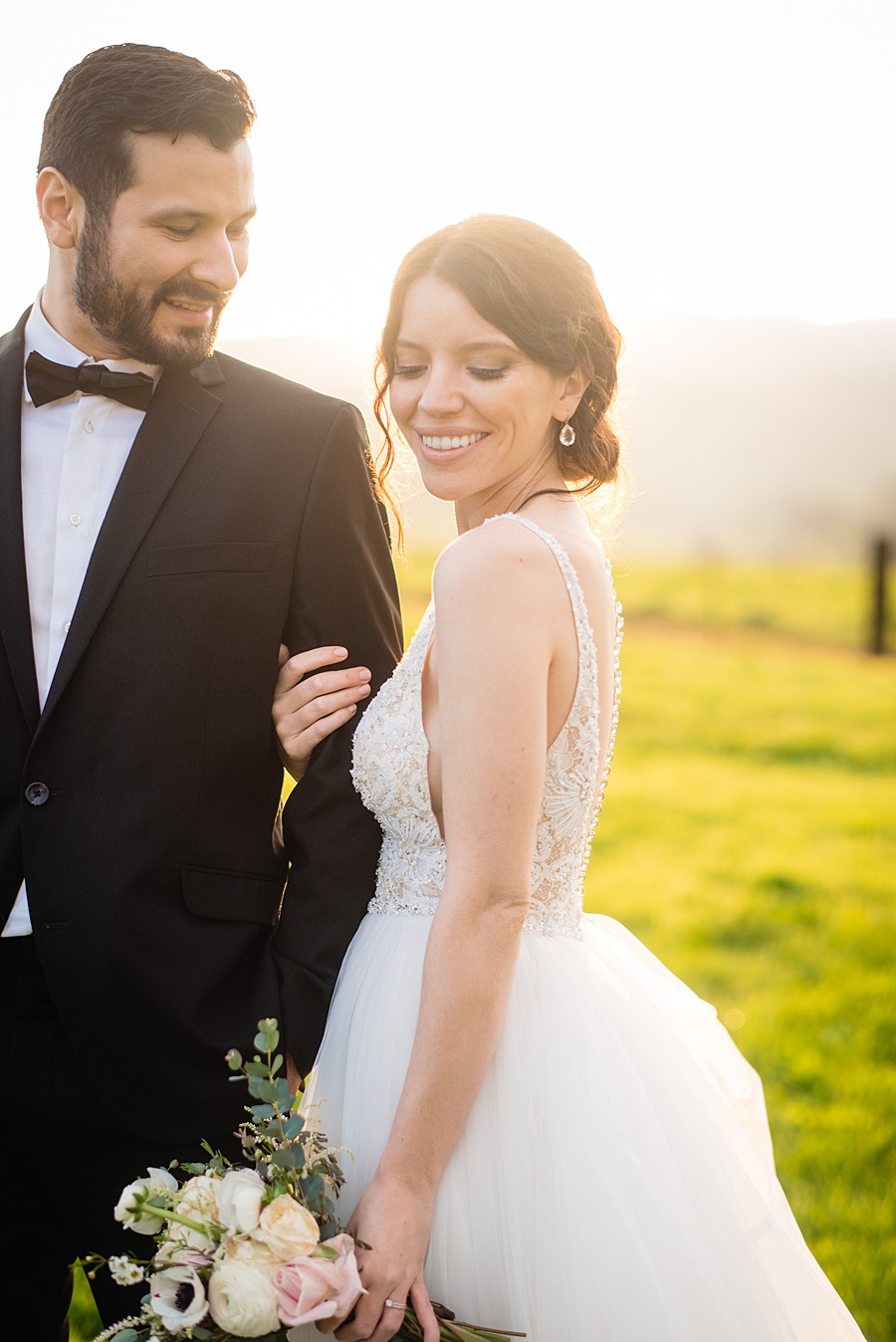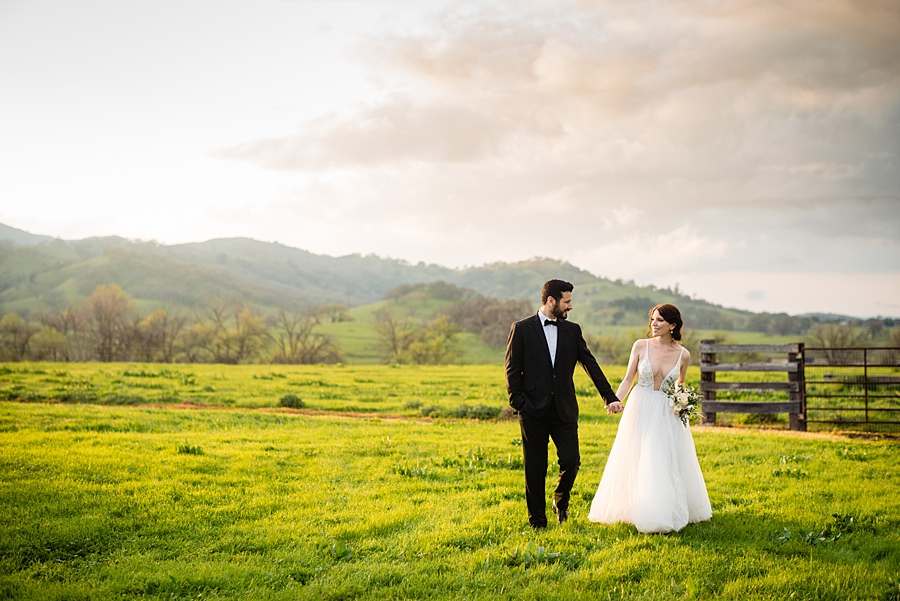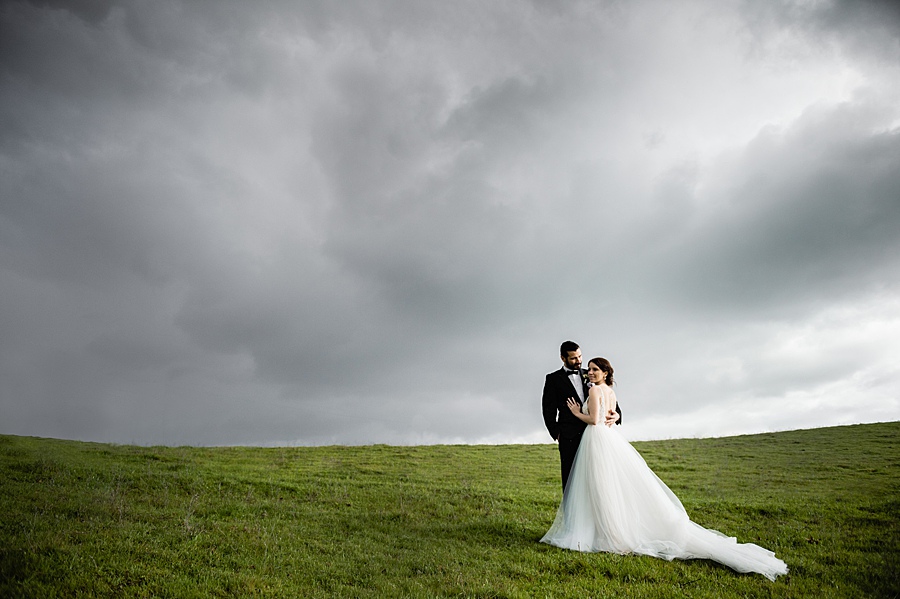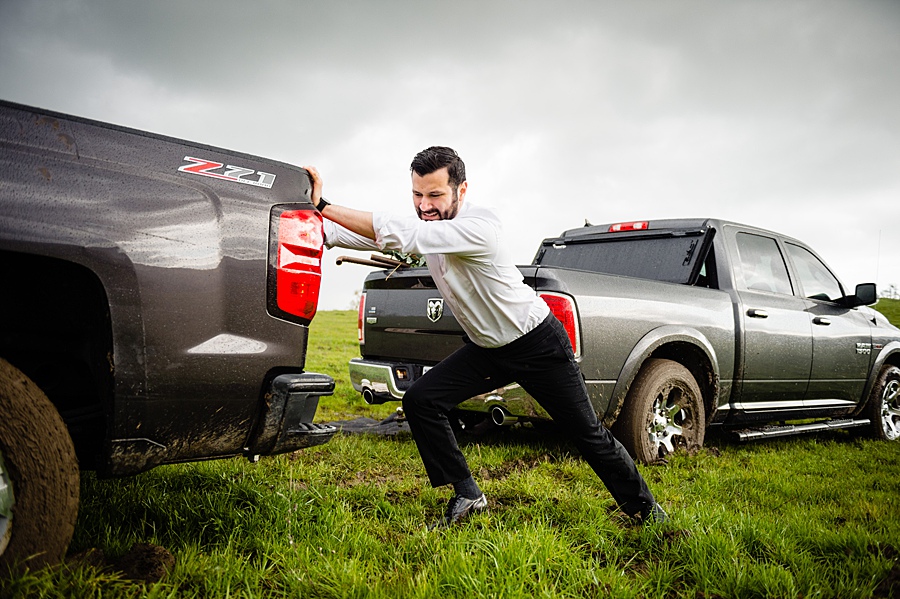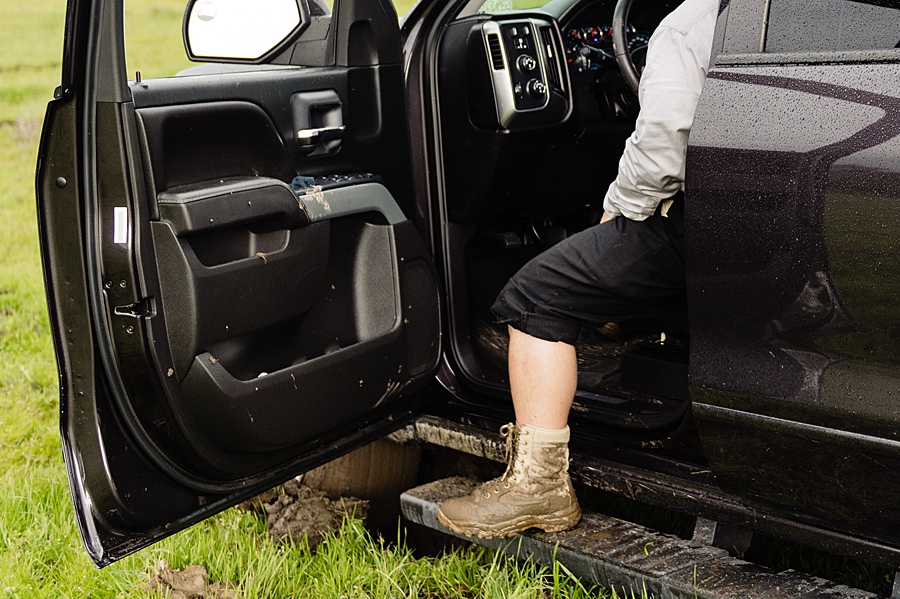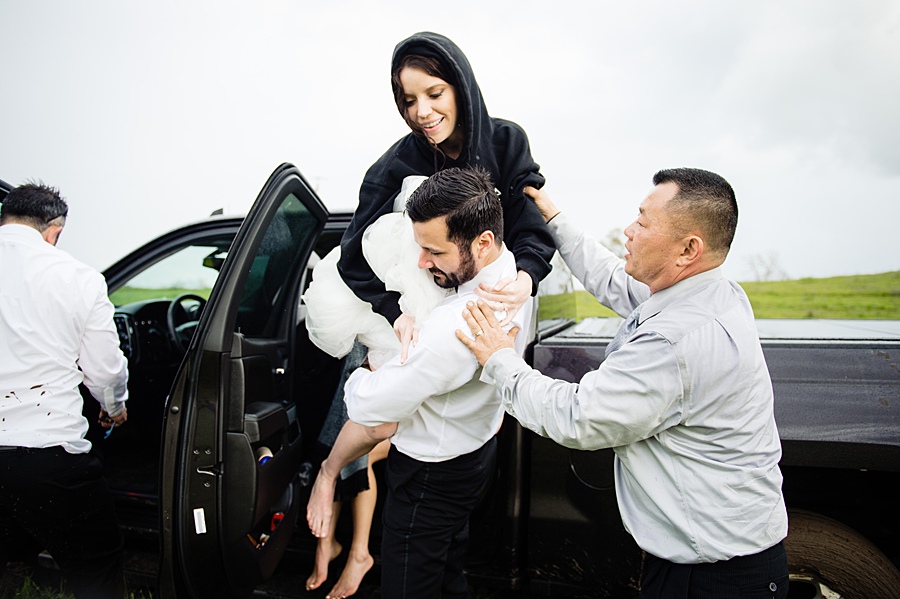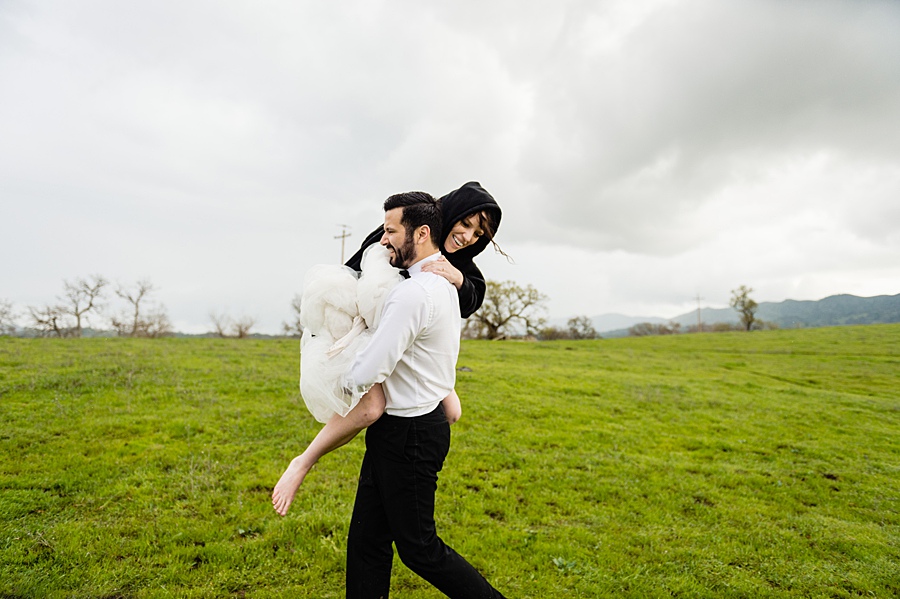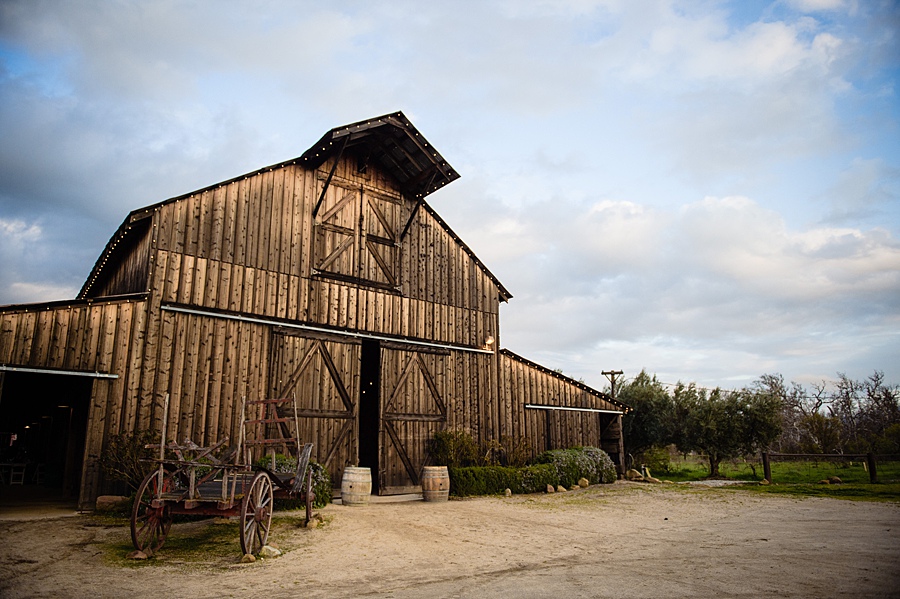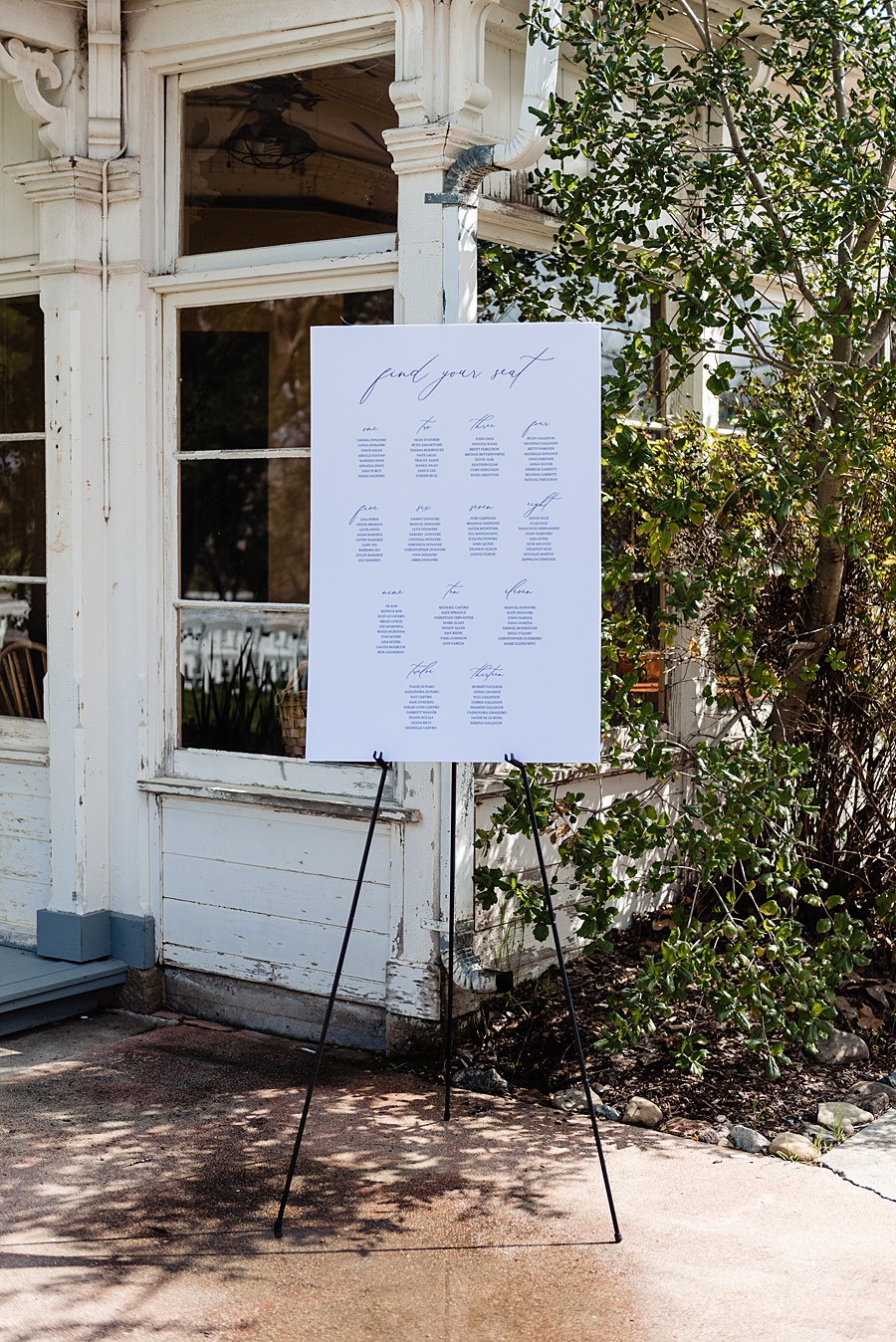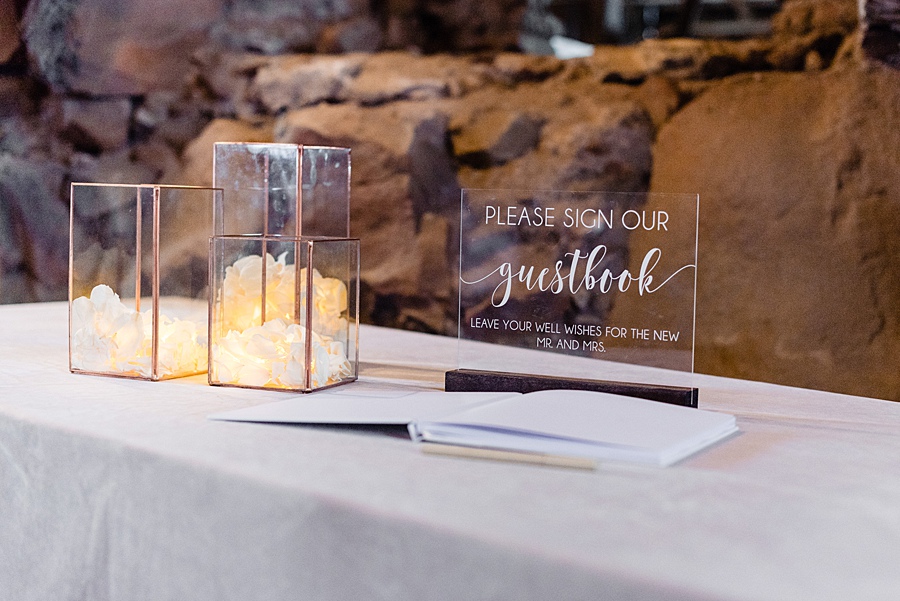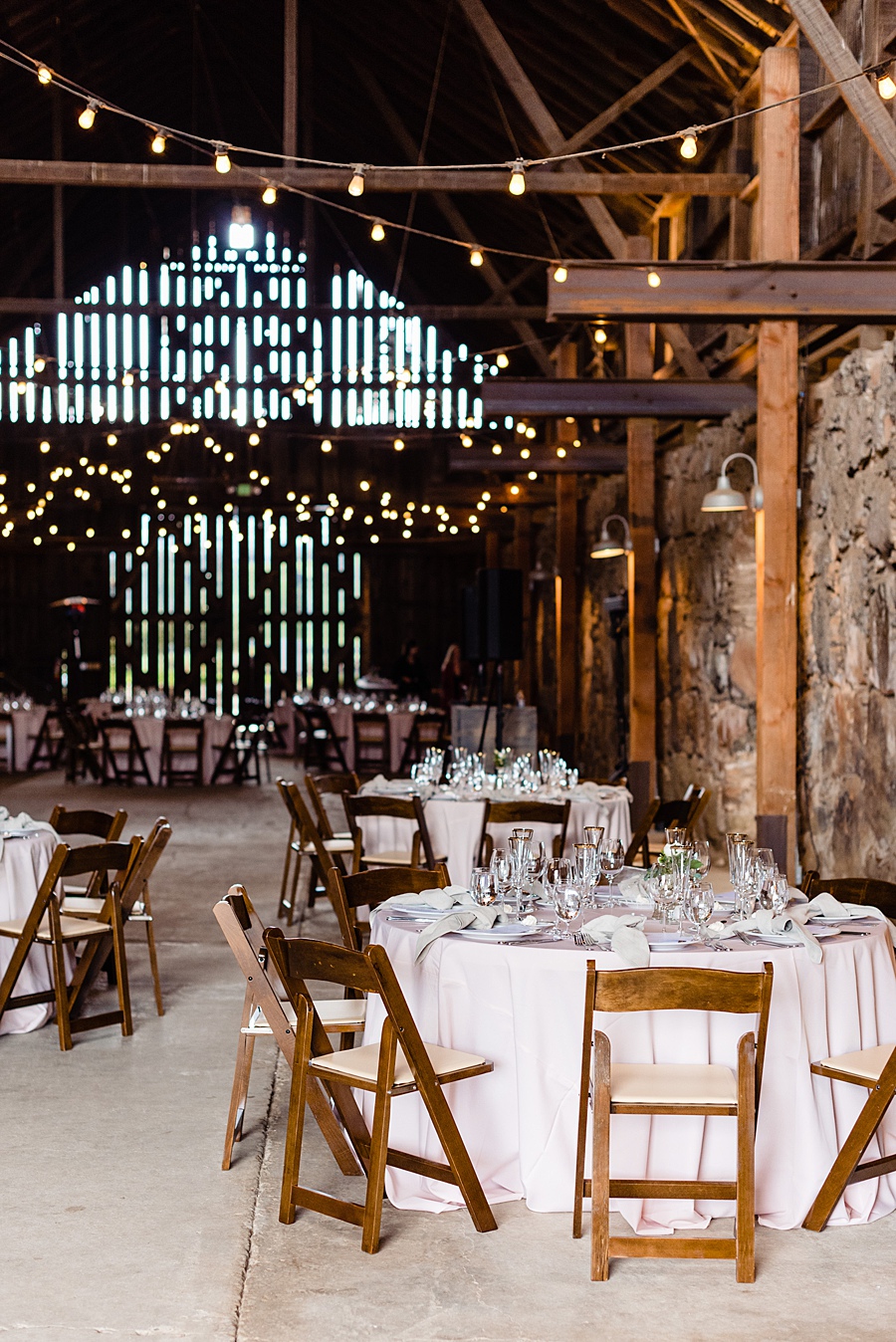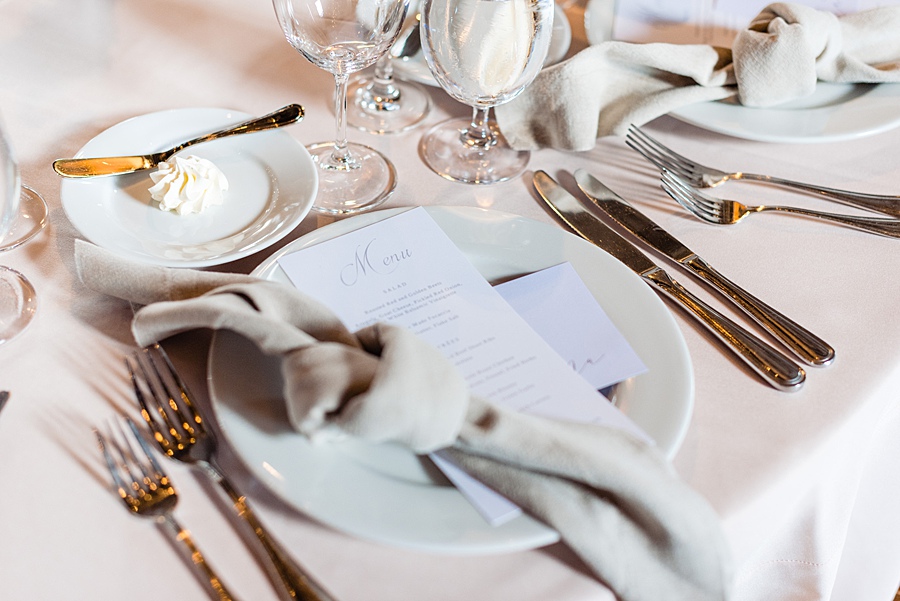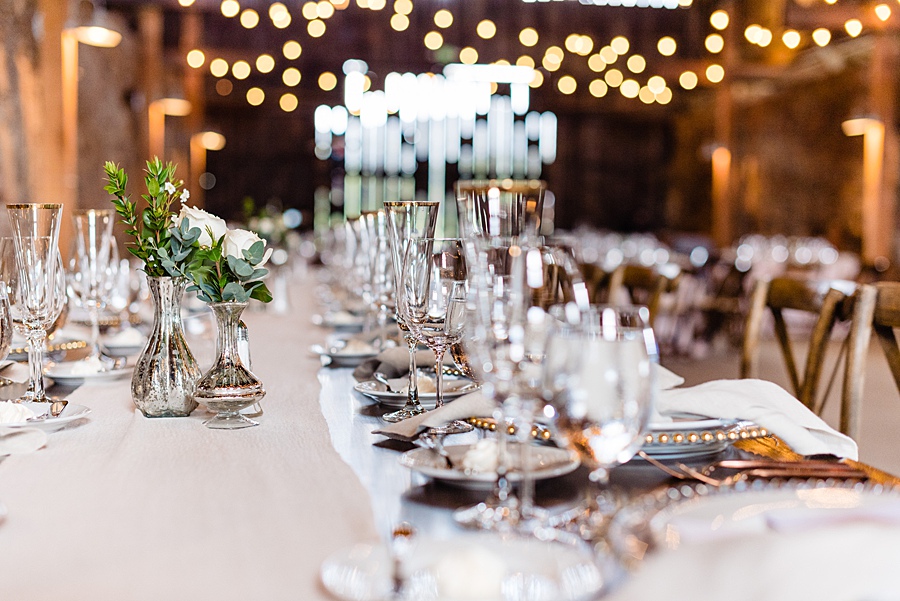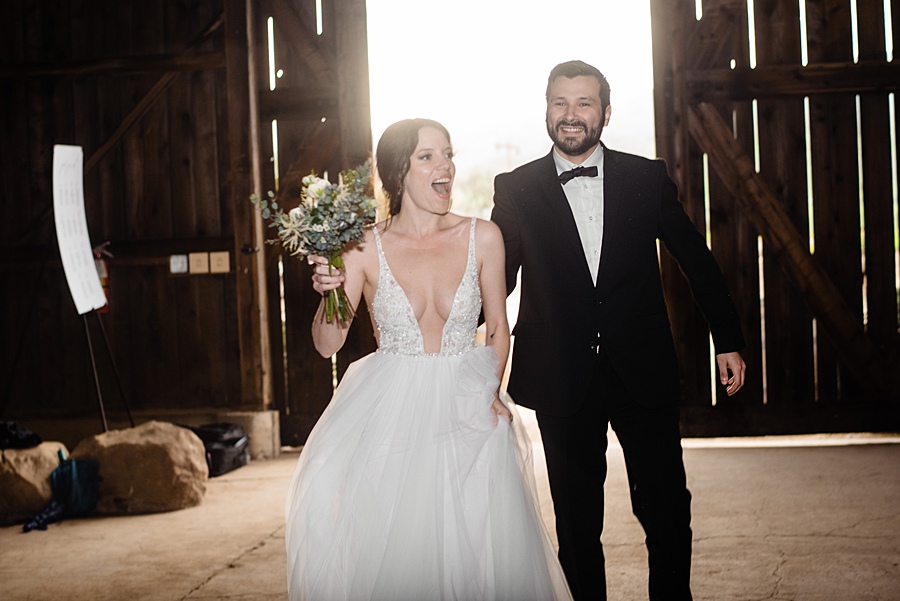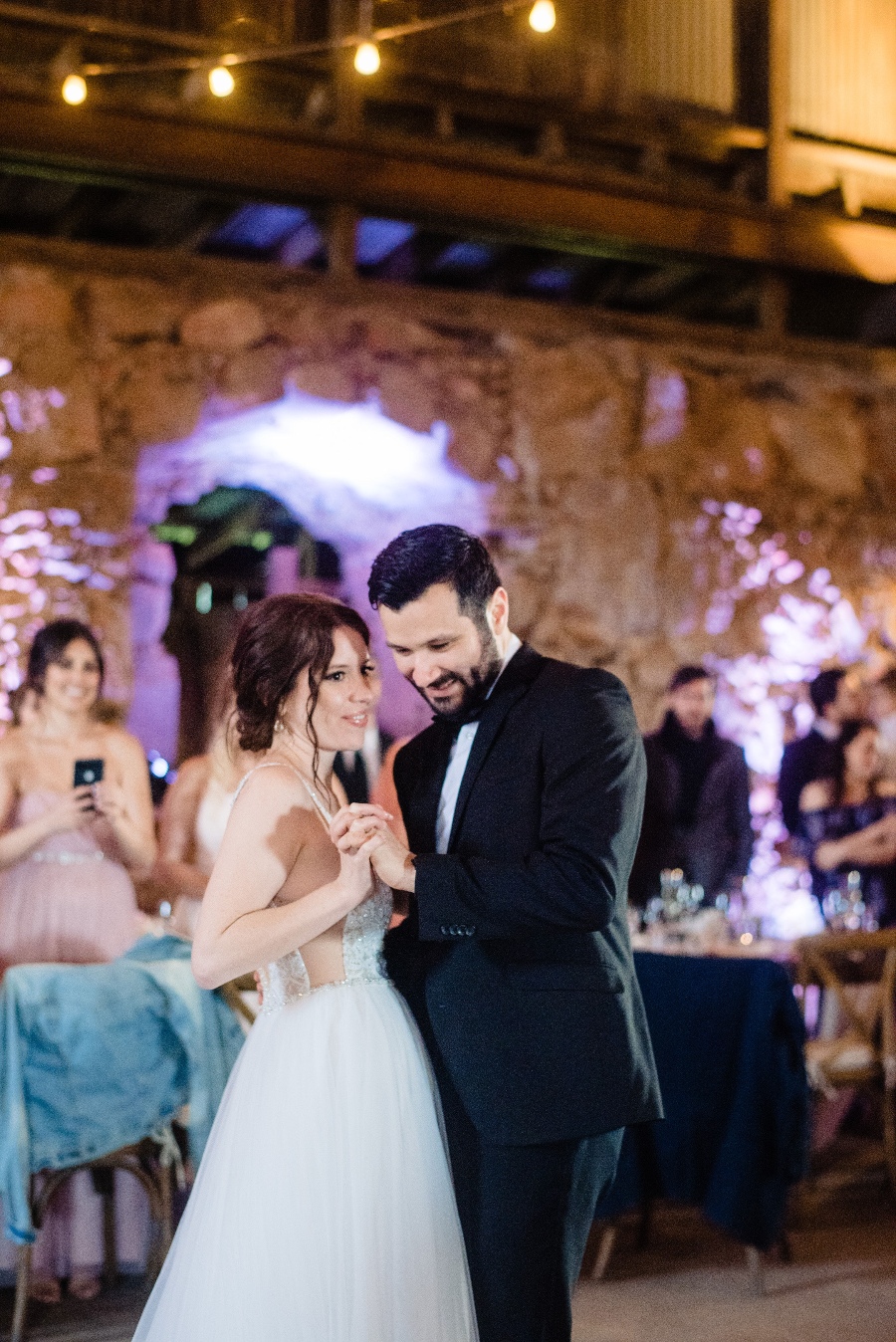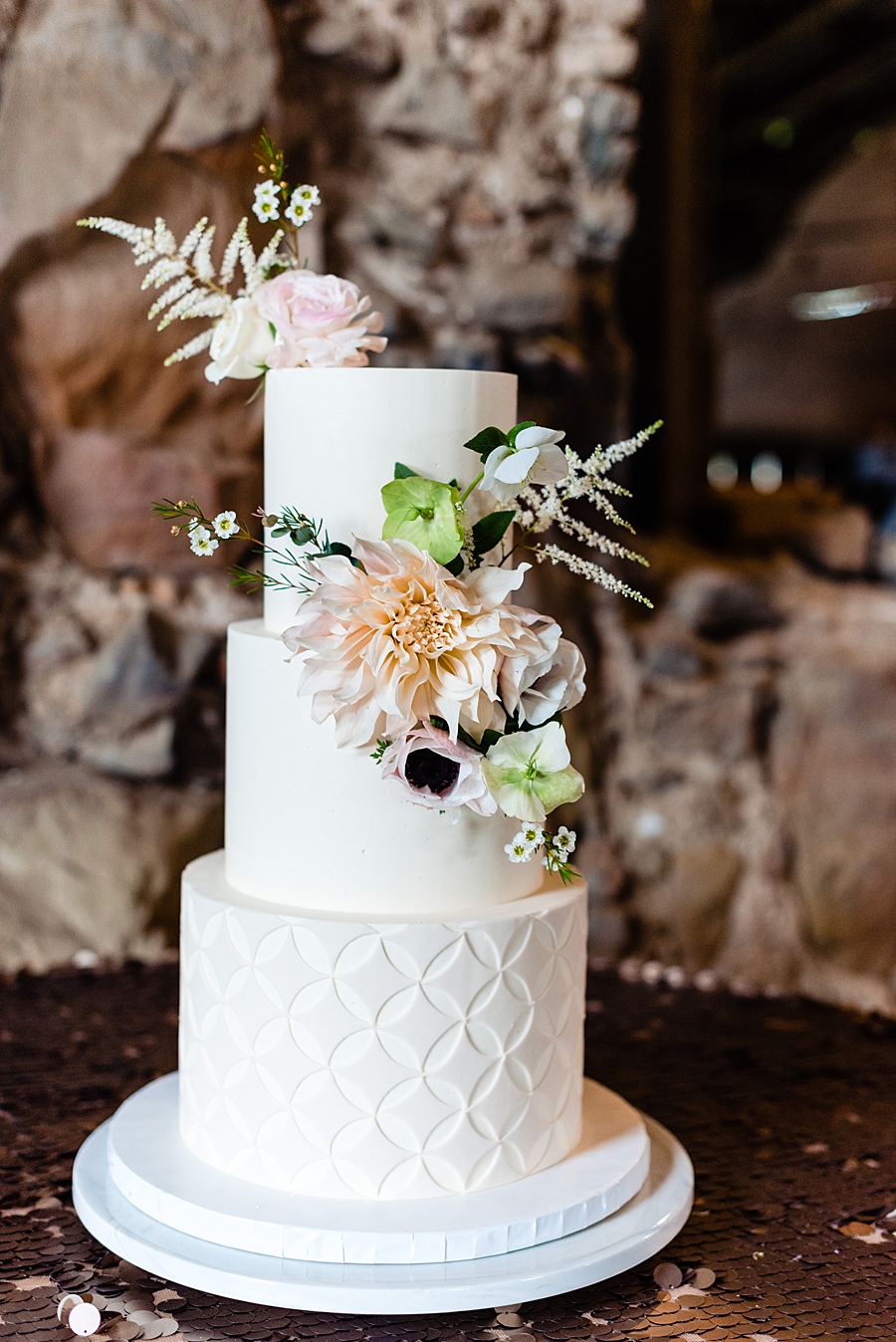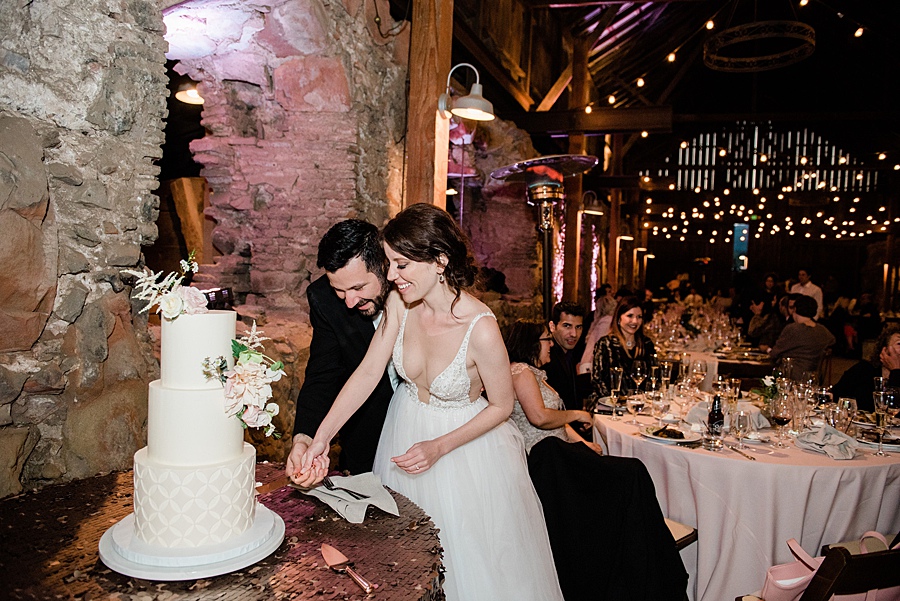 Q&A with the Bride
Why did you choose to get married at this destination and venue?
We chose to get married in California's Central Coast for our love for wine country, olive groves, beautiful green rolling hills, and close proximity to many of our friends and family living in Los Angeles. We had our first vacation in this area together several years before, so it's special to us. Living on the East Coast presented geographical challenges while we were planning a destination wedding.

Daniel trusted me to chose the venue during a visit with my maid of honor and grandmother. After visiting various wineries in Paso Robles, I started to feel less optimistic about finding my "dream venue". As we were driving down the 101 highway to the last venue to take a look at, we got lost and pulled over on a dirt road. As we sat in the car feeling hopeless, I saw a sign that said "Santa Margarita Ranch" surrounded by gorgeous green hills.

The scenery alone spoke to me. I guess my grandmother had the same epiphany as she googled the phone number and called to request a site visit. The venue accepted and gave us a tour. The ranch has nearly 15,000 acres of open pastures, vineyards, and gardens, along with a historic barn that took my breath away with the unique stone wall interior and vaulted ceilings. I called Daniel and he knew we found our dream spot.
How many people attended your destination wedding?
120
What were your sources of inspiration when choosing your colors, flowers, cake, etc..?
We wanted every element of our wedding to represent our love. Our inspiration came from places we traveled together, meals we enjoyed together, and items and colors that felt natural, modern, and simple. We knew we wanted to the main source of beauty to be the backdrop of our venue.
Was there something unique or special that you incorporated into your wedding décor/theme?
I made welcome gift boxes for our wedding party when they arrived at our large vacation rental property that were unique and special to each recipient.
What was your favorite wedding detail and why?
The food menu! We both love cooking and believe there is an art to the preparation, cooking, and presentation of food. We had the most incredible caterer, Trumpet Vine Catering, who we designed the menu with based on what we thought would be best enjoyed and appreciated by the guests.

During the food tasting, we weren't 100% happy with the meat option we chose. So I (jayna) ended up working with the chef to develop my own braised short rib recipe with gremolata recipe as one of the main courses served family-style.

And also my wedding gown.
Was there any tradition that you skipped or a tradition that you put a "destination wedding" spin on?
We certainly didn't keep the guest list short. And to our happy surprise, our friends and family still joined us from around the country.
What was the most memorable or unusual thing to happen on your wedding day?
About 30 minutes after our outdoor ceremony, it rained. It didn't pour but it was still enough rain for guests to find temporary shelter during our outdoor cocktail hour. Once the rain turned into a very light drizzle, our photographer grabbed us for couple portraits. Of course I wanted to take photos in the gorgeous green hills that looked even more dramatic with the clouds rolling in. Since we couldn't get there by foot we saw our family friend with a truck who offered to drive us up the road a bit with the bride, groom, maid of honor, and photographer in tow.

To our absolute horror, we got stuck in the muddy cow pasture. At first we had one of those "this cannot be happening" moments as we had 5 men in the back trying to push the truck out of the mud and getting very wet from the rain that picked up again and mud splattering upwards. None of us had our phones except for the driver who called my father-in-law to attempt to tow his truck out of the mud. So no one knew where we were – we later found out no one was concerned and enjoying the cocktail hour.

Both trucks got stuck and we all shifted focus to getting us back to the barn to join our guests. In those moments, I felt a surreal rush of calmness overtake me and just absorbed everything happening around me and feeling grateful. However, the LAST thing we wanted to do was take couple portraits. Logistically it would be virtually impossible to not get soaked with mud. Our incredible photographer coached and forced us like a hero to take our photos anyway – that these moments we will cherish forever. We agreed and I saw the five men throw down wooden blocks and moving blankets to create a bridge for me to walk over the deep mud.

Our photos turned out incredible and afterwards my maid of hour carried my shoes and Daniel put me over his shoulder and carried me back to the casita to reunite with our wedding party. We laughed, almost cried, and drank a glass of champagne as our friends cleaned us up with paper towels. Moments later, our day-of wedding coordinator told us to line up and enter the barn as the DJ announced the wedding party. Having no moment to really discuss what just happened, we entered last and had our first dance together giggling and smiling over what we just experienced.

Summed up in the words spouted from an enthusiastic bridesmaid while we wiped the mud from Daniel's black dress shoes, "Mud is love."
What was your favorite part of having a destination wedding?
My favorite part of having a destination wedding was the adventure and element of surprise that goes into the planning and weekend of festivities shaped around our wedding. It felt like a weekend getaway with literally all of our closest family and friends. We had a rehearsal dinner at Tooth & Nail Winery the night before so it truly felt like a dream weekend.
What was the biggest challenge in planning your destination wedding?
The biggest challenge of planning a destination wedding is the logistics of hiring vendors without meeting them first or having in-person check-ins. For example, choosing the decor and furniture at the rental vendor was a challenge because I didn't get to see the showroom prior to selecting the items.
What's your advice to other couples planning a destination wedding?
I strongly suggest finding and hiring vendors you feel super comfortable with that have a similar aesthetic that speaks to you. There are so my vendors out there and picking the best one based on your needs and how you feel are critical. Another tip that helped me a lot was having a registry on Zola so all our wedding gifts were delivered to our home. It saved a lot of money and stress for figuring it out otherwise. And it was so fun to come home to an apartment full of wedding presents.
Vendors:
Photographer: Jennifer Lourie
Bridal Gown: Allure Bridals
Groom's Attire: Gucci vintage tux
Venue: Santa Margarita Ranch
Bridal Shoes: BHLDN (Jewel by Badgley Mischka Mayra Block Heels)
Hair & Makeup: Blue Bird Salon