It's no surprise that Puerto Rico has always been a popular destination for couples looking to host a gorgeous beach wedding – have you seen their beaches? But Aura and Jaen's choice was a bit deeper than that. Puerto Rico is Aura's true home away from home, where some of her family lives – so the choice became a no-brainer once they landed on hosting a destination wedding. I'm kicking off our photo album with my favorite semi-candid of the day because I am a sucker for mother/bride/bridesmaid pictures. This shot gives me such a genuine feel for how intimate and lovely this day was – and just how great the genes in this family are!
Also, I LOVE their taste – love it. Sure, gold geometric decor with soft colors and pops of pink might be considered trendy… but there's a reason for it! Also, not everyone executes a trend like this. Every photo shows off how classy and detail oriented they were in their choices on attire, decor, venue and more. I'm also glad these two found a few moments to skip around town to take some photos with Wedding Mafia Photography, because Ponce is such an adorable and historic town!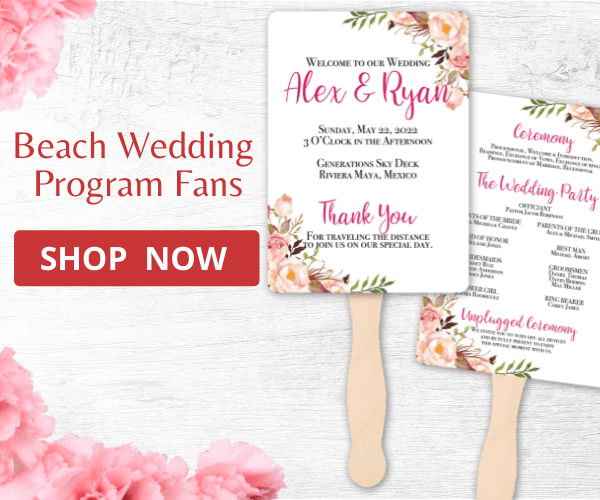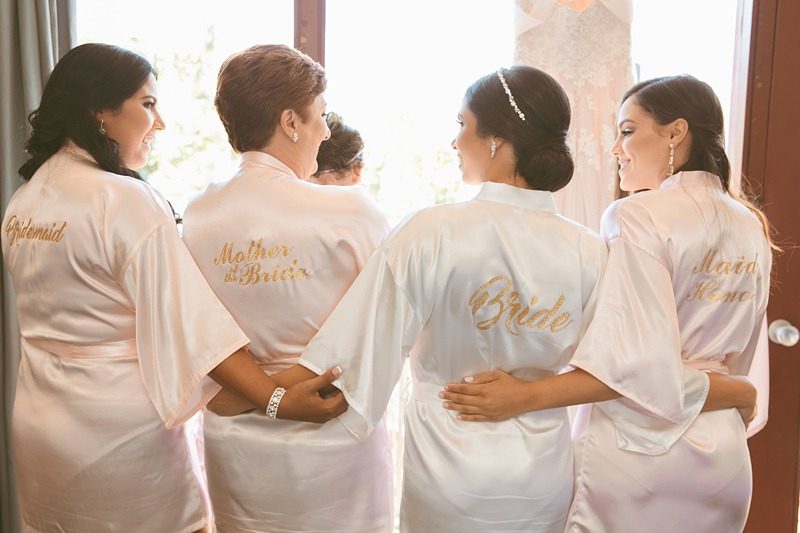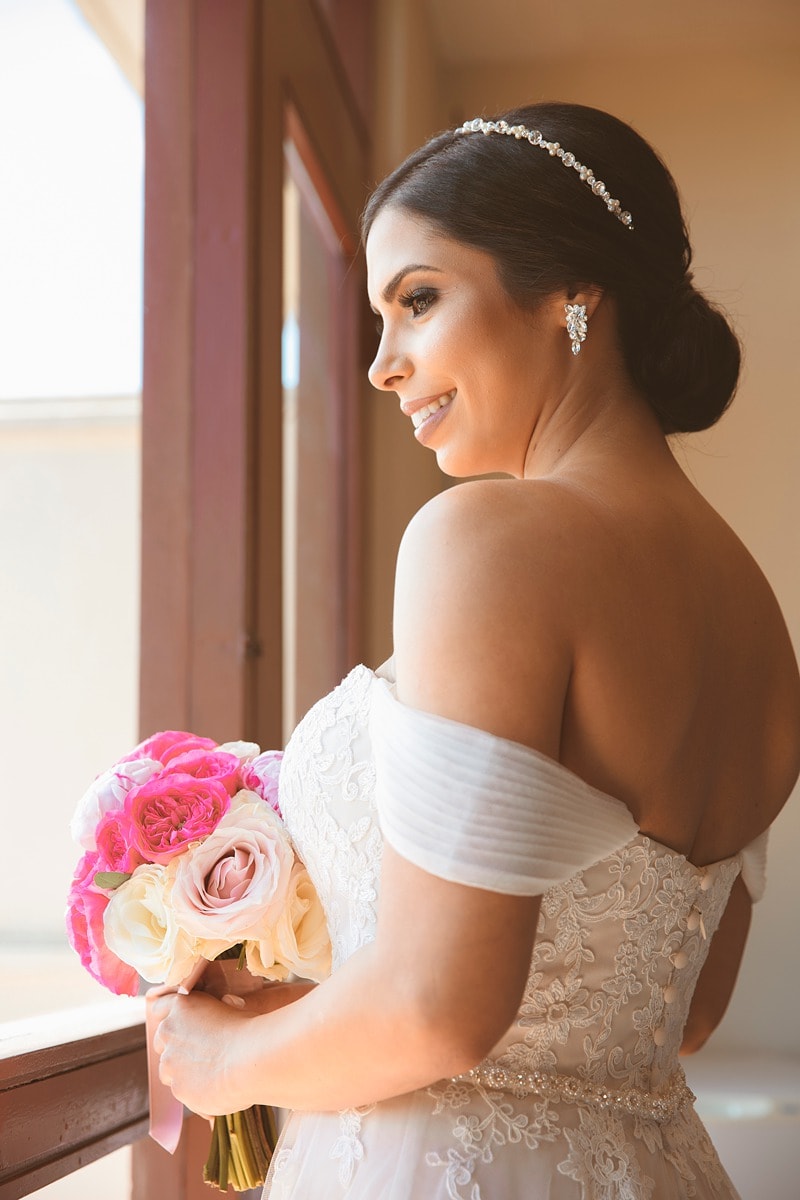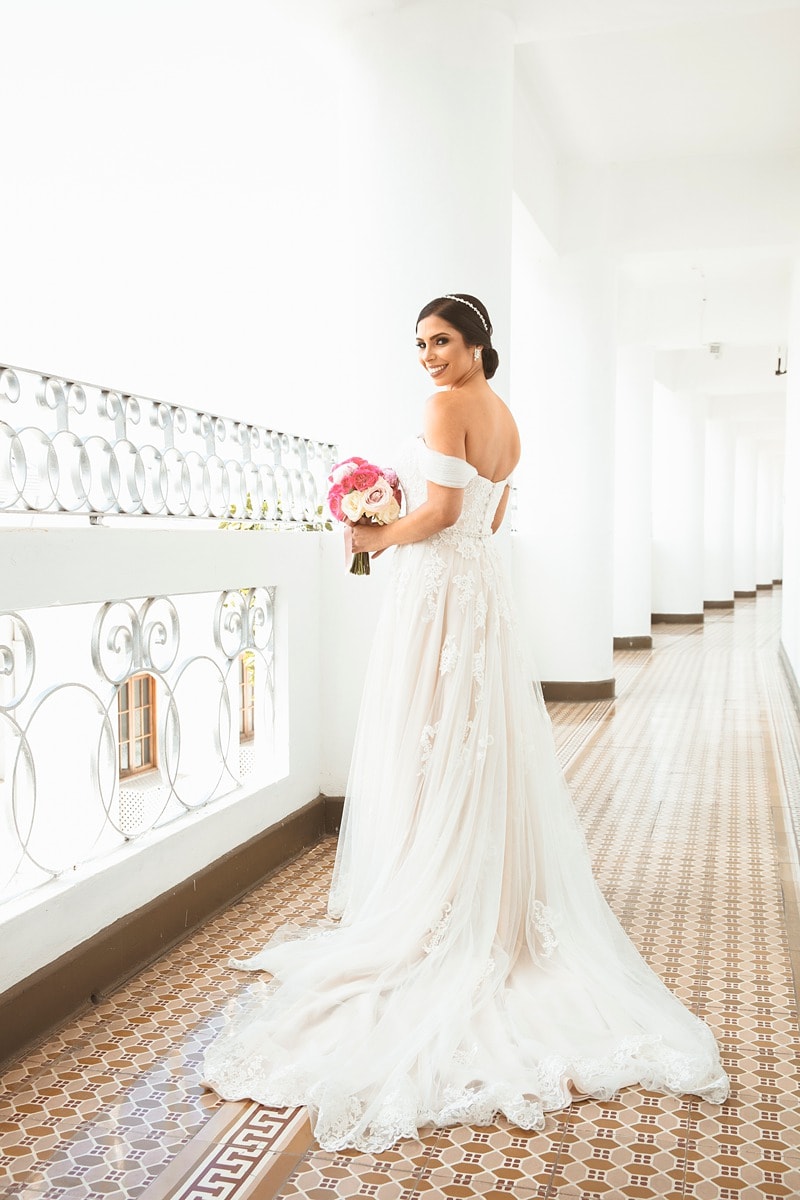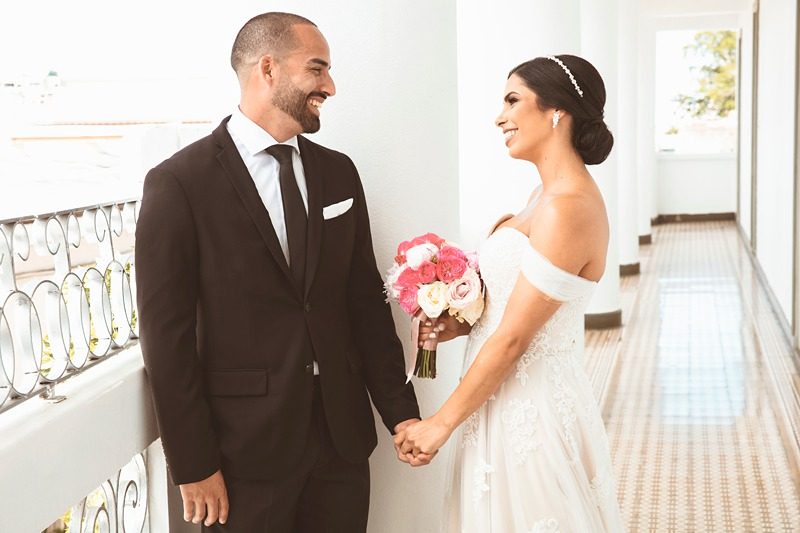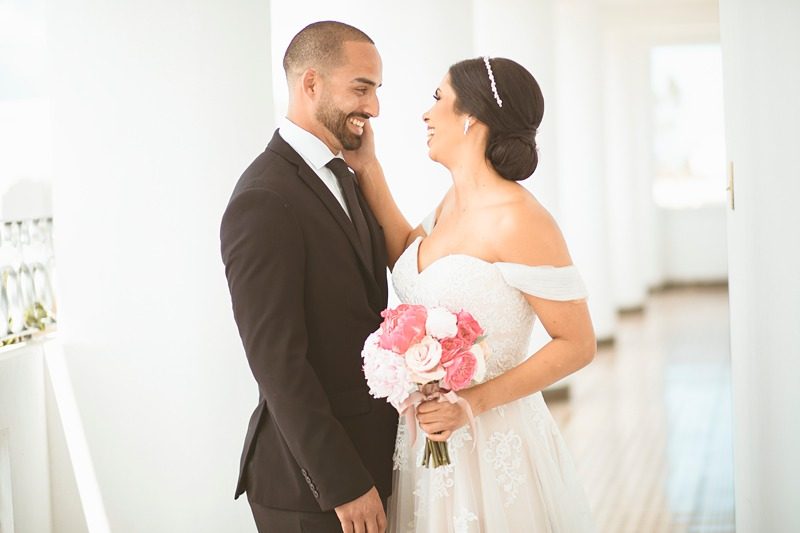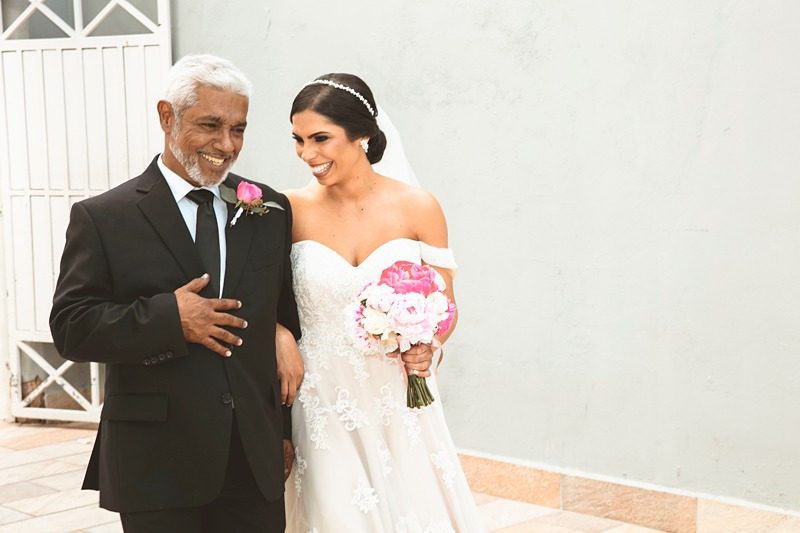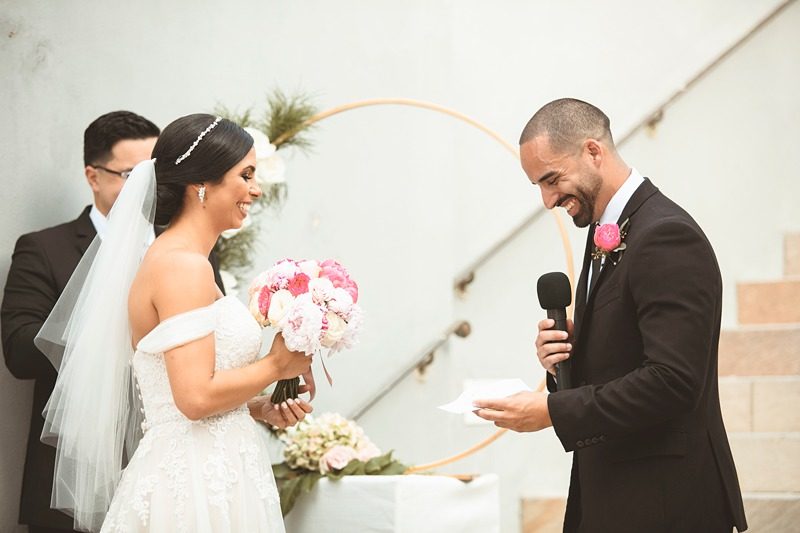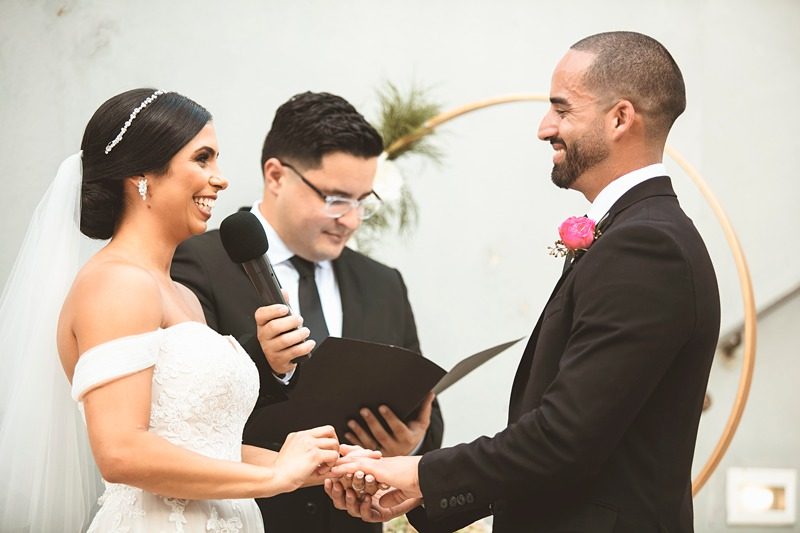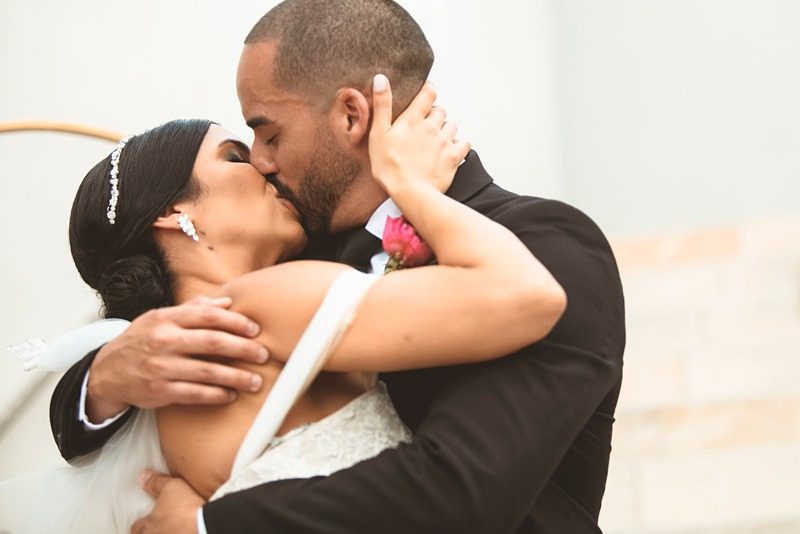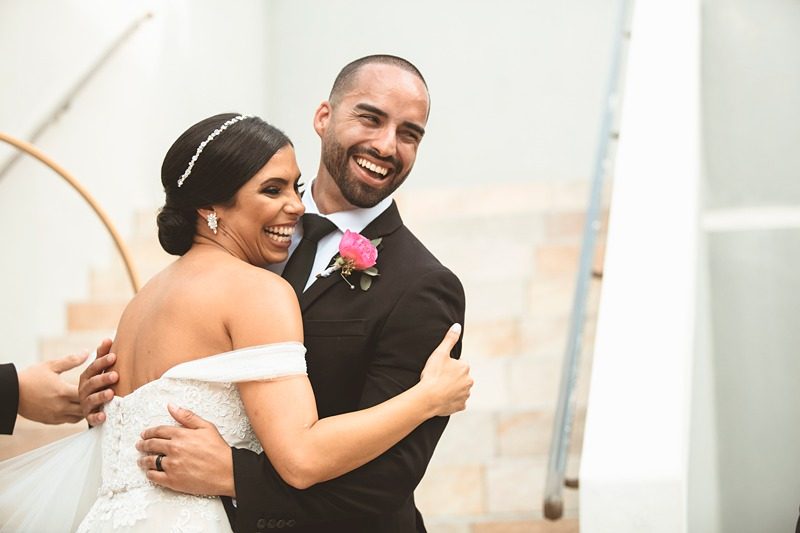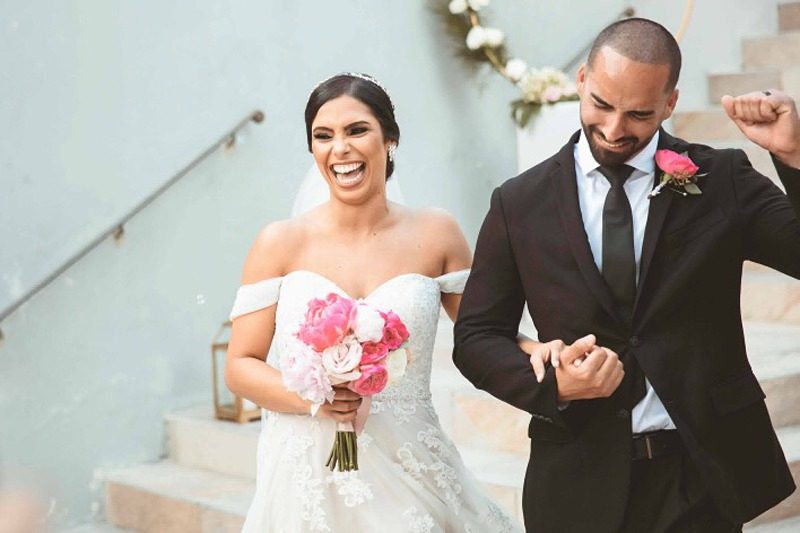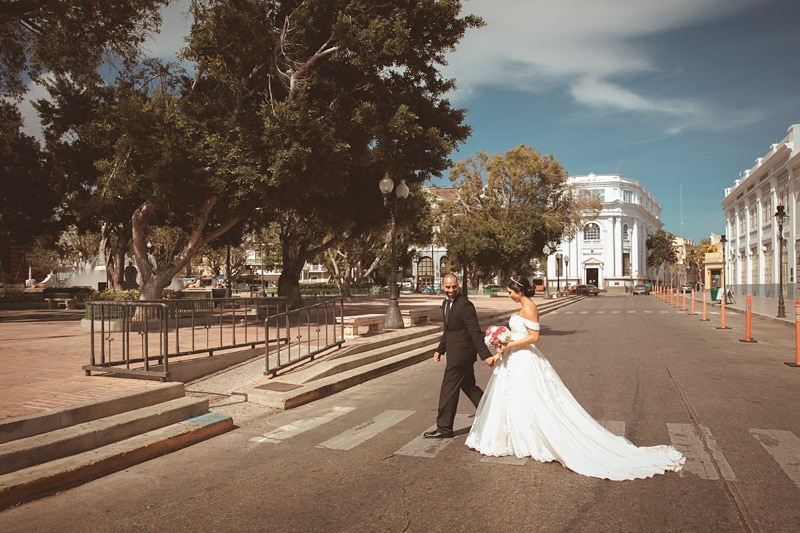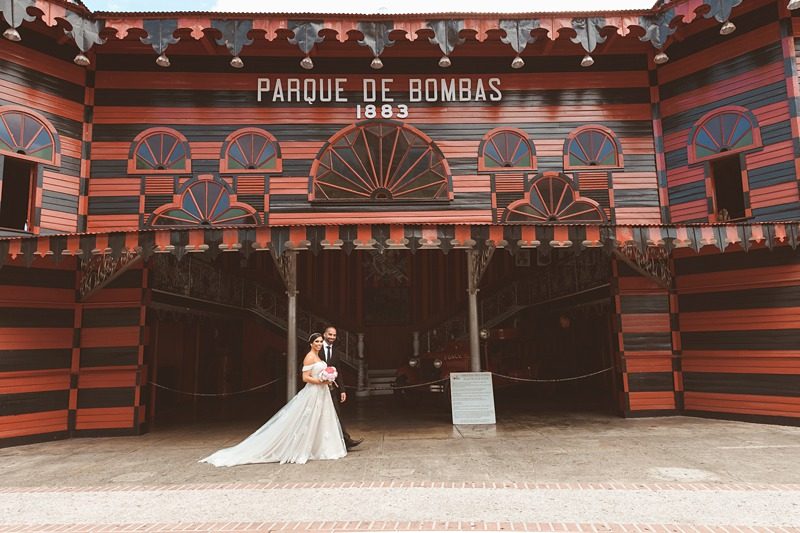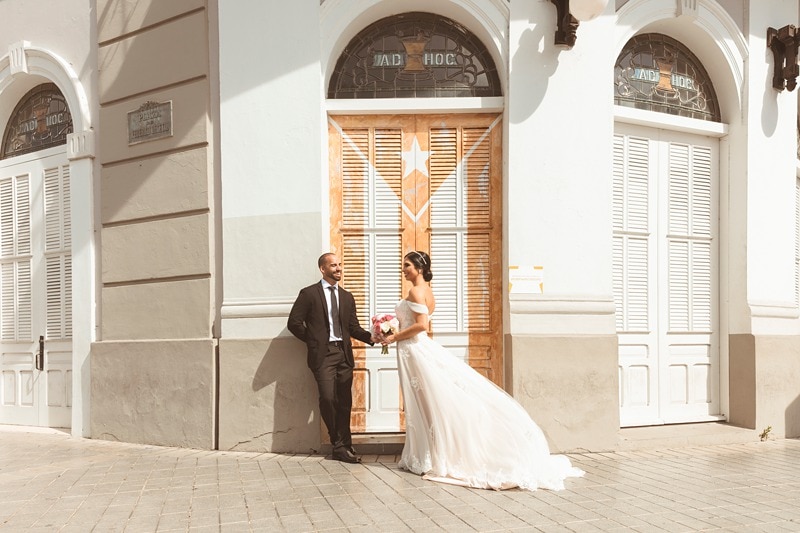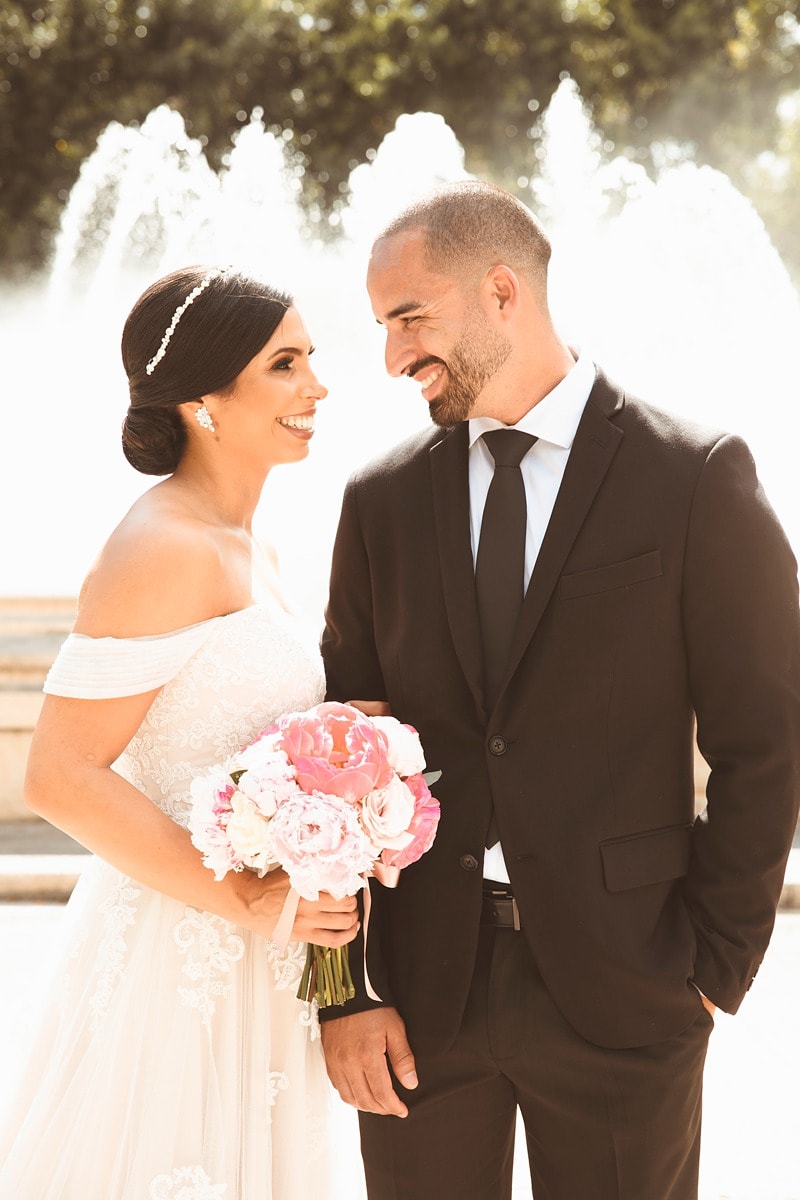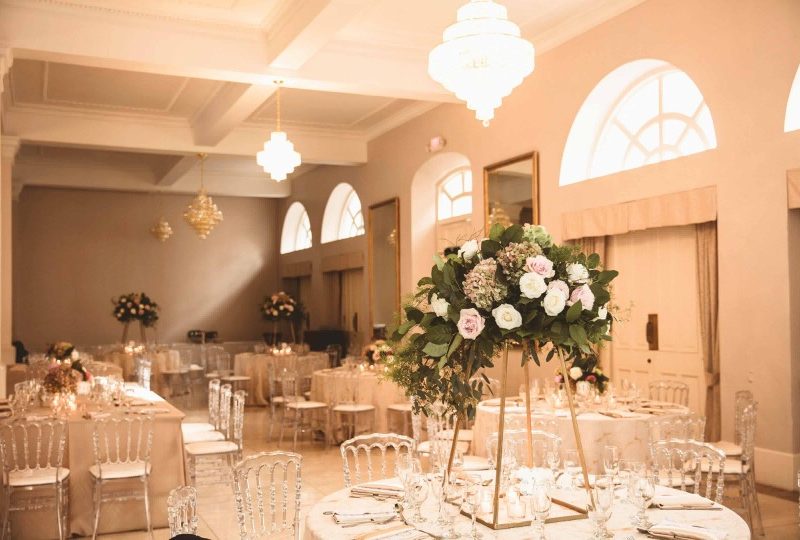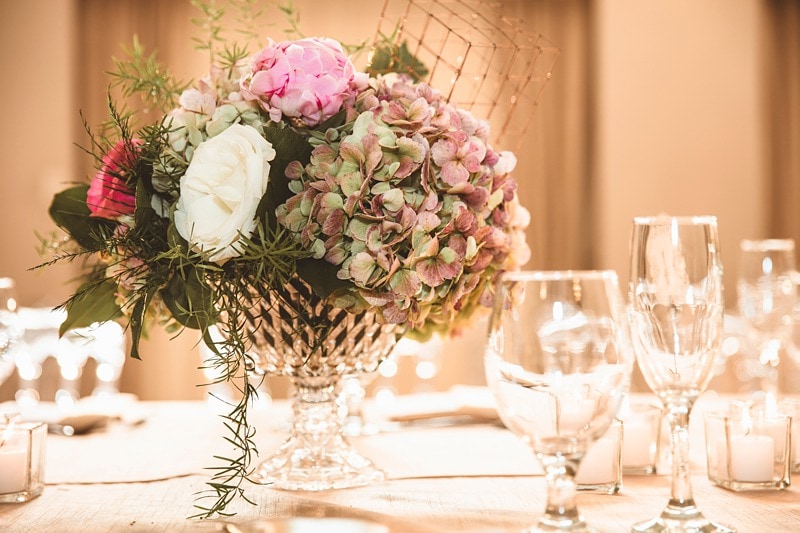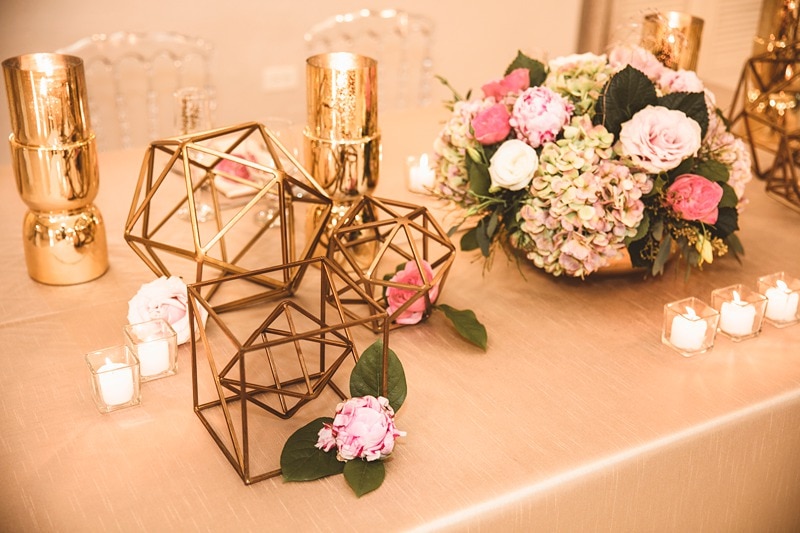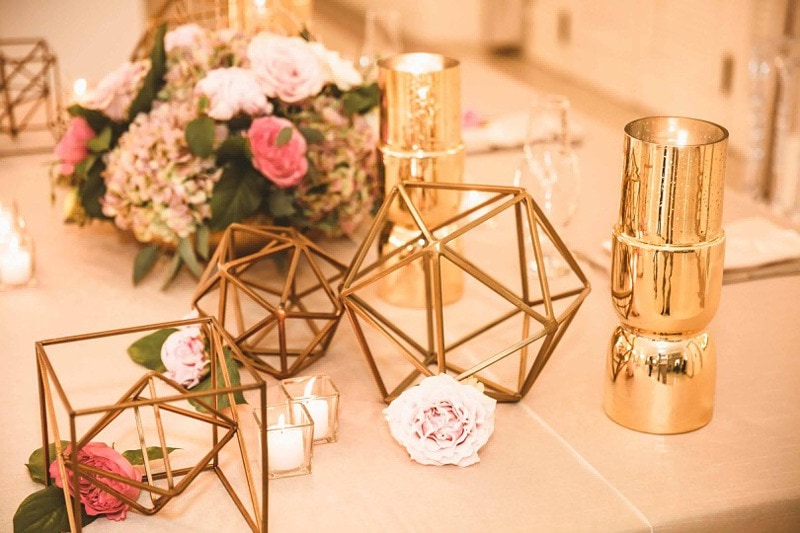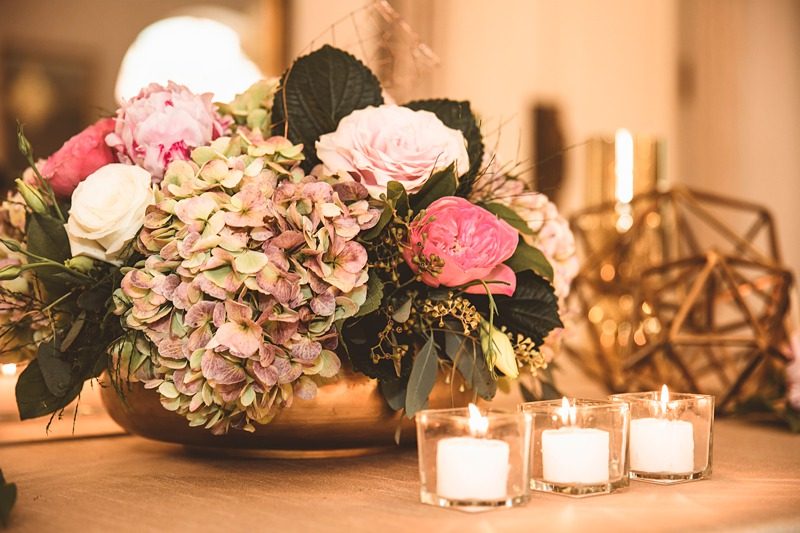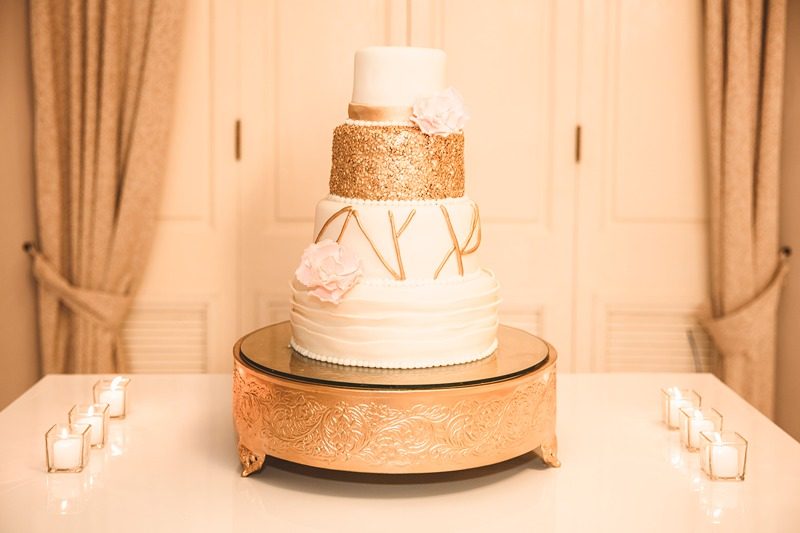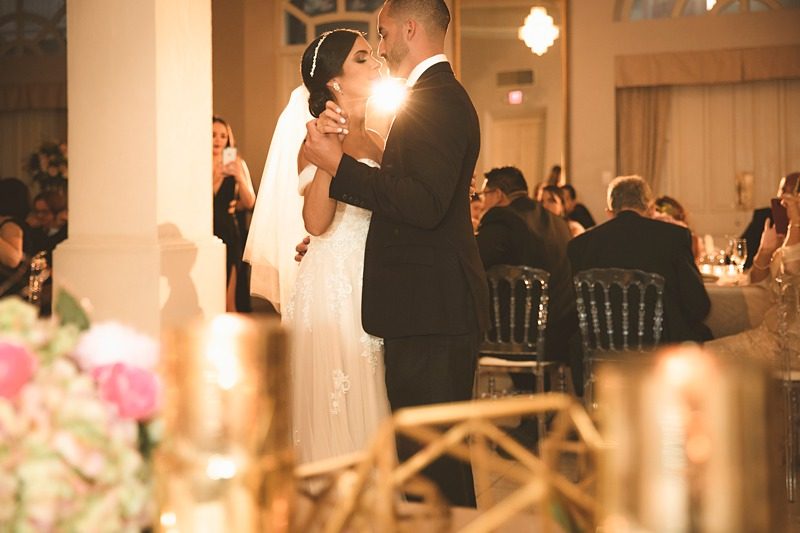 Q&A with the Bride
How did you meet?
A friend's going away party at a brewery. I saw him from far and I loved his eyes! I told my friend who was single too "the one with green is mine". He saw my smile and fell in love with me!
What is your proposal story?
We came back from my trip visiting my family in Puerto Rico and when we arrived at the apartment, he had the front door area full of flowers and a banner that expressed reasons why he wanted to be with me forever. When I turned and looked at him, he kneeled and asked me to marry him!
Tell us a little a bit about your wedding (your vision, color, style, and location choices).
I wanted a pop of pink like the star surrounded by light pinks and white with gold metal features. And a little bit of greenery! I love geometric pieces maybe because I am an organic chemist! Who knows! We wanted to have a simple fun wedding. It was soooooo fun! Now, I want to get married with Jaen every year and celebrate love with friends and family.
Tell us about your attire choices.
I found my dress at the second bridal shop I visited! I fell in love with my Stella York dress. I added the side sleeves to give it a romantic unique touch. The headpiece I fell in love with at the boutique. It was a simple tiara. I found the earring a couple of days before the wedding. I love the asymmetric rockstar kinda rebel earrings.
What were your favorite parts of the day?
My walk to the altar and the ceremony from start to end! And the first look pictures!
Tell us about your wedding flowers.
The wedding flowers were magical. The table flowers were beautiful. And my bridal bouquet just what I wanted.
Do you have any advice for couples planning their destination weddings now?
Make sure your vendors really understand your vision and how important this is for you. They should feel like it is their wedding too and not just one more on the books. They should respect your money and time.
What was the best part of having a destination wedding?
Travelling and enjoying time with the whole family.
What was the biggest challenge of planning your destination wedding?
The challenge was not meeting most of my vendors and letting them know my vision.
Vendors:
Photography: Wedding Mafia Photography
Florals: STEM Events
Linens/Rentals: STEM Events
Venue: Antiguo Casino de Ponce
Wedding Planning: Eventos Inolvidables by Lourdes Estrada
Stationery: LETRAS BY ANTONELLA
Wedding Cake: AZUARTE |
Hair & Makeup: D' GLAMOUR MAKEUP AND HAIR
Wedding Dress & Headpiece: GIGI BRIDAL
Bride's Shoes: Nina