There are tons of pictures of beautiful tropical beach wedding cakes throughout this website. Many of them are decorated in seashells, starfish, seahorses, coral or other elements you would expect to find in beach theme wedding cakes.
But if shells are not your cup of tea, bright tropical flowers or other colorful accents are an awesome alternative.
Below is a collection of some of my favorite tropical beach wedding cakes. These are absolutely perfect for a destination wedding in a tropical island. Not only will these designs liven up your reception and possibly steal the spotlight (if only until the cutting ceremony is over), the bright colors will look stunningly beautiful in your photos.
Photo Gallery of Tropical Beach Wedding Cakes
This first cake design is almost too gorgeous to cut, isn't it?!
It looks more like a centerpiece you should be showing off in your home. But it's not. It's very real, and very edible. And it just screams tropics!
The design of this stunning cake features a fuchsia satin ribbon accented with bright lime green. It was then topped with a variety of gorgeous fuchsia and green tropical flowers. I think I'm in love!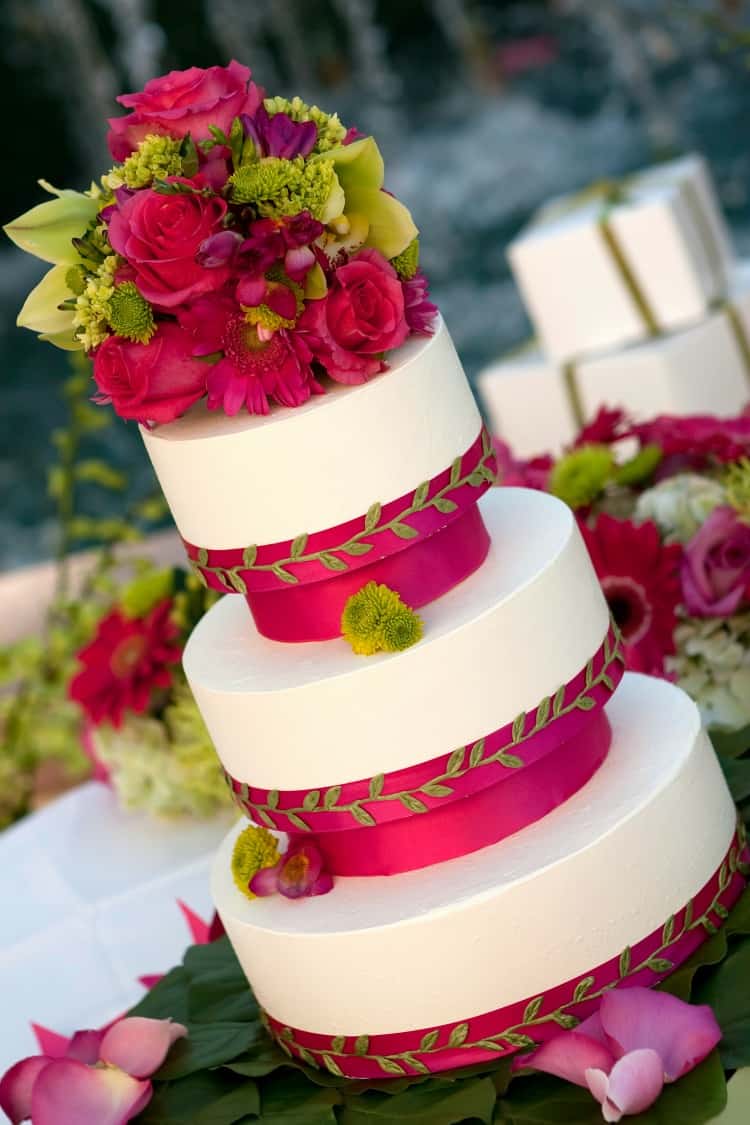 This is a gorgeous and unusual beach wedding cake. It's also one of my favorite cakes because it has so much intricate detailing and incorporates the best of all worlds in a classy way.
The quilting detail gives it a little bit of a classic, traditional feel while the bright fuchsia flowers add a pop of tropical color, and the shells bring in the ocean theme. It's then topped with a simple monogram.
This beautiful white cake is decorated with fuchsia gerbera daisies, which is one of my favorite colors for beach weddings because it's such a bright, bold color that contrasts so perfectly with the blue ocean and sky.
My very own tropical beach wedding cake (pictured below) was inspired by my turquoise and sand color scheme. It was covered in white fondant and each tier was bordered with a turquoise satin ribbon. A couple of white mini calla lilies were placed on the corner of each tier and it was topped off with a swarvoski crystal monogram. To weave in some beachy elements, we decorated the table with tealight candles anchored in small glass vases filled with sand.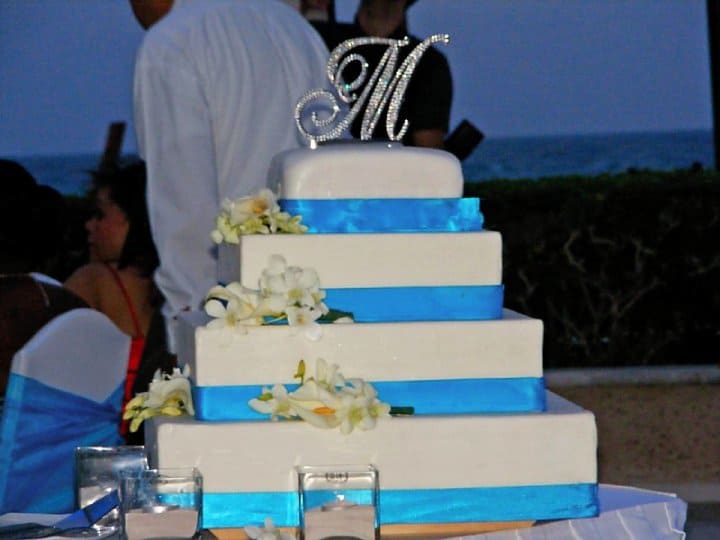 I've always been a big fan of an orange, red and fuchsia color scheme for destination weddings because it reminds me of the colors you''d find a tropical sunset. This tropical beach wedding cake design uses roses and a few orchids, but you can easily recreate a similar look with gerbera daisies, dahlias or any other tropical flowers.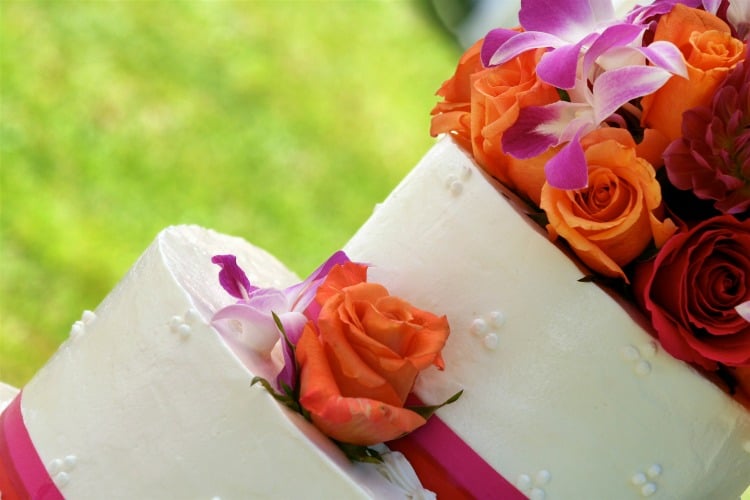 This is a very simple and small two tiered design, appropriate for an intimate celebration. It's topped with orchids and petals that cascade down the side. Surrounding the cake are shells scattered on the table for a very pretty and understated tropical beach wedding cake.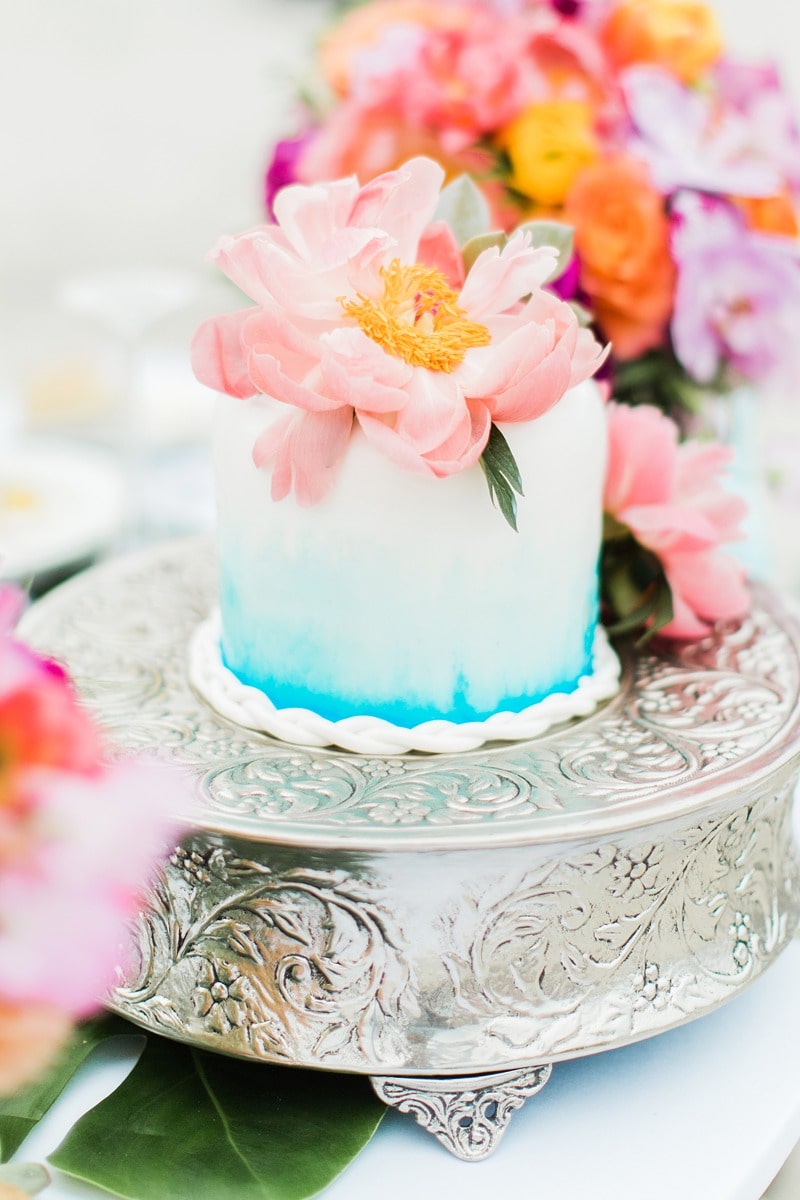 Don't forget to check out the main section on beach wedding cakes for tons of tips including a list of mistakes to avoid, money-saving-tips, and ideas for smaller receptions.
More Cake Galleries
Featured:

New Orleans Destination Weddings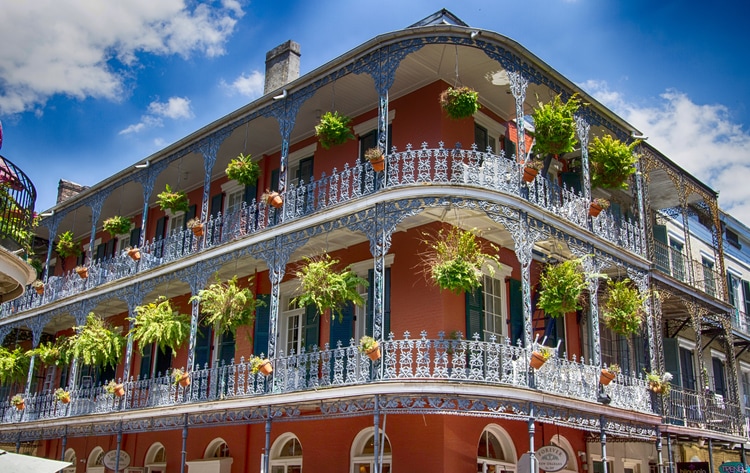 Here at Destination Wedding Details, we've seen it all: weddings at the beach, in the mountains, in the desert, and in pretty much every country. ALL beautiful, mind you… but through our years of observing what exactly makes for a GREAT wedding, we've surmised this: it must be FUN for you and your guests. So, ask yourself this: what city is more fun than New Orleans? Read our full post to discover when, where and how to get married in NOLA.
Featured:

Destination Wedding Invitations in a Bottle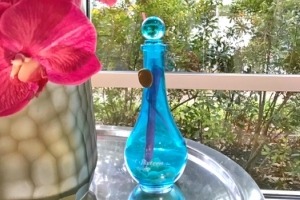 How do you tell your guests they're about to embark on the most magical trip of their lives? With the most unique beach wedding invitations, of course! We got these stunning "Invitations in a Bottle" sent to us in the mail and were blown away! This is probably the most fun way to set the tone and make an impression when you announce your destination wedding.