Disney calls itself the happiest place on earth, and I believe these two would agree! What a fun story Kristen and Devery share, meeting as college kids at Epcot… and now we get to enjoy their gorgeous wedding photos by their amazing photographer, Brooke Images! They chose to return to Florida to host their destination wedding on the beach. I love how private and intimate this ceremony was – I think we need to make this circular seating arrangement thing a trend! I love how they're completely surrounded by their friends and family, kind of like a huge embrace as they say, "I do."
Their attire and decor were fun, colorful and totally represented their fun-loving personalities. I especially love the bridesmaids' bouquets because they're so tropical and bright and pop against the pretty blush pink and white of their dresses. The groomsmen opted for the ever-appropriate beach wedding attire: Hawaiian shirts – love it! They ended their night with an elegant dinner party right on the beach. Enjoying a great meal and drinks with the people you love most, with your toes in the sand? Doesn't get much better than that! Congrats to the happy couple!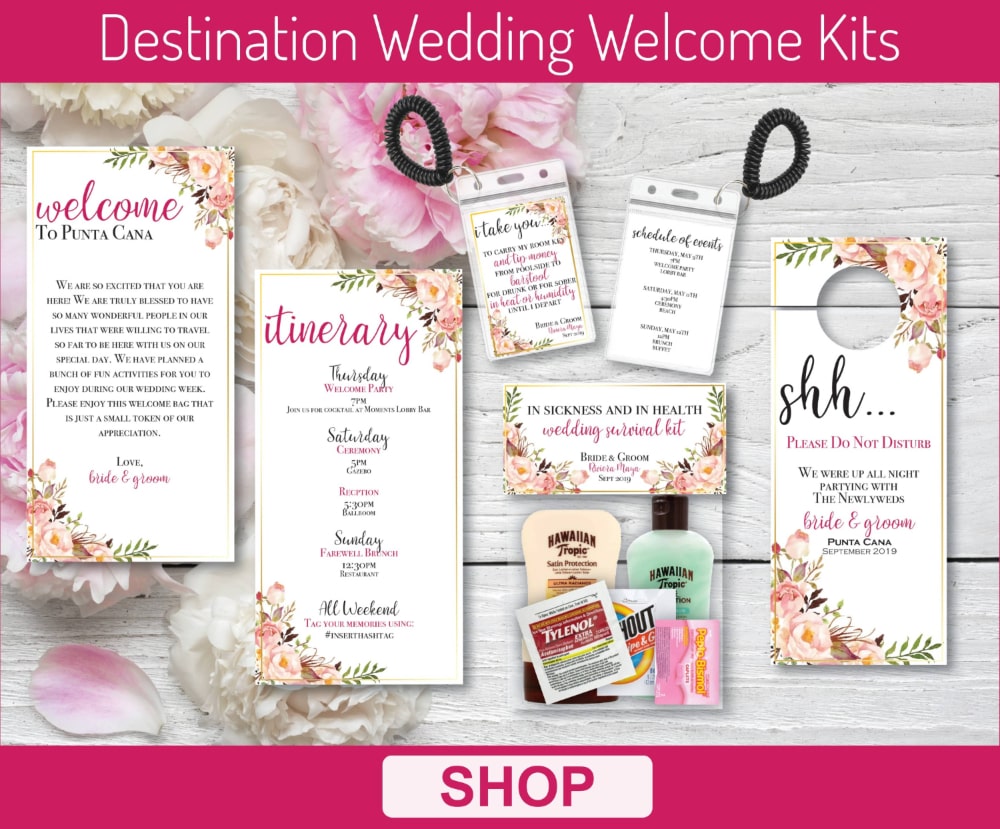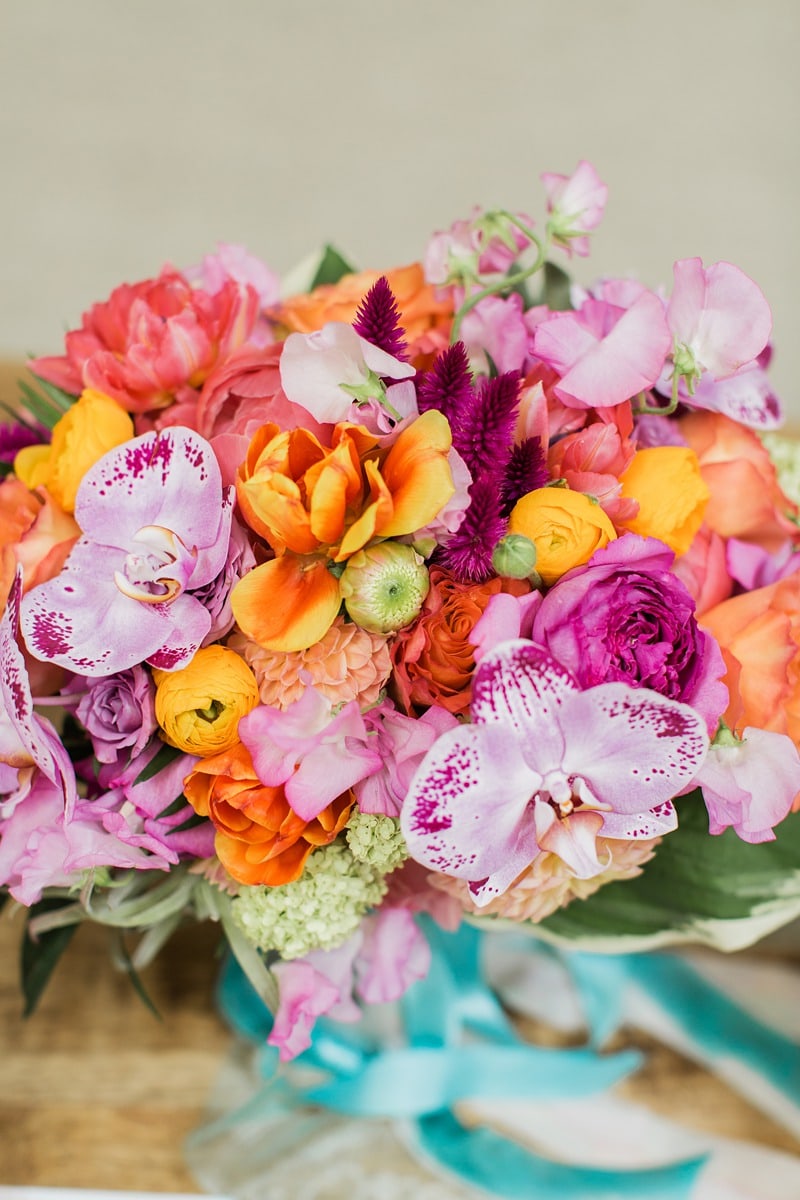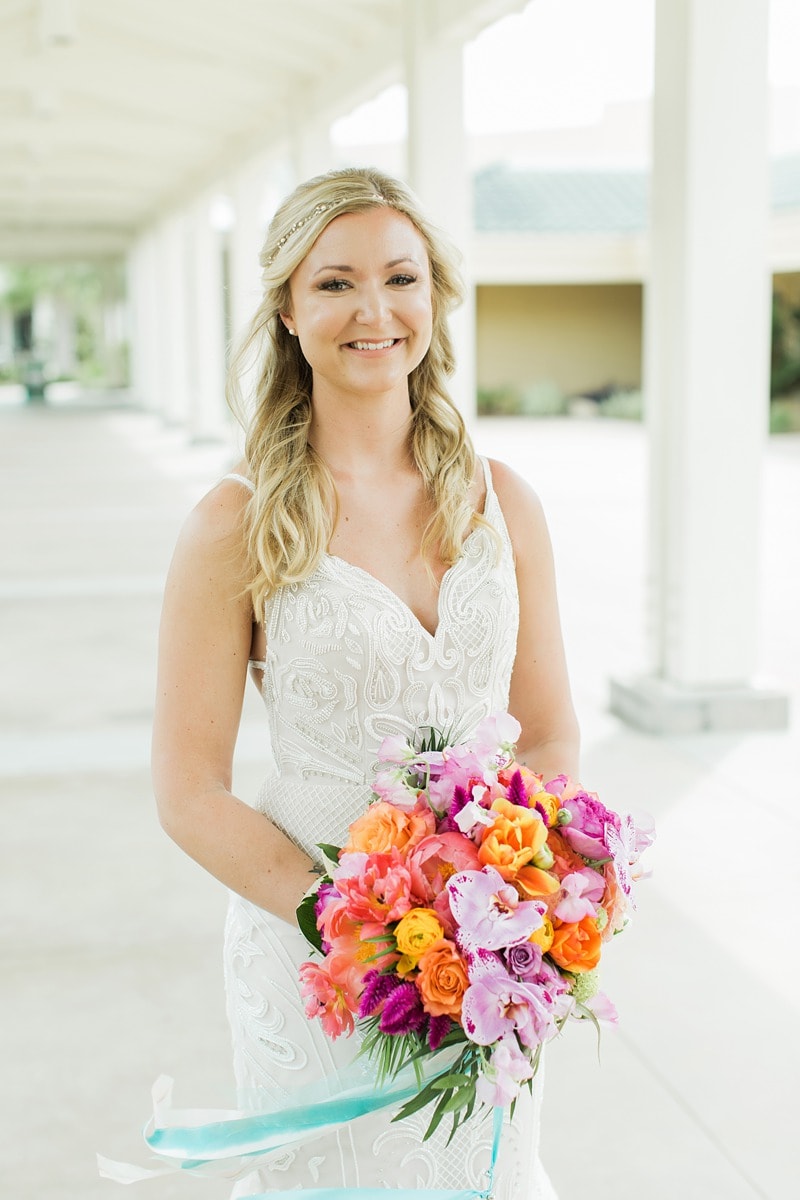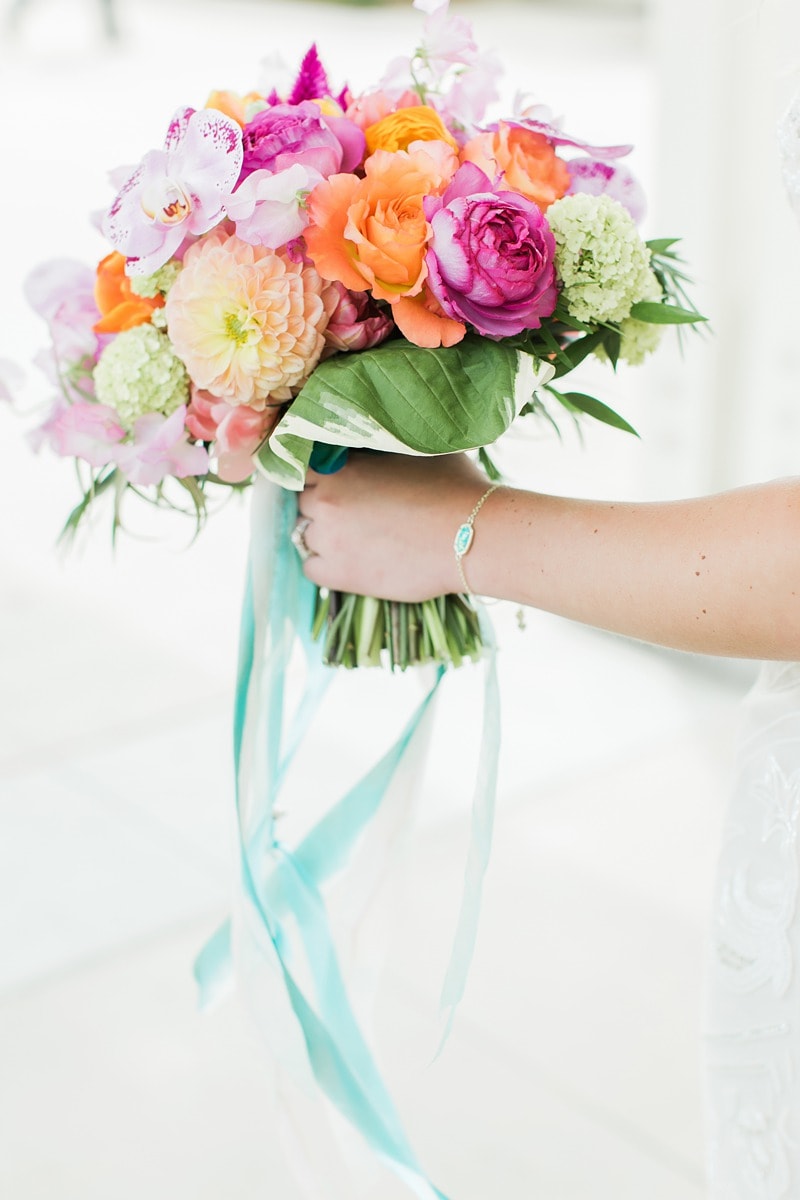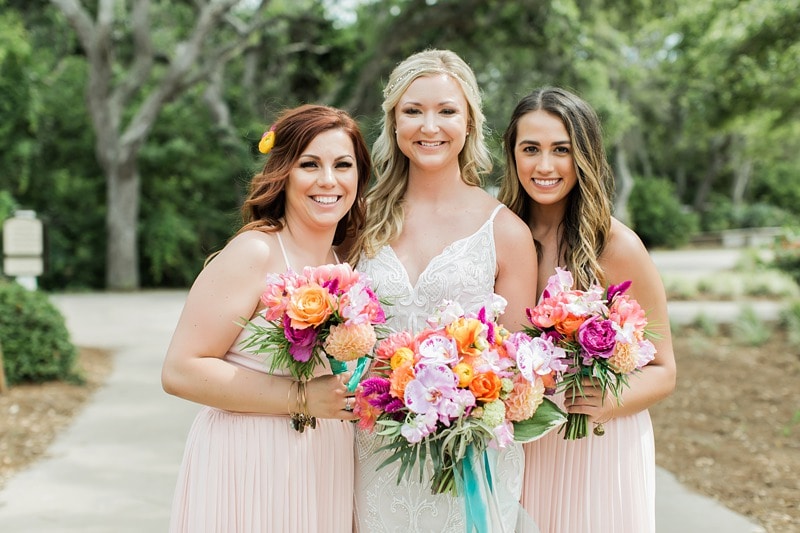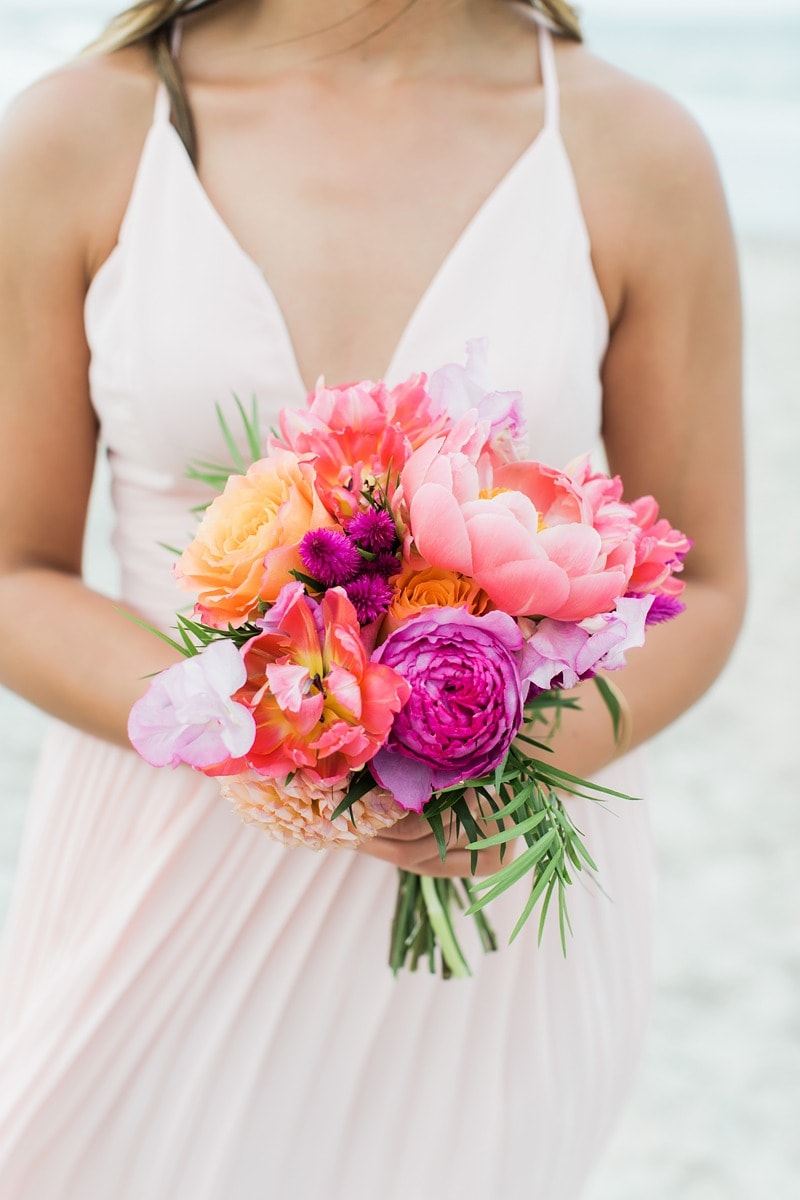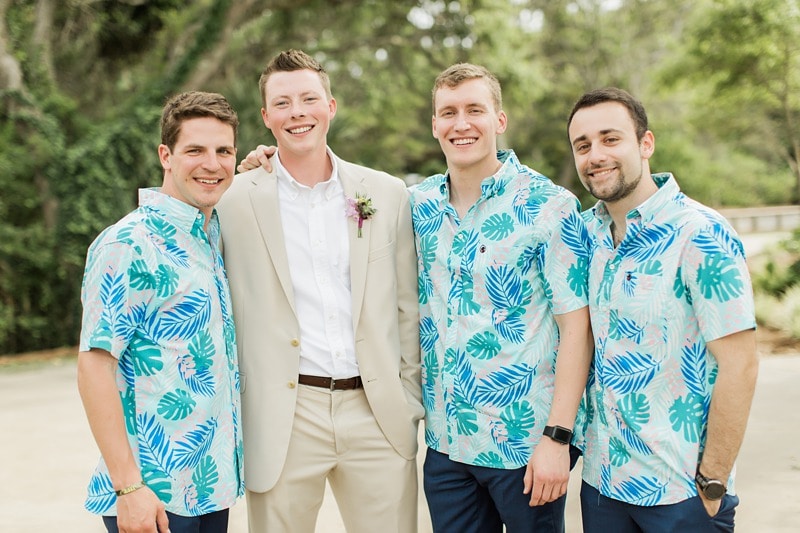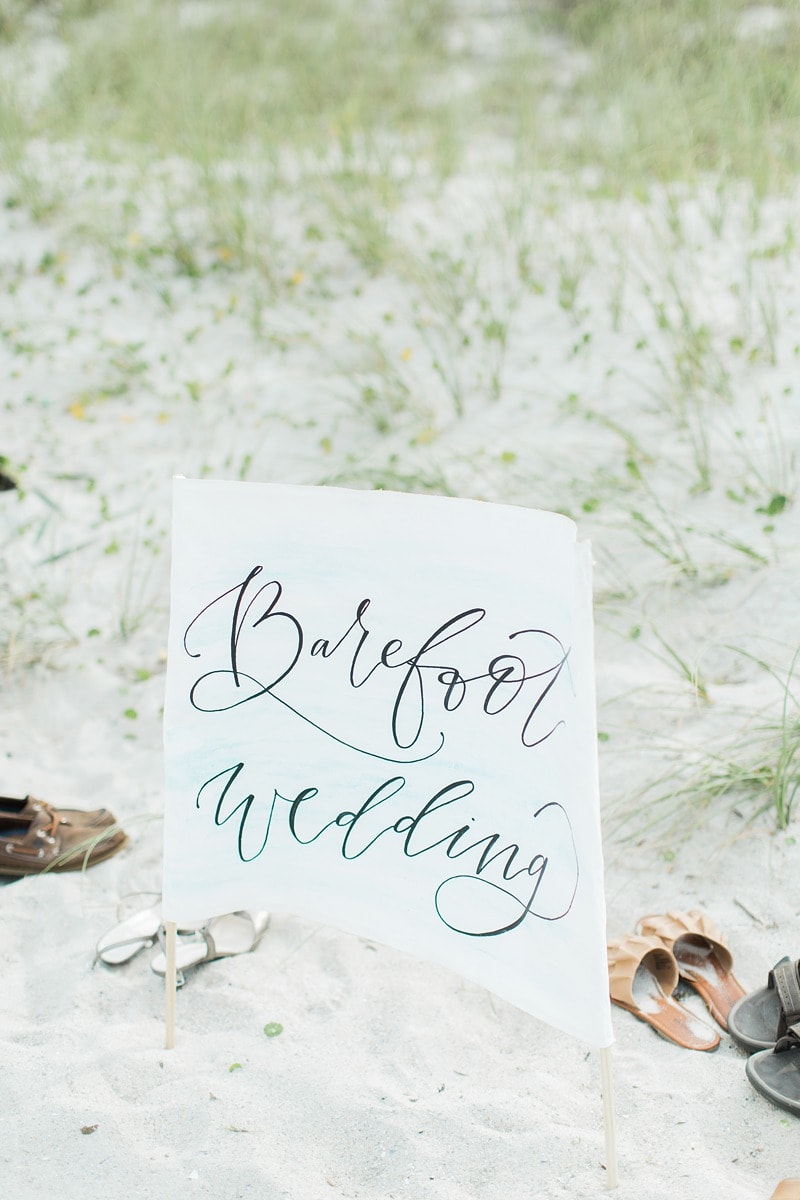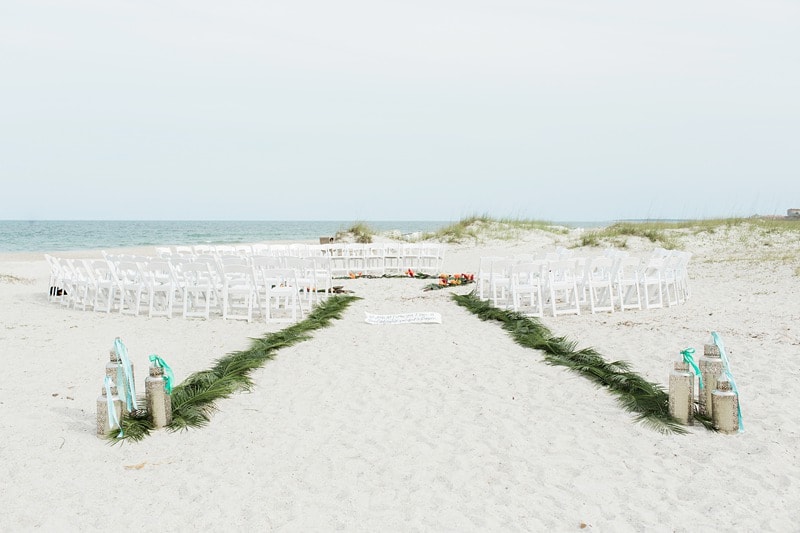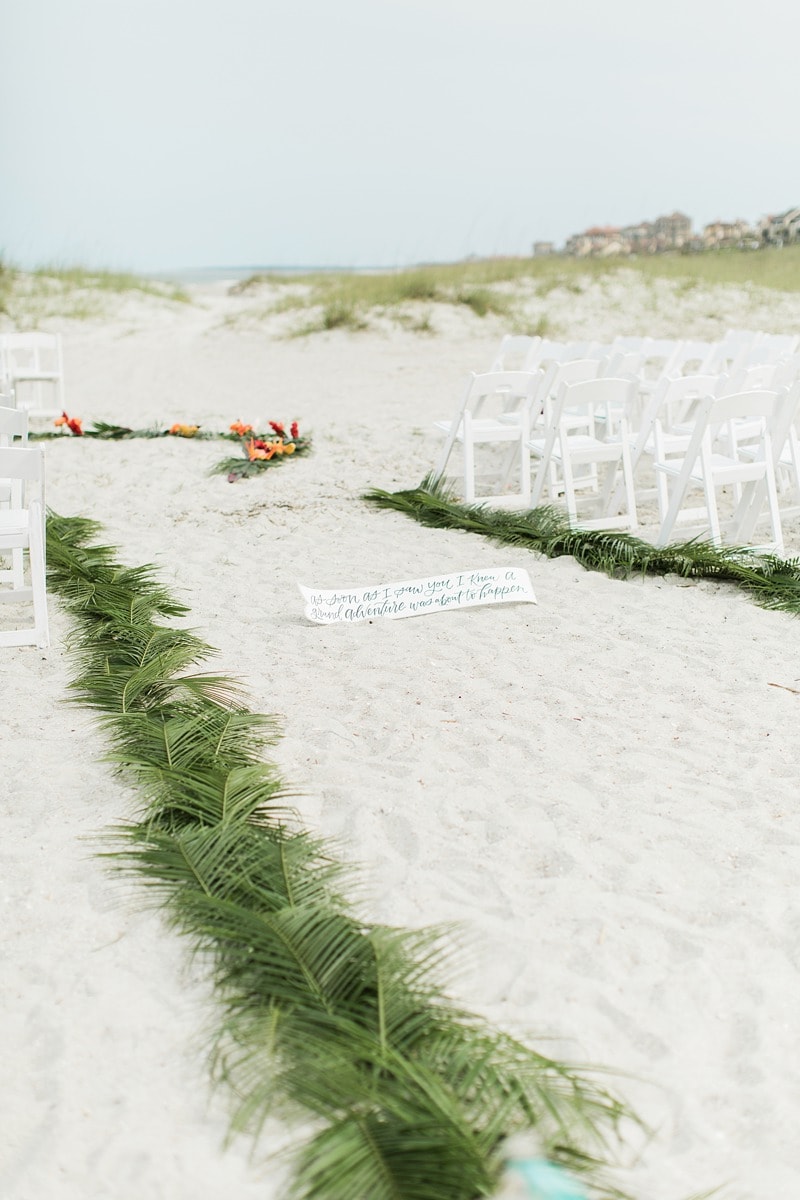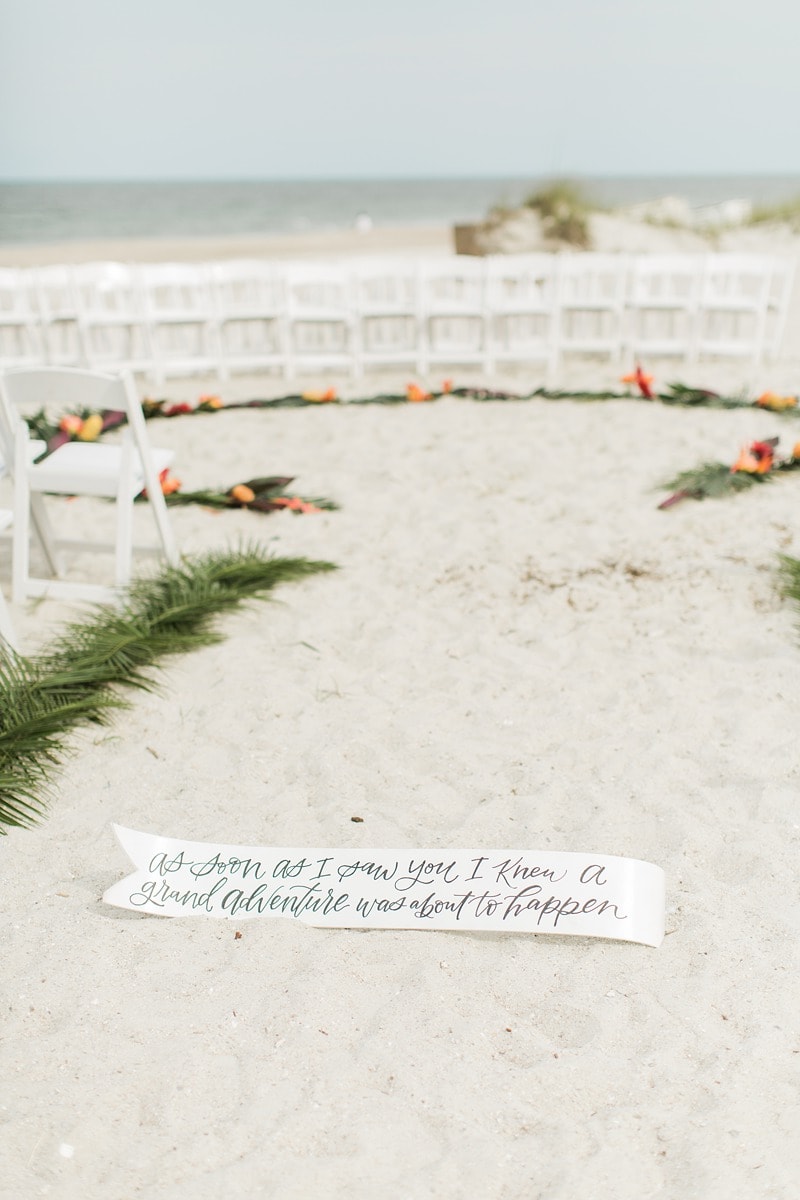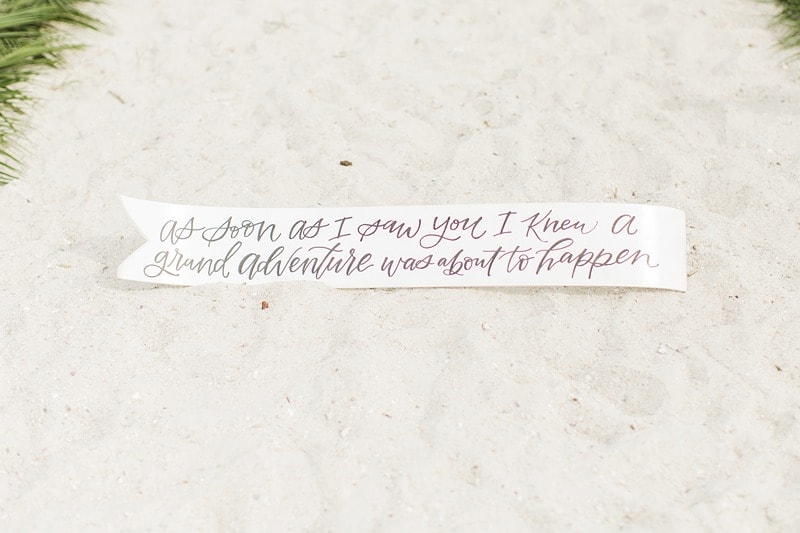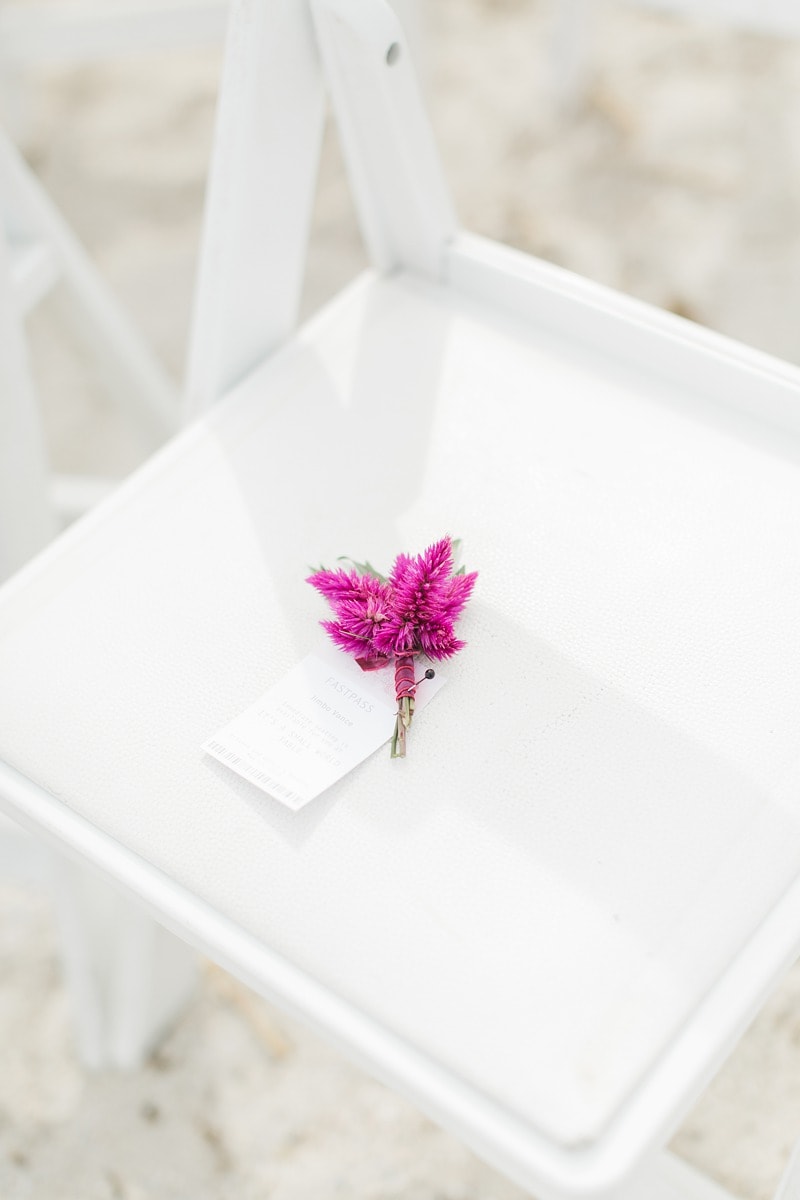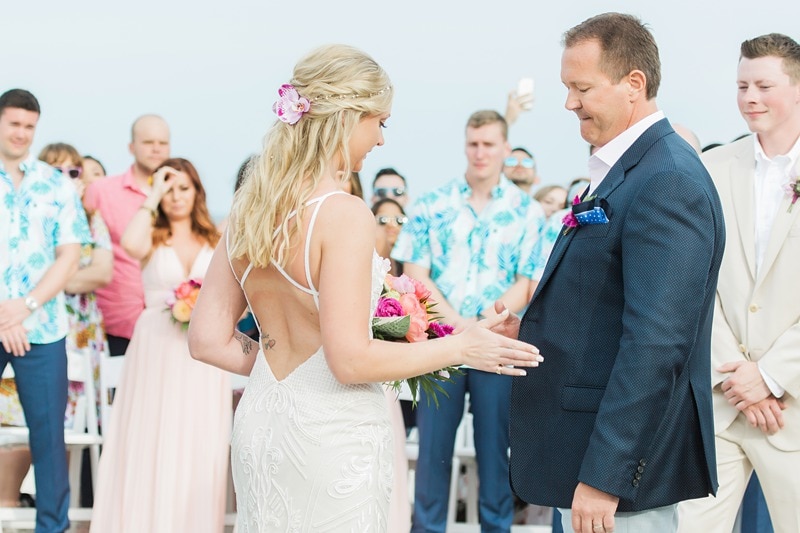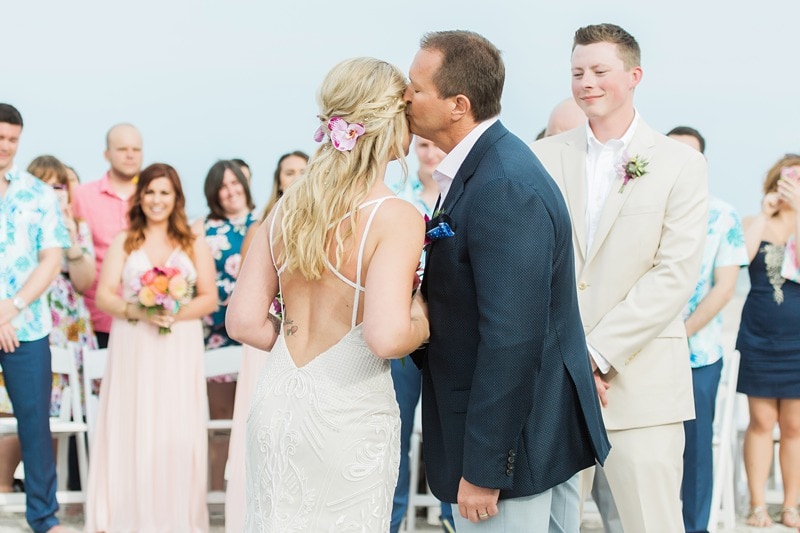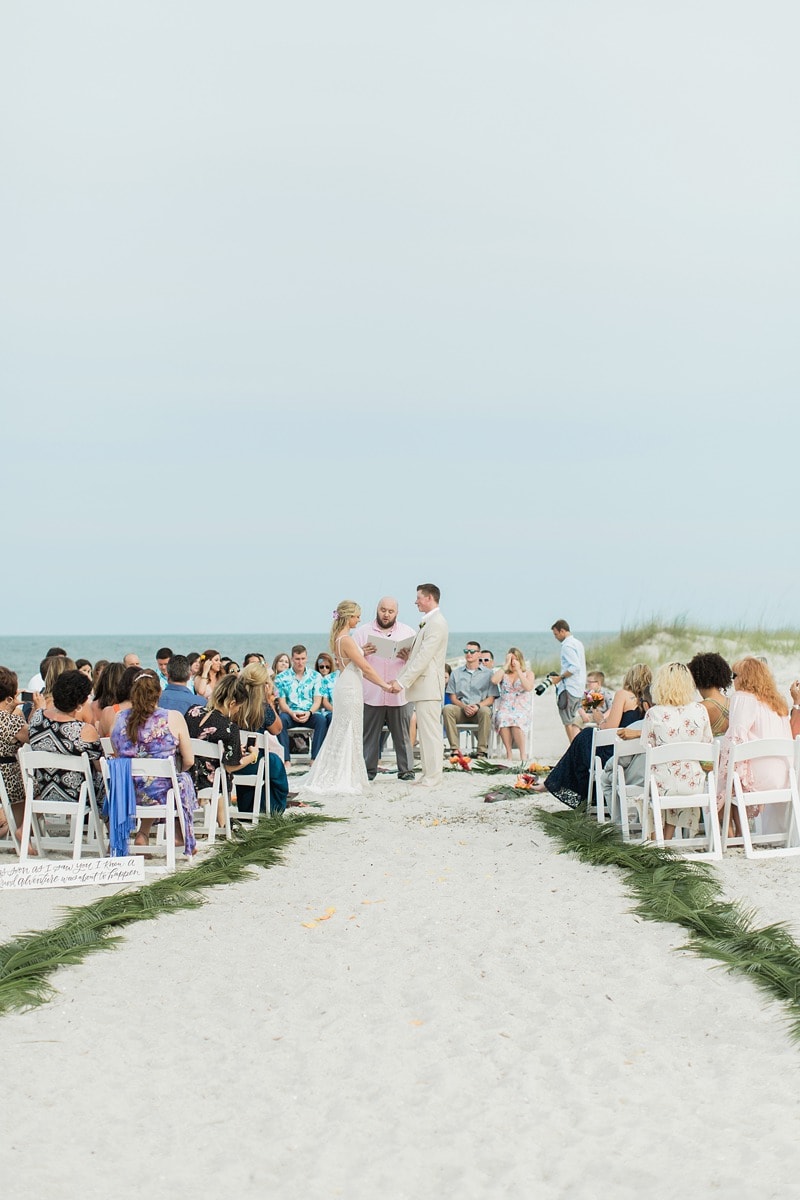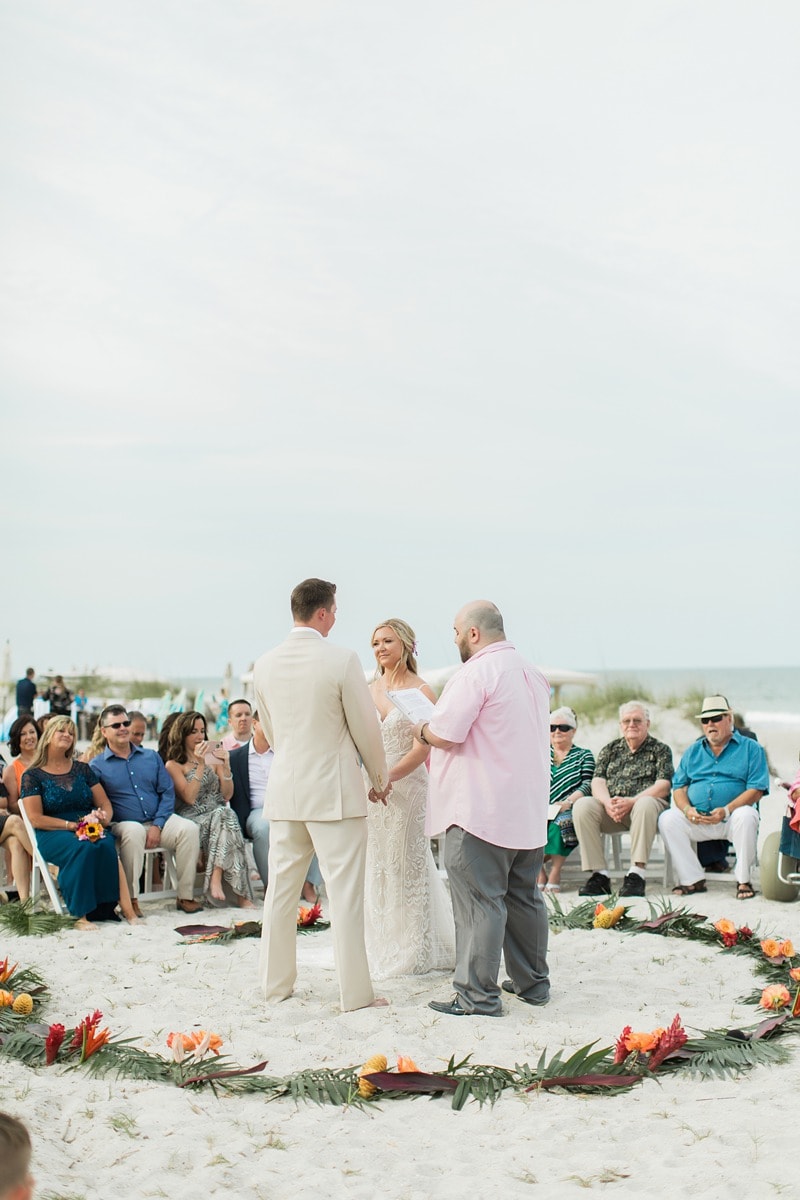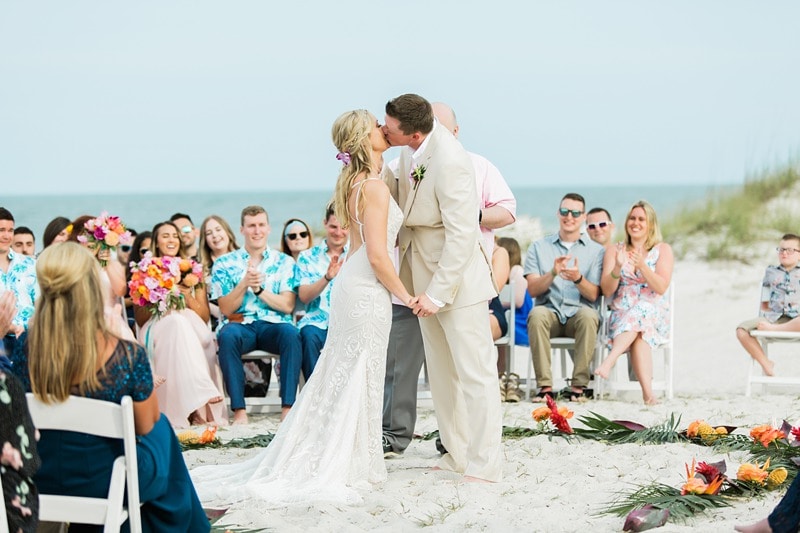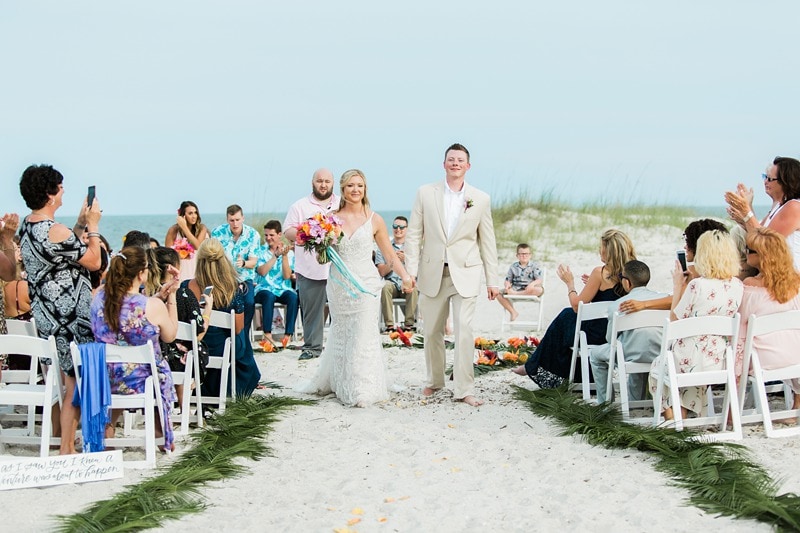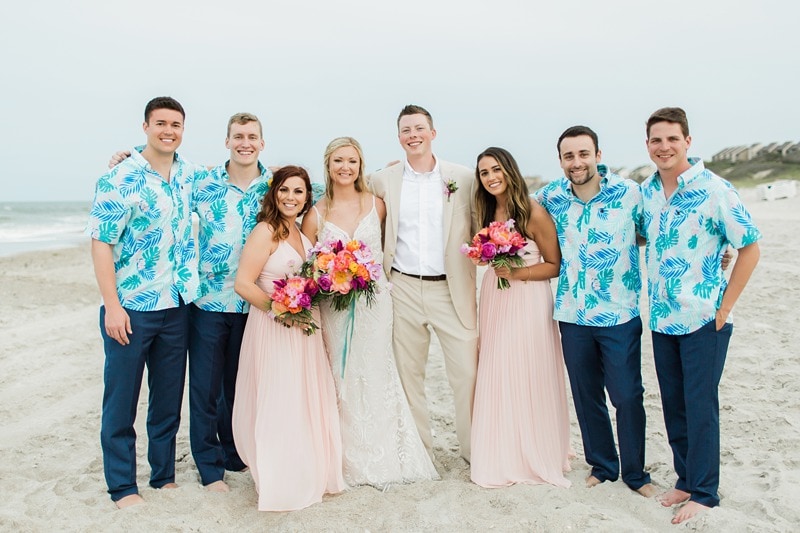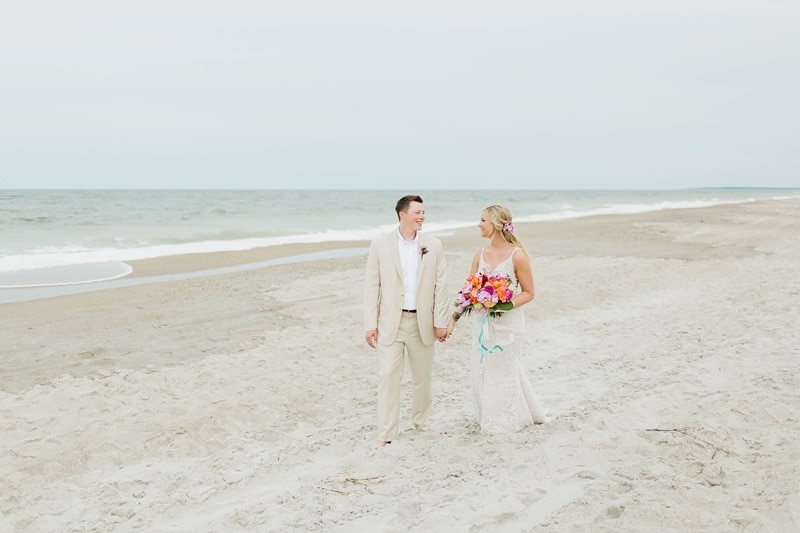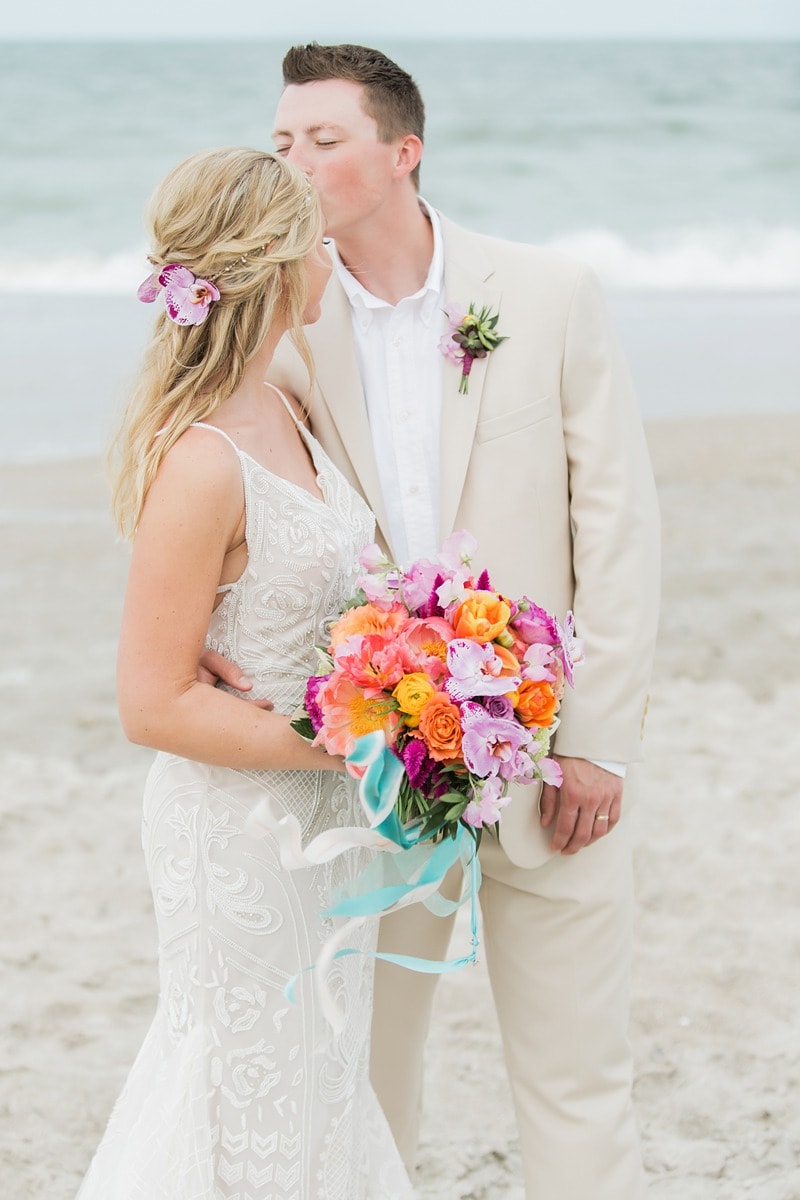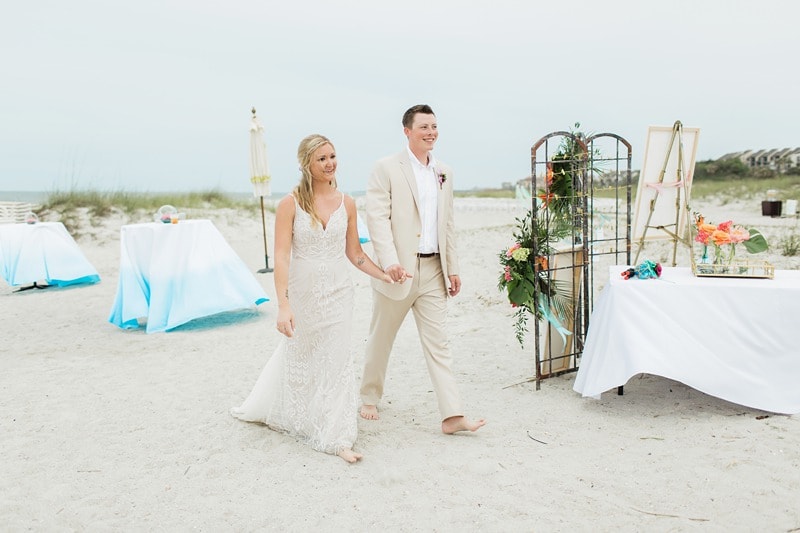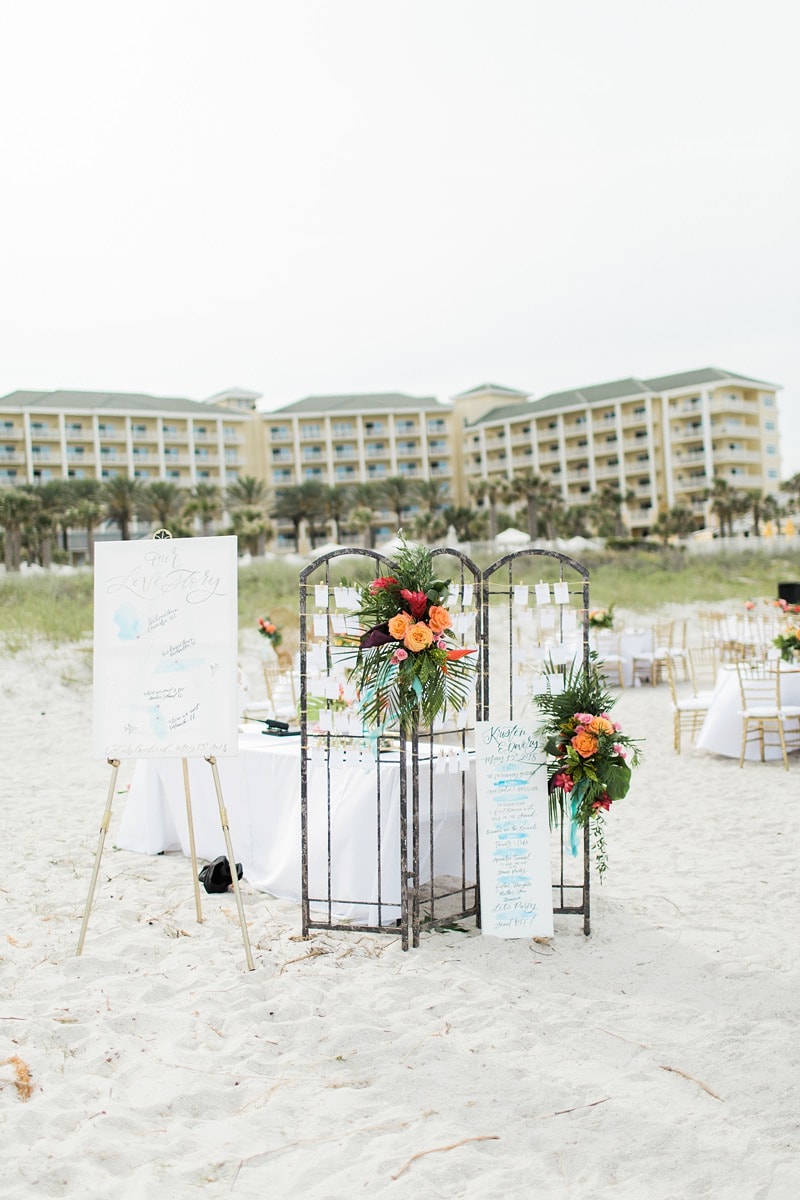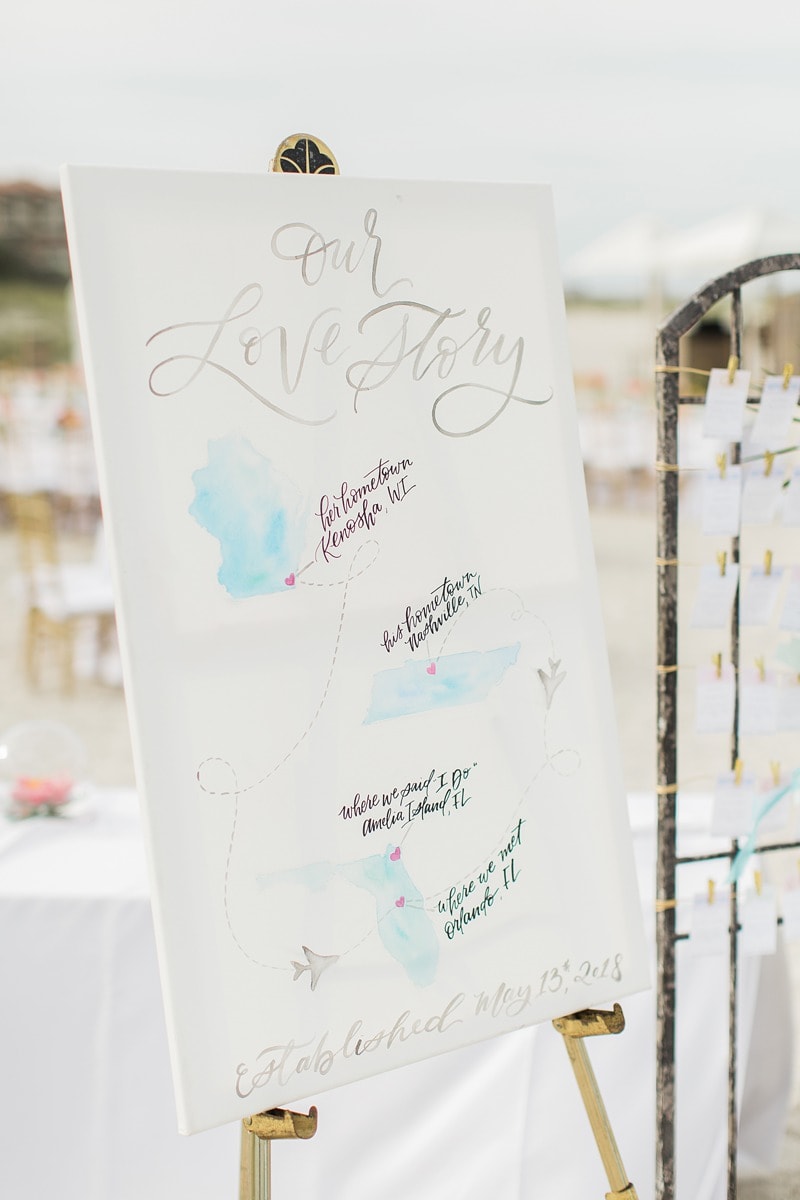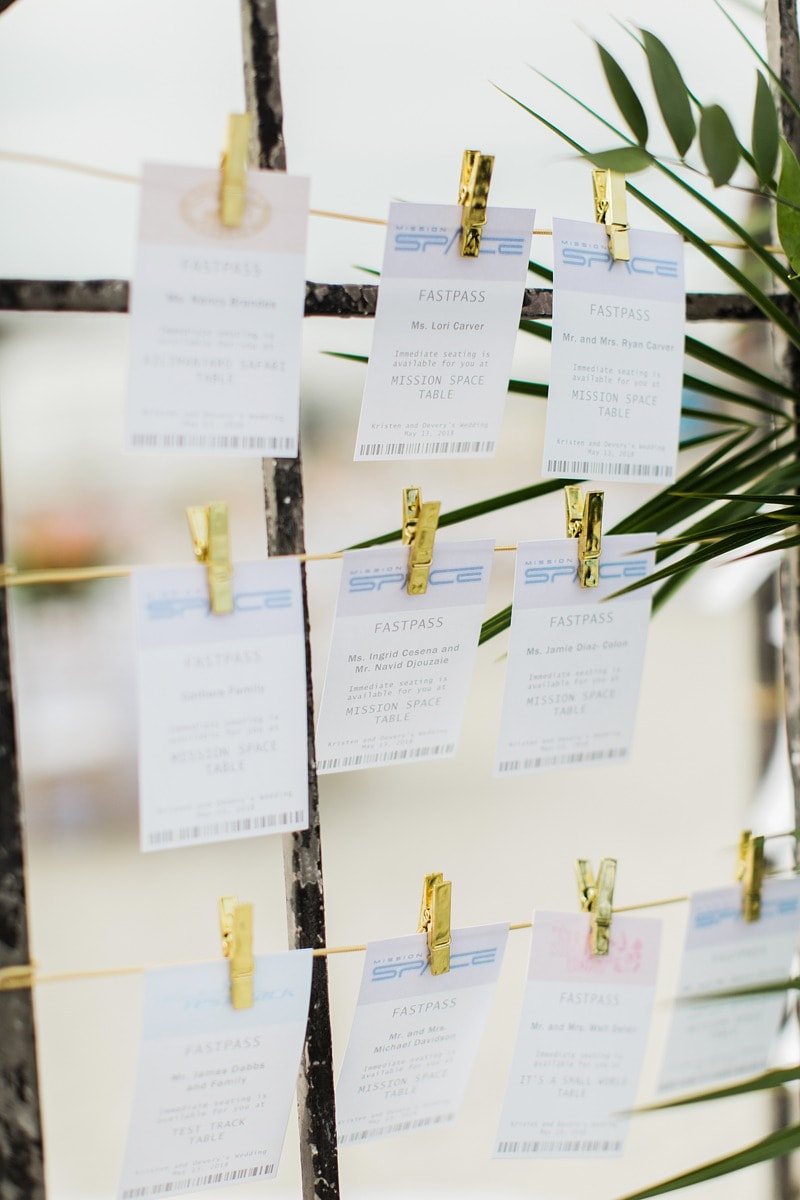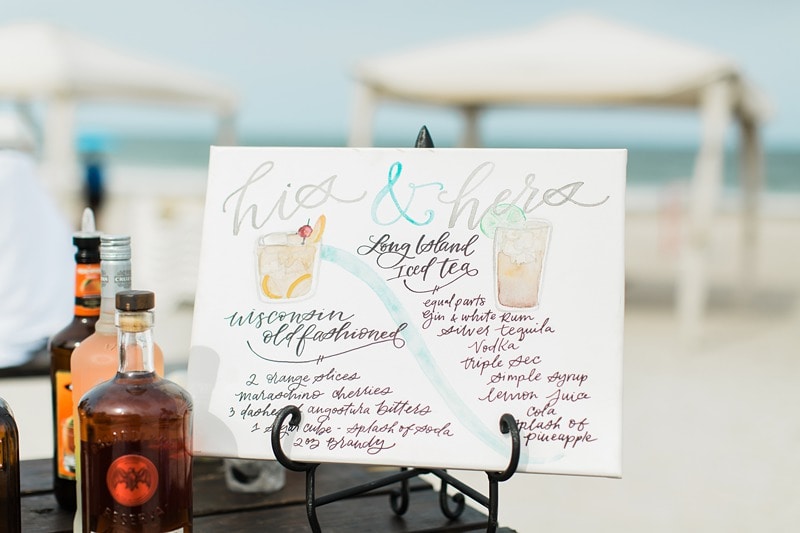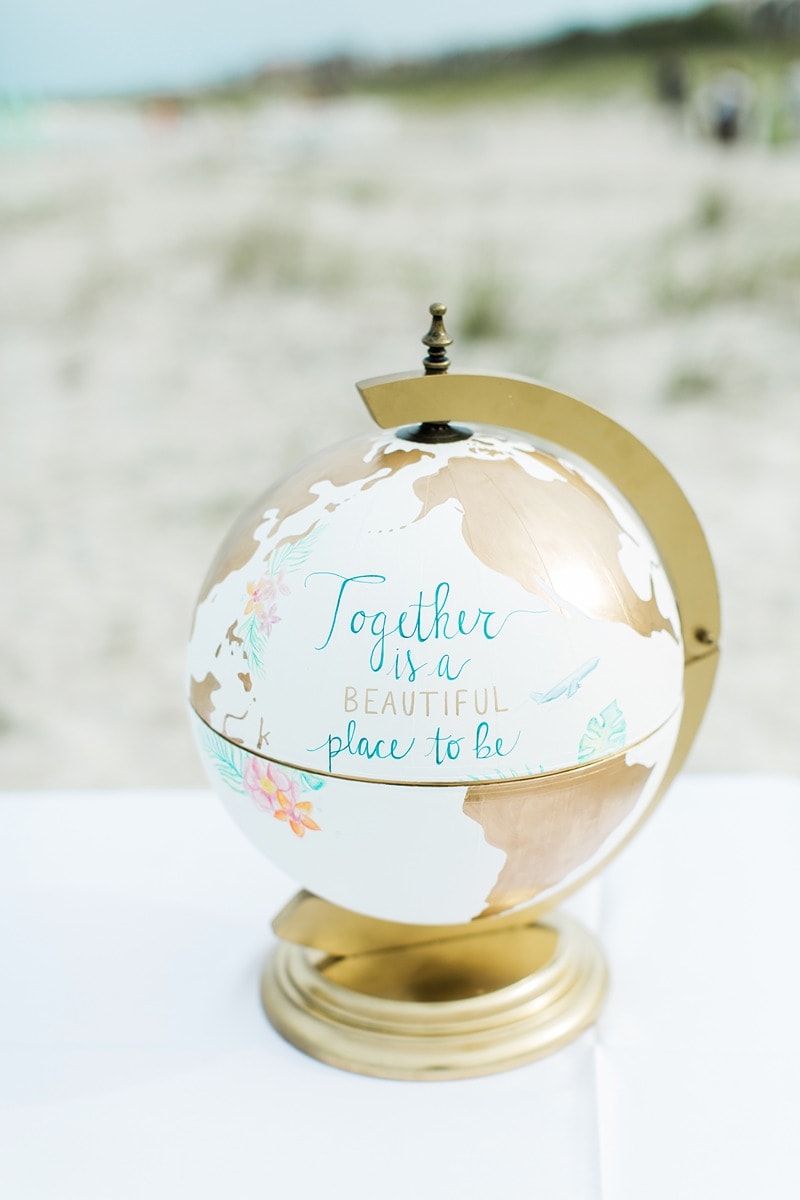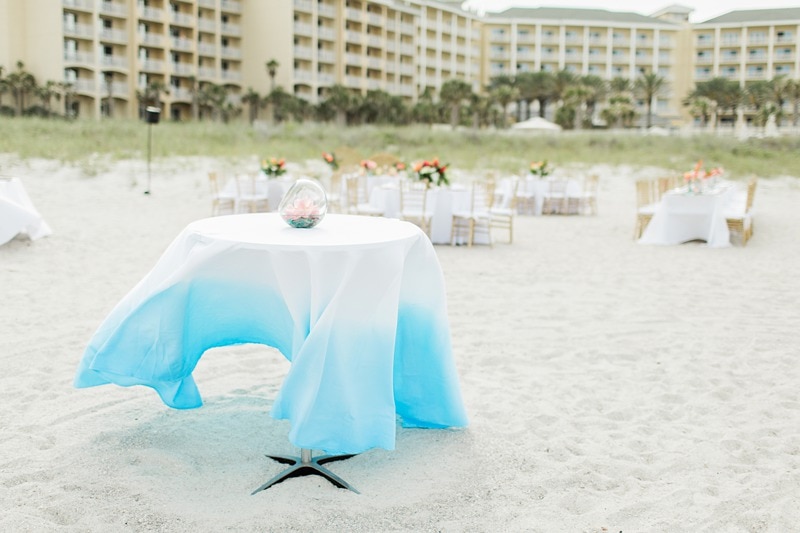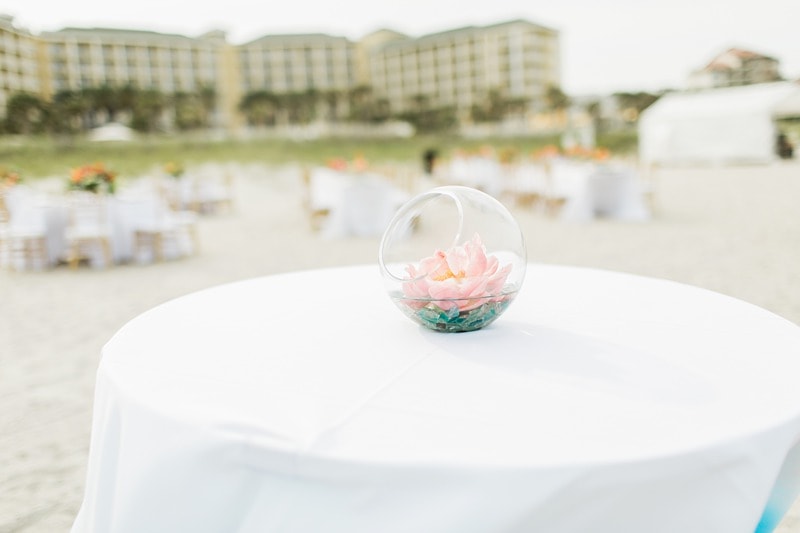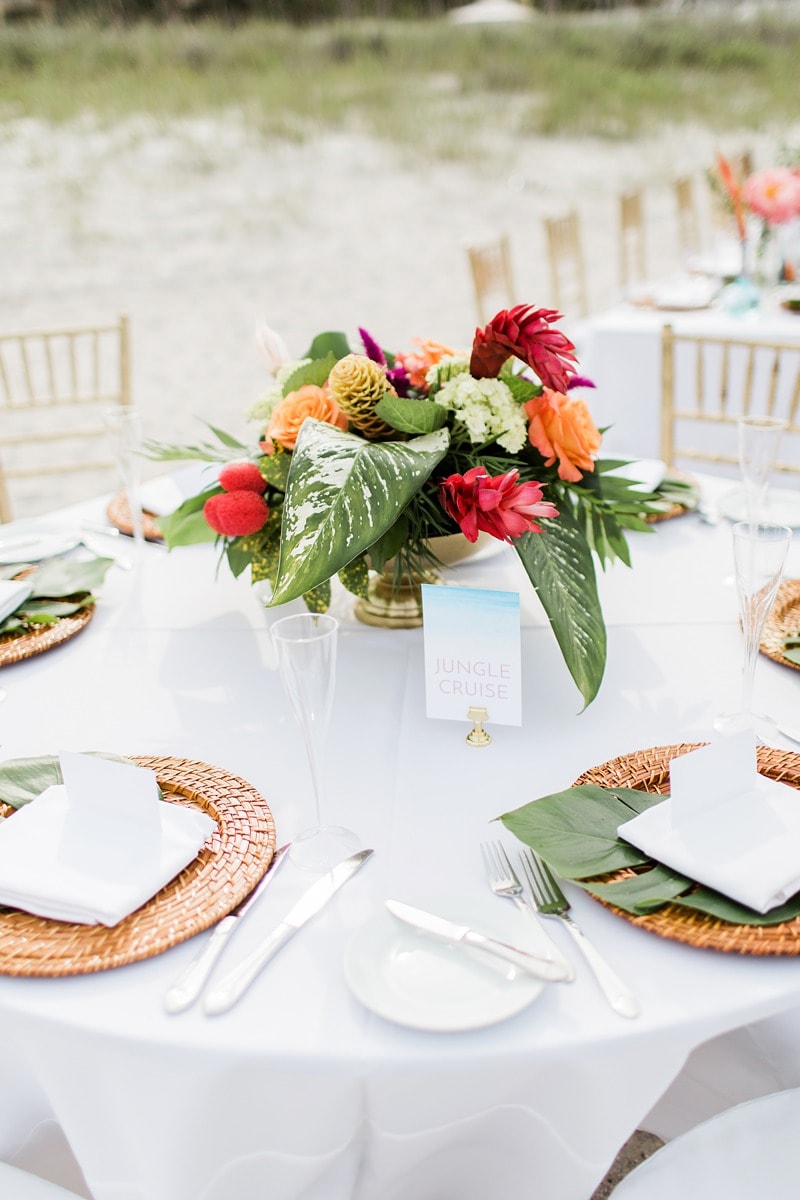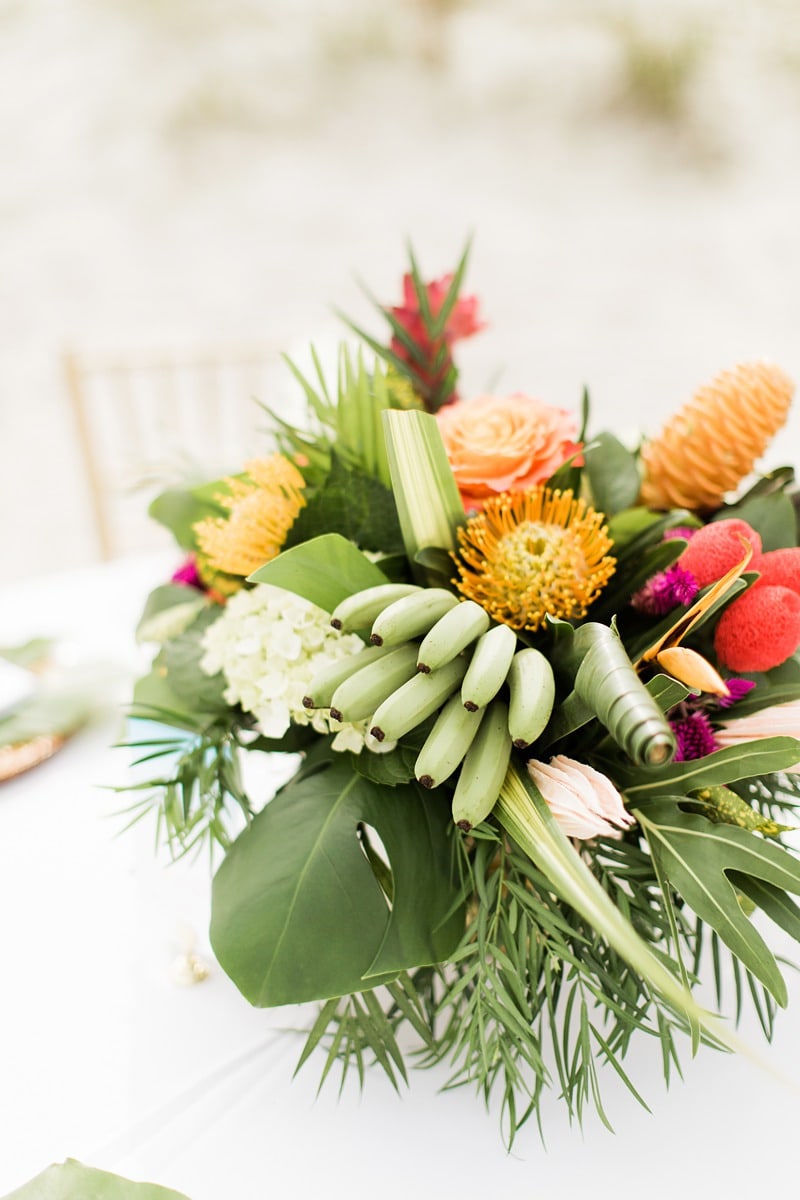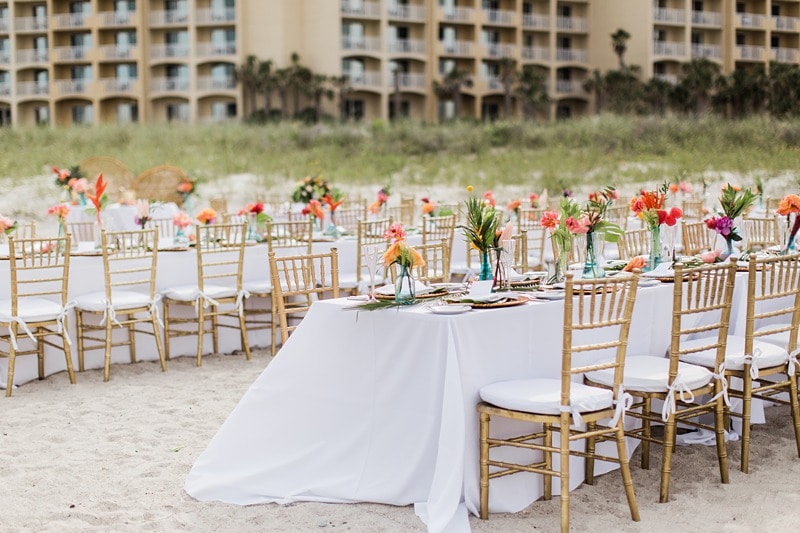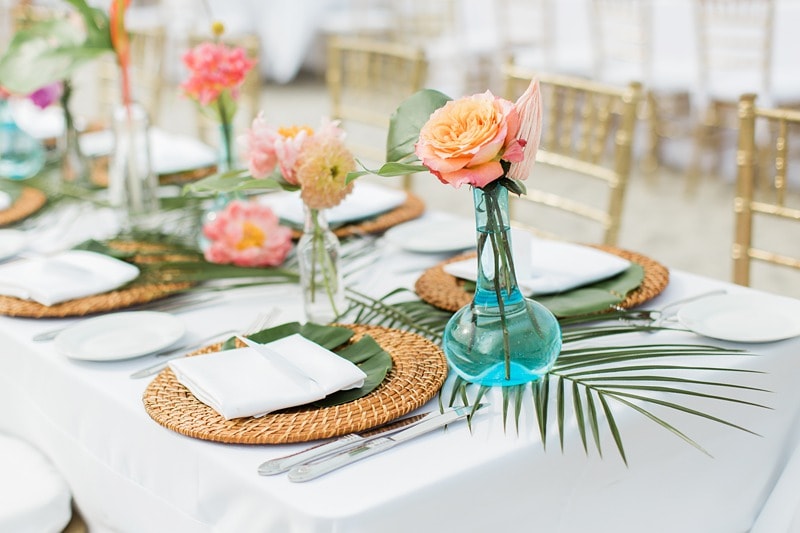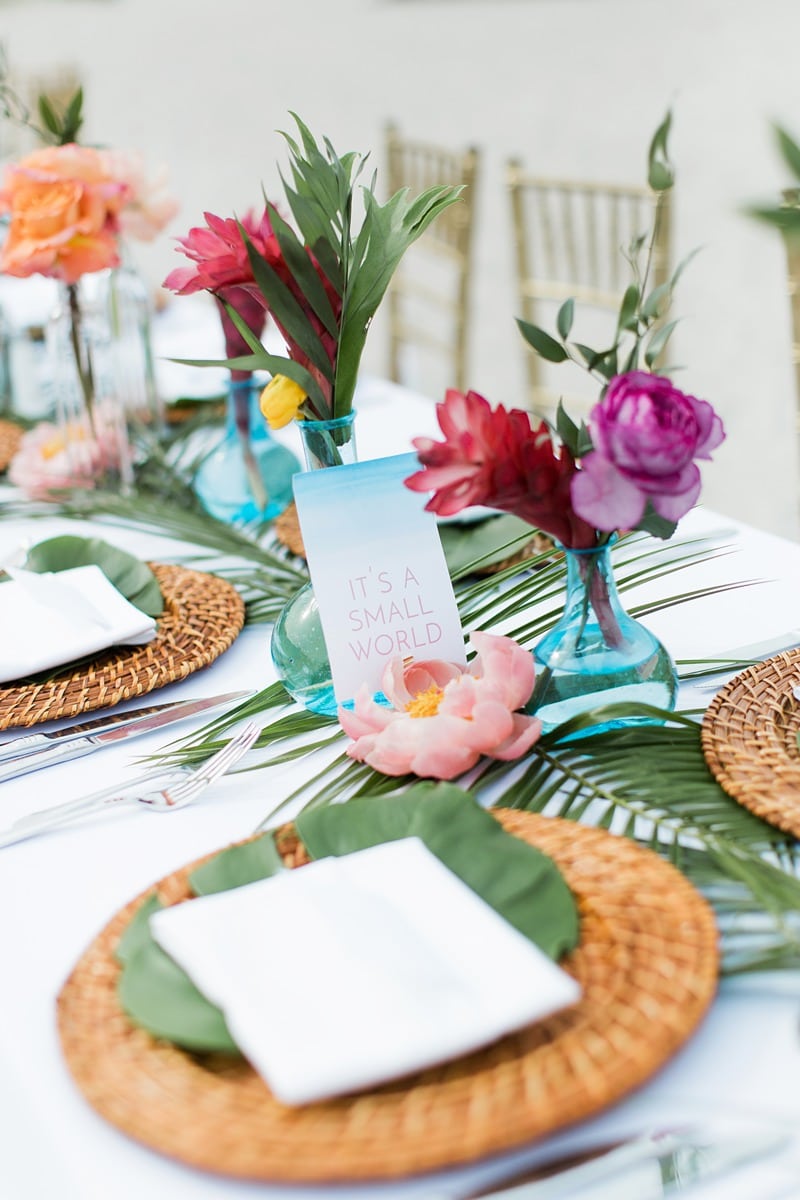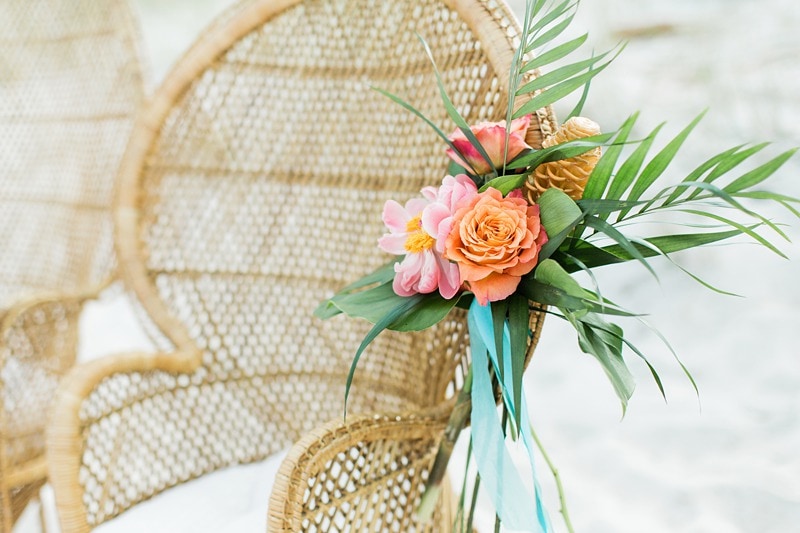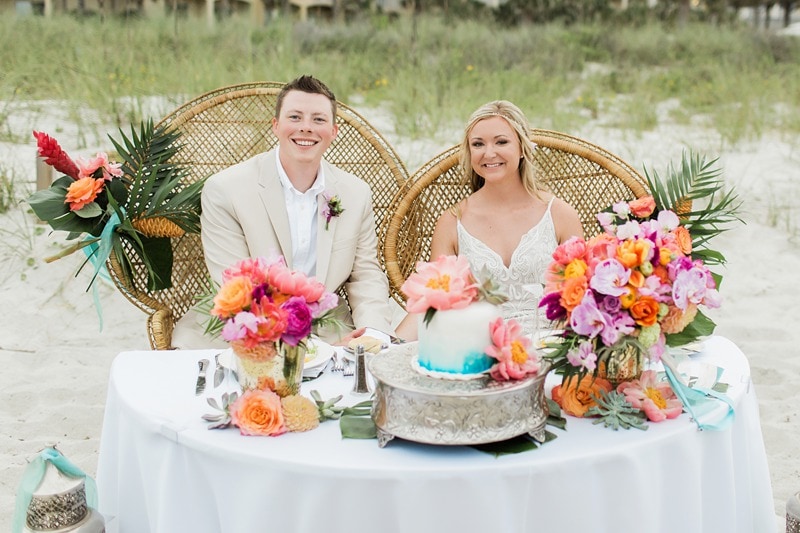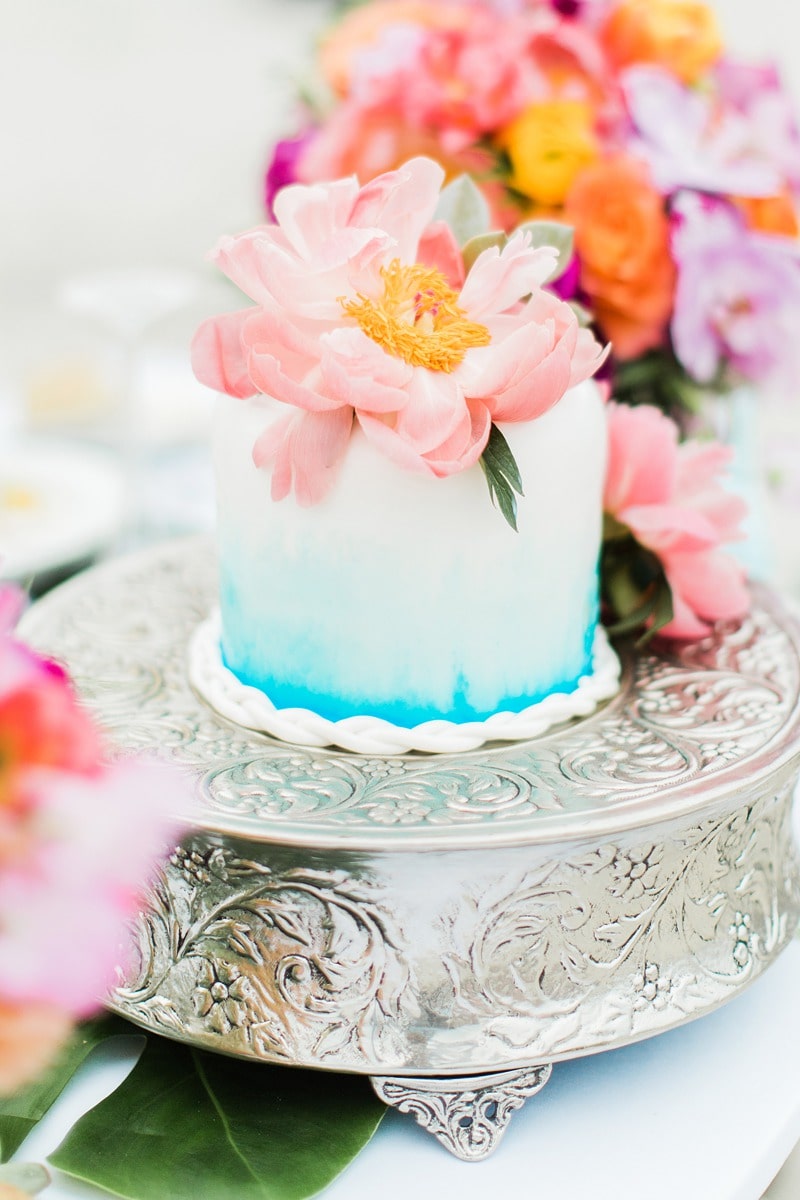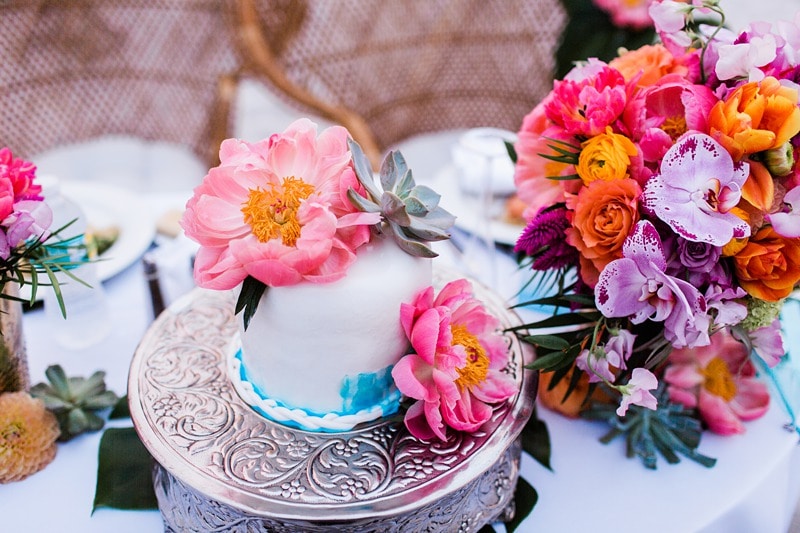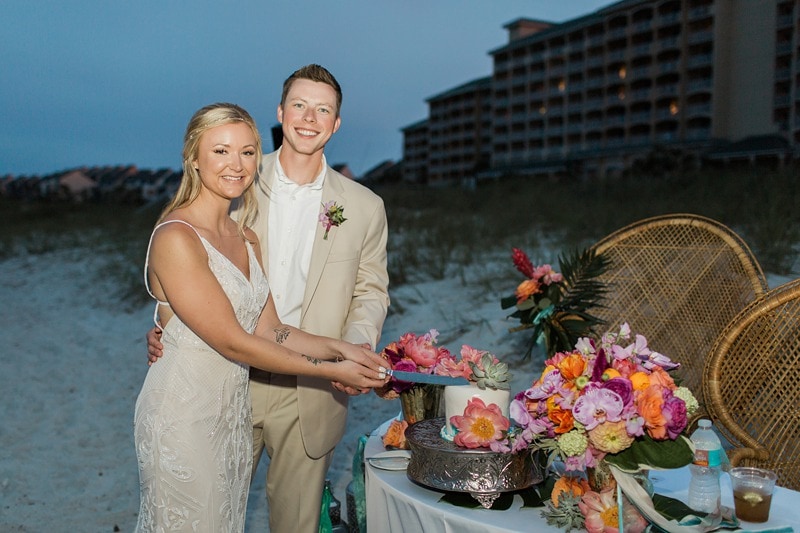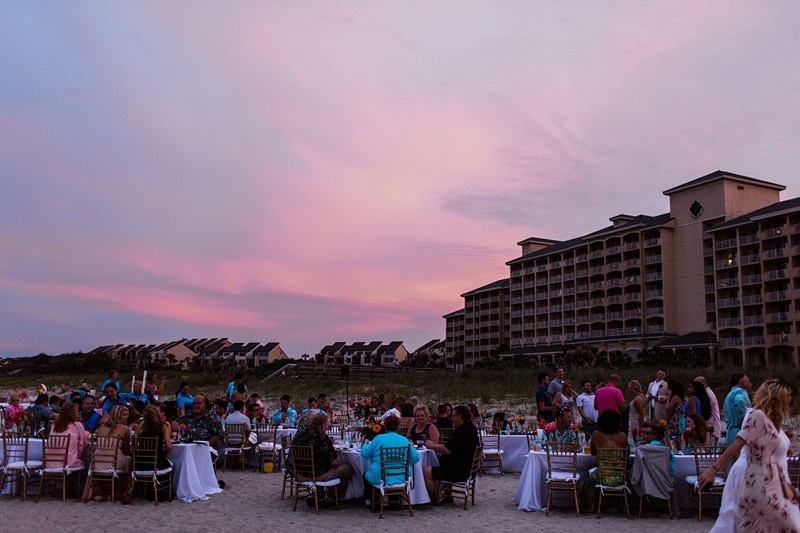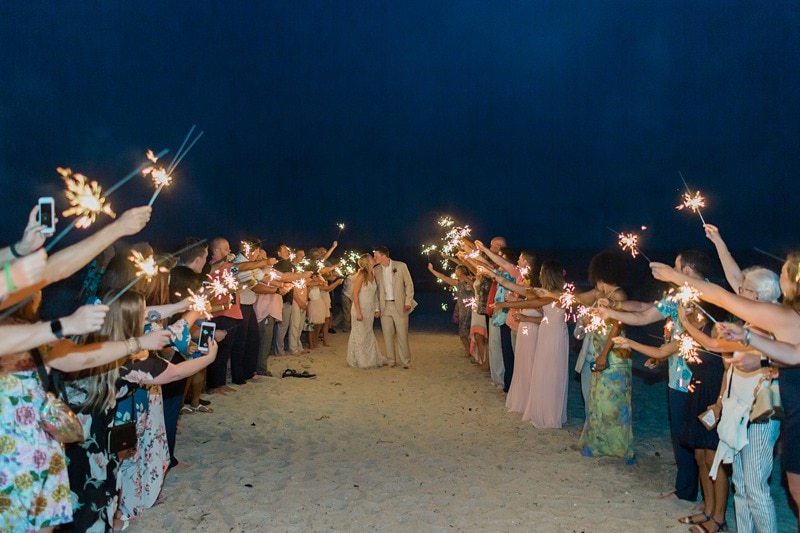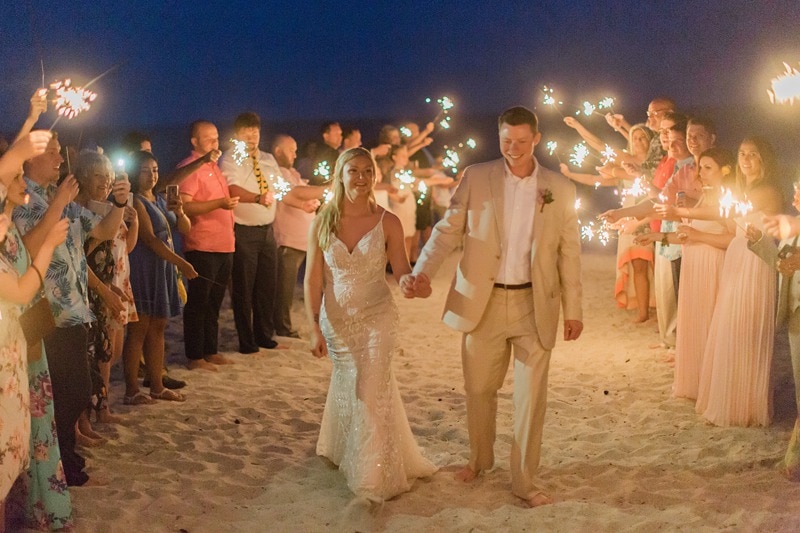 The Bride Tells us More About Their Destination Wedding at Omni Amelia Island
How did you meet?
Coincidentally, we grew up in different states- Wisconsin and Tennessee- but both decided to do a Disney College Program, where we were placed together at Mission: Space in Epcot. There was a large group of college kids from all over the country that arrived there all at the same time. We all became close and hung out outside of work- Devery got my number one night out and we were supposed to hang out with another friend who conveniently didn't show up. He offered to drive me to work one day and we were together ever since. After the program, we went back to our home states to finish school- We made the long-distance work for 4 years before we moved in together.
What is your proposal story?
We had a reunion trip to Disney planned with all of our College Program friends. Devery had it all organized beforehand with one of our close friends. One of the days we headed back to Epcot, it was our first time back since the program as a huge group. Devery gave the ring to our friend so that I wouldn't find it and staged a Photopass Castmember to take pictures in front of our old work, Mission: Space.

Our whole group went on Mission: Space together and when we came out we decided to take a group photo (with the convenient Photopass)- but the photographer asked for just couples to take a photo. Our friends backed out of the shot and I was then given a Disney button and was told to hold it out straight, NOT to look at the front. The back of the button had "Prop! Look at the camera!" on the back, so I did! He got down on one knee right where we met, in front of everyone that saw our relationship from the very start. I later found out that the button said "Just Engaged!", and good thing I didn't know because those are the only photos from the engagement where I'm not crying!
Why did you choose to have a destination wedding at Omni Amelia Island?
My mom and I toured several Florida hotels before the Omni Amelia Island- they were all way too touristy in comparison. We knew we wanted something more private- without other vacationers walking by in their Speedos! I also had this crazy idea of eating right on the beach too- which no previous location could accommodate. So, I kept searching for hotels online and The Omni kept popping up.

Devery, my mom, and I went for a long weekend to check things out and we were immediately blown away when we pulled up into the drive. Not only was the building itself beautiful, but the atmosphere was everything we were looking for. They have miles of beach, 2 beautiful pools surrounded by the most gorgeous set up I've ever seen, 10 restaurants, and endless activities for our guests. We had a piece of paradise to ourselves and anything we asked for was delivered.
Tell us about your wedding style & colors
The wedding was always dreamed up from the beach- we both love warmth and Florida. I'm a hippy free-spirit at heart, and LOVE color. I had started favoriting little details on Pinterest and Instagram so that I could combine elements from different events into my own. Adair really made it come to life by taking all of my crazy ideas and making them cohesive. There really was nothing traditional about our wedding at all, and that's the way we wanted it to be.
Tell us about your attire.
I had originally pictured my bridesmaids wearing the fun pattern and the groomsmen being more solid. However; once I found my Hayley Paige dress with all the amazing detail, that changed things. We unexpectedly passed by the groomsmen's shirt while shopping at Dillards, and I couldn't stop thinking about it. The color of the bridesmaid's dresses was already in my mind, and it just so happened to match the guys' shirts, and everything else fell into place. Devery didn't want to be a traditional groom either, and thanks to one of his dear friends he was able to get a custom suit made. It went perfectly with the bright colors in the event and the sandy beach.
What was the most important to the two of you while planning your destination wedding?
Our first splurge, but also most important to us was the location of the event. Every other detail is branched off of what your location has to offer- what you need to bring in, or what they can include for you. It was a must to have a more high-end location with it being a destination wedding. Another one of our splurges was definitely the food and drinks- which was a non-negotiable for us. We had both been to weddings before and had not always been a fan of what was served. We wanted to make sure our guests were given options for dinner so that they were served something they would enjoy (chicken carbonara, salmon, and cheese ravioli).

Along with this, the bar package was important as well. Being from the Midwest, my family is a group of very social drinkers- and we know what we like! Plus- this is a vacation after all, and our guests deserved an amazing time.

Our last splurge was definitely some custom details that were made for our day. We had Hands of Honeysuckle create a custom globe to use as our card box- which she purchased from Italy (I forget the year, but it's a previous mini bar- so cool!). She painted the outside and added a custom quote while designing it to mimic our invitations. She even leafed the entire inside with gold foil.

We also had LMS Creative Studio paint canvases- 2 bar signs that told guests what His & Hers drinks were available, including the ingredients and pictures of each. She also did a "love map" with his & hers hometowns, where we met, and where we got married, along with the date. We also had a custom-made timeline of events that was set by the place cards. Our invitations were customized by Bohemian Mint, who hand-painted a map of the various locations around the Omni to be printed on the inside of our envelopes- a perfect touch!
What were your favorite parts of the day?
My favorite part definitely had to be the 2 times I was actually able to stand back and enjoy the view of our setting and our guests. The first was when my dad walked me down the boardwalk and into the sand. I am so glad that I had a longer walk because it gave me plenty of time to catch my breath and take everything in from that vantage point.

The second time was after Devery and I finished our pictures and were about to walk into our reception area. With it being on the beach and open, we could see the event the whole time, but it was different to be welcomed as a married couple by everyone that cares the most about you. Devery says his favorite part was exchanging our vows (we wrote our own)- because he "brought down the house" and there was not a dry eye on the beach. I'll give him that, his vows were pretty amazing and emotional, which I definitely was not expecting.
Tell us about your wedding flowers.
Our florist was Tiffany at Liz Stewart Floral Design, and I don't think our day would have been quite so perfect if it wasn't for her. I will admit that I didn't give Tiffany too much direction with the flowers. All I could really tell her was that I love bright colors and I really wanted them to stand out- the flowers were important to me. She took that sliver of information and went bananas- literally. On our round tables' arrangements, she put in mini- bananas!

From the greenery lining the aisle and creating a custom circle for us to stand in during our ceremony, to the orchids I put in my hair- I could not have asked for anything more. She used so many different types of flowers but they all came together beautifully. I'm planning on having a custom piece of art created so I can enjoy the beauty of my bouquet forever.
Tell us about your wedding cake.
I wish we had time to eat more of it! It was provided by the Omni's dessert chef who did a vanilla cake with dark chocolate mousse. We kept it simple by doing a turquoise ombre and Tiffany added in fresh flowers.
Please describe any personal details.
We wanted our entire wedding to feel personal, so we made the decision early on to have our close friend, Matt officiate the wedding (he was the friend involved with the proposal as well). By doing that, our ceremony had a personal touch from someone that has been our friend since our relationship started, and could tell our story perfectly. This element was unforgettable. Keeping things personal, we made sure to include Devery's late Grandfather- Bill, and late Step-dad Jimbo by saving a seat for each of them, both at the ceremony and at dinner. It was marked with a boutonniere for each of them along with place cards.
Did you include any family heirlooms or special traditions?
Devery's wedding band was his mom's late father- Ralph's ring. Devery also used his mom's late mother- Ruby's engagement ring to create mine. He had 2/3 of the stones put on either side of my engagement ring and we used the 3rd stone to create a custom necklace for Devery's mom- Nancy. Devery gave her the necklace on the morning of our wedding day- which was also Mother's day! It is so special for us to each have a piece of his grandparents with us.
Do you have any advice for couples planning their destination weddings at Omni Amelia Island?
Location, location, location! It is so important to love where you're spending the biggest day of your life so that you can sit back and relax when the day comes. Surround yourself with a team of wonderful people that have your best interests at heart. Don't sweat the small stuff- just know that no matter what, you and your fiance will have the most perfect day and none of what you once worried about will matter anymore. Lastly, take what others think with a grain of salt and remember- this is YOUR day!
What was the best part of having a destination wedding?
The best part had to be going on vacation with your closest family and friends. We have so many friends and family members scattered across the country, it was so wonderful to have them all in the same place and finally meeting one another!
What was the biggest challenge of planning your destination wedding?
The biggest challenge was having to email or FaceTime all of our vendors instead of meeting face to face. They are all so wonderful that I wish we could have been just a little bit more hands-on with that process. It didn't necessarily happen for us, but there's a lot that can be lost in the process as far as communication goes.
Vendors:
Photography: Brooke Images
Ceremony Venue: Omni Amelia Island
Event Planning: Dairing Events
Floral: Liz Stewart
Decorative Lighting: Luxe Party Rentals
Hair & Makeup: Studio Bride | Breanna Mahan
Linens: QT's Pretty Little Things
Invitations: BOHEMIAN MINT
Bridal Salon: The Dress Theory
DJ: DJ Jacob Towe
Rentals: Liz Stewart
Escort Cards & Table Numbers: Olivia Grace Paperie
Guest Book: MEMORIES MADE CUSTOM
Guest Book Alternative: HANDS OF HONEYSUCKLE
Signage: LMS Creative Studio
Wedding Dress: Hayley Paige
Groom's Attire: JOHN H DANIELS
Bride's Shoes: Badgley Mischka
Bridesmaid Dresses: Saved by the Dress
Jewelry: Kendra Scott
Groomsmen Attire: Southern Proper
Groomsmen Attire: Calvin Klein
Ring Bearer Outfit: TITAS HIDING PLACE
Flower Girl Dress: Dillard's
Robes: MOD PARTY