If you're planning to tie the knot away from home, destination wedding packages are a must – well maybe not a must, but they sure will make your life much easier and save you a ton of dough!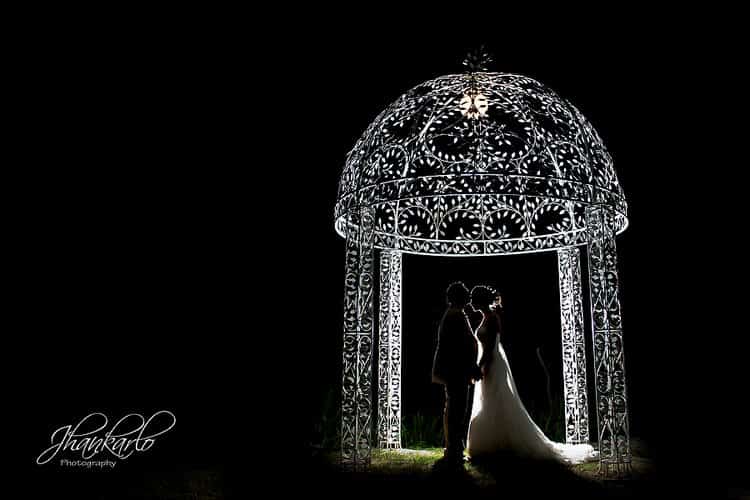 You can choose to do it all on your own. I've had friends who chose to scout the florist, the DJ, band, cake, decorations, catering, liquor and officiant – all on their own. But I can tell you that it's exhausting, time consuming and takes all the fun out of destination wedding planning.
It's difficult to do it all on your own. And you shouldn't have to. Most resorts come complete with a planner who will handle everything so that all you have to do is show up with a dress and say your vows. Finding the right destination wedding packages will not only save you time and money but also your sanity!
Because WeddingMoons have become so popular in recent years, nearly every major resort and airline has responded by building some pretty awesome package deals. But sorting through the plethora of options can be dizzying. The goal of this guide is to help inform and inspire you, so let's get started!
Featured Section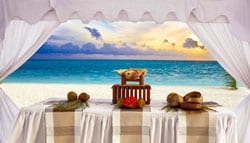 Discover which resorts have the best destination wedding packages and find out how you can visit them for yourself before you book the date!
---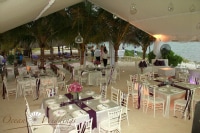 All Inclusive Destination Weddings
Are all inclusive destination wedding packages always best?
Find out why they may or may not work for you, a list of questions you must ask before you reserve the date…and the best all-inclusive resorts for tying the knot away from home!
---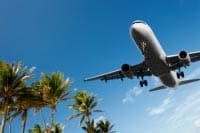 Destination Wedding Travel Packages
There's no reason you or your guests should pay full price for your destination wedding travel.
Find out how to score awesome discounts on your airfare and hotel accommodations.
---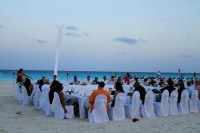 Planning a beach wedding? Don't know where to start? This guide will help you find the best package at resorts with properties on the finest beaches of the Caribbean, Mexico, Central America and the U.S.
---
Which destination wedding packages fit your budget and personality?
Most resort's DW packages fall into one of two buckets, so you can plan the wedding of your dreams regardless of your budget or personality.
Pre-set Packages
Are you the type of person that gets overwhelmed with details? If you just want a nice, simple wedding that's all planned out for you, then you should look at pre-set packages.
Big all-inclusive resorts usually have a few different options with different themes and color schemes. For the most part they'll come with an on-site planner, and basics like the cake, ceremony officiant, decorations, flowers and dinner for a small number of guests. You can add extras for an additional cost.
Customized Packages
Now, if you're like me and want to micromanage every single detail, a wedding in a box just won't cut it! In that case, you can either start with the resort's package and just add/take away from it. Or you can give the resort planner your vision and they will completely customize your ceremony and reception. This is usually the most costly option.
A la carte (or non-all-inclusive) resorts will probably give you the most flexibility to completely customize your destination wedding. They don't have as many weddings as all-inclusive resorts so the attention is more personalized. But this is not for everyone. This is the best option if you want something really unique, have your own ideas and don't mind the extra work.
As you can see, your big day can be as simple, fuss-free and intimate, or as big, elaborate and involved as you want.
Photo Credits:
Main Image: Jhankarlo Photography
Thumbnail Images: Kristin Vining for Atlantis Paradise Island, Ocean Weddings
Featured:

Unique Poolside Bachelorette Party Inspiration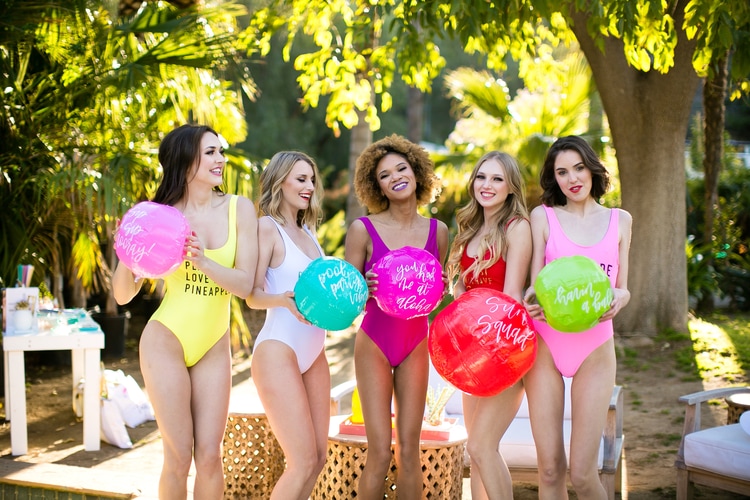 This unique tropical poolside bachelorette party is #GOALS! The décor was tropical, colorful and fun – bringing a cheery vibe that set the tone for a flawless and relaxed day. There were tons of personalized details –from sunscreen and chapstick, to soda and champagne, sun hats and fans, magazines, personalized tumblers, and even a wet bikini bag to hold their suit while they slipped into some adorable "Bride's Beaches" cover-ups. Of course, what's a good party without some fun games? Tons of fun ideas in this post. Read more
Featured:

New Orleans Destination Weddings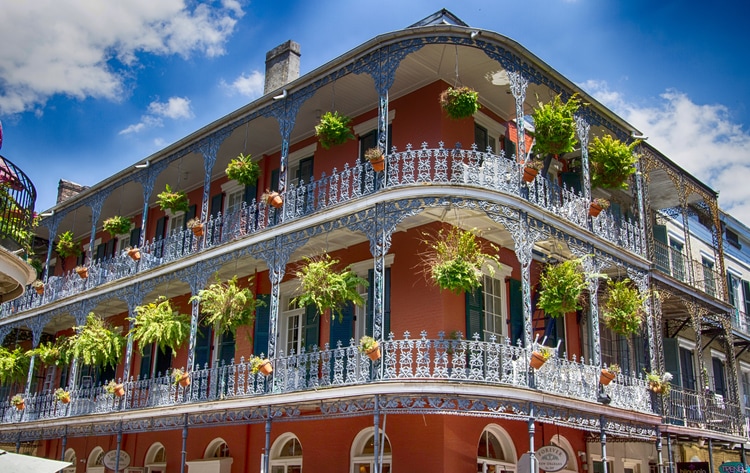 Here at Destination Wedding Details, we've seen it all: weddings at the beach, in the mountains, in the desert, and in pretty much every country. ALL beautiful, mind you… but through our years of observing what exactly makes for a GREAT wedding, we've surmised this: it must be FUN for you and your guests. So, ask yourself this: what city is more fun than New Orleans? Read our full post to discover when, where and how to get married in NOLA.
Cynthia is the founder and editor of Destination Wedding Details.She has over 15 years experience in the Marketing and Event industry and launched Destination Wedding Details in 2010, shortly after planning her own destination wedding. Cynthia uses her experience and genuine passion, to inspire brides who are planning their dream wedding away from home.