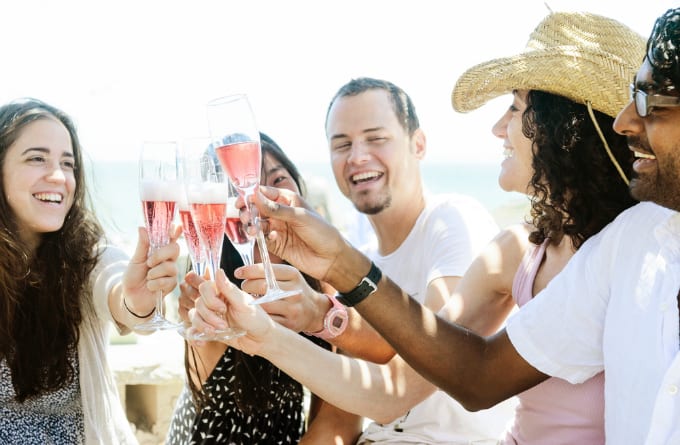 Here's a question submitted by one of my readers as part of my Destination Wedding Etiquette Q&A series.
Question Submitted by Anonymous
We are having a Destination Wedding and would like to invite everyone to a pre-celebration. What could that be? An engagement party? A couples shower? I would think it would be more informal because the Destination Wedding will be costly. And should we invite all those people to the wedding even though they won't come?
Cynthia @ Destination Wedding Details Says:
Hi there –
I think a pre-wedding celebration is a great idea especially if your DW is more than 6 months away. It's a great way to have everyone get to know each other a little bit before they have to go on vacation together (which is what they'll be doing when they travel to your DW).
But here's the thing, unless someone else is planning it for you, a couple's shower may look like you're fishing for gifts. If I were you, I'd plan an engagement party instead. Sometimes guests bring gifts to engagement parties but it's optional and not expected.
I know that the costs of a DW can add up so you can definitely keep it simple. A few ideas you could consider are doing an afternoon backyard engagement party, hosting a cocktail hour with hors d'oeuvres. There are a lot of fun and inexpensive options.
Everyone you invite to your engagement party (or shower) should also be invited to the destination wedding. It would be in poor taste to invite them to the engagement party and not the main event. It's almost a given that everyone who goes to your pre-wedding celebration, will also be expecting an invitation to the wedding. And if it never comes…well you could hurt some feelings to say the least.
On the flip side of that, traditional wedding etiquette says that you don't have to invite everyone on your wedding list to the engagement party. So if you know that your co-worker won't come to the destination wedding, you don't have to invite them to the pre-celebration.
But destination weddings are usually more intimate with family and close friends, so it would definitely be a nice gesture to invite them all to the pre-celebration. And like I said earlier, it's a great way for everyone to mingle, so they'll feel more comfortable when they travel to your wedding.
I don't know your reasons for having the pre-event in your hometown but another option is to do it when you arrive at your destination. When I tied the knot, I had a welcome cocktail reception three days before the wedding. It was an awesome opportunity to have a pre celebration with everyone who actually made it to the wedding…and best of all it was free.
If you're having your wedding at an all-inclusive resort, you can do it in one of their bars or cocktail lounges free of charge since drinks are usually included in all-inclusive packages.
Best of luck!
Cynthia