Planning an 'at home wedding reception' or a post wedding reception, as it's sometimes called, is really popular with destination wedding couples. The idea of throwing a second party back home might appeal to you if you've been dreaming of saying your vows in paradise, but have a lot of friends and family who won't be able to join you on the journey. If that's the case, you don't have to choose one or the other. You can have the best of both worlds!
Unfortunately, sometimes those two worlds collide when it comes time to send the invitations. It can be really confusing trying to figure out when to send the post destination wedding invitation, or how to word them so that your guests don't get confused. Heck, post destination wedding receptions are such a relatively new phenomenon, that just finding the perfect invitation design can be a struggle.
Have you already decided that you're going to throw a second bash a few weeks or months after your destination wedding, but can't find the perfect invitations? Well, you my friend, are in luck because I just spent a lot of time looking for cool at-home wedding reception invitations, so you don't have to! All of these can be totally customized with your own colors and wording. The best part? They are super affordable! Even if you're not ready to order your invitations just yet, you can use the wording on some of these as inspiration.
Chalkboard At Home Wedding Reception Invitations
Modern 'At Home Wedding Reception' Invitations
Travel Themed At Home Wedding Reception Invitations
Fun At Home Wedding Invitation Ideas
Vintage Post Wedding Reception Invitations
Rustic Post Destination Wedding Invitations
Save this on Pinterest

Related Posts:
Featured:

Contest for The Best Destination Wedding of 2017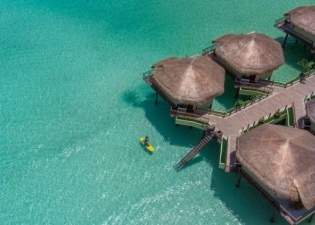 Do you think that you (or someone you know) had the best destination wedding of 2017? Show off your photos and tell your story for a chance to win one of 13 AMAZING prizes, including $3,000 cash or a romantic getaway to over-water bungalows.
Plus your photos will be featured on our blog and social media for the world to see!

Editor/Founder
at
Destination Wedding Details
Cynthia is the founder and editor of Destination Wedding Details.She has over 15 years experience in the Marketing and Event industry and launched Destination Wedding Details in 2010, shortly after planning her own destination wedding. Cynthia uses her experience and genuine passion, to inspire brides who are planning their dream wedding away from home.