Allow me to introduce you to Destify –a next-generation destination wedding travel company.   I met with Alex, the CEO of Destify this past weekend – and I was completely blown away by how forward-thinking and dedicated his team is. Previously operating as a group vacation company, the crew at Destify has experience booking over a thousand destination weddings. When they realized it was their true passion, they switched gears to focus solely on helping couples realize their dreams of the perfect nuptials away from home. Their job is to handle the entire "booking" half of your wedding, from travel to guest accommodations so that you can focus on your big day.
What I really love about them is that they have perfected their process down to a science, and believe in efficiency and simplicity. Destify is a group after my own heart – their mission compliments mine so well as we're both in the business of inspiring, guiding, and encouraging couples to explore their options and create a destination wedding experience they'll never forget. They have my stamp of approval for a few reasons: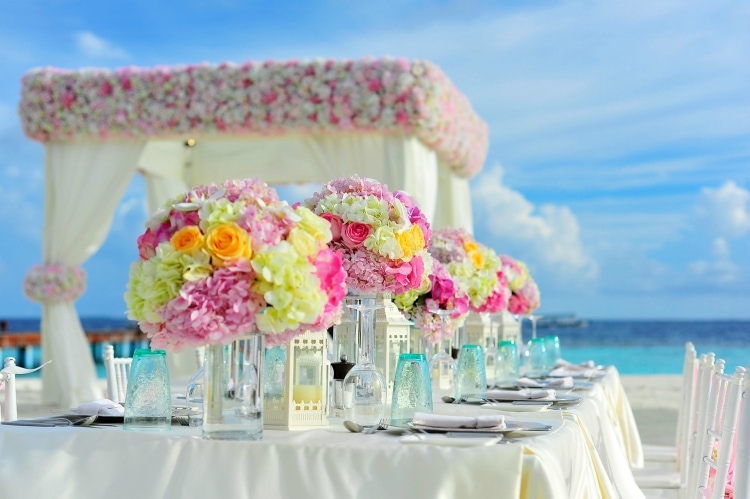 Lowest Rates in the Industry
Does FREE sound like a good rate to you? If so, Destify is for you. By providing a high-quality service that doesn't cost you a dime, they take care of all the logistics, so you can focus on your dream wedding. They will even tell you themselves, "the lowest rates in the industry are not a praiseworthy quality, they're an absolute requirement." And, they back up all of their rates with a 100% price match guarantee! When I was planning my destination wedding 7 years ago, I didn't have many options when it came to destination wedding travel companies.
A quick personal horror story for you: I hired one and paid them a non-refundable deposit but was having a very disappointing experience. They kept trying to push me to book my wedding at one of their preferred resorts which were way out of my price range and that of my guests. It was clear that they were just trying to book the most expensive resort, just so they could get a high commission. It was such a frustrating experience that I forfeited my deposit, fired them, and went the DIY route… Ugh! I can tell you from experience that playing the role of a travel agent when you're planning your wedding is no fun and I wouldn't recommend it —especially now that there are amazing destination wedding travel companies like Destify.
One thing that really stood out and impressed me about my meeting with Destify, is that they are not going to try to push you to one of their "preferred resorts" if it's not a good fit for you. They guarantee the lowest booking rates, with a low deposit and payment plan options in order to make it affordable for everyone. They understand that every couple has a different budget – Destify truly works for YOU, not the resort – and he made sure to emphasize that.
They Will Bend Over Backwards For You
Maybe not literally… but it wouldn't surprise me! The team at Destify realizes that wedding planning can quickly become a second full-time job for some couples – except that there are no rules, no hours of operation, and certainly, no time to waste. They will be at your beck and call from the moment you begin your agreement, til the moment you say "I do." Destify's entire company culture revolves around a belief that good services is rooted in responsiveness and accessibility. Quick quotes. Fast answers. Any time. And I LOVE this about them (uh oh, another cringe-worthy flashback to that not-so-lovely experience with MY travel agent).
Planning a wedding is time-consuming and stressful… let's just call it what it is. Juggling every single detail while trying to stay sane – all while booking travel arrangements for the entire guest list. Forget about it. If you choose a so-so booking agency, you might find yourself waiting around for a quote or an answer, while the rest of the details hang in the balance. Who has time for that? NO ONE. I can't stress enough how massively important it is that Destify's team is responsive as heck! They have invested in innovative and efficient technology that allows them to generate fast quotes and get you the answers you need as quickly as possible. The passion behind each of these industry-leading experts is awe-inspiring and I truly can't say enough about 'em. Okay, maybe a little more about the agents…
Dedicated agents
Another way the folks at Destify ensure a flawless experience is by matching you with a personal travel agent who will assist you throughout the entire journey. Destify believes this personal one-on-one approach allows for your agent to become as invested in your wedding as you are. The buddy system is a time-tested way of making sure no stone is left unturned, no detail slips through the cracks, and the job is completed above and beyond your wildest dreams.
Technology to seamlessly manage destination wedding
Destify has access to technology that'll make you feel like an organizational queen. We've touched on how incredibly stressful planning a destination wedding is, haven't we? Unless you thrive in chaos, you're going to need their website and app to wrangle all the details under one platform. With Destify, every couple gets a personal wedding website that contains their wedding information and allows guest bookings—AND an IOS and Android app to easily track your evites, guest list, and itinerary. Step into the future, my friends.
Disclosure: This post was sponsored by Destify. The opinions expressed in this post are the author's own and do not necessarily reflect the views of any agency, company or organization. See Disclaimer