When the groom's family thinks 'only close family' is 300 people, the bride's family members can't be in the same room together, and the two of you can't decide what language would be most understood for the ceremony, an elopement sure sounds like a great option! Once Jessica and her now-husband realized they "wanted to get married for each other, not please everyone around us," the decision to have an intimate wedding in Rome was an easy one!
The final guest list was only 9 people, 1/3 of whom were Catholic priests – close friends who just happened to be studying in Rome at the time and who also inspired the idea of getting married at Santa Maria in Aracoeli. The details of their wedding are a beautiful reflection of Rome's old-world elegance and Jessica's dress was absolute perfection with the city's iconic landmarks in these photos by Andrea Matone Photography! Be sure to check out all the photos and read more about their big day in the bride's own words below!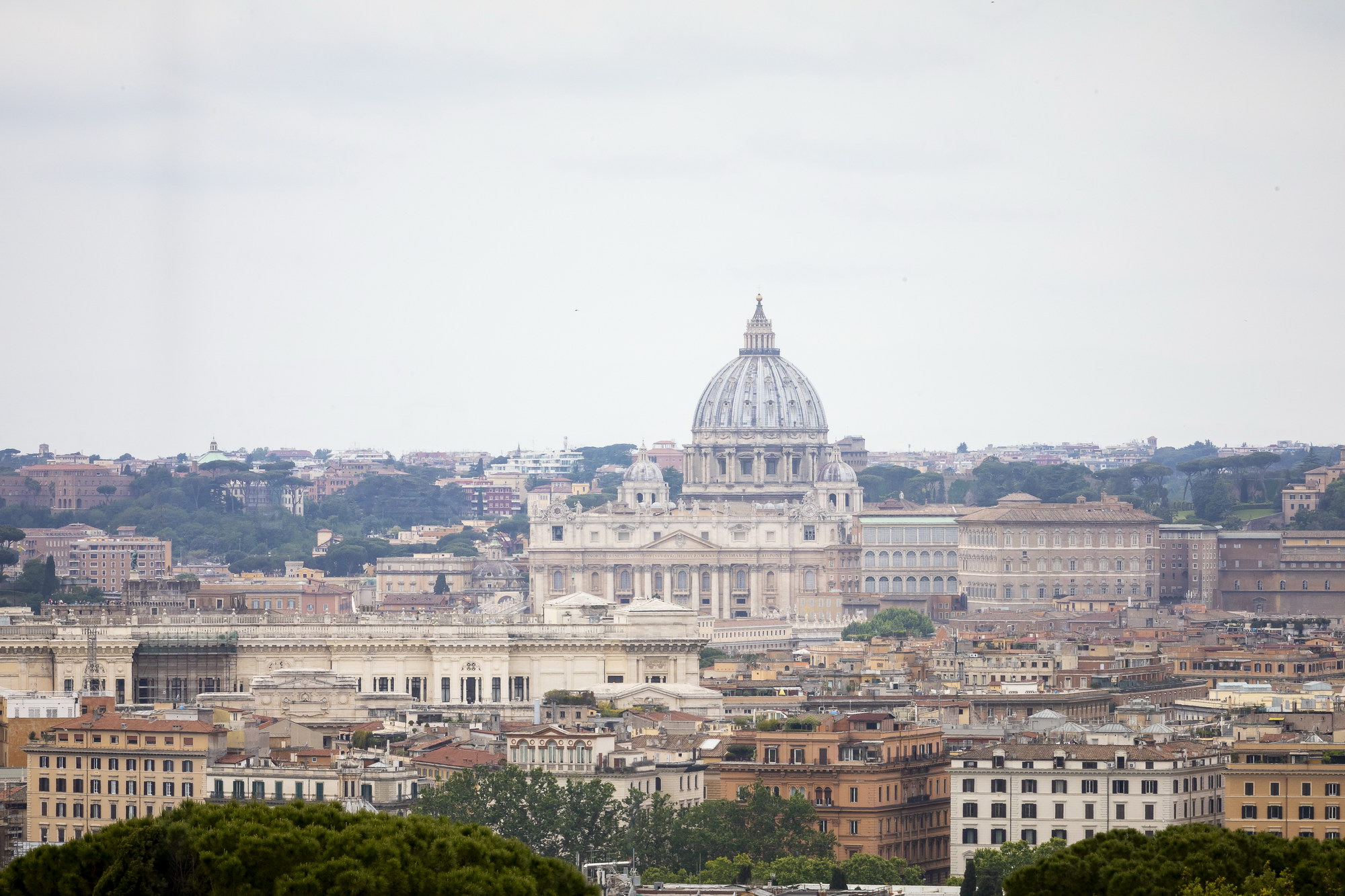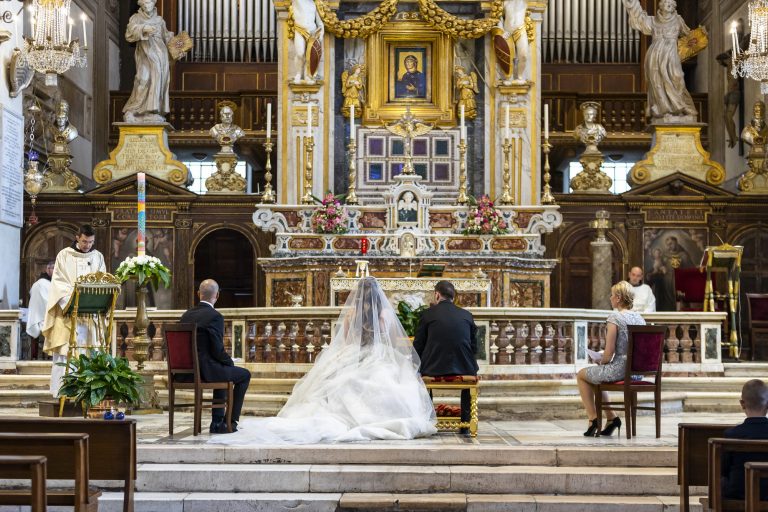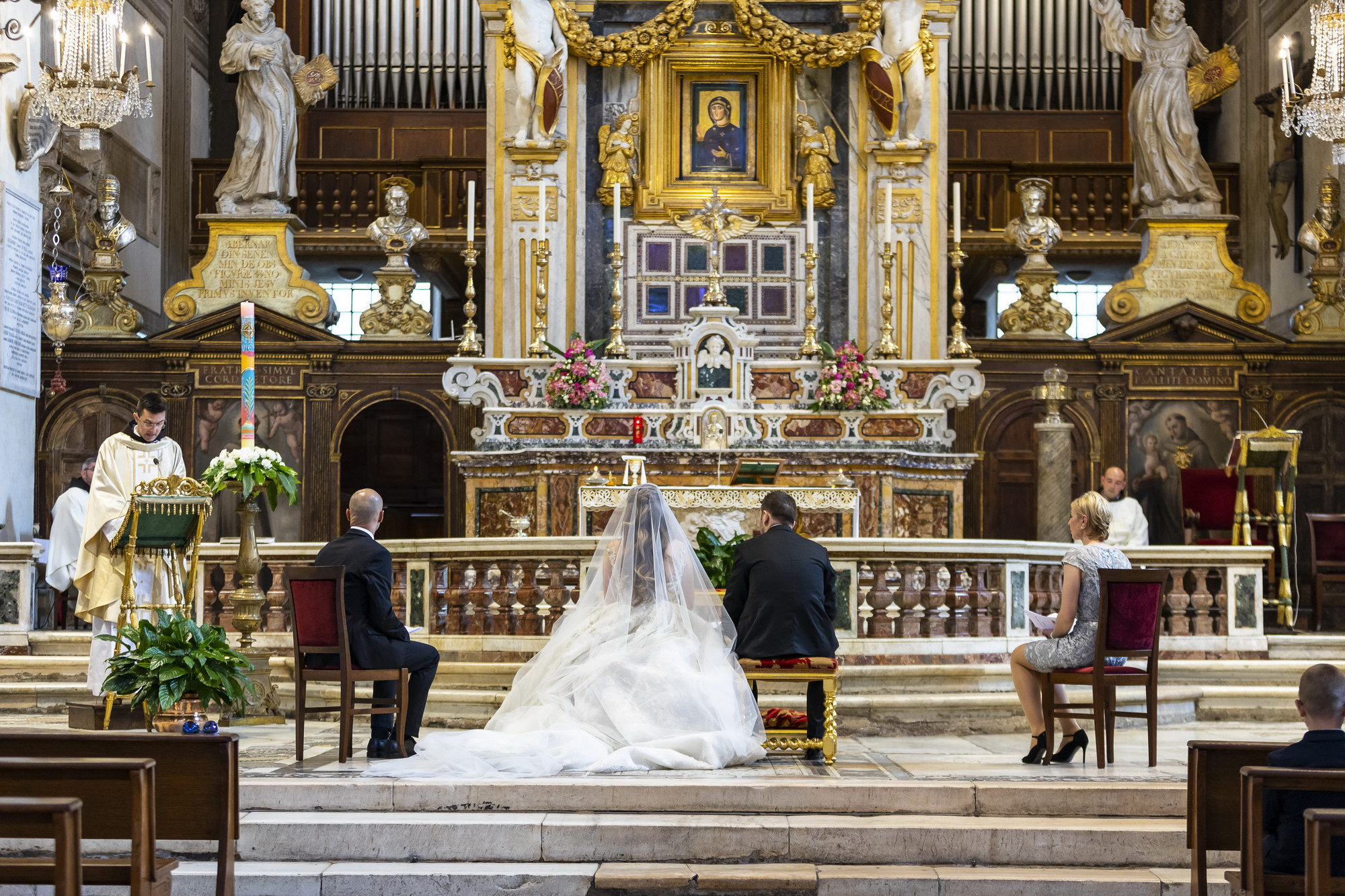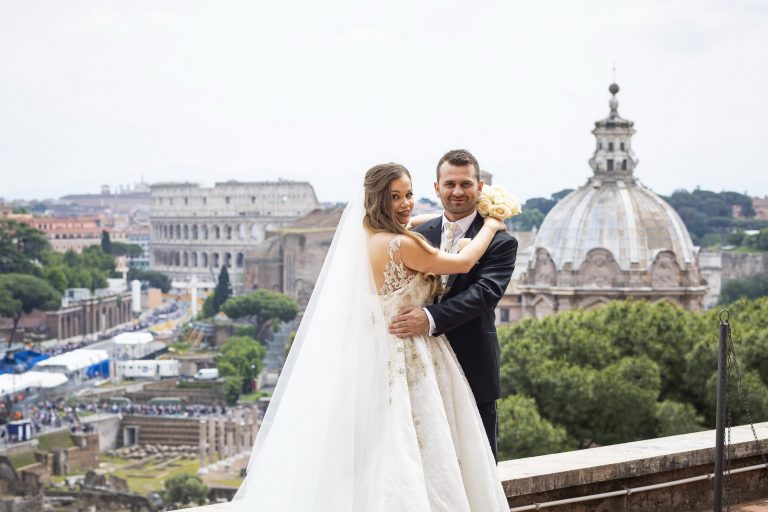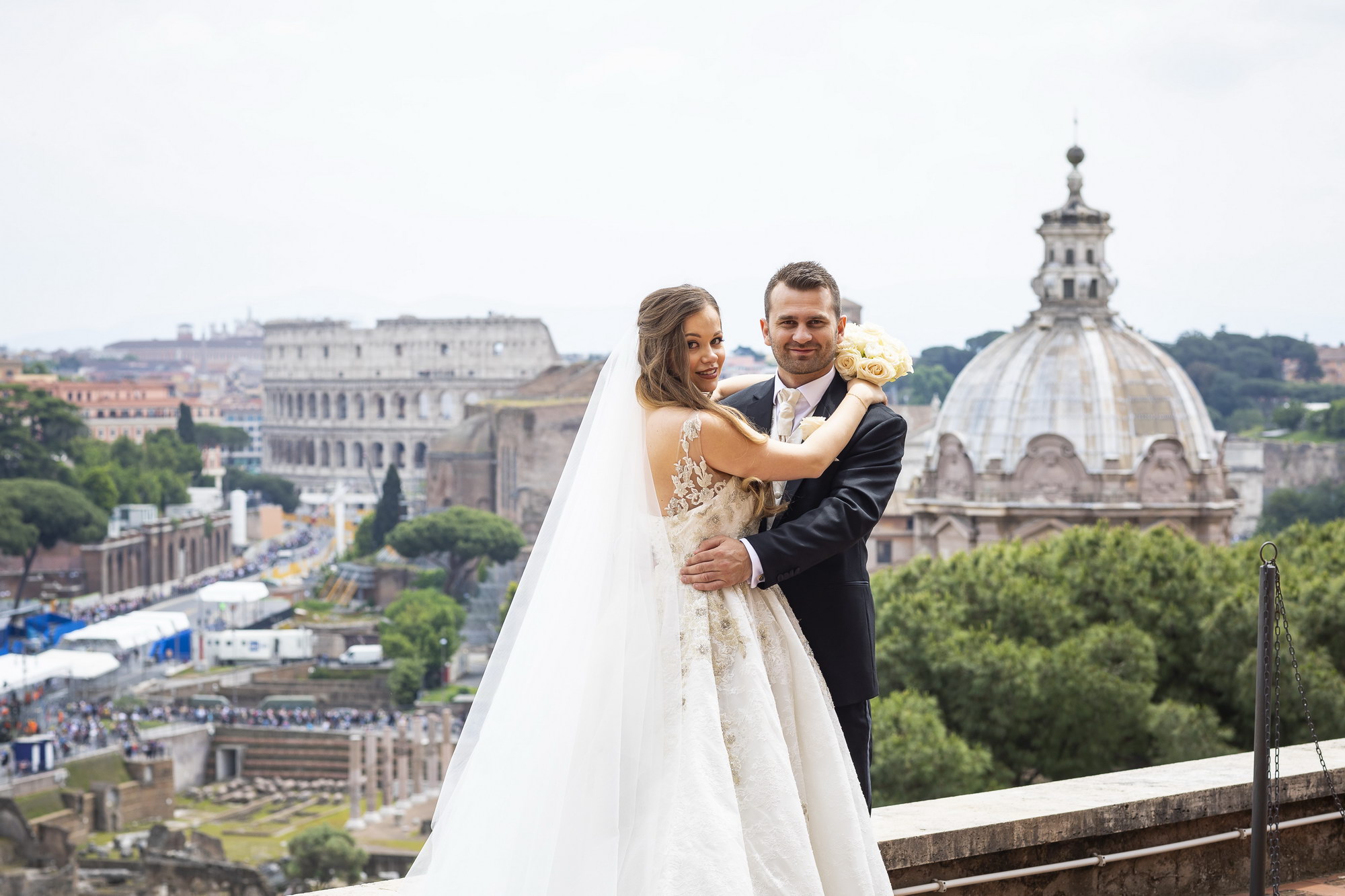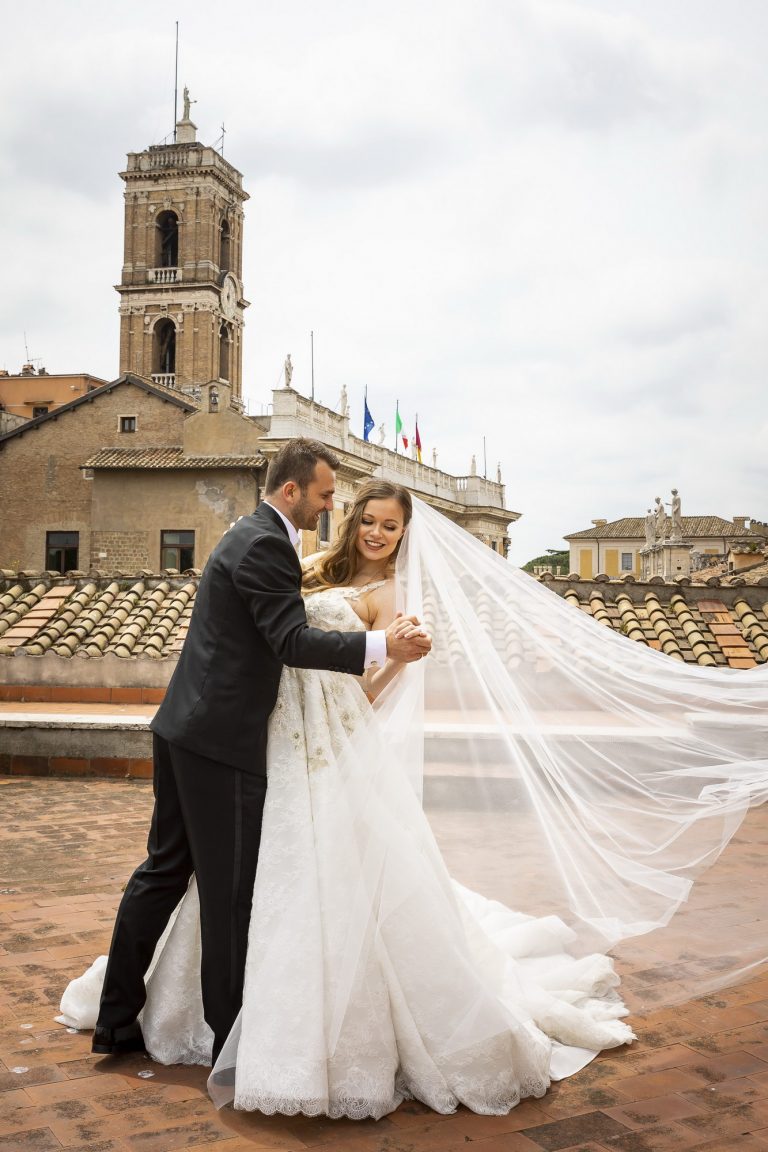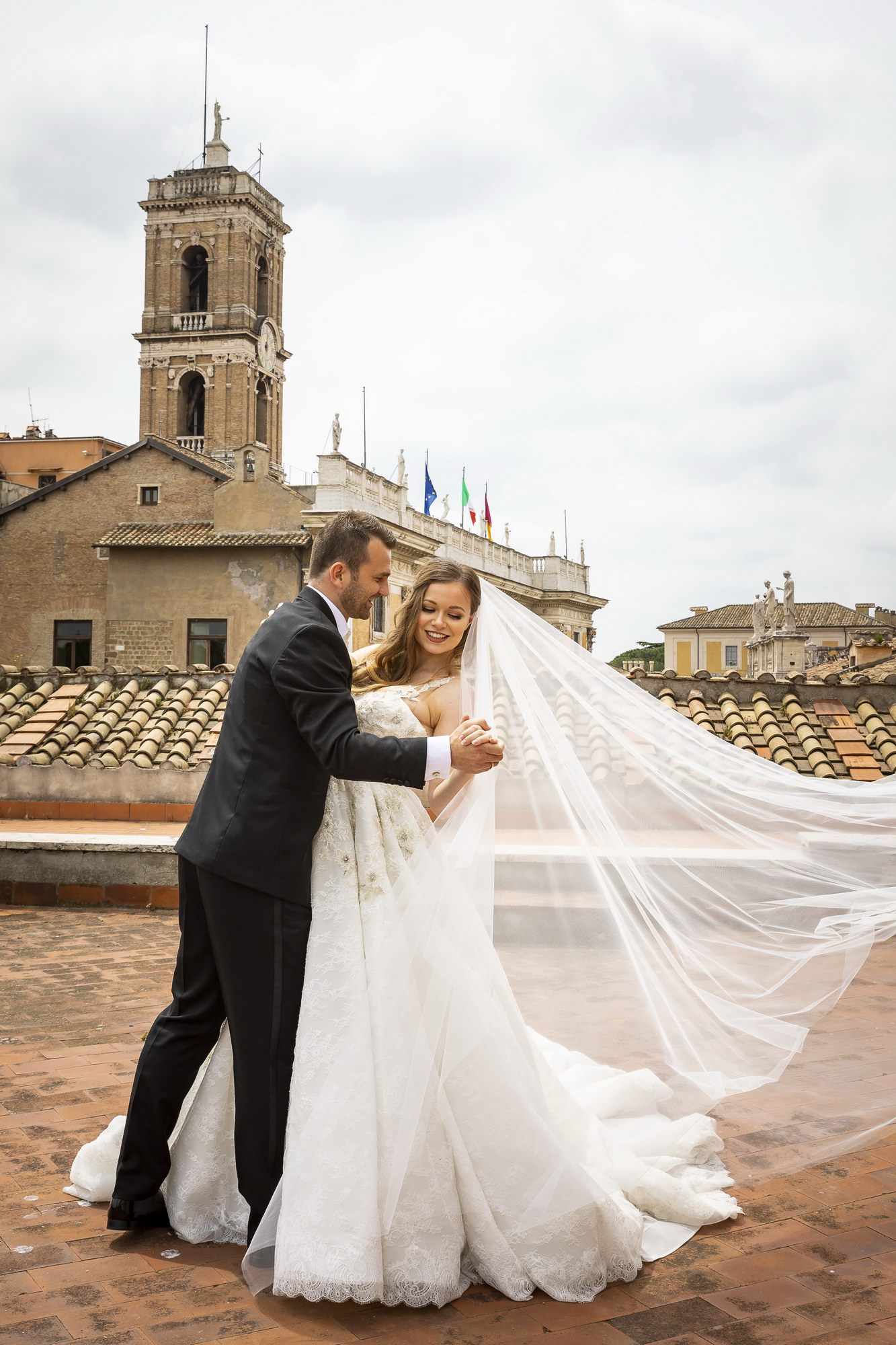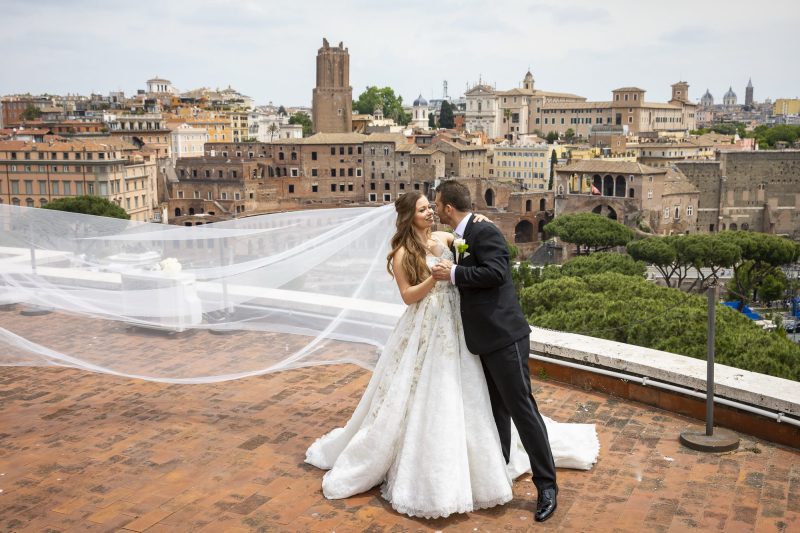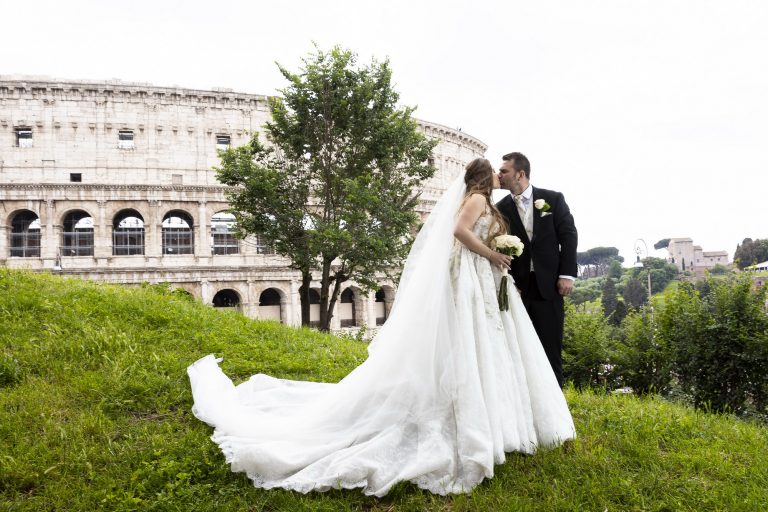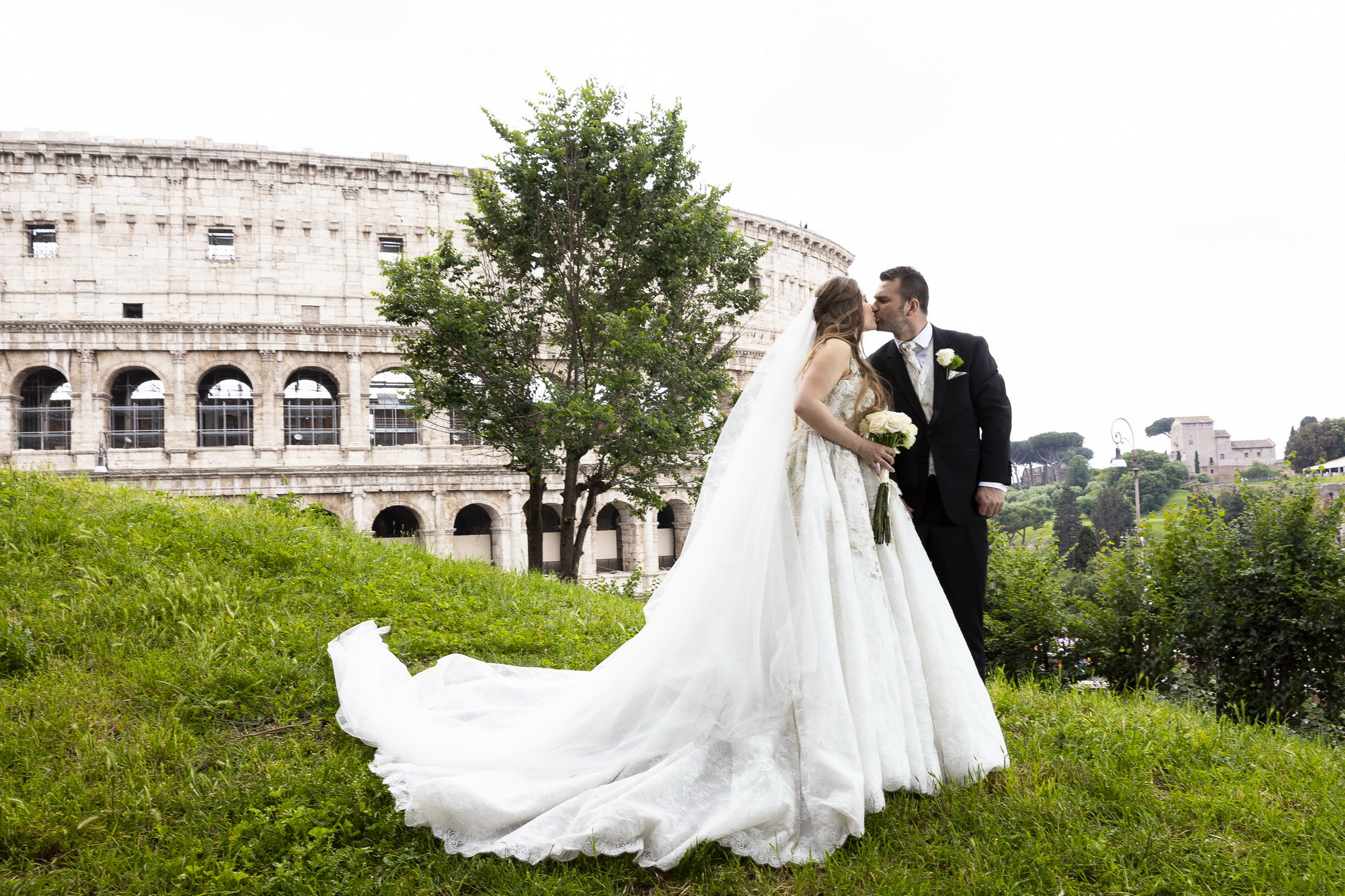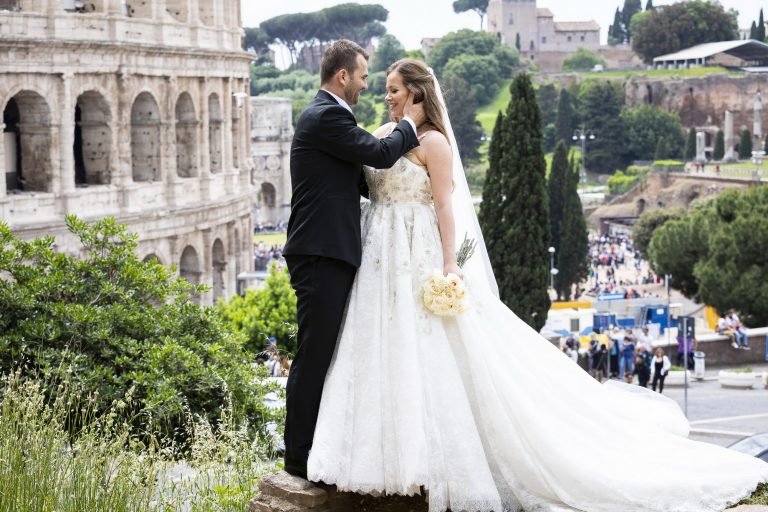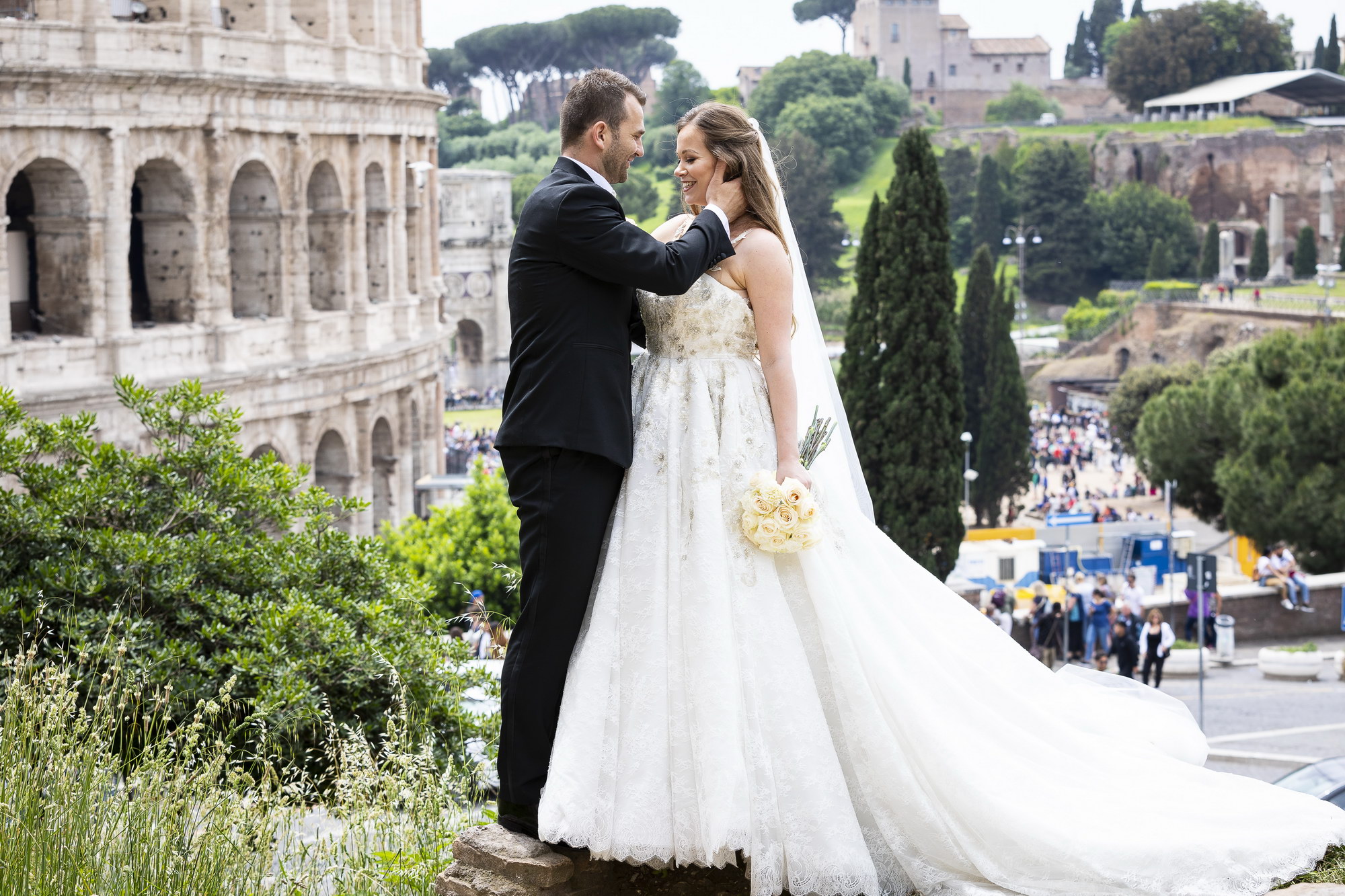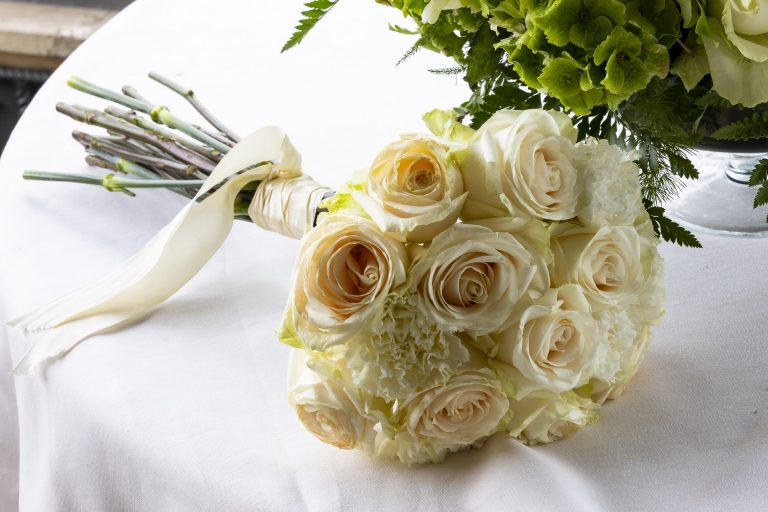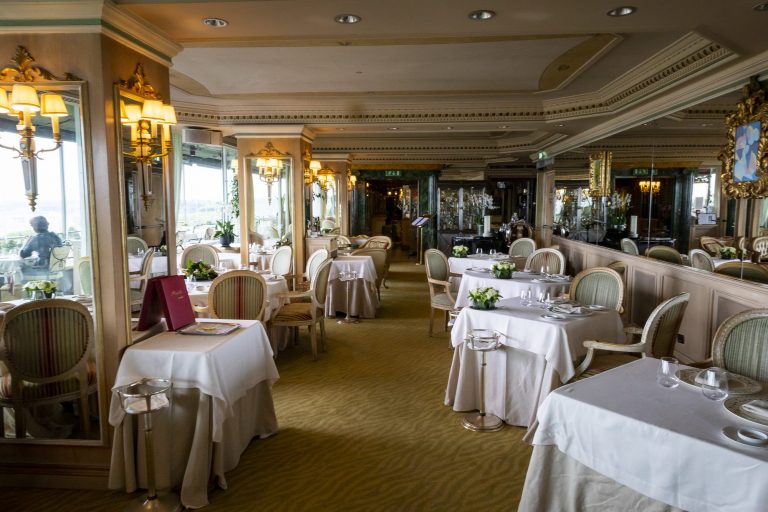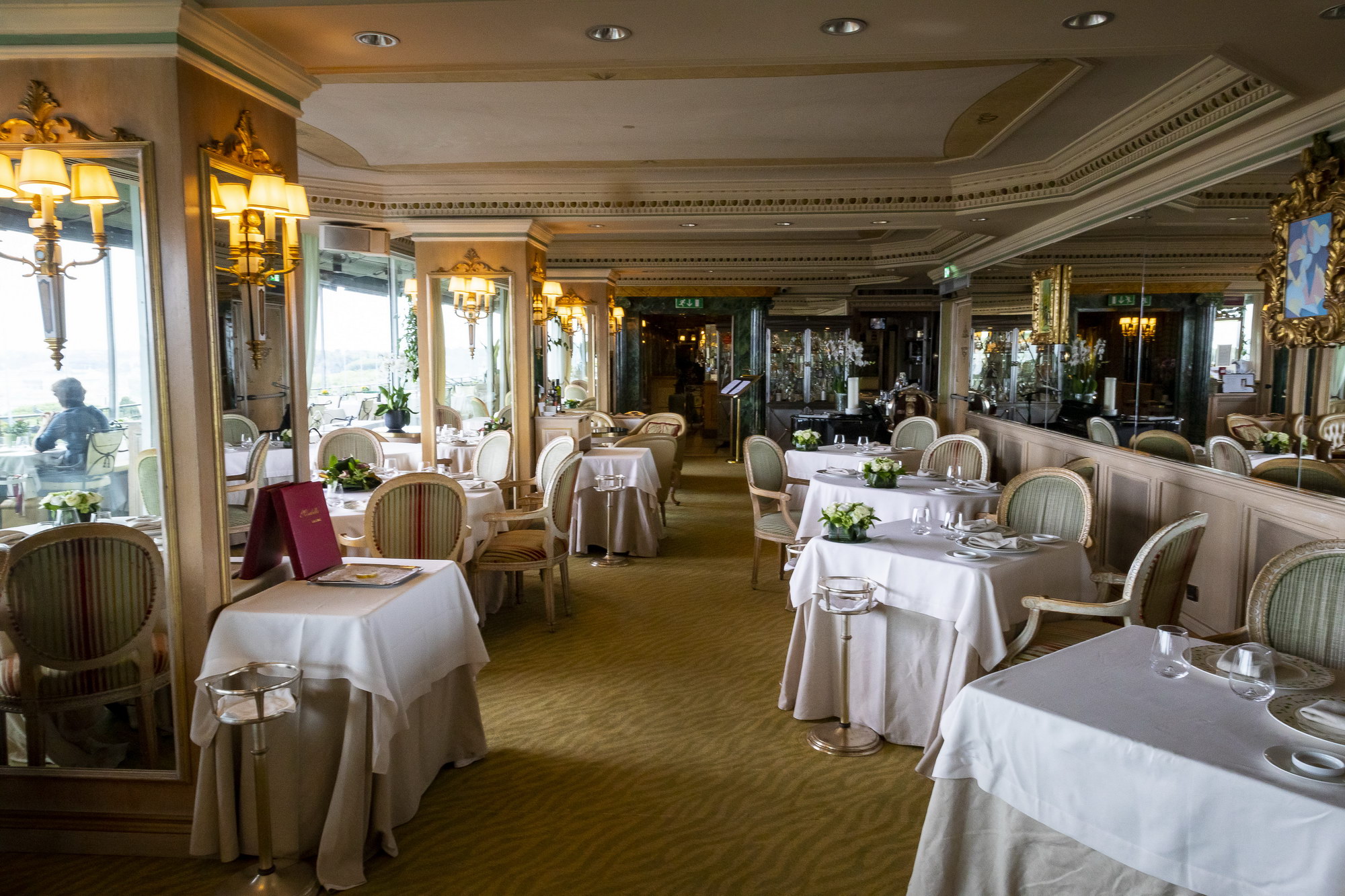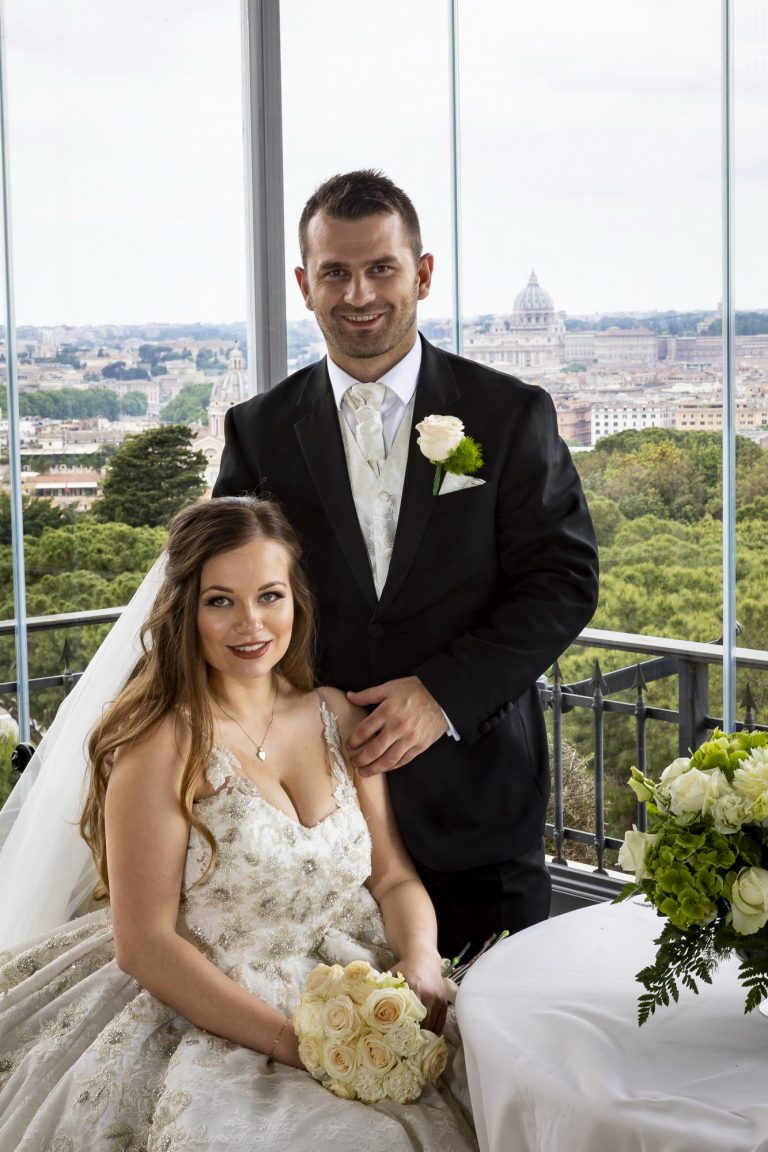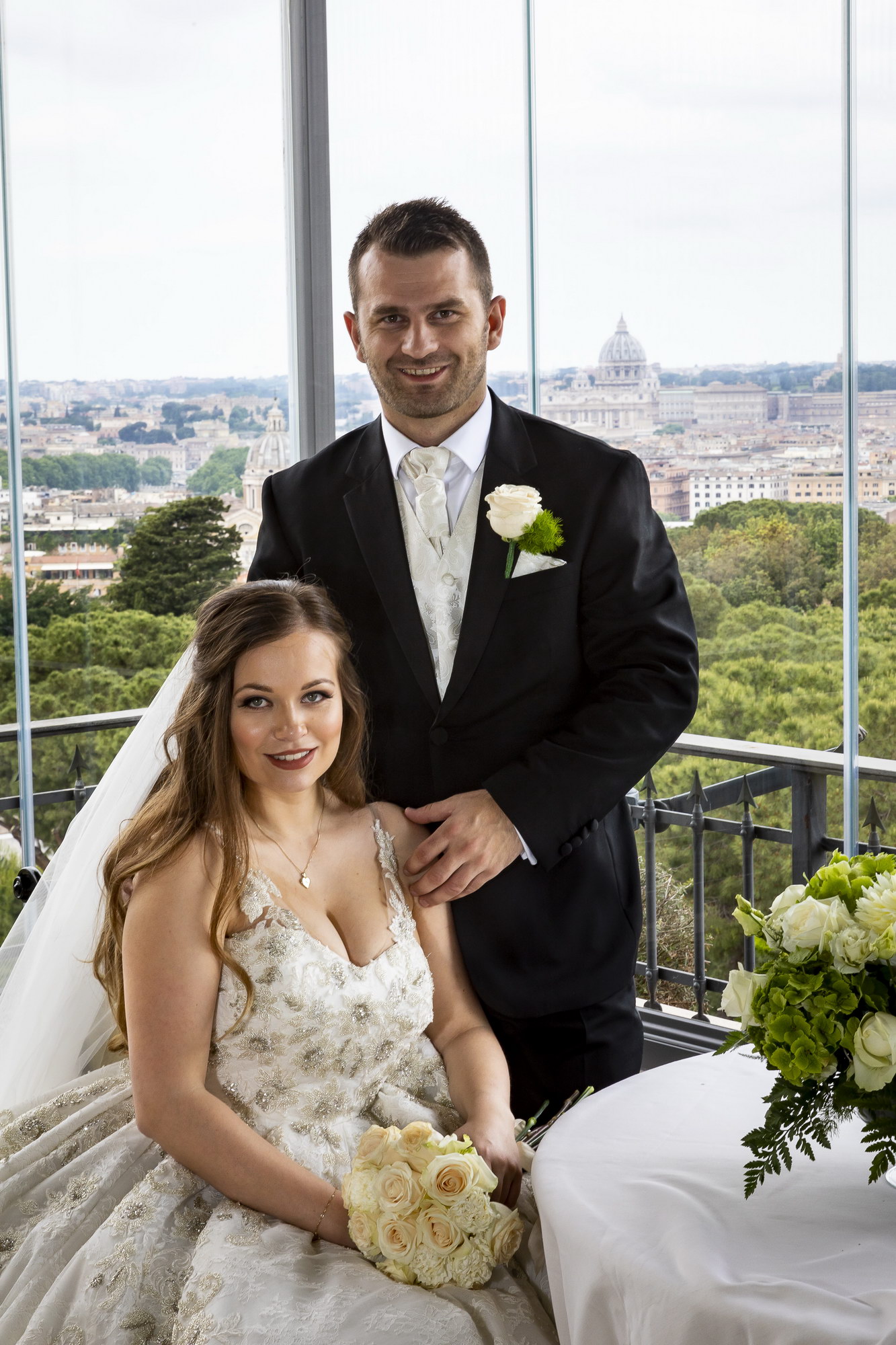 Q&A with the Bride and Groom
How did you meet?
At the hospital 🙂 We are both doctors, although at different departments, but we had seen each other around for over a year. Things got going after a night shift in which we had to perform an emergency surgery and my now husband came to help. After the patient was stable and the situation in the OR relaxed, we only had eyes for each other.
What is your proposal story?
It was a very simple, but meaningful proposal. At that point, we had moved in together but my husband still had his apartment (a 1-room hospital flat). That's also where we spent all of our time together (even though I had a much larger apartment). I would even go there after a night shift to sleep because it was so comfortable! We were so happy there, and didn't need anything else. And that's where he proposed after midnight after my birthday. He wanted it to be where our love story started, and insisted we go there after dinner…I loved it!
What was most important to the two of you while planning?
I planned everything, as I am the one with ideas about the wedding (my husband would get married and have a BBQ if it was up to him). Also, I was already on maternity leave so I had the time to do it! The most important thing is to plan ahead. I was glad we had an amazing photographer who organized the shoot and a car so I didn't have to worry about that. A tip- Find out whether the venue lets you bring a cake from the outside! Because many venues don't (due to security reasons).
What were your favorite parts of the day?
The most beautiful and best part was the church ceremony. I was reluctant and didn't want a big church ceremony, just wanted to quickly get it over with. But my husband insisted on it being a bigger event- and I am so glad he did! My husband went up to the altar during the church ceremony and sang one of the songs (together with one of the priests) in their mother Language (Croatian) – which i knew nothing of! One could see how heartfelt the performance was, how much the marriage before God meant to him. It was a beautiful surprise!
What was the best part of having a destination wedding?
A destination wedding is definitely something special and automatically unique! It most probably means that the wedding will be small(er) than back home, but that gives you the option of making it more exclusive. You can focus on only your closest ones, and not worry about pleasing a huge crowd (which is practically impossible). All the energy is on you and your special day, on the decision of spending your life with your partner and celebrating this union. It will be even more memorable when this happens in a beautiful and meaningful place. The photos of a destination wedding will also be another level – well because of everything you don't have back home. And to be honest, it might even be simpler to plan a destination wedding. You do a lot of it online from the comfort of your home. Everything will be planned in advance, so all you really have to do is arrive 🙂
What was the biggest challenge when planning your destination wedding?
One possible challenge – transporting the wedding dress! If flying, you have to take it to the cabin with you, so an extra seat might be necessary (was for me) and a willing husband to carry it around the airport!
Vendors
Photography: Andrea Matone Photography
Ceremony Venue: Santa Maria in Aracoeli
Reception Venue: Mirabelle
Transportation: WheretoRome
Hair & Makeup: Janita Helova
Venue: Hotel Splendide Royal
Wedding Cake: Hotel Splendide Royal
Wedding Dress: Pronovias
Bride's Shoes: Jimmy Choo Bridal Boutique
Veil: Svadobny Salon WEM