Las Vegas may be the wedding capital of the world but I bet that you've never seen one quite like this! Katie & Tom's Las Vegas destination wedding defied all the cliches. The couple had their outdoor ceremony & reception at none other than the beautiful Bellagio Hotel. And as you're about to see in these stunning photos, captured by Kristen Marie Weddings + Portraits, the wedding was elegant, luxurious, upscale–and because it is Vegas, after all– it was also a ton of fun!
When I asked the bride what was most important to them when planning this destination wedding, she said: "We were 100% focused on guest experience and getting married in an environment that was classic, yet everyone who attended knew they were there to party. We chose to splurge on the wedding venue and upgrade to the Grand Patio, which was worth every penny as it was a stunning space and had a 'wow' factor. We chose to spend extra on food and drink. The open bar, combined with all the 'glow' available, led to all the guests young and old partying all night long!"
This album drew me in from the first photo all the way to the last and I'm so thrilled to share it with you! There are so many beautiful details and you can find inspiration regardless of where you're planning to tie the knot! And if you're planning a Las Vegas destination wedding, make sure you read all about the bride's planning experience and advice at the end. Enjoy!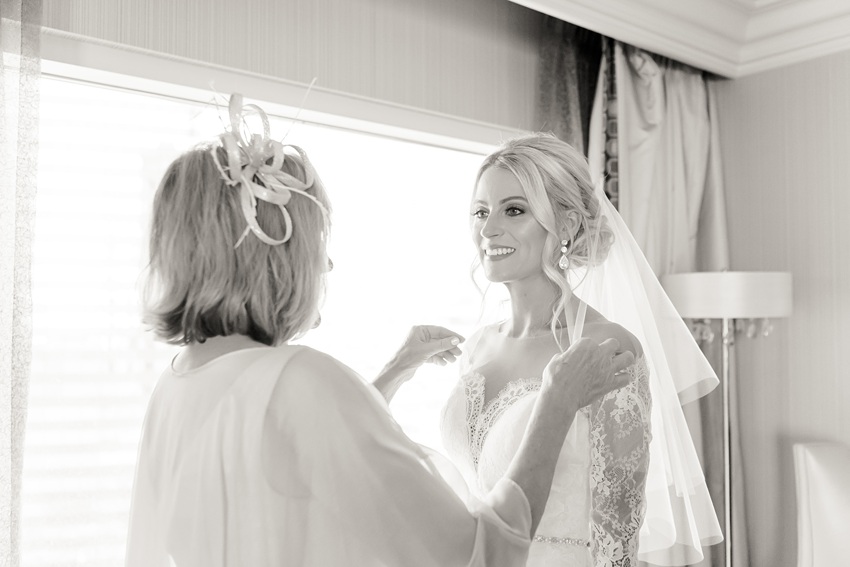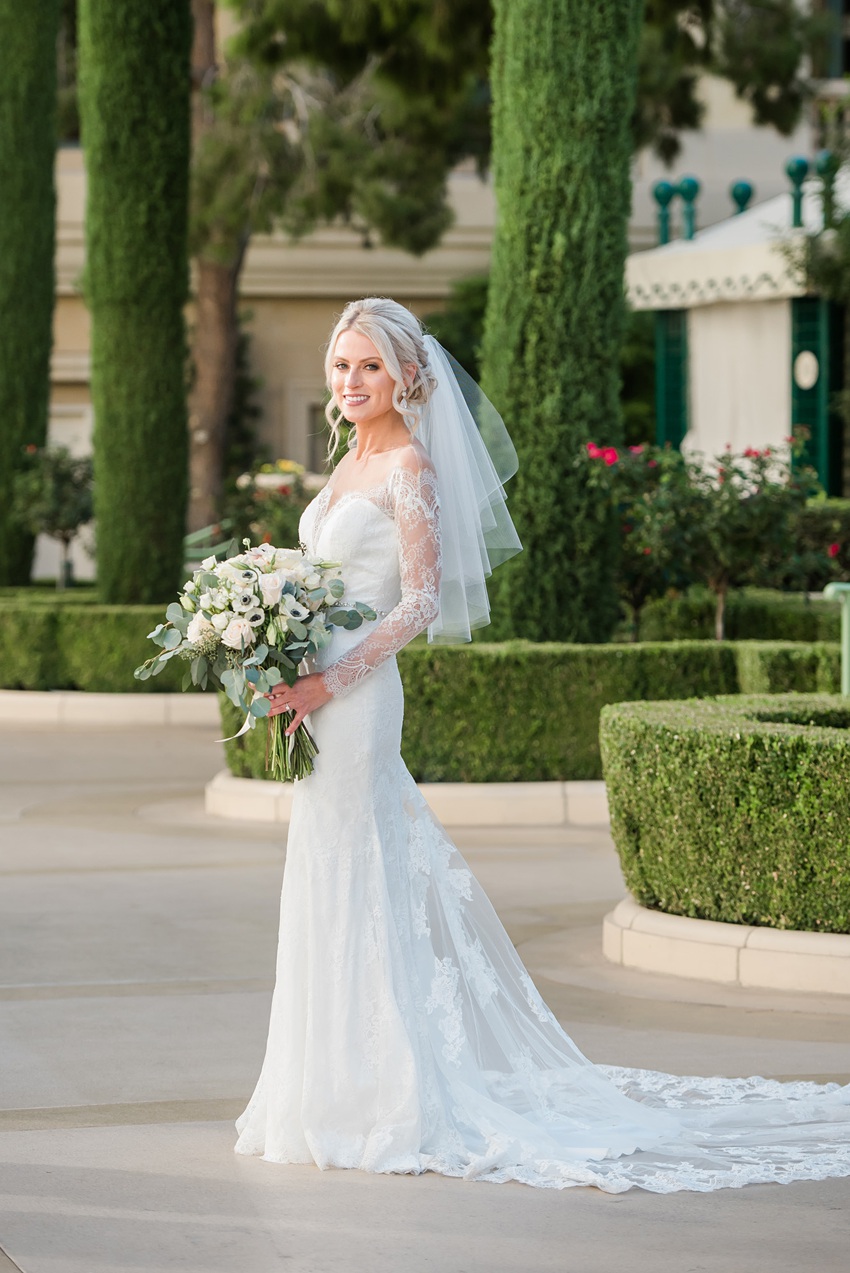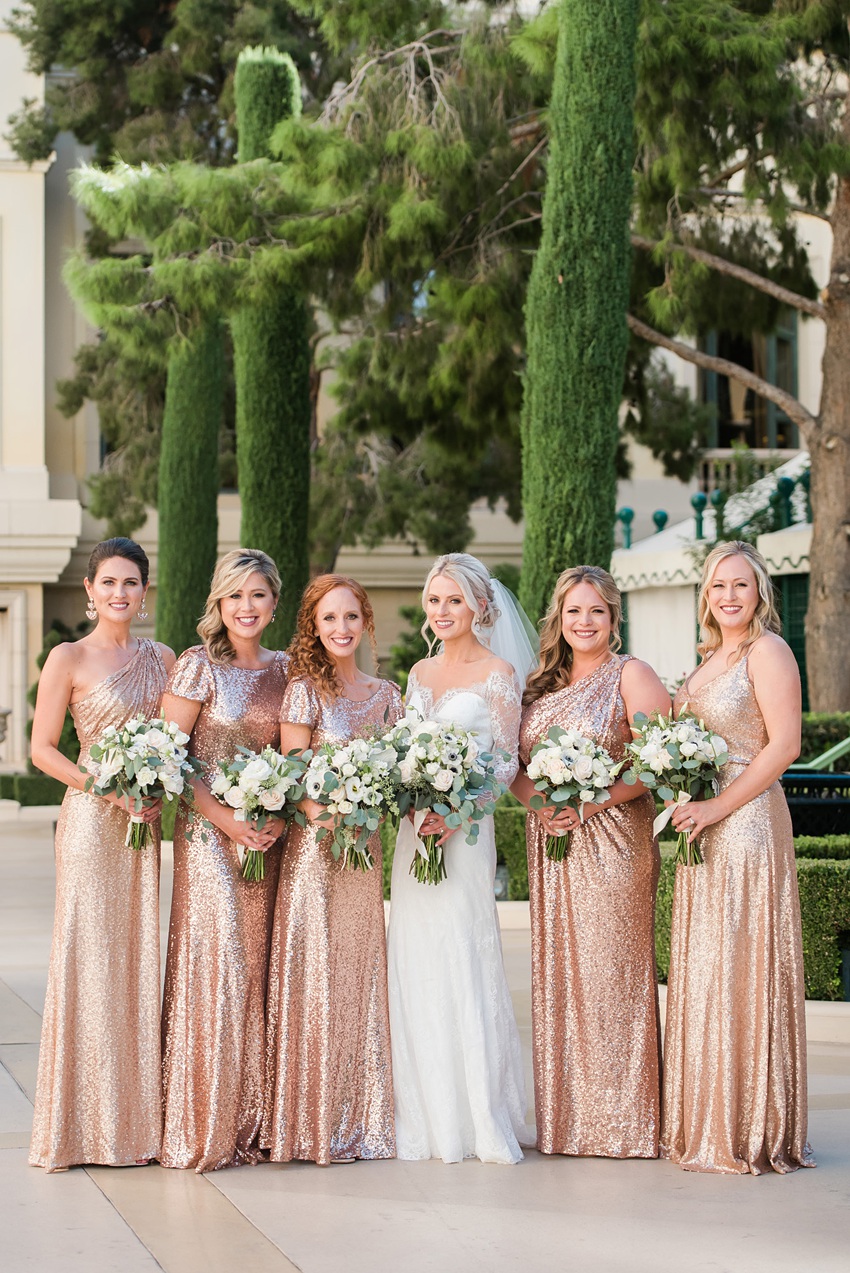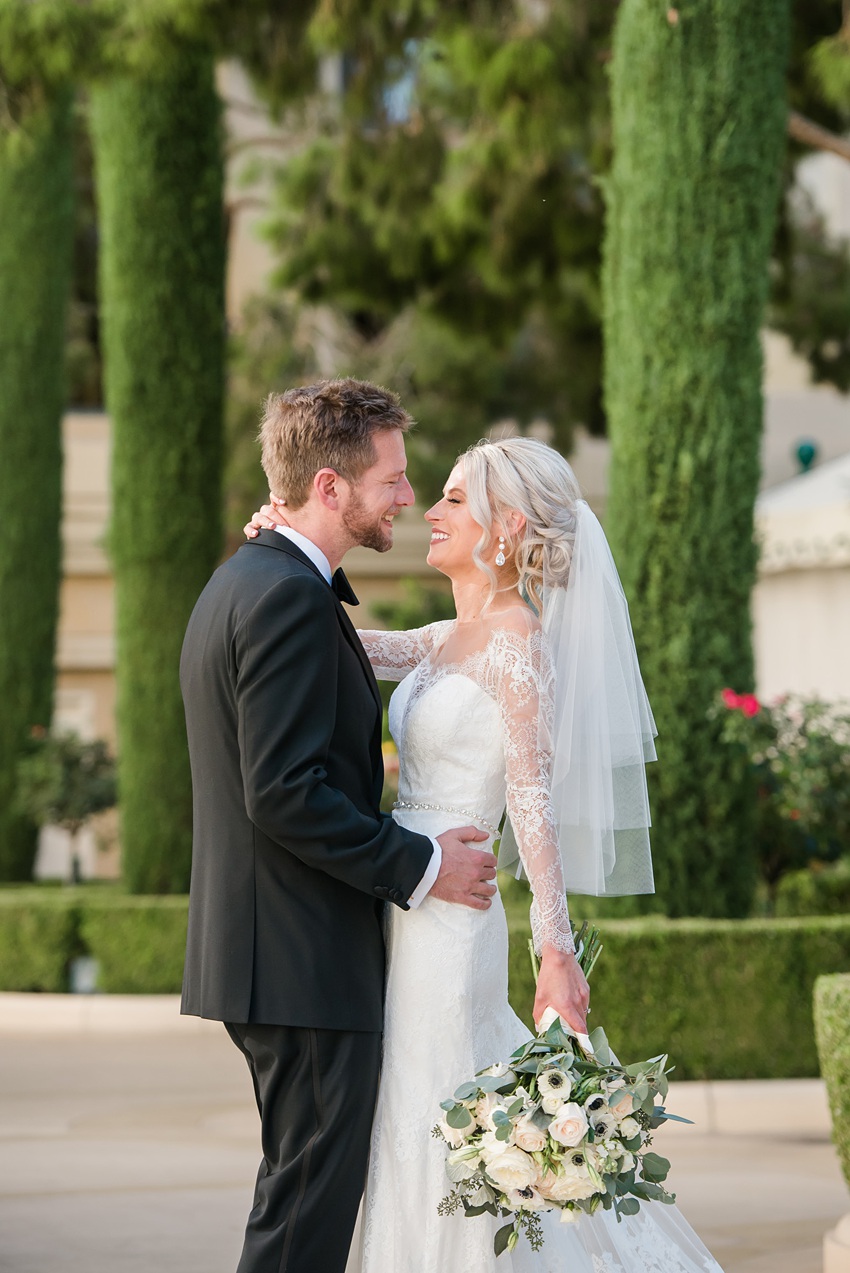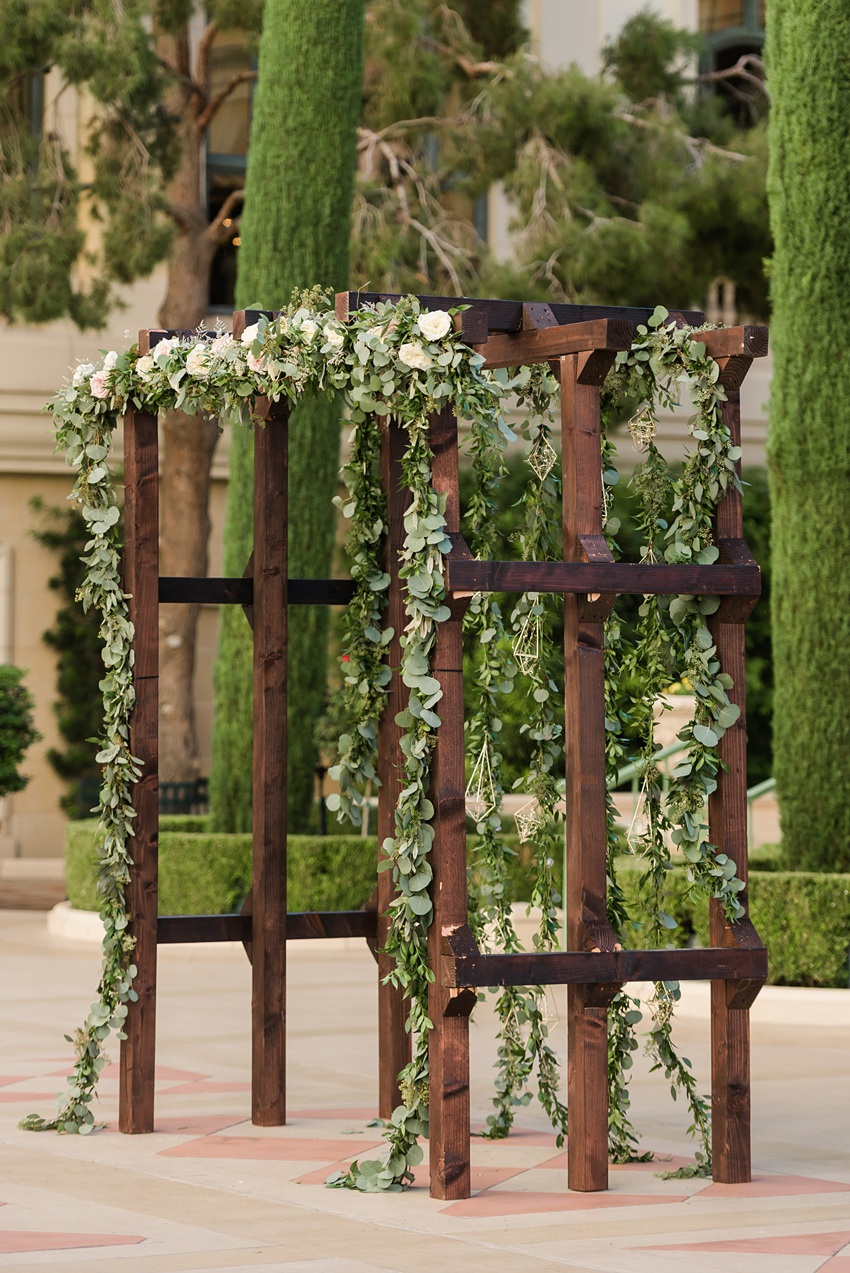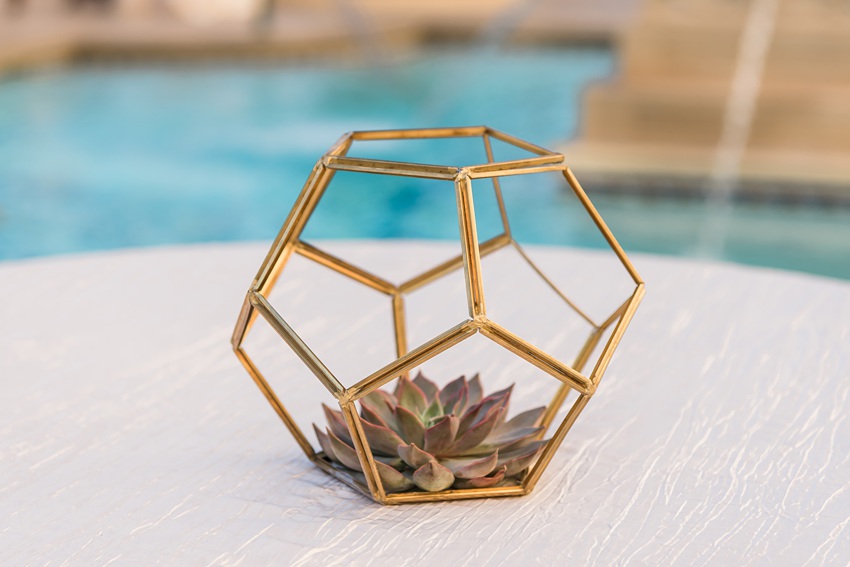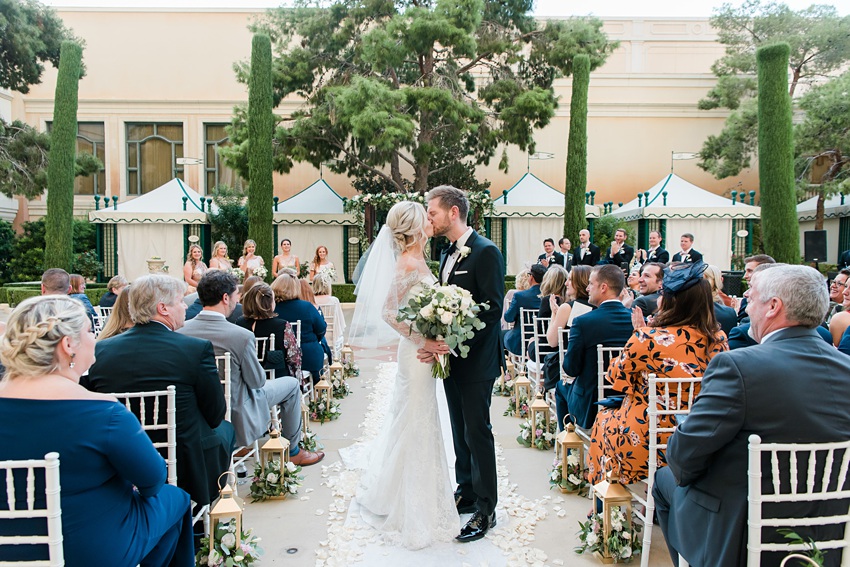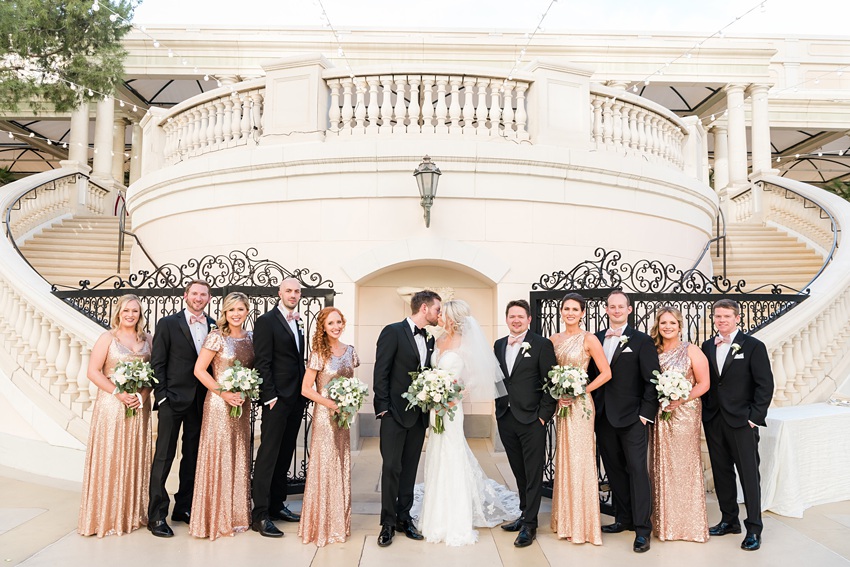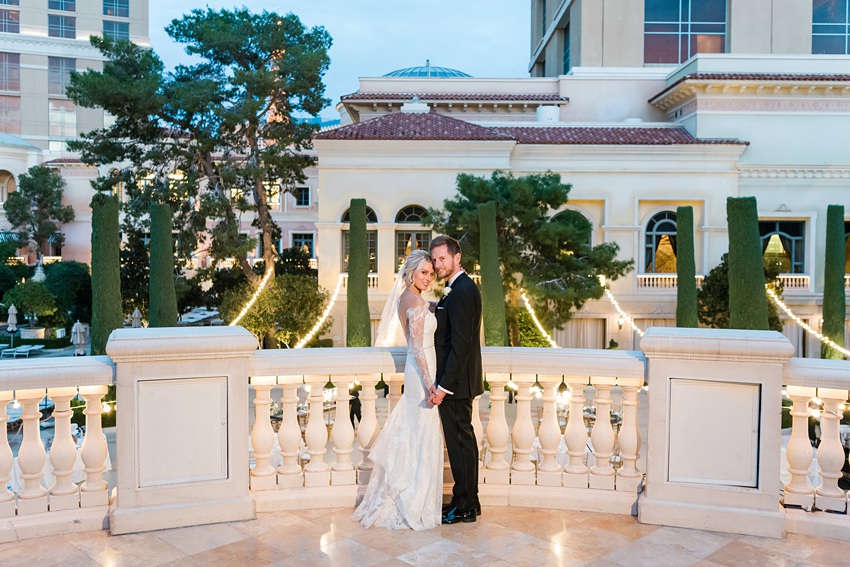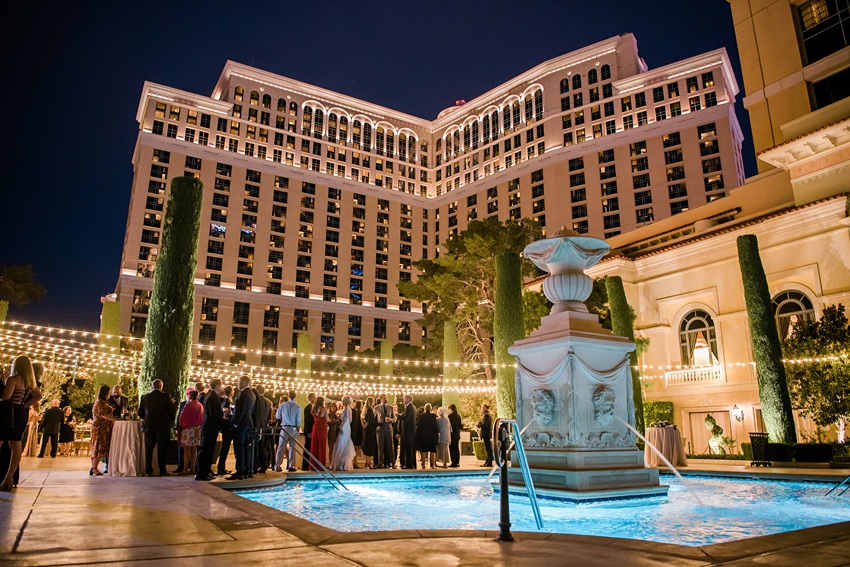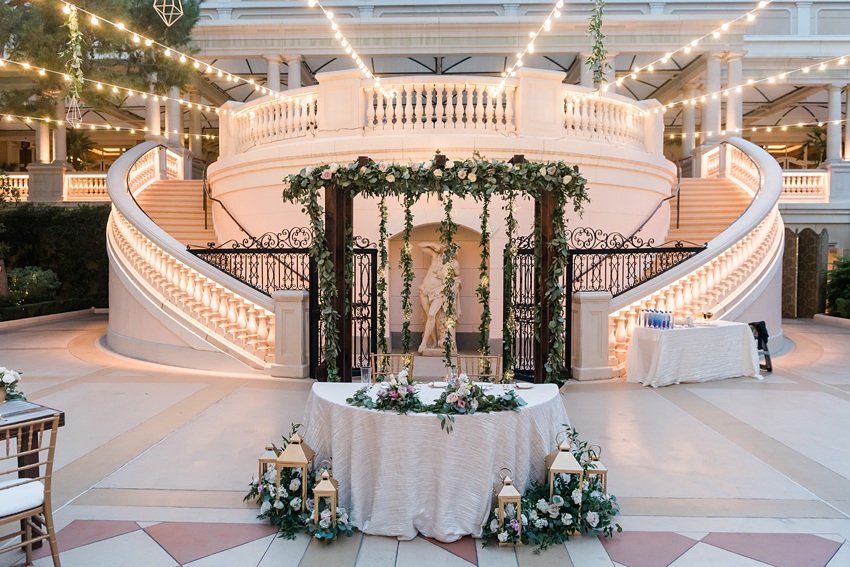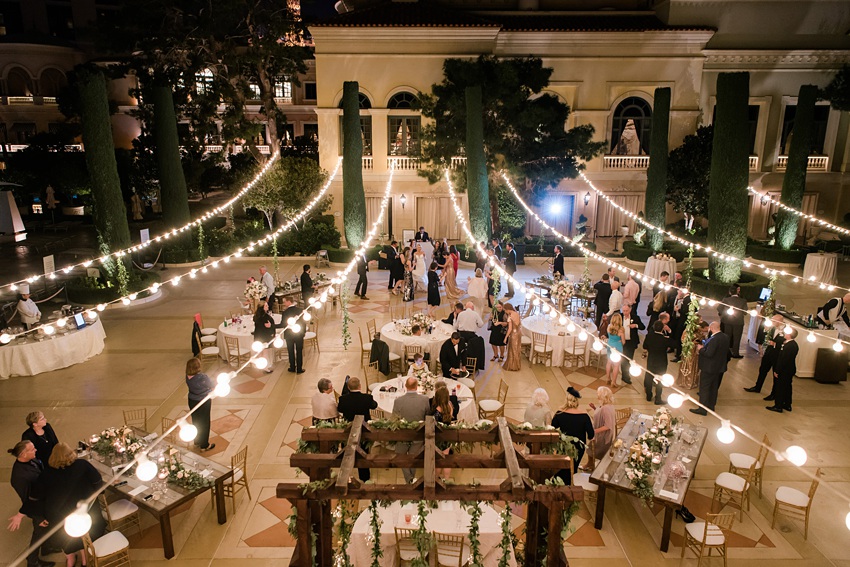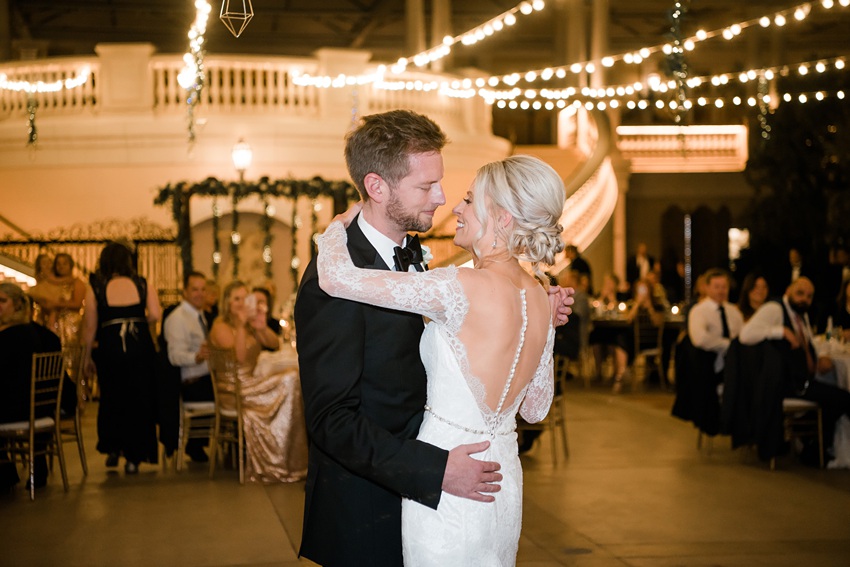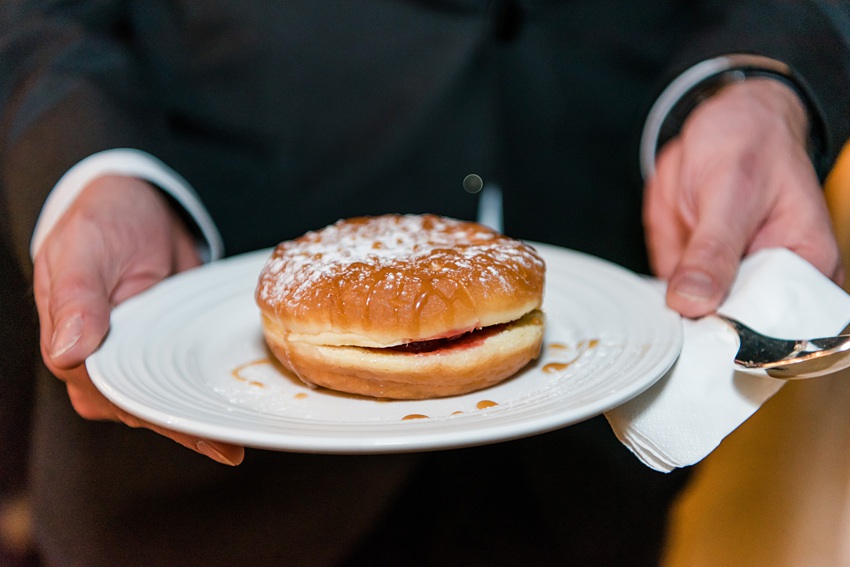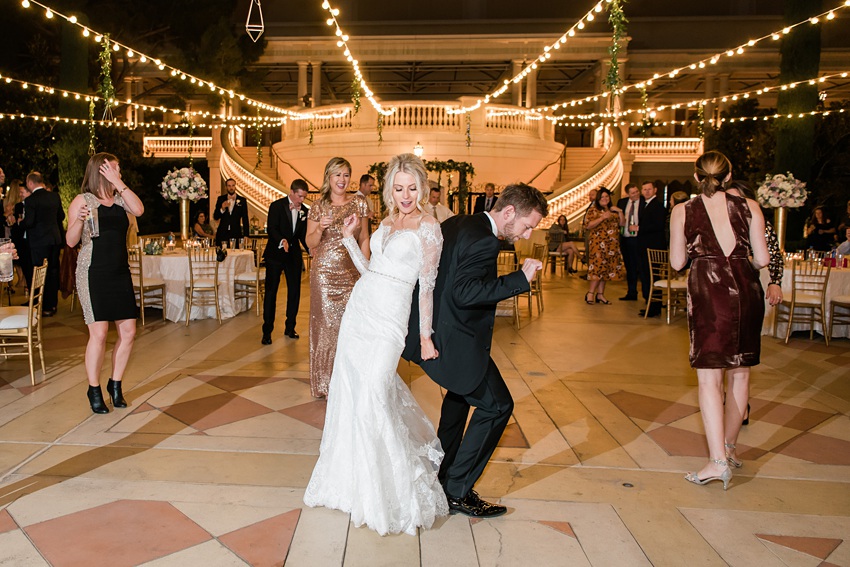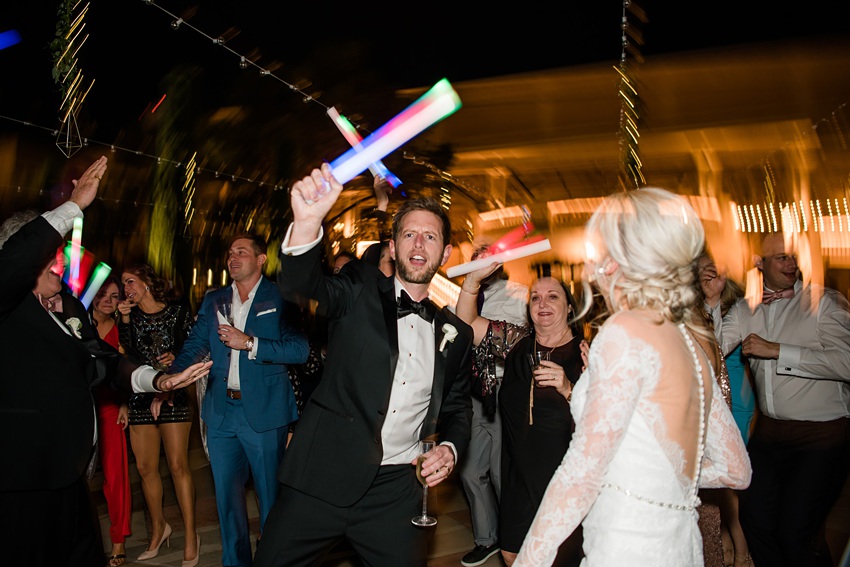 Interview with the Couple
How did you meet?
We briefly met in Raleigh, NC on St Patrick's Day, 2011 through mutual friends; however we didn't keep in touch and it wasn't until later in the year that by chance we bumped into each other at a beach bar in Atlantic Beach, NC…. the rest is history.
What is your proposal story?
Tom is English and in March 2017, we took a vacation to visit his family in London. My mother-in-law had brought us flights from London to Venice as a Christmas present and we flew to Italy as a mid-week getaway. It was on the evening of our first day in Venice that Tom proposed. We had shopped for engagement rings the previous summer, however, we had shelved discussion of wedding plans until at least 2018. And so it didn't even cross my mind that Tom was going to propose on that trip. We walked through St Mark's Square and took a sunset stroll along the Bacino San Marco waterfront. We escaped the crowds and found a secluded area with a bench overlooking the water and views of Venice behind. It was then that Tom played a slideshow on his phone of our favorite pictures and proposed!
Tell us a little a bit about your wedding (your vision, color, style, and location choices).
Even before we started planning our wedding, we both knew we wanted a destination wedding. As Tom is from England, a lot of his family and friends would have to travel even if we decided to have a local wedding in NC. Because of that, we wanted people to feel as if they were traveling for a fun vacation, with a wedding added in. We initially played around with the idea of a tropical wedding, but pretty soon realized we didn't want to deal with the uncertainty and stress of planning around the weather since we definitely knew we wanted an outdoor ceremony. Then we both thought about Las Vegas and quickly fell in love with the idea. We knew that it would be a really fun city for all of our guests to visit, and the weather is a little more predictable.

Once we chose Las Vegas and the Bellagio Grand Terrace as our venue, our vision for the wedding started to take shape. Very early on, I knew I wanted the color palette to consist of a mix of neutrals and metallic colors (gold, rose gold, champagne, etc.). The venue was also so gorgeous with the outdoor pools and fountains and greenery arches. We had metallic accents of gold chairs at our reception tables, and gold lanterns with flowers lining our ceremony aisle and also as centerpieces on some of the reception tables. Another touch that made a big impact was the lighting. I loved our strings of lights hanging above our reception area.
Tell us about your attire choices.
For my wedding dress, I loved the idea of a long-sleeved lace dress (Kate Middleton's wedding dress was a key inspiration), and I also loved the idea of an off-shoulder dress. I wanted a somewhat form-fitting dress (i.e. not a huge princess ballgown). I shopped at a couple of bridal boutiques in Raleigh and flew up to New York, where I also had a few dress appointments. It took a lot of searching, but I finally found my perfect dress at Designer Loft in NYC. For the bridesmaids, as I said, very early on I knew I wanted them in metallic colors.

I definitely wanted some sparkle to fit the glitzy Vegas vibe. However, finding sequined dresses that either a) didn't look cheesy or b) didn't cost $300 ended up being challenging. We finally stumbled upon a bridesmaid dress website called Revelry, which had the perfect metallic dresses. I let the girls choose whichever neckline they wanted (one shoulder, cap sleeve, spaghetti strap, etc.), and gave them an option of choosing rose gold, gold, champagne or silver dresses.

As it happened, they all chose the same rose gold color. For our groomsmen, we played around with a few different attire options but kept coming back to the idea of having the guys in classic black tuxes that wouldn't look dated when we look back at our wedding photos in the future. We did have the guys wear pale pink bow ties to tie in with the bridesmaid dresses (we searched everywhere for rose gold bow ties, but had no luck). Tom wore a custom-made classic black tux with a black bow tie.
What were your favorite parts of the day? (memories and stories)
So many favorite parts! Seeing all of our family and friends having an amazing time on the dance floor was one of our favorite memories (especially towards the end of the night when the glow sticks started to come out). Other favorite memories: having one of our best friends officiate our wedding, our best men and maid of honor speeches, and spending the day with each of our wedding parties getting ready before the ceremony. Also getting announced at our reception and walking down the grand staircase to all of our family and friends cheering for us. And of course, officially getting married to each other!
What did you do for favors?
We didn't have favors at the wedding, but we did give out Vegas-themed welcome gift bags to all of our guests when they arrived in town. Each of the bags included a letter from us thanking them for being there and outlining the timeline of the wedding festivities, decks of personalized playing cards with our names and wedding date on them, chocolate poker chips, rose gold champagne flavored gummy bears (also personalized with our wedding details), and of course Advil and vitamin C to cure any Vegas-induced hangovers :).
Please describe any DIY, handmade, or personal details.
Tom and I created a picture table of all our grandparents who are no longer with us and couldn't be at the wedding.
Did you include any family heirlooms or special traditions?
We did include a number of English wedding traditions, which included speeches from the groom and the best men after dinner. Also, a few of the women (especially the British women), wore hats/fascinators, which came from Tom's mom and grandmother's hat shop in England. We also had one of our closest friends Craig Sullivan, officiate the wedding. This was a really special touch and helped make the ceremony more personal.
Do you have any advice for couples planning their Las Vegas destination weddings now?
Hire a wedding planner if possible! The most important choice was our wedding planner Dennis Silknitter, He helped create our vision and pulled together a world-class team of vendors. His wisdom helped us identify where we should be spending extra, ensured we got value for money and helped create the ultimate guest experience. It also eliminated all the stress and meant we could focus on enjoying the day. Also, keep in mind that all of the hard work and stress of planning a wedding will be worth it once you get to your wedding day!
What was the best part of having a destination wedding?
The best part of having a destination wedding was that the wedding lasted 10 days! Also, with guests arriving days before the wedding it meant our family and friends got to know each other and so on the day of the wedding, it added to the party atmosphere with the guests all feeling comfortable around each other.
What was the biggest challenge when planning your destination wedding?
Once we found a wedding planner and did a trip to see the venue and meet our vendors we really didn't encounter any major challenges.
Vendors
Photography: Kristen Marie Weddings + Portraits | Venue: Bellagio Las Vegas | Event Planning: silknitter events | Floral: weddings by dzign | Beauty: MakeUp in the 702 | DJ: mike fox | Lighting: LED Unplugged | Wedding Dress: Eddy K | Bridal Salon: Designer Loft Bridal | Bride's Shoes: Badgley Mischka | Bridesmaid Dresses: Revelry | Veil: YuriCWeddingShoppe