Kendra and James met in the most traditionally millennial way possible: on Tinder! James courted Kendra like a total gentleman, they fell in love, and before you know it… they were blessed with a gorgeous baby girl! The dress Kendra ended up choosing was nothing like what she envisioned before becoming a mom, but I can't imagine a more perfect gown for her. As you're about to see, she looked absolutely stunning!
The couple exchanged vows in an intimate ceremony overlooking the water and with the most striking views of the city skyline! Their classy, tasteful and beachy destination wedding reflects their modern love story… but my favorite part of their story is how important family is to them. Family traveled from all over to celebrate this couple on their big day, and they didn't disappoint! Their venue was so gorgeous and unique that there was no need for elaborate floral arrangements or decor! Instead, this couple was able to treat their guests to a great view, delicious food, and a fun party for the ages.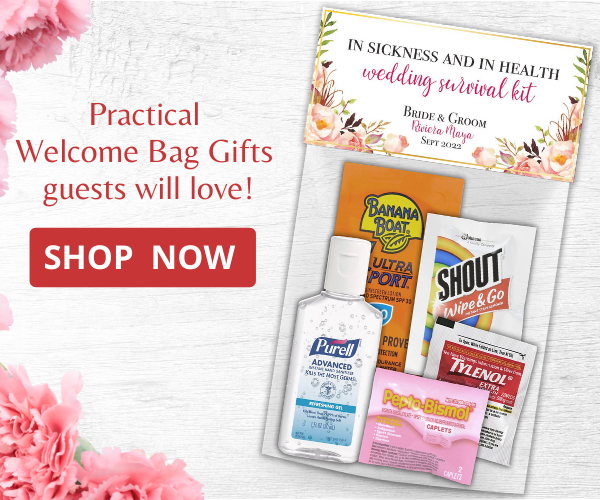 A huge shoutout goes out to the very talented Katherine Beth Photography who captured every detail so perfectly!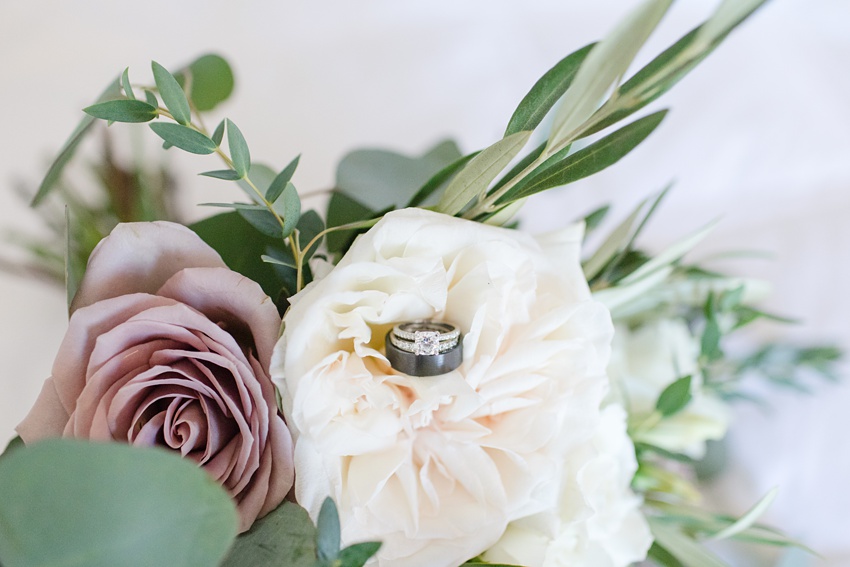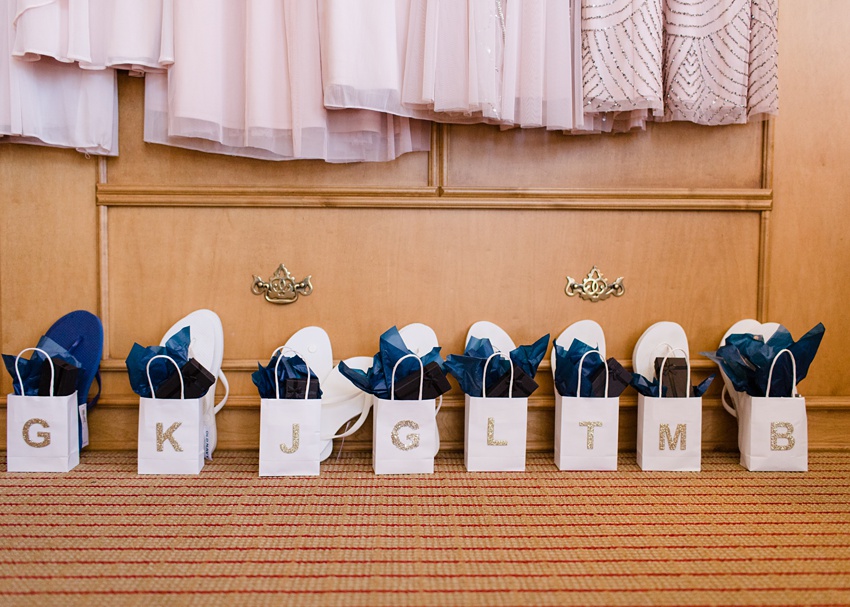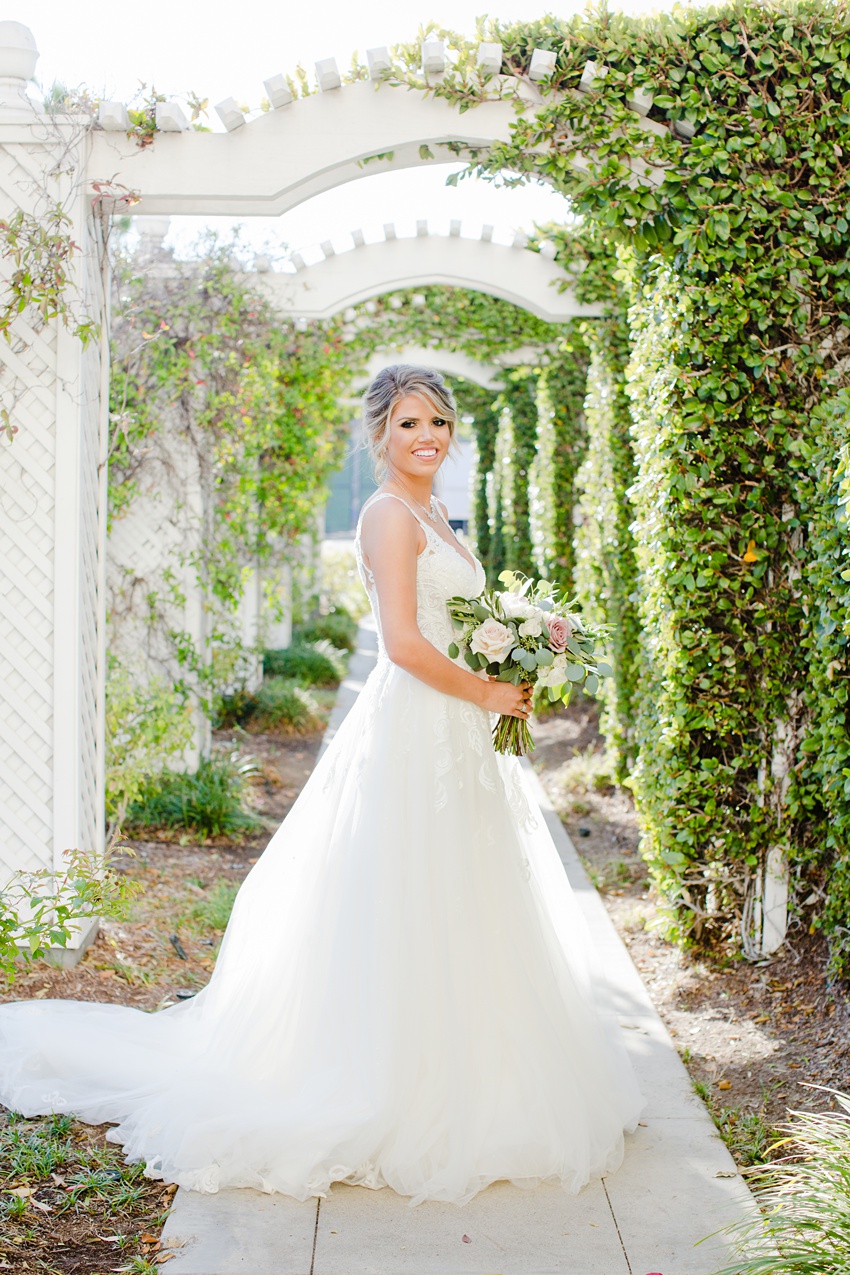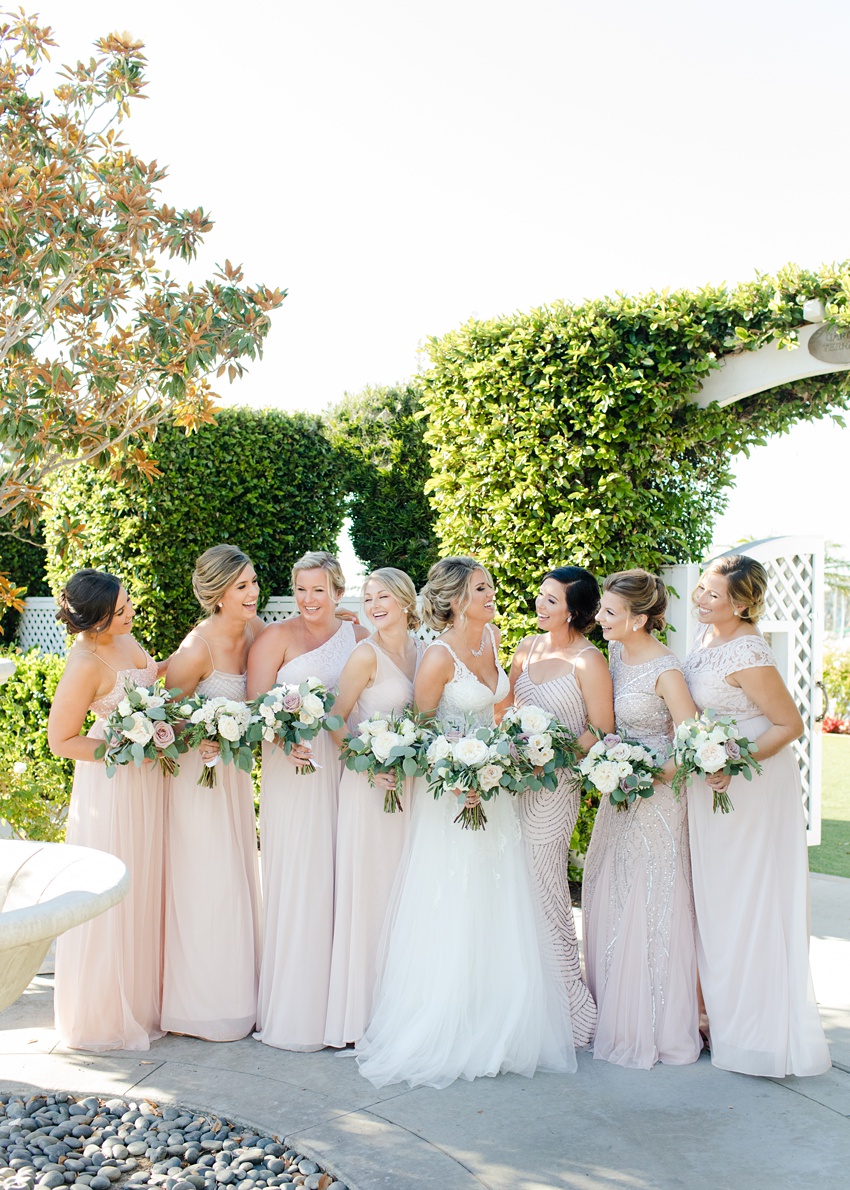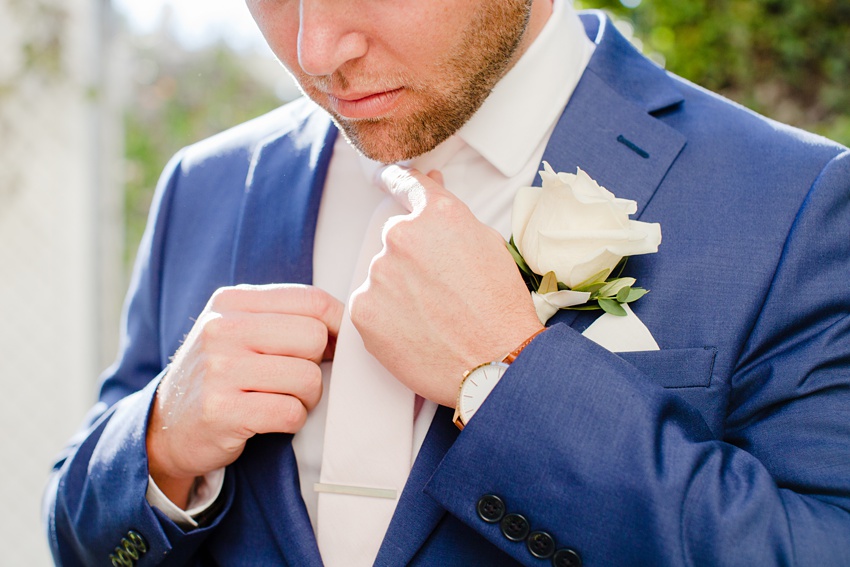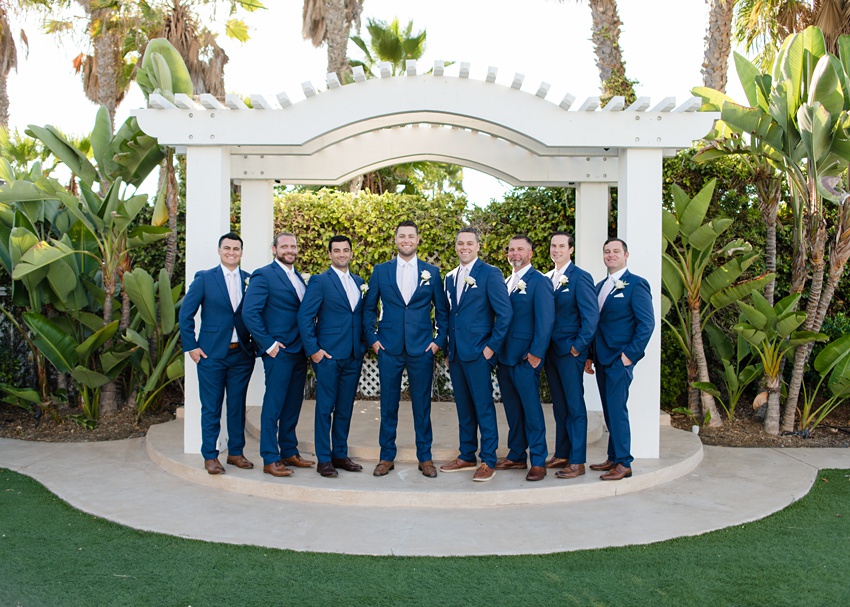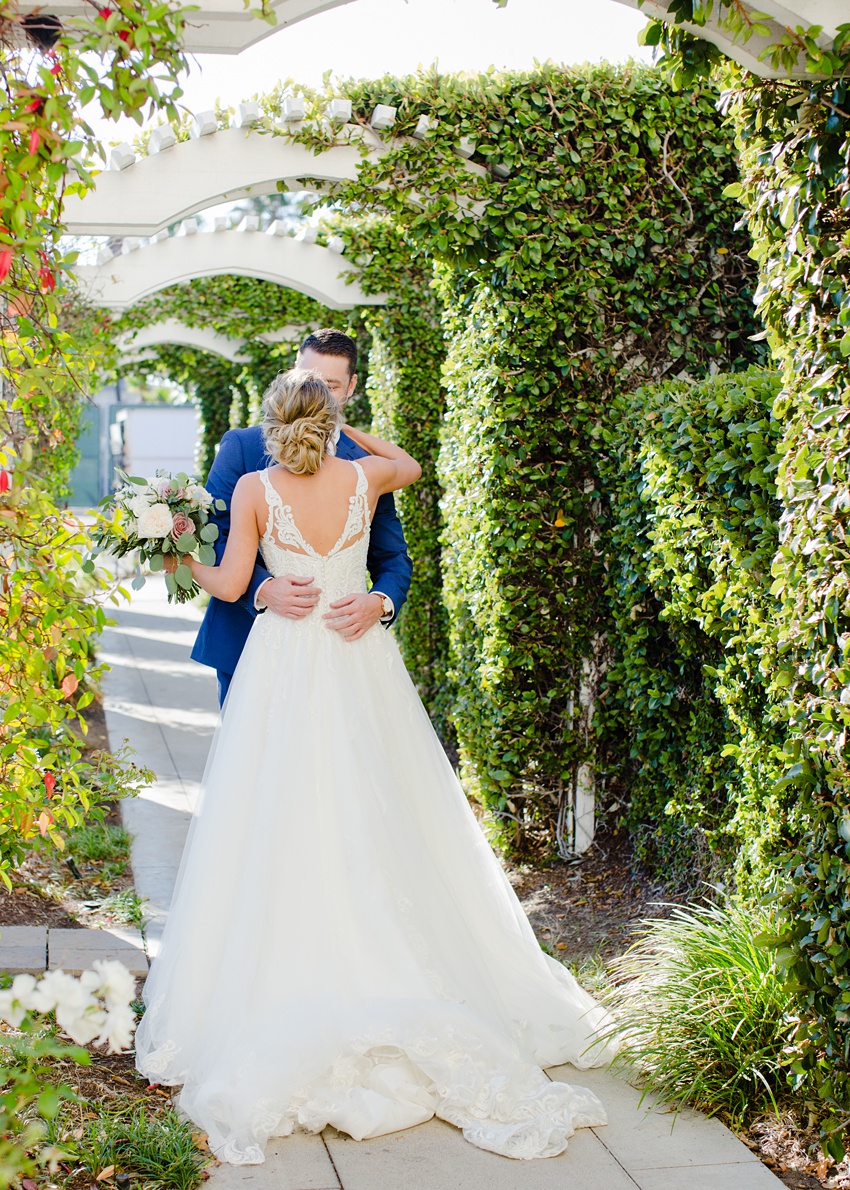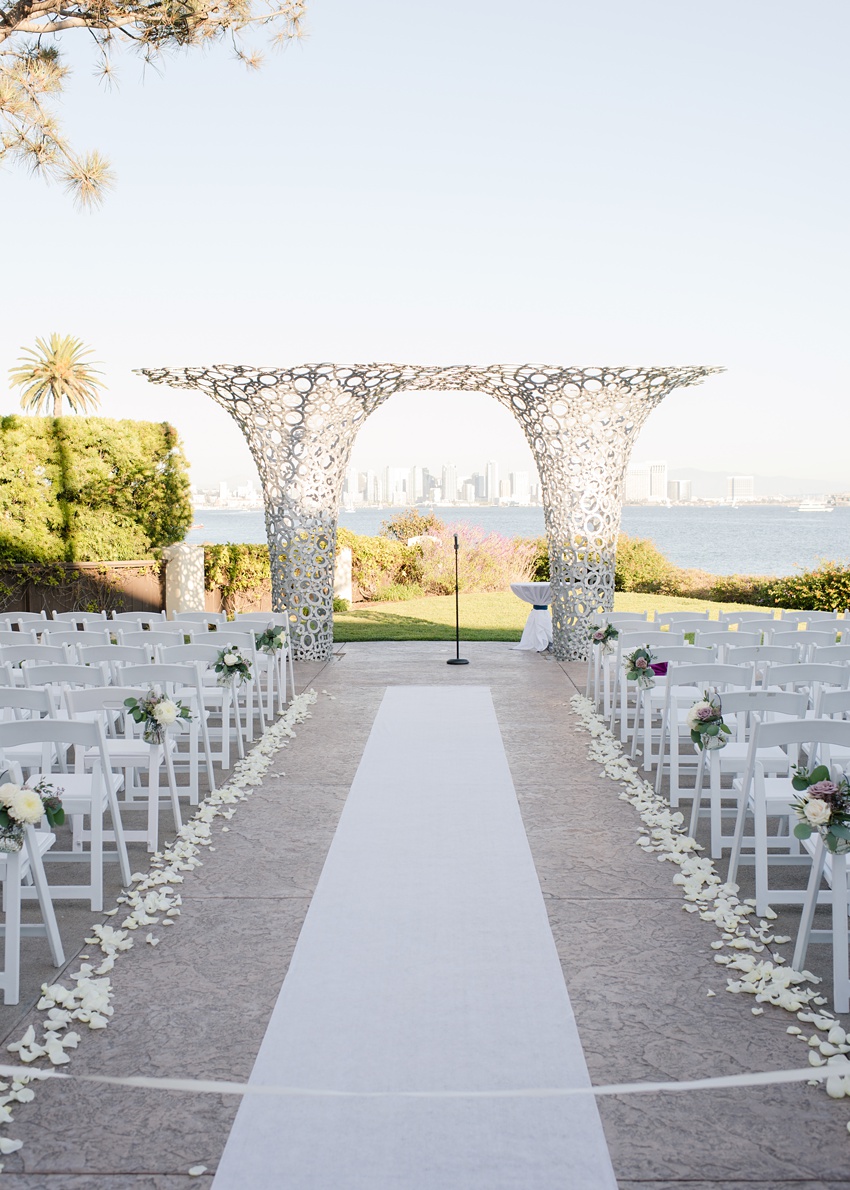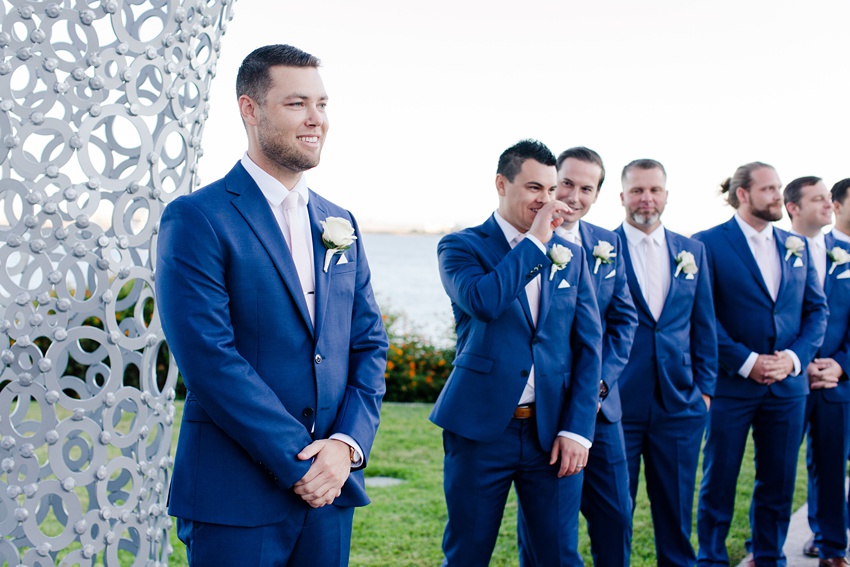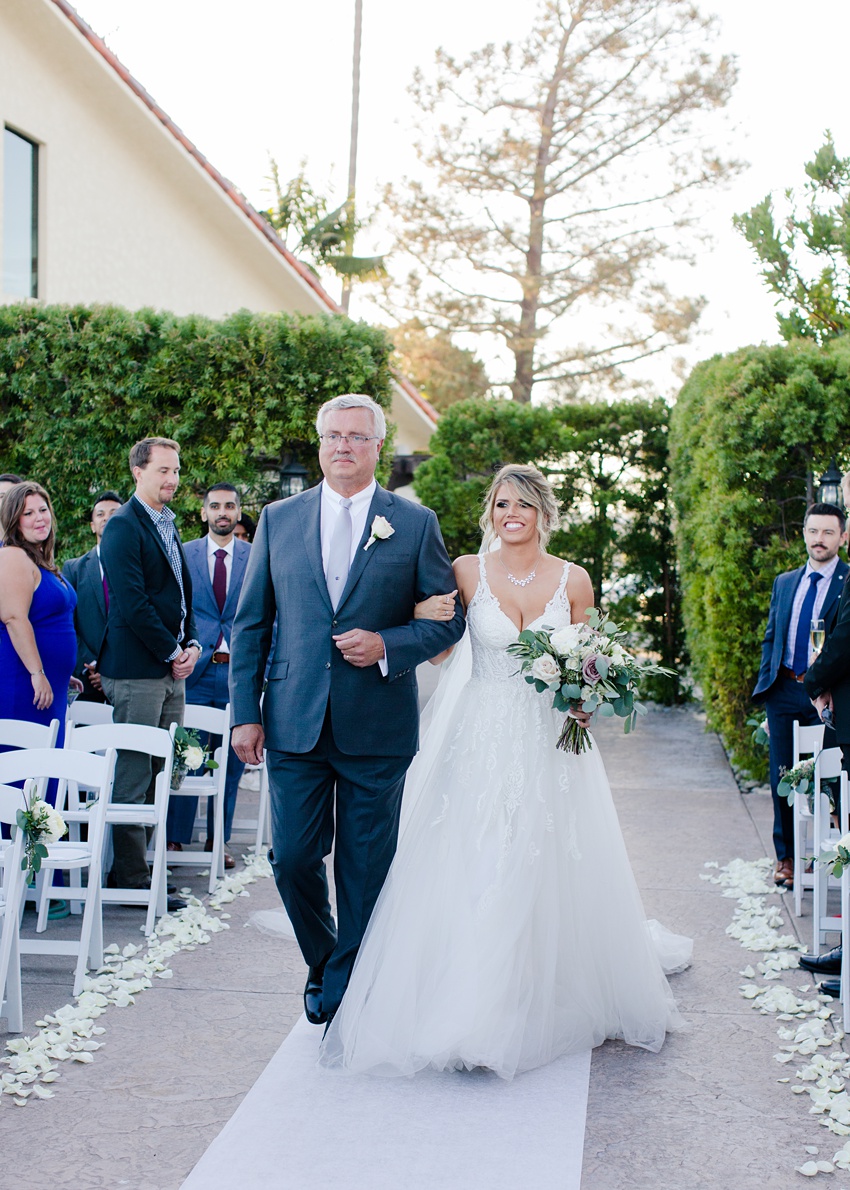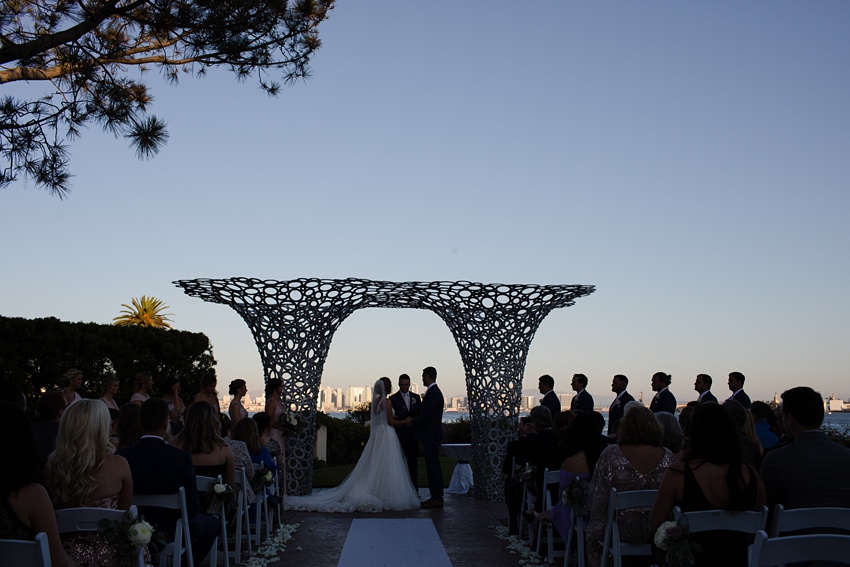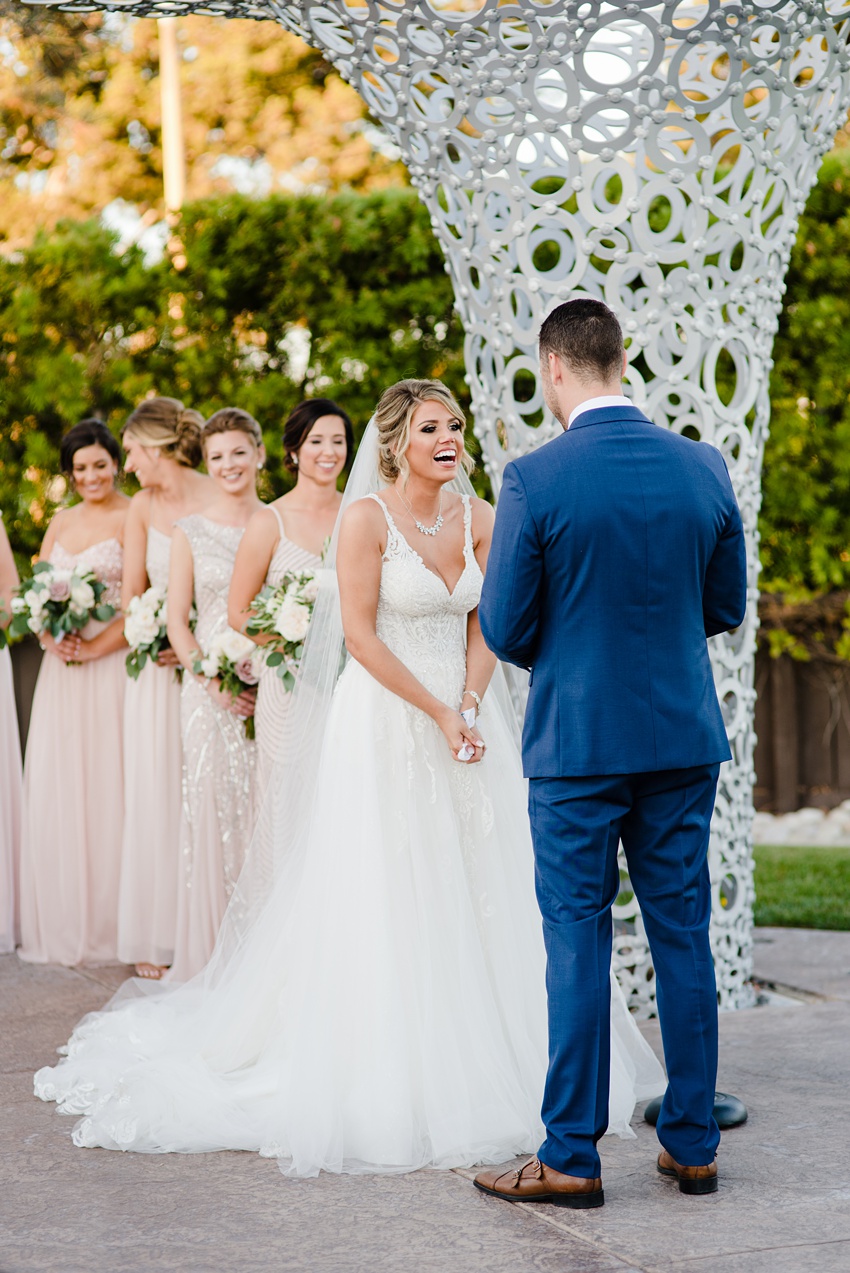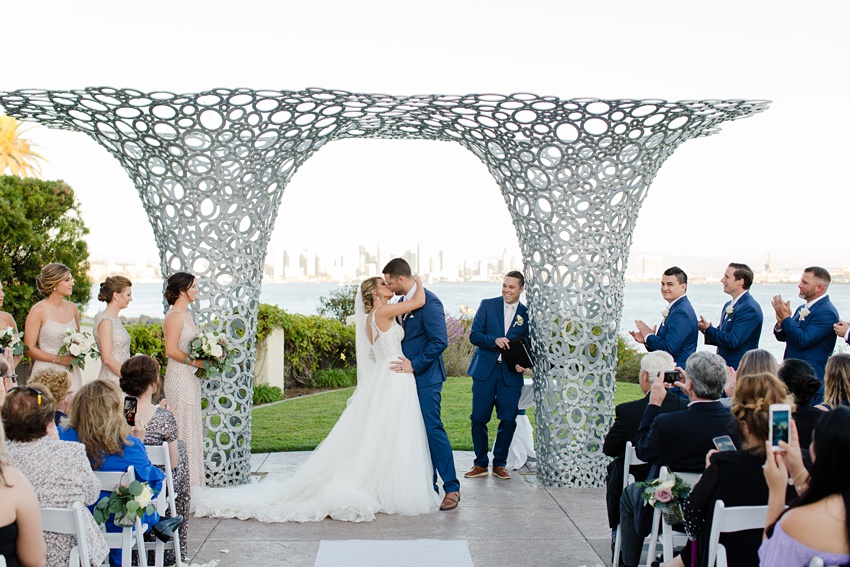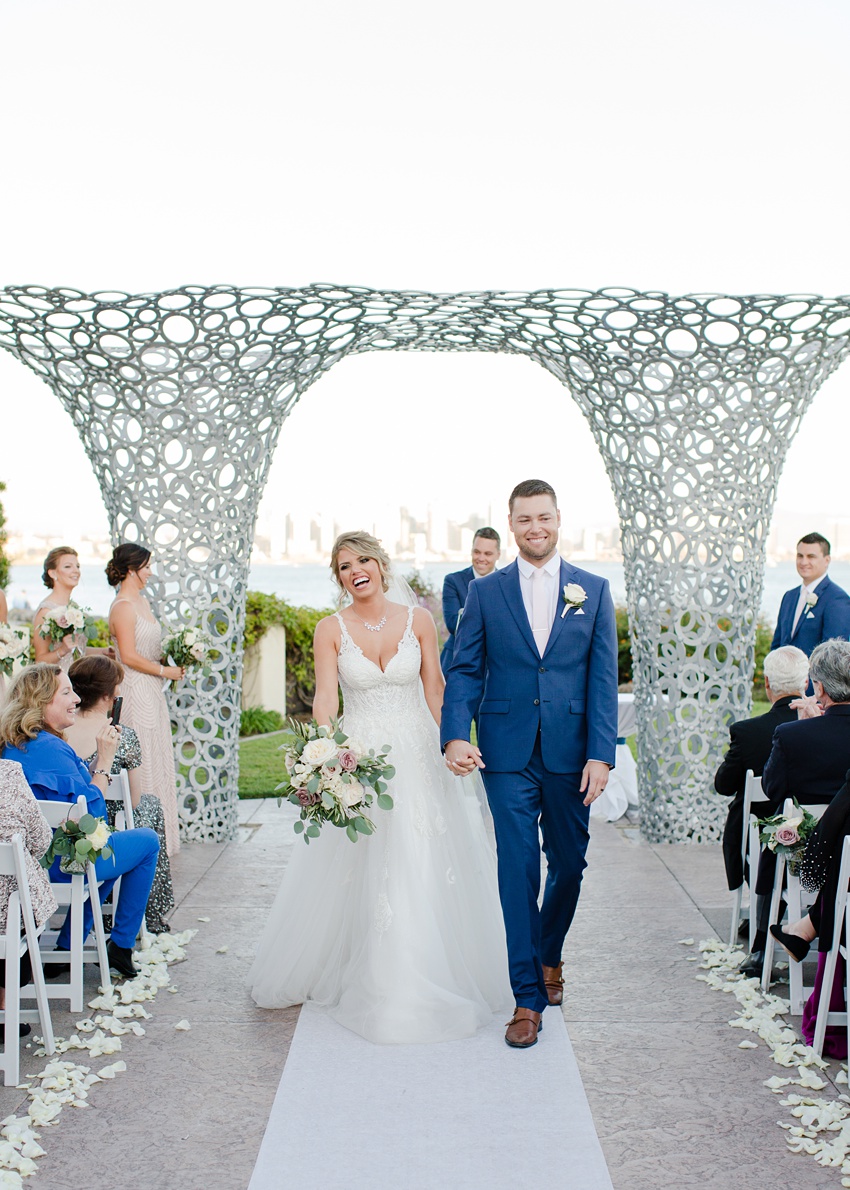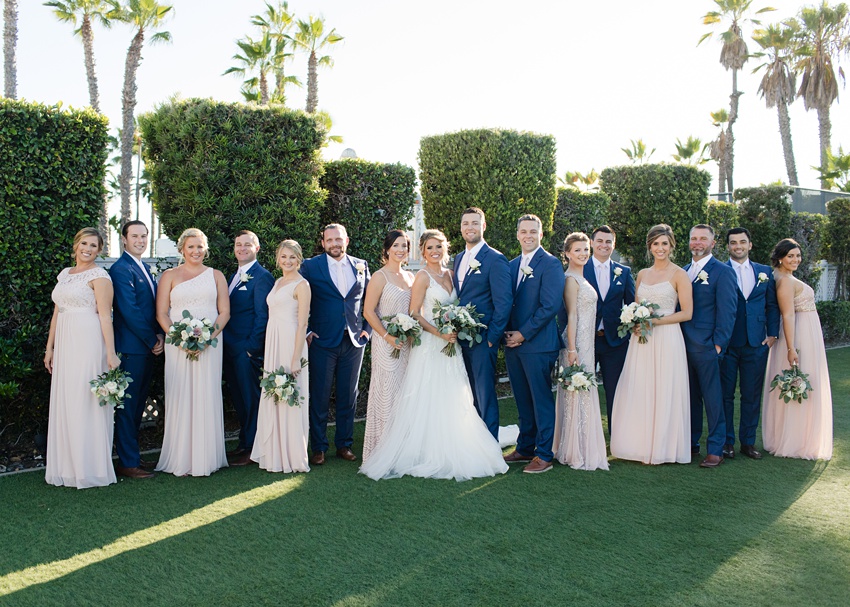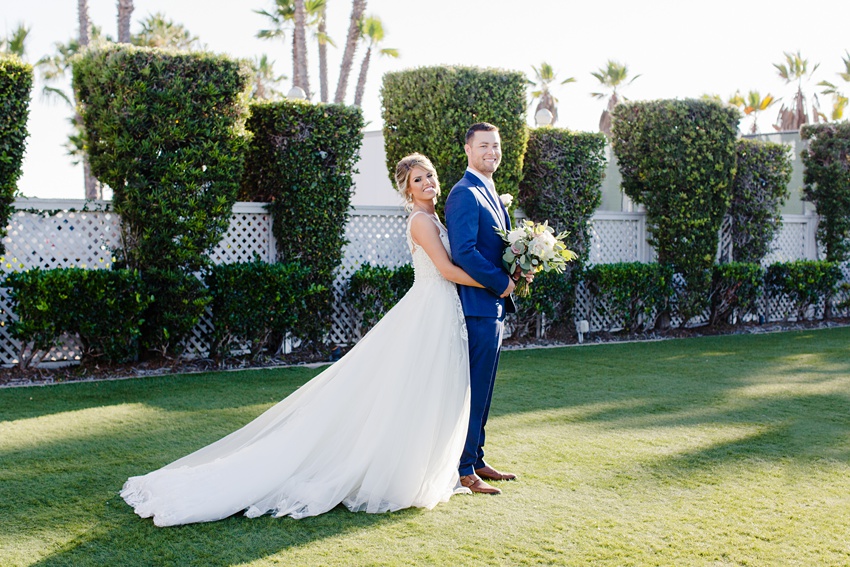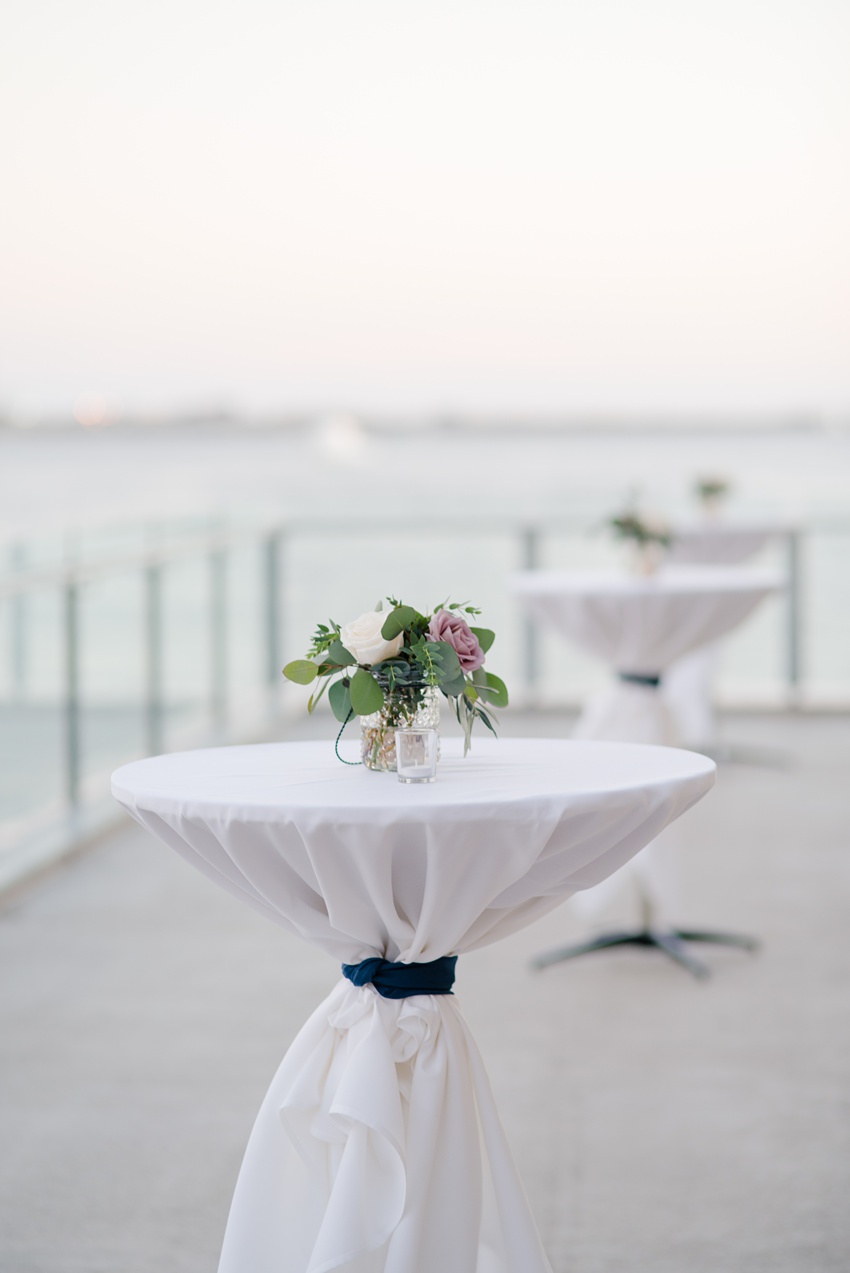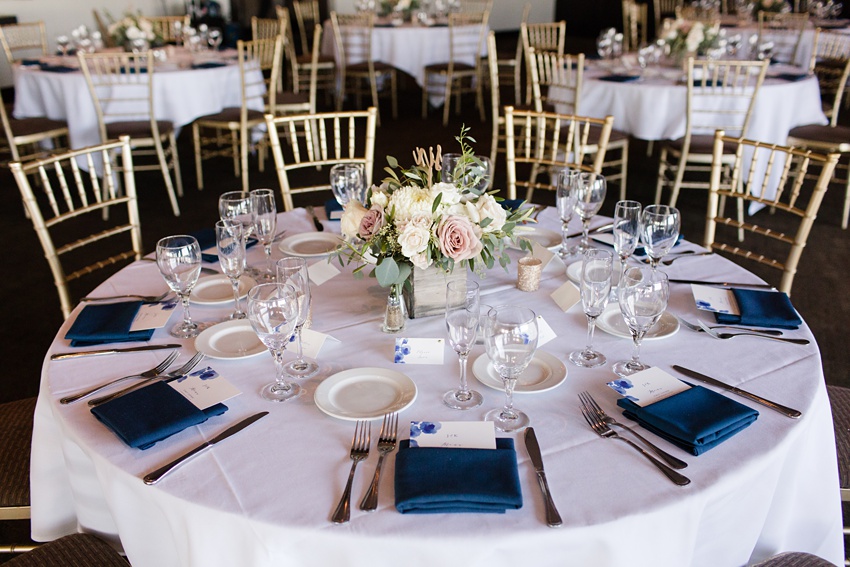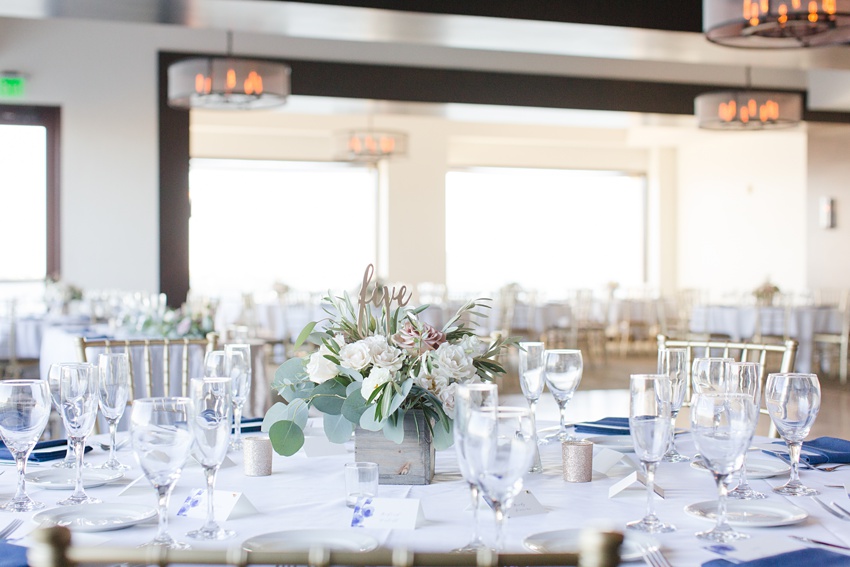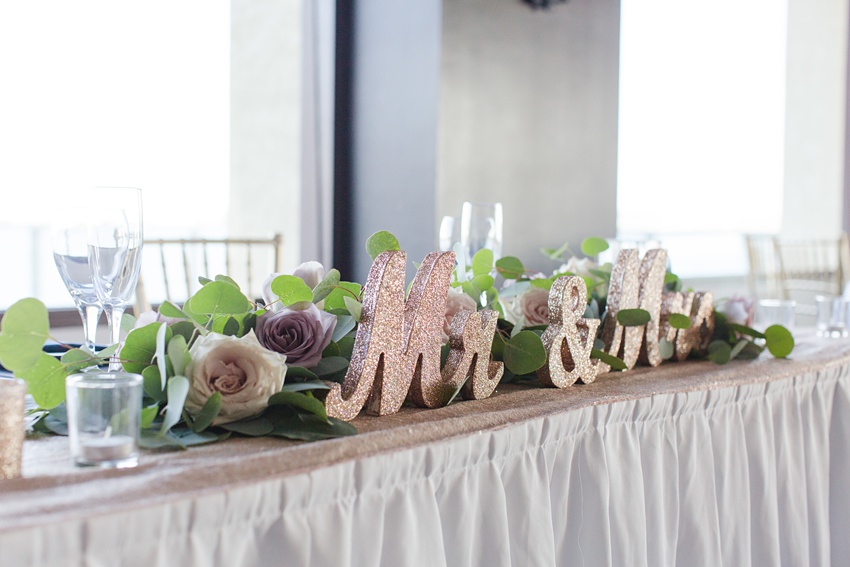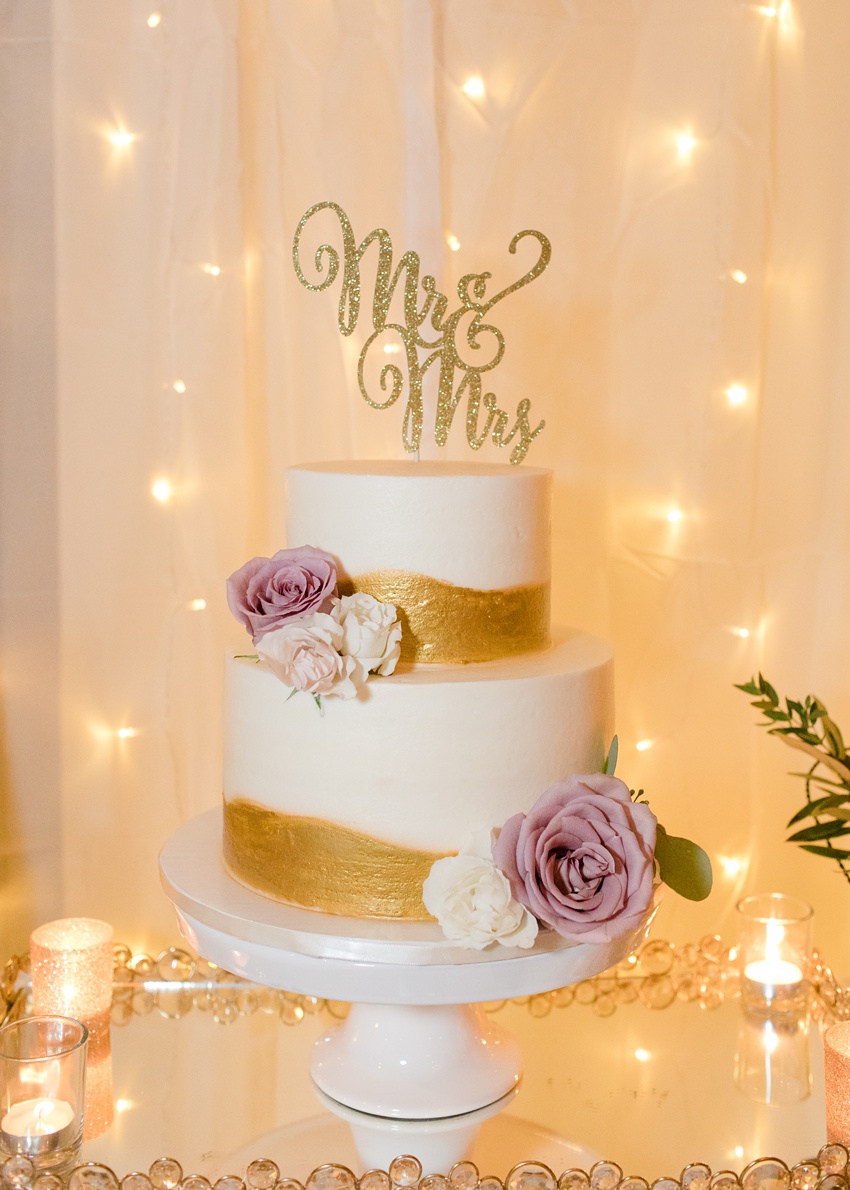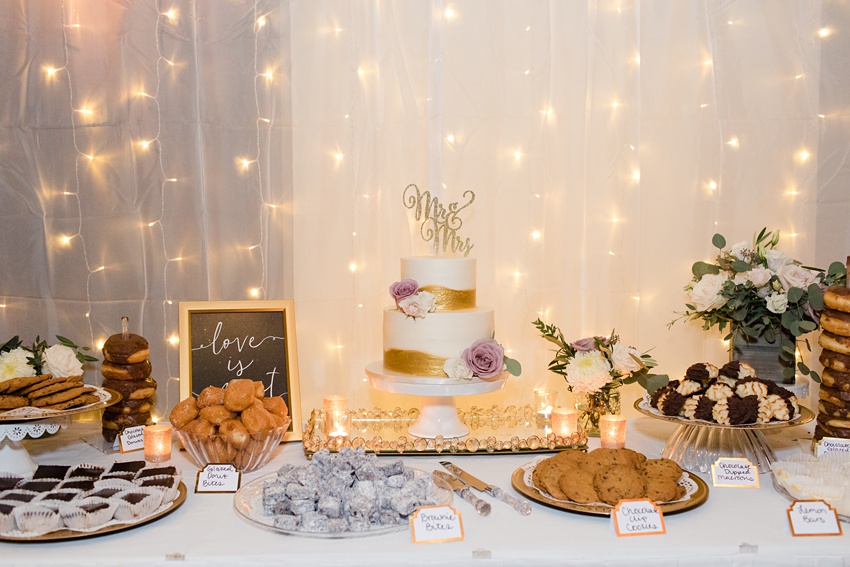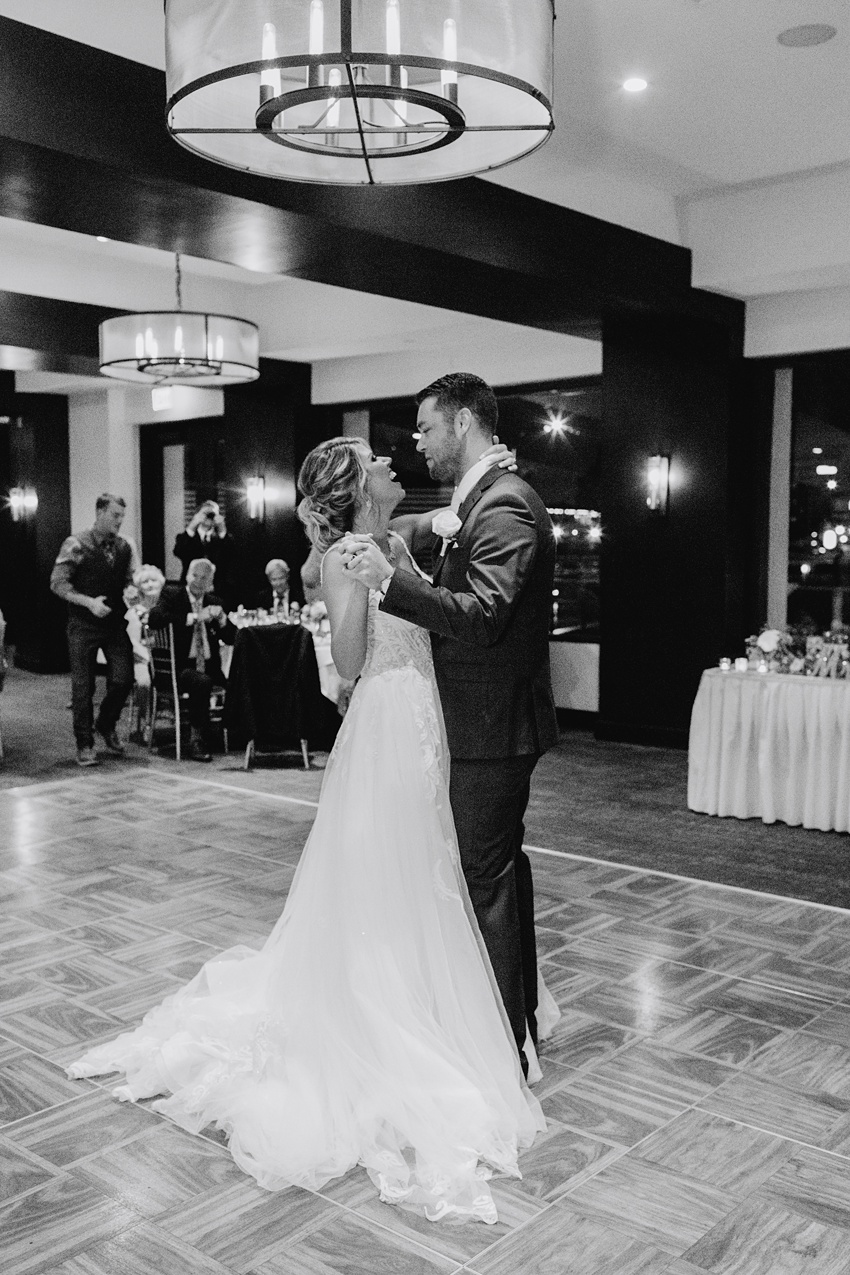 Q&A with the Bride and Groom
How did you meet?
Funny enough, we met on Tinder. It was the first time each of us had ever gone on a Tinder date. I was so nervous to meet James, I almost canceled last minute! He had asked me what my top three favorite restaurants in Phoenix were and then the day of, told me where and when to meet him. I loved that he wanted to take me somewhere I liked but also kept it a "surprise". Our first date was three hours (we closed the restaurant down). We talked like we had known each other for years and I got lost in his beautiful blue eyes. The way his face lit up when he spoke about his family and his passion for life captivated me. He didn't kiss me on the first date and I went home thinking he wasn't into me. Until he texted me that evening when he got home and asked me to go out again, the next day. The day we met I got instant butterflies and I still get those same butterflies five years later.
What is your proposal story?
James and I did things a little backwards. We found out we were pregnant with our sweet girl, Olivia, on December of 2016. We were already on the track for a proposal and marriage but we were planning on waiting until James was finished with his 3-year residency. Two months before Olivia was born, James took me on a Babymoon. I am typically the planner in our relationship so it came as a surprise to me when he told me that he wanted to plan it. I didn't think anything of it because he said his friend had recommended the hotel in Clearwater Fl and it sounded amazing. When we arrived, we changed into our swimsuits and went down to the pool.

After about an hour his phone alarm went off and confused, I asked why he had an alarm set on vacation and he told me it was a reminder. I gave him a weird look. He said it's a reminder for you to go and shower to get ready for the spa. I was shocked but still had no idea a proposal was coming.

I spent all day at the spa getting pampered while unknowingly, he was finalizing the details for the evening with our friends Jordan and Quinn. He had asked them to come down to help with the small details and capture the moment on camera. After returning from the spa I started getting ready for dinner and didn't notice at the time, but James was being so weird and anxious (he is ALWAYS the calm cool and collected one).

We went down to the patio area of the hotel that overlooked the water and he led me to a table that had a reserved sign and I, of course, told him we shouldn't sit there. He reassured me that it would be okay. A minute later a woman with a bottle of champagne comes over and leaves it at our table without saying a word. I was so overwhelmingly confused. Then he started to tell me how much he loved me and we laughed about some memories he brought up. Then he told me he was so happy that we were starting a family and that the only thing missing was that I hadn't yet agreed to be his wife. He got on one knee and asked me if I would be his forever. Of course, I said yes immediately and then Jordan and Quinn popped out of hiding and we spent the night celebrating and they all enjoyed champagne while I drank sparkling water!
Tell us a little a bit about your destination wedding vision
From the very beginning, all we wanted was to have a fun day to celebrate our love with all of family and friends. We aren't the most traditional people so it was important to just have everyone together for a big party! Our colors were blush, navy, white and gold. I wanted to add a hint of "rustic" because I love the way wood tones complement a modern design. We had three "must haves" for our venue. We wanted to get married and have the reception at the same place, an outdoor space so people didn't feel stuck inside and a venue that did it's own catering. Although we looked at several places, we knew Tom Ham's was right for us because of the natural beauty of it and James loved that we could see the downtown skyline.
Tell us about your attire choices.
Right away I knew that I wanted James to wear blue because his eyes look incredible when he wears anything blue. Picking his suit and the groomsmen suits were easy! When it came to picking my dress, I really struggled. When I tried on dresses, I was three months postpartum and had not "bounced back" like everyone promised I would. I always pictured myself in a form-fitting v-neck backless gown. When I tried those on, I was immediately discouraged because of the way my body had changed after having our beautiful baby. My bridal consultant was also a mom and instantly read the situation and suggested I try on other styles to see if I liked them. She brought in a few a line dresses that I liked but didn't love.

My sister had found a dress that she wanted me to try on but it was double the budget we had originally set. I hesitated to try it on but instantly fell in love with the beaded top and low back. When I tried it on, it was the first time I felt beautiful in a very long time. I walked out and every person in the room started crying. I knew I had to have it. Unbeknownst to me, my sister had already called my dad and told him the price issue and he secretly paid for it before I could even get out of the dressing room. My dad knew how important this day was for me and he made my dream dress come true. To this day I tear up thinking about his generous gift to me.
What was most important to the two of you while planning your destination wedding?
The most important thing for us was making sure that everyone had a great time, enjoyed amazing food and drinks and danced the night away. Our splurge was definitely the venue. We didn't do a ton of decorations or flowers because the venue itself was so beautiful.
What were your favorite parts of the day?
The whole day was incredible but one of the things that stands out most was the morning I woke up. I had been fighting a really nasty cold and was still pretty sick but that wasn't going to stop me from having the best day. When I walked out on the patio, I saw rays of sunshine beaming down through the clouds onto the water. I instantly knew it was a sign from my grandpa that he was with us and I felt an overwhelming feeling of joy and happiness. I think we can both agree that the first look was one of the best parts of the day. He had no idea what my dress looked like and I loved his reaction and the huge smile on his face as we saw each other.
Tell us about your wedding flowers.
We didn't go too crazy with flowers but had simple wooden box arrangements on each table, beautiful blush and white flower boutiques which were accented by eucalyptus leaves. At the last minute, we decided to do little hanging vases on the aisle chairs and some rose petals. I am far from a floral expert and that's why we just wanted simple but elegant flowers.
Tell us about your wedding cake.
Instead of doing a traditional large cake, we did a small two tier cake for us to cut and a dessert bar with donuts, lemons bars, cookies, brownies and so much more. We got them from VG bakery and loved every single item. Dessert is my favorite part of a meal so it was important to have options.
Did you include any family heirlooms or special traditions?
My dad surprised me with my late grandfather's pin to put on my bouquet. It was my something old and I will cherish it forever.
Do you have any advice for couples planning their destination weddings now?
Get a planner! It is so hard to plan a destination wedding by yourself. Also, take your time planning. Each step requires a hefty deposit and they add up quickly if you are paying for them yourself. At the end of the day, people don't come for your flowers or decorations, they come to celebrate your love story!
What was the biggest challenge when planning your destination wedding?
Planning from far away and getting decorations to and from was the hardest part.
What was the best part of having a destination wedding?
The best part was going on "vacation" to get married. We were able to take a break from our regular lives to enjoy the week of our wedding.
Vendors
Photography: Katherine Beth Photography
Ceremony & Reception Venue: Tom Hams Lighthouse
Event Planning: Serendipity Event's
Floral: Moments in Bloom
Wedding Cake: VG Donut & Bakery
Hair & Makeup: A Toast To Beauty
Wedding Dress: New Beginnings Bridal