A few weeks ago, LLG Events took over our Instagram account live from Bora Bora, French Polynesia. Their team was there for a multi-day wedding they planned and designed for Los Angeles couple, Noran & Jay. In case you missed it, they had snorkel tours where guests swam with stingrays outside their overwater bungalows at the Four Seasons Bora Bora; a rehearsal dinner with local Polynesian music; a private beach party; fire dancers; and much more. It all culminated with a beach wedding set against some of the most romantic and breathtaking views you'll ever see! We gave you a sneak peek on IG, but today, I'm so excited to share more photos from Noran & Jay's Bora Bora destination wedding! The bride and groom were also gracious enough to tell us all about their wedding planning experience and they shared some great advice for other couples, so make sure you scroll to the end.
The couple had a Western-style wedding with Polynesian details & traditions like hand washing, a blanket wrap and flower crowns, which made the ceremony so unique and memorable. Their colors were white, green and yellow because the bride's name means "yellow" in her native Korean language. Aside from the meaning behind it, the color palette was the perfect contrast to the sunset over Mount Otemanu and Pahia in the background. After seeing these gorgeous photos, I think you'll agree that Bora Bora deserves every bit of accolade it gets for being a paradise wedding destination. Enjoy!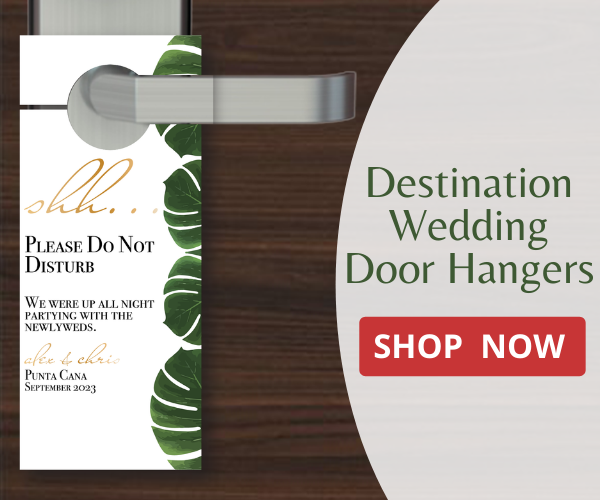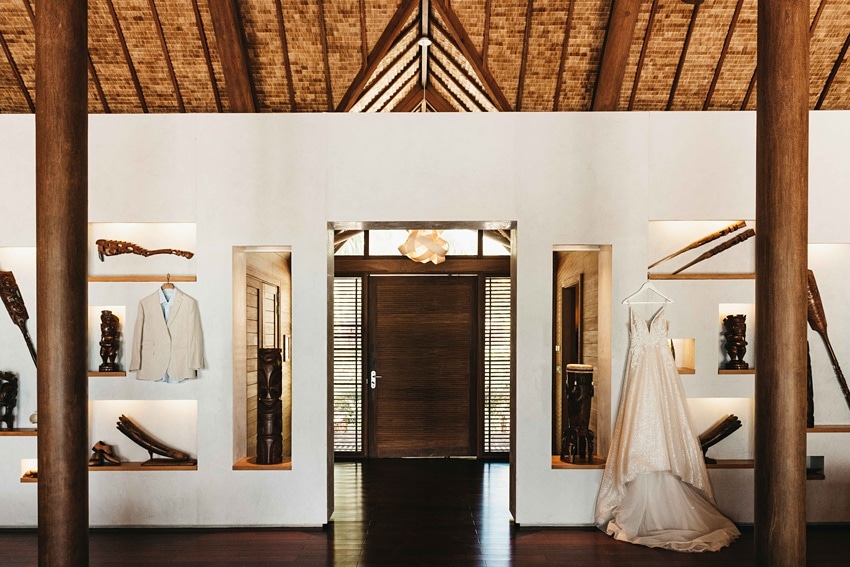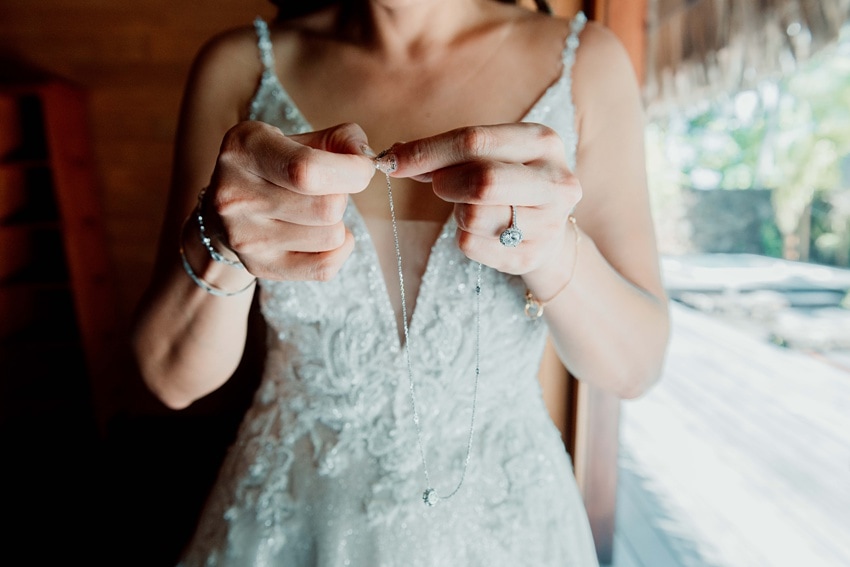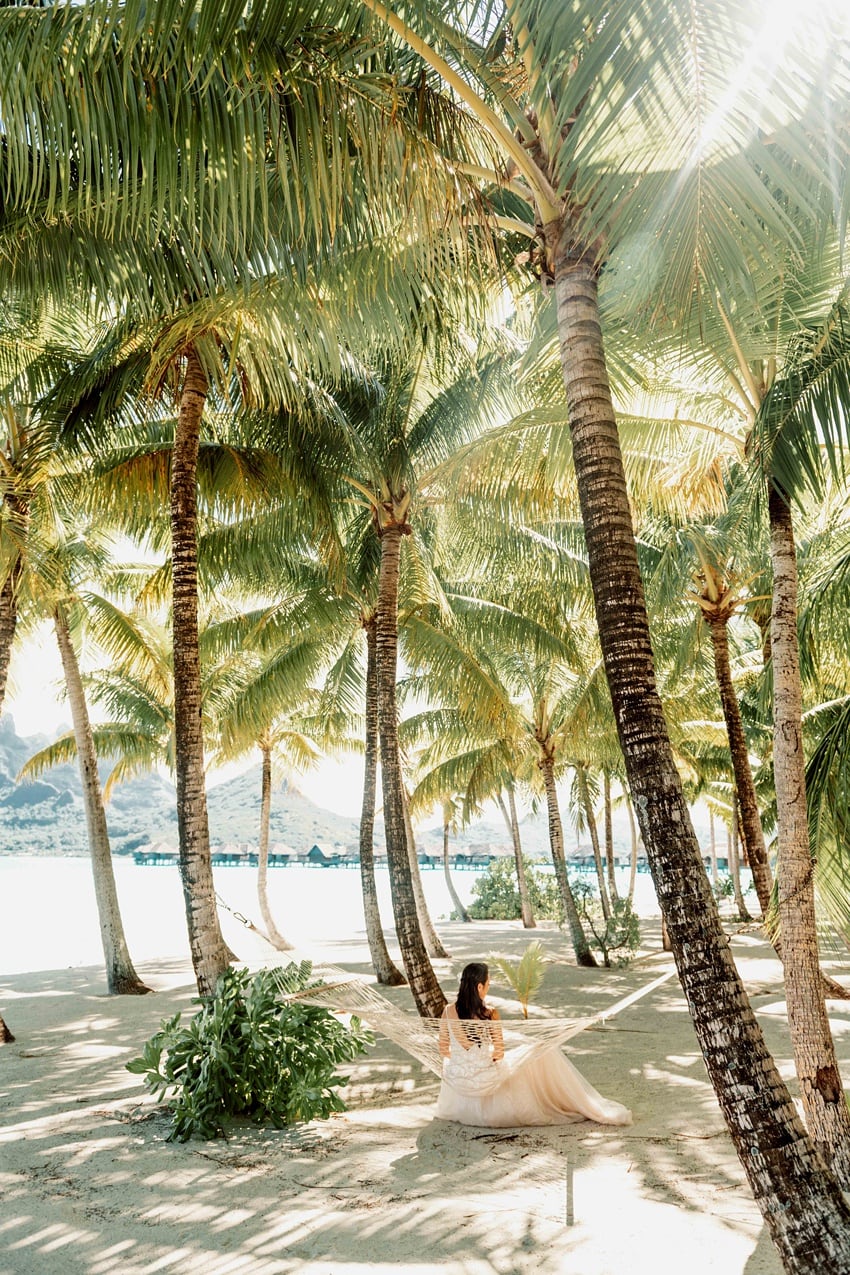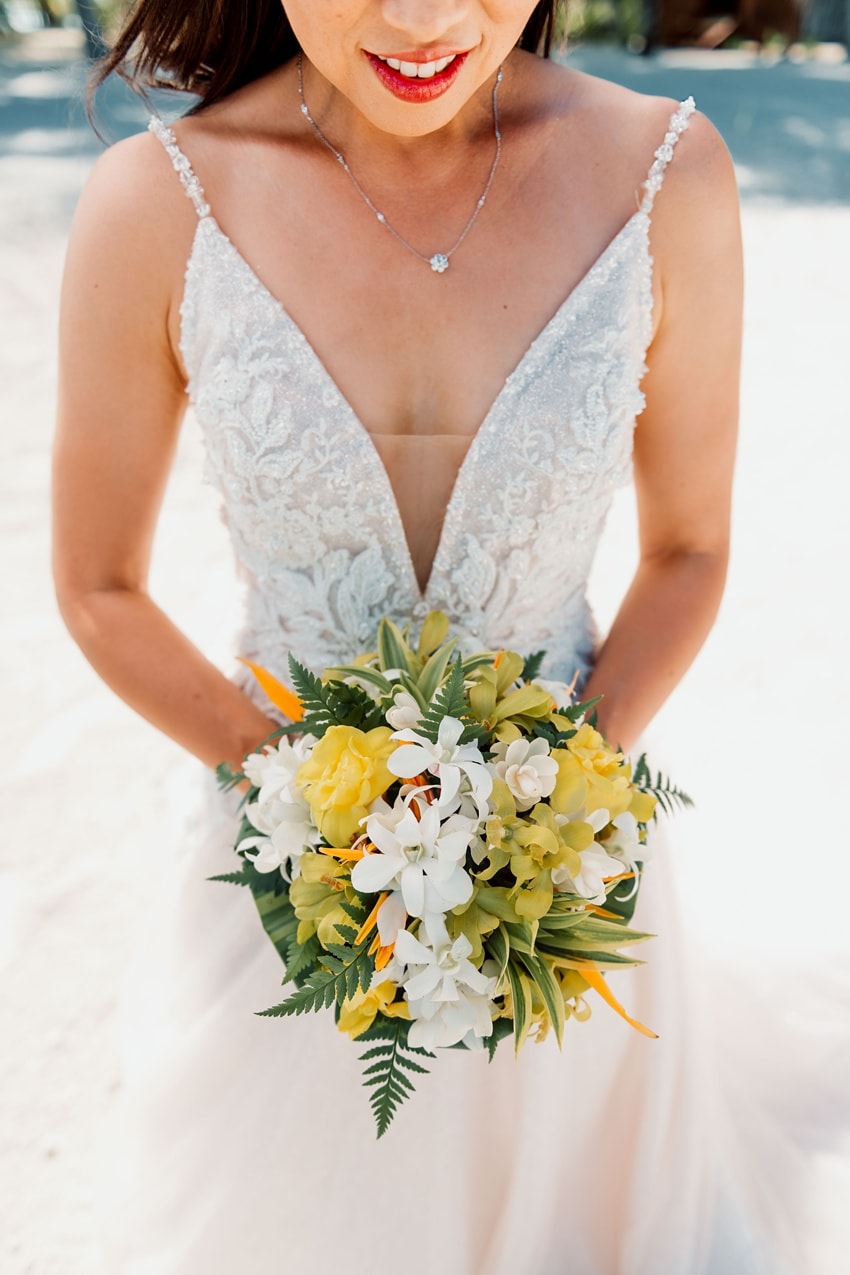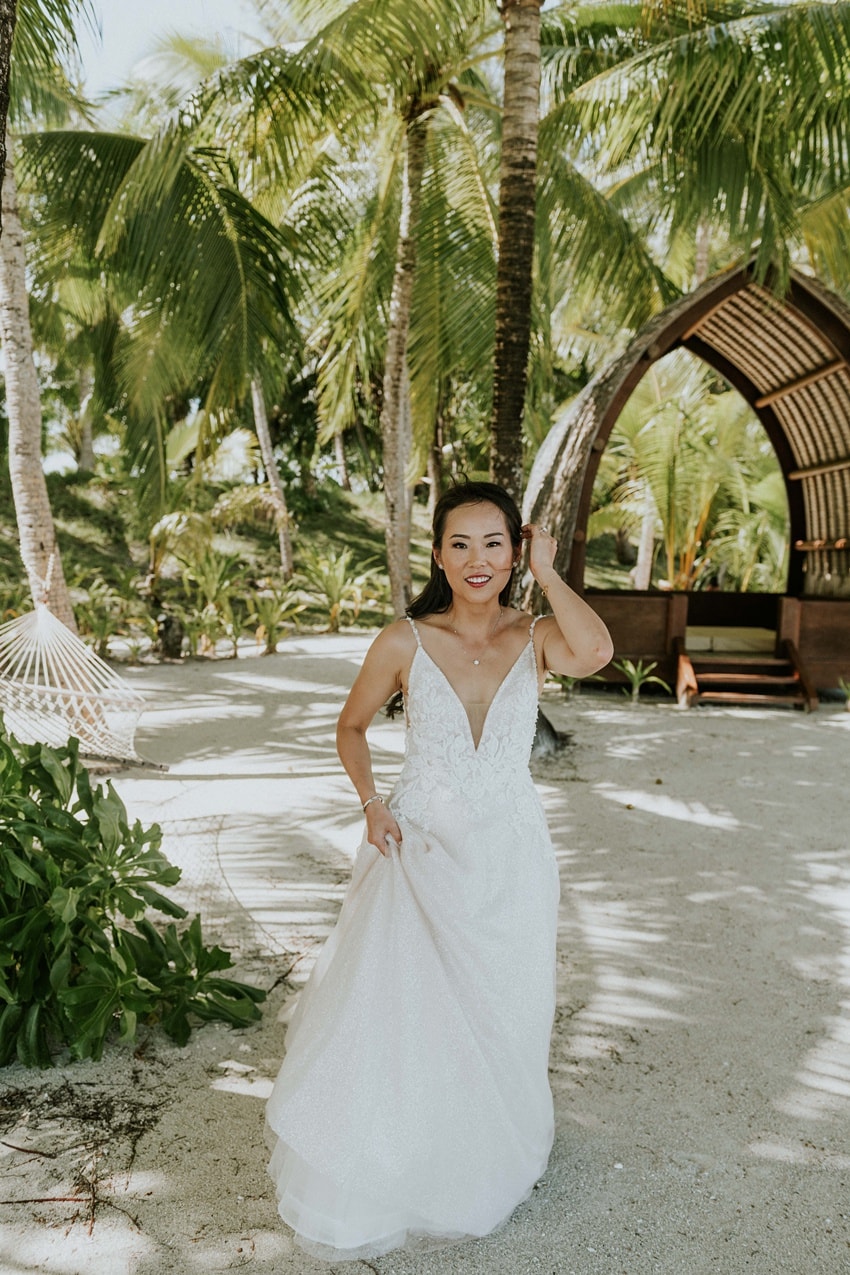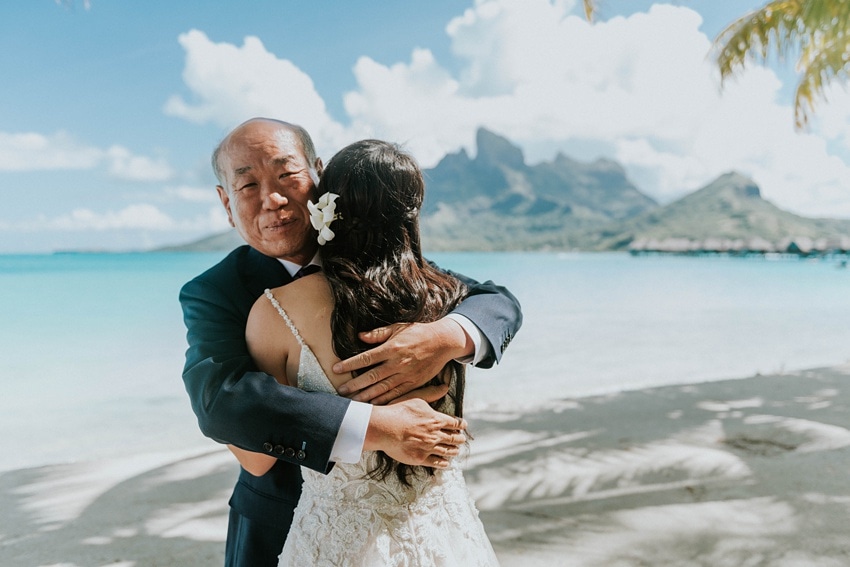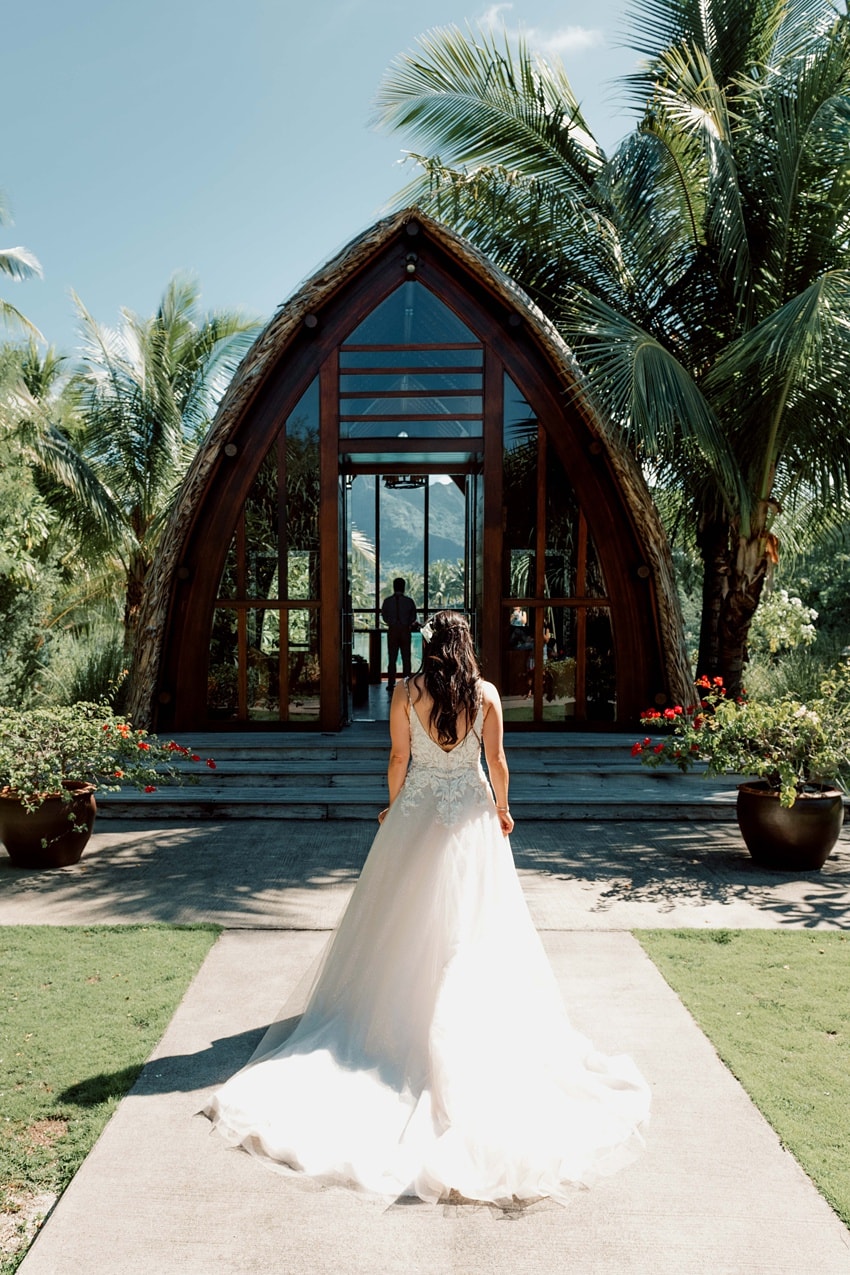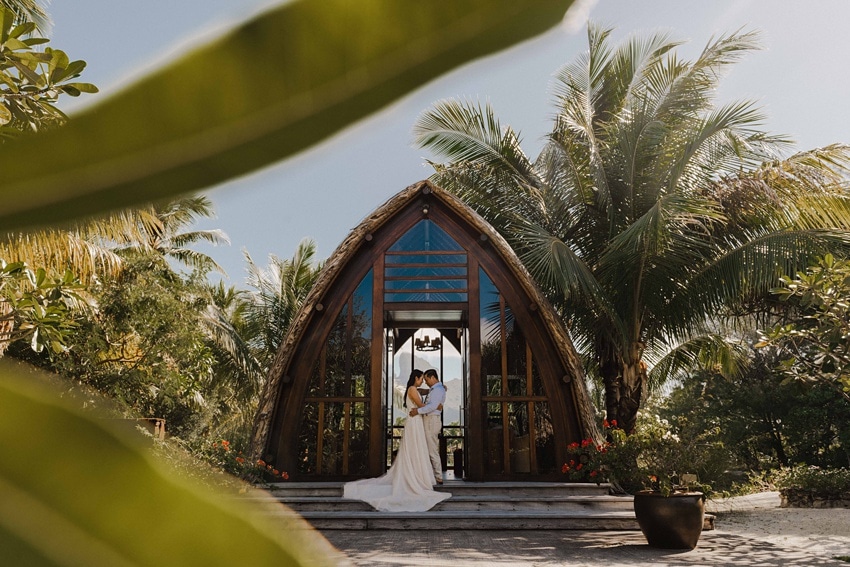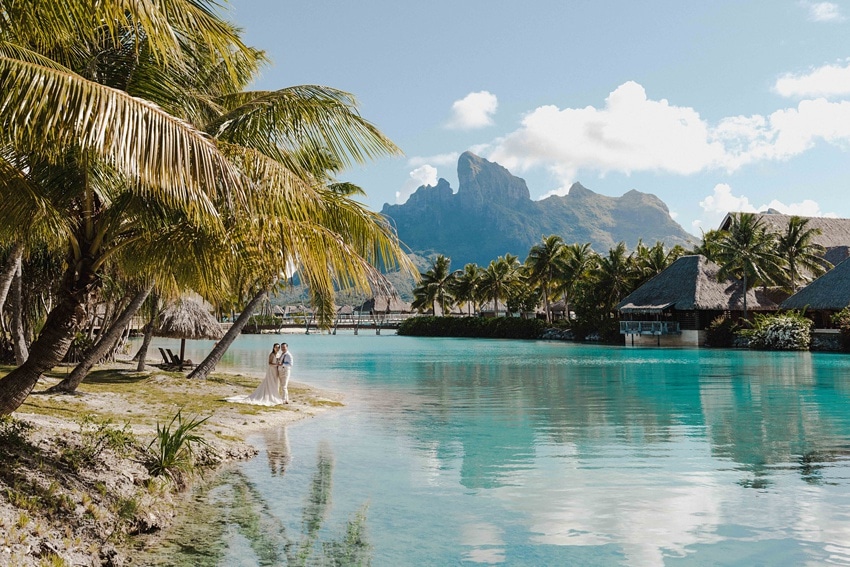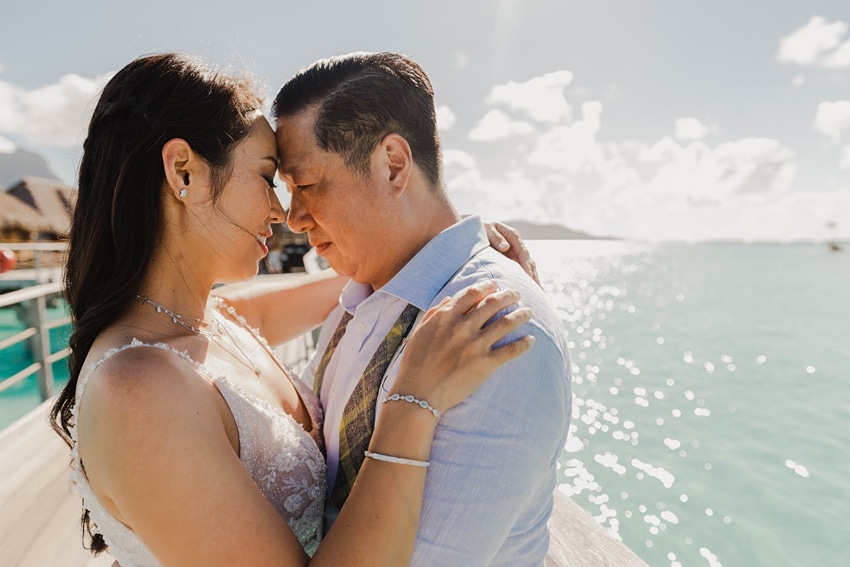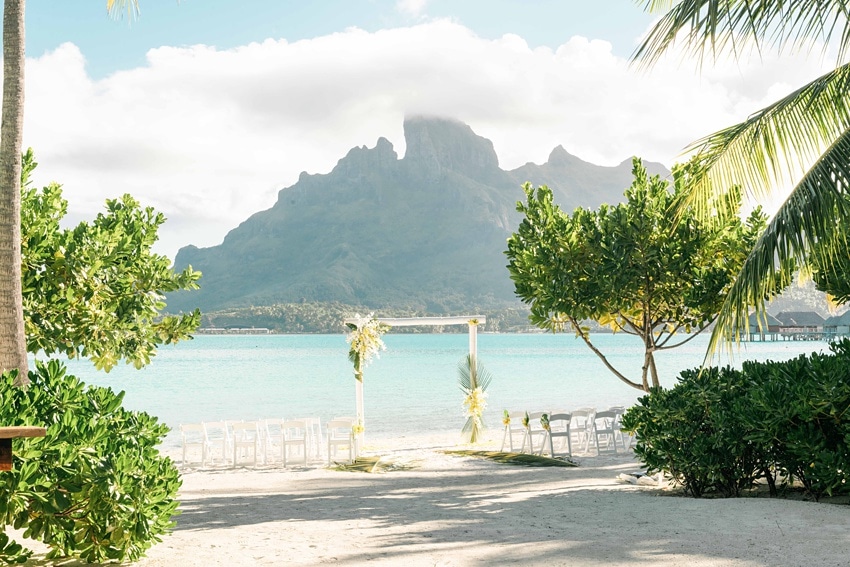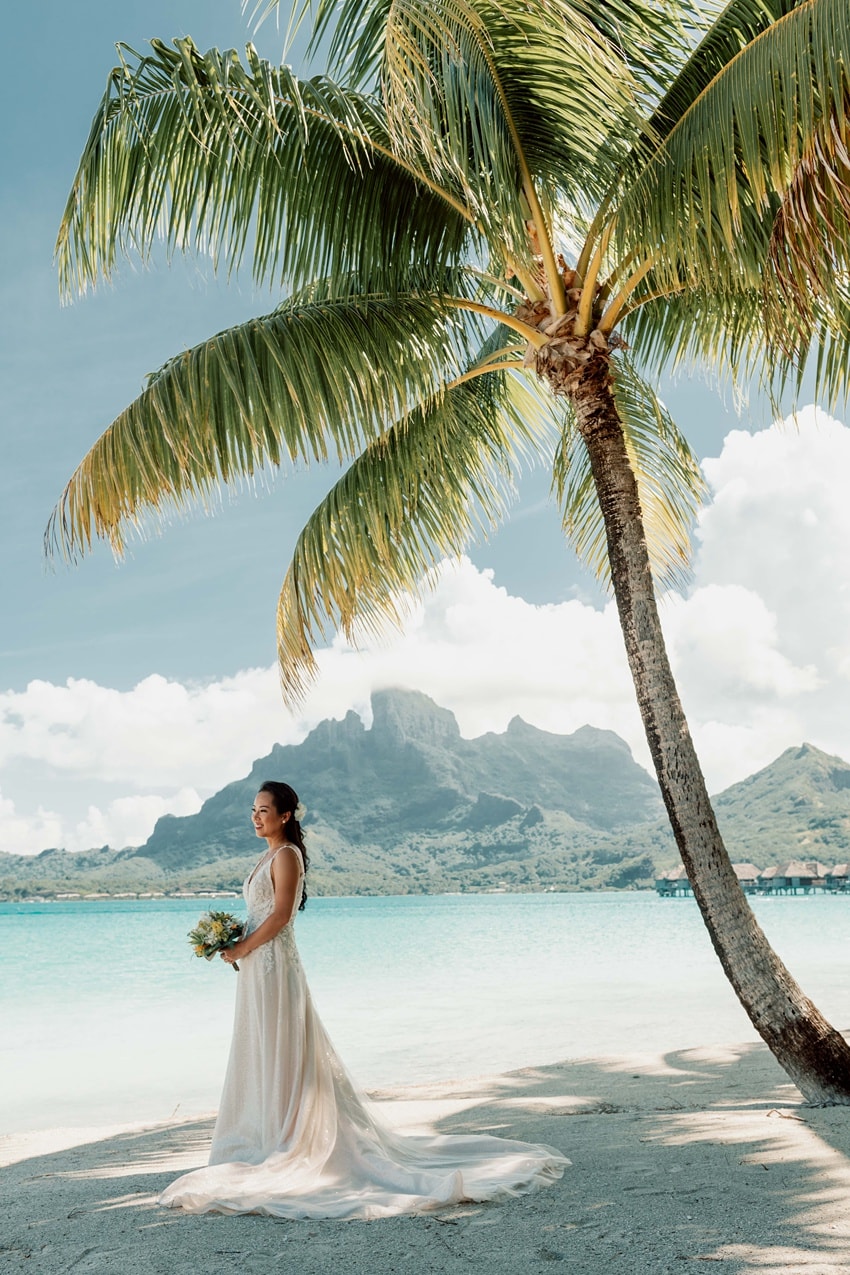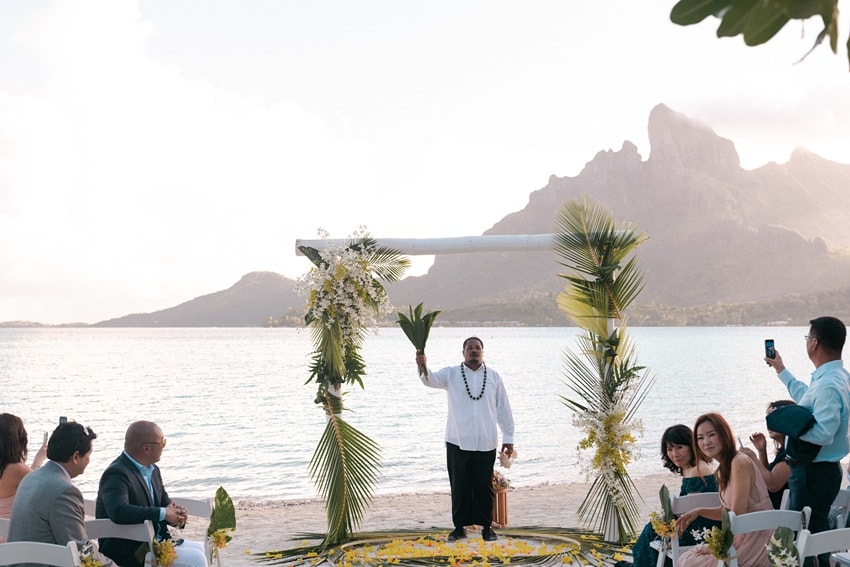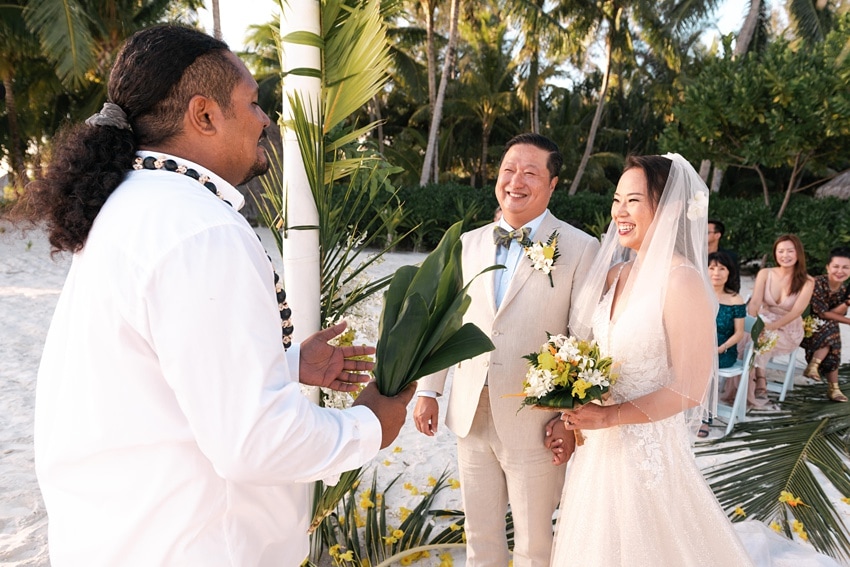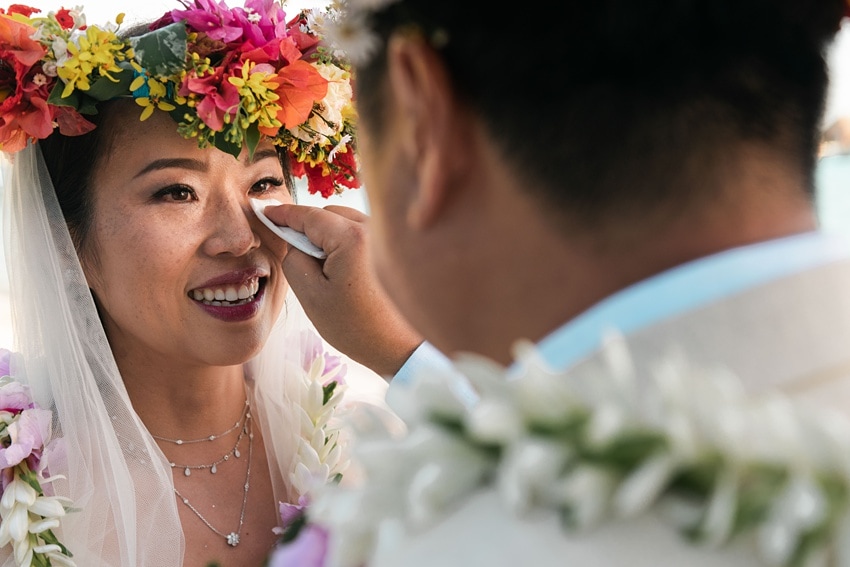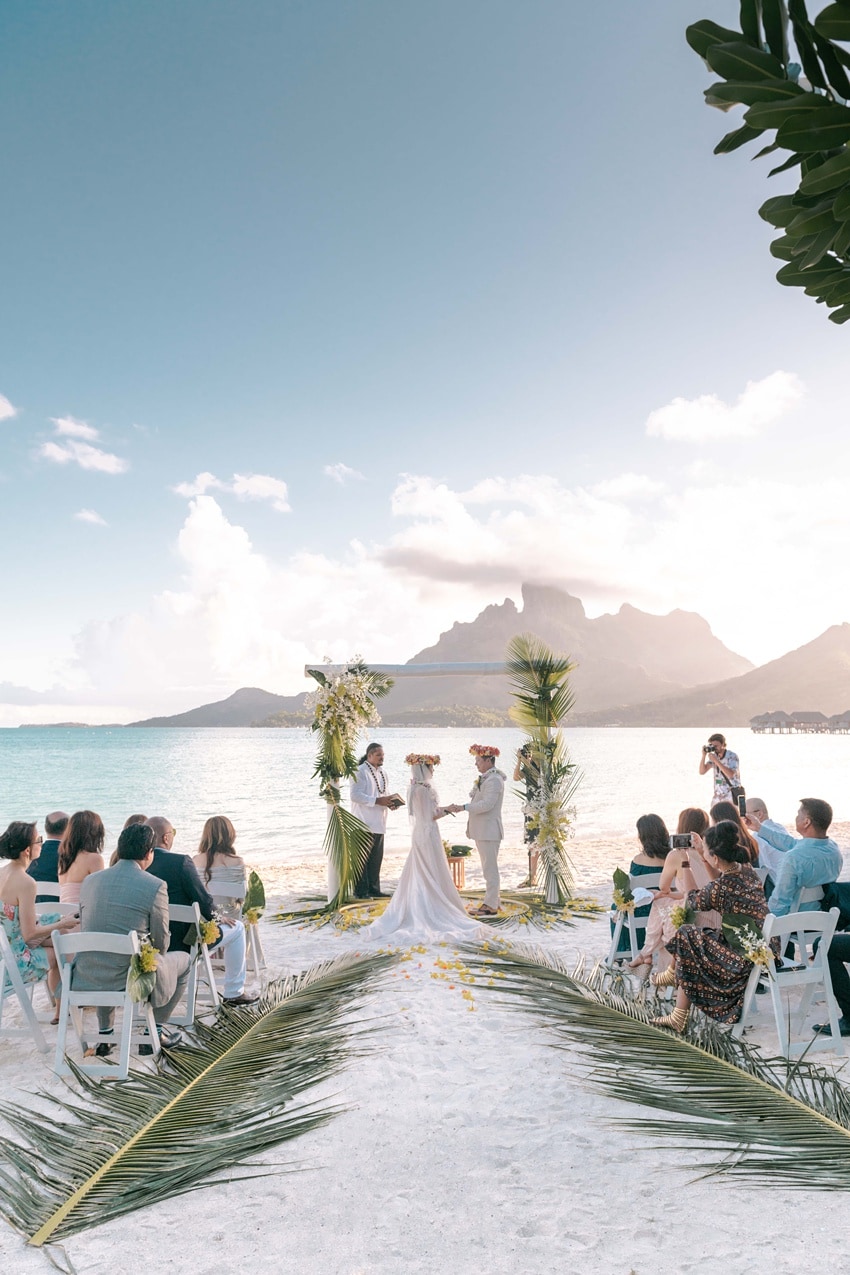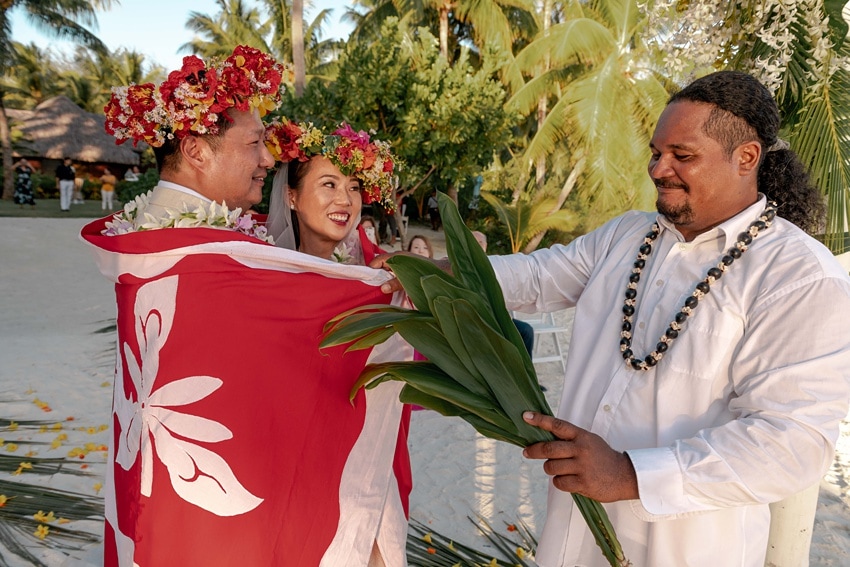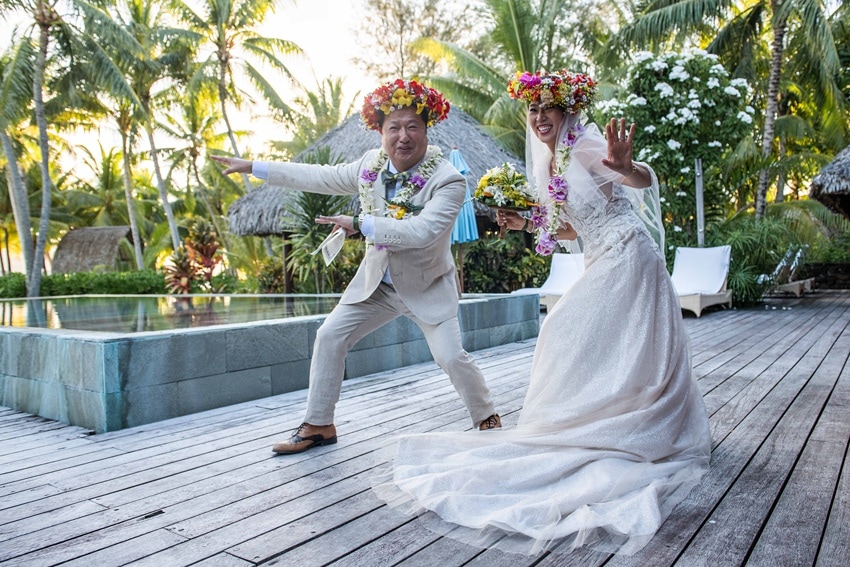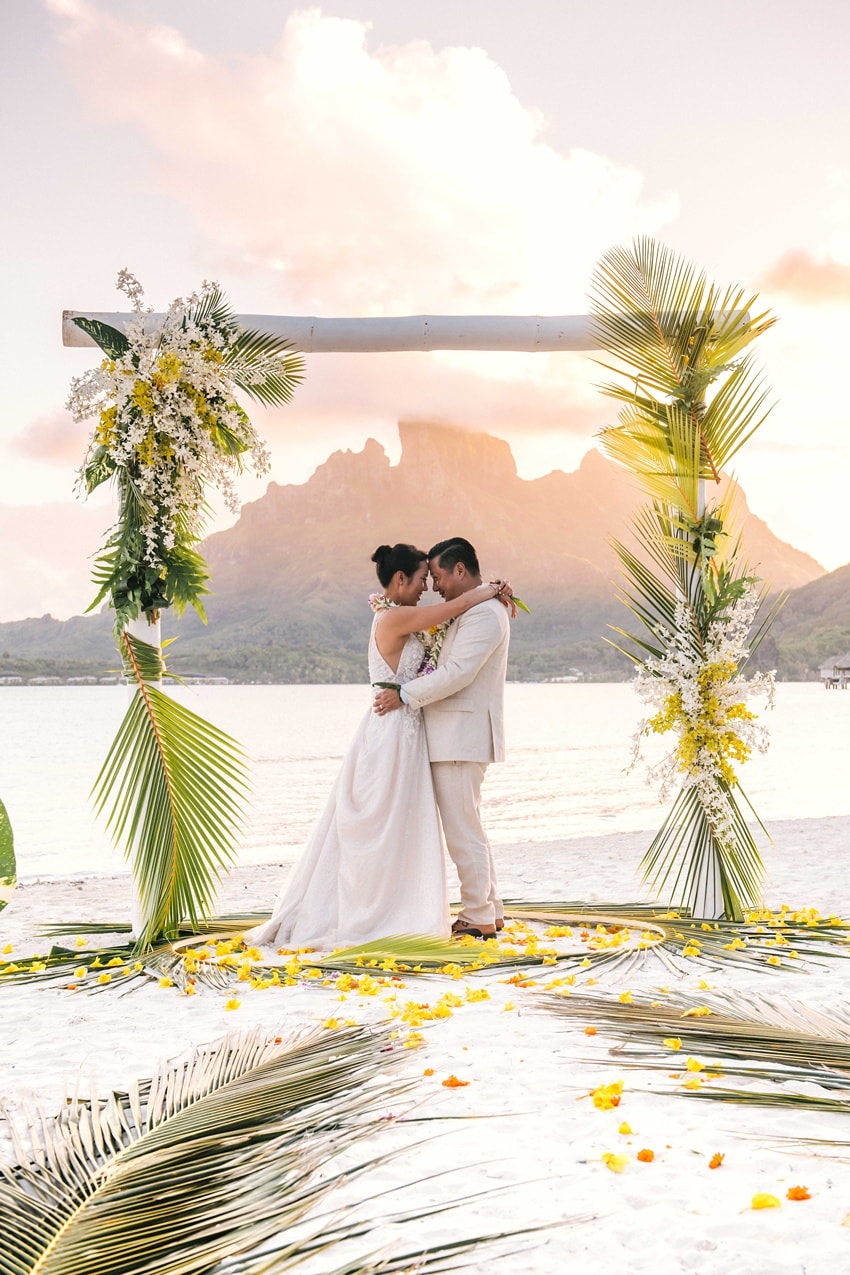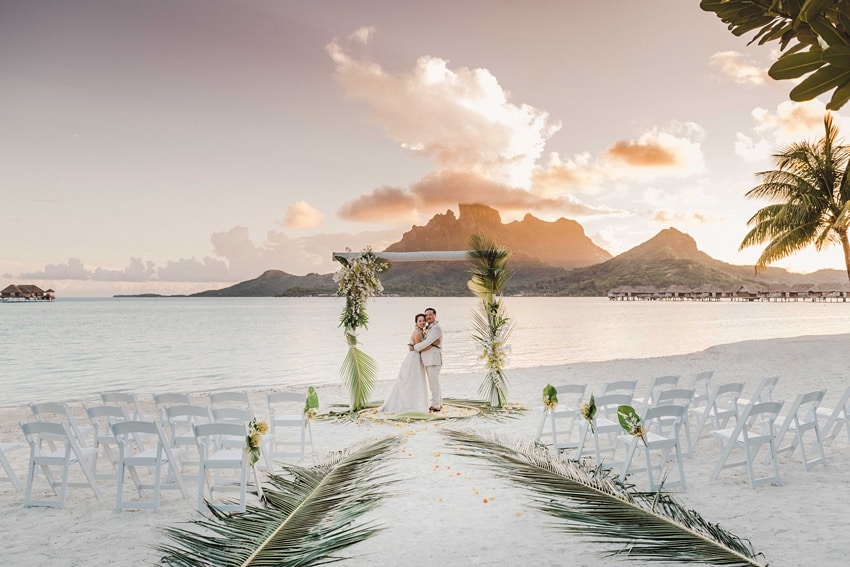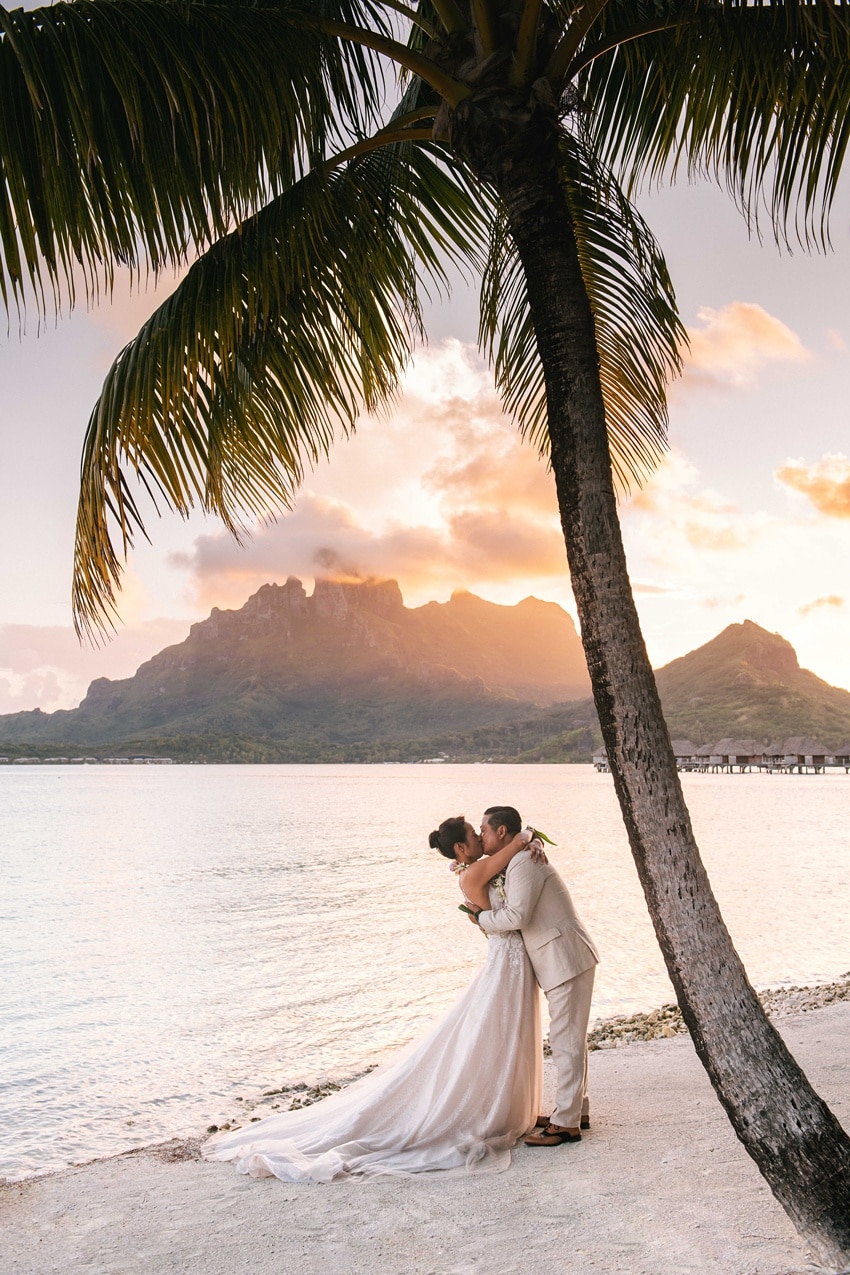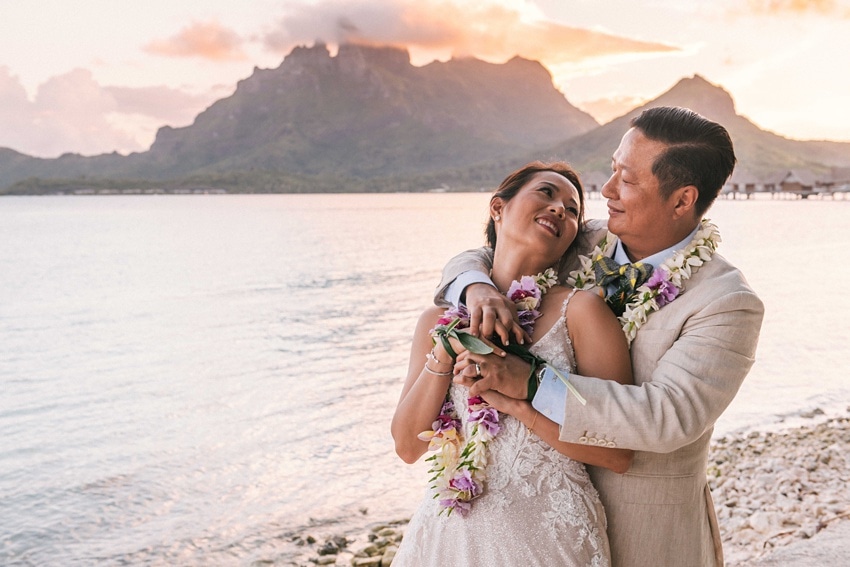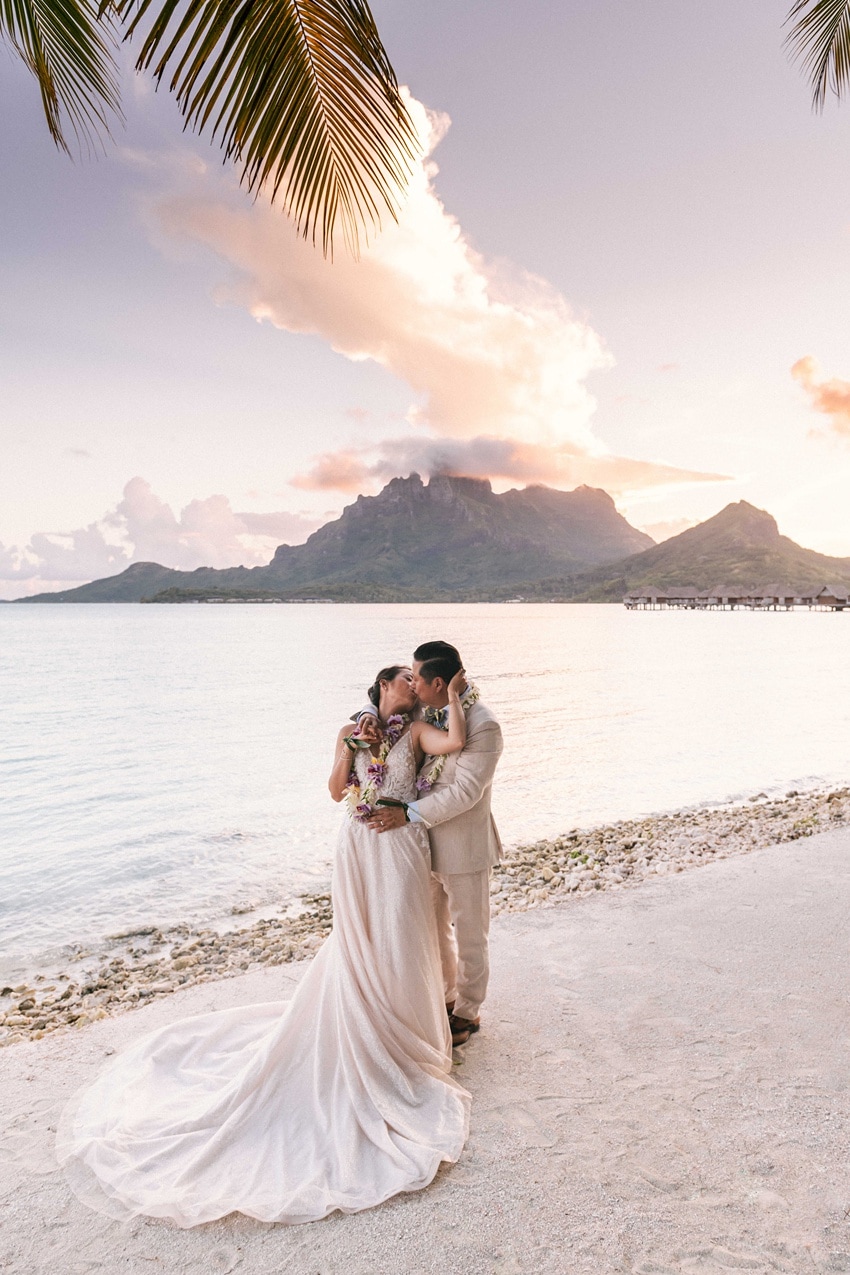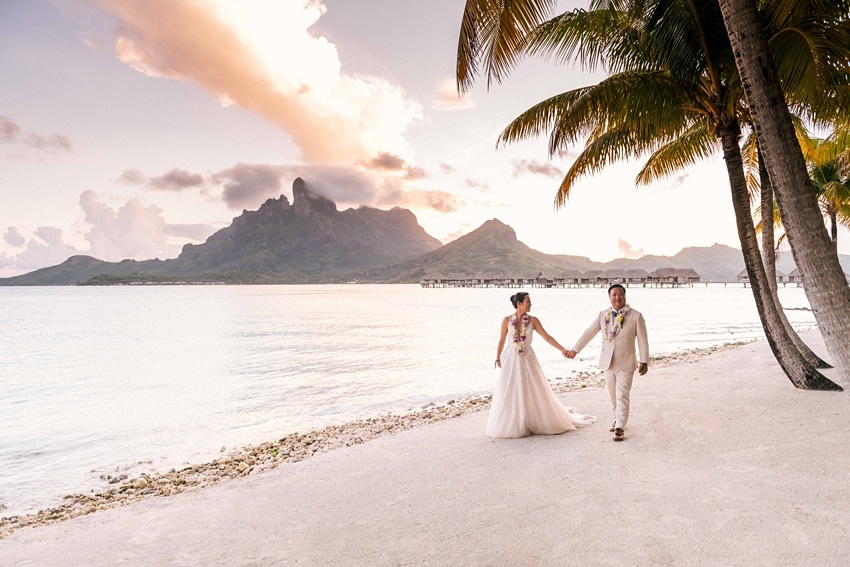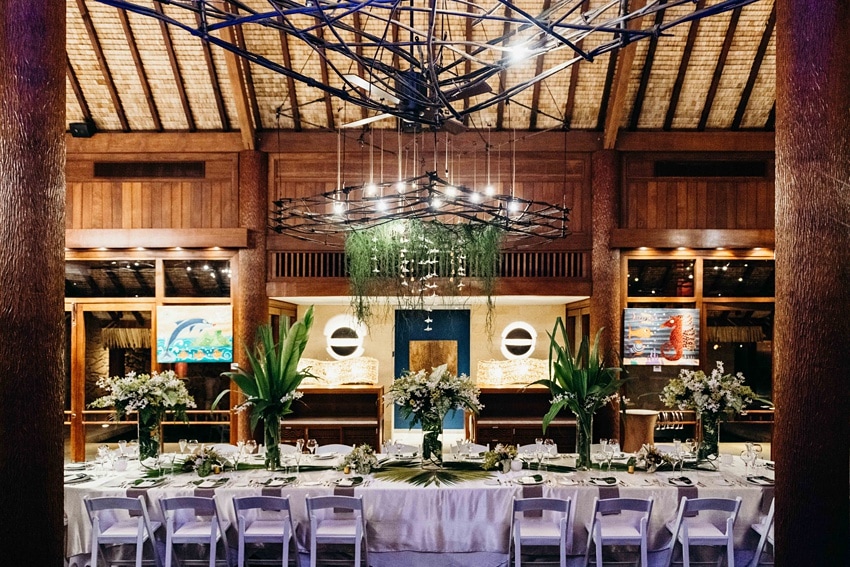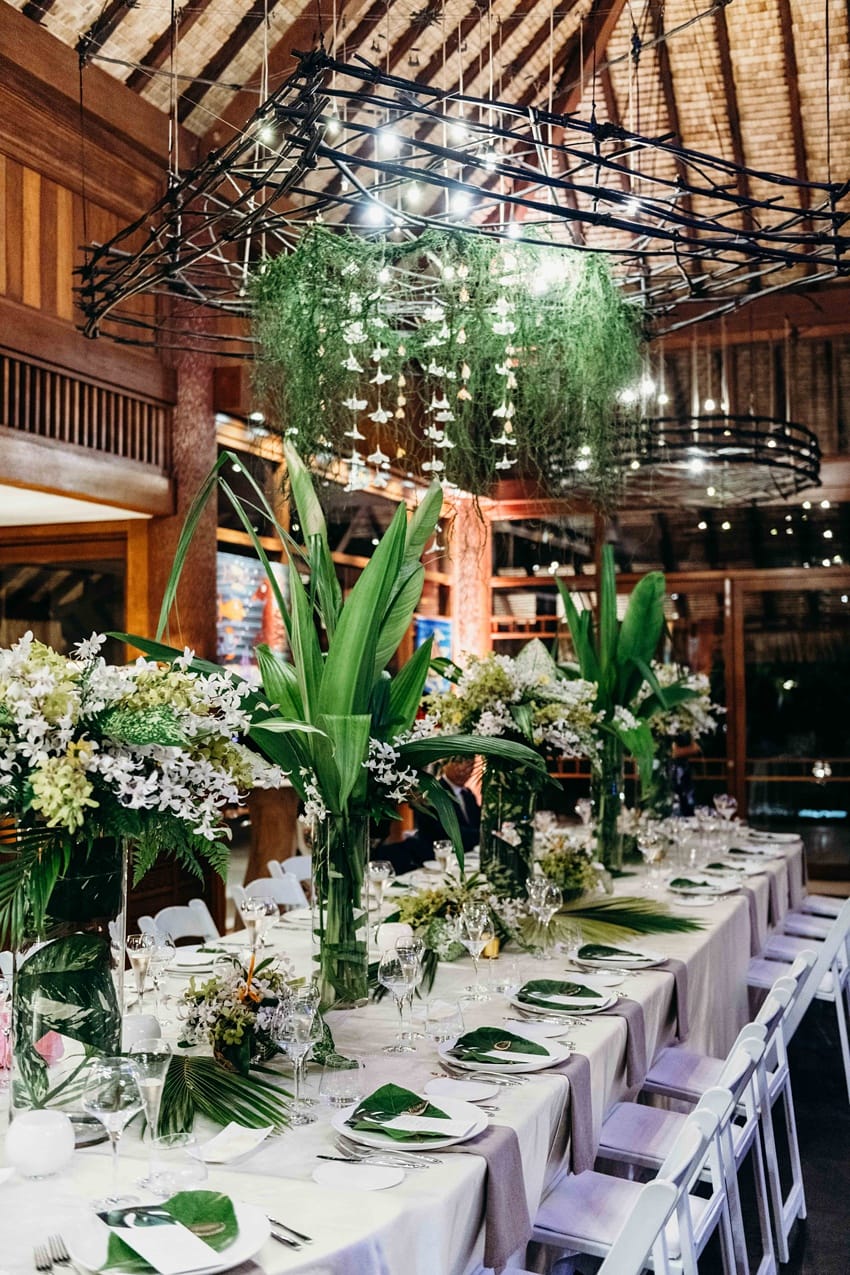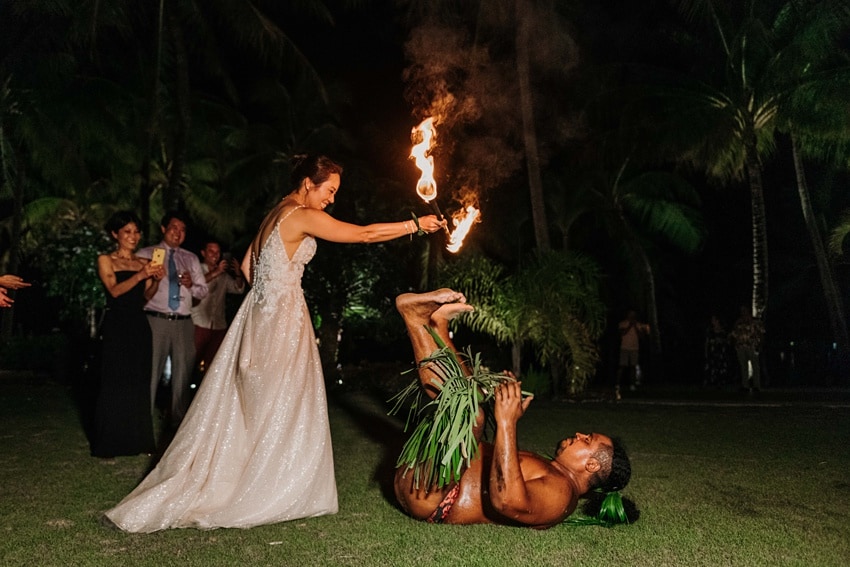 The Newlyweds Share the Details of their Bora Bora Destination Wedding:
Why did you choose to have a Destination Wedding at the Four Seasons Bora Bora?
We chose a destination wedding so we could have a small and intimate wedding and combine it with our honeymoon. We chose Bora Bora because it is a very remote paradise island. Bora Bora was further away from our home than Hawaii, but not too far like the Maldives. Bora Bora also seemed more private and exclusive than other areas. We chose Four Seasons because we felt that we would be get special treatment for the very special event in our lives. Unlike other resorts we contacted via email with a list of event details, we met in person with the Four Seasons rep (Paula) who greeted us and explained details, possibilities and other concerns we had at the time of initial planning. After meeting the rep, we were able to "put a face" to the venue and felt confident that the resort would make sure that our wedding was special and memorable for us.
How many people attended your destination wedding?
20+
What was your favorite wedding detail and why?
We loved so many parts of our wedding so it's hard to choose our favorite part. But if I have to choose one part, it would be the sunset over Mount Otemanu and Pahia, especially the glimpse of the rainbow during our photoshoot after the wedding was just magical. I choose that part because it was something I didn't expect at all, it was something I couldn't even have planned and purchased.
Was there any tradition that you skipped or a tradition that you put a "destination wedding" spin on?
We really liked the floral crowns and leis during our wedding ceremony. We also liked the Polynesian wedding name given to us, as well as the blanket wrap and hand washing. It was fun, different and memorable. Unlike any other wedding we've seen!
What was your favorite part of having a destination wedding?
The most memorable part was our snorkeling tour and private beach party! All of our guests told us that the private beach party was a once in a lifetime experience and they will remember it for a very long time. The food, scenery, music, band, drinks and everything else was just perfectly done; a very unique to Bora Bora experience!
What was the biggest challenge in planning your destination wedding?
The biggest challenge is that we chose a wedding destination where neither of us had ever been to before. The whole venue/destination (Bora Bora) was an unknown place with a big question mark. We saw pictures of it but had no actual experience of the place. We had to trust ourselves and everyone who helped us to plan the wedding.
What's your advice to other couples planning a destination wedding?
The best advice to other couples would be to hire LLG Events! Having excellent wedding planners should be the first thing to do!
Vendors
Photographer: Marc Gerard Photography
Wedding Planner: LLG Events
Venue: Four Seasons Bora Bora
Bridal Gown: Maggie Sottero
Bridal Shoes: Badgley Mischka