Brant & Renate managed to pull off the quintessential destination wedding in absolutely gorgeous, tropical Turtle Bay, Hawaii. Hawaii had long been a part of this couple's love story. Their first family vacation took place there, and it's where Brant popped the question, too. So, it was only natural for them to go back to Turtle Bay for their big day.
This sweet couple nailed every detail right from the start with the perfect color palette for the contemporary, trendy bride: turquoise pulled straight from the crystal clear waters and soft pink inspired by the setting sun on sandy beaches. Top it off with some oh-so-chic rose gold details…. *sigh*…perfection. I'm sure the team at Chelsea Statso Photography didn't have to be convinced much to take on the job of capturing Brant and Renate's beautiful destination wedding, and we are so glad to be able to share the album with you all today!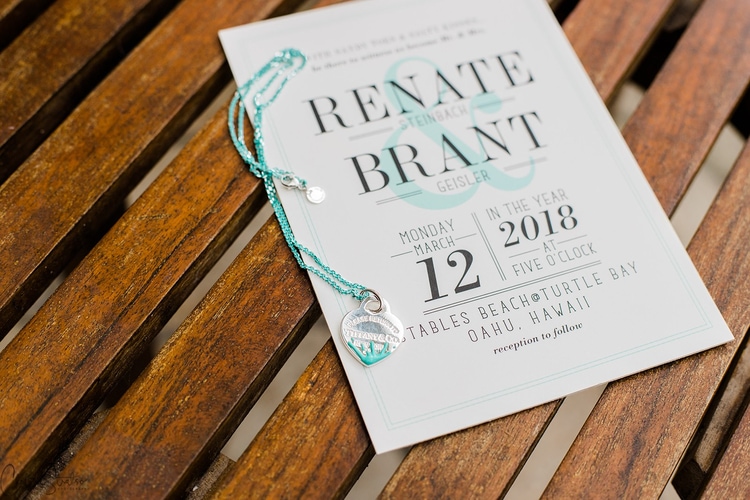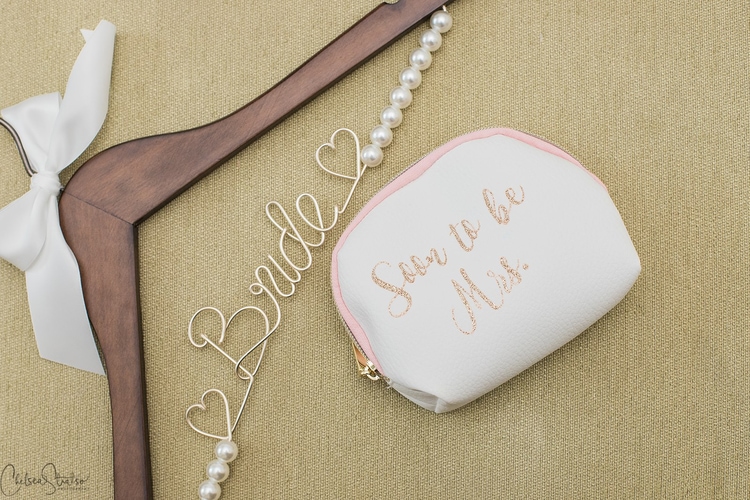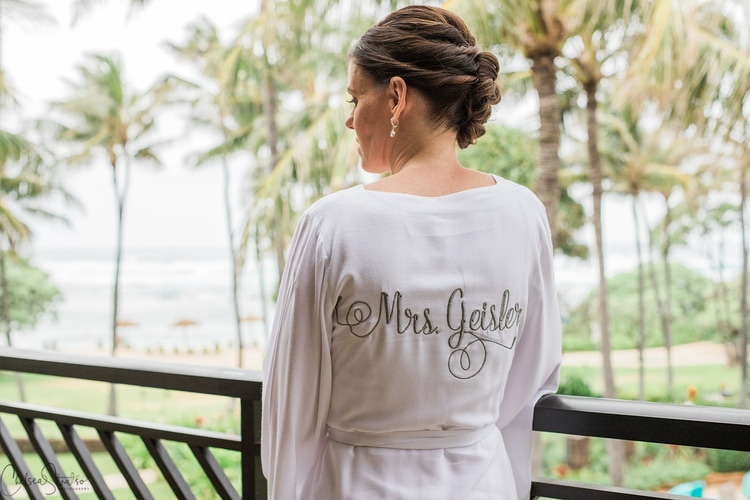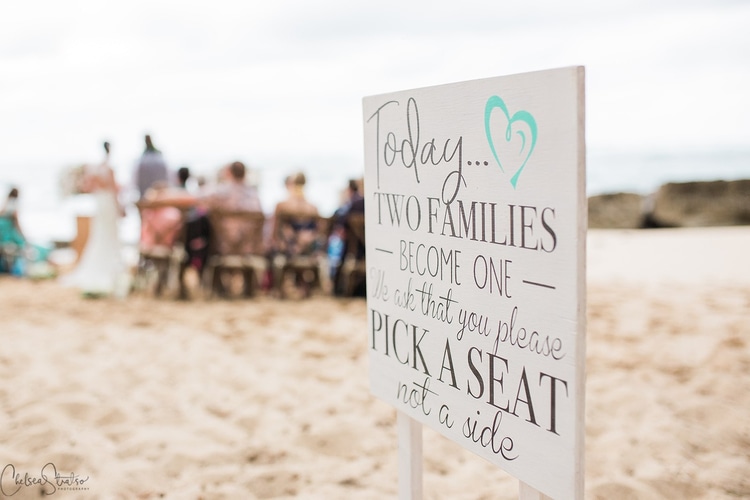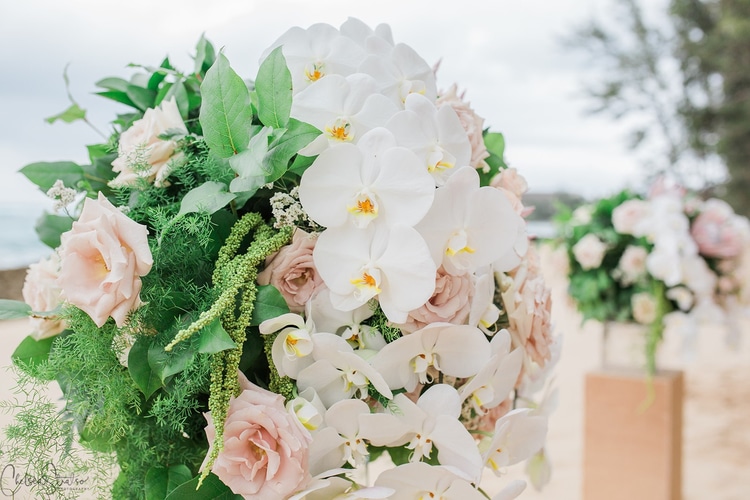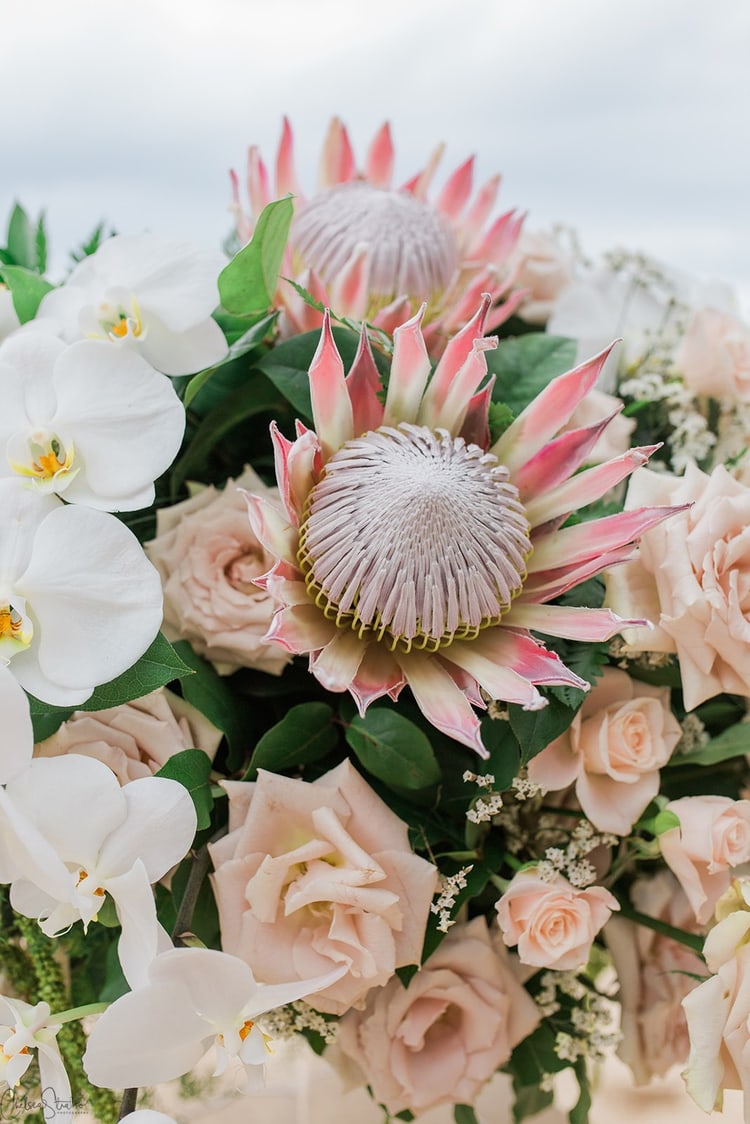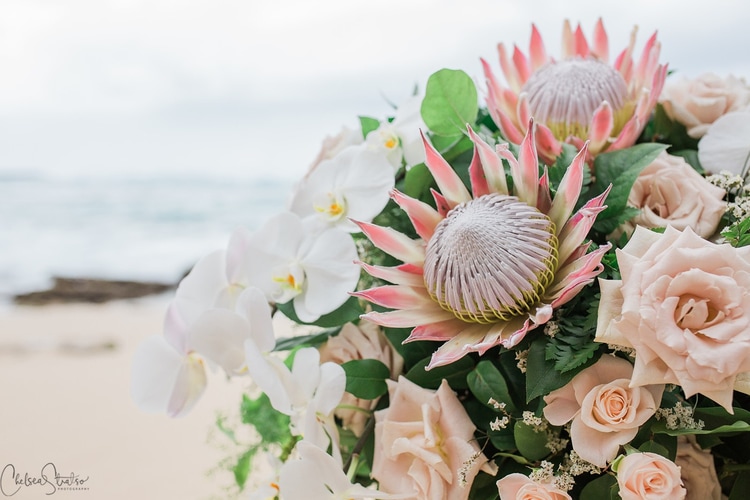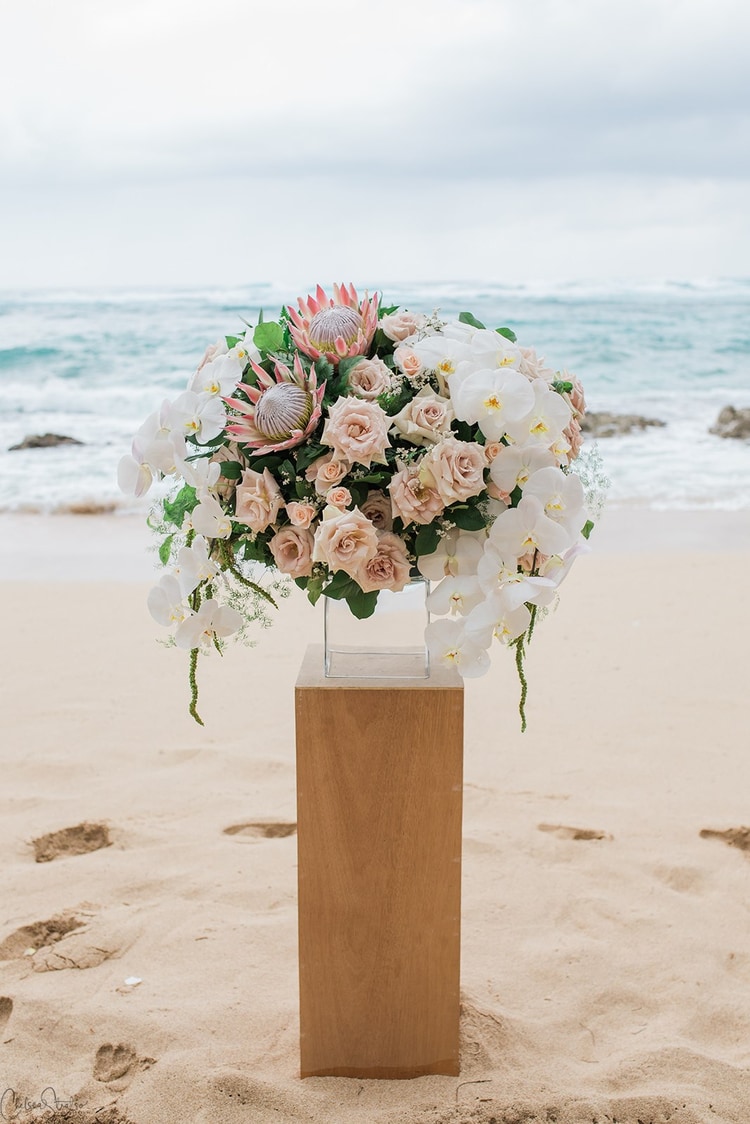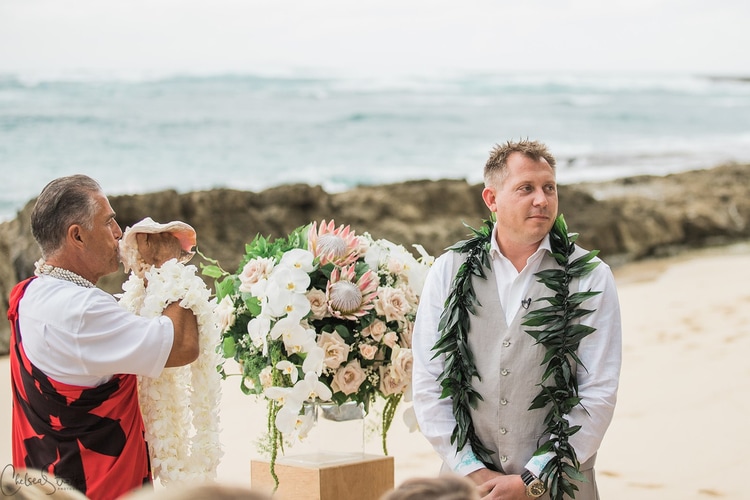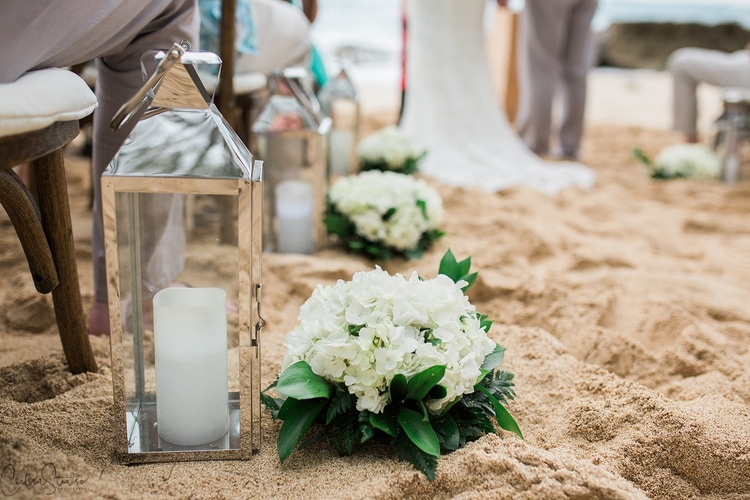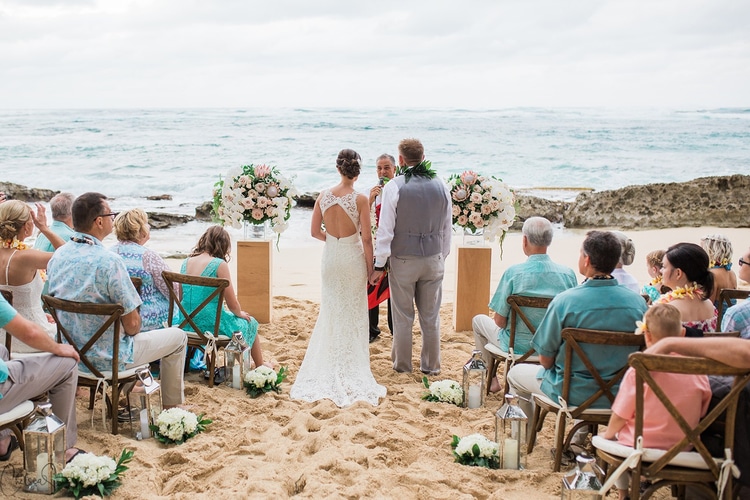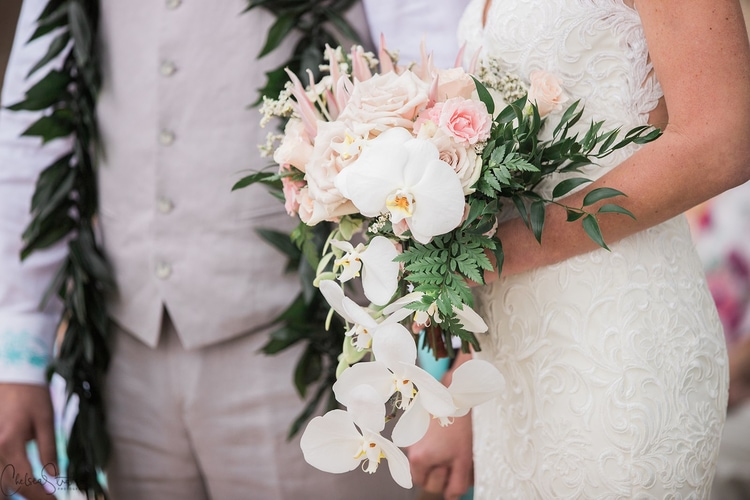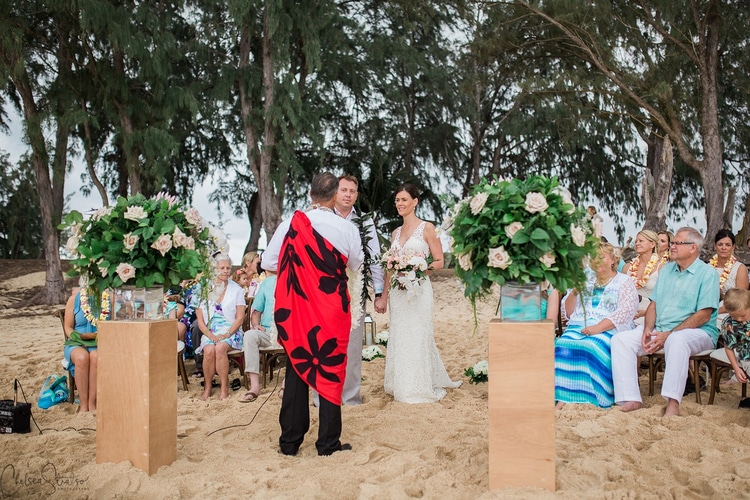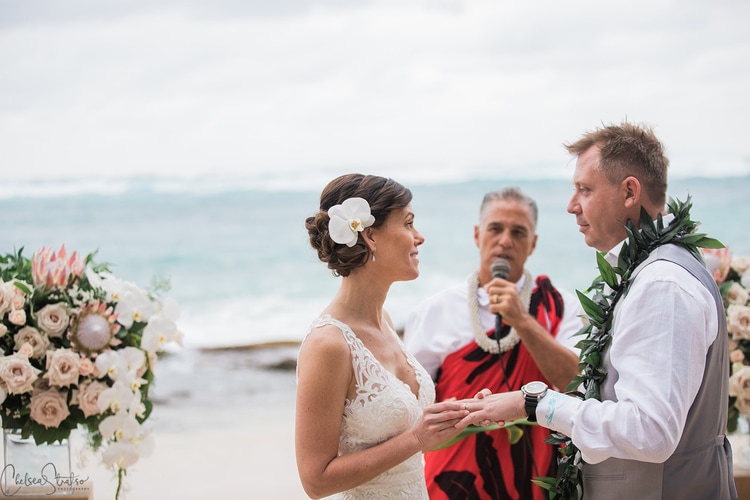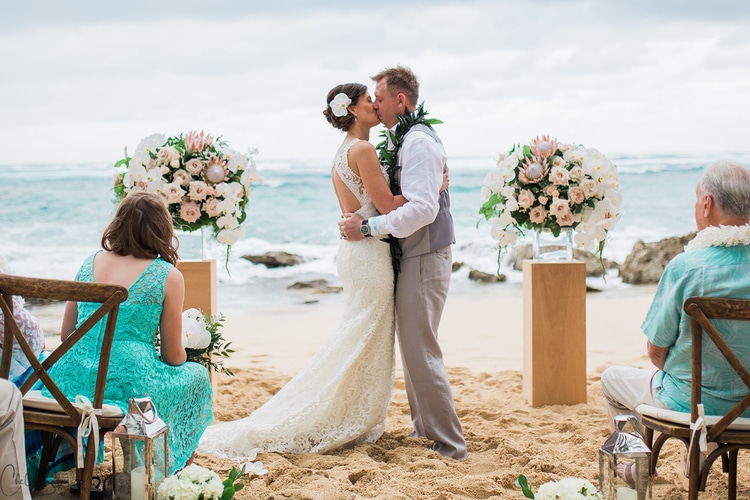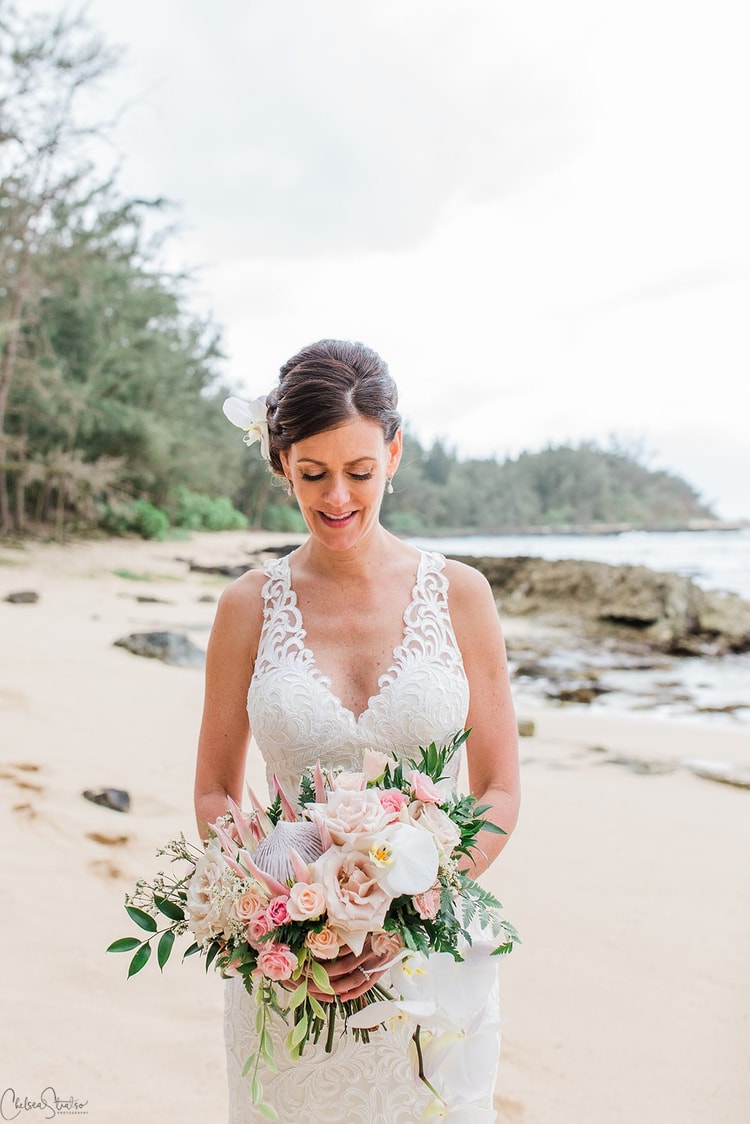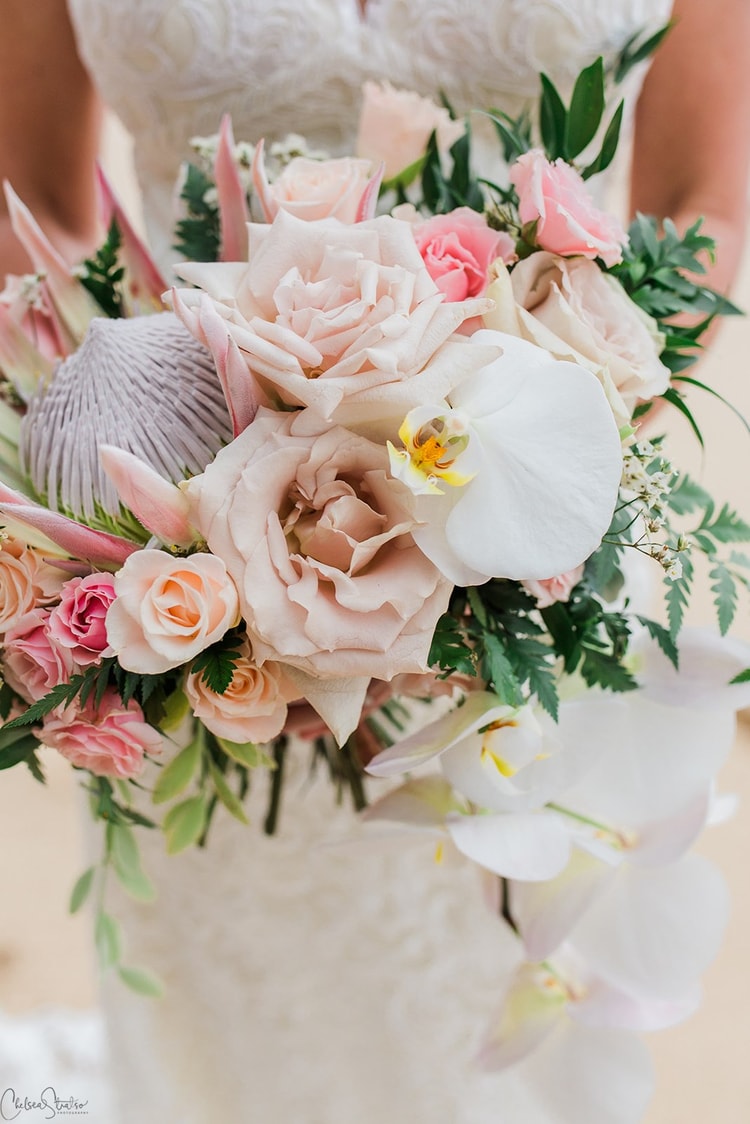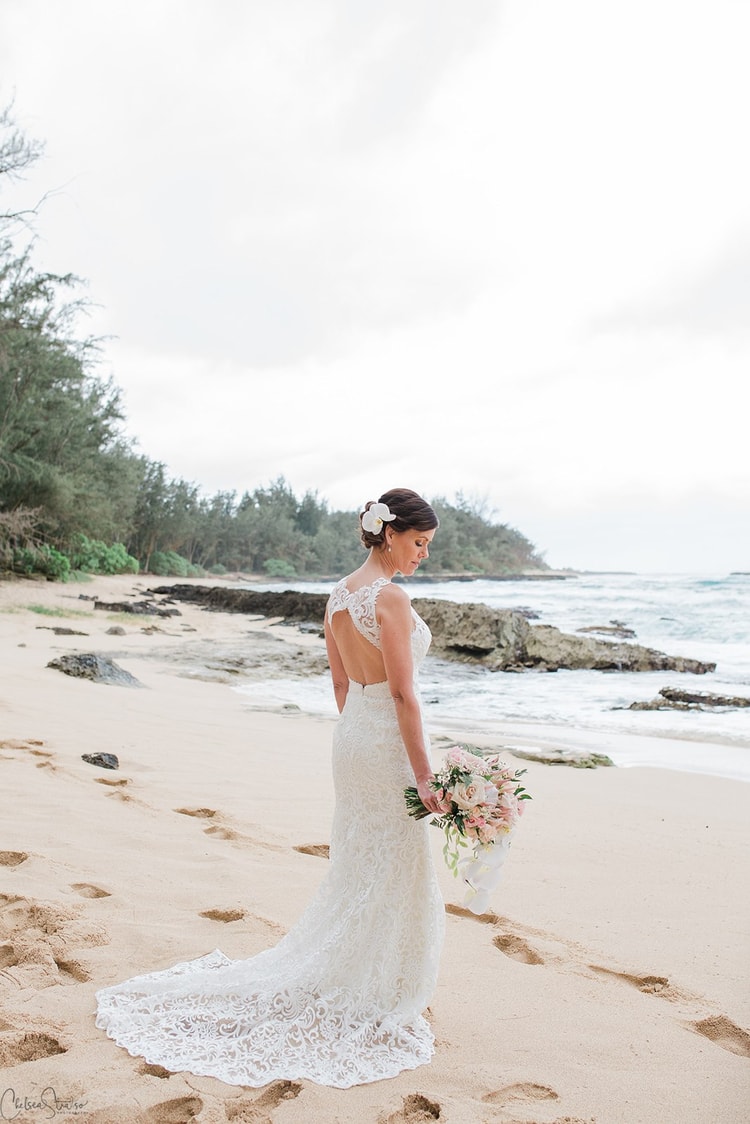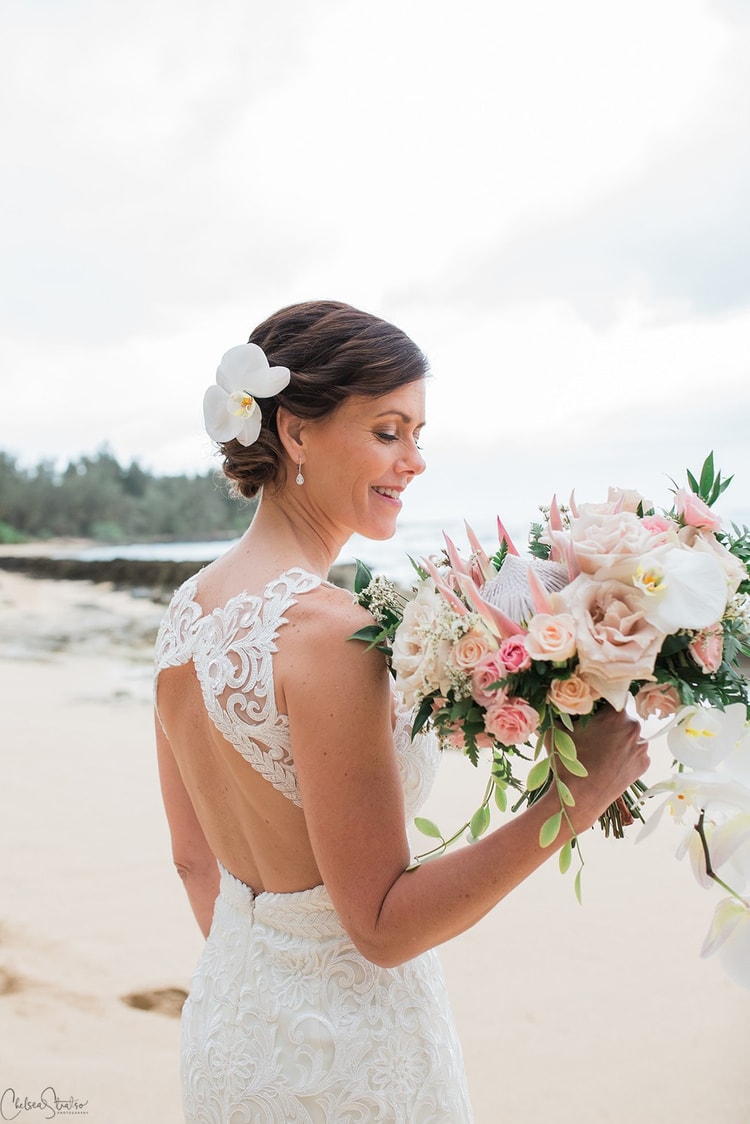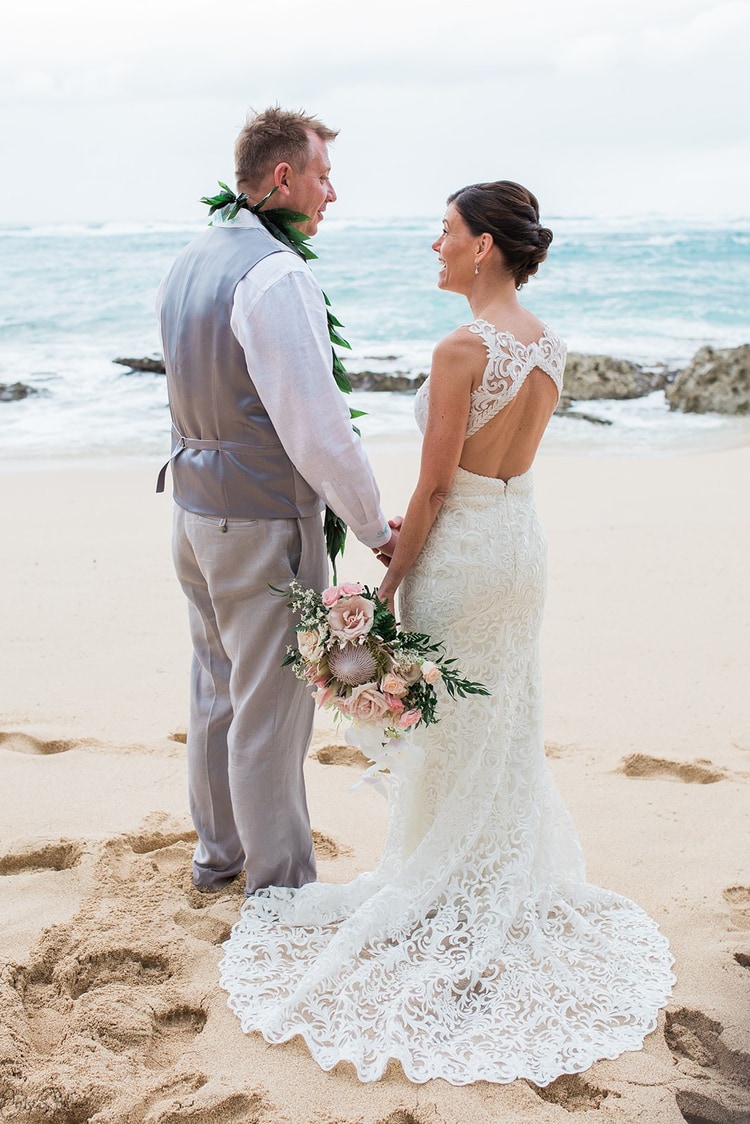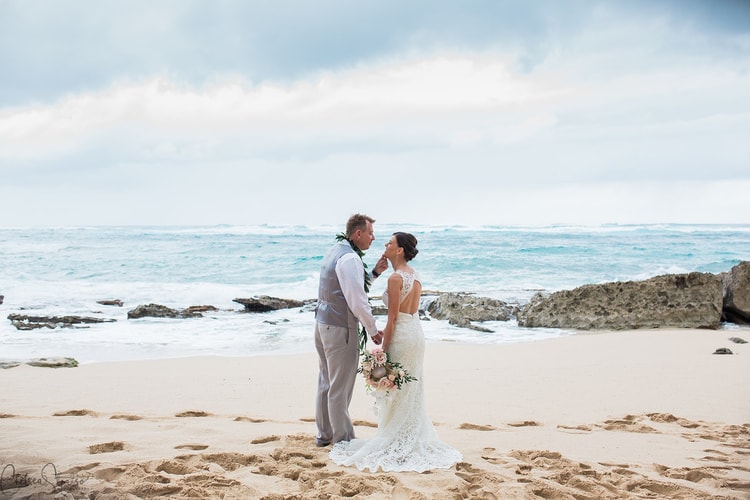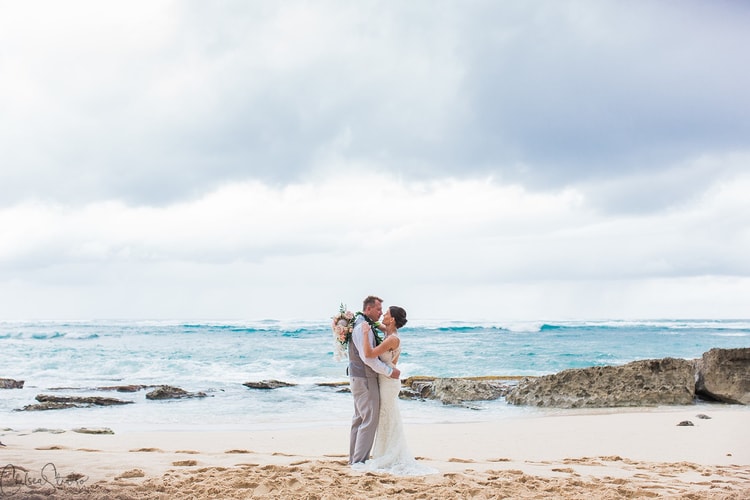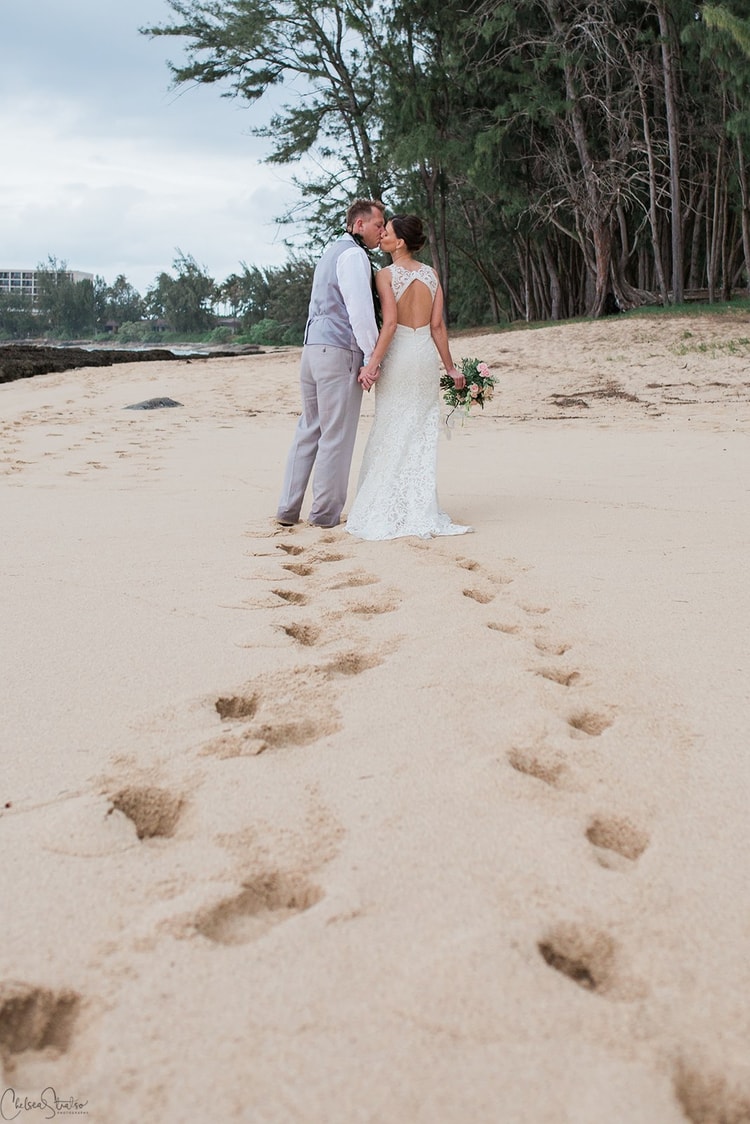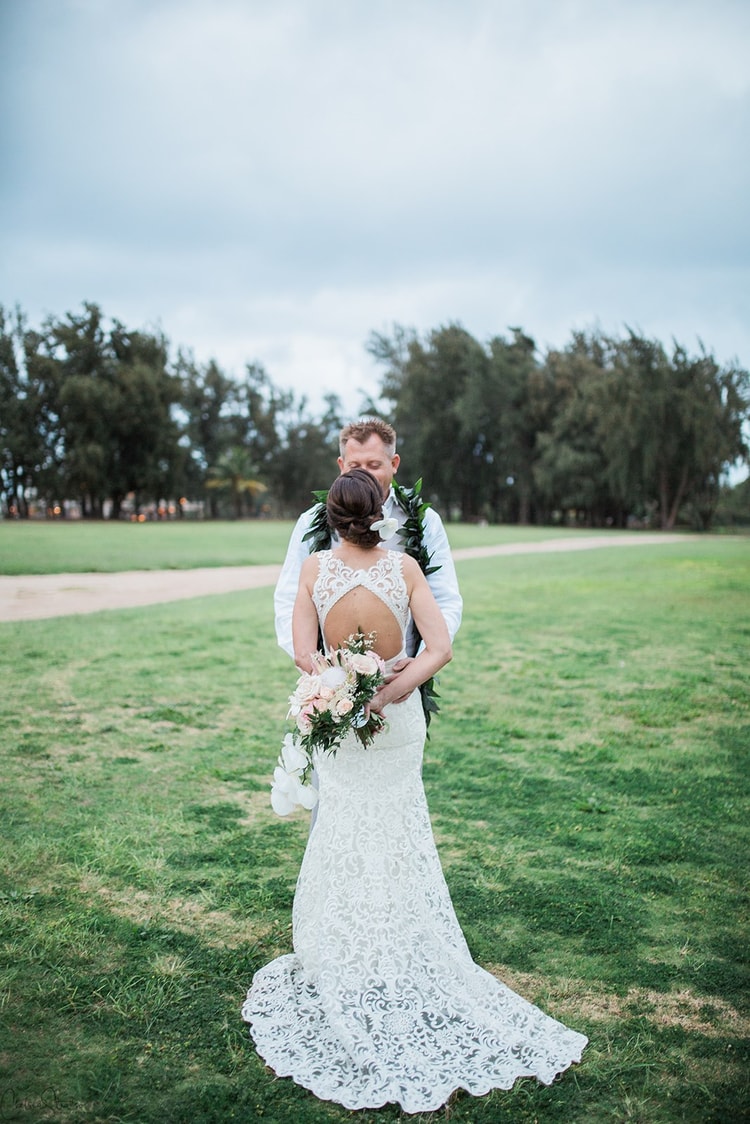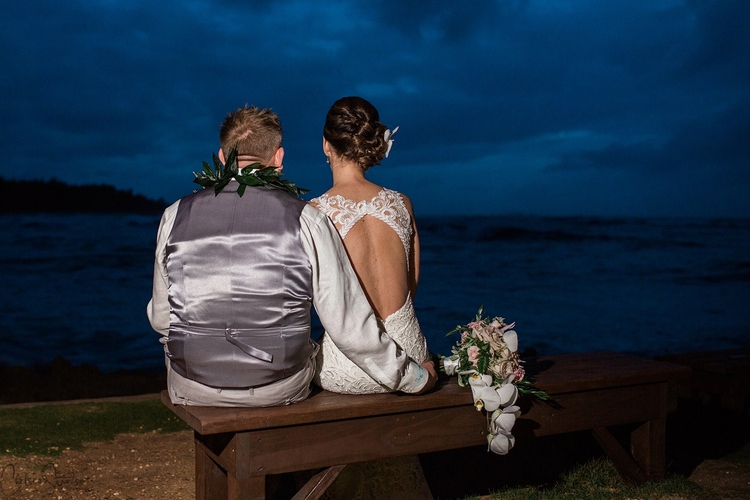 Q&A with the Bride:
How did you meet?
We work for the same company but at different locations. Not ever having met in person, Brant won a trip to Cancun which I saw on a roundtable we watch every month. I sent him an email saying congratulations and have one for me, with a picture of a margarita. He emailed back: "you should come". Not thinking he really meant it but rather just a response, he followed up a couple days later to say he was serious. We both talked on the phone about traveling and how it would be nice to do it with someone. No strings attached, just friends traveling and experiencing together. Turned out that on that trip we had a connection that neither of us expected and we starting dating shortly thereafter. It was the best decision either of us made.
What is your proposal story?
We hired Chelsea to do photos for us on our first family vacation at Turtle Bay. They turned out so great and we knew from the beginning she would be there for all our BIG moments. Brant hired her again to do a photo shoot of just the two of us with the intention of capturing our engagement. Total surprise to me. It was perfect to be asked on the island that meant so much to us and have the photos to always look back on.
Tell us a little a bit about your destination wedding details (your vision, color, style, and location choices).
Beach! Simple & small but classic, and elegant. We wanted the soft colors of ivory, grey, tan and the blue of the ocean. We wanted all our loved ones there to share in the whole week with us. It was beyond perfect. When doing our destination wedding save-the-dates and invitations Tiffany Blue stood out for both of us and we asked our guests to wear either a neutral color or Tiffany Blue so that's how family and group pictures would turn out.
Tell us about your destination wedding attire choices.
For me, simple yet elegant. I choose an ivory destination wedding dress because thought white was too harsh. This was my first wedding, so I wanted a classic timeless traditional dress. Originally Brant had chosen ivory but changed his mind after seeing grey linen suits. It worked perfectly as it showcased my dress instead of blending. After all, it's all about the bride!
What was the most important to the two of you while planning?
For us, it was all about intimacy and sharing in this with our family as well as both our extended families. Having it be minimalist but still elegant and incorporating the Hawaiian culture which we love was important. Having the ocean as our backdrop made us realize we didn't have to spend extra money on flowers. Originally I thought I had to have this specific expensive arch, but about a month before the wedding, I realized it wasn't as important as once thought. Having everyone there was more of a priority and enhancing the beach instead of trying to create a backdrop.
Was there anything that you chose to splurge on or skip?
I absolutely would recommend having a videographer. It was expensive and my now husband didn't see the need for it but it turned out to be worth it. In all the planning and stressing I did, I wish I would have realized earlier that the flowers, etc….aren't the most important.
What were your favorite parts of the day?
Waking up knowing I was going to marry my love, best friend an ally in conflict. I was giddy the entire day! Having my father see me for the first time in my dress and how happy I was. Seeing the venue for the first time and how gorgeous it was. Seeing my husband standing, waiting and trying not to cry when he saw me. As we said our vows, looking out at our families and seeing so much love and hope looking back at us. The entire day was beautiful! I wish I could do it again and again!
Tell us about your wedding flowers.
Our flowers were picked by Moana Events. I originally wanted all white flowers, but in the package, it was a mixture and I figured they know what they are doing. I was concerned as pink is not one of my favorite colors, but when looking back at the pictures, they look gorgeous.
What did you do for destination wedding favors?
We gave each of our guests a beach bag from Hawaii filled with all local treats.
Do you have any advice for couples planning their destination weddings now?
Do not stress over the details. Hire a coordinator to help you and trust in their ability. Do not worry about what everyone else wants but really concentrate on what the two of you want. Spend your money on the photographer, videographer, and your dress.
What was the best part of having a destination wedding?
That we got to spend a week (not only 1 night) with our loved ones and made memories for everyone that will last a lifetime. For us it also eliminated a lot of stress of who to invite and whose feelings would get hurt. The day was about us and keeping it smaller allows your loved ones to spend time with you.
What was the biggest challenge of planning your destination wedding?
The biggest challenge was getting a local to call us back. We attempted to plan this ourselves but weren't getting return calls, so decided to hire a coordinator. Was well worth the money.
Vendors:
Photography: Chelsea Stratso Photography | Ceremony Venue: Turtle Bay Resort | Reception Venue: Roy's Beach House | Event Planning: Modern Elopement | Floral: Passion Roots Florist | Submitted via: Matchology