Beach destination weddings can be amazing, but the truth is they're not for everyone. If you're one of those couples who is dreaming of a destination wedding venue that's not on the beach, this post is for you.
Up until 2-3 years ago, the majority of couples wanted to get married on the beach, tells us Jack Benoff, President of Vacationeeze, a travel agency that specializes in tropical destination weddings. "Everyone dreamed of a beach wedding with their feet in the sand as they walked down the aisle." Now that there are so many more options, Jack says, things have changed. "We find that couples are now looking for something different and more formal. Brides want to wear their heels– but sand and heels don't mix well."
So if you're wondering what your options are, here are some great sand-free venue options that Vacationeeze has helped their clients secure at top resorts in the Caribbean and Mexico.
Destination Wedding Venues Not on the Beach
Garden Wedding Venue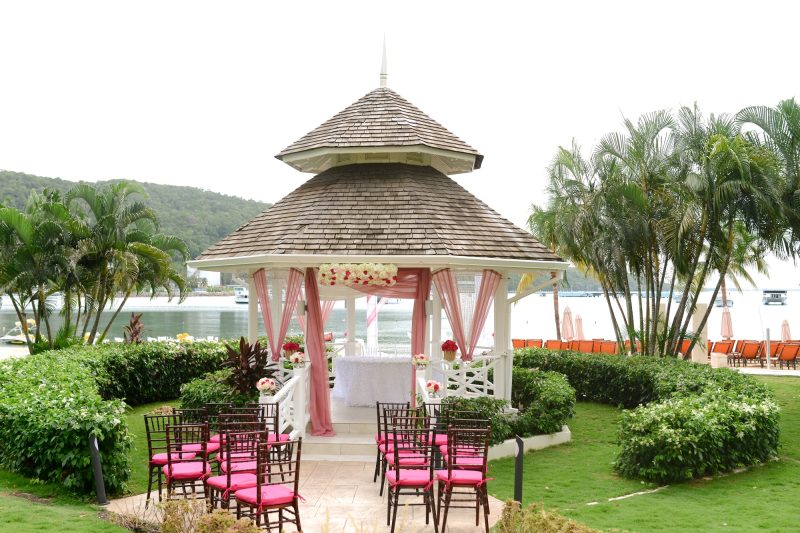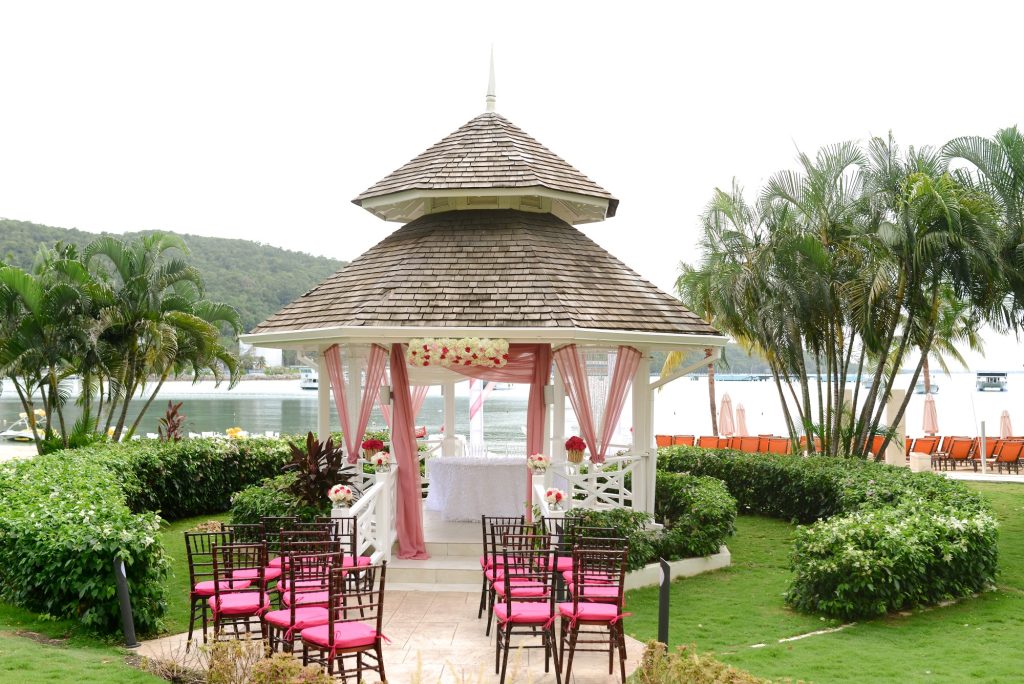 Most resorts now offer a venue surround by tropical foliage. This could be in their garden or around a fountain. Some resorts even have covered areas in the garden, which provides shade from the sun. Most of the garden venues are private.
Beach Terrace Venue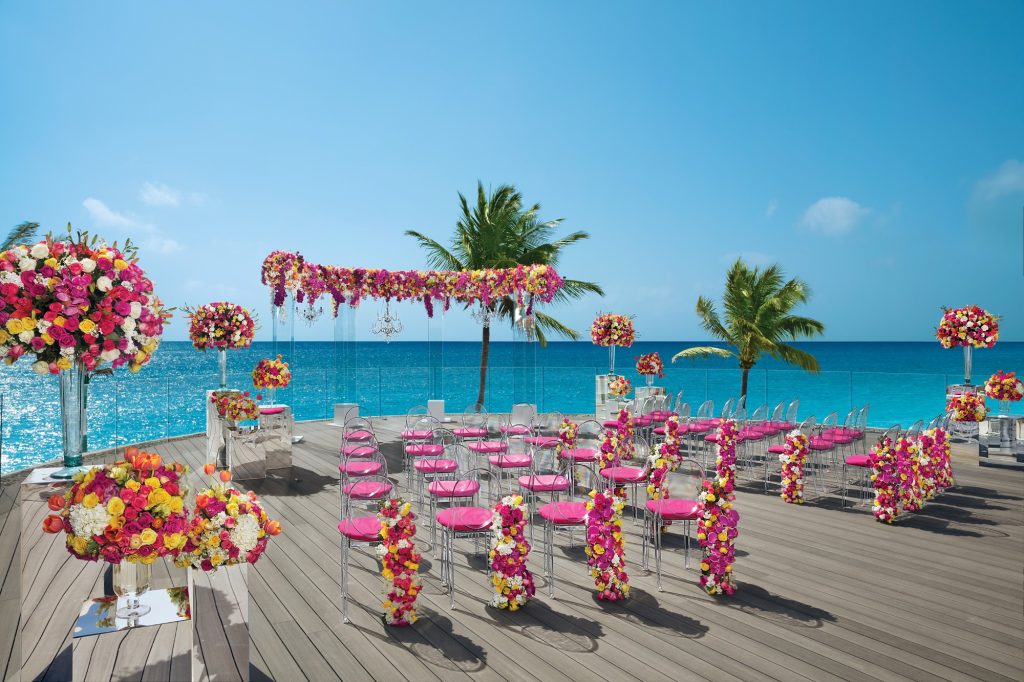 A beach terrace is becoming a popular venue because you get the blue sky, turquoise water and white sand as you background, while allowing you and your guests to bypass the sand. Most terraces sit above the beach and have great views. Depending on the resort and destination, the terrace can also provide for amazing sunsets. Most of the resort's beach terraces tend to be out of the main flow of the resort which provides a semi-private to private location. Most terrace locations have a dedicated gazebo.
Pier Wedding Venue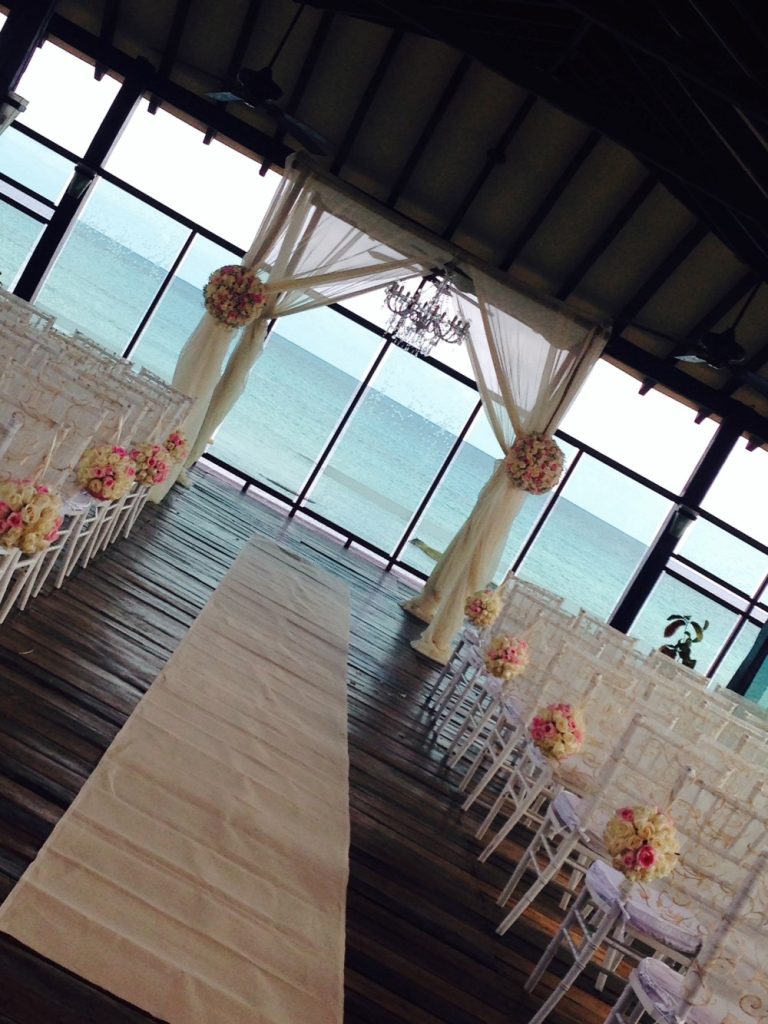 Many resorts now offer piers that extend over the beach or over the water. Some offer a gazebo at the end of the pier. Some piers are open on the sides as well as above. Others offer a roof and some even offer tent-like walls just in case it rains. In most cases, guests sit on the pier, the bridal party walks down the middle, and the ceremony is at the end of the pier so that everyone experiences the amazing beach and ocean backdrop.
Rooftop Wedding Venue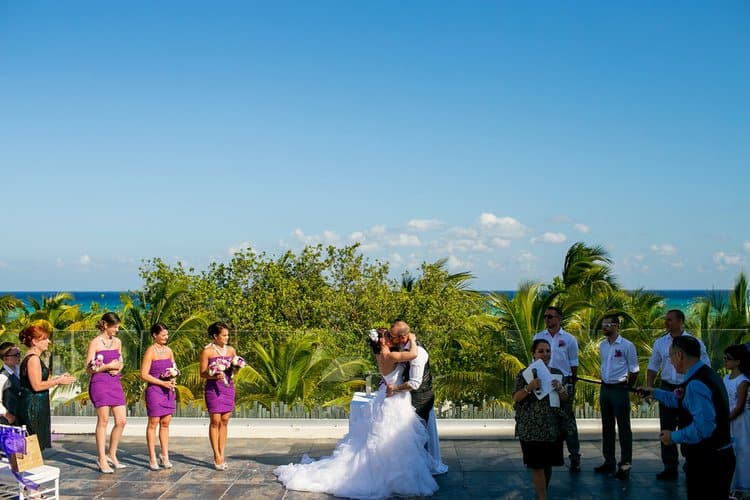 The rooftop is the newest trend in venues. They are 100% private and most have 360-degree views of the tropical surroundings as well as the ocean. Some resorts have built amazing rooftop venues with LED lighting, gazebo, and webcams.
Chapel
Quite a few resorts now have dedicated chapels to host the ceremony. Some resorts even have dedicated catholic chapels.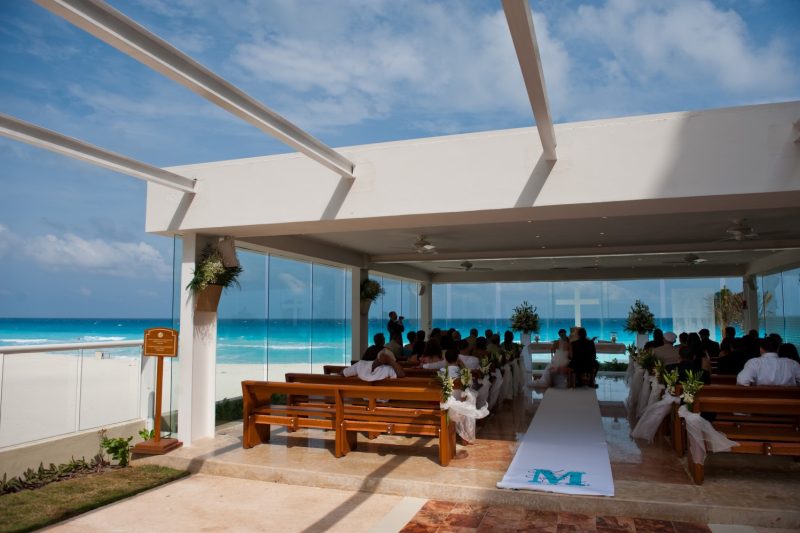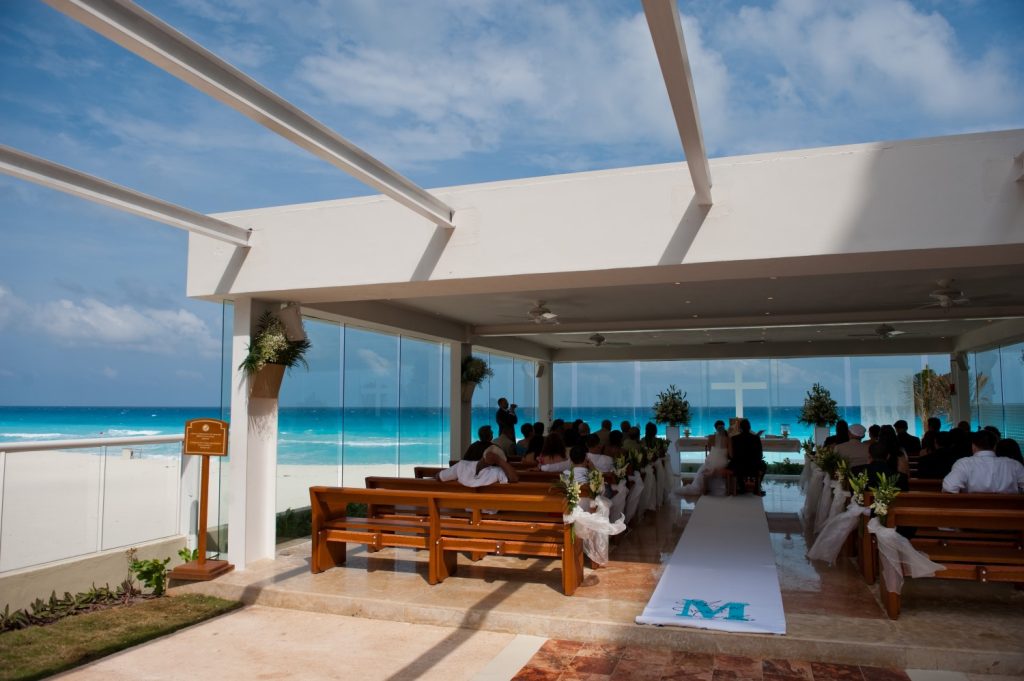 Ballroom and Indoor facilities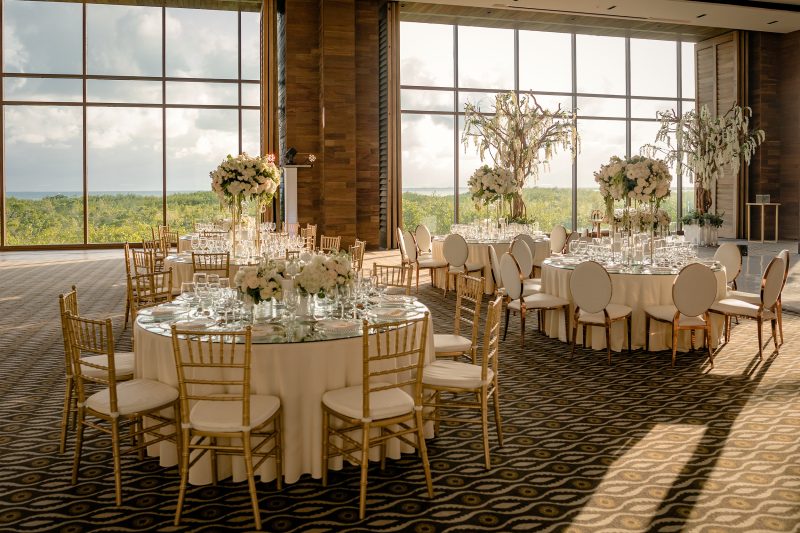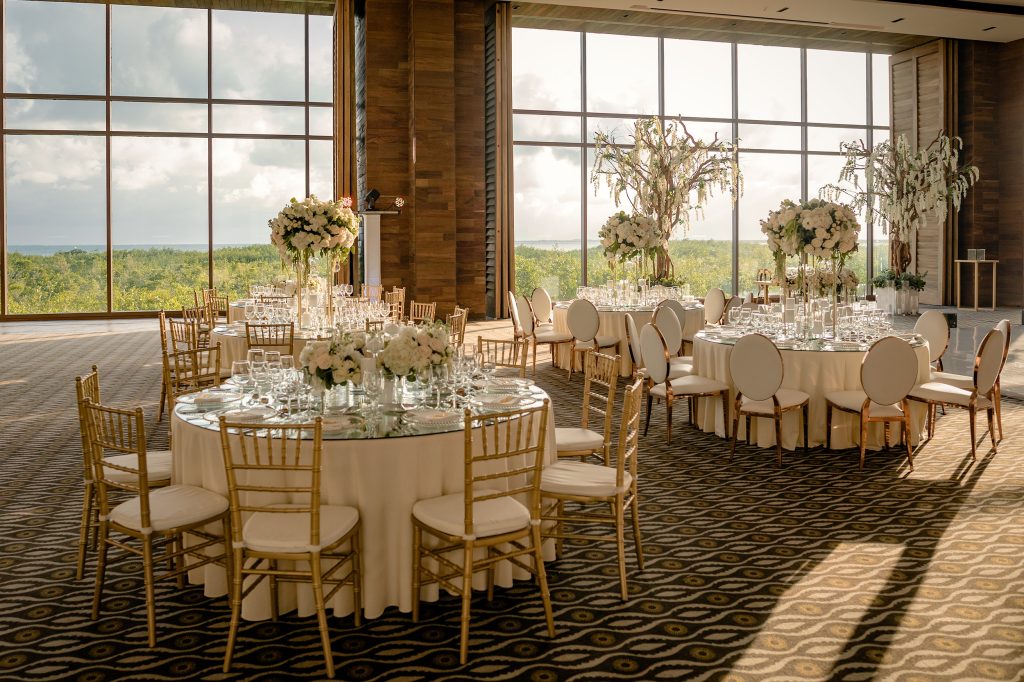 All resorts have indoor options to offer. Some resorts have dedicated indoor ballrooms and others will close a restaurant for you to hold your ceremony or events.
Securing your Dream Destination Wedding Venue
As you can see you are not limited to getting married on the beach. It's important to discuss your dream venue with your travel professional as soon as you start the planning process. Make sure to discuss not just your ceremony venue, but also the reception, cocktail party, and any other pre or post events you're planning.
Some resorts will allow you to secure the venue when you make your initial reservation but there are other resorts that will not confirm your venues until 60 days prior to your arrival. As you look at your venue options you should also consider the time of day of your event based on the month you will be hosting your wedding. Also, remember that you should discuss "Plan B" with your travel professional and the wedding planner at the resort. Most resorts have a few "Plan B" options just in case the weather doesn't cooperate.
Contact Jack Benoff at Vacationeeze
Looking for a specific venue for your ceremony or reception? Not sure which resorts might offer it? Feel free to contact Jack Benoff of Vacationeeze by filling out the contact form below or you can reach him at jack@vacationeeze.com or 215-454-2080. Jack has spent over 25 years helping clients plan their dream trips to tropical destinations.
Disclosure: This post was sponsored by Destination Weddings by Vacationeeze. The opinions expressed are the author's own and do not necessarily reflect the views of Destination Wedding Details LLC. See Disclaimer
.