I am so excited to share that Destination Wedding Details is now a proud member of Aisle Society! If you're not familiar with Aisle Society, you need to drop everything right now and go check it out– trust me, you've never seen so much wedding eye candy in one place. Aisle Society features content from over 30 of the best wedding bloggers out there, including yours truly. Here are some of the features I love about Aisle Society, and why I know you'll love it too!
Find Inspiration from 30+ Blogs in one Place
We all love Pinterest but it can get really frustrating sometimes to scroll through the same images over and over again. Not only that, but how many times have you found something you love, only to click on it and land on a web page that doesn't even have the image on it? That won't happen on Aisle Society because all of the content is carefully curated by top wedding bloggers on a daily basis. You'll find the latest trends in flowers, cakes, centerpieces, fashion, and many more details. You can sort by what's trending, most favorited, or the newest.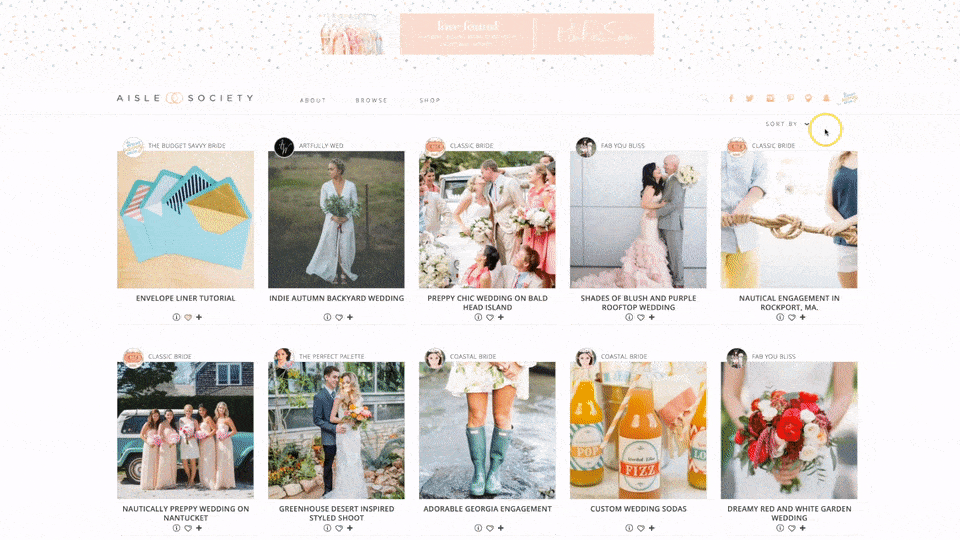 You can also click on the "browse" button in the menu to filter Aisle Society posts by any style, color, season, blogger, setting, category or season.
It's interactive
One awesome feature is that if you see a post you love, you can scroll to see more photos from that post without having to leave the page.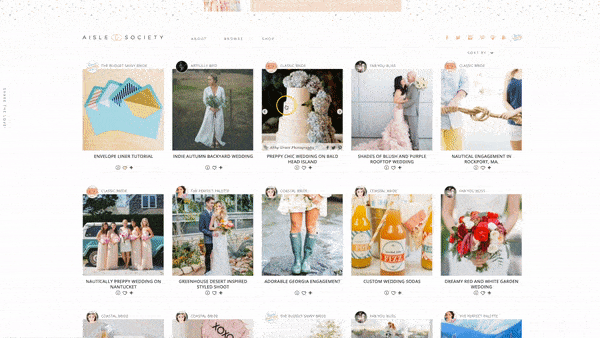 And if you love what you see, you can click on the image to read more about the details of that wedding and to see a full vendor list.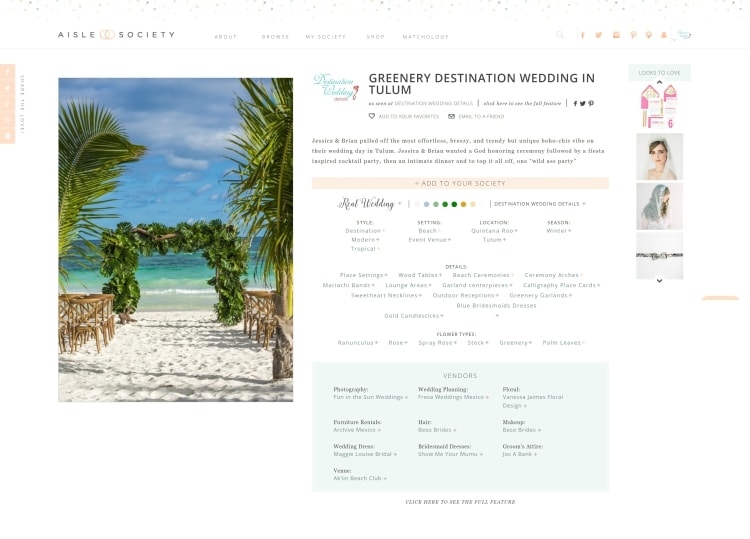 Want to see the whole feature? Just click the title to go see it on the blog it was published. You can also share it on social media, email a friend, or save it to your Aisle Society– which brings me to my next point…
Create Your Own Inspiration Feed
My favorite feature is that you can curate your favorite wedding styles, attire, colors, designs, and vendors and save them to "Your Society", which is your very own personalized feed. This is a game changer, my friend. You can now have all the inspiration you need to plan your dream destination wedding, in one place. When you find something that you love, all you have to do is click the plus sign next to it and will automatically be added to "Your Society" – it's that easy.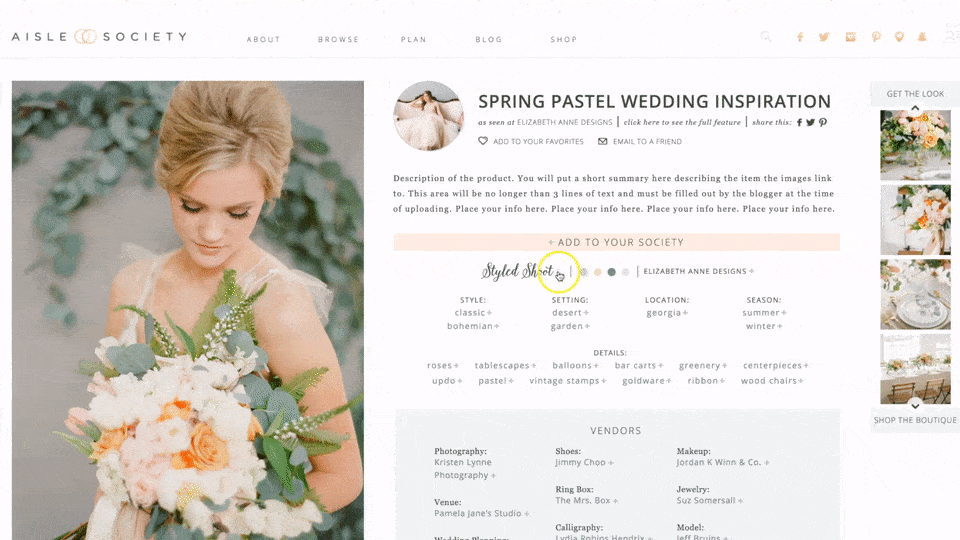 So what you're doing here is curating "your society" so that you see what you want and nothing else. For example, you can add pink destination weddings on the beach to your society, and you'll see recent and future posts that fit that criterion. All you have to do is click on "My Society" in the top drop-down menu to get a dose of inspiration any time you need it.
This post only scratches the surface of everything you can see and do on Aisle Society. I'm so proud to be a part of it and I know it will become your new wedding planning BFF. Make sure you check out Aisle Society for yourself and don't forget to follow Destination Wedding Details while you're there.