I'm so excited to share this beautiful cliffside beach wedding in Hawaii. Lee and Byron had an intimate ceremony at Ironwoods Beach surrounded by just 15 of their closest friends and family. The bride wore a beautiful Maggie Sottero gown and carried a gorgeous bouquet in various shades of pink with a matching floral hairpiece. The venue is so naturally stunning that the couple opted to not add any decor at all. The incredible cliffs, romantic sunset, and crystal clear blue ocean was all the decor they needed – and it was breathtaking. NV Maui Media did an incredible job capturing all the beauty. Enjoy!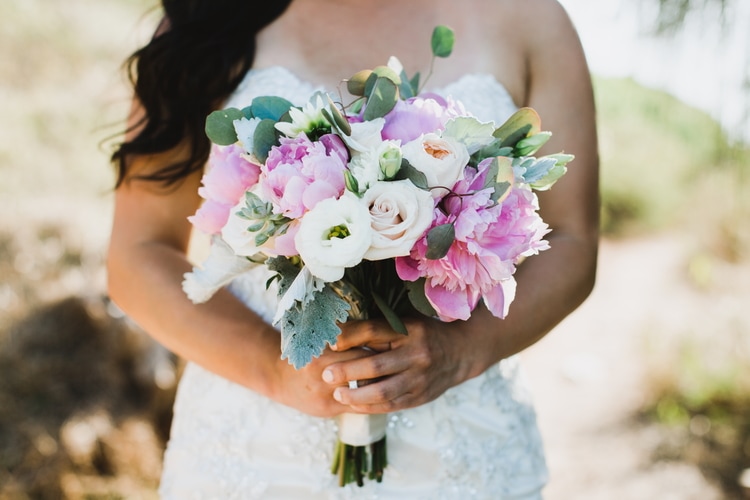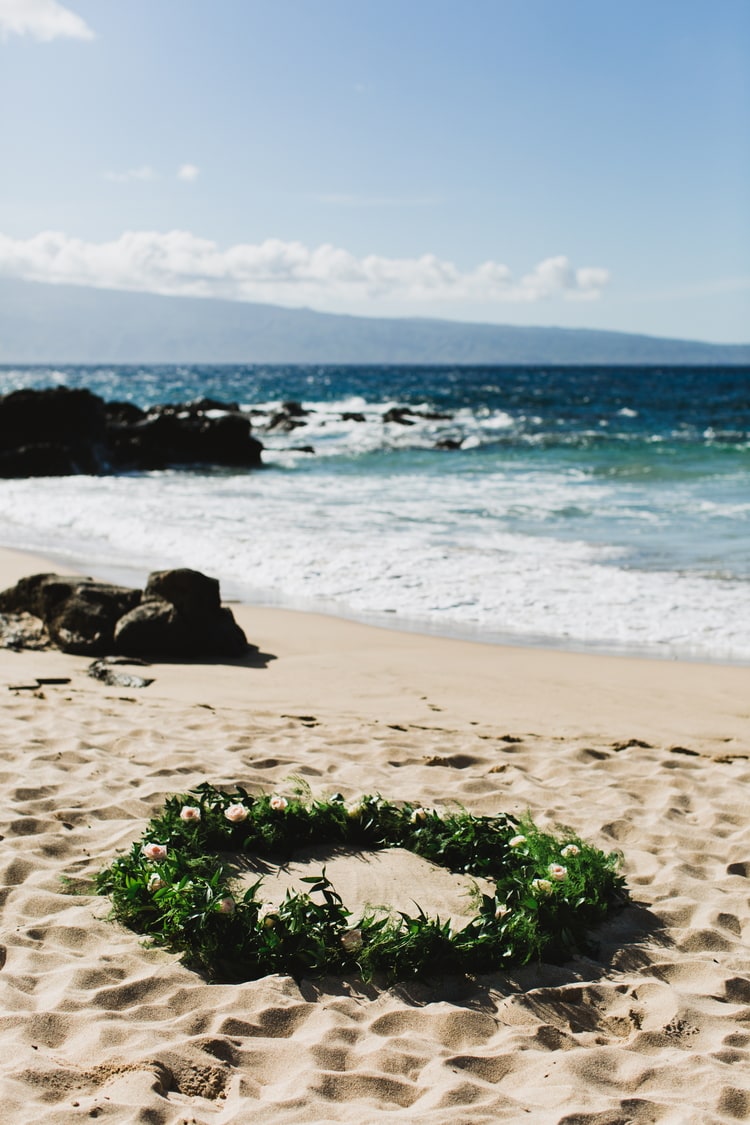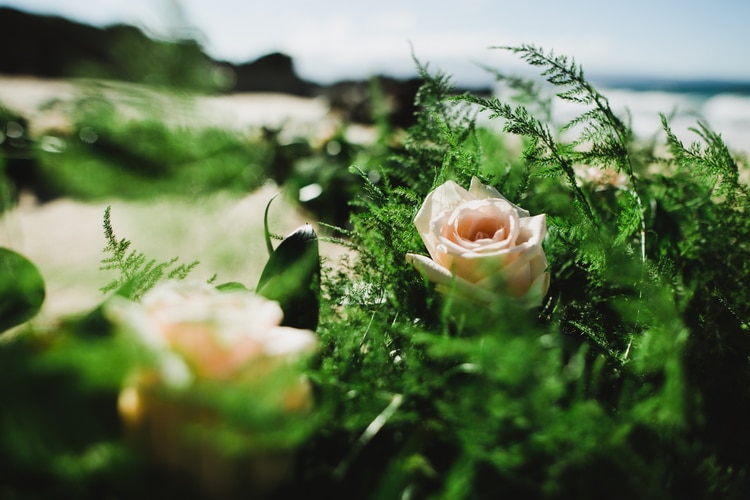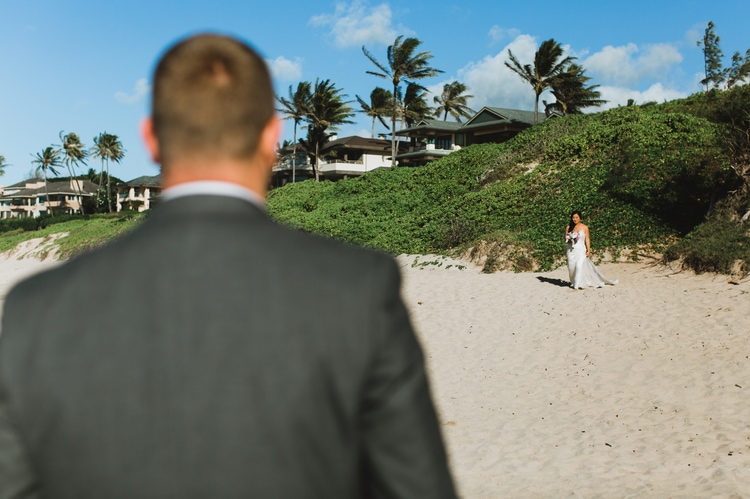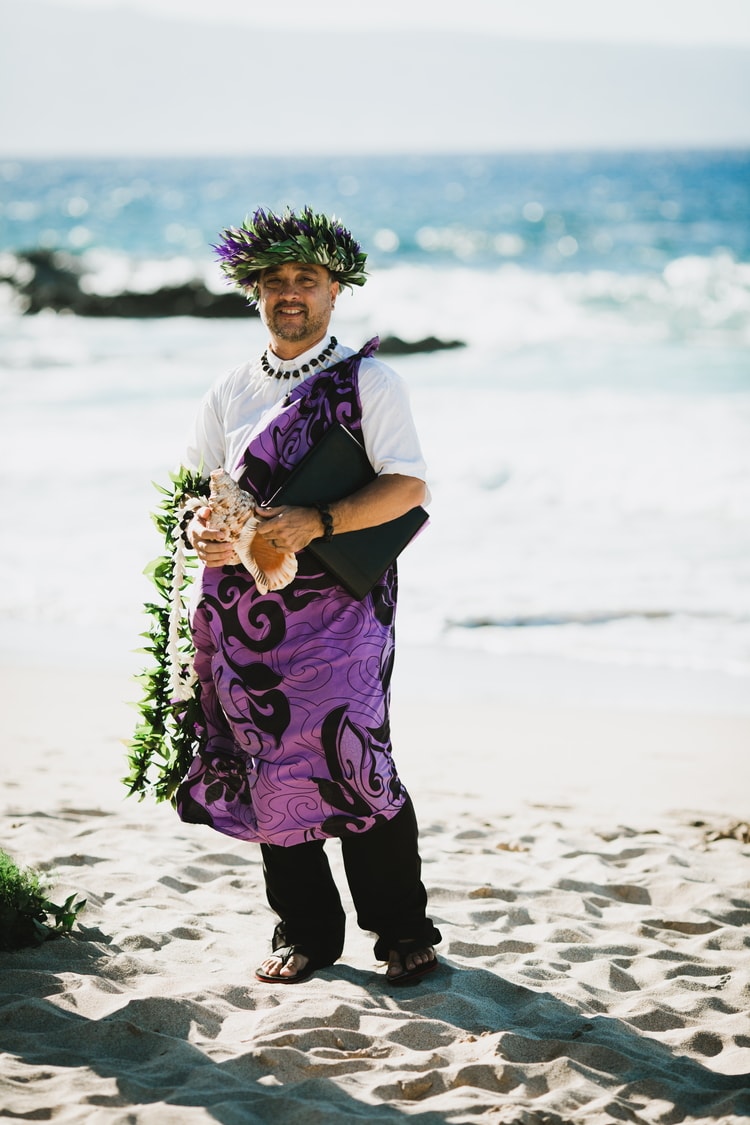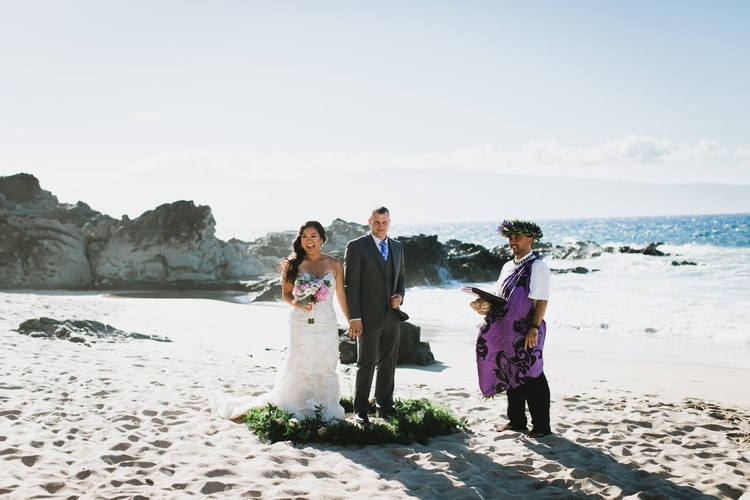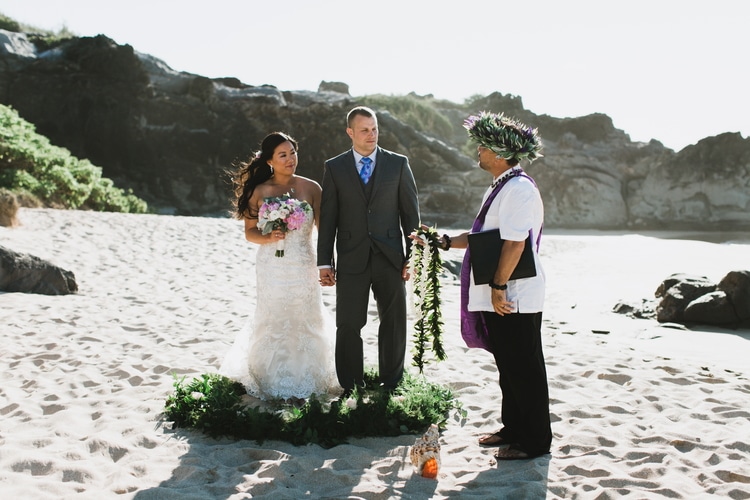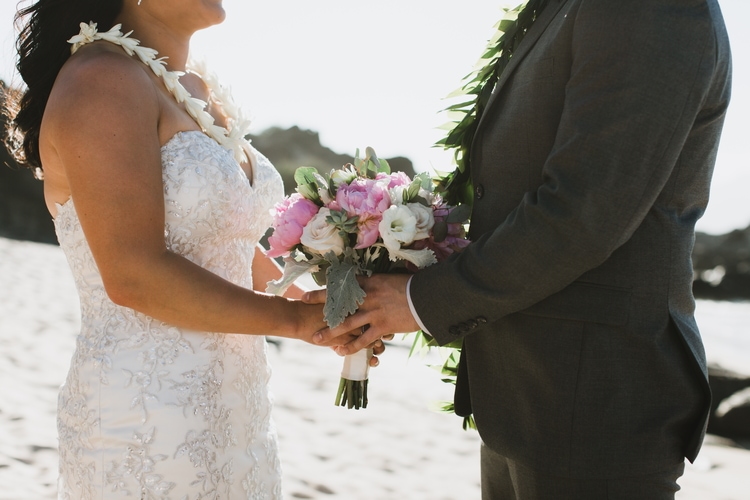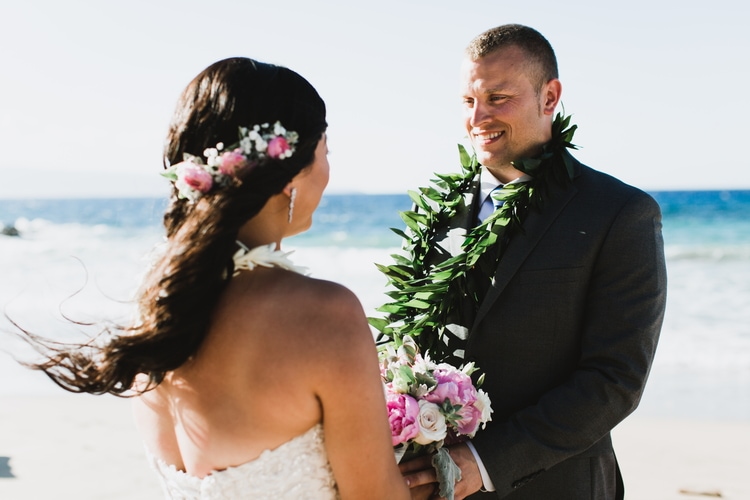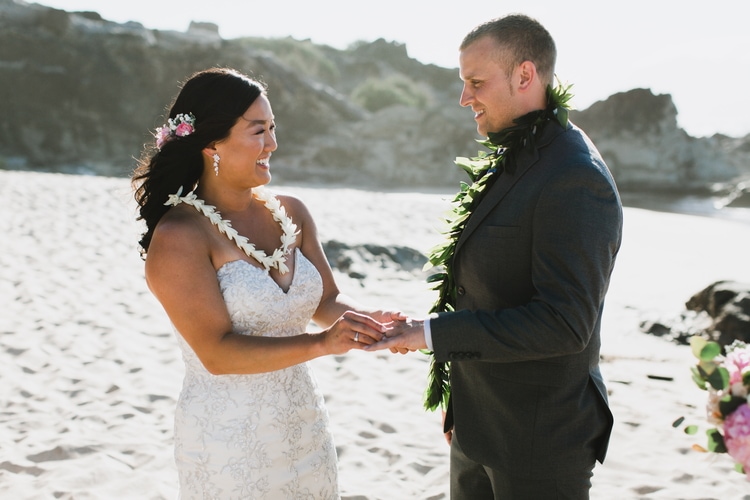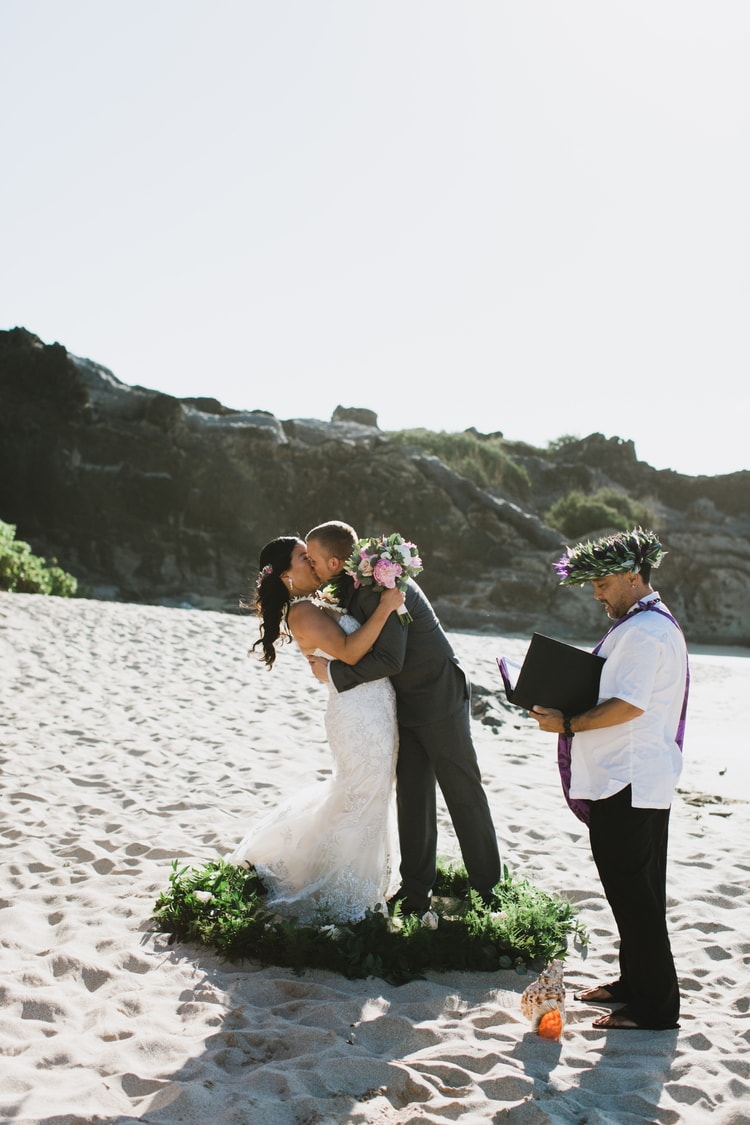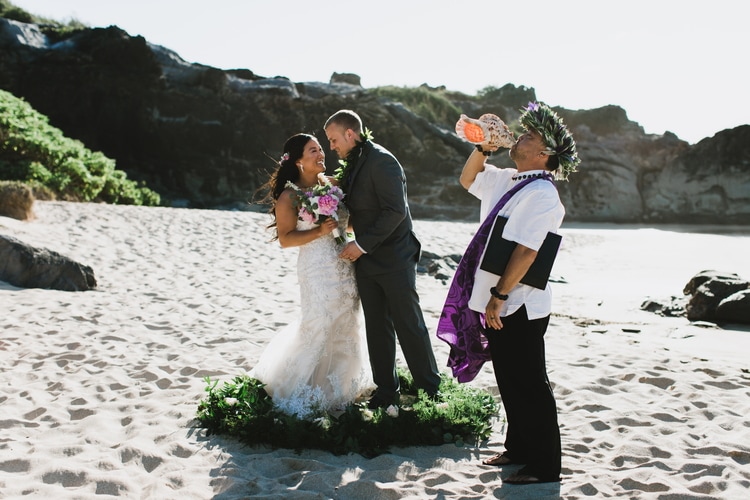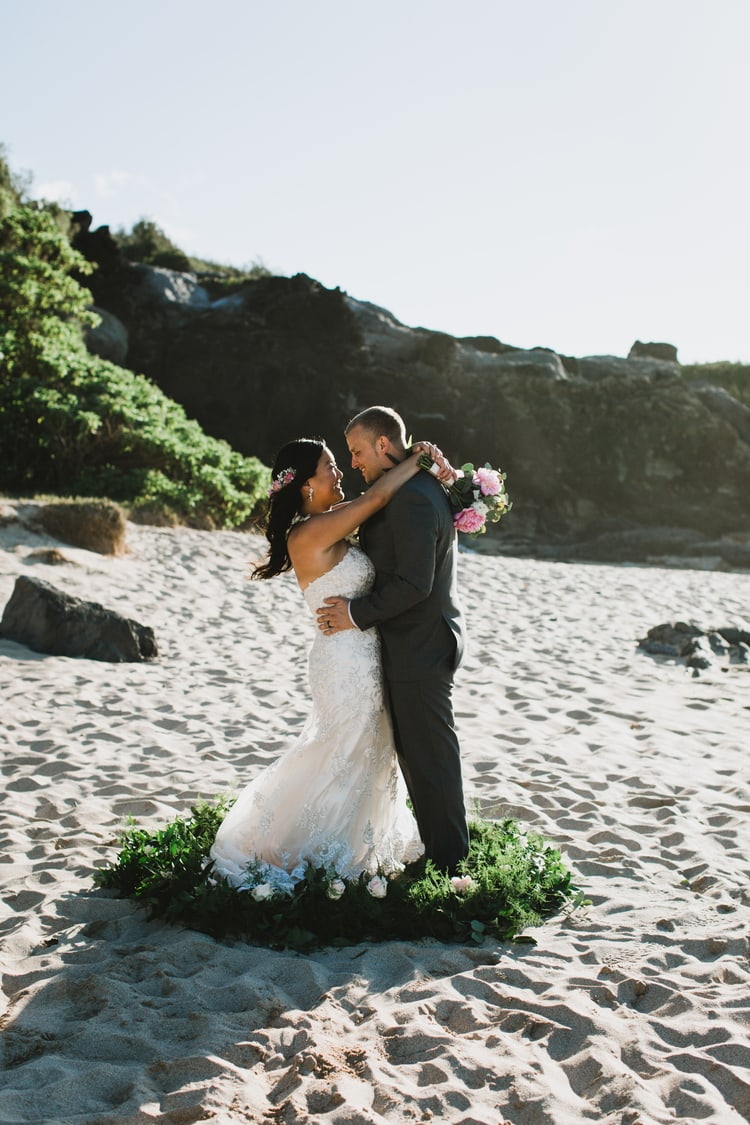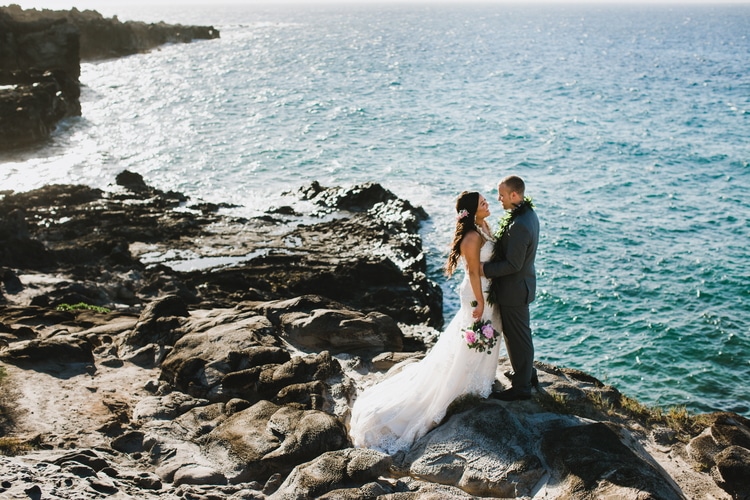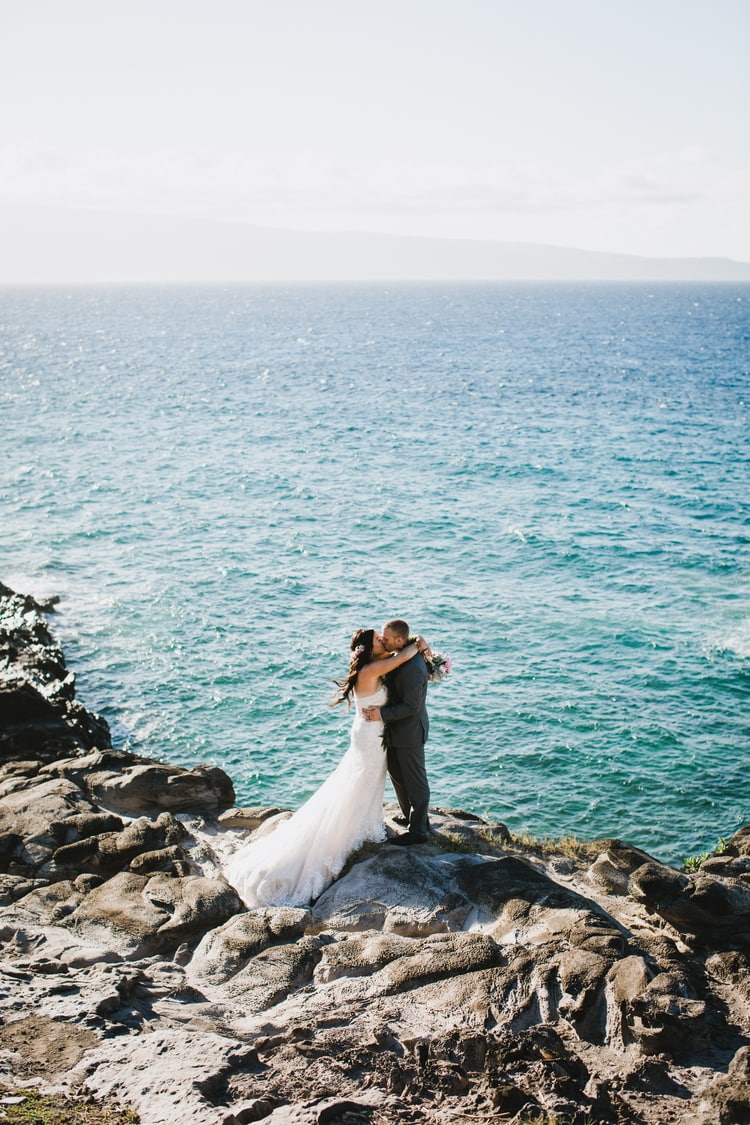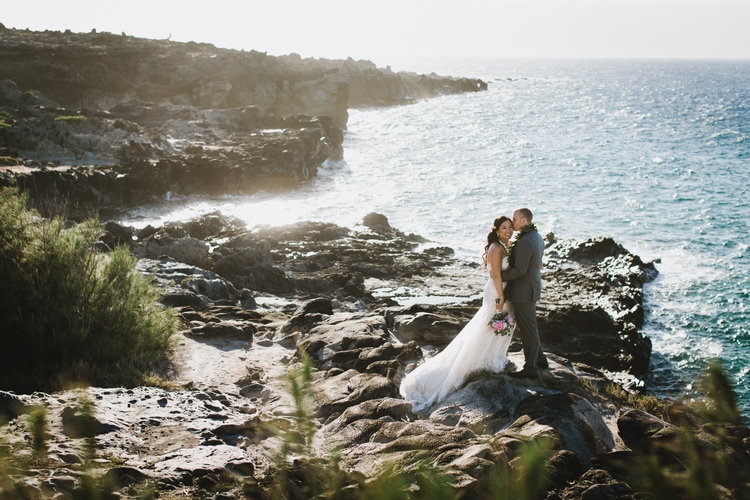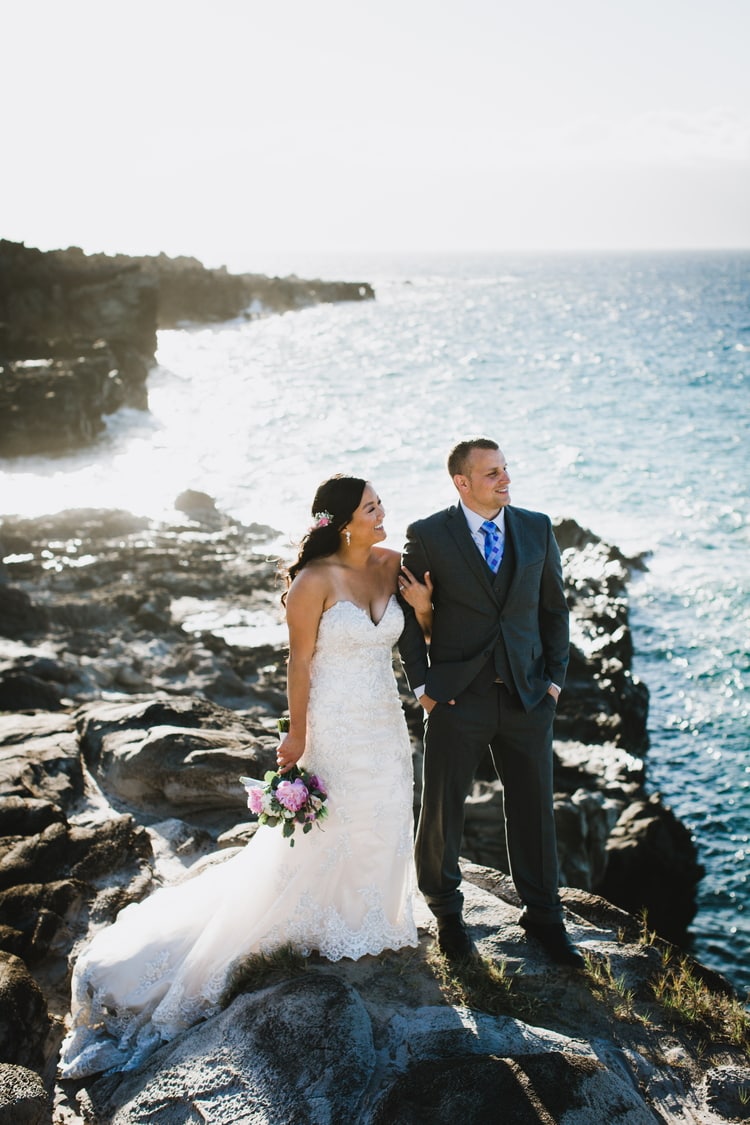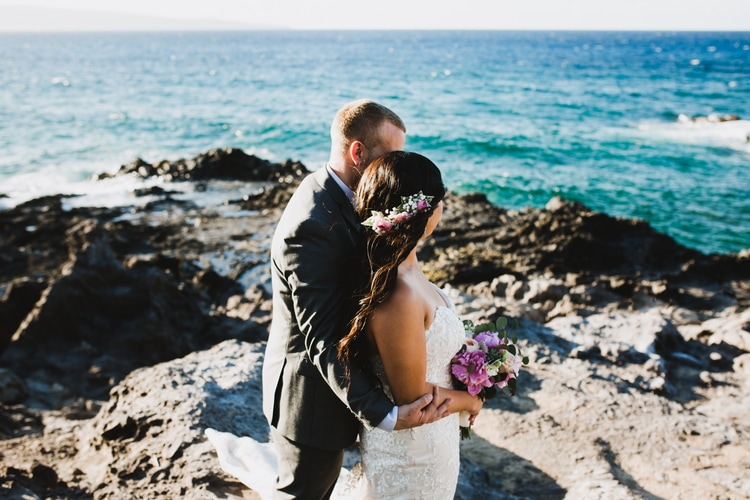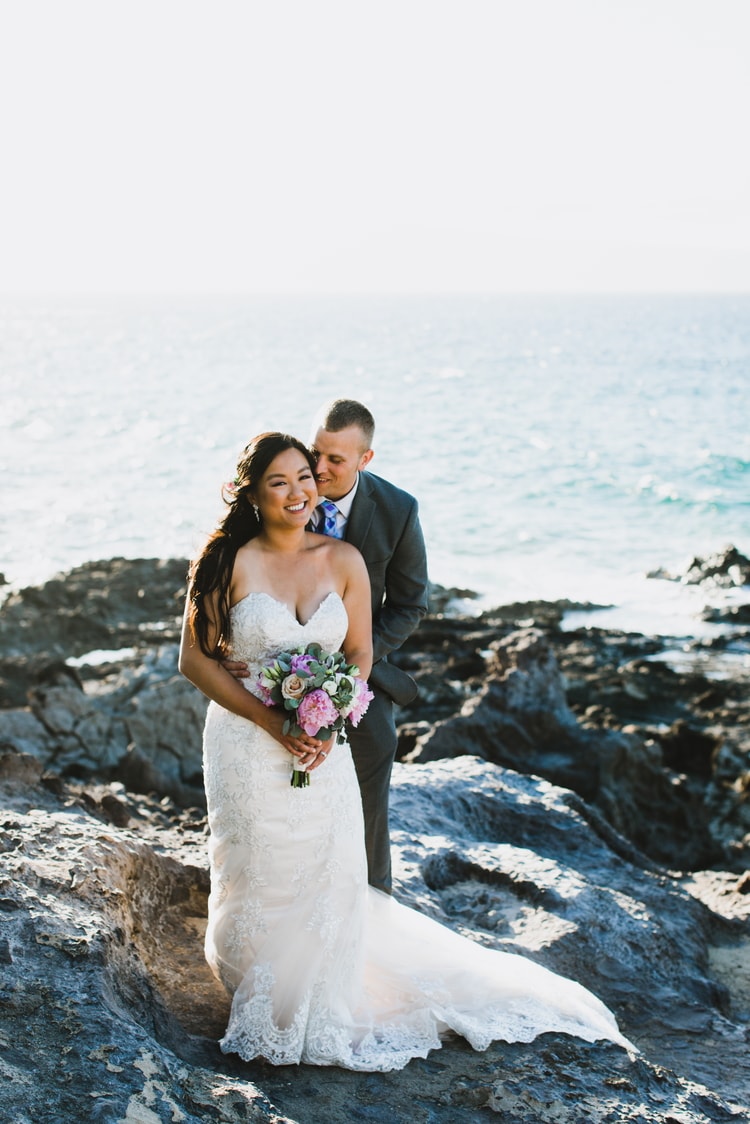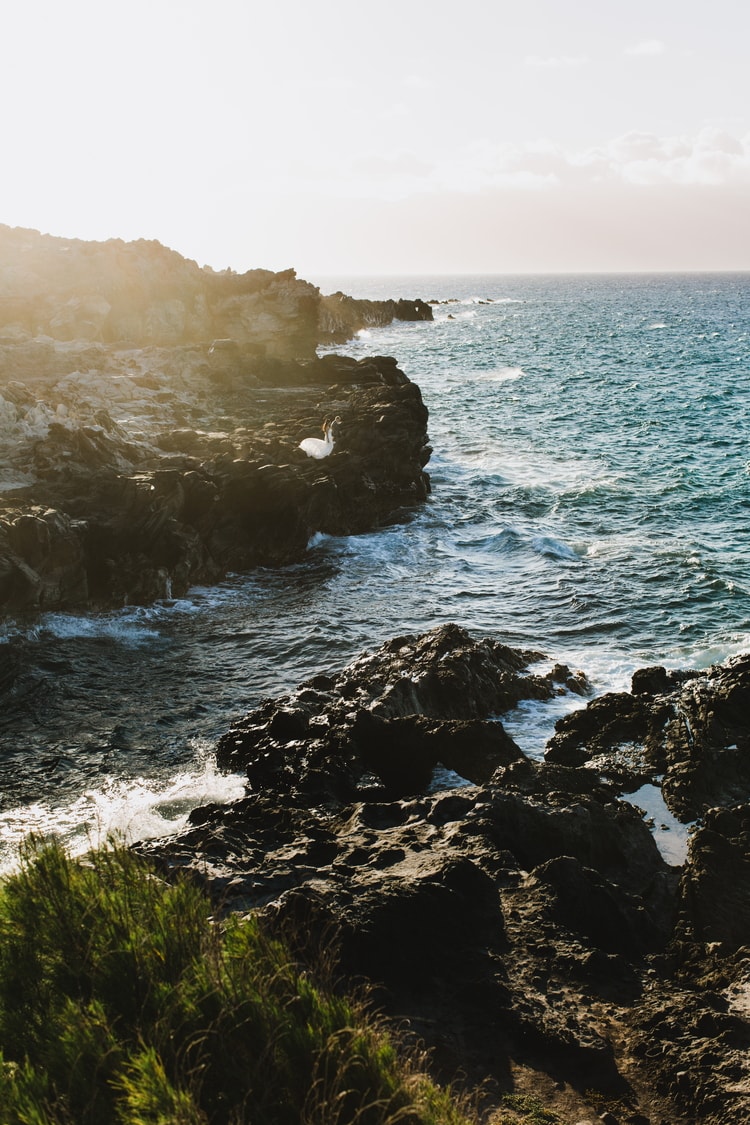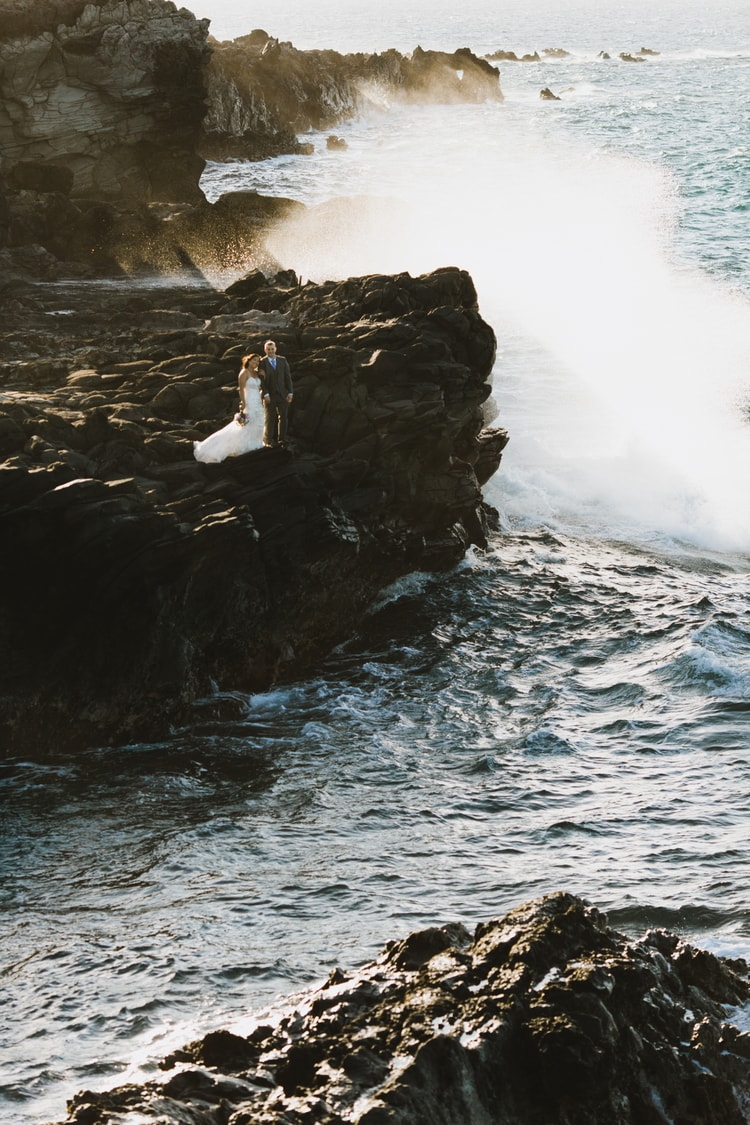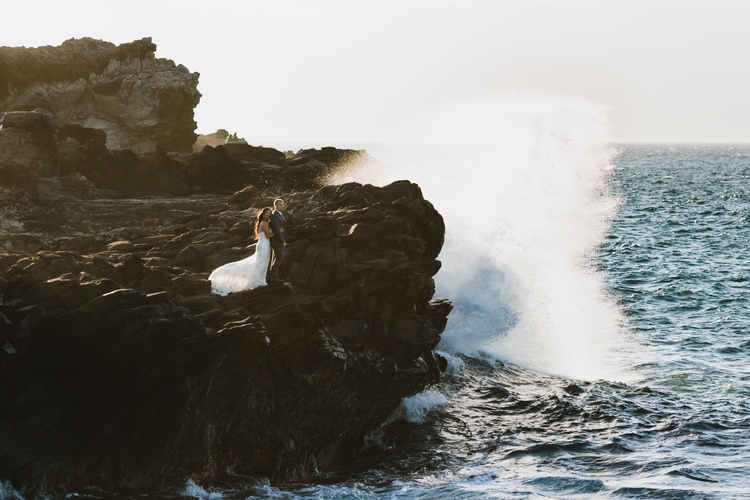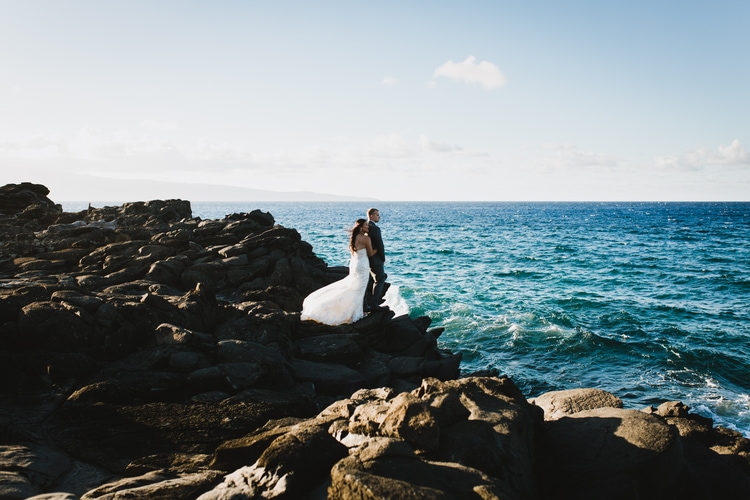 Real Destination Wedding Q&A with the Bride:
What was the inspiration behind your destination wedding day? Did you have a specific theme?
We wanted a simple beach wedding with our family and friends. Nothing formal or over the top. We just wanted to share our special day with our loved ones in a beautiful beach setting.
How did you decorate your venue? Was any part of the decor DIY?
Ironwoods Beach is plenty beautiful! No wedding decor needed! We had our dinner reception at the Feast of Lele. We wanted a memorable dinner for our family and friends so we decided on a luau. The performances were amazing and the food and drinks were delicious. It was perfect!
What were the florals like in your wedding?
I wasn't picky when it came to the florals. I sent Marni Miller (our awesome wedding coordinator from Maui's Angels) a picture of a bouquet that I liked and she took care of the rest! When I saw my bouquet and matching floral hairpiece on our wedding day, I was completely surpised and I absolutely loved them!
What were some of your favorite parts of your destination wedding?
The Feast at Lele luau was definitely a highlight for everyone, bride and groom included. Some of our guests had never been to Hawaii before and others had but had never attended a luau. It was great to watch all the wonderful performances, dine on a variety of delicious foods and chat all night long in between performances. We would recommend to everyone looking for a great wedding reception idea.
How did you choose your wedding day look? How did the groom?
I got my amazing Maggie Sottero wedding dress at New Beginnings Bridal Studio in Puyallup, WA. It was the only place I went to and I found my dress! The staff was amazing and so kind to my girlfriends and myself. I tried on a handful of dresses and found THE one pretty quickly! As for the groom, he wanted a simple grey suit and a tie that would be a nice pop of color so we did just that!
How did you meet? Tell us about the proposal.
We met back in the fall of 2006 while working at the local mall. Our retail locations were next door to each other and we would always say hi to one another. On Black Friday of that year, after working extremely long days, Byron asked if I wanted to go grab a cup of coffee and the rest is history! On our 9 year dating anniversary in 2015, we went out to lunch like any other normal day and afterwards, decided to go for a walk along the Ruston Way waterfront. We got to the Fuzhou Ting pagoda at the end of the waterfront and as I'm admiring the pagoda, Byron unexpectedly handed me an anniversary card he had hidden in his jacket. I was reading his sweet card, completely unaware of anything that is about to happen, and as I finished the last sentence, Byron got down on one knee and asked me to be his wife! I burst into tears and of course said yes! It was totally a surprise and absolutely perfect in every way.
What was the most anticipated or special moment of your wedding day?
The most anticipated and special moment of our day was seeing each other for the first time on the beach. We chose not to do a "First Look" before the ceremony so the first time we saw each other was when I came walking down the beach towards him at the actual ceremony. It was so special and we wouldn't have chosen to do it any other way.
Do you have any advice that you'd like to share with other couples?
Keep it small and simple if you can. It's much less stressful that way. Make it a destination wedding if you're able to! We had a total of 15 adults and a few kids and it was fantastic. Everyone made a vacation out of it, did their own thing, came together for the wedding day, and then we all went home.
Vendors:
Photographer: N V MAUI MEDIA
Event Planner: Maui's Angels Weddings
Location: Ironwoods Beach