Justin, a Philadelphia native, and Darcee, a Pittsburgh gal both attended Penn State for their undergraduate degrees. It was at PSU, not where this couple met, but where they met some of their best friends who would later bring them together. On February 7th- when Pennsylvania is at its coldest– Justin and Darcee headed down south with 175 of their closest friends and family in tow, for what would turn out to be a gorgeous Key Largo wedding.
Their destination wedding was very chic with mostly white décor to complement the breathtaking beach backdrop. The bridesmaids wore gorgeous berry purple dresses which reminded the bride of purple orchids, and would become the inspiration for the pop of color in the bouquets and centerpieces.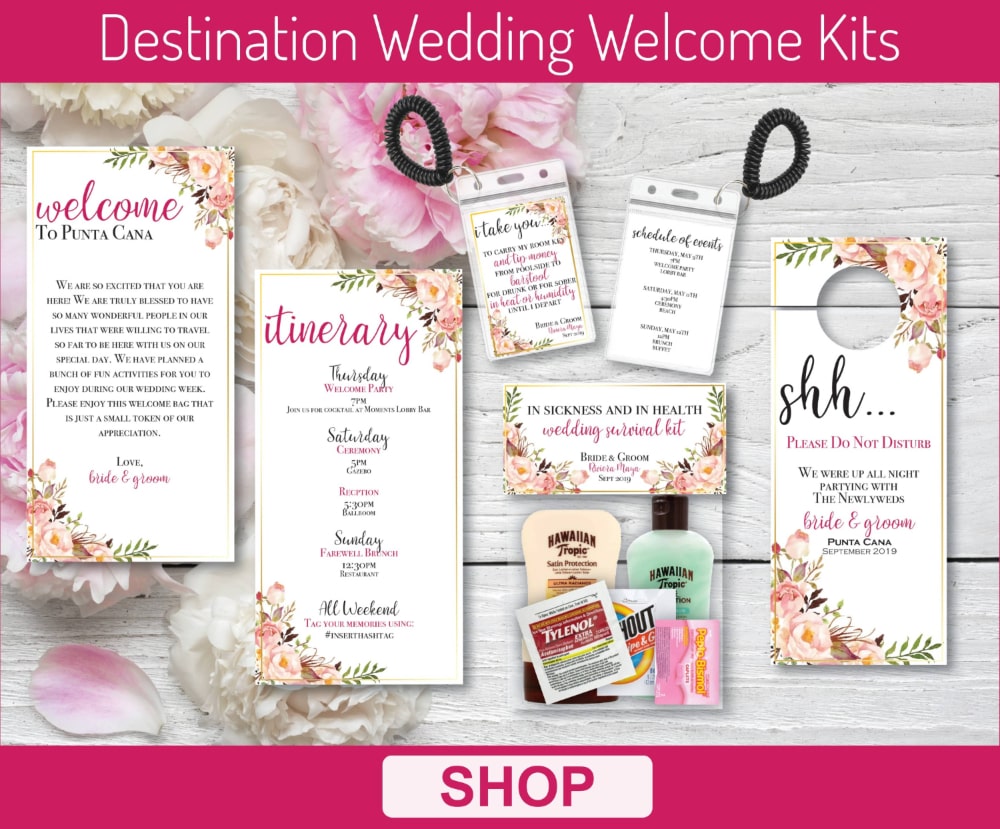 Every detail was impeccable and I am so excited to share this album with you today. Thank you so much to The Wedding Traveler for these sweet images!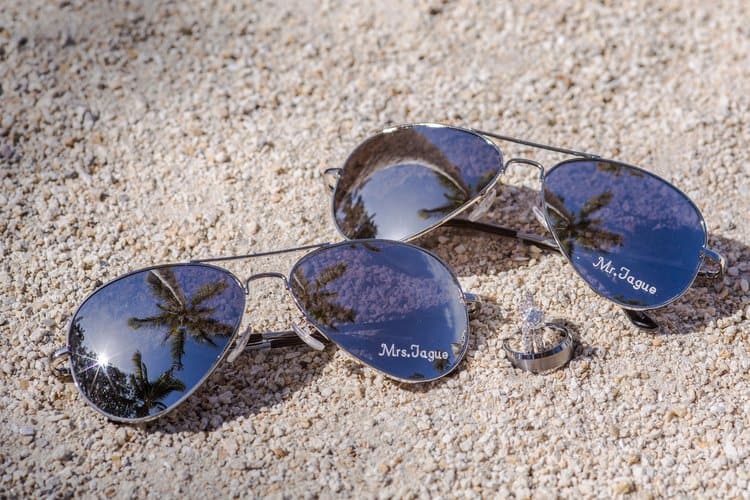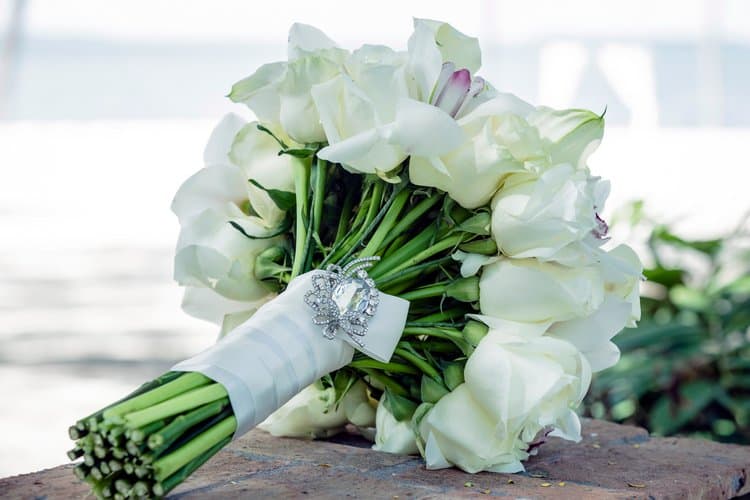 Can you tell us about your wedding theme and attire?
We decided on beach chic for the wedding. We wanted everyone to be comfortable in the outside weather but still dressed for the occasion. It fit our vision best for the guys to wear light suit pants and a white button down with flip flops. The girls wore bright flowing dresses and went barefoot in the sand. The groom dressed up his outfit with a complimenting suit vest and tie. The bride wore a tulle skirt and veil for the ceremony that was later removed to reveal an elegant beaded gown.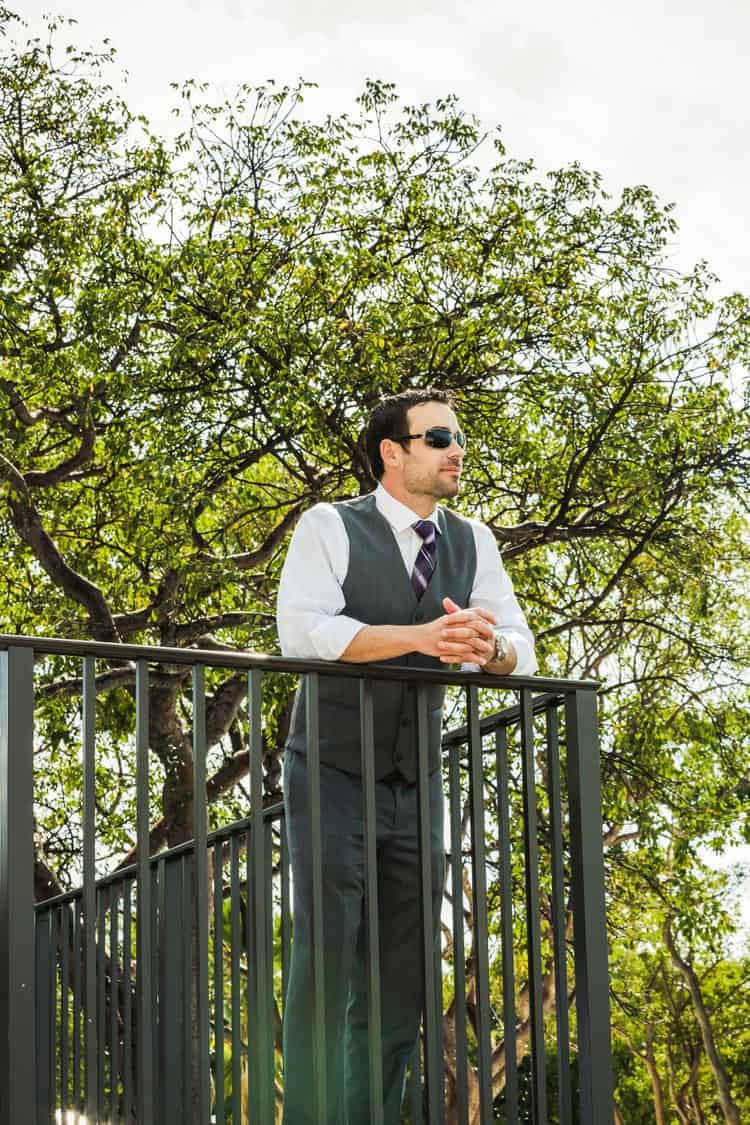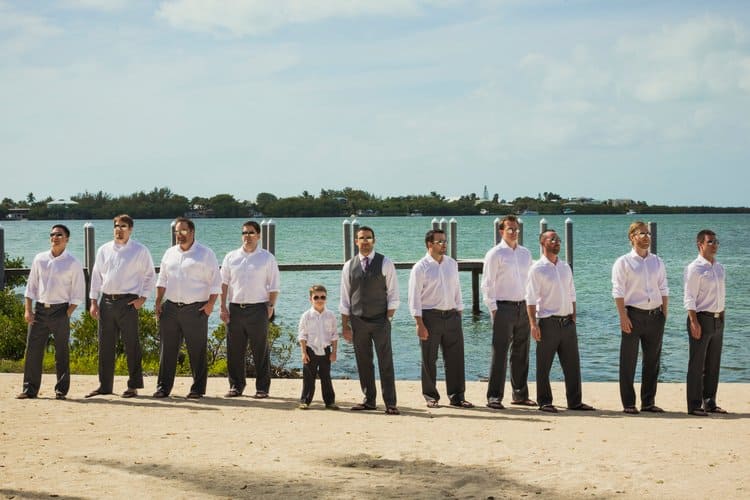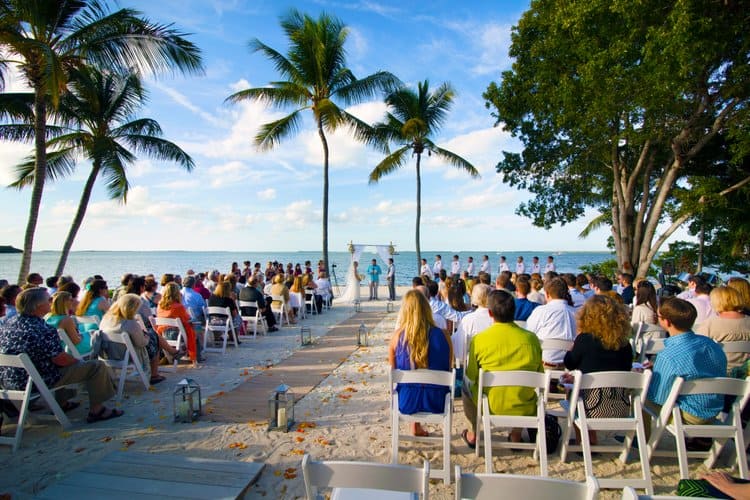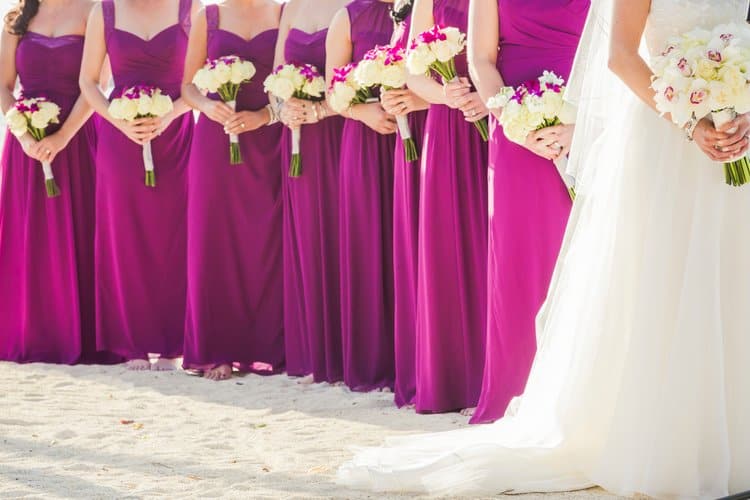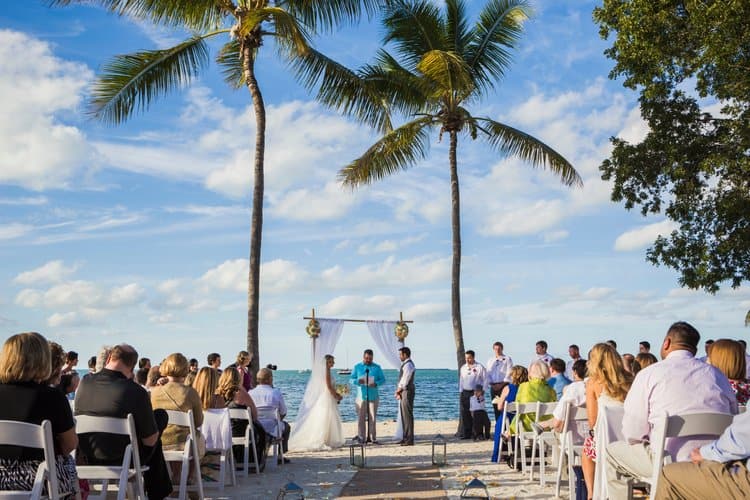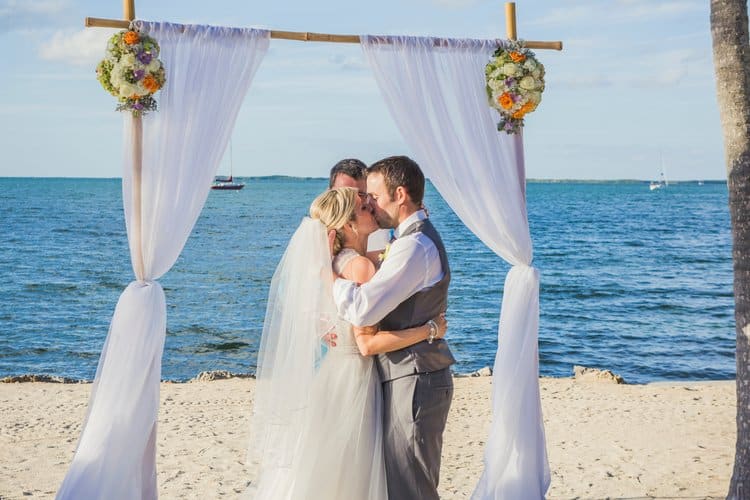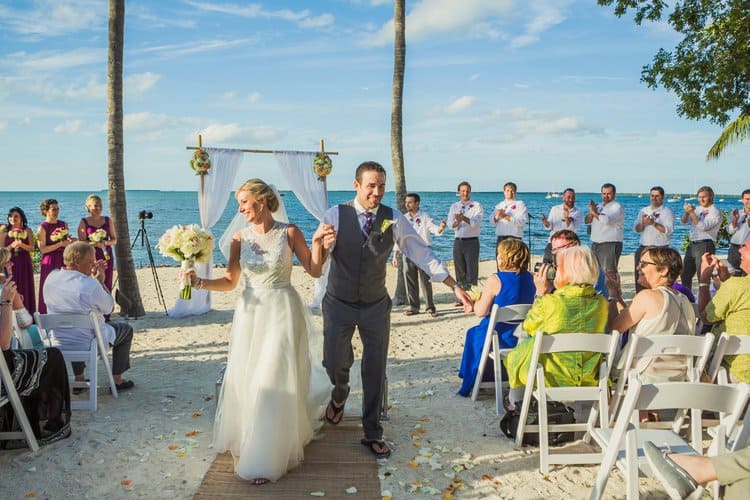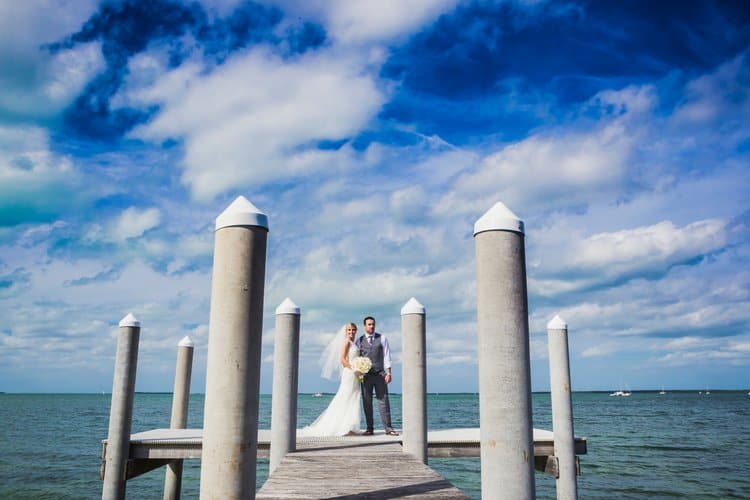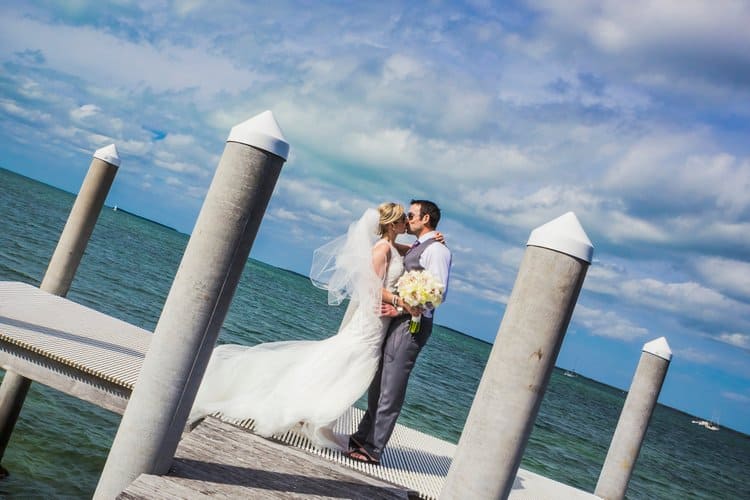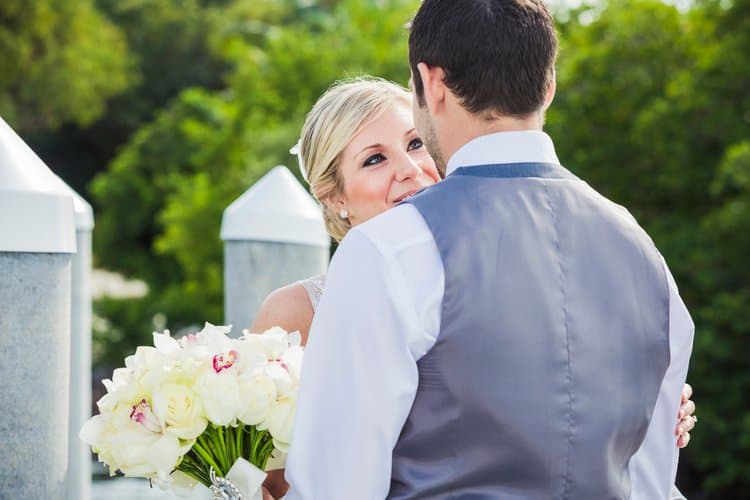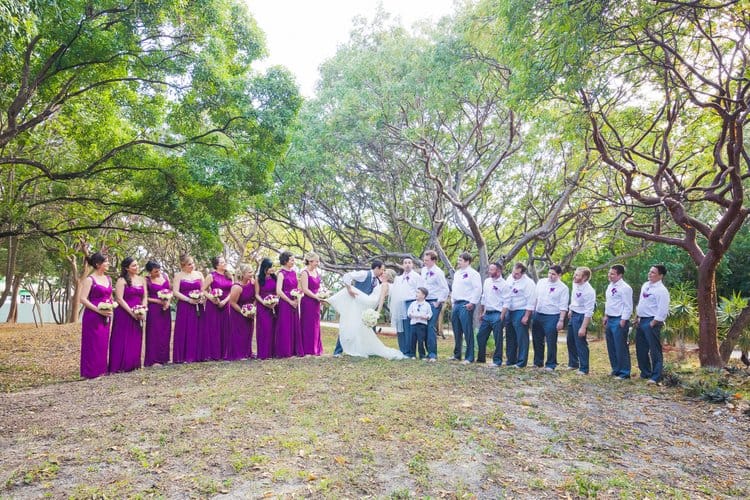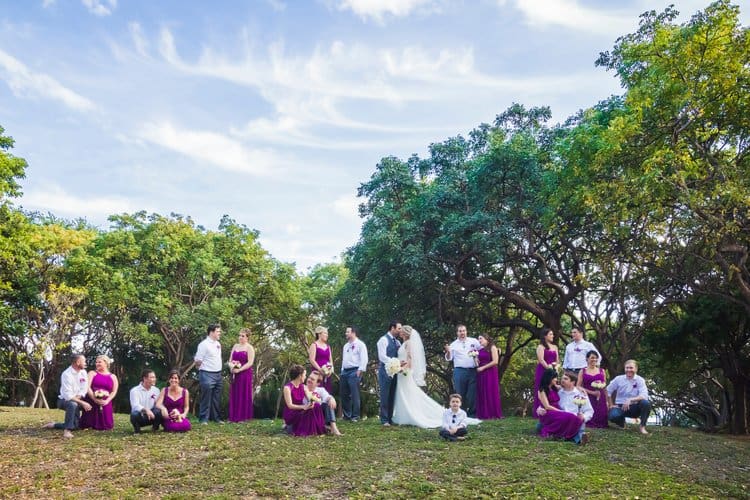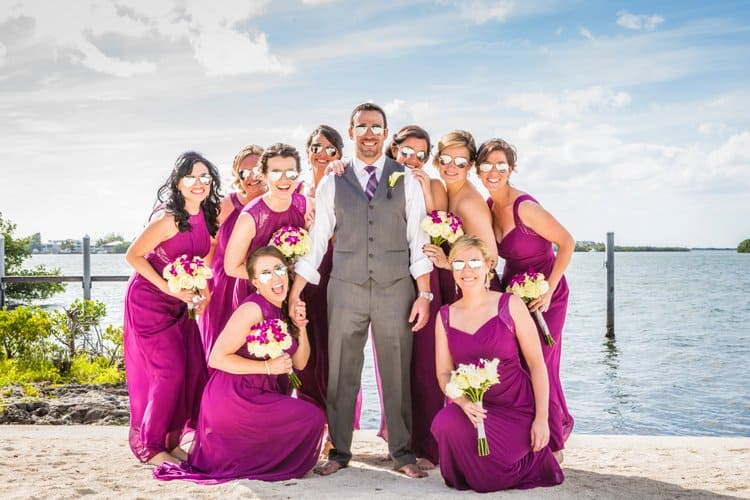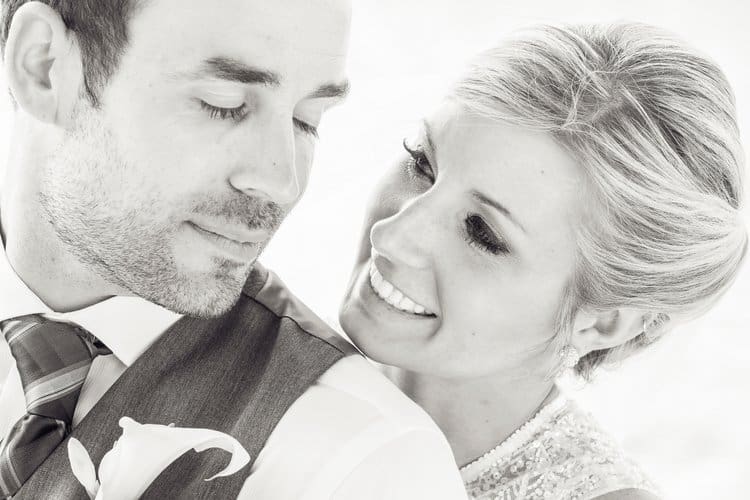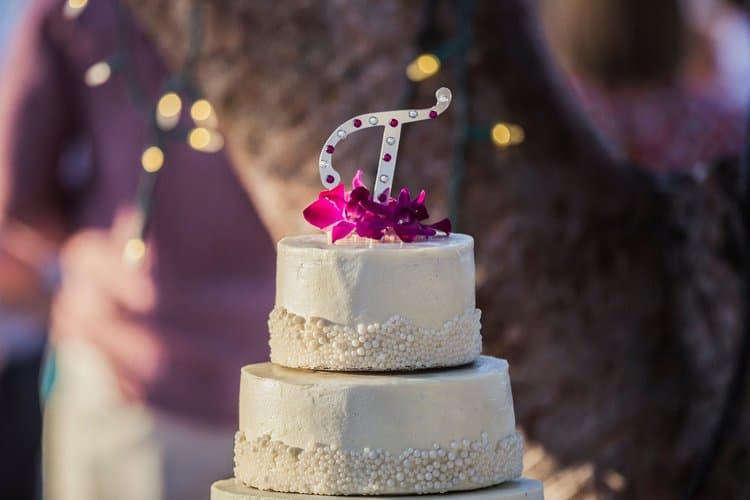 Was there something unique or special that you incorporated into your wedding?
It is a tradition in Pittsburgh, where the bride is from to have a Cookie Table, so hundreds of home baked cookies were brought to the celebration and displayed by the bride's friends and family.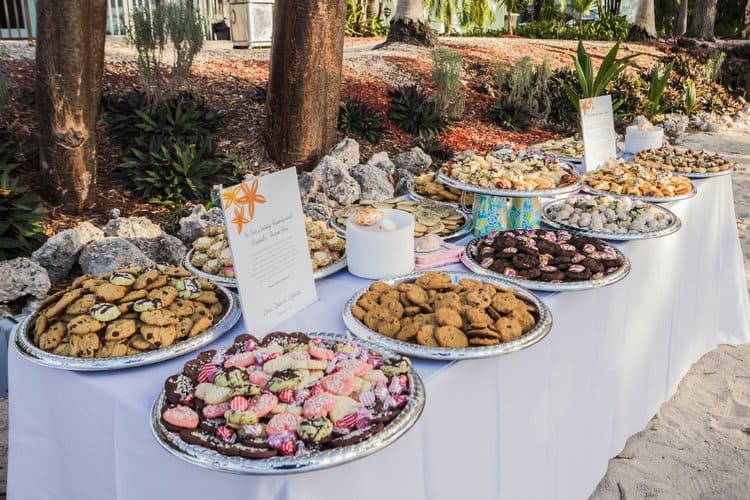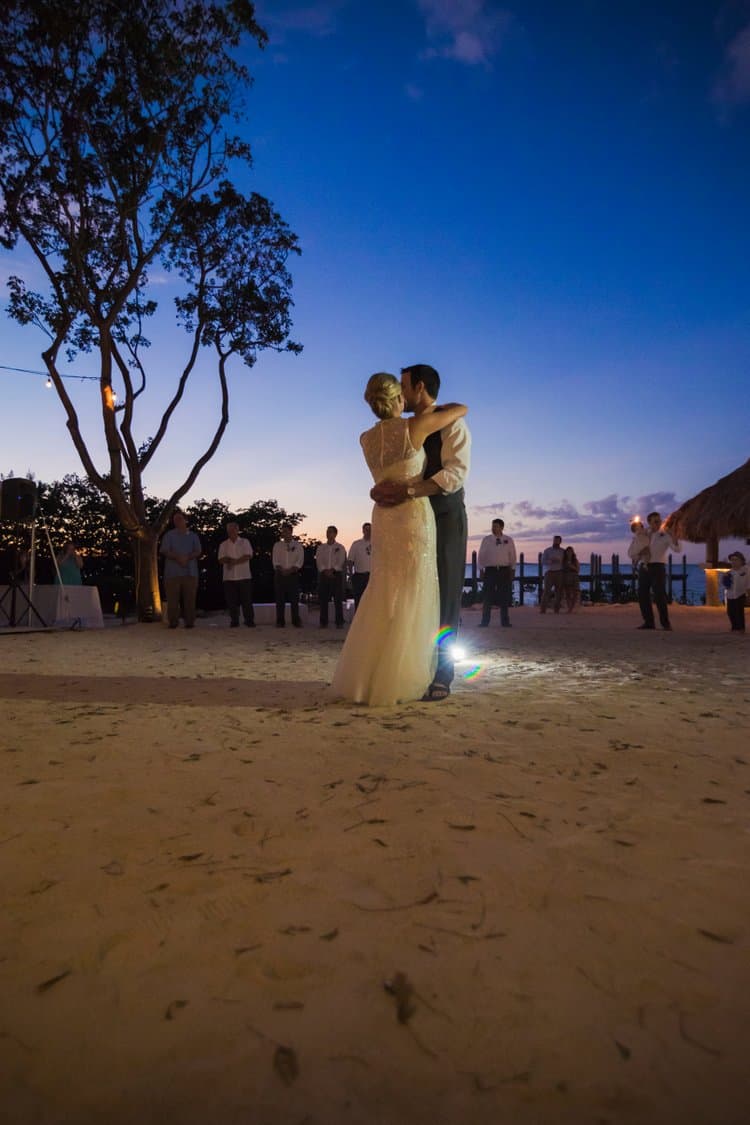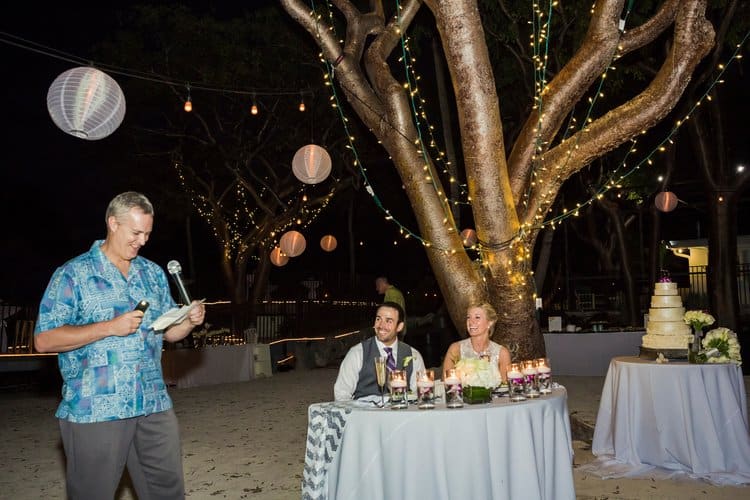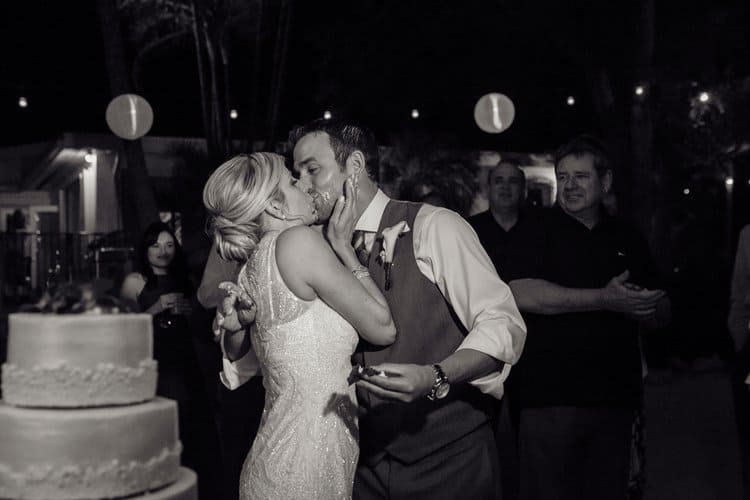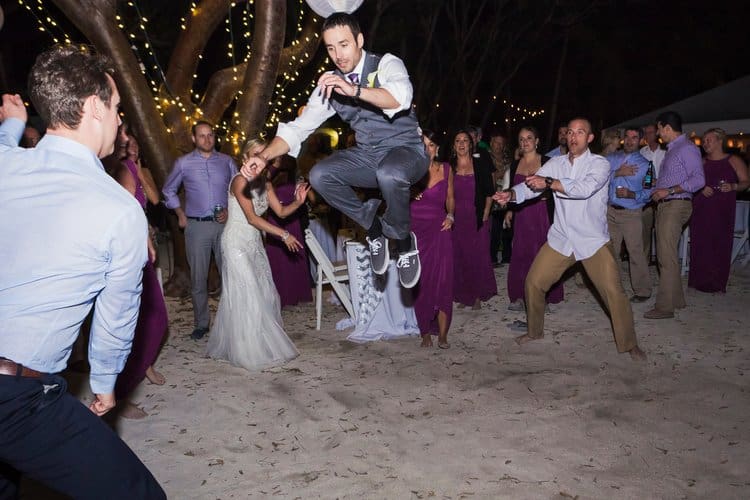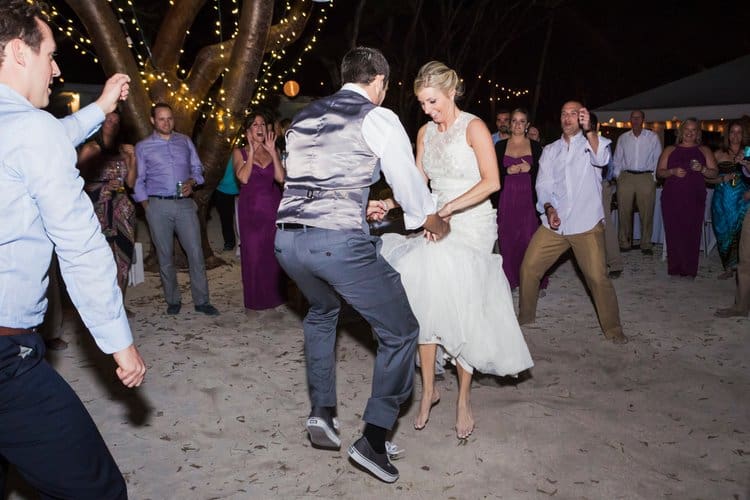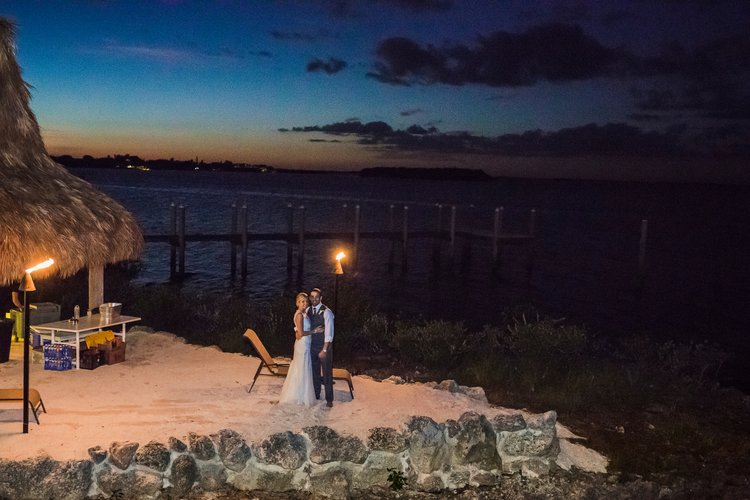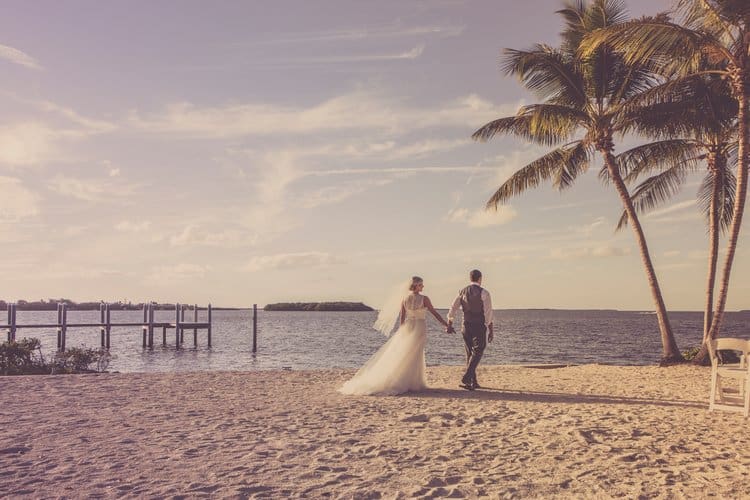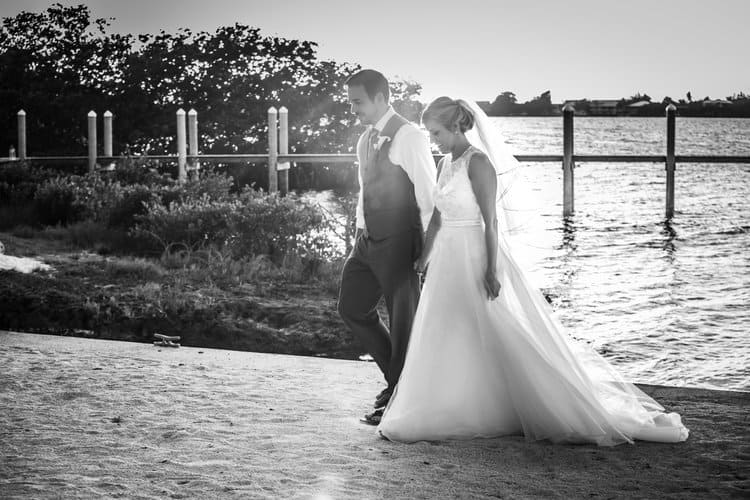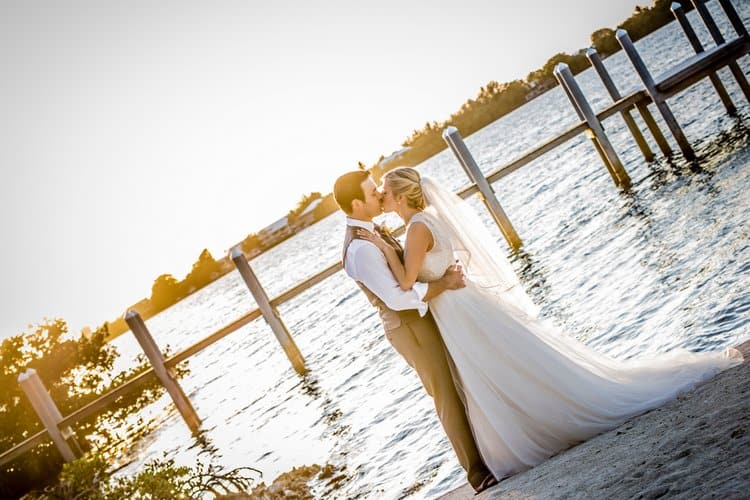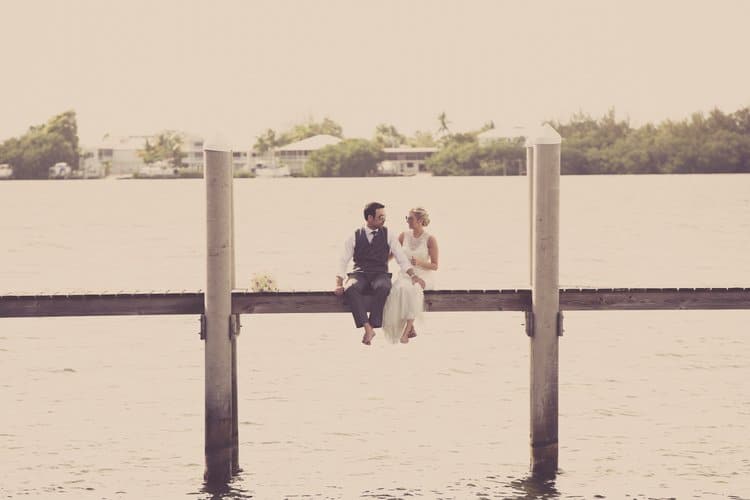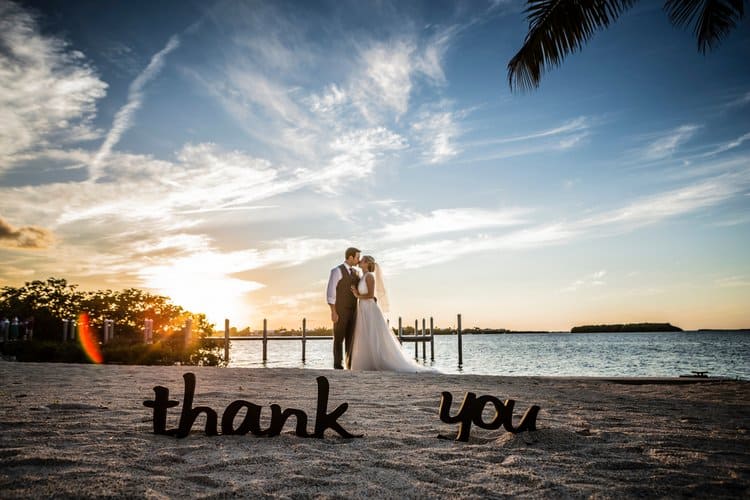 Real Destination Wedding Advice from the Bride
What made you decide to have a Key Largo wedding?
We chose a Key Largo wedding because it was a welcomed destination from our cold and snowy, Pennsylvania February's. Florida was a convenient and affordable location for our guests to travel to from the east coast. Plus we heard the sunsets and snorkeling were amazing in Key Largo! The light house offered us flexibility and the opportunity to create the destination wedding of our dreams. It was a beautiful 5 acre private property which allowed us to stay in the beach house onsite and use the property's locations for our ceremony and reception. We could design, decorate, cater and plan our day just the way we wanted with the help of their talented staff.
Was there any tradition that you skipped for your destination wedding, or a tradition that you put a different spin on?
The uncle of the groom was the officiant for the wedding. Together with him we wrote the entire ceremony, including our vows. It flowed so well and incorporated the beauty of our beach surroundings with the message of love and unity. Our complete involvement in every aspect made it very special to us. We received so many comments from guests about the beautiful setting on the water under the palm tress and the mini coronas we served during the ceremony.
Was there something particularly memorable that happened on your wedding day?
One of the groomsmen who is a musician played an acoustic version our first dance song, Martin, by Zac Brown Band. It was amazing. The groom also planned a surprise performance later in the night where he played a special song to the bride.
What was the biggest challenge in planning your Key Largo wedding?
The biggest challenge was planning from a distance. We never had a face to face meeting, food tasting, or walk-through with any of the vendors, so we had to use our imagination and have a lot of trust and faith. We had a few phone calls, several emails and a Skype session to get to know our vendors. We also used online reviews a lot, to assure us we were working with the right people!
If you could give some advice to others planning a destination wedding, what would it be?
Our wedding was almost one year to the day after we got engaged. We started planning right away after the proposal. We settled on our location and had 11 months to get the details together. It was just the right amount of time. We stuck to our timeline and everything was pretty smooth during the planning process.
My best advice is to keep it simple and make the day about you. Use the many wedding websites and planning tools out there to assist you. It makes life a lot easier. But be sure to have a clear vision of what you want before you start planning- it will help keep you focused and on track. There is so much out there, it can be overwhelming sometimes.
Vendors:
Photographer: The Wedding Traveler
Venue: Key Largo Lighthouse
Bridal Gown: Rosa Clará
Bridesmaid Dresses: Dessy
Groom/Groomsmen: Men's Warehouse
Steel Drums: Bob Lyons
DJ: Mike Kruz from Scratch Weddings