Leslie & Tom let the magic of the French countryside take center stage at their wedding in the Loire Valley. They were inspired by countless good times spent with friends over a glass of French wine and dinner, dreaming of visiting France together. For them, it was a return to a perfect holiday, while for others it was a dream vacation come true. I would definitely RSVP a big "YES PLEASE!" to a French destination wedding, wouldn't you?!
Complete with a champagne tower and fireworks in a garden as beautiful as the Palace at Versailles, Leslie & Tom's wedding fulfilled their vision from start to finish! Leslie said, "It took literally no time to fall in love with the quaint little village of Grand Luce, and before we knew it, the cobblestone roads had led us to the magnificent gates of the chateau."
The beautiful florals added touches of Bordeaux and pink to the wedding's otherwise gold and gray palette. The way they layered the soft colors, textures, and lengths of the bouquets really made them uniquely elegant. That must be exactly what the bride hoped to convey in their theme of "classic, yet unexpected…effortless, yet sophisticated." Nailed it!
Ok, and speaking of classic, yet unexpected – can we talk about the bride's ever-changing look throughout the day? She started the ceremony in a gorgeous Romona Keveza gown layered with an incredible French lace cape which Leslie designed herself! It was stunning enough to weaken her groom's knees at first sight – a moment that was captured perfectly by photographer Catherine O'Hara.
For the cocktail hour, she slipped on chic sleeves, before finally transforming her look once more with a gold belt and a fluffy ostrich feather jacket for dinner!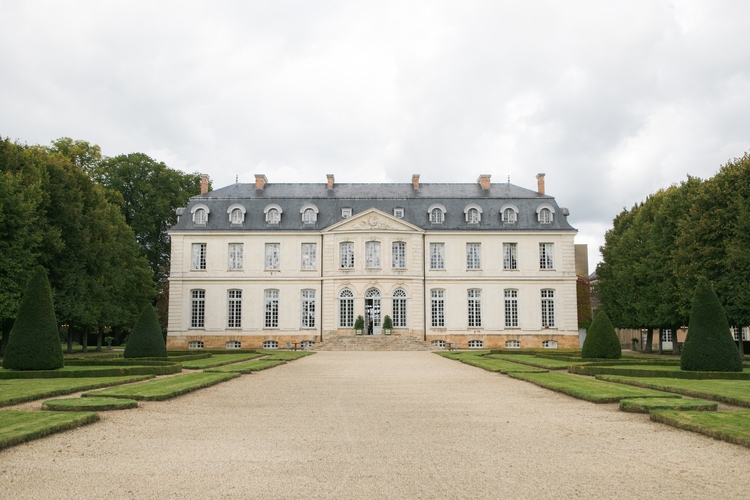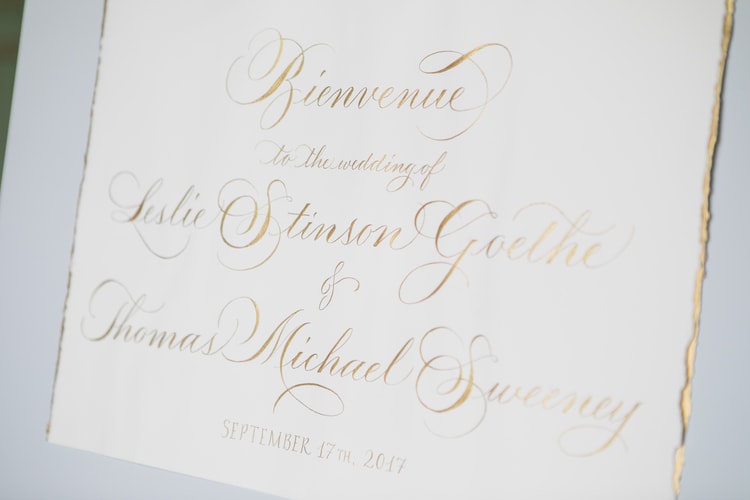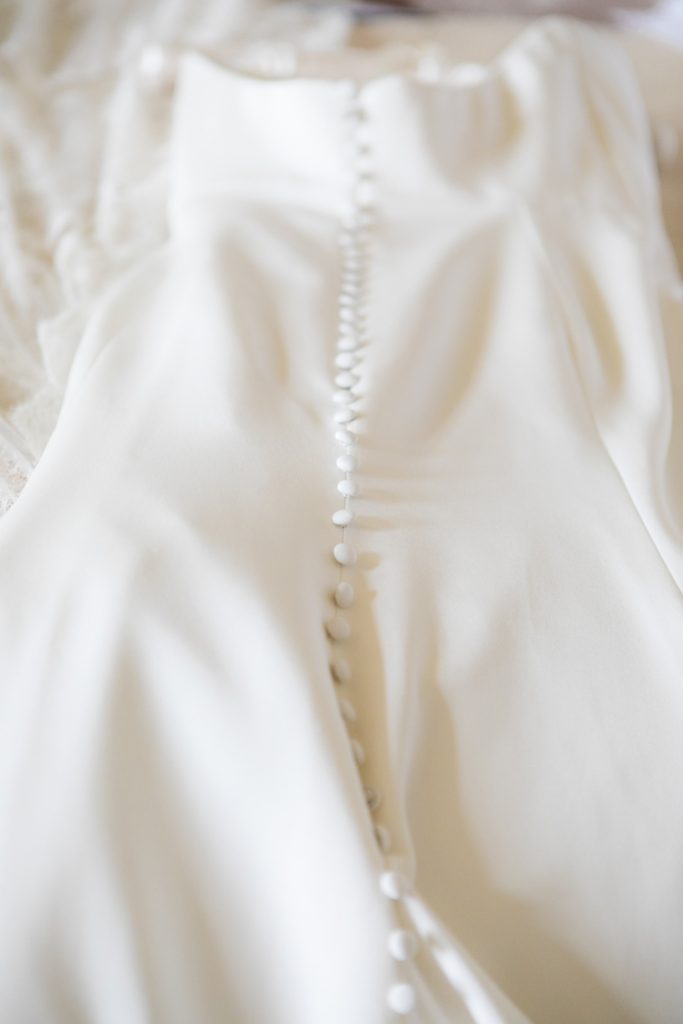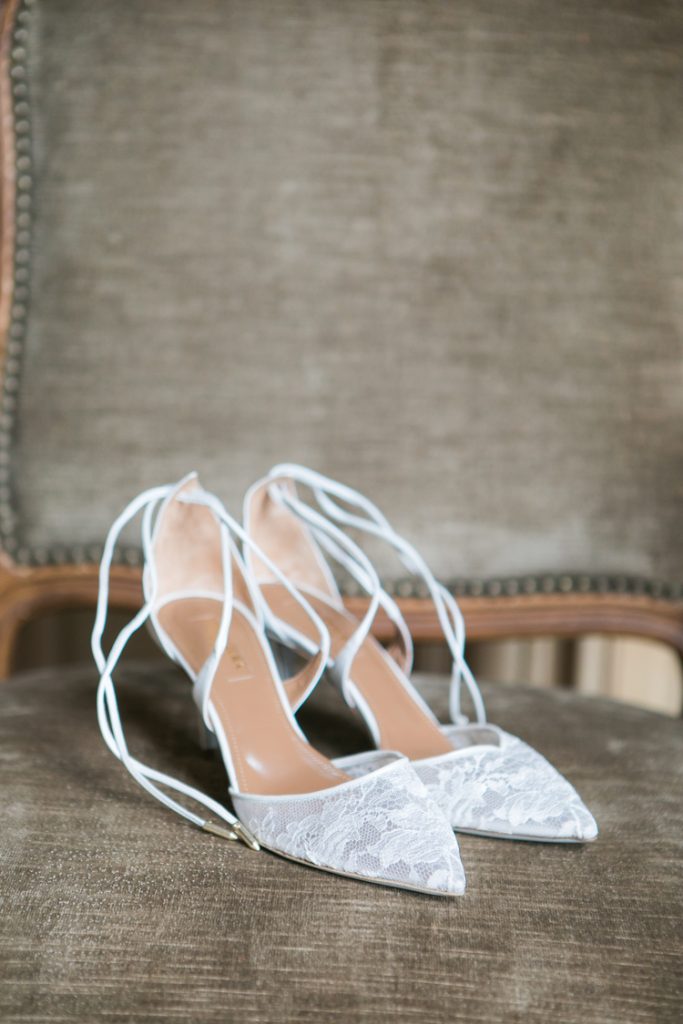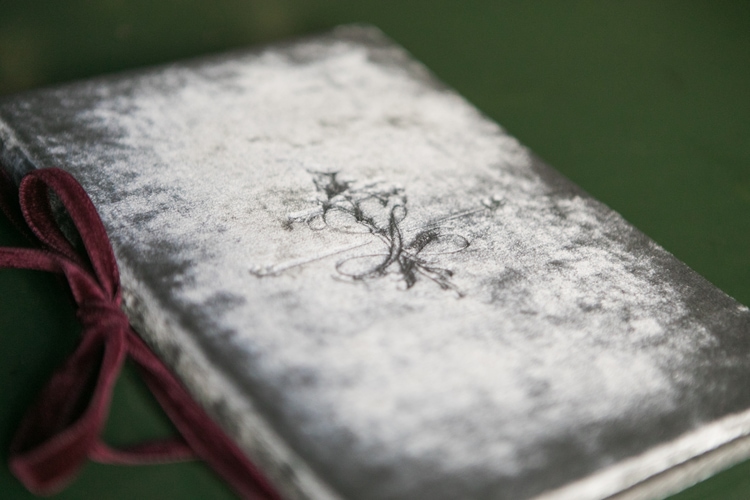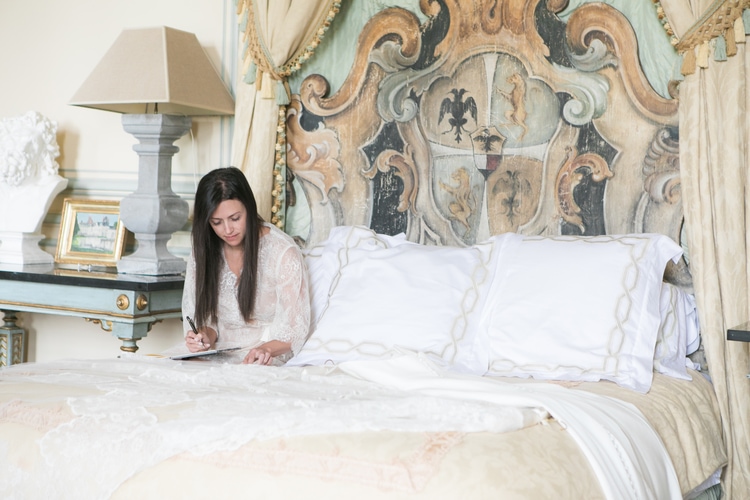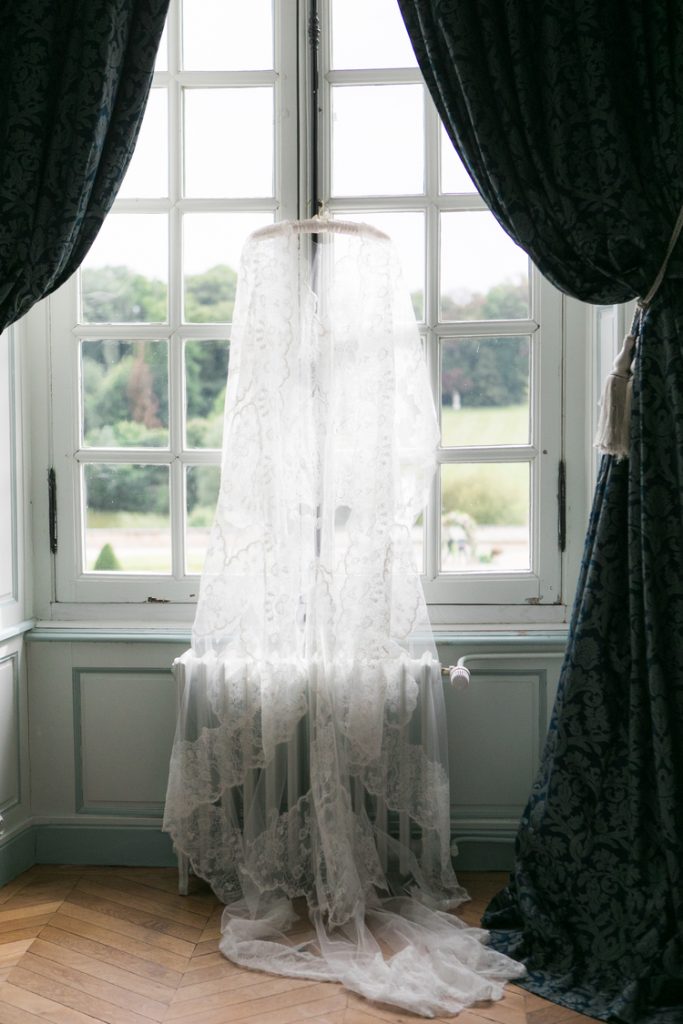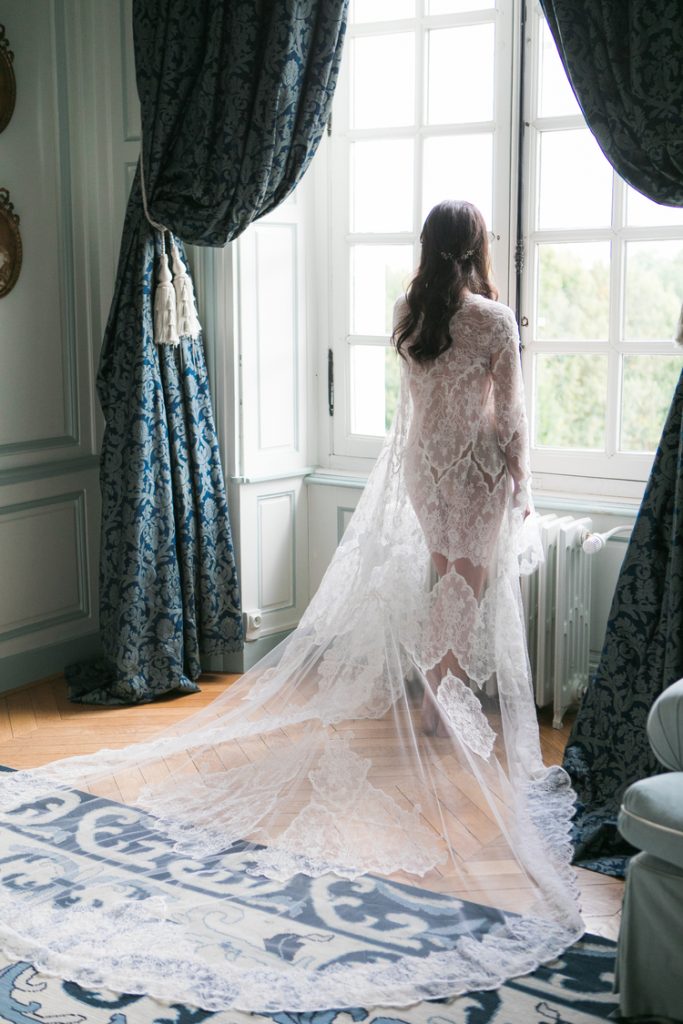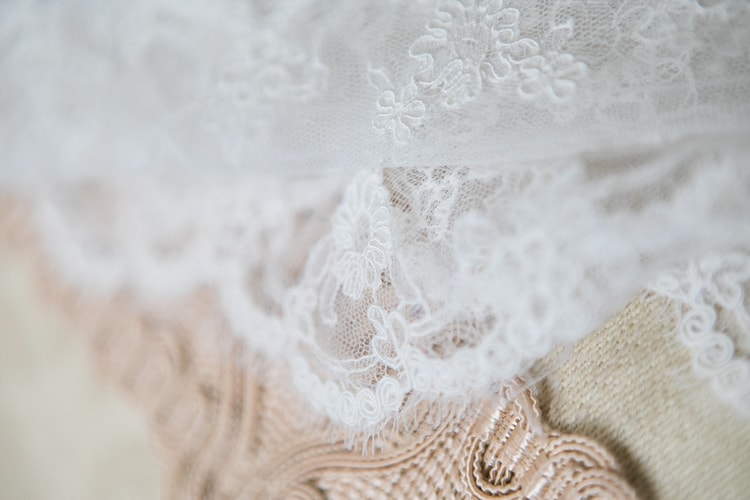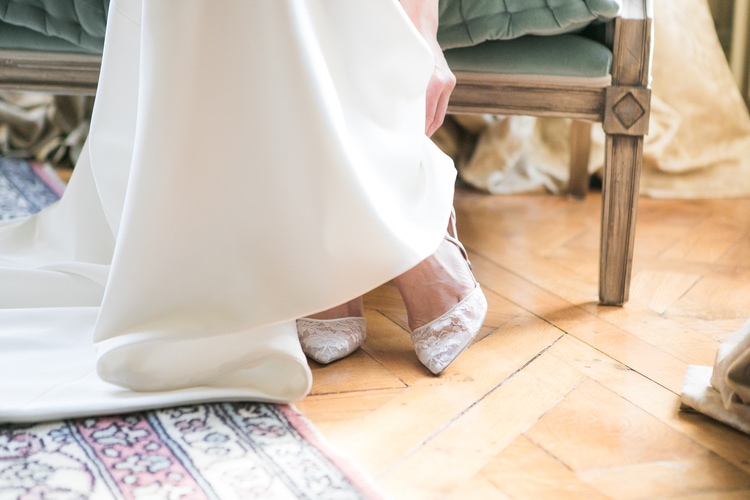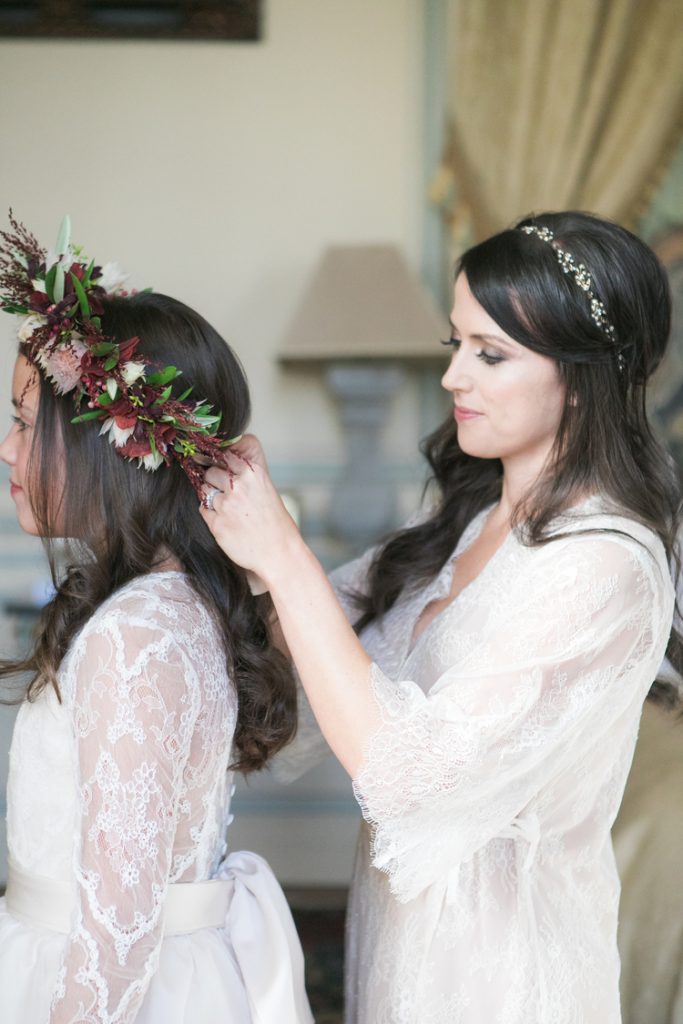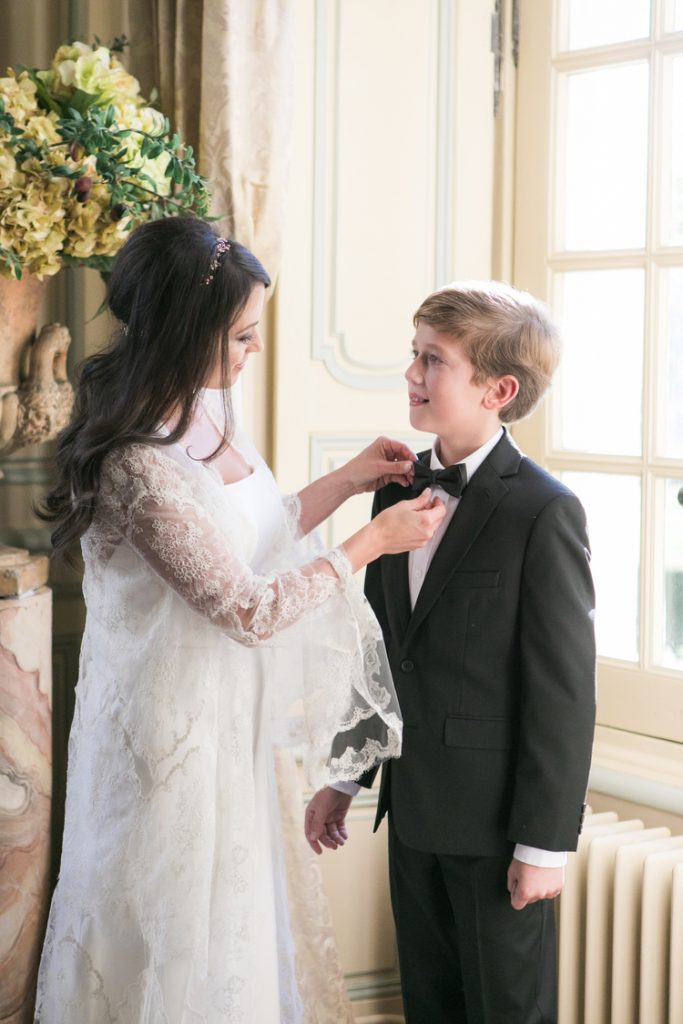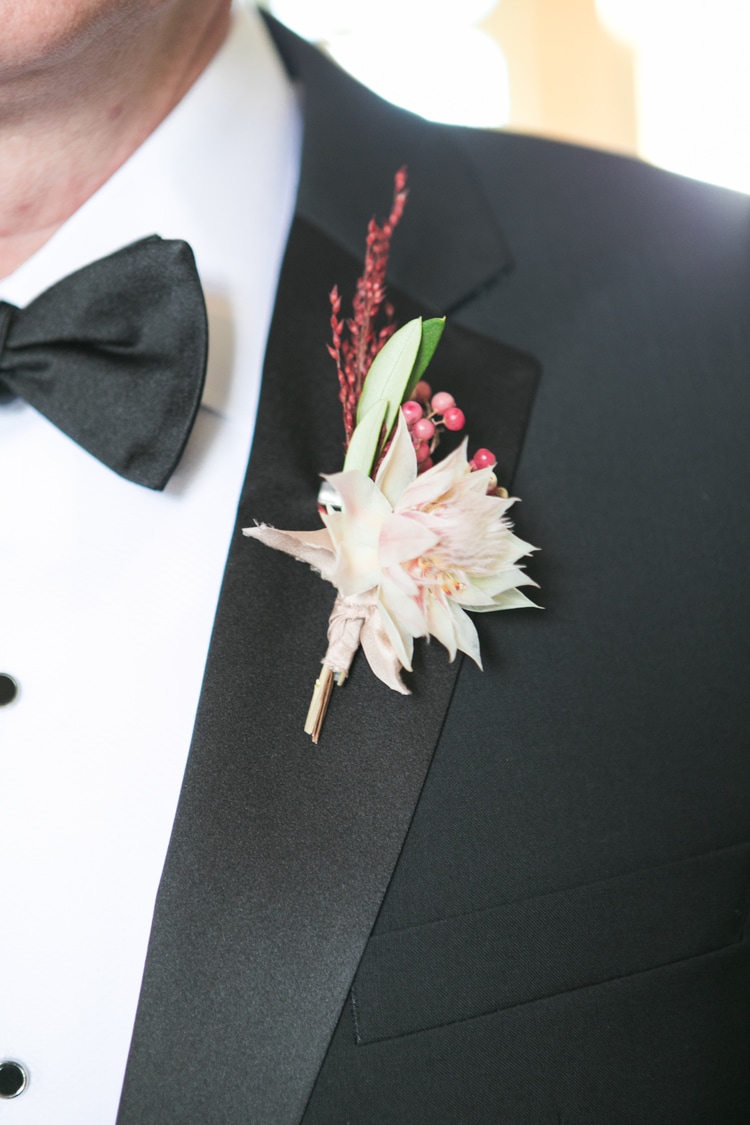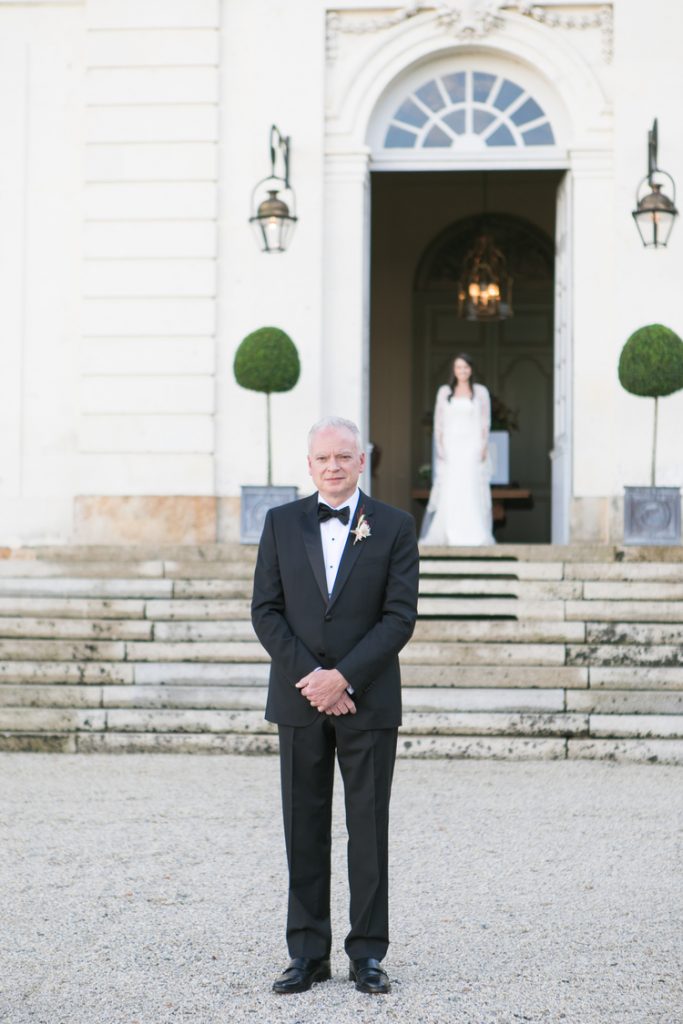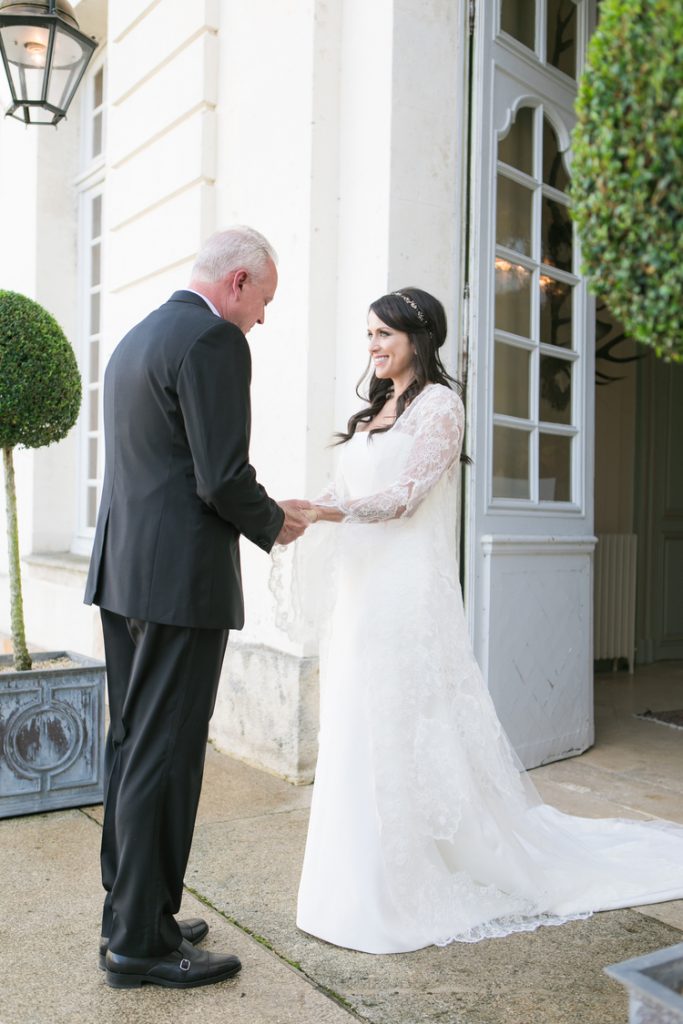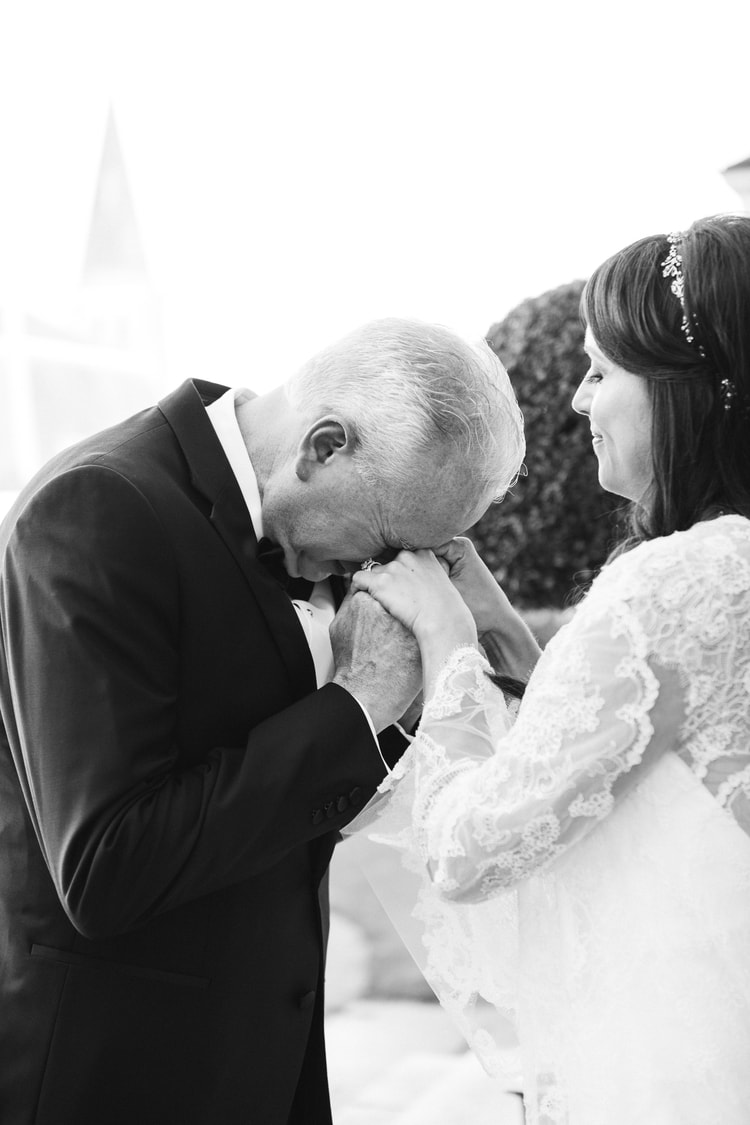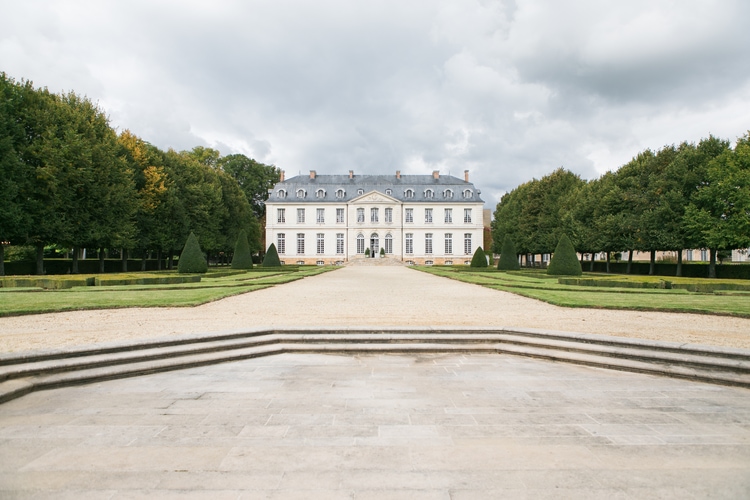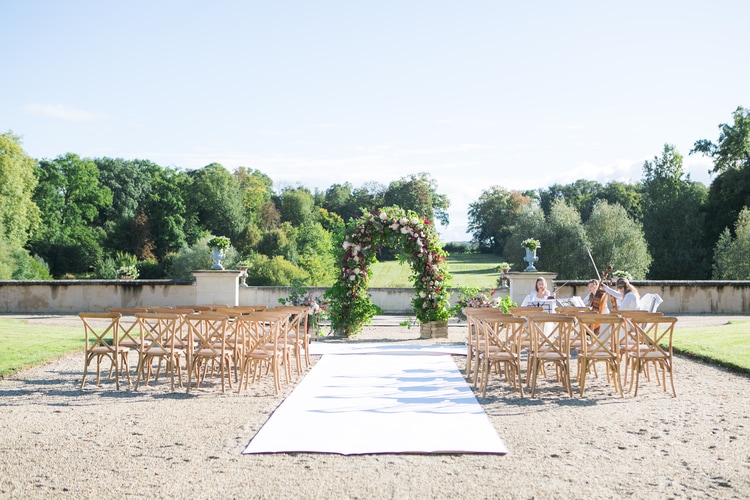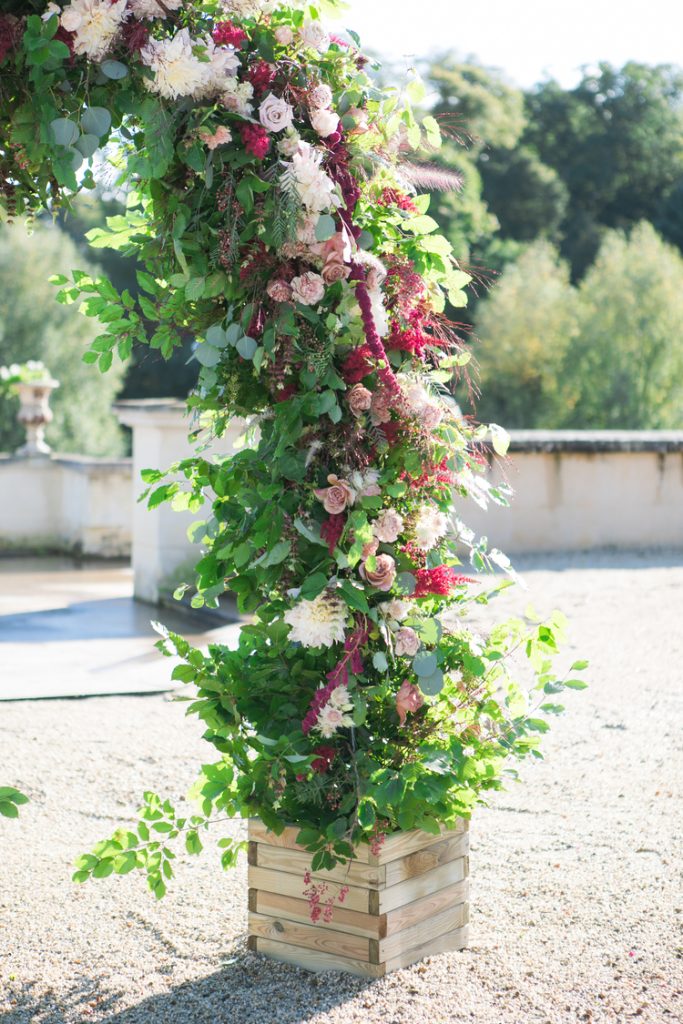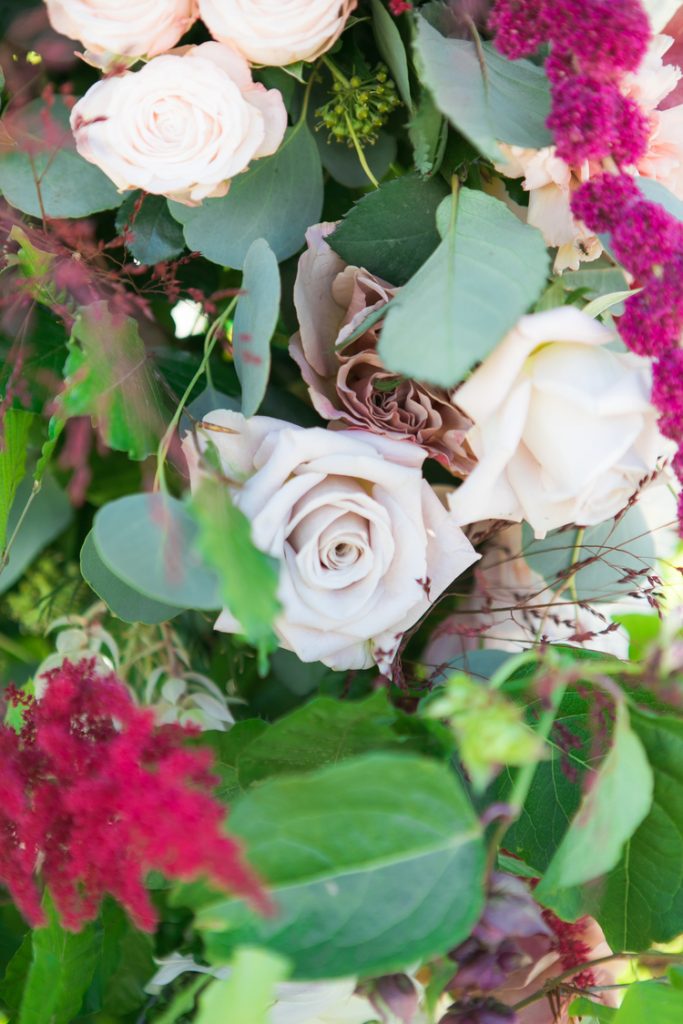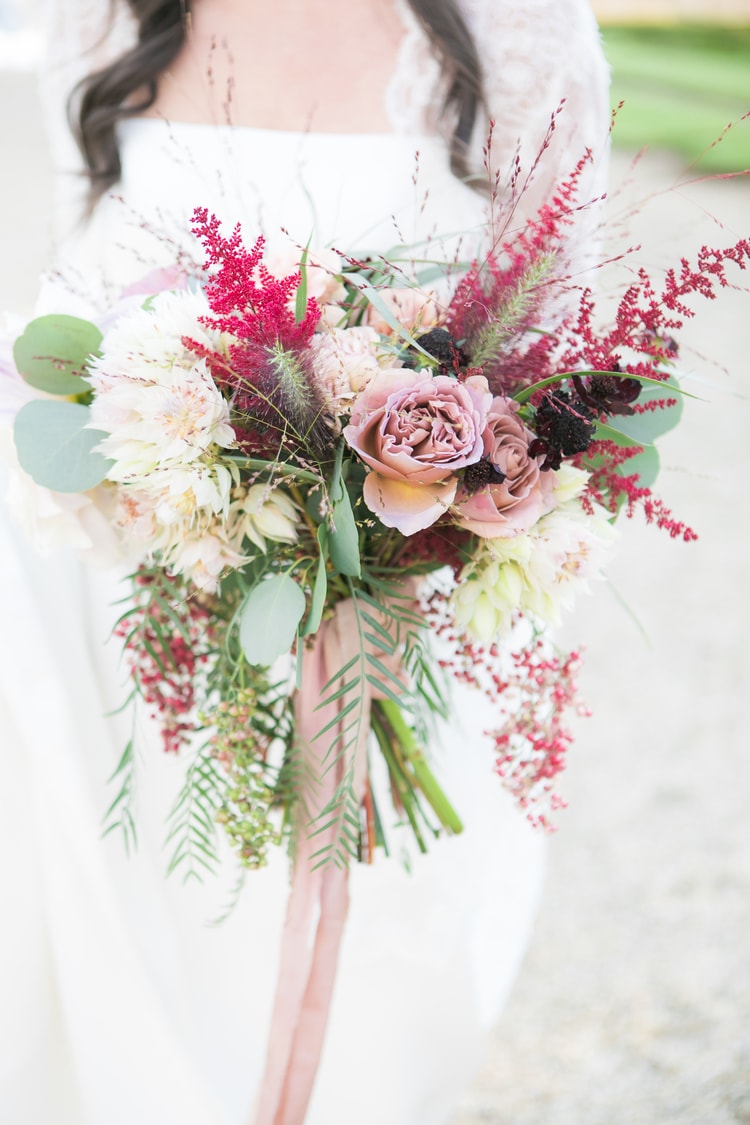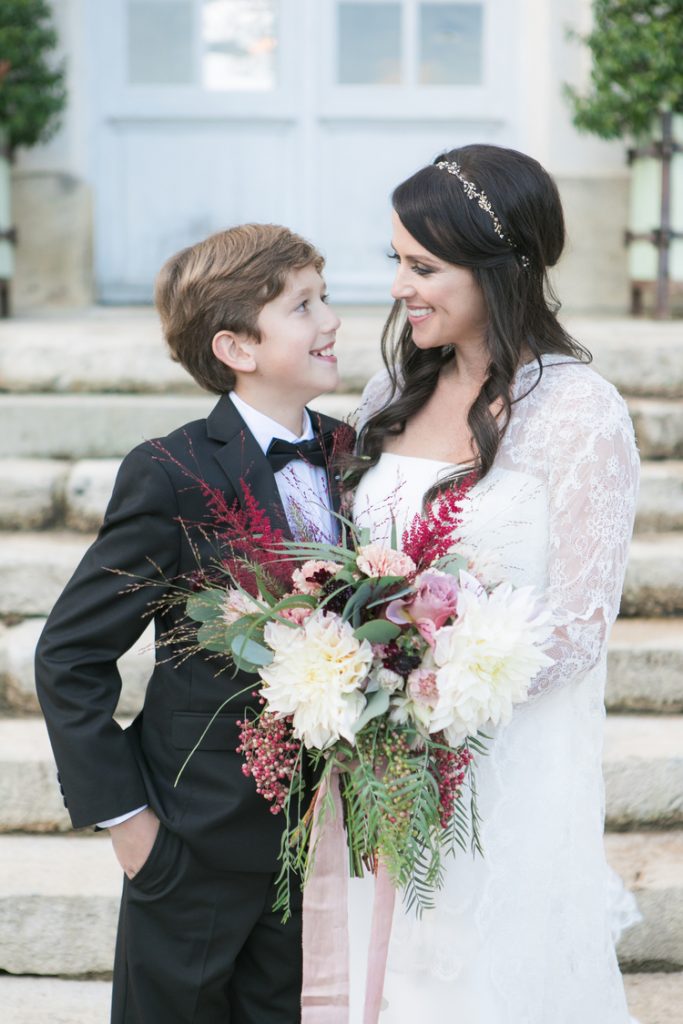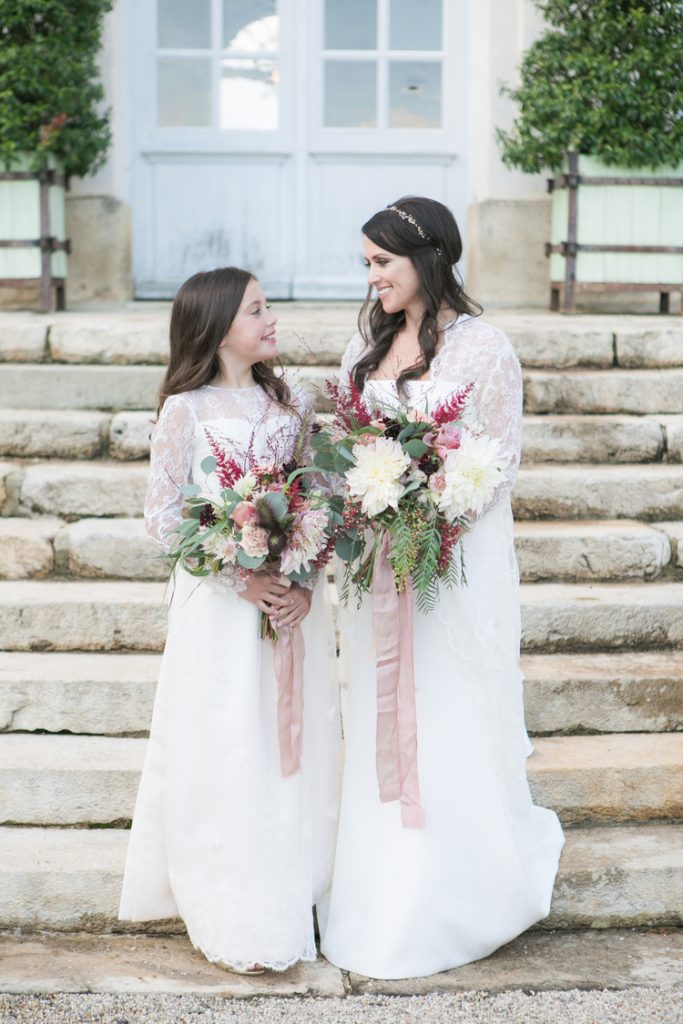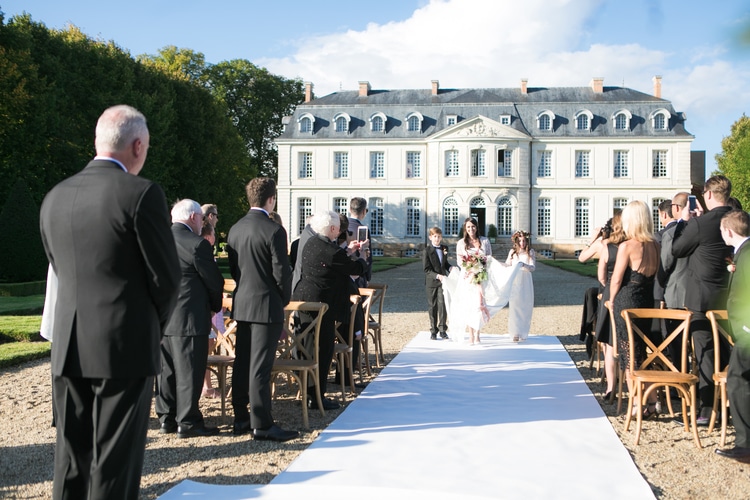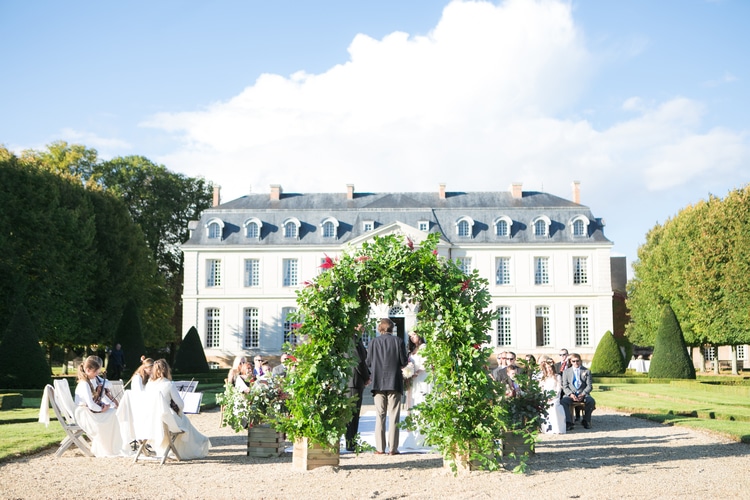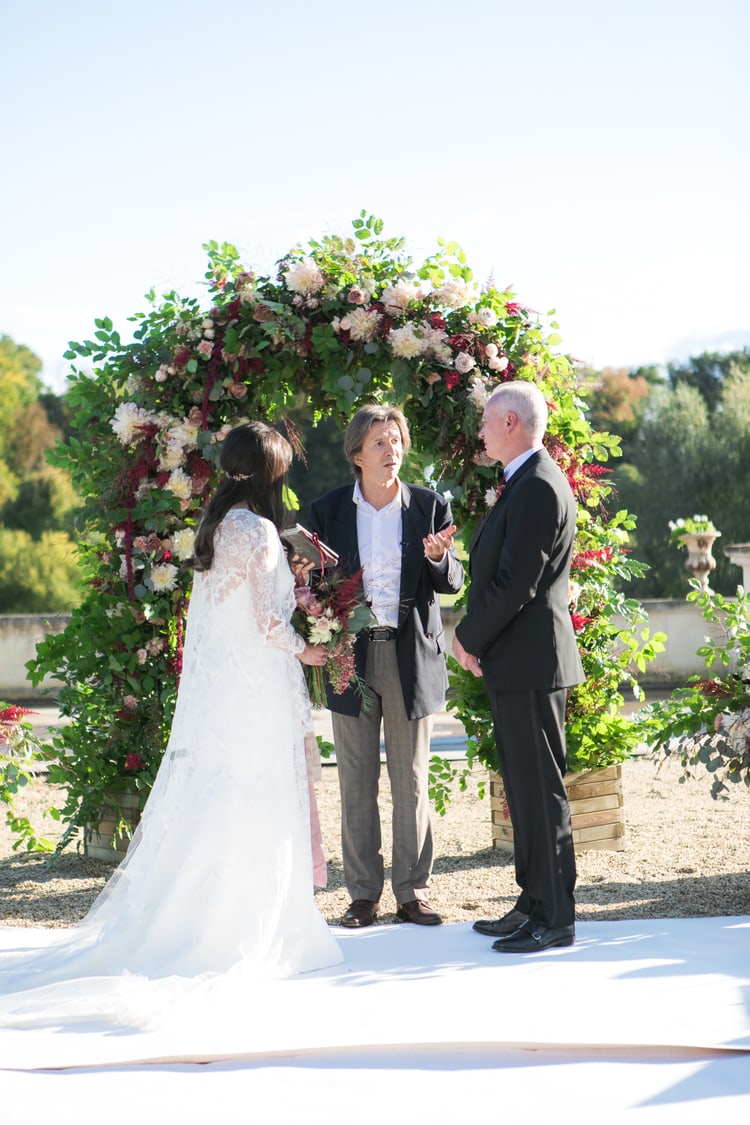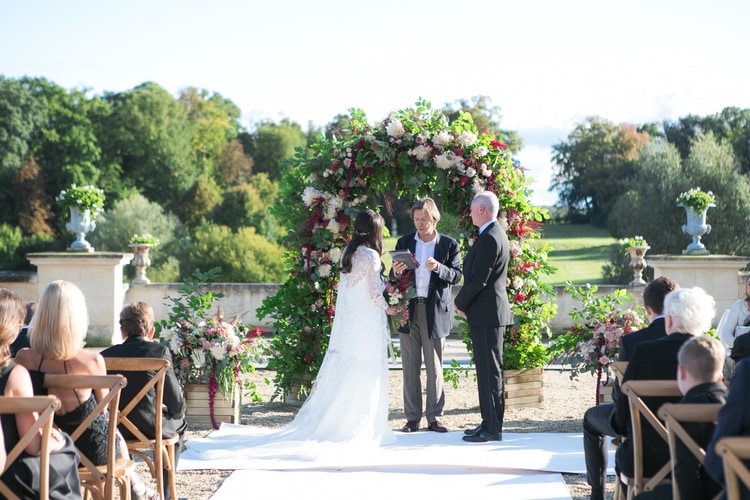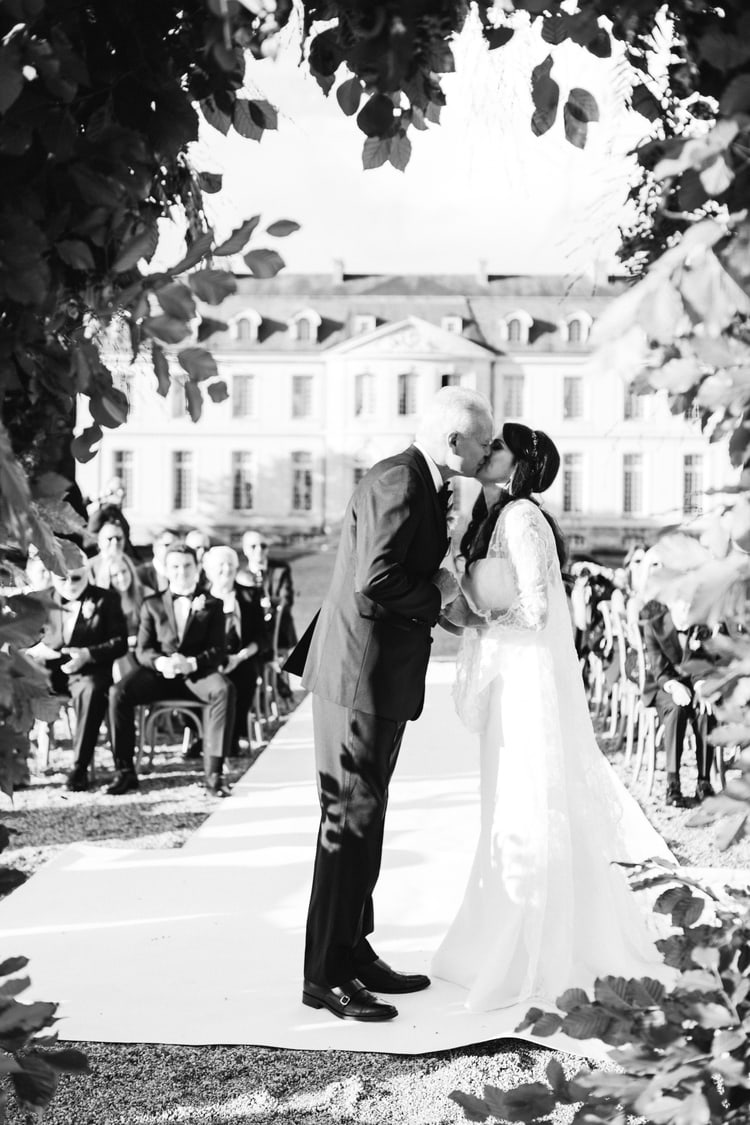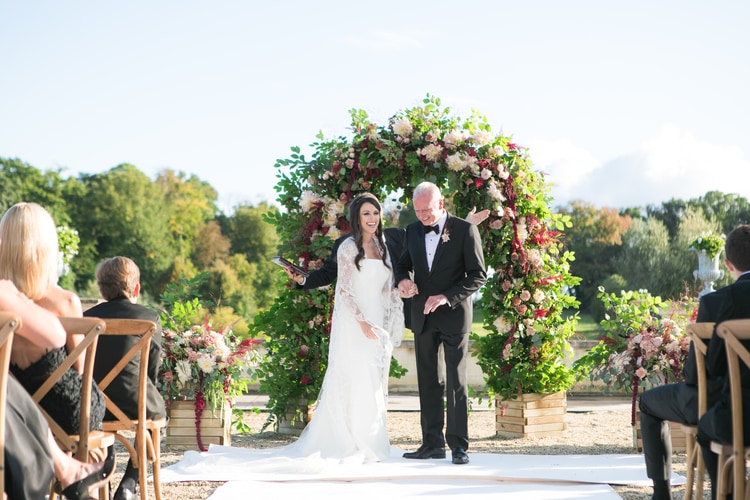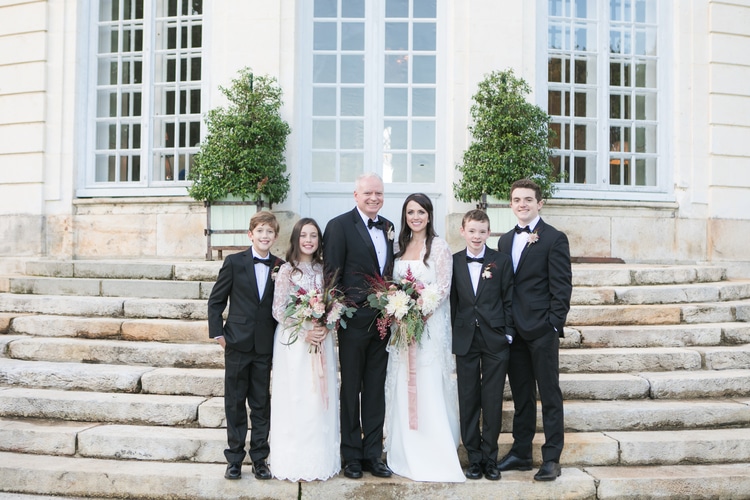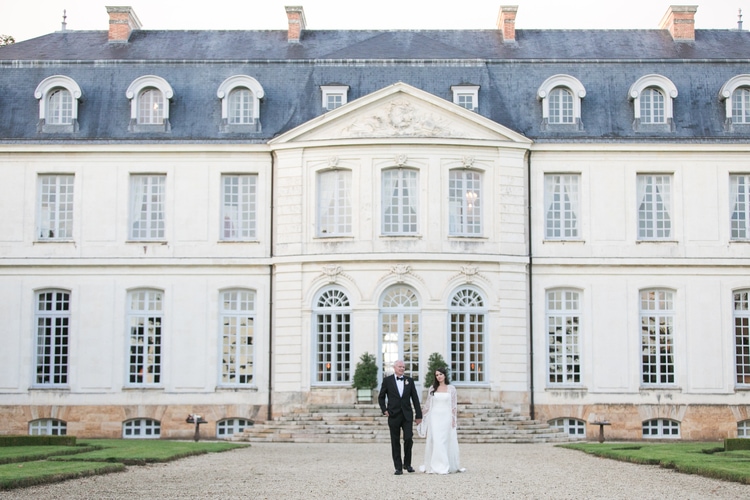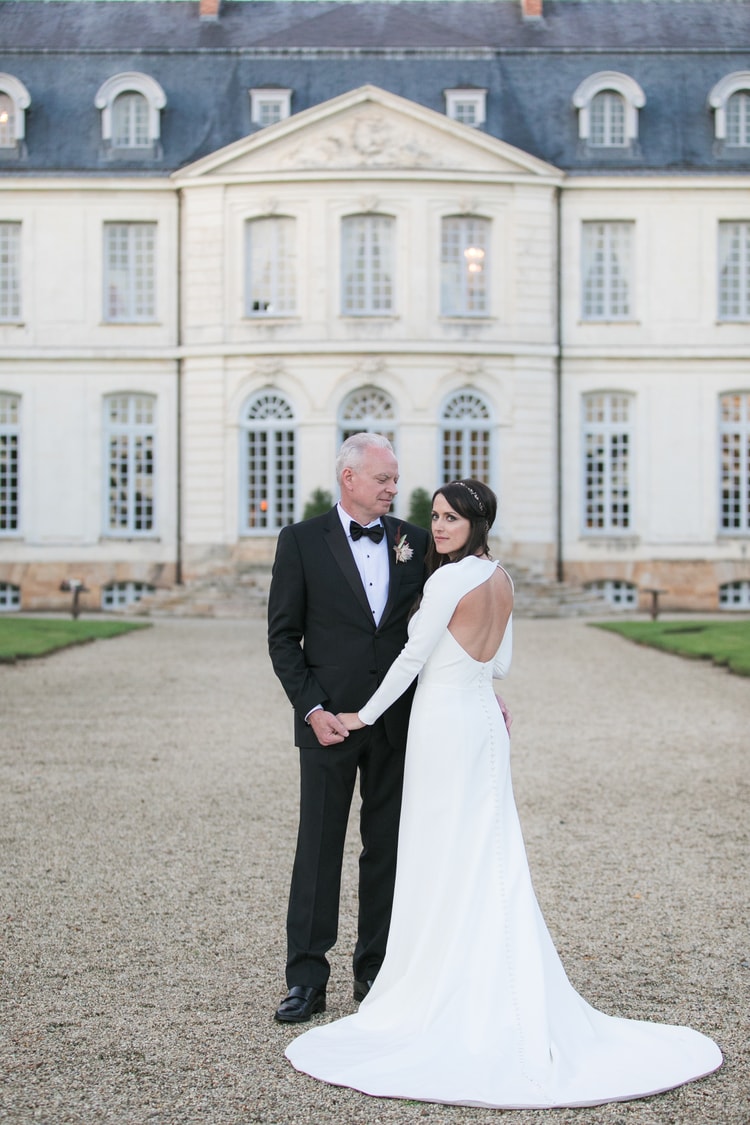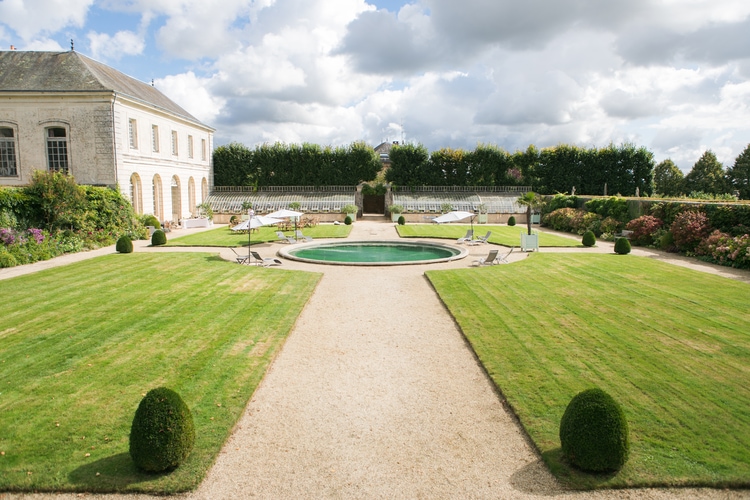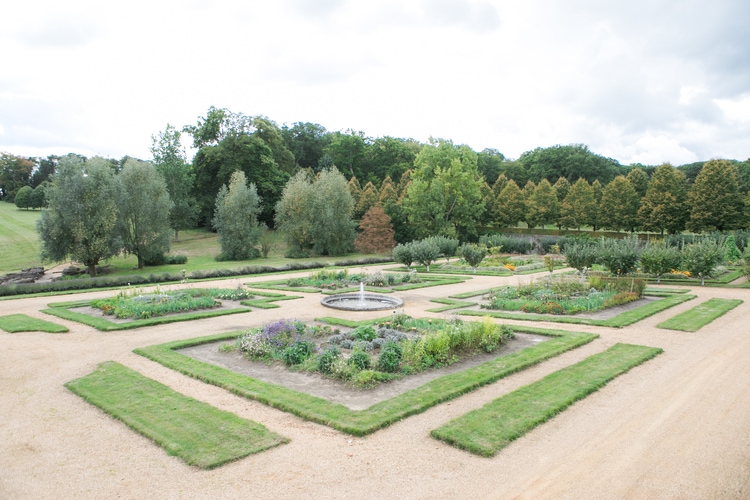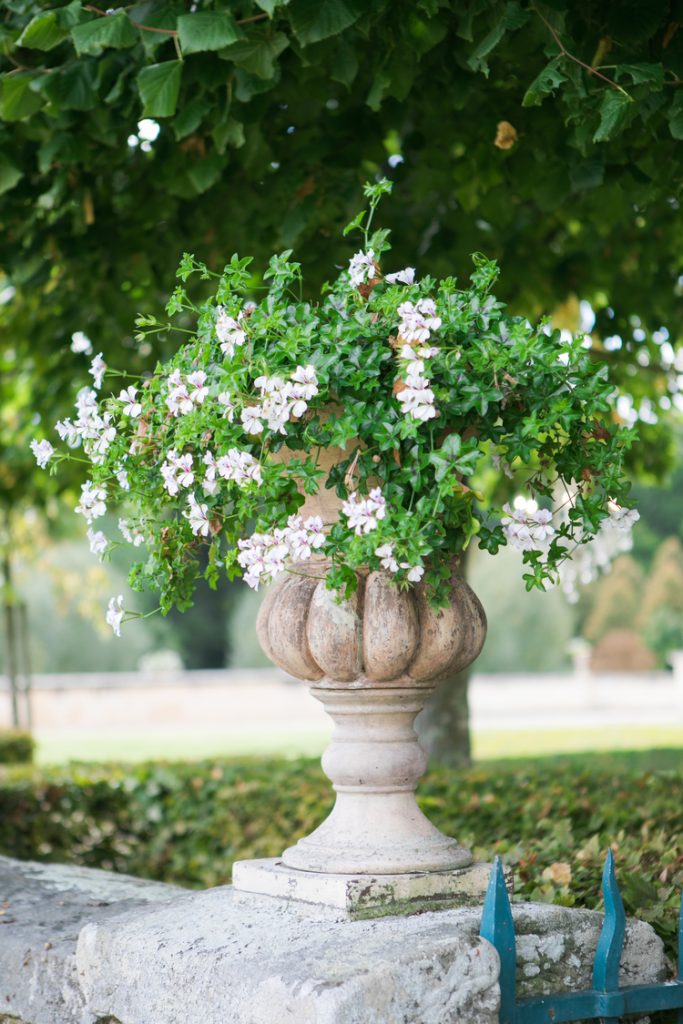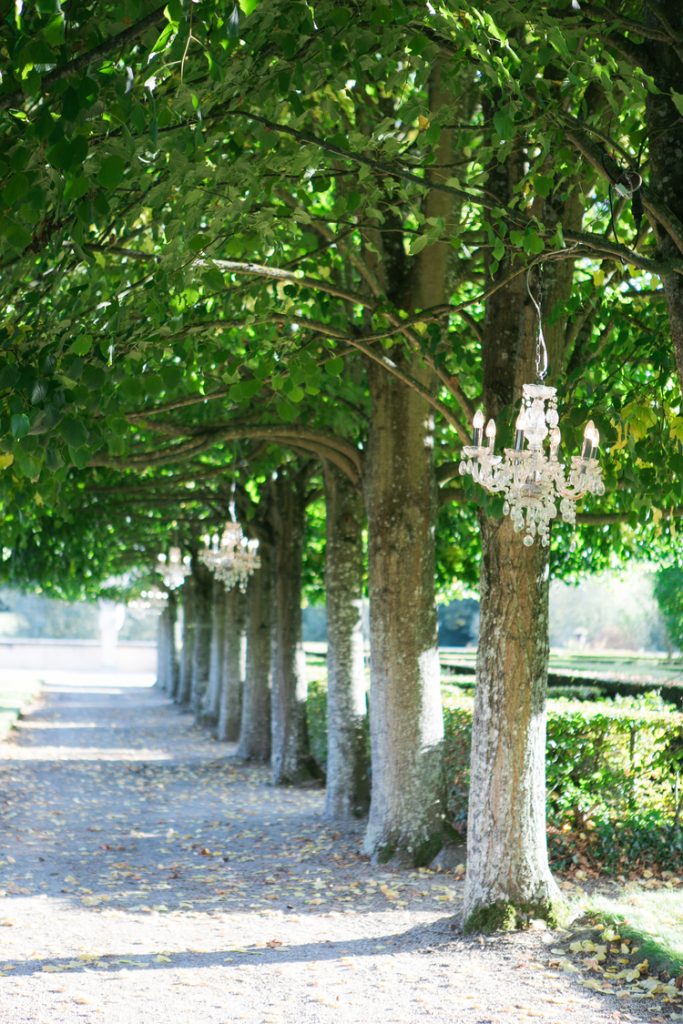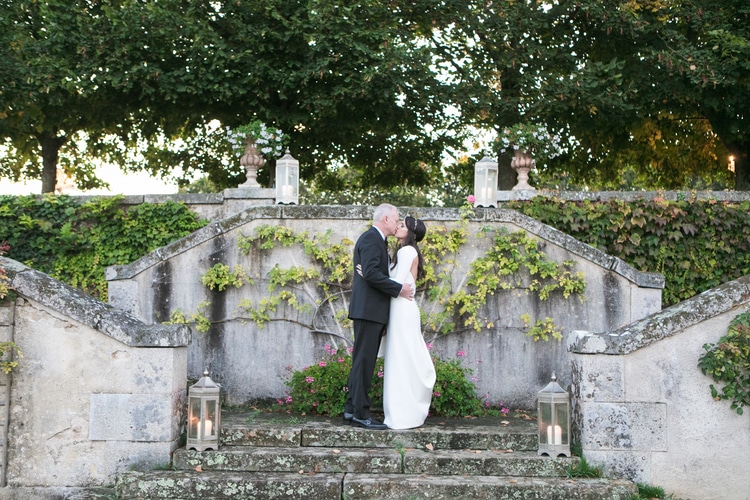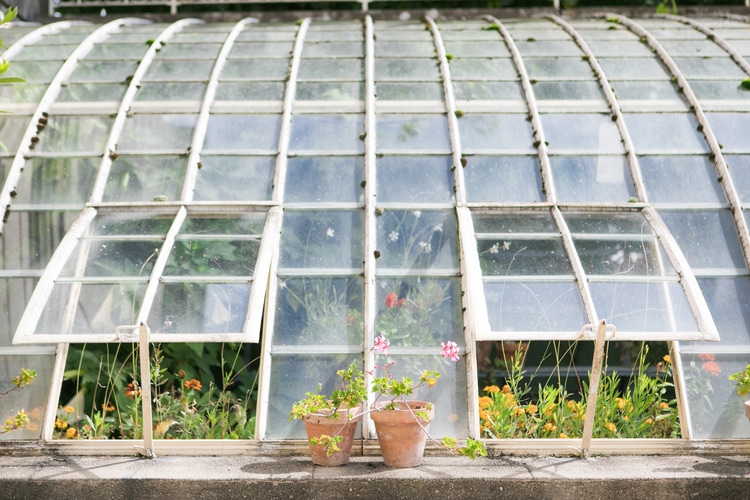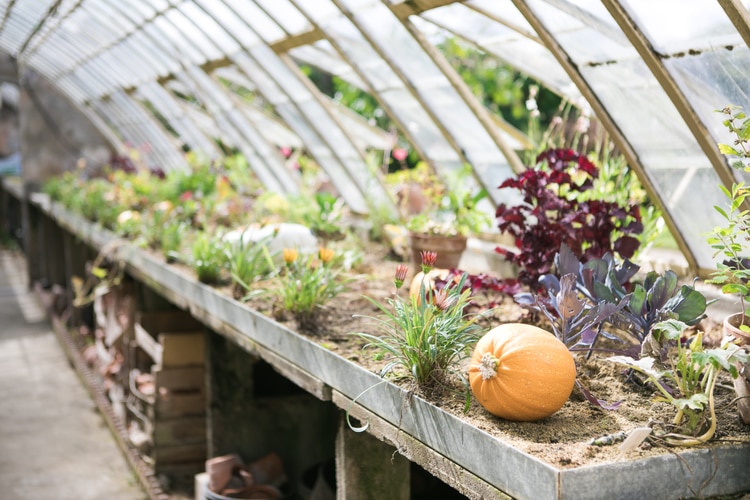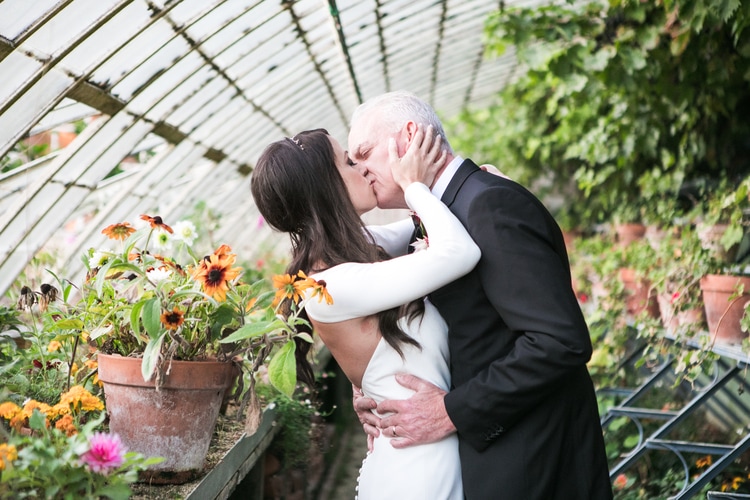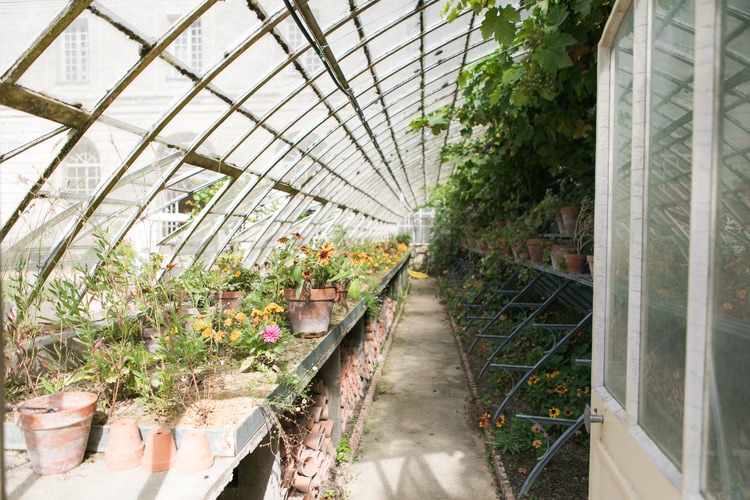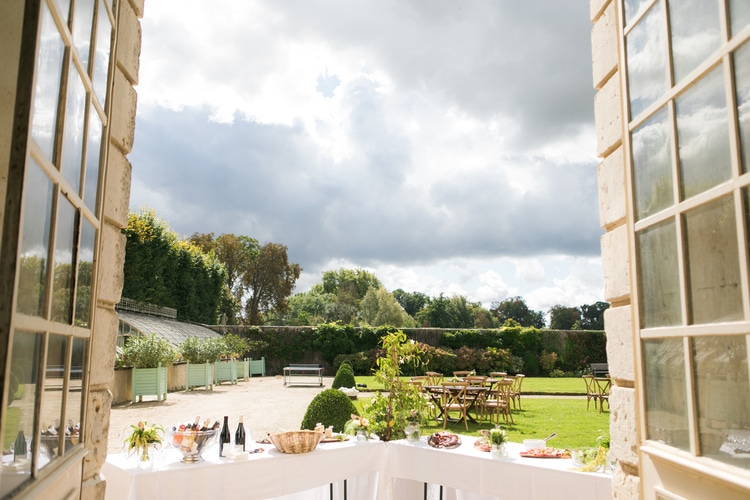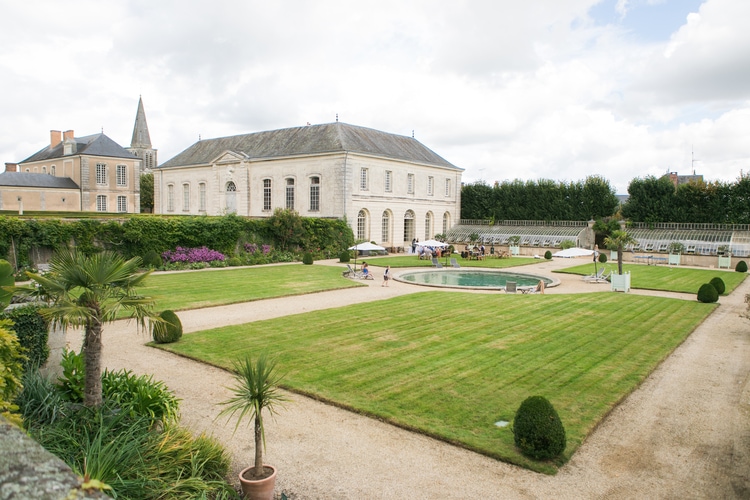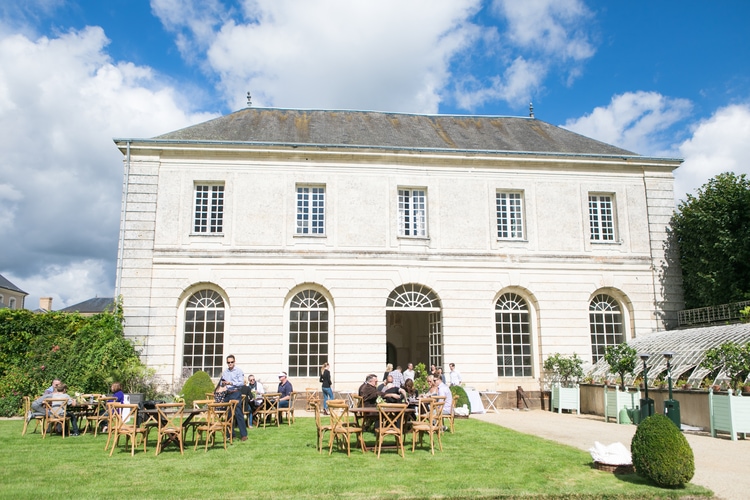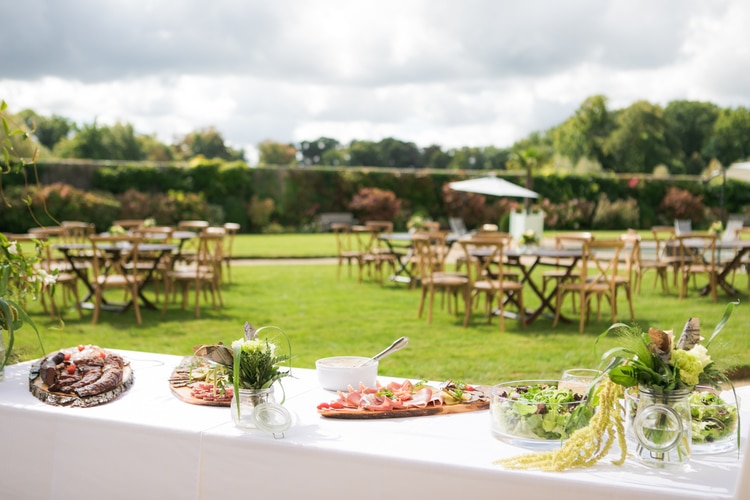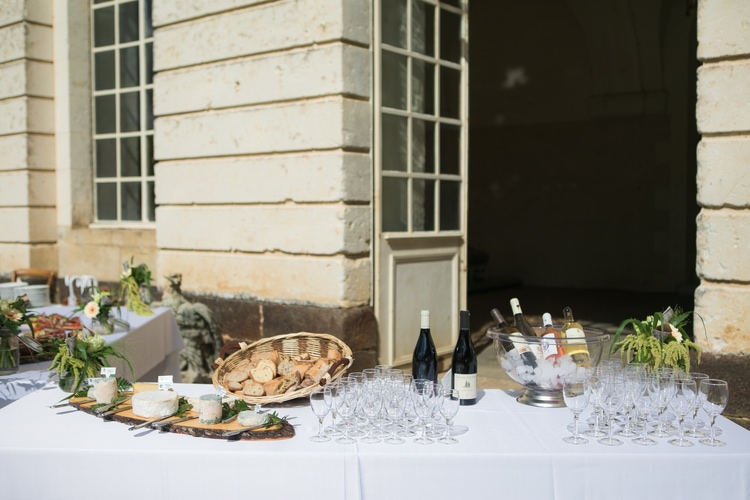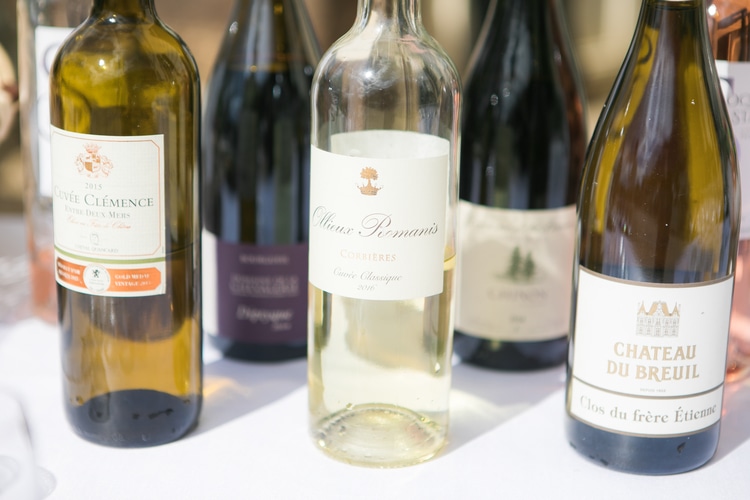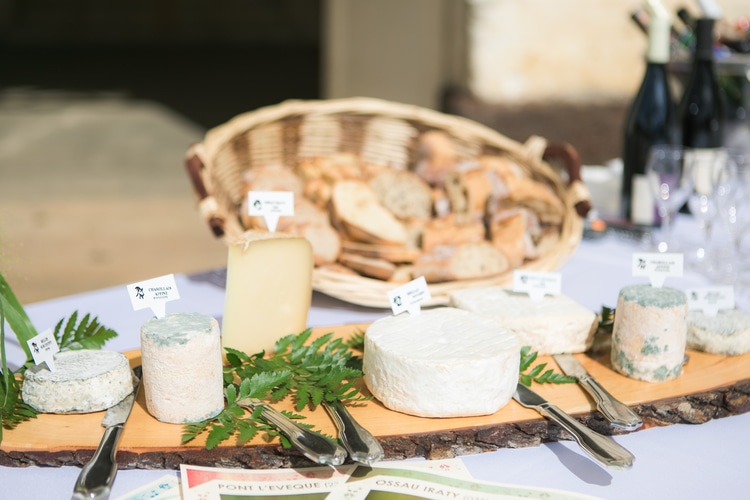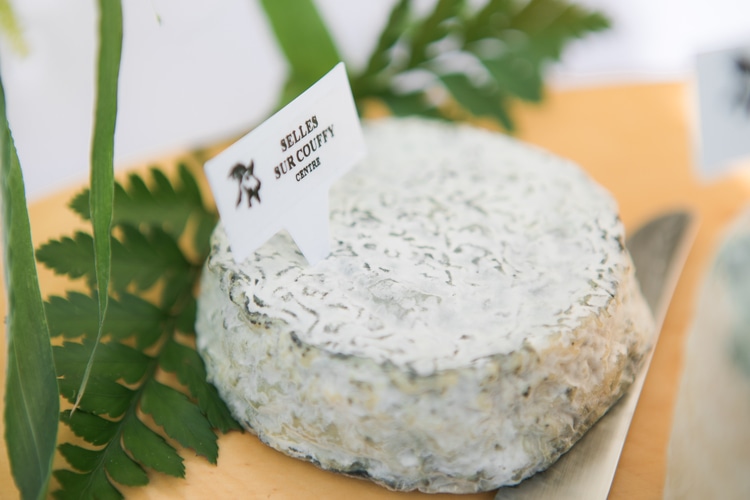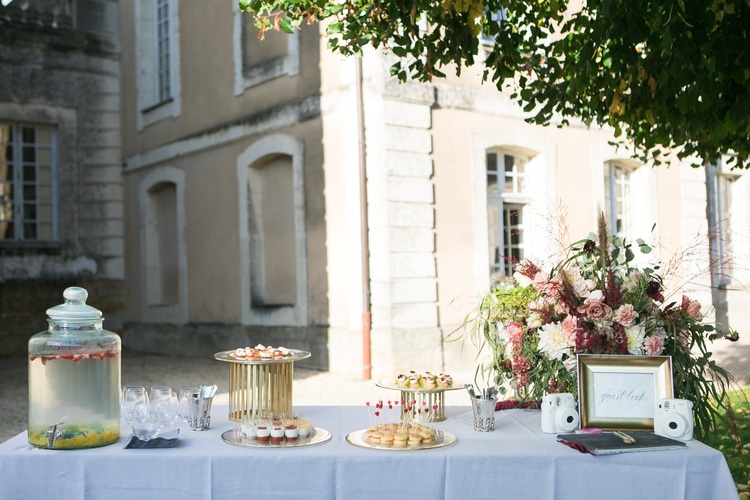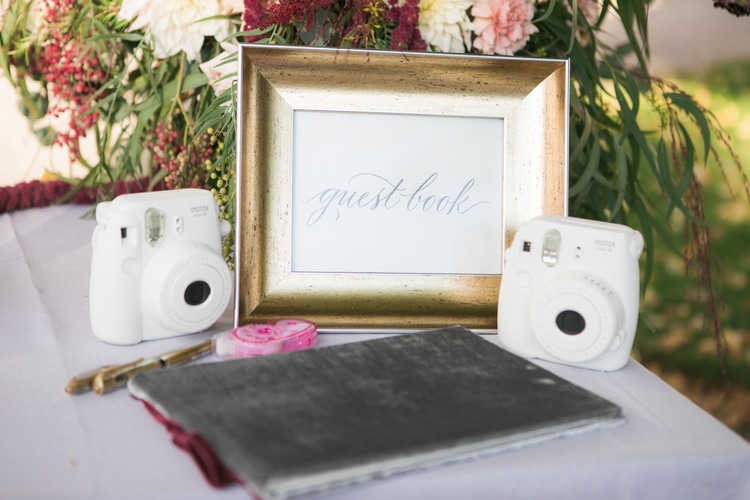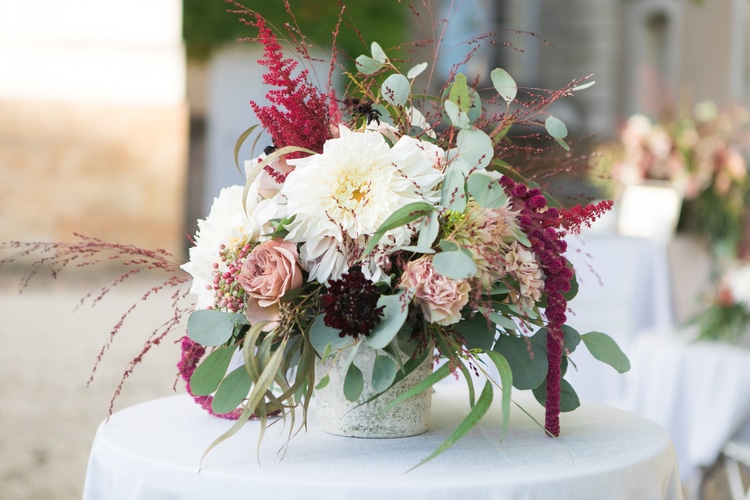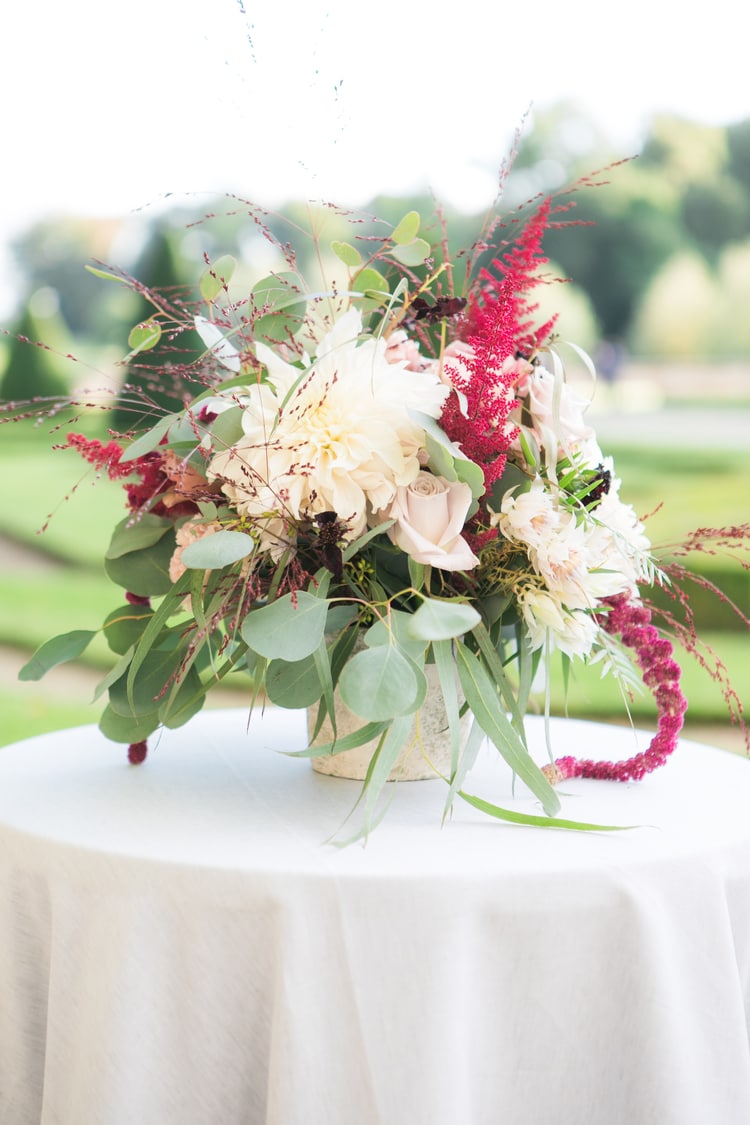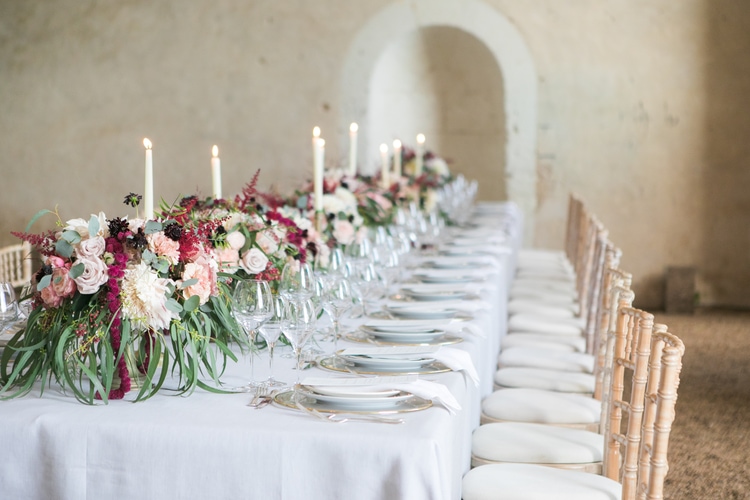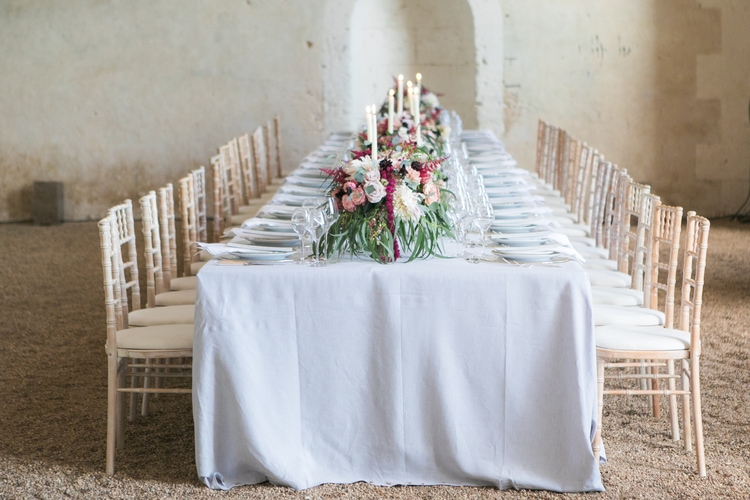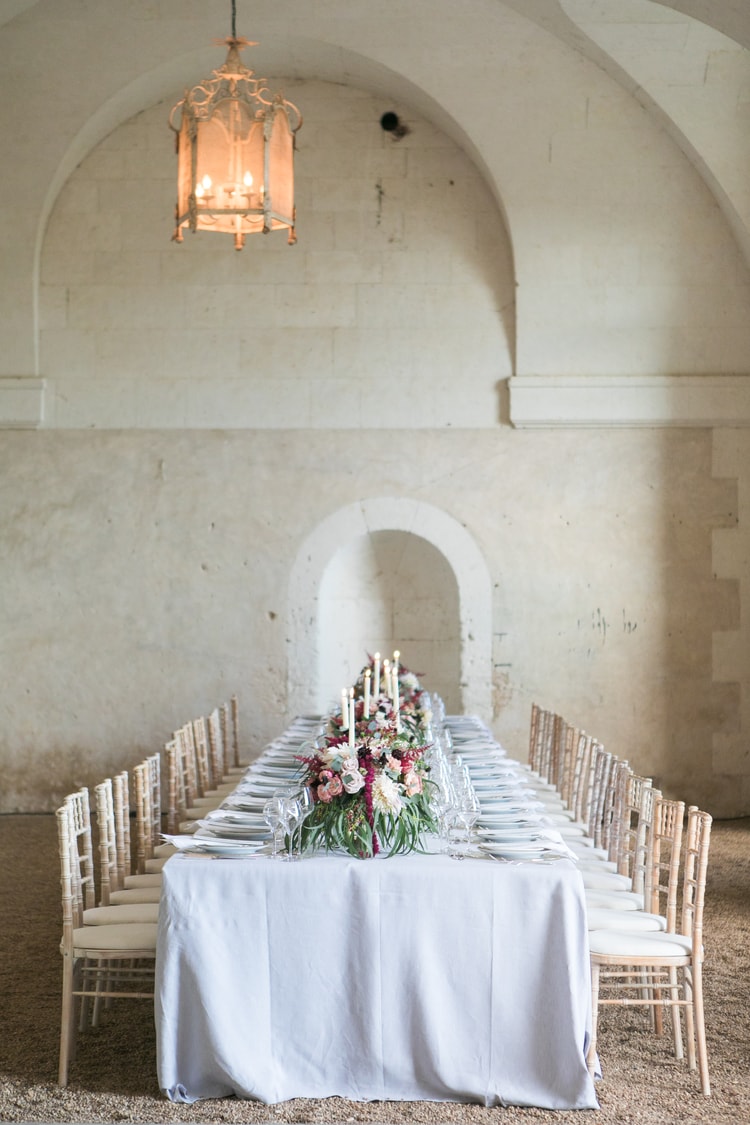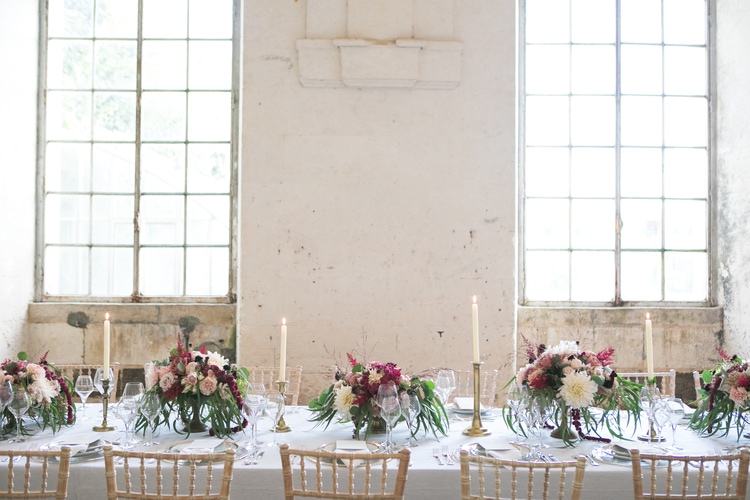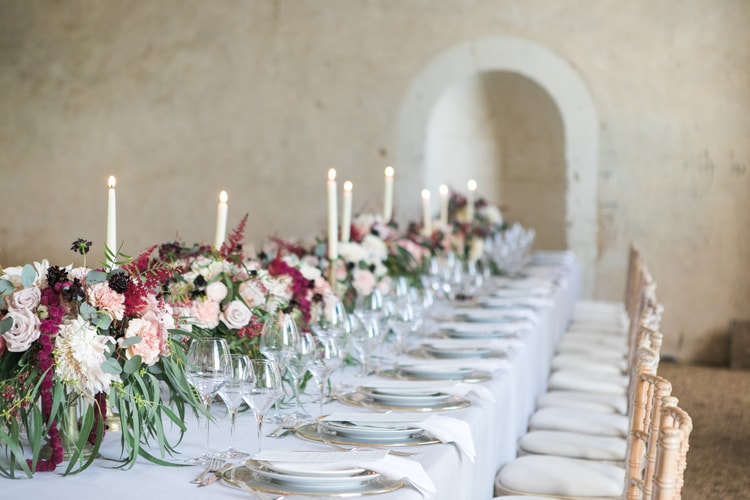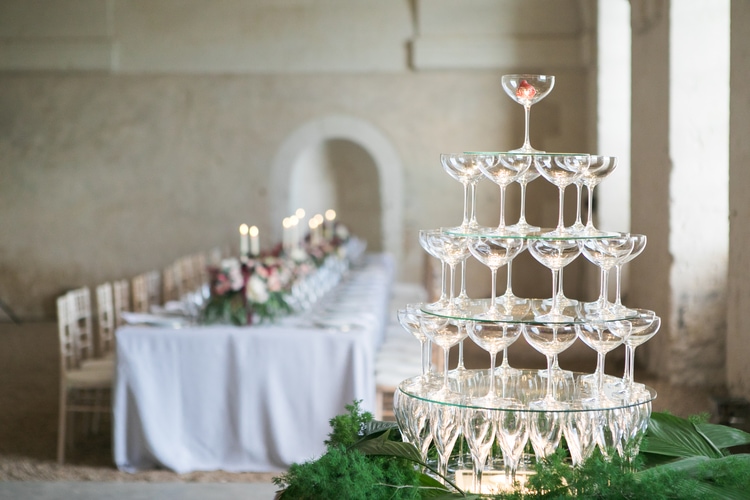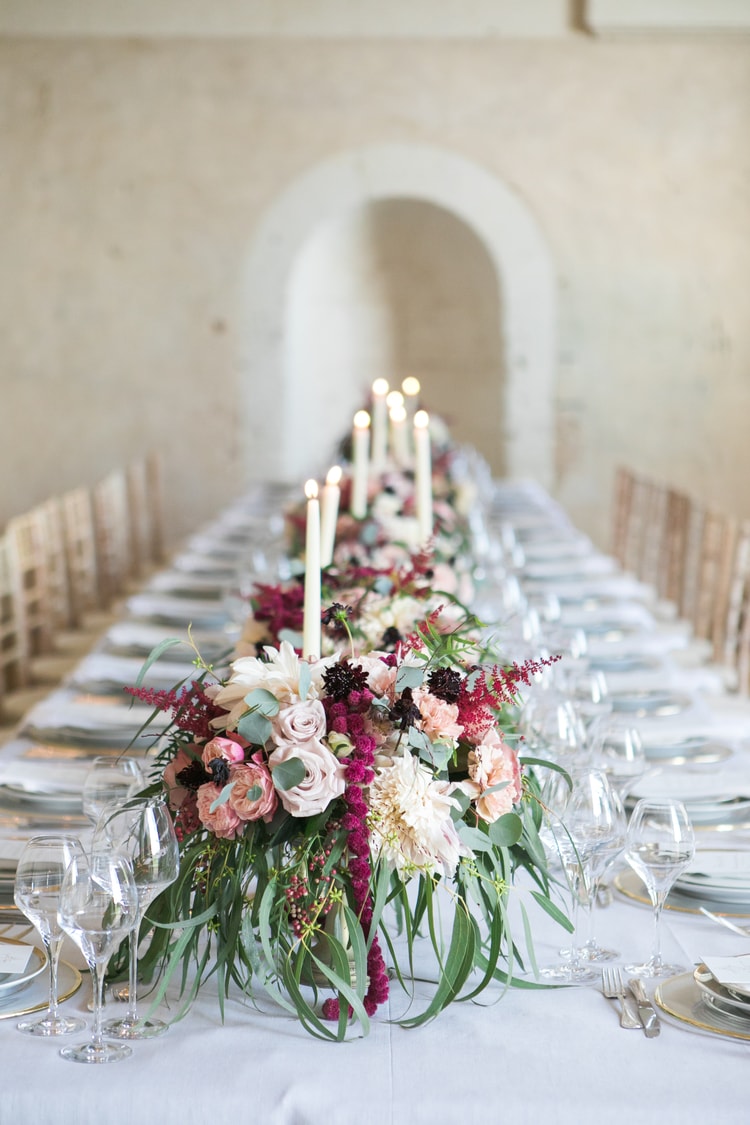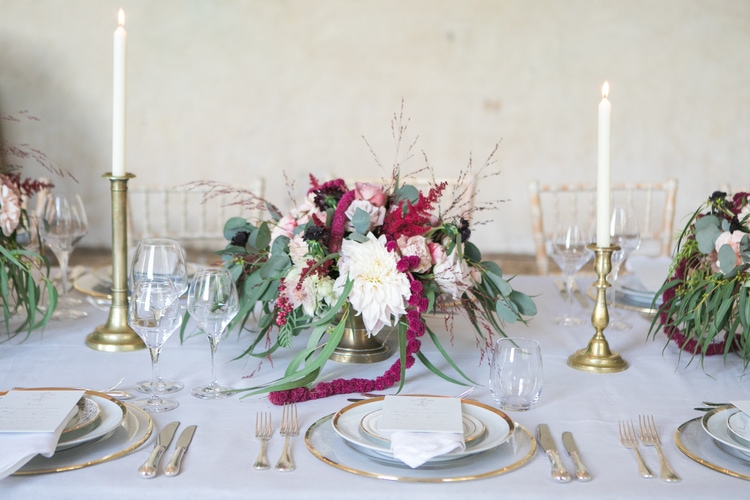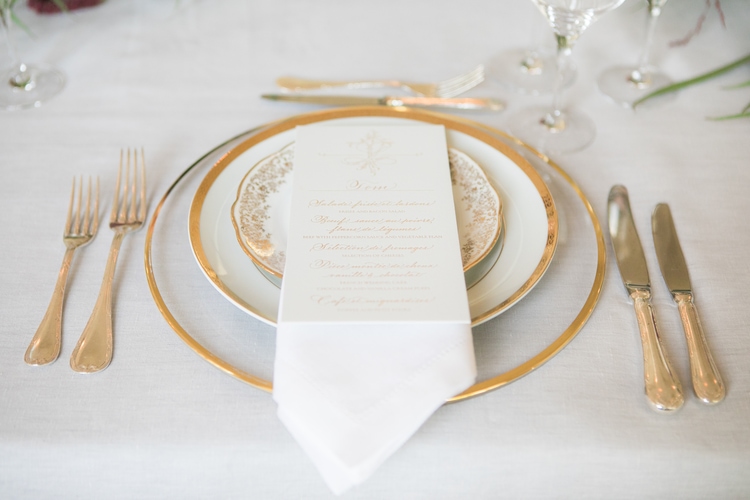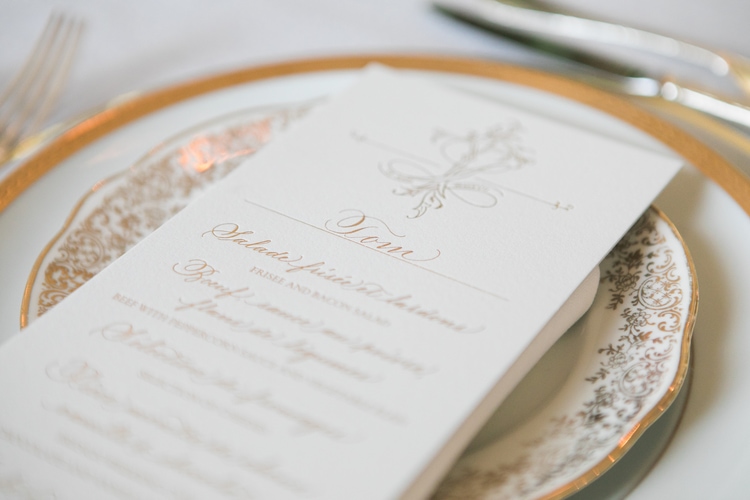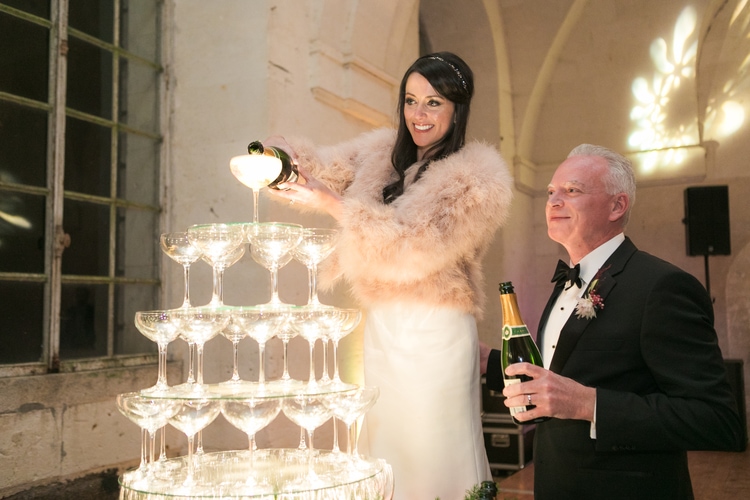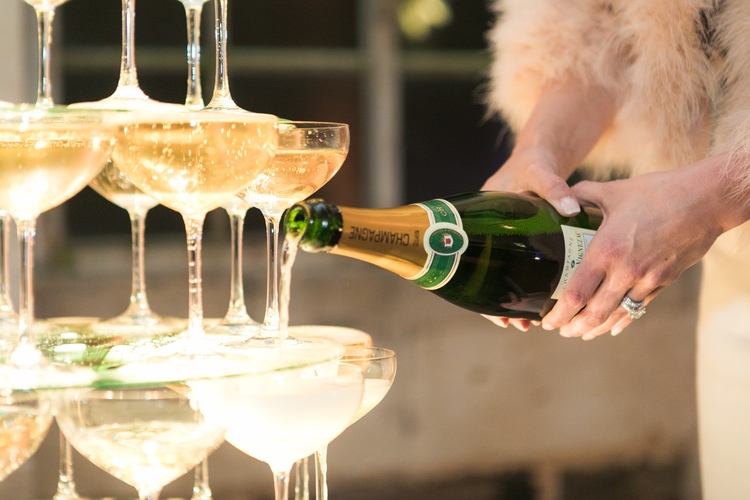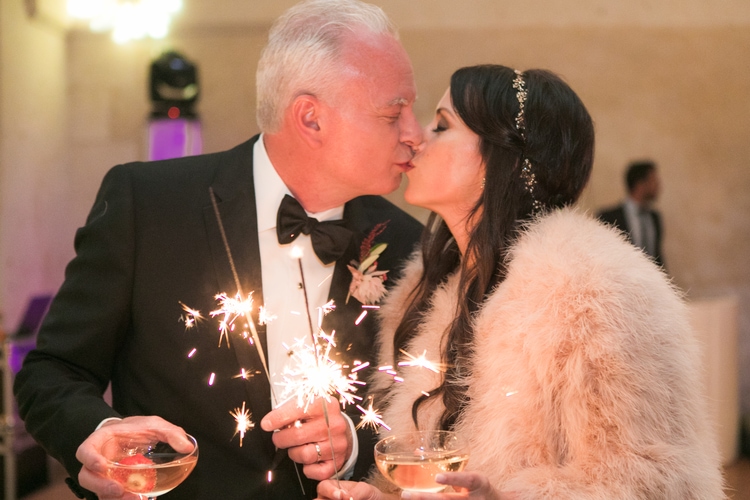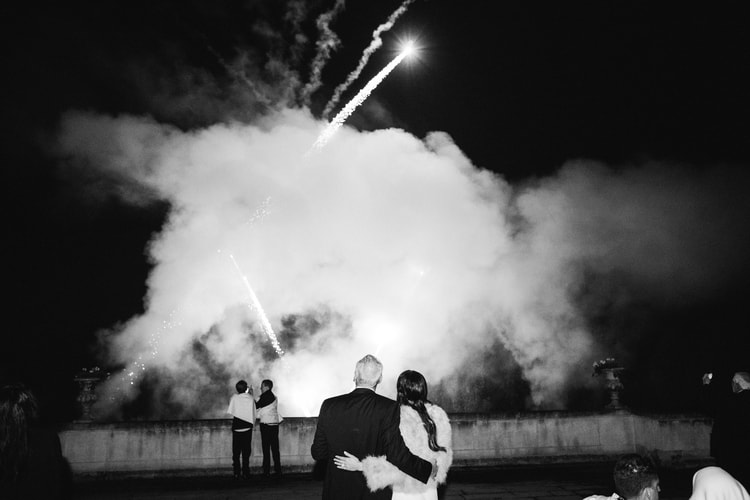 Video of French Chateu Wedding
Chateau du Grand Luce, France Wedding | Tom and Leslie | Zen Film Works from Zen Film Works on Vimeo.
Real Destination Wedding Q&A with the Bride
Why did you choose to have a destination wedding at the Chateau Luc in France?
When contemplating the numerous options for destination weddings, Tom and I felt as though we should choose a location that best fit our personalities. We described our style as classic, yet unexpected, effortless, yet sophisticated. Coincidentally, while crafting our small, intimate guest list, we were reminded of countless dinner parties with close friends where we enjoyed delicious French wine and the night ended in telling fond memories of visits to France or hopes of visiting one day. That was when we realized a destination wedding in France not only fit our personalities, but our friends' as well. I think we were all waiting for a reason to go! From the outstandingly beautiful landscape and architecture to the effortlessly sophisticated French way of life, we knew this location would succeed in setting just the right vibe we had envisioned for our special day.

It didn't take a ton of research to learn that Fete in France would be the perfect partner in planning our dream French wedding. We finally had the excuse we'd been waiting for to make a trip to Paris! So off we went to meet the lovely Nancy LaTart and embark our Chateau hunting adventure. We visited several gorgeous chateaux across Normandy and Loir Valley. Honestly, I placed Chateau du Grand Luce on our list to visit simply because it looked so incredibly beautiful online that I just had to visit it. Even if we just so happened to decide another location would work better. Chateau du Grand Luce mapped out to be the last stop on our visit before returning to Paris. It took literally no time to fall in love with the quant little village of Grand Luce and before you know it, the cobblestone roads had led us to the magnificent gates of the chateau. It was that instant feeling of "we're home"! This location perfectly married our style and wedding visions….classic, yet unexpected, effortless, yet sophisticated. After touring the grounds and meeting the incredible staff, Tom and I looked at each other with the biggest smiles and said," This is the coolest place ever; we can't wait to bring our friends and family here!"
What were your sources of inspiration when choosing your colors, flowers, cake, etc..?
Tom and I had purchased a new home together around the same time our wedding planning began. Of course, we were leaning toward a French aesthetic for our new home, so we found ourselves using interior design photos as inspiration for colors, flowers, table décor etc. In researching various Chateaux and French wedding photographers before making our decision, I also made a point to save inspirational images I found on their websites from previous events.
What was your favorite part of having a destination wedding?
The sense of adventure and uniqueness. Being able to host your closest friends and family in a 'once in a lifetime' type of setting is what makes destination weddings so awesome.
What was the biggest challenge in planning your destination wedding?
Our biggest challenge in coordinating a destination wedding was managing international payments. The fluctuating currency rates made it challenging to time payments just right and in many cases we weren't able to use American based credit cards for payments to vendors (for example American Express). This required us to wire funds from abroad and sometimes the transferred funds would take an extended period of time to be received in the vendors bank account. Vendors who accepted paypal were easiest to resolve these issues.

I believe most couples who plan a destination wedding will rely on the help of someone local to some extent. How you choose to utilize local help will determine what challenges you will face. For us, we 100% relied on our local wedding planners to handle communications with vendors. When planning a September wedding in Europe, Tom and I didn't take into consideration the fact most Europeans go on holiday the month of August. We procrastinated on making a few key decisions well in advance of August that made it challenging for our local wedding team. When most vendors returned from holiday, our procrastination resulted in us not getting our first choice on some of the items.
What's your advice to other couples planning a destination wedding?
Visit your location in advance. I found that selecting a venue based solely on pictures online would be like buying a home based solely on pictures online. Things can look and feel different in person. Plan to arrive early. Because I knew in advance I tend to get major jet lag when traveling to Europe, I saved up enough vacation time to arrive an entire week before my wedding. By the time the wedding day arrived, I felt well-adjusted, relaxed and appeared refreshed for photos!
Vendors:
Photographer: Catherine O'Hara Photography
Videography: Zen Film Works
Planning & Design: Fête in France
Location: Château Grand-Lucé
Florals: Lily Paloma
Vowbook & Guestbook: Claire Magnolia
Crest design/Calligraphy/Signage: Studio French Blue
Wedding dress: Romona Keveza
Lace cape: Designed by the bride
Getting ready robe: The Lace Atelier
Feather Coat: Jocelyn/Purchased on Intermix
Jewelry: Maria Elena
Shoes: Aquazurra
Wedding Tux: Hugo Boss
Cuff links: Tiffanys
Hair: Ciara Coiffure
Make up: Modern Beauties Paris
Featured:

Unique Poolside Bachelorette Party Inspiration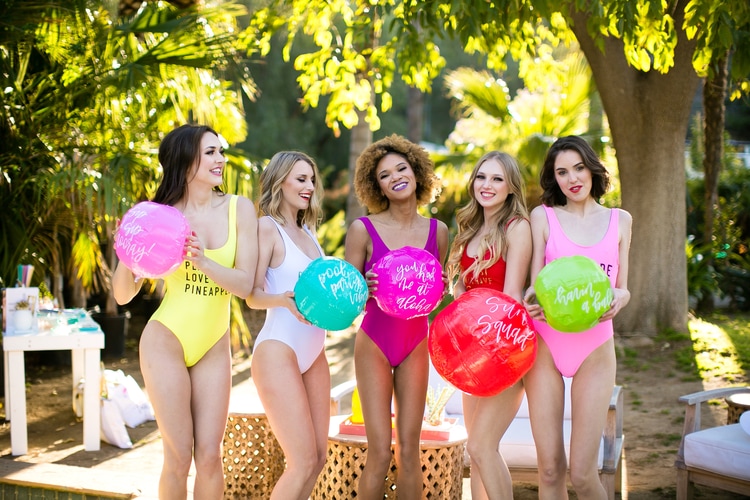 This unique tropical poolside bachelorette party is #GOALS! The décor was tropical, colorful and fun – bringing a cheery vibe that set the tone for a flawless and relaxed day. There were tons of personalized details –from sunscreen and chapstick, to soda and champagne, sun hats and fans, magazines, personalized tumblers, and even a wet bikini bag to hold their suit while they slipped into some adorable "Bride's Beaches" cover-ups. Of course, what's a good party without some fun games? Tons of fun ideas in this post. Read more
Featured:

New Orleans Destination Weddings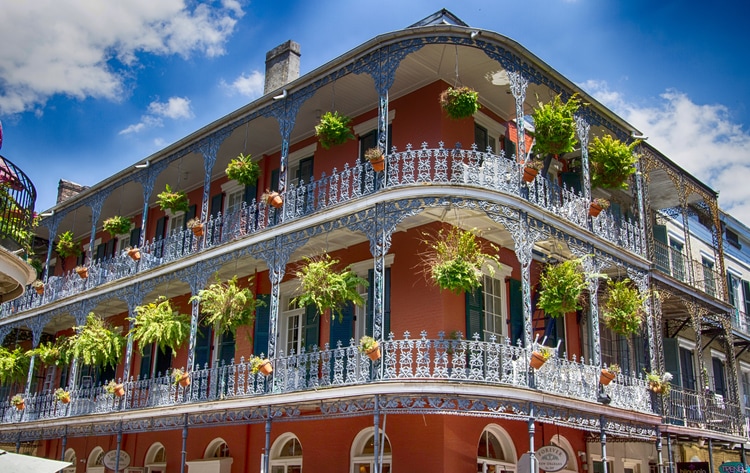 Here at Destination Wedding Details, we've seen it all: weddings at the beach, in the mountains, in the desert, and in pretty much every country. ALL beautiful, mind you… but through our years of observing what exactly makes for a GREAT wedding, we've surmised this: it must be FUN for you and your guests. So, ask yourself this: what city is more fun than New Orleans? Read our full post to discover when, where and how to get married in NOLA.
Cynthia is the founder and editor of Destination Wedding Details.She has over 15 years experience in the Marketing and Event industry and launched Destination Wedding Details in 2010, shortly after planning her own destination wedding. Cynthia uses her experience and genuine passion, to inspire brides who are planning their dream wedding away from home.