Reginah and Giovanni's destination wedding in South Africa is easily one of the most visually stunning weddings I've seen. After seeing these photos shot by Amber Leach from Liberty Pearl Photography I thought, "That's a wrap. There's no hope for the rest of the weddings…ever." Not only is the landscape of Cape Town just absolutely breathtaking, but Reginah and Giovanni's venue was overflowing with character. I love the dichotomy of the rustic architecture serving as the backdrop for an upscale and elegant affair.
Believe me, the FOMO was real after flipping through the pics of their insanely fun reception. Not only did the bridesmaids and groomsmen have a dance-off, but Reginah and Giovanni took the party to the next level and treated their guests to an amazing performance by a traditional South African drum and dance group. What a great way to incorporate the local culture and celebrate among their best friends and family.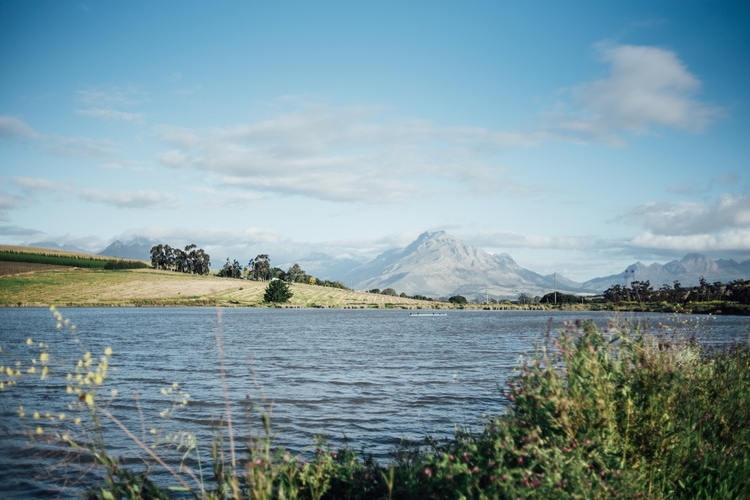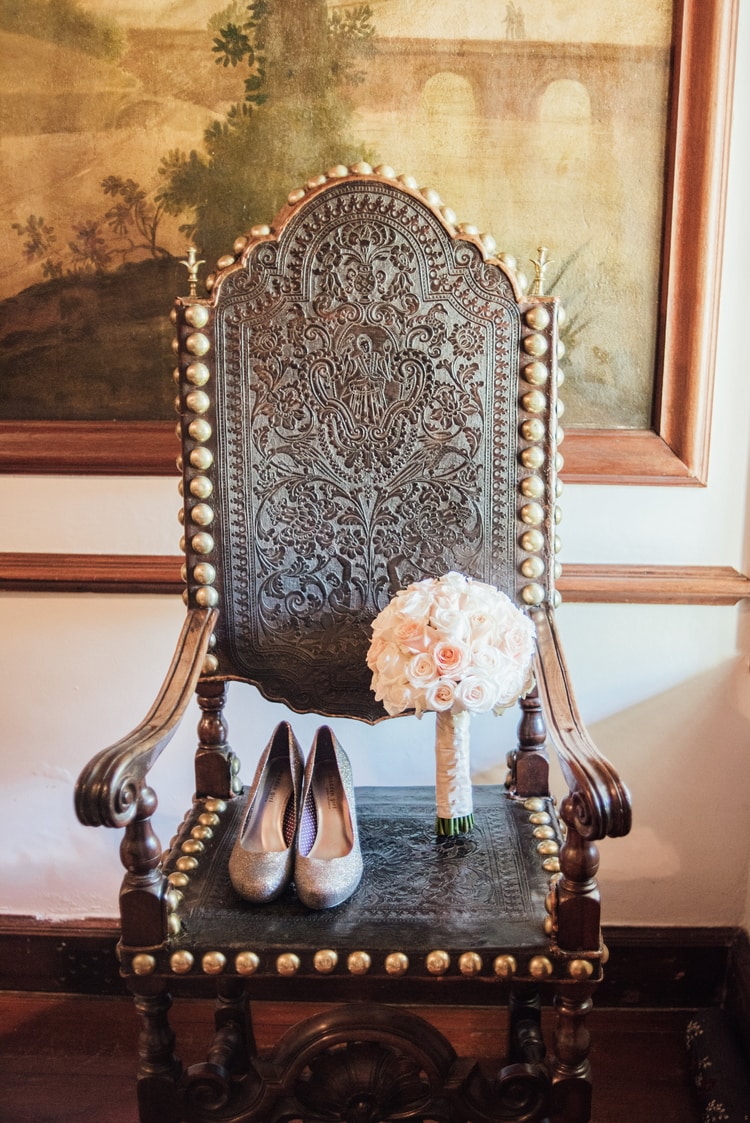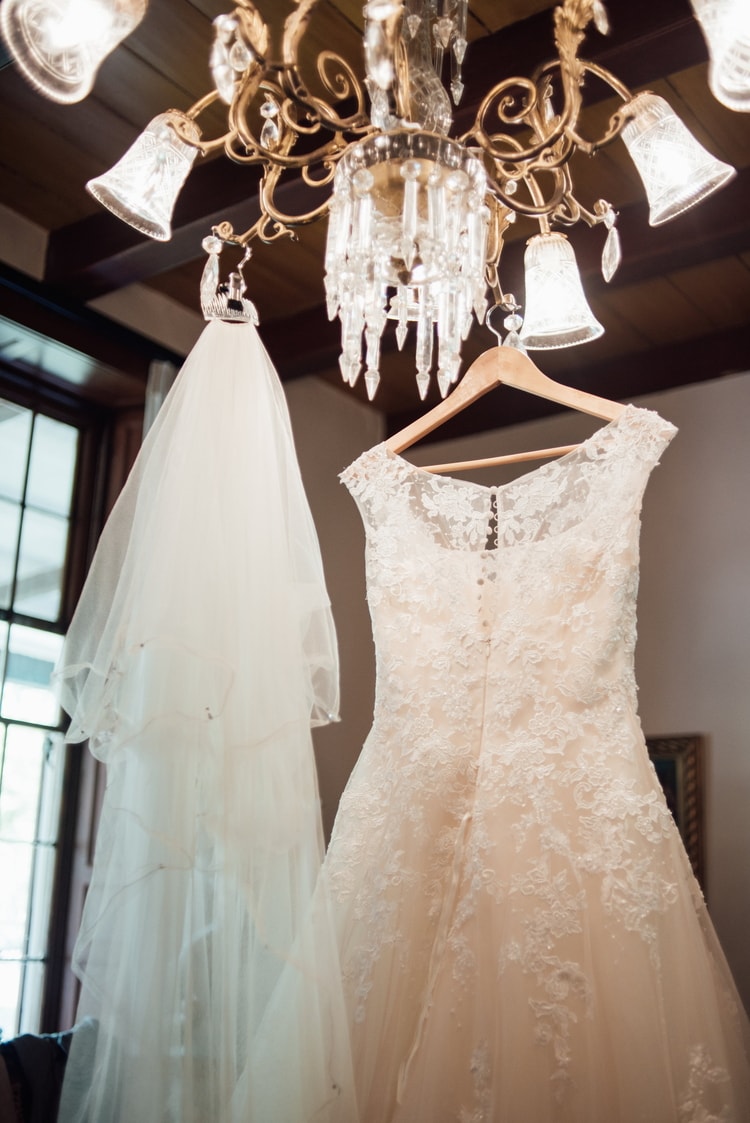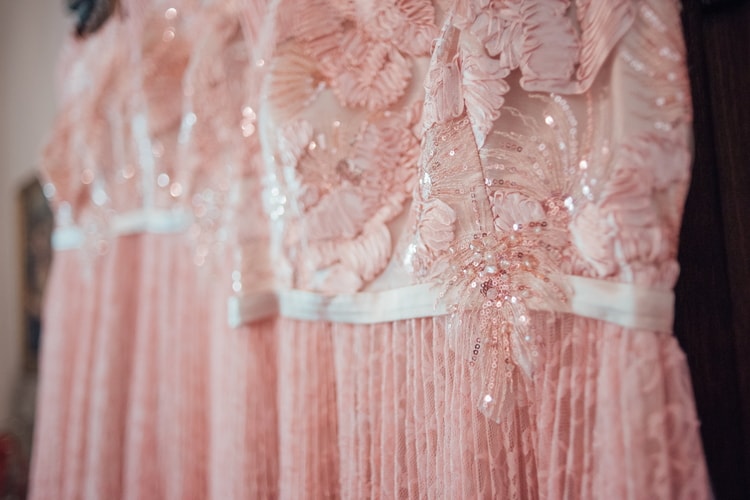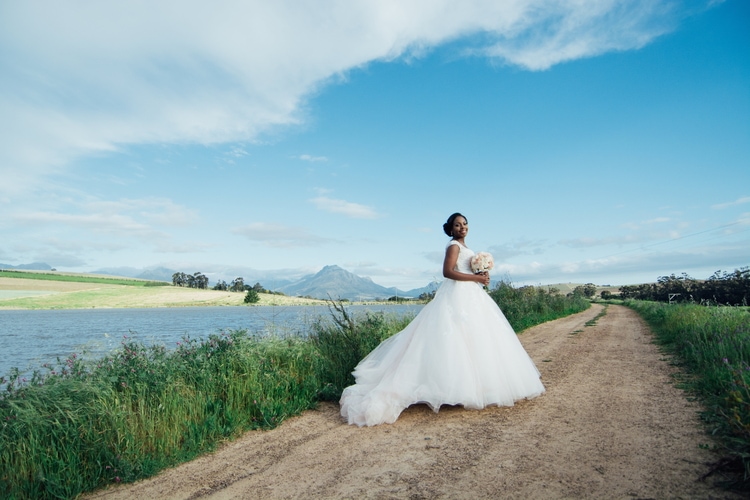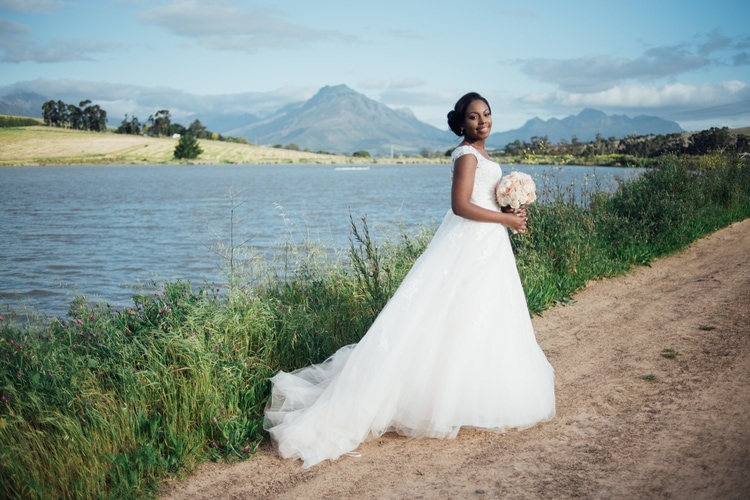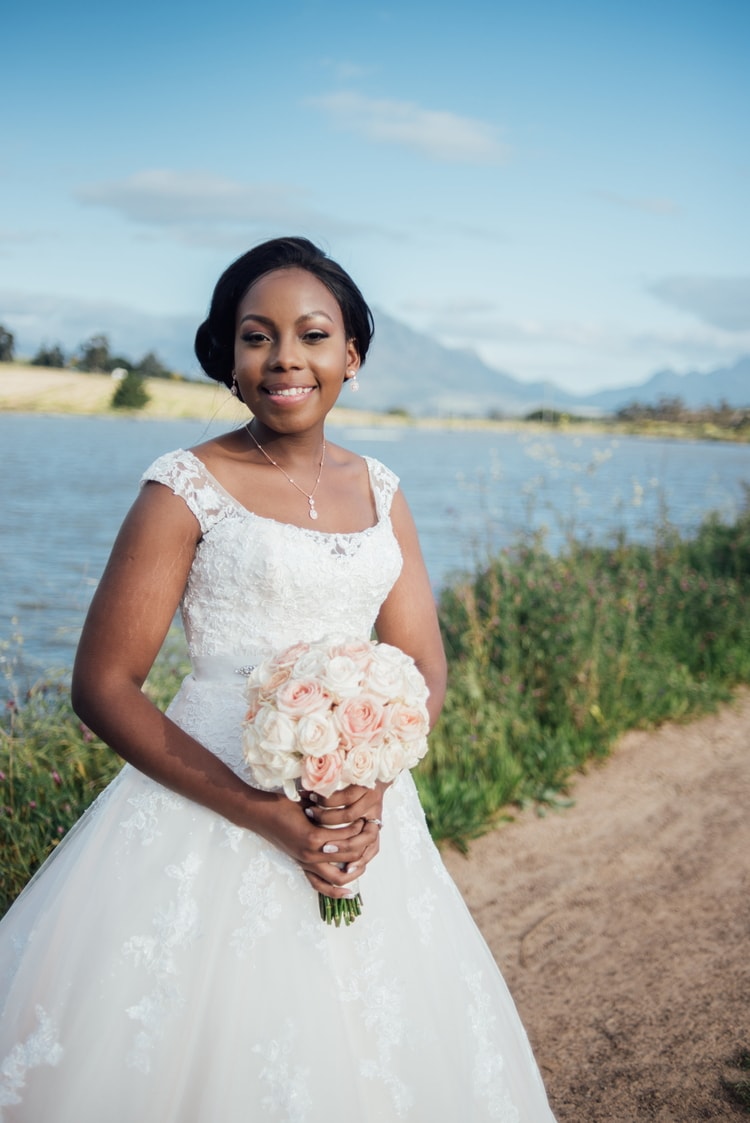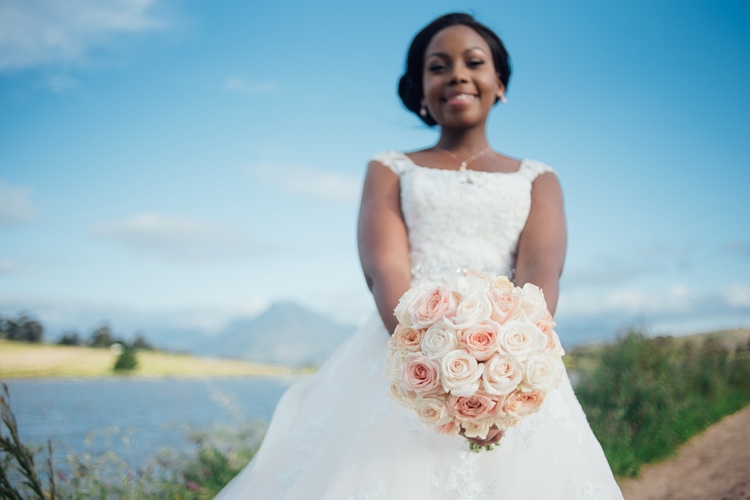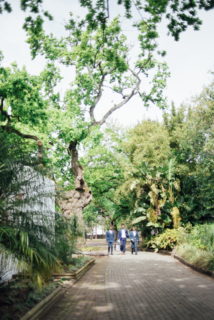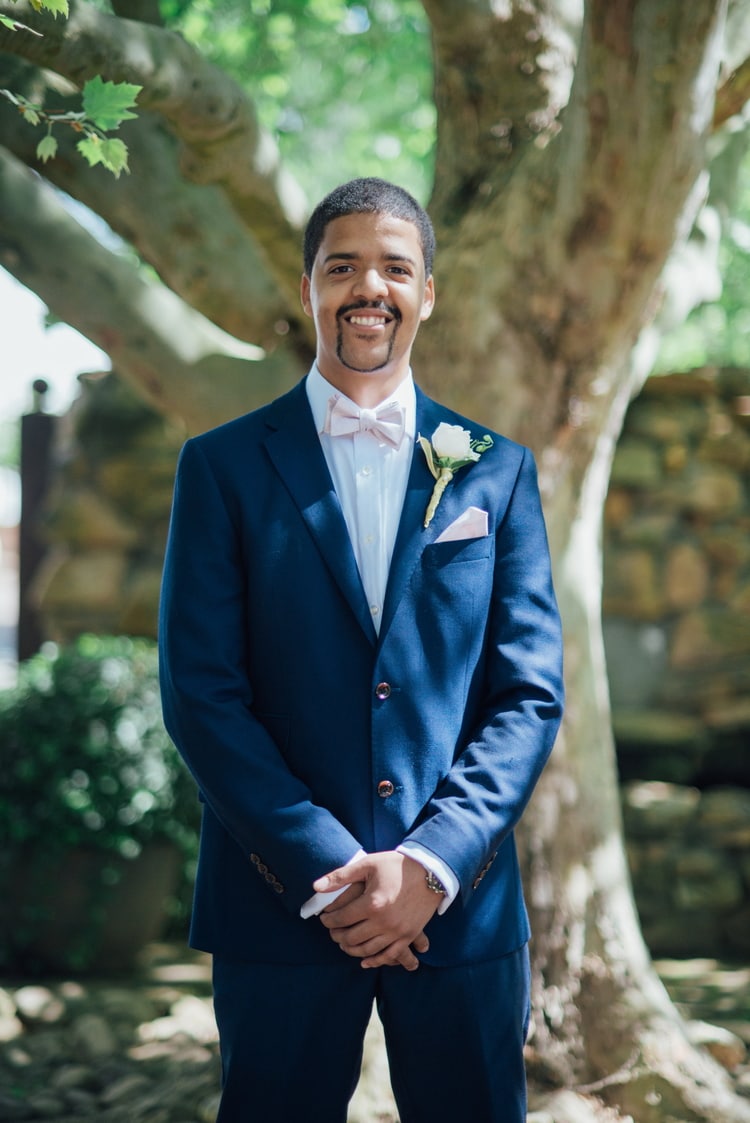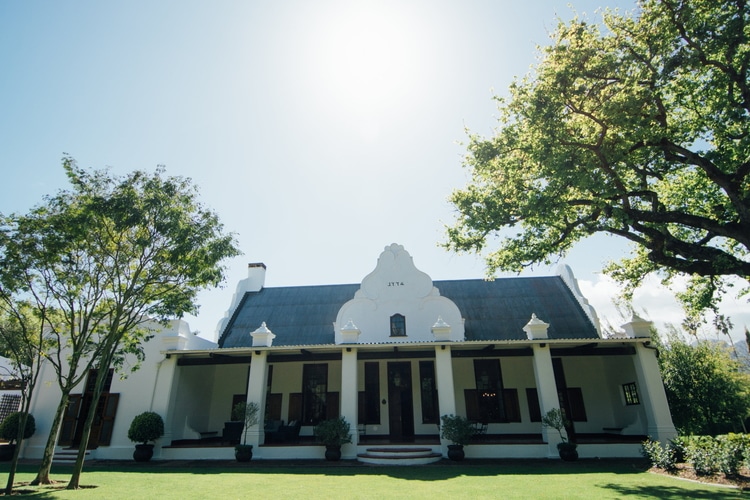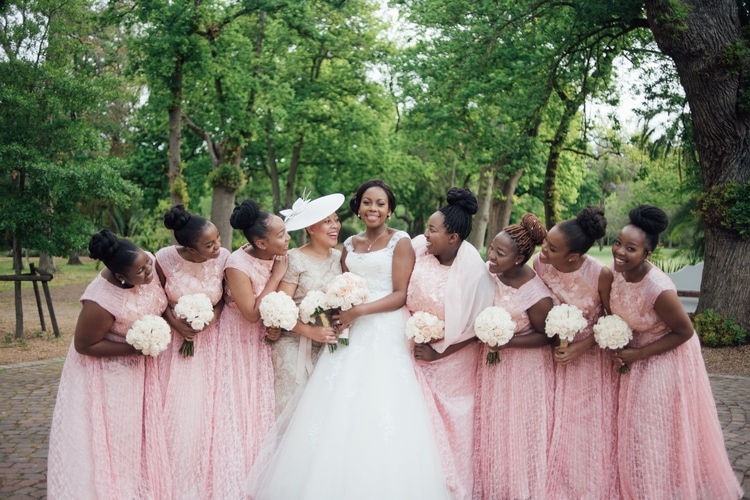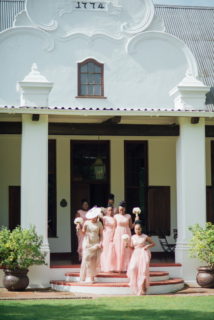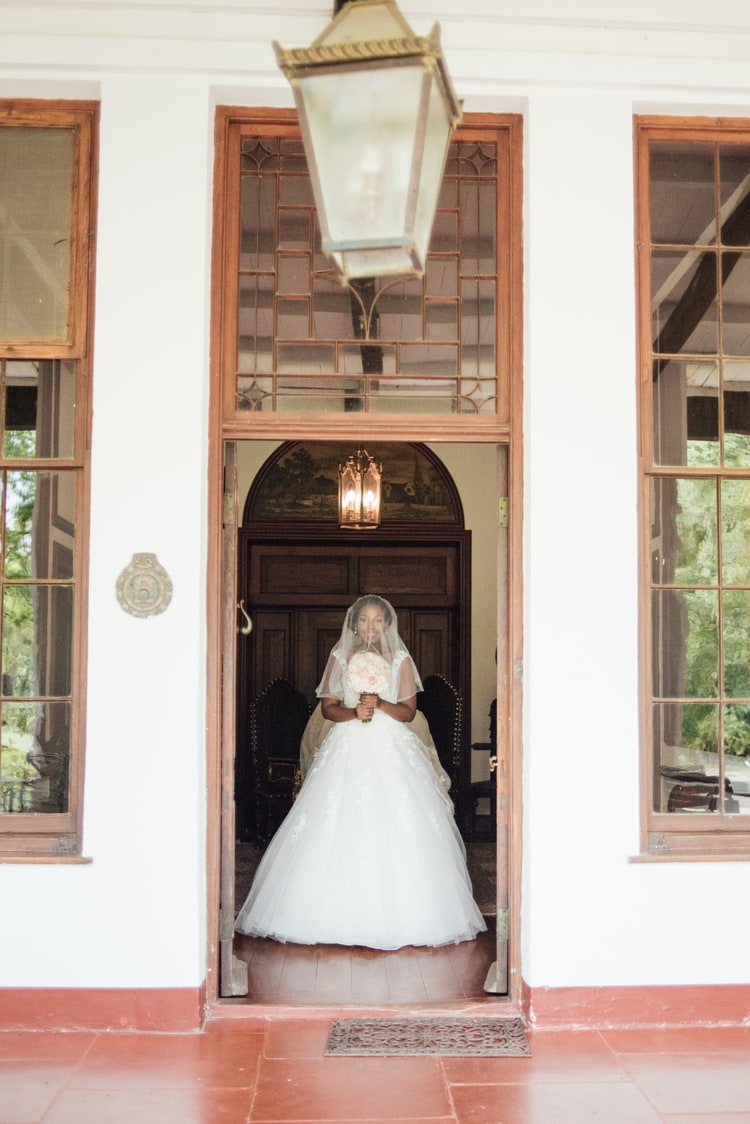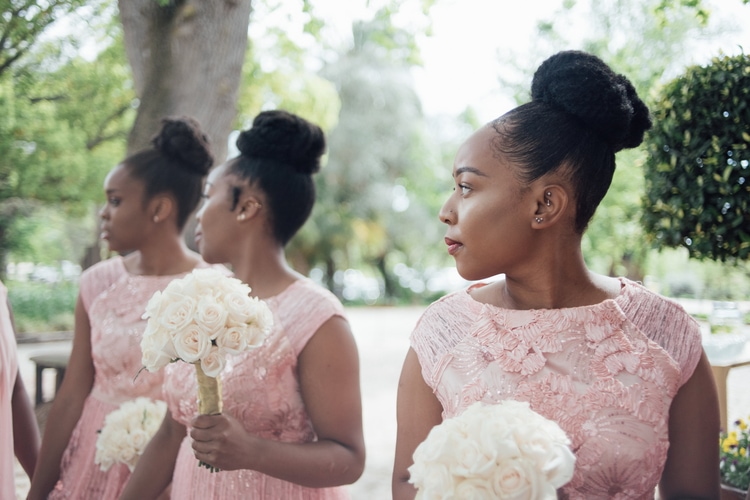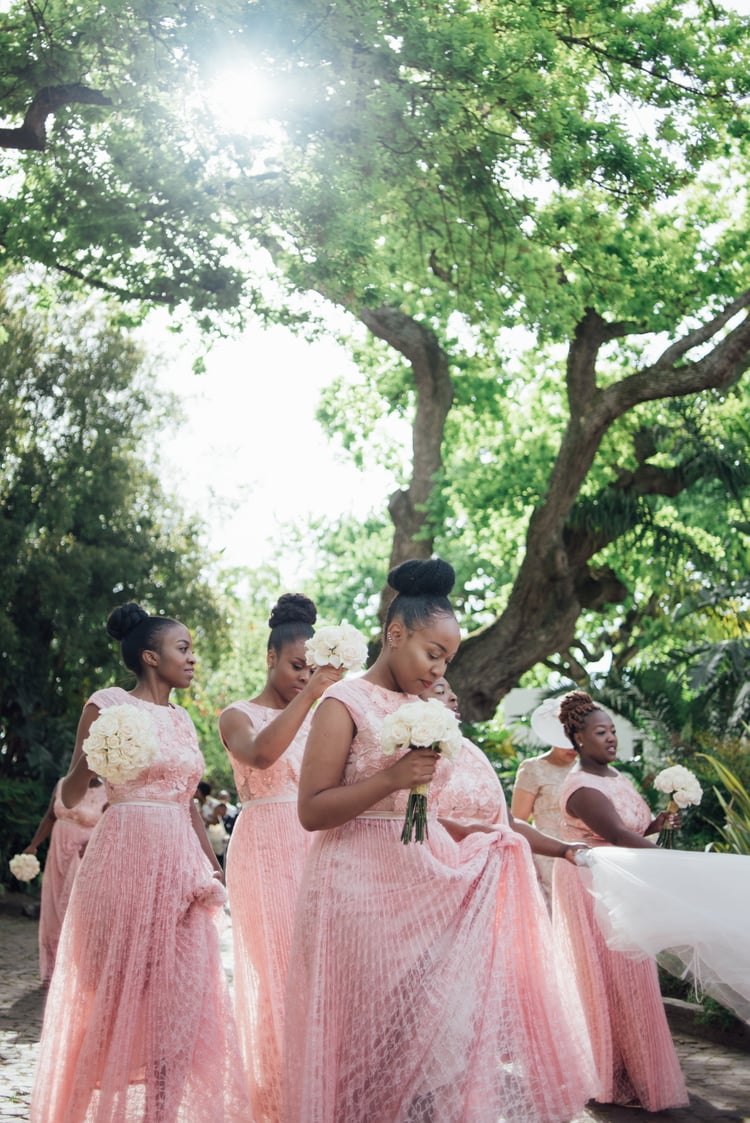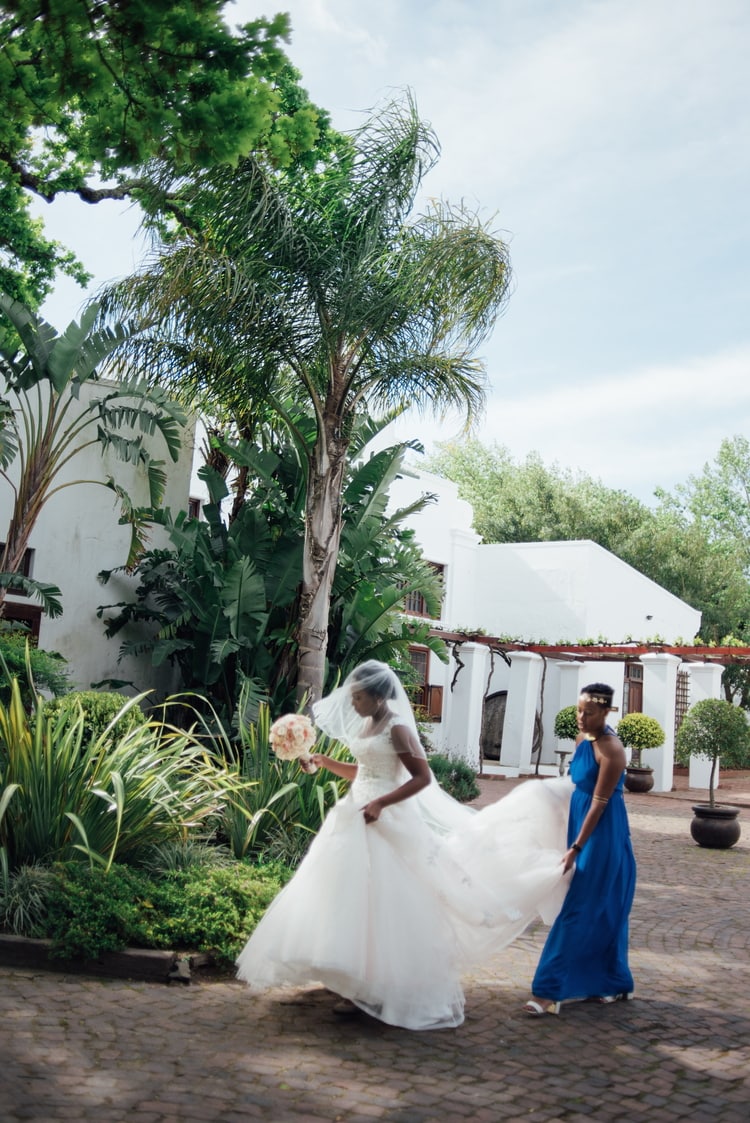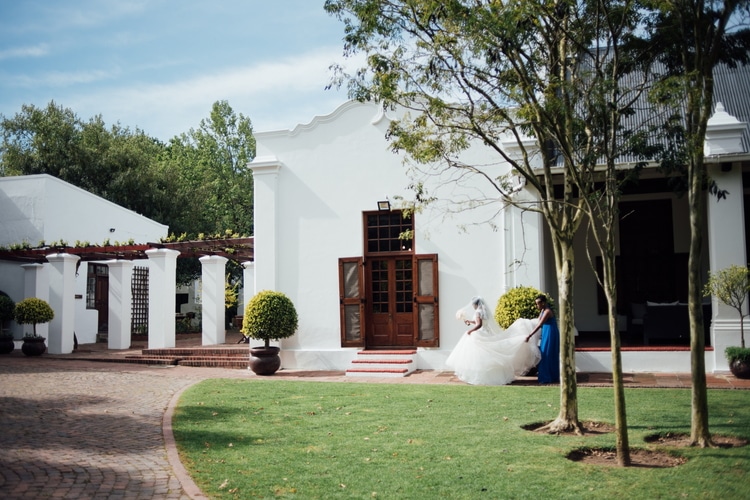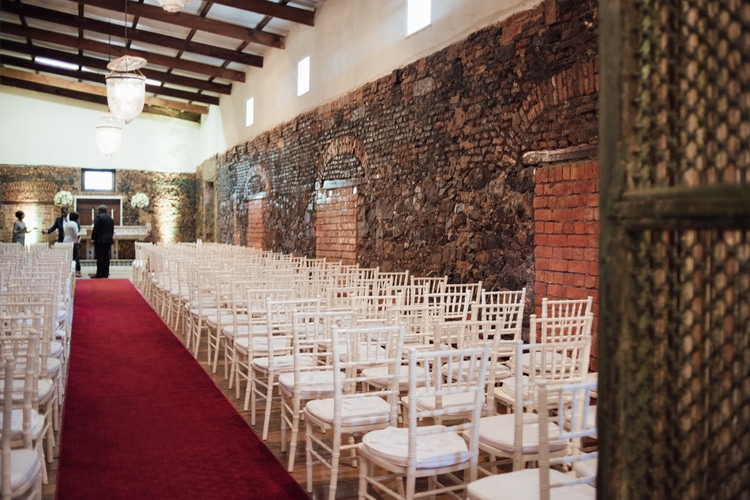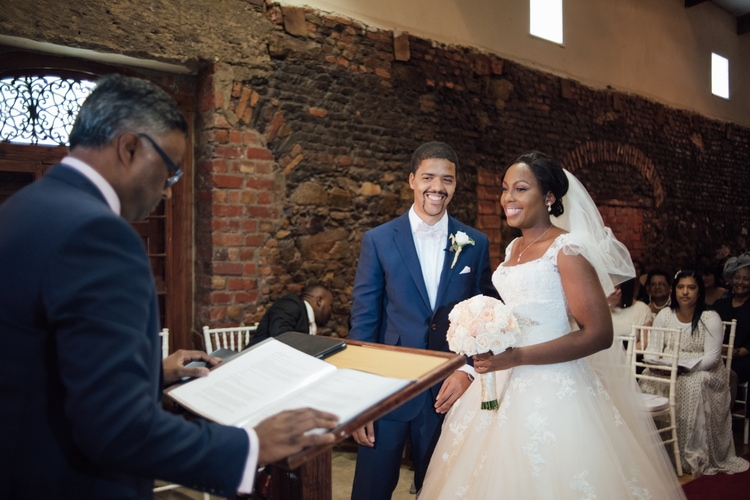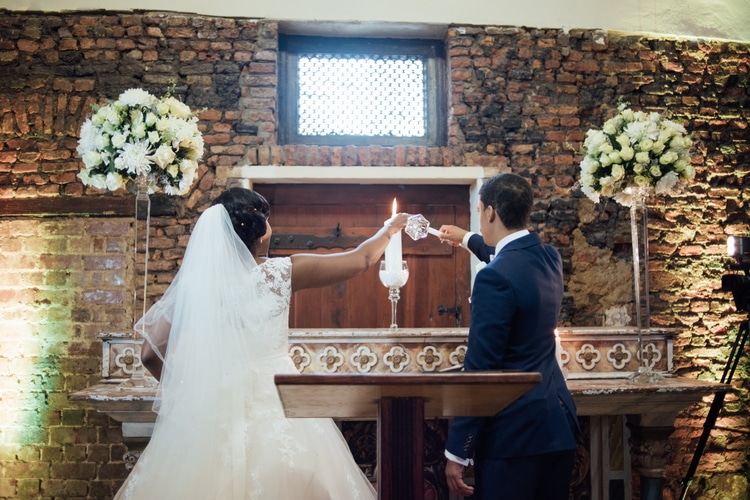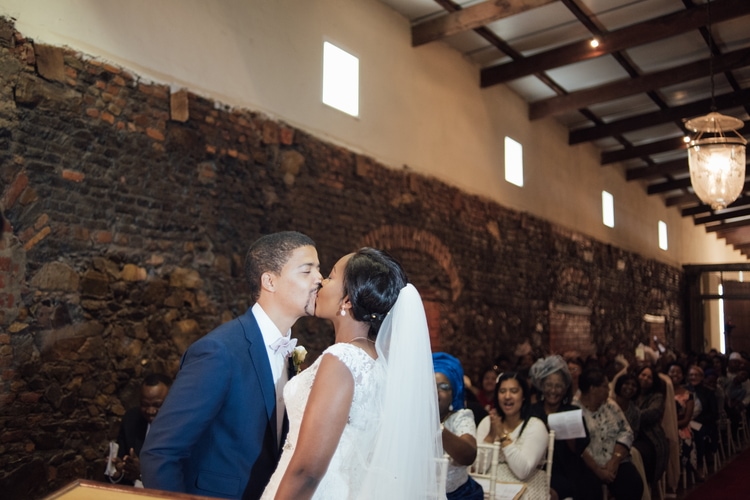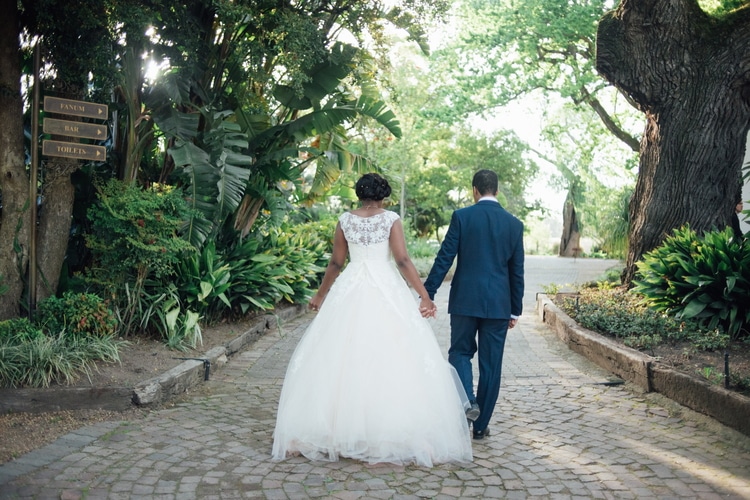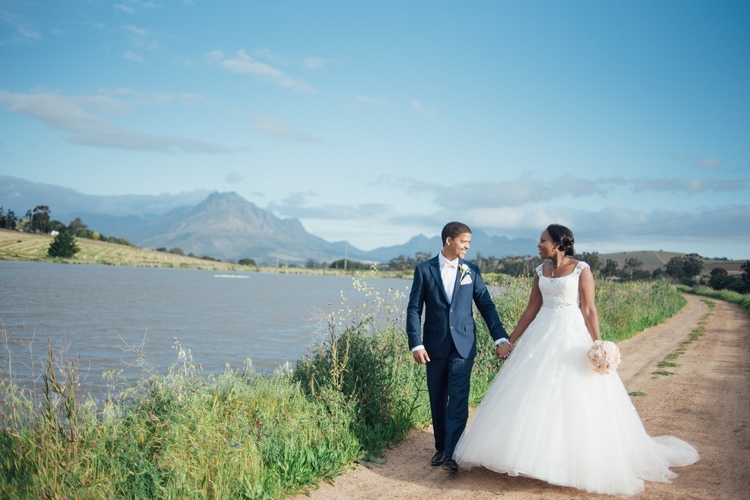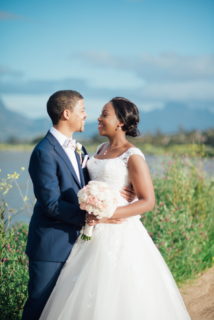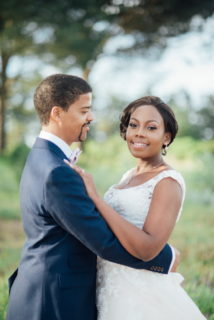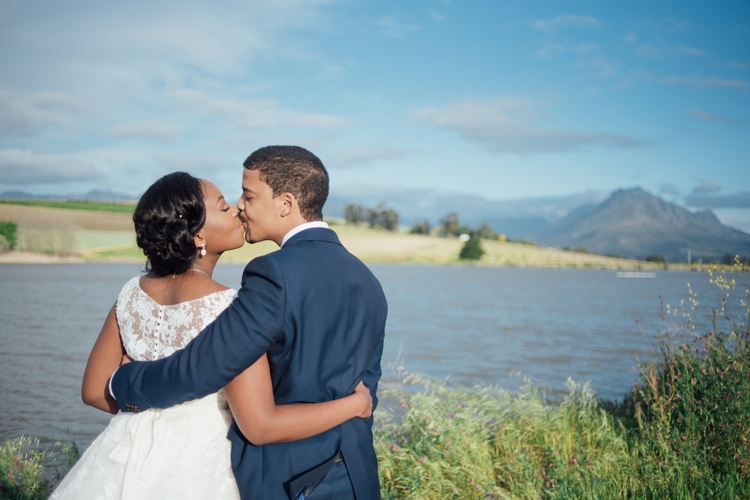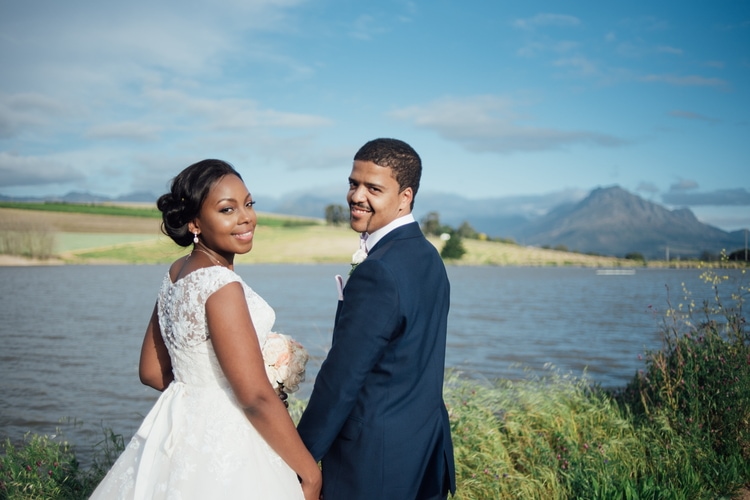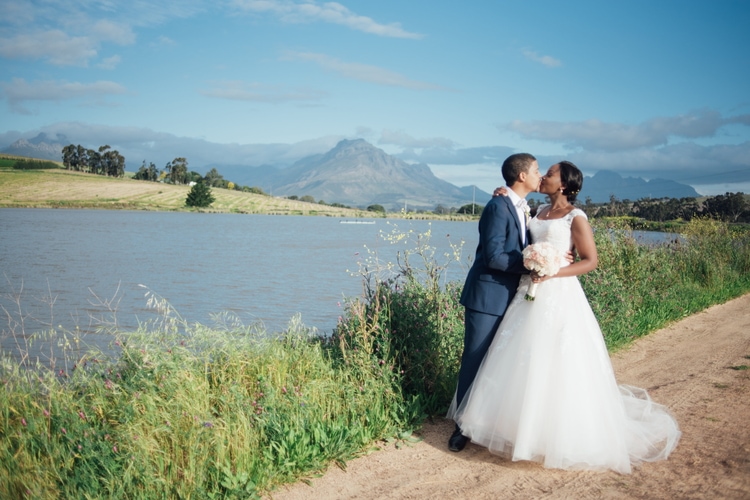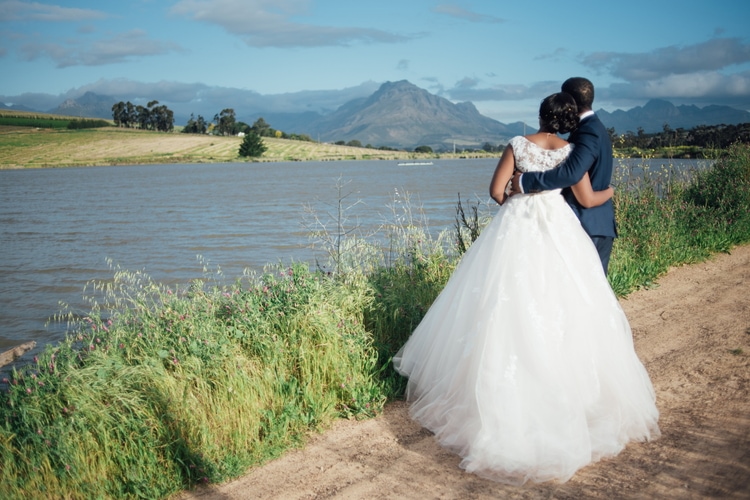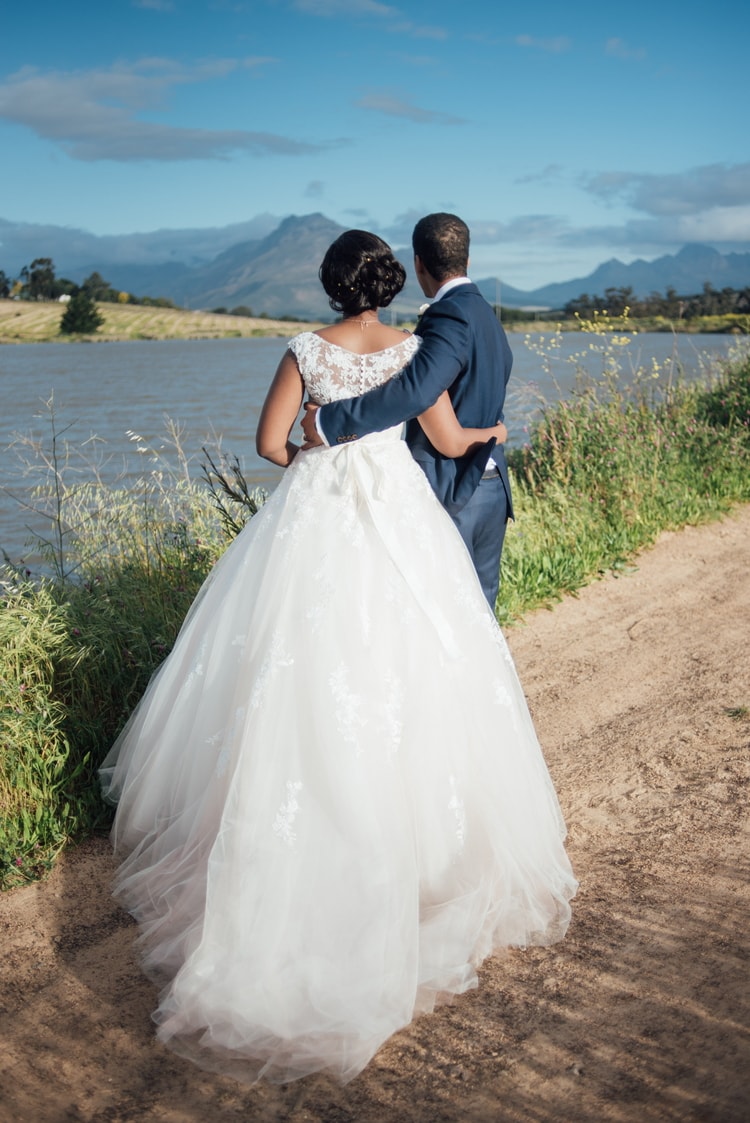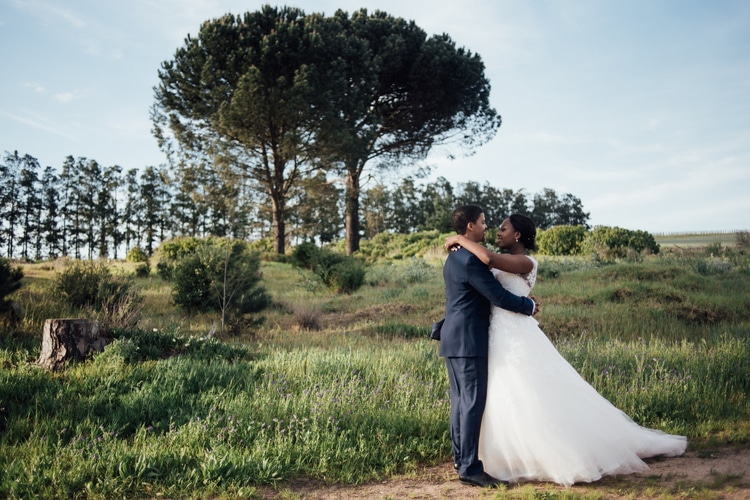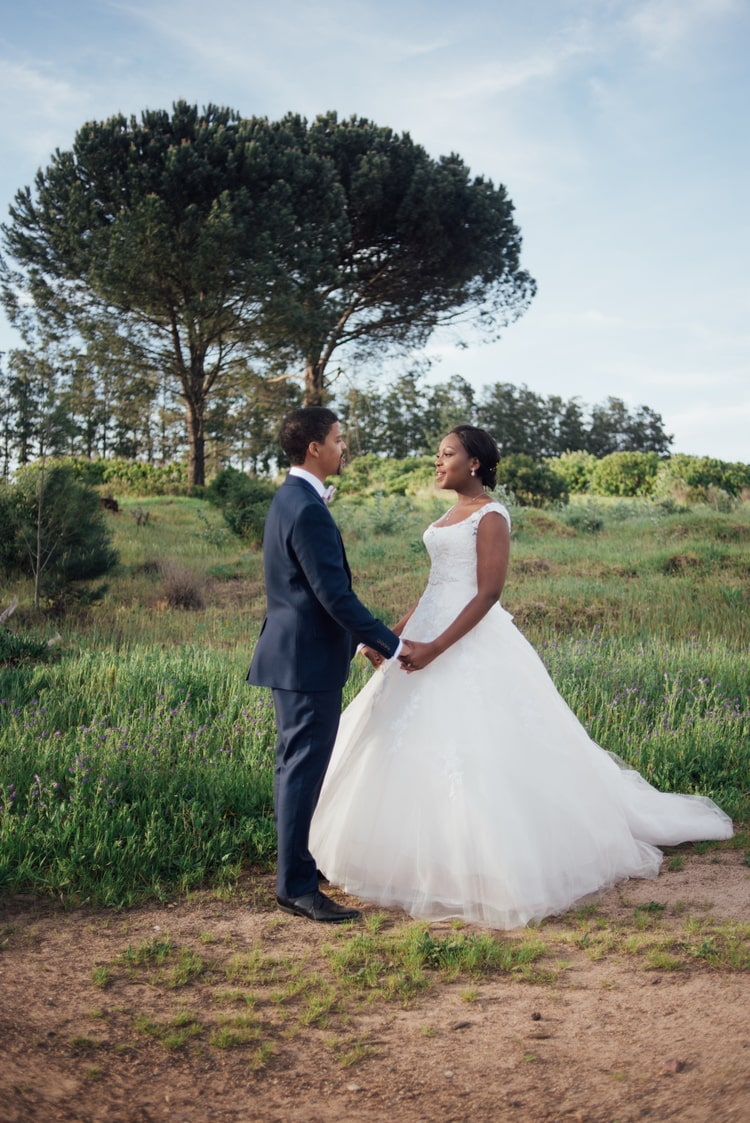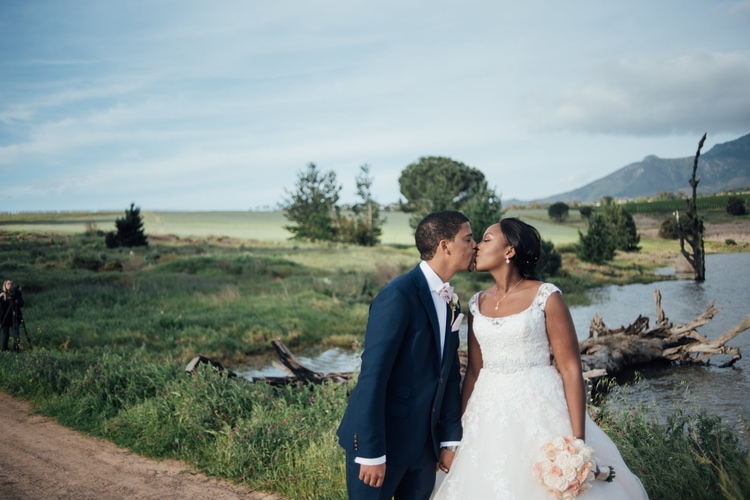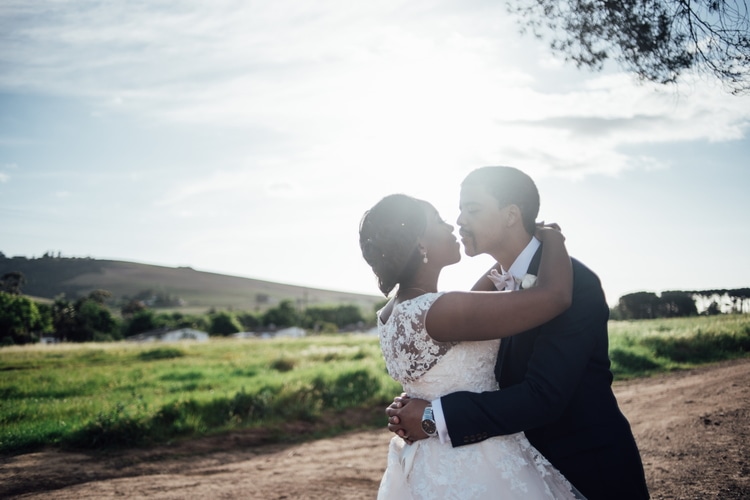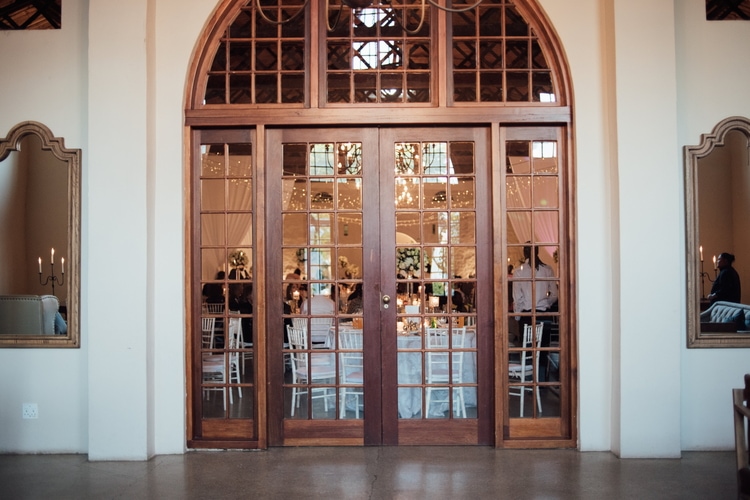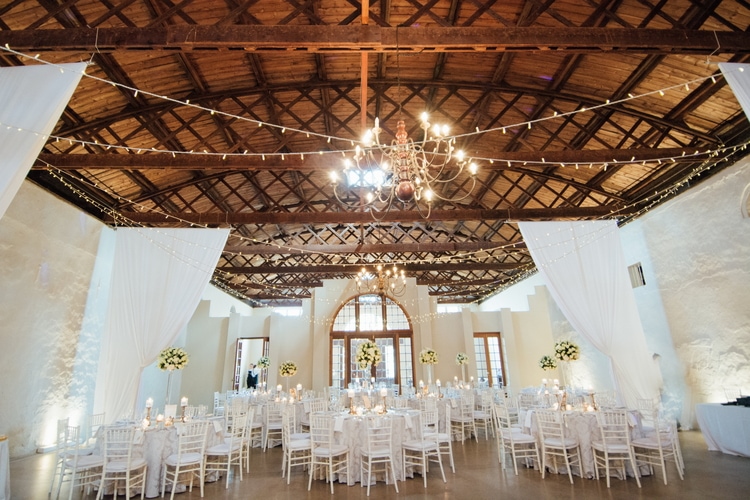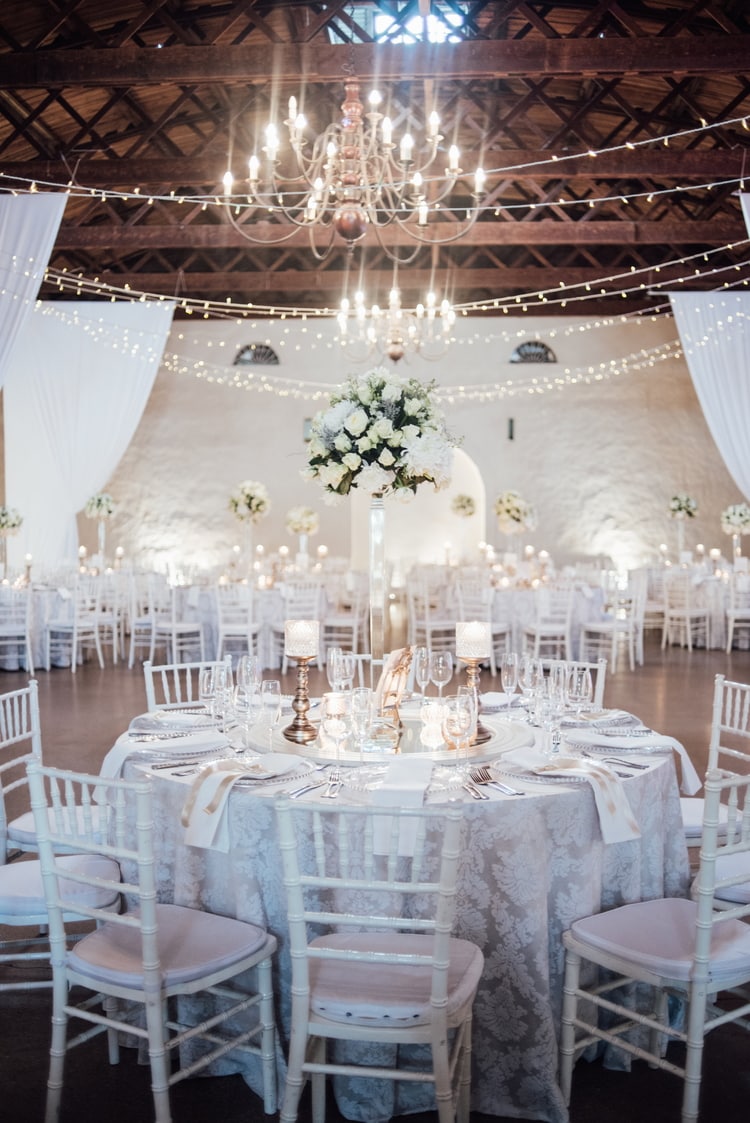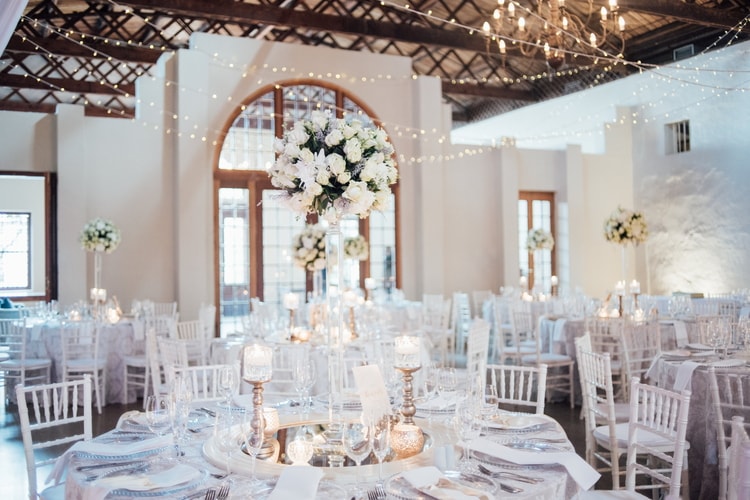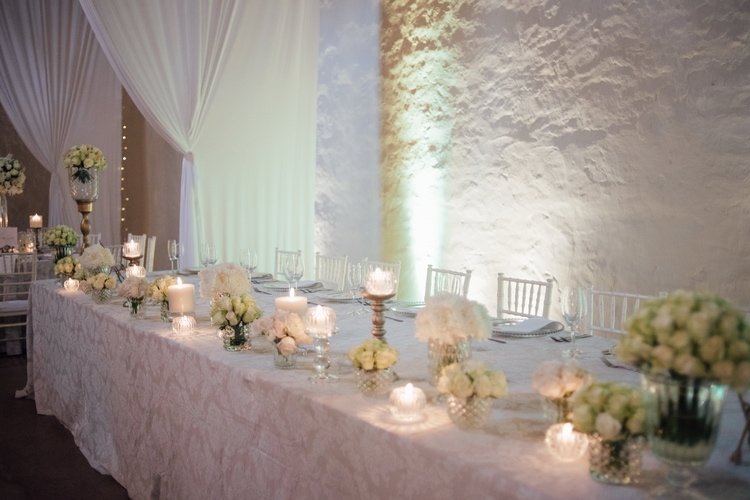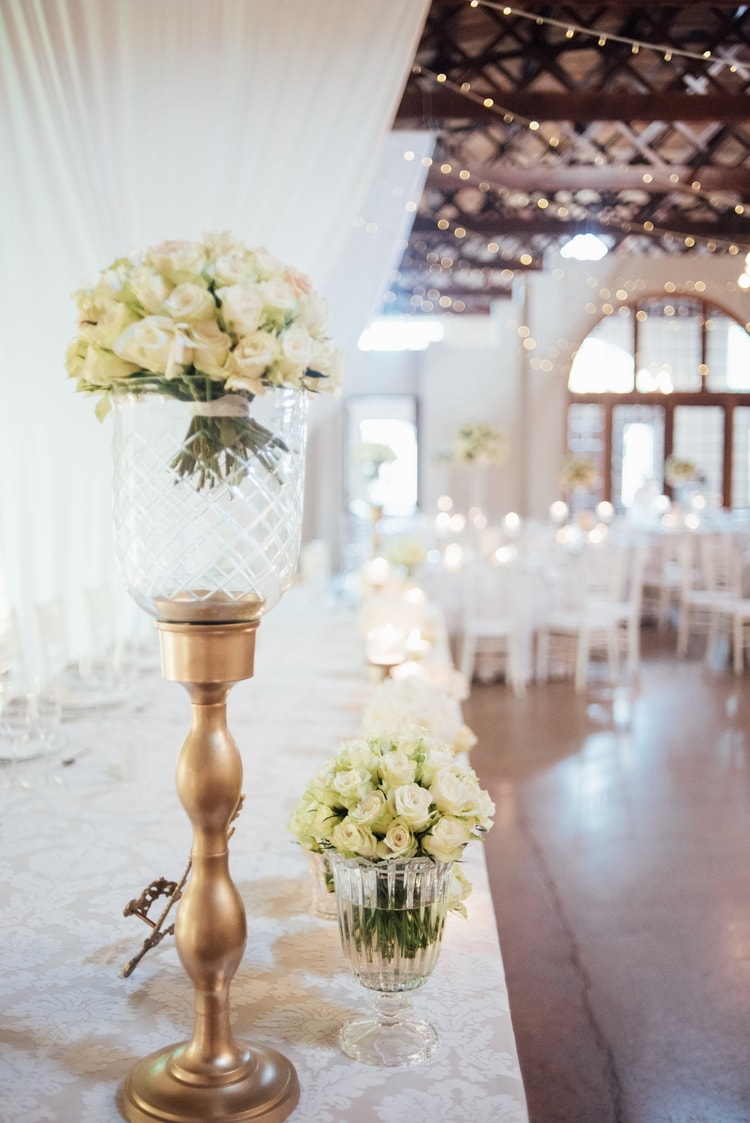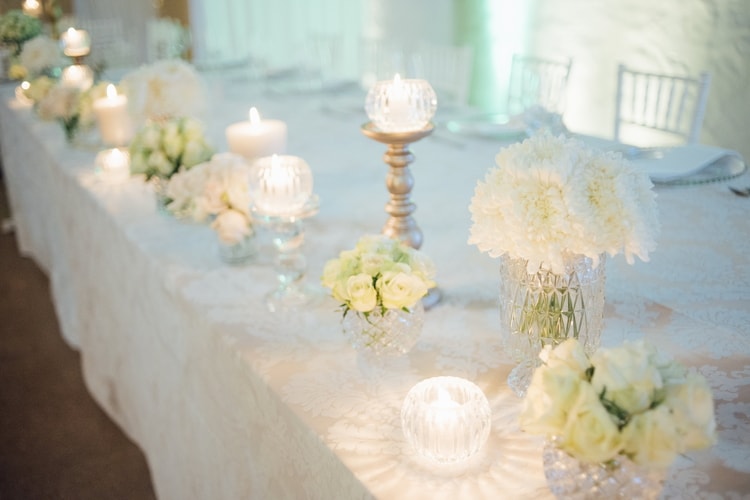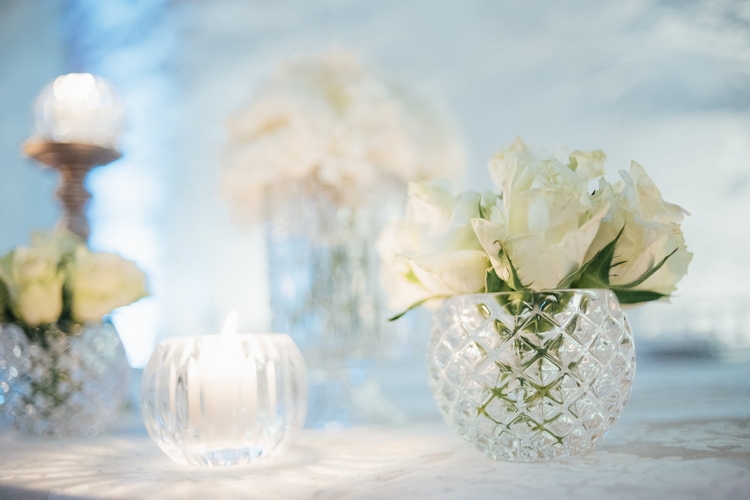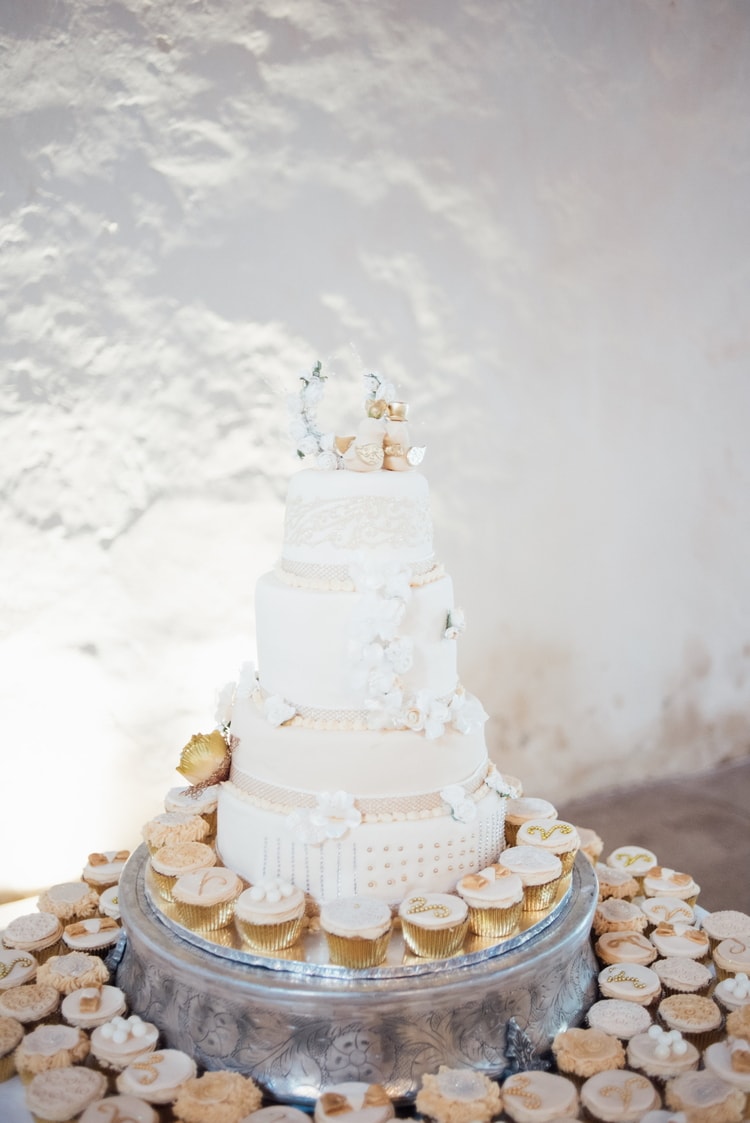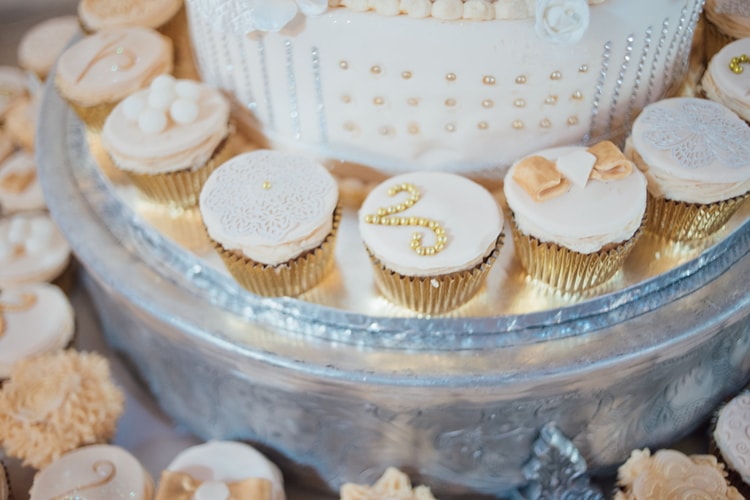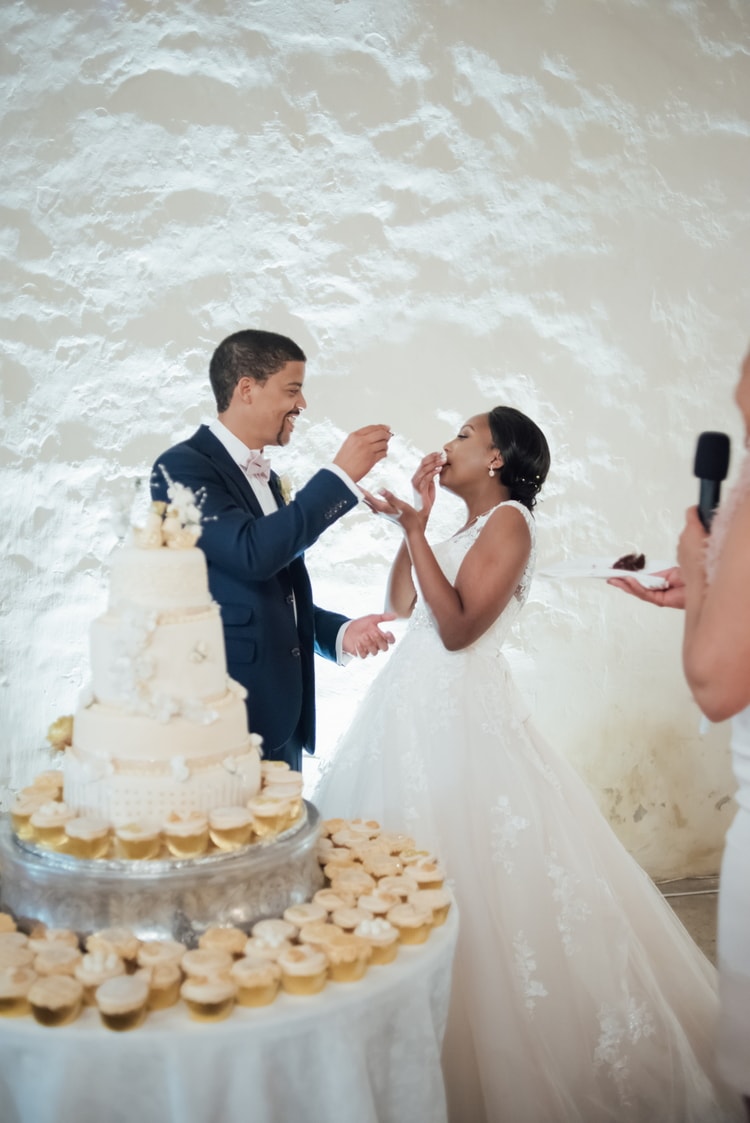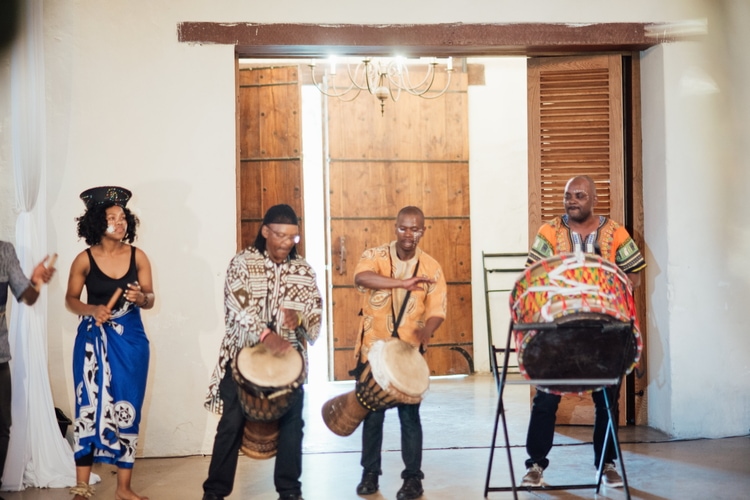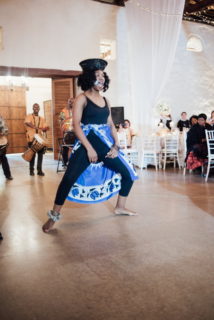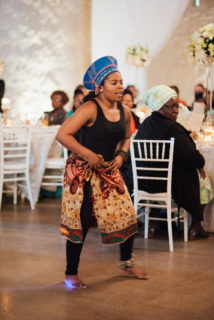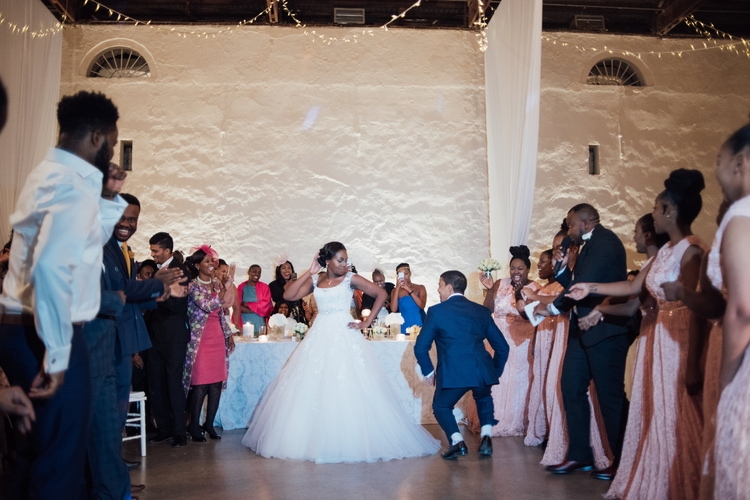 Real Destination Wedding Q&A with the Bride
Why did you choose to have a destination wedding in South Africa?
Cape Town is one of our favorite cities in the world and it is also where Gio was born and raised. We love the Winelands, the scenery is just stunning and Nooitgedacht gave us the best deal for what we were looking for.
How many people attended your destination wedding in South Africa?
211
What were your wedding colors?
Our colors were Ivory and gold. We wanted a simple classic day.
What were your sources of inspiration when choosing your colors, cake and flowers?
We chose our favorites. We chose roses for flowers because they are my favorite and Gio loves buying them for me. The flavor of the cake was chocolate and vanilla because again that's what we both love. With colors we went for simple classic colors that we thought would work well together.
What was your favorite wedding detail and why?
1. The food!!! The guests still make comments about how incredible the food was! 2. The deco. It can sometimes be hard to imagine what all your ideas will look like when it all comes together but the wedding planner did such an incredible job. She captured everything we wanted to the last detail and it looked so beautiful.
Was there any tradition that you skipped or a tradition that you put a "destination wedding" spin on?
We had a traditional South African drum and dance group as part of the entertainment.
What was the most memorable moment of your destination wedding in South Africa?
All moments were memorable. We're glad someone encouraged us to take in each moment throughout the day and it meant that we remember so many things. But our top 4 moments include, Tolu (one of the bridesmaids) catching the bouquet and running around the venue to celebrate; the dance off between the bridesmaids and groomsmen and the bride and groom, that was hilarious; the moment we shared Holy Communion and last but not least the FOOD!!
What was your favorite part of having a destination wedding in South Africa?
Our favorite part of having a destination wedding was still being able to share it with close family and friends. We are so blessed that so many people were able to join us and share in our day, which made it so special. Not only that but the whole week leading up to the day also felt like one big crazy group holiday. It was amazing!
What's your advice to other couples planning a destination wedding?
The best advice I can give anyone is don't let the unimportant things stress you, relax and enjoy every step of the way. A marriage is more than the wedding day so accept that your day will be as perfect as you want even if everything doesn't go according to the plan (let go of always wanting to be in control and delegate). Also, choose your bridesmaid wisely – the last thing you want is unreliable people that will add to your stress. I was so lucky and feel so blessed to have had the support system that I had and I will always love and appreciate my girls for being so amazing throughout!
Vendors
Photographer: Liberty Pearl Photography
Videographer: Cape Video Digital Photographers
Bridal Dress: Kavelle Couture
Groom's Suit: Alfred Brown from Marks & Spencer
Featured:

Unique Poolside Bachelorette Party Inspiration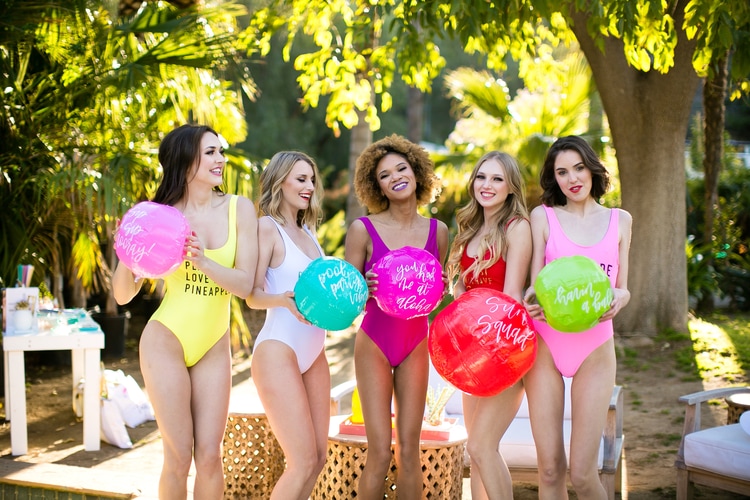 This unique tropical poolside bachelorette party is #GOALS! The décor was tropical, colorful and fun – bringing a cheery vibe that set the tone for a flawless and relaxed day. There were tons of personalized details –from sunscreen and chapstick, to soda and champagne, sun hats and fans, magazines, personalized tumblers, and even a wet bikini bag to hold their suit while they slipped into some adorable "Bride's Beaches" cover-ups. Of course, what's a good party without some fun games? Tons of fun ideas in this post. Read more
Featured:

New Orleans Destination Weddings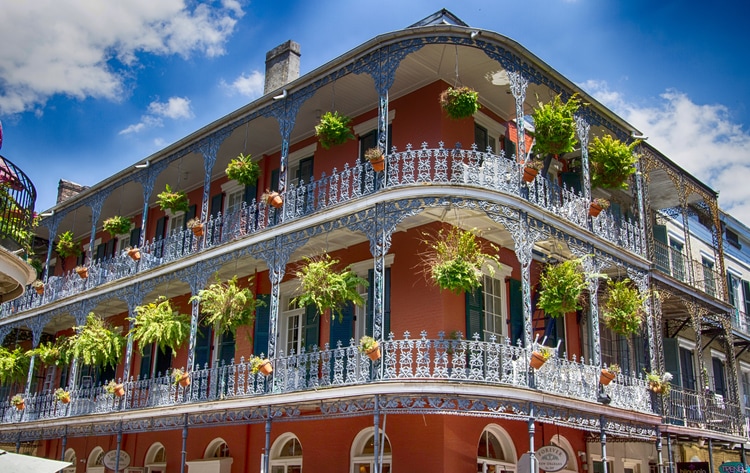 Here at Destination Wedding Details, we've seen it all: weddings at the beach, in the mountains, in the desert, and in pretty much every country. ALL beautiful, mind you… but through our years of observing what exactly makes for a GREAT wedding, we've surmised this: it must be FUN for you and your guests. So, ask yourself this: what city is more fun than New Orleans? Read our full post to discover when, where and how to get married in NOLA.
Erin is a New England native living in Cincinnati, OH. For the last six years she has served as Communications Manager for a large home service franchise, working as a freelance writer in her spare time. She has been a contributing editor for Destination Wedding Details since early 2017. Inspired by a desire to plan a uniquely personal destination wedding herself, Erin draws on experience to bring relatability and humor to her writing.