Anything worth doing, is worth doing RIGHT. Jessica & Brian took that to heart and pulled off the most effortless, breezy, and trendy but unique boho-chic vibe on their wedding day. I now get why Jessica fought so hard to squeeze 17 boxes worth of centerpieces into her guests' carry-on luggage… it was worth it! After seeing approximately 2.5 photos from this album, I was already overcome with FOMO. I was blown away when I saw the palm frond alter, the beach wood tables overflowing with pretty pale pink flowers, the dainty copper and glass décor, and the tufted sofa seating area. I could ramble on, but I'll spare you and let the pictures speak for themselves.
Jessica & Brian wanted a God honoring ceremony followed by a fiesta inspired cocktail party, then an intimate dinner… and to top it all off, one "wild ass party" (bride's words, not mine). With so many moving parts, it's typically impossible to please everybody. So how did they do it? By keeping in mind that… opinions are like armpits. Everyone has 'em, and they all stink! As romantic as that sounds… it rings so true when planning a wedding. Stick to what you want, and you'll get what you want.
I want to give a HUGE shout out to the amazing photography team at Fun in the Sun Weddings, who captured every single detail of this wedding so perfectly. I am seriously blown away by their talent and I'm so honored they shared this gem with us. Enjoy!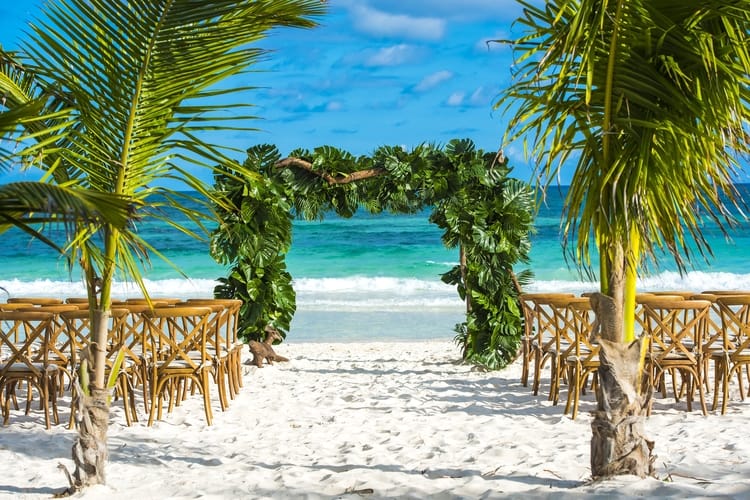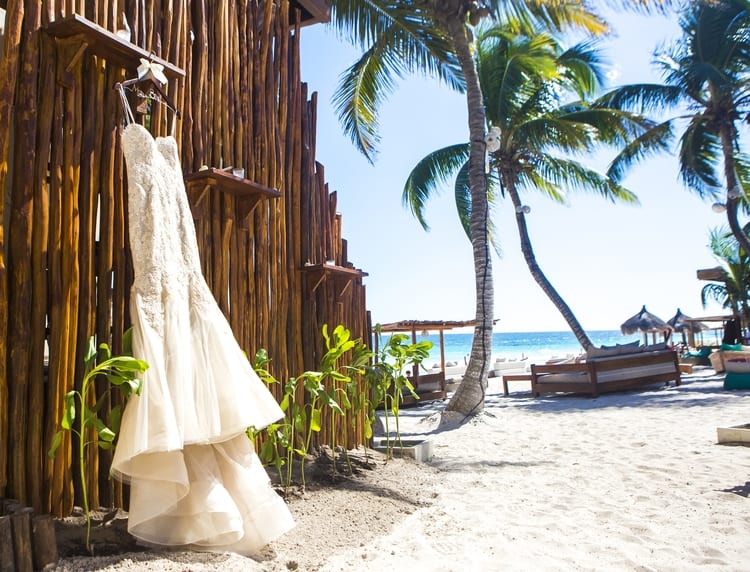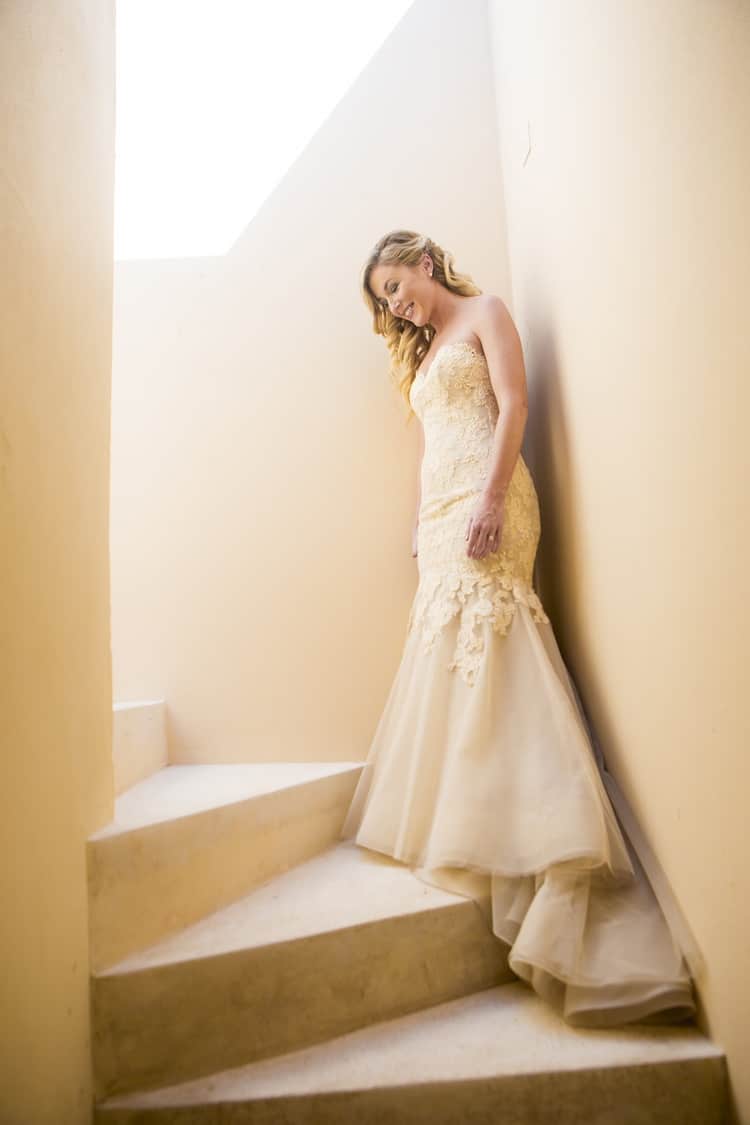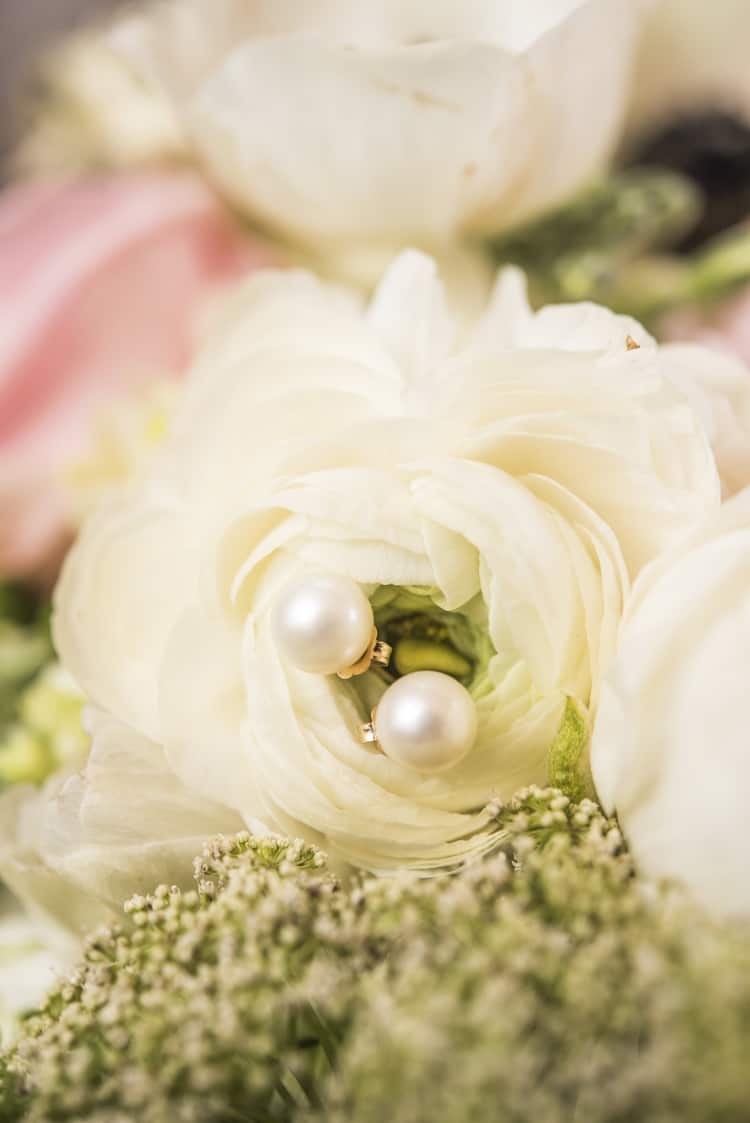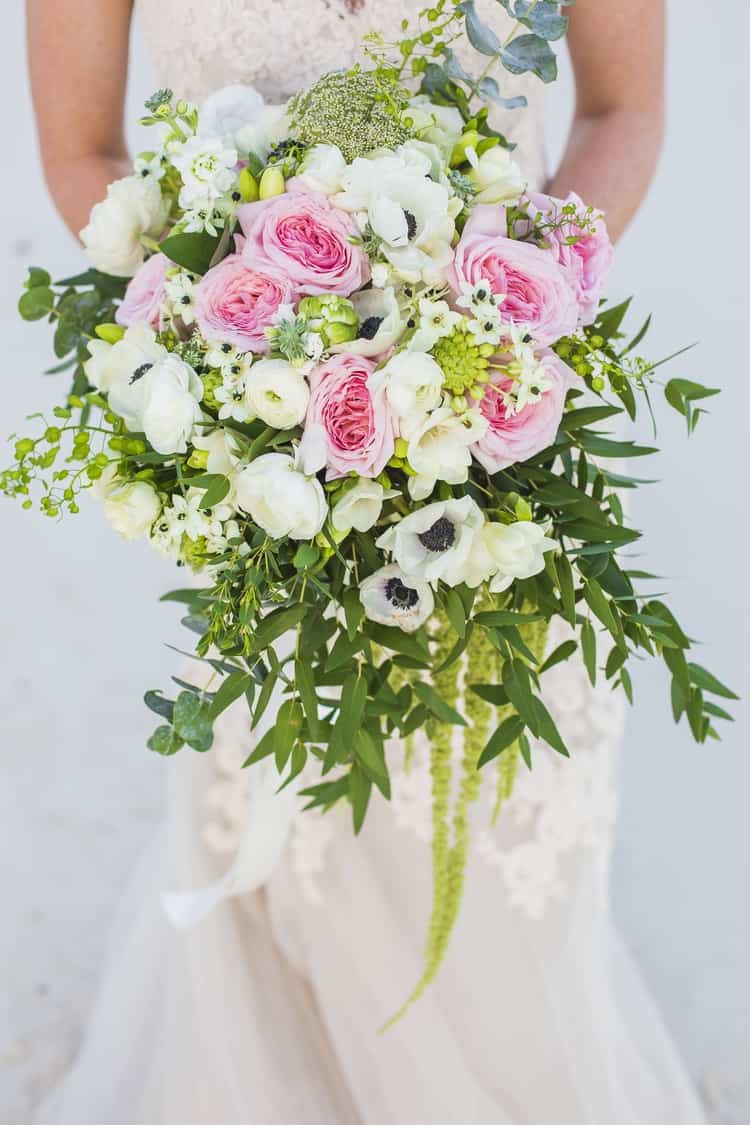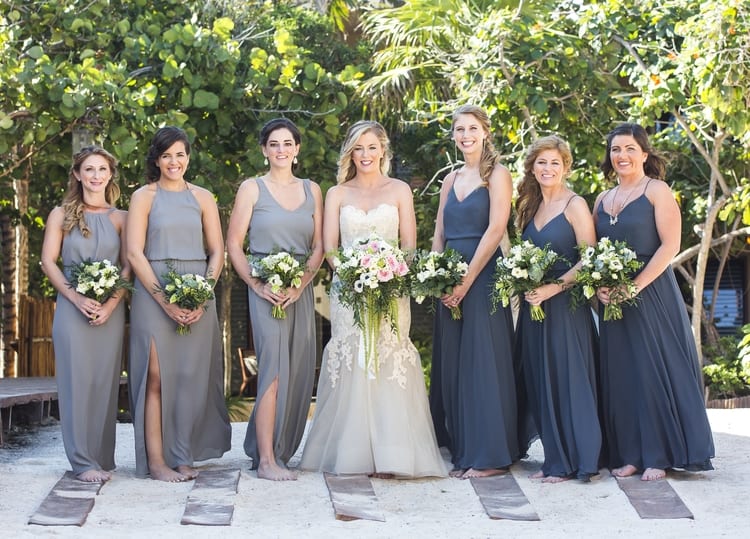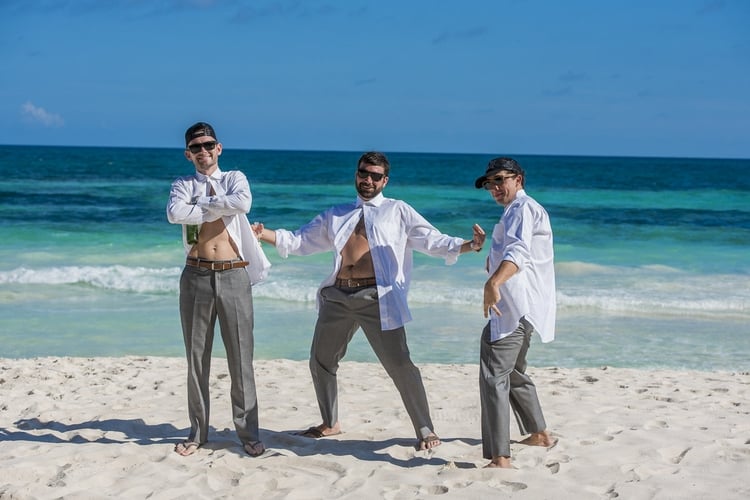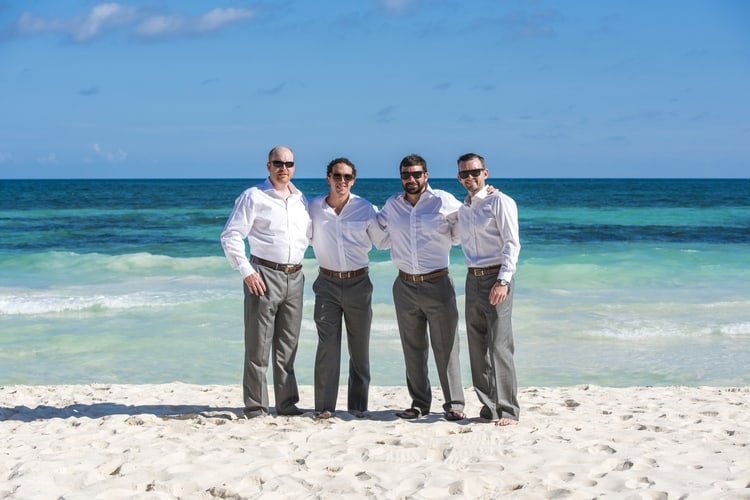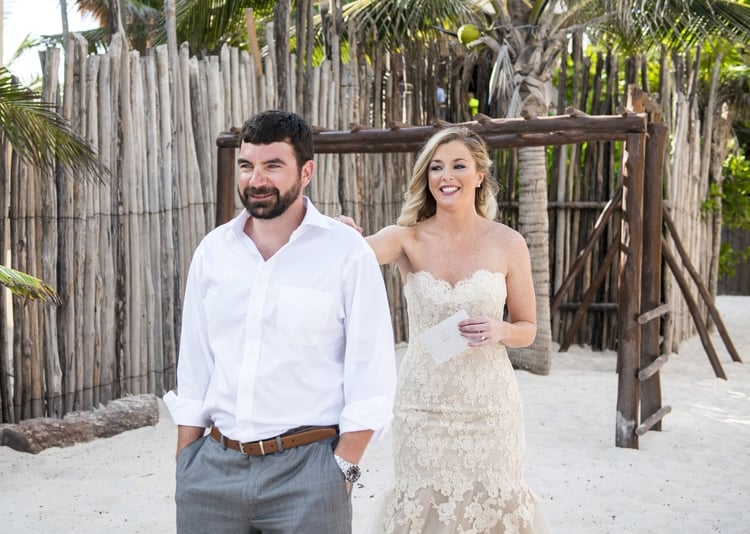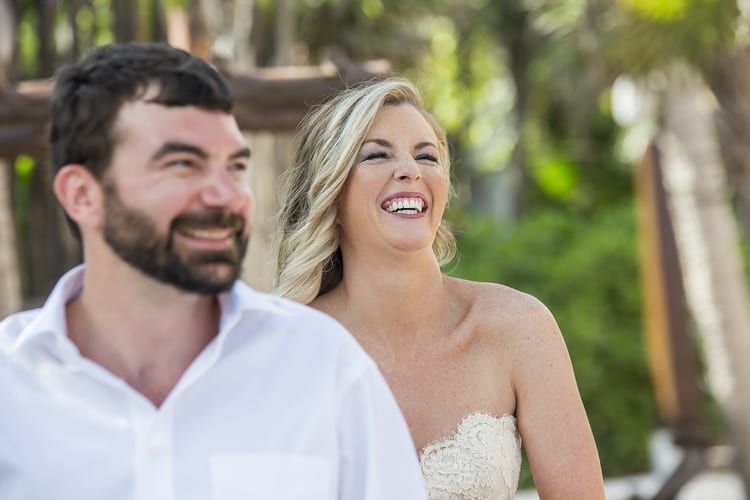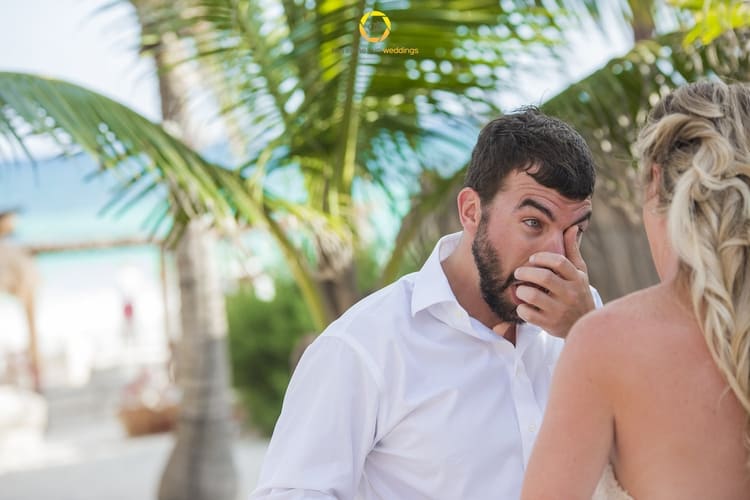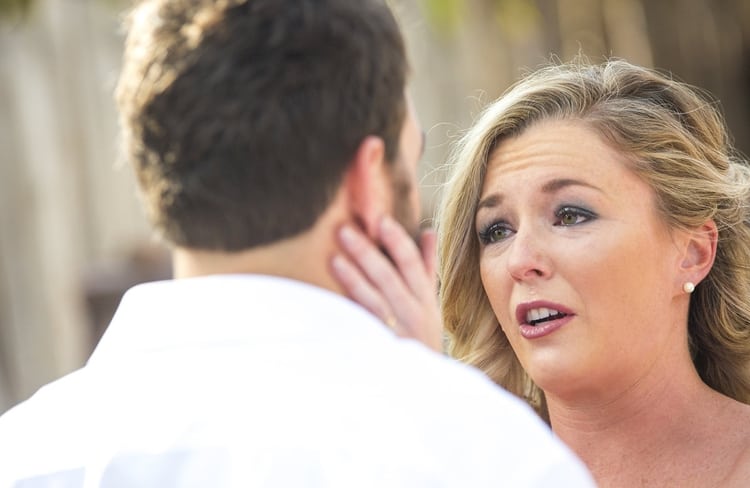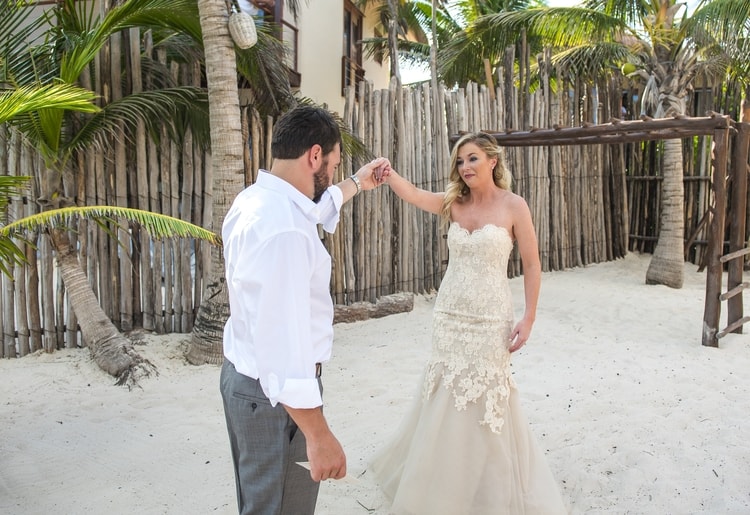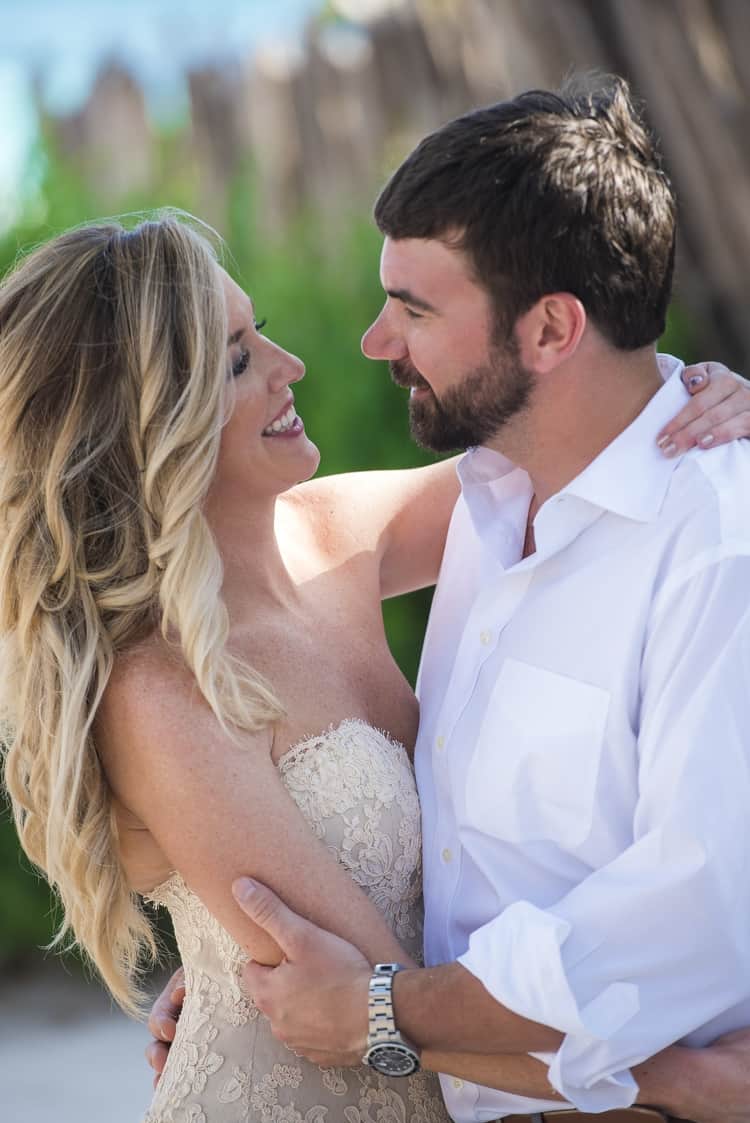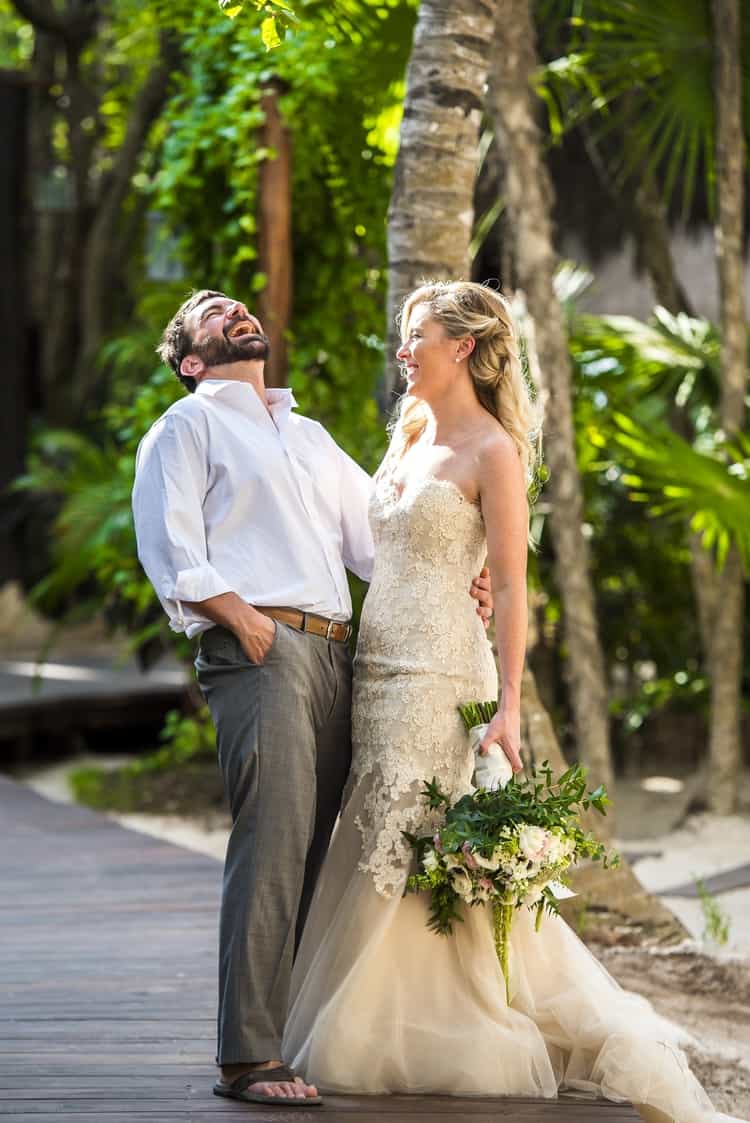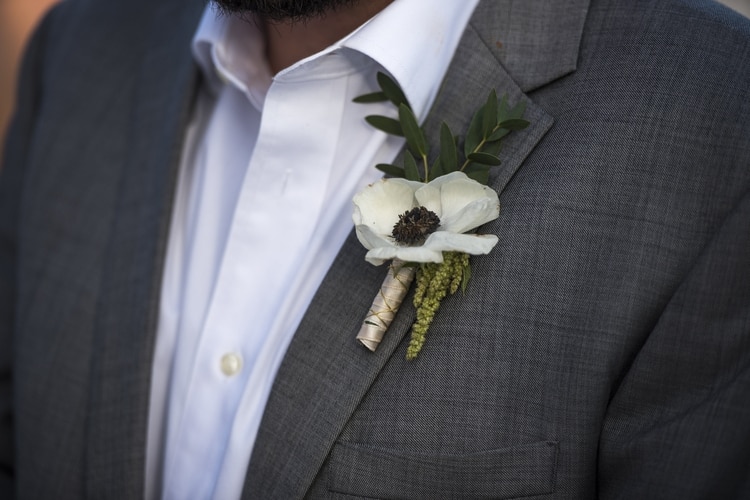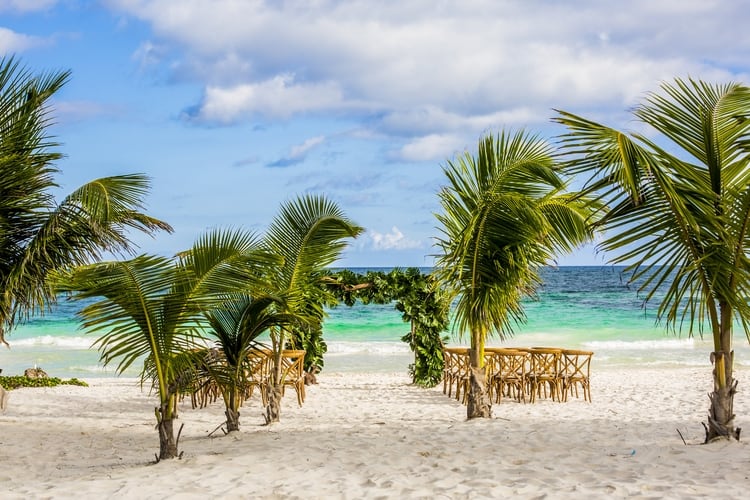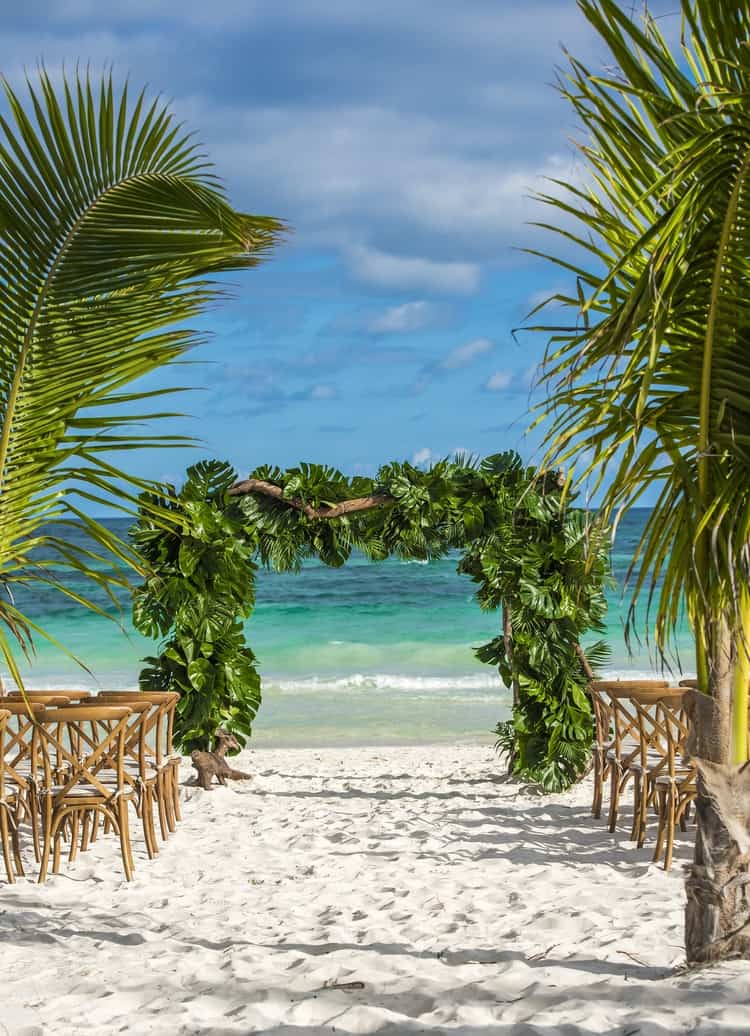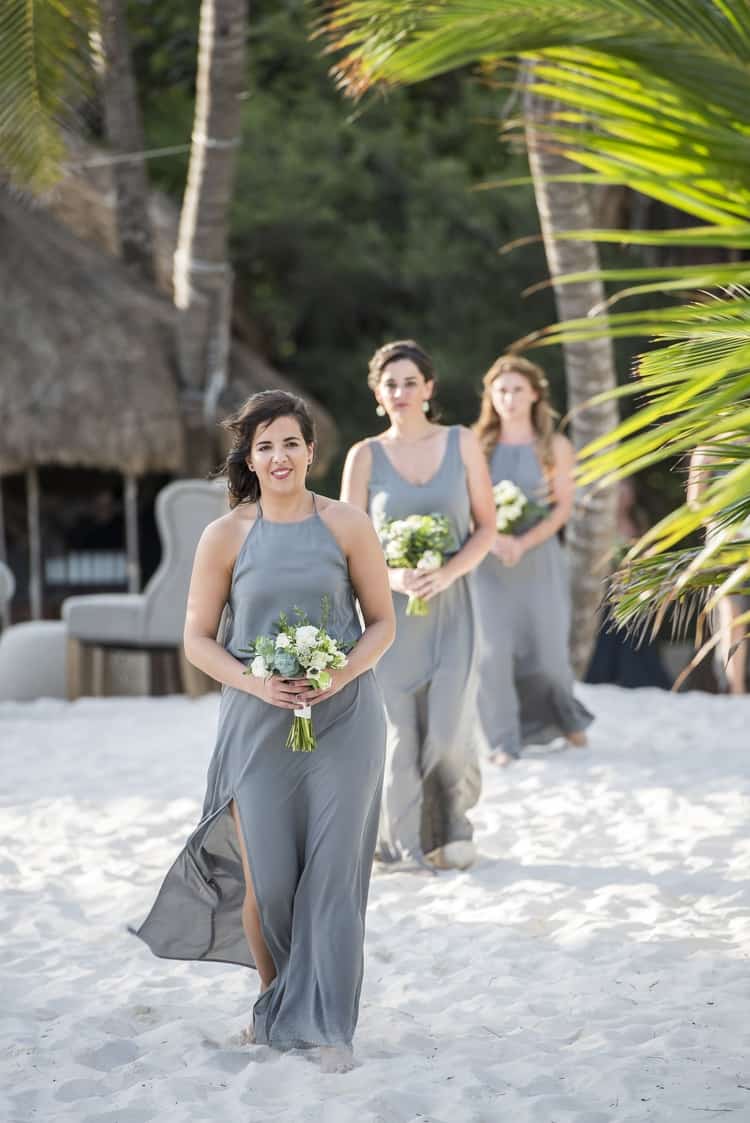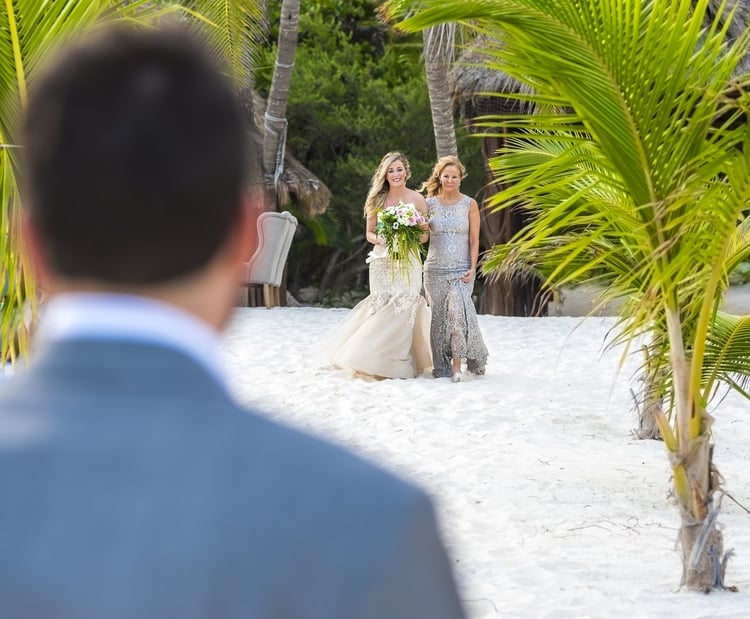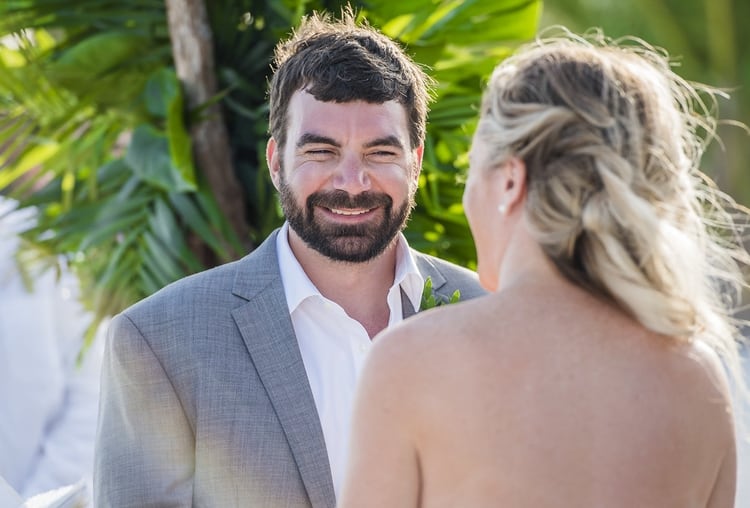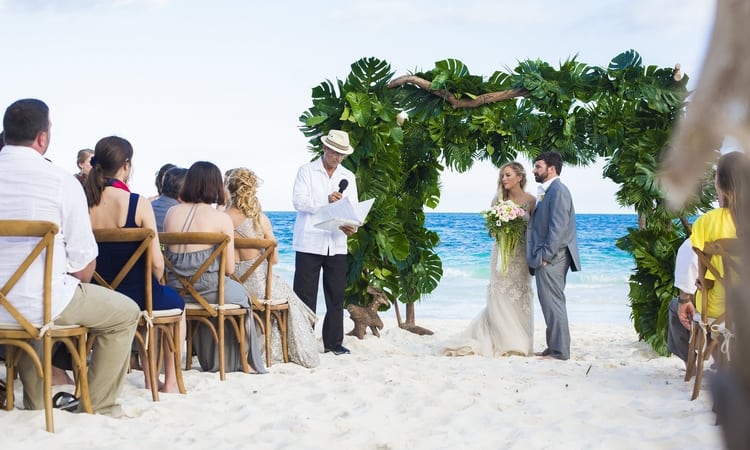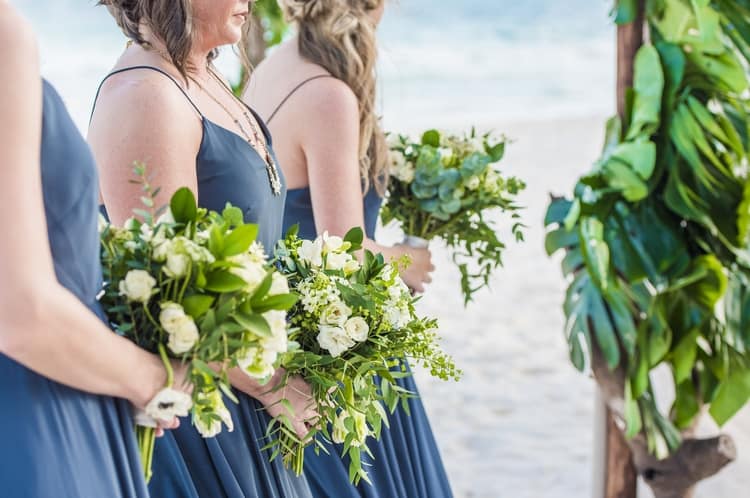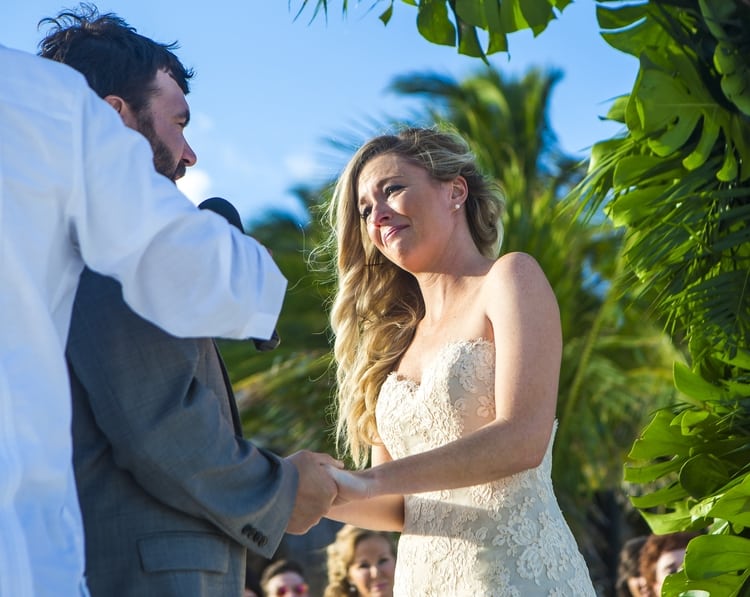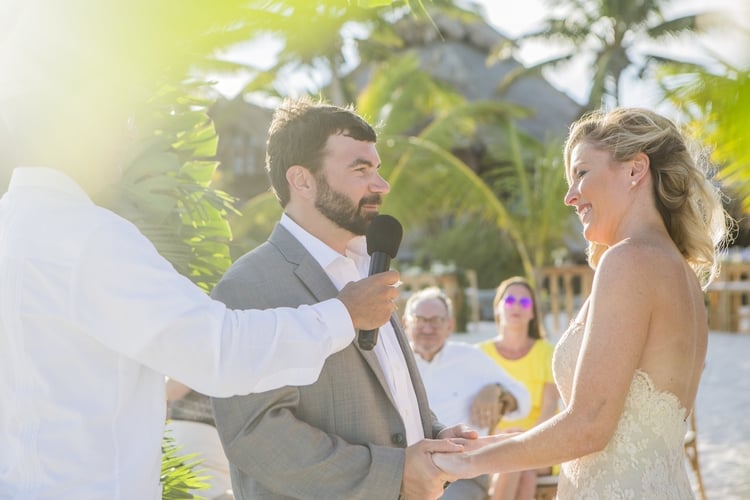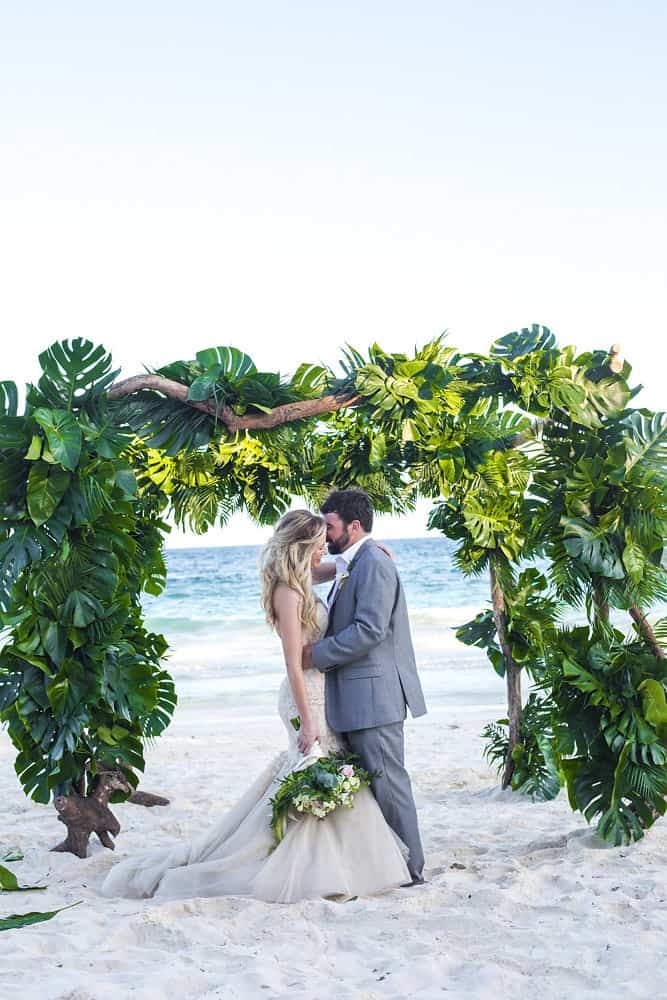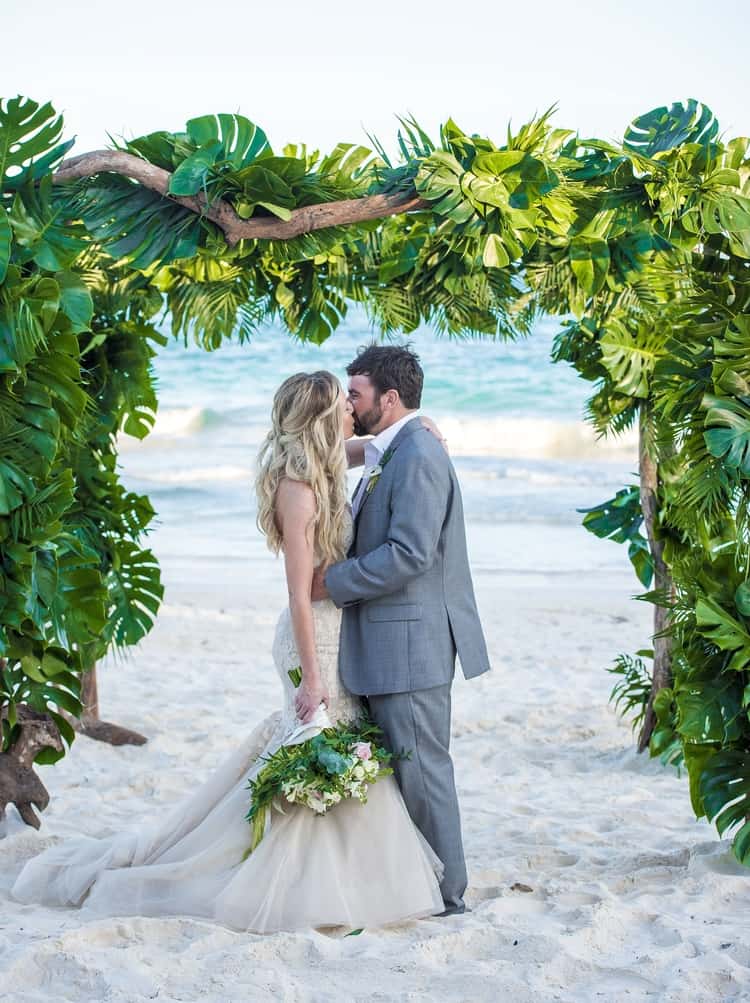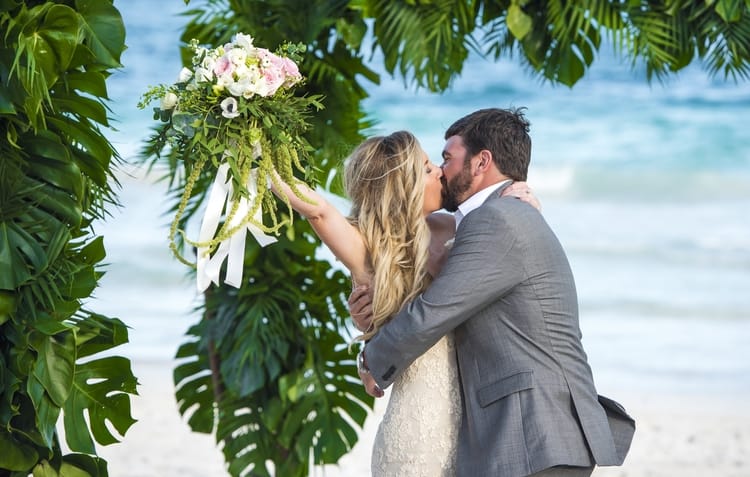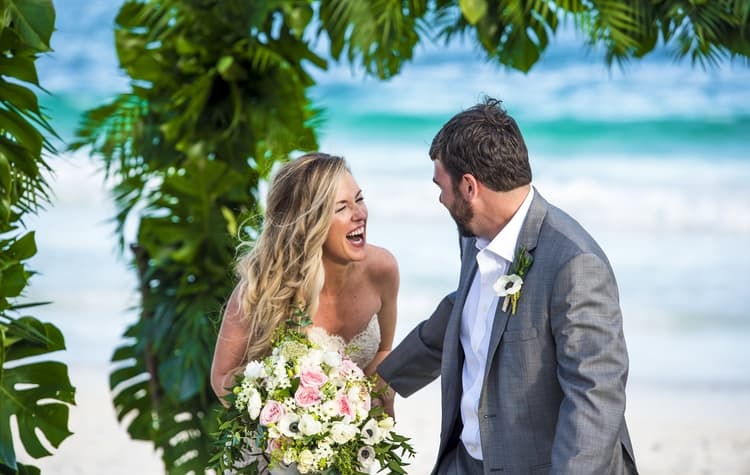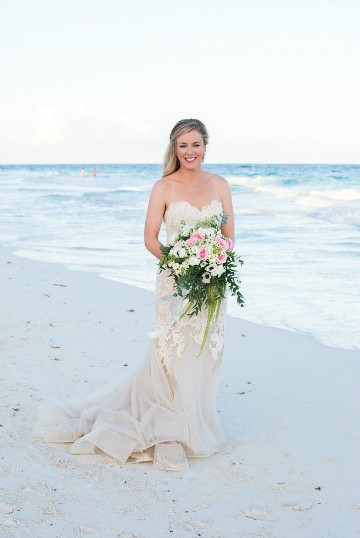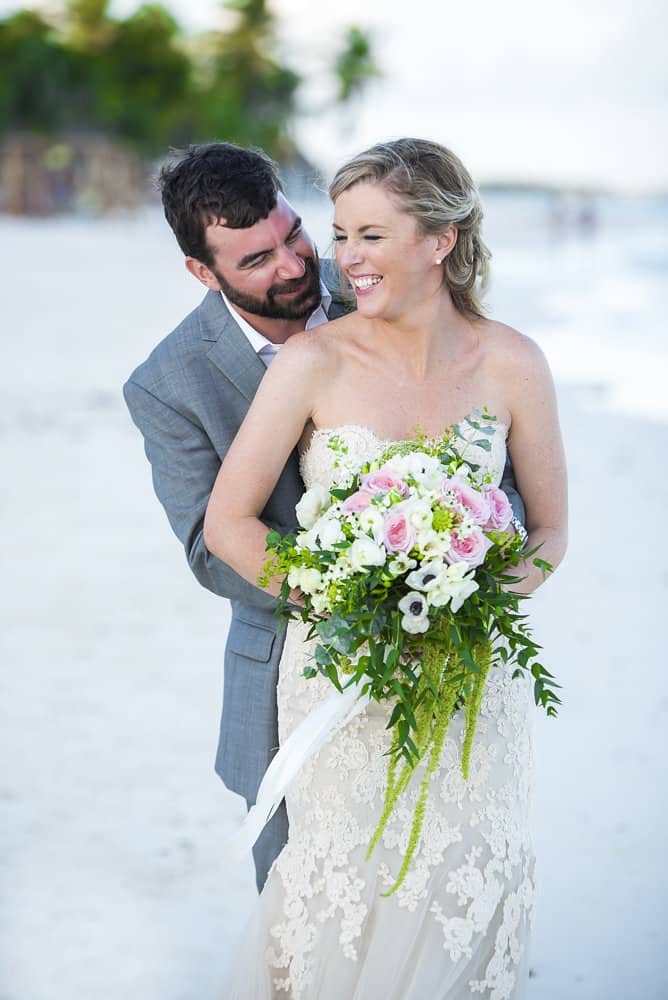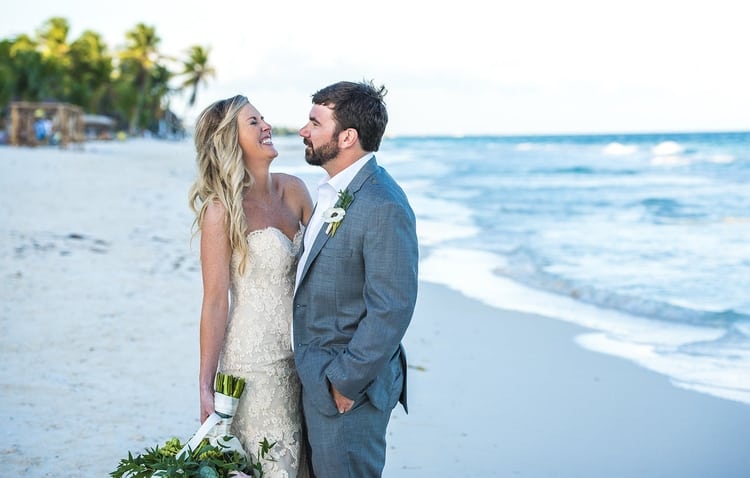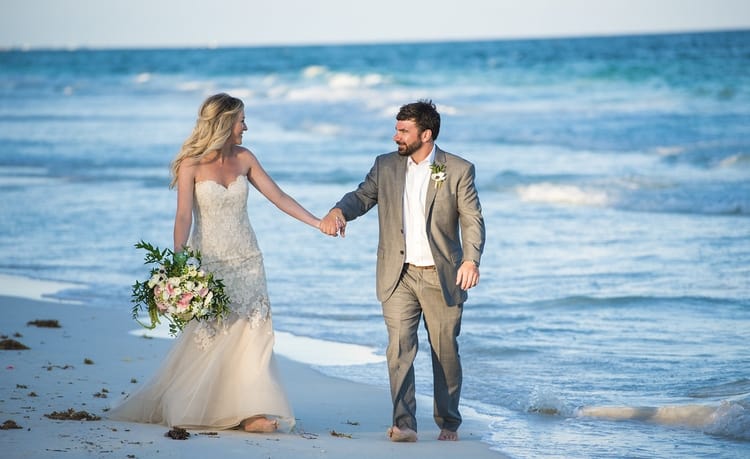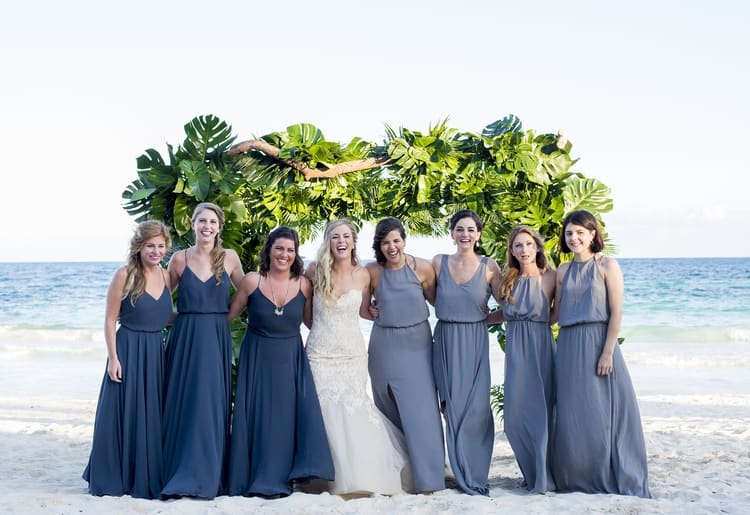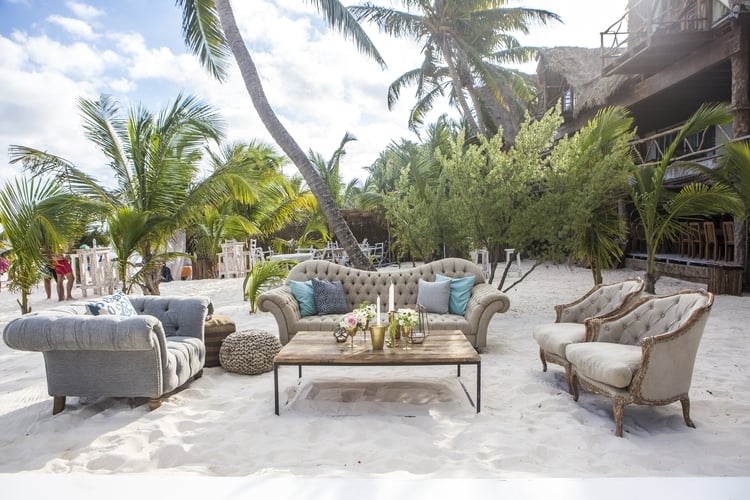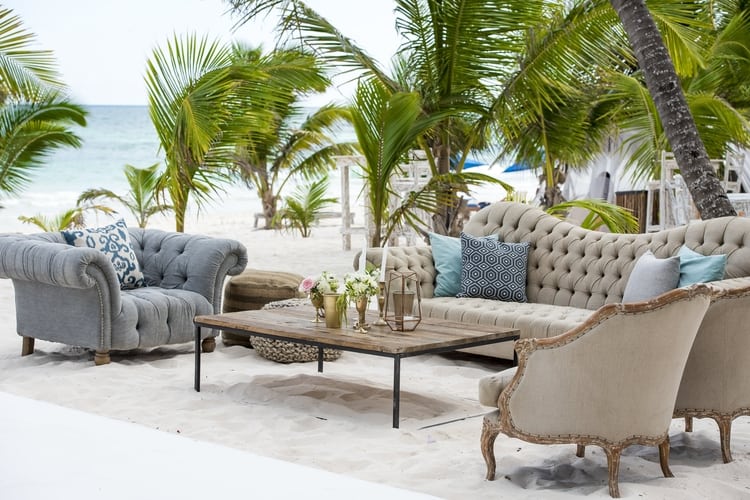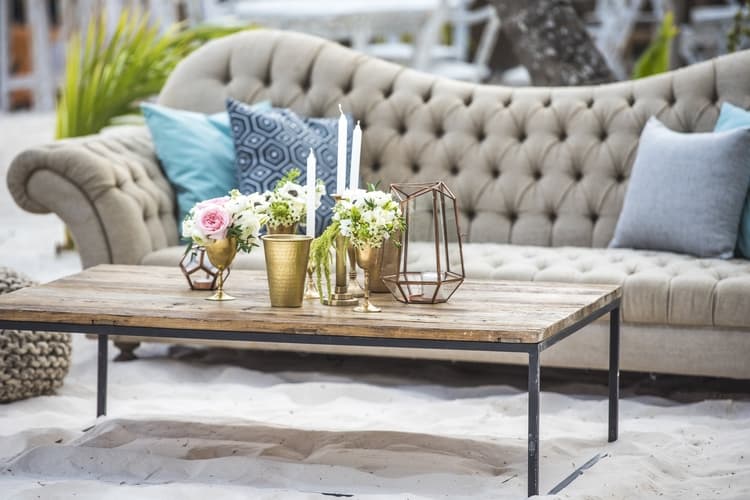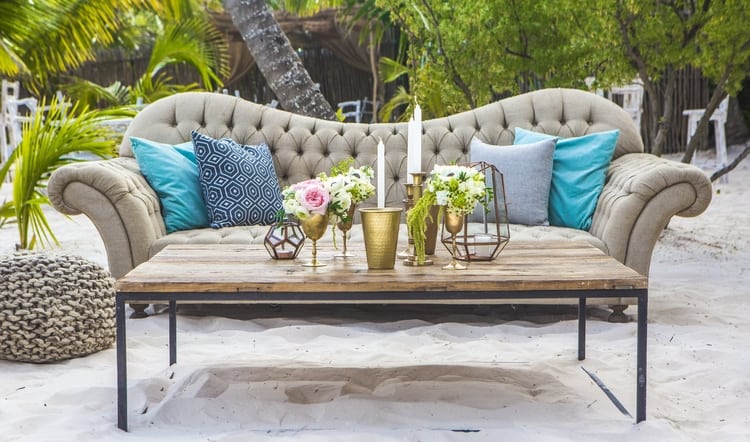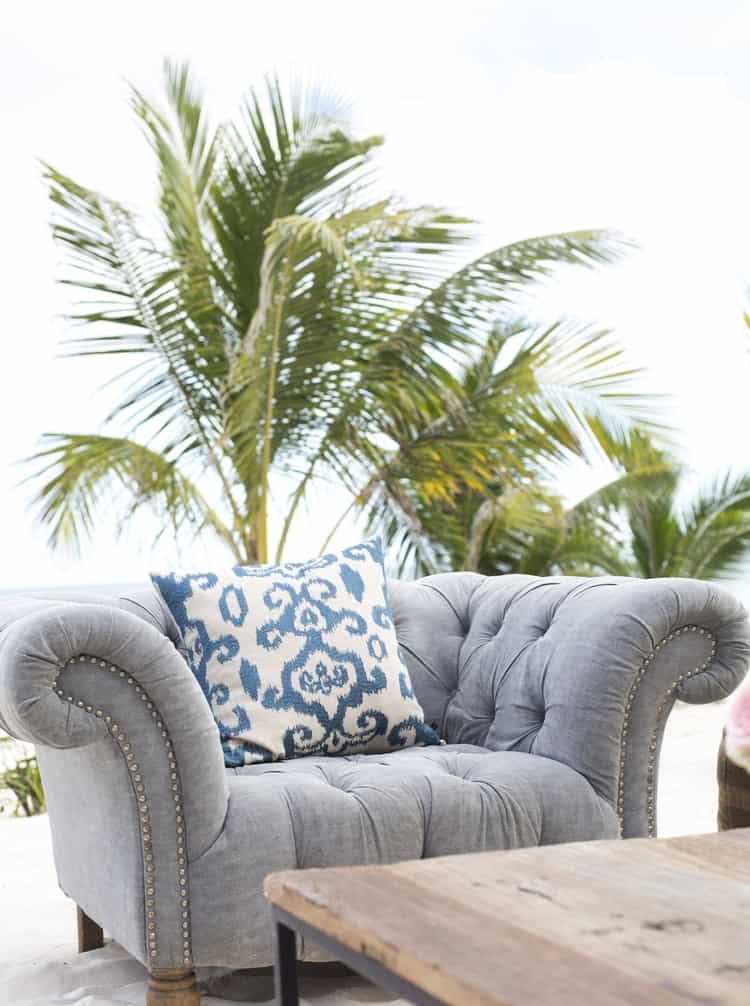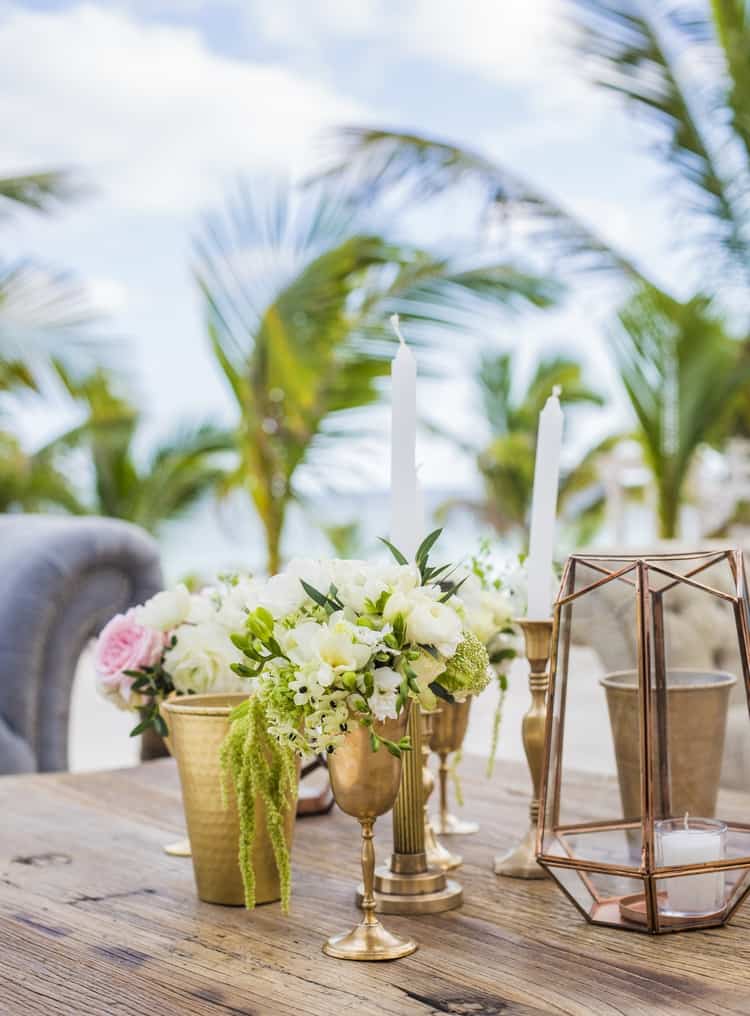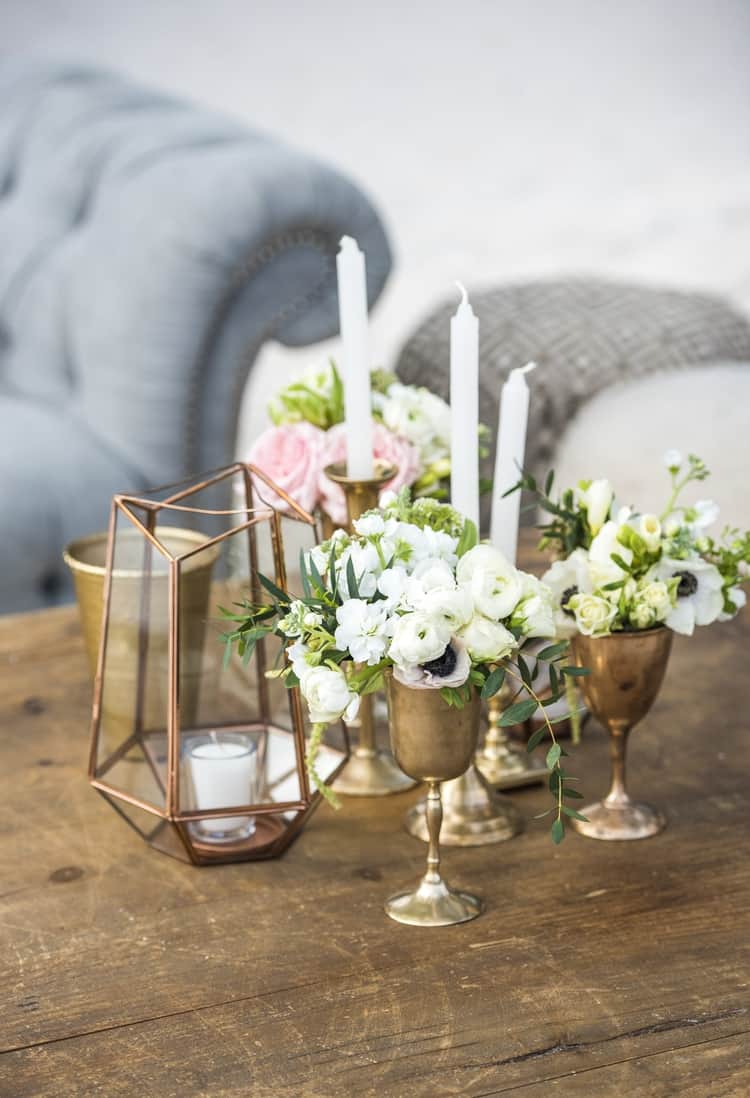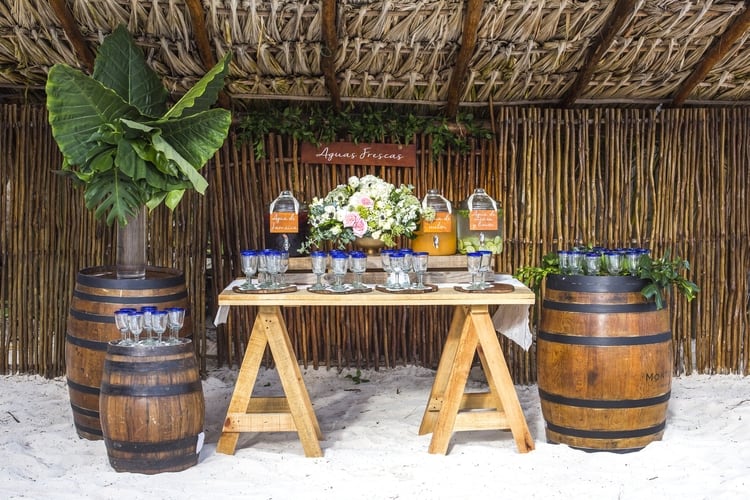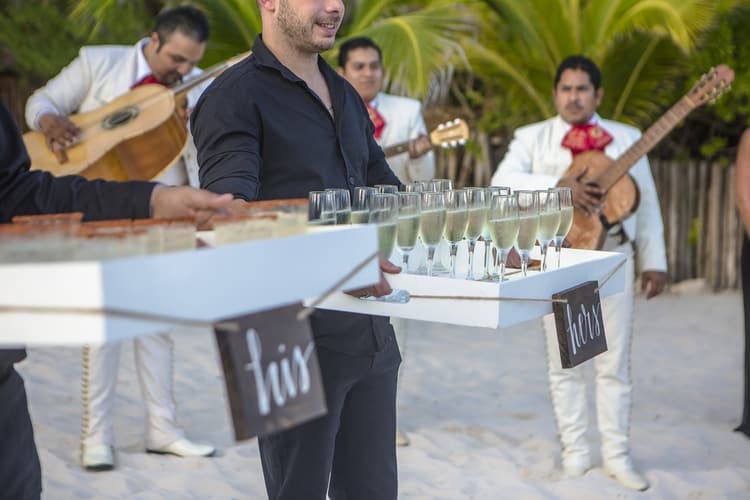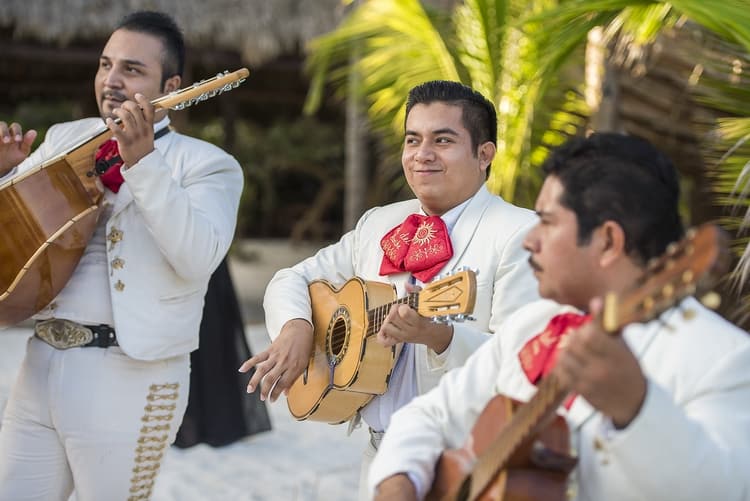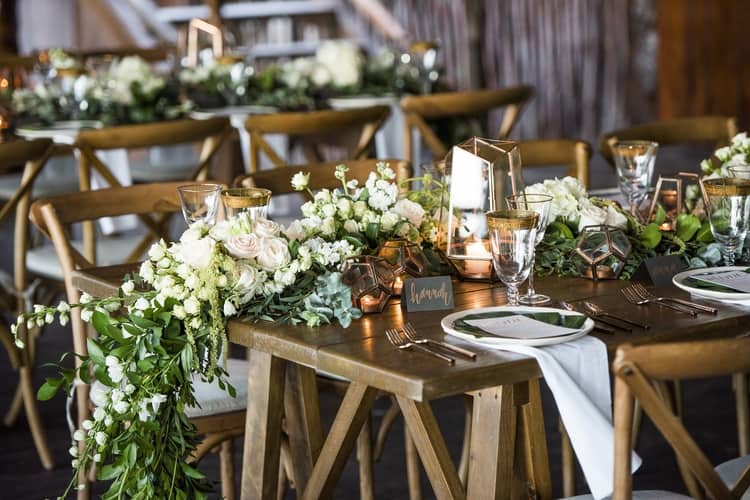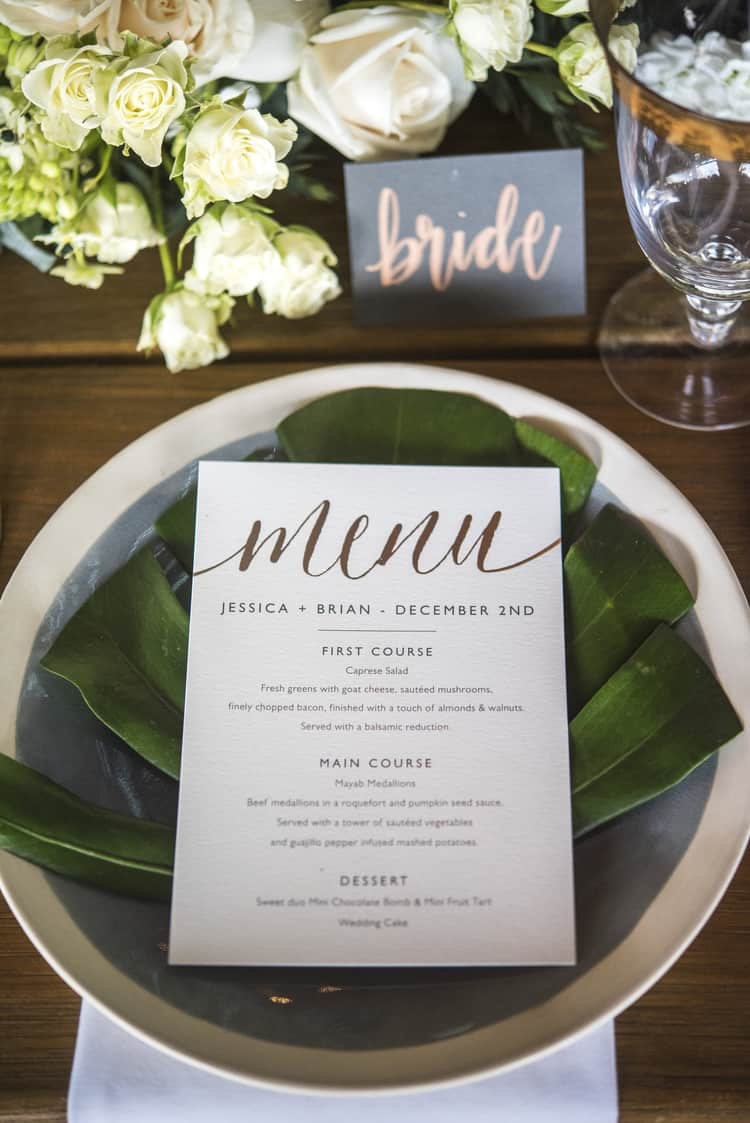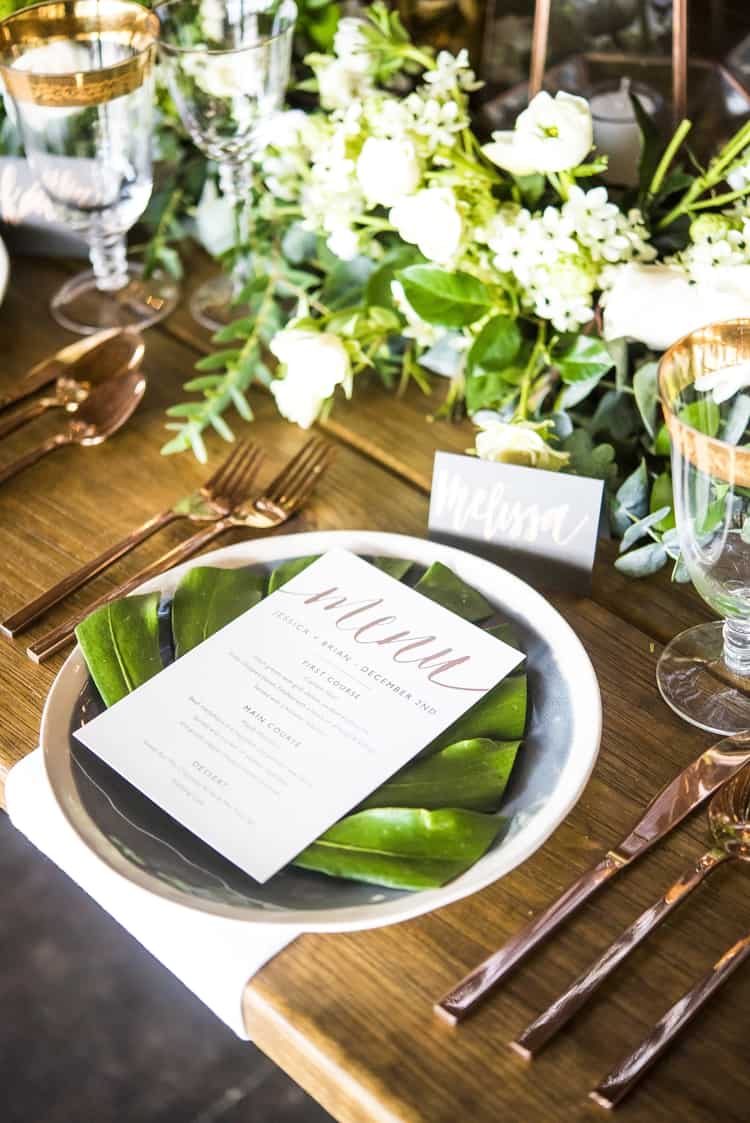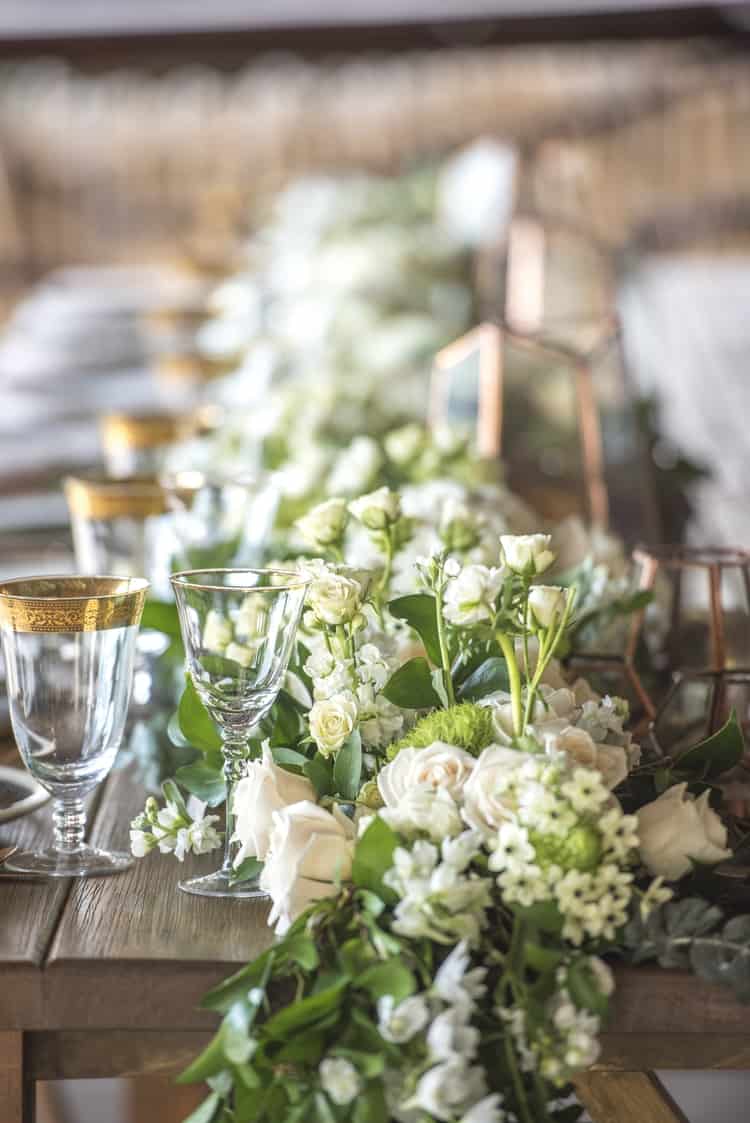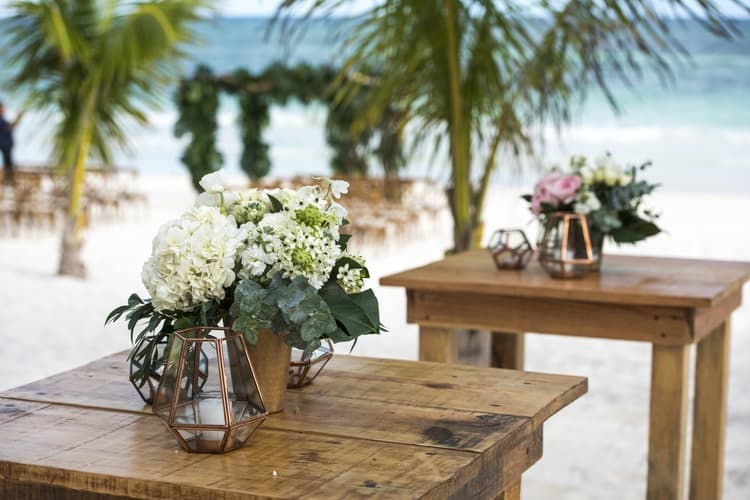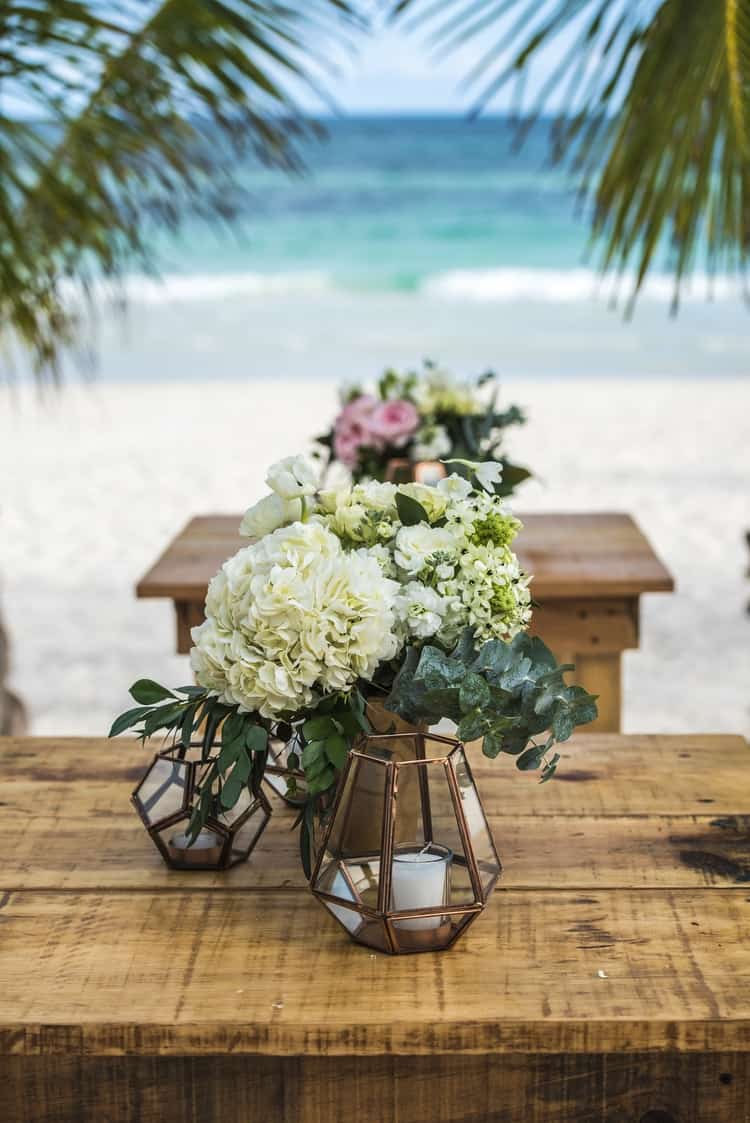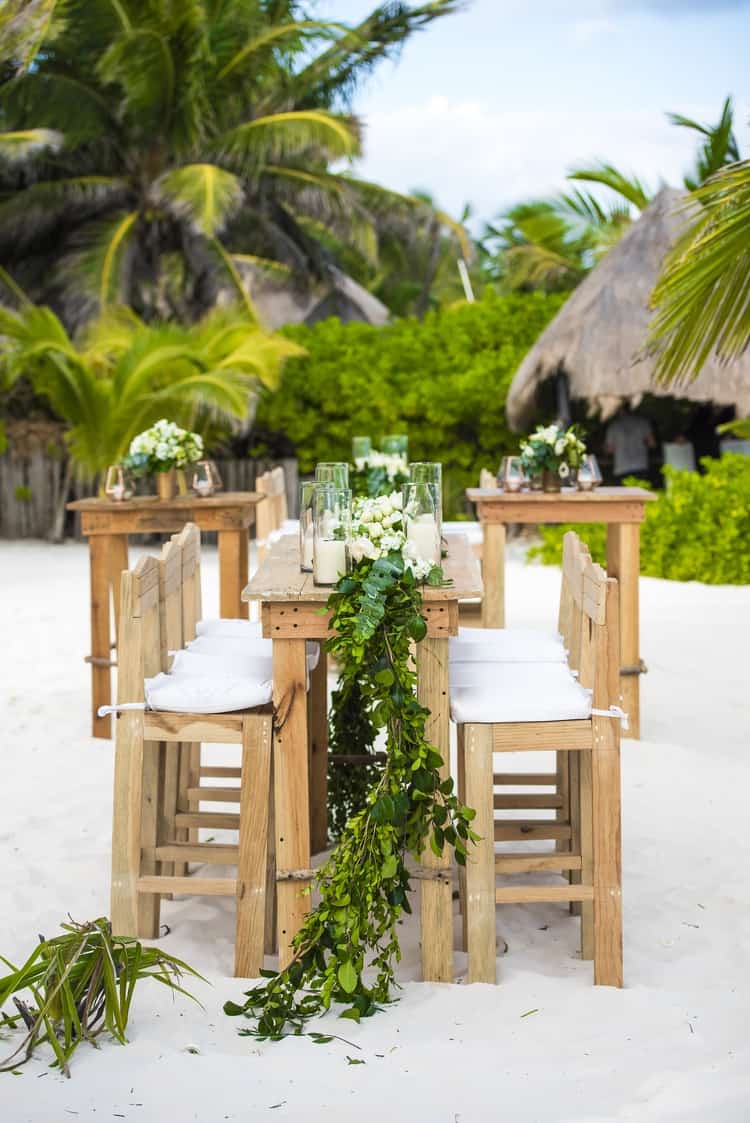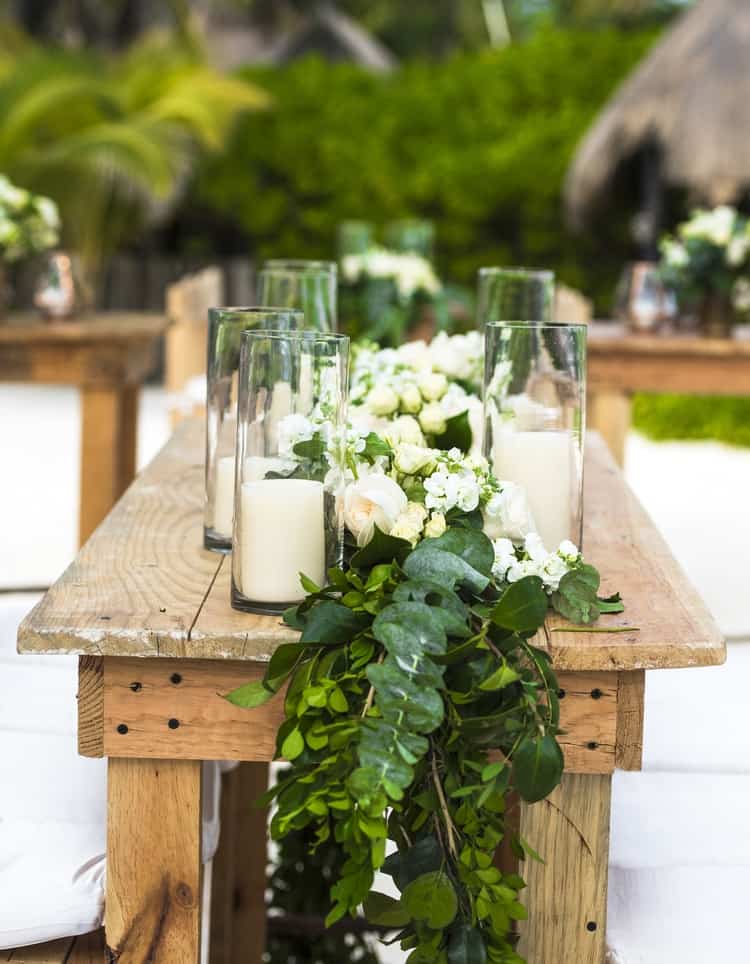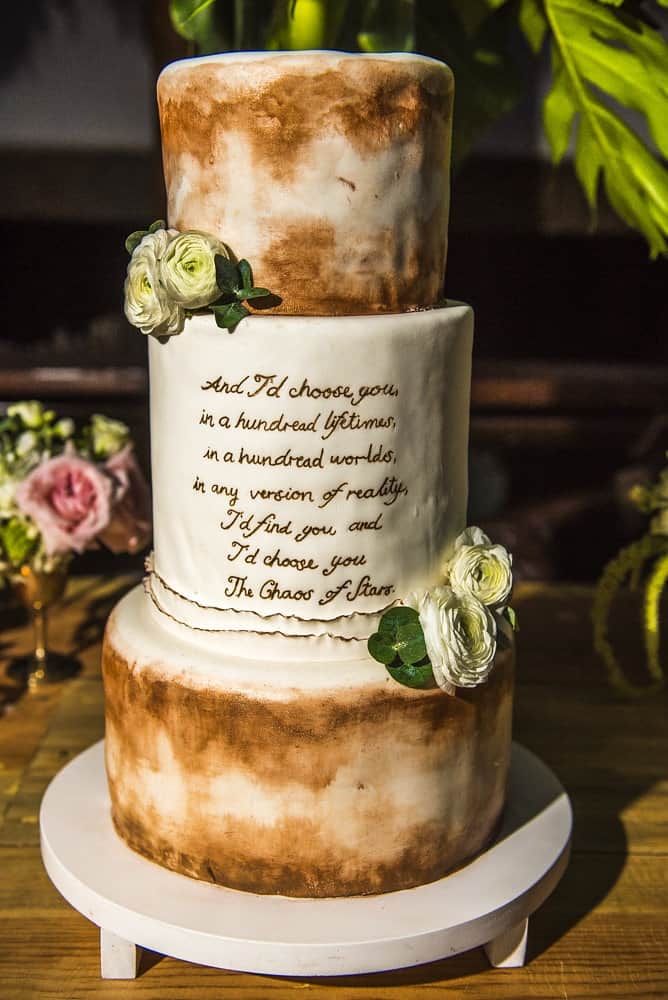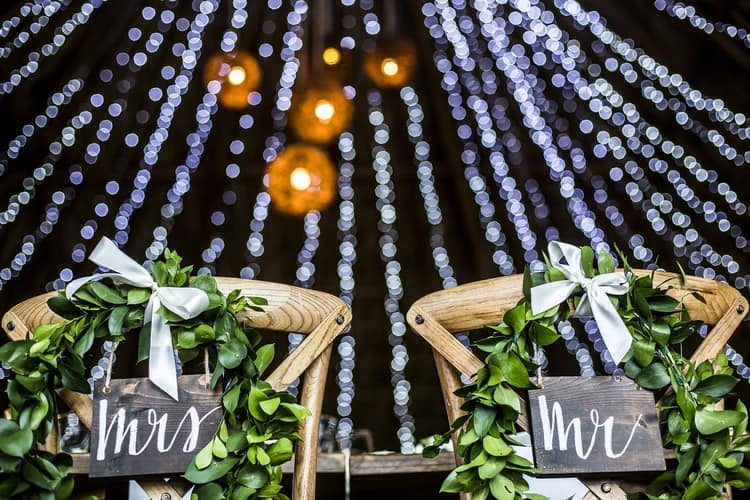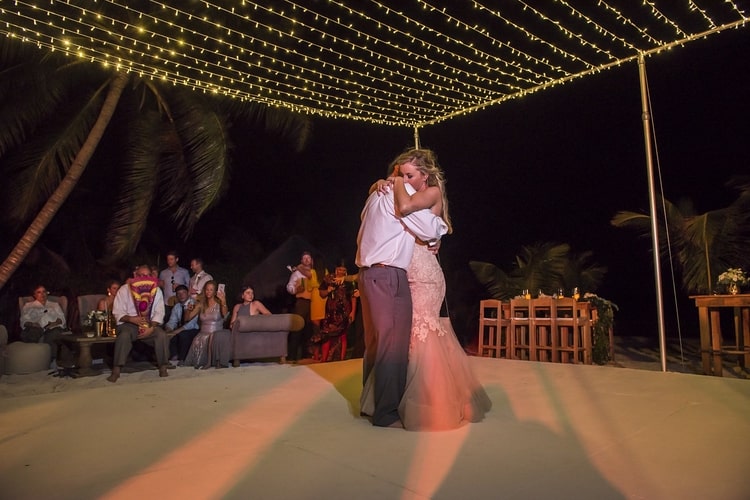 Bridal Q&A:
How did you guys meet?
We met through mutual friends at a Super Bowl party at Brian's house. It was really rainy and cold and no one told me the ground outside was frozen and I busted through the door running out onto the patio and next thing I know my feet were over my head and I was slamming into the ground. Brian got to see my true grace the day we met! While the party is how we actually met face to face, we initially started texting each other about two weeks before. I would go to his condo every Sunday to watch football with his roommate and girlfriend while Brian worked. I would always comment on how immaculately clean his bathroom was for guy! So finally, one day I asked for his number and I texted him about his "insanely clean bathroom that I could eat a meal off the floor because it was so clean. SO….it was love at first sight….of the bathroom.
About the engagement
Brian planned to propose at the finish line of the Chicago marathon, but as he watched other guys get down on bended knee before him, and not wanting to be fifth or sixth in line to get engaged, he lost his nerve. He says, "If she ran a little faster, maybe it would've happened in Chicago." Instead, he waited until they got home to Memphis, sitting on the front steps, with Jessica in her scrubs, their dog in her lap, and a glass of wine in her hand, he popped the question by saying "Hey, I've got something for ya."
What was the most memorable part of your wedding day?
I can remember Brian's face as I walked down the aisle. I can remember him saying the vows and how he looked at me. While I thought I already knew, but if there were any doubt, I knew at that moment that I had made the best decision of my life. I feel like no one else was there. Just he and I making a commitment for life to love and honor each other."
What was your color palette and style vision?
Copper and gray were our colors. I wanted it to be a romantic look. I wanted a God Honoring ceremony, a fiesta inspired cocktail party with the mariachi band, an intimate dinner, and then a WILD ASS PARTY to follow. Everything was EXACTLY how I wanted it.
What's your destination wedding advice for other couples planning?
The advice I would give is to do what YOU want. Everyone will have an opinion. Anyone who is married will tell you "this and that won't matter one day." But it matters in the moment. Don't go into your wedding day wishing you didn't leave something out, because it will weigh in on your mind that day and steal some of the joy. Sure, in 10 years will my centerpieces matter to me? Probably not. But they did that day. Everything mattered and made that day the perfection that it was for us. Don't let anyone take that away from you. Any uneasy thoughts will steal from the moment when you see your soulmate waiting at the end of the aisle for you. It's YOUR day. Do what you want and own it!
Did you do any DIY projects for your destination wedding?
I took a handlettering class and did all of the place cards, His & Her signs, and the Mr & Mrs signs. I LOVED THEM!
The biggest challenge of planning a destination wedding:
The comical part of all of the decor was the centerpieces I HAD TO HAVE! I ordered them from Anthropology. It was a real shock to all of us when 17 very large boxes showed up at the door! How were we supposed to get them to Mexico?!?! Half of the guests were responsible for getting a box to Mexico and it's still the going joke to everyone. "Is this really necessary?" "Why do you need so many?" "Are you sure?" YESSSS! I HAD to have them! haha! Thank God for some loyal friends who are willing to do anything for me! (this was probably my only Bridezilla moment).
Vendors:
Photographer: Fun in the Sun Weddings
Wedding Planner: Fresa Weddings Mexico
Floral Design: Vanessa Jaimes Floral Design
Furniture: Archive Mexico
Hair & Makeup: Beso Brides
Wedding Dress: Maggie Louise Bridal
Bridesmaids Dresses: Show Me Your Mumu
Groom's Attire: Joseph A. Bank
Ceremony & Reception Venue: Ak'iin Beach Club
Stationary: All handwriting for place cards was done by the bride herself!
Featured:

Enter to WIN a FREE Destination Wedding Valued at $30,000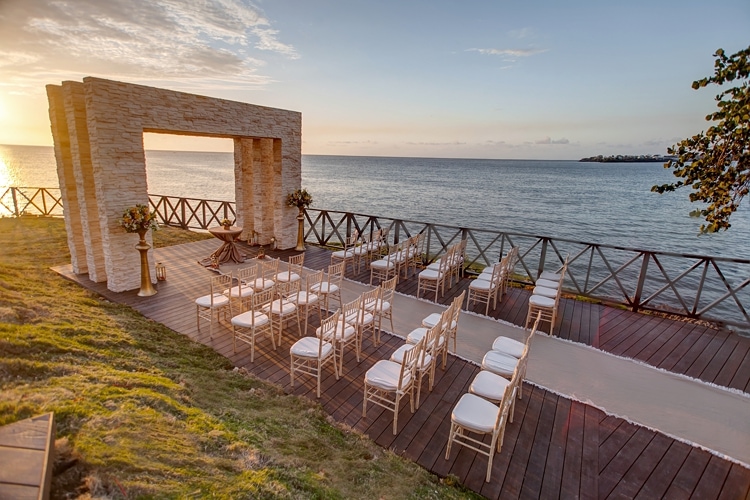 How would you like to win a TRULY FREE destination wedding at a luxury all-inclusive resort? I'm so excited to share all the details of this amazing contest with a prize valued at $30k. It's really easy to enter and if you win, you'll get free roundtrip airfare, 7-night accommodations at a luxury all-inclusive resort, a free ceremony and private reception with a bouquet, DJ, dance floor, cake, centerpieces photography & videography package… the works. As if that wasn't enough, even your wedding guests would get free 5-night all-inclusive resort stay, free excursions, and private airport transfers. This is an amazing giveaway so go ahead and stop what you're doing right now because this is quite literally the opportunity of a lifetime. READ MORE
Featured:

Unique Poolside Bachelorette Party Inspiration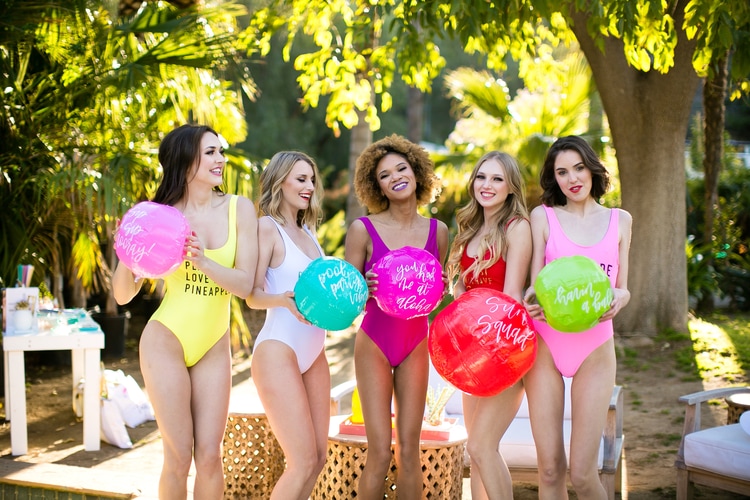 This unique tropical poolside bachelorette party is #GOALS! The décor was tropical, colorful and fun – bringing a cheery vibe that set the tone for a flawless and relaxed day. There were tons of personalized details –from sunscreen and chapstick, to soda and champagne, sun hats and fans, magazines, personalized tumblers, and even a wet bikini bag to hold their suit while they slipped into some adorable "Bride's Beaches" cover-ups. Of course, what's a good party without some fun games? Tons of fun ideas in this post. Read more
Cynthia is the founder and editor of Destination Wedding Details.She has over 15 years experience in the Marketing and Event industry and launched Destination Wedding Details in 2010, shortly after planning her own destination wedding. Cynthia uses her experience and genuine passion, to inspire brides who are planning their dream wedding away from home.