I'm not a fan of the traditional wedding guest book. But then again, I'm not a fan of anything traditional, so I'm always psyched when I stumble on unique destination wedding guest book alternative ideas.
In this post, I've rounded up 11 really unique, interactive and travel themed guest book ideas to help inspire you. Not only will your guests have a blast with these interactive guest books, the best part is that you'll have an awesome memento to proudly display in your home for years to come.
Destination Wedding Guestbook Alternatives
I found all of these ideas on Etsy, and if you've been around this blog long enough, you know that I'm totally obsessed with Etsy. Everything you find in their marketplace is unique and can be customized for you. So if you see something here that inspires you, chances are you can put your own unique twist on it. Let the inspiration begin….
Personalized Map & Signature Mat
We've all seen the engagement photo with signature mat commonly used as a guest book alternative. This is a unique twist on that idea that's tailor-made for destination weddings. You can customize this with a map of your wedding destination and the background to match your wedding colors.
Custom Box and Clay Discs
Isn't this the cutest thing ever!? When I saw this I really fell in love with it, because although the clay discs pictured here are imprinted with starfish, you can have anything you want imprinted on yours. You can even customize the colors and the message too.
Eco-Chic Tags
Rustic, chic, eco-friendly, travel themed, and totally customizable – there's so much to love about this destination wedding guest book alternative, I don't even know where to begin. These tags are pretty awesome and easy to travel with. They are made from recycled card stock and hemp twine. Your guests can write their well wishes and after the wedding you can hang these on a wine bottle or even a vase as keepsakes. Love!
Hand Carved Wooden Map of your Wedding Destination
I'm kind of crushing on this guest book alternative because it's just so perfect for a destination wedding. Your wedding country or state will be carved in wood and topped with a wooden heart in any color you want. After your guests sign their well wishes, you can easily hang this up on your wall because it's so lightweight.
This super cool guestbook is made of wood , is laser engraved, and has 70 pages for your guests to sign! The front is completely custom so you can get really creative with it. I love the example with the engraved maps of where the couple lived, met, and married!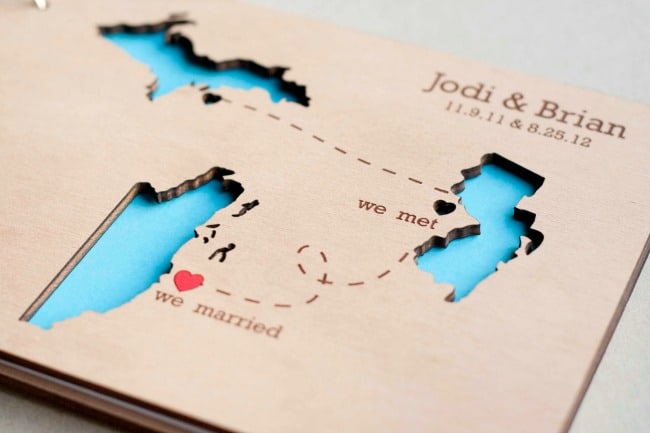 Message in a Bottle Guest Book Alternative
I've always thought that a Message in a bottle invitation is one of the most creative, fun and unexpected ideas for a destination wedding. And when I saw this destination wedding guest book alternative I was blown away, because it's the perfect way to tie into that theme at your reception in a subtle and classy way.
Wishing Stones
This is a pretty upscale destination wedding guest book alternative idea. And I'm a fan. These even come with special paint pens in white or your wedding color.
Date Night Advice
This is such a brilliant idea that I'm kind of upset I didn't discover this when I was planning my own wedding. Your guests will have a blast jotting down some fun ideas for your future date nights. You can then display these in your home and get tons of inspiration for years to come.
Puzzle
My heart melts anytime I see destination wedding details with a deeper meaning. Destination Weddings are usually very intimate with just a few close family and friends who made a greater level of effort to be there. So while this might not be as appropriate for a traditional wedding with 400 guests (half of whom you might not even know well), it is absolutely perfect for a destination wedding. The puzzle has 100 pieces your guests can sign, and I think it would look awesome displayed in a shadow box frame on the wall.
3D Wedding Tree Guest Book
Another example of a meaningful guest book alternative that gets my instant approval is this 3D tree of life. Your guests can "leaf" their finger prints, and also sign on top of it.
Travel Themed Guest Book Alternative
A wooden suitcase filled with luggage tag shaped post cards? I'm head over heels in love. There can't possibly be a more perfect destination wedding guest book alternative.
Movie Themed Guest Book
Ok, so this technically is a book, but I had to include it because it's so fun and modern. This would be pretty awesome paired with the popular movie poster save the date I featured in this post.
Featured:

Contest for The Best Destination Wedding of 2017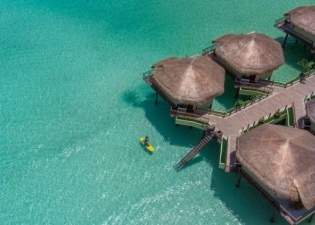 Do you think that you (or someone you know) had the best destination wedding of 2017? Show off your photos and tell your story for a chance to win one of 13 AMAZING prizes, including $3,000 cash or a romantic getaway to over-water bungalows.
Plus your photos will be featured on our blog and social media for the world to see!

Editor/Founder
at
Destination Wedding Details
Cynthia is the founder and editor of Destination Wedding Details.She has over 15 years experience in the Marketing and Event industry and launched Destination Wedding Details in 2010, shortly after planning her own destination wedding. Cynthia uses her experience and genuine passion, to inspire brides who are planning their dream wedding away from home.