Today's featured destination wedding at the Sirata Beach Resort in Florida is a real gem. It was beautiful, romantic, tropical, fun and sweet. It was all of those things and then some. And I am over the moon to share it with you today. Sarah & Ryan's big day was overflowing with stunning details in an eye-popping purple and orange color palette with coral accents. From the gorgeous wedding arch, to a send-off that came complete with glow sticks — this wedding was simply stunning from start to finish!
A huge thank you goes out to the incredible Limelight Photography team for capturing every lovely detail and sharing them with us. Enjoy!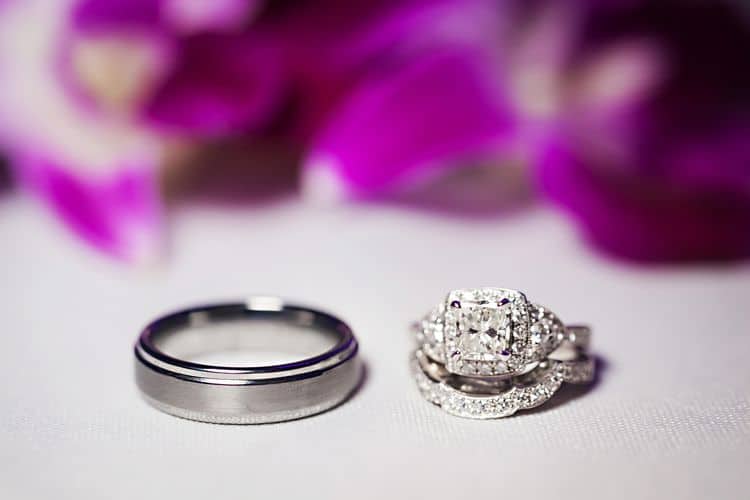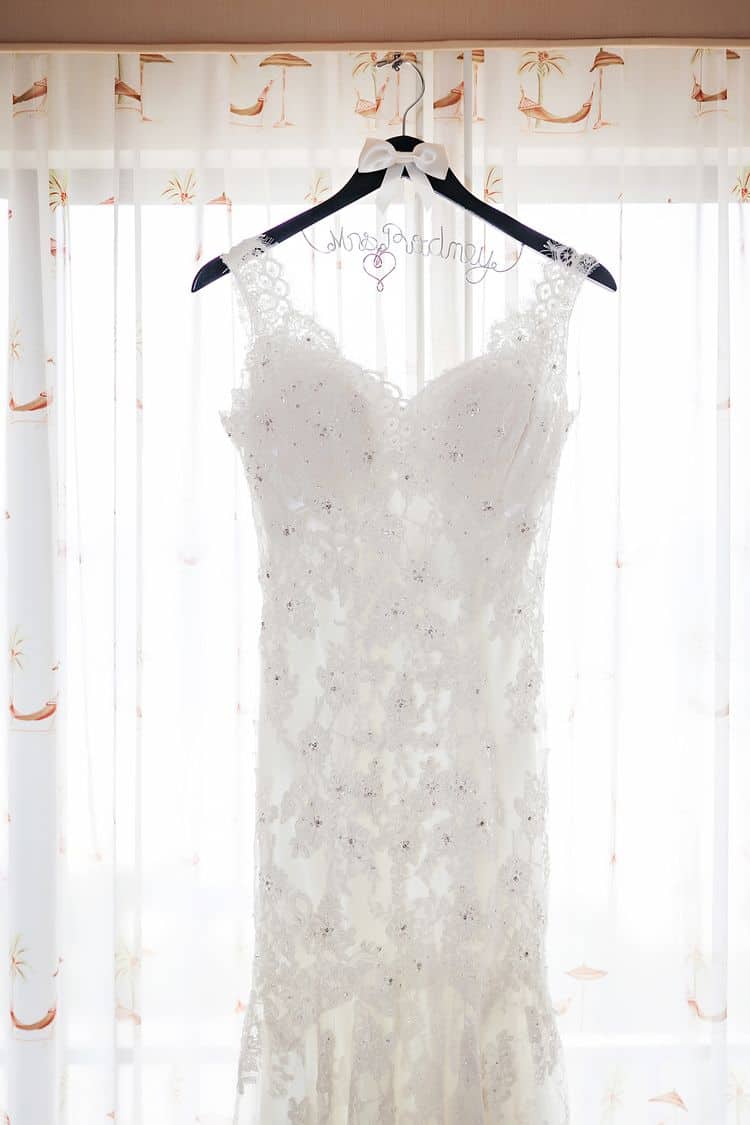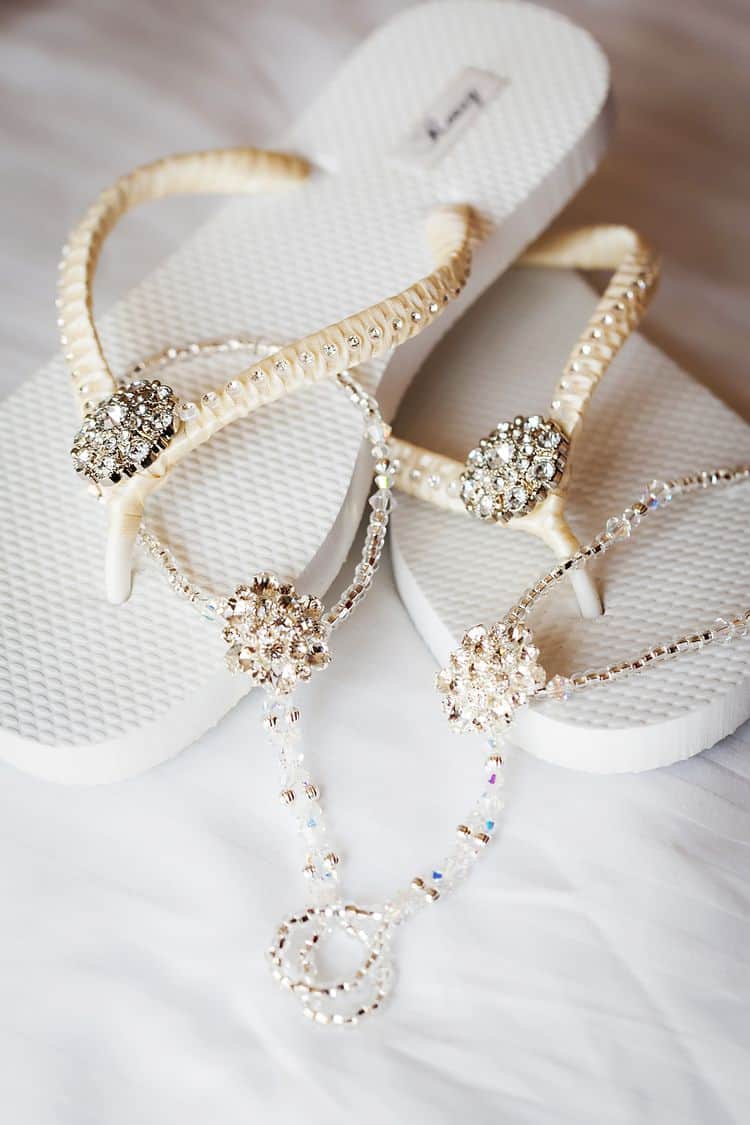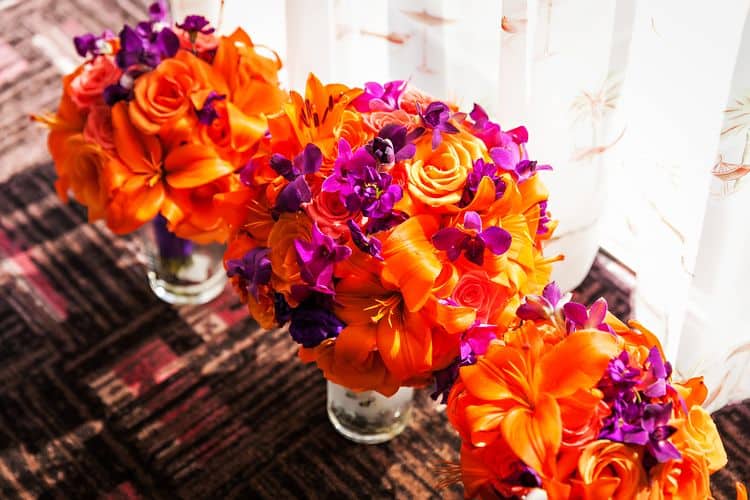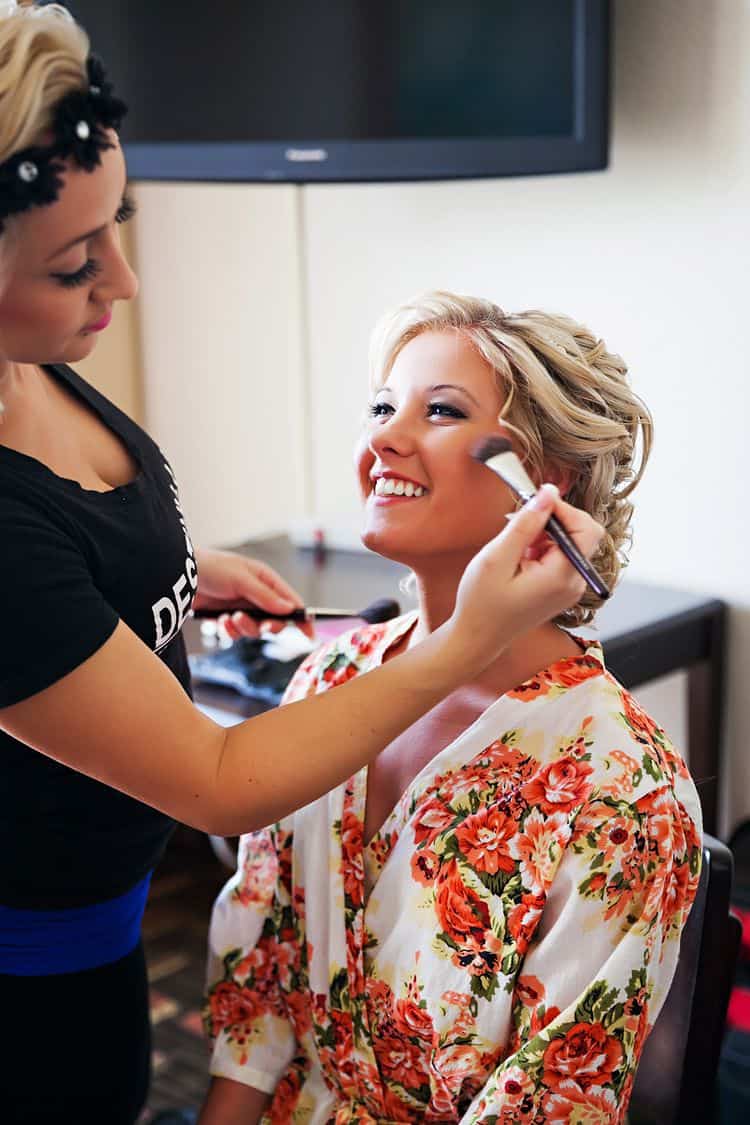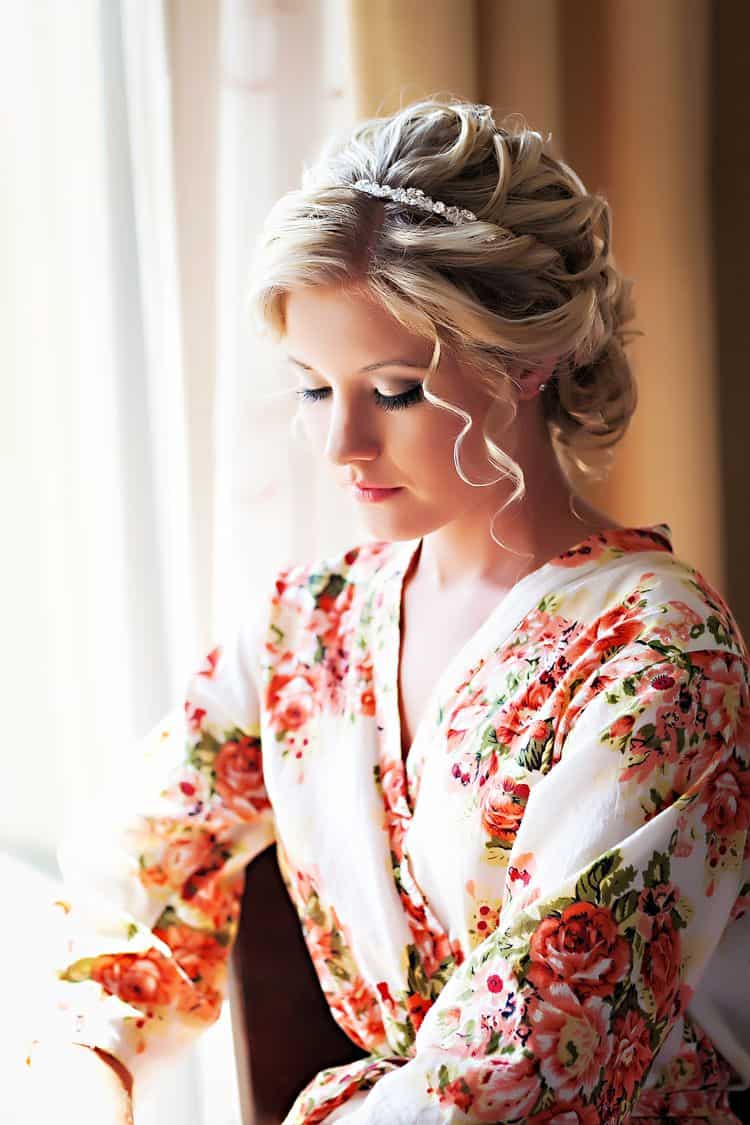 Why did you choose to have a destination wedding, and why the Sirata Beach Resort?
When Ryan and I were discussing our options for the wedding, I wanted to elope to an exotic place and get married on the beach just the 2 of us. Ryan wanted a big wedding in our hometown. So after discussing, we compromised on a small beach wedding in Florida. This way our guests didn't have to get passports, and they had an excuse to go on vacation which many did. We researched online and decided on the gulf coast and then researched venues up the coast from Fort Myers to Clearwater. We then narrowed down the venues and planned a trip to visit them, to make our decision. We chose the Sirata Beach Resort because of their pavilion on the beach. We knew it would be too hot to have an out door reception, so when we visited the Sirata and saw their air conditioned pavilion on the beach, we were sold!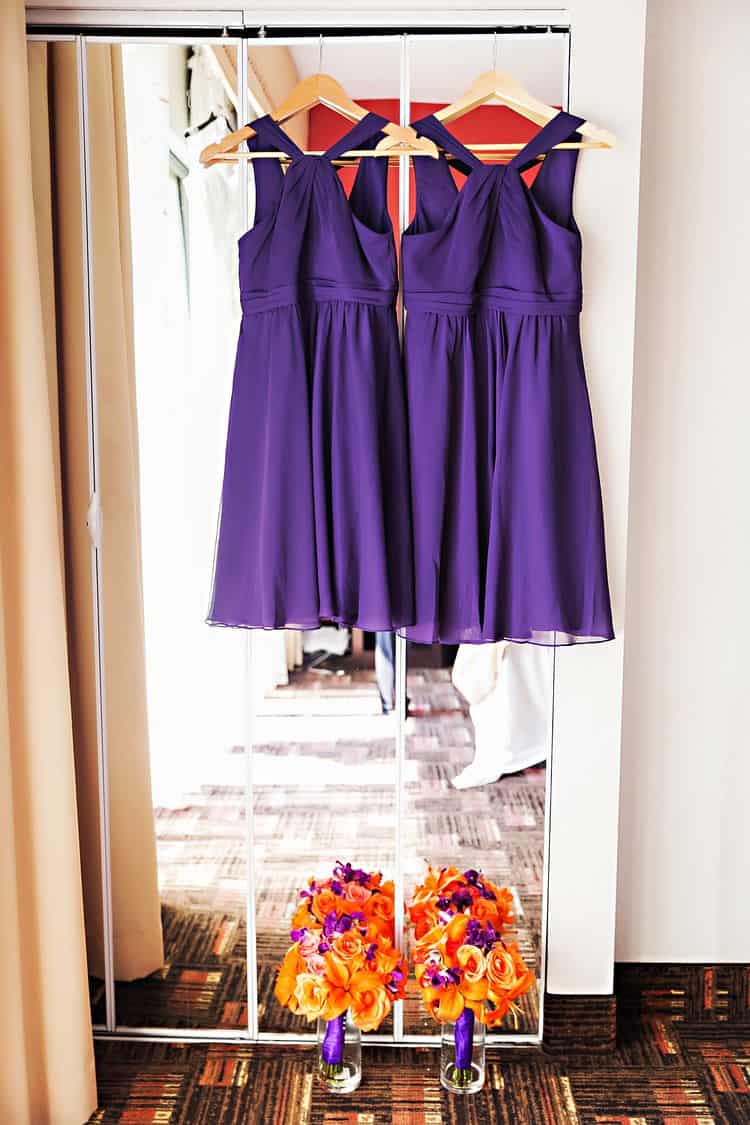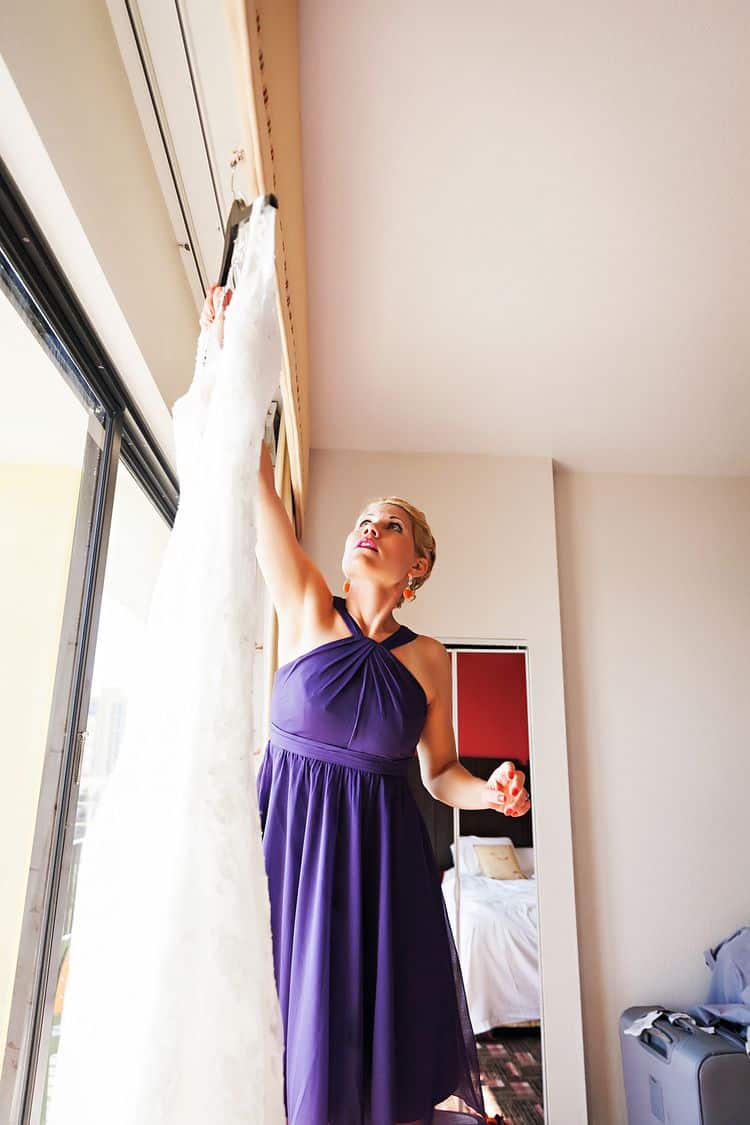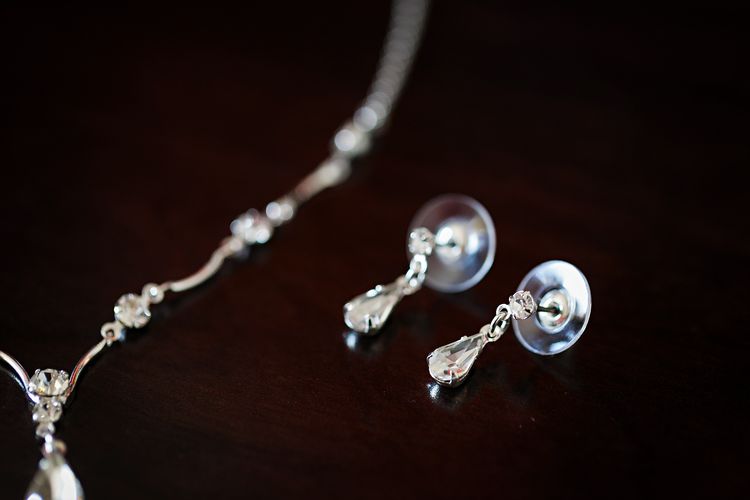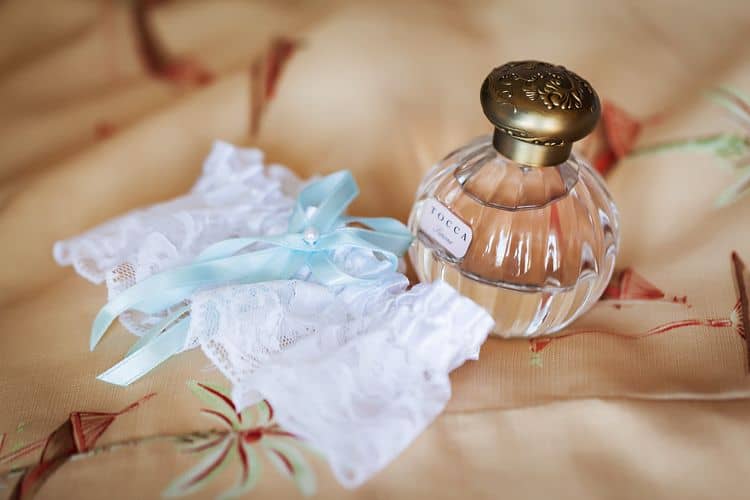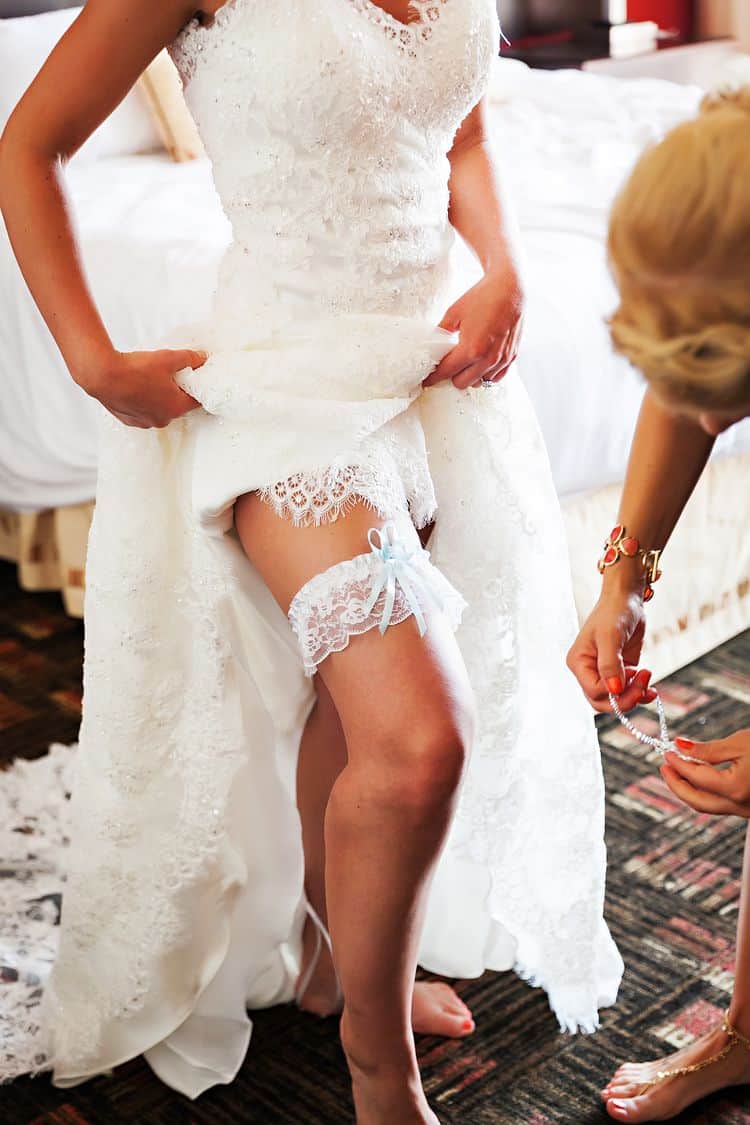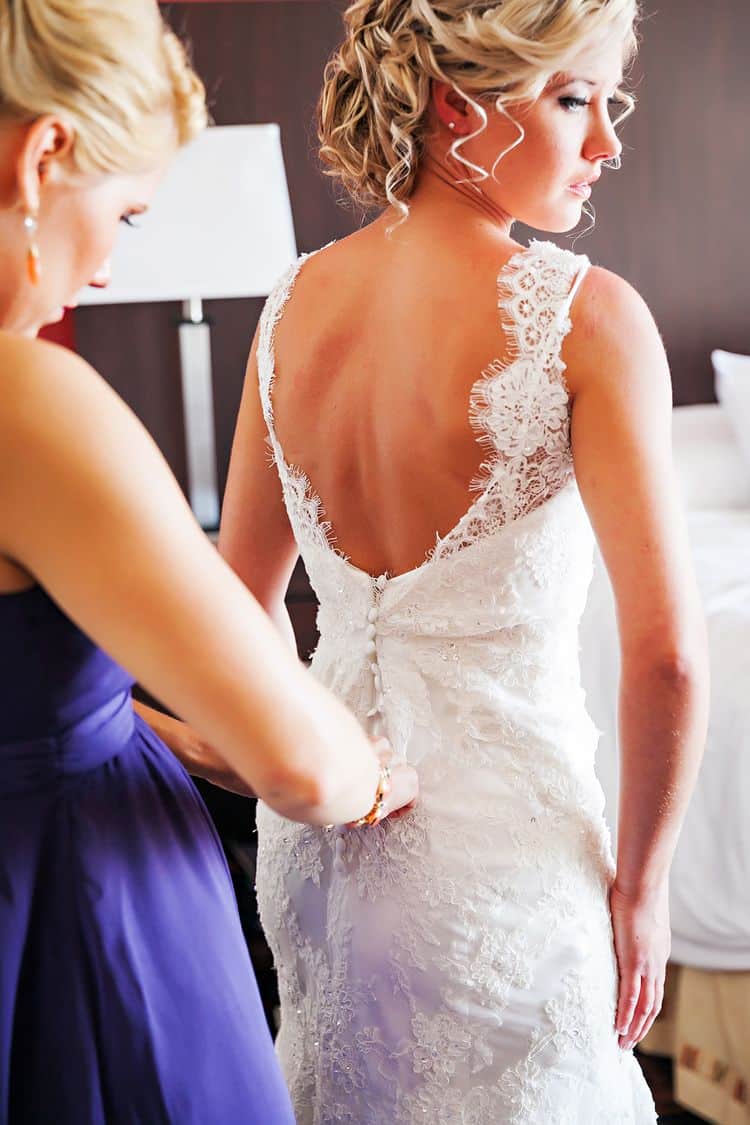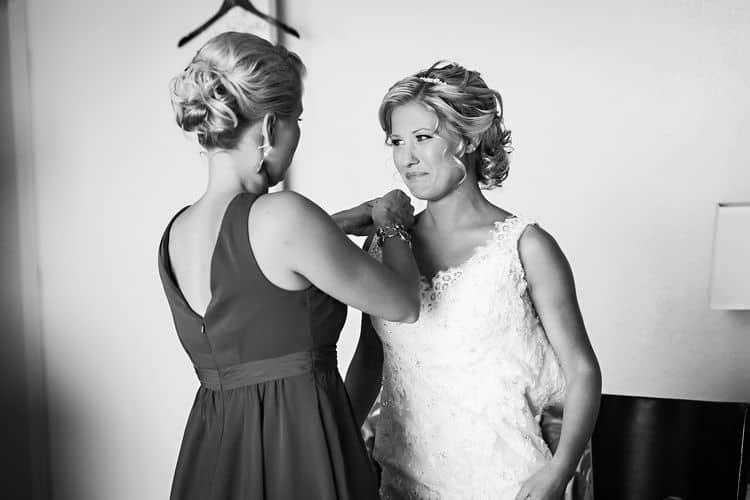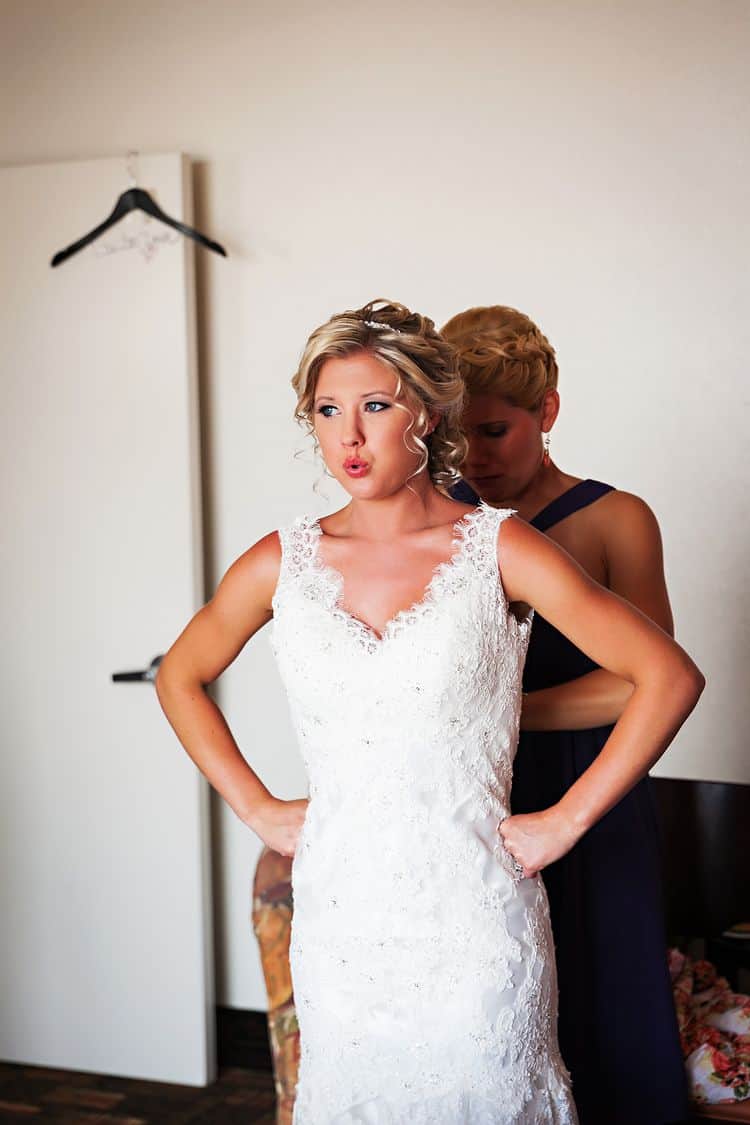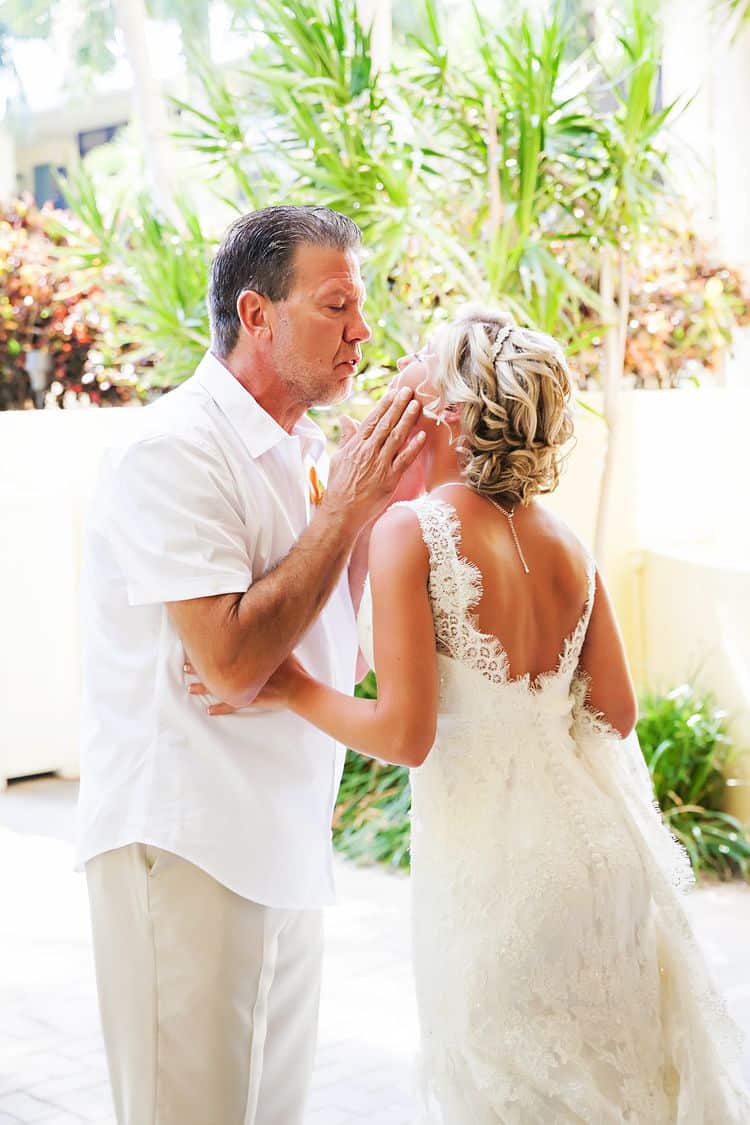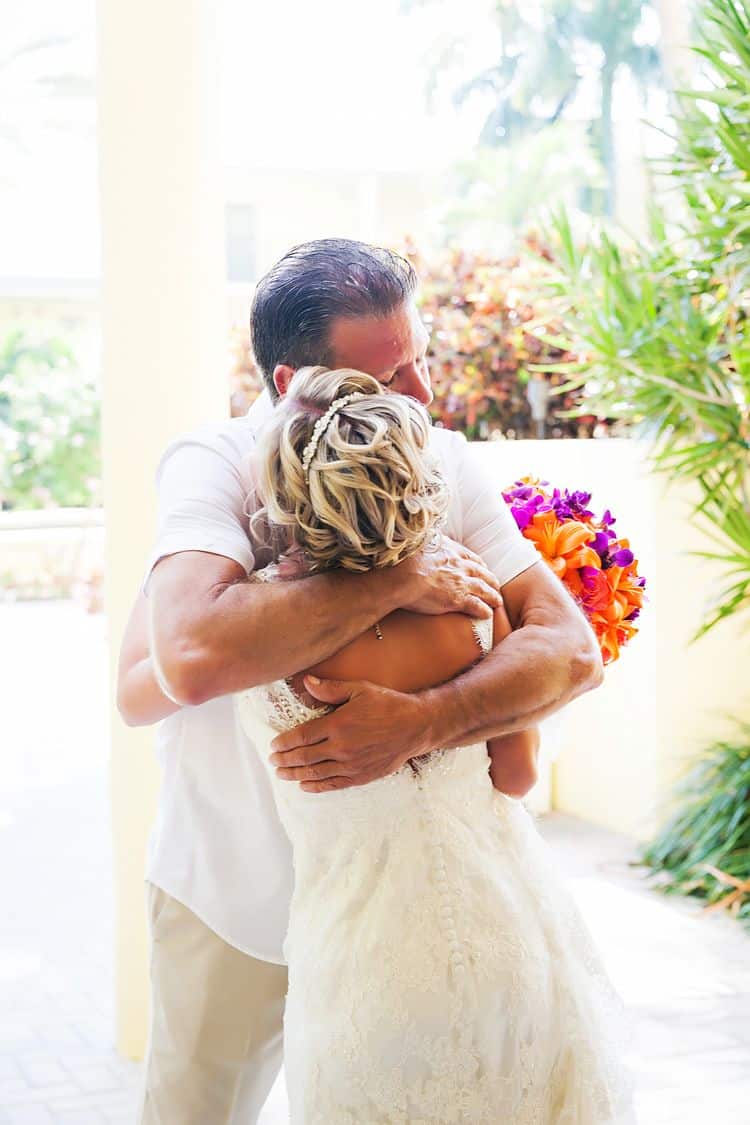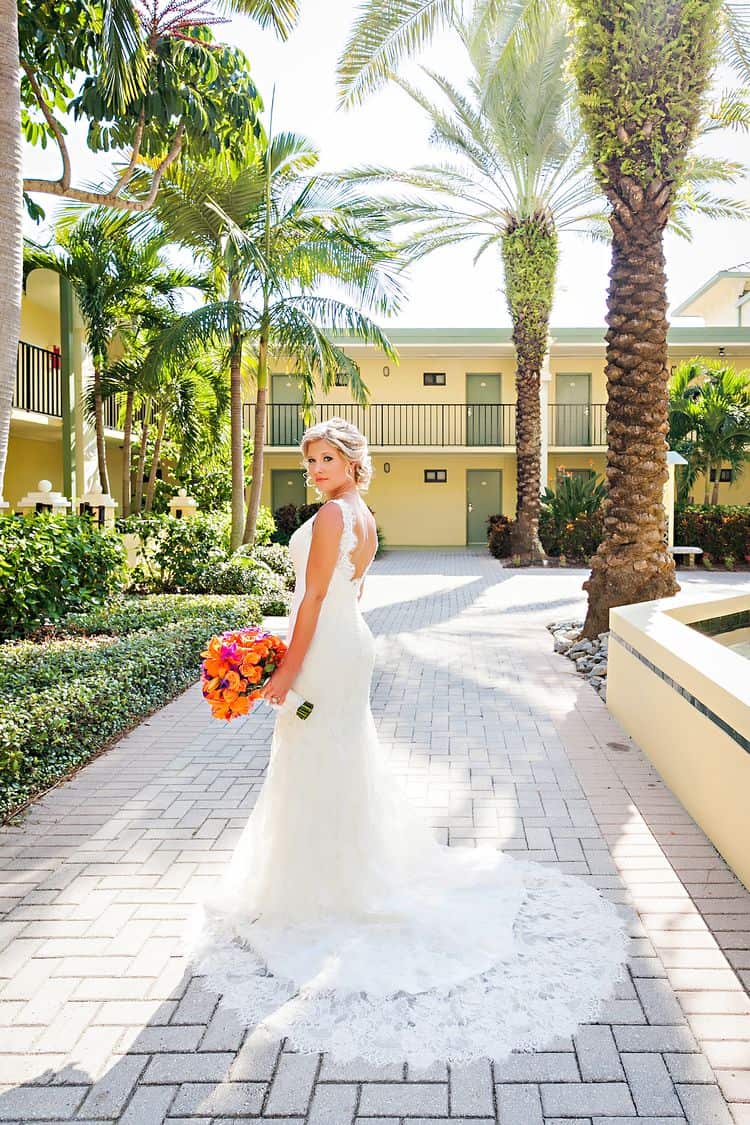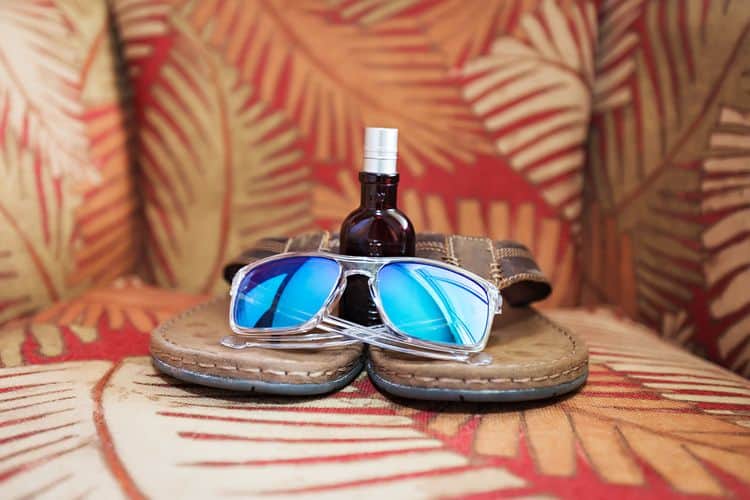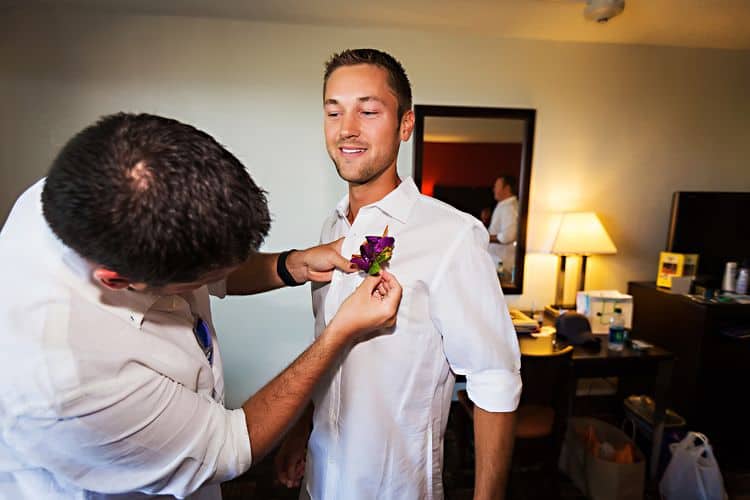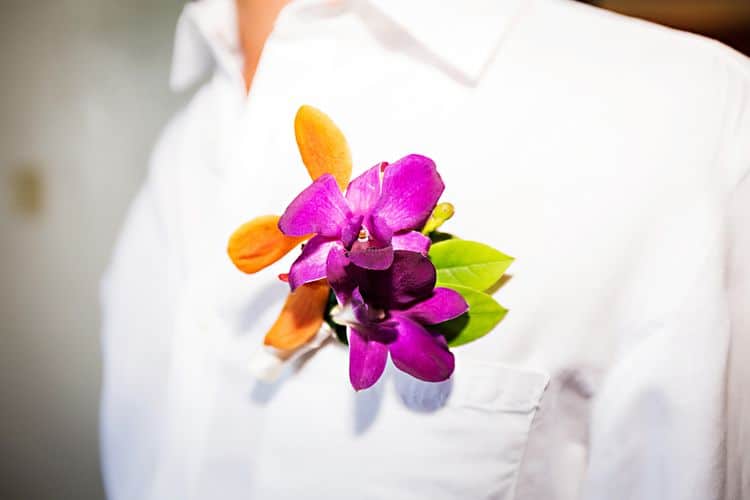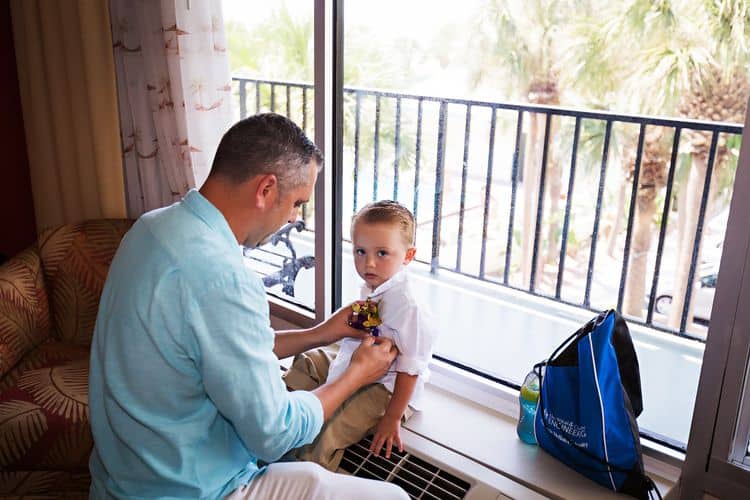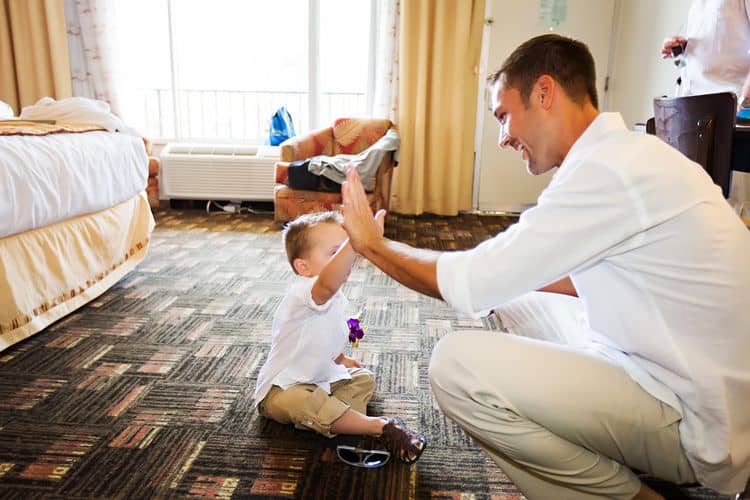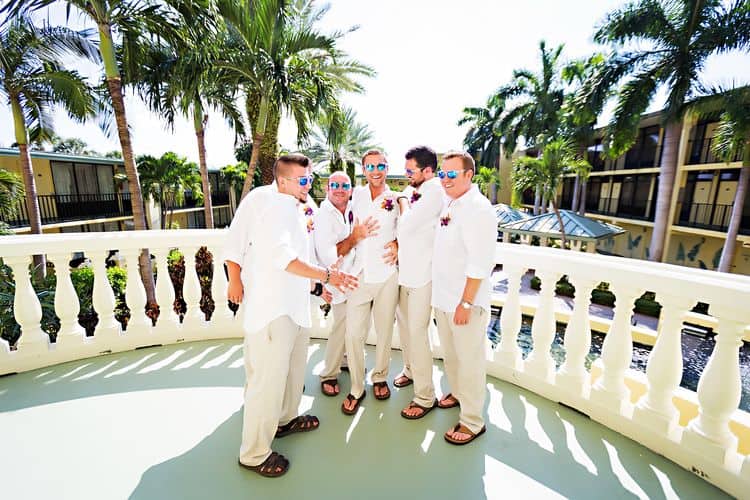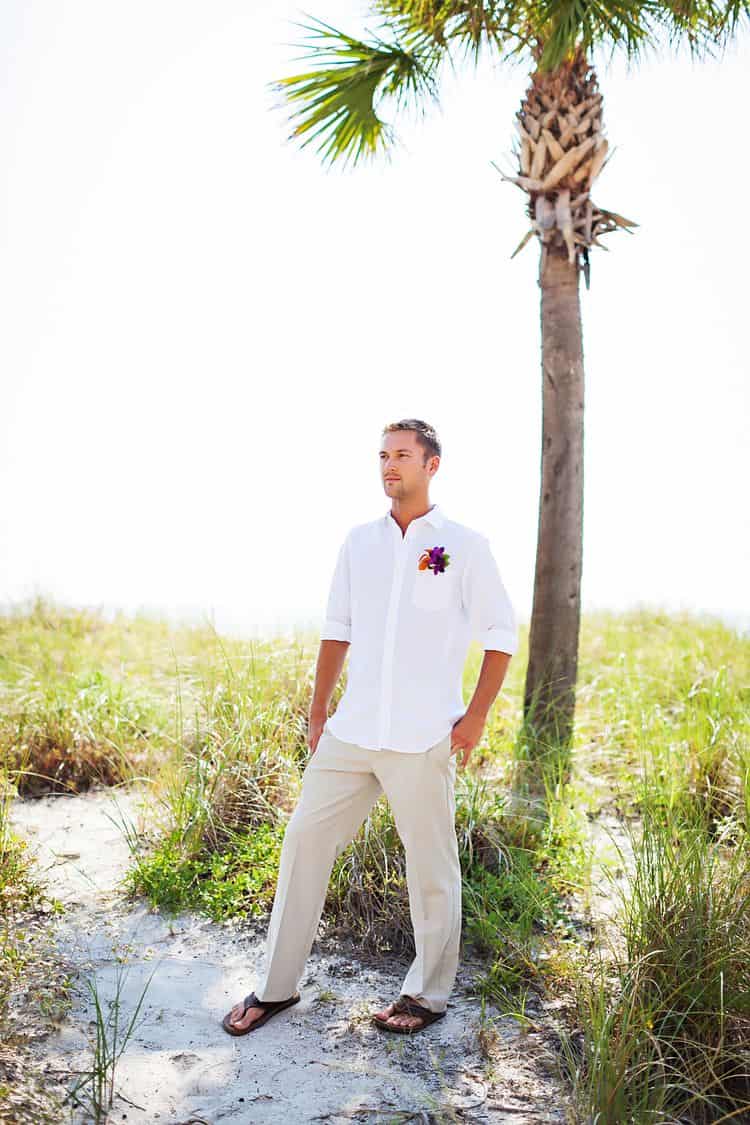 Tell us all about the details of your ceremony and reception!
One unique feature of our ceremony was to have orchids dangling from our arch. I thought it was a beautiful contrast in our photos. I also had a shoe station for my guests so they could kick off their shoes and go barefoot during the ceremony. At the shoe station, I had a table where we provided sunglasses, sunscreen, programs attached to silk fans, and paintbrushes so they could brush the sand off their feet.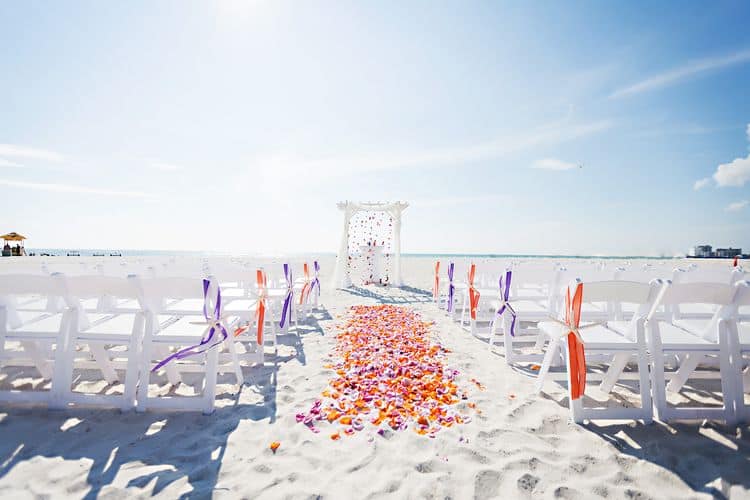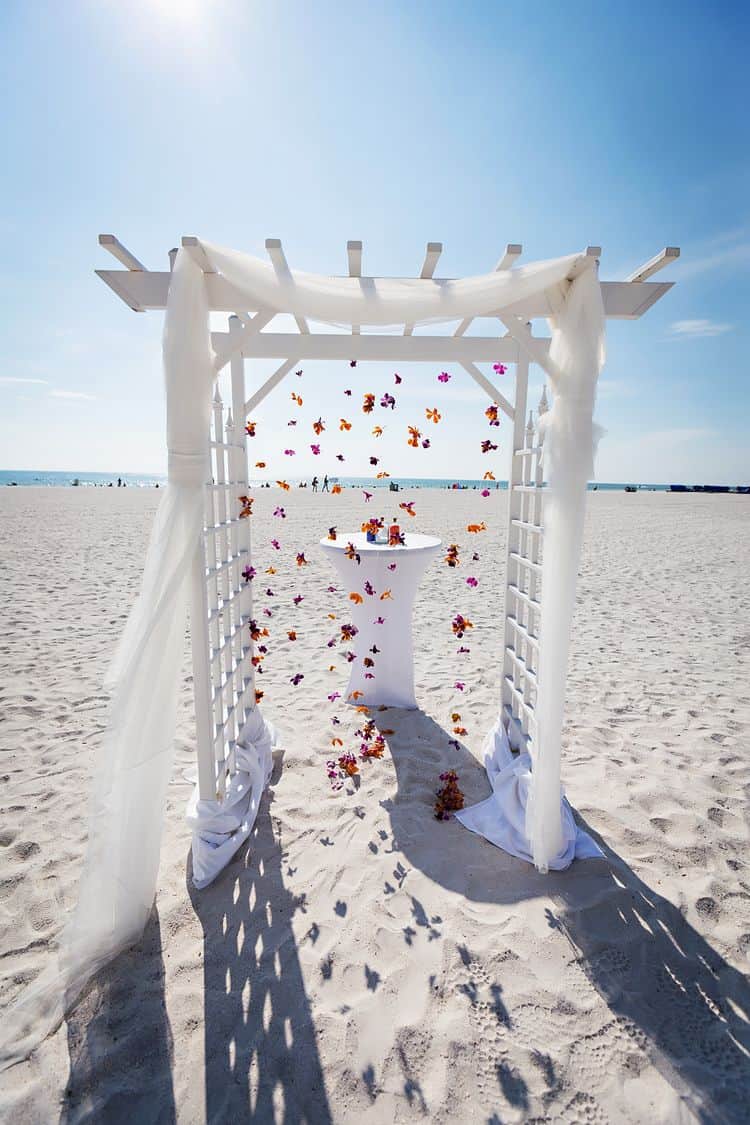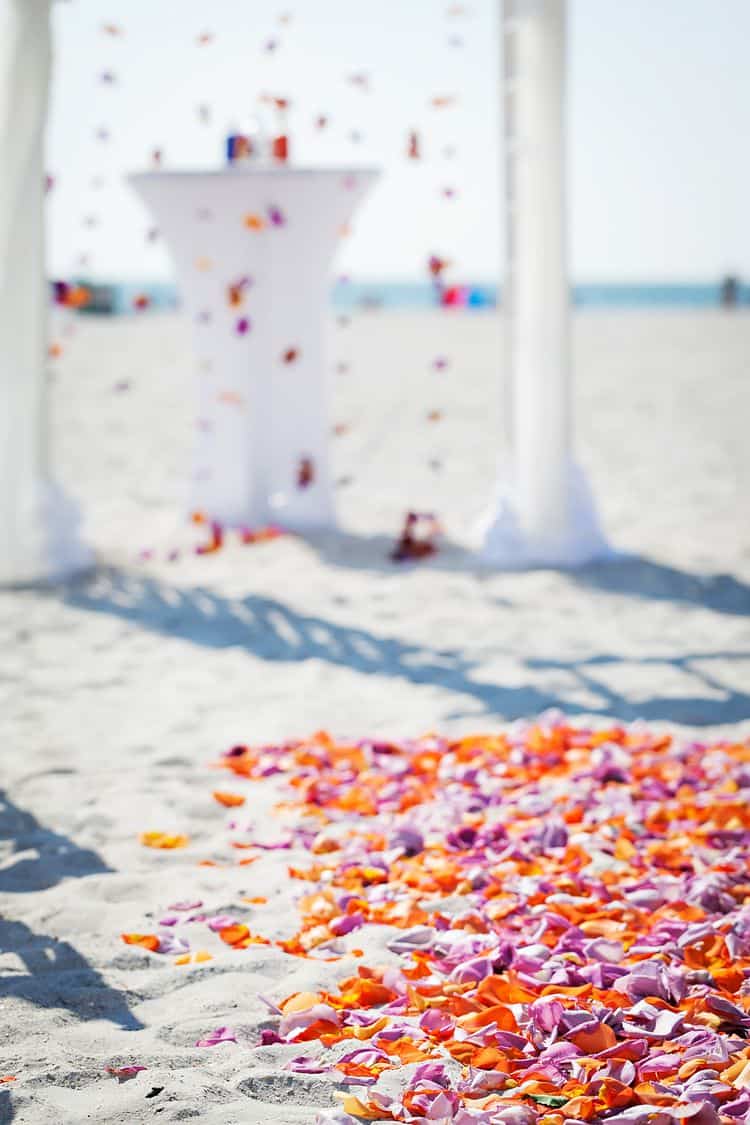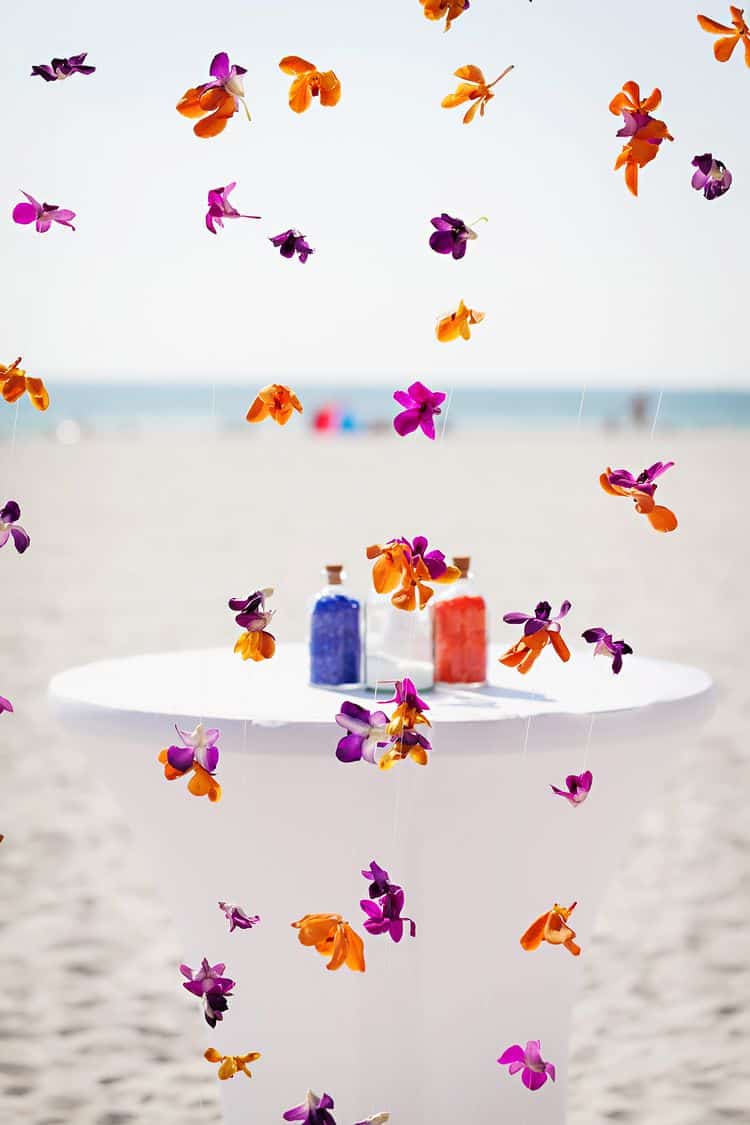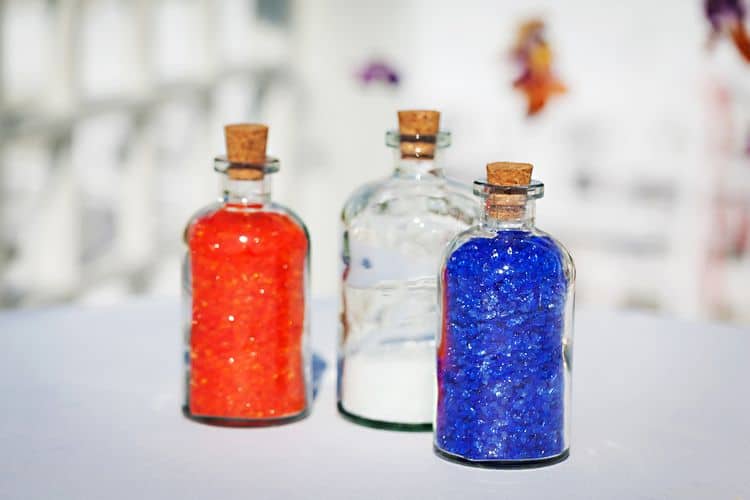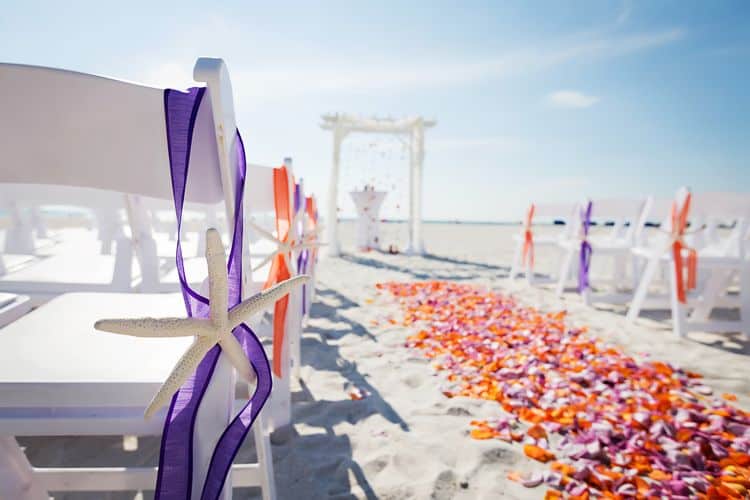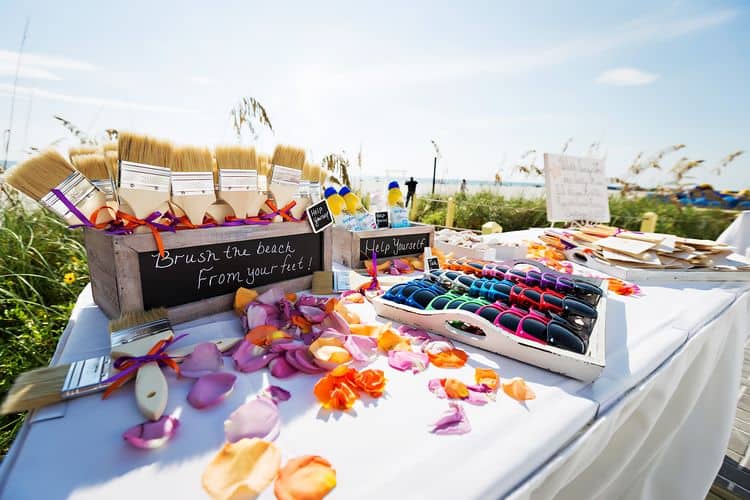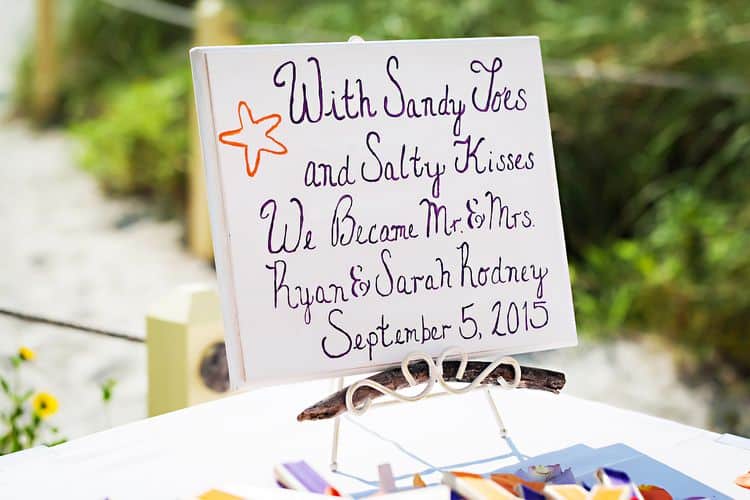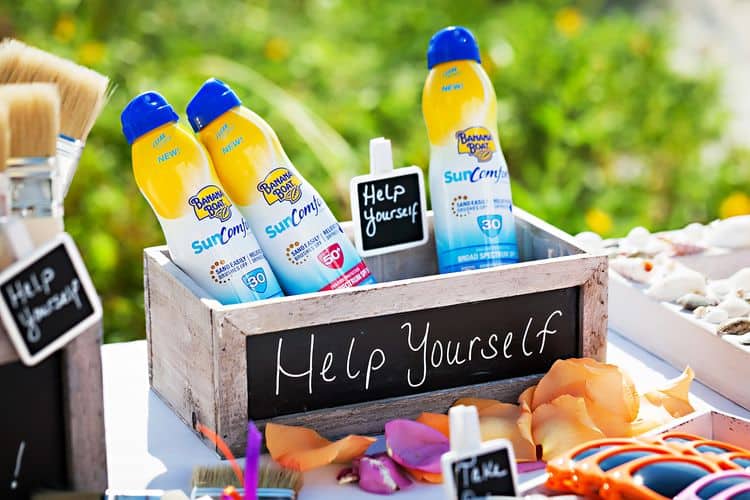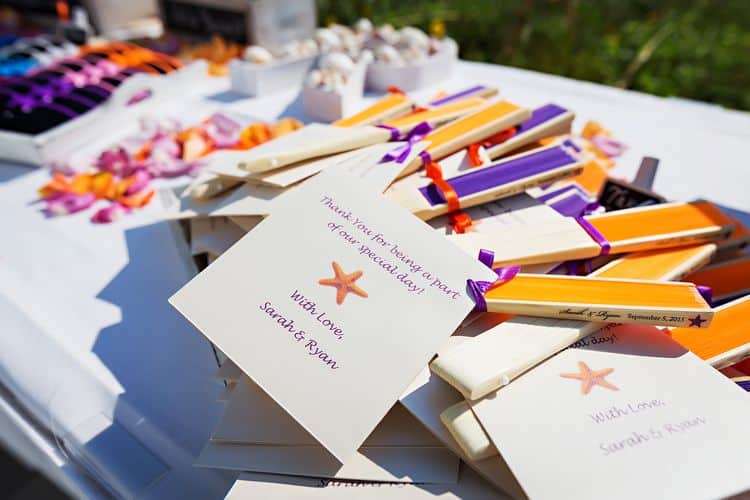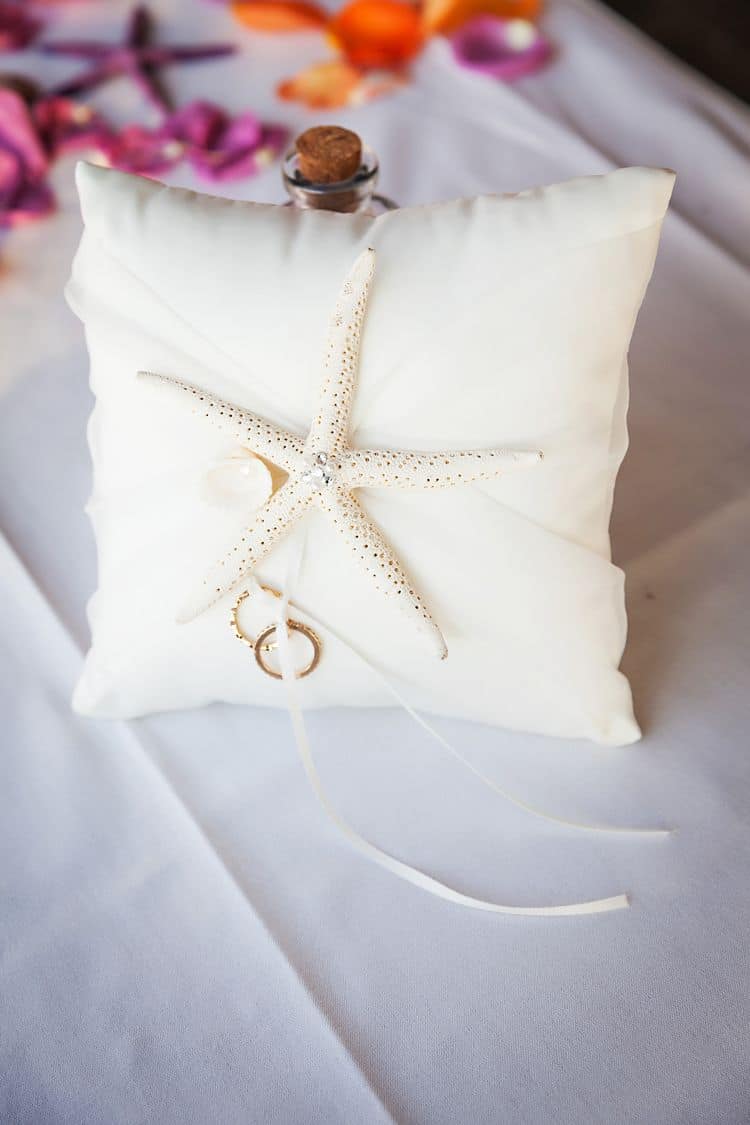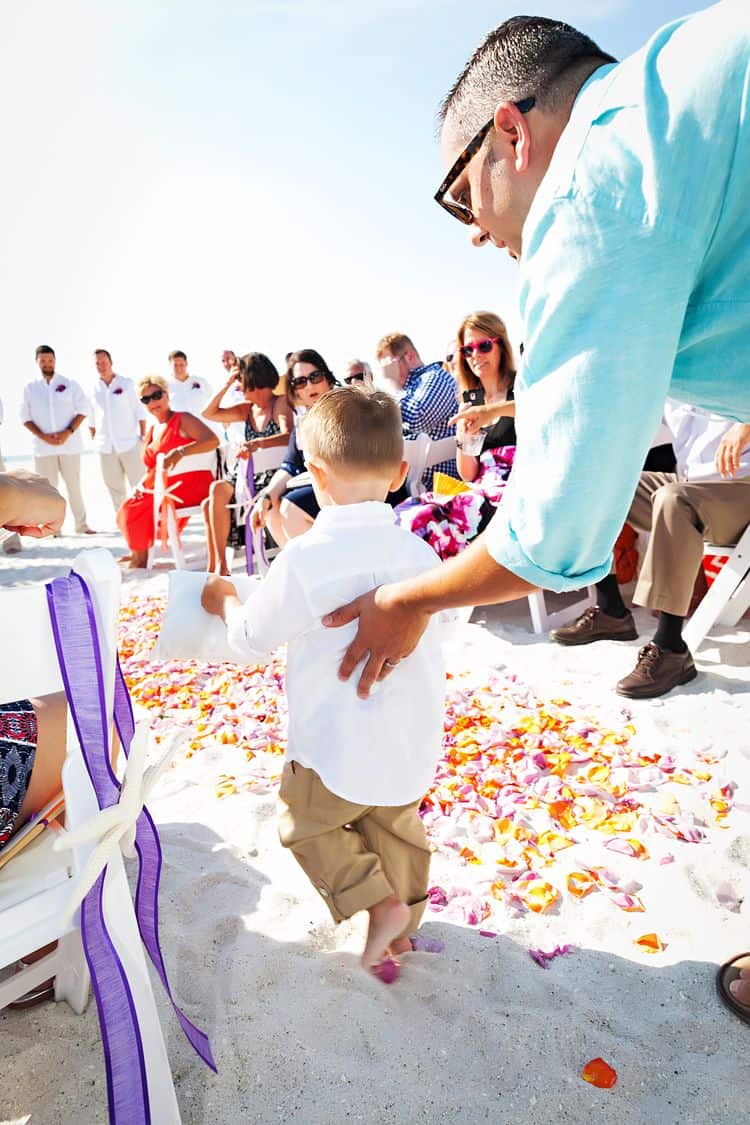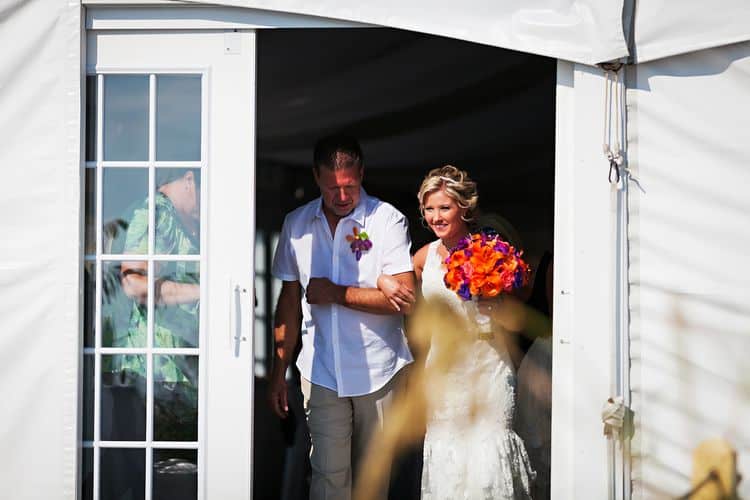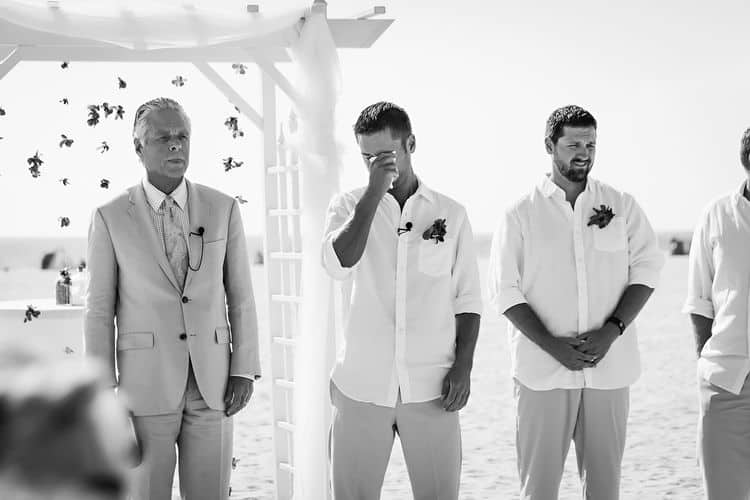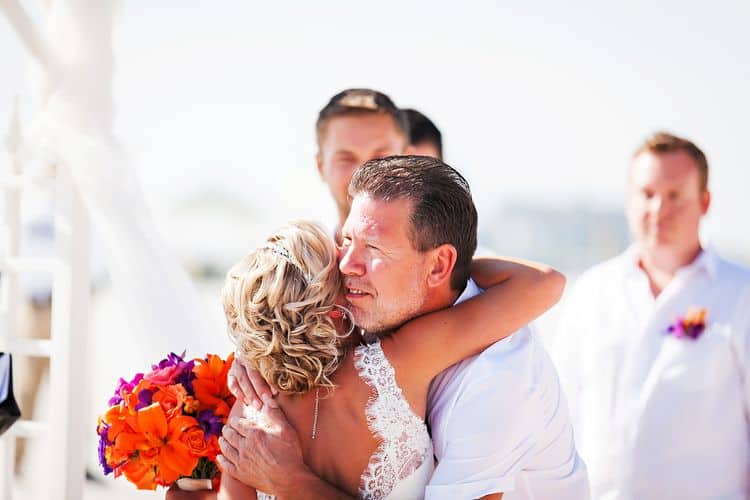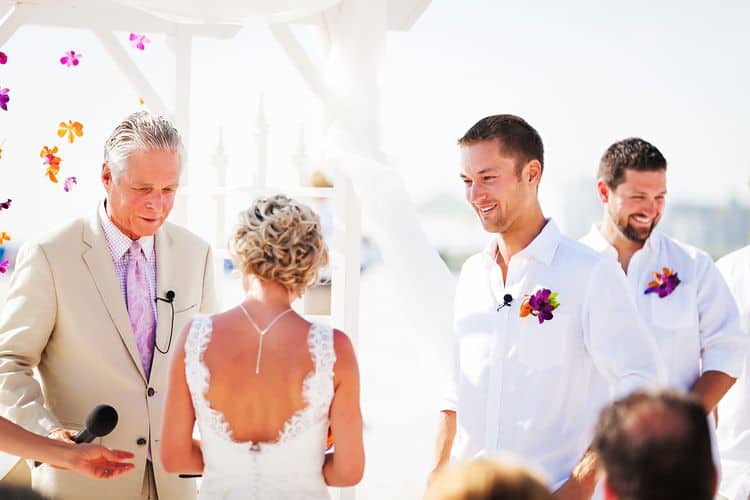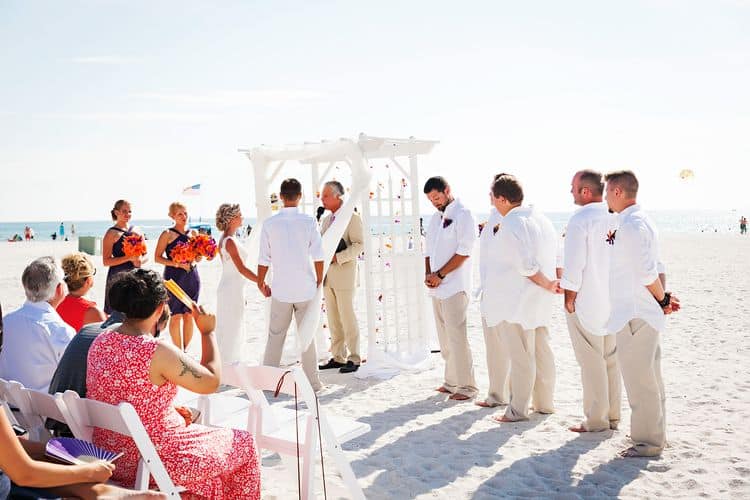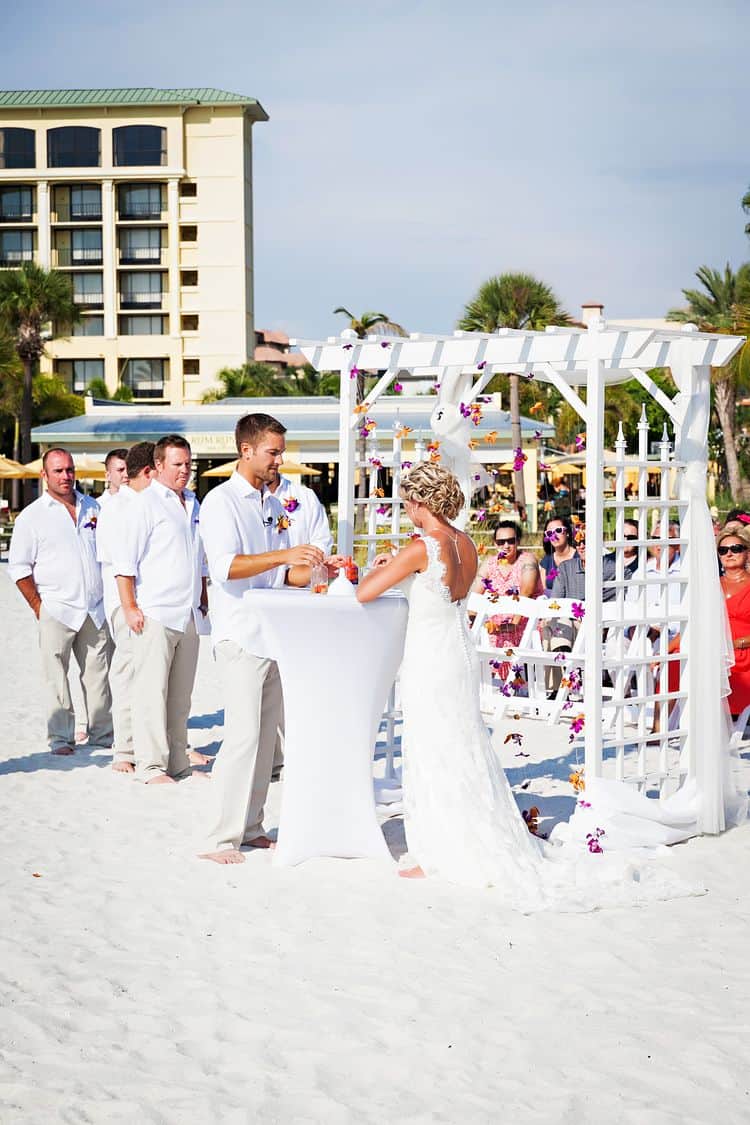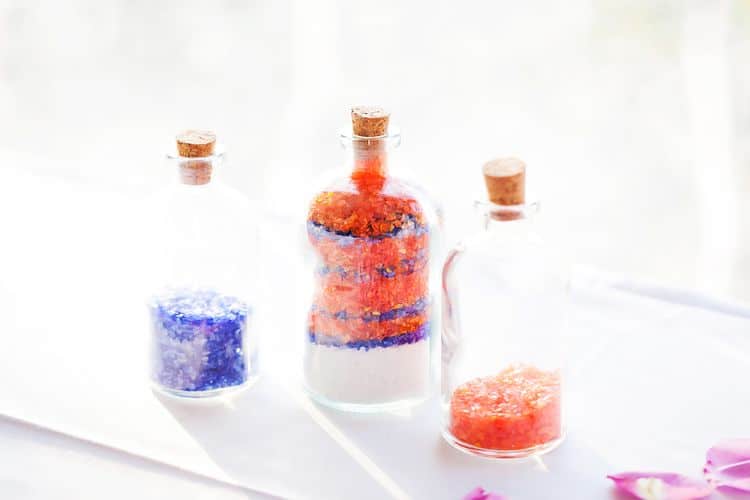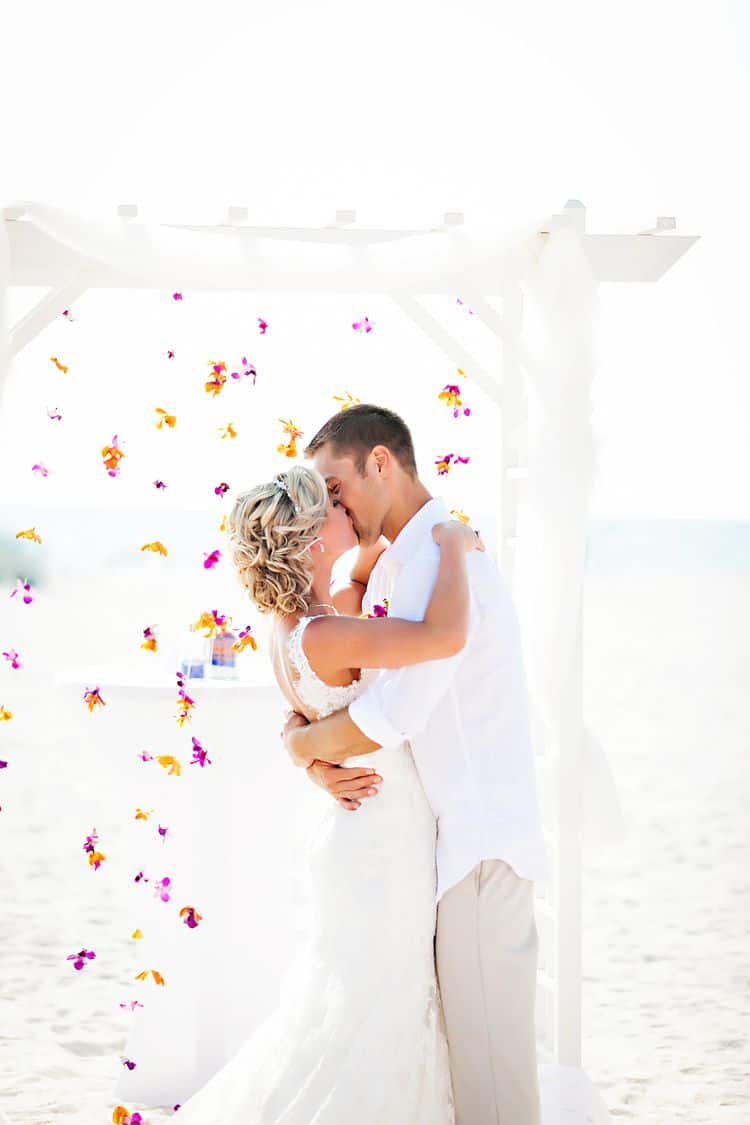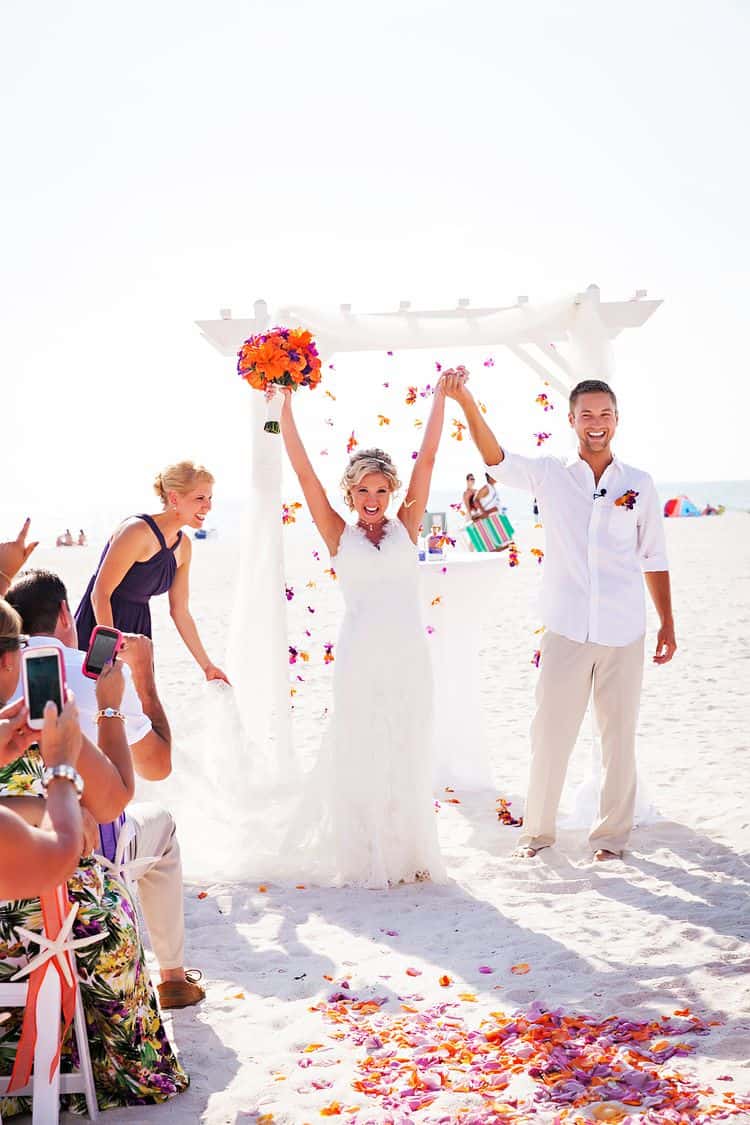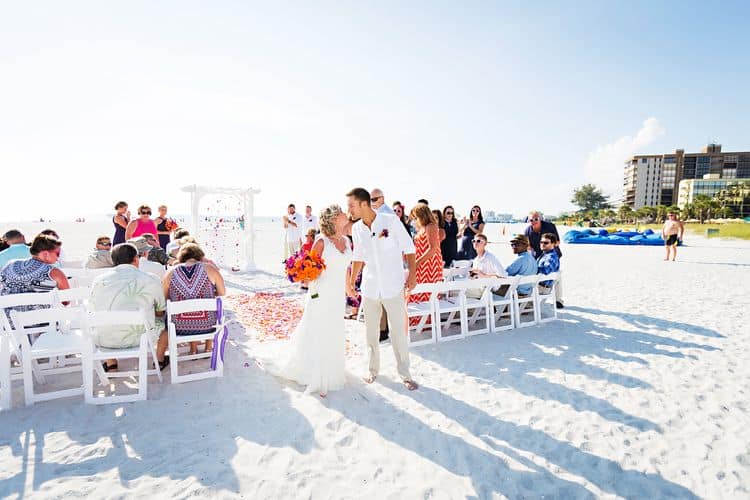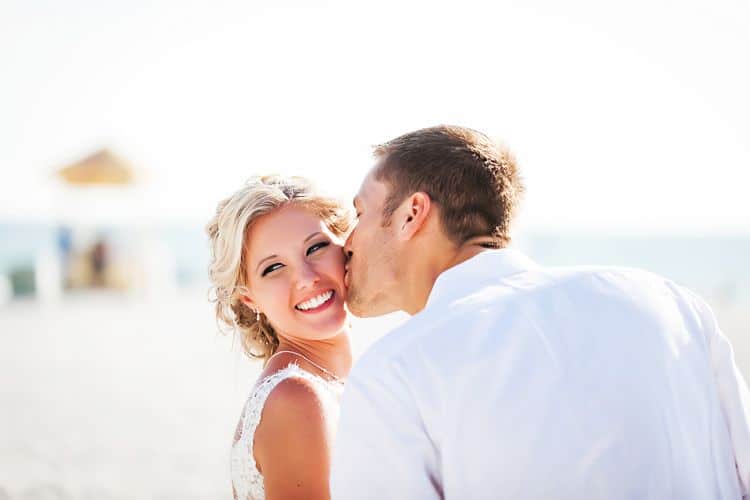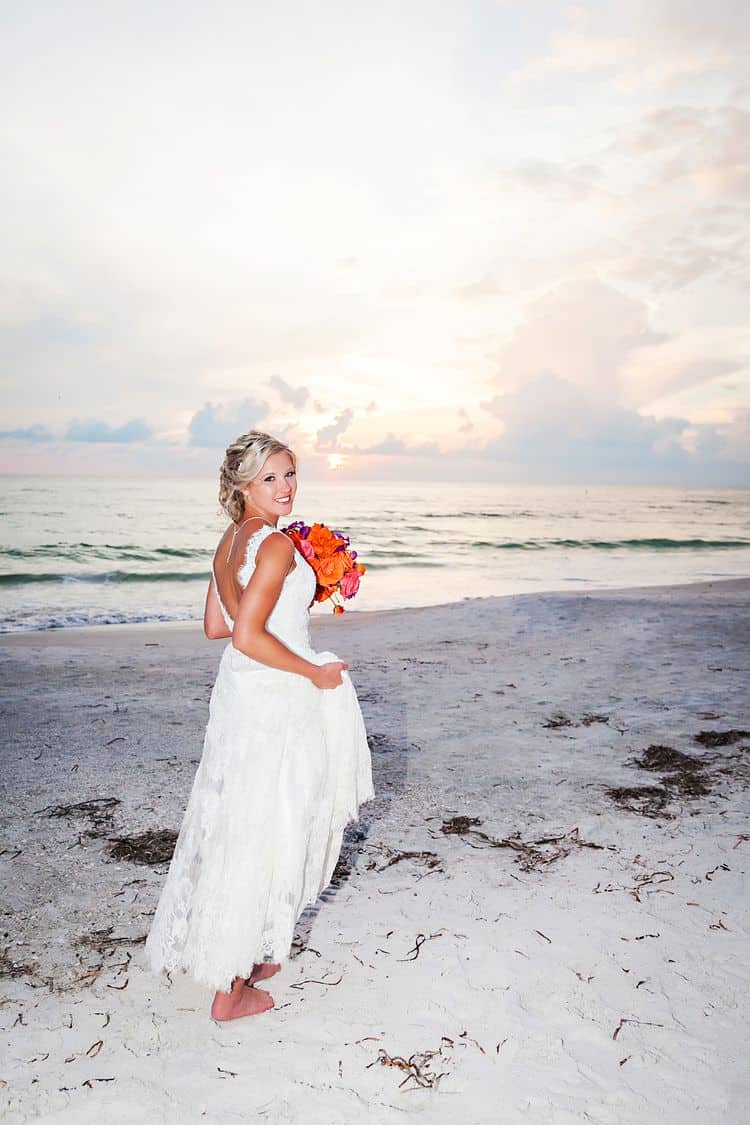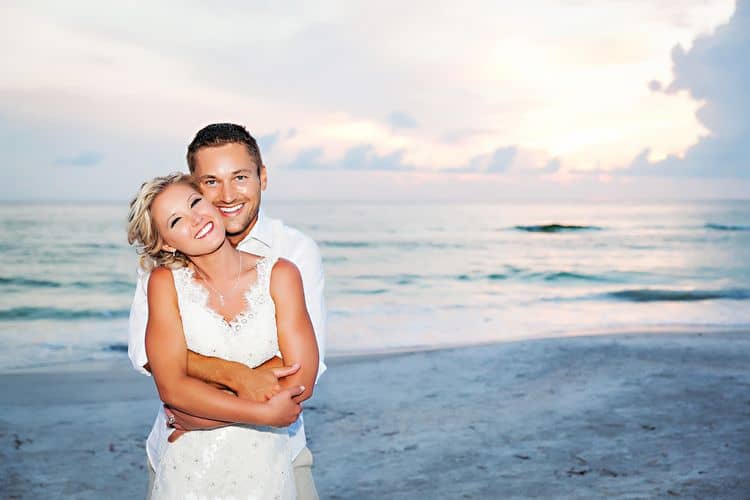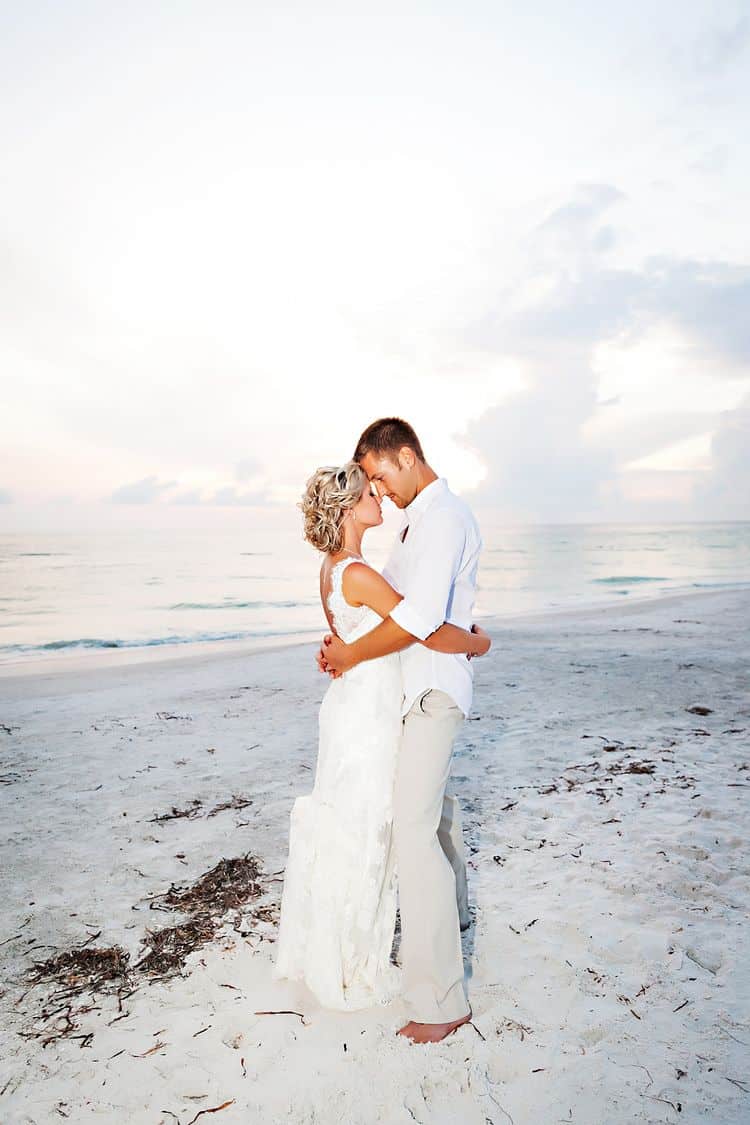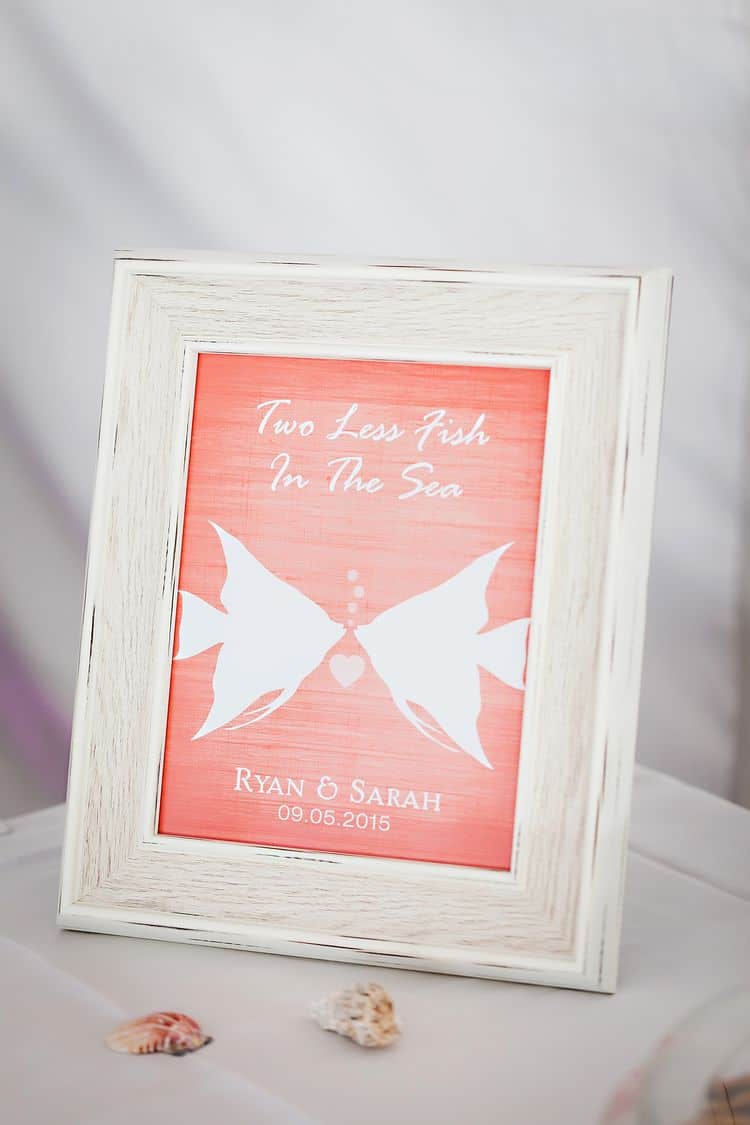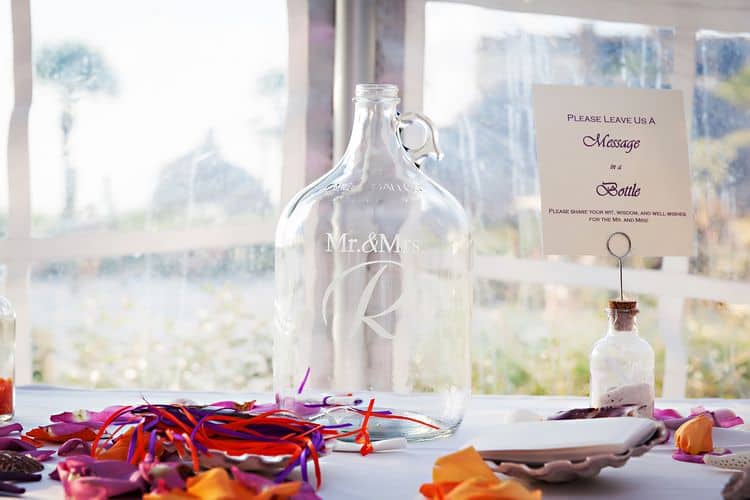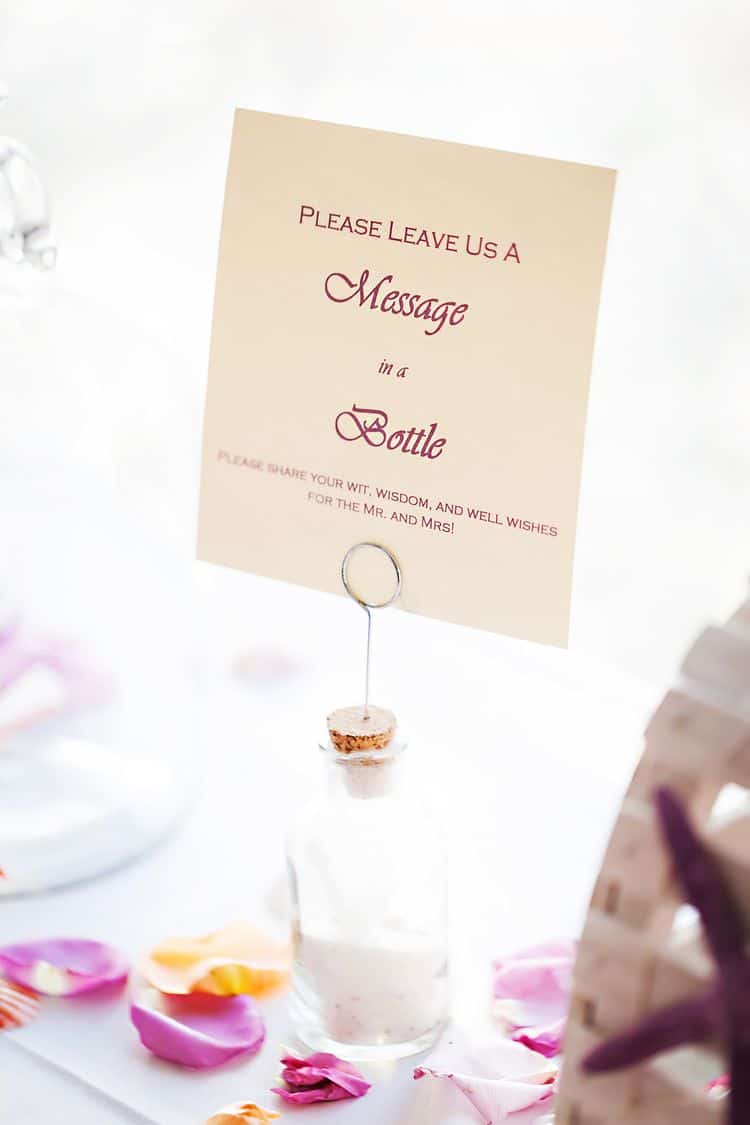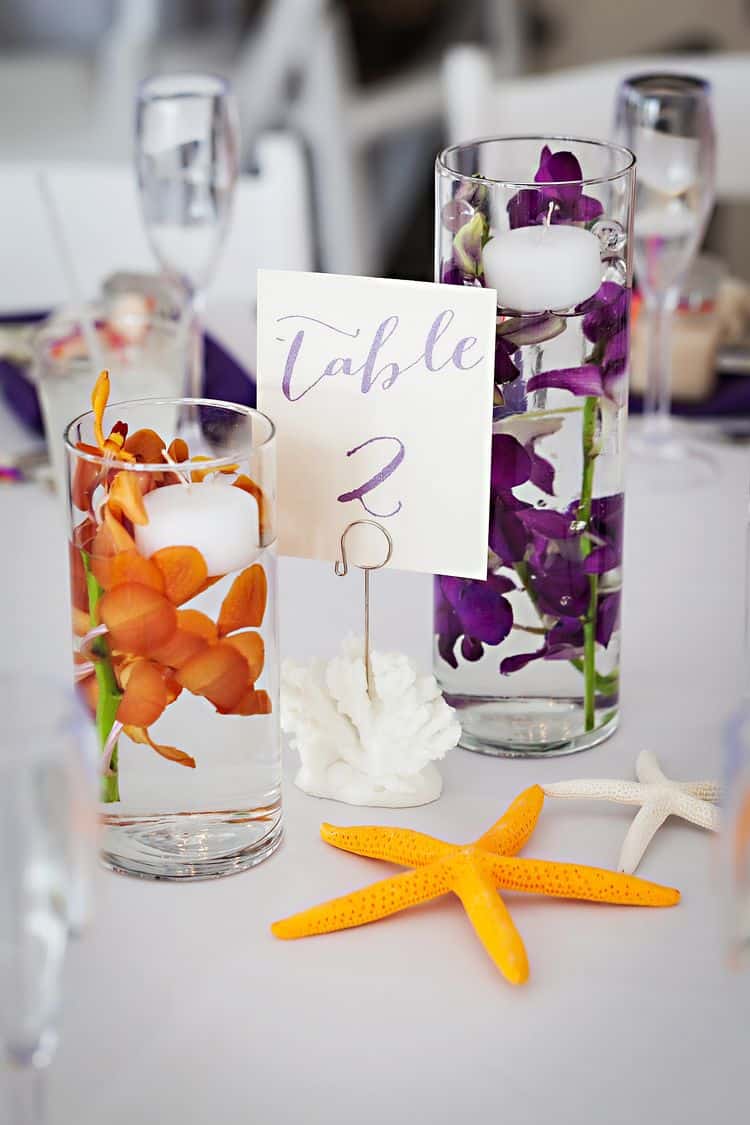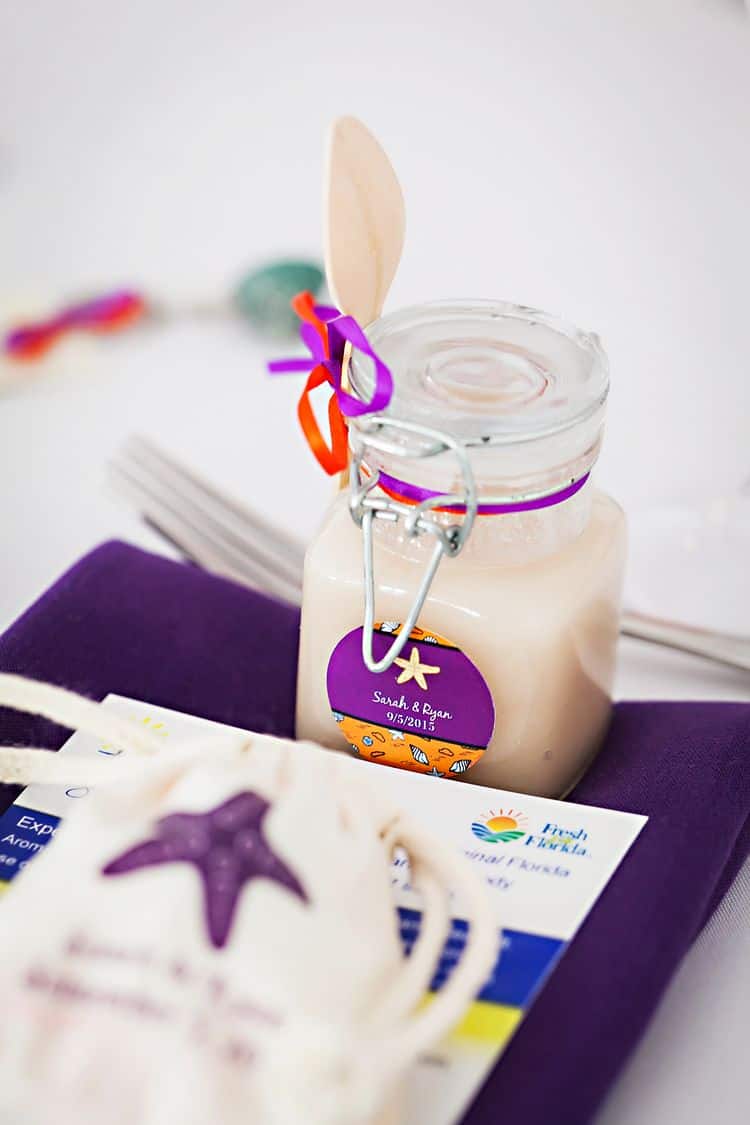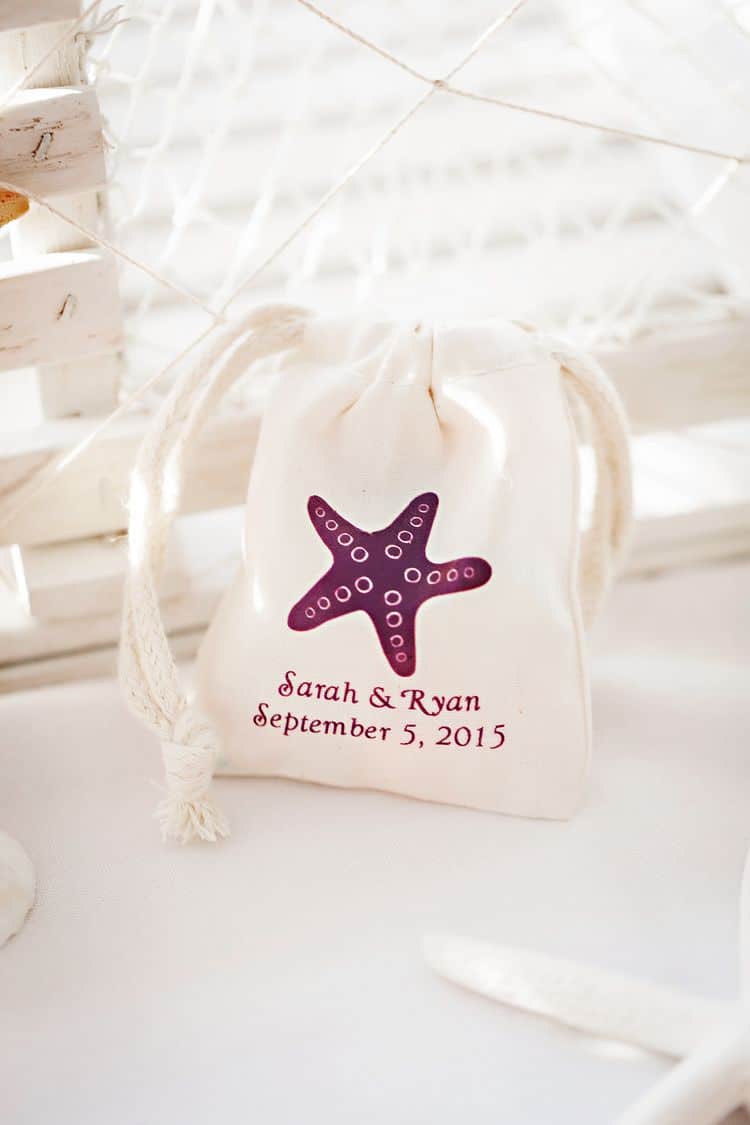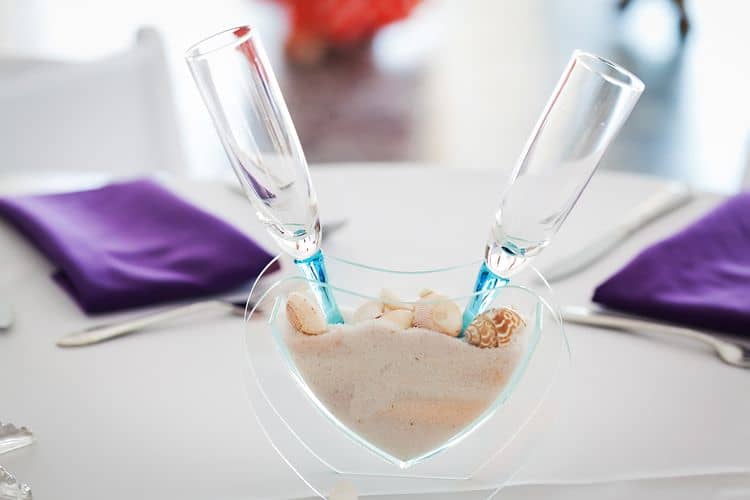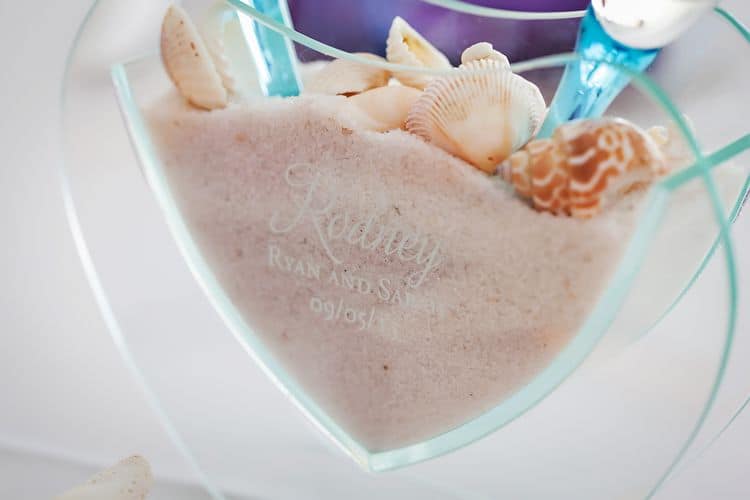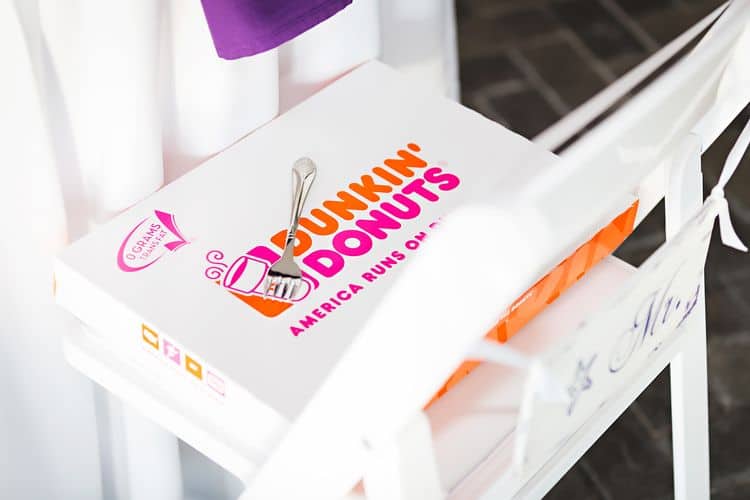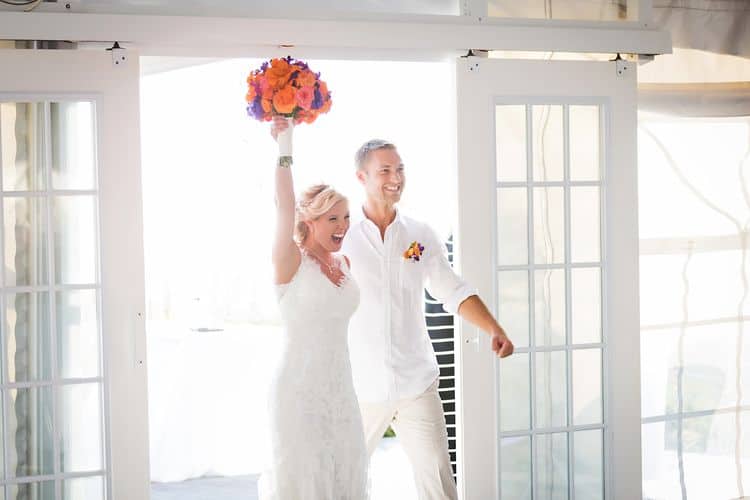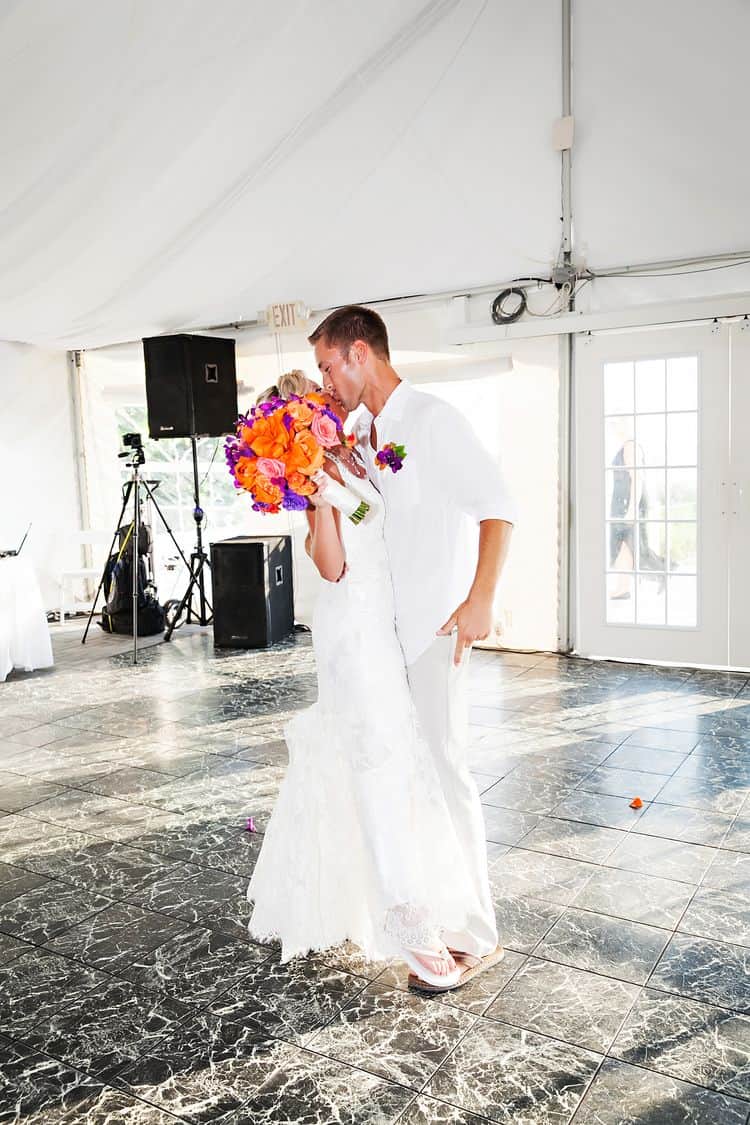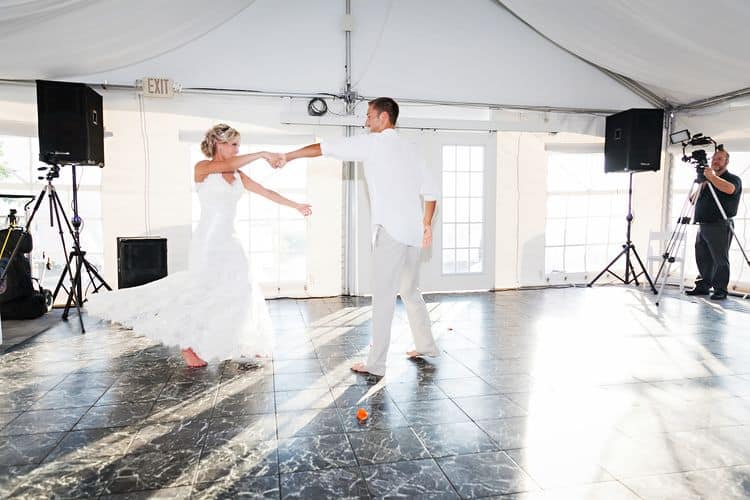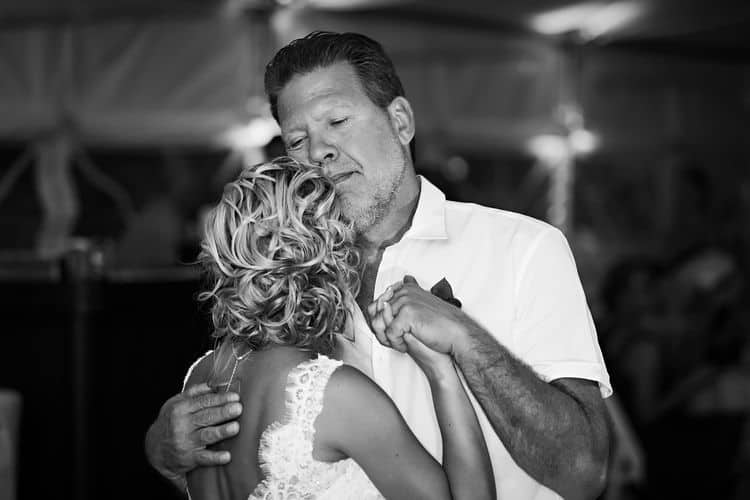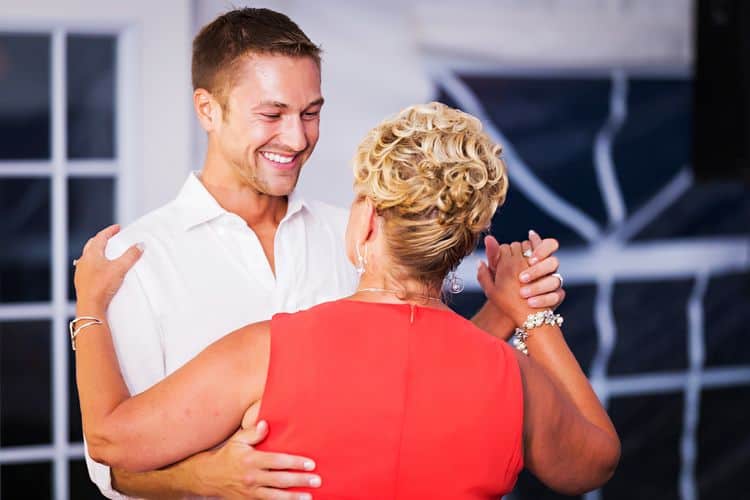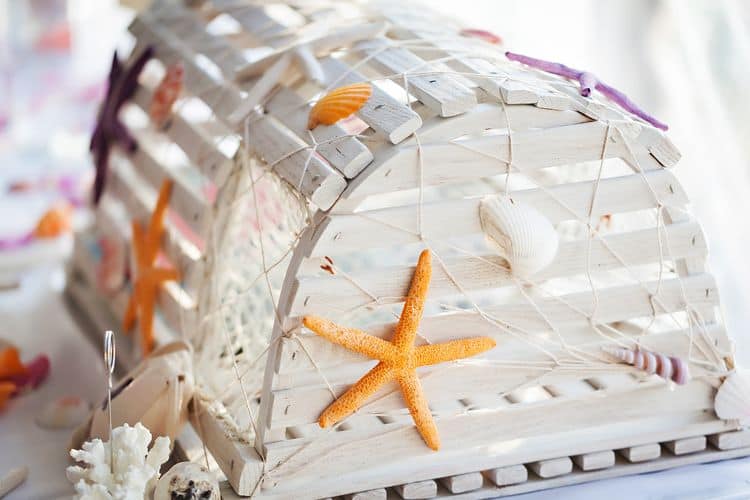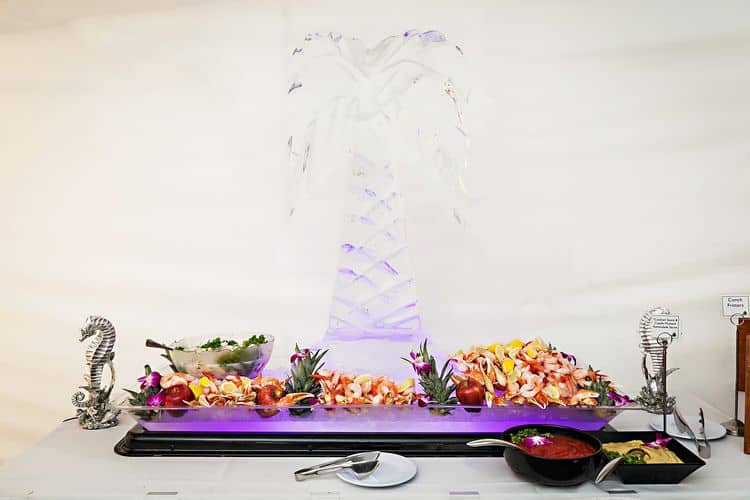 Tell us about the cake!
We wanted our cake to be simple and to let the flowers be the wow factor. For the cake flavors, we wanted one layer to be tropical, so we chose a piña colada cake with pineapple filling, and the other layer was a more traditional vanilla cake with strawberry filling.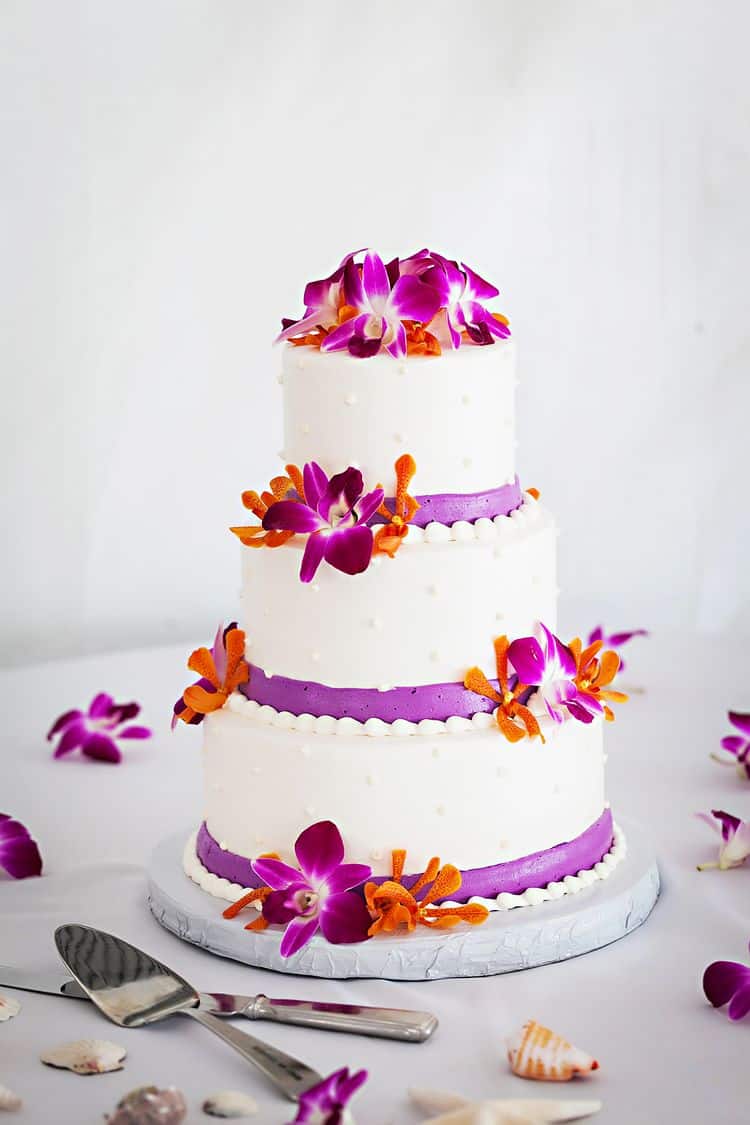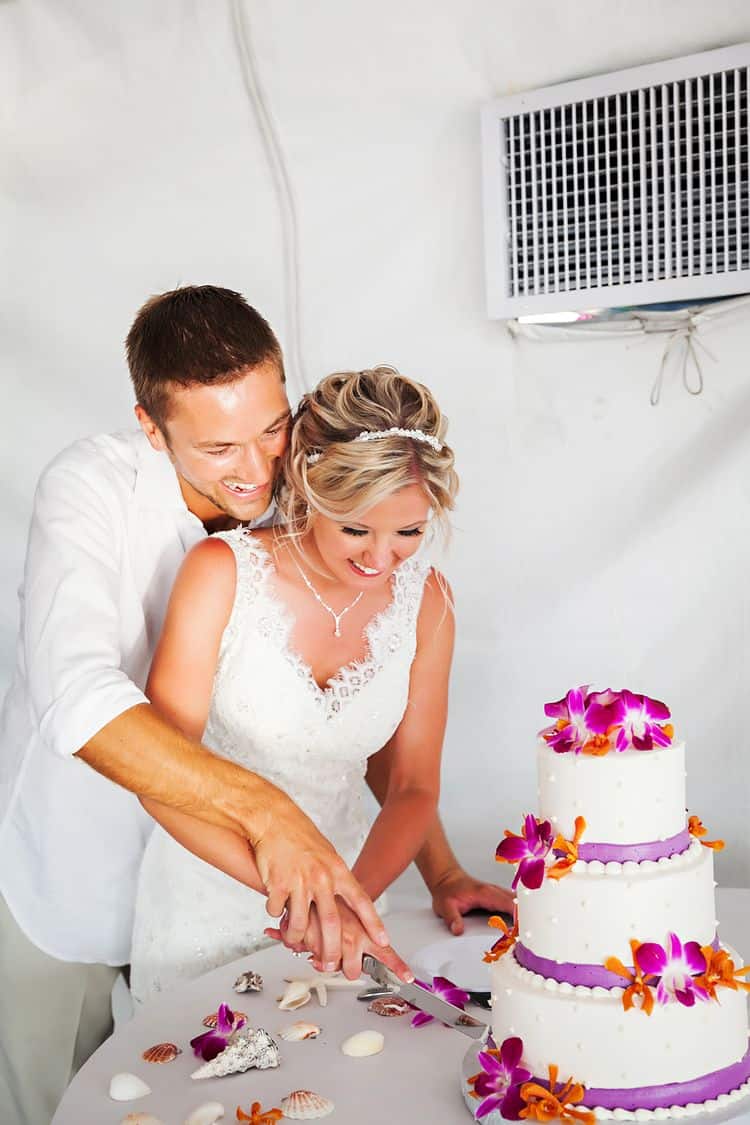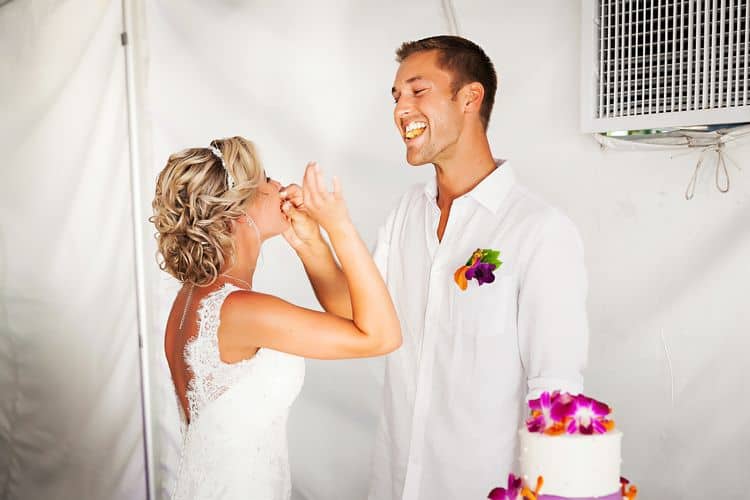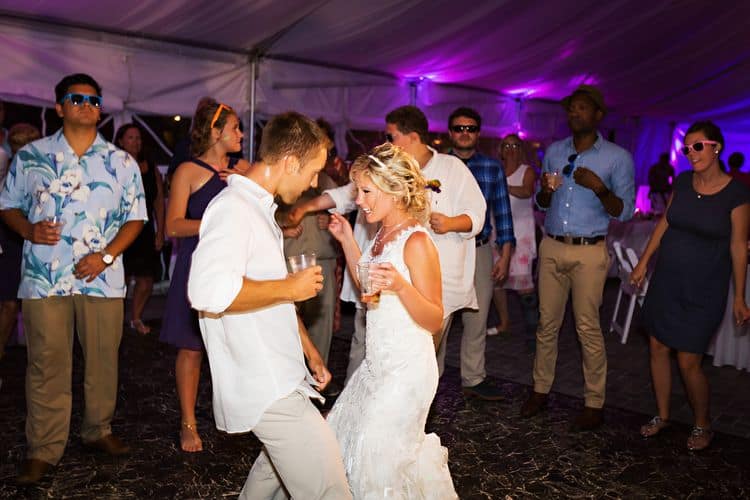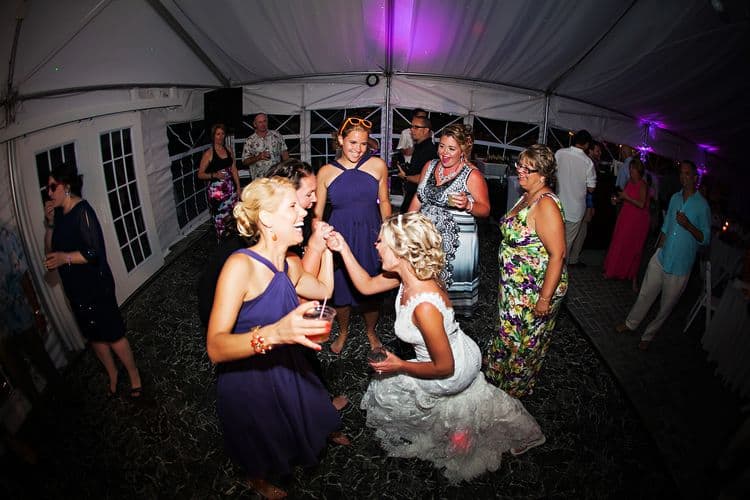 One unique part of our wedding was that we did a glow stick send off. During our last song our guests crowded around us with there glow sticks and then we had a recessional line leave the tent and exit to the beach. It was so cool seeing all the glow sticks on the dark beach.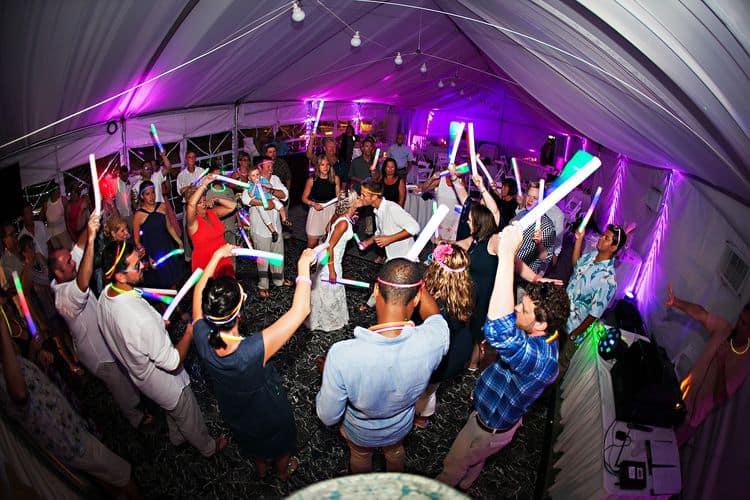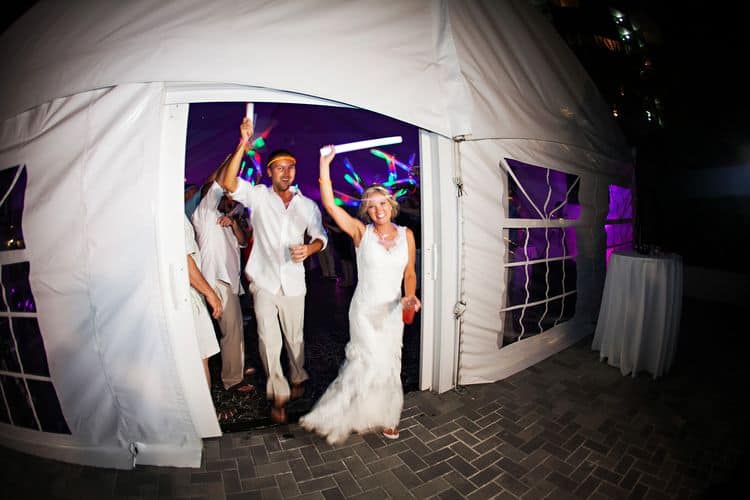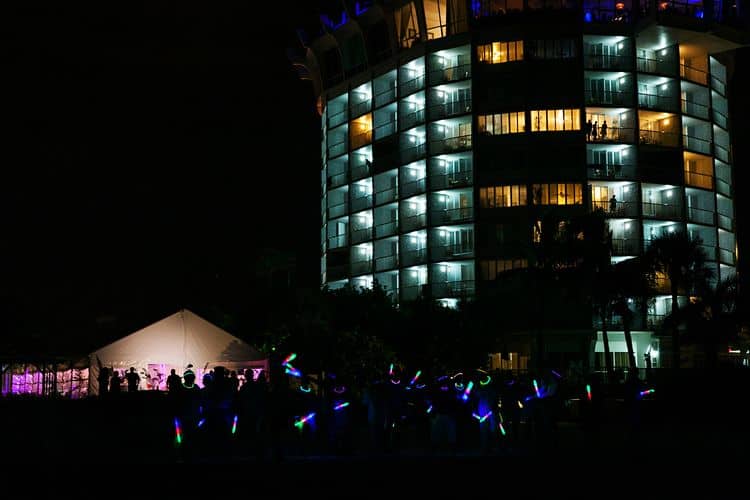 Real Destination Wedding Advice from the Bride
How many guests attended your destination wedding at the Sirata Beach Resort?
46
What was your favorite part of having a destination wedding, and more specifically a wedding at the Sirata Beach Resort?
My favorite part of having a destination wedding was being able to have it on the beach. Ryan and I live in Pennsylvania, so we are very far from a beach and we absolutely love the beach. It is our favorite thing to do when we vacation, so it was so special for us to get married on a beach. None of our guests had ever been to a destination wedding or to a wedding on the beach, so it was awesome to share that experience with all of our guests. Everyone was so excited and looked forward to our wedding day.
What was the biggest challenge of planning your destination wedding?
The biggest challenge of having a destination wedding is not being able to just go and see the space whenever you want to. I suggest you take a lot of pictures of the space so when you're picking decor or doing DIY stuff, you know where things are going and how much space you have to do it. I recommend staying away for DIY and just paying people to do it all. My centerpieces were done by the florist but all of the accent pieces and shoe station items were shipped by me and that added up quickly. The only other challenge is having to travel to the location to taste the food, and deal with other things that come up.
What's your advice for other couples planning a destination wedding at the Sirata Beach Resort?
Do everything early and give yourself time to do research and get organized. I had a binder and had all my vendors organized as well as alerts on my phone for appointments and payment due dates.
Vendors
Photographer: Limelight Photography
Reception Venue: Sirata Beach Resort
Wedding Gown: Essence of Australia
Flip Flops: Etsy
Hair/Makeup: Tiffany B and Chelsea of Destiny and Light
Barefoot Sandals: SubtleExpressions via Etsy
Bridesmaid Dresses: David's Bridal color: Lapis
Bridesmaid Robe: Etsy
Groom/Groomsmen Attire: Callahan golf pants; Banana Republic linen/cotton blend shirts
Groomsmen Gifts: Oakley sunglasses from Sunglass Hut; Monogrammed toiletry bags from Brookstone
Floral Designer: 2Birds Events Floral Studio
Cake Designer: Cakes By Carolynn
Draping: A Linen Valley
Officiant: Rev. Tom Greene (revtom(at)tampabay(dotcom)
DJ: Grant Hemond and Associates, Inc.
Cinema and Video: Lexoria Films
Favors: Salt scrub from Florida Salt Scrubs, Salt water taffy from Zeno's Boardwalk Sweet Shop
Featured:

Unique Poolside Bachelorette Party Inspiration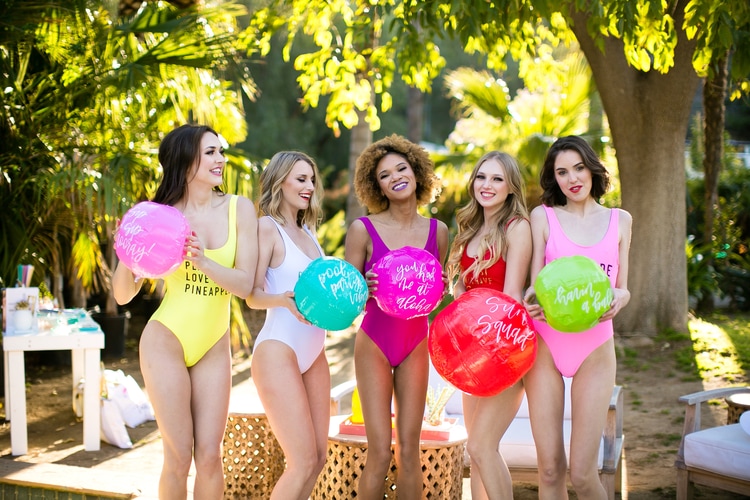 This unique tropical poolside bachelorette party is #GOALS! The décor was tropical, colorful and fun – bringing a cheery vibe that set the tone for a flawless and relaxed day. There were tons of personalized details –from sunscreen and chapstick, to soda and champagne, sun hats and fans, magazines, personalized tumblers, and even a wet bikini bag to hold their suit while they slipped into some adorable "Bride's Beaches" cover-ups. Of course, what's a good party without some fun games? Tons of fun ideas in this post. Read more
Featured:

New Orleans Destination Weddings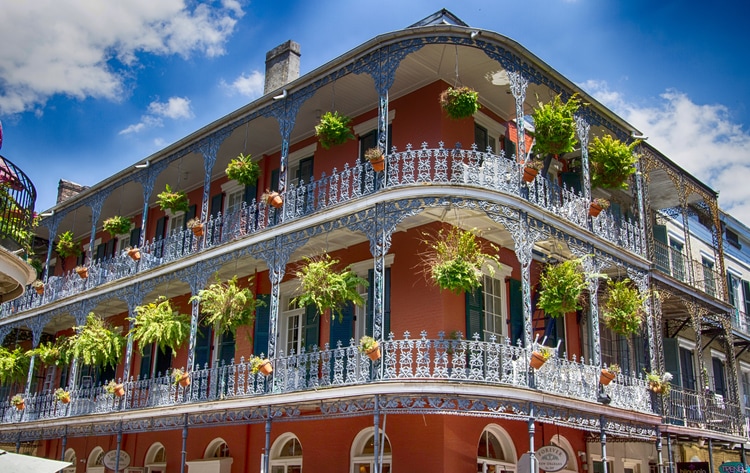 Here at Destination Wedding Details, we've seen it all: weddings at the beach, in the mountains, in the desert, and in pretty much every country. ALL beautiful, mind you… but through our years of observing what exactly makes for a GREAT wedding, we've surmised this: it must be FUN for you and your guests. So, ask yourself this: what city is more fun than New Orleans? Read our full post to discover when, where and how to get married in NOLA.
Cynthia is the founder and editor of Destination Wedding Details.She has over 15 years experience in the Marketing and Event industry and launched Destination Wedding Details in 2010, shortly after planning her own destination wedding. Cynthia uses her experience and genuine passion, to inspire brides who are planning their dream wedding away from home.