Hannah and Sam hosted an incredible destination wedding at the exclusive and private Blue Venado Beach Club in Playa Del Carmen. Surrounded by their closest friends and family, these two said "I do," right on the sand before throwing a grand fiesta to remember. Thankfully, we have these beautiful photos by the talented Carrie House to prove it.
I absolutely love this couple's style. Their MO was to remain true to the natural beauty of the beach and local flora while imparting their impeccable taste into everything from décor to attire. Hannah was glowing in her sexy lace gown, while Sam and his men looked classy in midnight blue. My favorite piece in the ceremony is the palm frond donned altar designed with an asymmetrical arrangement that framed the couple as they read their vows. Its lush greenery is echoed in each of the girls' simple bouquets which overflow with rich greenery and beautiful white flowers. And the folks at Cherry Blossom absolutely nailed Hannah's bouquet – I mean, I don't think I can express my love for the big, bad protea enough. This flower is exquisitely show-stopping and seems to have been destined to end up in gorgeous bridal bouquets.
Hannah and Sam were sure to show their guests a good time – they ended the night with a rave on the dancefloor! And I love that they chose to go with churros in lieu of cake – I can get behind that becoming a trend! What a festively unique way to treat your guests to something sweet between dance-offs.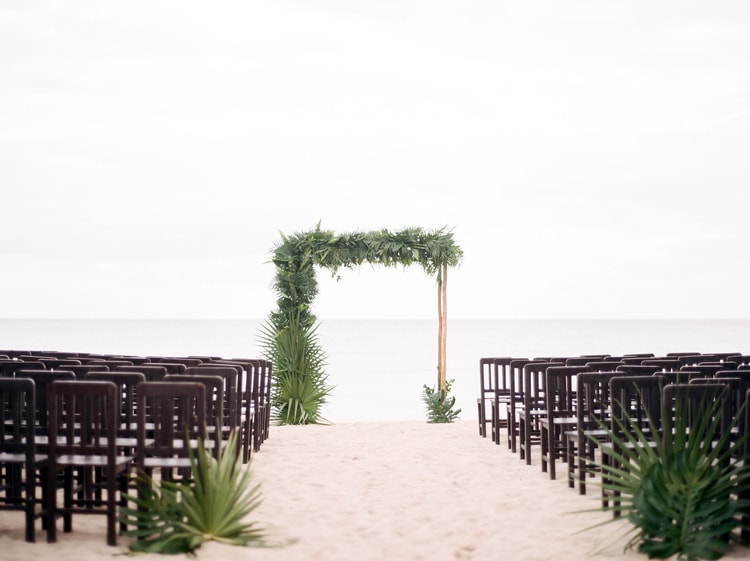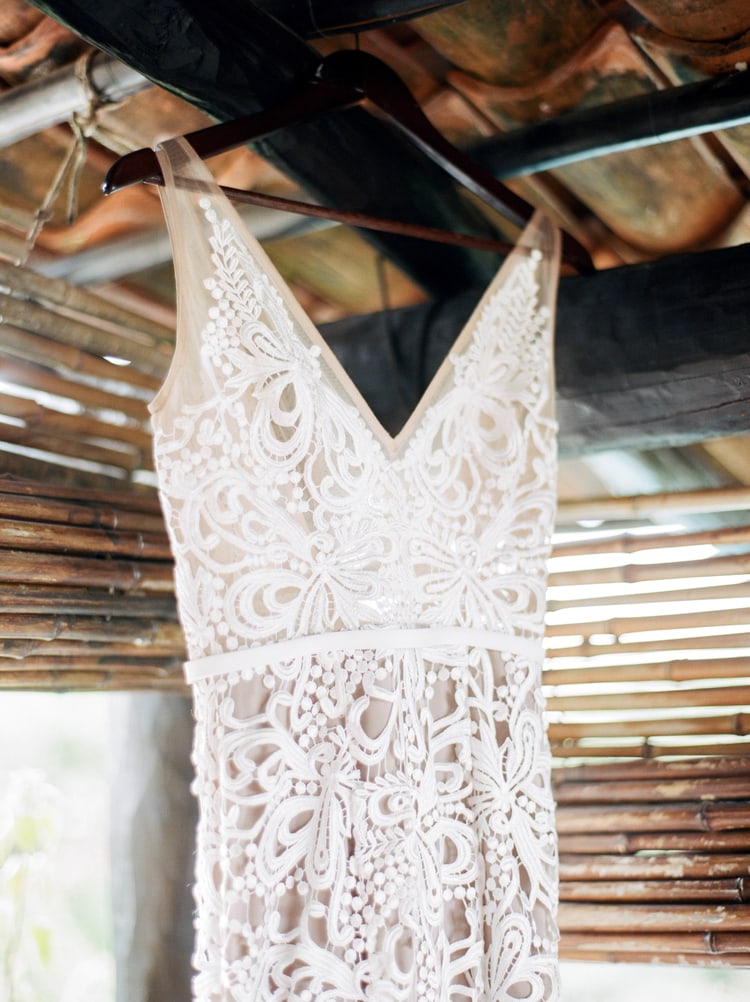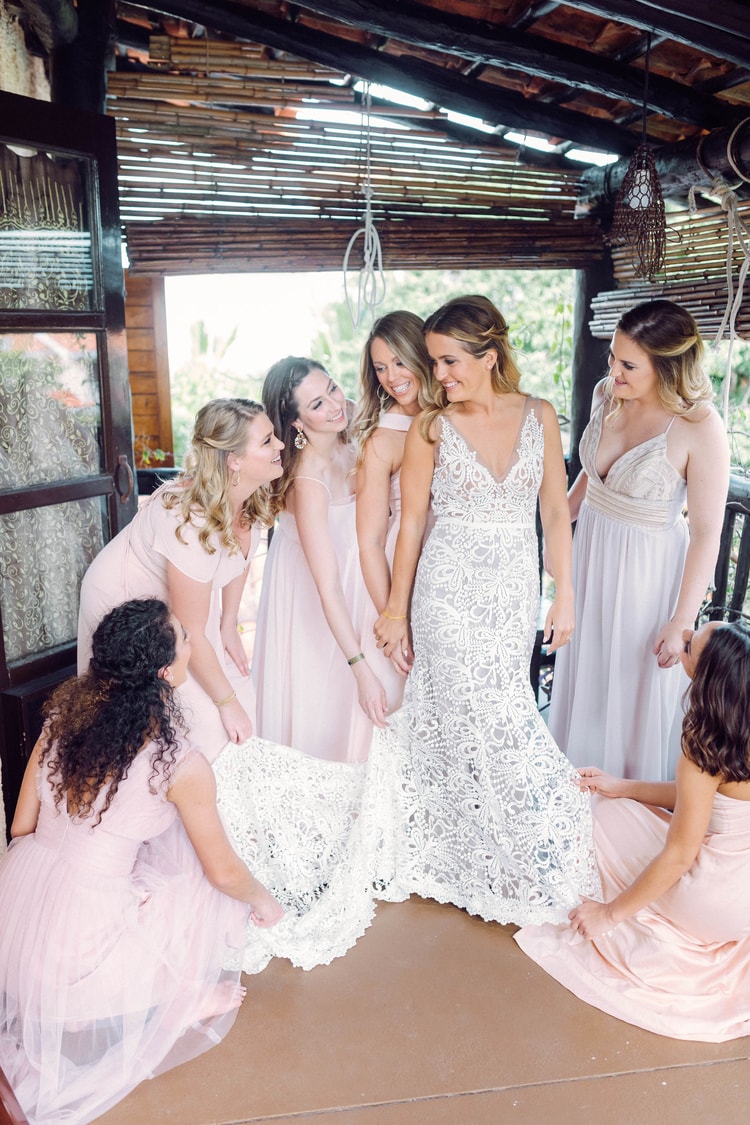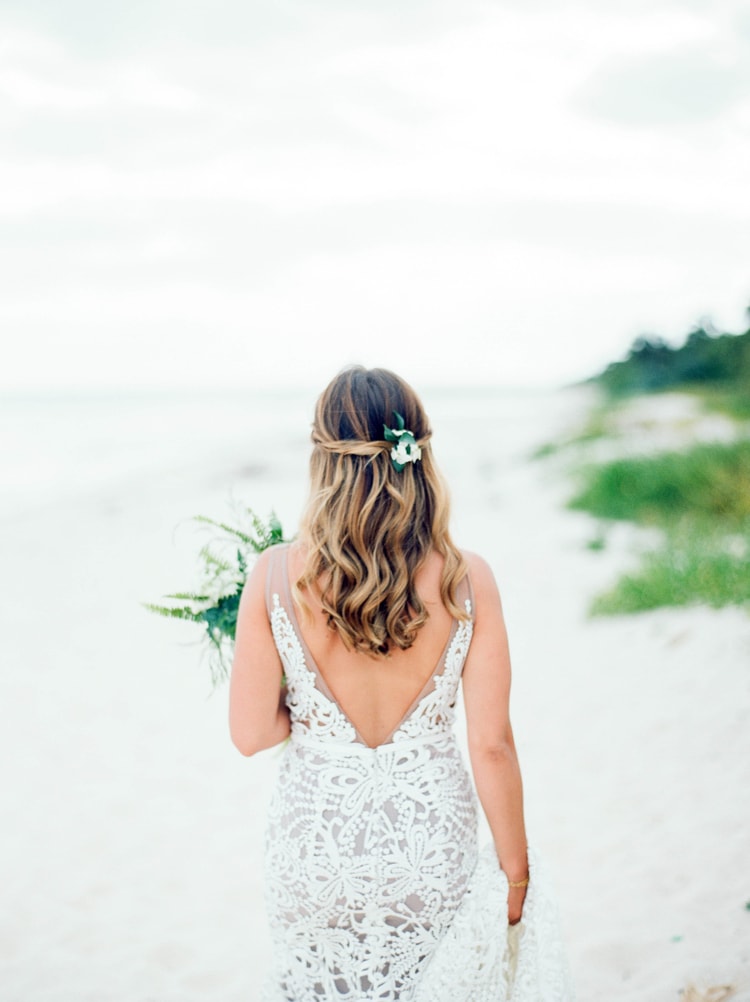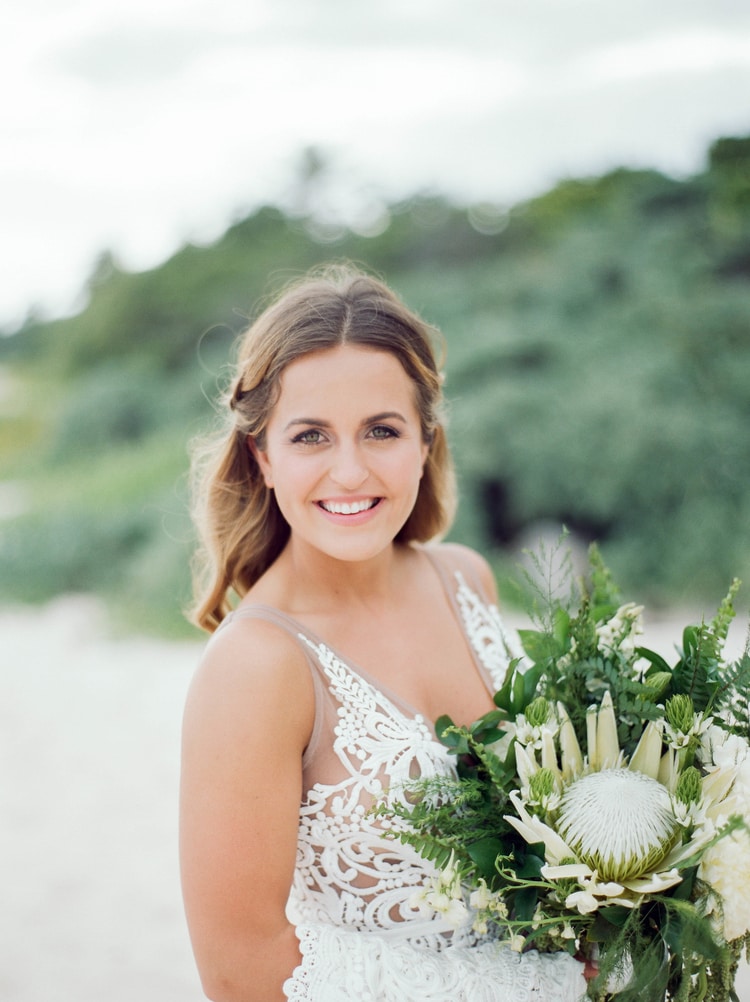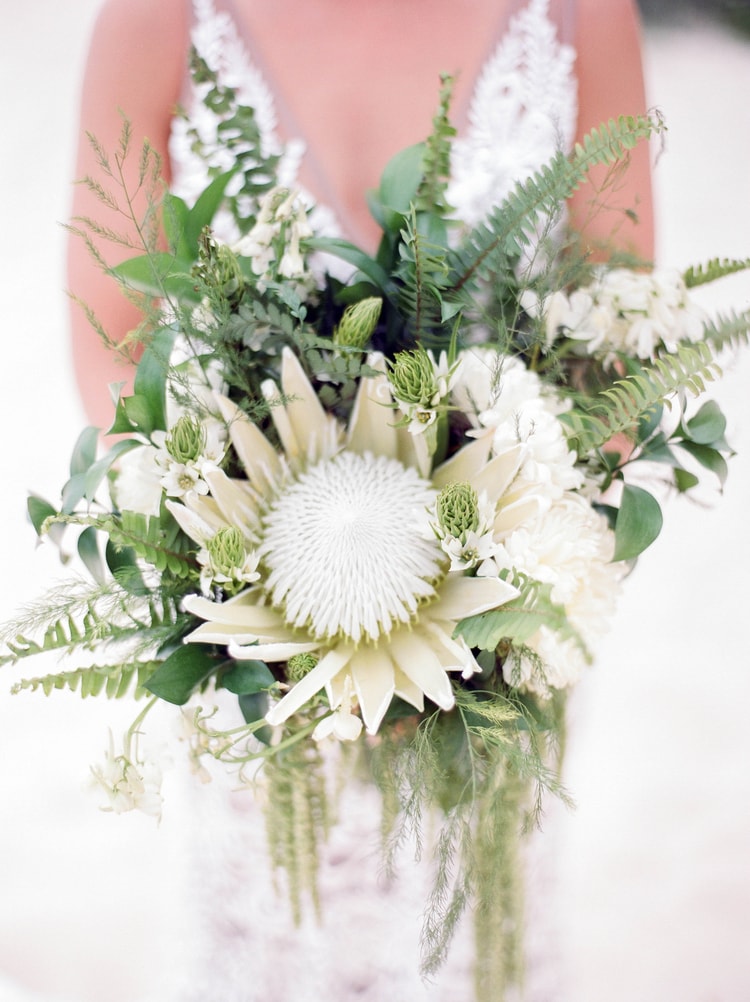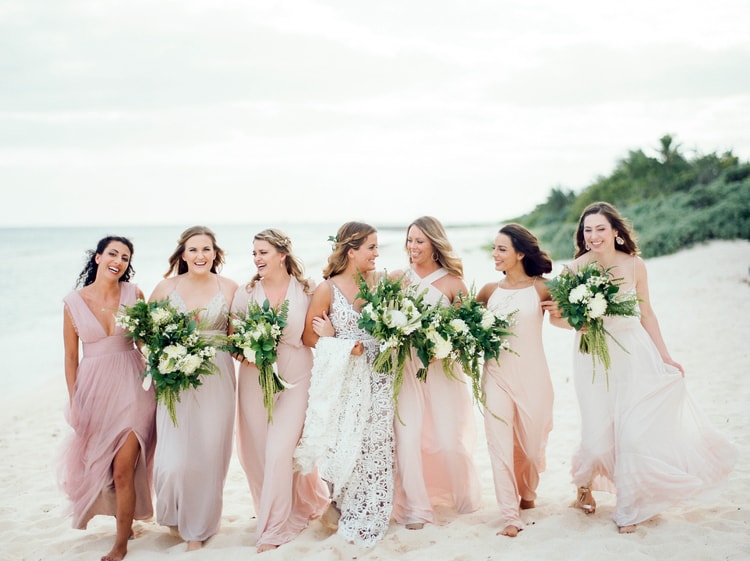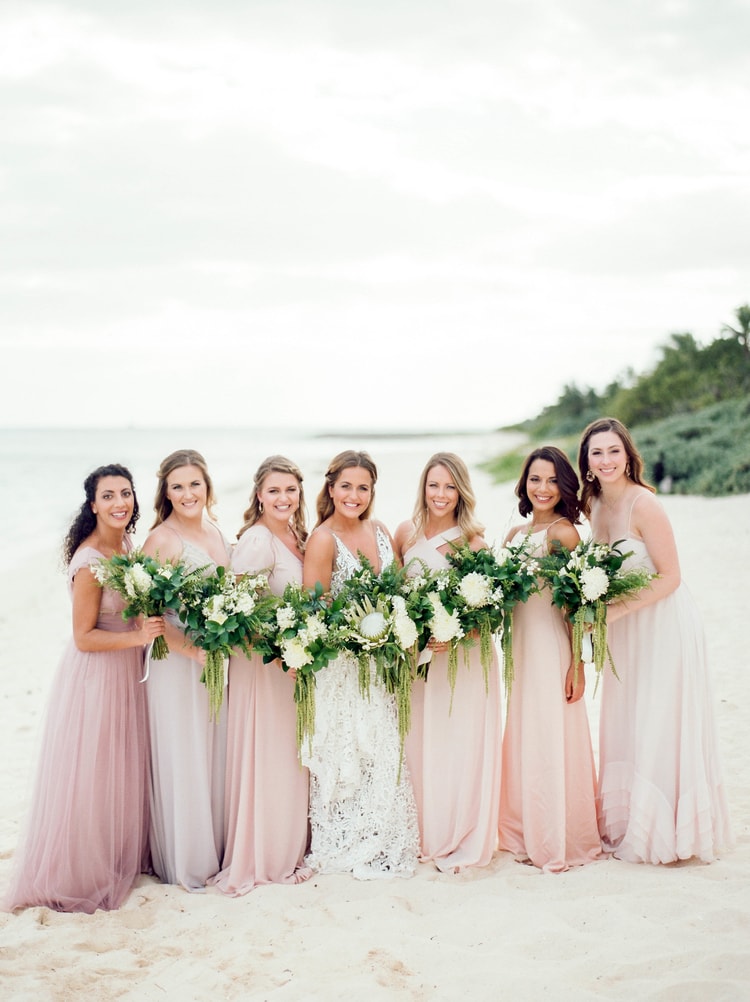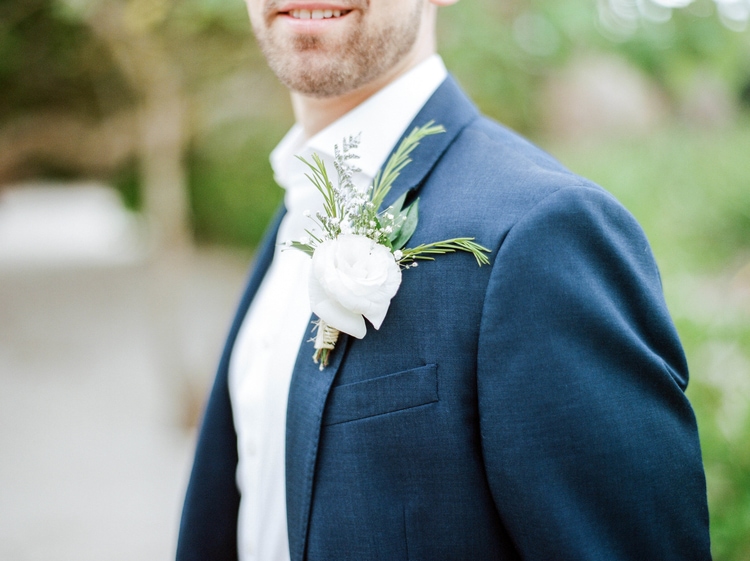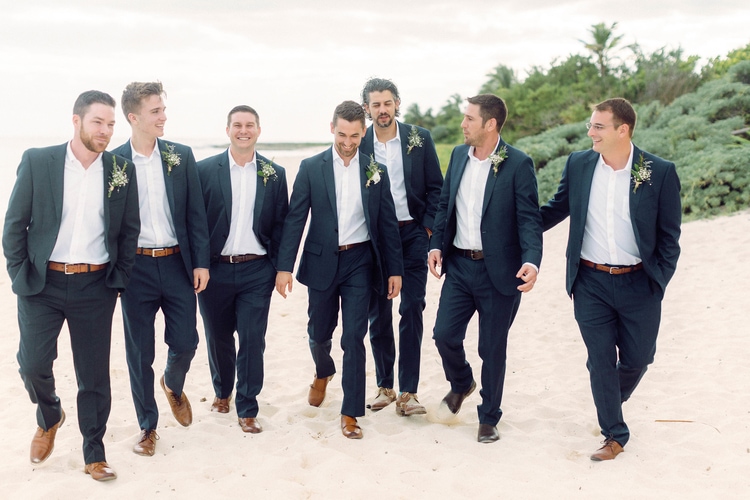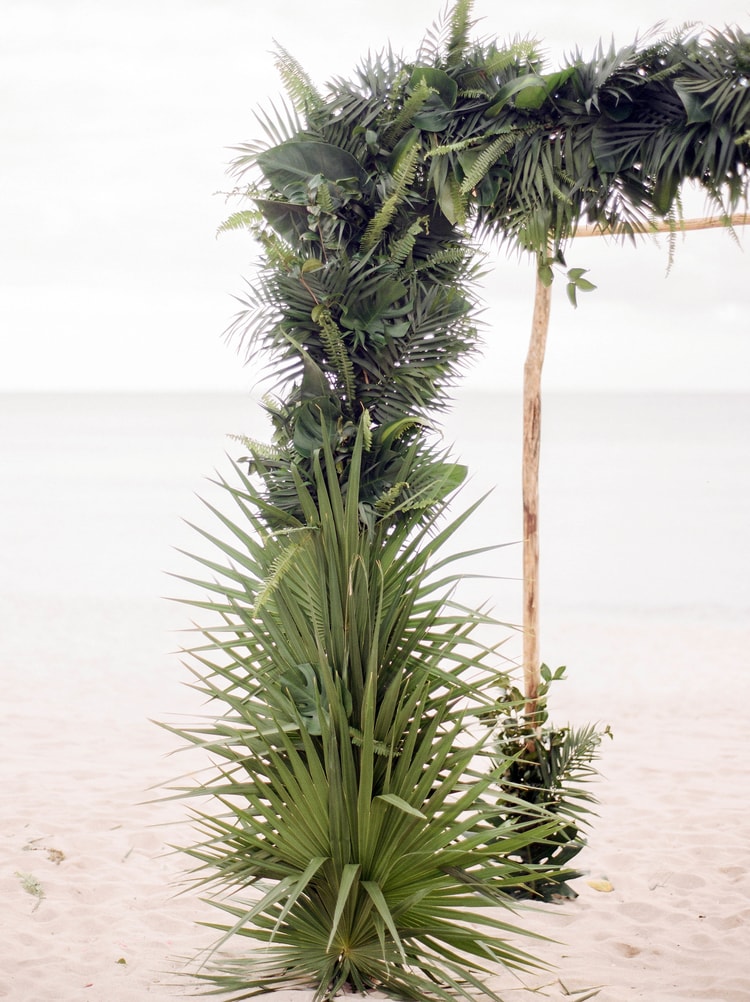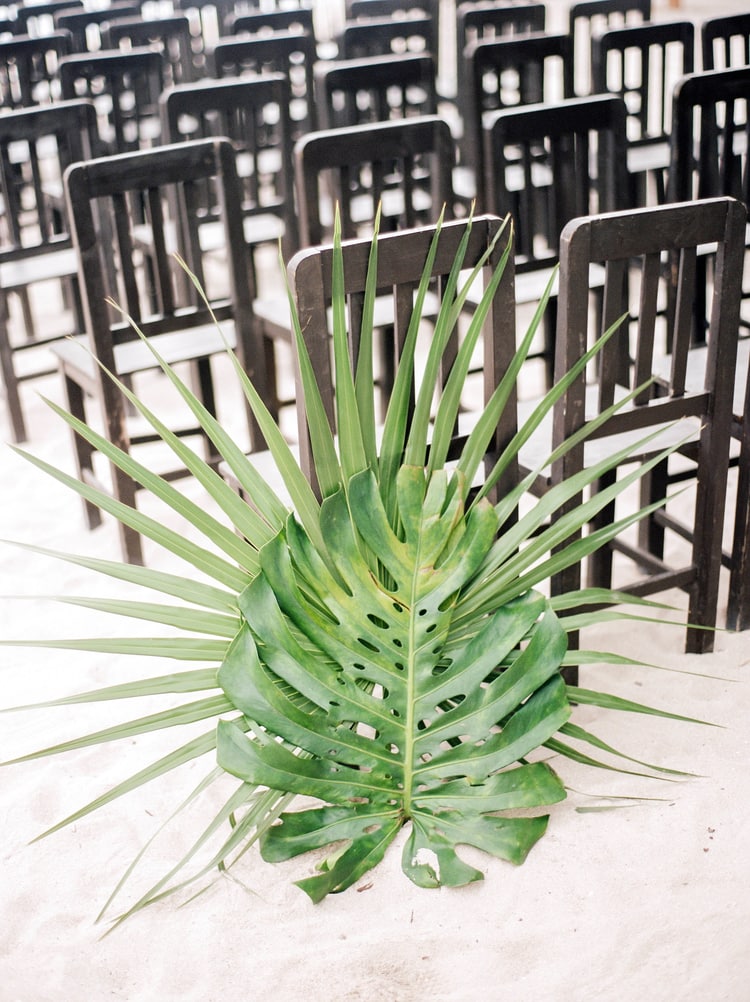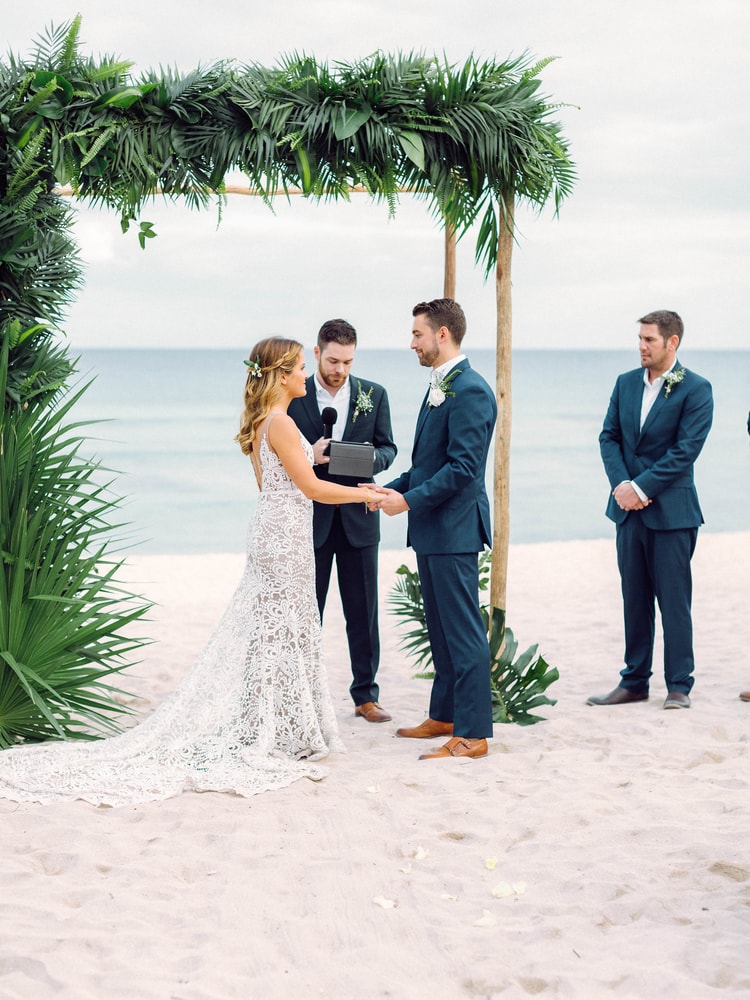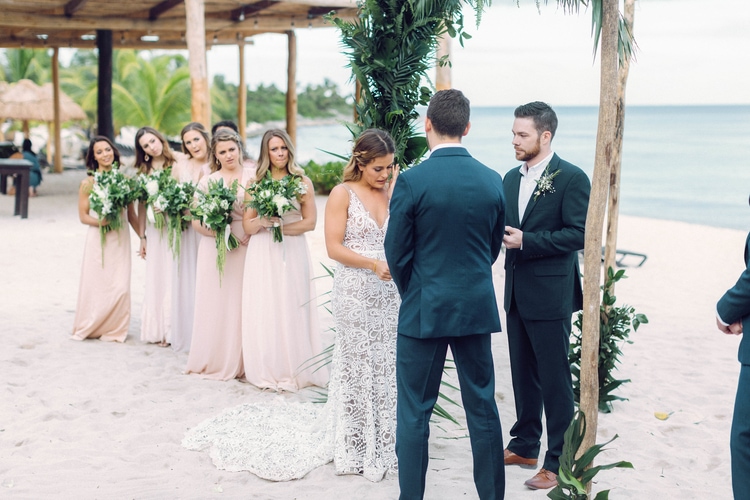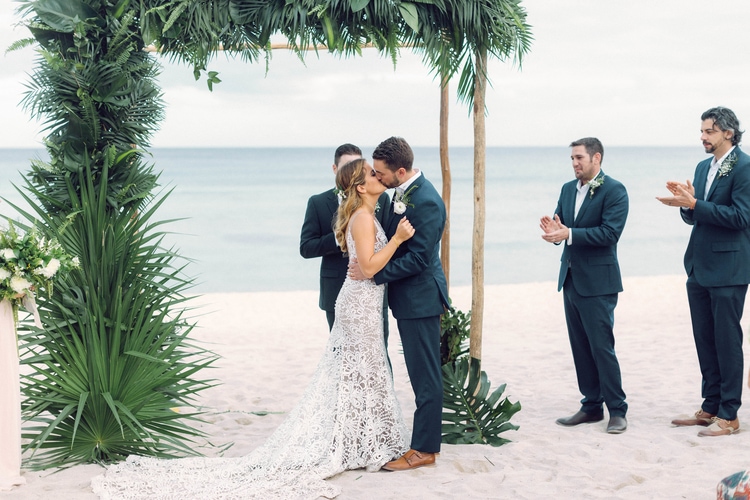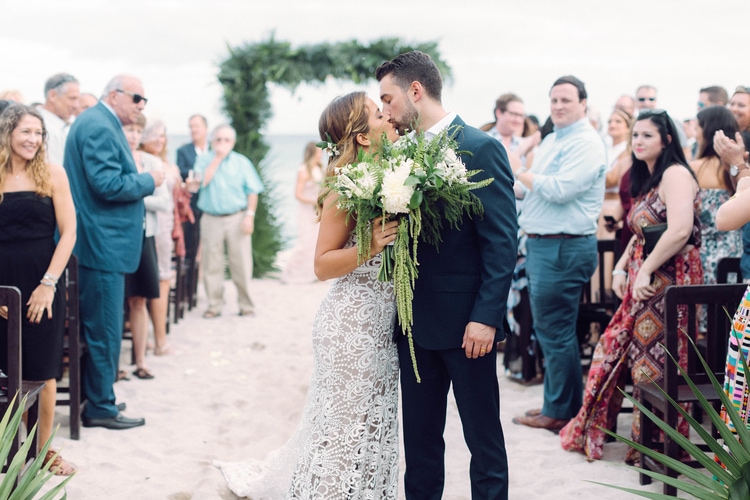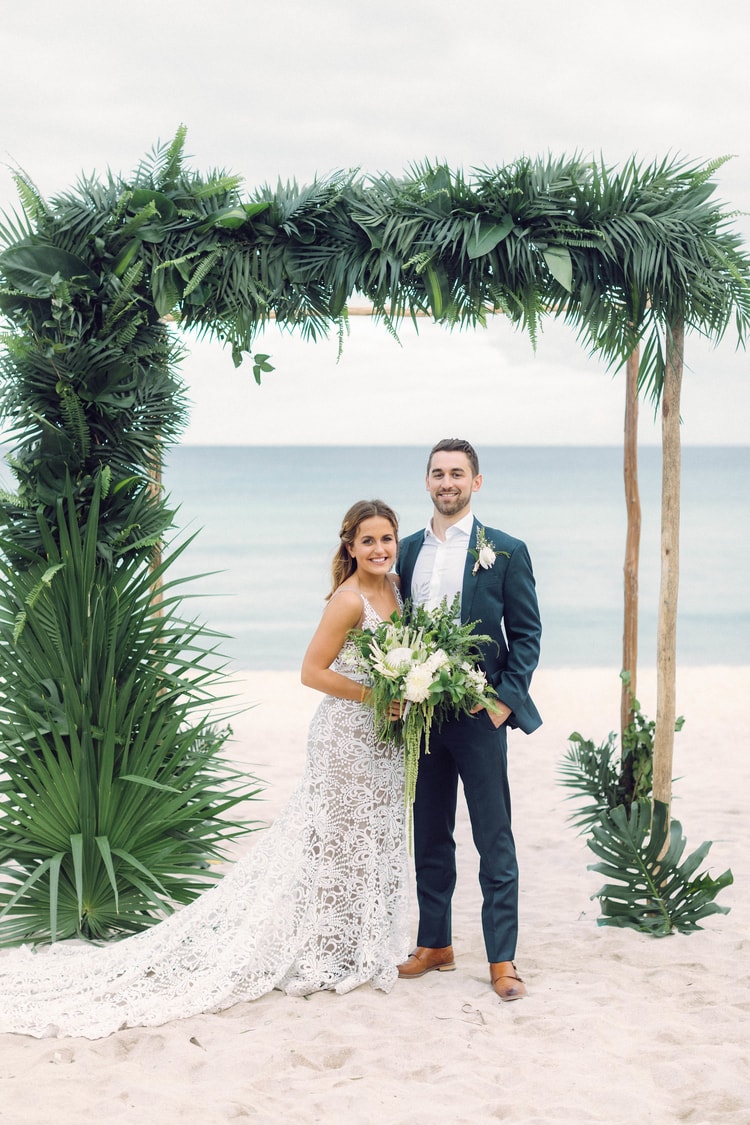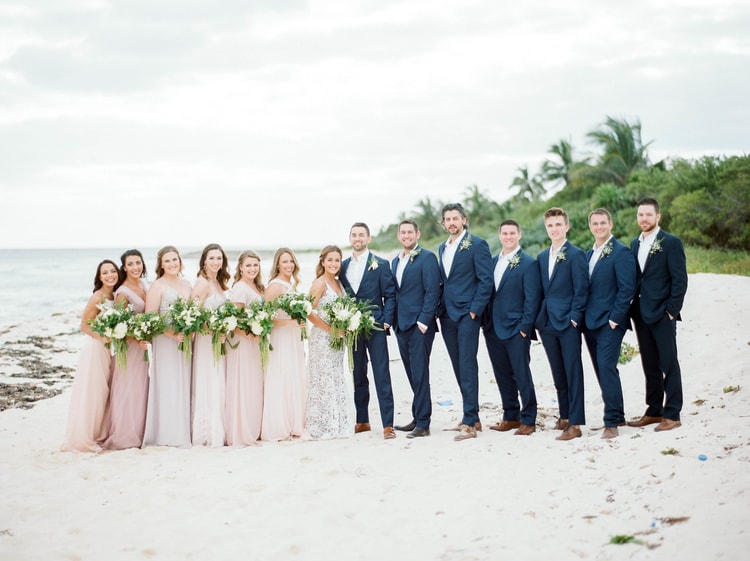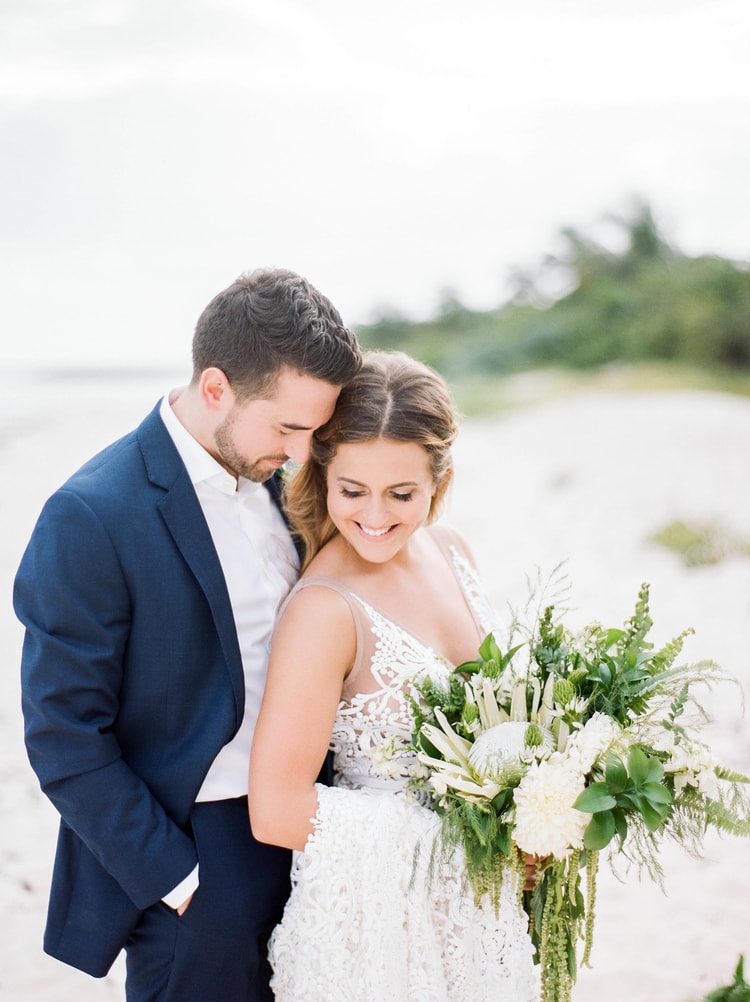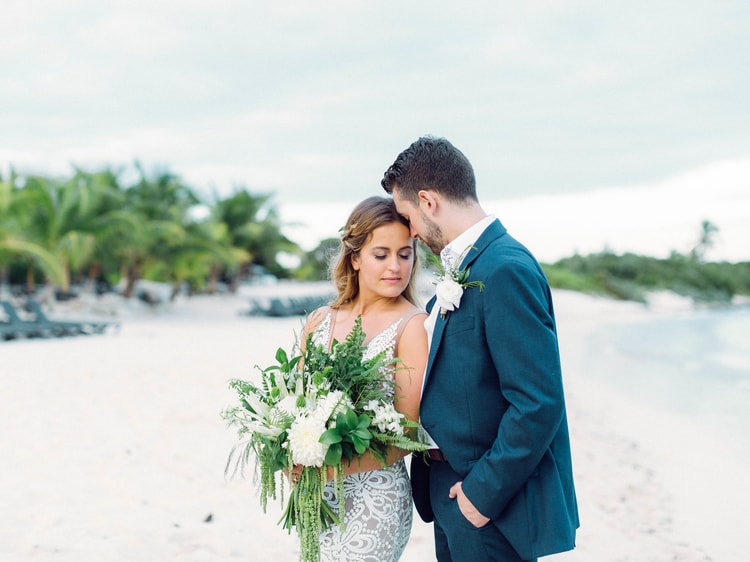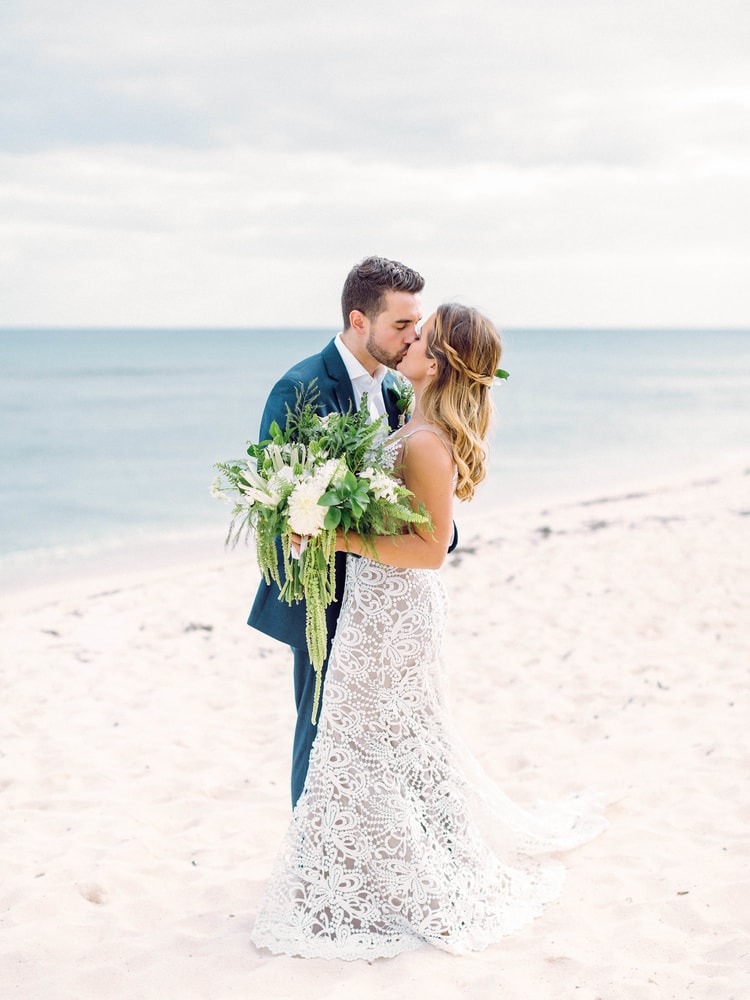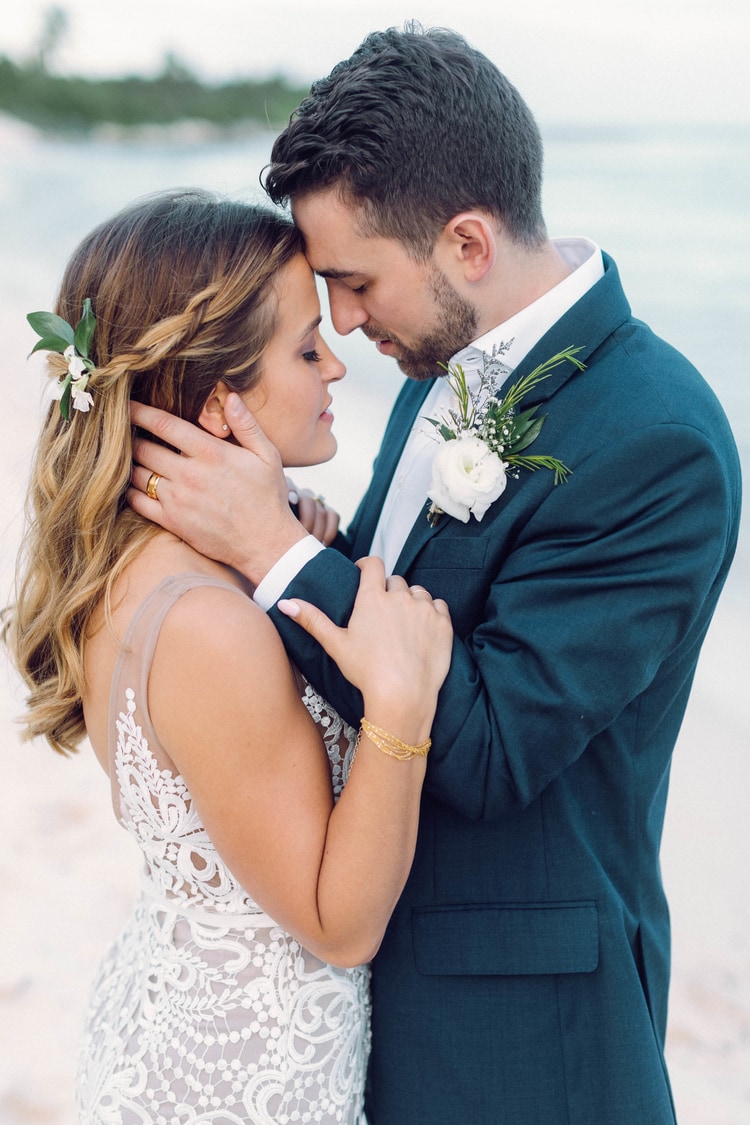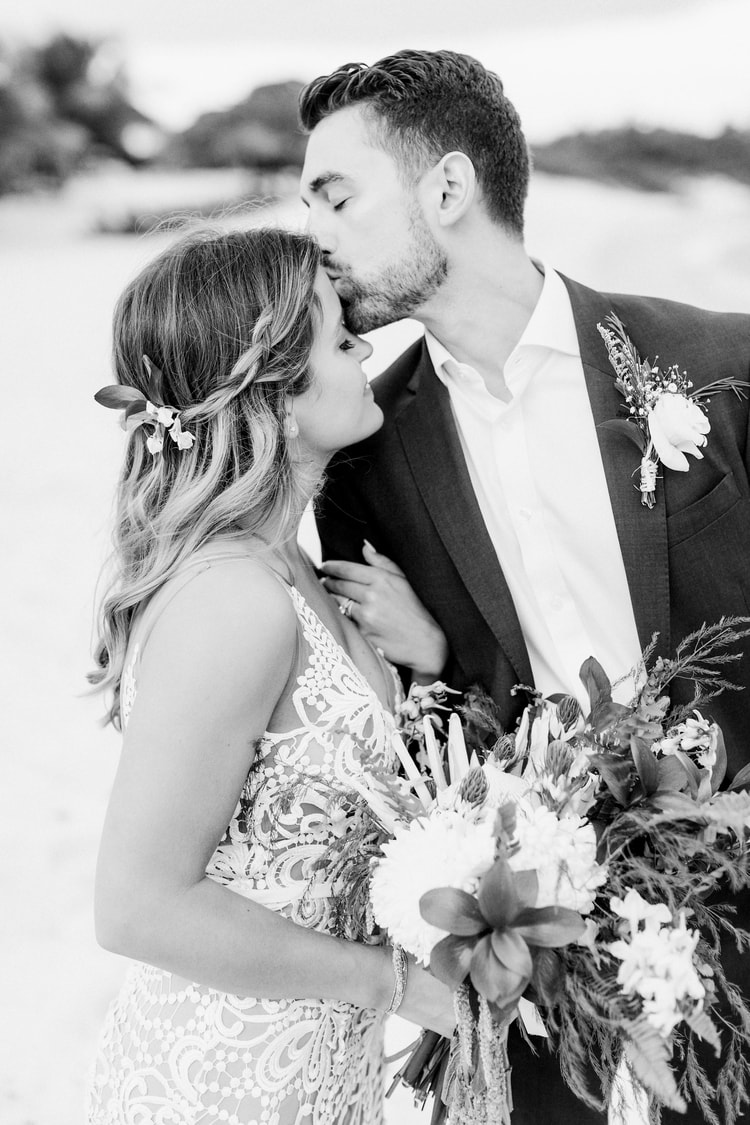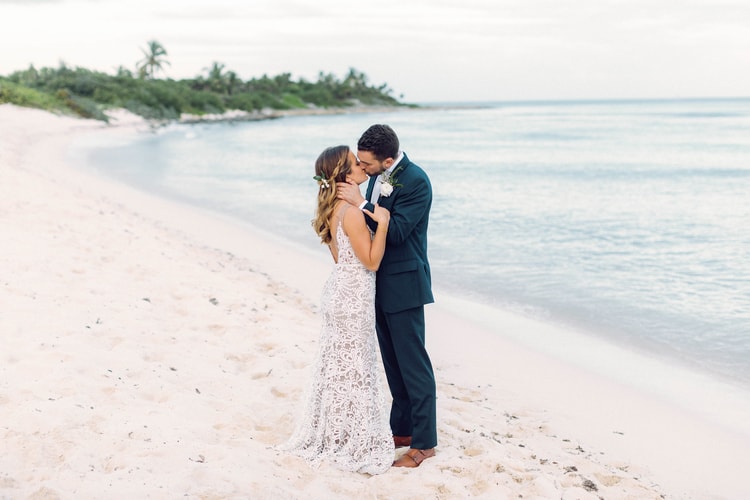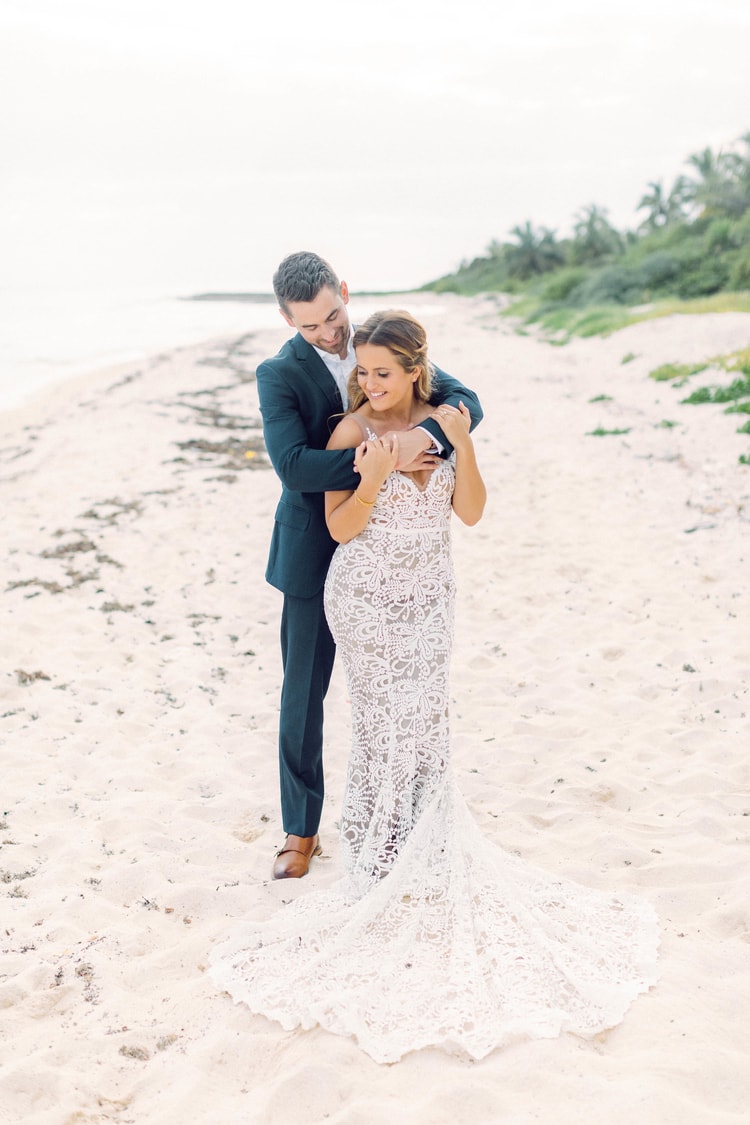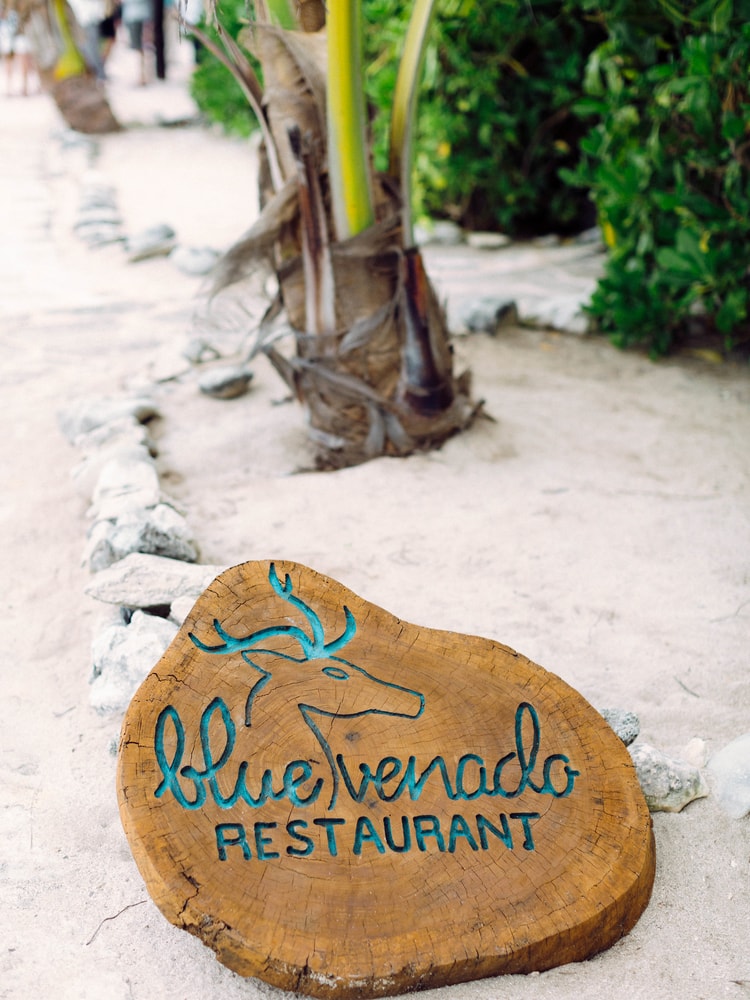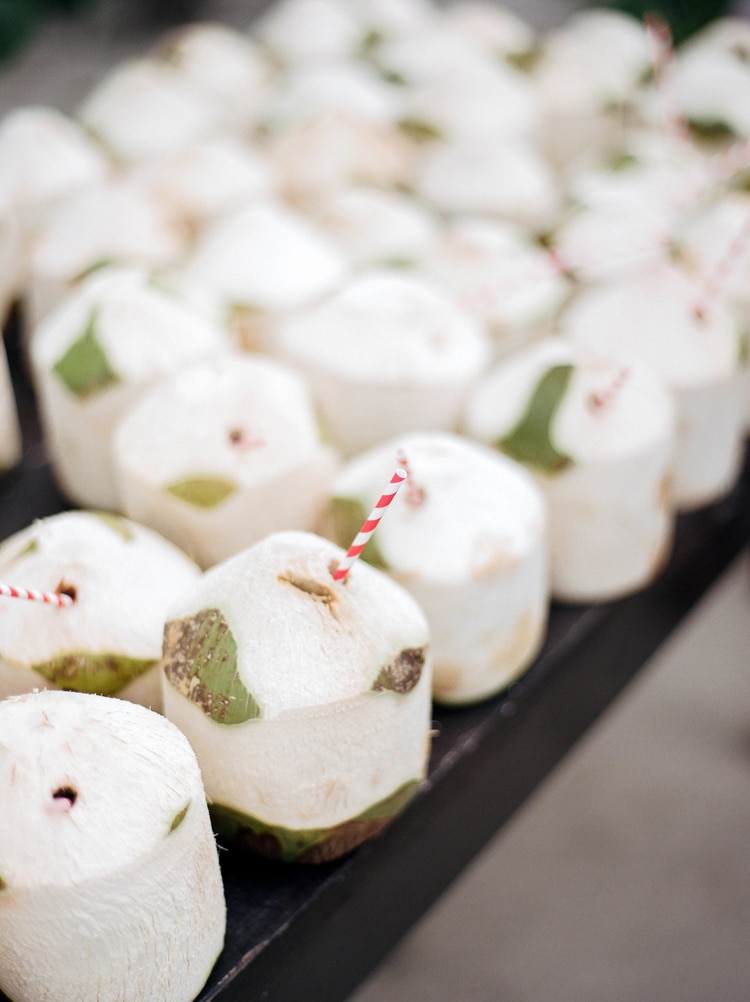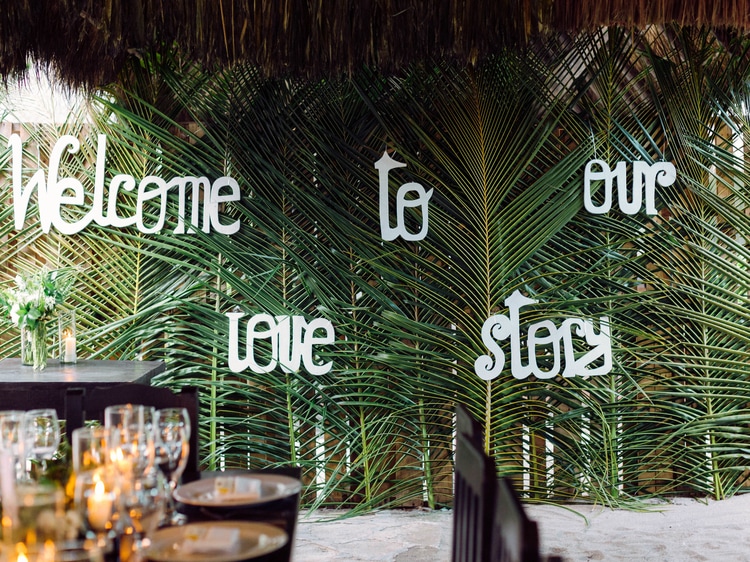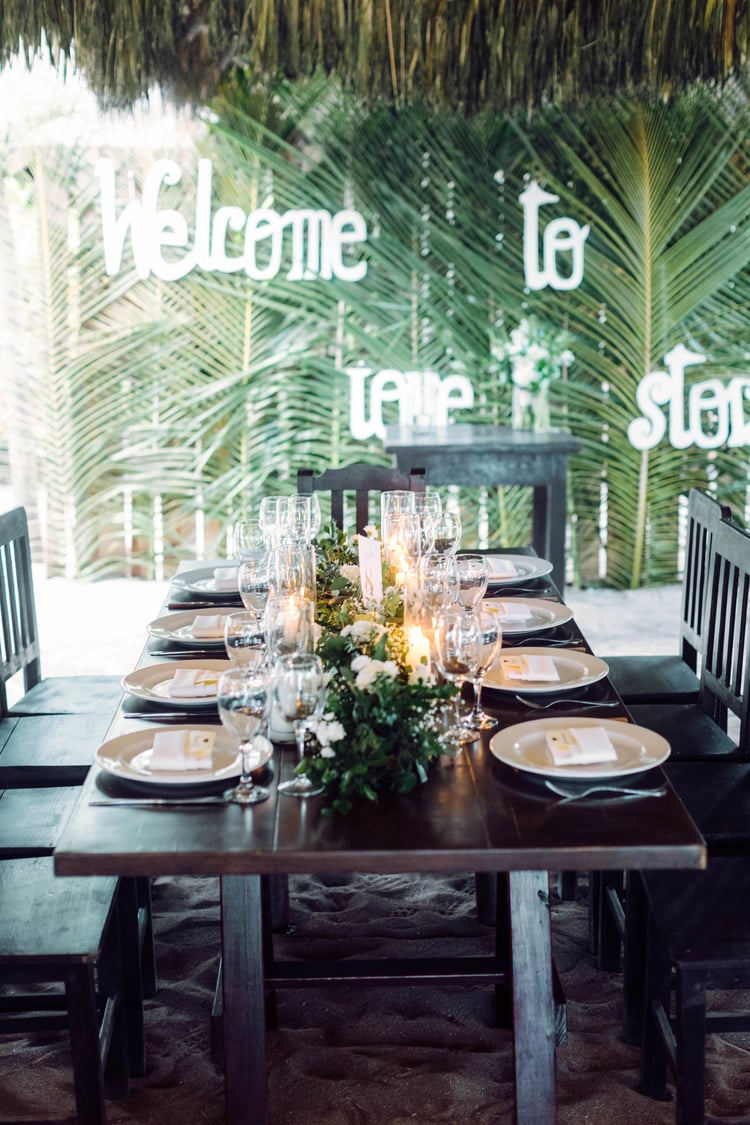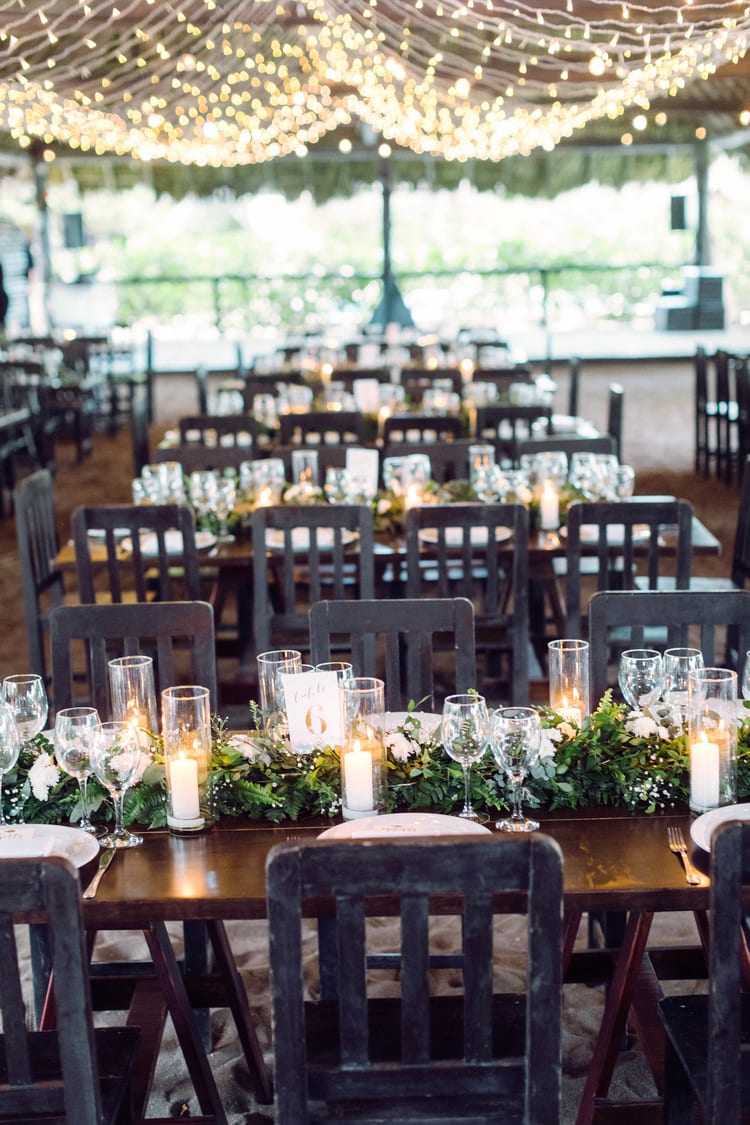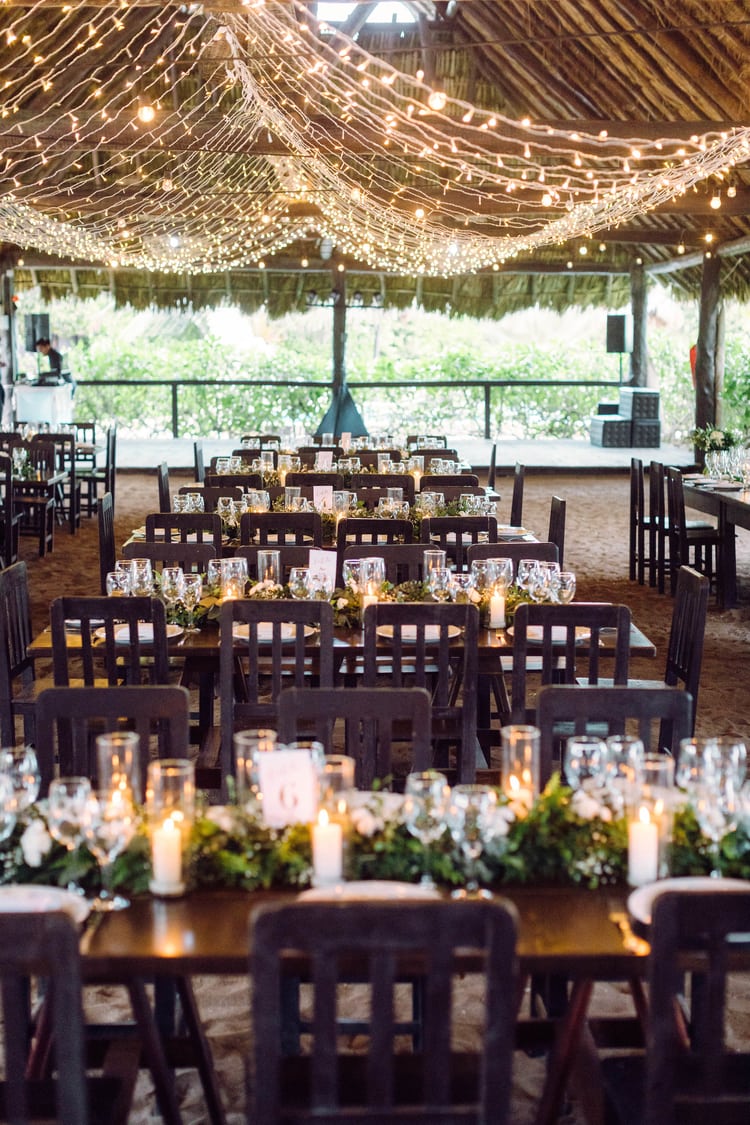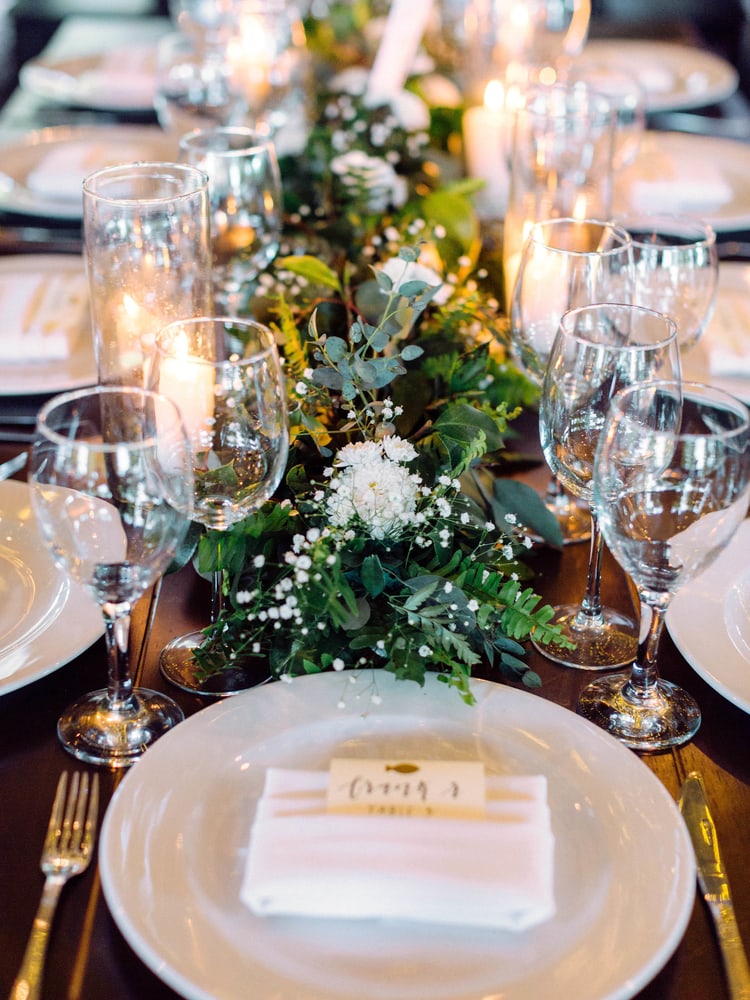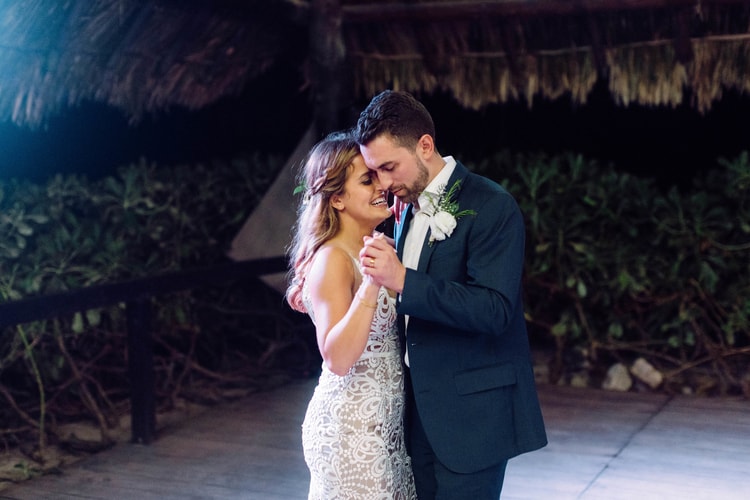 How did you meet?
Sam and I met at a friend's lake house in Northern Michigan many years ago. For years we were just friends and that friendship grew into something pretty amazing!
What is your proposal story?
We live in Chicago, and one of our favorite things to do is to go on long bike rides through the city along the lakeshore. One beautiful summer day we biked 13 miles along the lake and finished the day with a glass of wine on our rooftop. That's where Sam asked me. It was very simple and very us.
How did you decide to have a destination wedding at Blue Venado Beach Club?
At first, we toyed with the idea of having a wedding in Michigan (as we are both from the same town), but we quickly realized just how many people we would have there and how expensive it would be! We also both wanted a more intimate wedding and we quickly decided on a destination. Sam had been to Playa del Carmen a number of times and offered it up as a choice. We booked a trip to check it out and I fell in love. It was the perfect place to spend the week with family and friends and to tie the knot!
Tell us about your destination wedding dress.
After we got engaged I started looking at dresses online and immediately fell in love with Made With Love Bridal. They are an Australian brand and it was a bit difficult to find a boutique that carried the line even in Chicago! After stopping at a few other boutiques, I finally got to try on the dress that I had been eyeing for months. It fit perfectly and I was in love!
What was the most important to the two of you while planning?
While planning, we just kept talking about the vibe we wanted at the wedding. Our wedding planner Lucy was amazing and ran with our ideas to create something special. We wanted it to be relaxed, beautiful, and a big fiesta. I think that it was definitely all of those things 🙂
What were your favorite parts of the day?
We chose to write our own vows and hearing Sam's heartfelt words was probably my favorite part of the day. The rave on the dance floor was a close second!
Tell us about your destination wedding flowers.
I absolutely loved our wedding flowers. I wanted flowers that were simple and really played up the surrounding elements. Our bouquets were filled with beautiful greenery and some white flowers. I loved the protea in my bouquet!
Tell us about your wedding cake.
We chose to do something a little unconventional when it came to cake. We found an amazing local vendor to make homemade churros for our guests. They were delicious!
Do you have any advice for couples planning their destination weddings now?
Relax! Things WILL go wrong but nobody will even know 🙂
What was the best part of having a destination wedding?
The quality time that we got spend with friends and family throughout the week was definitely the best part of having a destination wedding.
What was the biggest challenge of planning your destination wedding?
The biggest challenge was getting everyone to the venue, as we needed to bus everyone to an off-site location. This was a bit difficult logistically but it all worked out perfectly!
Vendors:
Photography: Carrie House Photography | Venue: Blue Venado Beach Club | Event Planning: Lucy Gallagher | Floral: Cherry Blossom | Makeup: Zoe Elizabeth | Wedding Dress: Made With Love | Groom's Attire: The Black Tux | Submitted via: Matchology
Featured:

Unique Poolside Bachelorette Party Inspiration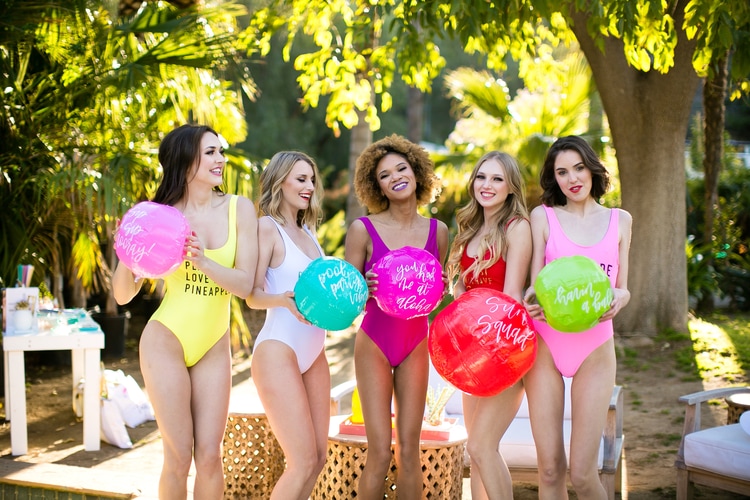 This unique tropical poolside bachelorette party is #GOALS! The décor was tropical, colorful and fun – bringing a cheery vibe that set the tone for a flawless and relaxed day. There were tons of personalized details –from sunscreen and chapstick, to soda and champagne, sun hats and fans, magazines, personalized tumblers, and even a wet bikini bag to hold their suit while they slipped into some adorable "Bride's Beaches" cover-ups. Of course, what's a good party without some fun games? Tons of fun ideas in this post. Read more
Featured:

New Orleans Destination Weddings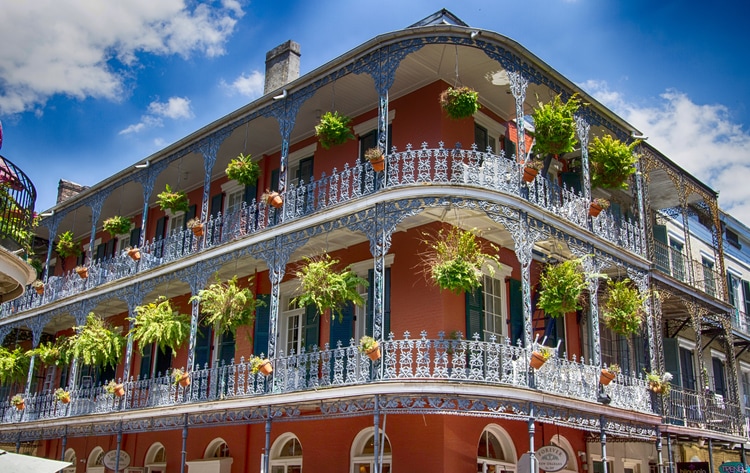 Here at Destination Wedding Details, we've seen it all: weddings at the beach, in the mountains, in the desert, and in pretty much every country. ALL beautiful, mind you… but through our years of observing what exactly makes for a GREAT wedding, we've surmised this: it must be FUN for you and your guests. So, ask yourself this: what city is more fun than New Orleans? Read our full post to discover when, where and how to get married in NOLA.
Erin is a New England native living in Cincinnati, OH. For the last six years she has served as Communications Manager for a large home service franchise, working as a freelance writer in her spare time. She has been a contributing editor for Destination Wedding Details since early 2017. Inspired by a desire to plan a uniquely personal destination wedding herself, Erin draws on experience to bring relatability and humor to her writing.