When I first saw Elle & Jacob's destination wedding in Captiva Island, I was totally smitten. And when I heard their story, I was even more impressed because it proves that a wedding can turn out amazing, even when mother nature has other plans. The couple had planned for a ceremony on the grass near the beach, a cocktail hour on the beach at sunset, and a tented reception. But a storm moved in right before the ceremony- wiping clean most of their plans! Their wedding planner scrambled to turn their tent into a last-minute ceremony chapel, and then back into a reception tent! And not just any reception tent. The décor – described by the bride as a balance between "organic and preppy" – was absolutely stunning! The talented team at Impressions Photography was there to capture every detail, and the beautiful bride is here to share her inspiration. Enjoy!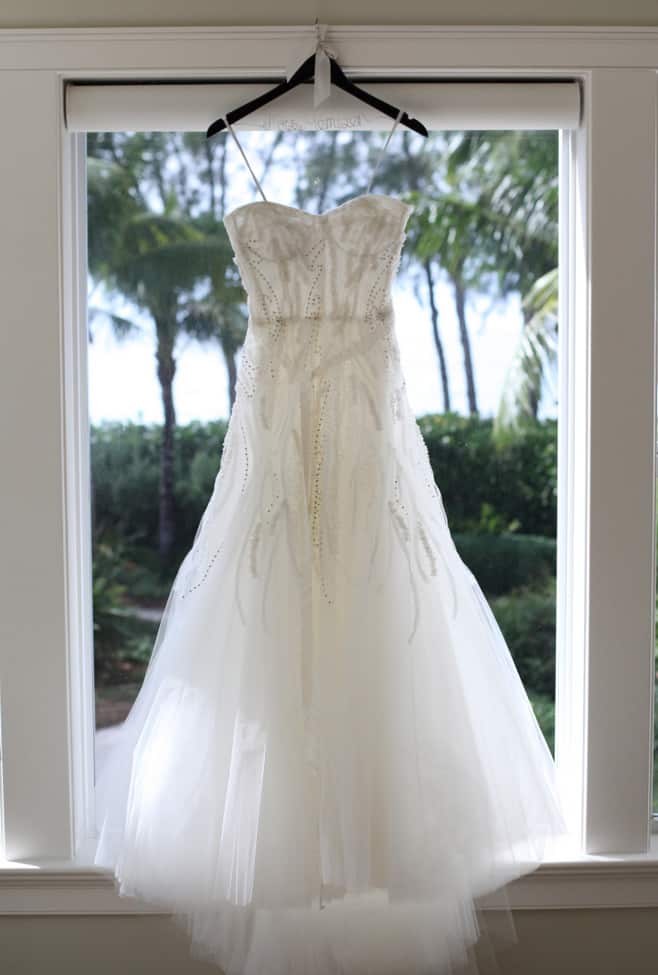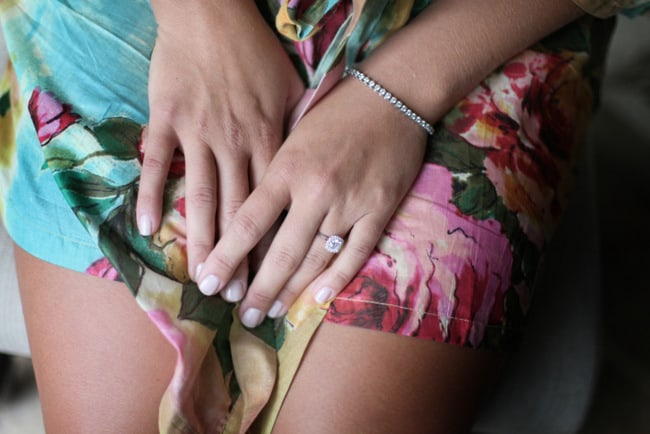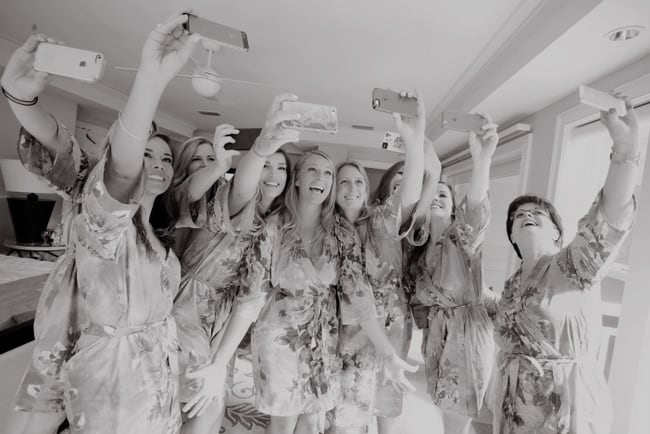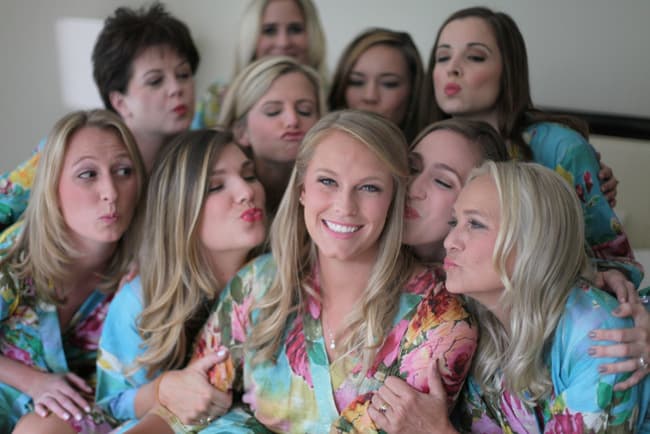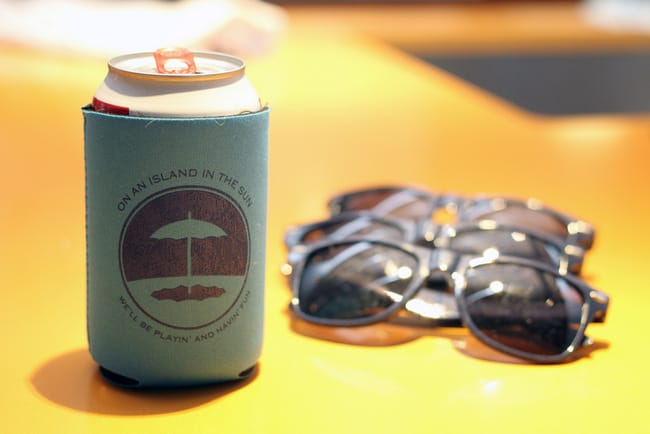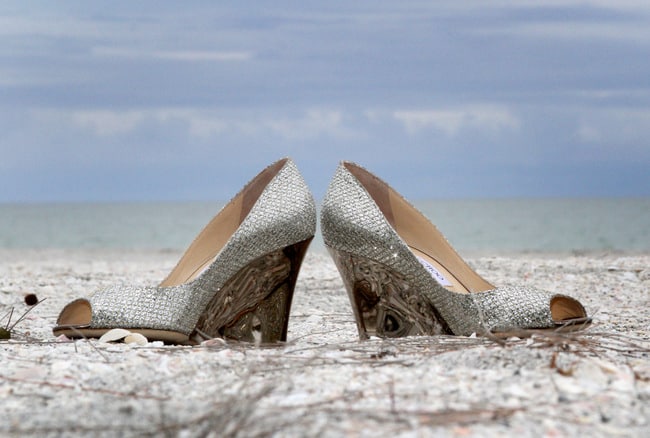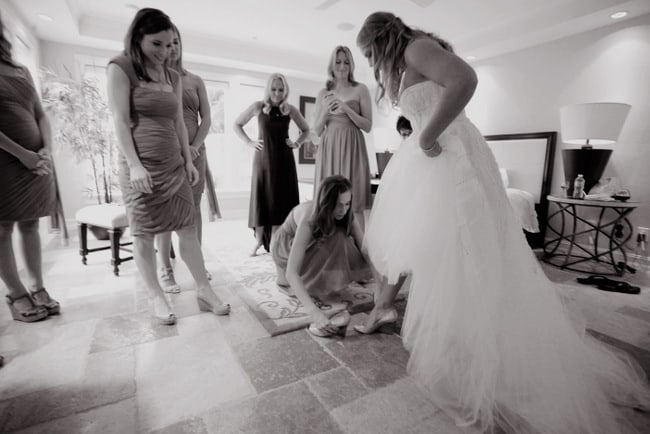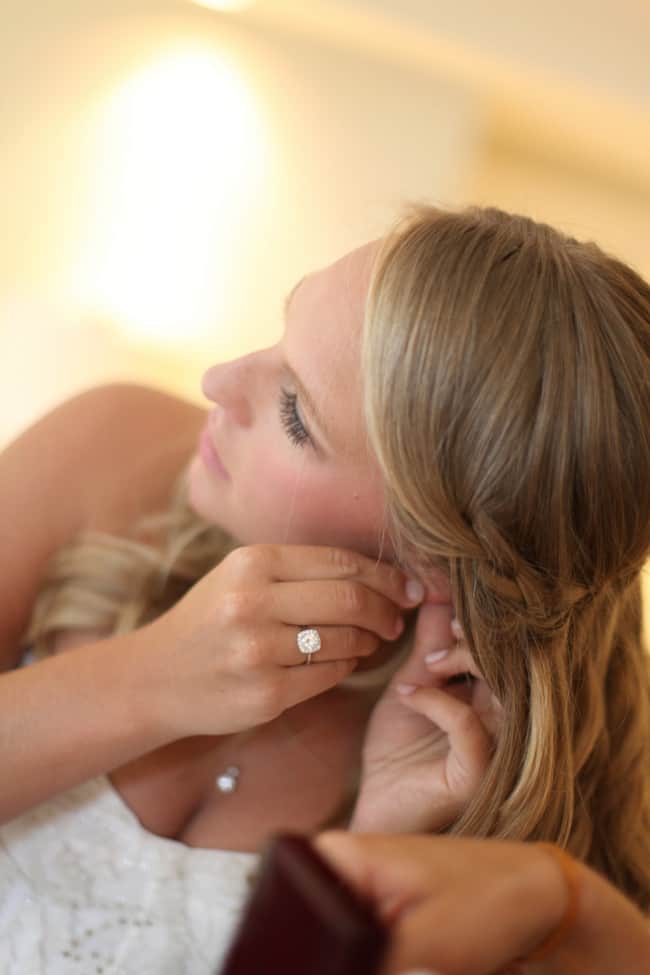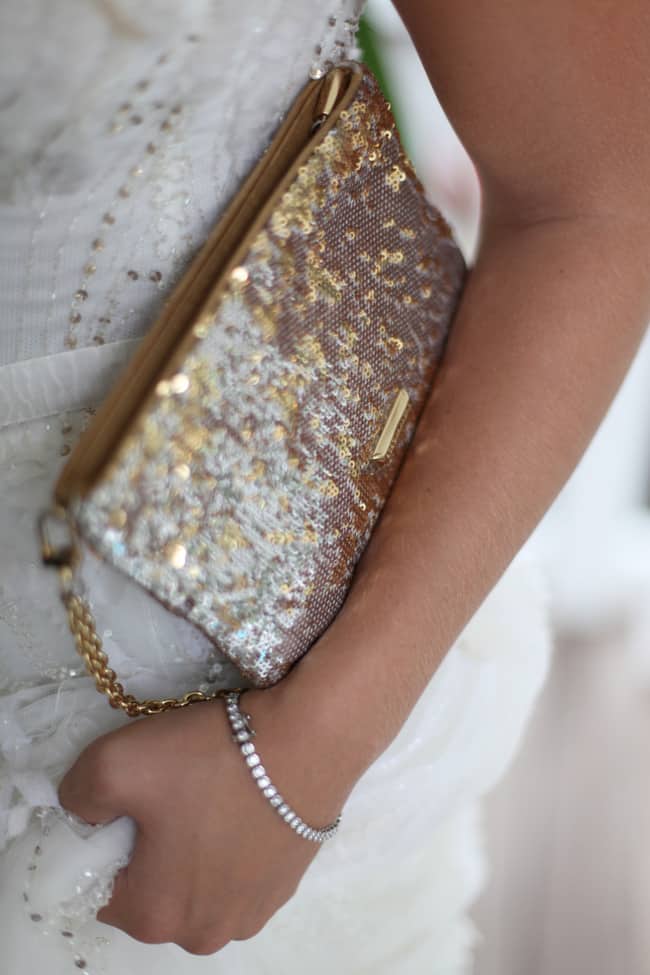 The bride on her sources of inspiration:
When I think of Captiva, I think of lush green mangroves with exposed branches, tall tan seagrass, creamy white beaches, bright yellow sunshine, slate blue buildings and dark blue water. We wanted the wedding decor to reflect that gorgeous natural setting. But I did not want to go in a tropical direction.

We lovingly nicknamed the décor "hurricane-ravaged chic" as much of it was inspired by the look and feel of South Seas after it was hit by Hurricane Charley in 2008.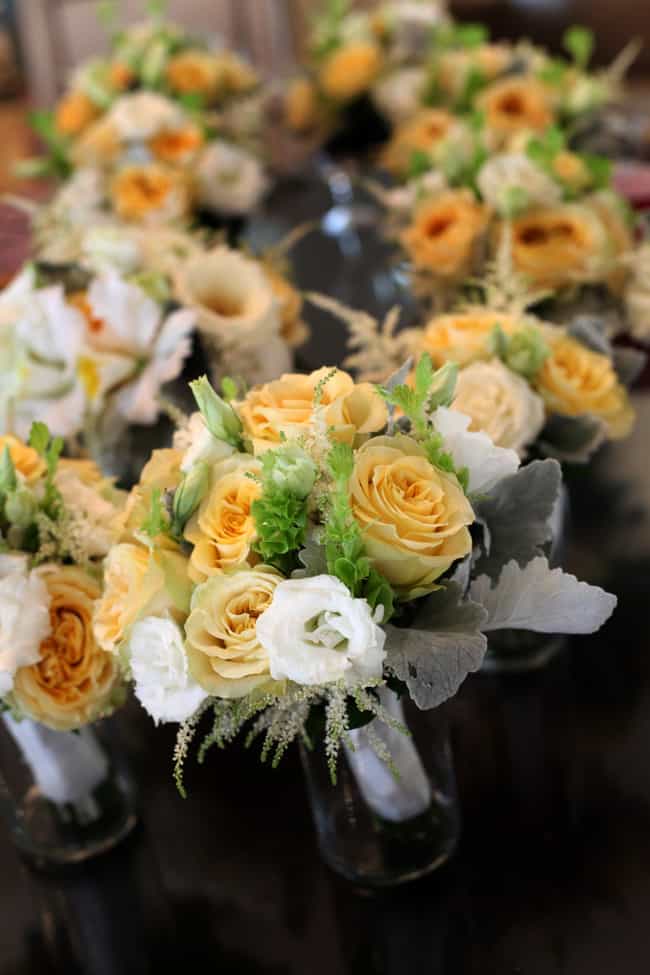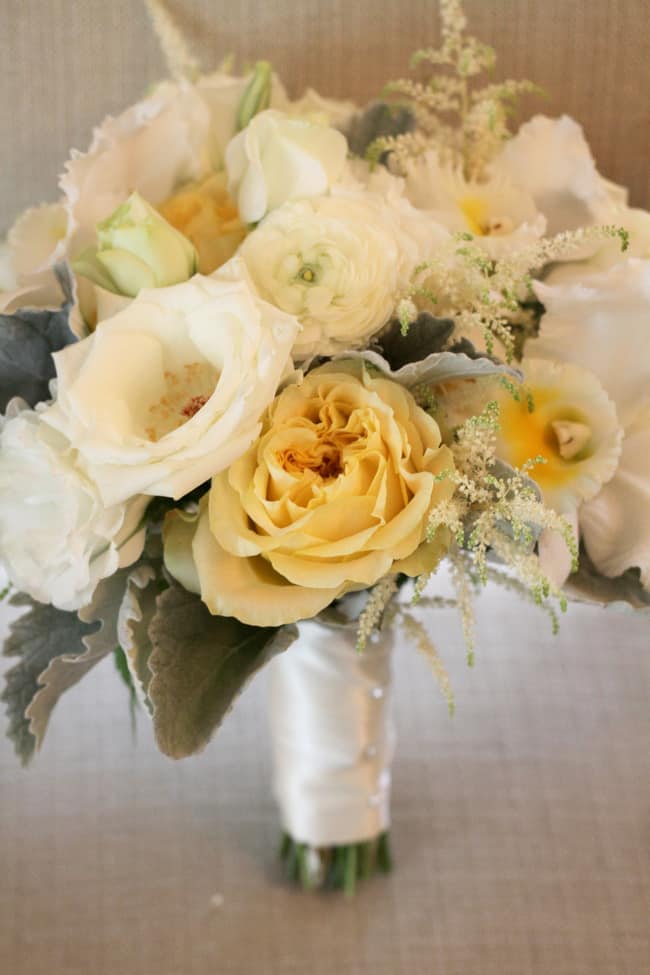 Most of the buildings at South Seas are painted this great slate-blue color that I absolutely love, and I wanted to mimic that in the wedding. I found Monique Lhullier dresses in "French Blue" at Bella Bridesmaid, that were the perfect shade of greyish blue. I gave the girls the color and fabric type (silk chiffon) and let them pick whatever style they liked best. Working through Bella Bridesmaid made the whole process easy since my bridesmaids were all over the country!

The boys, including Jake, all got custom navy blue suits made through Indochino. It was great because they could customize the lining (Jake and my brother chose matching American Flag print!). We got the boys Brooks Brothers ties. They were mainly yellow with different navy blue, light blue and white patterns. Jake's tie was the same color palette but he had a bolder striped tie rather than a pattern.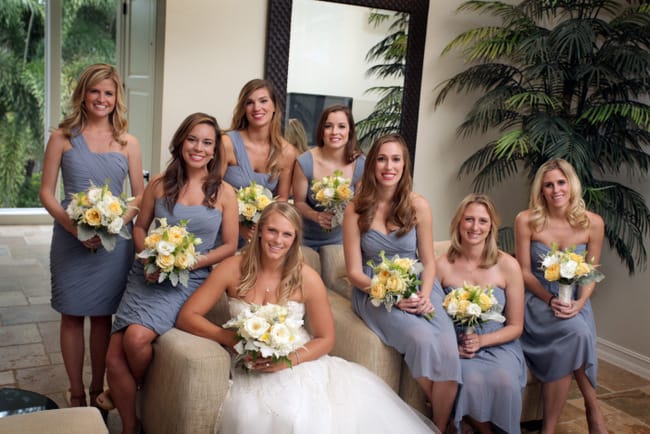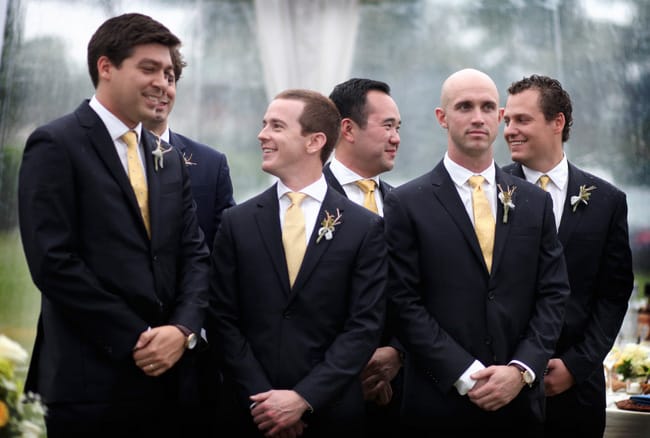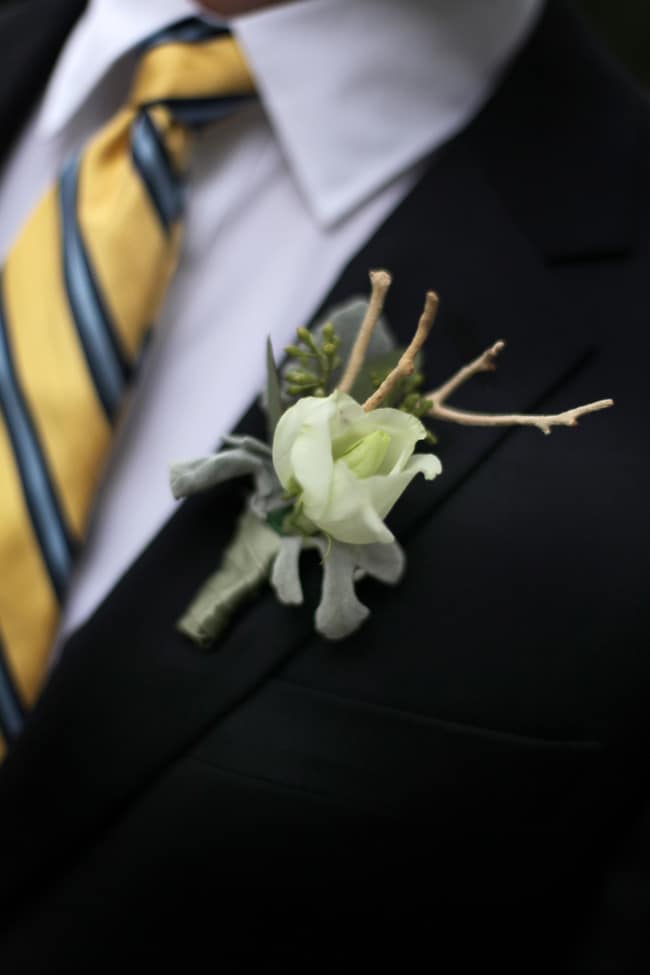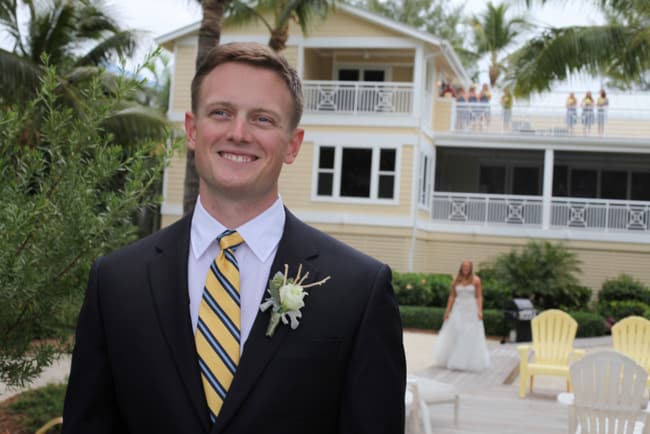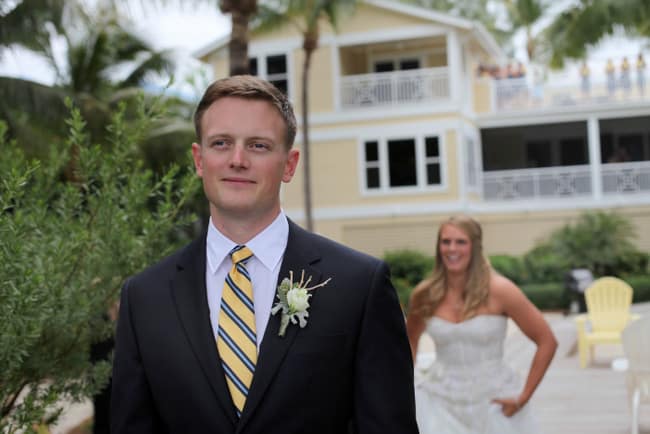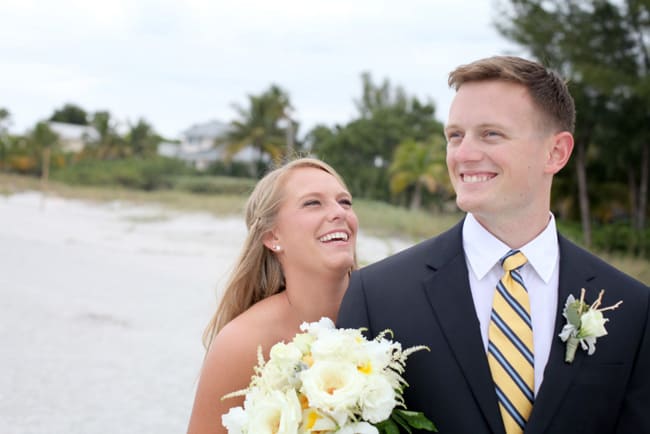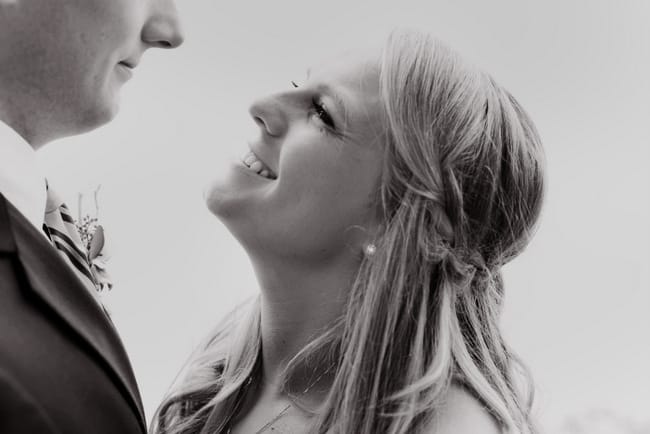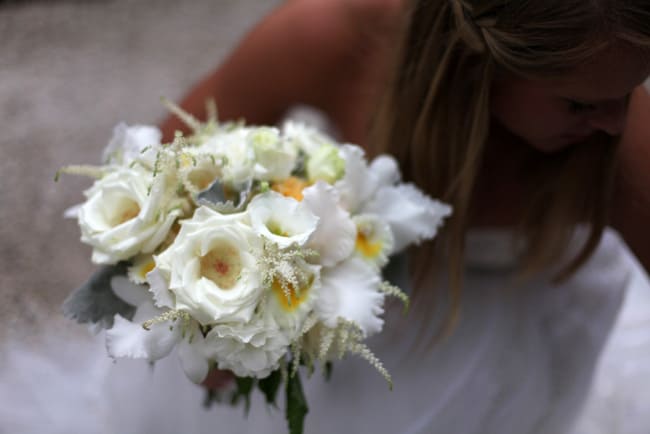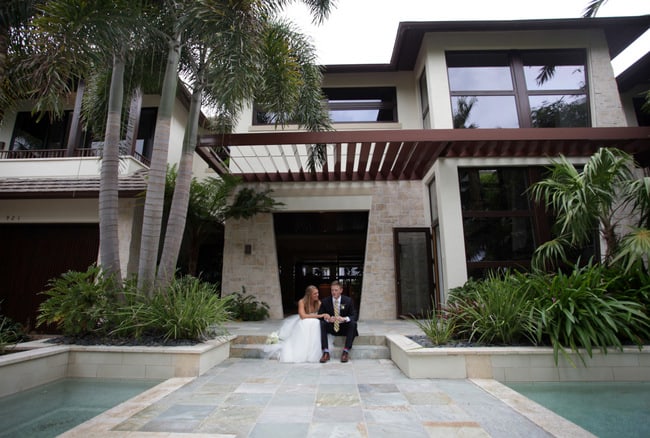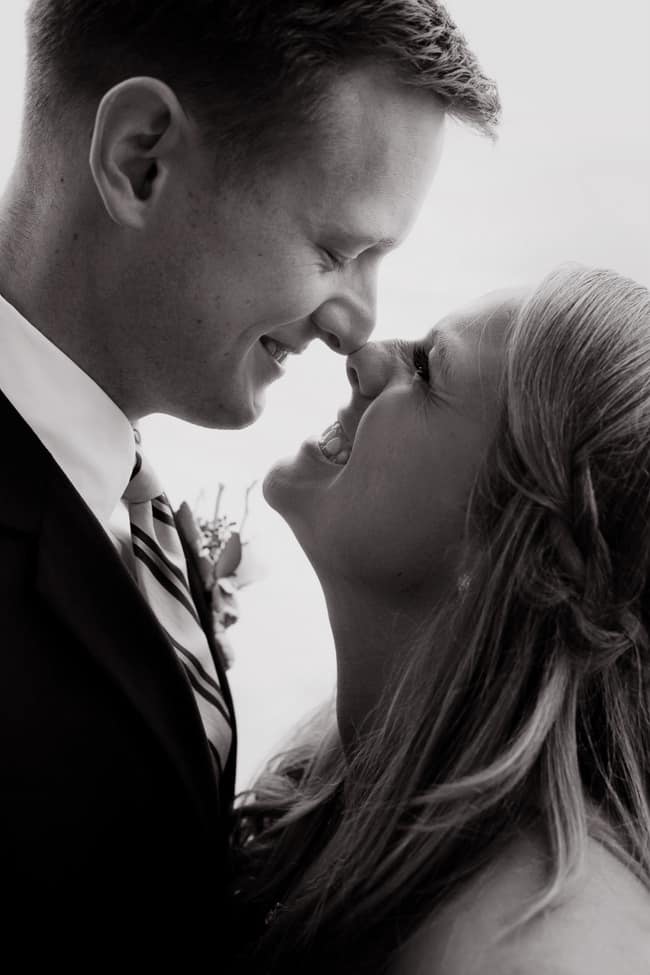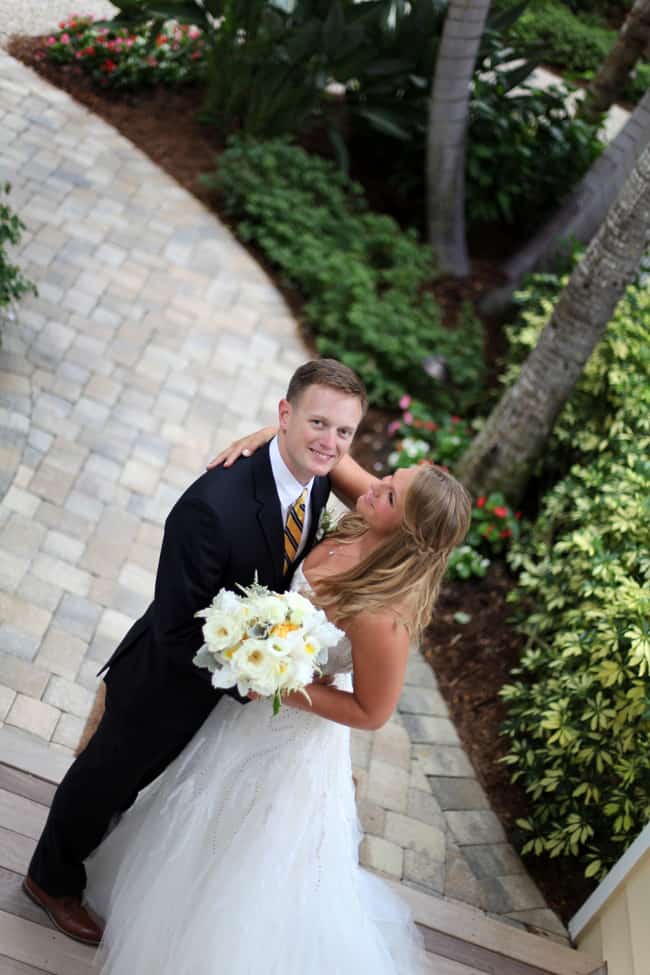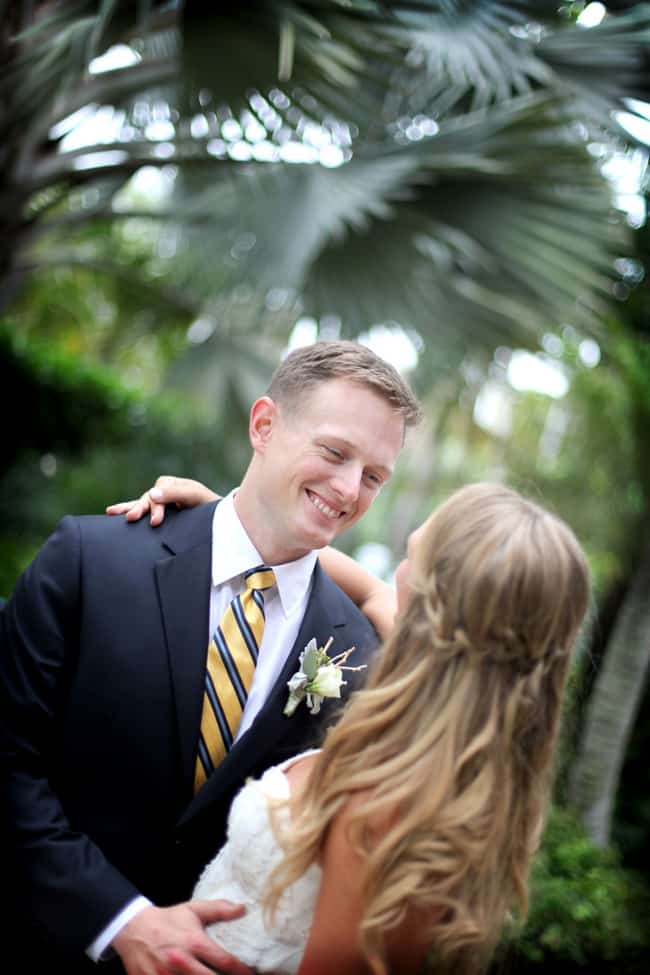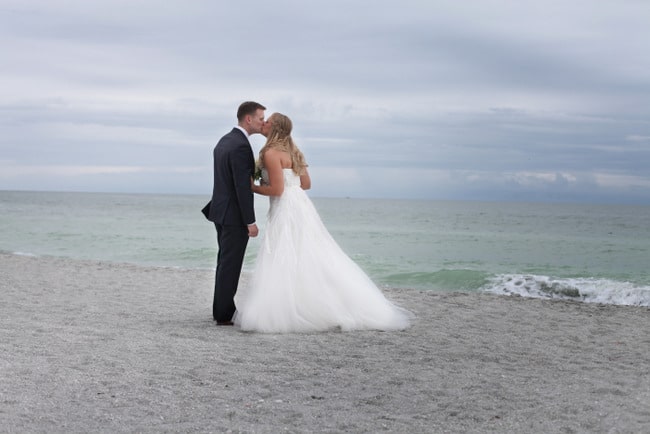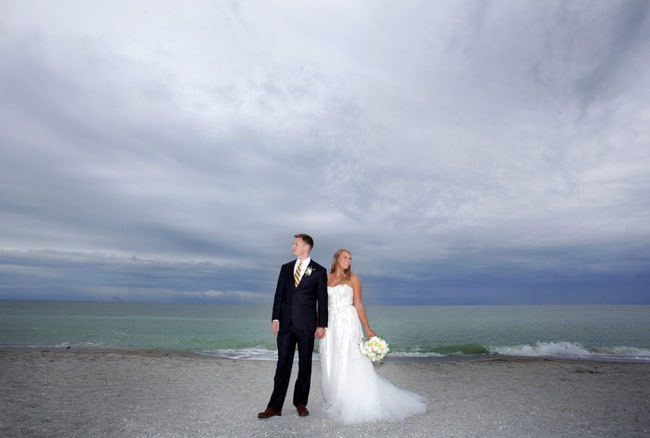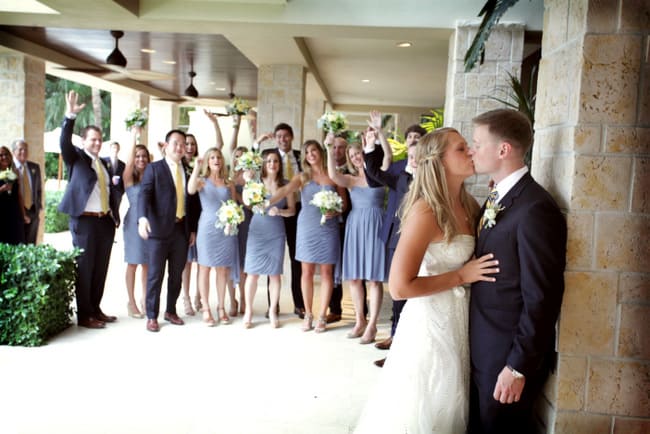 I love baby's breath and was glad to have my wedding planner and florist come up with some great ways to use it in our décor. They created baby's breath garlands to hang from the chairs on the aisle, the arch, and as floral chandeliers! The floral chandeliers in particular added an extra special romantic touch. The clear tent was also a must. Dancing under the starts (while protected from the wind and rain) was really special!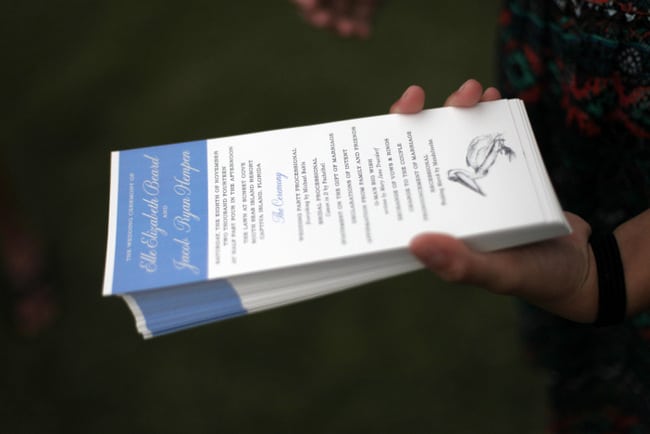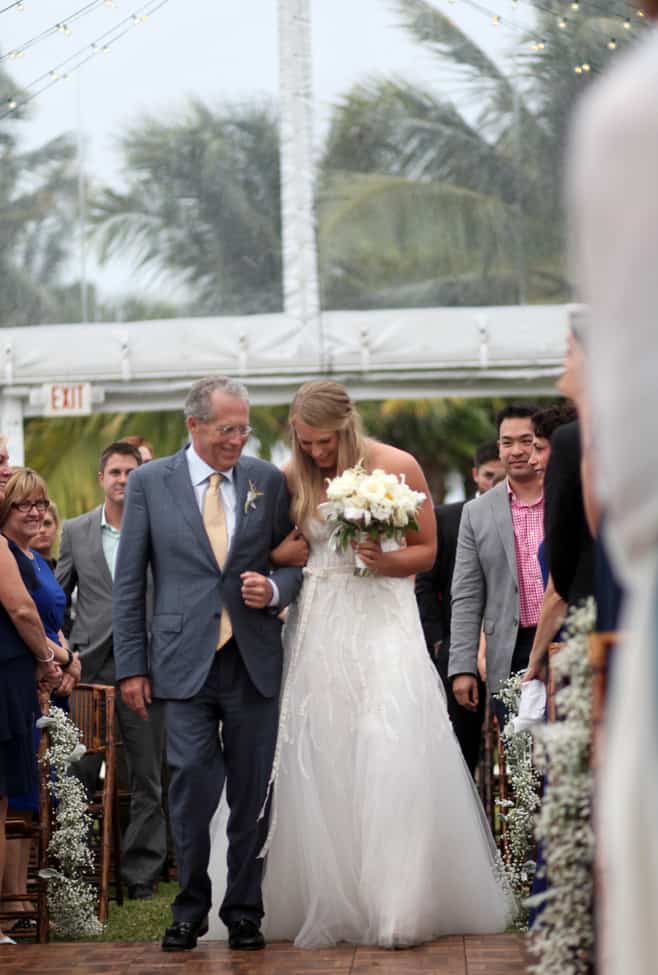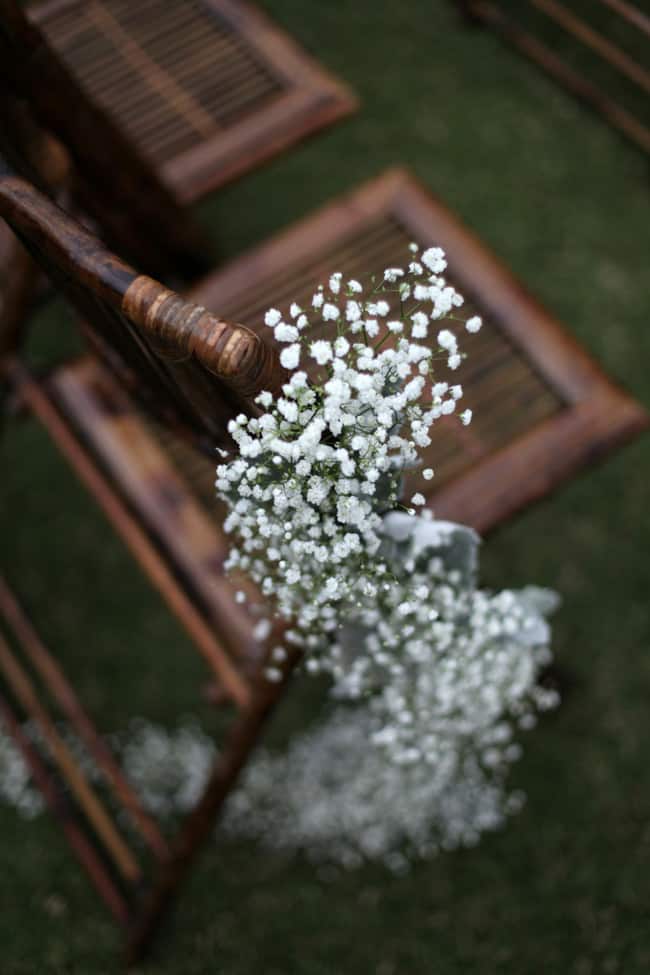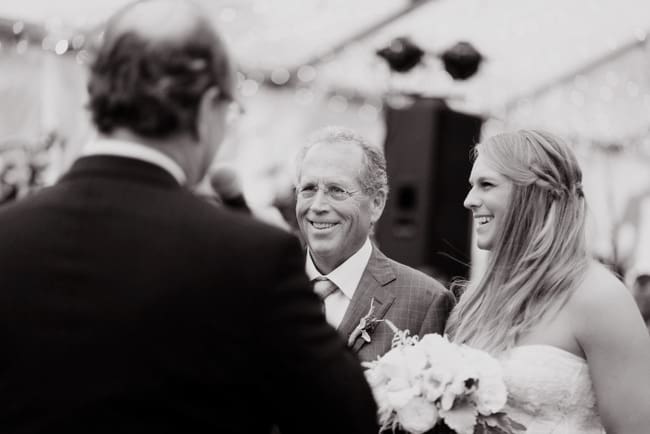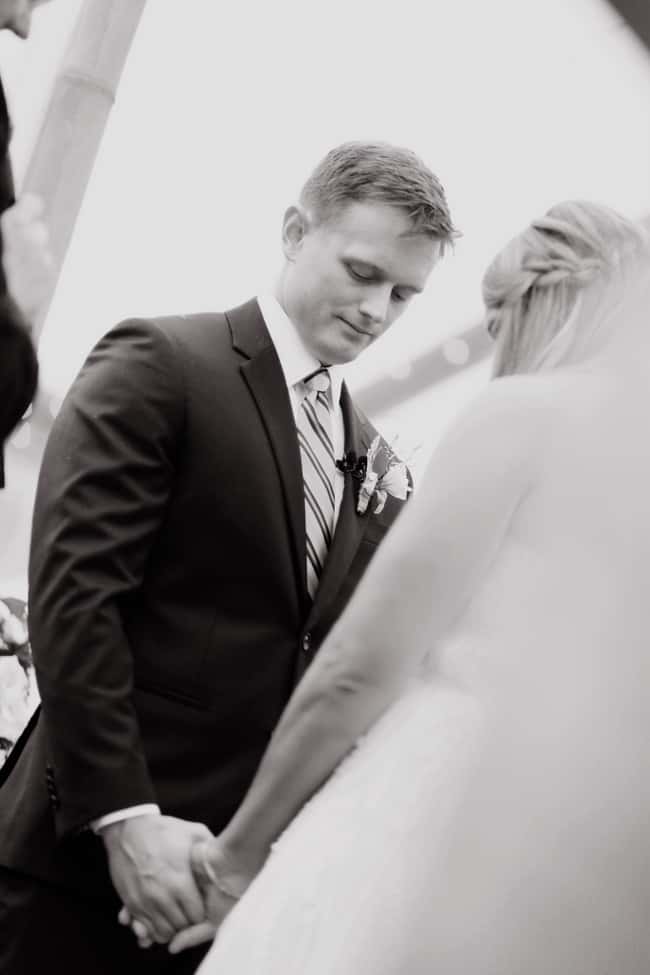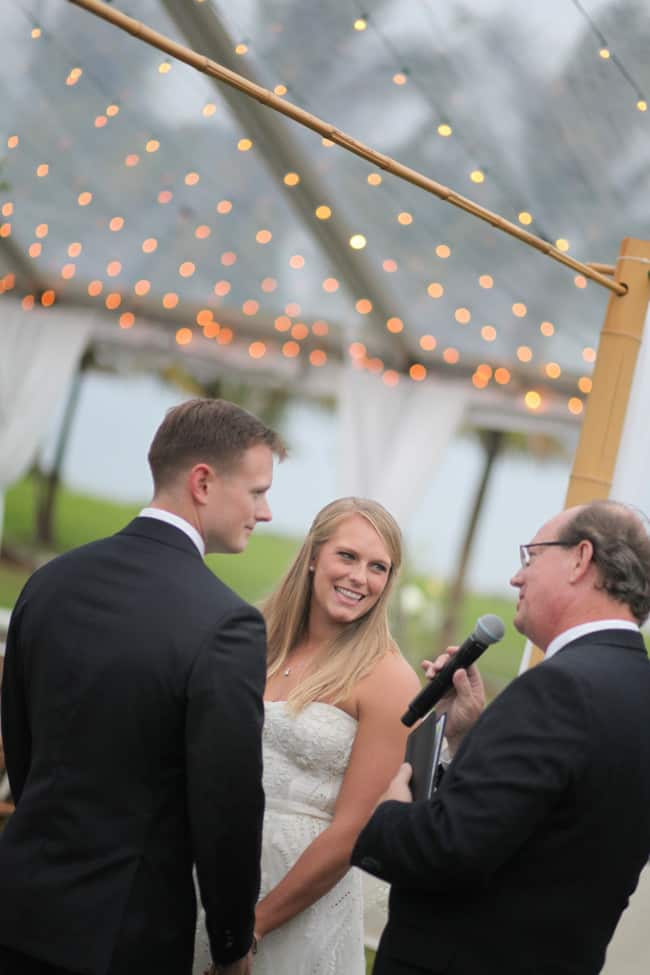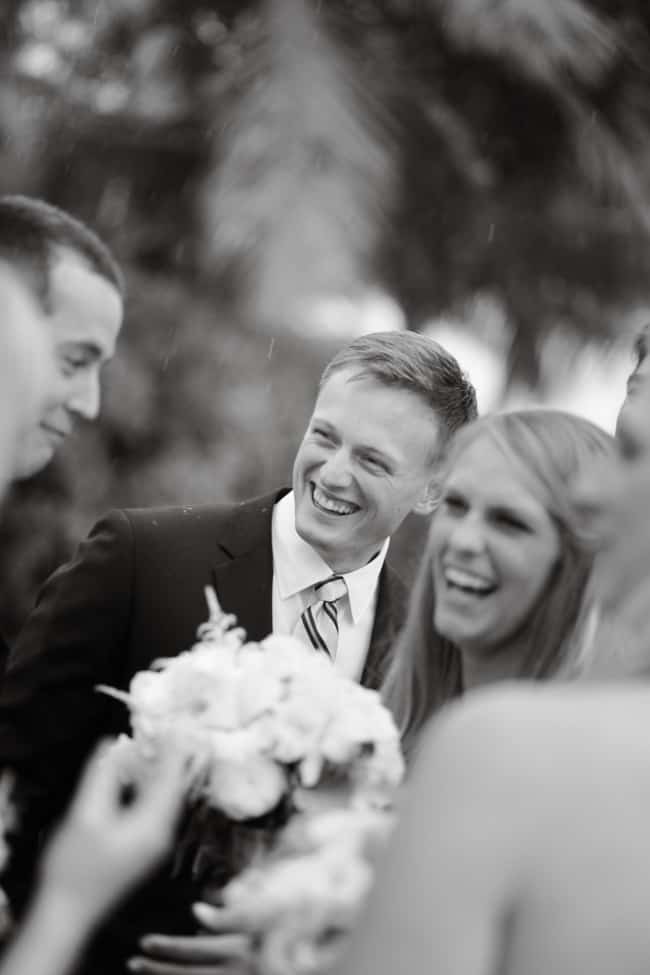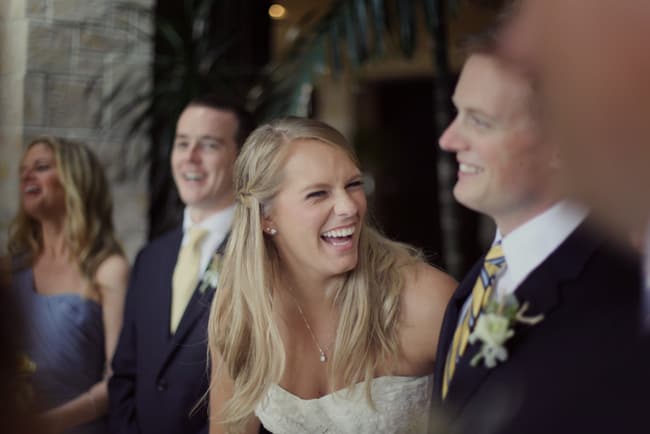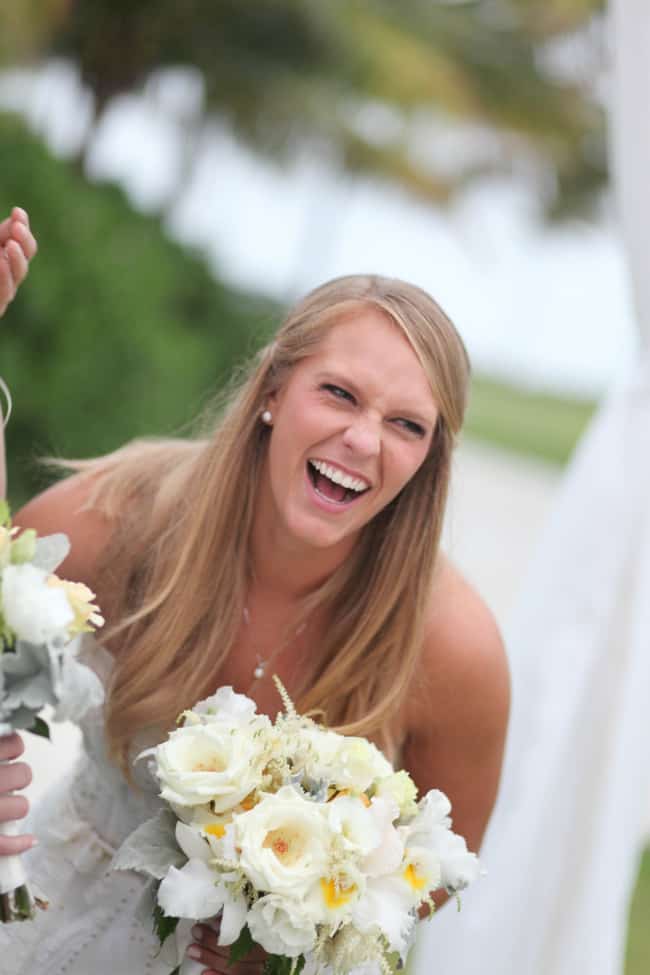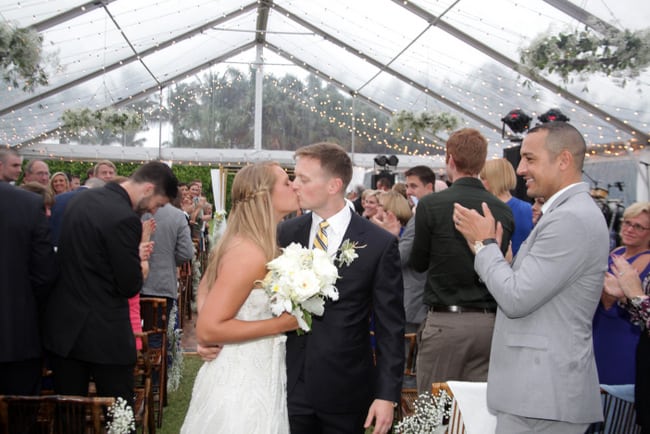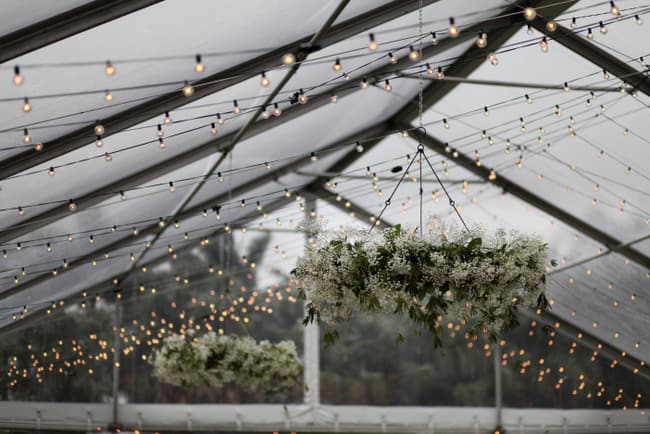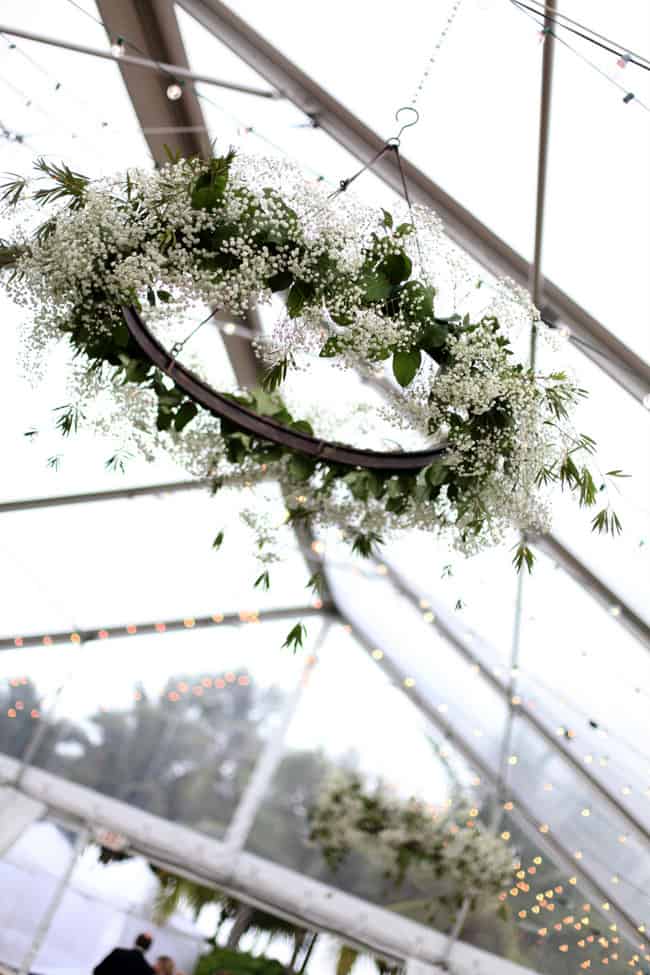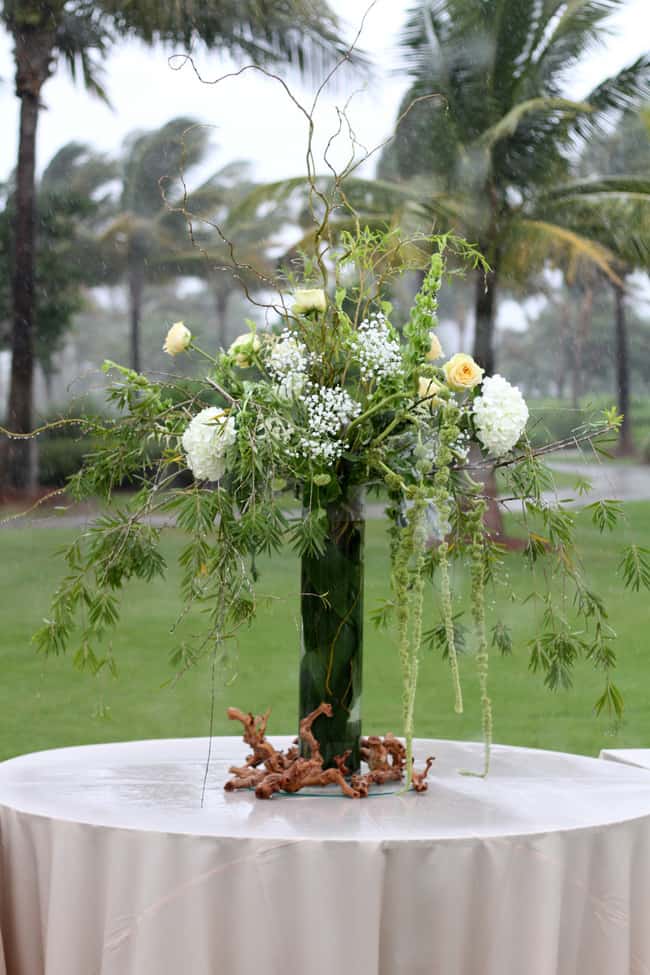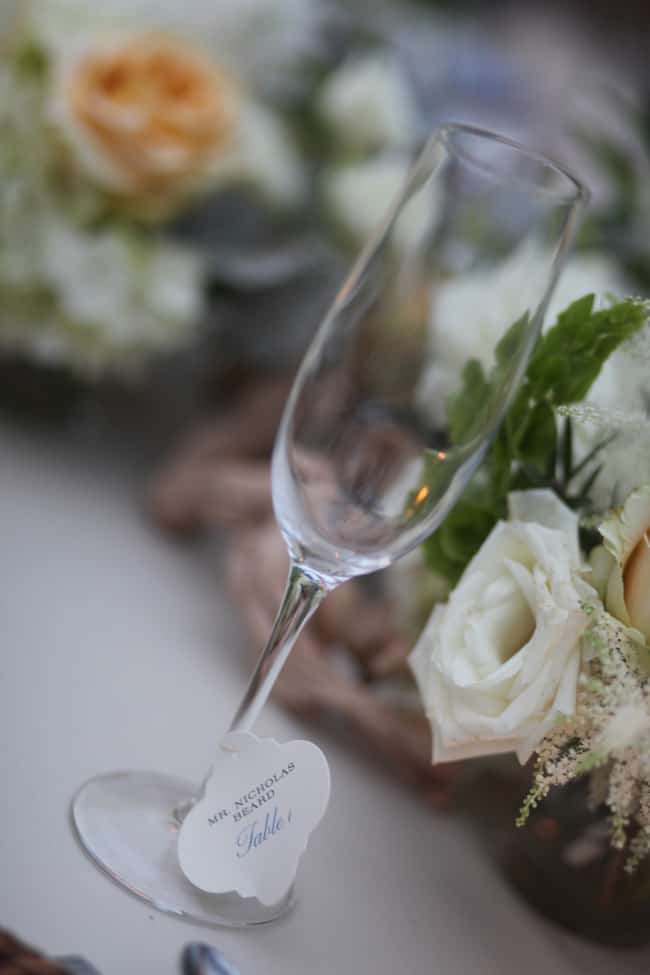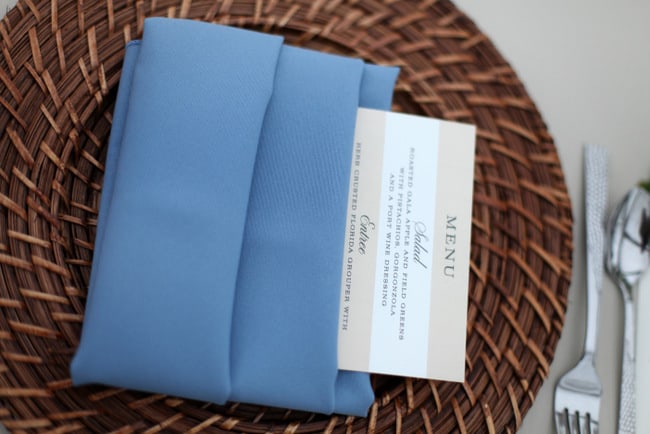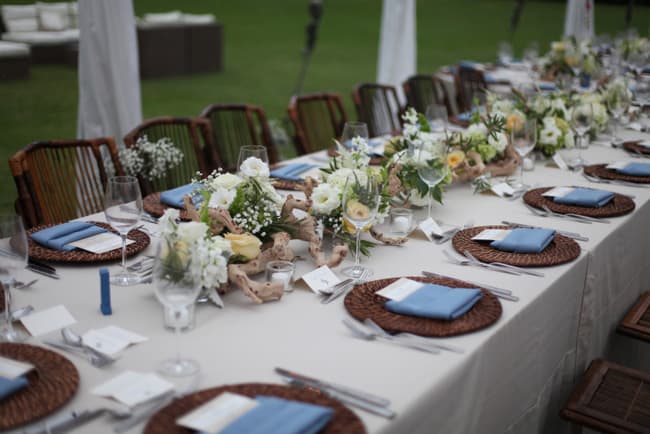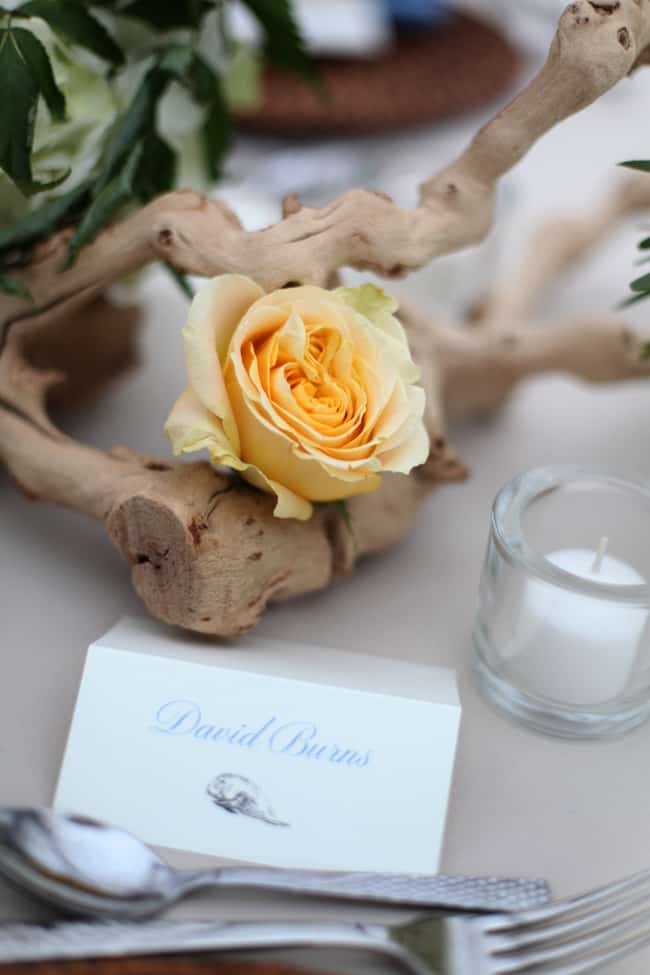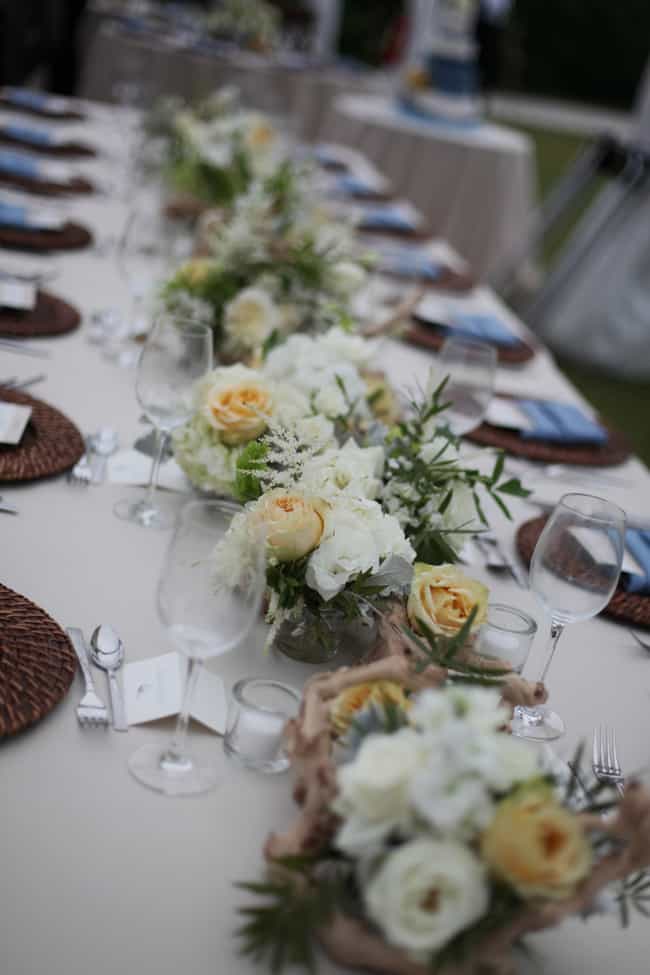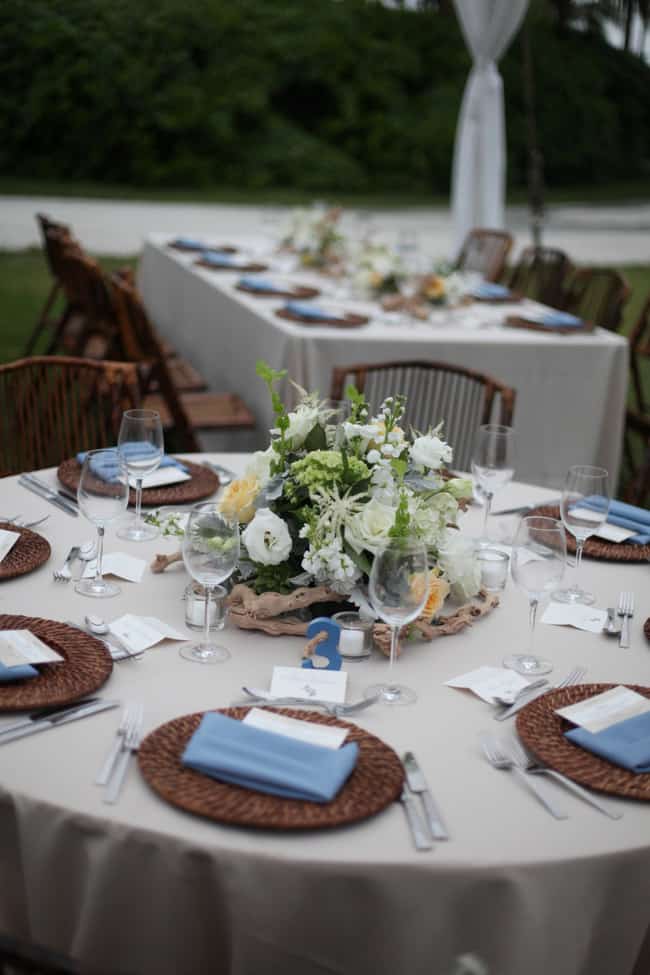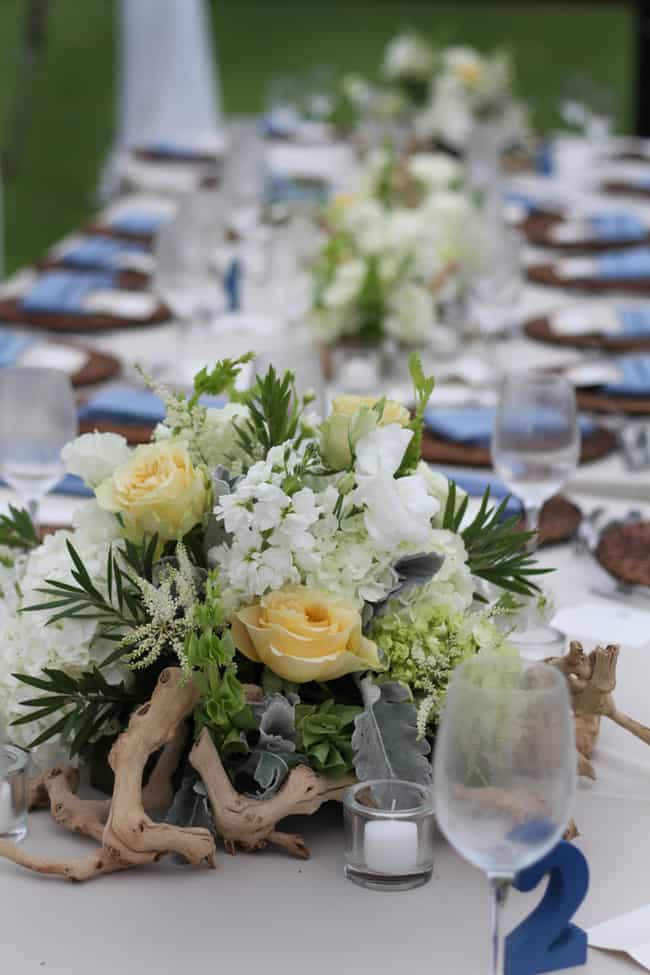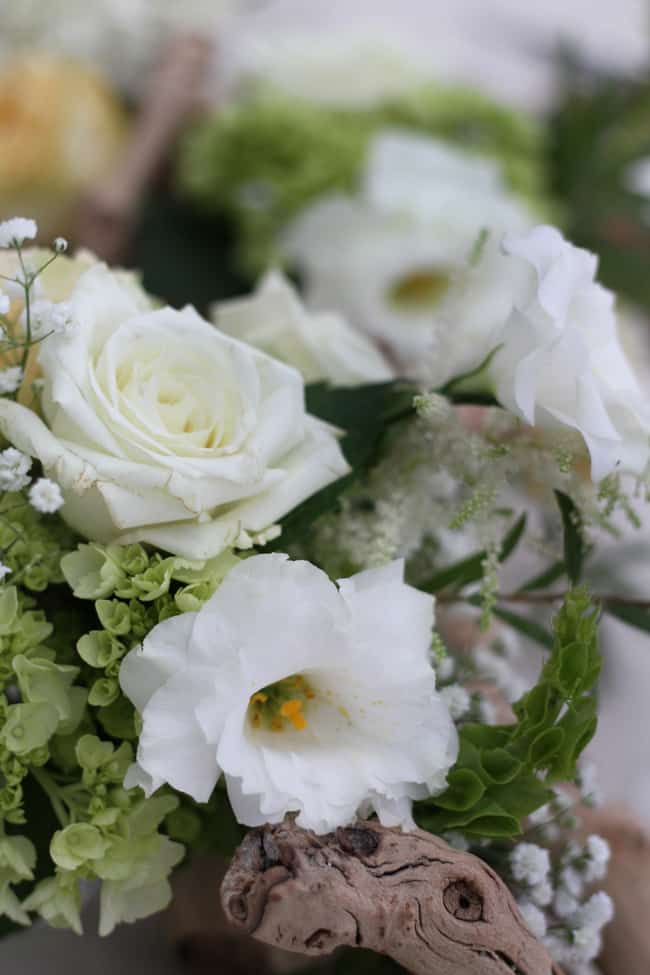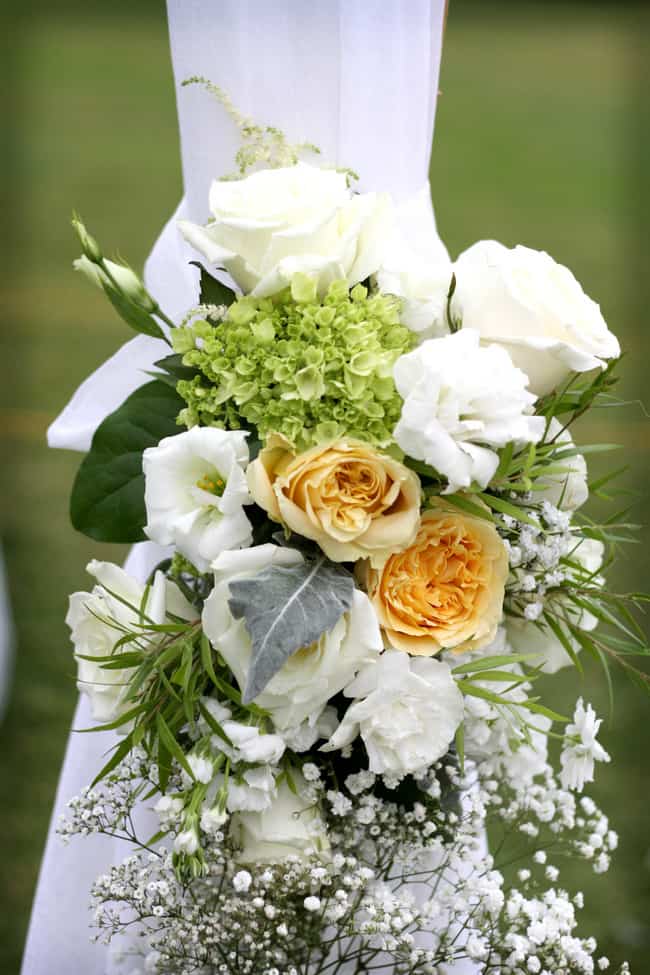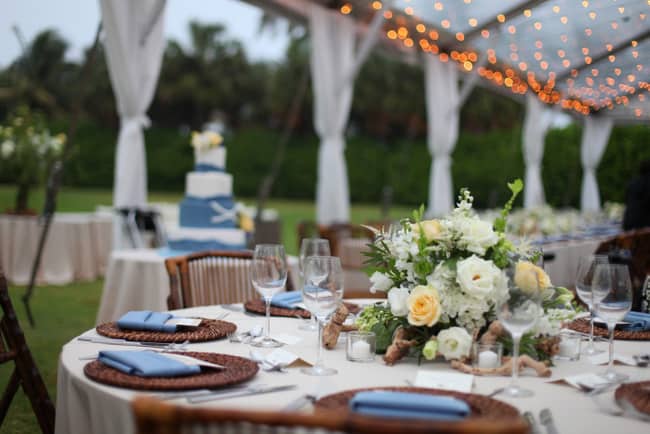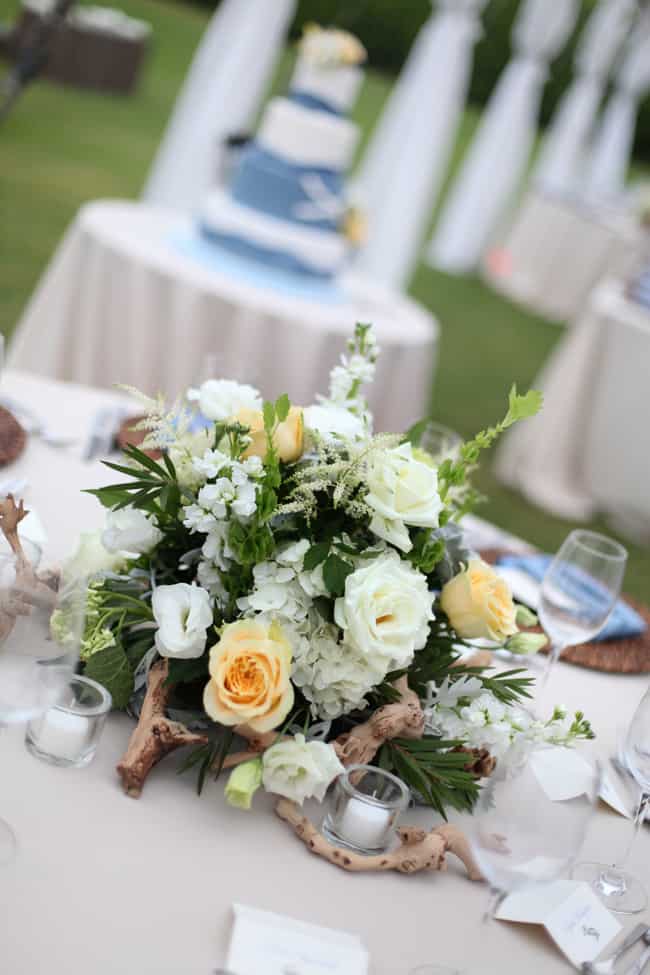 This is one of the most beautiful cakes I've ever seen at a destination wedding. I asked Elle about it and she said:
Our wedding cake was amazing! It was designed to match some of the wedding colors. It also had natural elements like pressed waves on the fondant. It was delicious! We couldn't decide at the tasting, so we ended up with two different cake flavors for guests to chose from – white champagne with raspberry coulis and banana with dark chocolate ganache.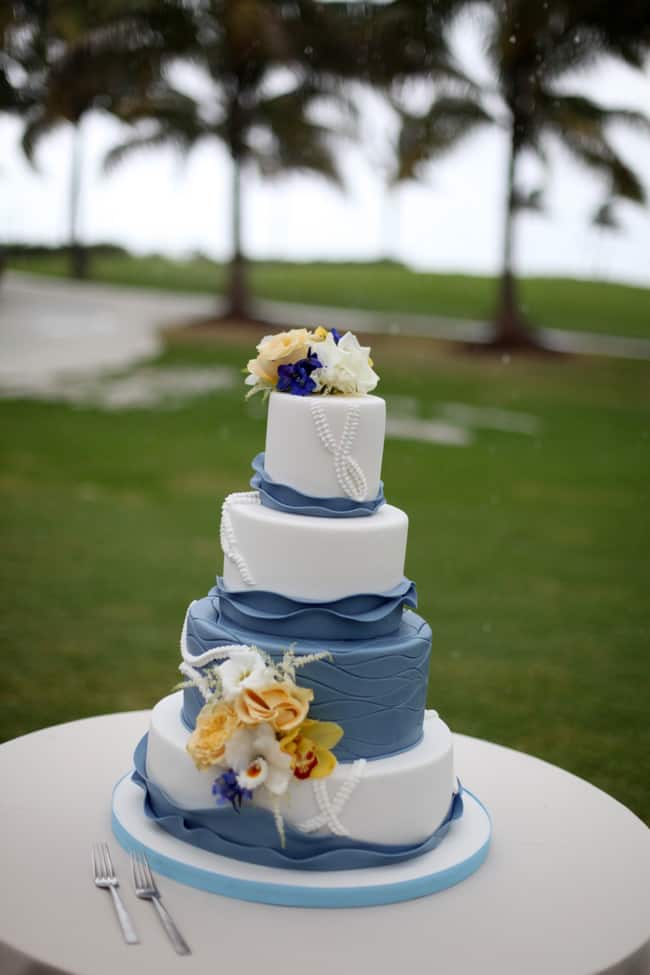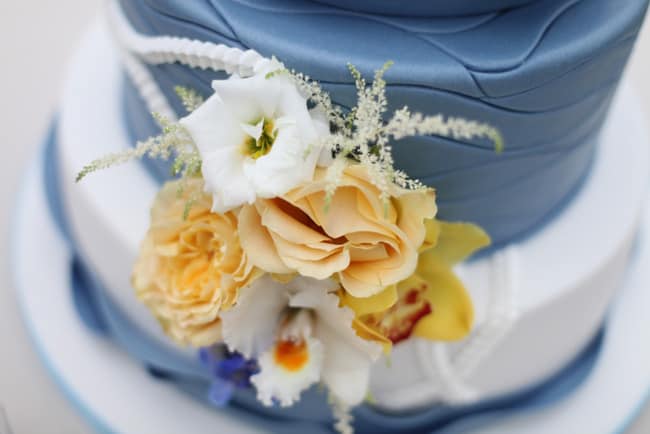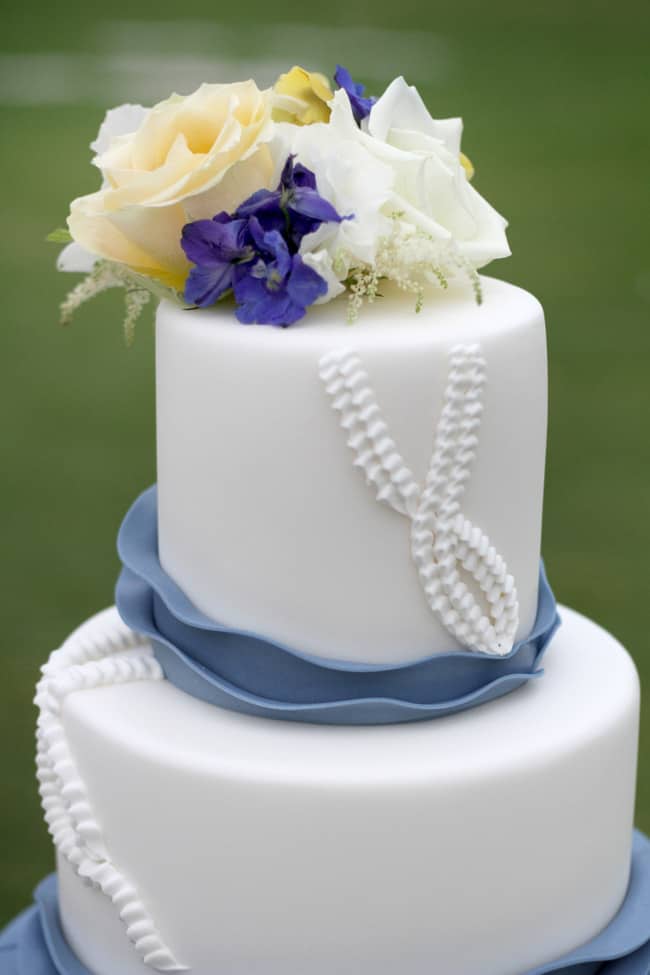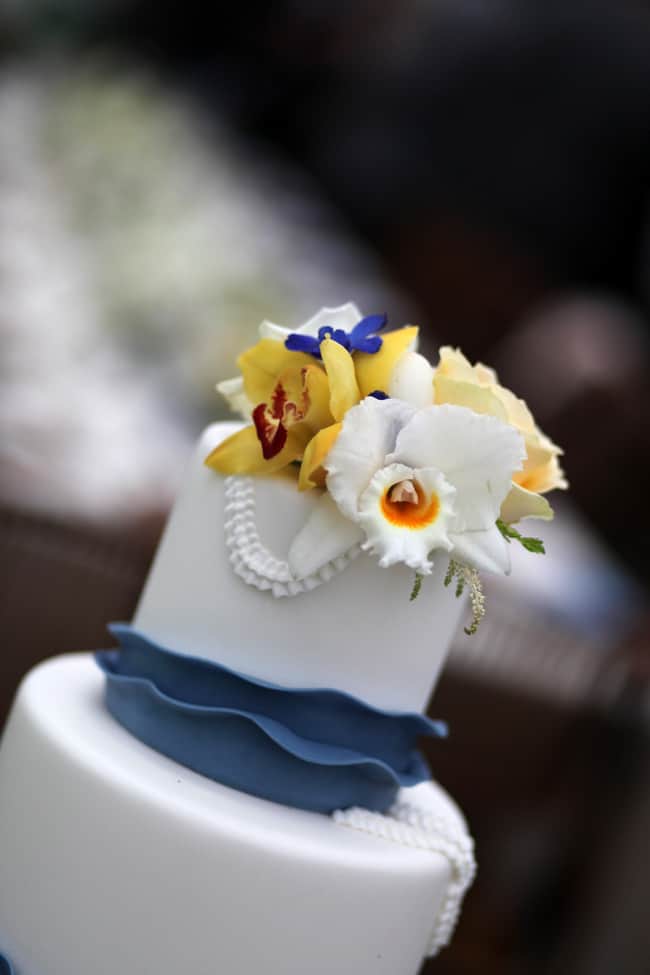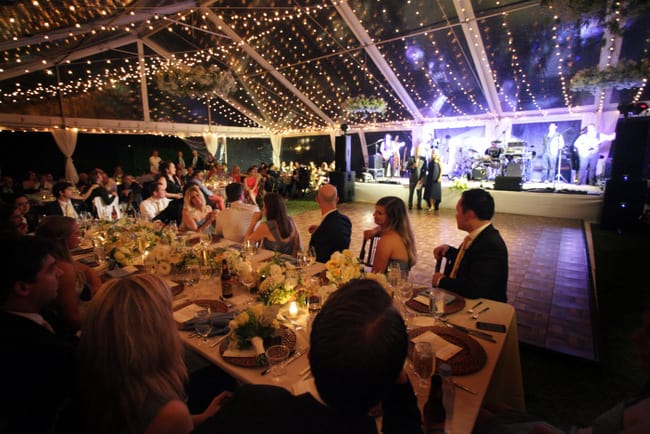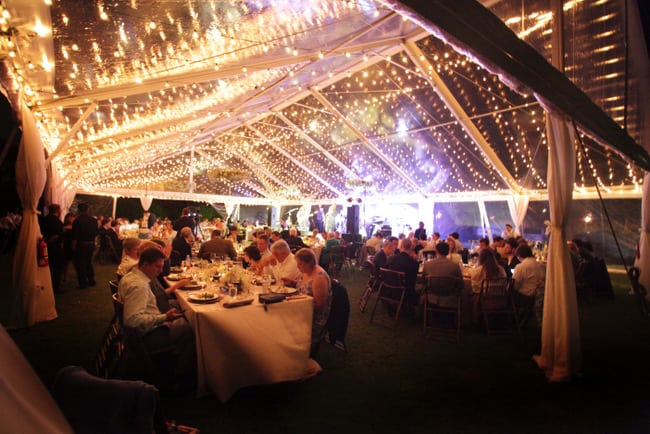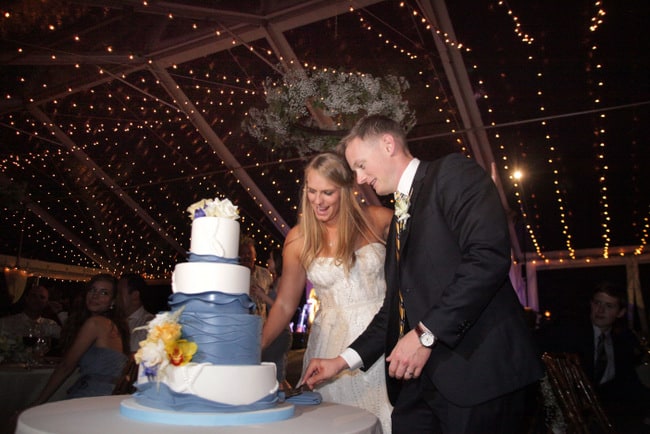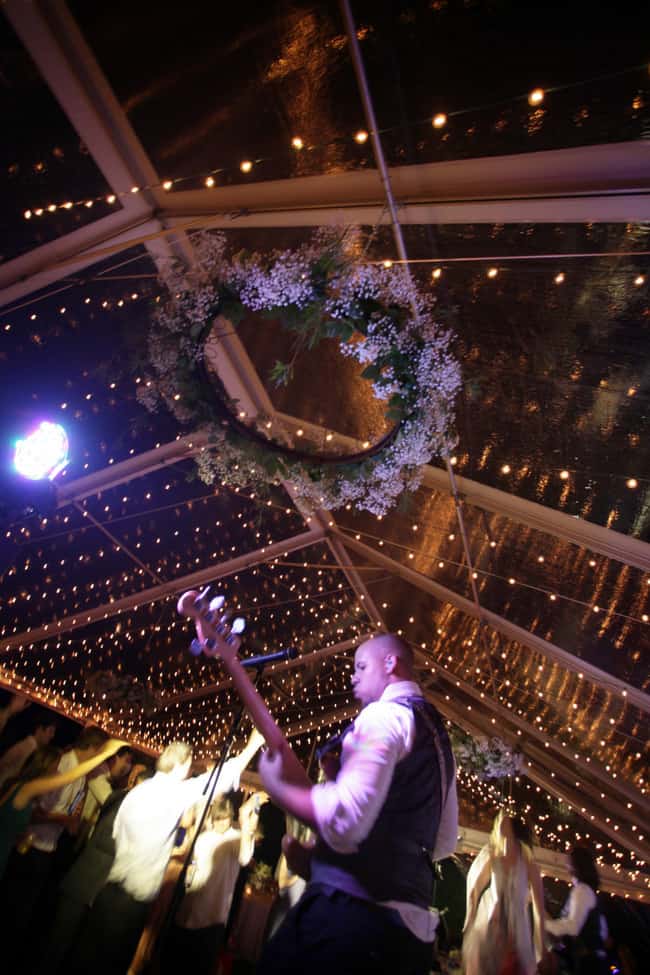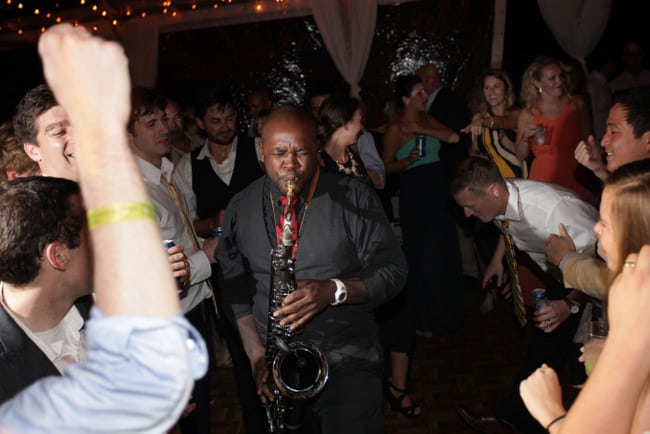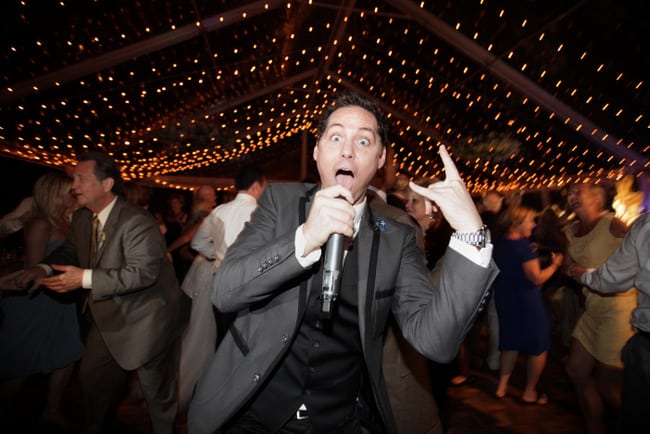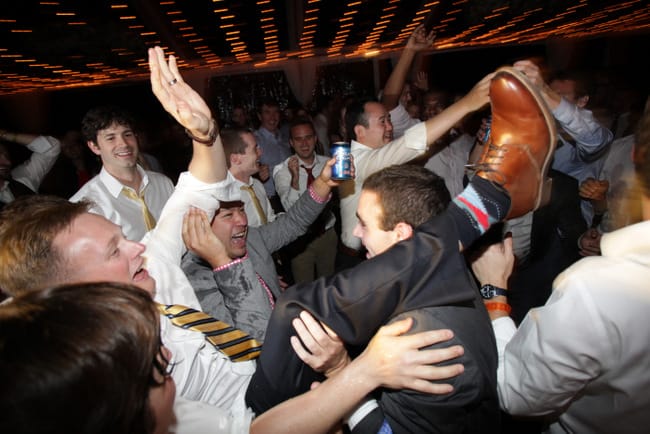 Real Destination Wedding Advice from the Bride
What was your favorite part of having a destination wedding in Captiva Island?
Jake and I live across the country from most of our family and friends. Beyond the planned events, Jake and I ran into friends and family getting coffee, running on the beach and just walking around – so we actually got a chance to catch-up with everyone. It made the whole weekend feel like a completely epic vacation – not just an amazing wedding.
What is your advice to brides planning a destination wedding?
You want to enjoy the wedding vacation as much as your guests, so find a great local planner. Someone you trust, who gets your sense of style, can help you find local vendors, and who can manage all of the destination wedding activities. For those who are planning to get married outdoors – remember that you can't control the weather! Have a good back-up plan (or two) and someone you trust who can execute that back-up plan. The rainstorm definitely messed up all of our plans. But everyone agreed that the wedding was more romantic and memorable because of it.
Vendors
Photographer: Impressions Photography
Flowers: Floral Artistry
Wedding Dress: Monique Lhullier
Bride's Shoes: Jimmy Choo
Bride's Purse: BCBG
Bridesmaids: Bella Bridesmaids
Jewelry: David and Sons Jewelers
Men's Suits/Ties: Indochino, Brooks Brothers
Entertainment: None Other Band; Stereophonic DJs
Videography: iheART films
Cake: Kakes by Karen
Hair/Makeup: Jamie Lyn Cintron
Stationery: DM Paper Designs
Officiant: Reverend Dan Lamey
Tent: Tent Logix
Equipment Rentals: Island Events
Reception Venue: South Seas Island Resort