I love this "how they met" story! Fun-loving Keely & Scott met in 2011 at the San Francisco Santa Con and it was love at first sight! Despite living almost 500 miles away from one another at the time, Keely and Scott were determined to make it work – and as small business owners, they were no strangers to hard work. When you are your own boss, you create your own success and control your own destiny. So, call it Christmas magic, or call it destiny… but Keely & Scott were meant to be! Fast forward a few years… trading in their Santa hats for flower crowns and Leis, Keely and Scott had a breathtaking destination wedding at the Grand Hyatt Kauai Resort.
Every detail of their intimate beachfront ceremony was captured beautifully by the amazing Clane Gessel.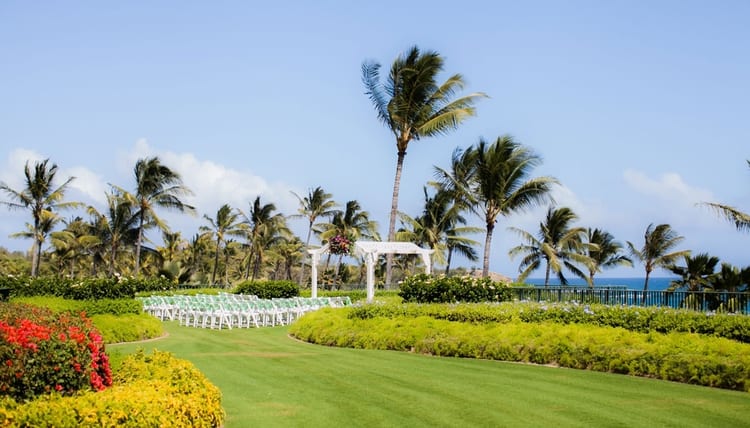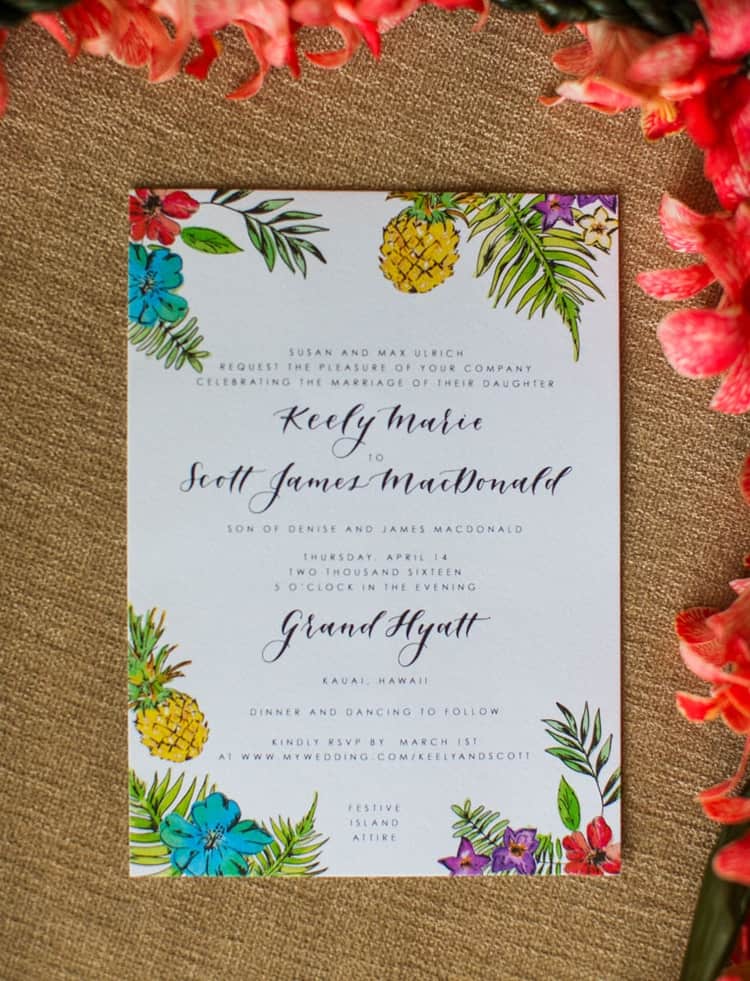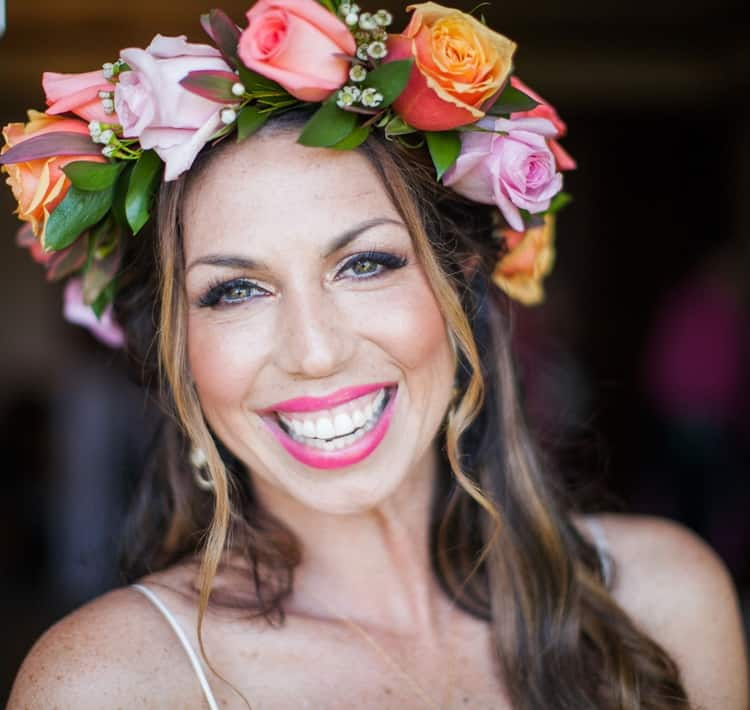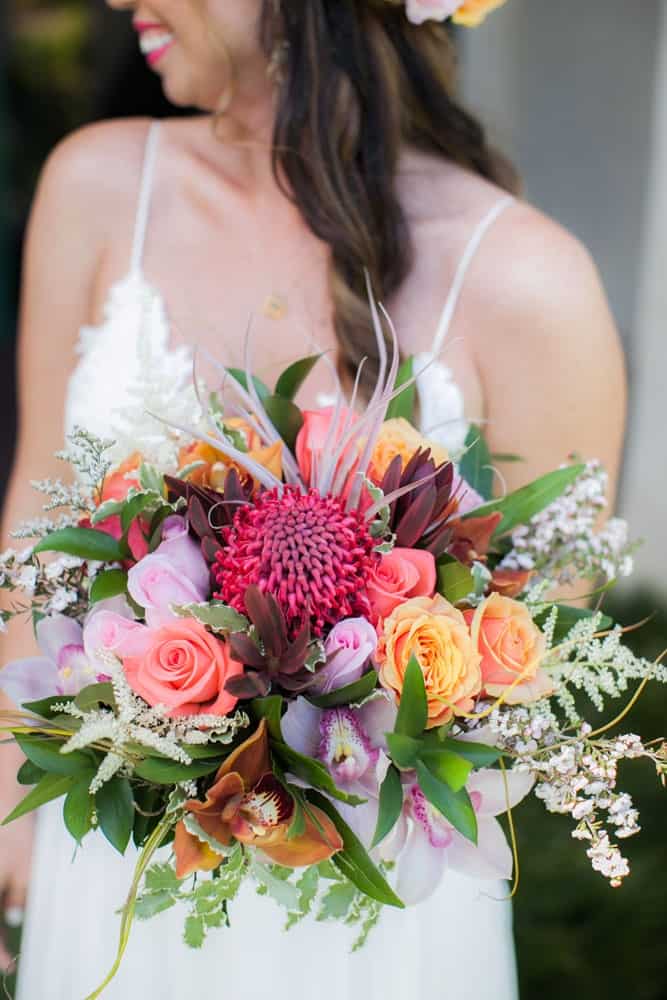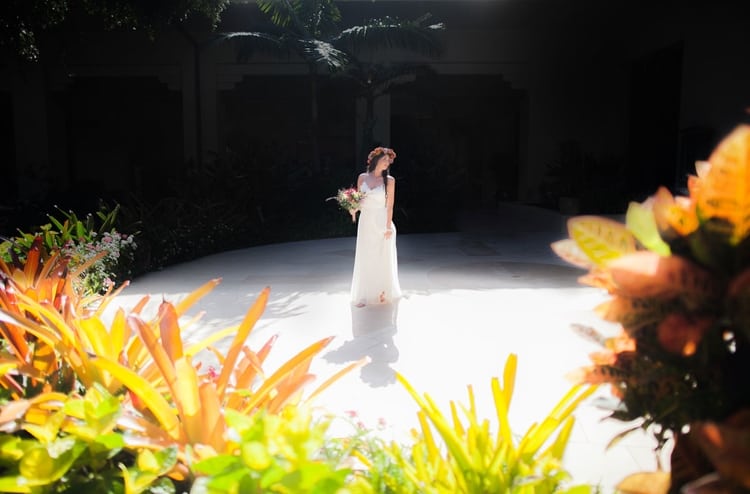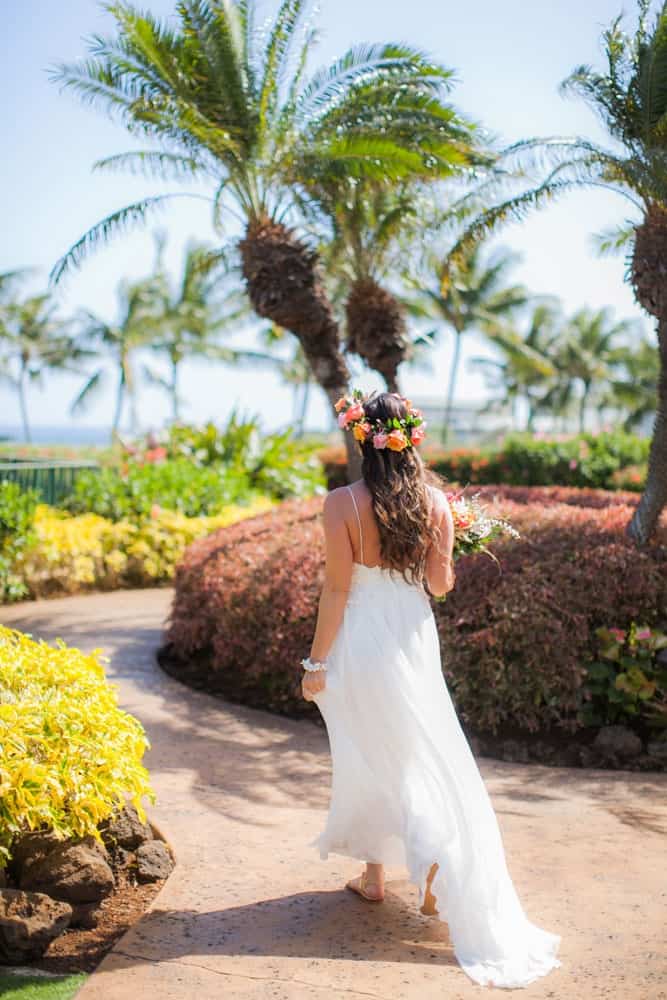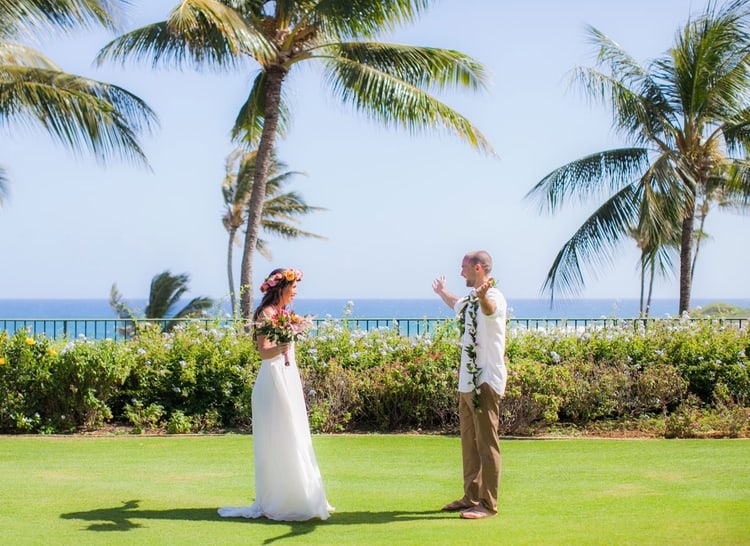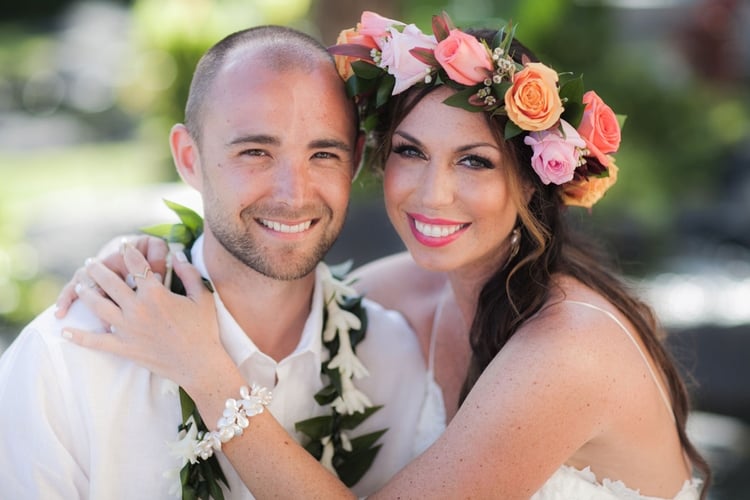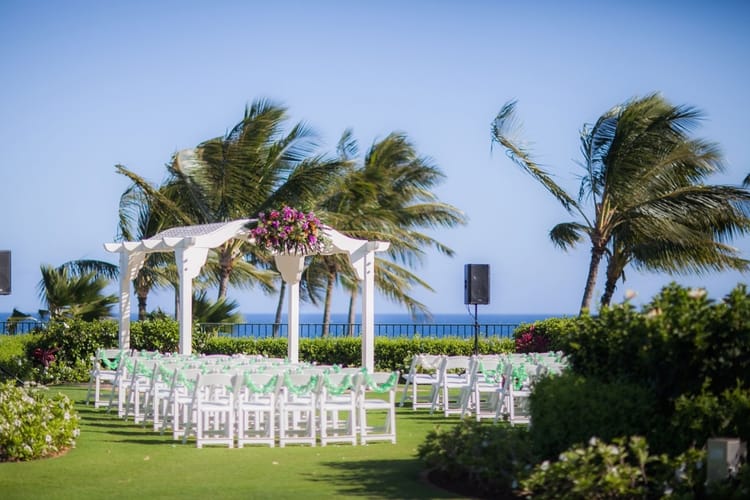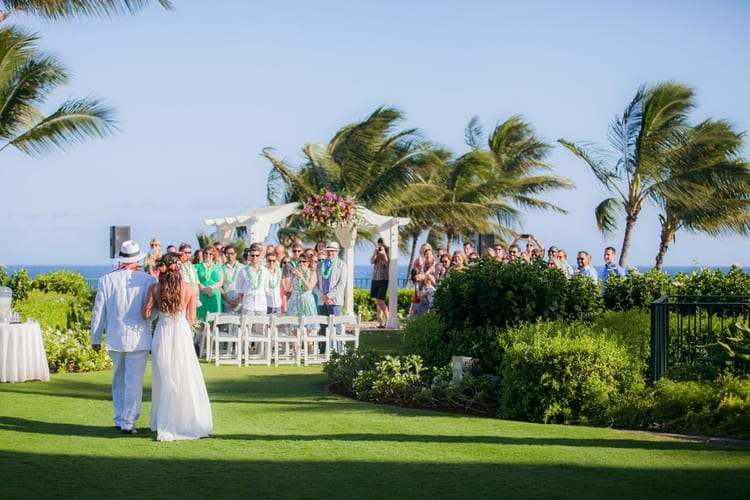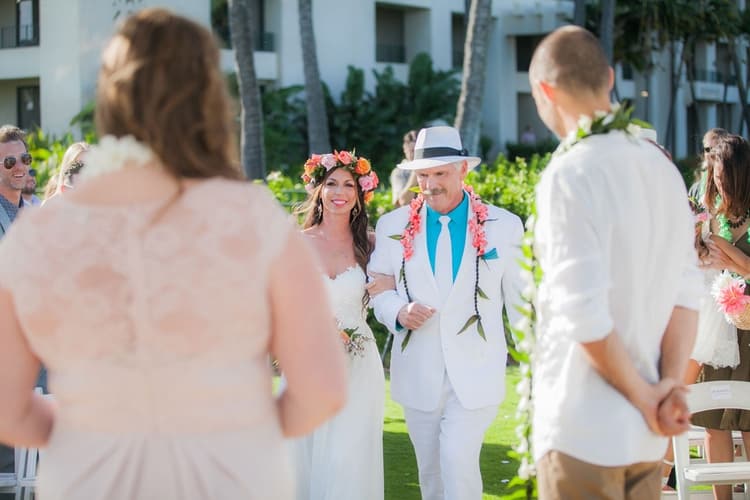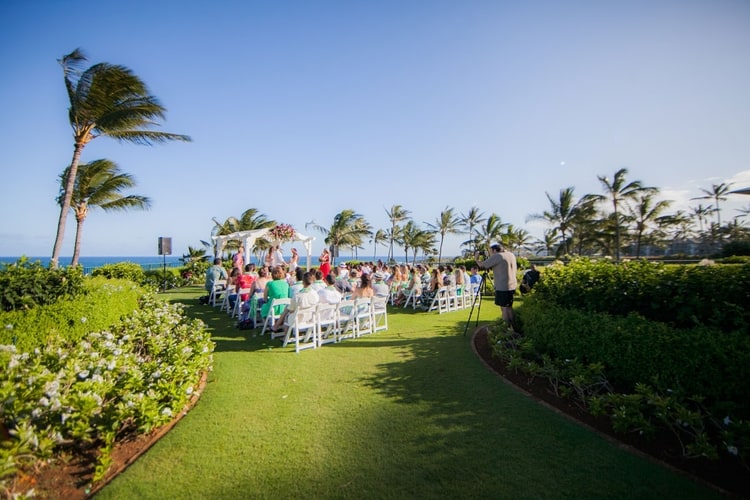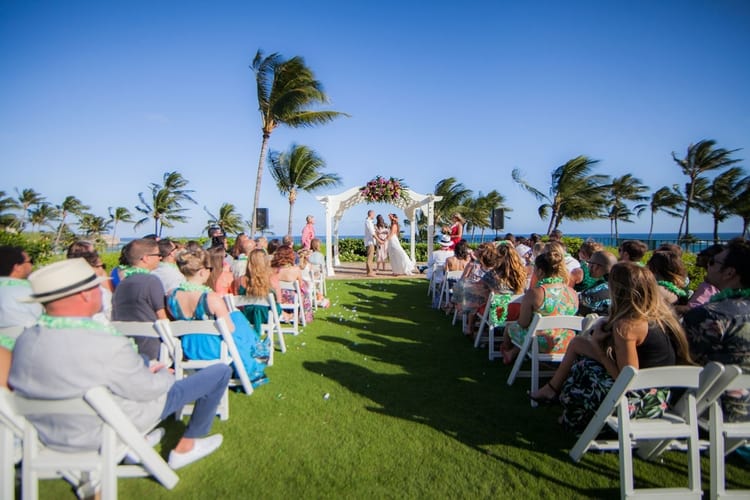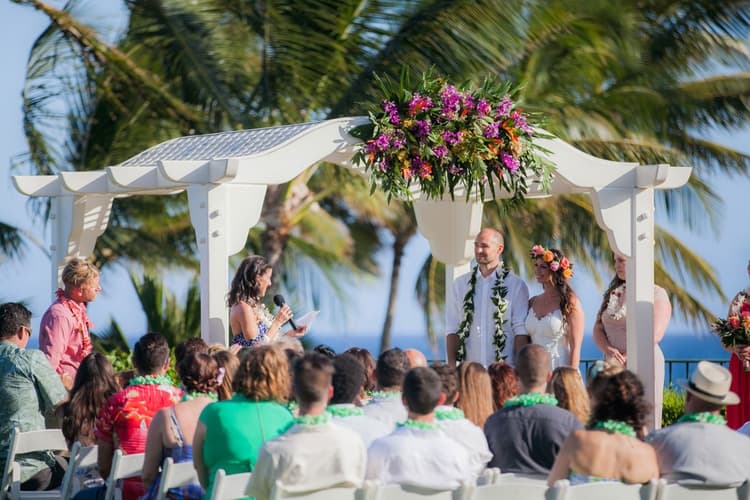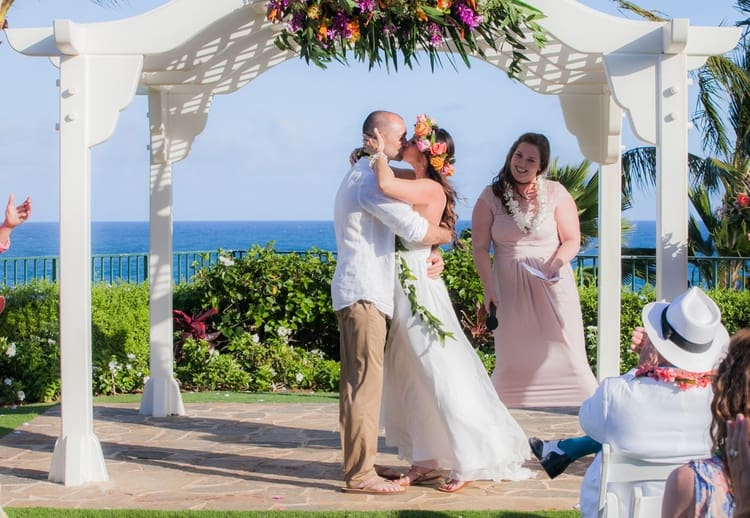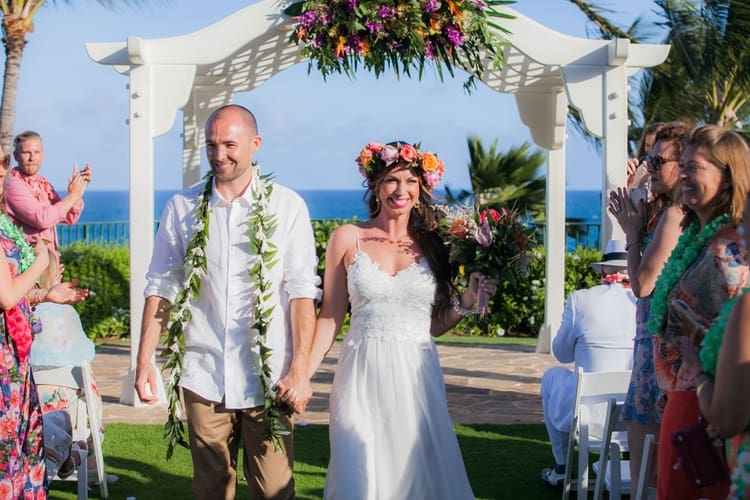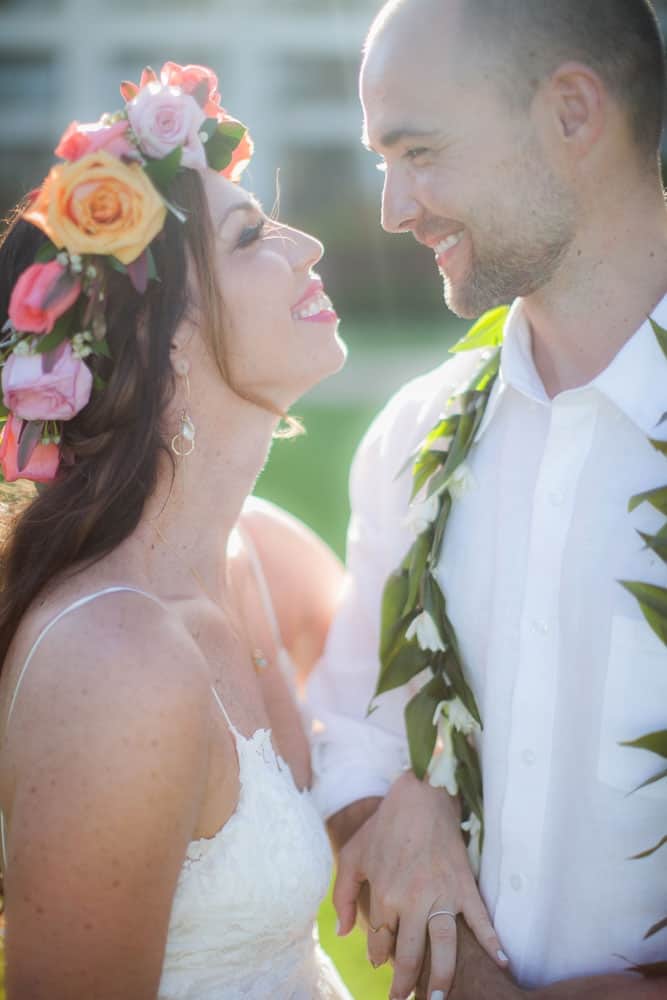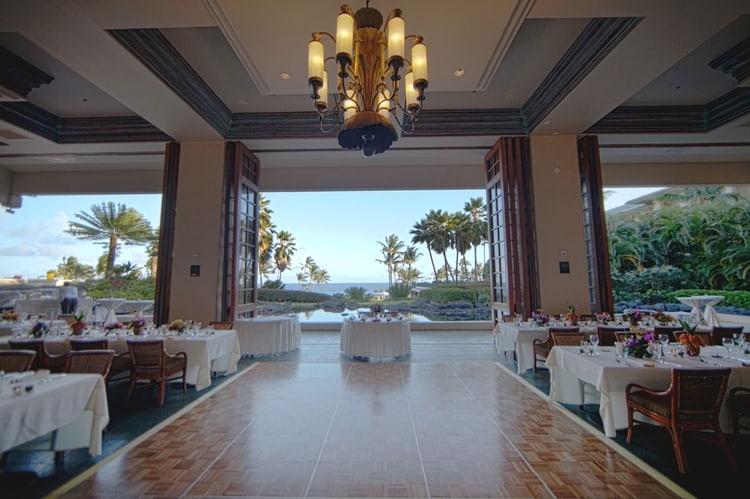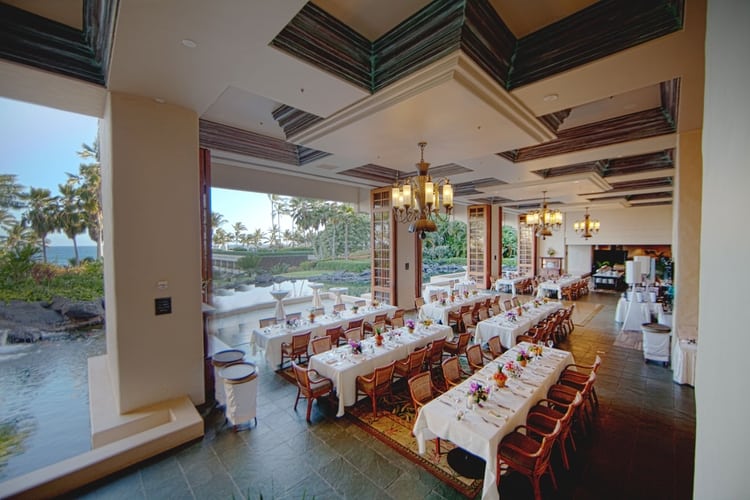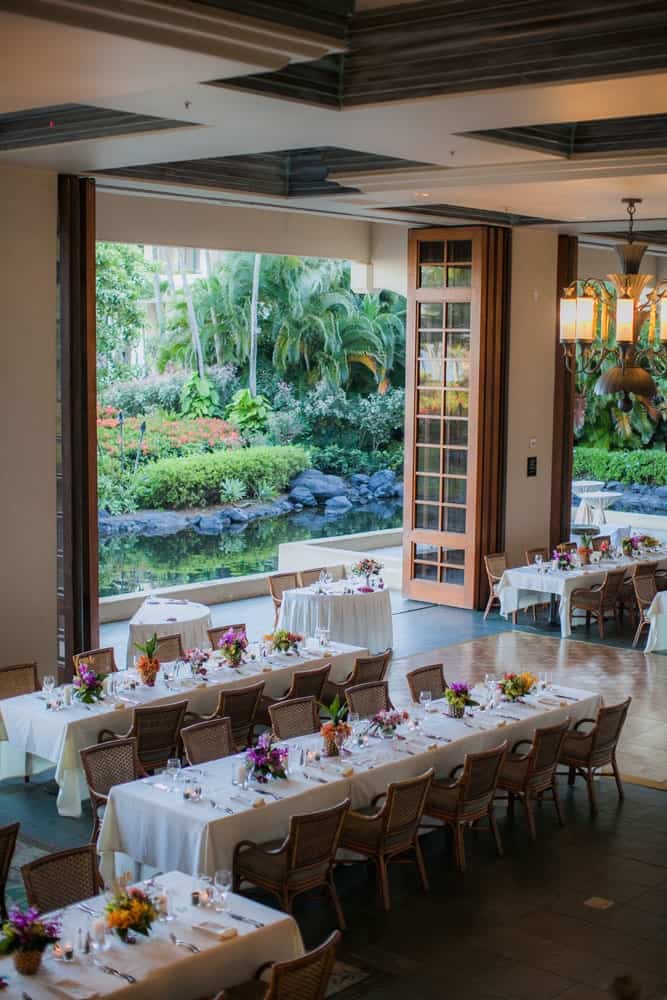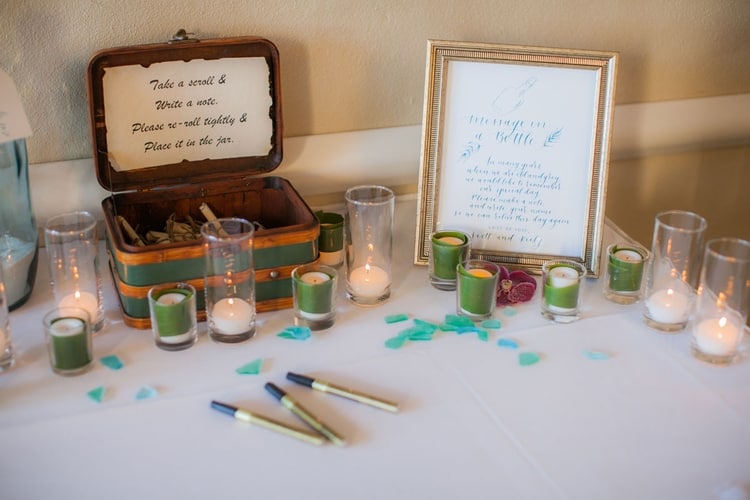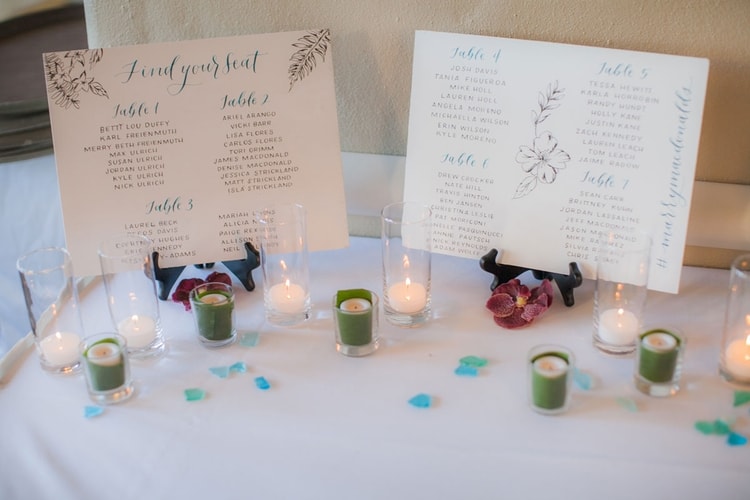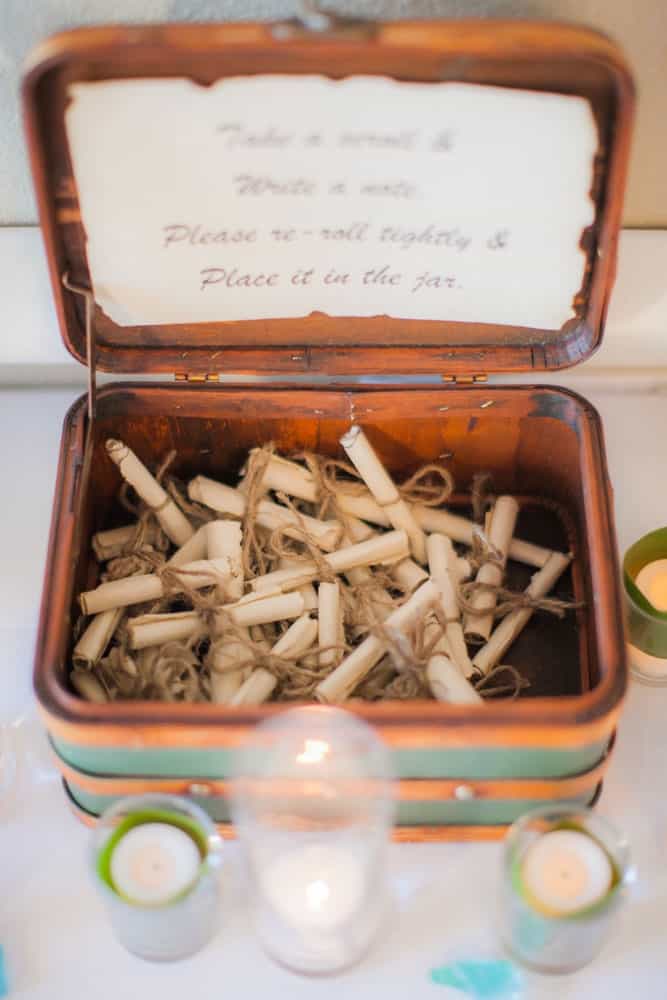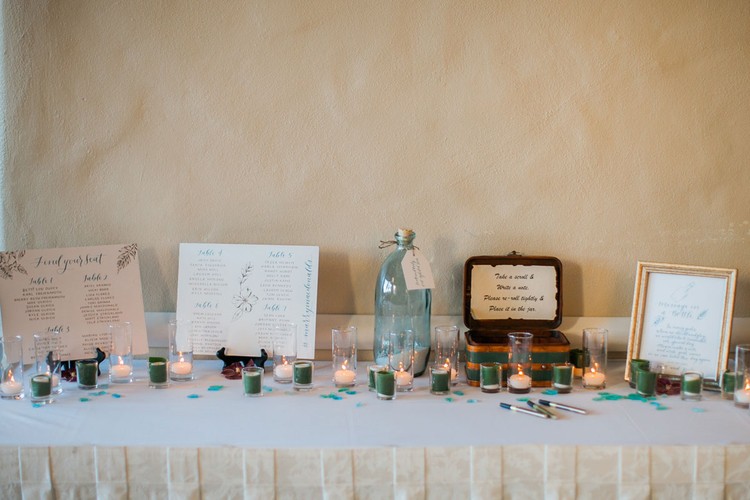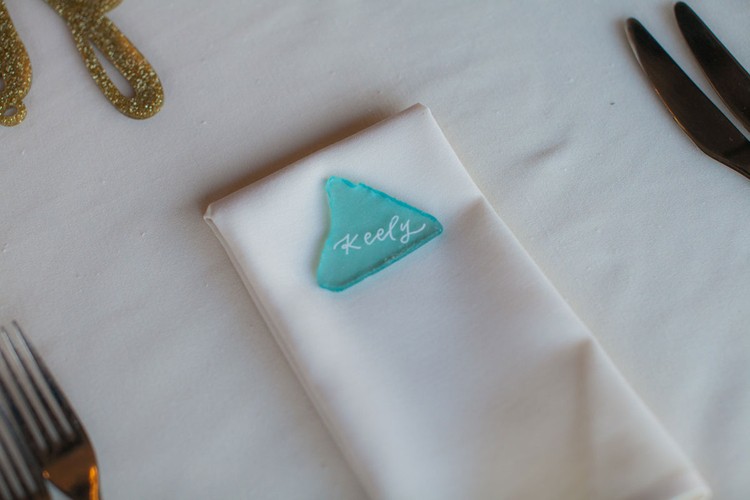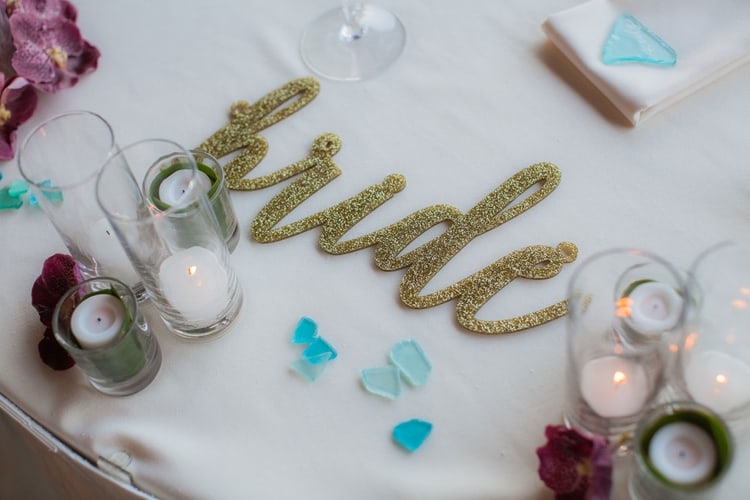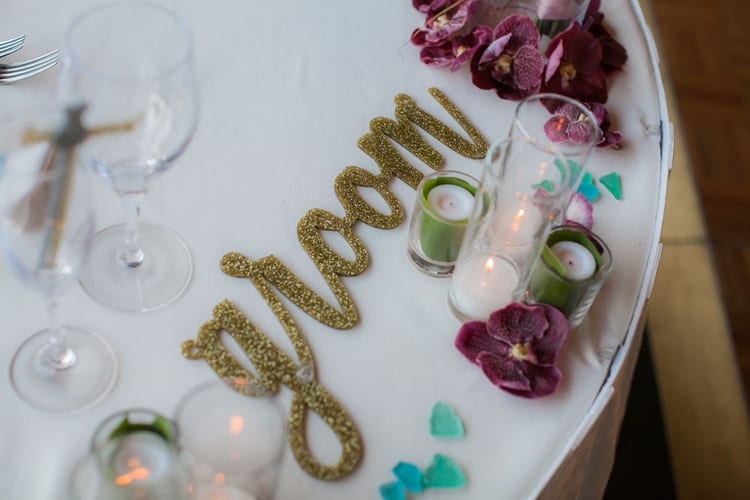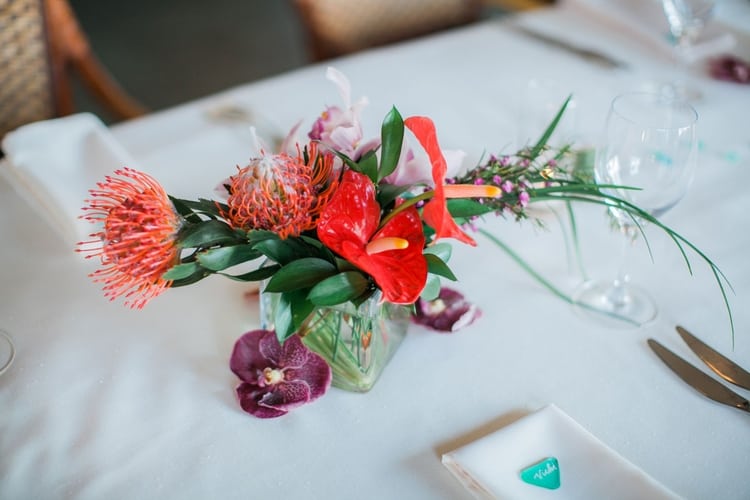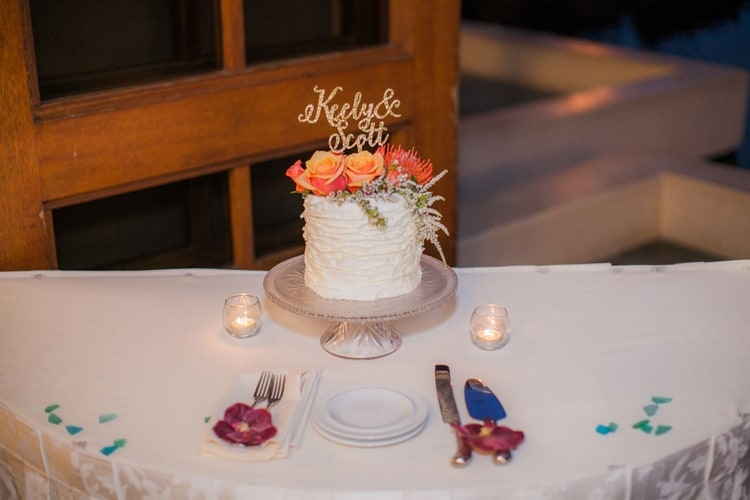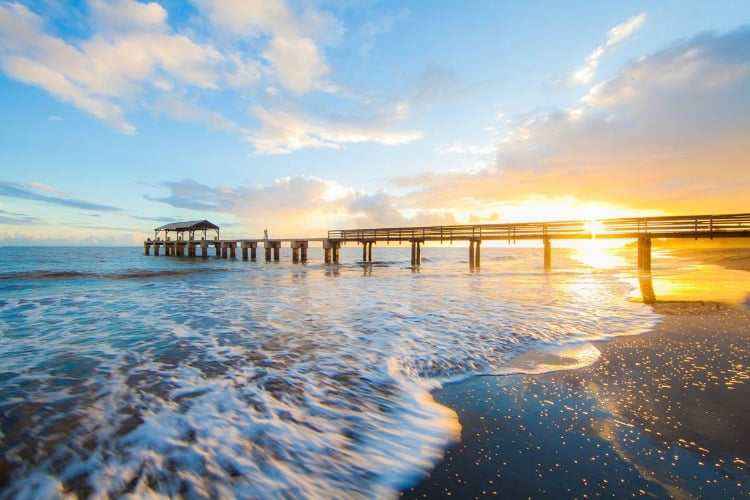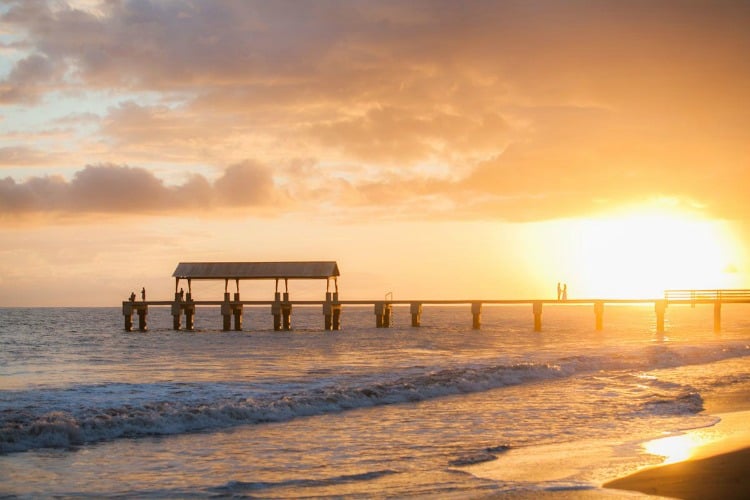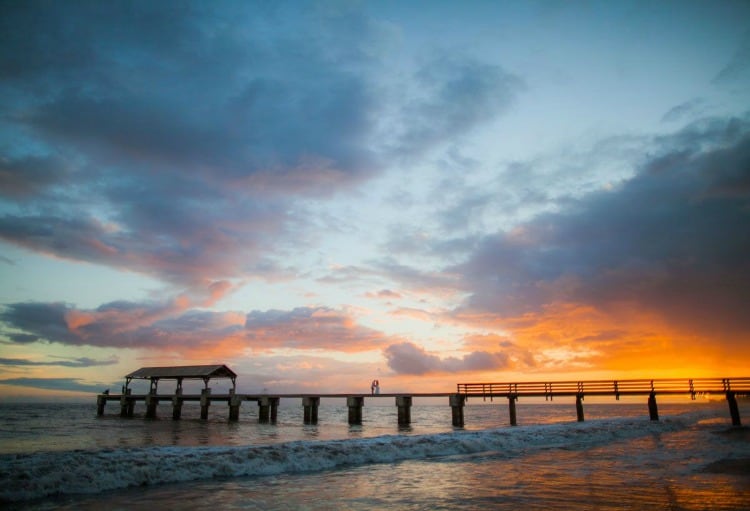 Real Destination Wedding Bridal Q&A:
How and when did the couple meet?
In San Francisco on December 10th 2011 at Santa Con. Keely's best friend from high school Alicia took her to a friend's party and Scott was there… it was an immediate attraction. They spent the entire day together and realized they needed to see each other again. They had their first date the day before Christmas Eve back in San Francisco. Before the date even began, Scott asked Keely to spend New Year's Eve with him and she accepted. At the time, Keely was living in San Diego and Scott was living in Santa Cruz. Most people would think that the distance was a deal-breaker, but their connection was so deep that they dated long distance for a year and a half. Keely finally moved up to Santa Cruz in 2013. For these two, distance was nothing but a rounding error- their love and commitment was powerful enough to get through anything.
How did the proposal take place?
Scott proposed on Keely's 31st birthday in Big Sur. He took her on a hike and after the hike they walked down to a cliff over-looking the beach. After sharing some wine and dessert, Scott talked about sharing his life with Keely and he then proposed. It was very romantic.
Interesting facts about you and your spouse that you would like to share.
We dated long distance for the first 1 and a half of our relationship. We both own small businesses. Our birthdays are 9 months to the day apart, lucky number 7! Our wedding date 4/14 is the same as Scott's parents. We both live for traveling and have been to 12 countries collectively, 3 together and will be traveling for 2 months in Europe for our honeymoon.
What advice for other brides planning a destination wedding at the Grand Hyatt Kauai Resort?
Don't sweat the small stuff. Realize why you are marrying the person you are, and focus on that– not on what your shoes look like or the smaller details. 10 years down the road, what will be really important? It's the bond you created that day with your husband and nothing else. Also, get a videographer! The day flies by and you'll be happy you had it on video so you can relive it.
Vendors:
Photographer: Clane Gessel Photography
Calligrapher: Brown Fox Calligraphy
Wedding Venue: Grand Hyatt Kauai Resort & Spa
DJ: Kustom Sounds Kauai
Floral Designer: MartinRoberts Design
Dress: Grace Loves Lace
Bridal Shoes: Mystique Sandals
Groom and Groomsmen Attire: J Crew
Bridesmaid Dresses: David's Bridal
Flower Girl Dresses: Little Love Boutique